We're facing a climate & human health crisis - driven by our broken food system. 🌎
In the last 100 years, what we eat and how we grow our food has changed dramatically. The need to feed a growing population has resulted in the rise of factory farming, the overuse of pesticides and fertilizers, and the destruction of our natural resources. We are long overdue for a new food order.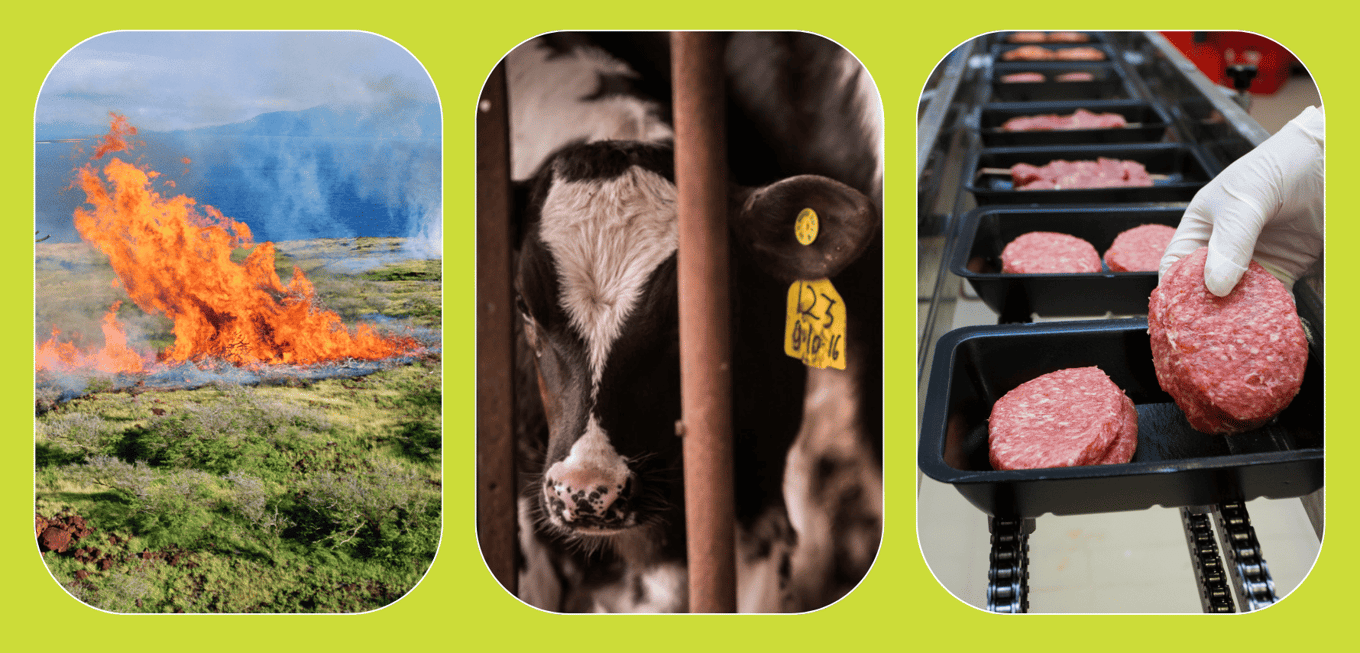 "8 billion human beings are alive today. We kill 2 billion animals every week. We kill 1 billion ocean animals every 8 hours. If humans were killed at the same rate we'd be wiped out in one weekend." - Philip Wollen, former VP of Citibank
Raising livestock for human consumption generates nearly 15% of total global greenhouse gas emissions, which is greater than all the transportation emissions combined. In turn, the ocean absorbs 90 percent of the excess heat generated by greenhouse gas emissions.
To combat climate change, the plant-based alternative protein market is exploding, but a lot of the alternatives on the market today are overly processed, do not support human health, and add little regenerative value to the planet.
Unfortunately, the less than perfect plant-based meat market is just one branch of our crippled food system. The food marketed towards our children in grocery stores, sold in schools, and offered on kid's menus is often overly processed with preservatives and chemicals, laden with addicting sugar and fats, and lacks the real nutrition our children need. In many ways, the food we feed our children is both the beginning and the end of our tragically broken food system.

The seaweed superfood revolution could end world hunger—and save the planet
— Fortune

AKUA produces the world's most delicious, nutritious, and sustainable plant-based meat and seafood alternatives from regeneratively ocean-farmed kelp, sourced from U.S. based ocean farmers.
In 2020, we made a bet that the most popular meat-alternative products on the market (at the time) would soon fall out of favor as consumers realized that they were made from unhealthy ingredients like GMO soy, cultured dextrose, chloride, lecithins, methylcellulose, xanthan gums, dyes, and artificial flavors.
Instead, we chose to create a plant-based burger from planet-saving, ocean-farmed kelp - a regenerative food source that's making waves for its positive climate impacts.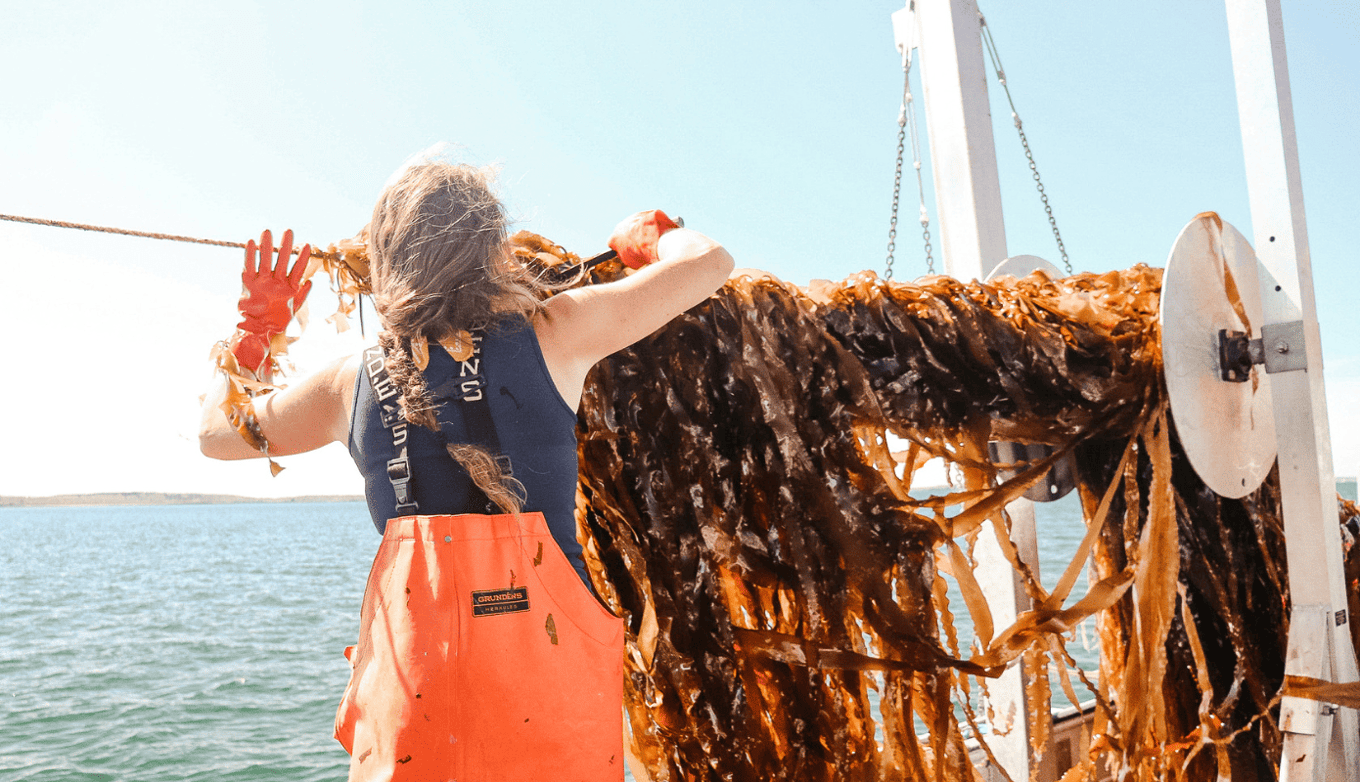 AKUA sources 100% of its kelp from U.S. based ocean farmers, who grow kelp without fertilizer or pesticides, and without land or fresh water - our two most taxed planetary resources in our food system. What's more, is that as kelp grows it sequesters vast amounts of CO2 and nitrogen from our seas, helping to mitigate the effects of ocean acidification.
In addition to kelp, AKUA creates its products with healthy, nourishing ingredients like Monterey-grown mushrooms, quinoa, chickpeas, and extra virgin olive oil. The result is a veggie burger made from plants that packs an umami punch so delicious, nutritious, and sustainable that retailers and chefs across the nation are upgrading their "fake meat" menu options with AKUA's Kelp Burger.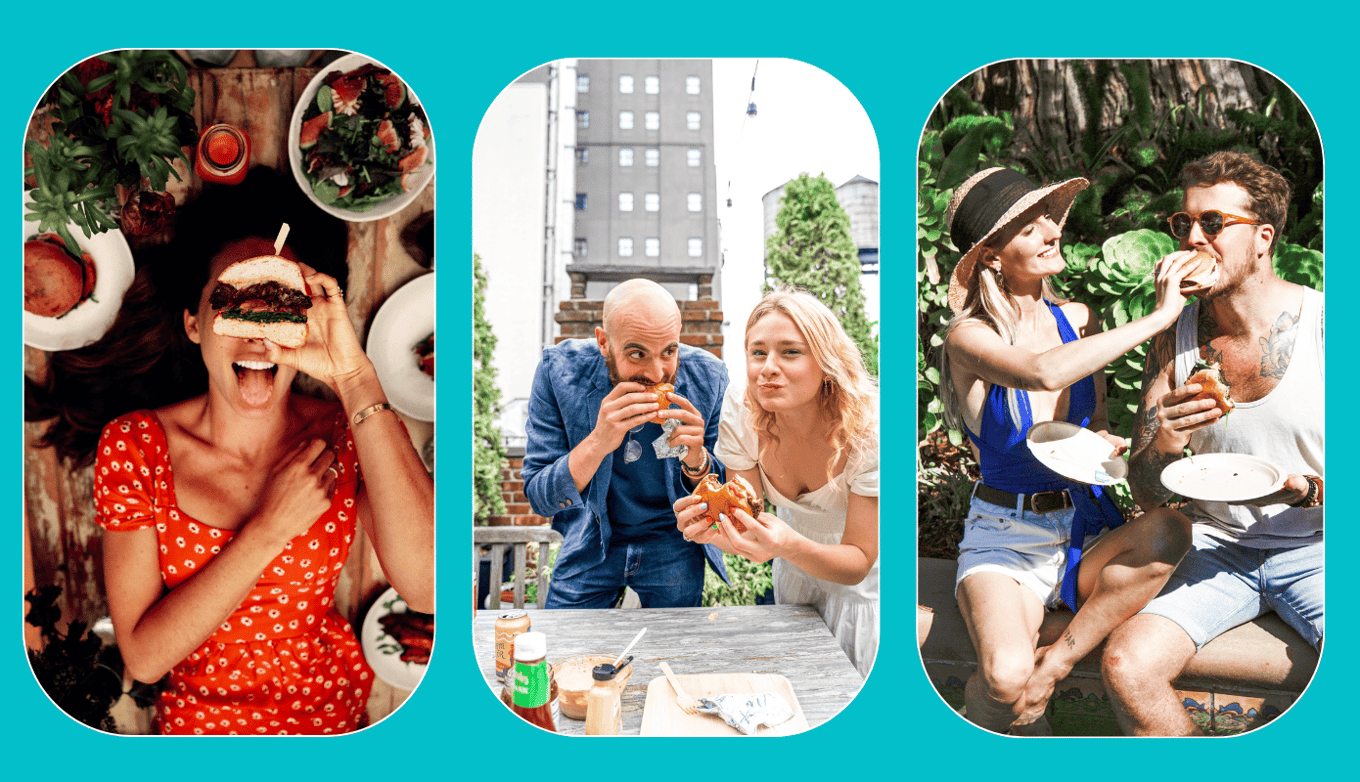 In 2021, following a record breaking Republic campaign, AKUA launched the world's first Kelp Burger, followed by the world's first kelp-based Ground Meat and kelp-based vegan Krab Cakes. AKUA's Kelp Burger is now sold in over 800 grocery stores, to 30+ restaurants, and to thousands of online customers across the U.S.
Triple Threat: Delicious, Nutritious, & Sustainable 😋
Featuring a new partnership with Nickelodeon's SpongeBob SquarePants for a triple [bikini] bottom line!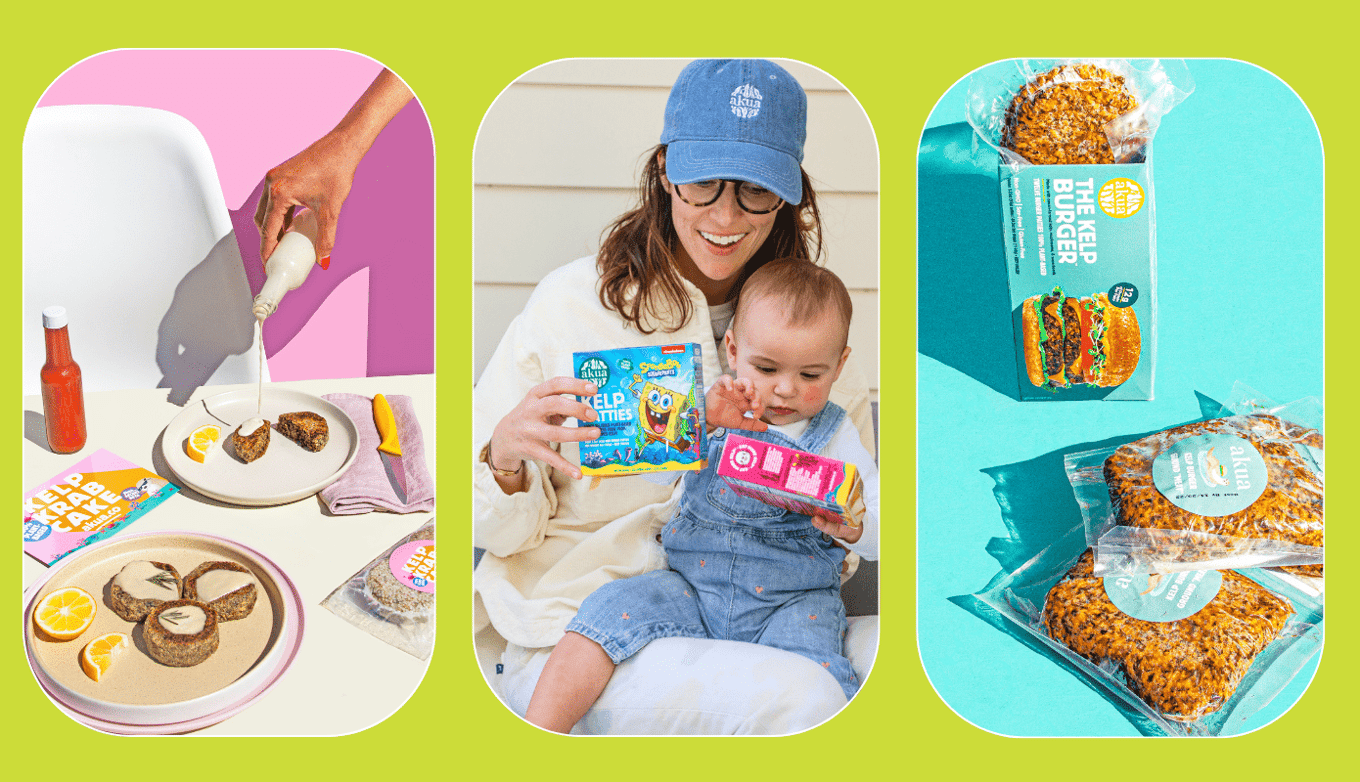 AKUA was founded to support both planetary and human health. But after launching Kelp Jerky in 2019, we learned that creating a healthy and sustainable product isn't enough. To win in food, you have to be out of this world delicious too.
During the pandemic, we launched "The Kelp Beta Burger Club" where 1,000 of our customers tested different variations of our Kelp Burger over 6 months. We gathered feedback through online surveys, which gave us the necessary data to guide our R&D decisions and find product-market fit with our out-of-this-world delicious Kelp Burger.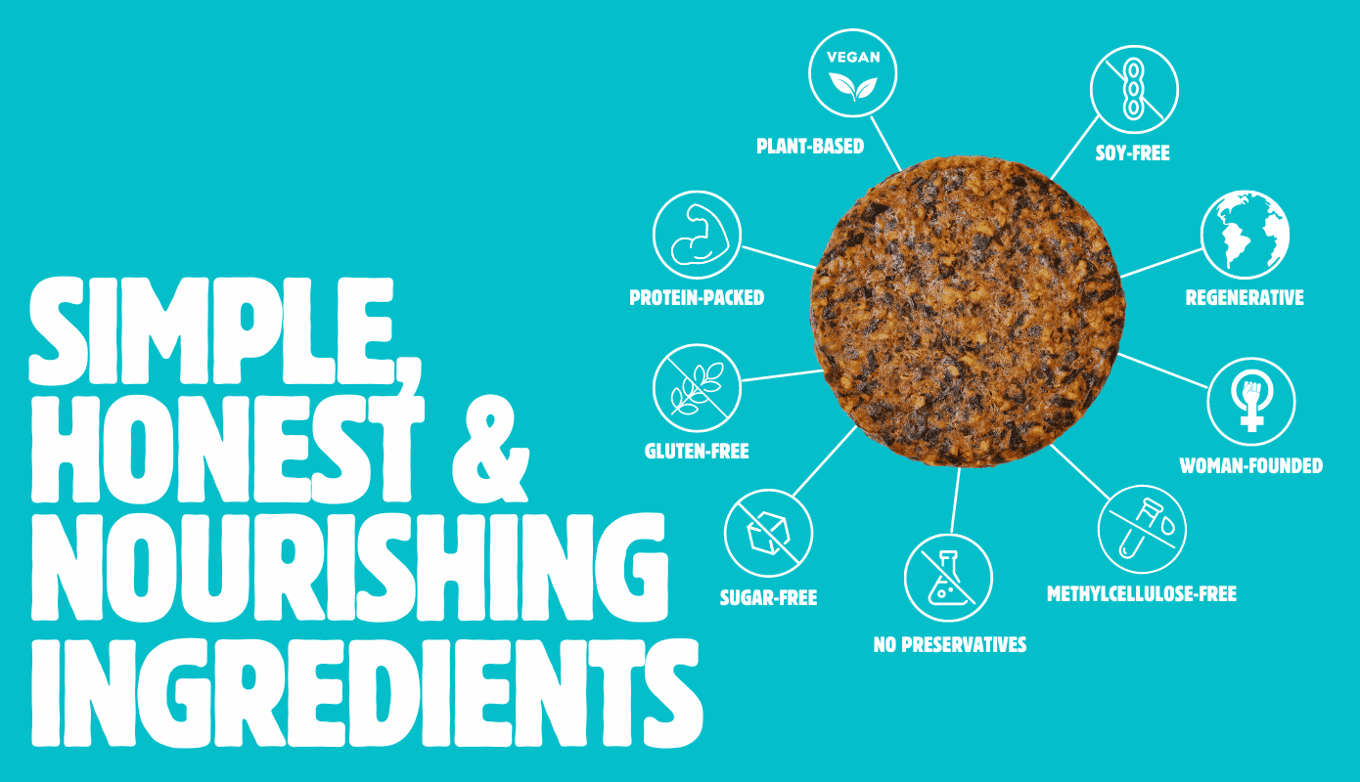 In May 2023, AKUA launched two new flavors of its Kelp Burger into retail and launched its Ground Meat onto the menu of celebrity chef Tom Colicchio's New York City restaurant Vallata as a delicious vegan bolognese. And this summer, AKUA is launching its most exciting product yet into retail, food service, and online: SpongeBob Kelp Patties and SpongeBob BBQ Kelp Patties - 1.5oz sliders - for kids of all ages!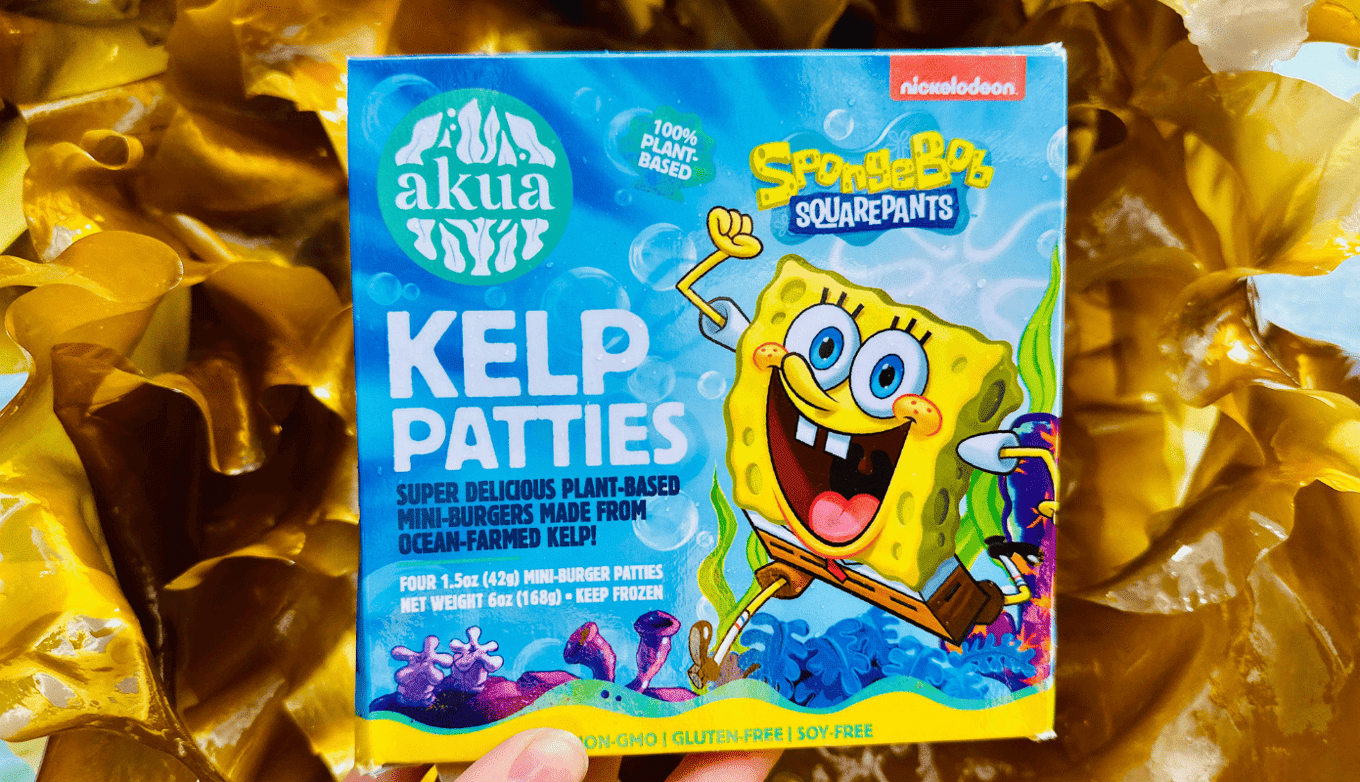 To ensure that our products are not only delicious, but also nutritious, we create recipes with top chefs and with the help of our in-house nutritionist, Dr. Jacqueline Zhan Fraise. To formulate the recipe for our SpongeBob Kelp Patties, we worked closely with Jacqueline to ensure that our original Kelp Burger recipe would fit the stricter nutritional guidelines for children.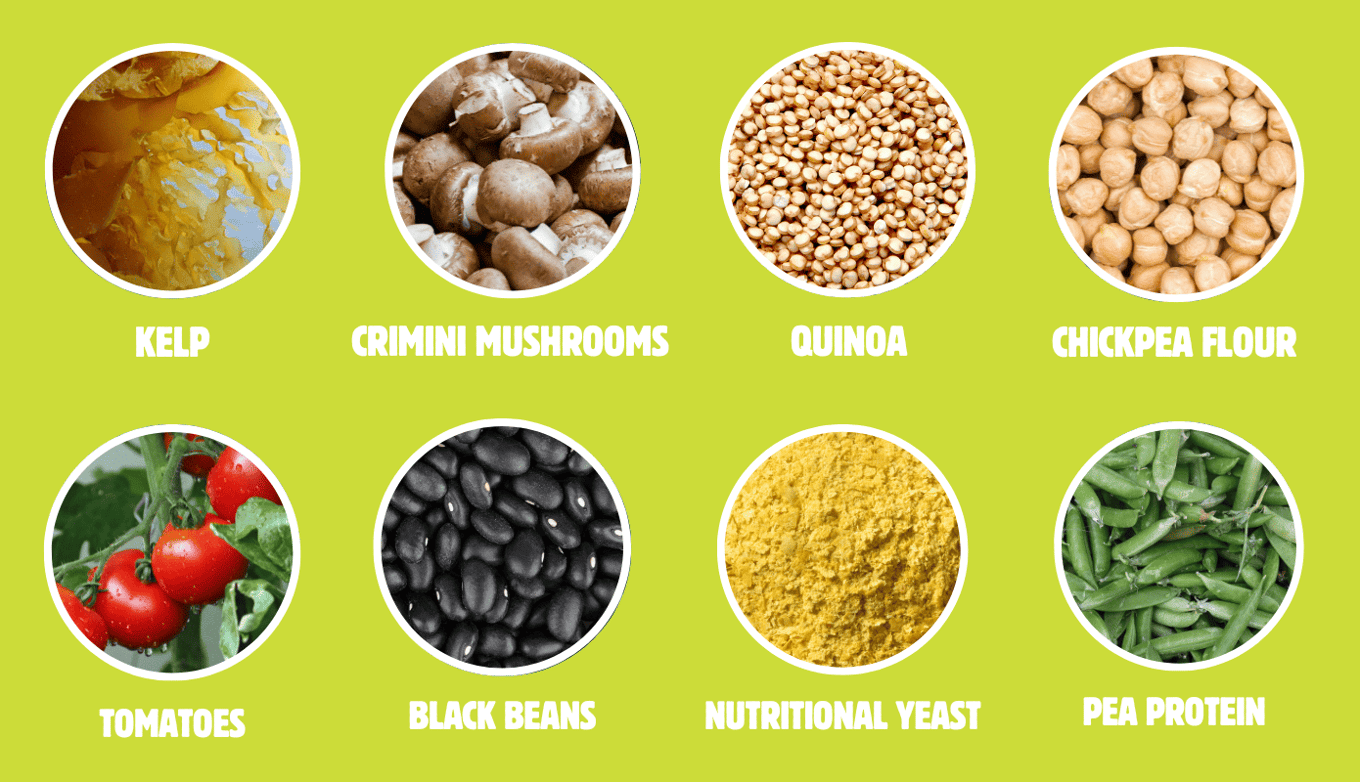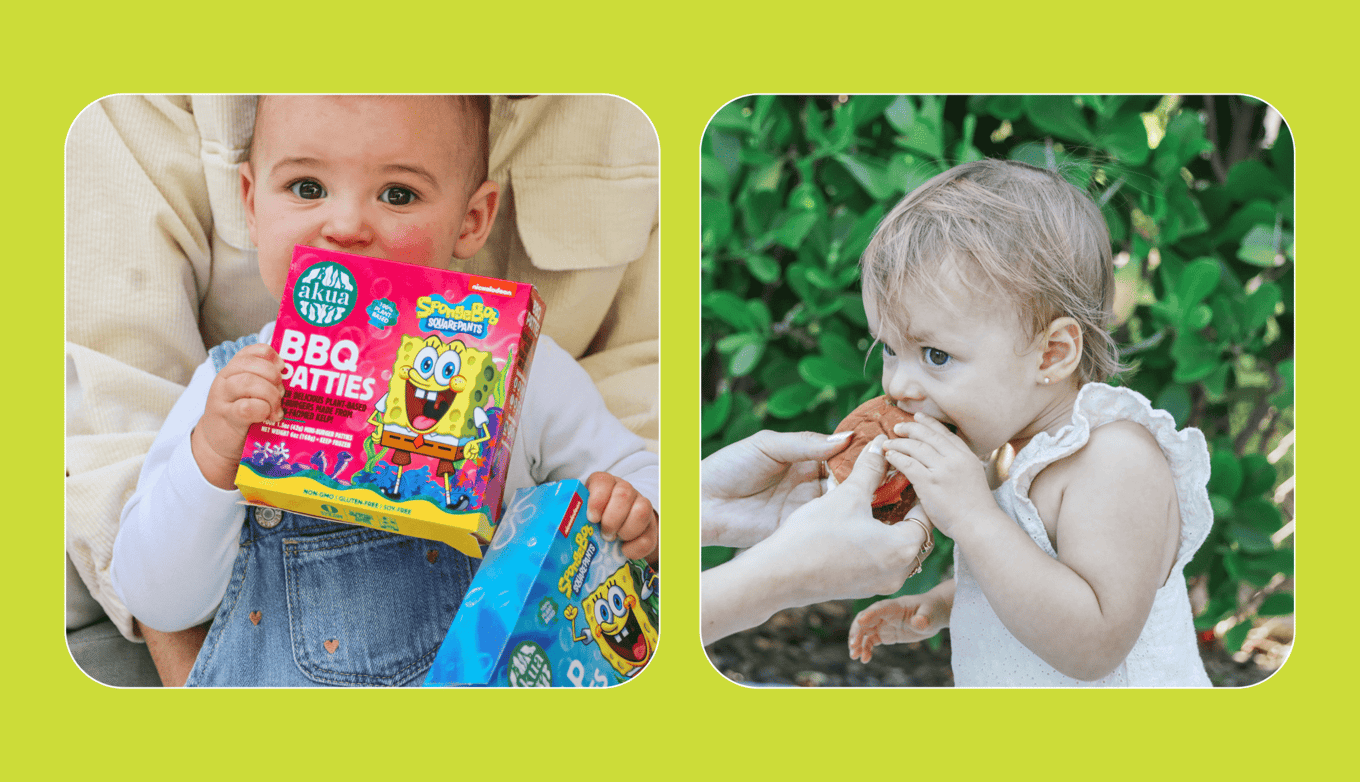 What separates us from other kelp-based food companies, is that we are a food innovation company at our core. In the past 12 months, we started R&D and consumer testing on over 10 kelp-based meat and seafood alternatives, which will launch in the next 24-36 months.
—
Our research-backed product pipeline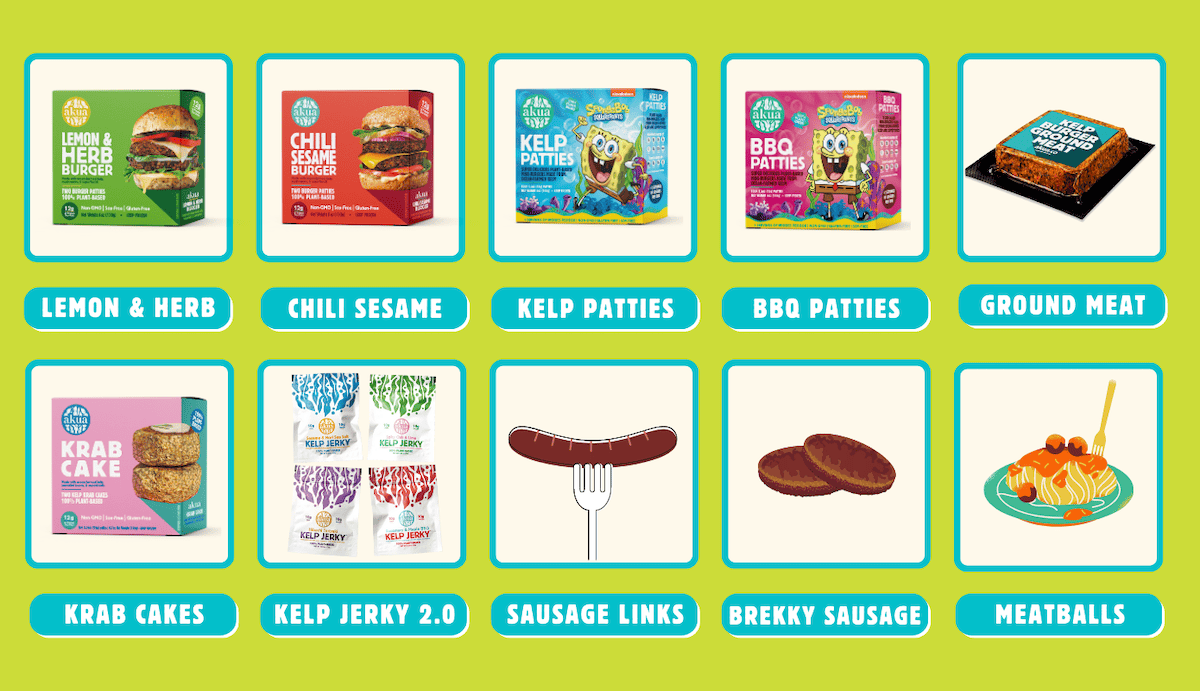 Summer 2023:
AKUA's SpongeBob SquarePants collaboration
This summer, we're launching two new products into retail, food service, and online: AKUA's SpongeBob SquarePants Kelp Patties and SpongeBob SquarePants BBQ Patties in partnership with Nickelodeon.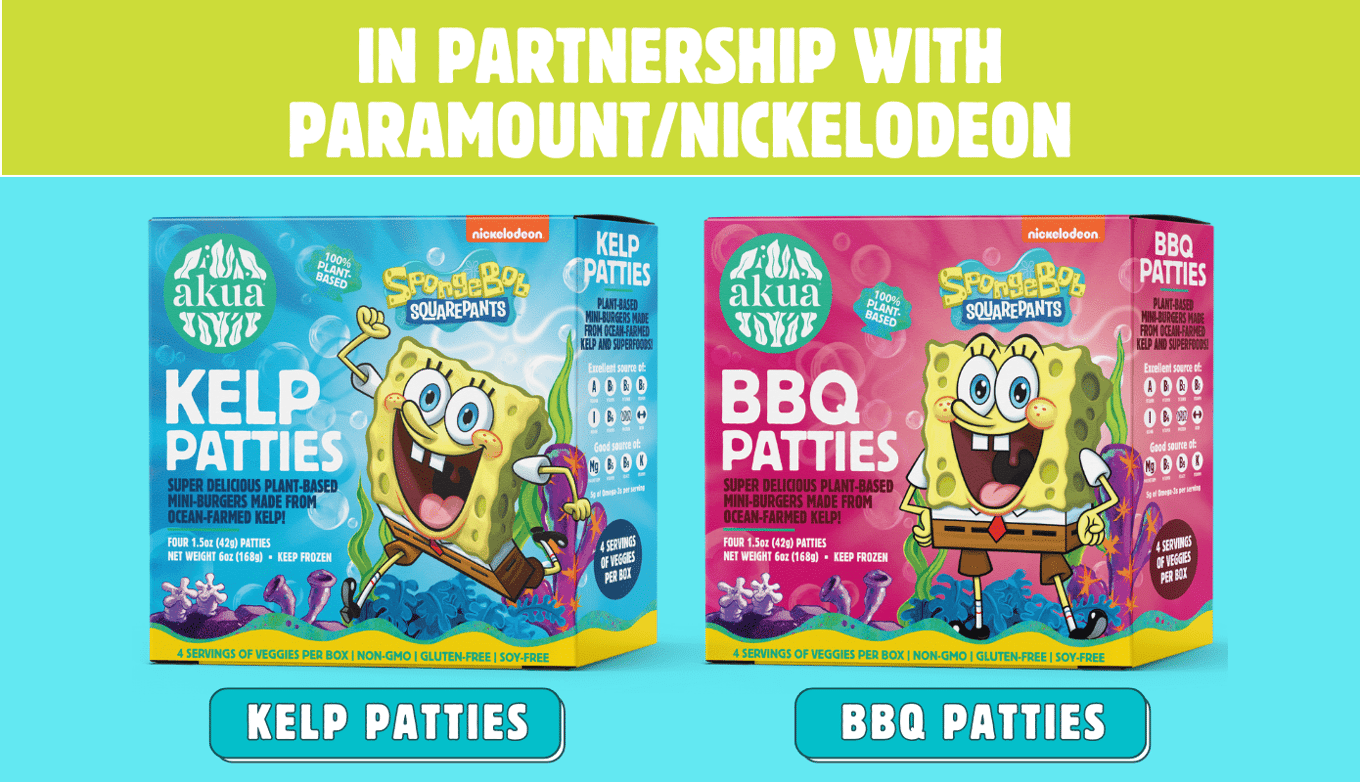 We couldn't be more excited to work with one of the world's most beloved animated characters. Nickelodeon's SpongeBob SquarePants is the:
Nickelodeon's SpongeBob SquarePants has reigned as the most-watched animated series for 21 consecutive years.
SpongeBob SquarePants is seen in more than 170 countries, and has been translated in 29+ languages.
Like any celebrity partnership, we believe this collaboration will help bring AKUA's mission into the mainstream limelight!
$1.45M+ sales, 800+ retail stores, & 30+ restaurants
10x YoY revenue growth in retail and food service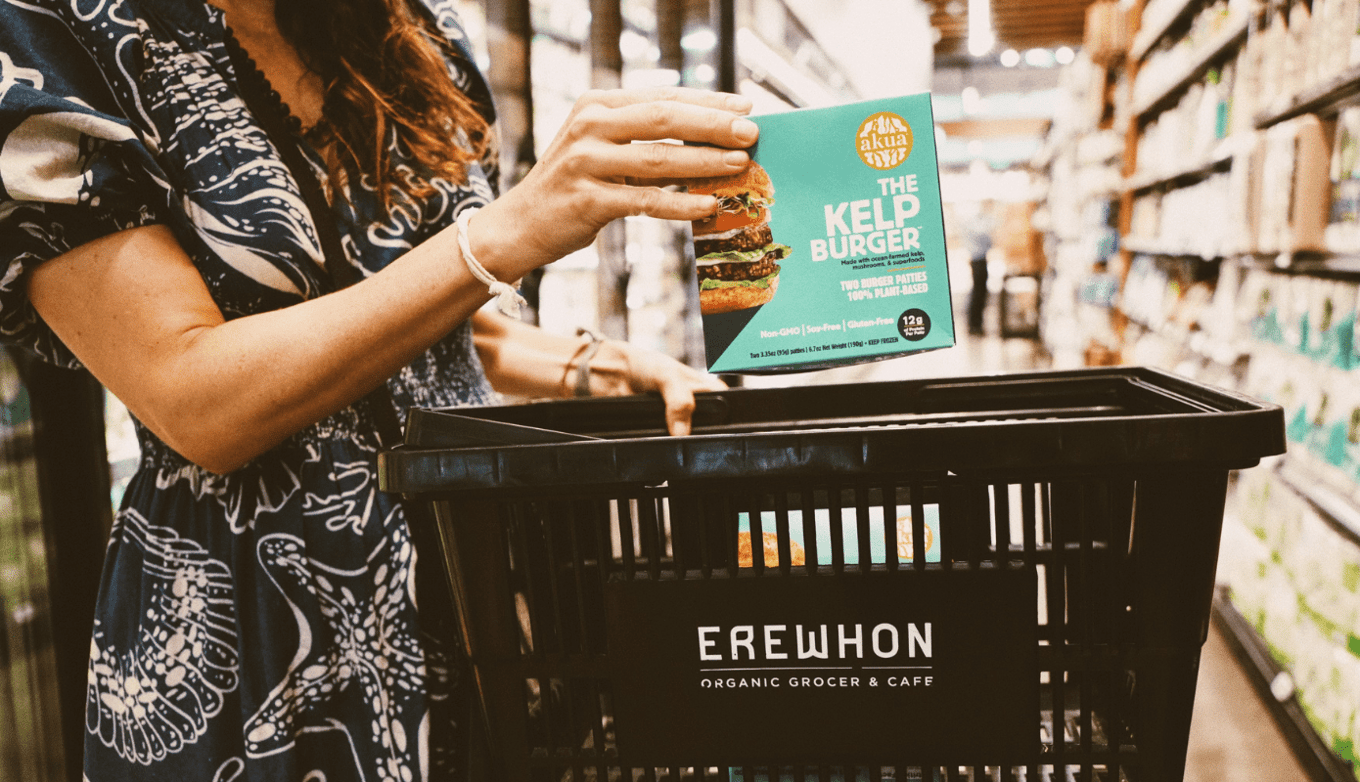 Retailing in 800+ US stores
AKUA's average sales velocity in natural is double the industry average

AKUA is the 2nd fastest growing plant-based brand out of top 20 in natural as tracked by SPINS

#1 best plant-based selling product at Erewhon Market

Selling 30+ units per week at Rainbow Grocery in San Francisco
Retailer pipeline

Growth in Food Service
After becoming one of the best selling menu items at Butcher's Daughter in Venice, the trendy plant-based restaurant expanded AKUA's Kelp Patty across all of its Los Angeles and New York locations. In Miami, the Kelp Burger just landed on the menu as the "Under the Sea Veggie Burger" at The Standard Hotel, replacing Impossible after its multi-year run. In the Hamptons, The Kelp Burger will launch at the Local Burger Co chain just in time for the summer crowds.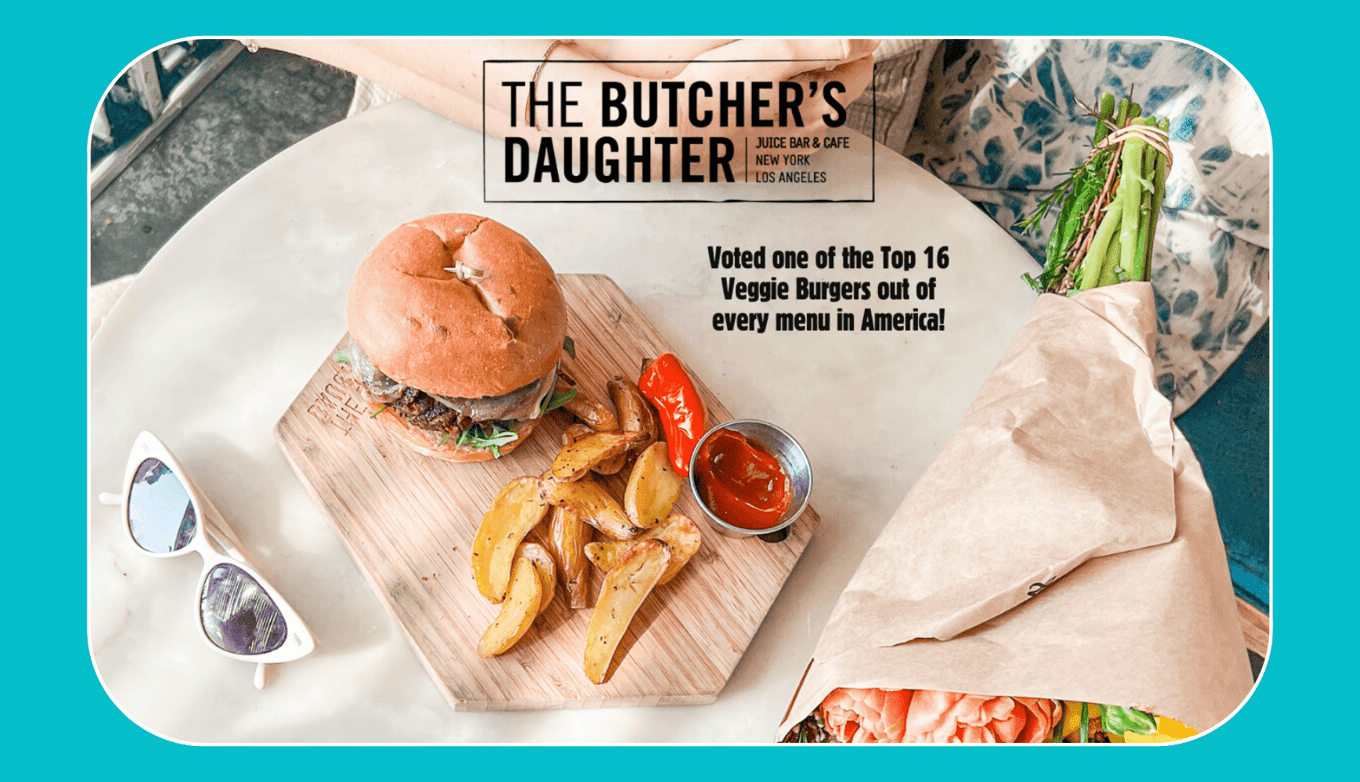 AKUA's Ground Meat is also finally breaking out of its patty mold as Celebrity Chef Tom Colicchio is now serving it as a Vegan Bolognese (one of our team's favorite ways to eat it!) at his New York City Italian spot, Vallata.
And finally, AKUA has partnered with PLNT Burger - founded by Honest Tea's Seth Goldman and Celebrity Chef Spike Mendelsohn - to launch our SpongeBob Kelp Patties across their 16+ locations this September for back to school.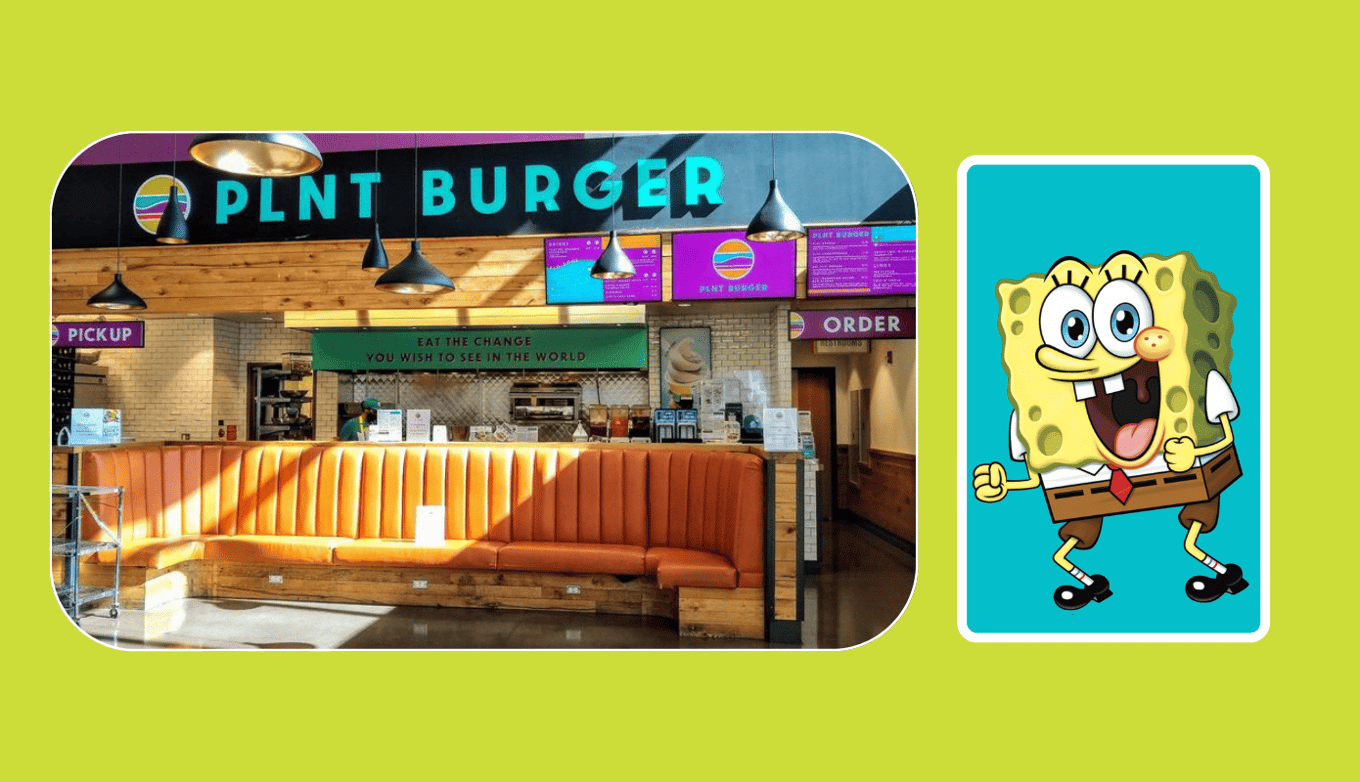 To help scale AKUA's food service clients on the East Coast, we've partnered with New York's legendary Baldor as our first food service distributor. Up next, we're eyeing Driscoll, Sysco, and more.
Online
AKUA started as an e-commerce food business and continues to serve customers nationwide via its online shop, which boasts a 75% repeat customer rate and $119 average order value. AKUA is also sold via online e-commerce sites including GTFO It's Vegan, Bubble, Good Eggs, and soon Thrive Market.
* Click here for important information regarding Financial Projections which are not guaranteed.
Glowing Reviews & a Growing Community
Actually healthy, delicious, and sustainable food? Yes please! With hundreds of 5-star online reviews across multiple platforms, the people have spoken and 9/10 customers say The Kelp Burger is the best vegan burger they've ever had.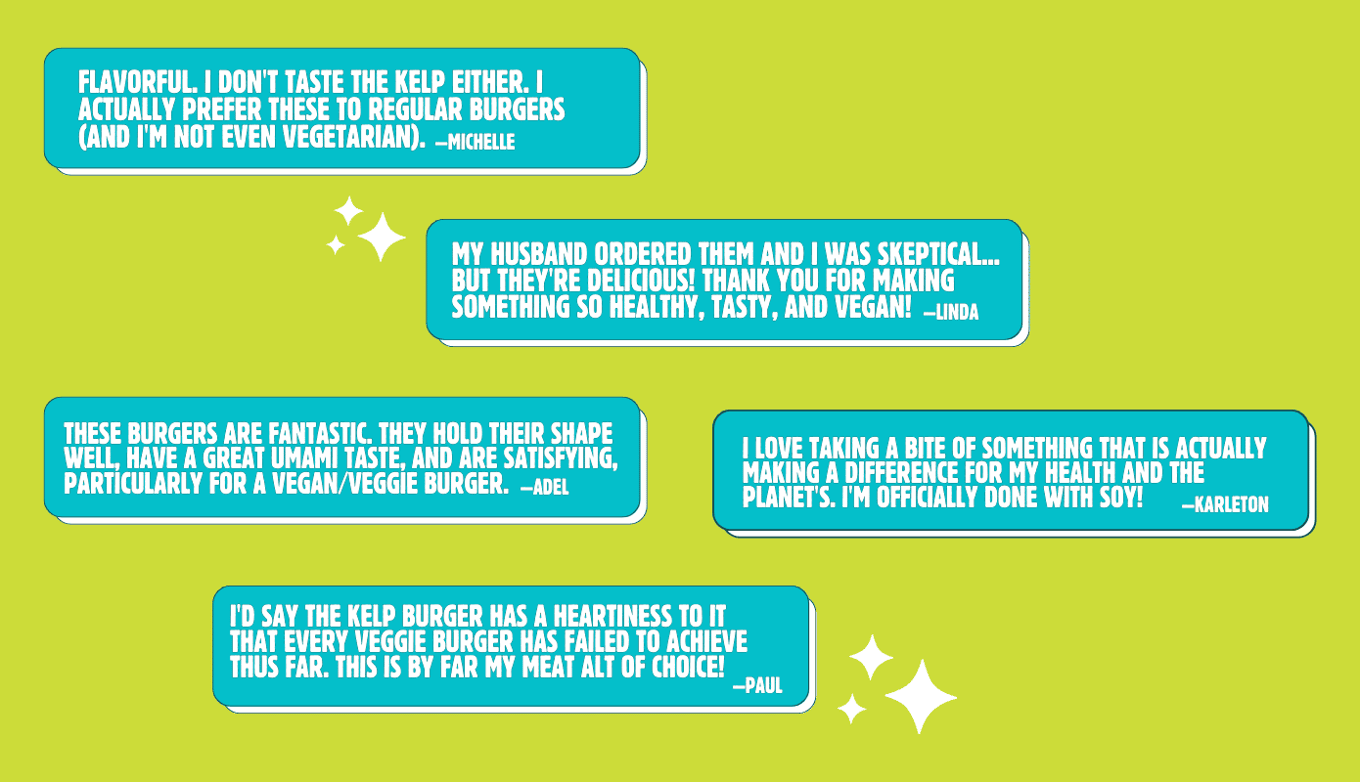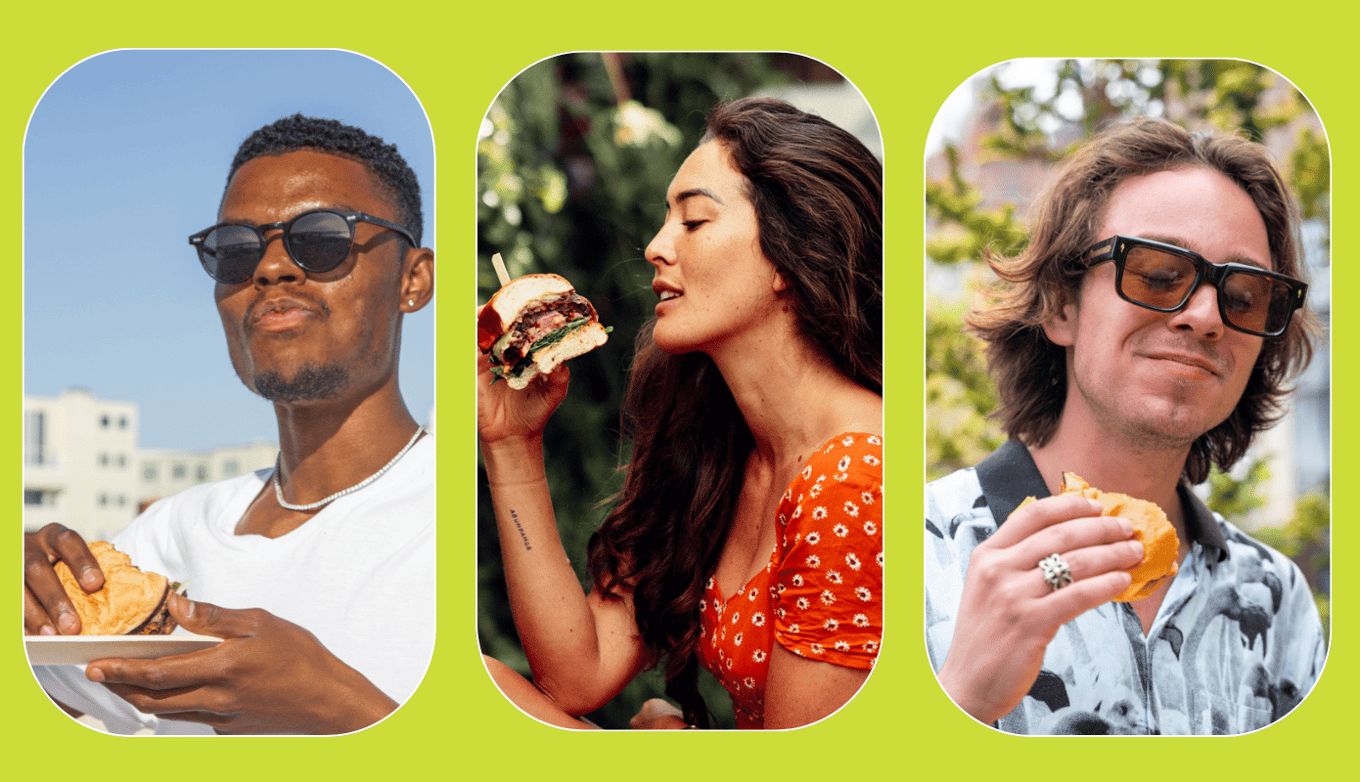 AKUA's community is just as supportive and loyal to our product and purpose as our team is, so creating and selling our products "direct to community" has always been central to our mission. Our business started by hosting tasting parties in a little East Village kitchen, launched with the support of 1,000+ Kickstarter backers, and was funded with the support of 2,000+ Republic investors. Since then, hundreds of thousands of people have gathered over our plant-based, planet-healing products at dinner tables and events from Coachella to the United Nations Oceans Conference. As a result, The Kelp Burger has gained popularity far and wide.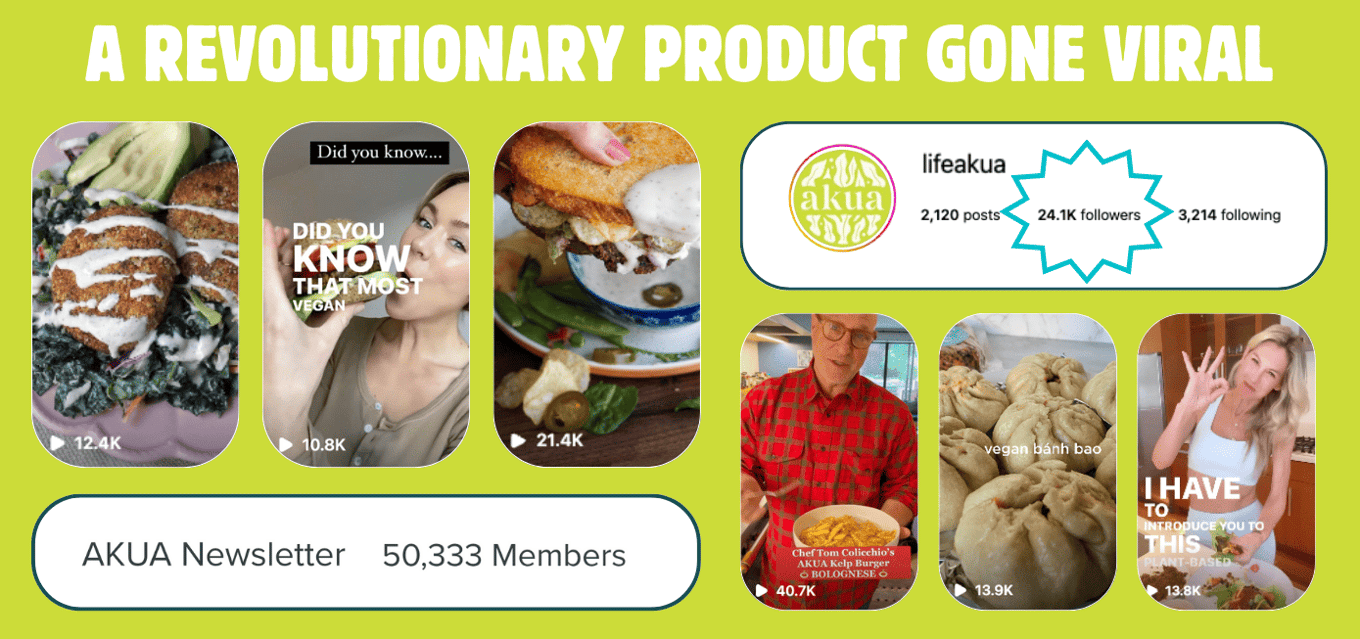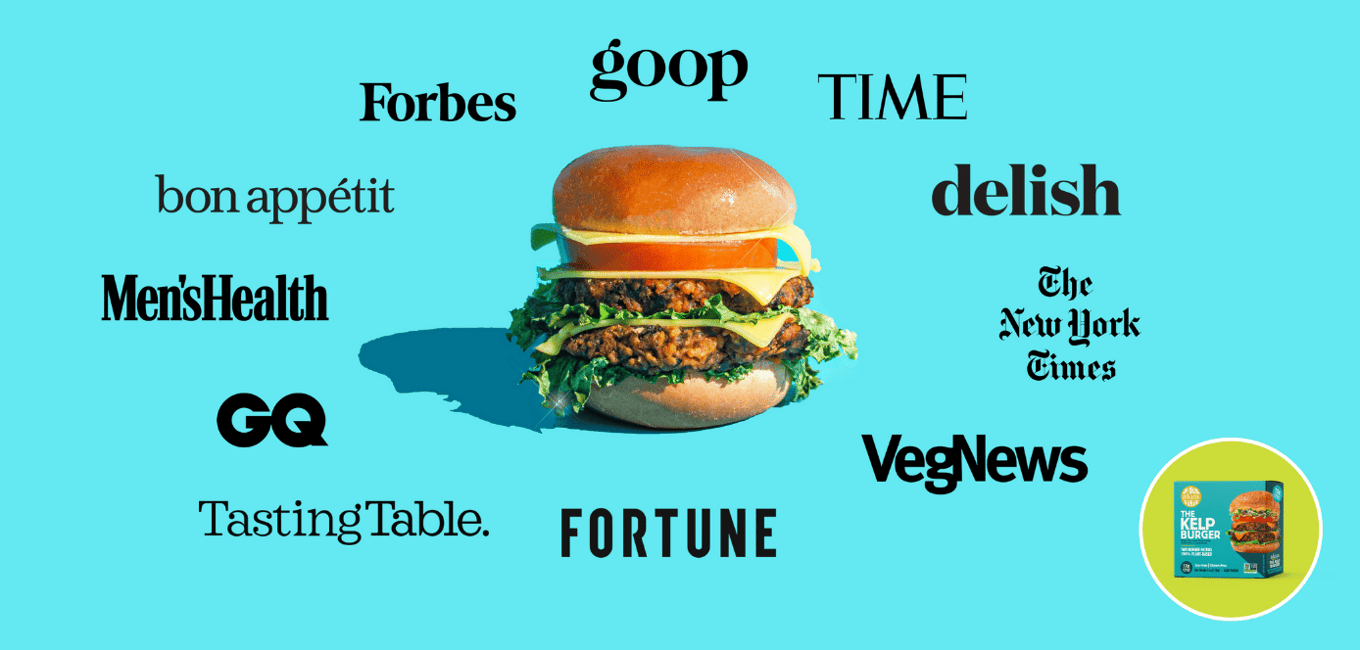 A Global Retail & Food Service Business
With a path to profitability

AKUA is a consumer packaged goods (CPG) company that sells its innovative and award-winning products online, into retail through major distributors, and into food service.
While our margins are in line with the plant-based industry average, we have multiple pathways to increasing our product margins over time to be even more competitive, many of which come with scale: including lowered tolling costs from our co-manufacturer and lower ingredient costs with higher volume purchasing. It's also important to note that we have a great relationship with our co-manufacturer and they have the capabilities to help us scale into the tens of millions in revenue for the foreseeable future.
Additionally, our kelp supply chain structure provides us with cheaper access to ocean-farmed kelp than any other food brand. Further, we are working closely with our supply chain partners to lower kelp costs even more YoY as we work to create more efficiencies at both the farm and manufacturer stages.
Where Kelp Meets Alt-Meat's $70B market
The world wants to #eatmorekelp
__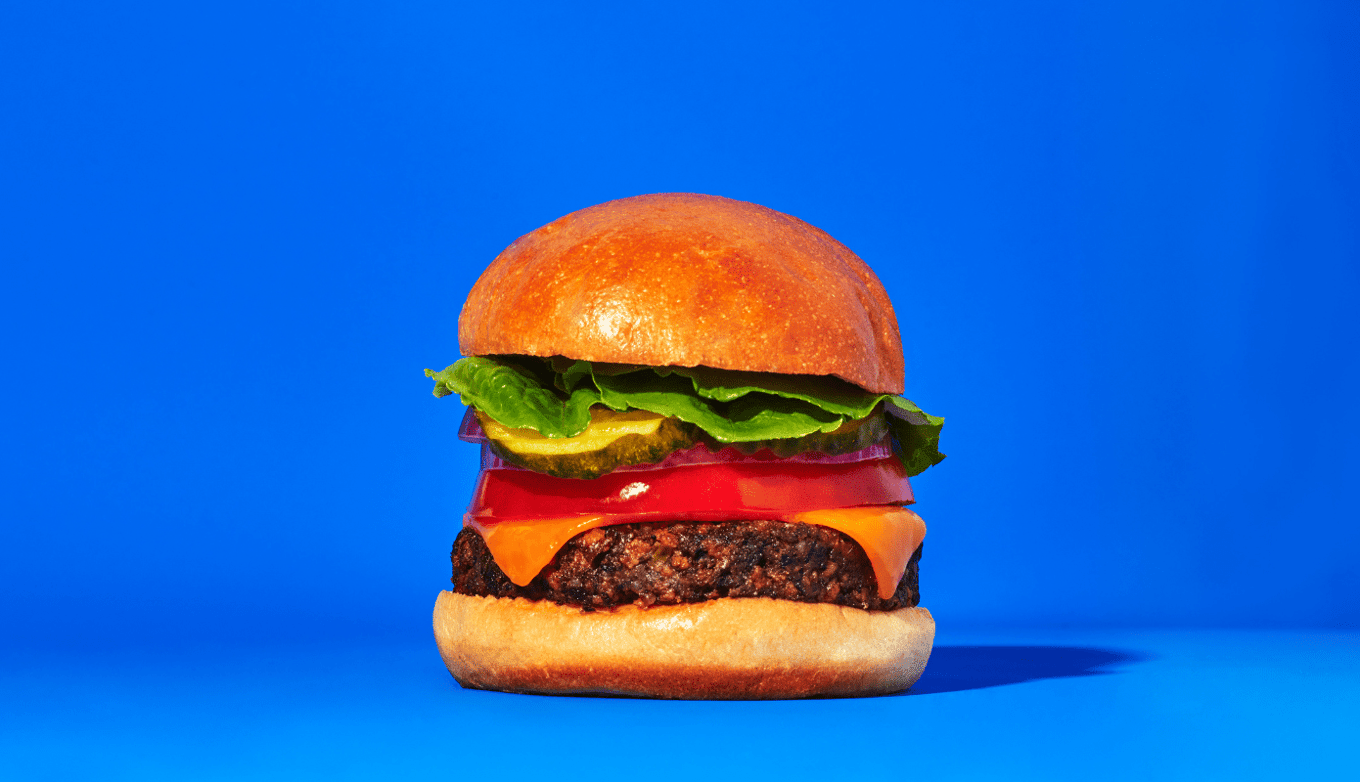 "On Instacart, kelp sales have risen 31% in the last 6 months alone." - (Instacart)
"Since 2018, the seaweed food category has grown over 63% in sales with strong double-digit growth YOY." (Gimme Snacks)
Seaweed aquaculture is the world's fastest-growing food sector, with its yearly production volume growing at a rate of 8-10% (Protein Report)
Seaweed is the fastest-growing source of food (BBC) & is consistently named one of the biggest health trends in wellness
Today, only 10% of all grocery stores even sell seaweed — most of which is pre-packaged for sushi
If they do sell seaweed, 98% is imported from China, Japan, or Korea (ResearchGate)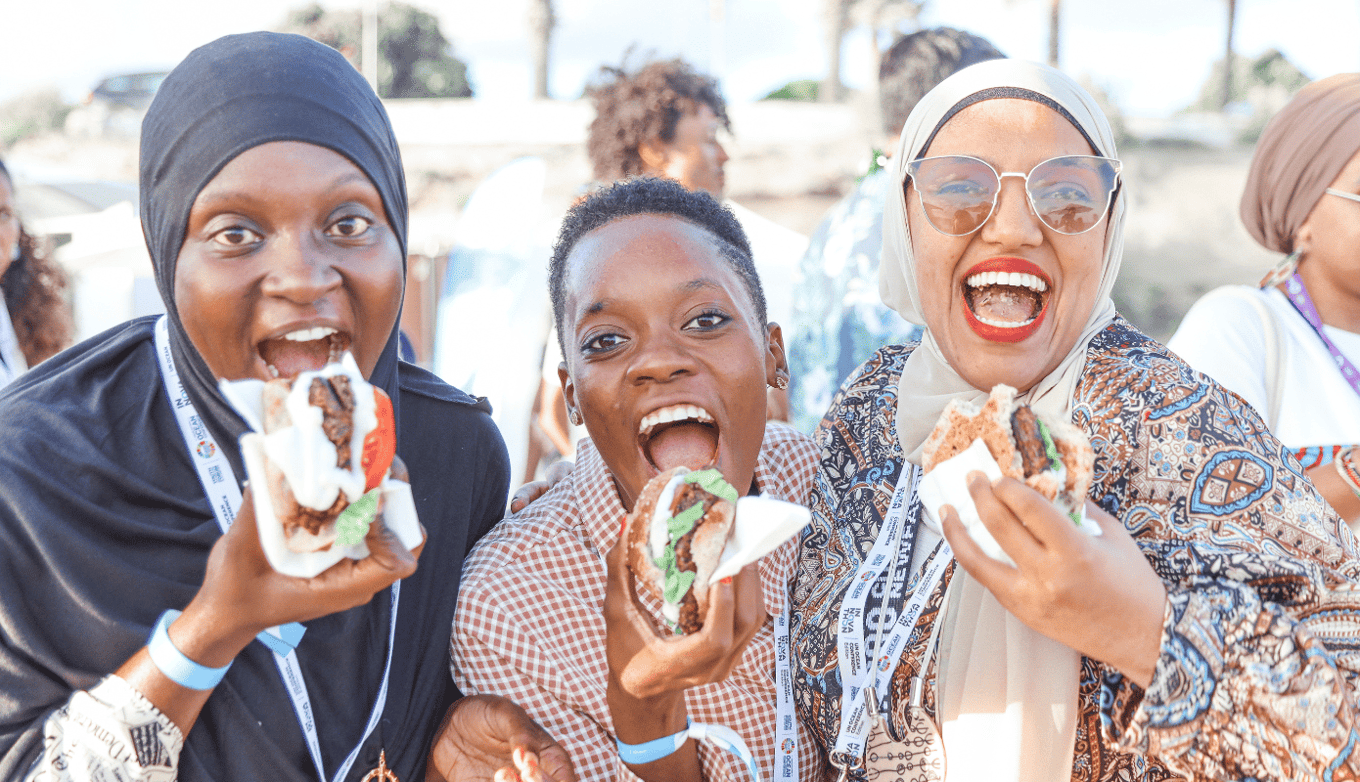 Taking a bite of a $70B market
The alt protein market is expected to reach $70B in 3 years (GFI)

Plant-based product sales are growing 14x faster than total store food sales (GFI)

The global alt-protein market will reach $290B by 2035 (BCG)

Shoppers purchasing plant-based products spend 61% more money than the average shopper (SPINS)

The top six US meat companies — including Tyson, JBS, Cargill, and Conagra — are all active in plant-based foods
* Click here for important information regarding Financial Projections which are not guaranteed.
Consumers are seeking cleaner, healthier plant-based products
... as companies like Beyond and Impossible face increased scrutiny over their ingredients.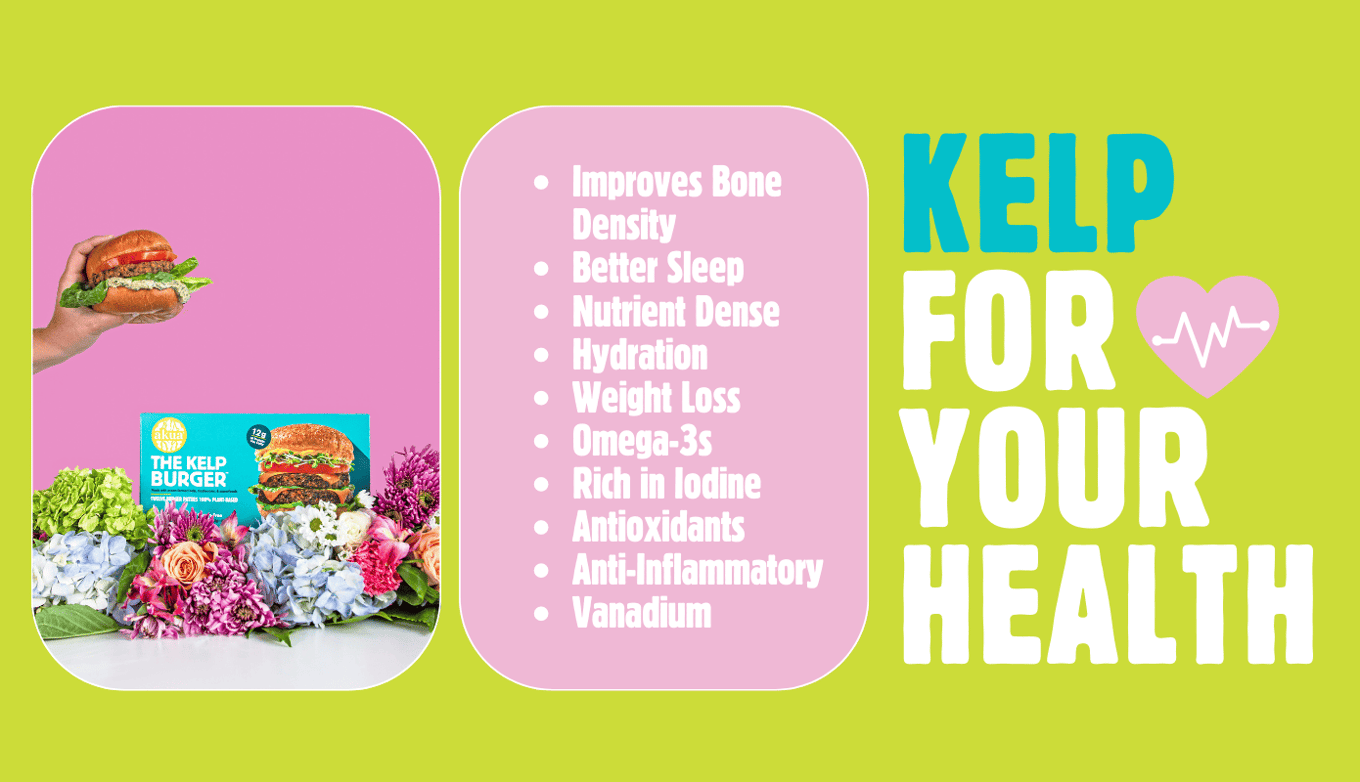 If you ate veggie burgers in the 90s, you likely ate a lot of bean, corn, and tofu based burgers. These were the only options, for years, and with their predominantly mushy texture and bland taste, it's no wonder they didn't convince many carnivores to cross over from the dark side.
Then came the onslaught of the "fake meat" products, made in a lab, and backed by "food tech" investors. These brands did wonders for convincing an entire generation to try plant-based thanks to celebrities like Snoop Dogg and Kim Kardashian. The only problem? Most humans don't want to eat "food tech" and these overly processed products aren't actually healthy for us either.
"Often, overly processed meat and dairy alternatives are loaded with chemicals, damaged fats, and artificial flavor enhancers. And if you don't know what an ingredient is, the reality is… neither does your body."
- Jacqueline Zhan Fraise, D.Sc.
AKUA is driving the third wave of the plant-based movement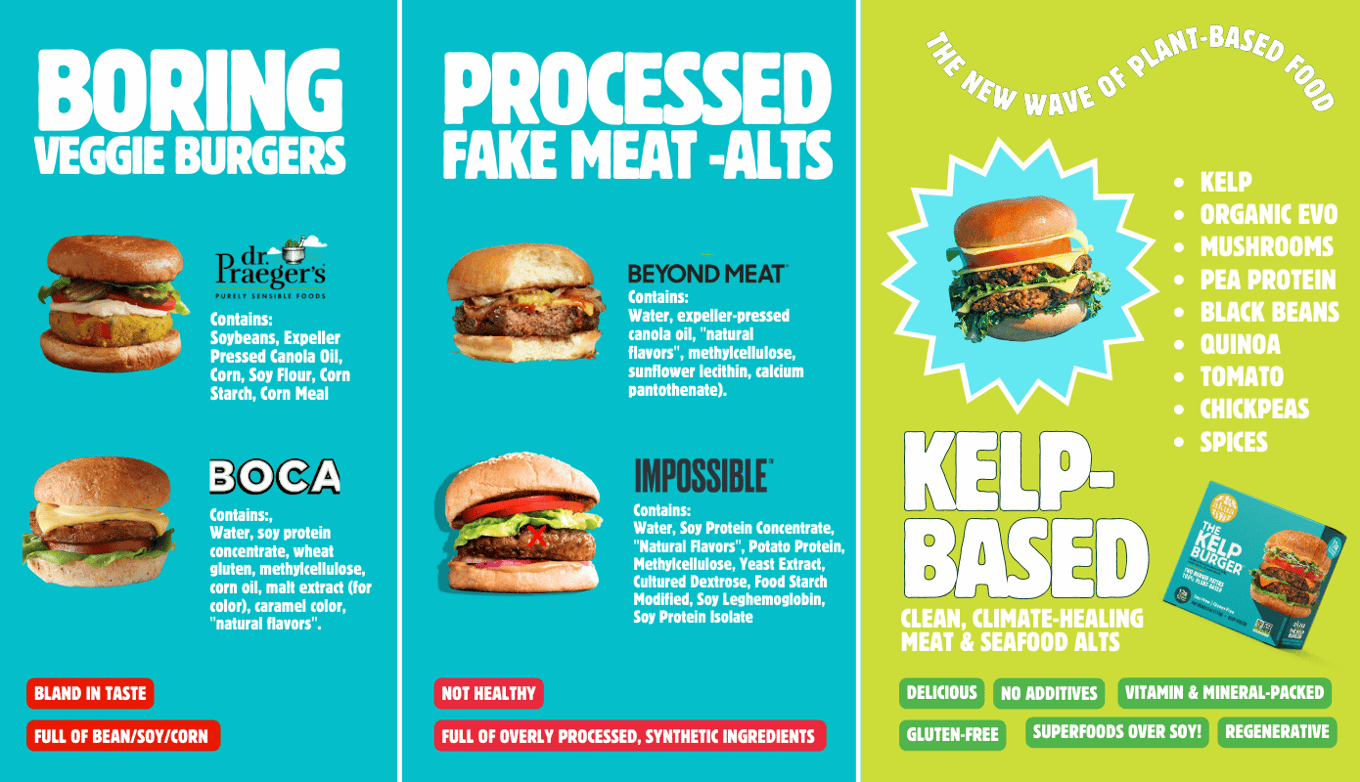 Finally, delicious food that's better for you and the planet!
AKUA is one of dozens of emerging startups bucking the "fake meat" trend and putting plants back into plant-based. And this movement is anything but a return to the early black bean and soy days of vegan foods — It's a third wave that's proving how and why a diversified array of vegetables, legumes, fungi, and algae should sit at the center of the plant-based movement.
A globally recognized brand for seagreens-based foods
—
With a strategic, multi-channel go-to-market strategy
—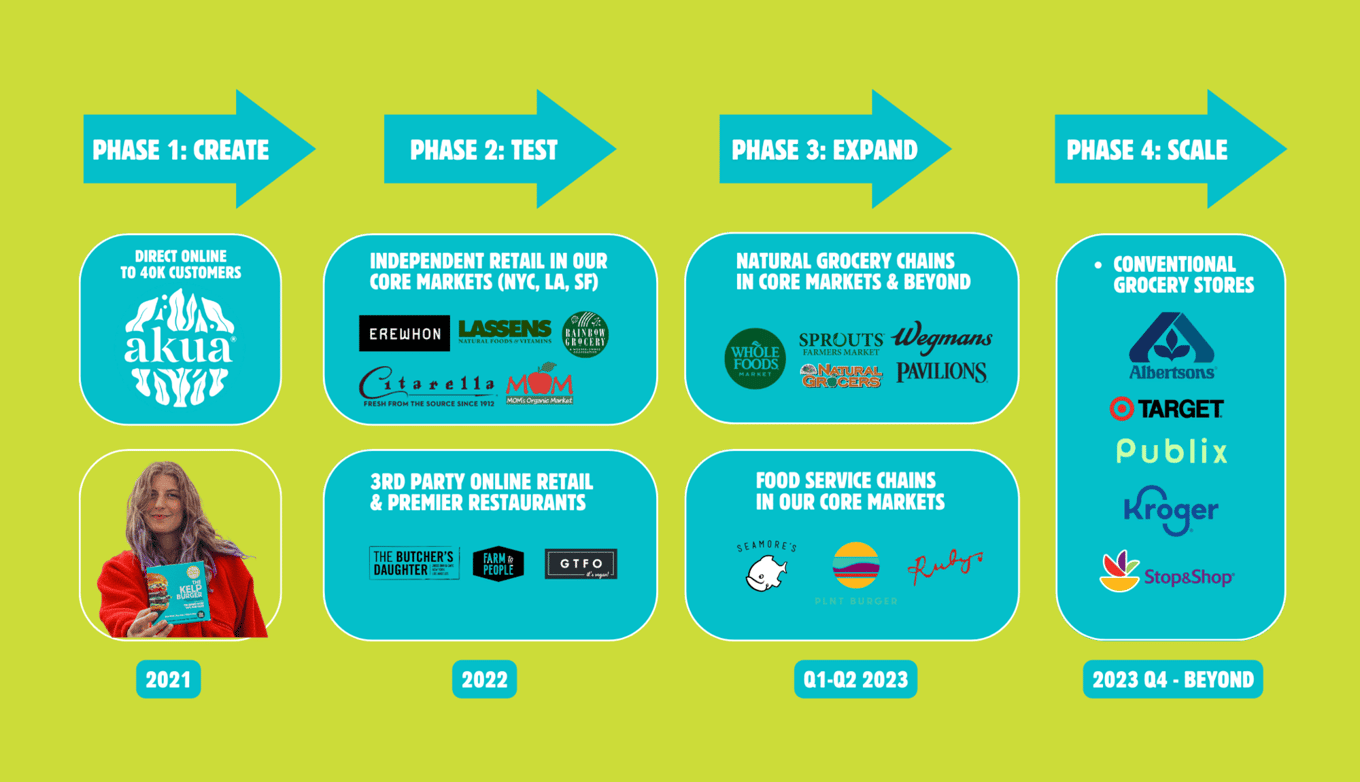 AKUA is on a mission to be a globally recognized brand in the category of seagreen-based foods. We test our products within our online community of 40,000 people before we bring each one into retail and food service. To preserve the honesty of our products, we have chosen to build our brand with natural grocery chains and influential restaurant partners on both coasts of the US before starting to work with bigger conventional players across the U.S.
As we expand across the country, we are also in talks with partners in Asia to bring our kelp-based products into Japan, Korea, and China - markets where consumers eat seaweed on a daily basis! Additionally, we hope to expand production across the UK/Europe after trials in North America and Asia.
In terms of our exit strategy, we are building AKUA to someday sell it to a company that can help take our population and planet-saving mission to the highest of heights— i.e. a larger CPG company like Nestle, Kellogg, or Unilever. For big CPG brands looking to add more plant-based products to their portfolios as well as make good on 2030 climate commitments, AKUA is well poised for a potential acquisition.
The most sustainable source of food on Earth 🌿 🌊
"Seaweed can play a huge role in fighting climate change by absorbing carbon emissions, regenerating marine ecosystems, as well as generating marine protein."
—TIME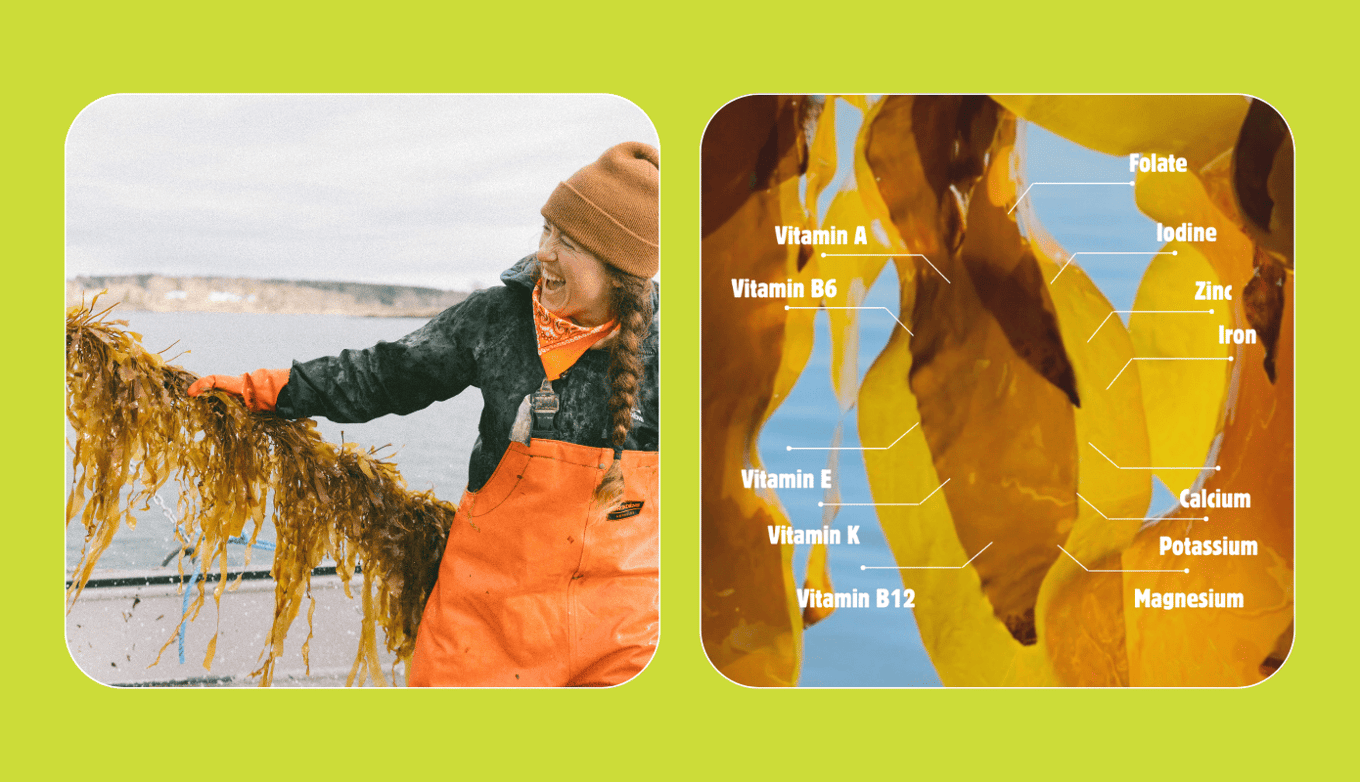 AKUA sources 100% of its kelp from US-based, regenerative ocean farmers who grow nutrient-dense food at scale without using fresh water, dry land, fertilizer, or feed. As kelp grows through photosynthesis, it removes vast amounts of CO2 and nitrogen from our seas, helping to mitigate the effects of ocean acidification.
Our impact to date (as of December 2022):
AKUA has purchased 120,000 lbs of ocean-farmed kelp — responsible for removing 6 tons of harmful CO2 from our seas
AKUA has sold 300,000+ Kelp Burgers and 6,000 lbs+ of Ground "Meat" — avoiding nearly 1M lbs of additional CO2 that would've been produced by the equivalent pound for pound of factory-farm raised beef
AKUA has sold 10,000+ Krab Cakes, without harming a single crab — leaving 10,000 happy crabs in the sea! 🦀
What makes ocean farming "regenerative"?

Whereas sustainable agriculture seeks to maintain (sustain) the systems it impacts, regenerative agriculture practices such as ocean farming produce positive system impacts by restoring and healing systems — in this case, our oceans!
All of the farms we work with are farmer-owned, mostly run by New England based fishermen and -women who are able to add additional income to their lives with ocean farming using the boats, buoys, and other equipment many of them already have from lobstering or commercial fishing.
In and around the kelp farms, scientists have measured increased oxygen levels, decreased carbon and nitrogen levels, as well as species of marine life returning to the areas that haven't been seen in decades. Even the shellfish are reporting thicker, healthier shells!
Packaging with the planet in mind
We use green cell foam to insulate our frozen shipments. It's a unique, natural, environmentally-friendly material made from corn that will dissolve with water!
Our cartons are recyclable and compostable, made of paper and soy-based ink. Our shipping boxes are also recyclable cardboard.
Raised $3.2M SEED round led by Vibrant Ventures
In August 2021, AKUA raised at a $13.2M post-money valuation from dozens of lead investors & founders.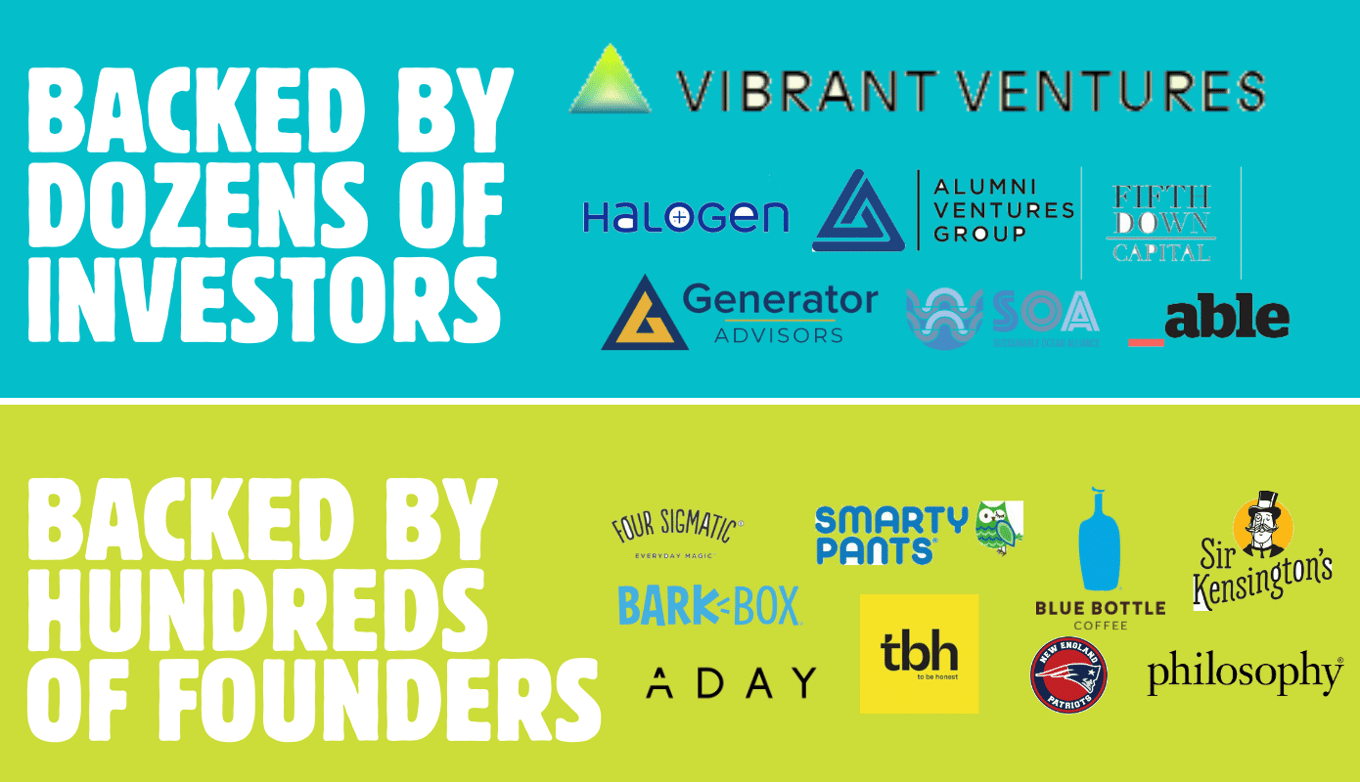 AKUA is fortunate to have an incredible group of world-class VCs including Vibrant Ventures, Halogen VC, and Fifth Down Capital, as well as supportive angels on our cap table including the founders of some of the most successful CPG companies of our generation.
__
Current Round
__
AKUA has spent the past 24 months focused on product development and has finished R&D on 10 products coming to market between now and the end of 2025, including international distribution.
The funds will be primarily used for retail launches into over 3,000 stores in 2023 including natural foods retailers and large conventional supermarkets to drive past our $1M revenue target for 2023 and set us up for a successful Series A in 2024.
Courtney Boyd Myers,
Founder & CEO
Meet the woman making kelp the new kale - Forbes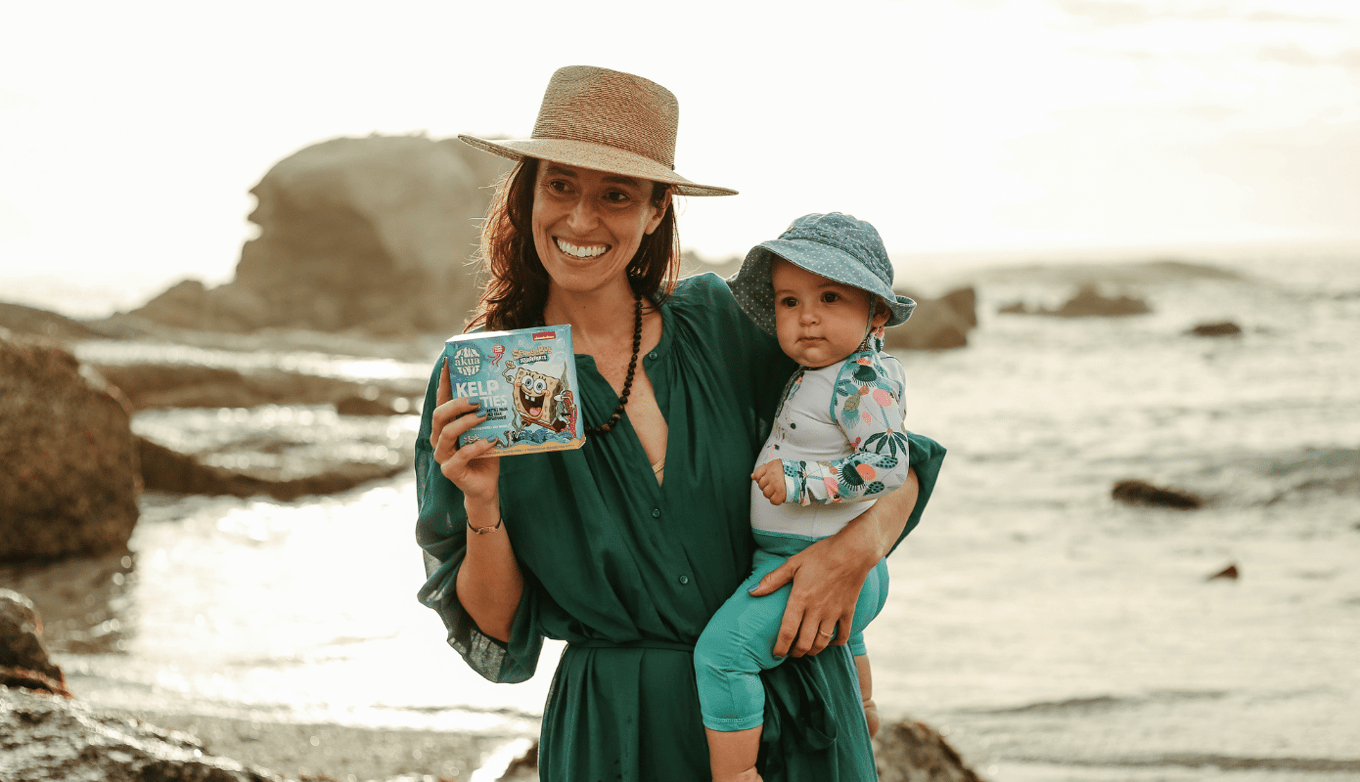 By 2027, the global plant-based foods industry will be worth $92 billion dollars. Yet less than 3% of all capital in the world is invested into female founders. All in a time when 93% of household food purchases are made by women.
AKUA is led by Courtney Boyd Myers (Founder & CEO) who is an entrepreneur, environmentalist, and journalist. She started in the kelp industry as an adviser to GreenWave, helping the nonprofit with fundraising and network connections. In 2017, she asked GreenWave's founder Bren Smith, "What can I really do to help this industry take off?" And he said, "We need help creating a bigger consumer market for kelp." So she set out to make "Kelp the New Kale".
Prior to launching AKUA, Courtney helped build the Summit Community, a global network of founders, creatives, and innovators. Previously, she helped market companies such as Four Sigmatic and Unframed Ice Cream. She began her career as a journalist at Forbes Magazine and The Next Web and has been recognized as one of Fast Company's Most Creative People in Business.
AKUA is an innovation-focused, conscious company on a mission to bring blue foods to the mainstream market. We're the first company to pioneer meat and seafood-alt products from ocean-farmed kelp, which is making waves as both a health food trend and a regenerative agriculture trend.
Ocean-farmed kelp is often described as the culinary equivalent of the electric car because it has massive environmental benefits & is incredibly healthy to eat.
AKUA's brand resonates deeply with hundreds of thousands of customers because we care deeply about human health, animal rights, environmental & ocean health, and making our impact taste extremely delicious.