What people want to drink has changed but the industry hasn't kept up


The majority of the existing options in the soda & mixer category have 50% more sugar than your entire recommended daily intake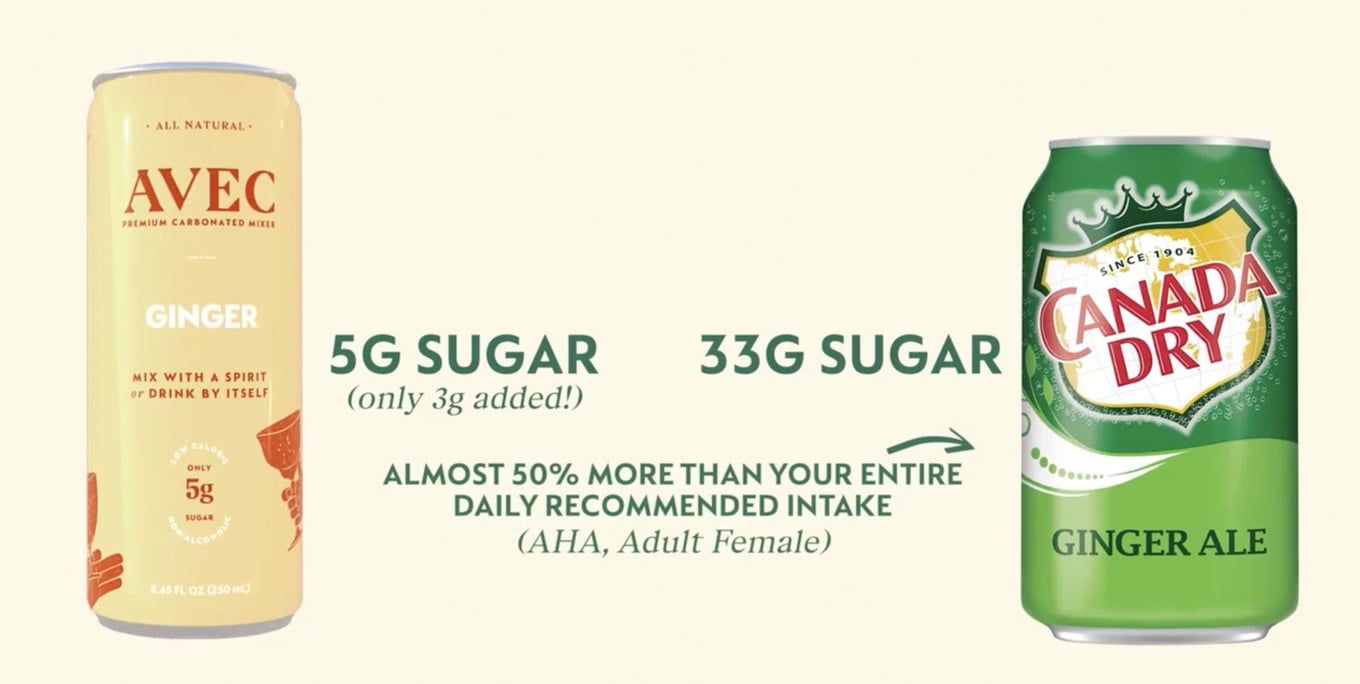 What's wrong with current options?
Full of added sugar or fake sweeteners: most have close to or more than your entire daily sugar intake, those that don't have equally bad fake sweeteners.
Made with nasties: brands use all sorts of beverage hacks from artificial sweeteners to coloring agents to not so "natural" flavors.
Outdated: where is the fun? We have a whole world of flavors to play with.
Why hasn't someone fixed it? Big Beverage has too much riding on its overly sweet flavors to disrupt itself. So we're doing it for them.
AVEC re-thinking the category from scratch — with the modern drinker in mind
Making soda & mixers that are:
Full flavored, dramatically less sugar: we use balance not sugar to create flavor. Our drinks are >80-90% less sugar/ calories than mainstream alternatives

Inspired by flavors from around the world: we bring the best ingredients the world has to offer to re-invent old classics and create new ones.

100% all natural: we use just juice, natural botanicals, spices, and the occasional drop of agave.

Versatile: We work well by ourselves as an NA treat - or when mixed with alcohol.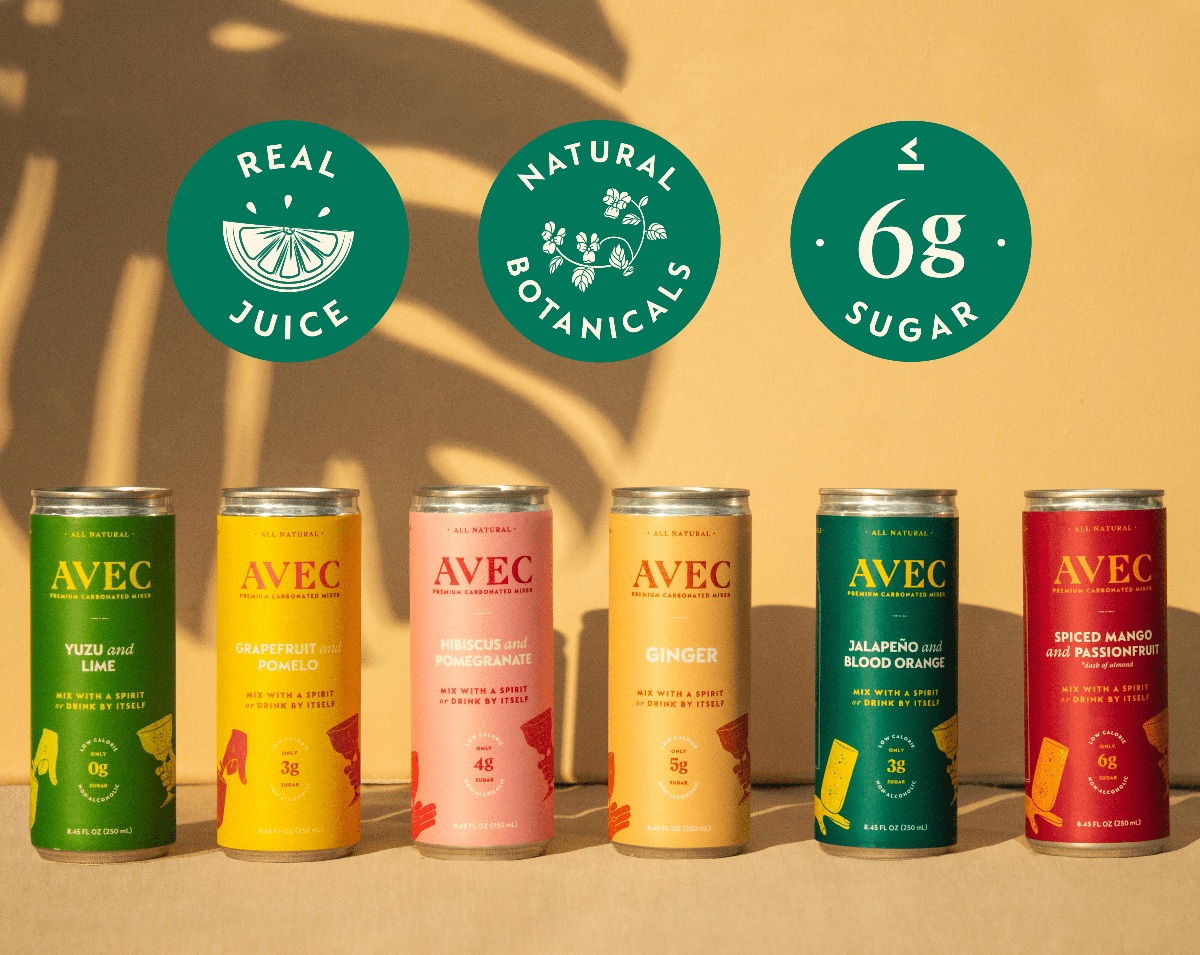 Turns out that when your drinks are made from quality ingredients, you don't actually need all that sugar!
We spend a ton of time balancing natural ingredients to create flavor
Instead of using a ton of sugar, or other beverage hacks like "natural flavor," dodgy sweeteners like stevia, monk fruit or erythritol. This means we can create great tasting products without the usual downsides.
They are tasty and healthy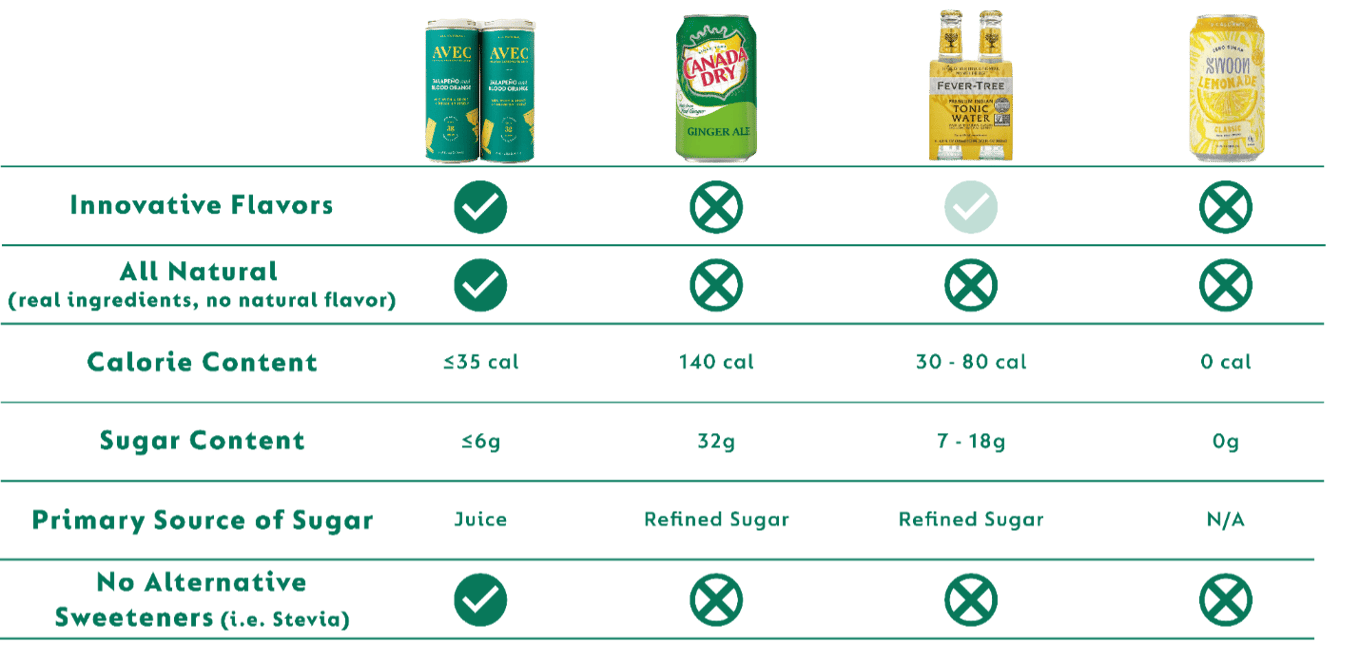 We have six flavors, all aimed at replacing a different favorite American flavor profile.



Exciting early sales, with multiple proven channels
$620k in 2021 (first year); $950k revenue in 2022; predicted to do ~$2m in 2023
100% wholesale sales growth YoY (Q1 2022 vs Q1 2023)

We've launched at Wegman's & BevMo with Sprouts planned for launch in July. This will take us from ~600 to 1200 locations

With potential for more: in conversation with 2 more large retail chains totaling >1000 more locations for

Proven love from chefs and bartenders in the on-premise with over 100 menu placements, including multiple Michelin-star restaurants serving AVEC!

Truly omni-channel with 50% of sales from offline & 50% online (DTC, Amazon, Faire.com)
Over 50% growth YoY, Wholesale growth >100%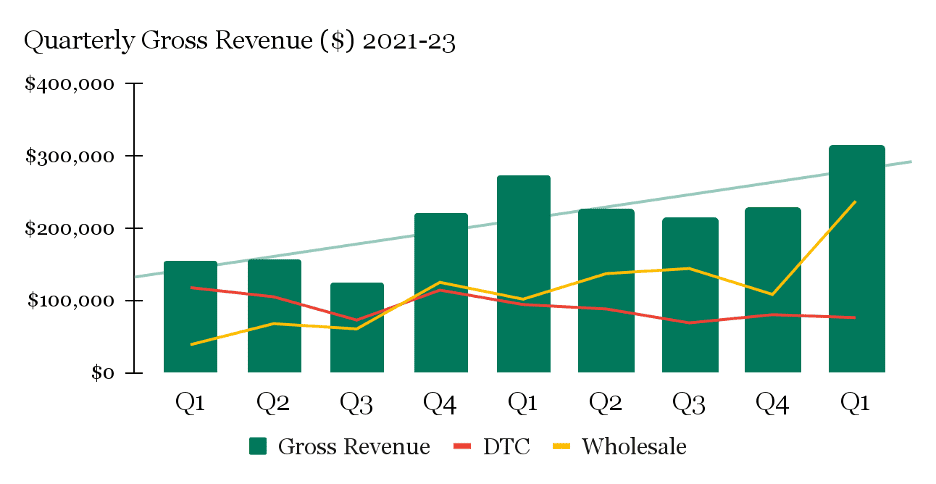 Exciting & growing customer base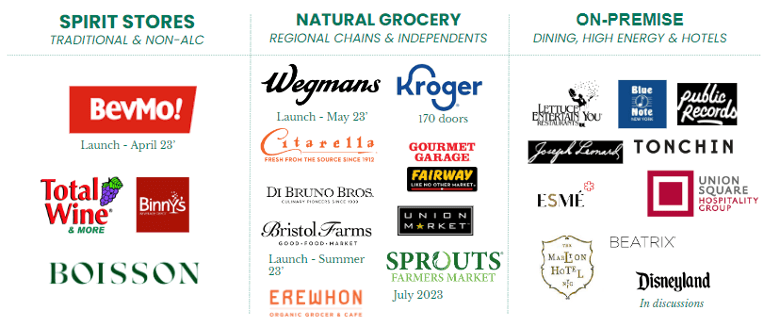 * Click here for important information regarding Financial Projections which are not guaranteed.
AVEC is for the mindful drinker, who is making conscious choices about what they drink.
There are three major & overlapping customers:
Health-Conscious Drinker: those who are conscious about both the sugar content and quality of what they drink
The Sober-Curious Customer: people who are looking to moderate or restrict their consumption of alcohol
The Foodie: people who deeply care about flavors and ingredients
They are giving AVEC rave reviews.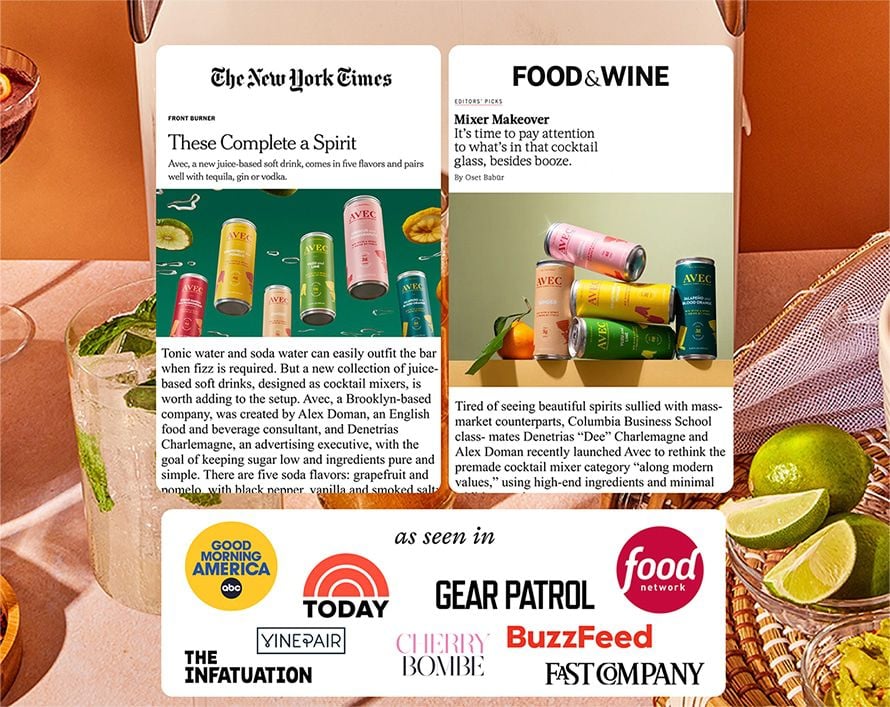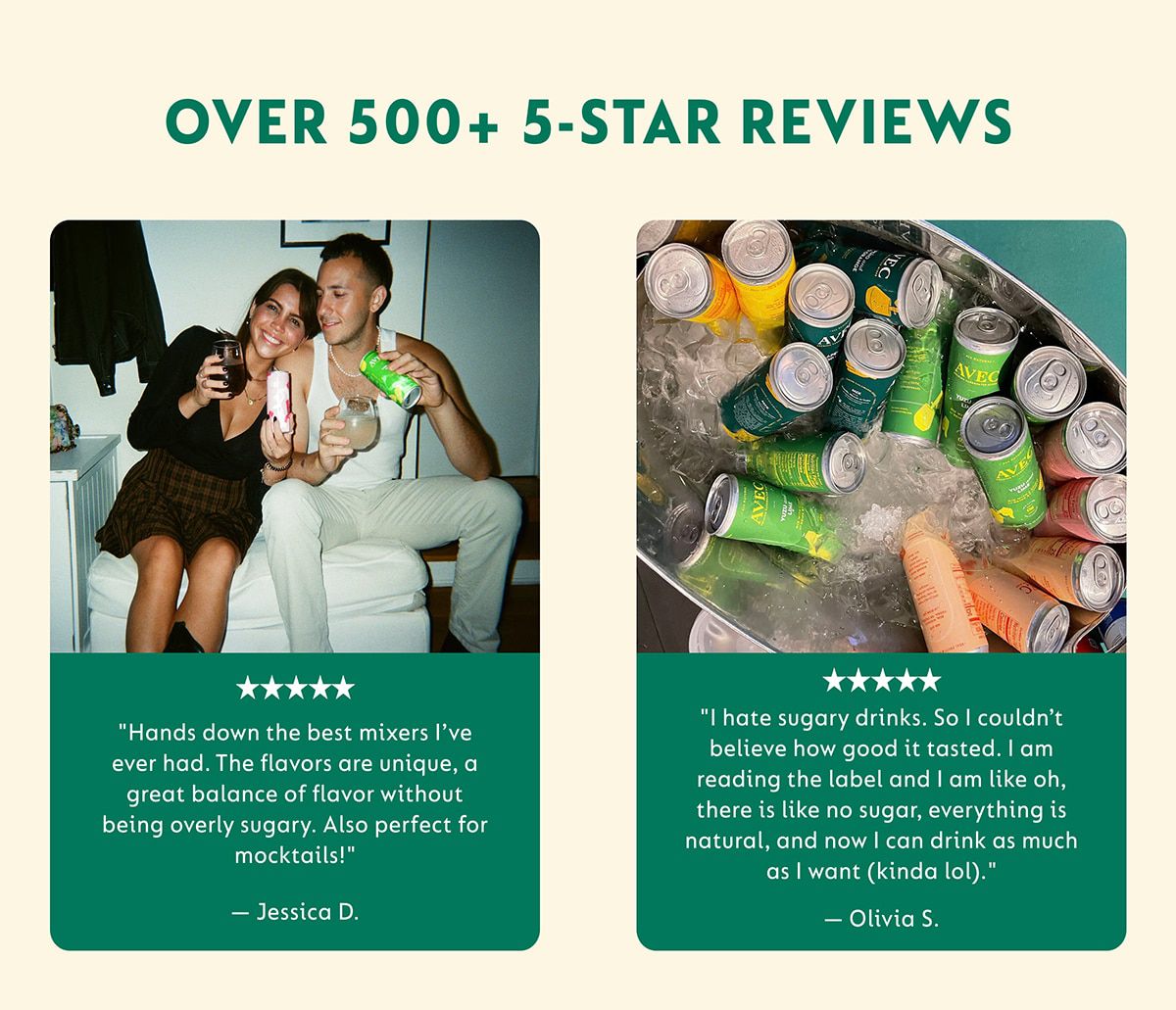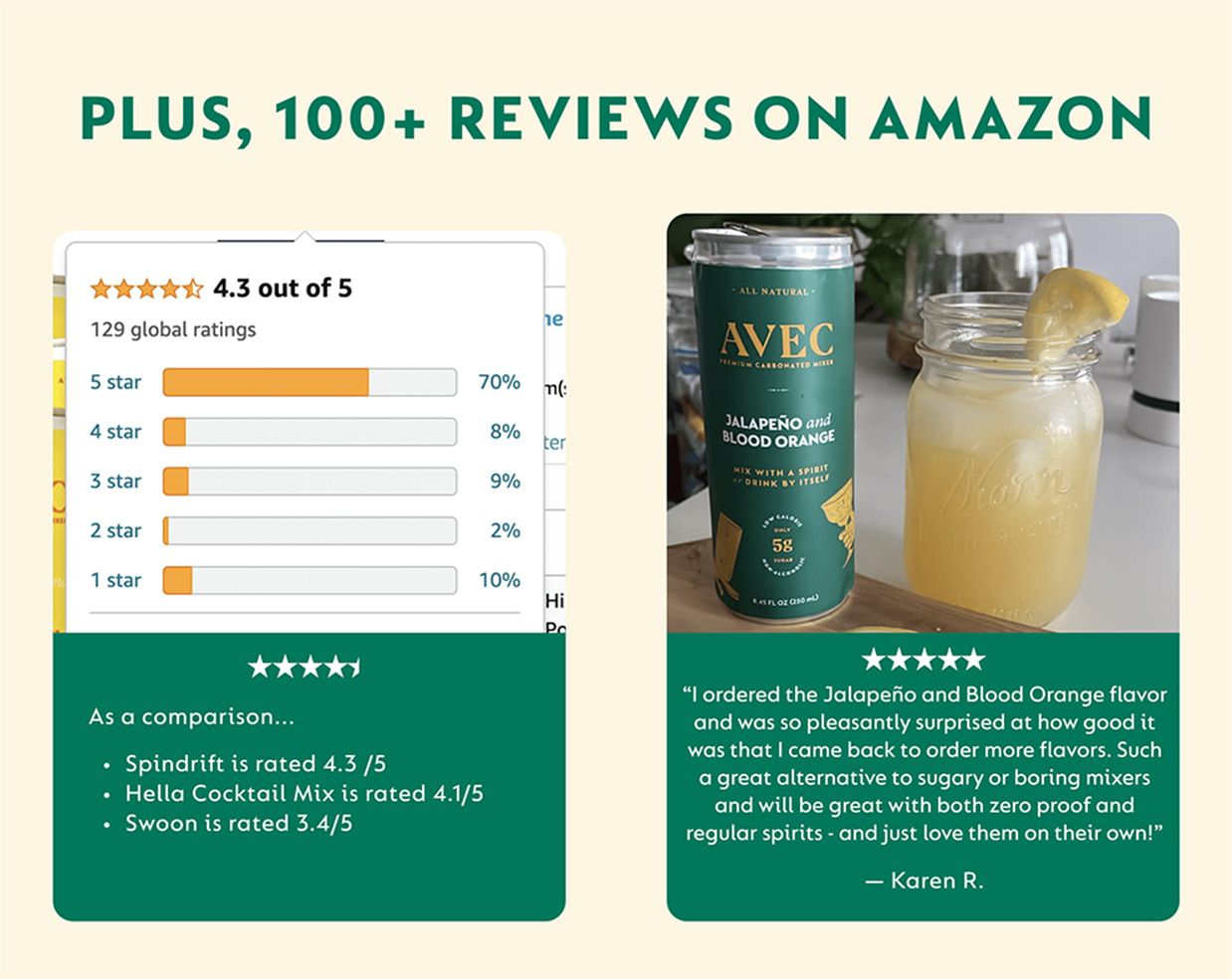 We sell through retail (grocery and liquor), on premise (restaurants & hotels) & online (DTC & Amazon)
We are focused on launching at major grocery & liquor retailers and building out distribution around them through local wine & spirits distributors.
How we get to $10m revenue <3 years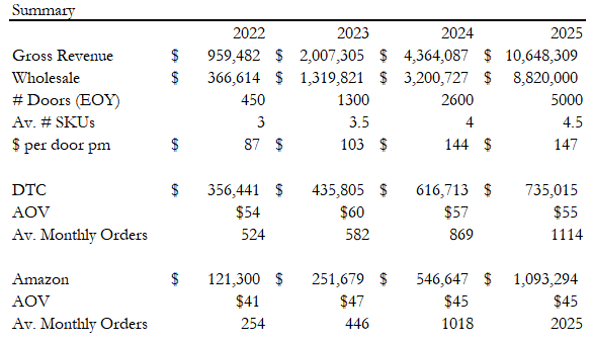 Our road map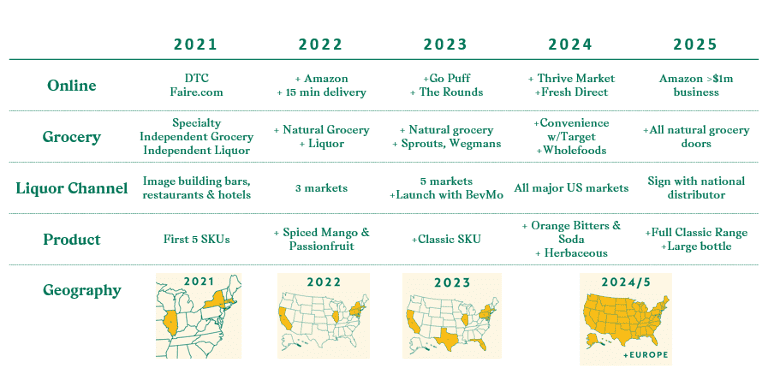 Our north star for what is possible is Fever Tree with a market cap of $2bn
Revenue multipliers tend to be 4-8x revenue and can be much higher
Gross Margins improve quickly with scale - the easiest way to show these is by breaking down our economics in grocery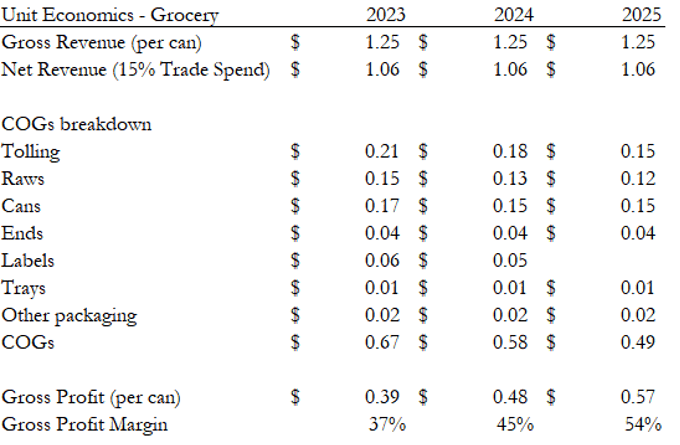 *In 2025 we would move to printed cans
Both the cocktail mixer & no/low alcohol market are huge and growing quickly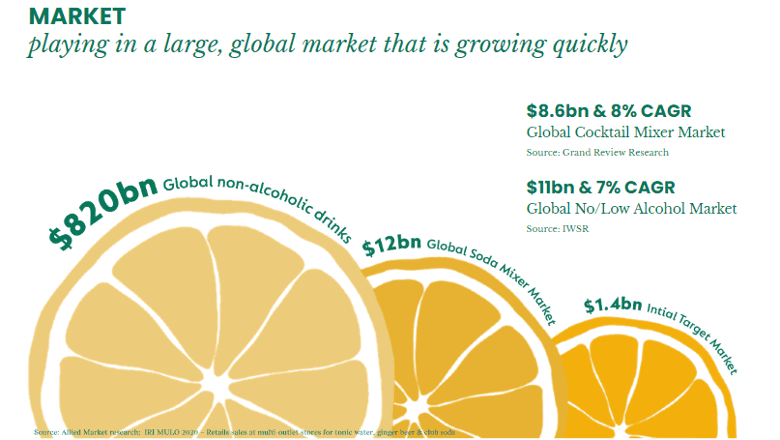 We are creating a new category of better for you & ingredient focused sparkling drinks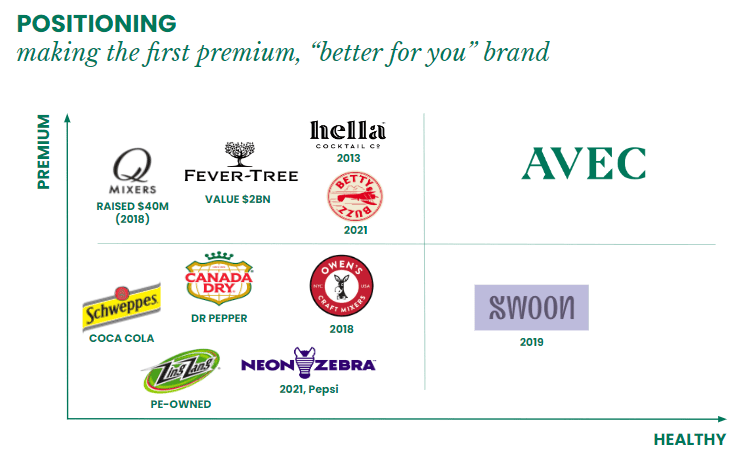 We are creating a global "better for you" soda & mixer brand on mission to help us drink better!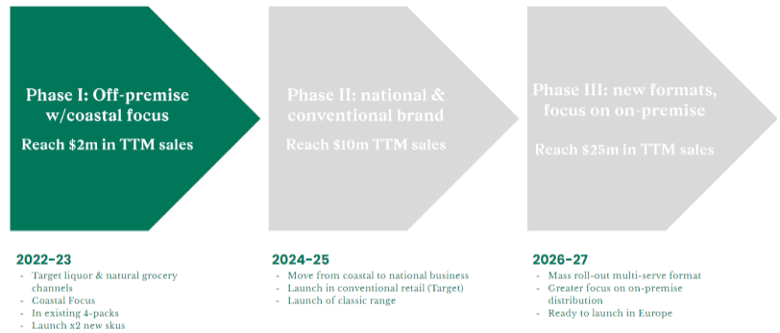 With an epic product pipeline

We are committed to doing a better job for the environment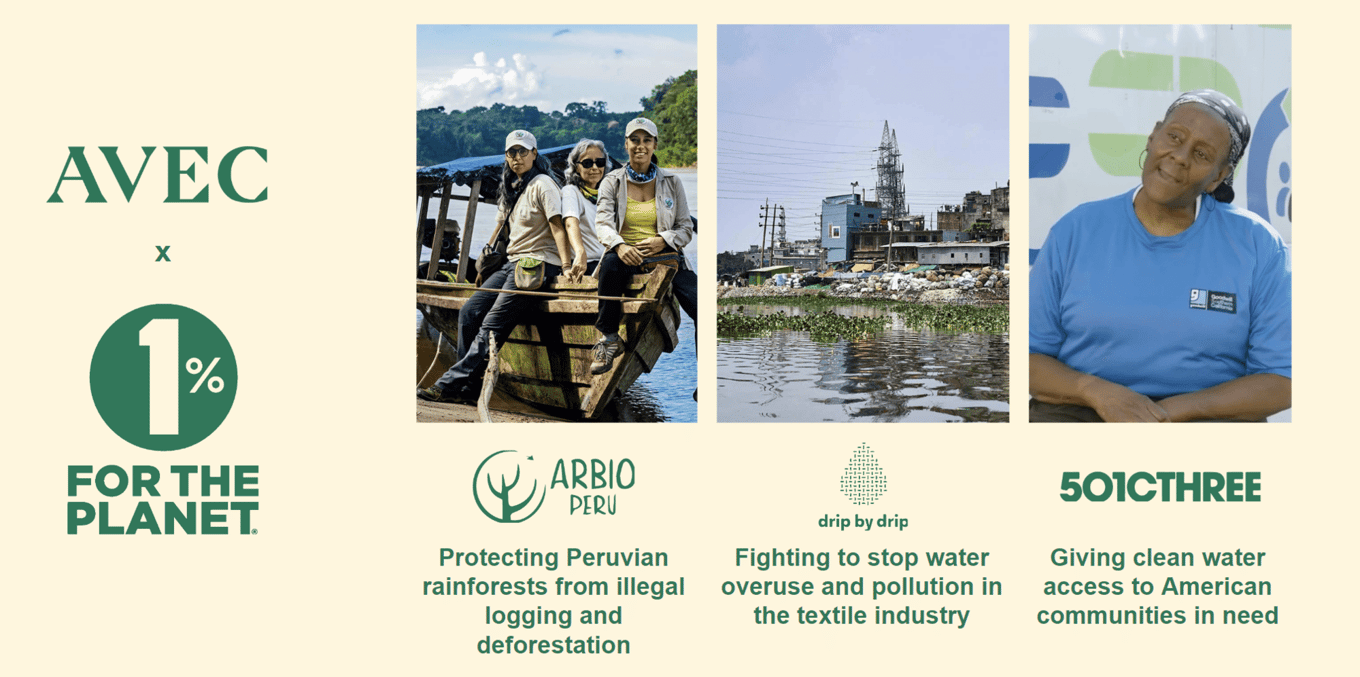 Investors & advisors

---
Raising money to nail our retail roll out!
---
Use of funds
Hire a sales & merchandising team
Provide marketing budget for in-store promotional activity
Manufacture more inventory
A young team paired with deep experience in F&B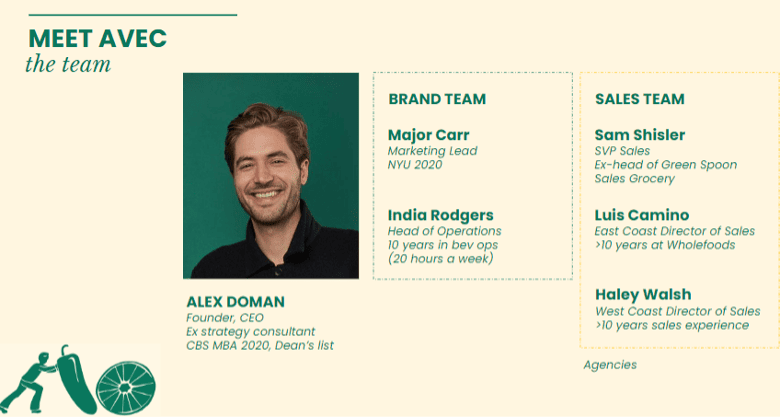 Come join us disrupt the world of big beverage and help us on our mission to re-create the category along modern, healthier lines. It's about time!
Why invest?
The time is now. Customer tastes are changing too quickly for large industry players to keep up. We can take a large slice of the pie in the meantime.
We're growing quickly with new retailers locked in – we just need the cash to fund it
Our biggest tail-winds are that people want to drink less and are looking for more non-alcoholic soft drink options & when they do drink - they are drinking higher quality spirits and so are looking for higher quality mixers. AVEC is purpose built to take advantage of these trends
Come help us change our small part of the world & help reduce sugar consumption! We are showing that you can have delicious drinks that aren't packed full of sugar or nasties. Let's prove it to the WORLD.
We are hustlers to the extreme. Alex, the founder, hand sold and delivered to our first 30 accounts... in 95' Chevy Van. For almost a year. Crazy, maybe.