Decentralized finance (DeFi) promises to evolve into a revolutionary new industry that empowers the masses to do more with their money and access the opportunities that were previously reserved only for professional investors, banks, corporate giants, governments. 
But there's a problem. In its current state, DeFi just isn't accessible and is primarily leveraged by heavily experienced traders and cryptocurrency enthusiasts with a good understanding of Web3 technologies. 
Nested, a novel blockchain-powered portfolio management platform, looks set to change this by helping novice investors trade like professionals by leveraging the unique properties of non-fungible tokens (NFTs) and a powerful copytrading solution.  
About Nested
Billed as the "first DeFi social trading platform" Nested leverages the unique properties of decentralized finance, non-fungible tokens, and blockchain technology to enhance financial connectivity in the crypto community. 
Nested's primary product is a powerful portfolio tokenization solution that allows users to easily create NFT-backed token portfolios, known as 'Nested portfolios'  — each of which can consist of up to 12 assets. This NFT represents the real value of the assets it contains, and can be easily changed, rebalanced over time, or liquidated in one click. 
But perhaps most importantly, Nested allows users to share their financial portfolios with other users, who can replicate these in return for a small fee — which is distributed to the initial portfolio creator as royalties. Because of this, users can earn passive income by simply maintaining and updating high-performing and attractive Nested portfolios. 
As a multi-chain solution, Nested is designed to support several of the most popular blockchains, allowing users to create portfolios consisting of a wide array of assets. On the flip side, users can use Nested to gain exposure to practically infinitely diverse portfolios, which can include bridged assets from multiple different chains. 
As a potentially game-changing social trading platform aimed at facilitating financial connectivity across the crypto community, Nested is set to change the way users think about investment, and level the playing field between novice and experienced financial professionals.
Thanks to its powerful trader profile features, Nested allows influencers, professional investors, and expert traders to create public profiles and Nested portfolios which can then be broadcast to their community. Fans, followers, and friends of these traders can then opt to follow their investments by simply copying their portfolio/s. 
The beta version of the Nested app is now up and running, and ready to take for a spin. Click here to give it a try. 
Team, Advisors, and Investors
Nested is being built by a heavily experienced multi-disciplinary team spread across the globe. The team is composed of 13 talented and complementary individuals and is led by its C-suite team. All team members have previous web3 experience, having worked at Ledger, Tezos, Fusion, and other major blockchain and FinTech firms. 
The main executive team at Nested currently includes:
Rudy Kadoch, Founder and CEO — an accomplished consultant with previous experience working with Accenture and Ledger.

Adrien Supizet, CTO — an accomplished software engineer and full-stack developer primarily focused on decentralized finance.

Aurélien Rousseau, CPO — a multi-talented individual and senior UX designer with experience in a diverse range of roles.

Alexia Martinel, CMO — an experienced strategist with previous experiences in VC and web3.0 ecosystems in SSI and Tezos.
The team also includes a proficient UI/UX designer, two social media managers, and six highly talented engineers with a wide range of skills and professional experience, ranging from banking to consulting, web3, and advertising. 
Besides the core team, Nested is also being advised by prominent blockchain industry figureheads, these include:
Joseph Eagan: The former director of Polychain Capital and current board member at HODLpac. 

Lito Coen: Founder of the Cryptotesters community and head of growth at Hop. 

Julien Bouteloup: A senior software engineer, angel investor, and serial entrepreneur with a primary focus on blockchain technologies.
Nested is also backed by an array of leading institutional investors, including the likes of Republic Capital, CMT Digital, Kinetic Capital. And has secured angel investments from prominent names including Louis Guthmann, lily Liu, Jean-Michel Pailhon, Steven Waterhouse, Joe Mccan, and Sam JDC.
Note that all angel investors are also advising Nested. 
How Does Nested Work?
Nested provides a simple and secure solution that allows users to build portfolios by gathering digital assets (ERC-20 tokens) into unique non-fungible tokens — each of which is known as a Nested portfolio, or NestedNFT. 
The platform provides an interface that allows users to set a budget, purchase an array of assets in one click, manage the contents of their NFT, broadcast their portfolio to their community, and cash out whenever needed. 
After creating a NestedNFT, the user receives the associated NFT directly to their wallet, enabling them to control the assets kept in the associated portfolio. The holder of this NFT is the only person with this control and nobody else, not even Nested's internal team, has any rights or control of the users' tokens. 
The platform allows traders to monetize their knowledge with ease by allowing them to earn revenue from users that copy their NestedNFTs. This process results in the issuance of a new NFT which reflects the holdings of the original. From this point on, the new NFT follows the original. Every time an update is performed on the original NFT, a notification is pushed on the platform to any followers. 
As a precaution, trades are not automatically executed. Instead, users will need to authorize the smart contracts to copy the move — updating or rebalance their portfolio as necessary in a single click. This helps to avoid regulatory and liquidity issues. Every time a step is copied, the creator of the original NestedNFT earns royalties. 
Portfolio creators can claim their royalties at any time.
The Nested protocol is a set of smart contracts which allow users to interact with DEXes, aggregators, and other dApps through its modular architecture. Each external protocol can be integrated by developing a contract known as an "Operator", which is plugged into the Nested protocol on the fly. This is designed to be as accessible as possible, helping to maximize the number of integrations and hence opportunities for users. 
Some functions of the protocol require admin rights, e.g. updating the protocol or plugging in new operators. The contracts are owned by the famous TimelockController contract from OpenZeppelin, set with a 7-day delay, which allows plenty of time for the team and the community to detect and avert any malicious or unsafe operation. The owner of the TimelockController is a three-party multi-signature wallet, which prevents the admin keys or admin access from being stolen. The private keys of each multi-signature wallet owners are secured by a separate Ledger. 
Nested has already conducted several protocol code audits and has had its code reviewed by three prominent blockchain security firms: Peckshield, Certik, and Red4Sec — these reports can be found here. Moreover, in collaboration with Code4rena, Nested hosted a security challenge that saw over two dozen whitehat experts scrutinize its code to share $50,000 in prizes.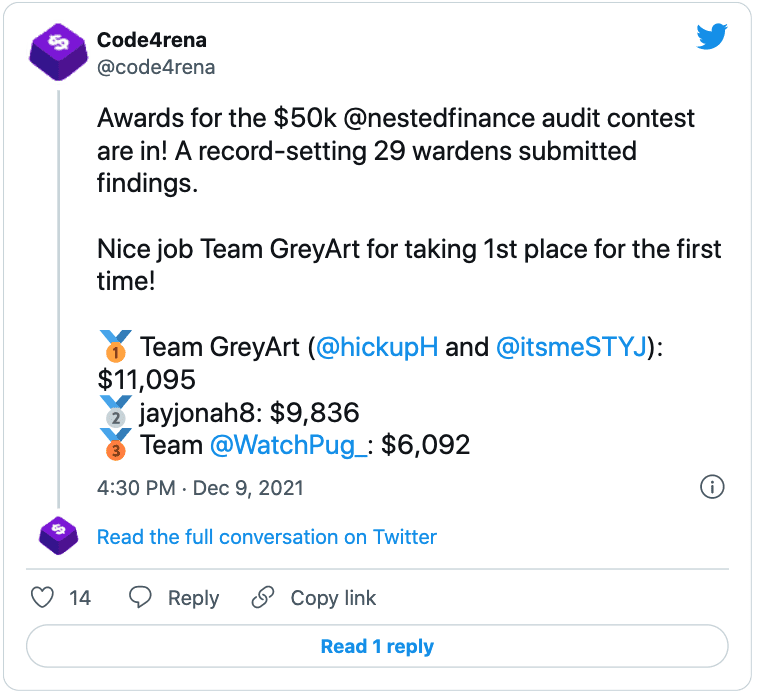 What Problems Does Nested Solve?
Nested is an ambitious platform that looks to democratize access to market expertise and insights — allowing individuals to trade like professionals while unlocking new revenue streams for experienced investors/traders. 
But more than this, Nested is looking to tackle three major problems facing the DeFi and Web space today, including:
Terrible DeFi User Experiences (UX)
Right now, the vast majority of DeFi applications have an incredibly poor and/or clunky user experience that make them difficult to get to grips with. These platforms were built to target native web3 users, with little to no consideration for those with limited or no experience with DeFi products. 
Nested tackles this problem from the grassroots by placing a major emphasis on its UX. The platform aims to have its application ready to onboard the masses by the end of 2022 — helping those with zero experience dealing with cryptocurrencies and decentralized technologies experience their benefits with zero obstacles. 
Web3 Noise and DeFi Democratization
Today, DeFi users are lost, with plenty of platforms and thousands of coins to choose from. They don't know where to invest their money. Most people do not work in the industry and don't have the time to follow the markets 24/7. 
On Nested, users can copy other professional traders' portfolios, be notified each time they make a move, and apply the updates in one click. One doesn't need to be constantly following the markets to perform financially anymore. Furthermore, through its "operators", other projects and DeFi protocols (such as Curve, Convex, Yearn, Alpha Homora, Aave, etc.) can easily be integrated into Nested's ecosystem — thereby making DeFi and assets staking/lending more accessible.
Community Growth and Monetization
Despite the promise and potential of DeFi, the traders and influencers that operate in this space have limited means to grow and monetize their communities — since referral links and data commoditization do not exist in web3. 
Instead, the current status quo is traders relying on tips to support their services, while influencers generally rely on payments to support and promote web3 projects to their community. 
On Nested, each time someone copies a portfolio, the original creator earns money. One can pick the assets he/she believes in and no longer need to advertise products and projects they do not believe in to maintain their community. 
With this, Nested allows users to established closer-knit communities built primarily on trust and shared growth, rather than sponsored plugs or handouts. 
The Nested Token
Nested features a native utility token known as the Nested Token (or NST). The token is primarily used for governance but also allows users to unlock additional utility from the platform.
Some of the NST token's primary use cases currently include: 
Governance: NST stakers will be able to have their voice heard by voting on changes to Nested's operating parameters, helping to improve the protocol.

Liquidity provider rewards: Nested will help bootstrap liquidity for the NST token across the DeFi landscape by rewarding LP token holders with NST tokens on a block-based schedule.

Premium content: NST stakers can unlock access to premium content, including exclusive portfolios from some of its best traders.

Tipping: Nested will provide tipping functionality, allowing users to reward their favorite traders in NST. 
Nested will be implementing a buy-back and burn system, using a fraction of the platform's profits to burn NST.
Note that the NST tokenomics and utility are still provisional and are hence subject to change. Likewise, given that the platform is community governed, additional use cases for the NST token may be implemented based on community input and voting. 
Unique Features
Nested looks to distinguish itself from the competition and carve out its own segment within the DeFi landscape by leveraging the following unique features:
All your digital wealth inside an NFT: On Nested, users create baskets of assets that are represented by an NFT. These NFTs can be transferred between individuals and represent ownership of the assets contained within the NFT and their associated value. 

Manage your digital wealth in one place through one token: Through the use of NestedNFTs, users can manage all, or part of their holdings through a simplified portfolio management solution that allows them to diversify their investments and capitalize on opportunities in as few steps as possible. 

Revenue sharing with portfolio creators: Each time a user copies or follows another user's moves, Nested shares part of its revenues with the original portfolio creator — providing a passive income model that rewards success. 

Exit the market in one click: Users can sell all their positions in one click. All the underlying assets in the NestedNFT are sold, then the NFT is burned, and the user receives the sale proceeds directly to their web3 wallet.

Multiswap with assets contained in your portfolio: On Nested, you can exchange several assets held in one of your NestedNFT in one transaction. 

Social overview sharing: Nested allows users to share their portfolios on social media to directly engage their communities. Their fans, followers, and connections will be able to interact with an attractive overview of their holdings and have the option to copy the portfolio in one click.

Maximum efficiency: The cost of creating a portfolio on Nested is 10 times cheaper than on the leading competing solution, while Nested's cross-chain support dramatically increases the range of assets portfolio creators and users can expose themselves to.
A Look Ahead
Nested is building for a future where DeFi isn't just used by tech-savvy financial experts, but the population at large. In line with this, the Nested product suite will be gradually expanded and upgraded with time to ensure it is more accessible, more powerful, and provides users with the most attractive opportunities. 
With a goal to become the one-stop DeFi app for newbies and native users, Nested is set to gradually implement the following new features:
Social components. Being able to create a profile and communicate with other members is essential. On Nested, users will be able to chat, send and receive private messages, tip other users if wished, enjoy activity and performance feeds, get notifications straight to their e-mail and their telegram, and much more.

Mobile friendly. To onboard the masses and cater to the needs of the 6 billion smartphone owners worldwide, Nested has to be mobile-friendly. The team plans to deliver a dedicated mobile app shortly after the launch of the Nested WebApp. 

On and off-ramp solutions. To help make Nested more accessible, several on-ramp and off-ramp solutions will be added to the product. Users will create or copy a portfolio with Apple/Samsung pay and cash out their funds in their bank account.

Staking/Lending assets via integrations. Within a Nested portfolio and through the Nested UI, users will be able to add lending/staking plans to their basket and confirm it. This feature will allow Nested users to build saving strategies and copy other users' saving strategies. Nested will integrate most yield protocols, including Curve, Convex, Yearn, Alpha Homora, etc. 

Limit orders. For each asset held in a NestedNFT, users will be able to set a limit order. This will eliminate the tendency to 'market watch' — allowing users to simply set their targets and let their investments do their thing. 

Cross-chain portfolios: Multichain assets can be extremely difficult for newbies and intermediary DeFi users to manage. Nested aims to integrate cross-chain protocols to build the first cross-chain strategies and start building a network-agnostic platform, helping to make the full breadth of the cross-chain asset landscape more accessible. 
For more on Nested's release pipeline, see its official roadmap. Or to find out more, visit the official Nested website. 
---
This notice should not be construed as an offering of securities or as investment advice or any recommendation as to an investment or other strategy by Republic Crypto LLC d/b/a Republic Advisory Services ("Republic Advisory Services") or any of their affiliates. Republic Advisory Services is  being compensated $60,000 in addition to $30,000 worth of tokens (at a price of $0.33 per token). Neither Republic Advisory Services nor any of its affiliates has independently verified any of the information provided or makes any assurances as to the completeness, accuracy or reliability of any such information provided by Nested Finance Ltd., a British Virgin Islands limited liability company. This web page may contain external links to third-party content (content hosted on sites unaffiliated with Republic Advisory Services), and neither Republic Advisory Services nor any of their affiliates makes any representations whatsoever regarding any third-party content/sites that may be accessible directly or indirectly from this post. Linking to any such third-party sites in no way implies or constitutes an endorsement or affiliation of any kind between Republic Advisory Services or any of its affiliates and any third-party. Republic Advisory Services are subsidiaries within a family of companies owned by OpenDeal Inc. (together sometimes referred to as "Republic"). Republic and its affiliates do not provide tax, accounting or legal advice — all recipients are advised to consult with their own