Education is broken — especially for entrepreneurs
We live in an entrepreneurial economy. 300 million people across the globe launch new businesses every year. And in the U.S., over 50% of the workforce will be freelancers by 2030.
But the education system today doesn't work for entrepreneurs. Paying 5 or 6 figures to a university is too expensive to learn skills that will be outdated in 5 years. And online video courses are ineffective and lonely, with only 7-10% completion rates. Today's entrepreneur is craving community and hands-on learning at a price they can afford.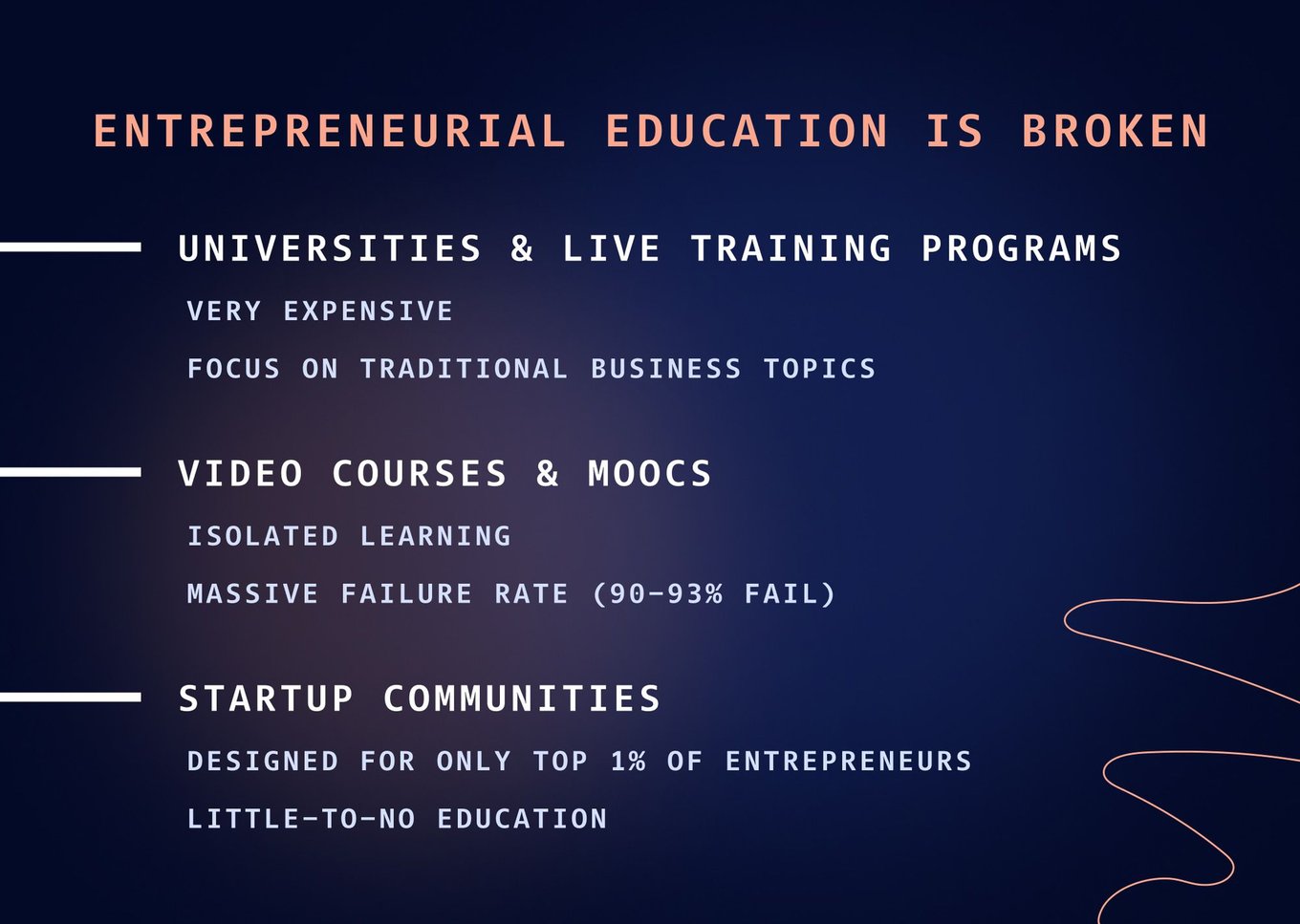 Day One is building a new kind of school
We're building an online learning platform that doesn't look like a traditional school:
We teach real-world entrepreneurial skills.
Our virtual, cohort-based courses focus on learning-by-doing and supporting entrepreneurs as they get their hands dirty.
We drop the idea of semesters, certificates and accreditation, and run programs that fit real world builders.
We support entrepreneurs with ongoing exclusive events, curated resources, and connections to a growing community.
We've lowered the cost to make this community and education as accessible as possible.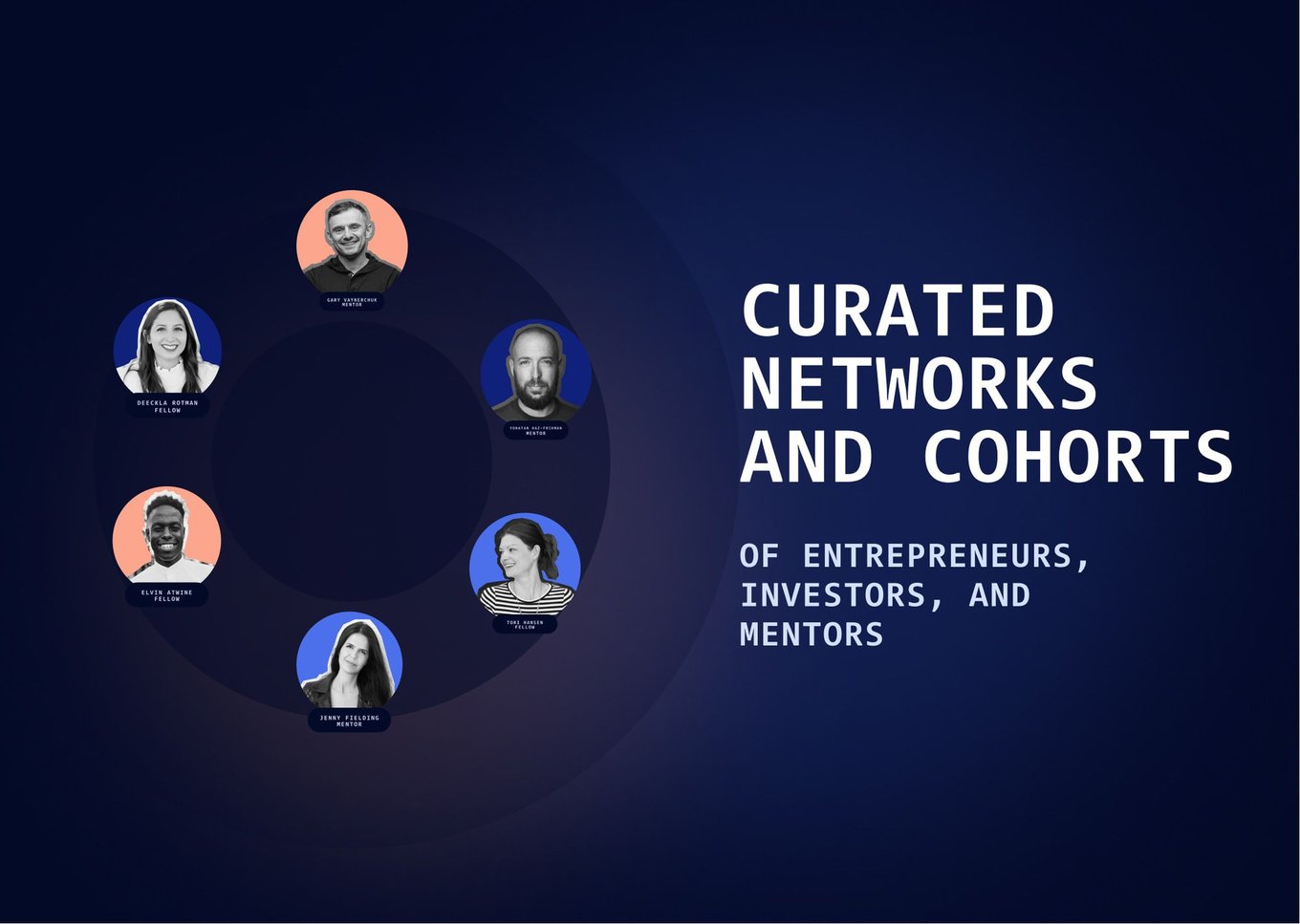 Join a membership that combines community and cohort-based learning
Day One operates as a paid membership, combining the best of an ongoing and growing community, with the best of cohort based courses (which we call Tracks).
We offer three tiers of monthly and yearly memberships. Entrepreneurs join, and immediately tap into the network, private events, exclusive resources, and cohort-based learning. All at a price point that is 10x less than a traditional university.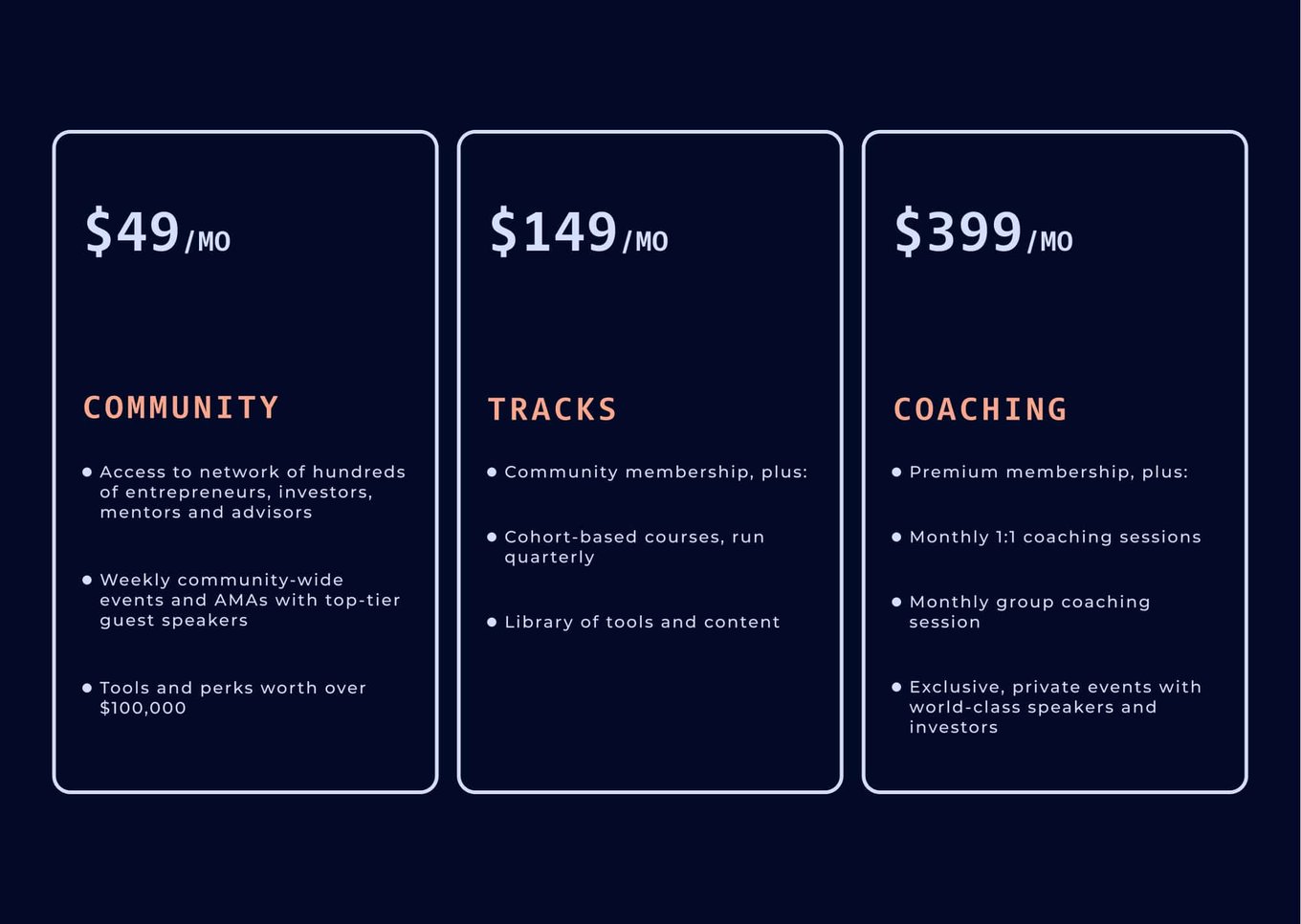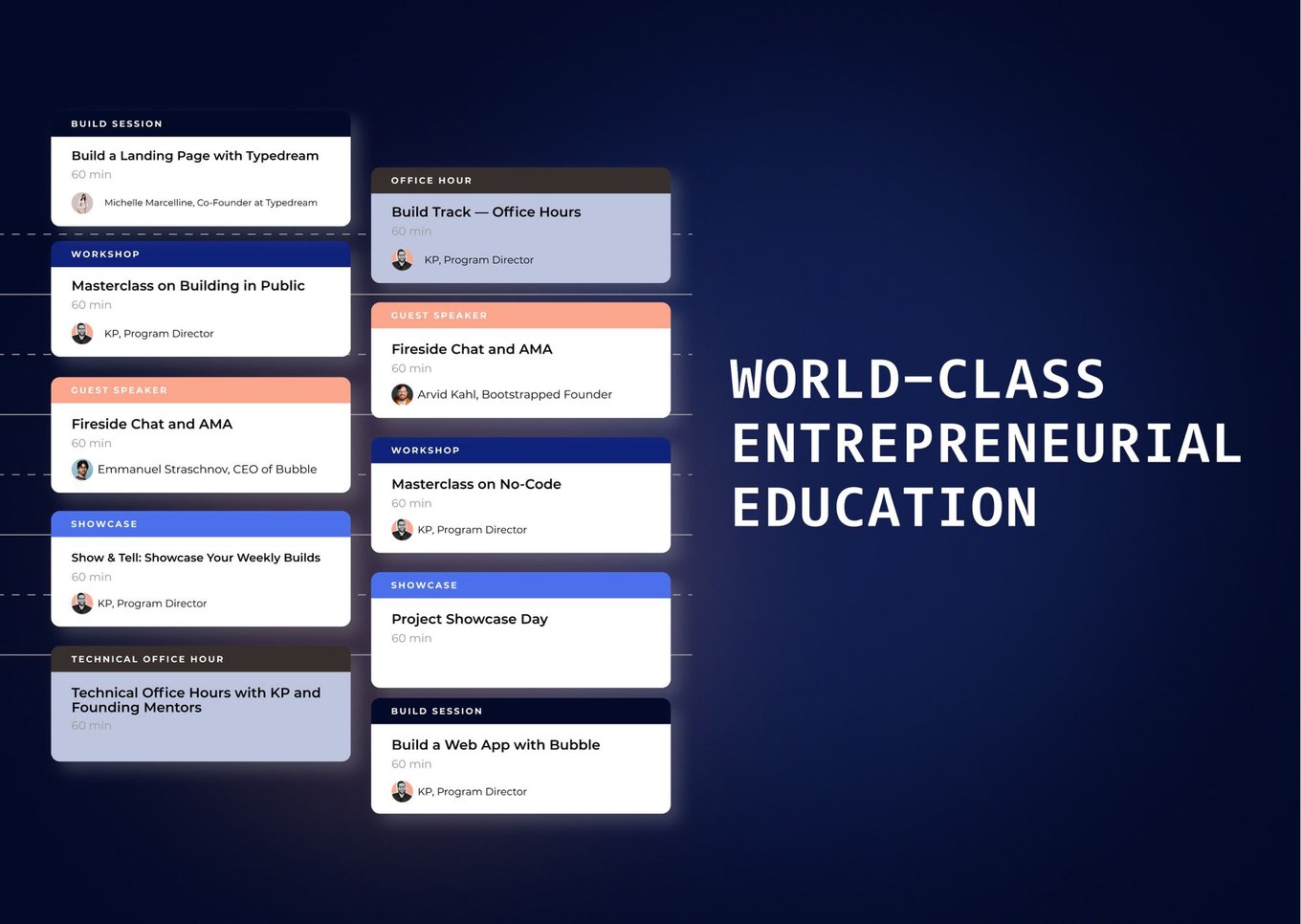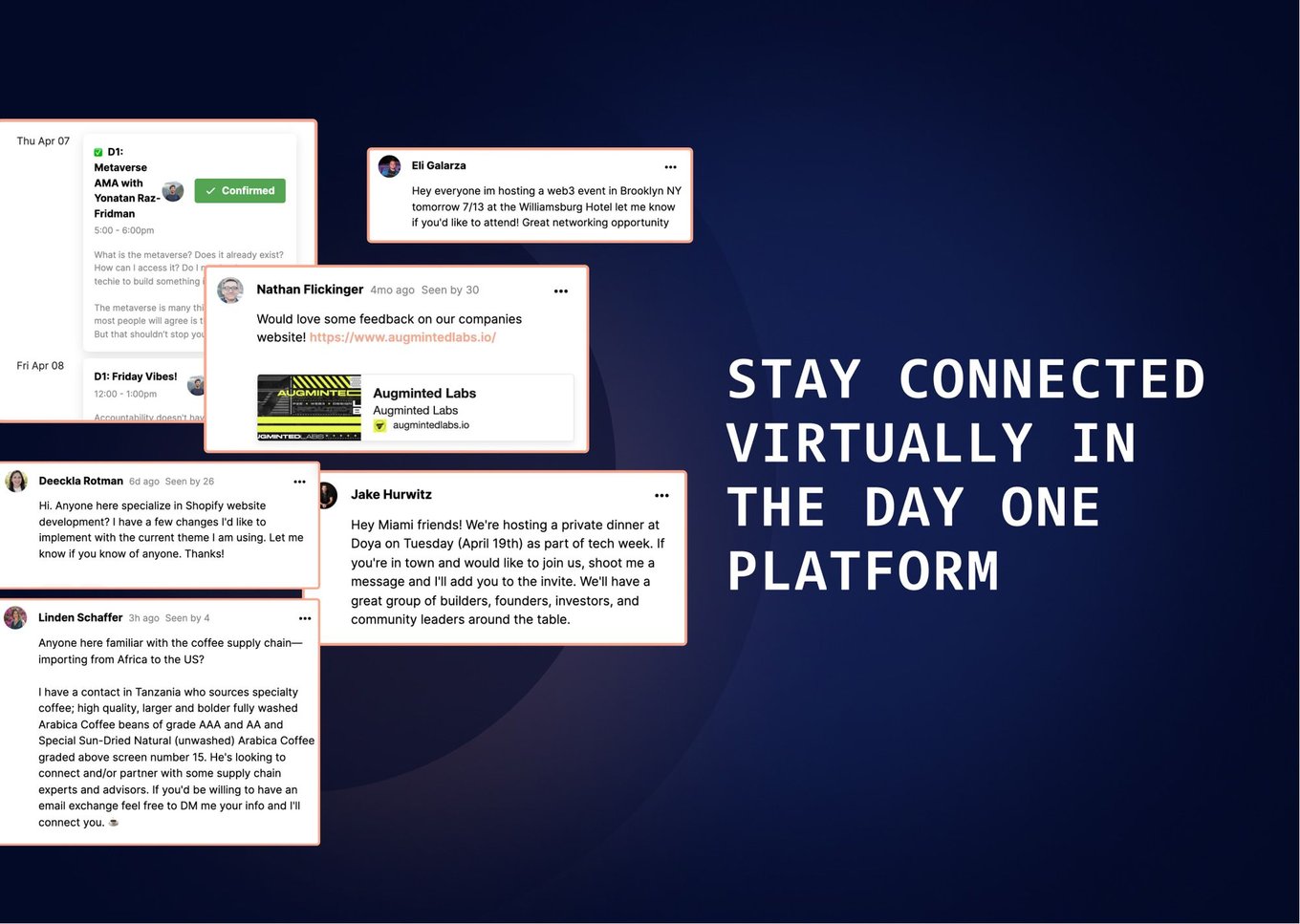 We've proven the value of our community + cohort education model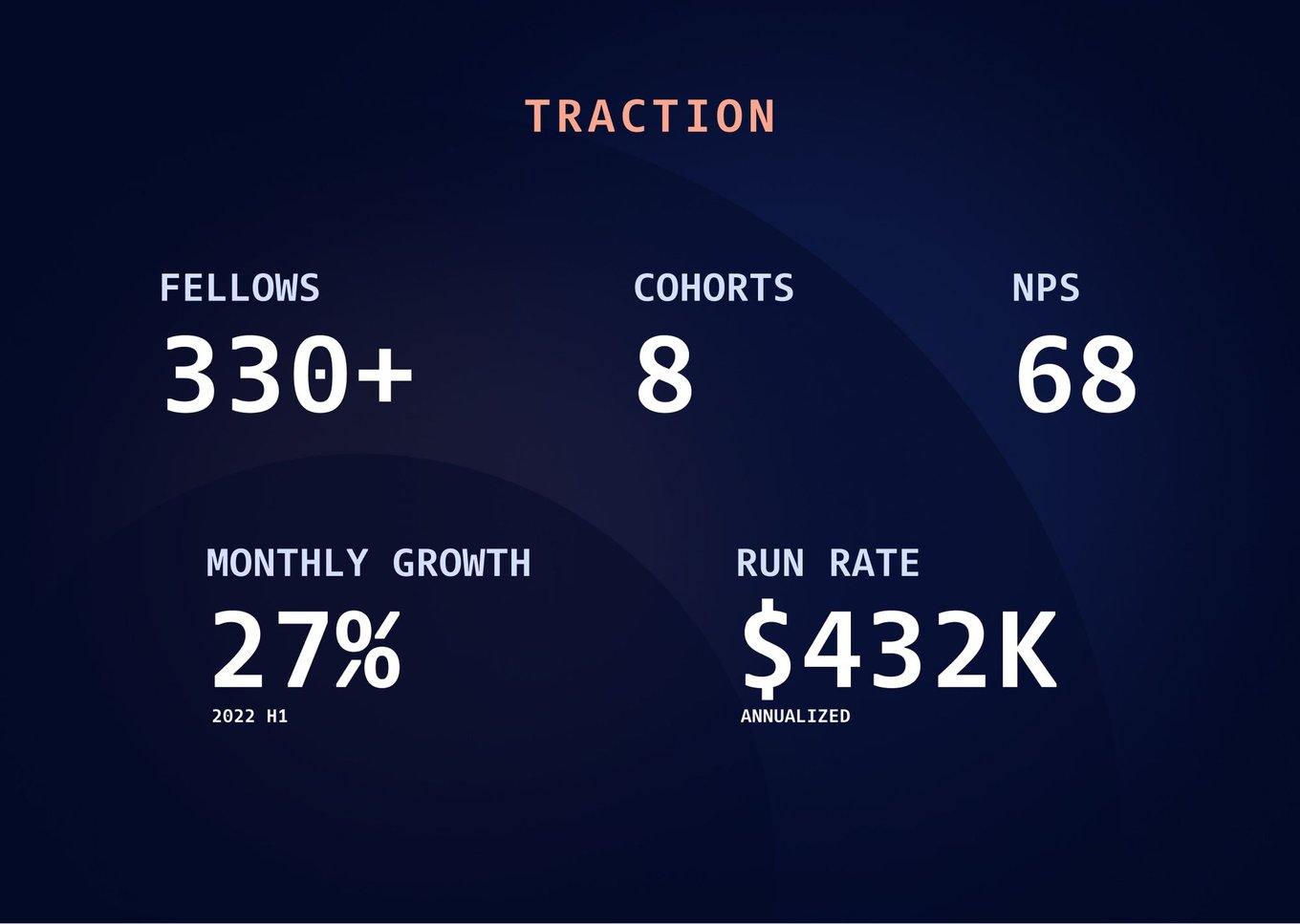 Day One is designed to be inclusive
Day One members come from all walks of life and are building all kinds of businesses:
🆓 Quitting a day job to become a freelancer
🍪 Making products and building brands
📱 Building SaaS products and apps
📹 Making content, writing newsletters, coaching and teaching
The common thread is that everyone is an entrepreneur (or aspiring entrepreneur) and they know that this journey requires community, support, and to be continuously learning.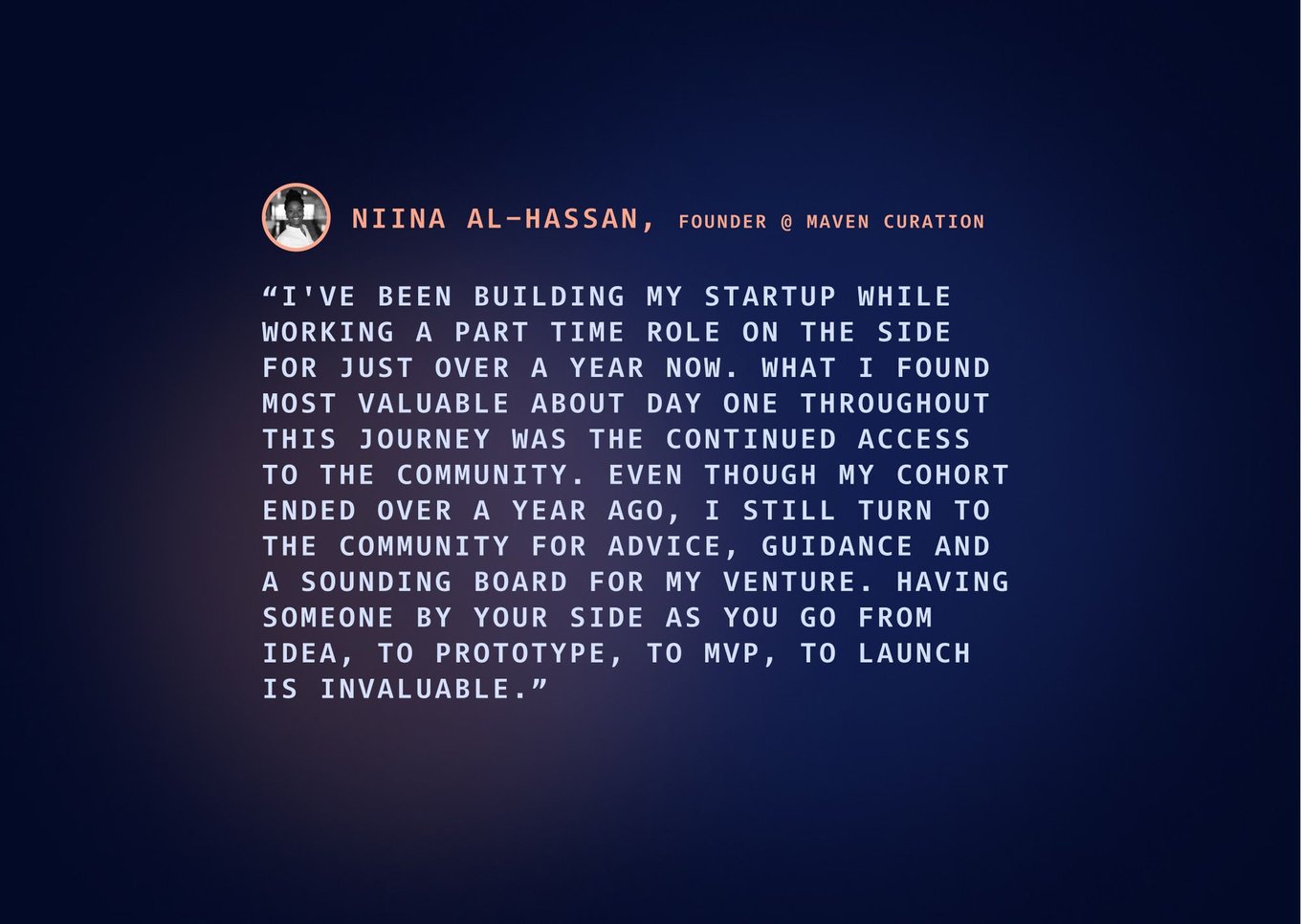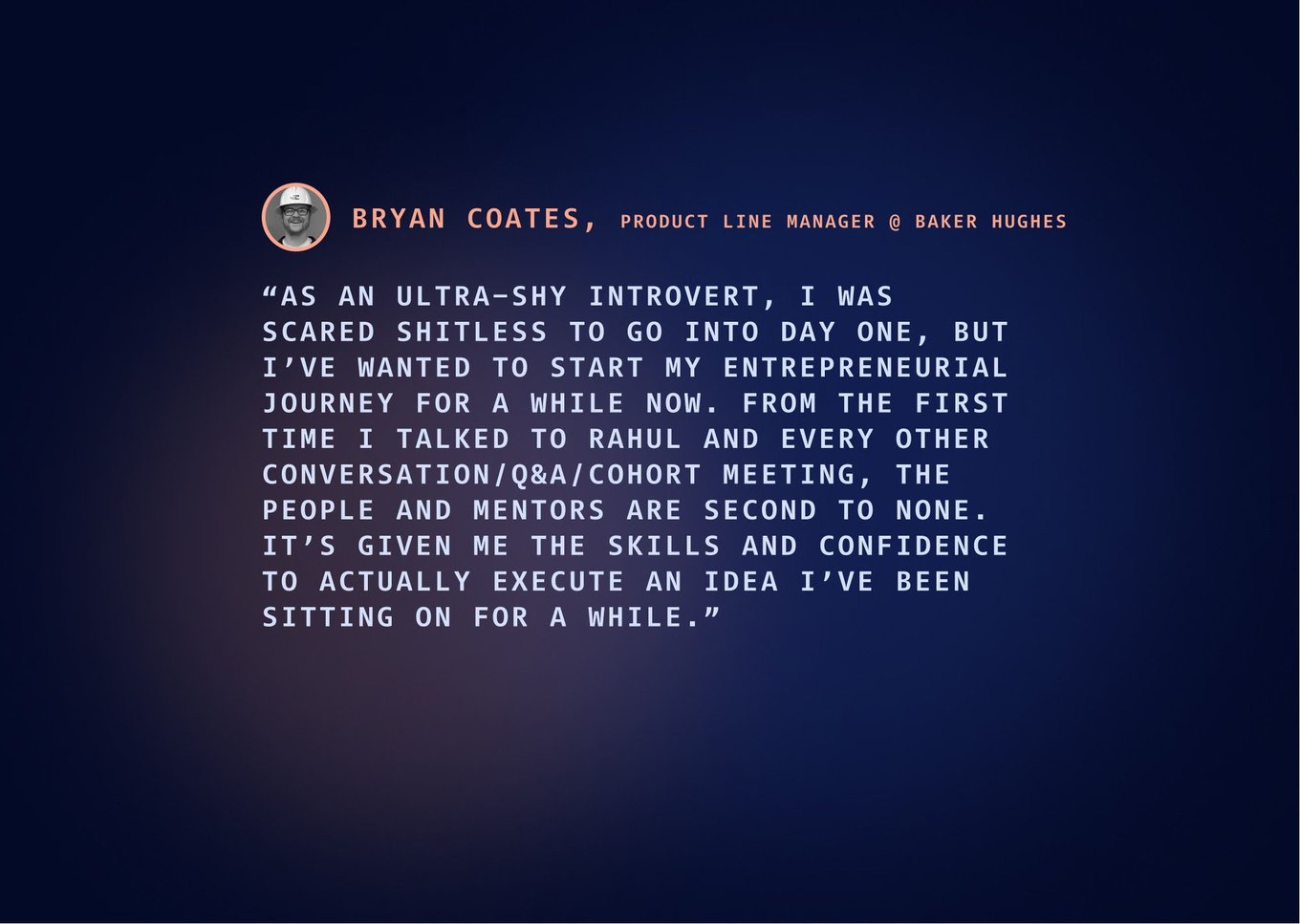 High margin subscription model that scales to millions of entrepreneurs
In our first 2 years, we launched and refined our education model. Now, we've launched monthly memberships that lower the price of entry, and are focusing on growing our community.
We scale to hundreds of thousands of members through free content and an SEO strategy, network-led referrals, and performance marketing.
As we scale, we grow our margins and build a defensible moat. "The Community Flywheel" drives more value to each member as we grow.
We'll build out our community and learning platform to keep the tight-knit feel & continually drive down costs. This allows us to deliver software-like gross margins > 70% at scale.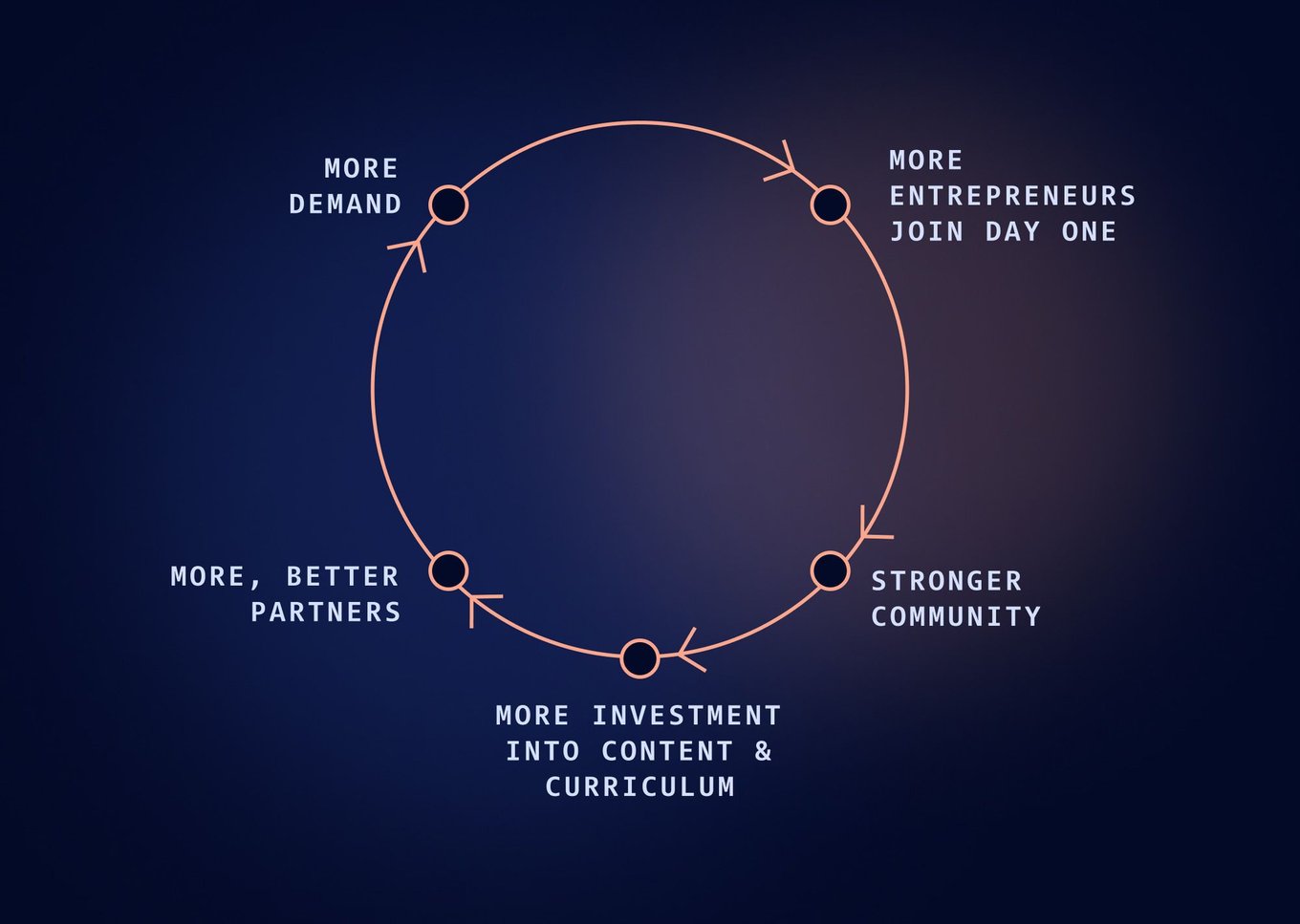 The global online education market will be $274b by 2024
Day One is targeting the global online education market and filling the need for entrepreneurial learning.
The pandemic accelerated the growth of entrepreneurship. 2021 saw more new businesses started than ever before. And 2022 has seen record numbers of people quitting jobs.
Over 300 million of these people across the globe will launch new businesses every year.
With our current business model, we project that we can achieve $100M+ in revenue by serving 100,000 entrepreneurs and entrepreneurial professionals - which is just a small fraction of the overall entrepreneurial economy.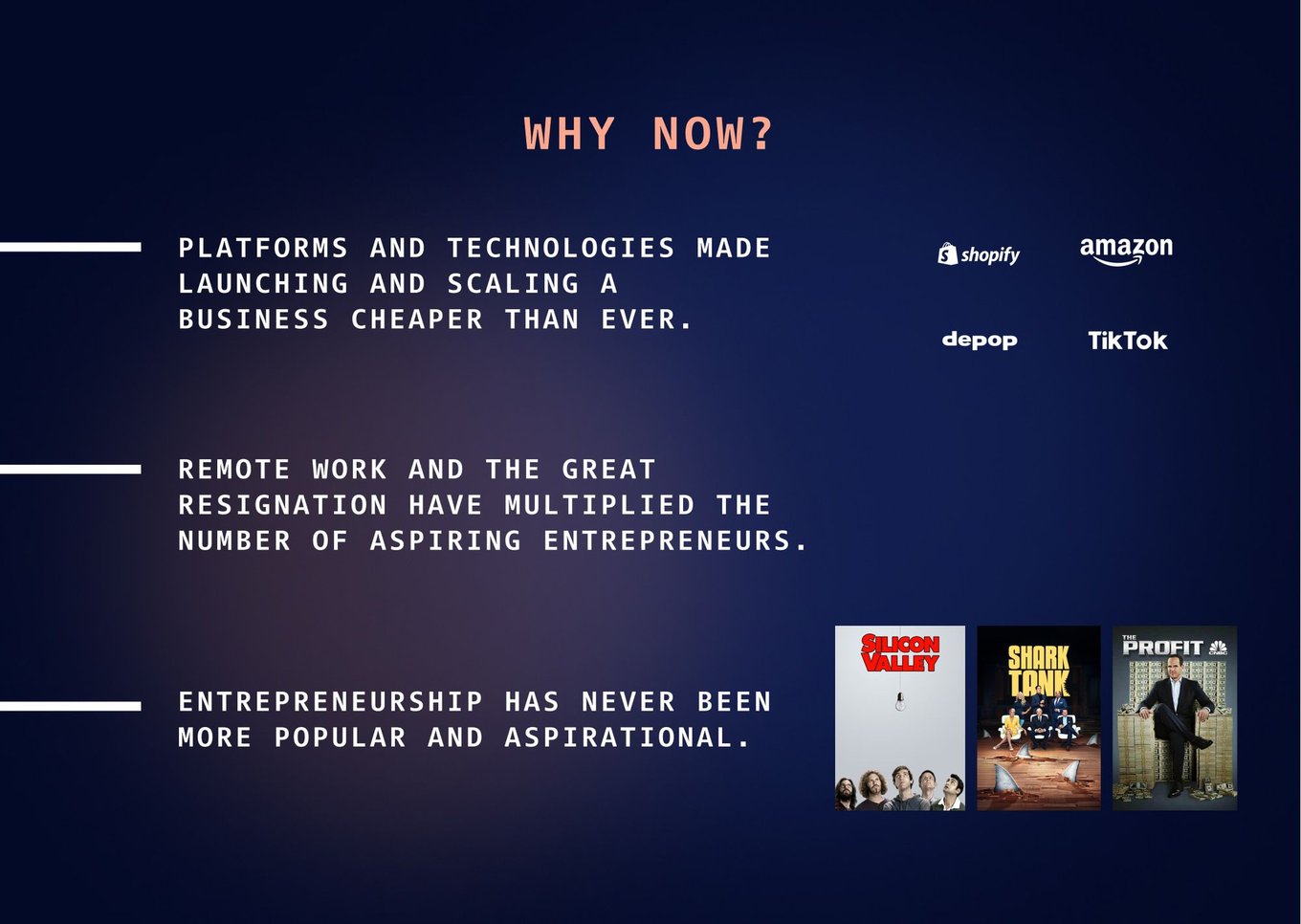 Our primary competitors are online business education programs
Our closest competitors are online, cohort-based course platforms like Reforge or Section4 — but these focus on general business and tech skills. They don't focus on entrepreneurship, nor are they building a community for entrepreneurs.
Other competitors include online university programs - like HBX or Wharton Extension School — that do offer some programs for entrepreneurs, but don't offer high-touch learning or ongoing community.
Lastly, startups like On Deck or Launch House offer community for entrepreneurs — but they focus on a specific niche of VC focused founders, and don't offer or focus on entrepreneurial education.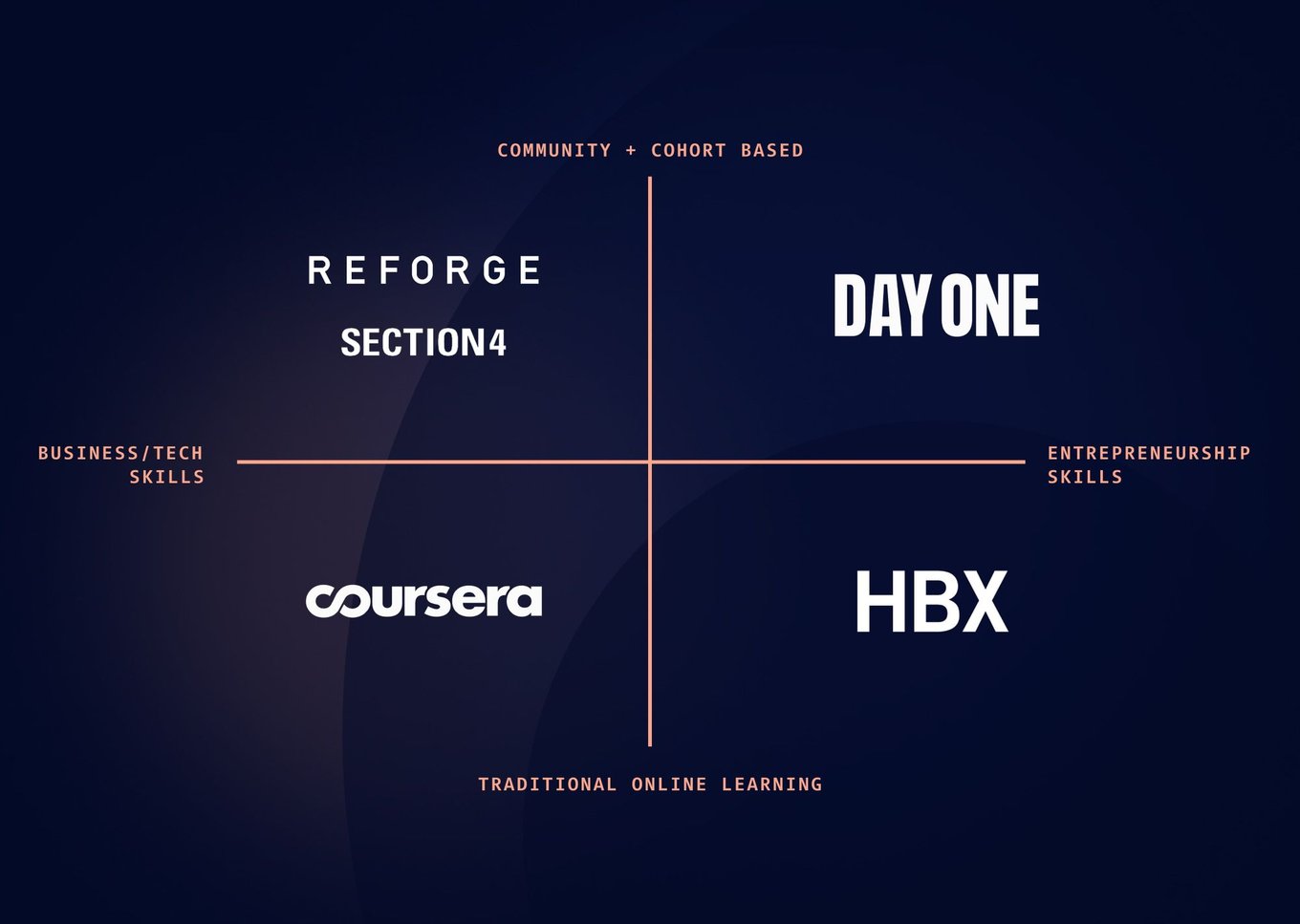 Become the go-to brand for entrepreneurial education
We'll invest in two key areas as we 10x the scale of our community by the end of 2023:
Our learning platform: in 2023 we'll launch between 5-10 new tracks, invest in high quality content, and build tools to better facilitate peer-to-peer learning.
Our brand: we'll create and share more content, including free learning programs, host events, and build out paid social and search marketing channels.
As the community grows, the quantity and quality of programming expands, and we develop our learning platform, we deliver more value at lower costs, allowing us to invest more and more in growth.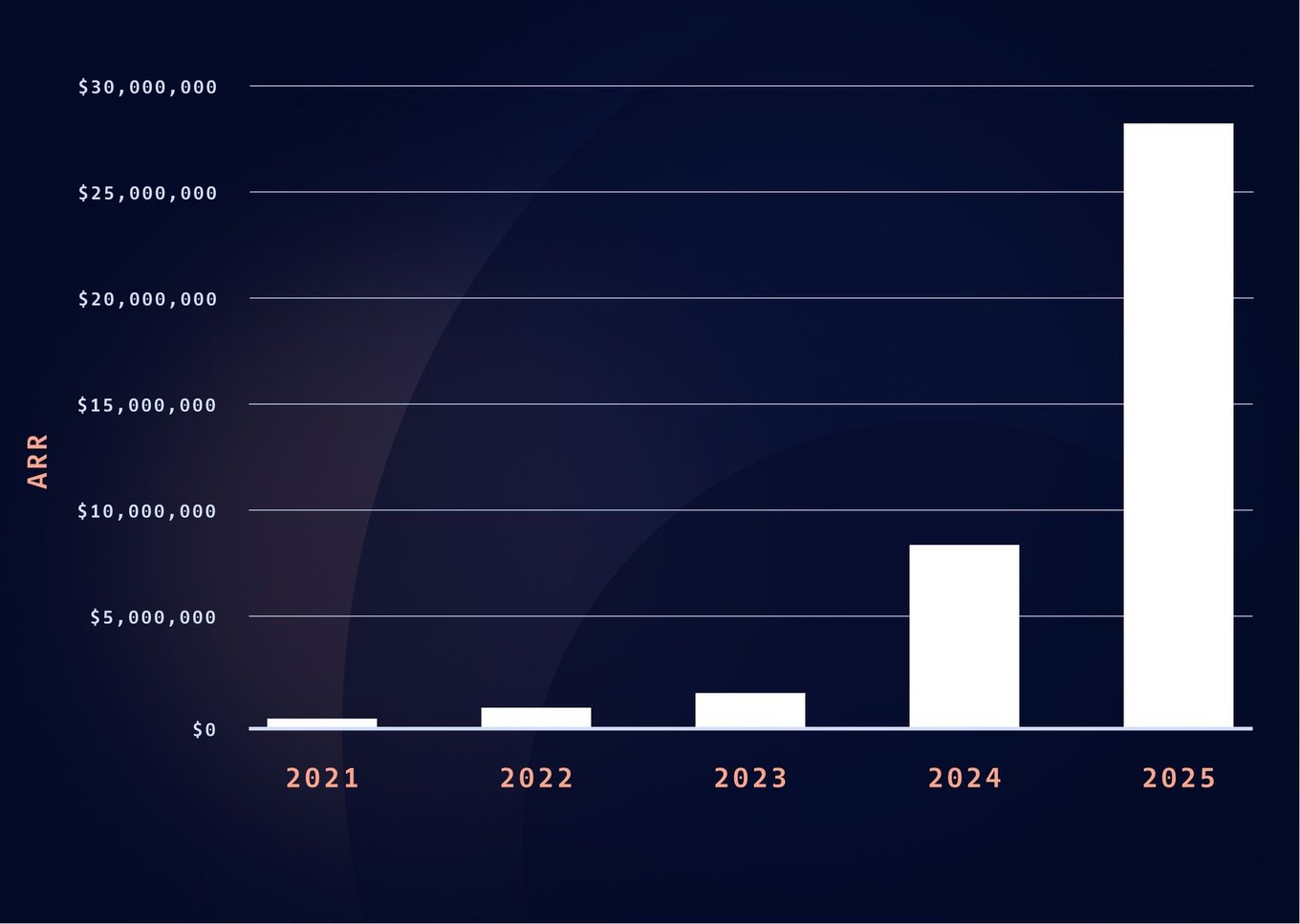 * Click here for important information regarding Financial Projections which are not guaranteed.
We've helped hundreds of entrepreneurs start and grow new businesses
These entrepreneurs are diverse and come from across the globe, representing 19 countries.
Founders have gone on to join world class accelerators and raise millions in VC funding.
Entrepreneurs have launched products and generated hundreds of thousands in revenue.
Creators and builders have shipped products for the first time.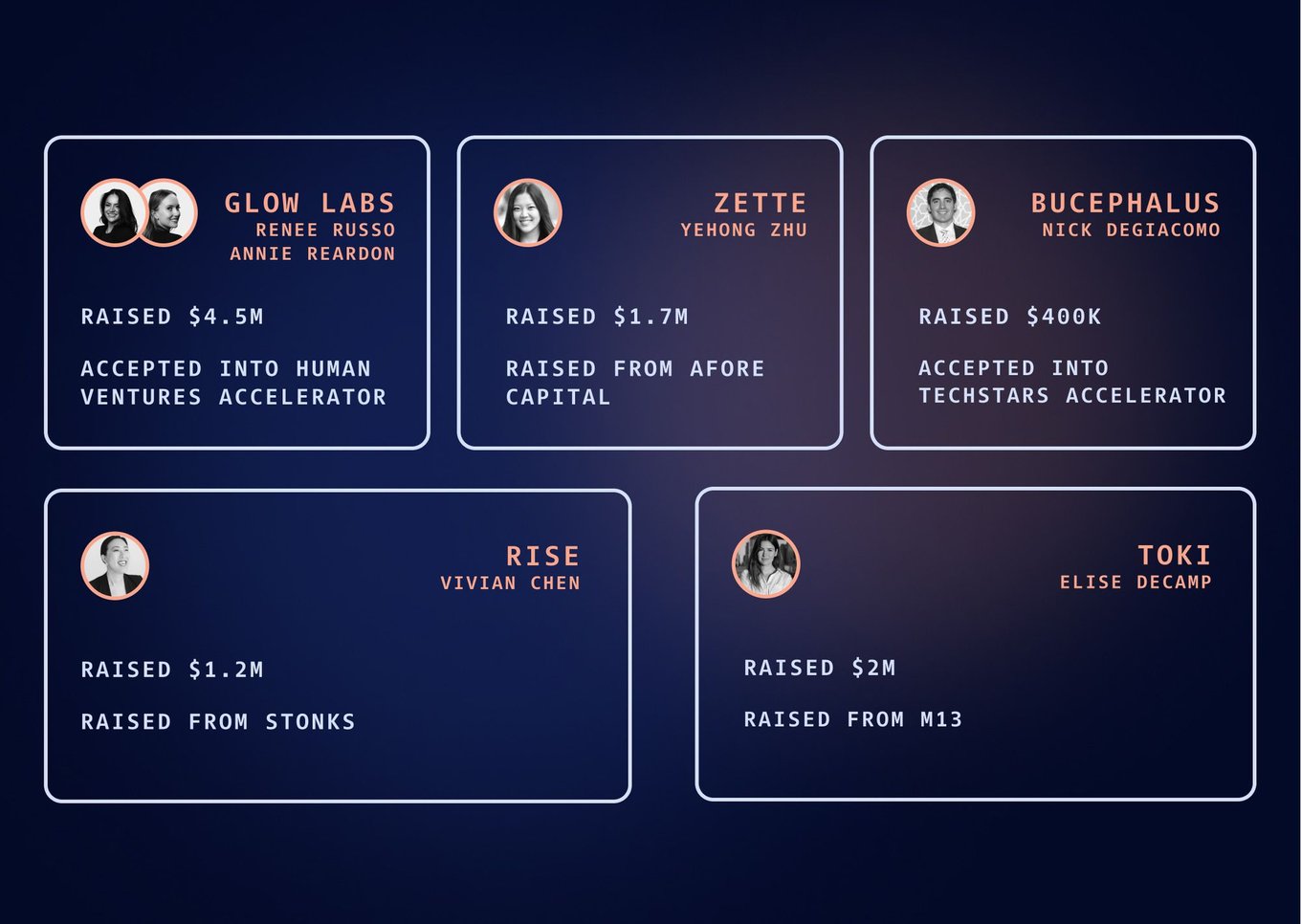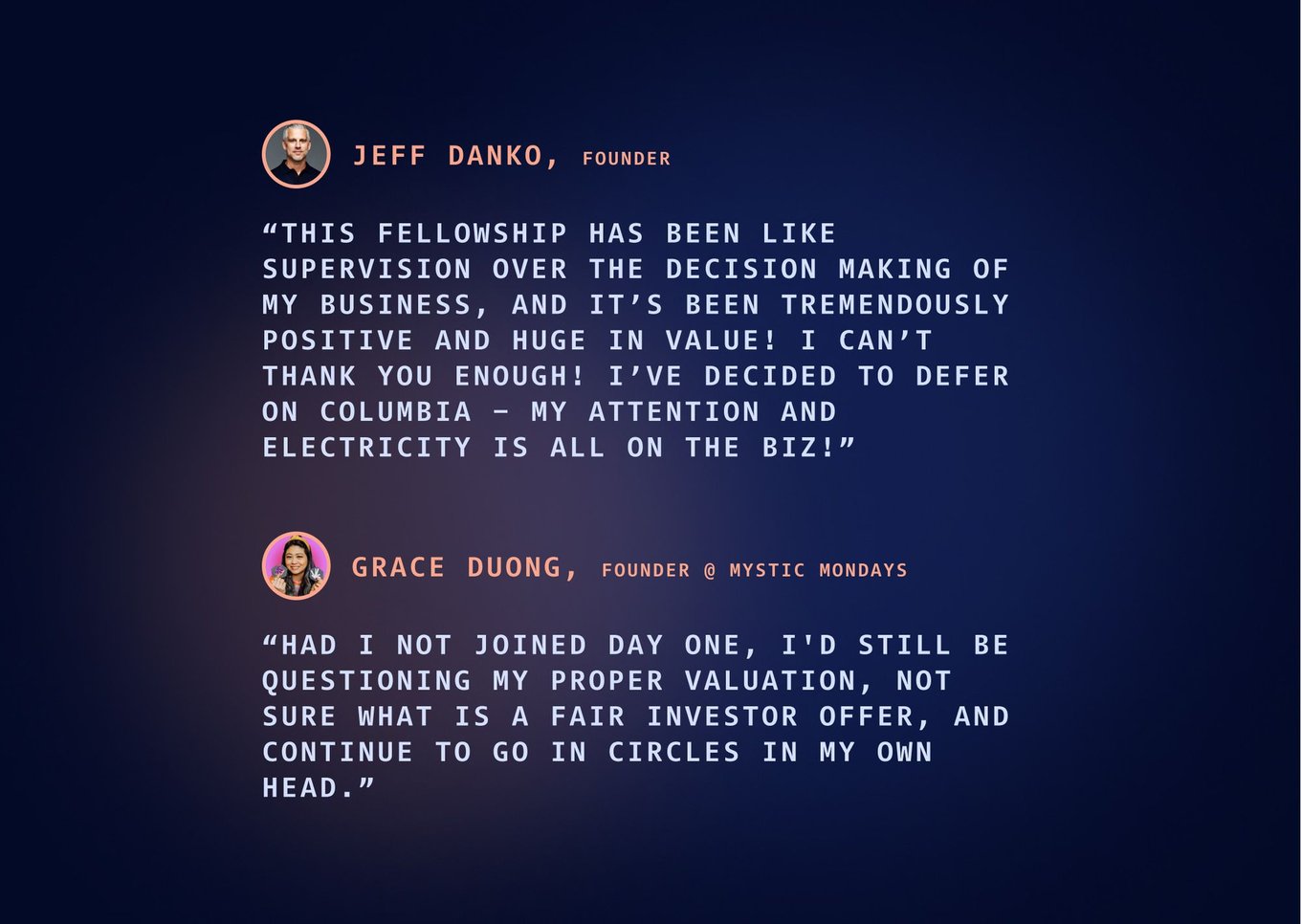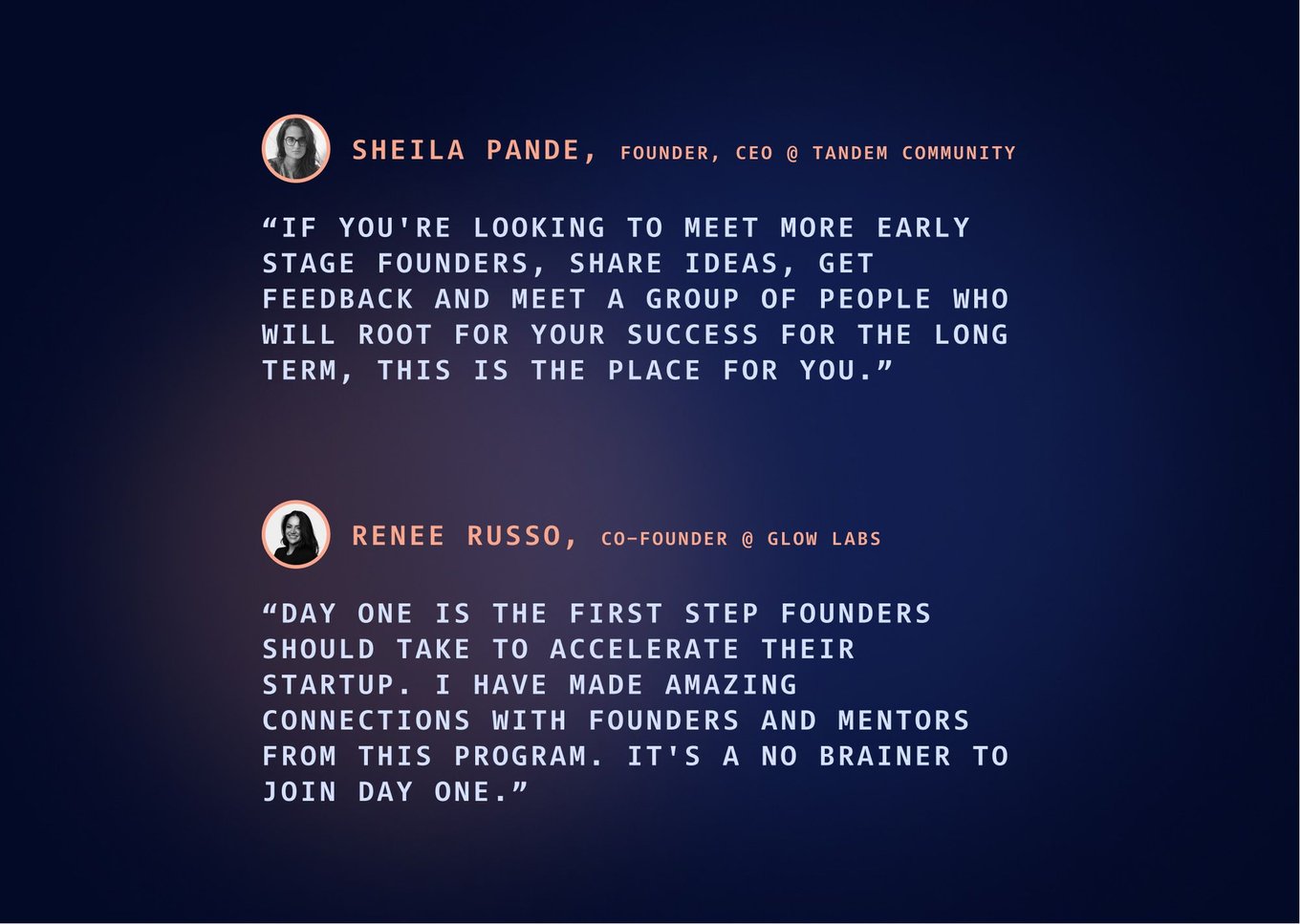 Raised $1M+ pre-seed from VCs and Gary Vaynerchuk
Day One raised $1.05M from a group of VCs including Antler Global, 27V, Zanichelli Venture, a group of angel investors that included early mentors and fellows, and finally Gary Vaynerchuk, who is both an investor and partner in the business.
We are raising this crowdfund as part of a larger seed round. Funds will go toward launching additional programs, growing our program team, building our brand, and marketing efforts.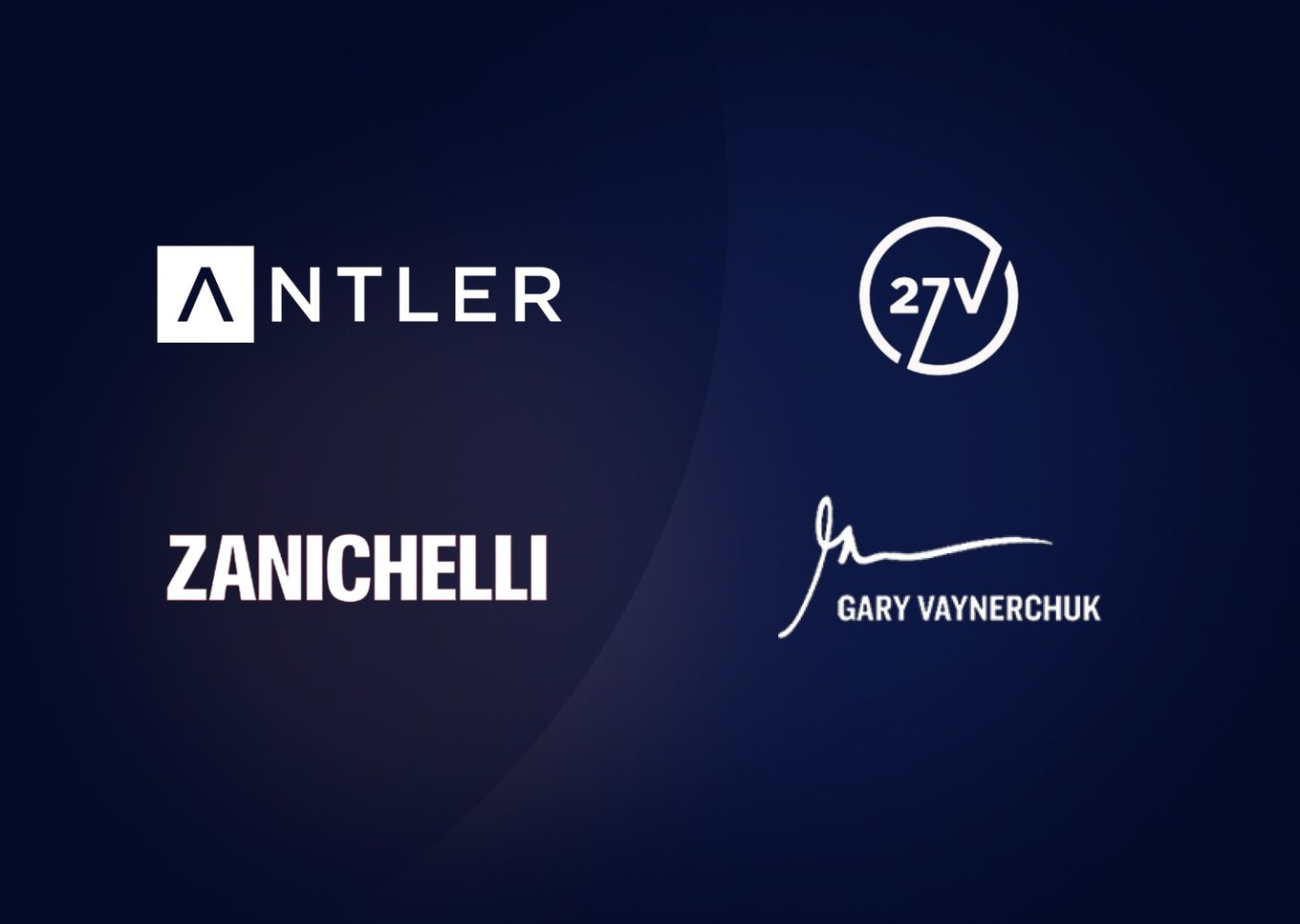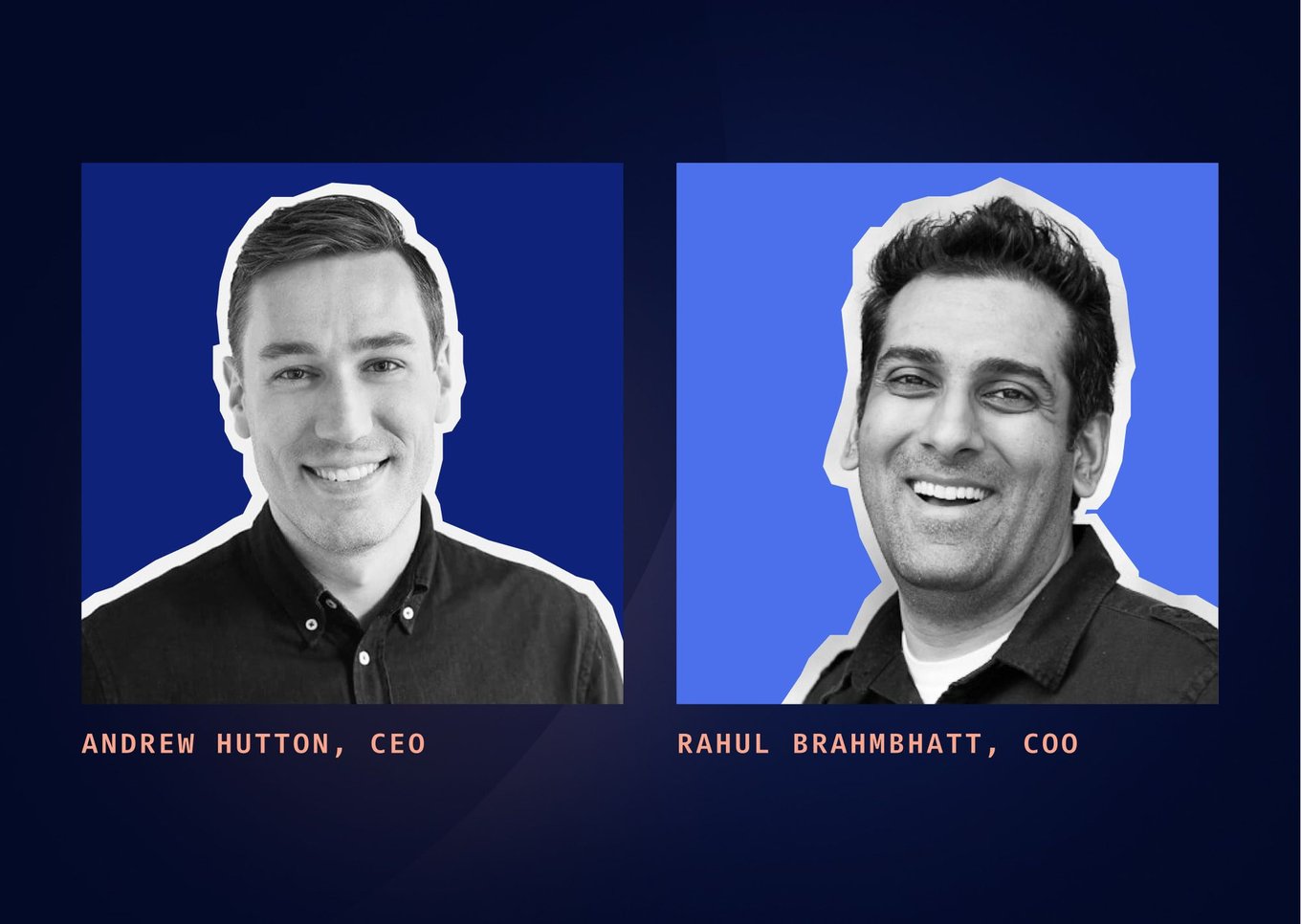 Andrew Hutton, CEO (@AWHutton)
Former Chief Innovation Officer at Human Ventures, where he worked hand in hand with entrepreneurs to launch startups, including Paloma Health, Tiny Organics, Lupii, Weldon (acquired), Village, and more.
Adjunct professor at Parsons School of Design teaching Strategic Design & Management
Former Exec Director, Advisor, and Board roles at leading education and innovation NGOs, including Teach for India, Magic Bus, and Global Give Back Circle, raising $20m for mission-driven education organizations.
Angel investor with early investments into Made in Space (acq by Redwire), Spyce (acq by Sweetgreen), TapRM, Finless Foods, Grabango, Mojo Vision, Payitoff, and Adelante, among others.
One more thing... announcing the Day One Collective NFT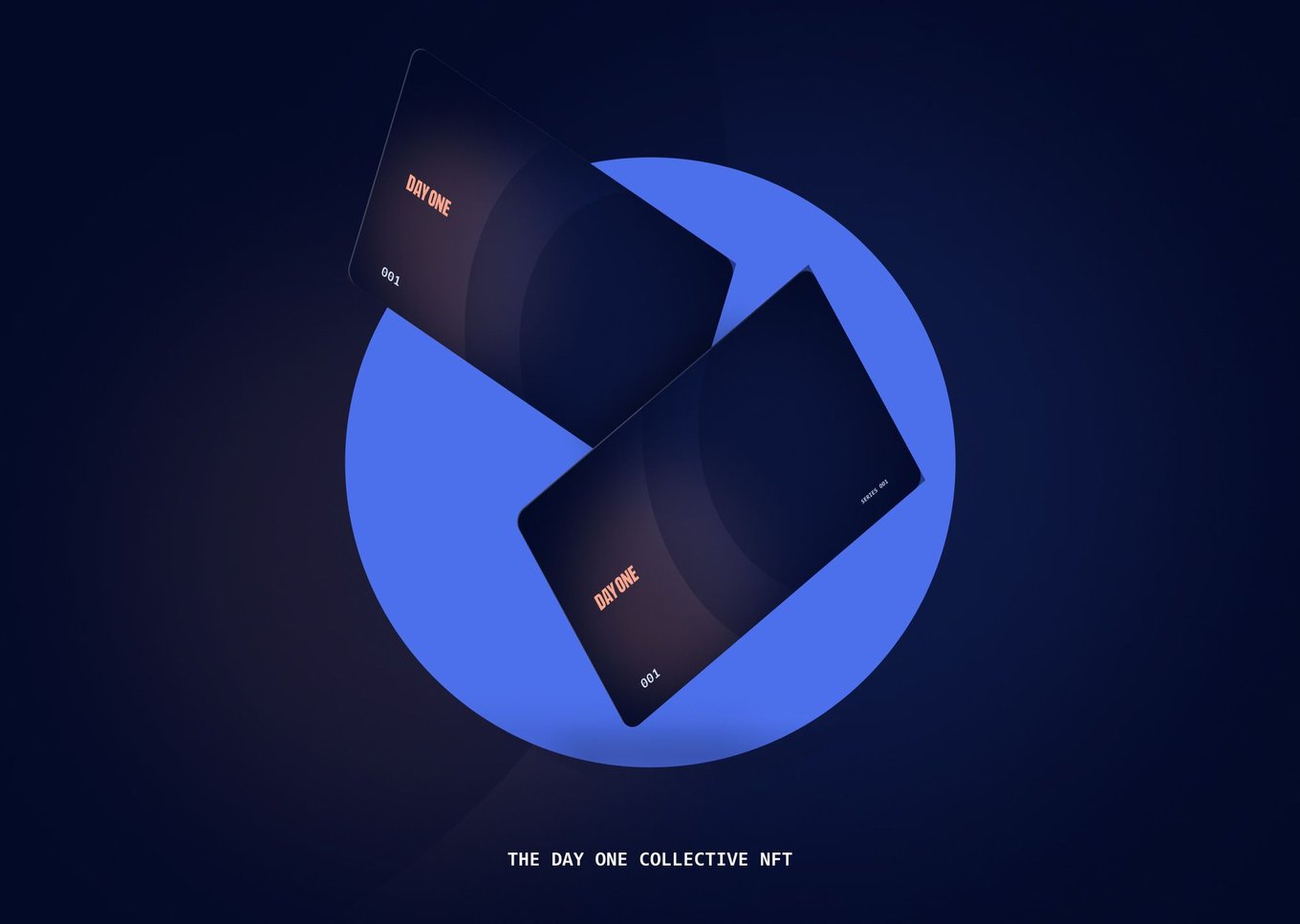 We launched this crowdfund so that anyone can become a co-owner of Day One alongside us. But we wanted to go one step further in bringing our extended community together.
We're launching the Day One Collective — a community for investors, advisors, and mentors who share our mission to support the next generation of entrepreneurs. If you're investing in this crowdfund, we think that's you.
We're also launching the Day One Collective Membership NFT. By investing $2,000 or more into this crowdfund, you'll receive this NFT as a perk and be granted access to this new, exclusive community. Learn more here.