Why is it so HARD
to eat WELL?
Oh, well, that's an interesting and complex question. People are adopting plant-forward diets for many reasons—health, environmental, and animal welfare. But eating plant-based is still seen as complicated and difficult, and many perceive it to be costly and inconvenient.
—
Not all plant-based frozen products are clean and healthier
—
University students rely on meal plans and school cafeterias for food, but for many, finding sustainable or plant-based options can prove difficult. The major university provider, Sodexo, is restructuring their menus across the United States by increasing plant-based meal offerings by 42 percent by 2025. This GFI White Paper from 2020 identifies convenience as a key limiting factor in the adoption of plant-based meats, and recommends that the plant-based meat world builds more products that make it similar to eating real meat. But our question is why? Why not bring real plants to the forefront?
We get it. Finding nutrition in a plant-based diet takes time and effort. The founding team at Cool Beans—on this whole food, plant-based journey ourselves—eyed "convenient" options. We realized that so much of what had made its way into stores is a whole lotta processed food.
Plant-based should be.... from PLANTS. And, eating well should be easy.
So what's a Cool cat to do? We looked to the plant world—not just plant-based, but actual plants—to see how we could create a fast, convenient way to bring more whole food ingredients into our diets, without processing them to death. And we found our hero in the humble bean. What's more, we committed ourselves to creating foods with chefs, not in a lab—featuring recognizable, whole-food ingredients.
Cool Beans is REAL food. Whole food, minimally processed, plant-based—and amazing taste and texture.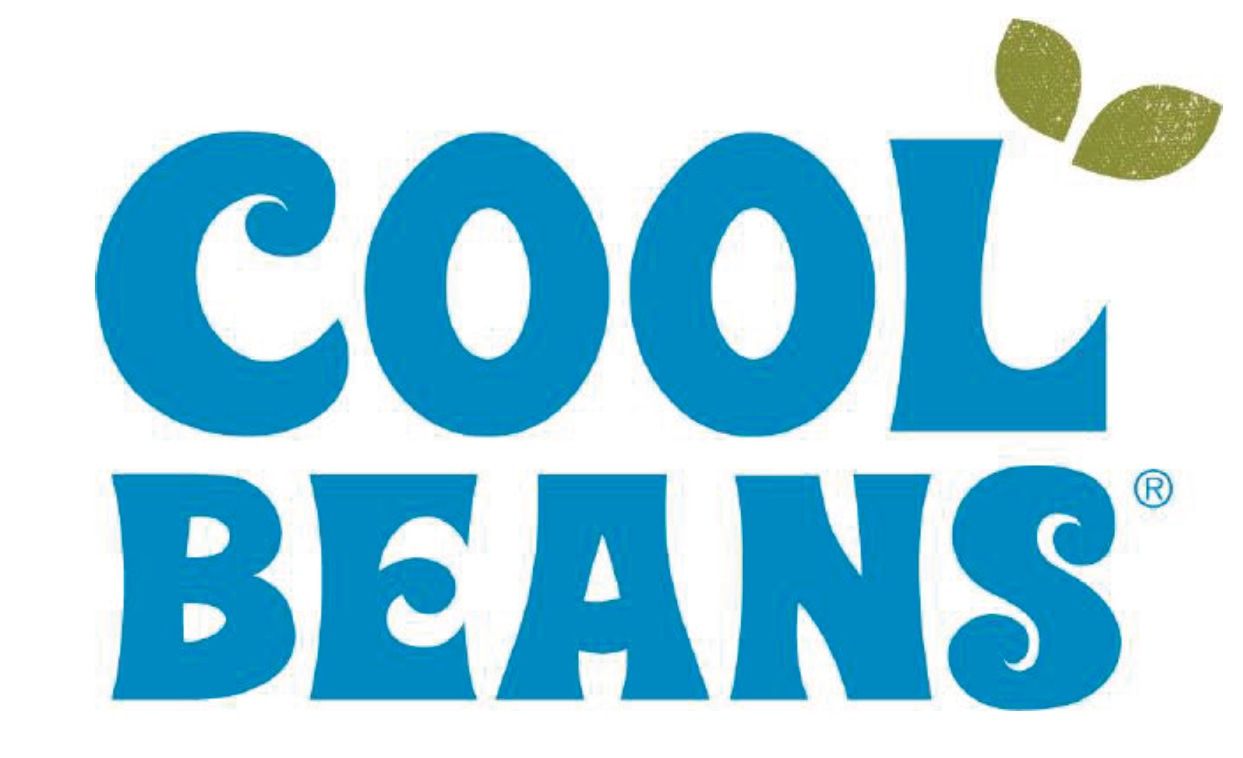 Cool Beans launched in 2020 with its first products, a line of frozen, minimally processed, plant-based wraps that are ready in minutes and make it much easier to bring whole foods into the diet…without all the work of cooking them from scratch. The wraps are a vegan taste adventure, featuring unique flavors inspired by global cuisines, adding in additional plants for a diversity of ingredients, and wrapping it all in a specially made gluten-free wrap for a quick, savory, simple meal.
Beans, beans, the magical fruit. No, really, they're magical. We swear.
An ancient superfood, the bean genus is unique in its vegetable-meets-protein being. Beans pack a powerful punch in the complex carbohydrates, fiber, and protein it provides to each and every bite, with sustaining energy that makes them a perfect starting point for a meal.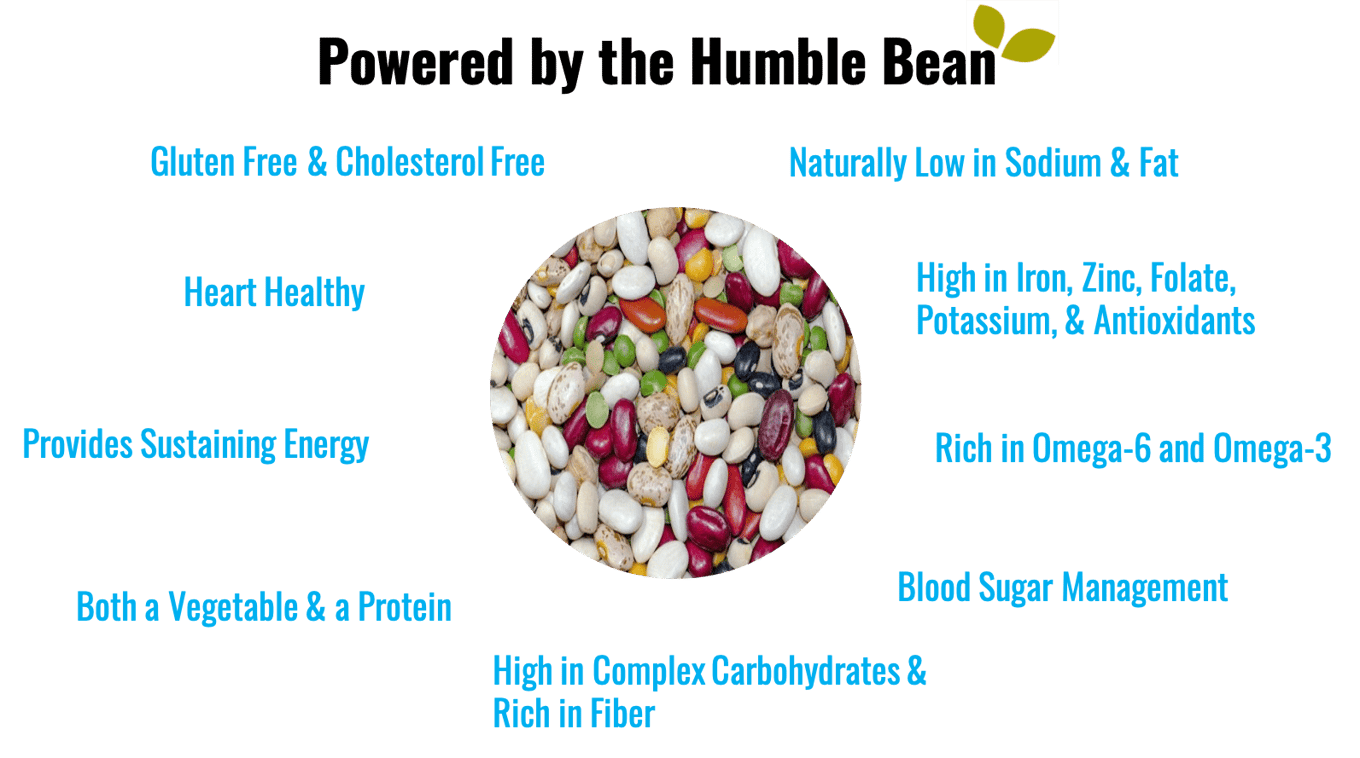 What's most incredible about beans? They give back to the soil in which they're grown. Legume roots have a unique ability to produce nitrogen, a significant nutrient in fertilizer, and deposit it back into the soil, so farmers don't need as much carbon-intensive liquid nitrogen fertilizer. Pretty cool, huh?
What came next? Plant diversity. We loaded up each Cool Beans wrap with 27 plant-based ingredients, delivering appealing flavor, gut health, and supporting diverse agriculture along the way.
---
Our Wrap
---
As we continue to bring light to the powerful bean in the next set of products—bowls, family meals, and sides—we will remain true to these principles, and will consistently test to ensure we're staying ahead of consumer interests and demands.
Early successes: sales
Distribution, Velocity & TDP Growth
Cool Beans has taken a cadenced approach to sales, starting first in the natural and specialty channels and now growing in mainstream grocery. In the first two years, the brand achieved $412,000 in gross revenue and is poised to increase yearly revenues by 45%* following the elimination of our distributor, leading to a projected $1.2M run rate at end of 2022.* We have more than 5000 total distribution points in 1500 retail doors, including Sprouts, Wegman's, Safeway (Nor CA) Whole Foods (Northeast), PCC, Huckleberrys, Dierberg's, Goodeggs, Market of Choice, Fairway, Nugget, Bristol Farms, and many others.
* Click here for important information regarding Financial Projections which are not guaranteed.
Cool Beans comes in at a hot 2.5 units/store/week by SKU/Item, with limited marketing and sales support. High-velocity doors turn more than 6 units/store/week.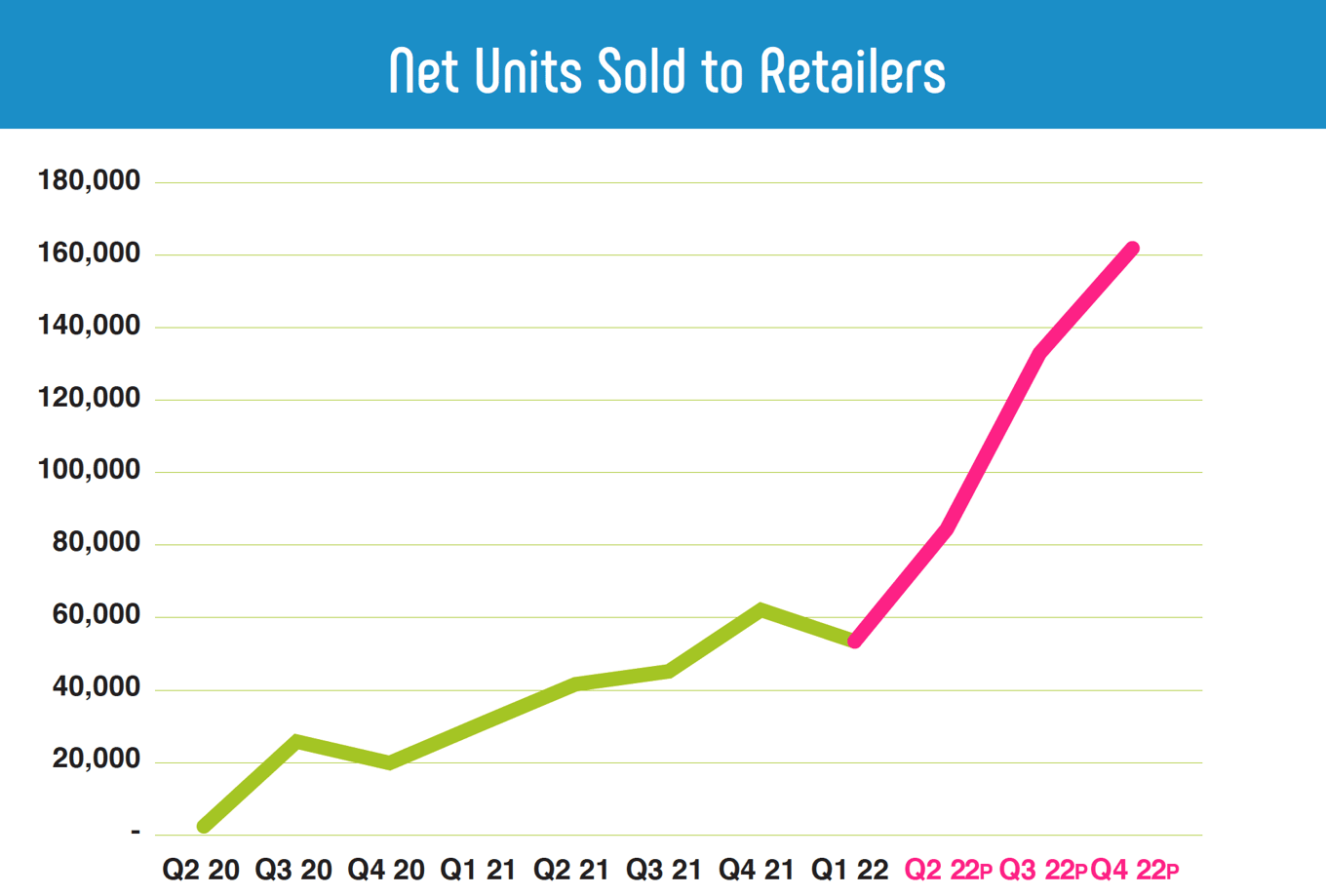 *Click here for important information regarding Financial Projections which are not guaranteed.
Consumer reviews:
83% would recommend!
Consumer data explains the performance. In a panel of several thousand natural products consumers who tried Cool Beans, more than 83% would recommend them to a friend and 81% would purchase them again.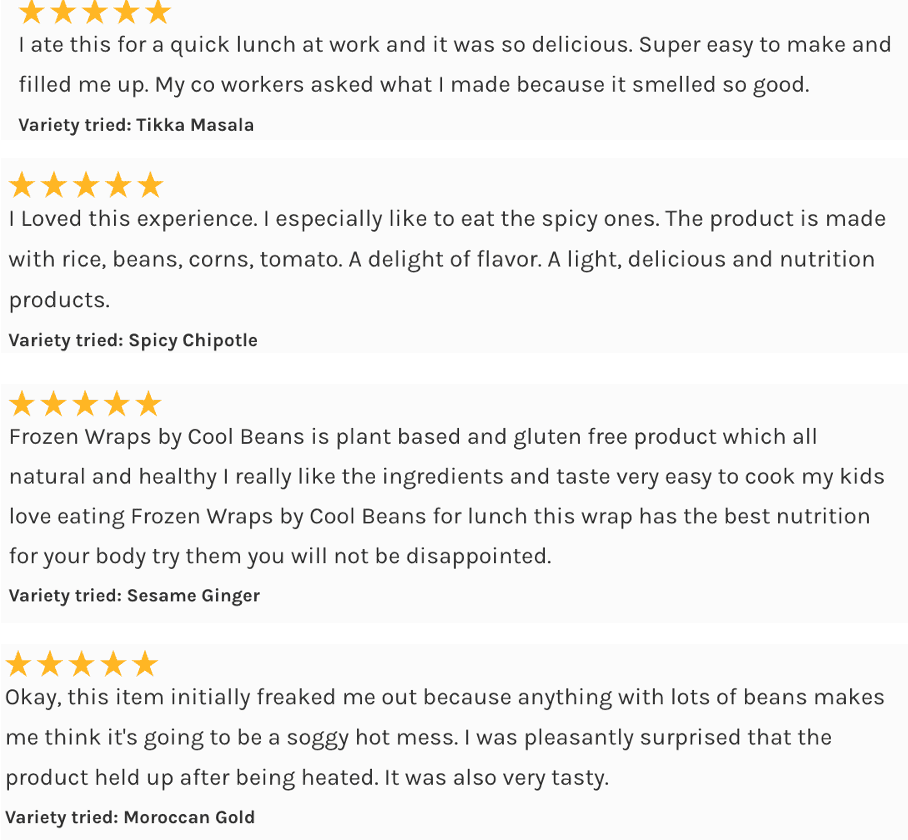 Target product margin:
47-52%
---
While our product and ingredients give back to the environment, we don't fancy ourselves a charity, and the business model was set up for success from the get-go. As investors themselves, the leadership team at Cool Beans sought to create a product that had a solid, investible gross margin from the start, and built a lean team of pros to get through the proof of concept phase.
Use of the investment
Continue to build our Cool Beans brand through digital marketing, social media, and consumer engagement.
Phase 2 of new product development, expanding our family of products. Expected market launch in 2023.
Enhance our sustainability promise with alternative packaging and ingredient sourcing.
At the intersection of 3 fast-growing market segments
It's not a fad: plant-based eating, frozen and gluten free are on a long-term growth trajectory. Cool Beans is in the SWEET spot of all three. Sprinkle in global tasty flavors and convenient means Cool Beans is unstoppable.


Plant-based eating—and particularly whole foods within that—continues to grow, fueled by medical industry research as well as influencer and celebrity support.
Let's start small here. The handheld wrap category is over $2.9 billion in size and grew 11% in 2021 fueled most recently by the pandemic and a continuing desire to prep easy healthier, plant based food for oneself and their family. Seems simple, but the handheld market is a massive culprit in the vegan junk food trend
According to Bloomberg Intelligence, expansion of retail distribution points, growing consumer interest, and consistent supply chain will differentiate growth as a long term trend vs. a fad.
Uniquely positioned in the handheld category:
Whole Food, Minimally Processed, Carbon Neutral


Our vision is to make eating plant-based easier, healthier, and more accessible to all
Adding a new family of whole food, minimally processed line in 2022 en route to creating a family
Cool Beans isn't just a catchphrase anymore. We are whole food, plant-based, minimally processed ingredients, and delicious globally-inspired flavors, all wrapped up in a gluten-free wrap for your taste enjoyment.
Product pipeline, revenue potential*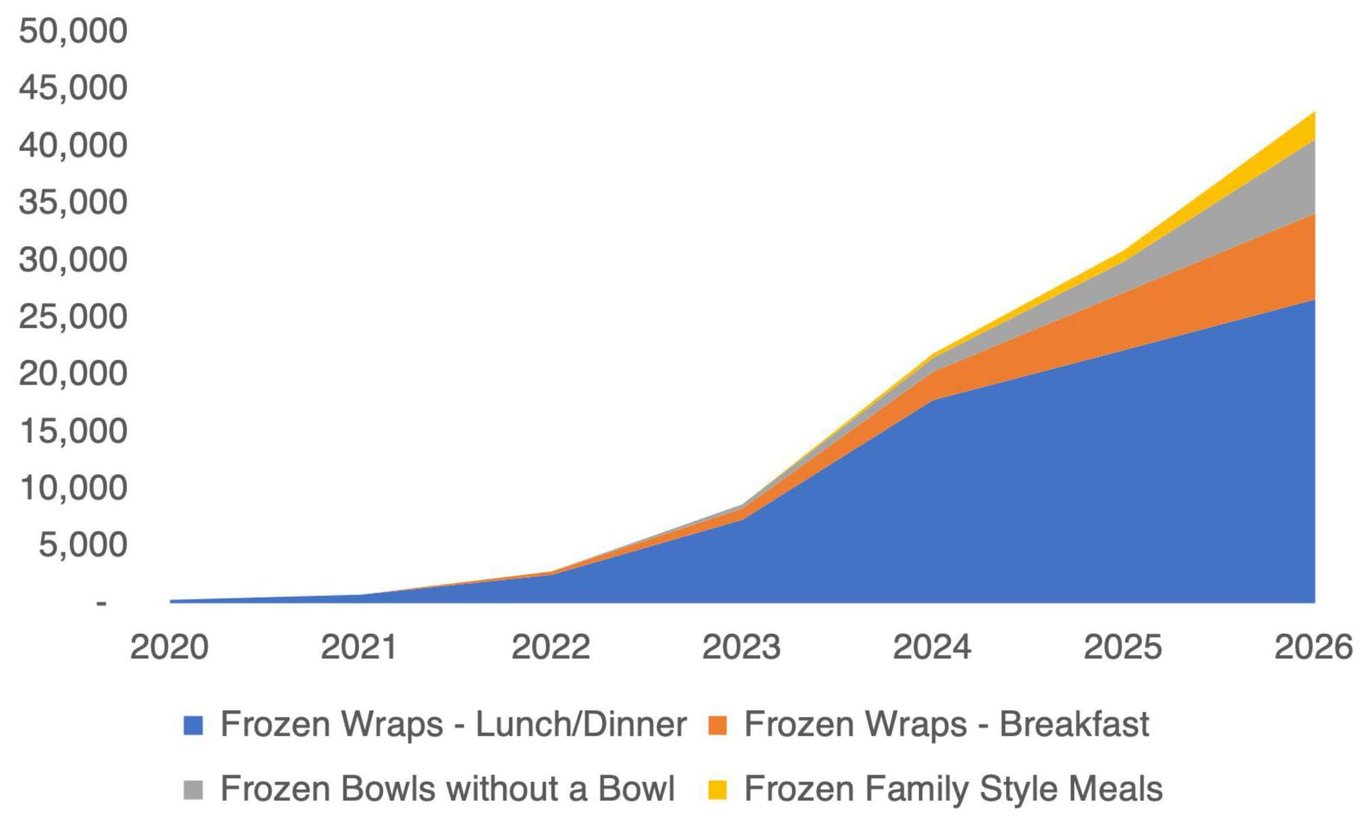 * Click here for important information regarding Financial Projections which are not guaranteed.
---
Added in 2021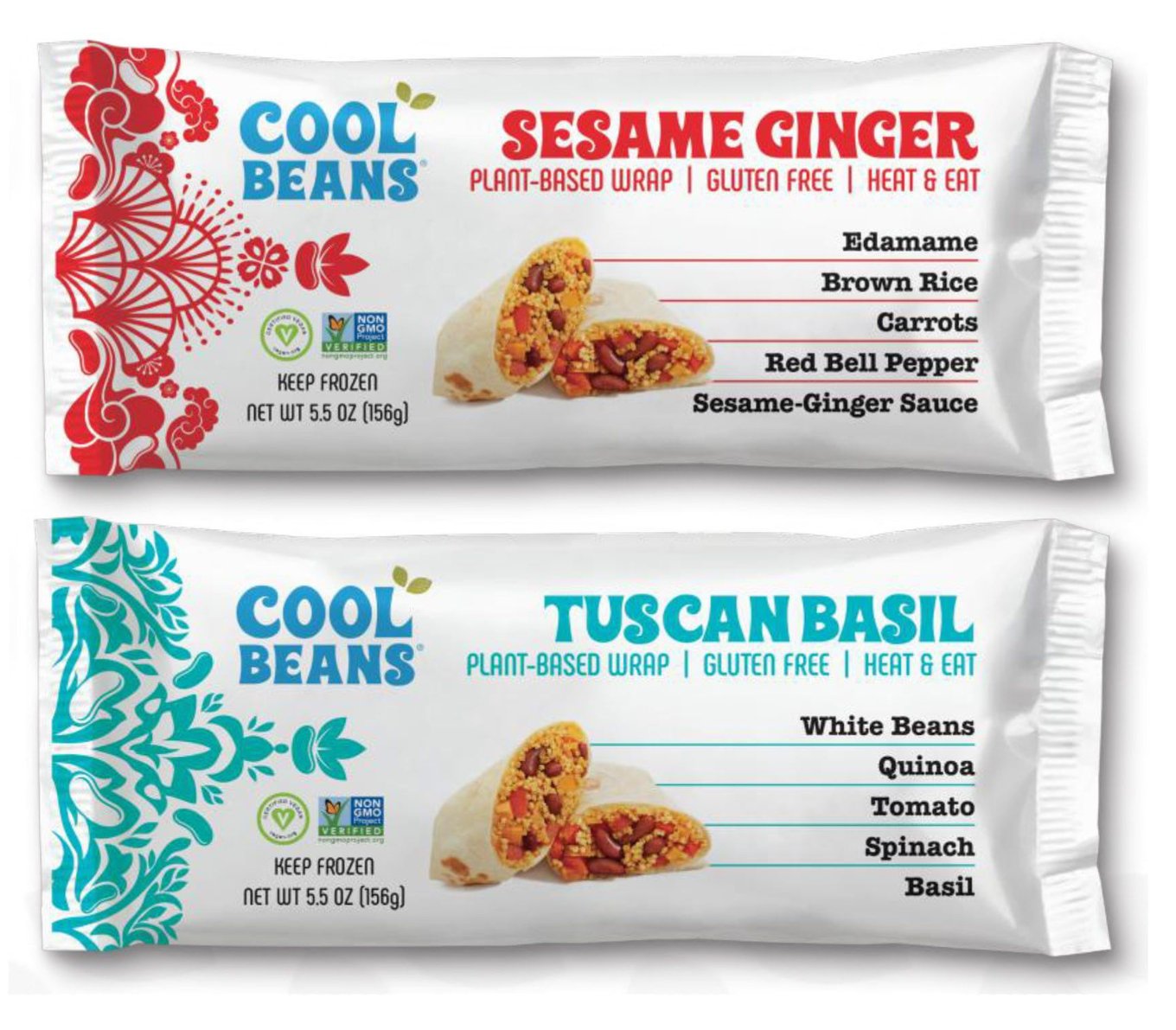 Innovation for 2023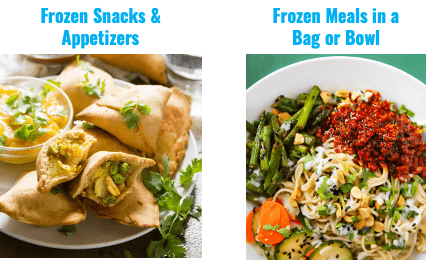 Our sustainability pledge
Good for you,
Good for the environment
At Cool Beans we believe whole food, plant-based nutrition is key to improving the health of your body and the environment (and saving a ton of animals, too!). And our vision is to make eating plant-based easier, healthier, and more accessible to all.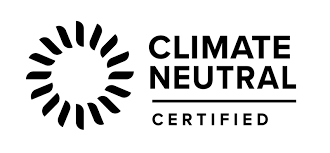 Like most things, our products do still create a carbon footprint, so it is with great pride that we share that we have become a Climate Neutral certified company, offsetting our small carbon footprint. Those offsets are used to fund several green projects, including reforestation projects in South America and solar projects in China. Our offsets for just 2020 alone, our first year in existence, are equivalent to planting 507 acres of forests.
Minimizing our impact on Planet Earth is wired into our DNA at Cool Beans. That scary underbelly, you ask? 16% to 19% of all greenhouse gases in the US are caused by animal agriculture—more than all the cars and trucks on the road! It is not just the animals, but all the inputs needed to raise those animals including using 65% of our farmland to grow their feed and the carbon-intensive fertilizers needed to grow those crops.
---
Our products adhere to three
key climate-related principles
---
100% plant-based
Because we wanted to be part of the climate solution and not part of the problem, all of our products would be 100% vegan.
Built around the mighty bean
Legumes are both an incredible superfood and eco-warriors, pulling carbon out of the air and sequestering it into the soil. As one of the few plants that put nitrogen into the soil, they are key for healthy crop rotation and healthy soil.
Diversity of plants
The Earth's biodiversity is key to human survival on the planet. Plant diversity incentivizes farmers to grow a variety of plants and is a key tenet behind regenerative agriculture; each plant puts different nutrients into the soil for other plants. Our first five Cool Beans wraps contain 27 different plants.
We're proud of the products we have created, and they leave a much lower carbon footprint than similar animal-product wraps. Using the carbon footprint calculator at Myemissions.org, we calculate that our Spicy Chipotle burrito creates 92% less greenhouse gases than the leading steak and cheese burrito!
—
We are committed to sustainability
—
We continue to search for compostable or biodegradable packaging, and are eager for that technology to be readily available in the frozen aisle. We're on high alert, seeking other ways to positively benefit the climate, biodiversity, and waste to help restore our planet for a sustainable and healthy future.
Backed by angel investors
including Co-Founders of the following companies: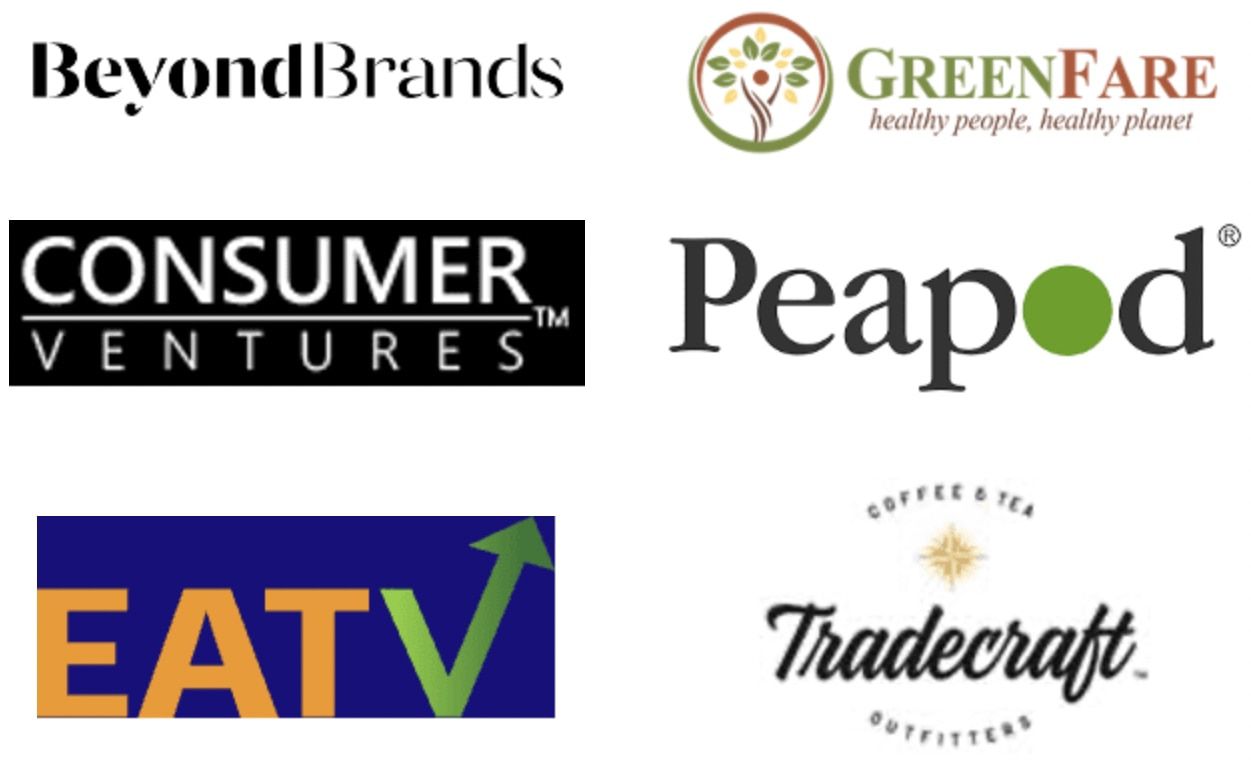 Tyler Mayoras | Co-Founder & Co-CEO Tyler has over 20 years of private equity investing experience including the Co-Manager of the $155 million Advantage Capital Food & Ag Fund. The Fund focuses on investing in growth companies in sustainable agriculture and better for your food. During his career in private equity he has been involved with several high growth companies including Boca Burger (before it was sold to Kraft), Simple Mills and Farmhouse Culture. He sits on the Board of a number of companies including Shenandoah Growers, Farmhouse Culture and Snaxsational Brands. Tyler is also a Board Member of Naturally Chicago and ACG Chicago. Brand Experience: Boca Burger, Simple Mills, Farmhouse Culture, SnackPop, Tiesta Tea, Lavva
Mike Brennan | Co- Founder & Co- CEO Mike Brennan | Co- Founder & Co- CEO As a co-founder at Cool Beans he is working with the team to intelligently scale the business Mike is also an advisor/investor for early-stage companies normally in the $10 to $50 million in sales. He works at the intersection of food, technology and last mile He is currently on the board of three companies. And, is an adviser with companies like Farmers Fridge and Farmstead among others. Previously Mike was Senior Vice President and COO at Peapod. For 19 years growing the company from $7 million to nearly $1 billion in sales. He worked across Marketing, Merchandising, Customer Service and Transportation overseeing the consumer offering and go-to market strategy. Prior to joining Peapod, Mike was at the Management Consulting firm A.T. Kearney. He was a Principal focusing on business and marketing strategy. Prior to A.T. Kearney he worked at the Procter and Gamble Company. Mike is a graduate of the University of Illinois and the Kellogg Graduate School of Management at Northwestern. Brand Experience: Peapod, Farmers Fridge, Kiwicampus, Kitchfix, Chowly, and Vosges
Caryn Rowe Africk | Co-Founder & Sales and Marketing Leader Caryn is a multi-disciplined executive with leadership experience in business strategy, marketing, sales, digital transformation, and operations. Industry experience is broad- ecommerce, CPG product development, technology, professional services, and manufacturing; spanning multi-billion dollar to private equity early stage companies. Caryn has counseled corporate leaders and boards on growth strategies, strategic leverage of technology, and organizational assessments. Recent engagements included product development for high growth meal kit business, grocery ecommerce merchandising, and a new strategic plan for one of Chicago's largest nonprofits. A yogi at heart feeds a balance and wisdom to find peace and gratitude each and every day. Brand Experience: Peapod, Seeds of Change, Barilla, Wildfire, Big Bowl, Hewitt Associates, YMCA of Metro Chicago. GCI
Eric Schnell | Co-Founder Eric has nearly 20 years of experience in sales, marketing and operations in the Natural Products industry, with diverse experience managing upstart companies and launching new brands and products. Eric is the co-founder of Steaz, which was strategically acquired in 2016, and co-founder of BeyondBrands and Good Catch. Eric is the recipient of the 2007 Sustainable Business of the Year Award, 4-time winner of the BevNET.com Best Product of the Year Award, and a Beverage World Magazine Top 50 Disruptor for 2016. Brand Experience: Steaz, Runa, Good Catch, I AM, Country Life.