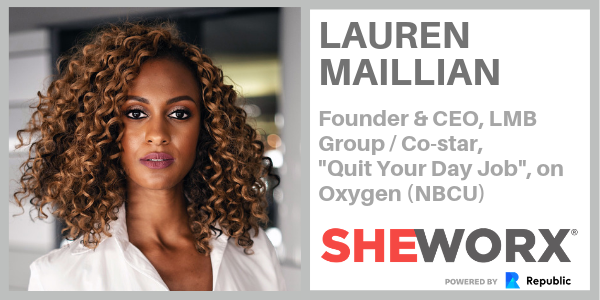 SheWorx NYC Breakfast Roundtable: Lauren Maillian, Founder & CEO LMB Group
At this SheWorx Breakfast, we sit down with Lauren Maillian, Founder & CEO of LMB Group and Co-star with Randi Zuckerberg of "Quit Your Day Job" on Oxygen. We will discuss how to build your brand (both personal and company) identity, influence and notoriety to more authentically connect with your followers / consumers.
About The Mentor:
Lauren Maillian is the Founder and CEO of LMB Group, a strategic marketing and brand advisory company; she recently served as the Chief Strategy Officer of Province Brands, an innovative luxury cannabis beverage company disrupting the adult use category. In her role at Province Brands, Lauren advised the Founder and CEO on critical decisions and worked closely with the executive team to provide strategic counsel on business and brand development for meaningful impact and ROI. She brought a multitude of insights and experiences to the company from her diverse career, which has spanned the beverage, consumer brand, marketing, tech and venture capital industries. Previously, Lauren was Founding Partner at Gen Y Capital Partners, an early stage venture firm focused on investments in consumer-facing technology enabled companies; and is the author of the instant bestselling business memoir, The Path Redefined: Getting To the Top On Your Own Terms. Lauren's passion for innovation through-entrepreneurship and her unique ability to story-tell, brought her talents as an expert onto television as the Master Marketer and co-star of the startup focused docu-series, Quit Your Day Job, on Oxygen (NBCU). At age 19, Lauren cofounded a boutique winery that quickly became an internationally recognized award-winning wine brand, making her the youngest self-made winery owner in the country. She served as the Chief Operating Officer of the company from inception through the brand's acquisition in 2011.
Schedule
9-9:45 Guided Mentor Discussion
9:45-10:15 Open Q&A
10:15-10:30 Networking and Connecting
Seats are limited. SheWorx is the leading global community of ambitious female entrepreneurs. Follow @sheworx on Twitter or Instagram.
About: Betaworks Studios: a new drop-in member space for builders from different backgrounds. Created and curated by betaworks, it is a space where builders can discover one another, meet, learn and experiment. Located in New York's Meatpacking District it is the perfect clubhouse for people working in Technology, Media and Culture. For more info or to apply for membership, visit betaworks-studios.com
Participants
Bianca Caban