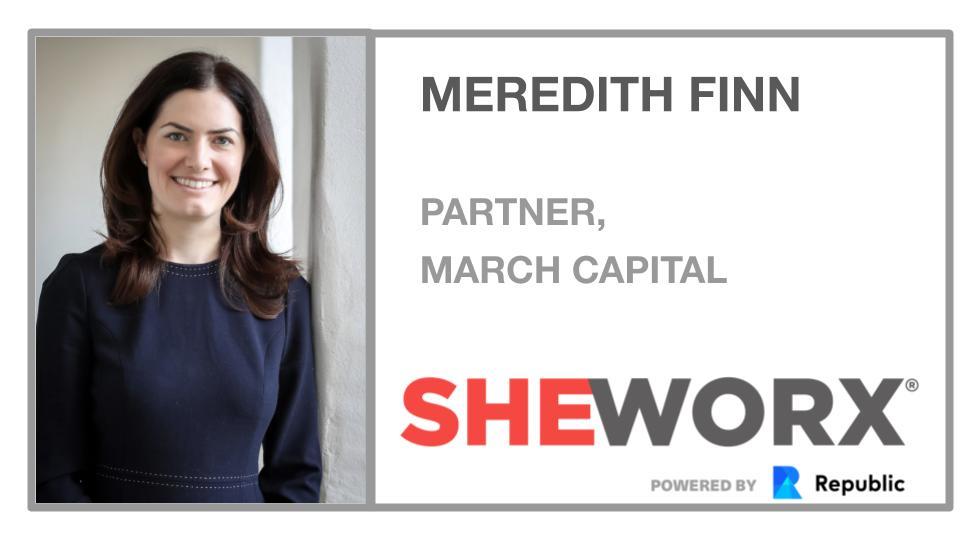 SheWorx NYC Breakfast Roundtable: Meredith Finn, Partner, March Capital
At this SheWorx Breakfast, we sit down with Meredith Finn, Partner of March Capital, a tech investing firm that is backing the next generation of bold enterprise and consumer technology companies. Some of the questions we hope to address are: How do you focus on fundraising metrics that matter? What are best practices for pitching realistic yet ambitious revenue projections? How do you create operational processes that scale? As an investor & operator, what kinds of companies are most interesting to you now?
About The Mentor:
Meredith brings investing, finance and operating experience across enterprise and consumer technology companies to March Capital Partners. She was most recently a Vice President at Salesforce where she helped lead over 45 investments on behalf of Salesforce Ventures in companies such as Twilio, Stripe, Pendo, Cogito, Pymetrics, Ellevest, Fluxx, and Guild Education.
Prior to her time at Salesforce, Meredith worked in finance and operating roles at Google and Twitter. She began her career in investment banking helping to advise technology, telecom and media companies at both Citi and Evercore Partners.
Meredith graduated from Harvard University with a degree in Economics and received an MBA from Columbia Business School with Dean's Honors.
Meredith currently serves on the Operating Board of Pursuit, a non-profit organization dedicated to retraining adults with the most need and potential to get their first jobs in technology. She is a passionate and active supporter of the female entrepreneur and investor communities. She has served as a Co-Chair for the Rise of the Female Entrepreneur at The Montgomery Summit, launched Navigate – the first-ever women in enterprise technology summit in NY, and is an active Pod Leader for Parity Partners.
Originally from New York, Meredith enjoys spending her free time hiking with her dog Brady and skiing wherever there is fresh powder.
Schedule
9-9:45 Guided Mentor Discussion
9:45-10:15 Open Q&A
10:15-10:30 Networking and Connecting
About: Betaworks Studios: a new drop-in member space for builders from different backgrounds. Created and curated by betaworks, it is a space where builders can discover one another, meet, learn and experiment. Located in New York's Meatpacking District it is the perfect clubhouse for people working in Technology, Media and Culture. For more info or to apply for membership, visit betaworks-studios.com
Seats are limited. SheWorx is the leading global community of ambitious female entrepreneurs. Follow @sheworx on Twitter or Instagram.
Participants
Bianca Caban