We're in a vicious cycle:
The Climate-Housing Crisis
Homebuilding costs too much. Building construction and operation are generating nearly 50% of global CO2 emissions, and extreme weather events are wreaking havoc on communities. In addition, toxic materials and mold lead to chronic health issues, and loneliness has become an epidemic.
To house the 3.6 billion people joining our planet this century, we need 2 billion new homes while reaching net-zero carbon emissions. Homebuilding is poised to become the most pressing issue facing humanity this century.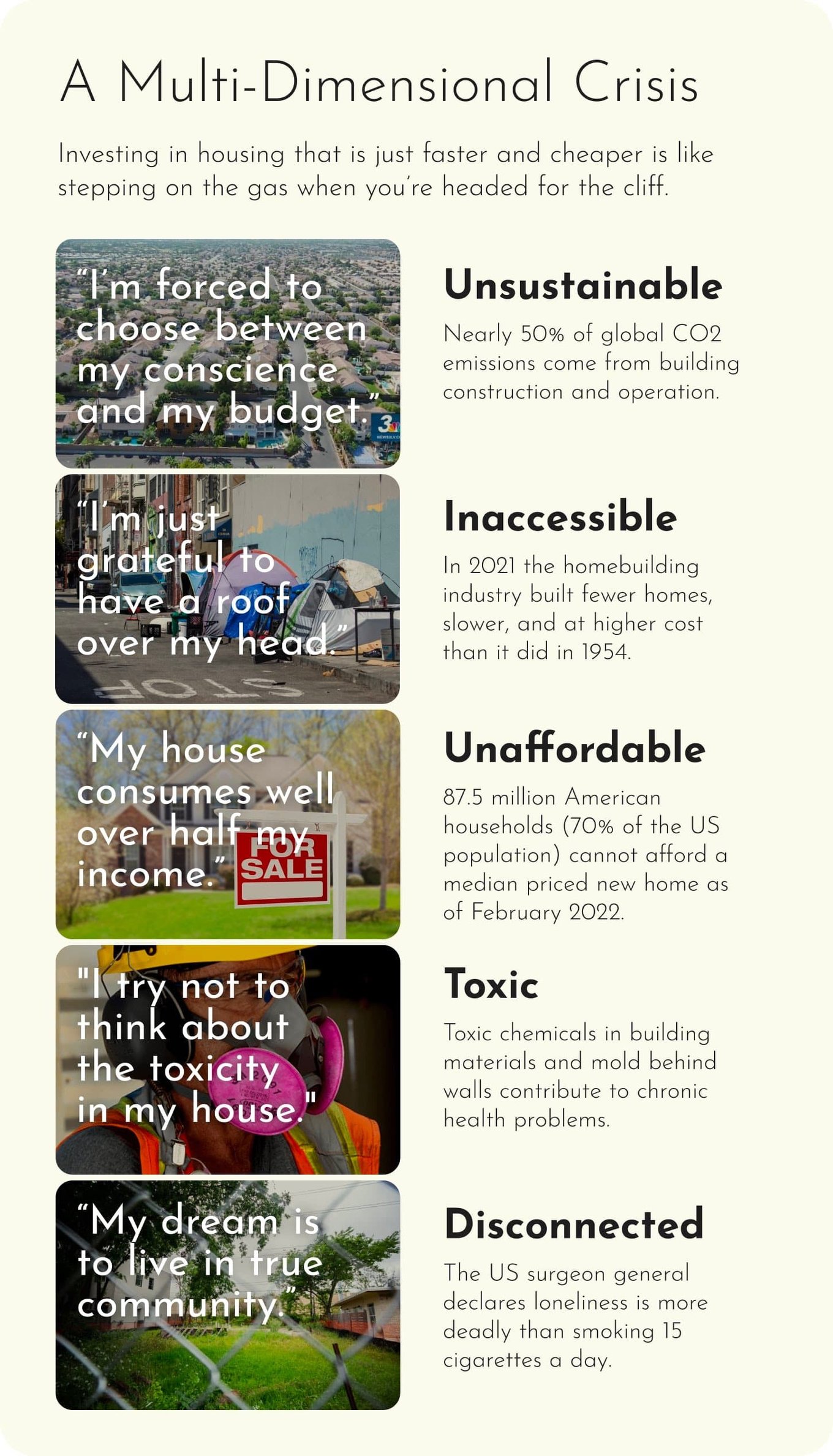 Natural homebuilding is sustainable and healthy, but high levels of manual labor, struggles with code compliance, and regional variability prevents it from scaling. As a result, fewer than 1/1,000 homes in the US are Natural Homes.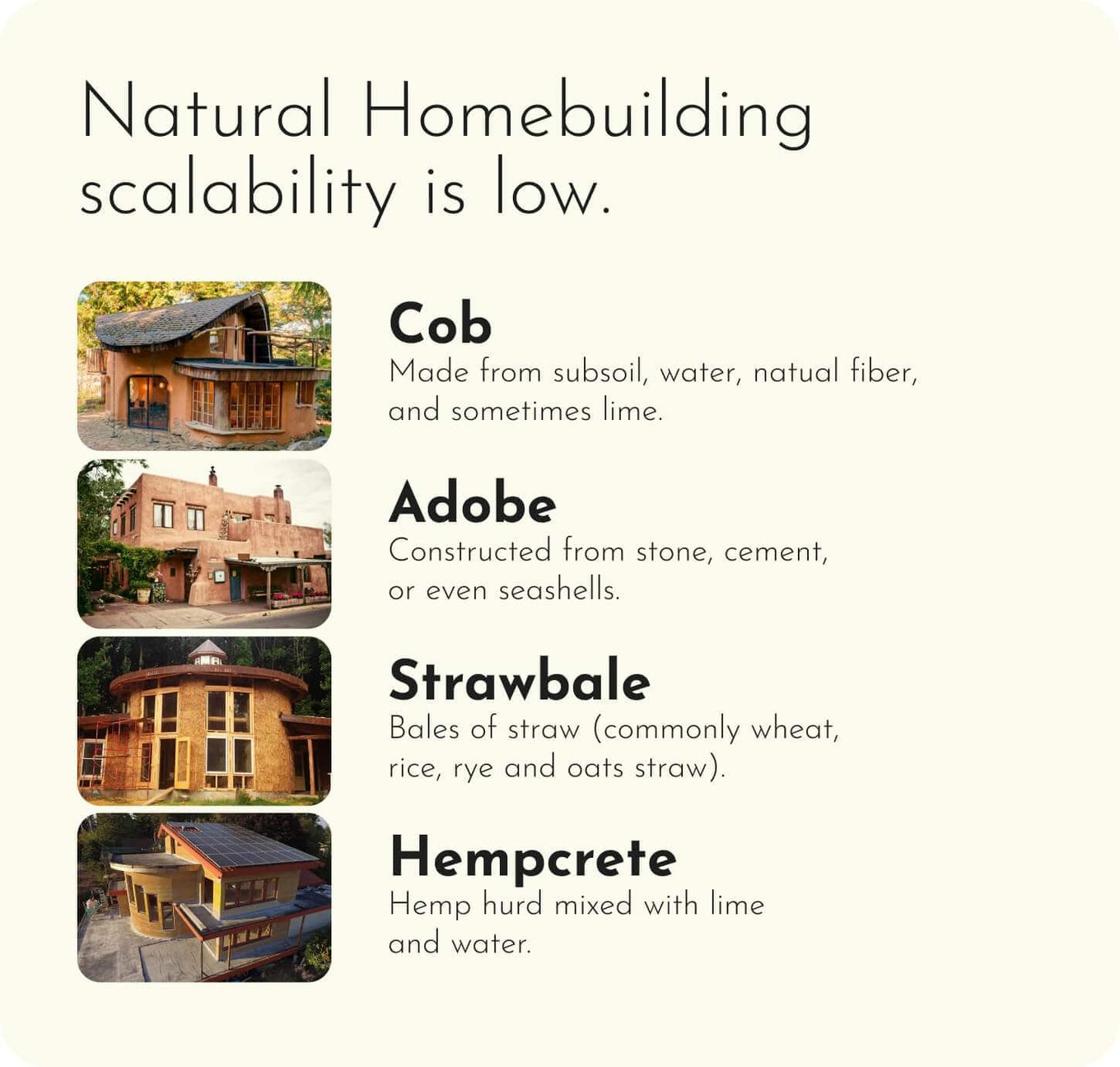 Break the cycle:
22nd Century
Ceramic Dome Homes
We industrialize and productize natural building with breakthrough material science and manufacturing technology.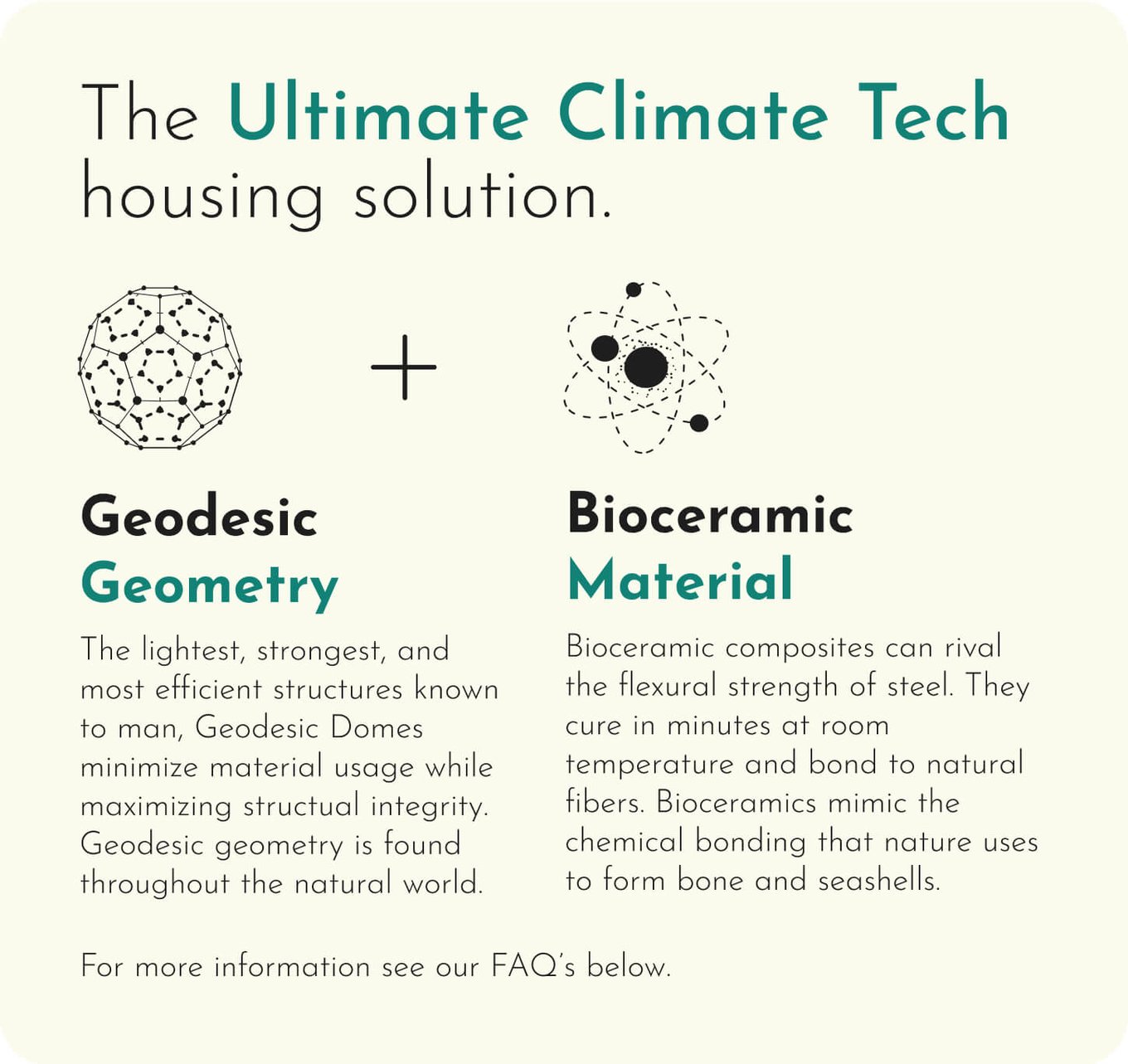 Known by some as the Father of Sustainability, the great American architect and polymath Buckminster Fuller devoted his life to solving the climate-housing crisis.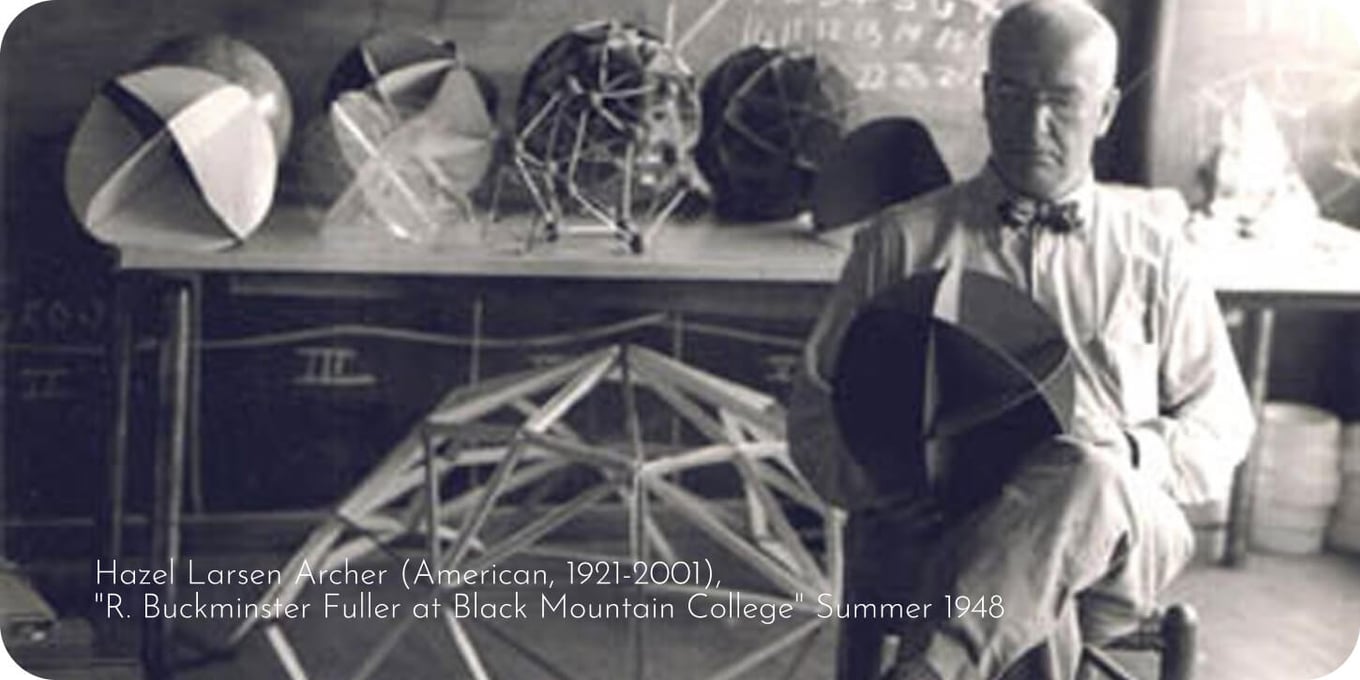 When Fuller patented the geodesic dome in 1954, he estimated it'd be 50-100 years until we'd have the material science to manufacture domes. In 2005, the US National Labs announced a new class of cold-fired ceramic material. Geoship introduces ceramic homebuilding.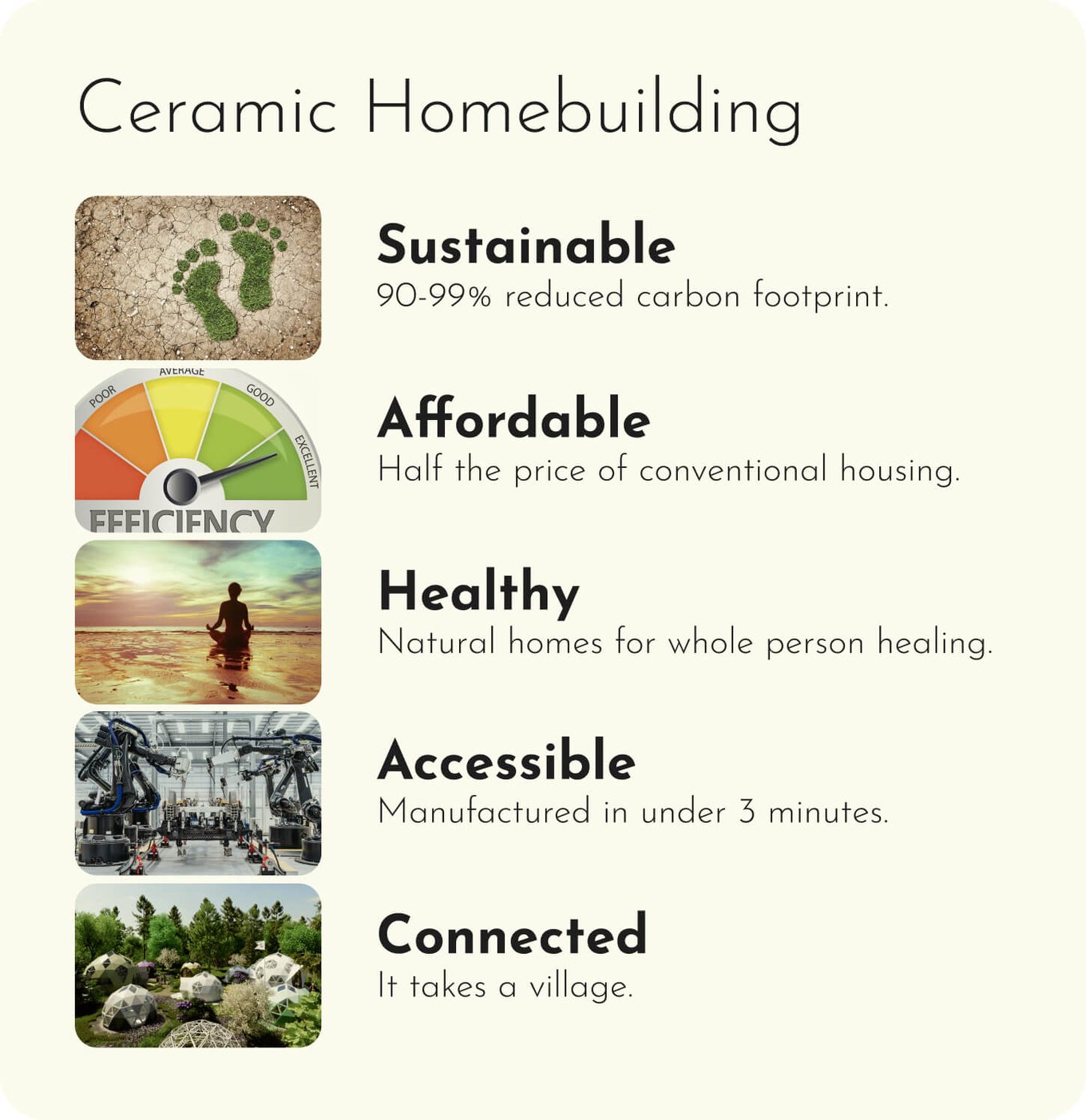 Bioceramic Domes
Looks like the future. Because it is.
Geoship designs and manufactures natural ceramic homebuilding systems. Our precision-molded ceramic parts go together like LEGOs into healthy, sustainable, and resilient residential dwellings.
—
Finite parts, infinite possibilities.
The domes come in multiple sizes that connect in many configurations: tiny homes, small homes, big homes, multi-family homes, creative studios, greenhouses, bathhouses, and any space you might need. It's inexpensive, fast, durable, healthy, and natural.

—
10x Better Housing
A new archetype of home awaits.
Geoship brings the ultimate material and the ultimate geometry together. Bioceramic domes give us climate-wise homes to break the cycle and improve homebuilding in every dimension.
All-Ceramic Composites
Bioceramic Domes bypass all conventional building materials. Instead, the beams, panels, and insulation are all ceramic composites. In the factory, we combine the ceramic with natural fibers to form composite beams and panels that could rival the strength of steel. On the building site, we combine ceramic with air and fill the walls with cellular ceramic insulation.
Sustainable — 90-99% reduced carbon footprint.
Bioceramic Domes dramatically reduce the embodied, operational, and recurrent carbon of housing. With 10" insulation cavities, a tight envelope, and minimal surface area, bioceramic domes maximize energy efficiency. Ceramic material reflects over 80% of radiant heat, further improving insulation and energy efficiency.
The American Institute of Architects calls the geodesic dome "the strongest, lightest, and most efficient means of enclosing space known to man." Domes are considered the most earthquake and hurricane-resistant structures. Ceramic composites are naturally resistant to fires and floods, and do not burn or deteriorate over time. We're designing bioceramic domes to last for over 500 years. They're easily repaired and resurfaced with the same bioceramic they're made from.
In addition, the raw materials used in their construction can be harvested from waste streams, including seawater desalination plants, sewage treatment plants, and EV battery mining operations. Bioceramic panels can be recycled into new panels or used as fertilizer.
Affordable — Half the price of conventional housing.
We estimate go-to-market turnkey prices to be $90,000 (375sf) to $380,000 (1,675sf), including everything: delivery, permitting, installation, mechanical systems, interior finishings, and appliances. As manufacturing scales, Bioceramic Domes will crater the cost of housing while raising the bar for success in architecture.
Healthy — Natural homes for whole-person healing.
Geoship domes mimic the natural light and electromagnetic environment. The design uses earthing floors, natural light, 100% non-toxic materials, and natural geometry to restore the conditions that humans evolved with on Earth.
Bioceramics form covalent bonds with metal aggregates. Unique formulations can be made to shield radiation or strengthen biophoton emissions. For example, professional athletes use bioceramic powders in clothing because they emit far-infrared light, which catalyzes the body's natural healing process.
The high dielectric ceramics and fractal geometry function like a stone circle or pyramid, creating balance and harmony. We believe Bioceramic Domes can be engineered to enhance plant growth and extend life.
Accessible — Manufactured in under 3 minutes.
Bioceramic materials flash cure in seconds at room temperature. As a result, we can manufacture and install homes with incredible speed and quality by manufacturing ceramic components and assembling them on-site.
Connected — It takes a village.
The climate-housing crisis creates an urgent need for hyper-local and self-reliant villages. Through a decentralized platform, Geoship builds villages, not housing developments. Villagers participate in the design and development of the village.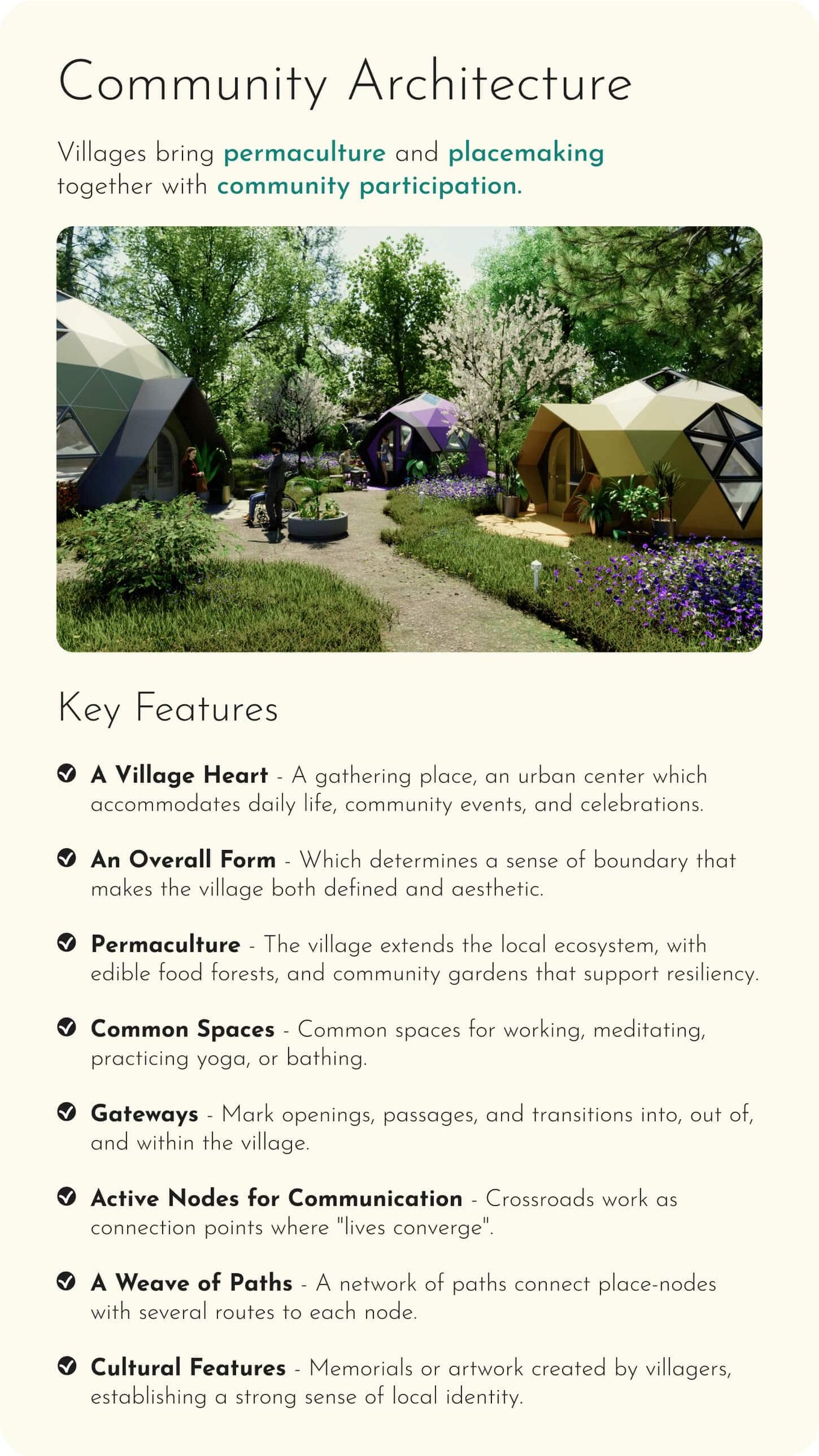 We created the world's first ceramic geodesic dome.
Building the first dome inspired
our crew with a glimpse into the future!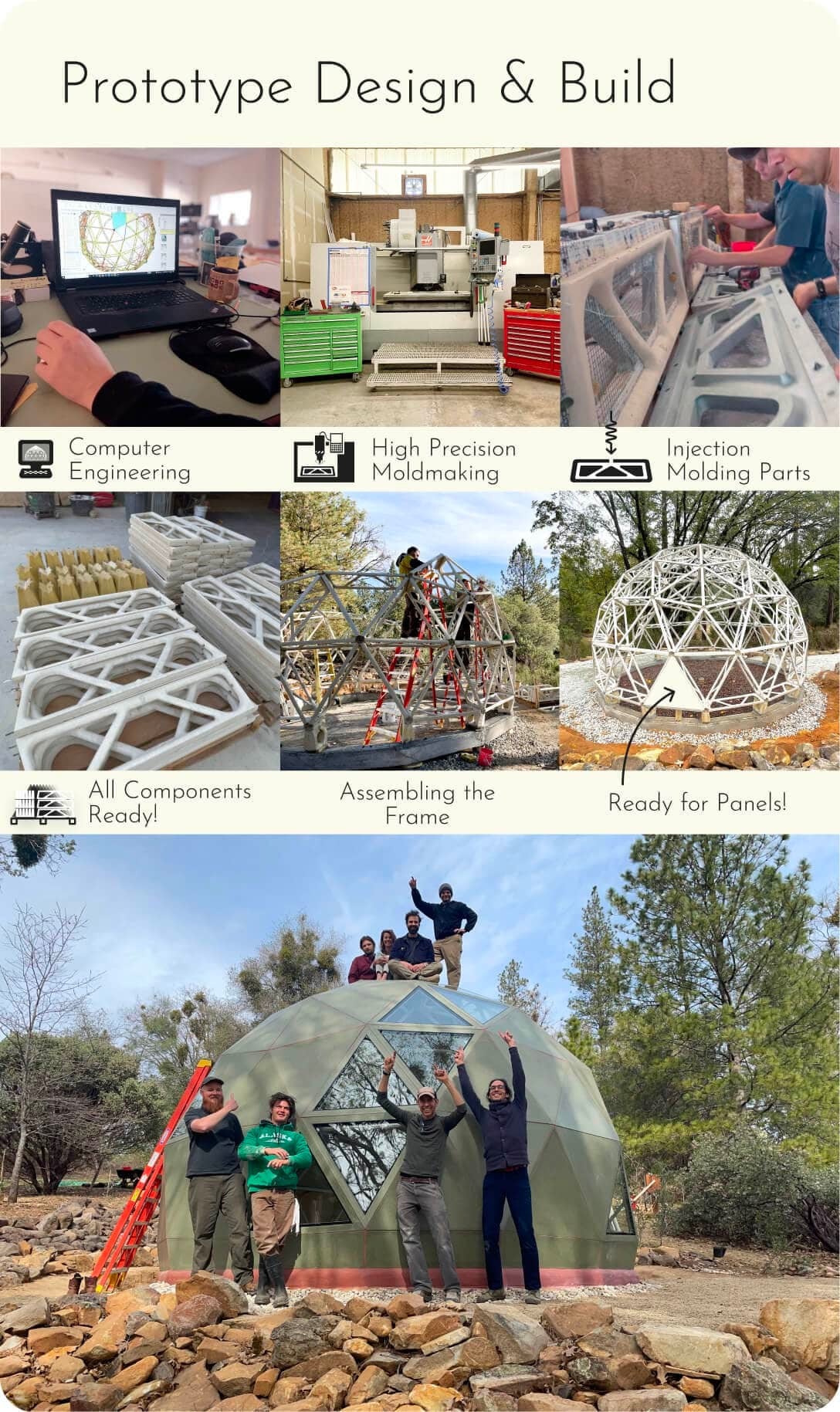 —
Covered by the mainstream press
—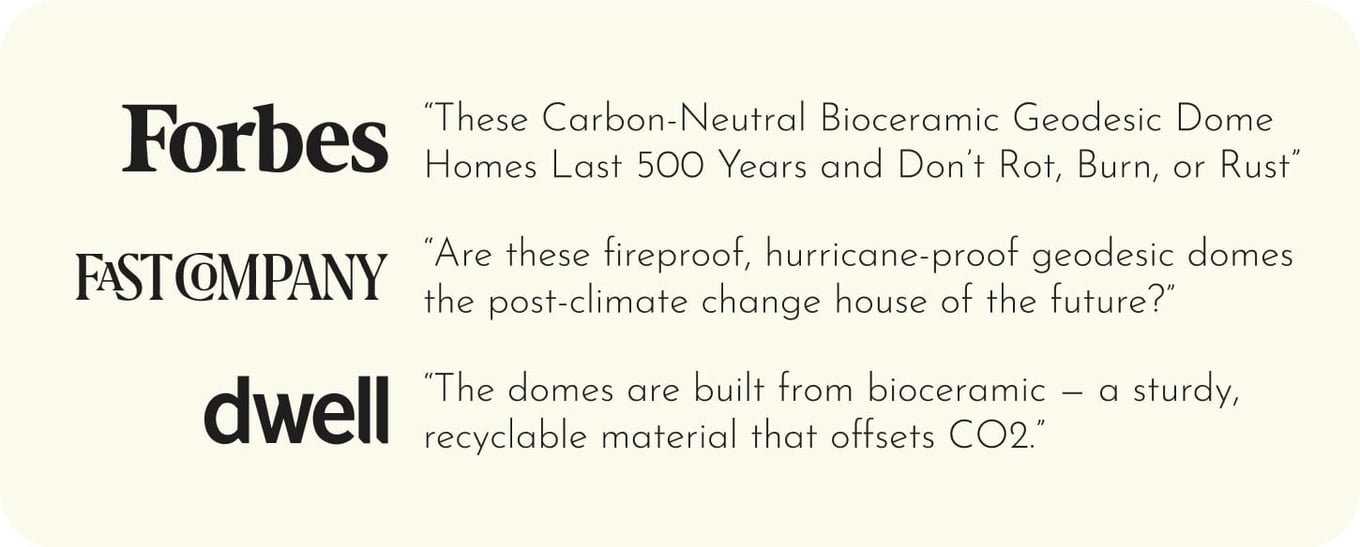 —
Demonstrated product-market fit
—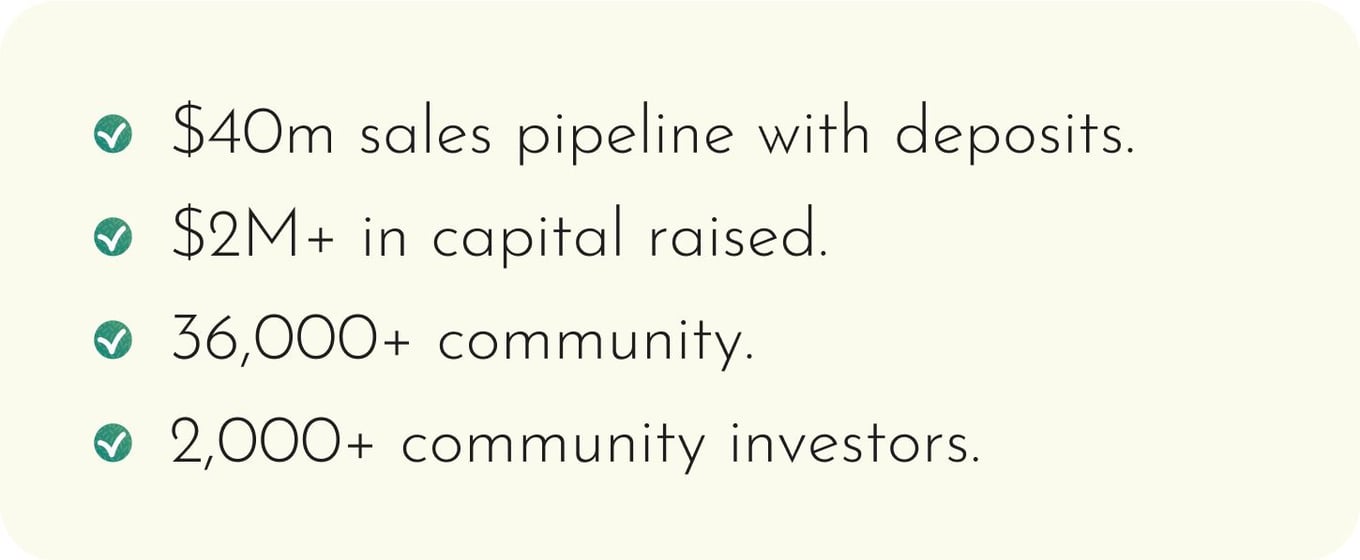 —
Established community partnerships
—
We have awesome community partners and some groundbreaking projects on the horizon!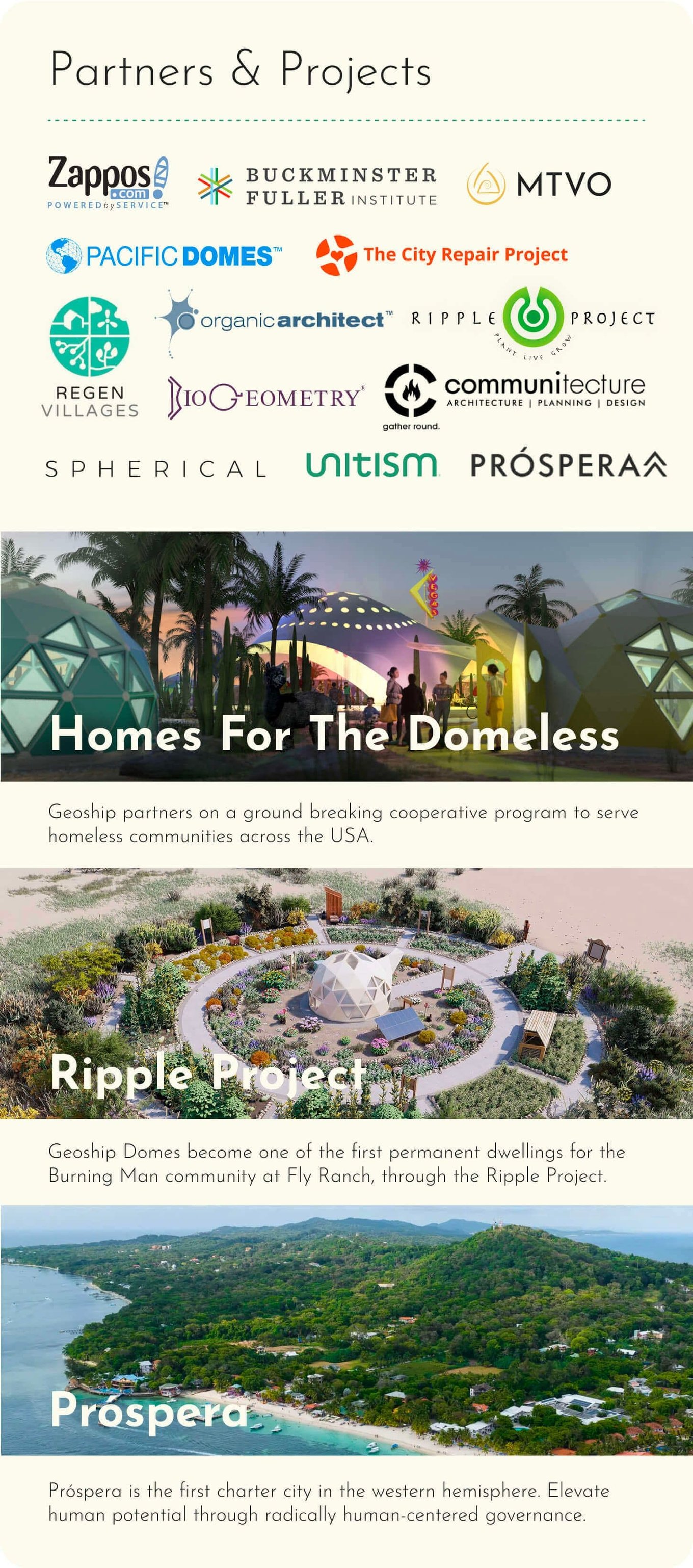 —
Geoship Prototype Village
Purchased, zoned, and primed.
Geoship owns one hundred acres of land in Nevada County, California. The land is zoned for mixed residential and light industrial use. It's here we built the first complete dome prototype. Over the next two years, we plan to install more domes here for customers and investors to experience.
"This is how I want to live"
Housing as climate activism
Geoship customers are the change makers.
Our early adopters are already on board with sustainability and domes. Preorders roll in from single parents and couples who yearn to raise their children in community. We hear from people who dream of exotic retreat centers and tech workers leaving the city to grow mushrooms with other digital nomads.
With a few customer domes installed, we partner with celebrity designers and influencers to expand mass appeal.
Climate activism grows stronger every year and with each generation. Buying the most sustainable, resilient, and healthy home is climate activism. It's becoming mainstream.
Vertically-integrated construction
This is the quantum leap.
We bypass scores of building products and whole supply chains, achieving significant cost reductions by using new materials and geometry.

Geoship manufactures ceramic components from raw minerals and natural fibers. The parts pack into shipping containers and are quickly assembled on-site. We sell ceramic homebuilding systems directly to visionary developers, communities, and homebuyers.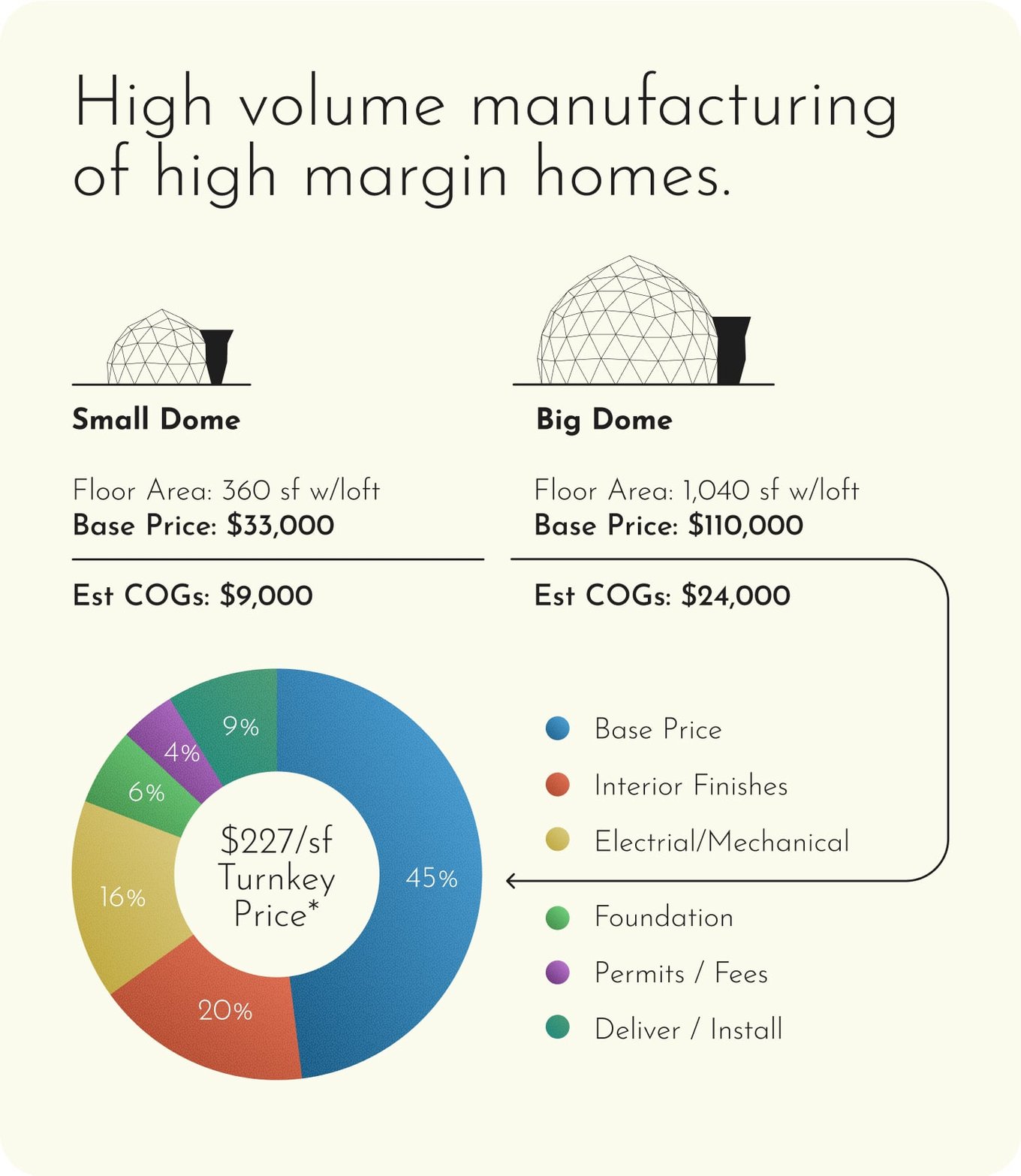 ---
Mold a house in 3 minutes
---
Geoship rapidly manufactures precision components of uniform size that make homebuilding faster than ever.
Cars are manufactured in less than a minute and require 30,000 parts to be assembled. Concrete blocks and shingles are cast by the trillions per year. We can manufacture a house at breakthrough speed by casting ceramic components that pack into shipping containers.
The on-site build generates practically zero waste, is free from toxic chemicals, and requires no nailing, measuring, or cutting. Building with geodesic LEGO sets is fast, safe, and fun.

---
Supply ceramic materials for diverse applications
---
Geoship blends and bags the ceramic material for diverse applications from fireproofing to roof replacement, concrete resurfacing, steel coatings, wood coatings, self-leveling floors, natural swimming pools, cavity fill insulation, structural boards, ceramic composite structural beams, 3D printing, vertical farming, and other exciting applications across the built environment.
We modernize the ancient art of temple building with high dielectric ceramics, fractal geometry, and conscious design. Cities and villages of the future are engineered at the quantum level to resonate with biology.

Affordable natural housing
A new generation is ready to live outside the box.
Climate activism and the global wellness movement are transforming what homebuyers value. Geoship domes represent a whole new choice — healthy and sustainable homes that align with the values of a new generation.
Housing's been underbuilt for decades. Estimates of the shortage range from 1.5m to 20m homes in the US alone. Insurance companies are pulling out of disaster-prone areas. Affordable natural geodesic homes price millions of families back into the housing market with homes they can rely on.
Geoship starts with Accessory Dwellings Units and grows into Villages.
---
Exotic Hotels and Retreats
---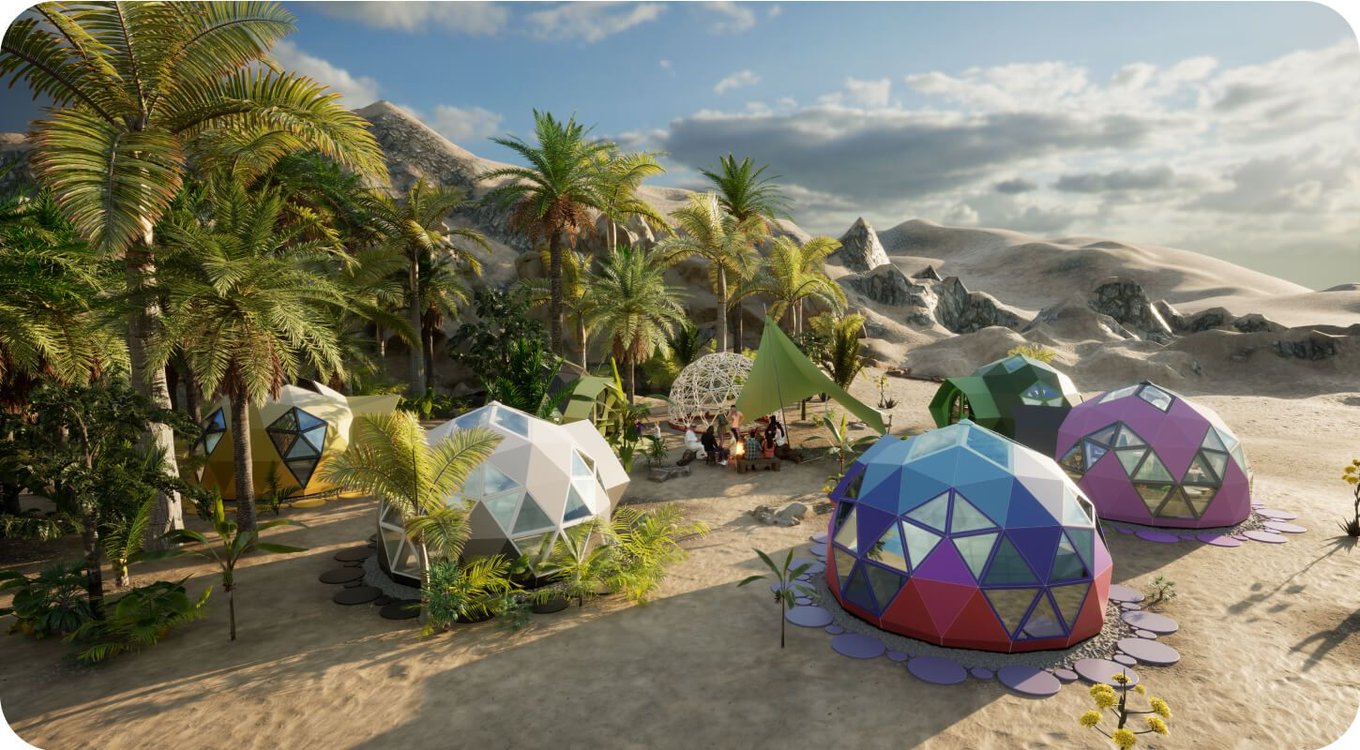 Visionary customers are spontaneously enthusiastic about the Geoship product. Bioceramic Domes are the healthy, sustainable, and unique solution they've been waiting for. Through exotic hotels and retreat centers, we make the geodesic living experience widely accessible.
---
Backyard Creative Studios
---
With the rise of remote work, the creator economy, and personal development, comes the need for sacred space. The thick curved walls of the dome make it a quiet place that feels centered and balanced yet connected to the outside world. There is no better place to think outside the box.
The hot market for Accessory Dwelling Units is ignited by zoning law changes. On Jan 1, 2022, California became the first state to ban single-family zoning statewide. Other cities and states are following suit.

---
Regenerative Villages
---
80% of new homes are built in new housing developments. We decentralize and gamify housing development with a village building platform.
Communities form online, build digital villages, support one another with collective action, pool resources, materialize physical villages, and even start new countries (Network States). We serve the market with tools to imagine and build the regenerative village future.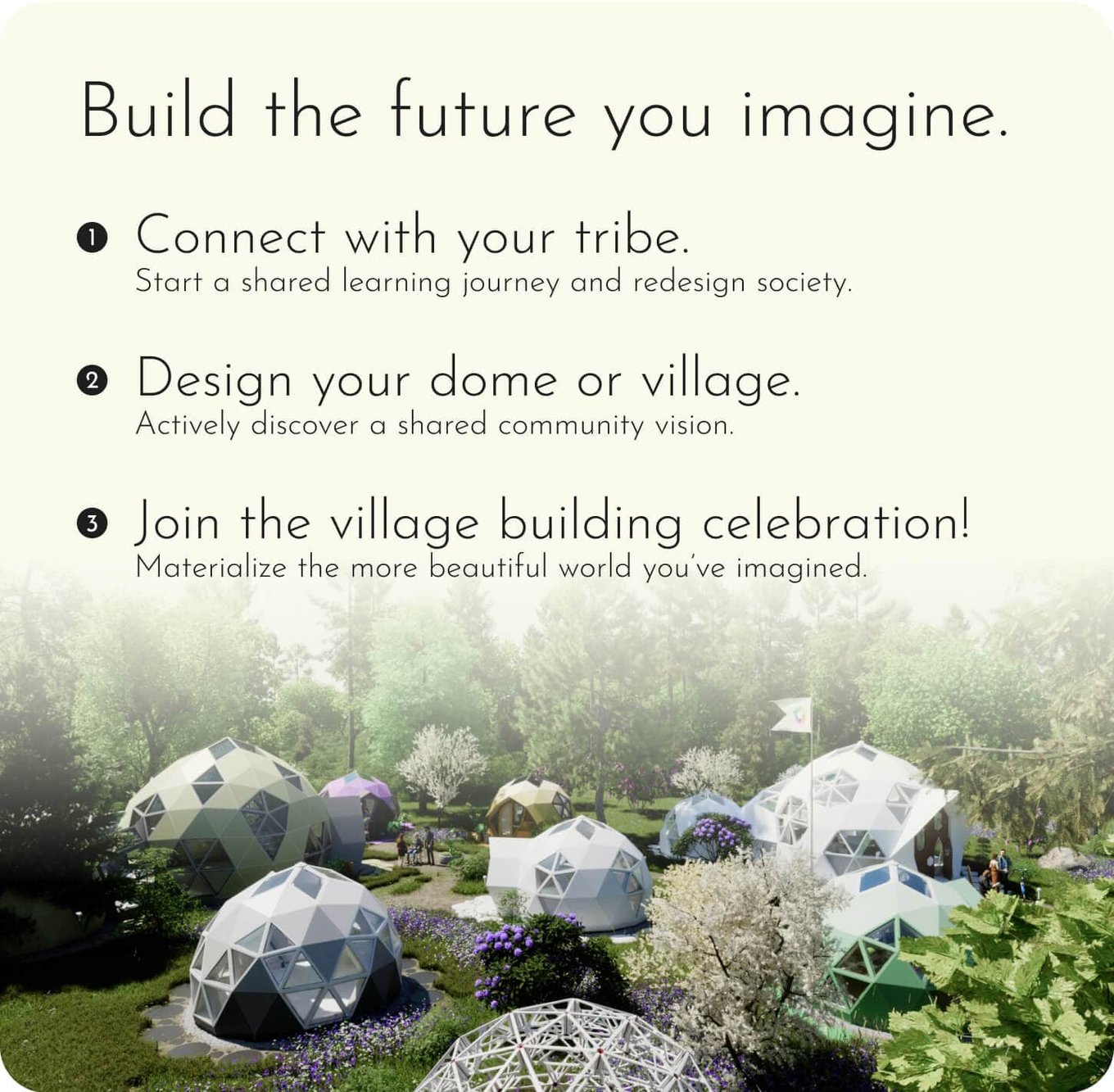 Rewrite the rules.
Price people back in.
Our blue ocean strategy
Through differentiation and low cost, Geoship creates a new market. Homebuilding companies compete on distinctiveness, luxury, resilience, sustainability, and price. We offer a product that raises the bar in every area while raising factors relevant to a new market.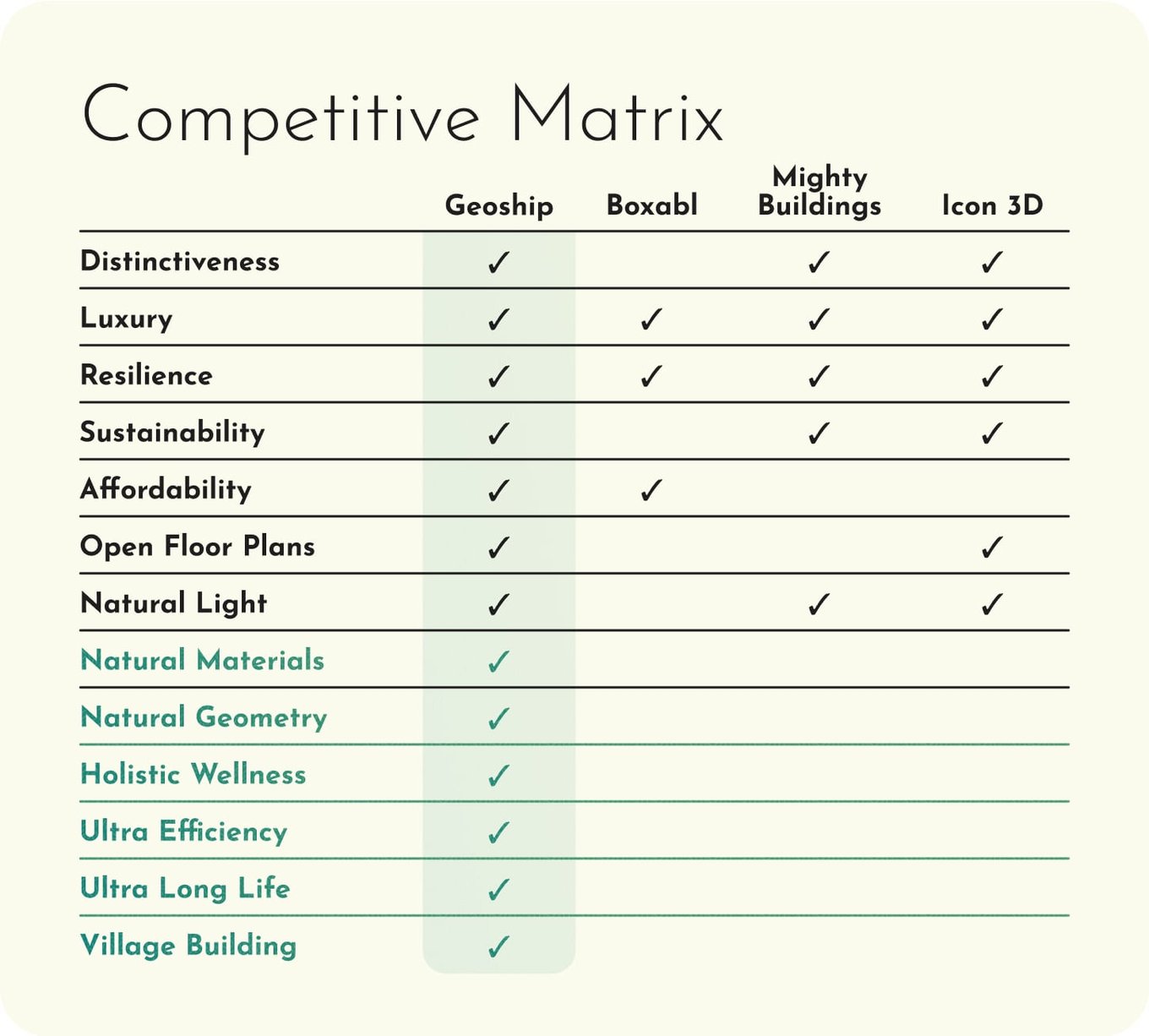 ---
Crater the cost of housing
---
Geoship starts in California, where the median price of a house was $786,750 in 2021, or 10x the annual household income. As manufacturing scales, we aim to reduce the cost of housing to 2.5x annual household income everywhere.

---
Make cooperation the ultimate advantage
---
Geoship progressively decentralizes into a multi-stakeholder cooperative, distributing ownership benefits to customer and nature stakeholders. The cooperative model has some significant advantages.
Cooperative Advantages:
Addresses the externalities of resource extraction

Creates a moat for competitors

Serves as a strategic advantage in sales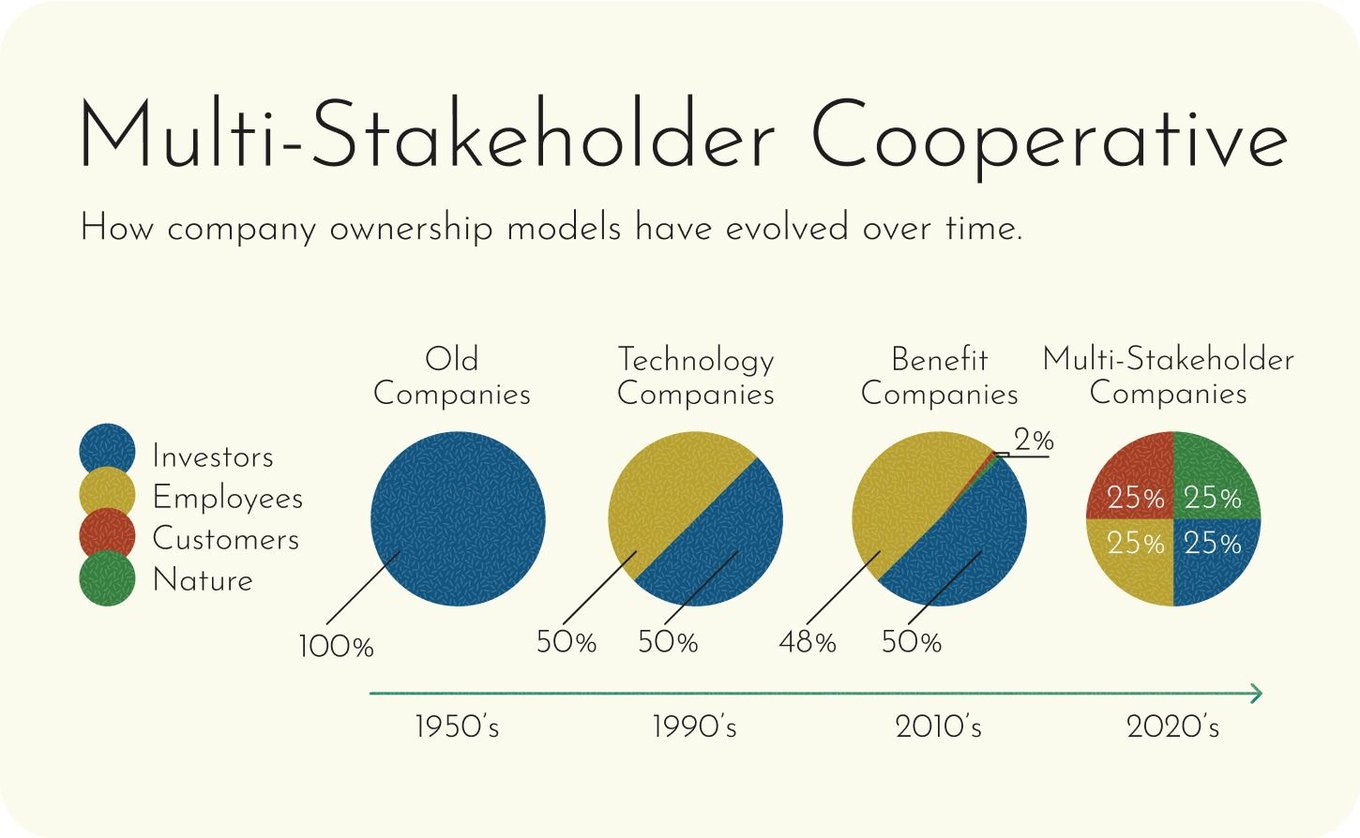 Earthshot:
Manufacture 1 million domes per year by 2037
Our vision is to provide a village housing solution that reconnects human communities with the natural world. Our earthshot is to make the best home on Earth the most affordable and scale manufacturing to 1m bioceramic domes per year by 2037.*
Chemically Bonded Ceramics are to homebuilding what Lithium Ion batteries were to Electric Vehicles. They allow us to advance the art and create a new industry: Ceramic Homebuilding.


---
Development Timeline
---
With this funding round, we first develop a production-ready dome prototype. Then, we launch a village configurator to drive dome presales. Next, we establish the first GeoRok blending plant as an early revenue stream. Finally, we aim to secure building permits for the first dome factory by 2024.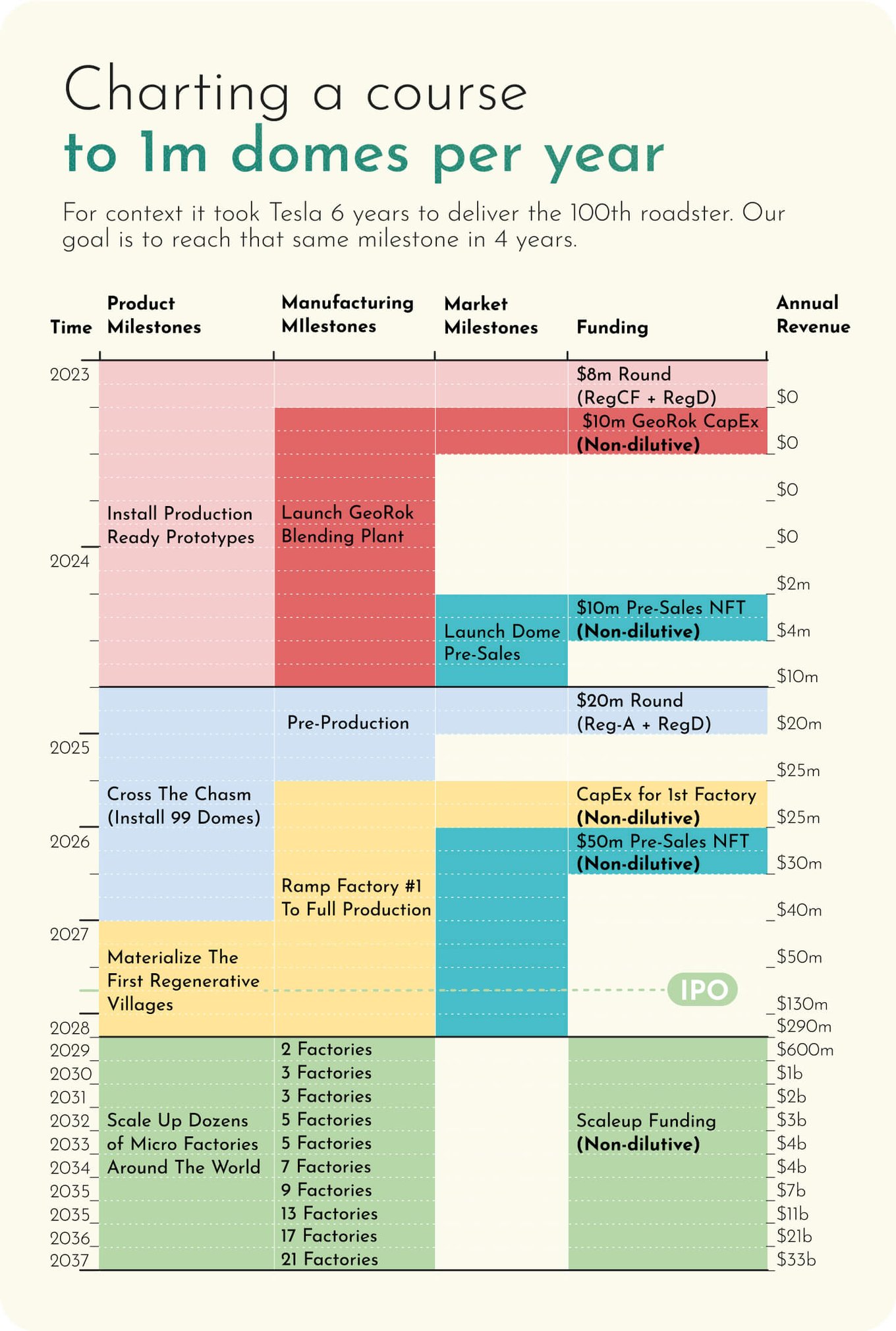 Geoship crosses the market chasm in 2024/2025. With the first 99 customer domes installed, enthusiastic early adopters telling our story, and a sales pipeline of over $1b, we begin ramping the first factory. The company fuels growth through one or more Reg-A's and an IPO.
Our ultimate product is not a dome but a highly automated dome factory. Geoship begins replicating factories, scaling to 1m domes per year from 2028 to 2037.
Rather than building a few 100-acre Gigafactories, we launch many 2-10 acre micro-factories. Our development timeline may seem long, but it's slightly faster than Tesla Motors.

---
Open the 'Etsy' of Natural Building
---
Bioceramic Domes create the opportunity for a new ecosystem of products and services. Geoship launches a market network to support the growing cottage industry around healthy and natural building.
Artisans, furniture makers, cabinet makers, dome installers, natural builders, developers, architects, permaculturists, interior designers, and complimentary product/service providers all become members of the Geoship market network.
---
Decentralize and Gamify Homebuilding
---
Today, housing developments are built by speculative developers and banks, then sold to homebuyers.
Geoship offers a suite of Web3 tools for communities to 1) align around a common purpose, 2) generate a shared vision, 3) support each other with collective action, 4) pool resources, 5) crowdfund land, and 6) participate in building the regenerative village they've imagined.
Be a Trimtab
Steward Spaceship Earth
Trimtabs are small mechanisms that help redirect or stabilize a great ship or aircraft. They leverage pressure to overcome impossibly strong forces. Bucky loved the idea that every individual can be a trimtab by finding small, high-leverage actions that alter the course of society. So his humble tombstone reads, "'CALL ME TRIMTAB' -BUCKY" precisely as he requested.
We maximize your impact as an investor by weaving Environmental, Social, and Governance standards into the very foundation of Geoship.
—
Environmental:
Climate Tech Housing Solution
—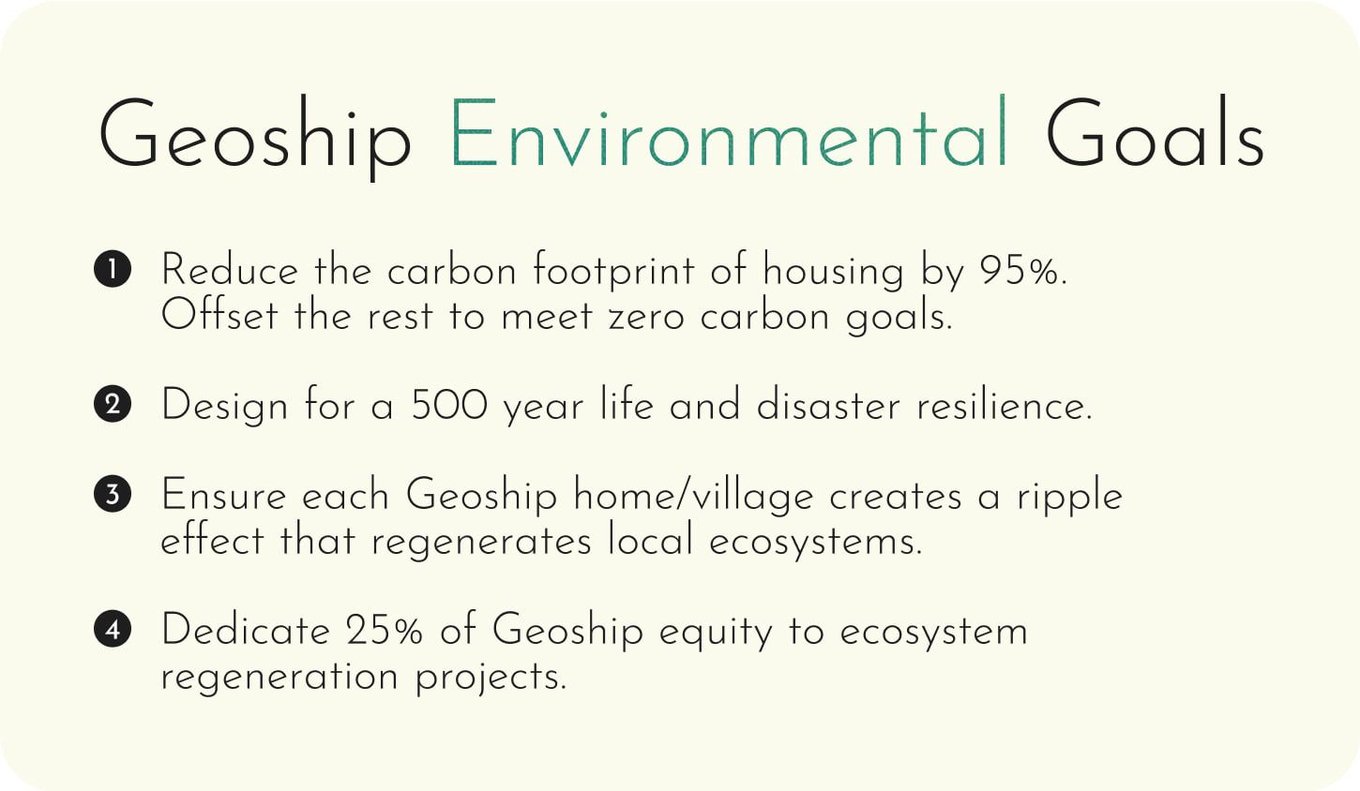 —
Social:
Affordable, Healthy Village Housing
—
Villages serve as physical nodes for startup societies that answer major human challenges like 1) ecosystem disruption, 2) biodiversity loss, 3) education, 4) healthcare, 5) crime, 6) resource scarcity, 7) life extension, 8) governance, and 9) money. Moreover, villages aim to integrate all the functions of daily life at the local level because when numerous challenges are brought together, they can be met together.
Geoship technology dramatically reduces the cost of housing while offering new levels of wellness and resilience. In addition, village building addresses the cost of food, transportation, and goods/services.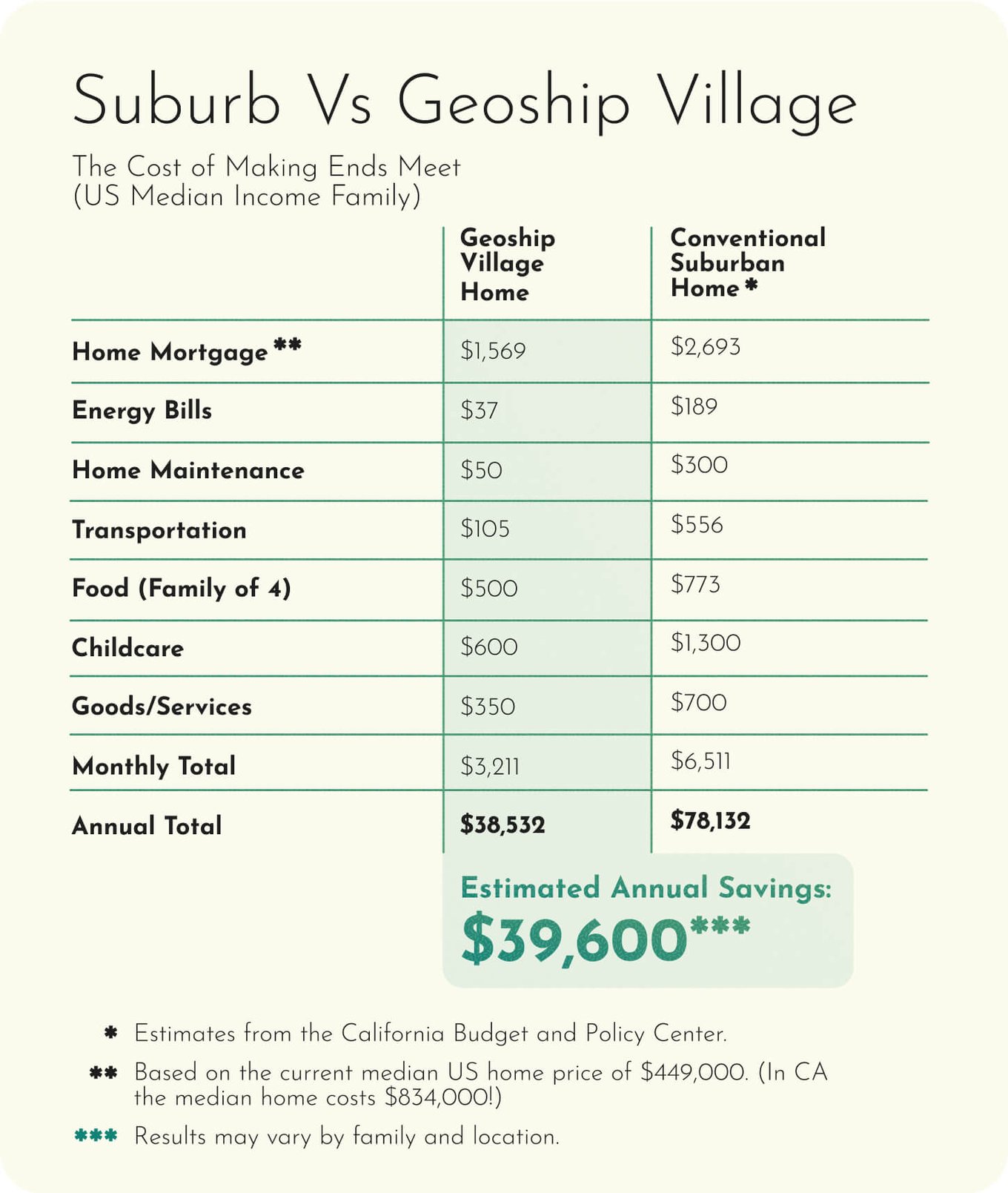 —
Governance:
Purpose-Driven Multi-Stakeholder Cooperative
—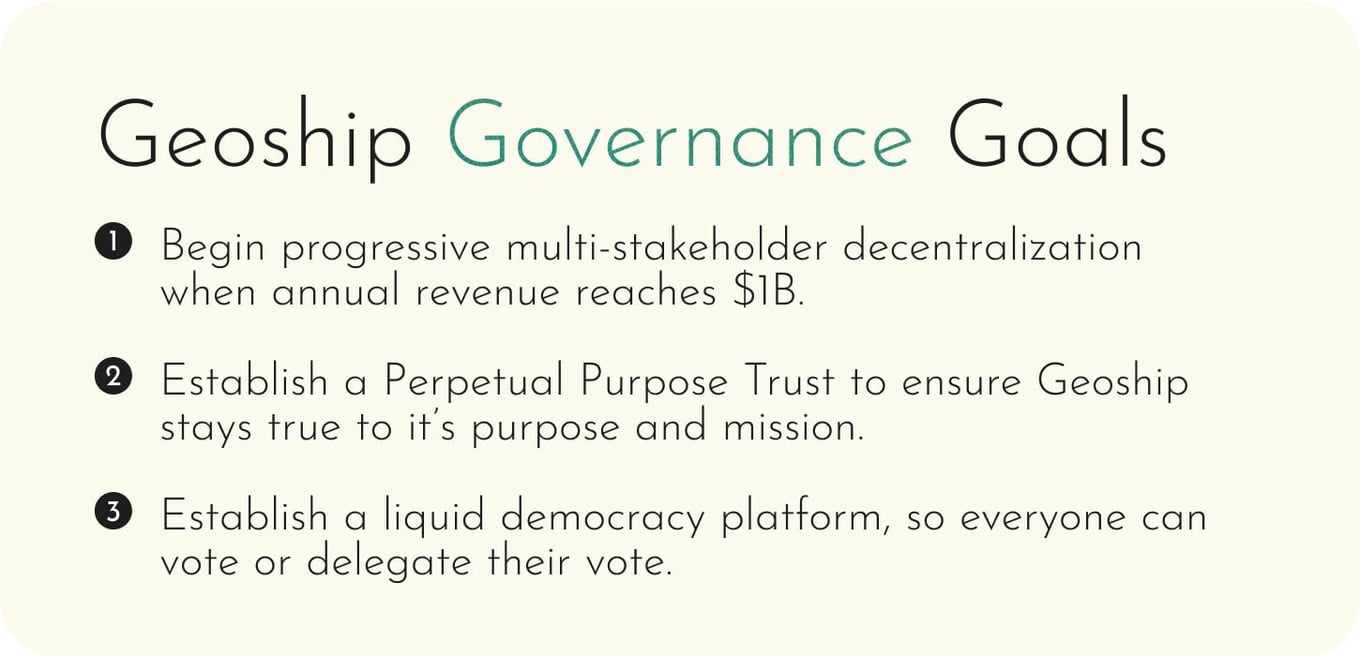 The Perpetual Purpose Trust (PPT) is currently the gold standard for steward ownership in the United States. Geoship progressively decentralizes into a Multi-Stakeholder Cooperative governed by a PPT, ensuring that the company stays true to its mission, which we draw from Buckminster Fuller himself:
"Make the world work for 100% of humanity in the shortest possible time, through spontaneous cooperation, without ecological offense or the disadvantage of anyone."
Backed by a community of thousands who believe in our vision
We bootstrapped Geoship for five years before over 2,000 investors came on board. Equity-based crowdfunding creates opportunities, supports our purpose, and sets the context for big, mission-aligned investors to join us. Additional funding could come from government grants and incentives, low-interest corporate loans, construction loans, and other sources.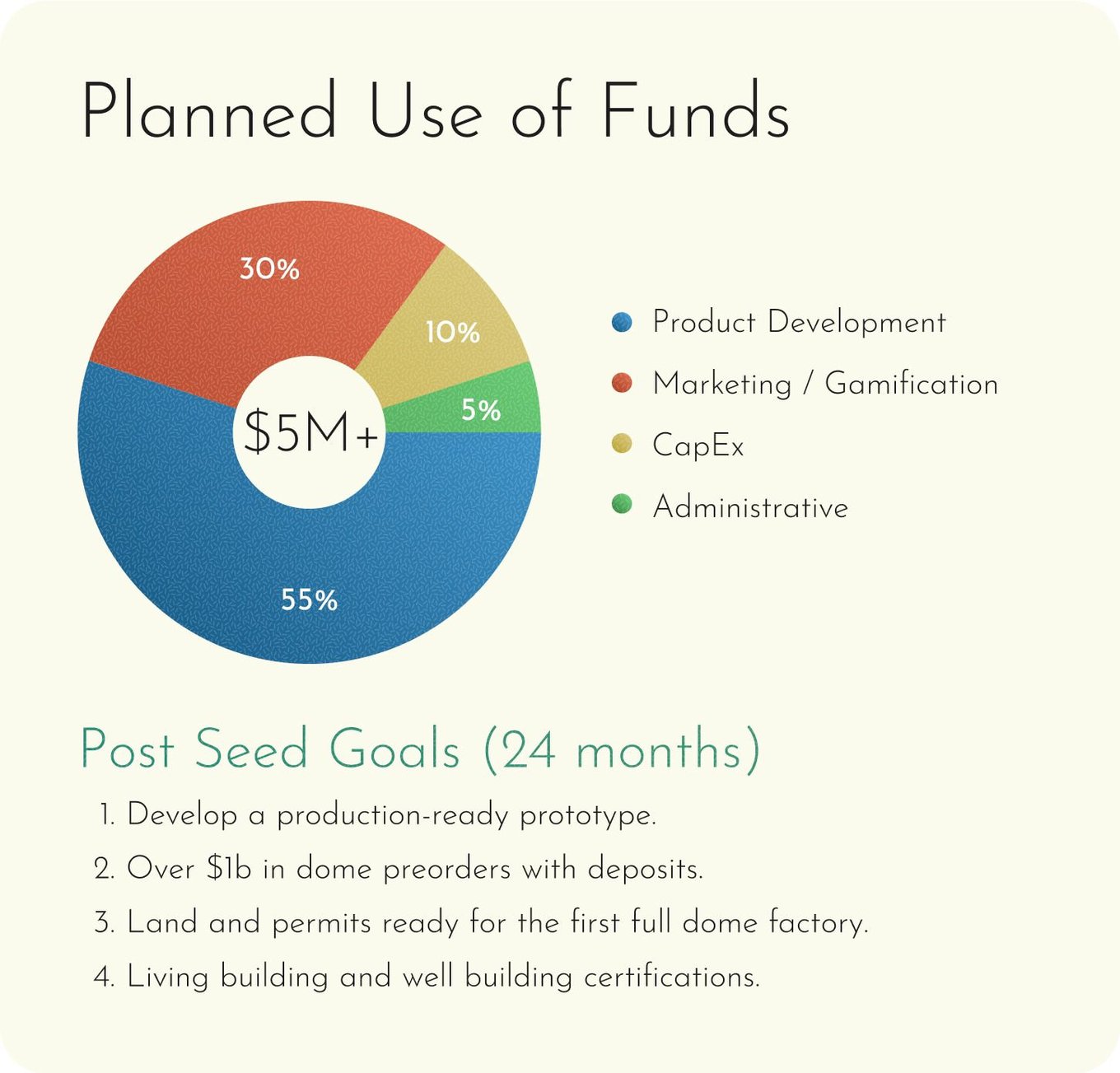 Chase this living
vision with us
A team of resourceful fools and dreamers
We've worked together full-time on Geoship for over 6 years. The first step in bringing such a world-changing vision to life was to follow our passion, gathering specific knowledge about the new domain we're creating. Through dialogue with customers and partners, we're developing the design and ethics behind our technology.
We're hiring a diverse team of thinkers, makers, and operators. With cross-industry expertise from plastic injection molding, ceramics mass production, aerospace composites, EV manufacturing, crypto, and game development, we're excited to build on the foundation we've laid.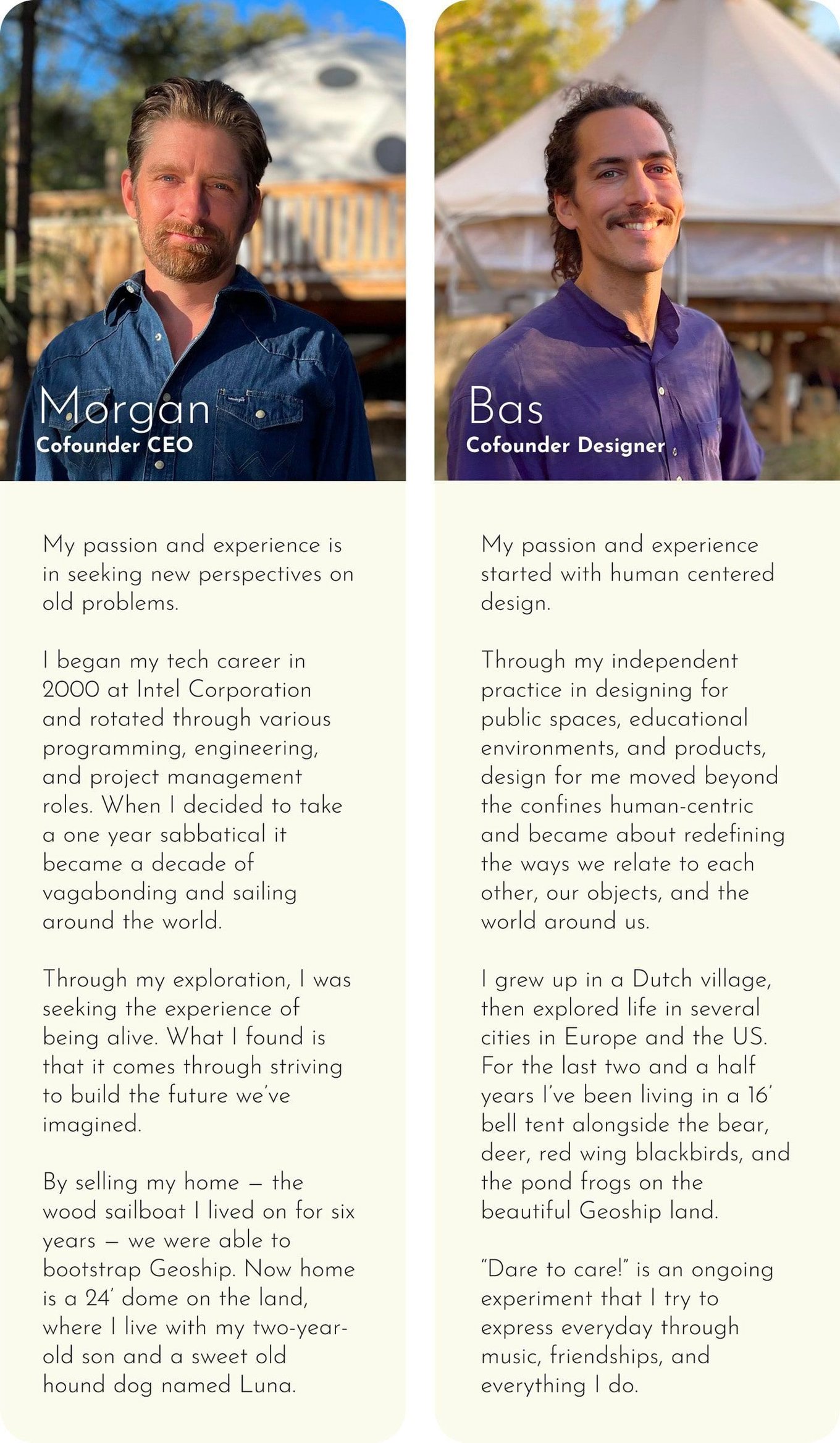 Invest in the Black Swan of homebuilding
Create the future you imagine
There's no precedent for a company transforming housing with such extreme impact. But, in hindsight, it's predictable. Domes have too many benefits to not become commonplace. We just needed the right material science and evolutionary brand. With this combination of rarity, extreme impact, and retrospective predictability, we believe Geoship is the Black Swan of homebuilding.
"Geoship is a courageous and visionary brand creating a new industry. We're the first movers with solid traction. It's time to manufacture affordable natural homes on a planetary scale.
Trimtab to trimtab, we invite you to join us. Let's leverage this historical moment to build the regenerative future of home."
- Morgan and Bas