"America is desperate for substitute teachers"
Historically, school districts have relied on retired teachers as their substitutes. A new solution is needed.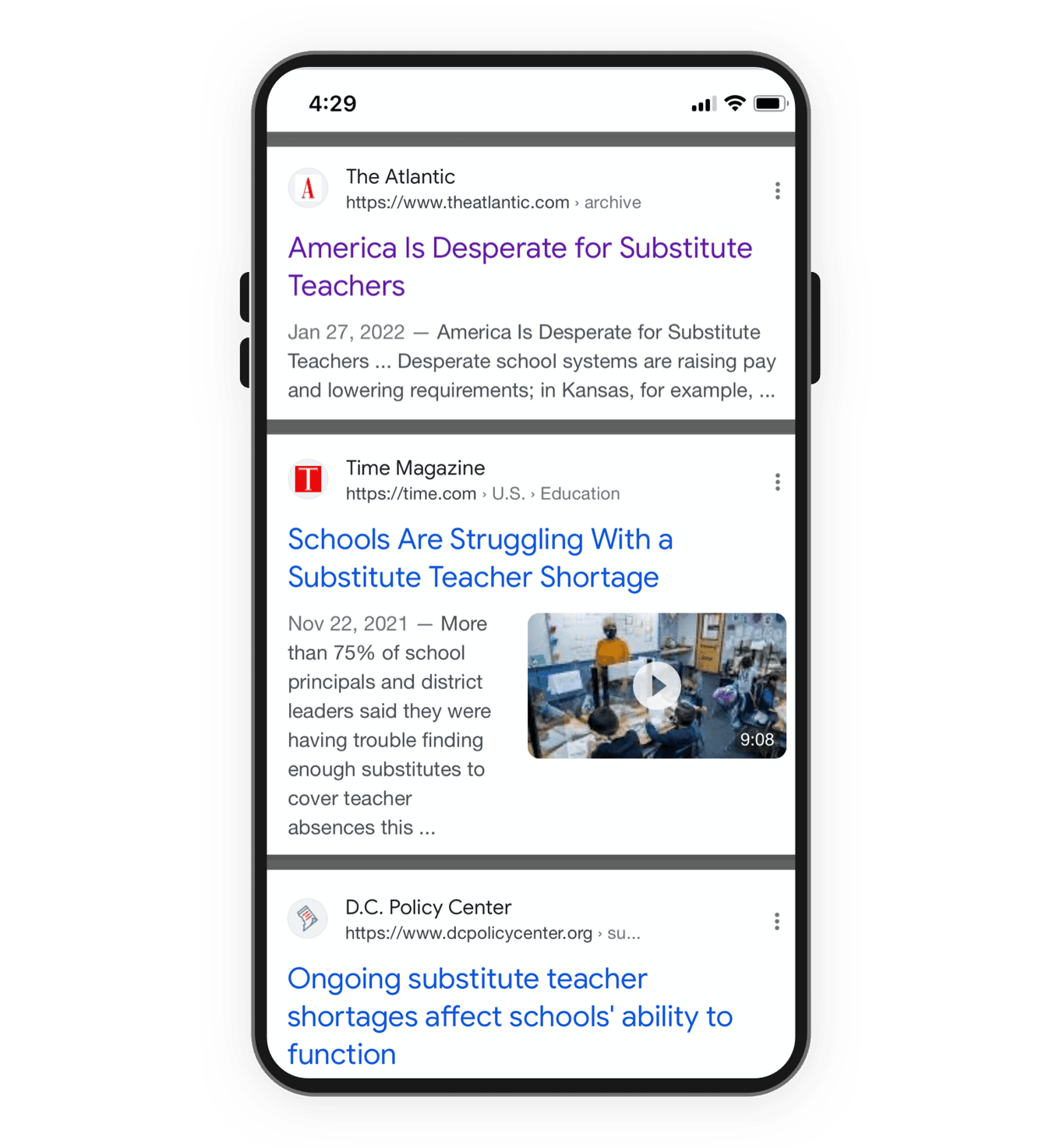 K-12 schools desperately need 1 million+ new substitute teachers

Pre-School/Childcare centers have lost 100K staff in last 2 years

Schools have no modern solution to compete in the gig economy

Manually scheduling is time consuming and expensive

The percentage of filled vacancies is unsustainably low requiring some schools to close
The substitute shortage is hurting learning outcomes and causing higher levels of burnout in existing staff.
HelloSubs: A powerful teacher staffing platform
For schools
For teachers

Higher fill rates
Up to 80% increase in fill rates
Scalable, convenient, affordable
Save money with a quickly scalable solution
Pipeline for permanent hiring
Hire the best subs as permanent school staff

More work opportunities
Conveniently access assignments close to home
Career development
Opportunities to become a career educator
Convenience
Manage onboarding, scheduling,
pay and more from mobile device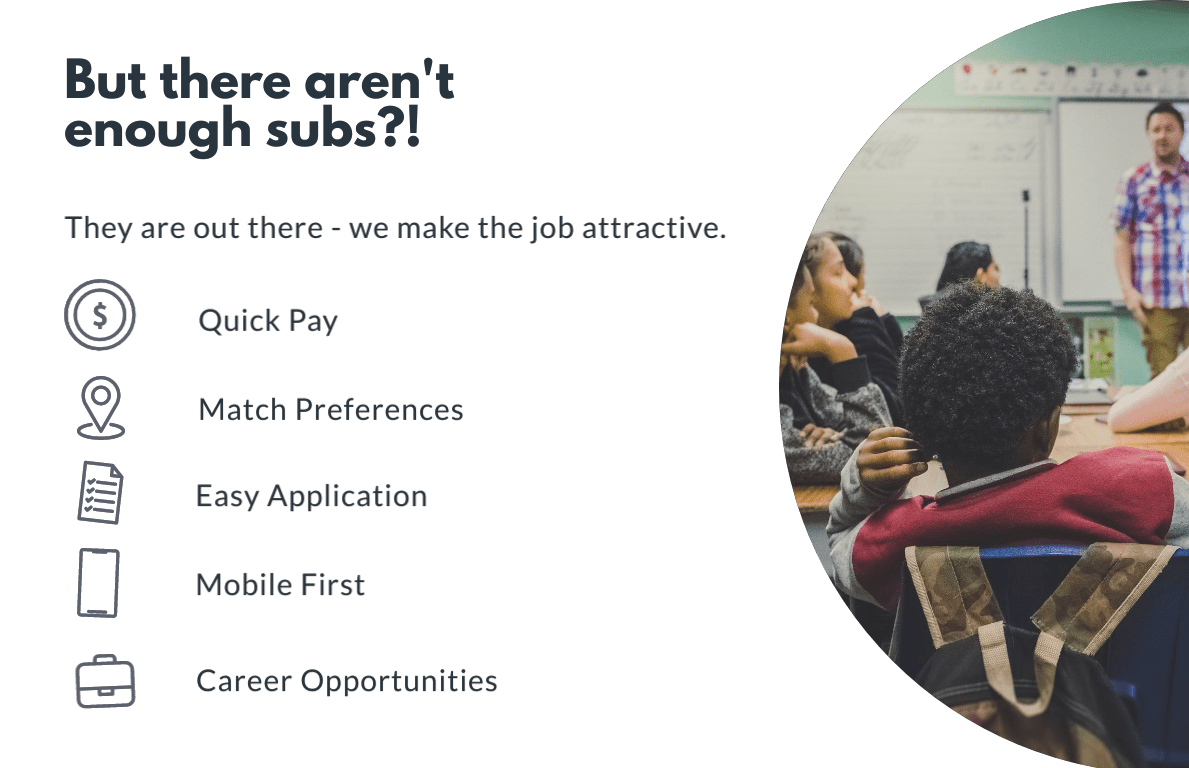 We provide the teachers and the software...

—
...while substitutes conveniently manage
jobs, schedule, payroll, and profile all in one place:
—


We support Public, Charter, and Independent Pre-K through 12 Schools
HelloSubs provides massive benefits to large districts employing thousands of teachers, along with small independent schools.
The majority of our initial clients have been large charter groups and independent schools across Denver, Austin, & Philadelphia. We're currently expanding in those markets as well as Houston, Colorado Springs, and Odessa/Midland.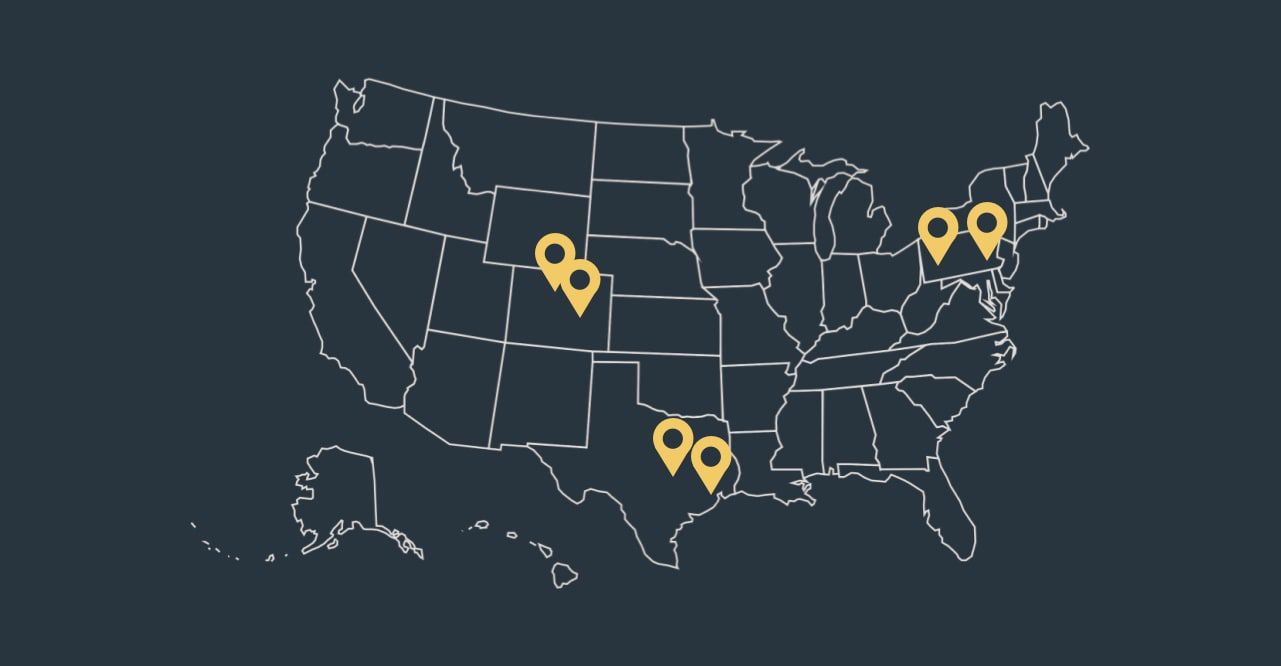 ---
Recent Customer Feedback
"The guest teachers were higher quality compared to other programs. Almost all of them came back repeatedly."
"We get higher quality & higher volume of candidates from HelloSubs compared to other programs."
"Your invoicing + approval process is leaps and bounds better than other organizations..."
Daily recurring revenue with high margins
Schools pay us per substitute, per day, worked at their school. This generates reliable, ongoing revenue along with a one-time fee when a school hires a sub as a permanent staff member.
Because of the automations built into our platform, we're able to generate $150K+/year gross profit per operational employee. This is on-par with top performing pure software companies.
One individual school generates an average of ~$50,000 gross revenue/year. Many school group/district contracts generate $1M+ annually with some as high as $8M.
We're able to maintain strong margins while still saving money for our schools, and paying market leading wages to our substitutes.
Unlocking a $18.5 B market
There are over 50 million school
days each year that require a substitute.
Unlocking an $18.5 B Opportunity
Public K-12 Schools: $10.5B
Private K-12 Schools: $800M
Pre-School: $7.2B
Substitutes have always been needed for sick days, and planned absences. Now with a rising teacher shortage they are needed more than ever.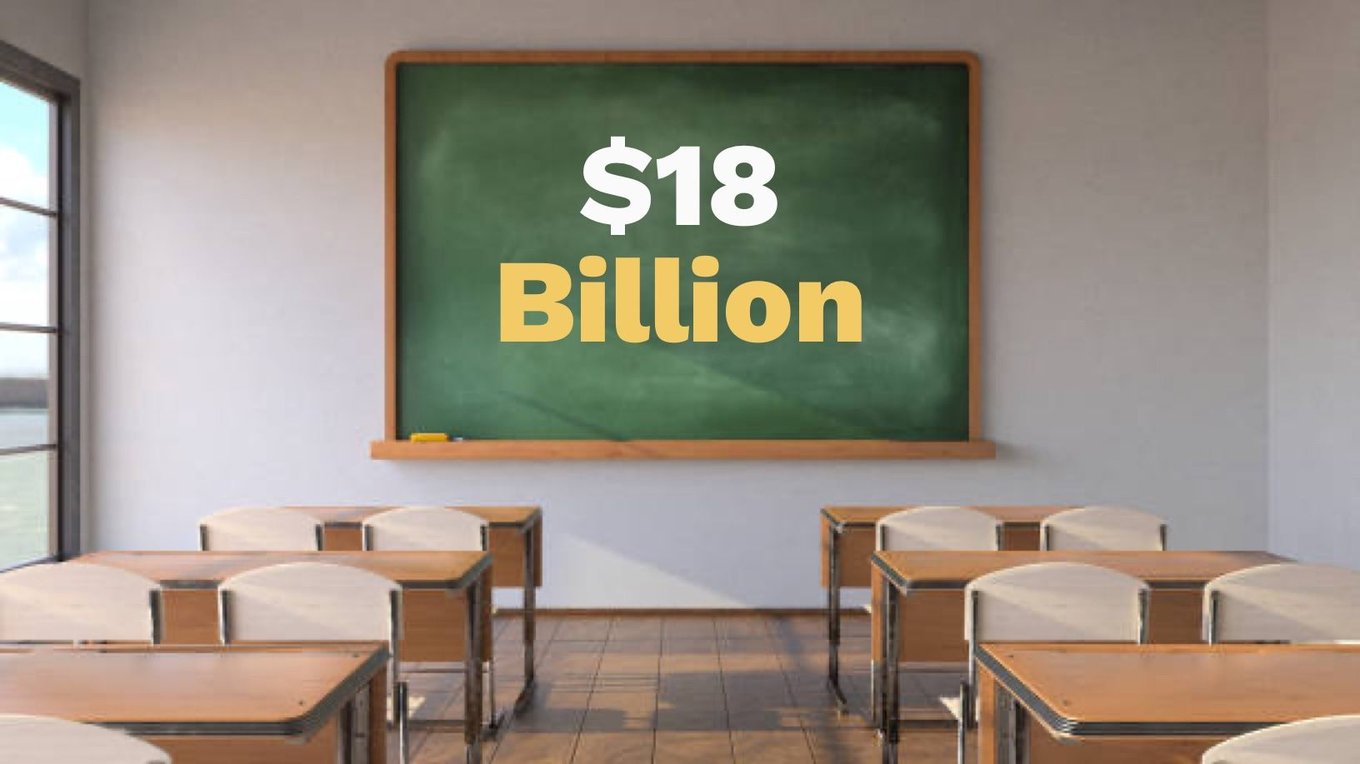 HelloSubs' unique approach
The majority of schools are "trying" to manage their own substitutes — and the biggest competitors are outdated staffing companies.
Our platforms allows schools to access millions of potential substitutes in the gig economy.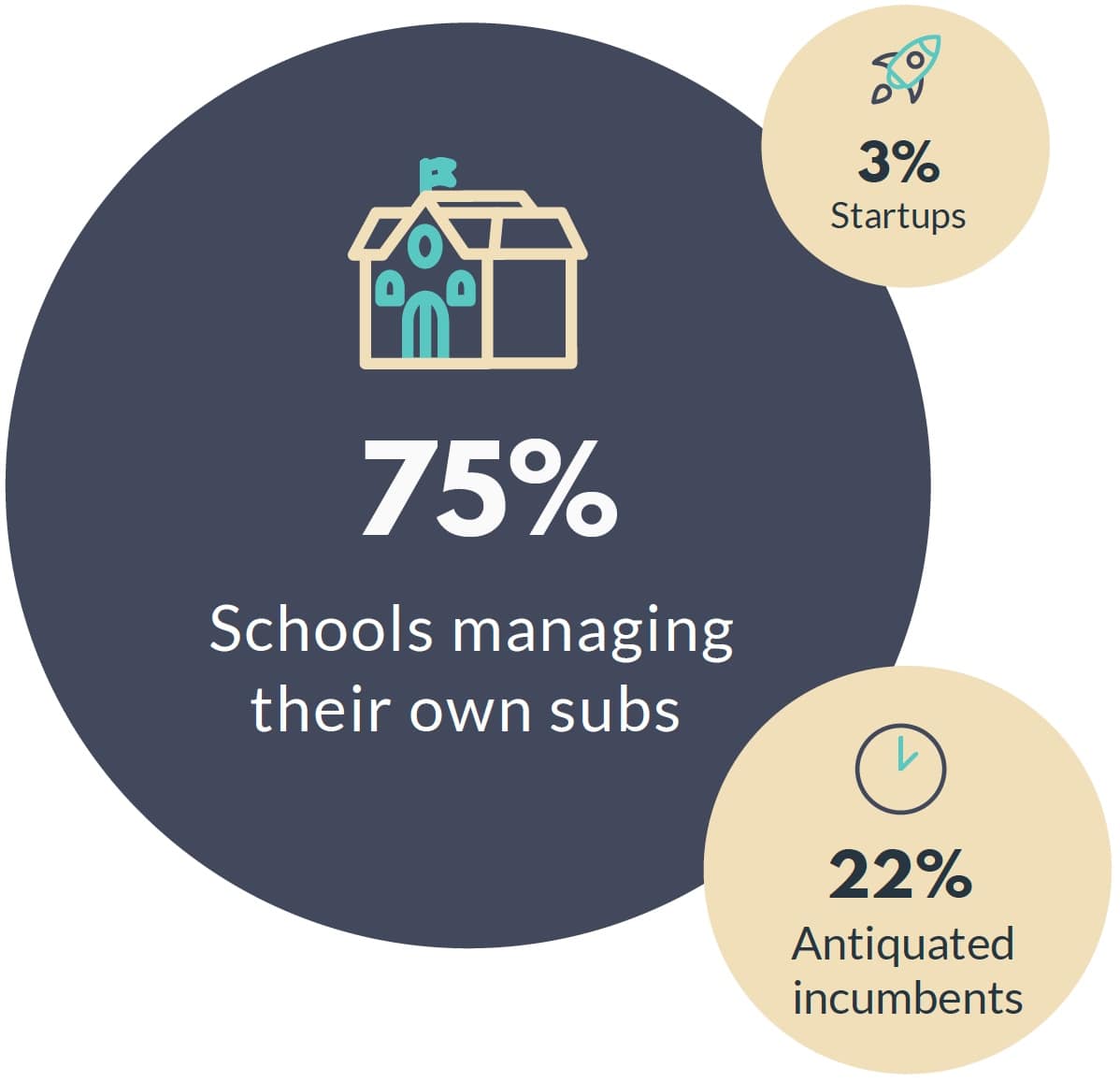 Competition by market share
Antiquated incumbents:
Other startups:
Swing Education
Scoot Education
Land and expand
Our goal is to serve 60%+ of the US market within 10 years, generating $6B+ in gross revenue*
Seed round - $500K
Milestones over next 12 months:
3 new major cities, 2-3 new minor cities
Grow annual run rate to $19M
Launch new mobile app for teachers
3-5 internal hires
Grow total schools to 300+ and active substitutes to 1,000+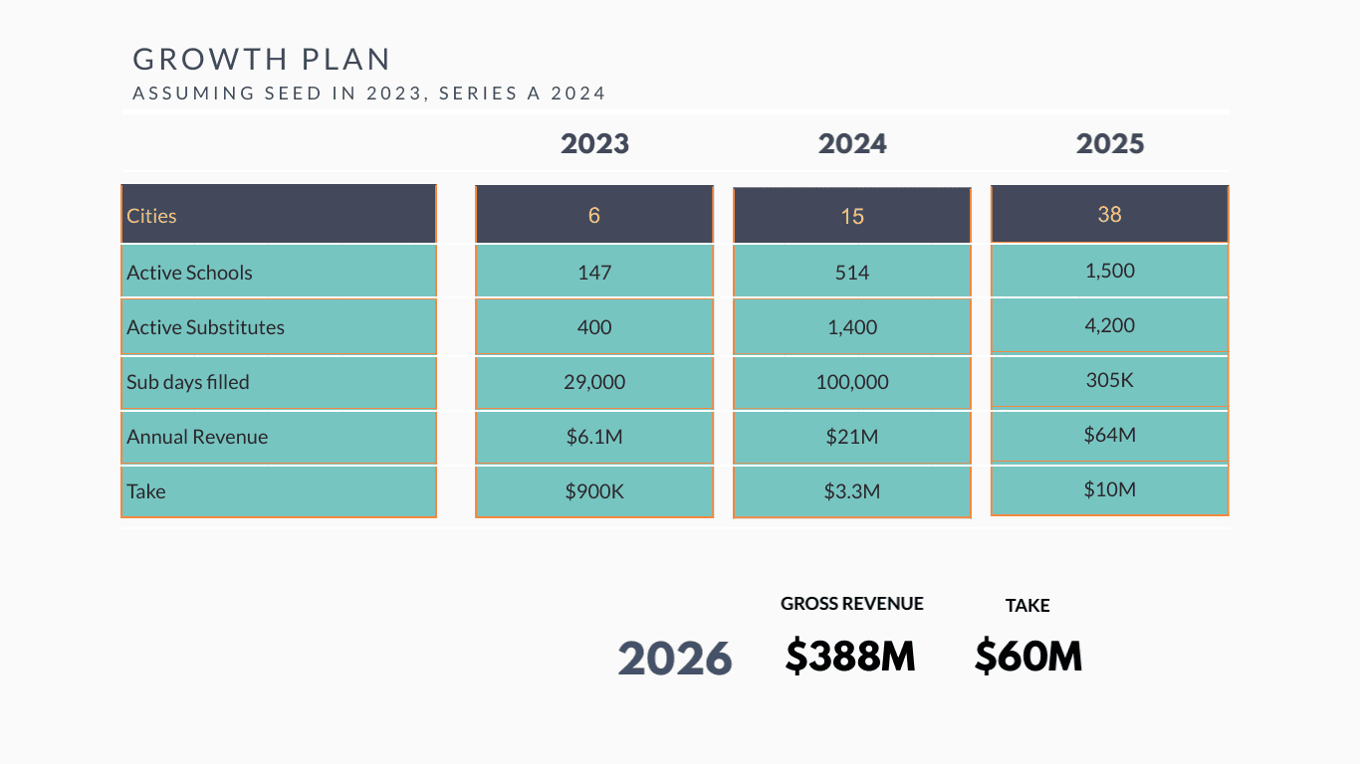 Working to solve teacher shortages and support our students
The United States is estimated to be short 100,000 permanent teachers in 2022, while enrollments in teacher preparation programs are steadily declining.
Substitute teaching is an easy way for people to "try out" the career with as many as 20% of them opting to accept a permanent teaching position.
Backed by leading angel and institutional investors
---
Including
---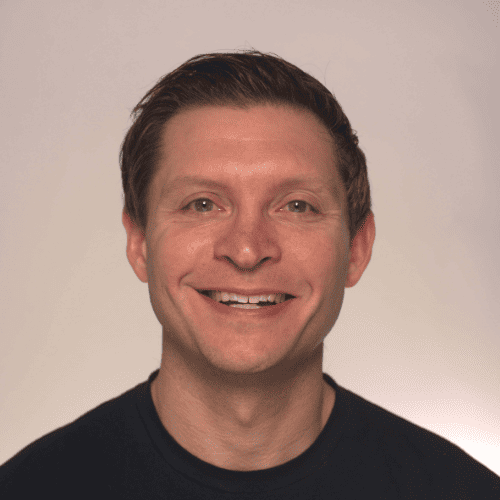 Brett Isis
Founder & CEO
2X founder
11 years edu staffing
Team building, sales & operations expert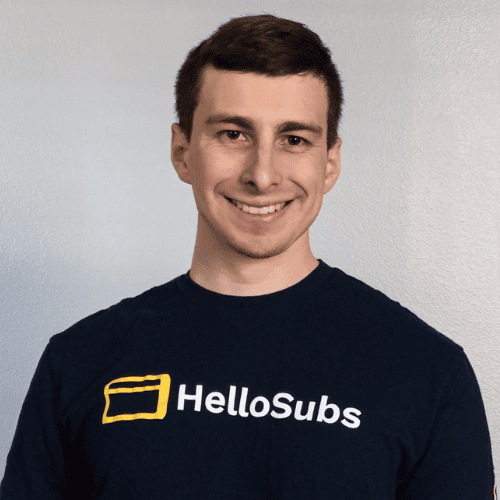 Derek Burgman
CTO
Texas A&M - Bsc. CS
4X CTO
EdTech Expert
Full-stack engineer
Why HelloSubs?
Two words: market validation.
Our traction in such a short amount of time shows an obvious demand for HelloSubs. The only question now is how fast can we can grow.
Hop on our rocket ship for what is sure to be a heck of a ride!