Condiments and sauces should add flavor, not unwanted salt and added sugar
Condiments and sauces are a great way to liven up a dish; however so many offerings get their flavor from high fructose corn syrup and salt. For example, 2 tbsp of Sweet Baby Ray's BBQ sauce has 290 mg of sodium and 2 tbsp of Heinz original ketchup has 320 mg. It's time for a new-to-the-world brand to lead the way and create a better-for-you solution that isn't short on flavor.
Sienna Sauce is a great-tasting, health-conscious, everything sauce led by Tyla-Simone and Monique Crayton
Sienna Sauce started when CEO Tyla-Simone Crayton began bottling her own sauce at 14 years old. In 2019 at 16 years of age, Tyla-Simone expanded it into a full-fledged business that now, in 2021, is ready to rocket into the stratosphere.
All Sienna Sauces pair perfectly with a variety of meat, seafood and veggies, work as an ingredient in family favorite recipes such as chili, pizza, pasta and rice dishes, and can be used as a dip or condiment. All Sienna Sauces are low in sodium, 100 mg or less per 2 tbsp serving, and use honey and other real food ingredients to create bold flavors, making it a guilt-free choice for sauce enthusiasts.
Guilt-free sauces that make you want more
All of our gourmet sauces are entirely free of high-fructose corn syrup, low in sodium, and gluten-free. They are a wonderful complement to any protein – grilled, baked, or fried. They add rich flavors to your favorite pasta, rice, and vegetable dishes, and are a great substitute for sugar- and salt-filled condiments.

Sienna Sauce comes in three tempting flavors:
Our signature sauce, Sweet & Tangy, will send your tongue into a frenzy with a rich sweetness and citrus finish.
Lemon Pepper has a perfect balance of cracked black pepper with a pleasing, tangy punch of lemon zest.
Spice It Up! delivers a fresh chili pepper flavor with just the right amount of amazing sweet and tangy heat.
On path to reach $650K in revenue
We pitched our product on Shark Tank on February 19, 2021 and received an on-air offer for a $100K investment from guest shark Kendra Scott. After our appearance on the show, we achieved over $300K in online sales in 48 hours. Since then, we've been showcased in a FedEx digital marketing campaign, chosen by Verizon as a sauce of choice in their corporate cafes, and featured on Kelly Clarkson, Good Morning America, and CNBC.
We are forecasted to achieve $650K in revenue this year, representing 5x YoY growth. We have 40K+ followers on social platforms. Plans for 2022 and beyond are to build our brand DTC and expand in grocery & mass retail, as well as strategic foodservice channels & venues.
Our consumers are looking for an "everything sauce" for everyday meals
Our traditional consumers are families and individuals who are health conscious and flavor-driven. We provide an "everything sauce" for everyday meals, as our versatility replaces countless sauces and condiments. As of now, our platform has 300+ 5-star reviews for our products. We've even had clients tell us they put Sienna Sauce on everything!
Sold via e-commerce, grocery retailers, and hospitality vendors
Sienna Sauce sells DTC via our own website, Amazon, and Walmart.com, as well as to food retail & contract foodservice and hospitality distributors. Our sauce currently comes in three flavors, Sweet & Tangy, Lemon Pepper, and Spice It Up! The sauces are sold in 14.5 oz bottles and 155 oz jugs.
Across e-commerce platforms, the 14.5 oz is sold in 3-packs for $29.85, and exclusive to our website we sell the 155 oz for $65.95. In 2022, we'll add a new package format, a 5 oz single serve. The goal with the 5 oz is to increase consumer trials of Sienna Sauce and promote new usage occasions, specifically as a cooking ingredient. As such, the pouches will be marketed with multiple quick and easy, under 30-minute family-friendly recipes specific to each flavor.
To bolster our DTC business, we're launching a renewed digital effort to advance our omni-channel marketing and leverage our growing social presence to drive brand engagement and site sales.
Our plans call for 2022 to be a breakout year in food retail. We will build on our success in 60+ stores in Texas (e.g., H-E-B, Harvest Market,) and New Jersey/New York (e.g., Wegmans) through programs with KeHe. The 14.5 oz is our primary package for food retailers and has a $6.99 MSRP.
We have been sought out by two Fortune 50 companies to be incorporated into their corporate dining menus. Conservative projections have us expanding into XYZ US corporate dining venues by XYZ. We now have a business relationship with a top contract foodservice and hospitality vendor and are in discussions on how to expand in this channel. (…wave of corporate social responsibility efforts supporting).
And with the goal of further driving brand awareness and trial of Sienna Sauce, we will leverage invitations to participate in strategic programs such as World Market's Spring '22 gourmet sauces display program.
Working our multi-channel strategy, we are positioned for growth in 2022 and beyond.
The Sauces, Dressings and Condiments market is forecast to reach $181B
by 2025
The sauces, dressings & condiments market in the US is projected to surpass $181B by 2025, and is currently growing at a CAGR of more than 4.8%. Our go-to-market plan is to continue to garner media coverage by staying newsworthy and continuing to innovate in all that we do. Another key facet is to master omni-channel marketing, and expand and win in food/mass retailers' competitions and retail shelves. As part of that, we're expanding our geographical footprint and introducing new packaging and flavors.
New label coming soon: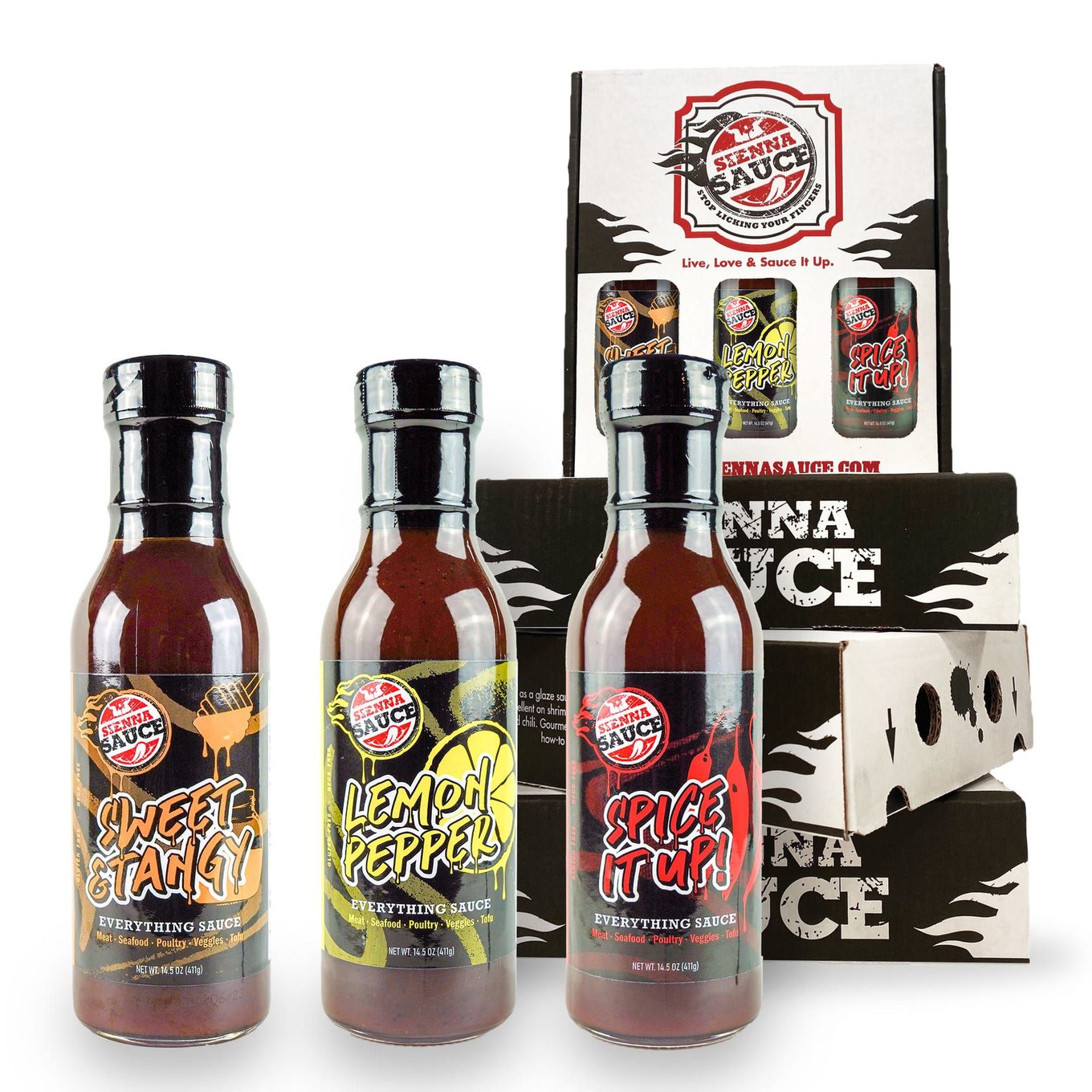 Sauce it up with Sienna Sauce
Sienna Sauce is too big an idea to fit in one single box. It is a multi-use, multi-cultural product that is ready to multiply in sales by delivering a guilt-free sauce that works as a marinade, dip, condiment, ingredient, and yes, a barbecue sauce.
Redefining the condiments industry
At our core, we believe great flavor comes from what grows in the ground, not the lab.
Our mission is to provide health-conscious products that redefine the condiments industry and to encourage everyday cooks to live, love, and sauce it up!
Our vision is to become a household brand name admired for making the world more flavorful without the crutch of added sugar, salt, or synthetic ingredients. Further, we will inspire and support youth entrepreneurship.
We ran a successful campaign on Republic last year and are back to supercharge our business
We've also won capital prizes at Side Hustle Showdown and Revolt Pitch Competition.
Now, Sienna Sauce is raising funds that will go towards staffing, marketing and operational expenses for our retail and foodservice expansion.