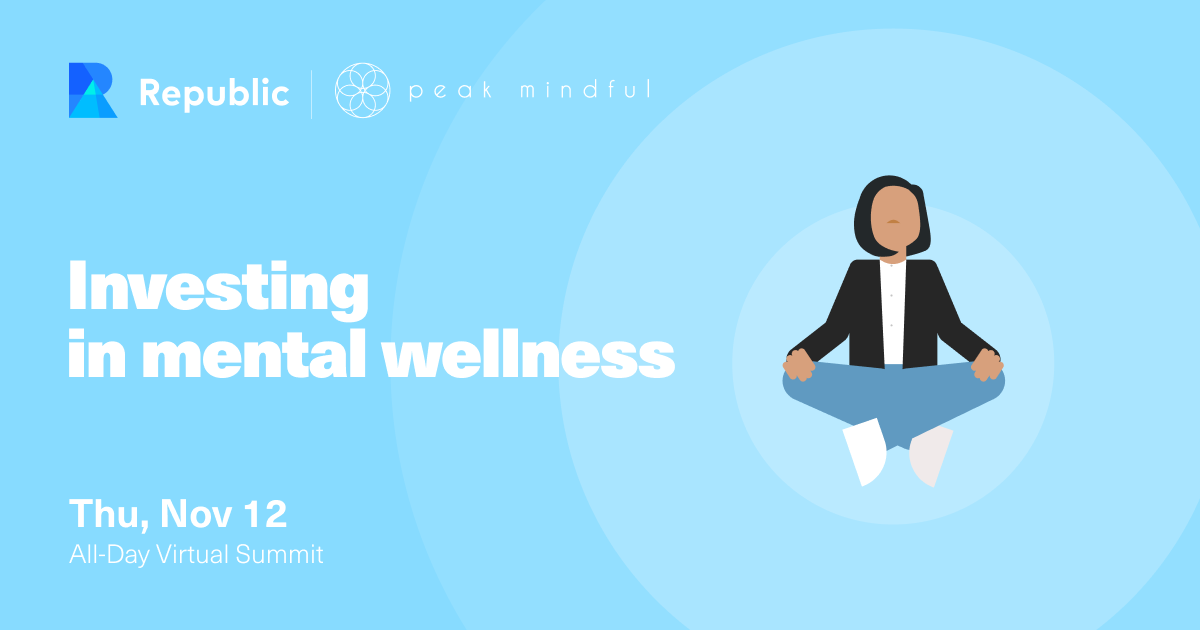 Investing in Mental Wellness Virtual Summit
Join a line-up of esteemed speakers who discuss key investment trends in the rapidly growing mental wellness sector (i.e. Calm, Headspace) and provide actionable tips to prevent burnout, increase productivity and how to become a better leader! This free event will take place on November 12th from 12:00PM EDT to 9:00PM EDT with the option to only join the sessions you are interested in. Agenda here.
This Virtual Summit has no regular speaker panel! We have investment gurus, entrepreneurs, healthcare professionals, a 2-star military general, and even a TikTok influencer/mom offering advice on how to make mental health a priority.
At Republic, we closely follow emerging industry trends. According to PitchBook, through the third quarter of 2020, venture capital investments in US mental health startups has reached $1.37 billion, a 70% increase vs. 2019. Headspace, one of the emerging players, for example, has signed corporate partnerships with notable clients such as Starbucks, Unilever, and GE in response to a growing demand for mental wellness in the workspace.
Why do some of the most prominent Venture Capitalists invest in the mental wellness space? How can you personally benefit from learning the techniques for mental wellness to prevent burnout and increase your productivity? If you want to learn about the mental health sector or how to improve your work and personal life, then this summit is for you!
---
This first of its kind event features two tracks:
Business of Mental Wellness: Conversations with leading investors, entrepreneurs and influencers on where mental health investment opportunities are uncovered.
Coaching Sessions: Q&A sessions with top doctors, researchers and influencers with a wide variety of expertise.
All attendees also receive post event:
Video recordings of selected Business of Mindfulness programming.

A 21-day challenge program by Peak Mindful on "Emotional Intelligence for a better and successful life". A series of media you will get every day in your inbox for 21 days!
Bring a friend!

Participants

Ash Kumra
Co-founder, Peak Mindful

Szandra Fuzesi Ford
Operating Partner, Republic
Justin Rufen-Blanchette
Investor Relations, Republic