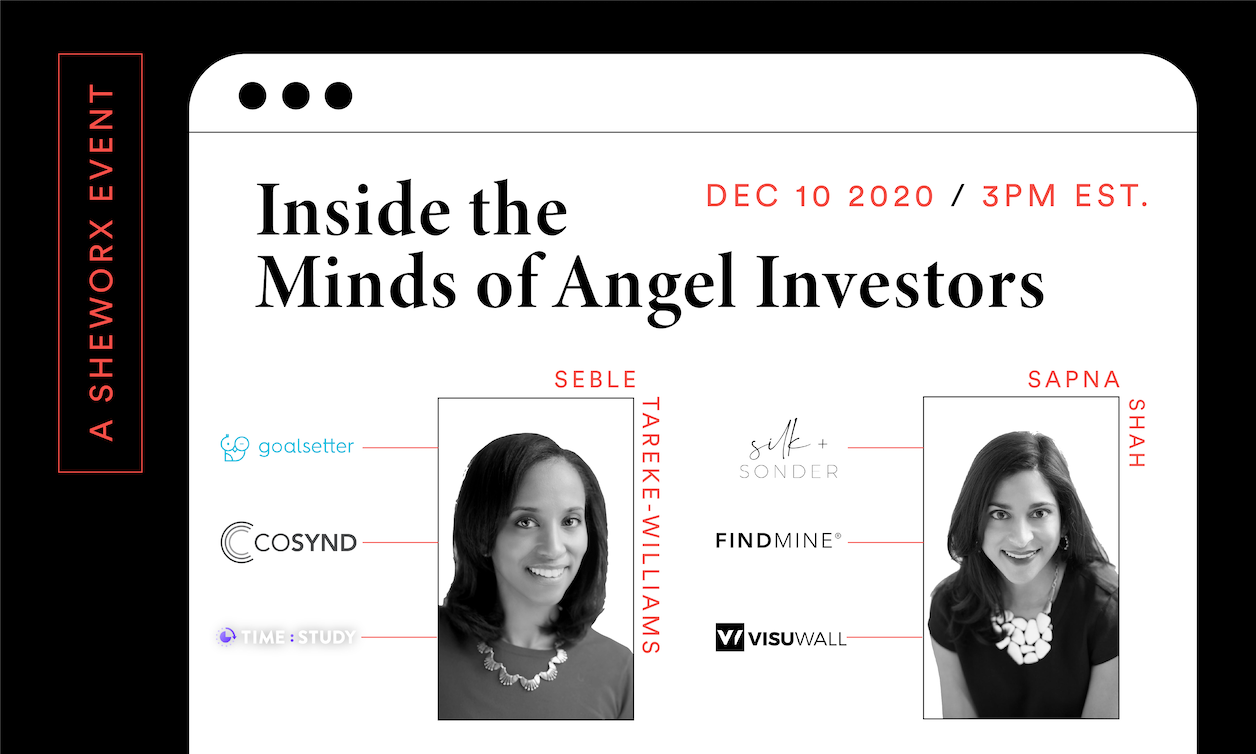 SheWorx Virtual Roundtable: Inside the Minds of Angel Investors
Join us for an interactive discussion with two seasoned angel investors, Sapna Shah and Seble Tareke-Williams, who will share their perspectives on all things angel investing. During this SheWorx event, you'll learn more about what angels look for when investing, how angels differ from venture capitalists, and the value angels add to the startup ecosystem. Sapna and Seble will provide insights into some of the deals they've invested in, some they've passed on, and will provide guidance for founders interested in tapping into angel investor networks to raise capital.
What to look forward to from our panelists:
Sapna's expertise in the retail space—she'll highlight some of the investments she's made including Silk + Sonder, Robyn, Findmine, Stantt, and Iterate, among others.

Seble's background in real estate entrepreneurship—she'll dive into some of her past angel investments including Motivo, Goalsetter, Cosynd, TimeStudy, and more.
Speaker bios:
Sapna Shah is an angel investor focused on retail tech, ecommerce & consumer startups. She is the founder of Retail X Series, an ecosystem for early stage founders featuring events, community and a podcast. Sapna co-founded independent equity research firm Retail Eye Partners and menswear ecommerce startup Mind the Chap. Sapna has also held executive strategy roles at Linens 'n Things & Ann Taylor, and began her career in retail at Gap, Inc. Previous to her career in retail, Sapna worked in investment banking at Punk, Ziegel & Knoell and in credit at Morgan Stanley. Sapna is a graduate of the University of Pennsylvania (BS & BA) and Columbia Business School (MBA).
Seble Tareke-Williams is a real estate entrepreneur and advisor with a professional background leading community economic development programs across a wide strategy spectrum ranging from starting and managing a Brooklyn, NY-based workforce development and entrepreneurship resource center to leading an urban real estate fund. Most recently, Seble was a Managing Director at the Vanbarton Group, a commercial real estate investment advisor and manager to institutional clients. At Vanbarton, Seble led asset management on cross-sector domestic portfolios and launched and oversaw the NYC Interborough Fund, which targeted retail, multifamily, and office investments in submarkets across New York City's five boroughs. Prior to Vanbarton, Seble was the Director of Economic Development at IMPACCT, a Brooklyn-based affordable housing developer and non-profit community development organization. Currently, in addition to personally investing in wholly-owned and fractionally-owned real estate assets, Seble consults with emerging and established real estate funds on strategy and asset management. Seble is also an active angel investor, primarily with Pipeline Angels and Portfolia, focused on capitalizing companies led by diverse founders. Seble received her B.A. with honors from American University and a M.B.A. from Harvard Business School where she was a Toigo Finance Fellow.