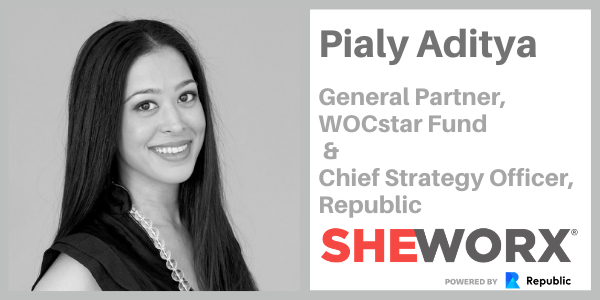 SheWorx Virtual Roundtable: Pialy Aditya, Chief Strategy Officer, Republic & GP, WOCstar Fund
At this virtual SheWorx Roundtable, we sit down with Pialy Aditya, Chief Strategy Officer, Republic and General Partner of WOCstar Fund.
We will discuss:
- What she looks for as an angel investor
- Biggest lessons learned as a founder in the fashion-tech space
- How to transition from a founder to a senior executive at large publicly-traded companies
Background on Mentor
Pialy Aditya is the Chief Strategy Officer at Republic. An innovation-driven executive with a proven ability to scale both multi-billion dollar corporations and early stage startups, Pialy previously led ShopYourWay Digital, the social commerce loyalty program with tens of millions of members. She was a pioneer in the fashion tech space, launching Mintbox, an online platform with private micro-targeted, credit card-linked sale experiences. Before launching Mintbox, Pialy focused on global strategy at Donna Karan (a division of LVMH) and worked directly with designer Donna Karan to commercialize Urban Zen.
Pialy She is an advisor and investor in startups focused on social commerce, blockchain, and big data. She is currently working to launch WOCstar, a fund focused on female founders with a strong focus on founders of color. She has a BS from NYU's Stern School of Business and a MBA from Harvard Business School.
Participants
Pialy Aditya
Chief Strategy Officer, Republic & General Partner, WOCstar Fund
Bianca Caban
Head of Partnerships & SheWorx, Republic