Rapid, Quantitative, Assay-Based diagnostics are expensive and time-consuming to develop
...but are needed in all industries at a global scale.
A Rapid Assay is a technology that measures the presence ("yes"/"no") of substance in a sample, such as contaminant in water or a virus such as COVID. Rapid Quantitative Assays (RQAs); however, are a subtype of assay that allows for near-immediate, lab-grade test results with added precision and decision-making power, because they measure how much of a substance is present in a sample.
Developing and launching RQAs is difficult, time-consuming, and expensive. Go-to-market time is usually 2.5 to 6 years, and development costs range $4.5 to $10M— or up to $100M for large pharma companies.
Even so, RQAs are considered the future of diagnostics.

Why does it take so long?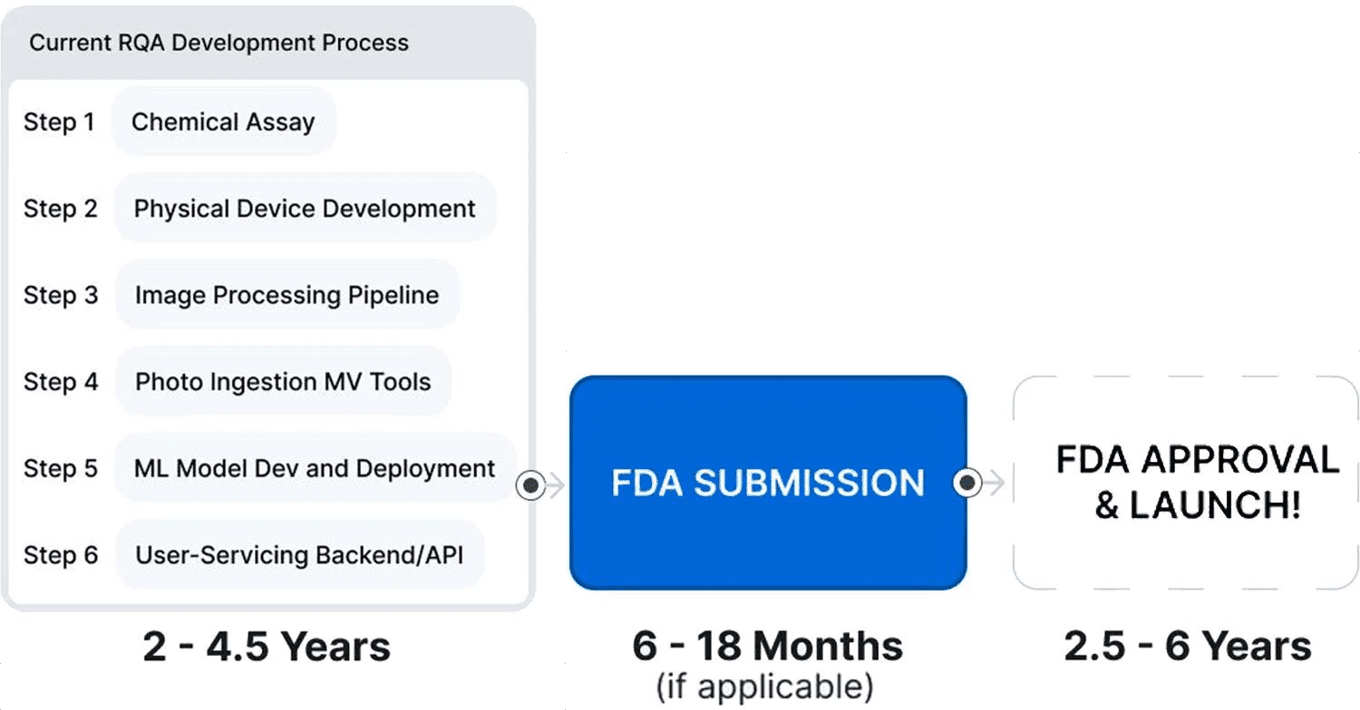 Shortening and streamlining the launch cycle for RQAs
HueDx is an RQA development and launch platform that eliminates the need to develop physical devices and software when launching an RQA product. In doing so, HueDx makes the accessibility of launching flagship or complimentary diagnostics accessible to companies that would not normally consider the undertaking as well as veteran diagnostic companies.
We are the only platform that allows customers to maintain precise and quantitative results while operating in a drag and drop format to build the assay HueCard they need, with significantly less lift than other alternatives.

The HueCard and HueCloud
The HueCard and HueCloud work hand-in-hand to reduce risk, cost, and development time for our customers. Together, they form the HueDx Platform — satisfying three of our customers' needs:
1. The need to develop a physical device to house their assays (the HueCard)
2. The need to develop sophisticated software to measure the device with lab-grade accuracy and precision (the HueCloud), and
3. The need for modern assay development software tools to accelerate the time to transfer existing assays onto the HueDx Platform (also the HueCloud).
The HueCard — One device, unlimited diagnostic potential
The HueCard is a device platform that allows for up to 6 unique and customized assay-based tests to be configured within its interior. In doing so, HueDx customers avoid the engineering and development costs associated with standing up a test platform from scratch — providing a totally unique offering to their customers.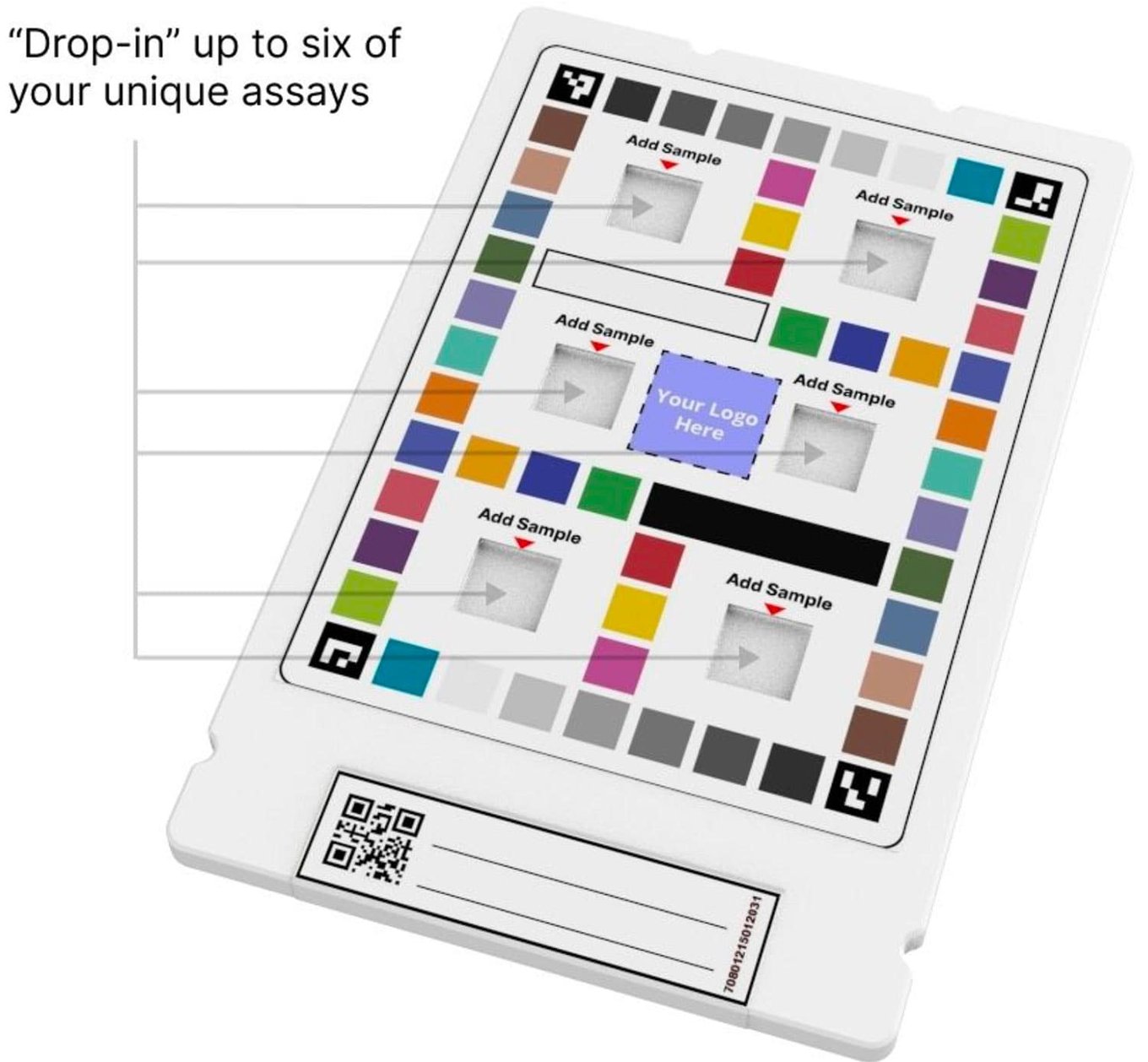 —
With one photo, obtain fully quantitative results
for up to 6 assays in seconds.
—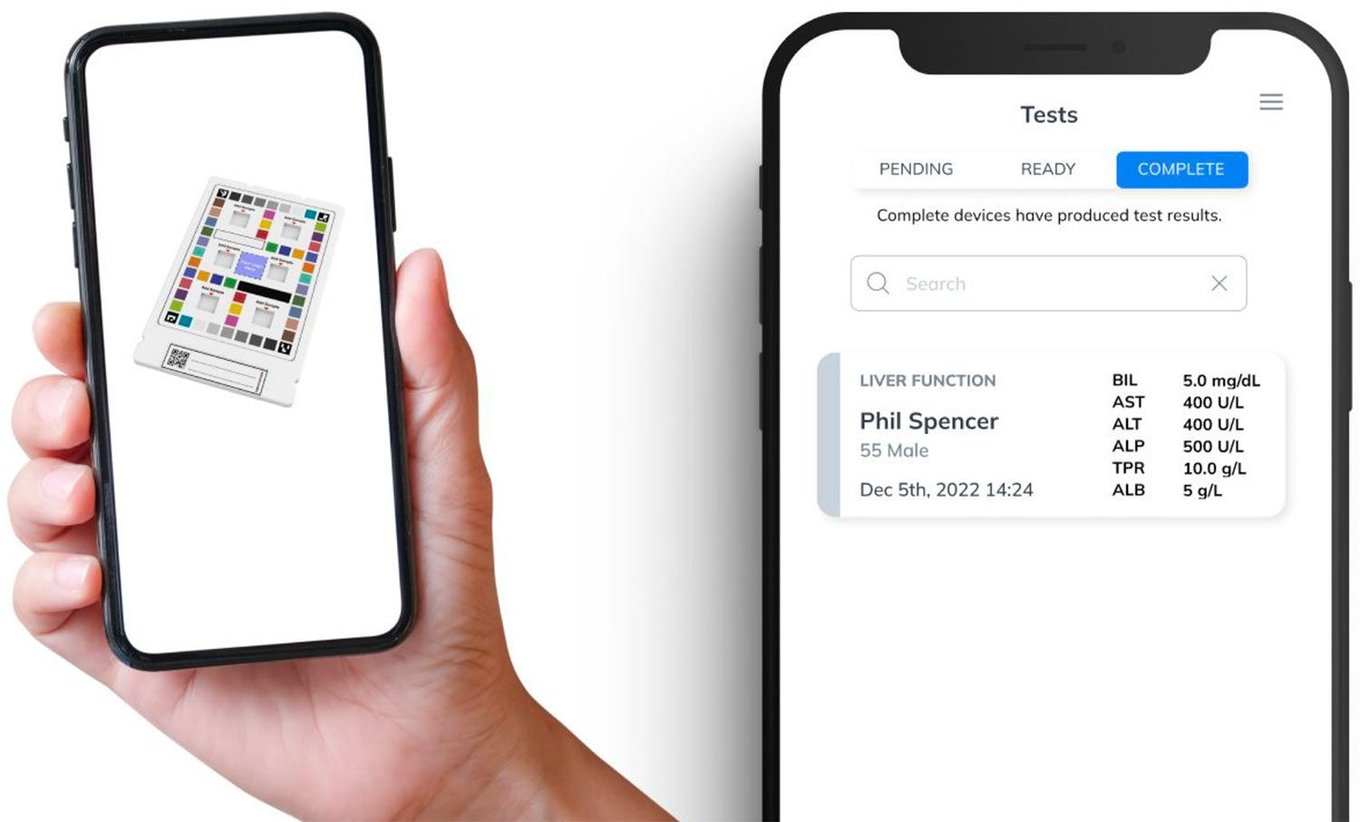 Customers can integrate their existing mobile apps with the HueCloud and upload only a single photo for rapid, quantitative results. The patented design of the HueCard allows for sophisticated lighting correction that makes using HueCards possible anywhere — in the field, at home, in a clinic, and more.
—
The HueCloud — Develop assays in only weeks using our image-based API
HueDx has developed a suite of tools to accelerate the process of developing and transferring assays to the HueCard. Additionally, the versatility of HueCloud enables assays to be developed by HueDx, the customer, or even third parties. The HueDx R&D team has achieved up to a 90% reduction in the resources and time needed to develop assays using these tools compared to the industry-standard process.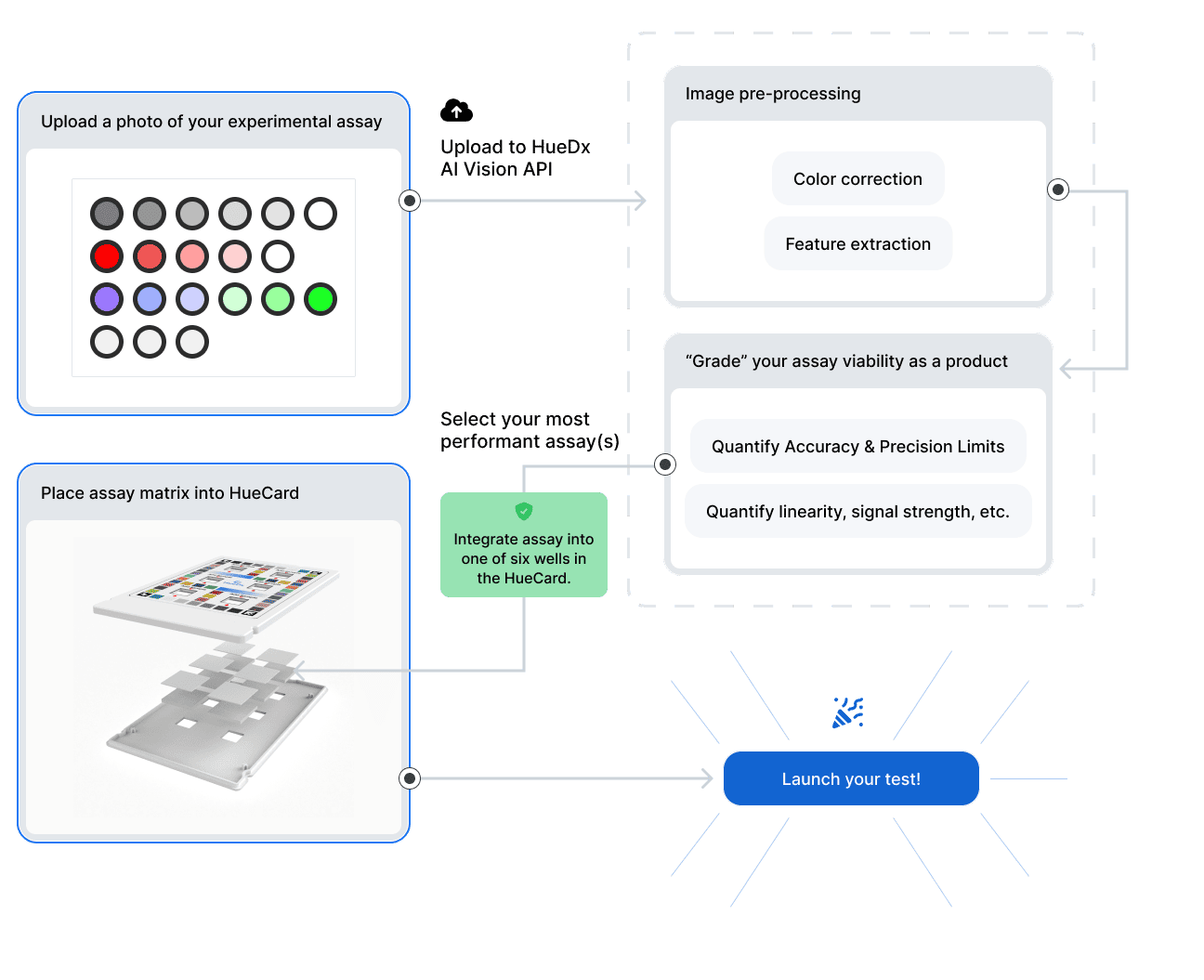 Market-ready now
HueDx launched its flagship products, the HueCard and HueCloud, on February 1st, 2023 and quickly closed our first contract with an assay development company within weeks. Within only 4 months of solely inbound interest, we have ~$16M in contract value in our sales pipeline. We're also in the final stages of negotiating contracts for global distribution through some of the most prolific medical device and pharmaceutical companies and resellers in the world.
---
Top-funnel growth
---
In the weeks following the launch of the platform, HueDx has begun contract negotiations with companies across multiple verticals— including some of the largest pharmaceutical companies in the world. Our target customer profiles include assay developers, test manufacturers, nutritional companies, laboratories, and even governments.
We enable our partners to...

We offer customers the ability to drop assays into an easy-to-use, portable format, and in some causes, upgrade non-quantiative assays to full RQAs. With the HueDx System, we enable customers to meet their client and patient needs, whether that's creating new RQAs or transforming existing rapid tests.

Pay-as-you-go pricing
HueDx scales to keep costs proportional for our partners throughout the product development lifecycle — reducing the risk of developing novel RQA products.
Customers begin in a "Development Stage" where they use the HueCloud to develop assays for their intended HueCard configuration. During this stage, SaaS fees apply proportional to their usage demands.
Following the successful creation of novel assays for their HueCard's specific use-case, a price-per-HueCard is determined and production for initial inventory begins.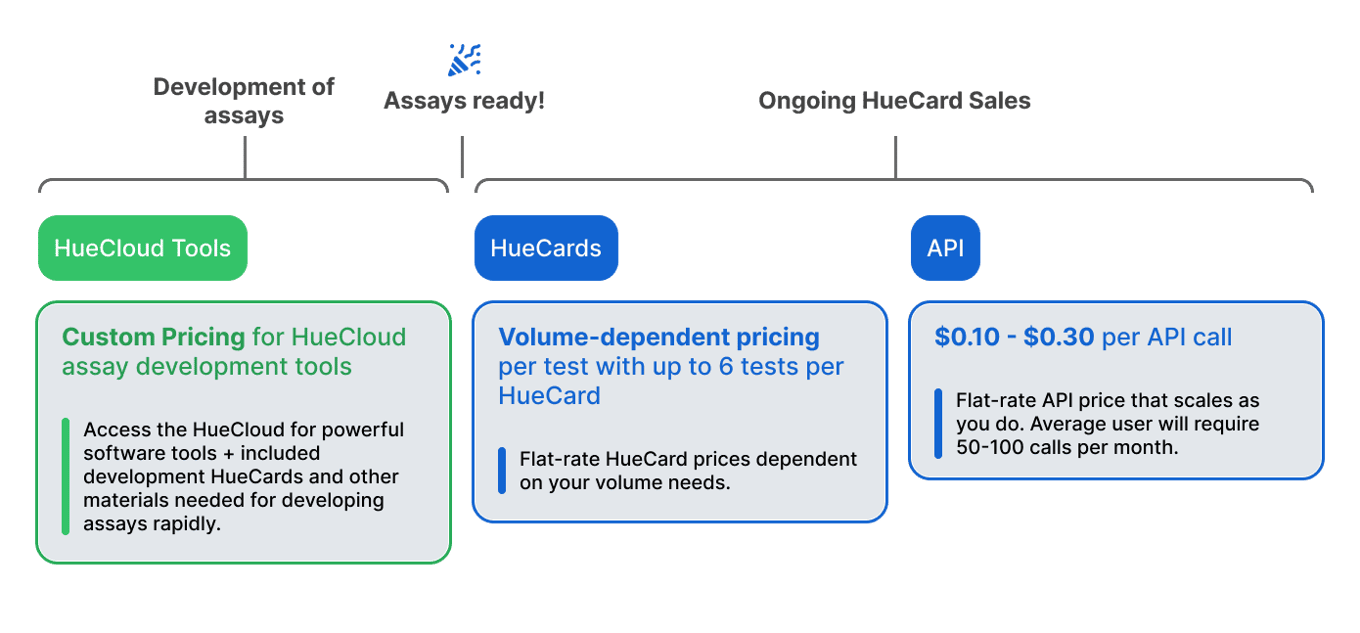 The HueDx Platform is unique
...and has no other direct competitors.
The HueDx platform is a first of its kind platform technology that makes RQAs accessible to everyone across multiple industries. Other smartphone-based, individual tests exist in niche markets with varying degrees of success in their focused applications. However, HueDx is the only built-to-scale platform with the technology to proliferate RQA potential globally wherever a cell phone is available and lab-grade results are needed.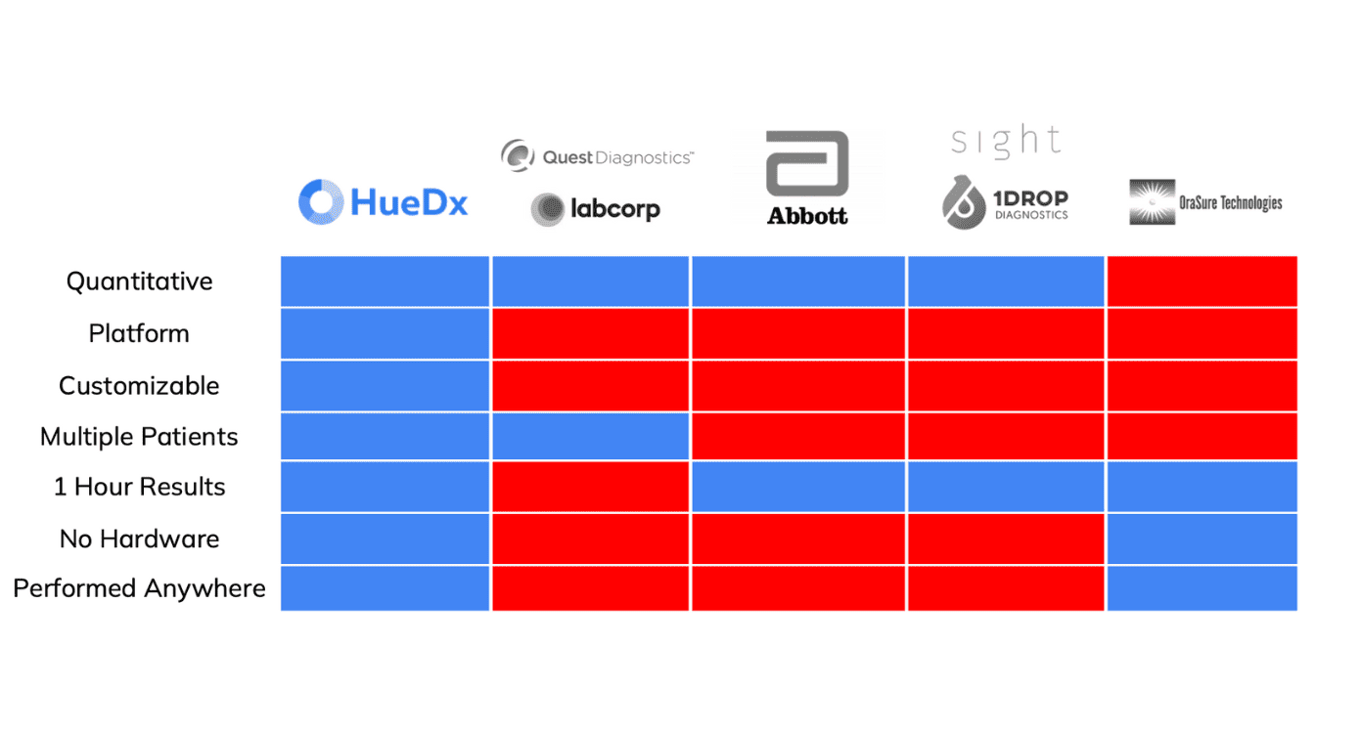 HueDx stands out primarily in two categories: its portability and its customizability. Unlike competitors, the HueCard can be developed with up to 6 individual and unique assays, but also has the flexibility of being performed anywhere.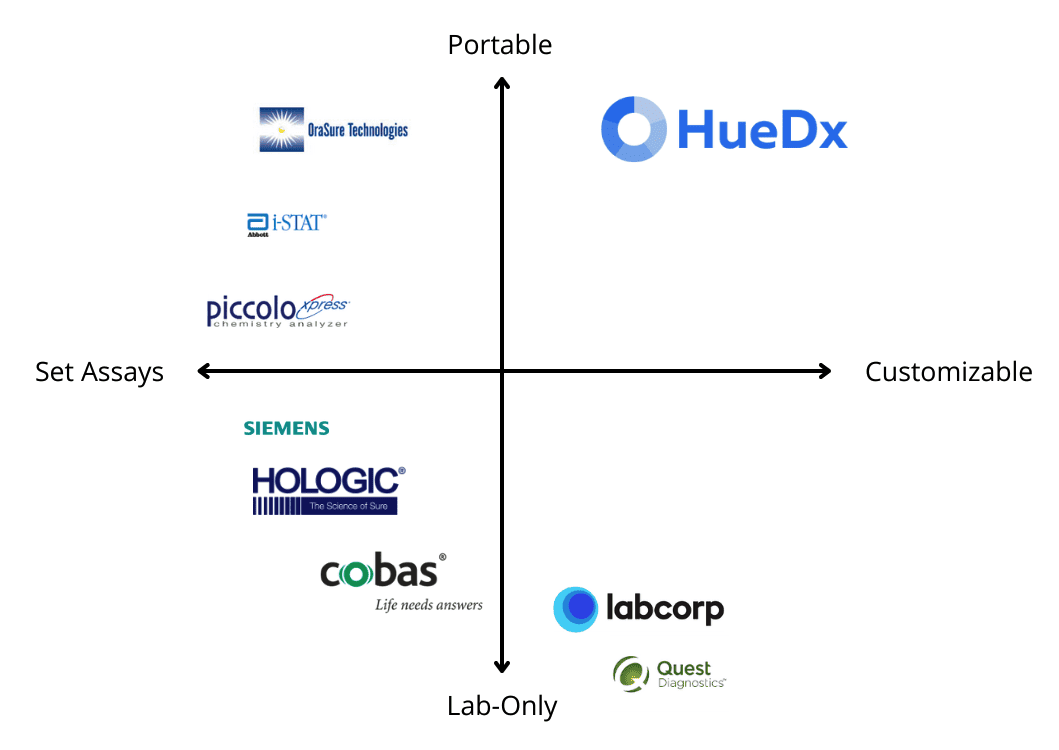 HueDx is leading
the future of diagnostics
The HueDx platform evolves the standard of diagnostics to a simple, portable HueCard and phone combination. This shifts the paradigm of diagnostics from complicated laboratory machines and trained technicians — to anyone, anywhere, with no training, in seconds, accessing lab-grade quantitative answers.
HueDx intends to bring target customers from all diagnostic sectors in the coming months: Medicine, Agriculture, R&D, Water testing, Manufacturing, and more. Additionally, over the next year, HueDx will be launching additional machine learning and image processing technologies further revolutionize the development of future diagnostics.
With a rising market-ready product and robust technological pipeline, HueDx intends to pursue an exit with a strategic partner. This will enable us to continue pushing the technological envelope developing new and disruptive tools and devices to further increase the accessibility to high quality diagnostics — while also removing the operational burden of manufacturing.
Making launching RQAs easy and inexpensive in a world with costly diagnostics
At HueDx, we believe that quantitative diagnostics are the pathway to a healthier world. From developing better health prevention protocols, improving global epidemic response, testing drinking water quality, or checking food products for allergens, the HueDx Platform is designed to enable all of these endeavors and more — at a fraction of the cost and time required to impact the people using them.
We foresee a world where we all have immediate, inexpensive access to lab-quality diagnostics — where there are no large, bulky, expensive machines that require shipping samples off to laboratories. We believe "the cost of knowing" should be negligible.
$5.5M+ backing from angels, physicians, and more
HueDx has been funded by angel groups, high net-worth individuals, and physician investors for a total of ~$5.5M. These individuals have enabled HueDx to create its flagship technologies, close our first customers, stand up volume manufacturing operations, and develop the technology platform you see today.
At this inflection point of consumer growth, we are opening an investment crowdfunding round to include crowdfunding and engage individuals who will be most affected by our disruption to the diagnostics market.
Join us in disrupting the diagnostic industry by supporting this round of funding.
In doing so, HueDx will be able to expand our customer base, continue developing our complementary products, and change how RQAs are developed and launched globally.
Dynamic trio drives breakthrough innovations
HueDx's key product was the partnership of a need and a technology. Brianna Wronko-Stevens, an expert in microfluidics, worked in an HIV clinic and noticed that patients were frequently lost to follow up due to the time gap between visit and diagnostic results. HueDx was created so that across industries, no matter the level of care needed, results would be from rapid, quantitative assays with no further wait — reducing patient anxiety and improving outcomes.
Brianna Wronko-Stevens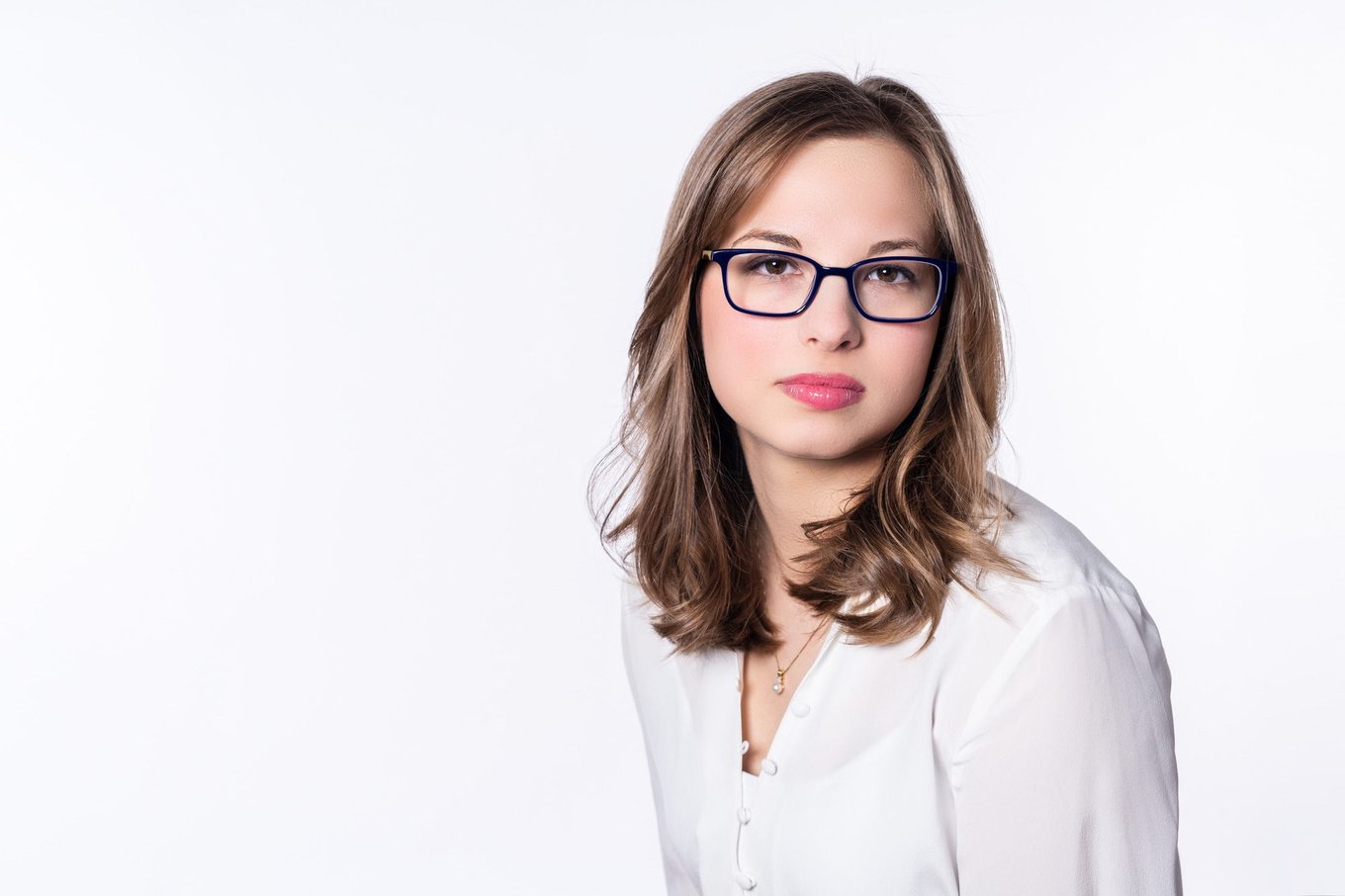 Brianna is the Founder & CSO at HueDx. Brianna is a biotechnology innovator who has focused her career on overhauling the diagnostic process for both patients and consumers. A bioengineer by training, Brianna has over a decade of experience in microfluidics and immunology research, startups, and the FDA approval process.
Brianna was named a 2018 Philadelphia Business Journal Woman of Distinction and received recognition as the 2018 Spring PACT TiE Top Pitch Event Winner and the 2018 Stellar Startup Awards technology category winner. She has also spoken at the National Institute of Health and various other distinguished universities, and is the recipient of various grants and recognitions. She holds a BSE in Bioengineering from the University of Pennsylvania.
Dr. Mark A. Wingertzhan
Mark is the CEO at HueDx. As a seasoned pharmaceutical and biotechnology executive, Mark joined HueDx first as an early investor, and then as CEO as the company entered a growth stage era. With an outstanding track record of advancing R&D pipelines across multiple therapeutic areas in growth-stage and scale-up companies, Mark recognized the far reaching applicability that point of care testing had across multiple industry verticals, most importantly in medical applications. He has a proven track record to raise and secure capital, set goals and drive results while holding VP, C-suite and board-level positions at private and publicly held companies.
In addition, Mark has vast hands-on experience in drug and device development in both the Pharma/Biotech and Consumer industries and has held executive level positions in both large pharma (including GSK and Pfizer) as well as small start-up biotechnology companies. In two of his most significant startup roles, Mark helped raise 70 M USD in a Series D as Interim Chief Medical Officer at the VC-backed Kaleido Biosciences. Mark was on the deal team at a commercial stage pharmaceutical company Nycomed that realized a successful exit to Takeda for 13.7 billion USD. Mark brings his innovative leadership to HueDx as it closes its first contracts and enters a revenue-generating era. Mark holds a PhD in Pharmacology.
Sam Parks
Sam is a founder, engineer, scientist, and CTO. Currently, he is the CTO at HueDx. His experience began in nanotechnology and quantum engineering and evolved into founding multi-hundred-million dollar, globally-successful companies. Sam's companies have cumulatively employed hundreds of people, have raised several tens of millions of dollars, and have deployed physical and digital products globally. He has engineered medical devices, built machine learning software systems, designed and launched cloud system architectures, engineered hardware products manufactured and sold at volume, wrote and received multiple patents, developed successful business models, and brokered 7-figure partnerships and deals. He is proud of the companies and cultures he builds.
HueDx is breaking the barrier for quantitative testing and analysis in every single industry. With the first platform technology that is customizable and deployable in a short period of time, we are bringing diagnostics to the masses--whether it is for medicine, agriculture, industry, or more. We make knowing the answers the norm, and no longer an expensive question.
Versatile, multi-industry platform

Flagship product launched Feb '23 | Multiple $1M+ opportunities in funnel

Reduces industry-standard assay development time from years to weeks

Results in minutes in a lab, at home, or anywhere with only smartphone
Note from the Founder
Dear Potential Investor:
I started HueDx at a time pre-COVID-19 pandemic. Many scientists like myself at the time, saw a growing need in the healthcare world--and other industries, for a diagnostic that could be quickly spun up for a variety of purposes, and could also handle multiple different types of assays--all rapid and quantitative. Little did I know, as I learned the ins and outs of what it takes to build a platform like this, but also what it takes to build assays without a platform like this, that we would hit the pandemic of predictions a few years later.
We are entering the time of great information being available, but also a great cost to getting that information from the diagnostics available to us today--whether that is in paying the fees associated with rapid testing, or developing a rapid test for consumers or other individuals to use. HueDx was created to solve that problem, before that problem fully existed.
Over the last few years, I have poured much innovation and knowledge to get to the point of our first customers. Please join me in making the world a better place than when we started, to improve equity in access to rapid, quantitative assays, and to improve the ability for us as humankind to respond when incidents like this arise.
Sincerely,
Brianna Wronko-Stevens