---
Unlocking the Republic ecosystem
The Republic Note was engineered to empower Republic community members to share in the financial upside of its portfolio of companies—and to be rewarded for their engagement within the Republic ecosystem.
Made possible by a combination of strategic, blockchain, and legal engineering, the Republic Note aims to serve as the connective tissue of the Republic ecosystem for many years to come.
The Republic Note was first introduced in 2018 as a manifestation of Republic's bold vision to transform private investing. Today, the newest chapter of the Republic Note story officially begins.
A vision of equal access and opportunity
Republic began with an important mission: create a world where investment and ownership are truly accessible to everyone, everywhere. This vision materialized with the launch of a platform that made it possible to access potential high-growth private investment opportunities, once available only to high-net-worth individuals and institutions.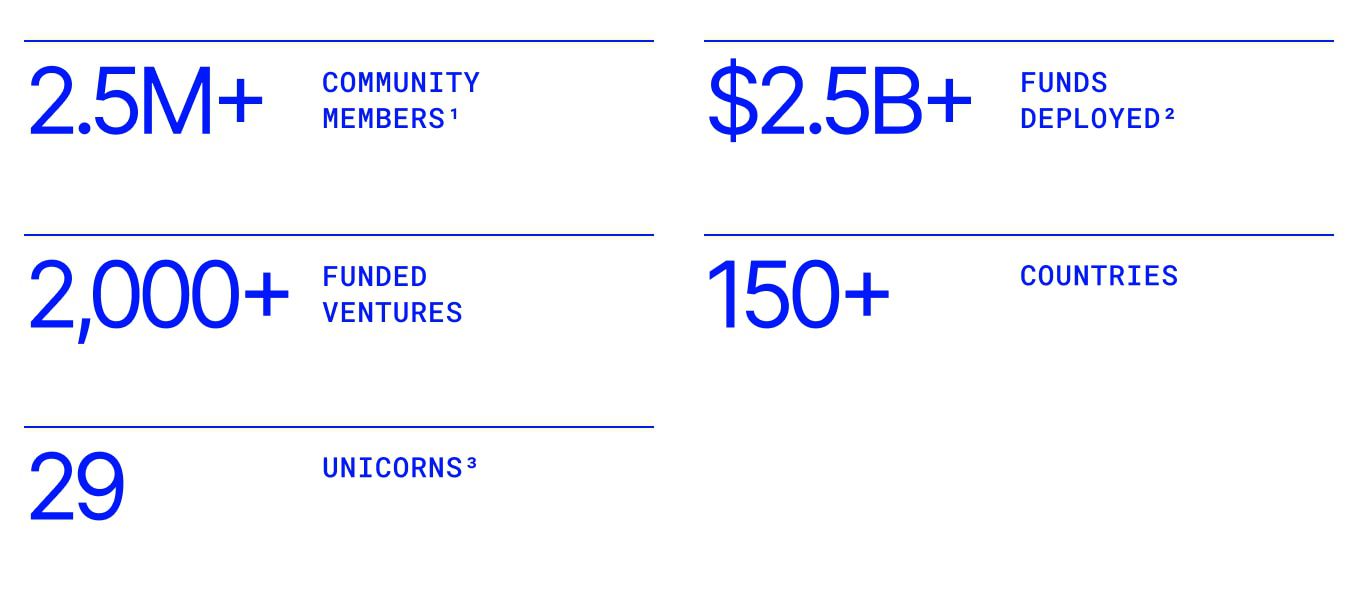 Republic's success quickly resonated with hundreds of thousands of retail investors in its first two years of operation. Soon enough, Republic relied on the support to build up our team and network, eventually gaining access to many of Silicon Valley's highly-regarded investment opportunities.
This resulted in the launch of Republic Capital, Republic's growth-stage venture investing division, whose portfolio has grown to include many of the tech ecosystem's most reputable companies.
Republic's growth and transformation surfaced a critical question: how should Republic best capitalize on its access to these exclusive investment opportunities, while staying true to its mission to democratize private investing for all?
---
1. Represents users of republic.com, limited partners of Republic Capital Adviser LLC advised vehicles, users of Seedrs.com and clients of other affiliates.

2. Includes aggregate figures from Republic and Seedrs platform to date, including investment opportunities presented by OpenDeal Portal LLC, OpenDeal Broker LLC, Republic Core LLC, Republic Deal Room Advisor LLC and Fig Publishing, Inc.

3. A unicorn is a company worth $1 billion.
4. Past performance is not necessarily indicative of future performance.
Share in the potential upside of Republic's select portfolios
Republic Note is a digital security that grants holders a derivative right to the economic upside of two major pillars of Republic ecosystem, allowing them to share in the success of many of Republic's portfolio companies. When Republic realizes cash proceeds from any positions held by its venture investing arm Republic Capital, or its US investment platform Republic Retail, portions of those proceeds accrue in a Dividend Pool managed by Republic Core—the Republic ecosystem's technology hub.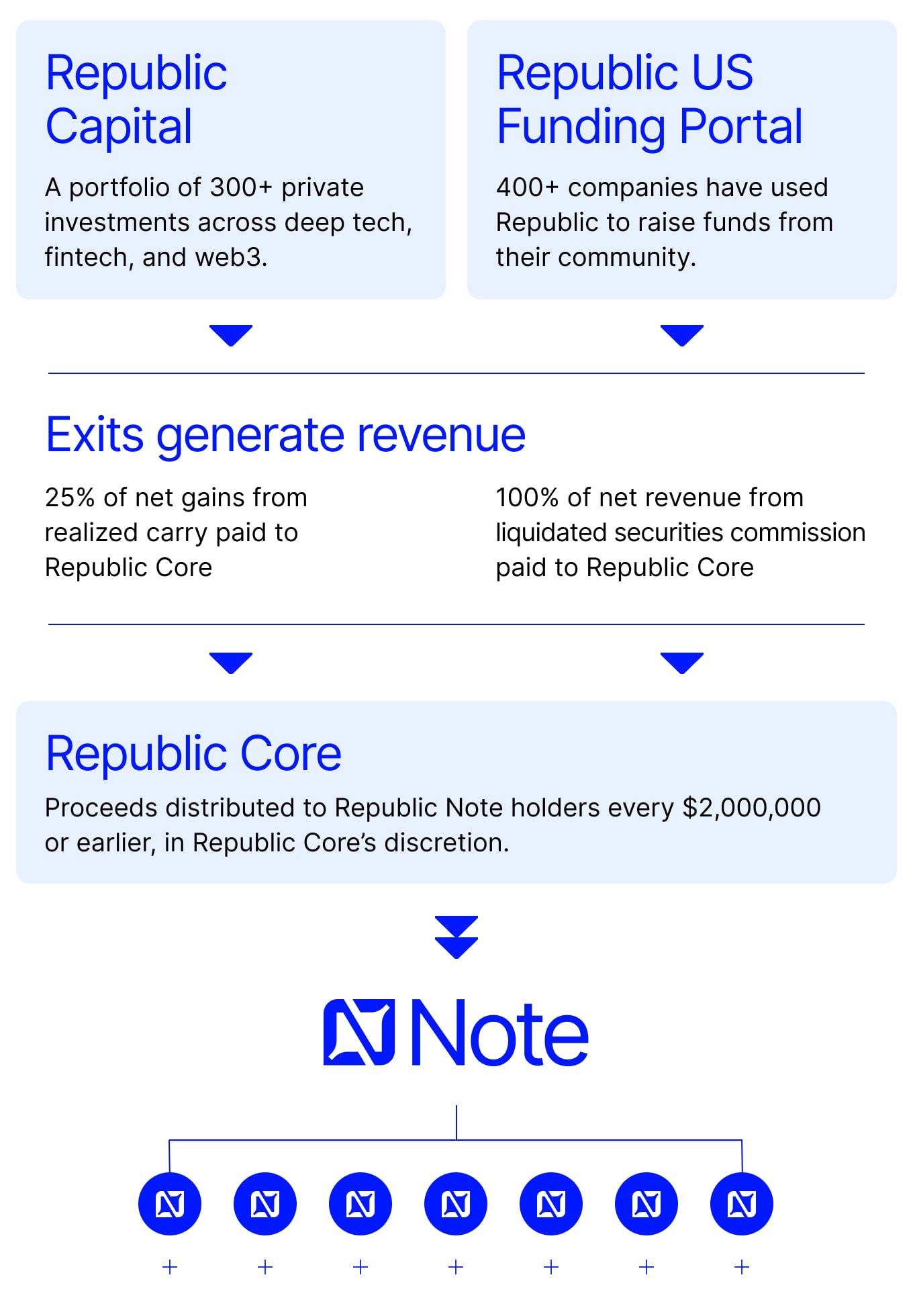 Each time the Dividend Pool reaches $2 million, the proceeds will be distributed to Republic Note holders on a pro-rata basis—the more Republic Notes one holds, the larger portion of the $2 million one receives.

Republic Capital (Republic Maximal LLC and its subsidiaries, including Republic Capital Adviser LLC)
Since its inception in 2017, Republic Capital has facilitated over $600 million in investments through the end of 2022. It has deployed capital into more than 120 syndicates, and launched two closed-ended funds—often co-investing alongside top-tier venture firms like a16z, Founders Fund, and Tribe Capital.
Below are some other companies in Republic Capital's portfolio.**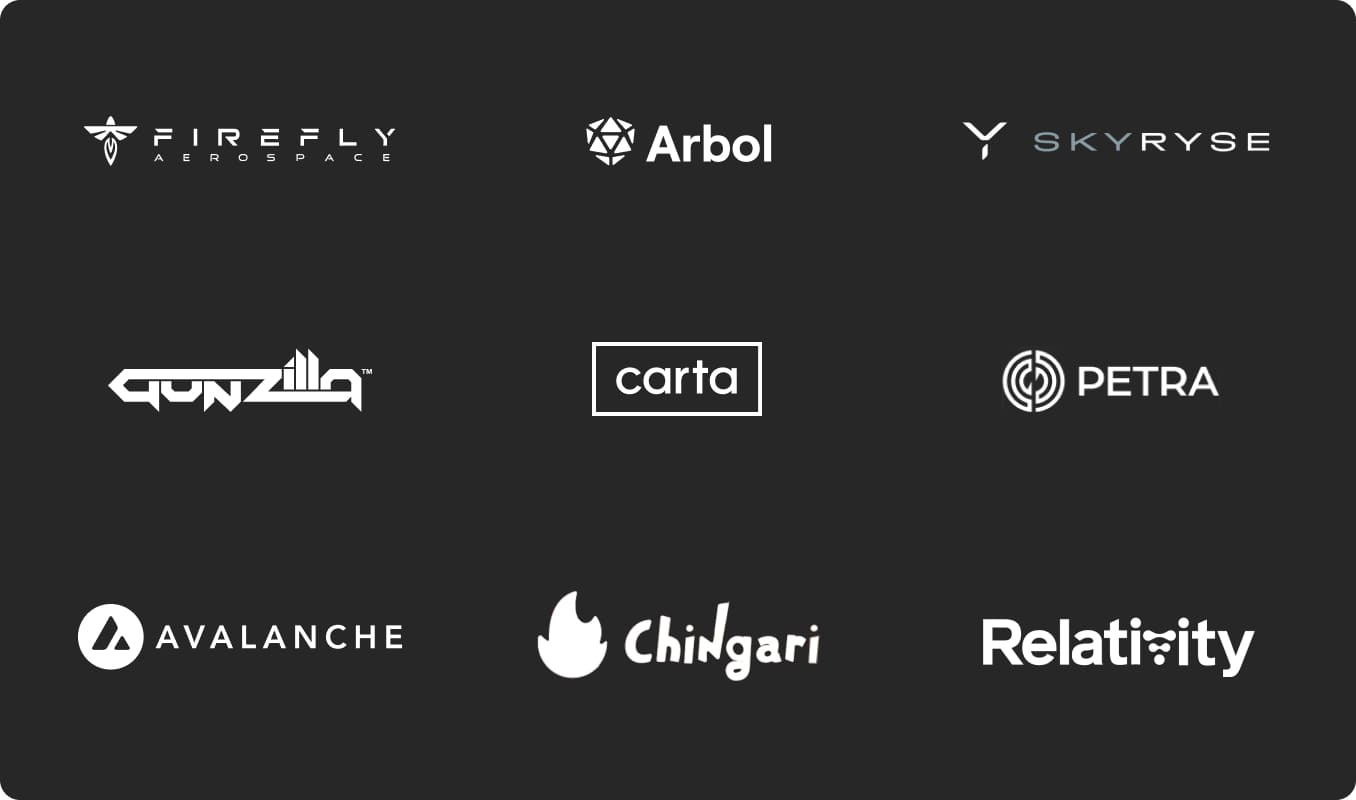 ---
* The asset under management for Republic Capital, or any specific fund, account or investment strategy presented on this page may differ from any comparable AUM disclosure in other non-public or public sources (including public regulatory filings) due to, among other factors, methods of net asset value and capital commitment reporting, differences in categorizing certain funds and accounts within specific investment strategies and exclusion of certain funds and accounts, or any part of net asset value or capital commitment thereof, from the related AUM calculations. Certain of these differences are, in some cases, required by applicable regulation.
** The above companies are selected as a sample of Republic Capital's investments, constituting of "value add" strategic investments placed by Republic Capital Adviser LLC. In each case, Republic Capital or its affiliates hold a board or board observer seat, has introduced a keystone client or investor, or has provided material support outside of its investment of capital to the applicable portfolio company. Past performance is not necessarily indicative of future performance. It should not be assumed that recommendations made in the future will be profitable or equal to that of the performance of the securities selected. For more information on Republic Capital's investments, view our most recently filed Form ADV, dated March 31, 2023, here.

Republic Retail (OpenDeal Portal, LLC)
When Republic was founded in 2016, it became possible for founders to raise capital directly from their communities—and for investors across the world to discover and invest in companies and visions they believed in. In Republic's first year of operation, the Retail platform had a total transaction volume of just over $600,000. Since then, Republic Retail has helped over 350 businesses raise capital, more than 40 of which have raised over $1 million, and 14 of which have raised the maximum of $5 million.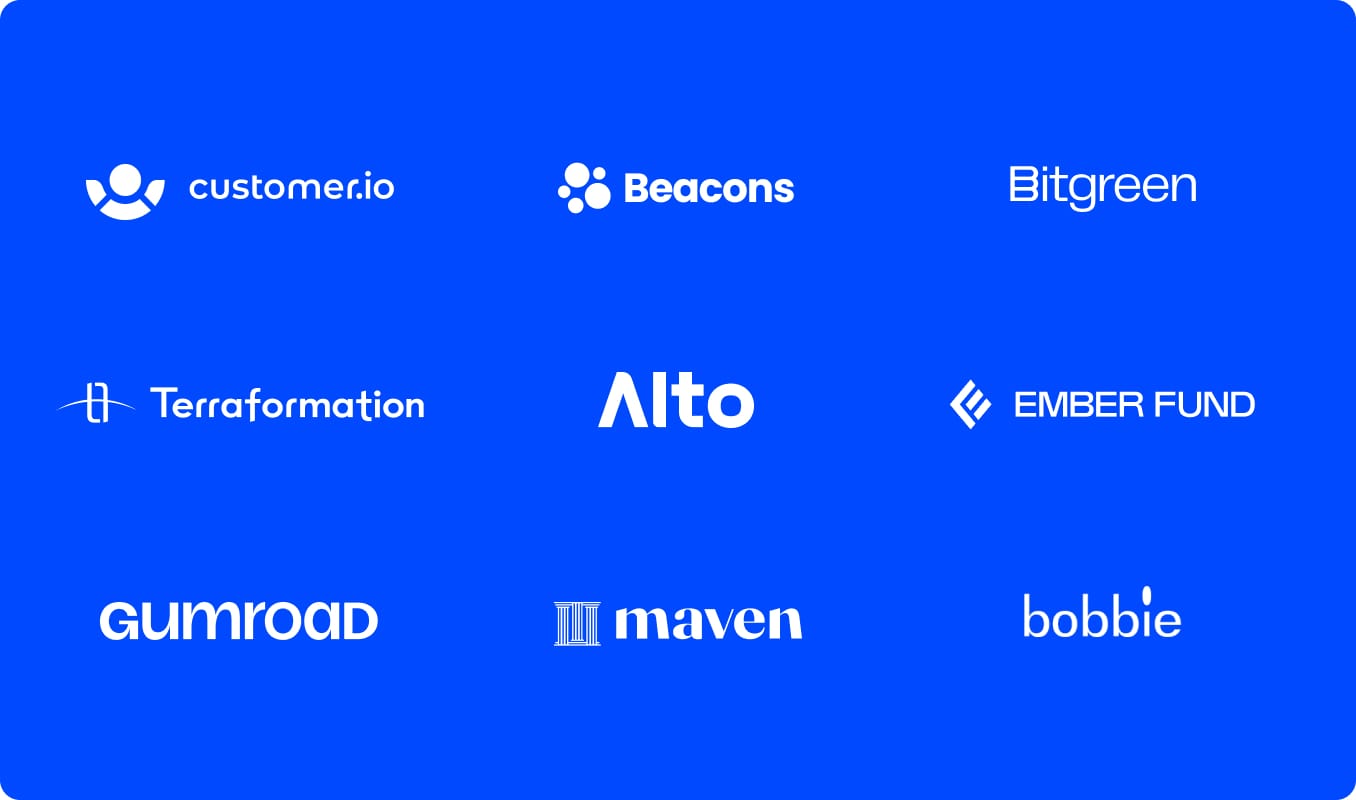 Spread across many industries, companies that raise capital through Republic Retail are typically early-stage startups that have some combination of a large supportive community and established traction. Republic Retail performs due diligence on companies coming through its pipeline, with only approximately 5% of projects that apply getting listed to raise on its platform. On average, Republic Retail compensated a cash amount of 6% of the total capital raised, in addition to a securities commission in the fundraising company equal to 2% of the total capital raised.
The above are select companies that have raised funds through Republic Retail.*** New companies are added regularly, and you can view a list of previous offerings on the Republic website.
---
*** The above is a selective snapshot of previous offerings hosted through Republic Retail. Past performance is not indicative of future performance.
Exclusive access and incentives
The Republic Note is designed to integrate with the holistic Republic ecosystem, unlocking access to exclusive community forums, experiences, and incentives for engaging with different areas of Republic.
The list below offers an initial look at the suite of the Republic Note's tiered benefits. Once this offering is complete, Republic intends to solicit feedback from the Republic Note community to build upon its benefit rollout plan, ensuring the priorities and input of Republic Note holders are considered.
---
We plan to provide Republic Note holders with priority access to our community events, webinars, social gatherings, and educational seminars, covering angel investing, technology, web3, the future of finance, and beyond.
Examples include: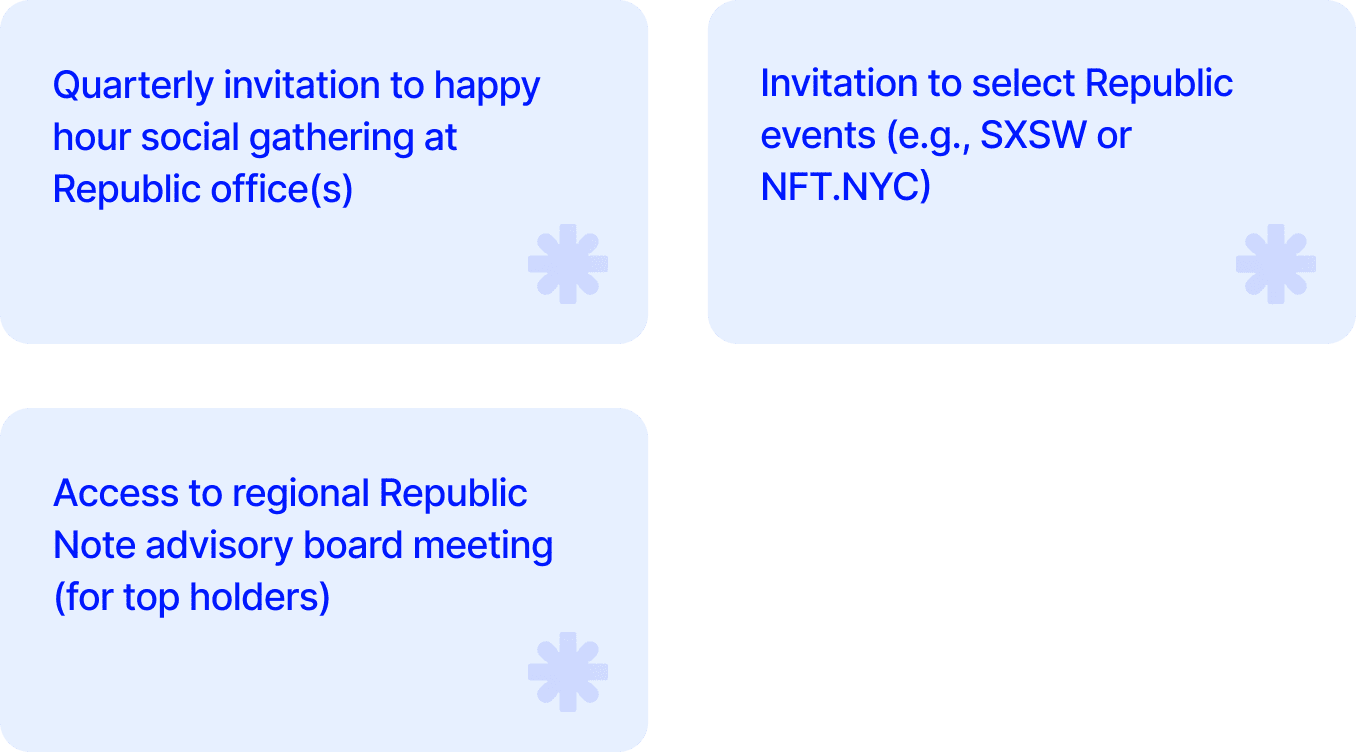 ---
Becoming a Republic Note Holder offers access to an incredibly supportive, innovative group—the thousands of fellow Republic Note Holders across the world. The Republic community at large has 2.5 million members across more than 150 countries.
Examples include: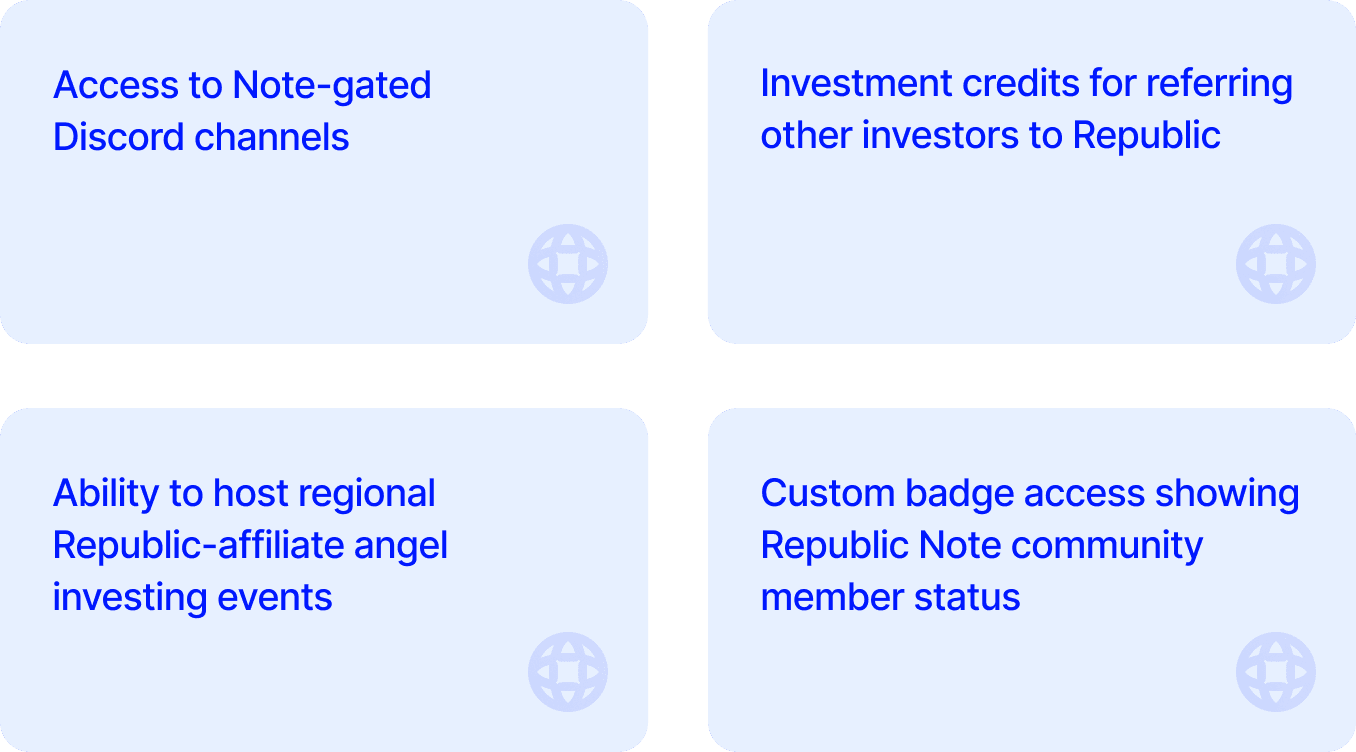 ---
Republic Note Holders will meet quarterly with directors and executive team members across the ecosystem to understand how Republic is navigating the industry and our own roadmap. Republic Note Holders are also eligible to be the first to test out new product features and provide their input to shape Republic's products.Examples include: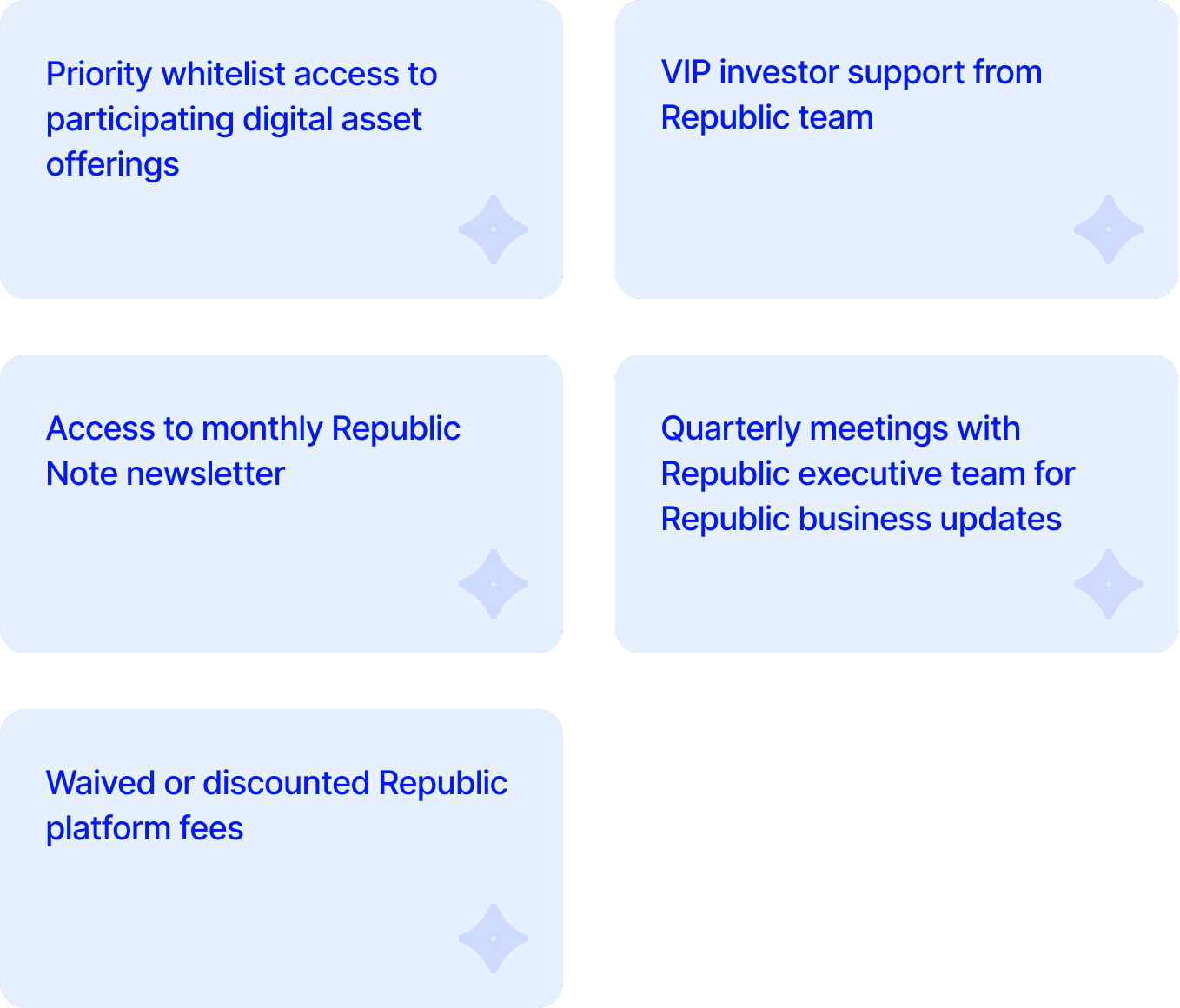 ---
Currently, Republic Core plans to introduce the specific examples included in the above community benefits categories. However, they are subject to change, especially as Republic gathers feedback from Republic Note Holders about what they consider to be most valuable. Eligibility for any or all of the following benefits may be determined by the quantity or duration of Republic Notes one holds.
The detailed roadmap for Republic Note benefits will be introduced in Q2 of 2023. In Q3 of 2023, the Republic Note team will focus on building product features and the infrastructure to enable these benefits, which will be introduced over the course of Q3 and Q4 of 2023.
---
* Once introduced, certain perks may not be accessible to certain investors depending on the jurisdiction of their primary residence.
Engineered for transparency, flexibility, and security
Rooted in a strong technical foundation that leverages blockchain technology, along with rigorously designed reporting requirements as a security regulated under US securities laws, the Republic Note is optimized for transparency and efficiency.
To date, the smart contracts for the Republic Note have been deployed, the digital assets minted on a test network, and the system's securities audited by a third-party vendor. The Republic Note was engineered to include the following features:
Access-Control Functionalities
Enable smart contract functionalities that allow Republic to implement the on-chain compliant transfer restrictions necessary for legally compliant trading of digital securities.
Transaction Fees
Low fees to efficiently support dividend distributions using stablecoins, and for Republic to automate micro-transactions using the Republic Note to reward certain activities within the ecosystem in the future.
Stablecoin Support
On-chain stablecoin support enabling for tokens to be swapped atomically across various chains.
Legal & Business Flexibility
Allow for regulator-requested smart contract functions (like freeze, clawback, mint, and burn functions) to handle crisis events like fraud or forking.
Network Security
Inclusion of security features that both sufficiently prevent forking and provide a remedy in such an event.
Compatibility with the Republic Retail Platform
Integration with Republic's existing legal and technology stack that includes KYC/AML, accreditation verification, payment processing, and distributions.
Beyond the security features provided by its blockchain protocol, the Republic Note is offered under Reg CF—effectively requiring Republic Core to file an annual report that provides transparent and accessible updates on our business.
3,000 Republic users have aligned with institutional & strategic investors
in backing Republic's vision.
In 2020, we proudly announced our plan for the Republic Note and opened this innovative security up for investment from the public for the first time. The Republic community responded with overwhelming and enthusiastic support, which continues to humble and inspire us—over 2,000 accredited and non-accredited investors invested in our Republic Note offerings from 2020 through 2023.
Each community member joins a group of world-class institutional investors in backing the Republic Note, including Binance Labs, Naspers, and PIF.
---
The Republic ecosystem at large is building a financial future where community and institutional support are not mutually exclusive—where anyone can participate in the growth and success of visionary companies. The parent company of the Republic Note, OpenDeal Inc. (dba Republic), was seeded by AngelList and founded by AngelList alums, and maintains a close relationship with AngelList and its affiliated companies CoinList and Product Hunt. Republic later went on to raise two additional funding rounds by renowned institutional investors like Galaxy Interactive and Valor Equity Partners.
Republic Core LLC ("Core") provides technology and support services to OpenDeal Inc. and its affiliates (collectively, the "Republic Ecosystem"). Republic Note holders and as well as users of the site and services maintained by the Republic Ecosystem, regardless of and their activities on or relating to the Republic Ecosystem, are subject to the applicable terms of service, in their entirety. Core cannot give investment advice, analysis or recommendations with respect to any securities, and is not a registered broker-dealer, funding portal or investment adviser. Securities offerings displayed by Core may be facilitated by its affiliates, OpenDeal Portal LLC d/b/a Republic Funding Portal, or OpenDeal Broker LLC (f/k/a NextSeed Securities LLC) d/b/a The CapitalR, Republic Maximal LLC and its affiliates (together with Republic Capital Advisor LLC, dba Republic Capital), Republic Deal Room Advisor LLC or by any third-party issuer. Please notify the sender immediately if you have received this e-mail by mistake, then delete it. Private investments are risky and illiquid, never invest more than you can afford to lose, consult with your trusted advisors and do your own diligence before investing.
As used herein, Republic refers to the entire Republic ecosystem of different business entities, which consist of a) Republic Core LLC, Republic's technology hub and the issuer of the Republic Note, b) Republic Maximal LLC and its affiliates (together with Republic Capital Advisor LLC, dba Republic Capital), Republic's venture investing arm, and c) OpenDeal Portal LLC, a US SEC-registered funding portal and member of FINRA (sometimes referred to as "Republic US funding portal"), among others. This email may include descriptions in first-person ("we", "our team") about the business models, traction, and highlights of Republic, the ecosystem, the success of which may have direct and/or indirect impact on the Republic Note and the various benefits potentially afforded to Republic Note holders. The economic rights granted by the Republic Note through its profit-sharing mechanism, however, are derived exclusively from Republic Capital and Republic US funding portal, as described in relevant offering documents displayed where an offering of the Republic Note is conducted.
Each Republic Note is a unit of Class B limited liability company membership interests in digital form issued by Republic Core LLC ("issuer" or "Republic Core"). Any references made about the Republic Note (sometimes "R/Note" or simply "Note") by Republic in either this offering page or similar contexts denote the same equity instrument. The Republic Note is not a debenture, does not pay interest, does not have a maturity date, does not have priority over other debts of the Company, and is not collateralized by any specific asset of the issuer or any business entities within Republic. Core is "testing the waters" with respect to the sale of Republic Notes under Regulation A+ of the Securities Act. The "testing the waters" process allows companies to determine whether there may be interest in an eventual offering of the securities to qualified purchasers under either or both Regulation(s). No money or other consideration is being solicited at this time in connection with any potential Regulation A offering and, if tendered, will not be accepted. No offer to buy securities under any regulatory exemption, including Regulation A, can be accepted and no part of the purchase price can be received until an offering statement is qualified with the SEC for a Regulation A offering. Any offer to buy securities may be withdrawn or revoked, without obligation or commitment of any kind, at any time before notice of its acceptance is given after the qualification date. Any indication of interest in Core's offering involves no obligation or commitment of any kind.