Drug R&D is inefficient, expensive, and takes too long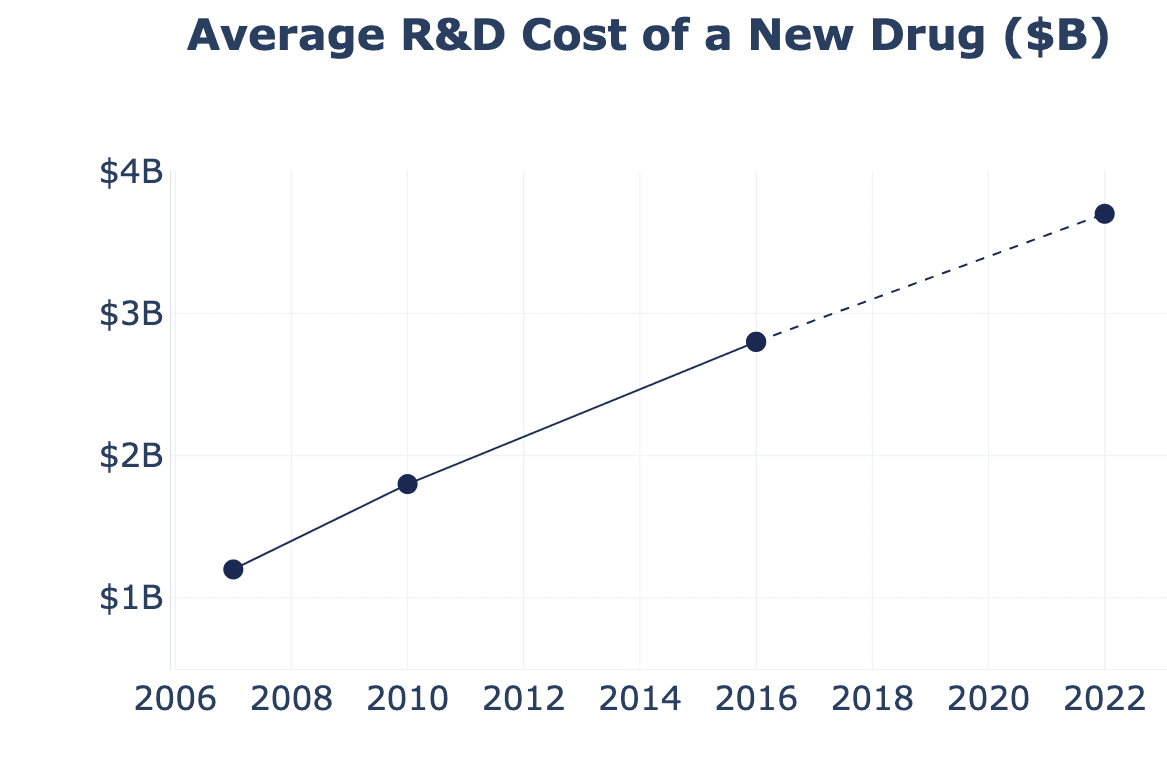 Source: Benchmarking Pharma R&D Cost (2020)
Pharma R&D is broken. Average R&D cost of a new drug is $2-4B. It takes an average of 15 years to develop a new drug. These inefficiencies in pharmaceutical R&D cost 100's of billions in healthcare costs and millions of lives.
We are eliminating main R&D inefficiencies responsible for the high cost and time of drug development.
Manual and repetetive R&D work done by highly skilled and expensive researchers
Increasingly expensive experiments and failures
Increasing complexity and amount of scientific knowledge on drugs, patients and diseases.
Automate pharma R&D tasks with bots and AI
10 % shorter R&D can reduce drug prices by 40-60%.
Our solution is to automate daily tasks of (i) data organization, search and analyses, (ii) creation of reports, and (iii)decision-making done by R&D scientists, engineers, and medical professionals. In our pilot with Novartis, we have demonstrated that 30-50% reduction in R&D cost and time can be achieved with Nuron.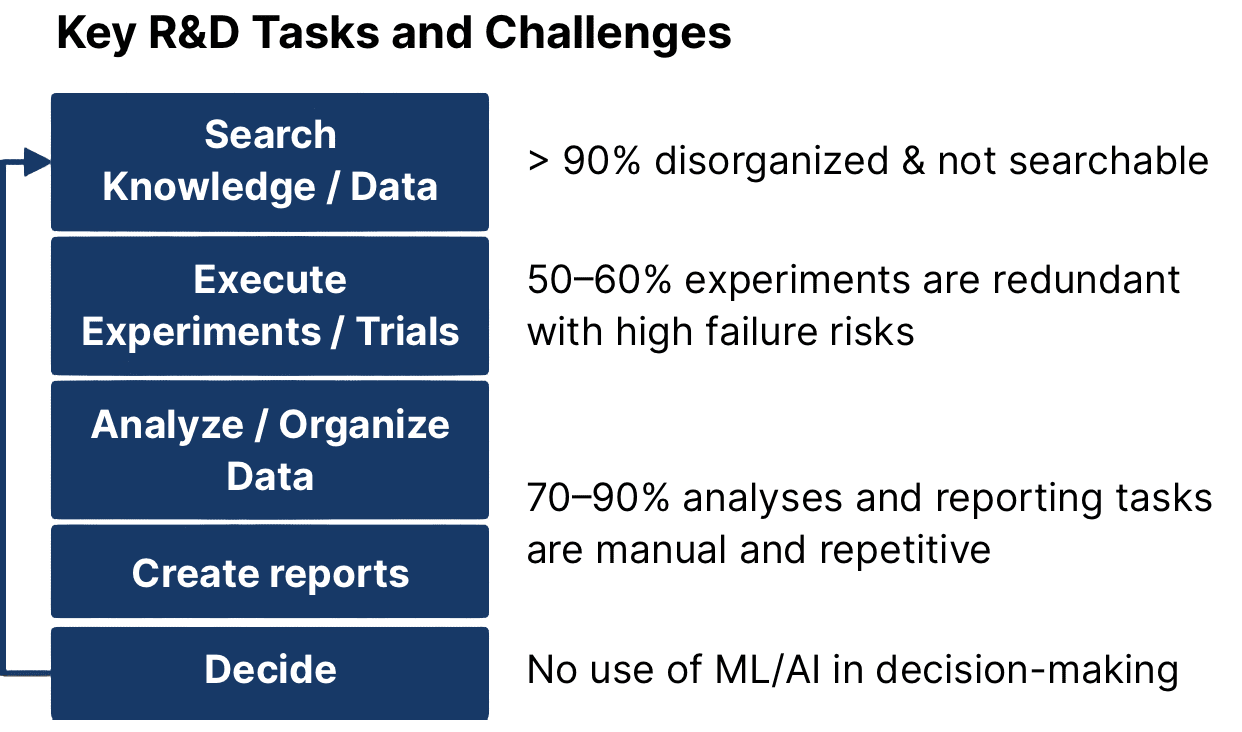 First end-to-end
platform to automate R&D tasks with bots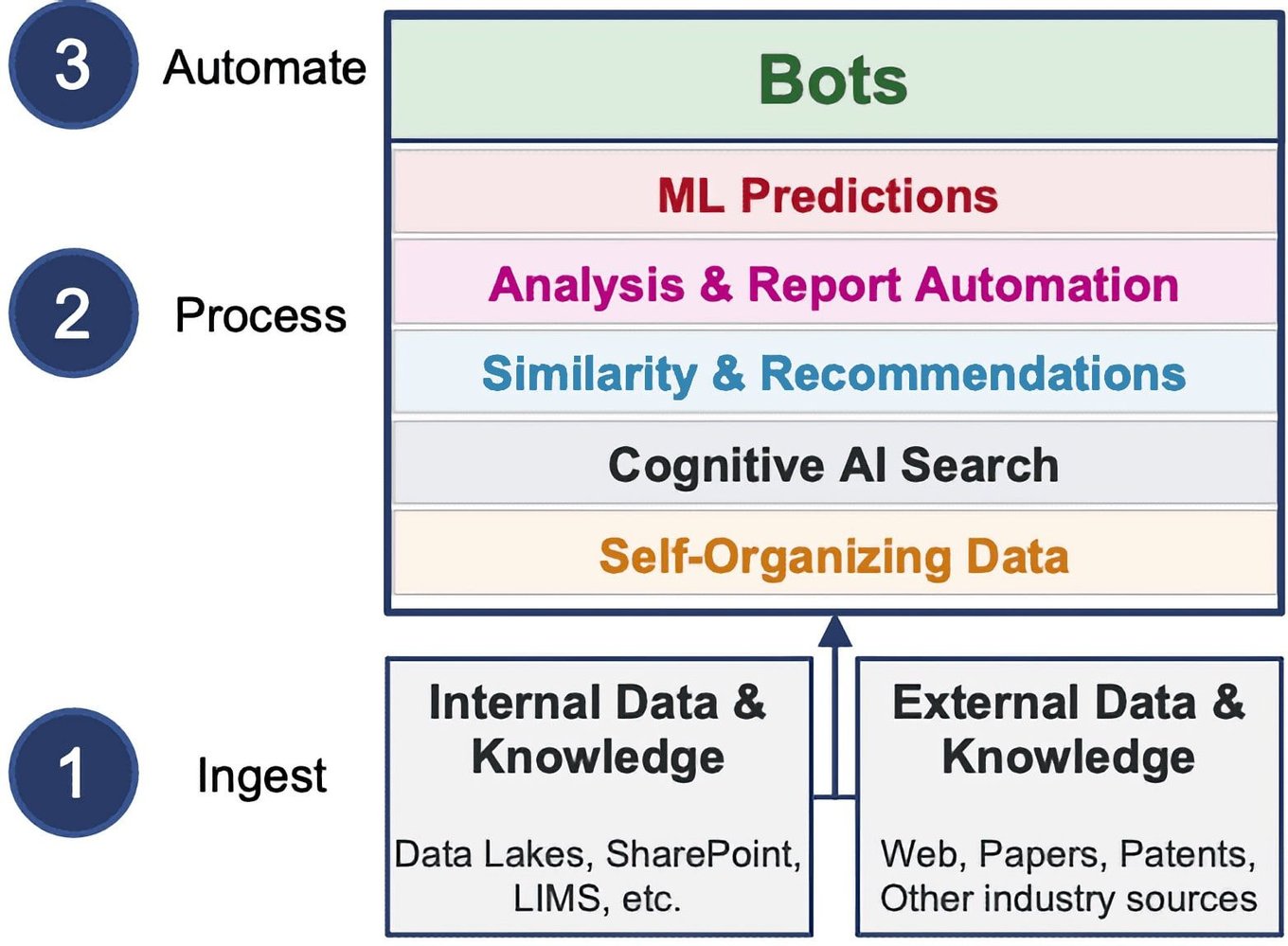 Nuron ingests all data and knowledge from internal and external sources, processes with multiple capabilities, and then automates specific tasks using bots.
Some examples of tasks automated by bots are:
Find similar experiments, trials, documents, images etc.
Predict outcomes and diagnosis
Automate analyses and reports of experiments and trials
Generate business, competitive & technical intelligence
Design smart clinical trials and experiments
"Machine-Read" 1000s papers, documents, or web pages to get necessary insights
We are developing 100's of bots for different R&D tasks. Users will also be able to develop their own bots.
More info in the product video.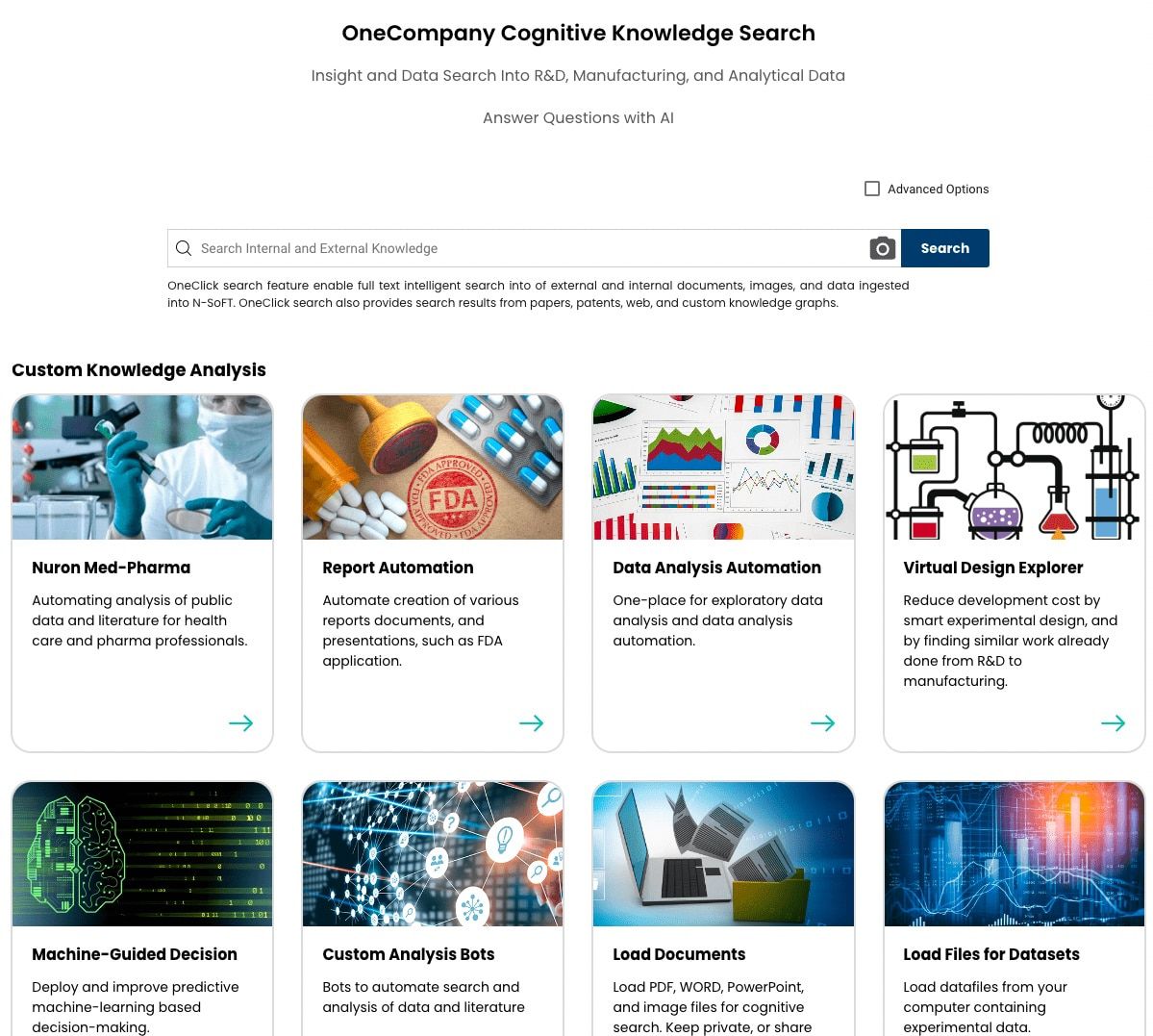 Adopted by Novartis to transform R&D
After successful pilot, Novartis, 4th largest pharma company, plans to launch Nuron in their global R&D organizations.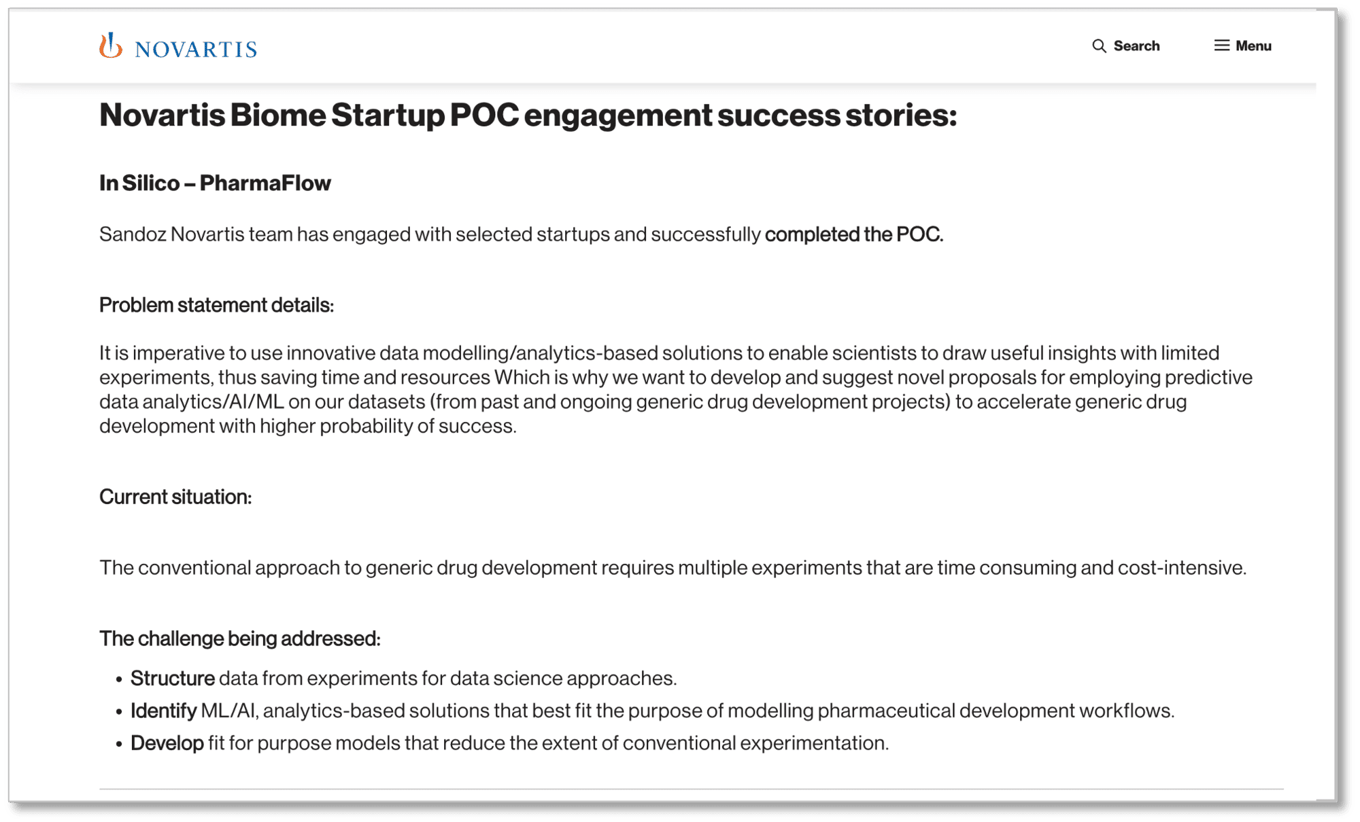 Source: Public Announcement of Successful Pilot.
---
"..no precedence in the market.." - Novartis
---
We have successfully completed a multi-stage pilot with Novartis and generated revenue of ~ $350,000. The first roll out of Nuron is planned in 2023 to ~ 200 users in process development organization at a subscription cost of ~ $1-2M/year. We aim to expand Nuron to ~ 10,000 to 20,000 users in Novartis as a part of multi-year "Land and Expand".
We are in discussions with 8 of 20 largest pharma companies and have a total of 30 prospects in pipeline.

Our customers are large and mid-size pharma companies

Our paying customers:
Novartis - Top 5 largest pharma companies
Pharma tech connecting healthcare providers with pharma sales teams
Large consumer health product company with > $50B revenue
Large chemical company with > $50B revenue
Target Customer Profile
Our main focus is on large pharma companies with the vision and resources to transform R&D.
Mid size pharma companies (> $200M valuation) will be our focus in later stages.
---
Customer Acquisition
---
Sales Channels
Our main sales channel is our enterprise sales team. Later, we plan to partner with pharma industry consultants and develop strategic partnership with Google and Microsoft.
Marketing and Awareness
Professional network and customer references
Direct email marketing to decision-makers and users
Content marketing in Linkedin and professional publications
Conferences and trade shows
Investors' connections
Stacked, recurring, and sticky SaaS subscription, with power of compounding
We offer Nuron to enterprise customers as an enterprise SaaS product with subscription price of core platform and bots ranging from $200 to $1000/user/month. In addition, we charge professional service fees for new bots and recurring private installation fees.
Large enterprise customers offer massive "Land and Expand" opportunities in their multiple independent R&D organizations. We will increase per-user revenue by continuously adding new bots and capabilities.
Our enterprise contracts are expected to start from ~ $0.5-1.0 M/year and grow to $6-7M/year in 5-6 years.
Target Revenue Growth




Growth Factors with "Land and Expand"
Increase in number of enterprise customers
Increase in number of users across organizations
Increase per user revenue by adding new bots and capabilities
Profitability Factors
Identity common bots and use cases
Low code development of new bots and capabilities
User-led bot development


Per Enterprise Customer Economics and Customer Value



Pilot fee: $50,000-$350,000
Typical starting contract: $500,000 to $1,000,000
Current gross margins = 73%
Target gross margins = 85-90%

Transforming pharma R&D: An existing unaddressed $100 B market
According to McKinsey, the opportunity to transform R&D, just in pharmaceuticals is a $100B opportunity. Our current focus is on pharma companies based in US and Europe. There are ~ 2 million scientists, engineers, and medical professional working in Pharma R&D.
In addition, Nuron can be used by 30 million doctors and healthcare providers to gather precise medical information and analyze data to make better clinical decisions. This is a separate existing unaddressed market, where we can make a large impact.
No other platform automates R&D tasks with bots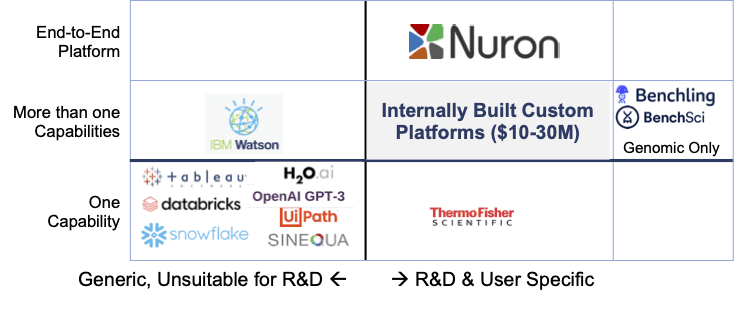 Nuron is the first end-to-end platform to combine all necessary capabilities to automate R&D tasks with bots. Other platforms do not provide all capabilities and are not suited for R&D. Our main competition is from internal platforms being built by large companies at very high cost and with limited capabilities. Nuron can deliver many more and unique capabilities at < 10X the cost of internal platforms.
---
"Secret Sauce"
---
Deep understanding of Pharma R&D
Expert insights into R&D workflow and needs
Extensive experience in AI, ML, and software technologies.
Due to our unique insights and a product that met customers' burning needs, customers paid for pilots even before we built the platform, and called Nuron an "unprecedented platform".
---
Competitive Moats
---
Low development and operation costs
High switching cost for customers
Enable users to build own bots and new capabilities
Extensive patent filing on new capabilities, bots, ML, and system architecture
Dominate R&D transformation market with multiple exit options
We are not just making R&D efficient, but we are also transforming how scientists and engineers work. With our first-mover advantage, we aim to rapidly acquire more enterprise customers and create a dominant position in digital pharma R&D market.
We will pursue three exit options with significant returns for investors in this funding round.
Exit Option 1: Acquisition

by scientific or pharma-tech companies in 2-4 years.
Exit Option 2: A

cquisition

by Microsoft, Google, IBM, or AWS in 3-5 years.
Exit Option 3: IPO in 5-7 years.

We have already built the platform that has been adopted by Novartis to transform R&D. We have demonstrated a massive unmet need and market by generating ~ $600,000 revenue, without any previous funding.
In next 6 months, we aim to acquire 4-6 more customers and raise the next round of funding.
Bootstrapped to total ~ $600,000 revenue
Raising first round of funding
We are a rare enterprise-focused company which has generated significant revenue and demonstrated product-need fit, thereby significantly reducing the high risks typical of pre-seed startups.
We will use this funding to expand sales and engineering team and acquire 3-6 new customers in next 6 months. This funding will provide a conservative 12 months runway. We plan to raise next VC funding round at 2-4X valuation in next 6-12 months.
In this round, we are seeking investments from accomplished professionals and value-added investors like YOU.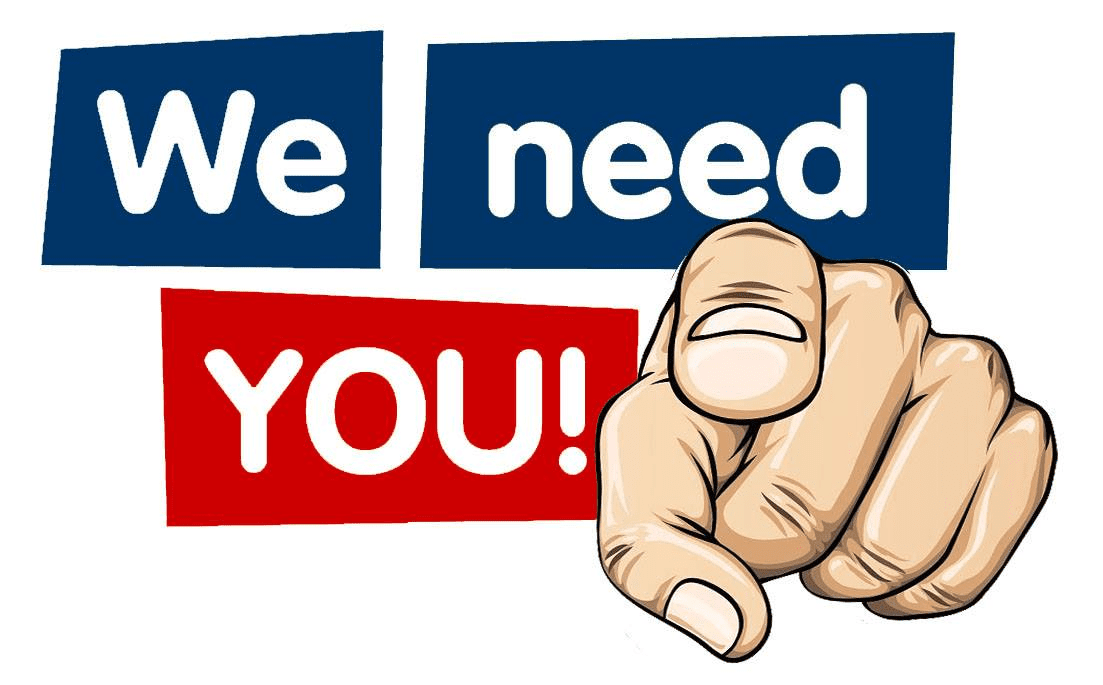 You will have the opportunity to become Nuron's advisor, consultant, or become a part of Nuron team.
We have an incredible journey ahead of us. Our team would love for you to join us in supporting the next industrial transformation.
Top tier founding team
Domain, industry, AI/ML, software
experts, and entrepreneurs with start-to-IPO experience. Worked with each other for more than 4 years.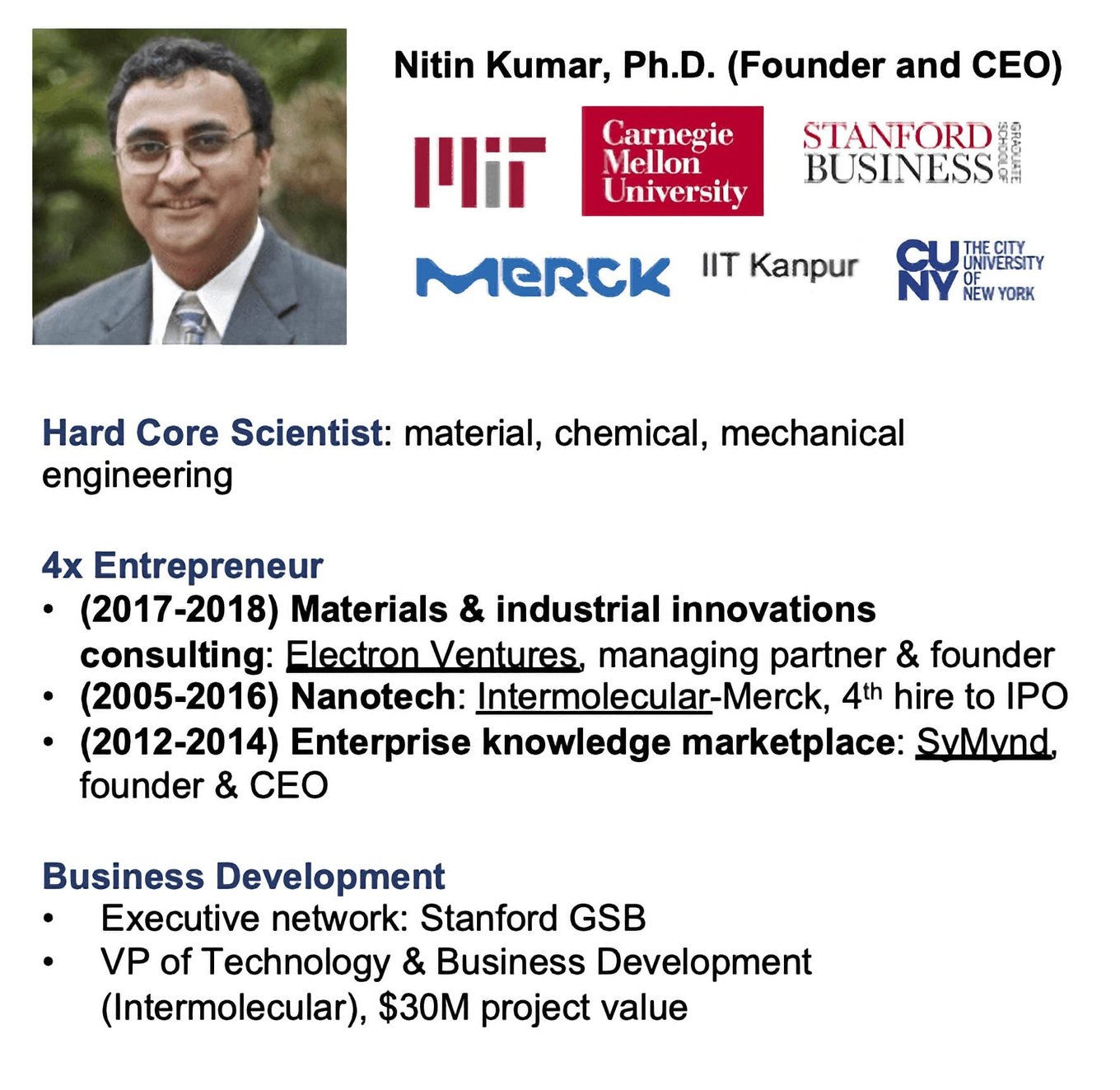 Why Nuron?
Nuron is the first platform to transform R&D with bots. We have already shown significant revenue and traction with the largest companies. We aim to use our first-mover advantage to dominate an unaddressed and existing ~ $100B market.
Join us for a rare pre-seed startup investment opportunity, and to help reduce healthcare cost and save lives.