We have no intention
of a fair fight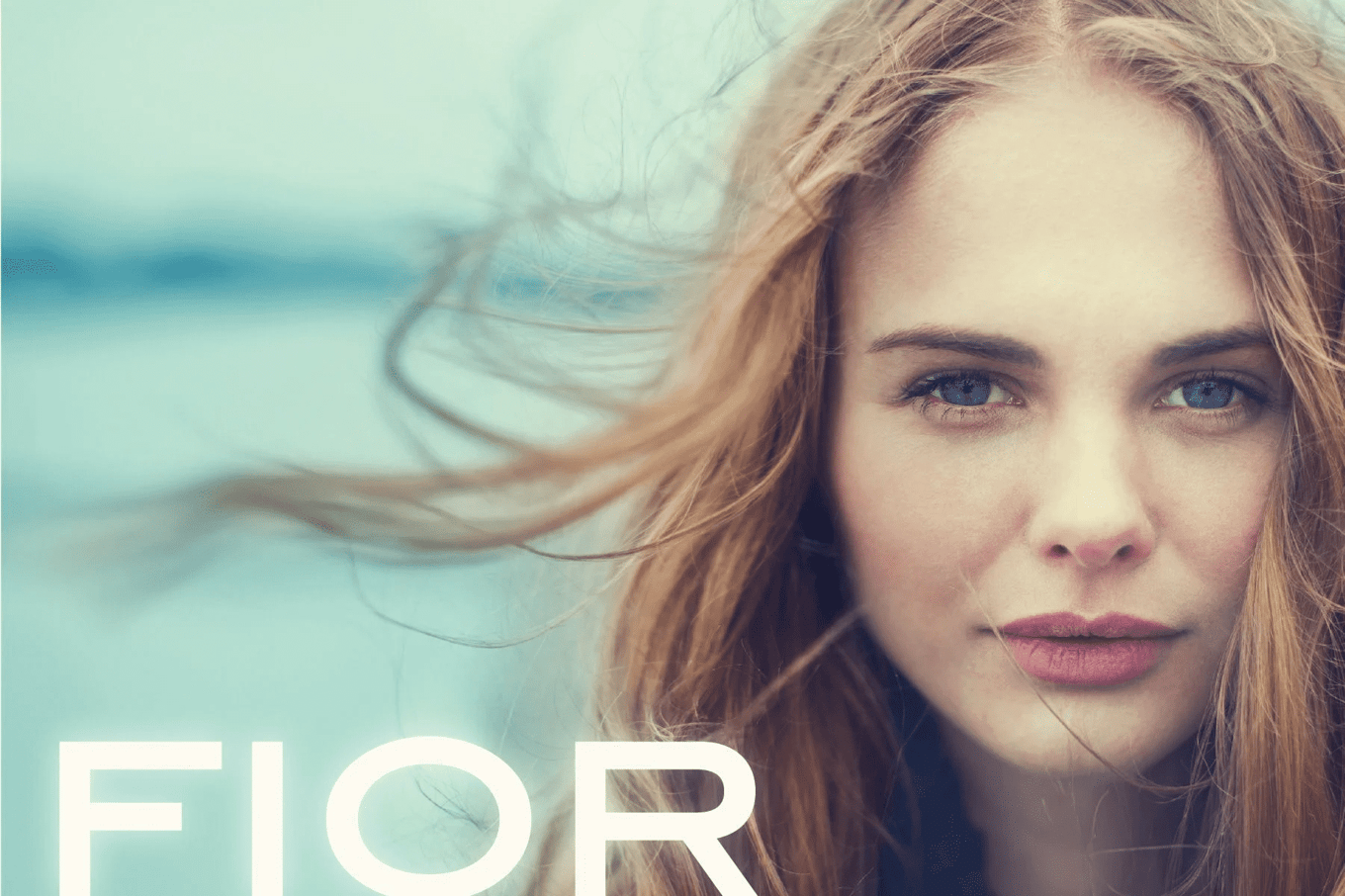 CBD skincare is an emerging space within global skincare, growing from $633m in 2018 to an estimated $3.4b global market by 2026.
The space has primarily been marketed to a younger (18-29 year old) audience with brands such as Drunk Elephant, Lord Jones & Cannuka.
Major luxury skincare brands have been slow and reticent to adopt CBD into their products, we believe due to a lack of understanding regarding compliance and network advertising restrictions.
Due to these factors, there remains a gap in mid-tier luxury skincare with products that harness both the benefits of CBD combined as well as premium, clean and highly effective skincare ingredients.
As consumers both begin to recognize the positive effects that CBD and other Cannabinoids offer, as well as graduate into a higher tier of luxury skincare, we believe that FIOR is uniquely positioned to take advantage.
---
Why FIOR?
---
FIOR has some of the industry's most awarded beauty product scientists and developers behind our products.
Strategic partnerships with the top content recommendation networks and 100+ premium publishers to acquire customers.
Proven track record of performance utilizing custom UGC across omnichannel social platforms to increase both sales and engagement.
Cleaner FIOR you
Four premium skincare solutions.
One simplified ritual just for you.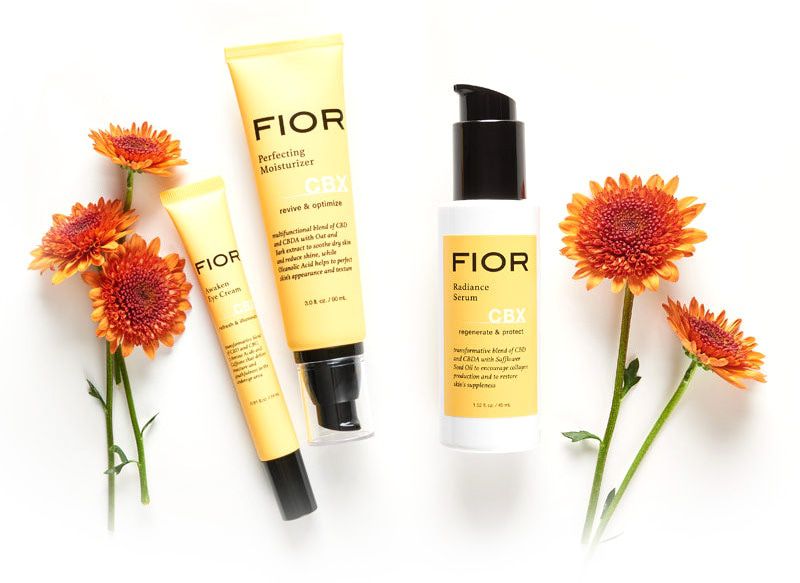 Genderless beauty for All philosophy with inclusive packaging, brand aesthetics and fragrance profile.
Simple, but purposeful mission: to deliver authentic, premium skincare products that are 100% Clean, Vegan and Plant-Powered in ONE streamlined ritual with CBD that actually works!
Our dedicated team of industry experts—coming from Estee Lauder, Proactiv, Avon, Glossier and Harry's to name a few—prioritize the education of CBD and its TRUE, tangible benefits especially when infused in concert with other natural botanicals and science-backed ingredients.
With optimal extraction processes that harness the bioavailability of the hemp plant. Our cannabinoid infusions (CBX) spotlight not only CBD, but also CBG and CBDA along with Organic Hemp Seed Oil. All formulas notably reduce the appearance of redness, even the skin's texture and reinvigorate for a fresh-faced FIOR feel!
Earth-friendly Approach: We practice small batch development in the US solely powered by renewable energy (solar and wind) and use FSC certified paper packaging only.
Consciously curated formulas eliminating as many toxins as possible that are typically found in other "Green" skincare offerings such as parabens, phthalates, SLS, SLES, mineral oil, retinyl palmitate, oxybenzone, coal tar, hydroquinone, triclosan, triclocarban and synthetic dyes to name a few.
FIOR contains both a higher percentage of active ingredients than our core competition, as well as a 90 day supply compared to the industry average of 60-day supply.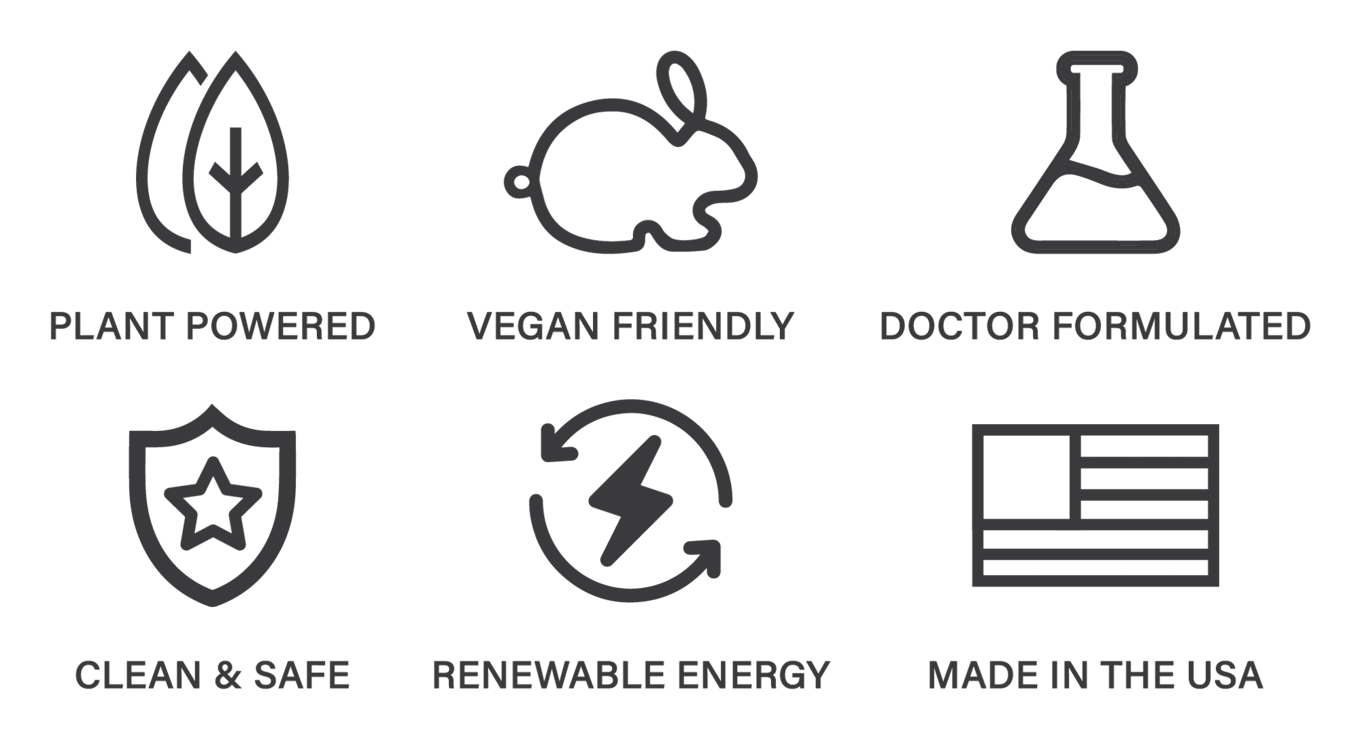 The FIOR CBX Ritual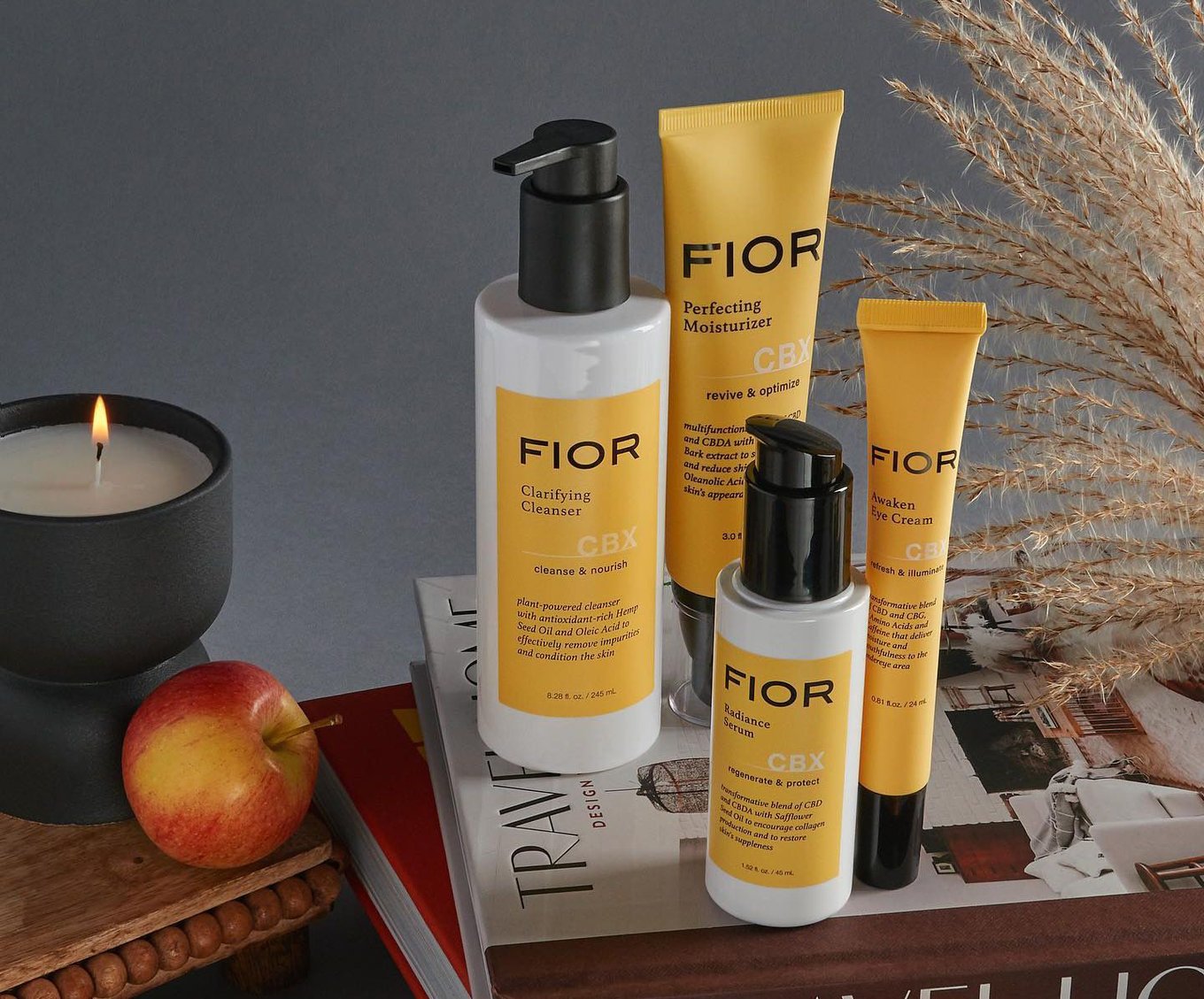 "Live True" is the motto we live by. As FIOR means "True" in Gaelic—transparency and authenticity are at the core of everything we do, and everything we create.
—
Our mission: TRUE Beauty
—
FIOR began redefining the skincare experience in 2020. With the collaborative efforts of leading medical professionals and top beauty brand creators—all motivated by a mission to bring together carefully curated ingredients—FIOR's 100% vegan, plant-powered, clean-beauty line was born.
FIOR was founded by an advisory and development team of medical professionals and skincare experts that draw upon decades of experience in the industry. They're the minds behind leading, evergreen brands such as Estée Lauder, Avon, and Proactiv, as well as trending favorites like Kylie Cosmetics, Meaningful Beauty, Harry's, Benefit, EOS, and Glossier—to name a few!

Our medical expert, Dr. Robert Tornambe, MD states:
"Hemp extracts and organic hemp seed oil can exhibit strong anti-inflammatory properties; positively influencing skin's aging process. FIOR is now my go-to regimen for all pre-op patients to prepare their skin and improve their surgical results. It is also my primary postoperative recommendation for skincare."
The Ritual
1. Clarifying Cleanser - Plant-powered cleanser featuring nutrient-rich Organic Hemp Seed Oil and Oleic Acid pressed from the finest sunflower seeds to effectively remove impurities and gentle remove even the most stubborn makeup while leaving your skin plump to the touch and silky smooth after every use.
2. Radiance Serum - Infused with our proprietary combination of full-spectrum CBD & CBDA, essential Fatty Acids and Safflower Seed oil to help you maintain a healthy moisture barrier and restore your skin's suppleness.
3. Perfecting Moisturizer - A product unlike any other in the market with a unique combination of CBD and CBDA and multifunctional blend of Oat, Bark extract and Oleanolic Acid to instantly soothe dry skin whilst creating the perfect, shine-free canvas to wear under your daily glam up routine or bare faced!
4. Awaken Eye Cream - Our full-spectrum CBD and CBG, Heptapeptide-7, and caffeine-based formula takes age-reversing eye creams to a new level. Delivers moisture and antioxidants to the delicate under-eye area to awaken your skin and promote a more youthful appearance.
FIOR by the numbers
—

—
Key marketing milestones to date
—
Featured as one of VOGUE's Best New Products of 2021
Featured product on Amazon Indie Beauty for January 2022
Returning customer rate exceeds 48%
47.67% increase in Average Order Value from Q1 to Q4 of 2021
216% increase in reorder rate for the latter half of the year (19%) compared to the first half (6%)
National retail launched in Q4 2021 with esteemed retailer, Von Maur
Amazon FBA launched in December 2021


| | |
| --- | --- |
| Top Channels for Sales (QTD) | Top Platforms Showing Promise |
| Paid Search | TikTok |
| Email | Google Ads |
| Organic | FB/IG |
| Paid Social | |
| | | | | |
| --- | --- | --- | --- | --- |
| Timeframe | Q1 | Q2 | Q3 | Q4 |
| AOV | $64.27 | $70.79 | $91.53 | $94.91 |
| Reorder Rate - All Customers | | 5.53% | 8.35% | 10.00% |
| Returning Customer Rate | | 1.28% | 7.24% | 48% |

Returning customer rate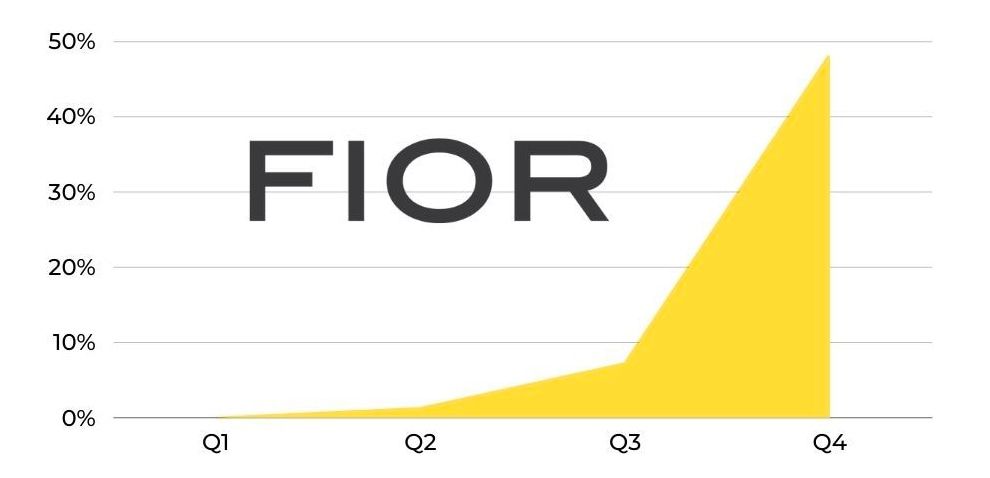 Key social metrics since launch in February '21
Since starting from 0 social presence across the board in February, FIOR's Instagram has grown to over 8,600 followers with an engaged audience ages 25–34 located in the USA. There has been consistent follower growth and increases in engagement month over month. All stats shown here reflect our organic efforts, not paid.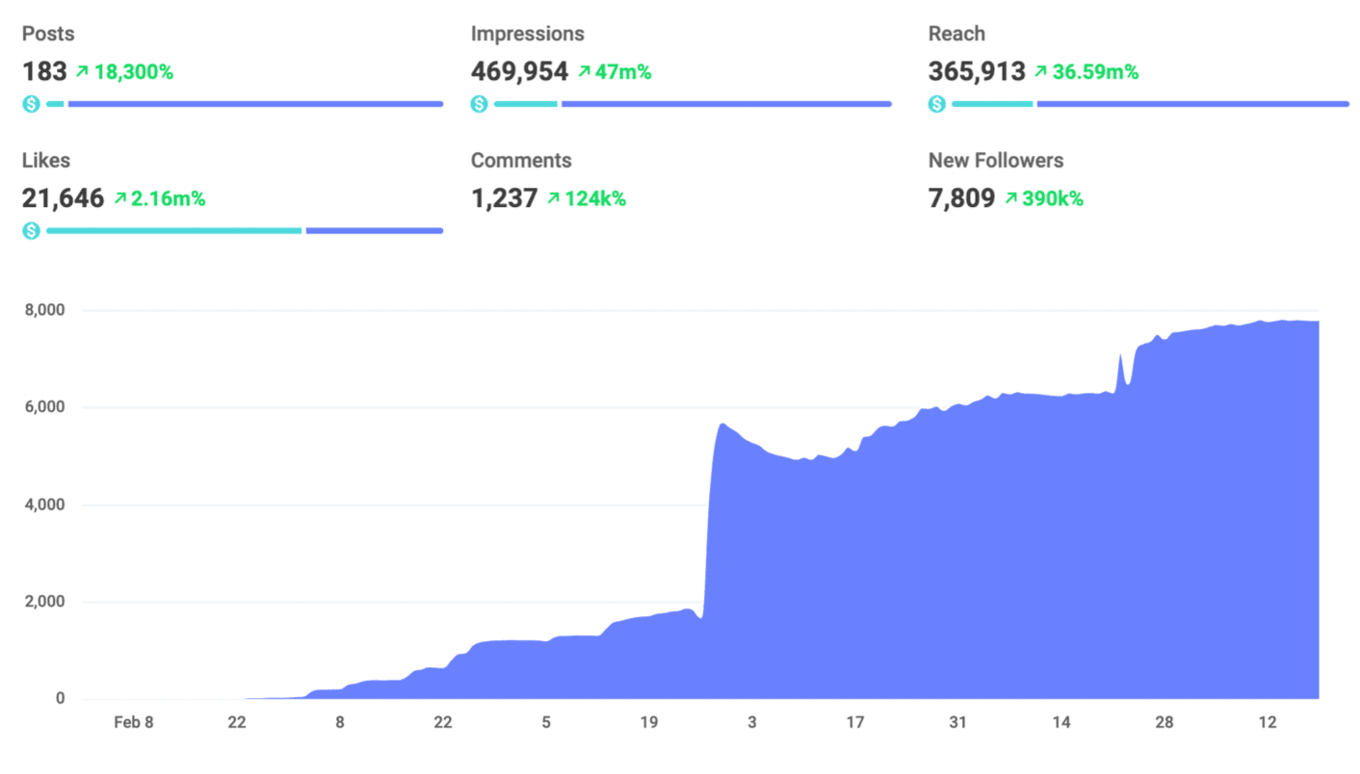 —
Facebook and Twitter have seen consistent growth as well with increases in followers, reach, and engagement weekly.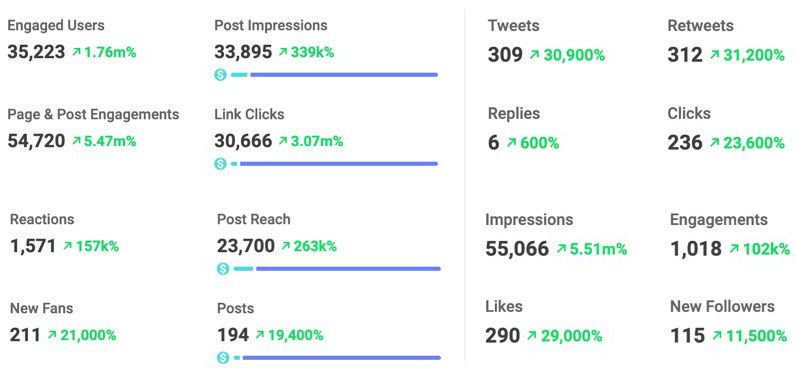 —
We launched on Pinterest this past month and are already up to 1.5k views per month. We are seeing conversions there as well.
---
Key social highlights since launch in February '21
---
FIOR has also done a series of brand collaborations with others companies in the wellness, health, and vegan space. So far we have partnered with Naturally Clean Eats (a vegan bar brand based in LA), Alamae Swim (a sustainable luxury swim and athleisure brand), and Gleevie (an environmentally-friendly blender bottle brand).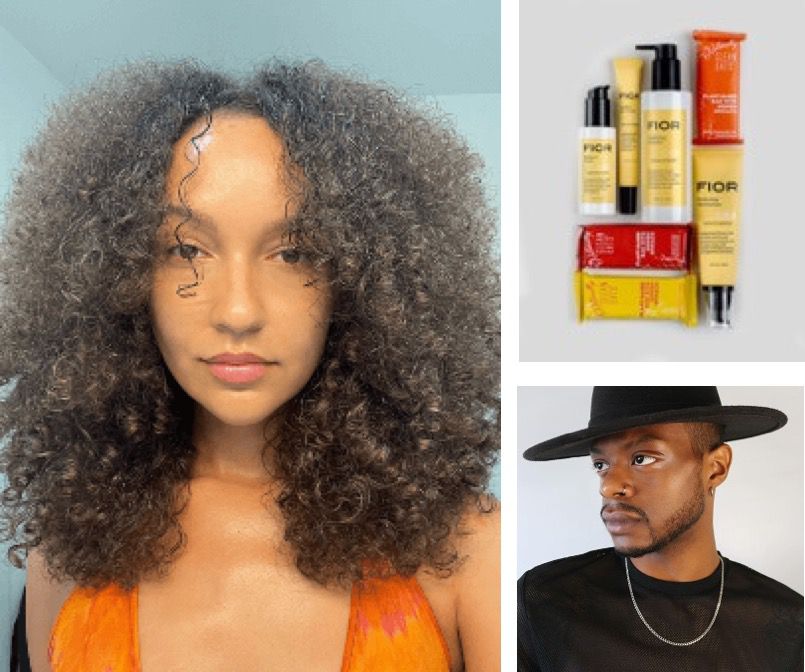 —
Notable collaborations:
@Jo_Phoenixx – Miami model and influencer, 22.5k on Instagram
@KimHoeltje – mom influencer, 49k on Instagram, 17k on TikTok
@NickTrawick13 – Los Angeles LGBTQ influencer, 105k on TikTok
@KathyPicos – Miami lifestyle influencer, 1 million on Instagram
@Anie_Delgado – Verified musician, 37.1k on Instagram
Critical data points
Core channels that are driving performance are Google Ads, Facebook & Instagram, and TikTok
User-generated content was the key revenue driver for Instagram & TikTok.
Returning customer AOV growth of over $50 from 1st purchase to 3rd purchase.
Typical period before customer re-purchase is between 60-90 days.

Purchasers not only purchase the original product but also supporting product as well (I.e. Purchases eye-cream plus cleanser)
| | | | |
| --- | --- | --- | --- |
| Channel | Customer Type | Orders | Total Sales |
| Google Search | First-Time | 741 | $54,626.40 |
| Instagram | First-Time | 560 | $39,801.52 |
| | | | |
| Channel | Customer Type | Orders | Total Sales |
| Direct | Returning | 69 | $6,159.90 |
| Google Search | Returning | 29 | $2,980.30 |
We will continue to focus efforts on DTC growth in 2020 and unlocking channels of profitable marketing spend.
Our first national brick and mortar retailer, Von Maur, launched in fall 2021 and we plan to continue to nurture growth with this partner, as well as add another key national retailer or two in 2022 with the focus on quality rather than just quantity
We expect to delve more significantly into traditional retail in 2023, once our DTC marketing efforts have matured.
DTC will continue to strategically be our core focus and estimate that DTC sales will always be forecast at 60% – 65% of our annual revenue.
That said, the power of

our DTC and social marketing efforts will be key to top of funnel awareness that will help us launch retail more effectively.
The Clean Beauty landscape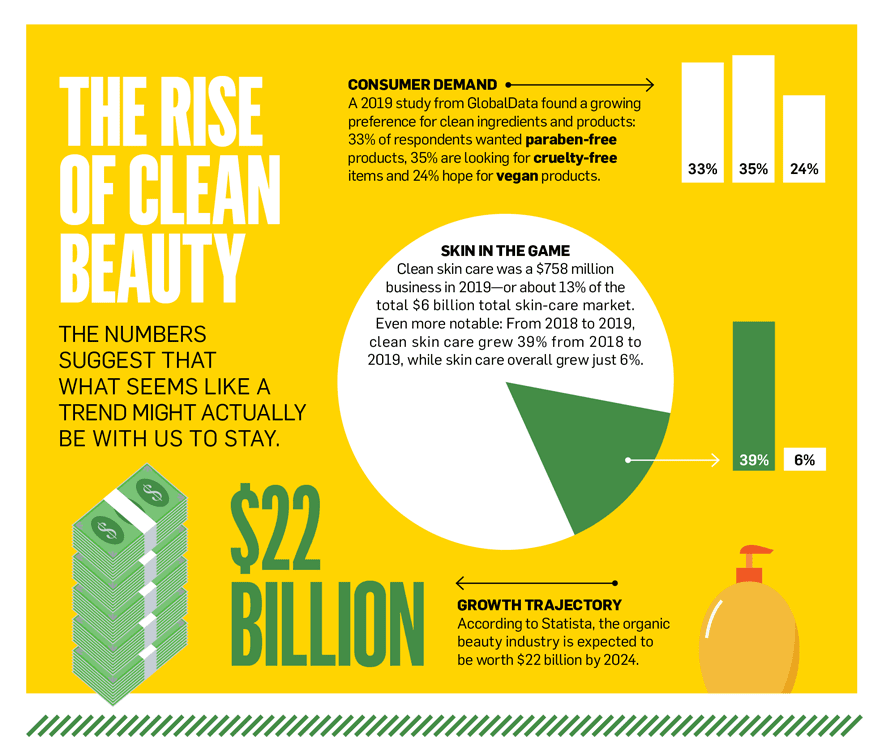 The current wellness economy ($4.4 trillion) is more than half the size of all global health spending
Has grown at twice the speed annually (6.4%) vs overall global economic growth (3.6%)
Global skincare is a $150b dollar category (expected to grow to $189b by 2025) which is largely dominated by traditional brick-and-mortar players with little innovation in core products
Clean Beauty is the fastest growing segment in beauty, expected to surpass $22b by 2024, up from $758m in 2019.
—
Category share by retail channel
Total cosmetics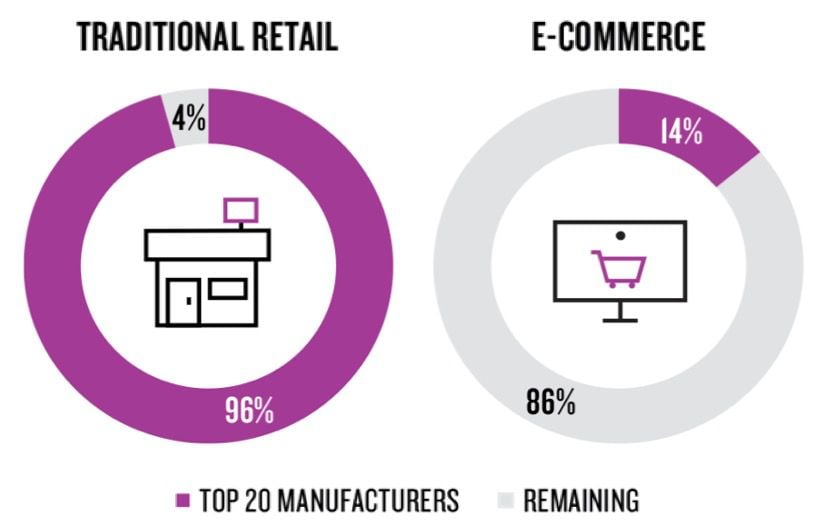 Internet/DTC is the dominant growth channel for beauty and wellness product sales in the U.S.
Top 20 companies command 96% of dollars spent in Brick & mortar, while only seeing 14% in the e-com market.
87% of DTC beauty customers purchased new products they discovered online during the pandemic and plan to increase their DTC spend in the future.
---
If you can't beat them, buy them!
---
Acquistion is the KEY growth driver for traditional skincare/beauty industry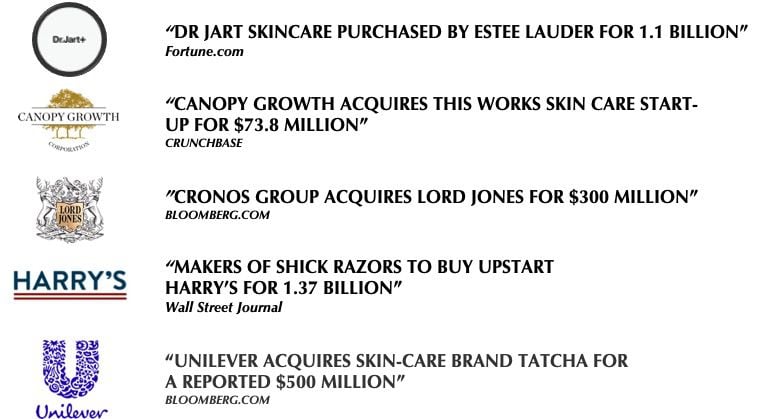 What's next?
Rosé Purifying Toner
Tighten and tone pores with an all-star cast of Organic Hemp Seed Oil, ProVitamin B5, Allantoin, Rose Flower Water, Grape Seed Oil, Hyaluronic Acid and Red Rose Wine extract packed full of vitamins, polyphenols and organic acids.
Our novel, multi-extraction system works to enhance the antioxidant properties of the red wine originating from the Tempranillo vines. Paired with the light, heavenly scent of Citrus Bergamot.
Manufactured in a facility that uses 100% renewable (wind) energy. FSC certified paper packaging.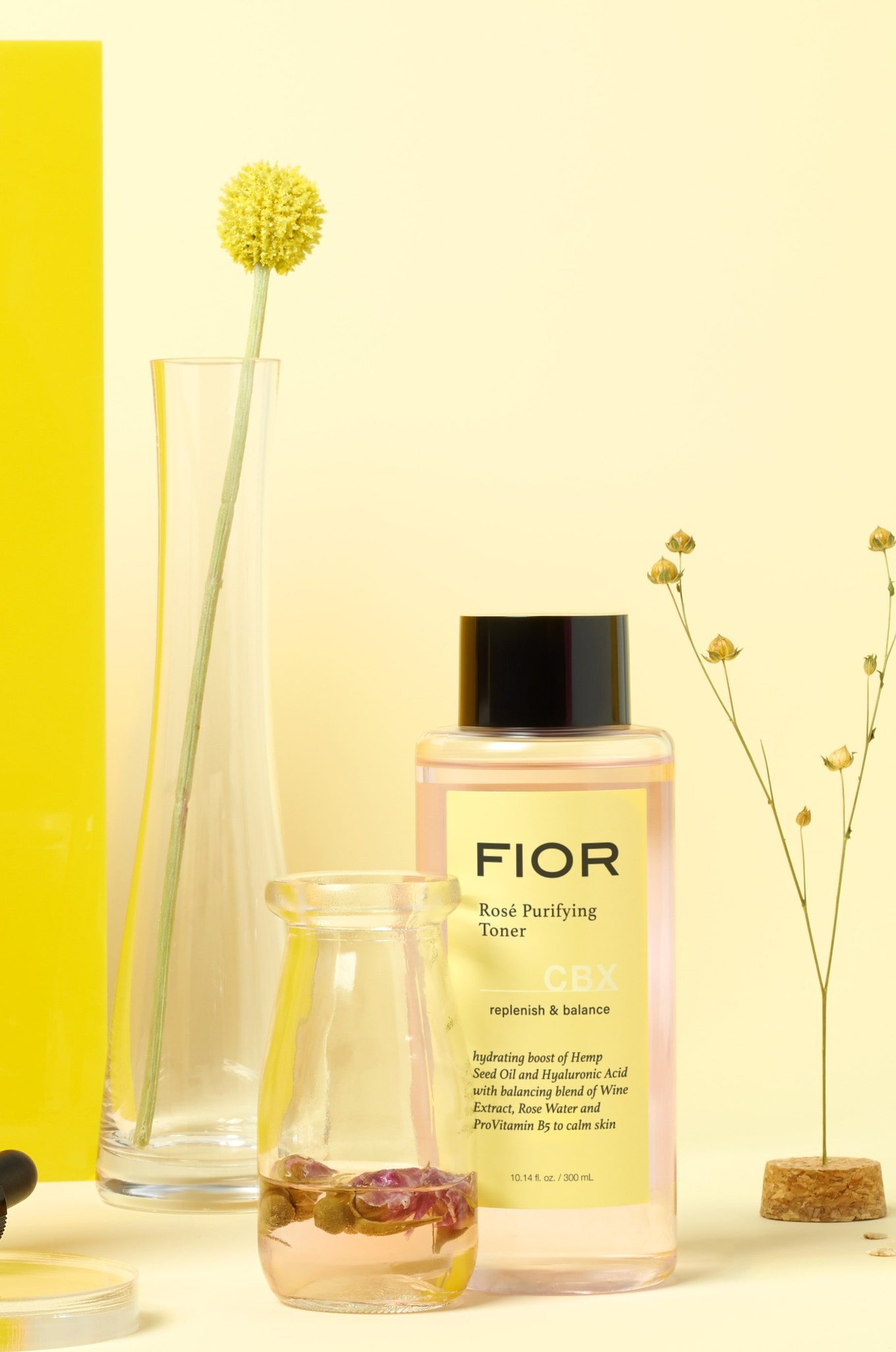 —
Sleep care: Dream-X
Your nightly "glass of wine" without the calories or hangover
Nightly facial mask for facial defense & rejuvenation, and to promote healthy sleep.
Contains organic wine extract (resveratrol), melatonin, & organic cork extract for anti-inflammatory, blue-light protection, and facial defense.


---
2022 1H timeline
---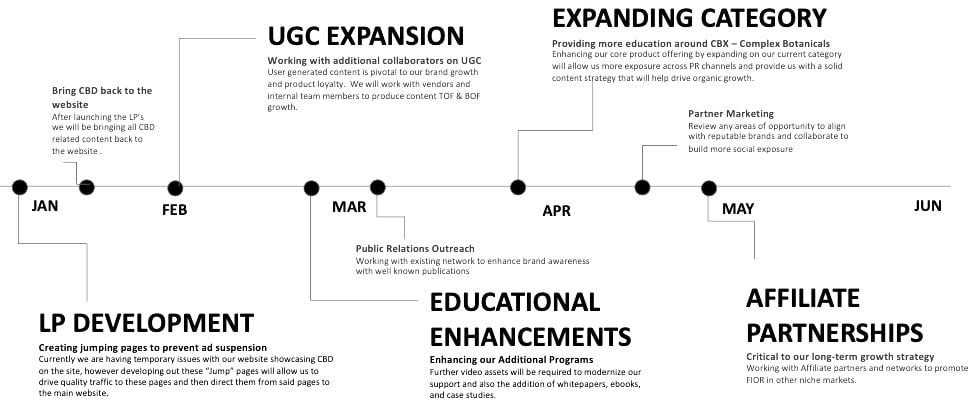 BeoFior Holdings, Inc. raised a $500k SAFE note investment in March of 2020, led by key advisors and strategic investors.
Use to date of this prior SAFE round has been focused on initial inventory, DTC architecture needs (website UX/UI, logistics infrastructure), initial marketing growth efforts and of course staffing of key positions.
We have come a long way with our first investment based on our lean and scrappy testing efforts, as well as benchmarking of UGC and customer testimonials.
Our republic crowd CF SAFE offering will be used primarily for DTC growth marketing, top of funnel awareness, and retail expansion
We plan to raise a much larger seed round in early 2023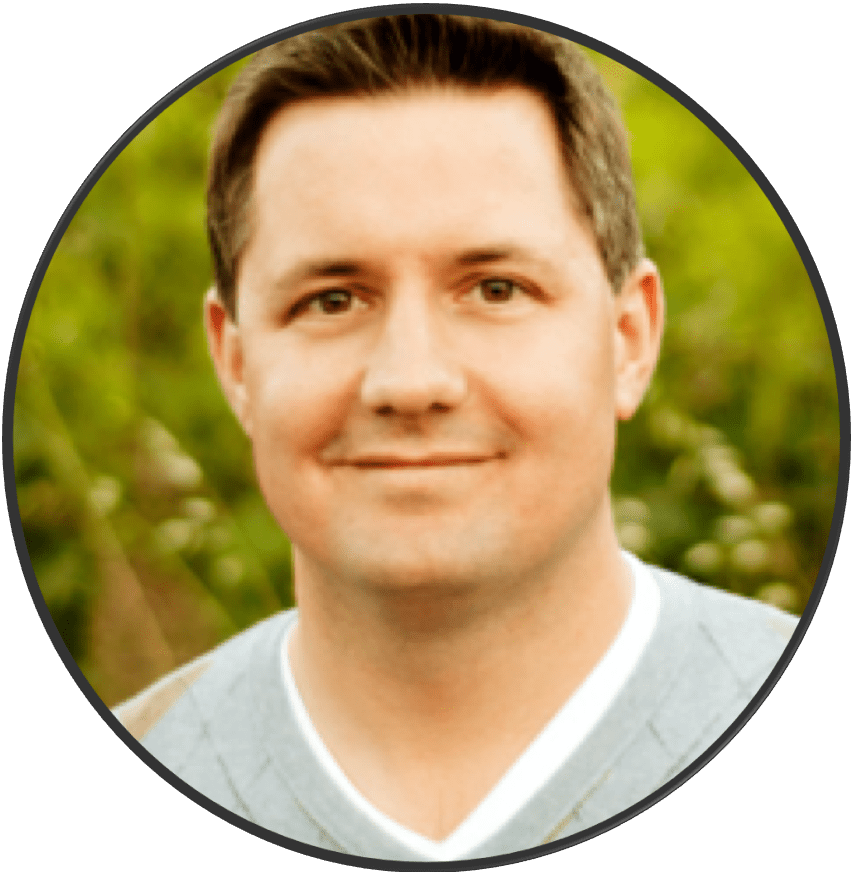 Kevin Boyer
Founder & CEO


Serial entrepreneur and seasoned executive leader with 20+ years in both building and operating consumer-packaged goods and enterprise sales businesses.

Kevin Fortuna
Founder

Founder of Gramercy Labs, Lot18, Tasting Room, GeistM, GearBrain & FindKarma. Former President and CEO of Quigo—sold to AOL Time Warner for $360M.