What's the inspiration behind Cortex?
At our first company, a content creation agency, every customer was wrestling with the same underlying problem — they never knew what videos and photos to make.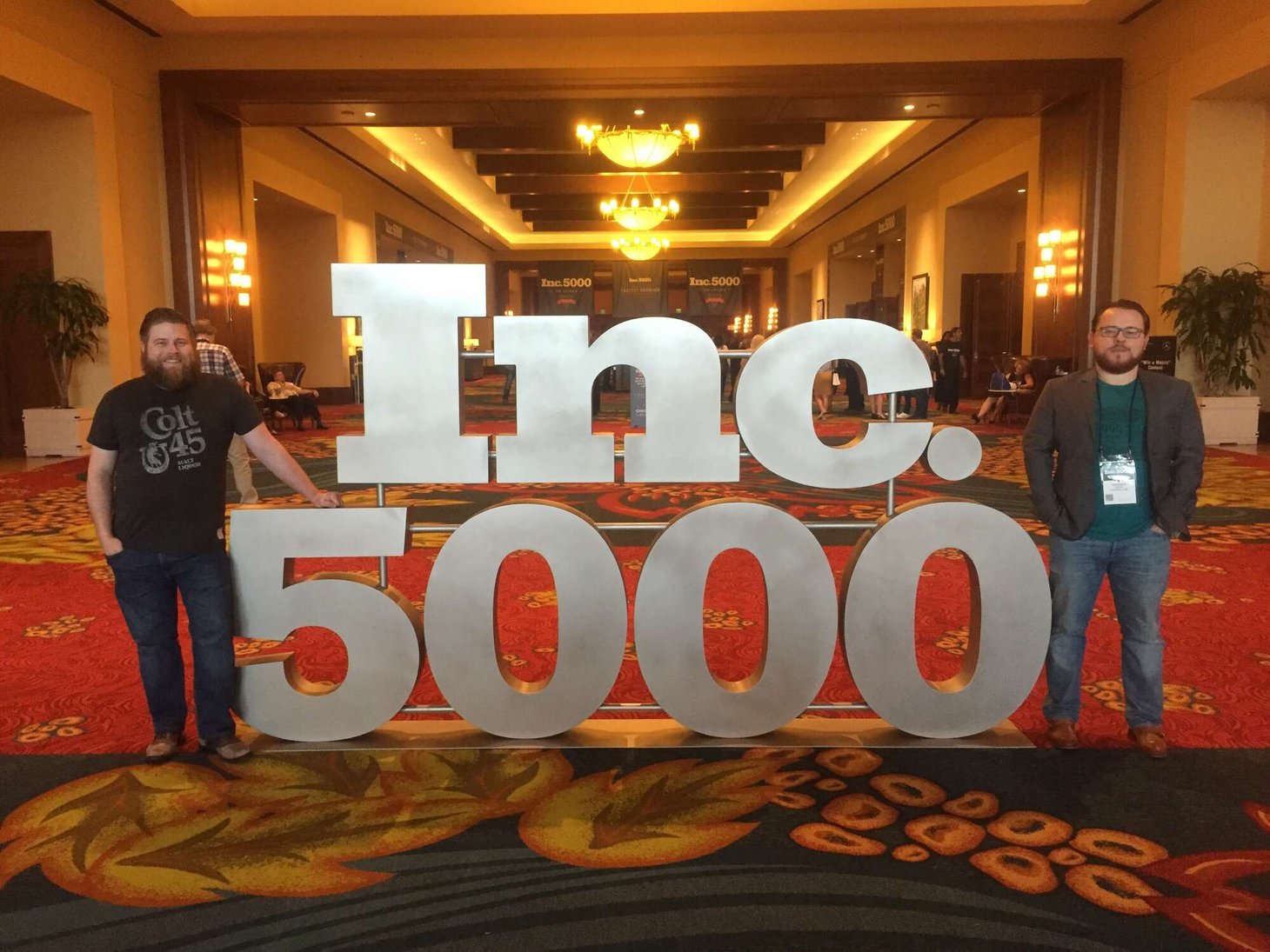 At the Inc 5,000 AwardsThey never knew where to spend their money in such a creative, subjective space—guessing what the audiences wanted to see.
When things went well, it led to awards and promotions for our clients. But they'd be right back at square one with the next campaign not knowing what to make for that next win. And when things went poorly, it was worse.
Since the stakes were so high, and because all of our clients shared this problem — we wanted to solve it.
Brennan, this is not your first time founding a company—what do you think is the most important skill founders need to succeed?  
Grit is the most important skill founders need and the second most important isn't even close. Every founder brings different kinds of magic to the company. But what each of them absolutely needs is grit.

In the beginning of every startup's life, there will be scary times where the founder is worried about making payroll or worried about losing a key customer, or some other thing that is essential to the company. Regardless of whether you're a technical, creative, visionary, or other style of co-founder, your resolve to stay the course and fix the problem will be tested.


It's hard to argue with numbers, but some people will anyway. Have you ever come across potential clients that were more difficult to convince away from their instincts? If so, how did you get through to them?
We see that reaction every day. The average person is going to be a little incredulous when they encounter a brand new technology. It's natural.

Our approach is "the proof is in the pudding". With Cortex, we let customers try us for free first. It's like test driving a Tesla.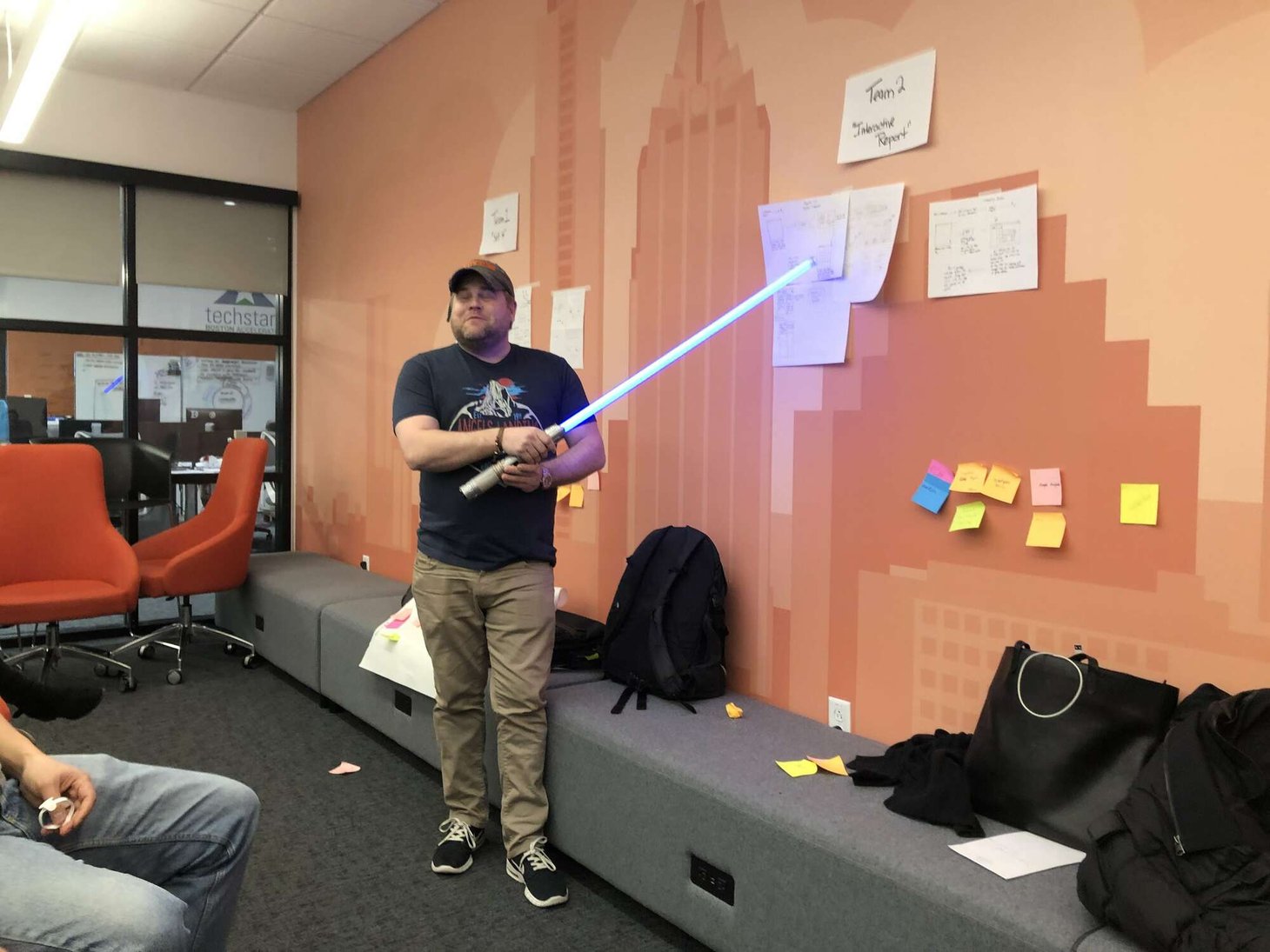 Leading a design sprint with The ForceIt's all hypothetical until you're in the driver's seat, and wowed by the acceleration.  Once they see that taking the sunglasses off people in their ads doubles performance? They're pretty convinced.
How did you meet your co-founder? How do you work together?
Matt and I have been friends since middle school. We met in study hall and have been friends for 28 years:  through two companies, funerals, weddings, and everything in between.

We have a superpower as a founding team in that we never fight. We both want to get to the solution as fast as possible, we have our eyes on the prize, and we're willing to admit when we're wrong. Any disagreement ends in less than half an hour.
The only unsolvable problem we've encountered in the partnership in the past 15 years of working together is that he's allergic to my dogs.
Brennan's pups!
Would you say that Cortex makes advertising pros obsolete? Why or why not? 
Not at all. We see our software as the ultimate support for creative folks everywhere. In fact, the mission of the company is "to unlock the power of the world's creatives". Cortex doesn't replace anyone, it empowers them.
They all have similarly frustrating experiences where, because creative jobs are "subjective", the bosses of creative people frequently make arbitrary changes, often last minute, with little to no reason other than personal preference. It undermines the strategy and the work and isn't fixable through words alone.

Cortex solves all of the above with one fell swoop and it's beautiful and easy to use to boot. Advertising folks love us.
Do you see ad firms as competition or collaborators?
Collaborators. Ad agencies like Accenture, Dentsu, and Edelman are some of our best customers and resellers. We solve many of their toughest problems and reduce the risk of failing a huge campaign - the biggest reason they lose clients.
What are the biggest challenges you've faced while launching your company?
Since we came from the bootstrapping world, where we didn't have or need funding, we didn't bring any understanding of that world with us to this business. 
The founders at New Hampshire Motor Speedway!

Our mentors at Techstars Boston helped us understand how the financing side of the software world works. They were a huge help and largely responsible for helping us see the change in strategy we needed on the fundraising side
Have you learned anything new or surprising about yourself through this process? 

When I was young, I never wanted to be a CEO or a visible face of a company. I'd always envisioned being the behind-the-scenes guy focused on making things run. Since becoming CEO of Cortex, I've realized that the same skills that enabled me to be captain of my college rugby team and president of student clubs are super relevant in business. It feels natural to lead as long as I clearly and frequently communicate my vision and continually check in with my team.

In rugby, it was understanding the opposing team and calling plays to drive the ball downfield. In business it's seeing the opportunity and competitors and calling plays to drive the company toward the goal. I love the role and didn't anticipate feeling this way,
For Matt— You're an angel investor. What kinds of companies catch your eye, and how do you translate your experiences as a founder into thinking about who to help fund?
I invest primarily in people. Ideas are often a dime a dozen and even if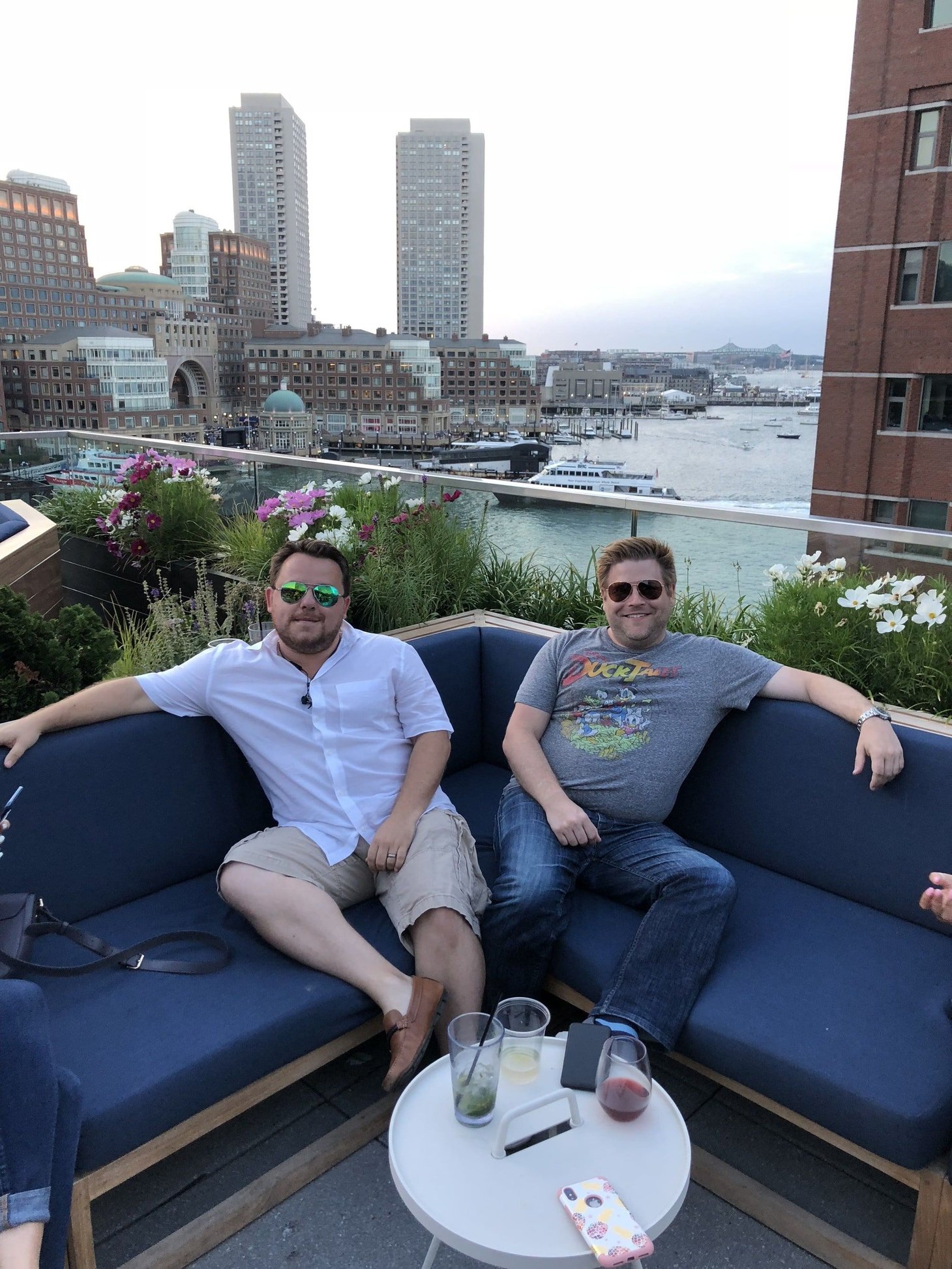 Enjoying the Boston skyline something is new and unique, it won't be for long. As a founder and operator, I know that exceptional people are the key to success. I try to find entrepreneurs who I would invest in even before hearing their idea. 
Why did you decide to raise from the crowd via Republic?
We had previously had success with crowdfunding, oversubscribing our first Reg CF round. When doing it again, we wanted to give Republic a try as it seemed like it had the highest bar to entry. Like applying to an Ivy League school, we wanted to try to be among the best companies out there.

Personally, I love the fact that the barriers for everyday folks to make life-changing money are being removed by the crowdfunding space. And as a CEO, I love that there are lots of options for early stage funding. It's a great system for all involved and seemed like a natural option for our last fundraise before we start raising large dollars from institutional investors.
What's your team culture like? 
Our team is fully remote due to COVID, and was partially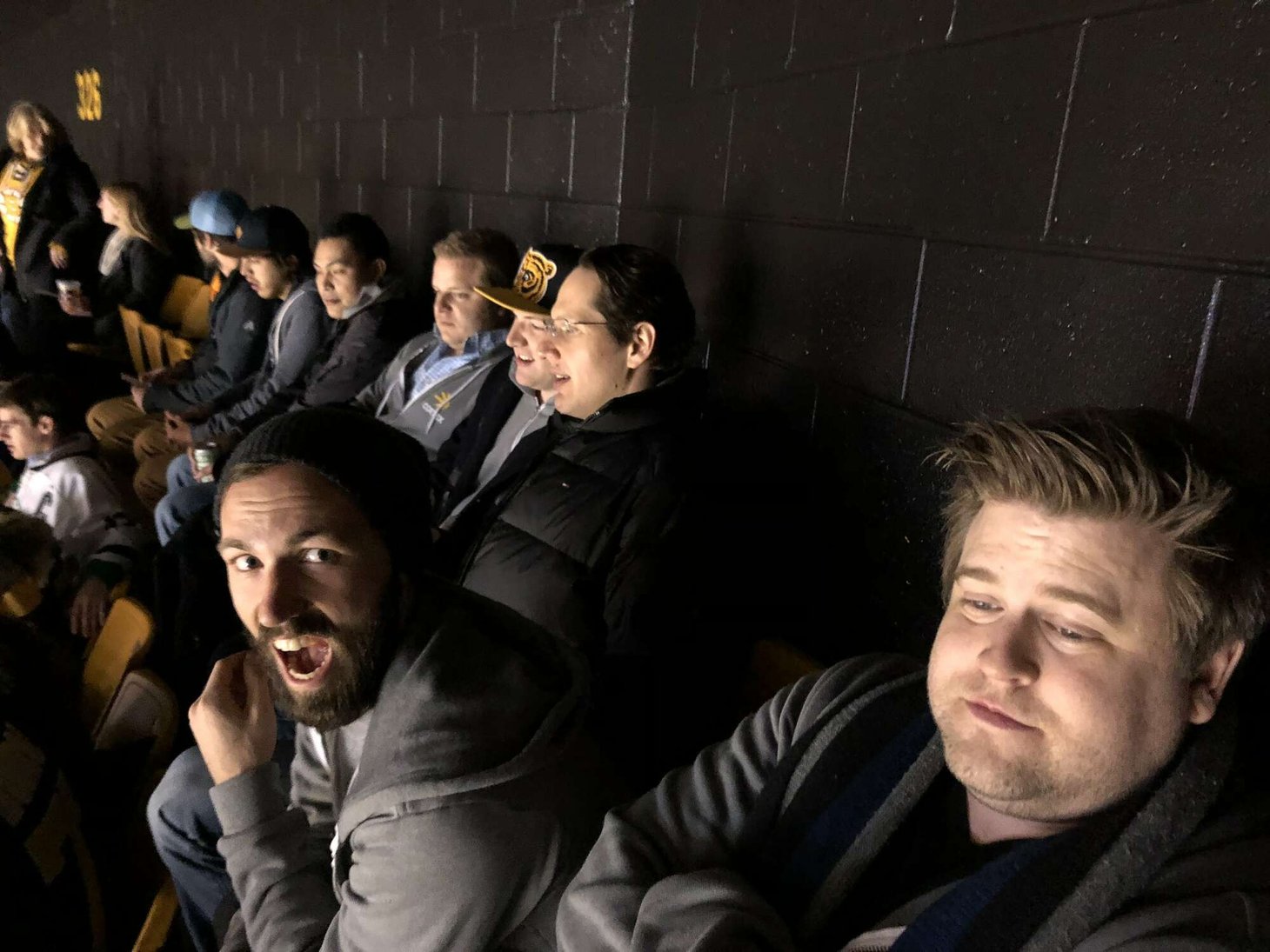 The team at a Bruins gameremote before that. So working together while not physically together has been something we're all quite good at. We are all fun-loving folks, and when together we like to go boating on Boston Harbor, to Boston Bruins games, or other fun outings. 


What is your superpower?
My superpower is also my kryptonite —I do not borrow other people's thoughts. I have to do my own thinking. I have to know why things work the way they do, regardless of what other people think.

This is a superpower because I see technology trends very early and can benefit financially.
What's your kryptonite?
My kryptonite is the other side of the coin from my superpower. Because I don't borrow others' thoughts, I often take longer than necessary to validate advice or feedback from advisors. Some people get feedback from someone they trust and adopt it immediately. I often solicit more feedback, then go get my own data to validate that feedback. It takes much longer and often ends with the advisor saying "Yeah, I told you that last week". 
Do you have any unusual routines or habits? 
I collect silver coins and, since I'm always fidgeting and moving, I am almost constantly playing with silver in my hand. Even when in Zoom calls or video interviews, just off camera, my hands are most likely fiddling with some silver coins or bars. 
The Founders before Cortex was born
What do you like to do in your spare time? Please share more about your hobbies and interests outside of work. 
Besides playing with my dogs, I love going to the gym and challenging myself to beat my previous records. When not doing that, I love traveling with friends and family. I'd love to visit every country on Earth before I die, and I've got a lot more to see.
Are there any apps or gadgets that you can't live without? 
I'm a SUPER quantified-self guy. So anything that tracks my body/performance is an immediate must-try. I'm currently addicted to my Lumen. It's a metabolism tracker that you breathe into. I also use the Whoop Strap, a fitness/sleep/recovery tracker, and the Nutrisense blood sugar tracking sensor/app daily. I can't wait until all of this data is just passively available on your phone via a watch or an embedded sensor in your skin. My sleep used to be terrible and I did a total 180 with the data with a combo of different apps. 
If you could give yourself one piece of advice 5 years ago, what would it be?
I'd love to tell myself to take periodic breaks to spend time with family. You never know how much time you have together. 
What's the best piece of advice you've received?
If you're going through hell, keep going. 
Do you have a(ny) mentor(s)? If so, what have they taught you?
Tons of mentors, mostly due to Techstars Boston. They've taught me that, by default, I under communicate and undersell things. They made me realize that it's expected of a CEO in my position to regularly draw attention to the exciting stuff that the Cortex team is working on. Previously, I kept my communication mostly internal and I didn't realize how much communicating the cool internal stuff to the outside world truly matters.
Founders Matt and Brennan