Yesterday's housing models don't meet today's demand
---
Renters want more choices
---
A new generation of consumers is driving the rental market, and they are bringing a different set of priorities with them:
71% of consumers prefer to support businesses aligned with their values
75% of millennial renters say they are striving to live a healthy lifestyle
The global health crisis, economic conditions, and climate conditions have incited a desire to live differently—with nature, wellbeing, flexibility, and community foremost in mind. Yet, there is a huge void when it comes to finding a home that supports this criteria.
The future of real estate, today!
A membership model to an eco-social-housing platform offering accessible wellness, community, and sustainable living options where members can live, visit, work, and play on the fly. Aashna is giving the power of choice back to the people with flexible leases, locations, and memberships to fit any lifestyle.
Our innovative decarbonizing development strategy, combined with the use of modern construction & financial technology, has helped us design a sustainable, scalable, 21st century housing solution.
Fast, efficient, sustainable construction methods for better scalability and ROI
Eco-luxury rentals and subscriptions services to both online and in-person wellness-focused social experiences, with flexible leases, memberships and location options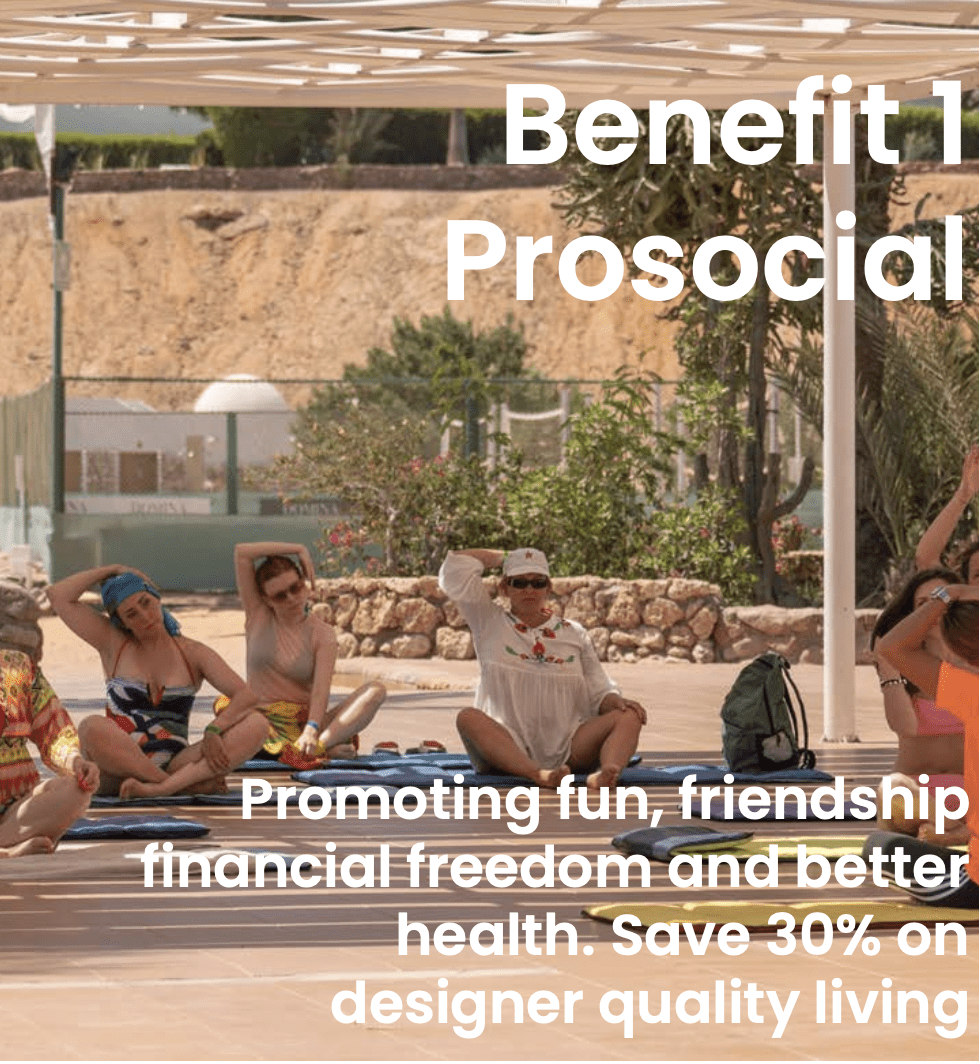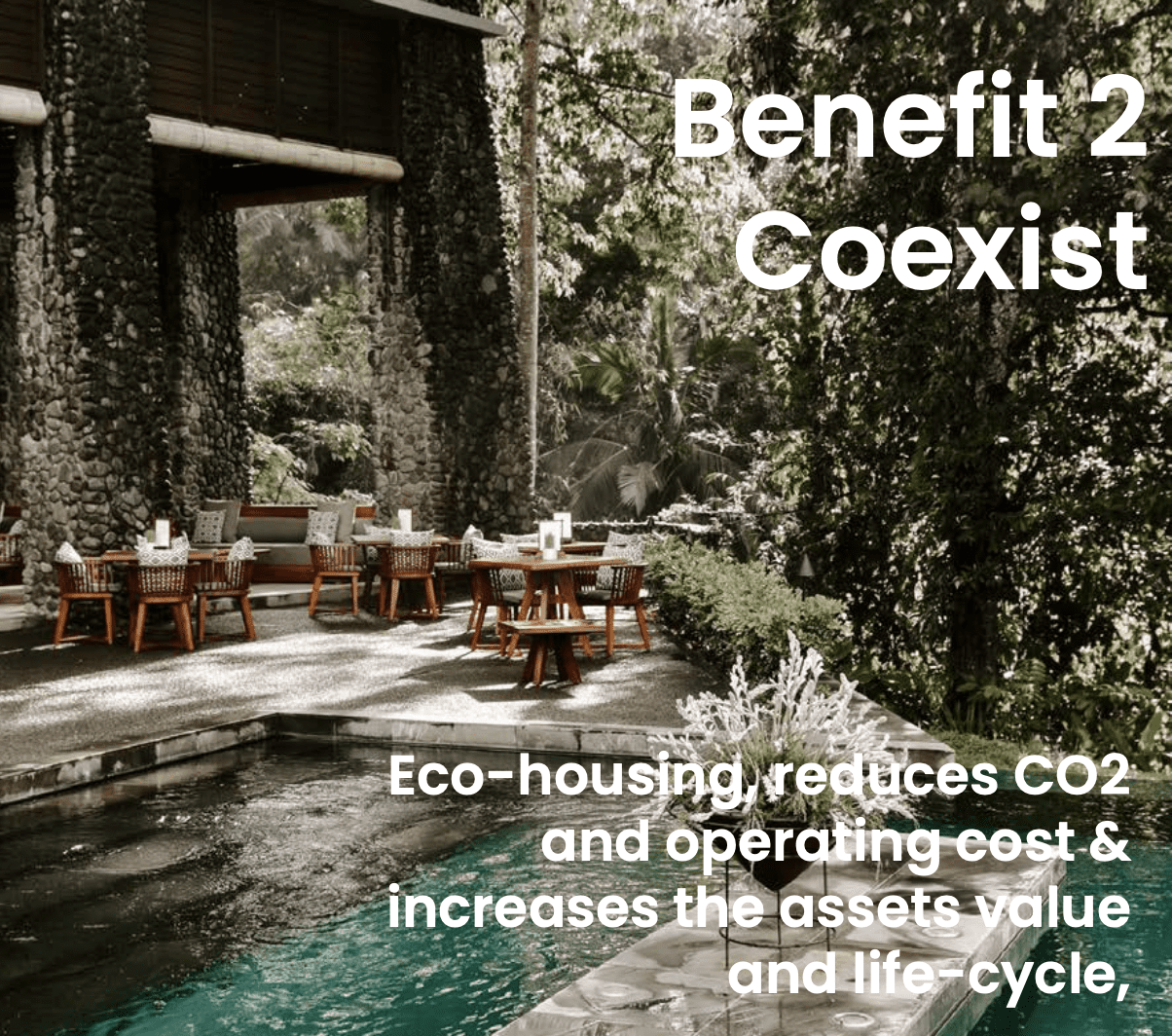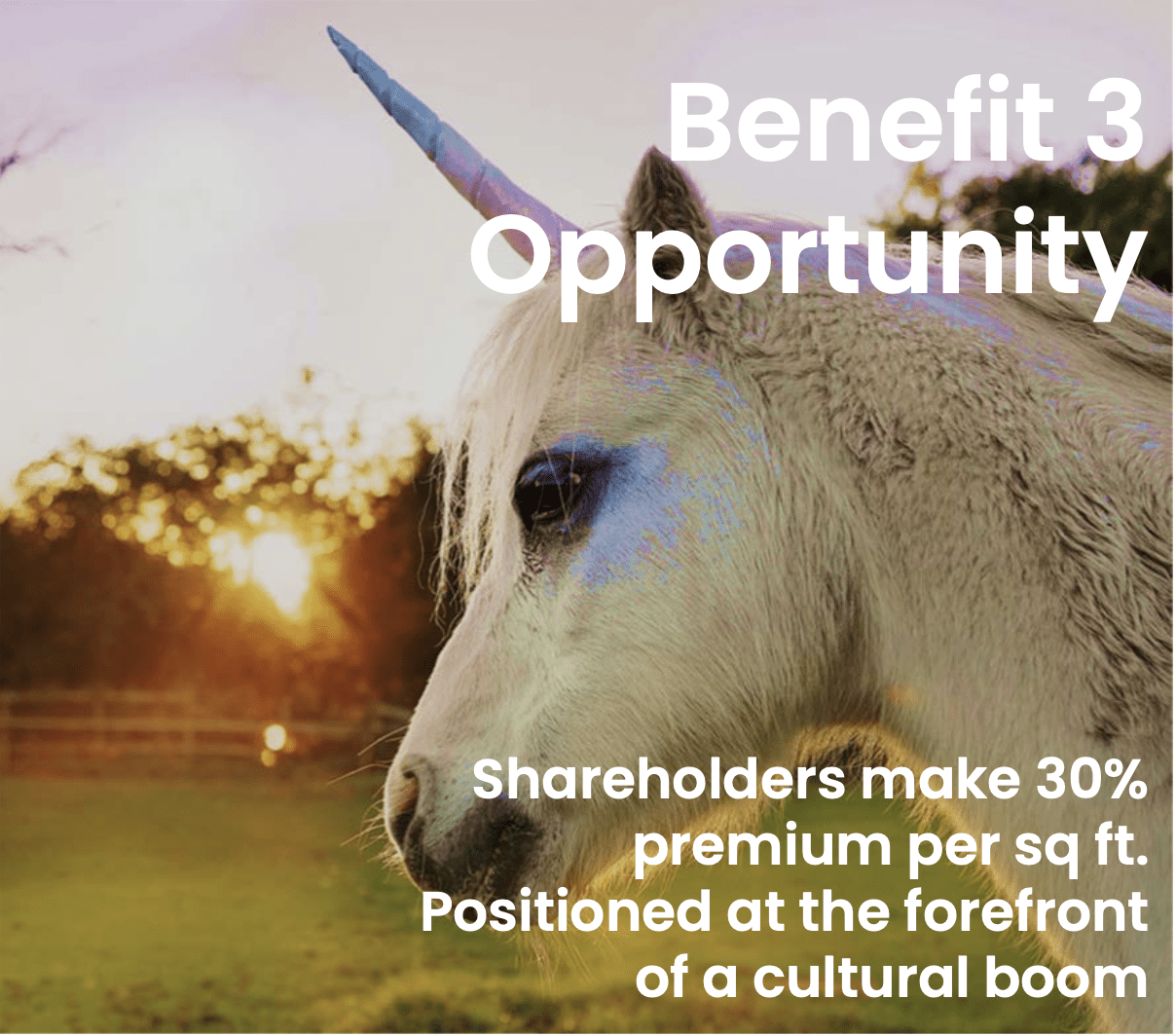 Live, work, visit or play
Members can have access anywhere, anytime through our in-person and virtual social club, which explores a digital version of our physical locations and experiences in the metaverse. We are cultivating the best of mindful living and climate-smart architecture with extraordinary comfort and services.
---
Benefits include but are not limited to:
---
Members
Enjoy high-quality, fair-priced sustainable housing
Healthy and inclusive activities to facilitate positive social connections
Flexibility
Use of mindful building materials can promote better health
Shareholders/investors
Use of construction technology and assembly products reduces build time, waste, and CO2 emissions, while increasing space efficiency and scalability
Renewable energy use gives access to tax credits and reduces operating expenses, and increases life cycle
Wellness lifestyle features and green building increase sales value
Membership model drives 5–10% additional revenue
Neighborhoods
Accelerating local economic growth and resilience efforts
Establishing a development system and playbook to help decarbonize the local housing stock
Ready to break ground today
Aashna Living 1 is ready for development in Asheville, NC—dubbed "the world's third best city for millennials" by Matador.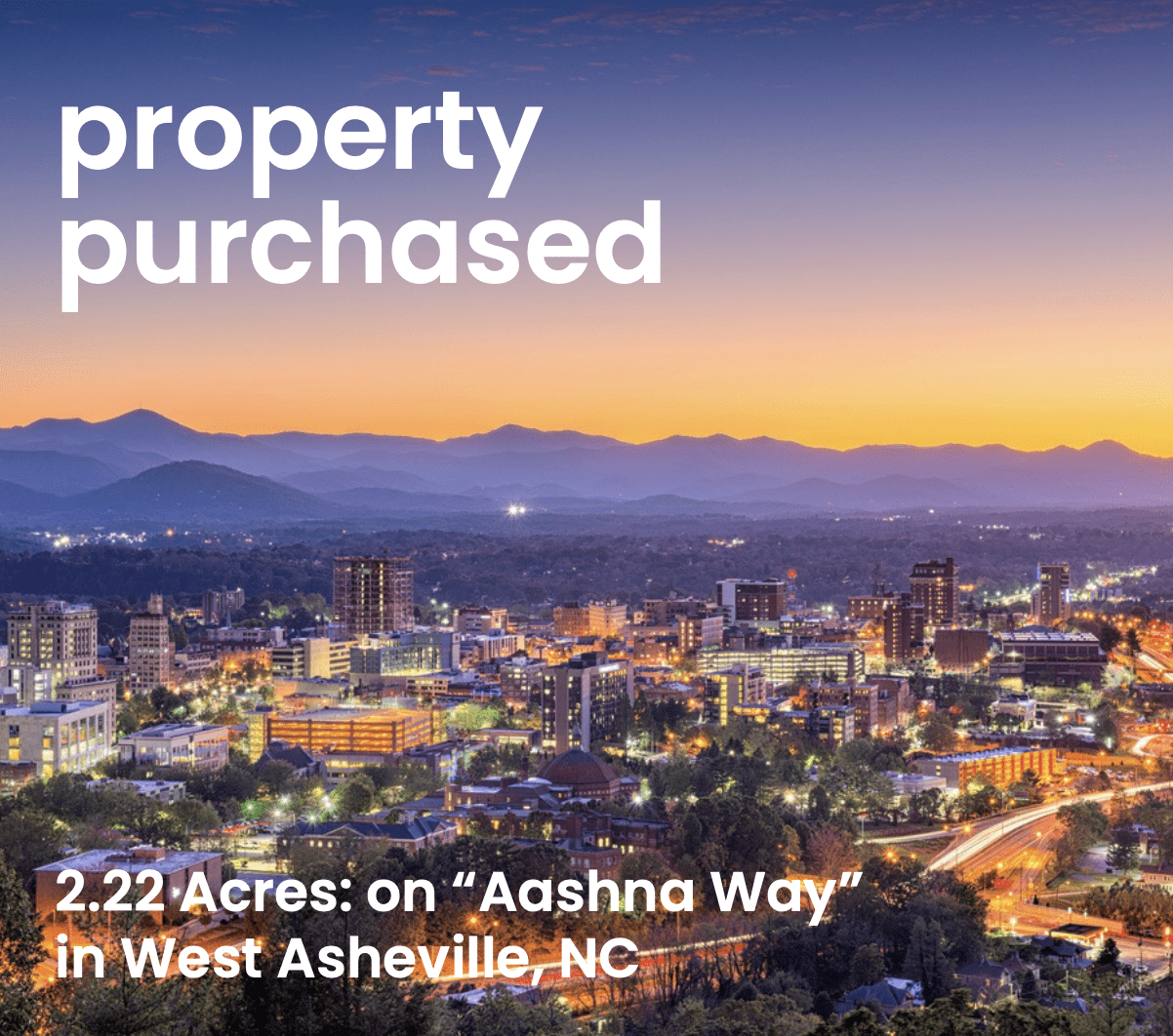 We have plans, property, and permits in place. With our improved construction techniques, we could have occupancy within 7-9 months of breaking ground, and start generating revenue from our social club even sooner.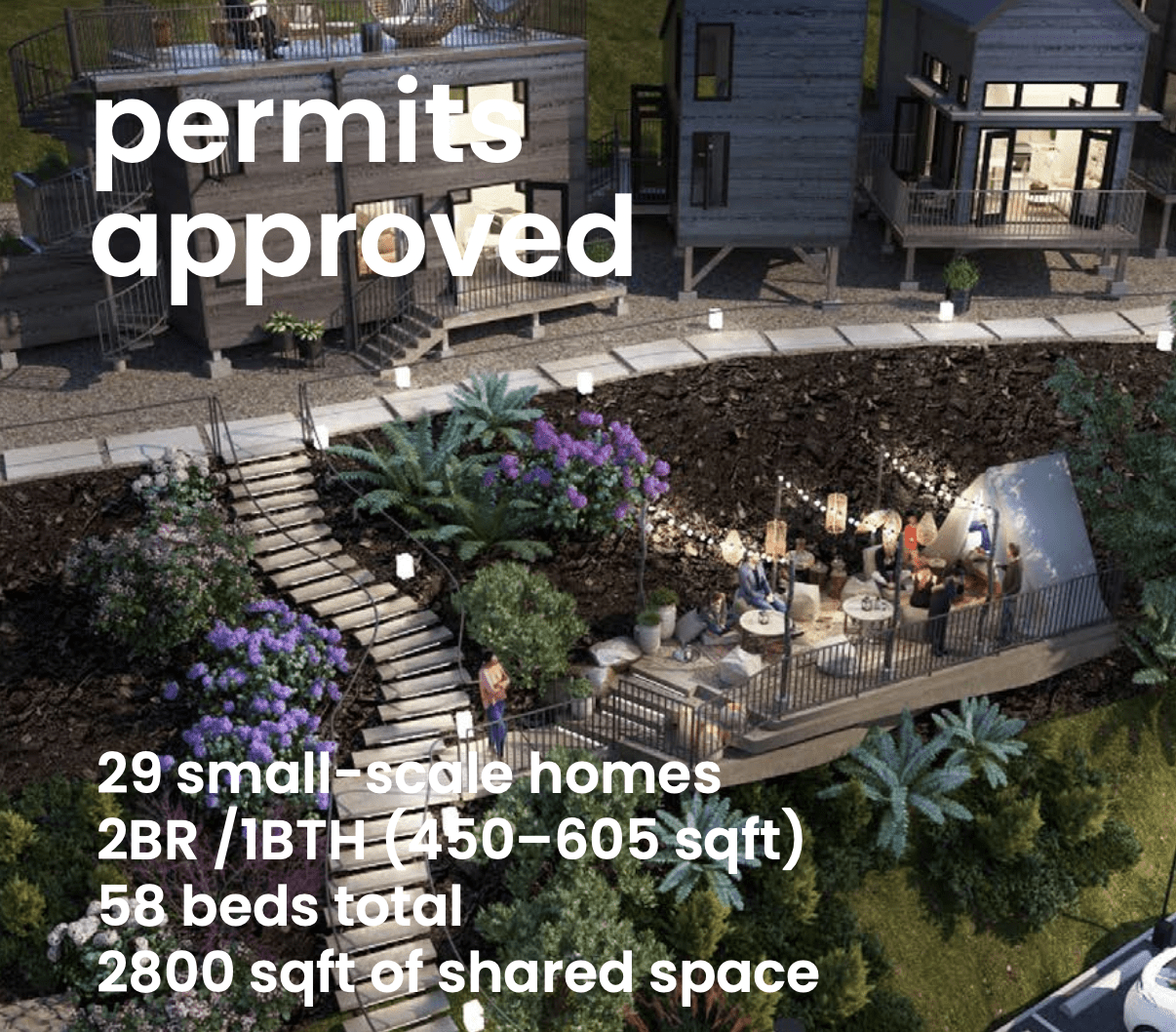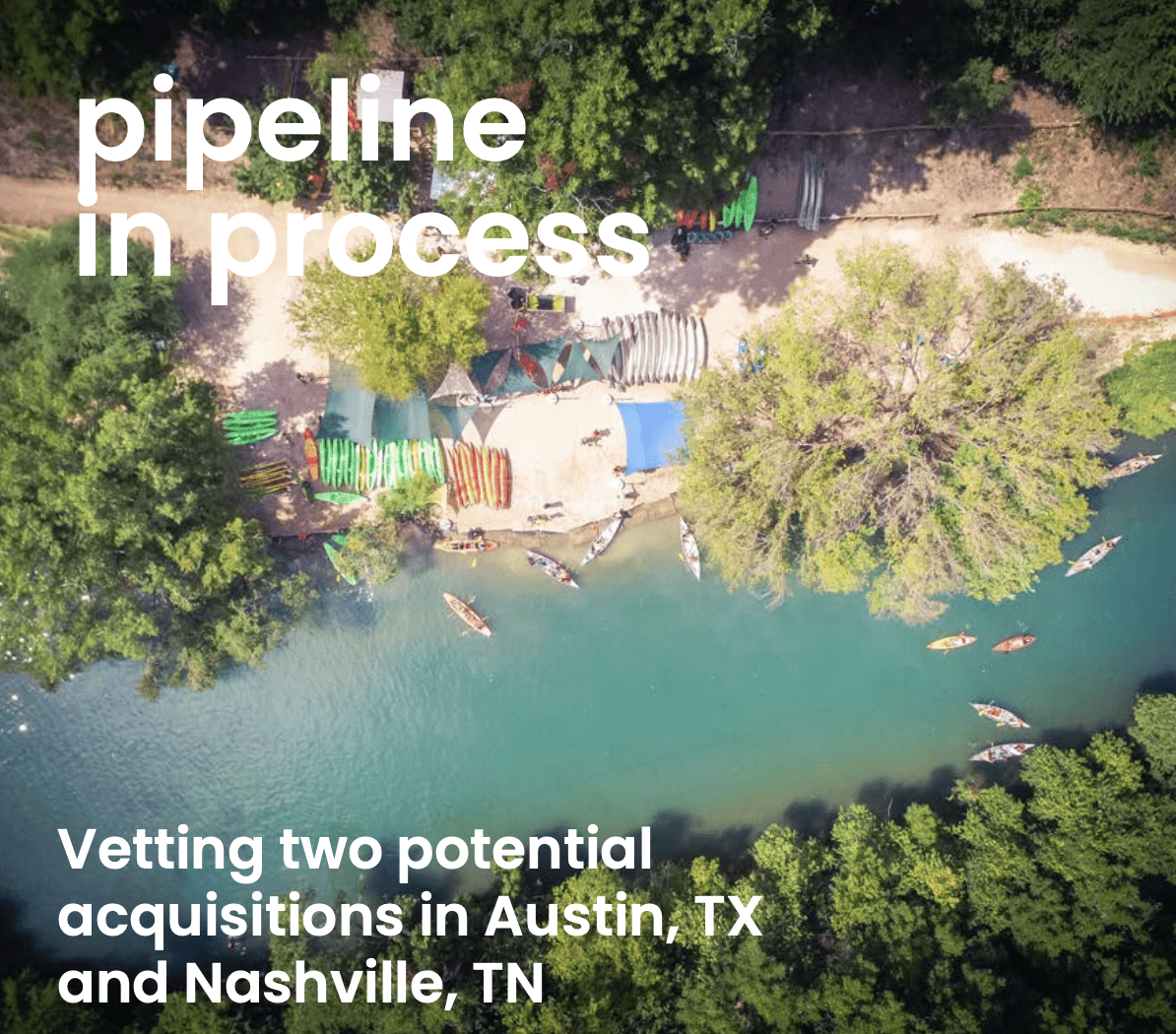 Aashna is designed as a scalable platform that can be deployed wherever the market fits. Led by a founder whom the Wall Street Journal named in the top 1% of real estate specialists nationwide, we are looking for opportunities to develop Aashna Living communities across the country.
We're currently vetting two potential locations in Austin, TX and Nashville, TN.
---
B2B partnership ecosystem
We've formally engaged with several like-hearted brands such as those listed below—and we have no plans of stopping here. There are hundreds of wellness brands and products we are exploring.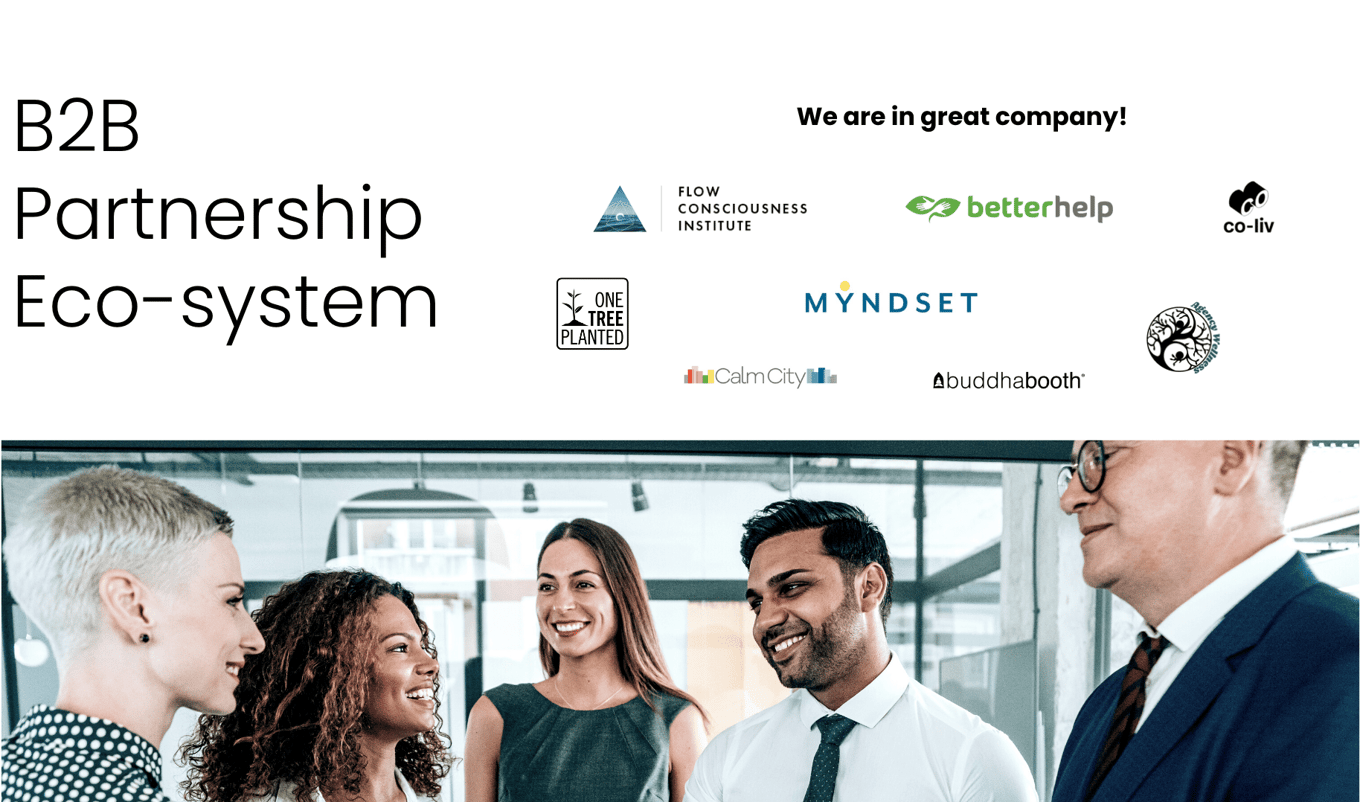 Making mindful living more accessible
We envision Aashna communities as a vibrant blend of residents: mixed income, multi-cultural, and multi-generational.
Gen-Z to thriving-aging clients
Aspirational consumers, tending to be value-driven
Eco-minded and wellness-conscious individuals (the LOHAS market)
Explorers and travelers
Remote workers looking for live-work and socializing opportunities
Location market fit
We see the greatest potential opportunity in booming "Tier II" cities—up-and-coming locations with untapped potential within the wellness lifestyle and shared housing market.
Better value for customers, more profitable for investors
As a full stack owner, operator, and designer, we have control over every aspect of our development platform. We primarily sell directly to consumers; but we also anticipate forming partnerships with affiliates and developers.
We have two primary revenue streams: subscriptions to the Aashna social club, and accommodation income from short-term and long-term rentals. We also expect secondary income from technical service contracts, licensing program options, and vendor/facilitator referrals.
Flexible and responsive business model:
Our financial strategy is designed to:
Strengthen balance sheets and preserve access to capital
Keeps capital away from leasing spaces
Positively increase valuation for future fundraising rounds
Provides access to 100% of the capital as opposed to conventional lending. 60 to 85% LTV
---
Local competitive set and value
---
Aashna Living can reduce rents by 30% per month, while increasing revenue by up to 30% per square foot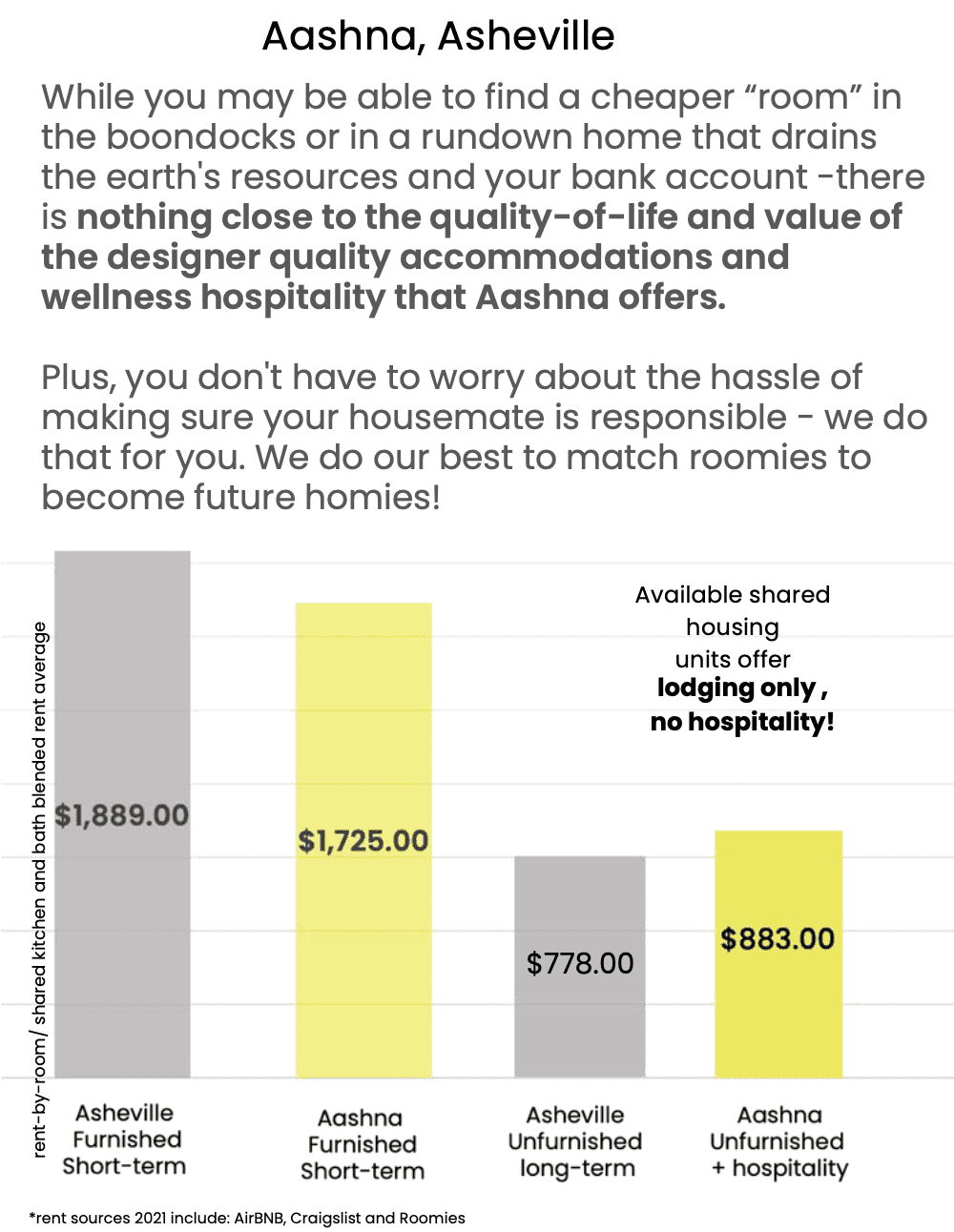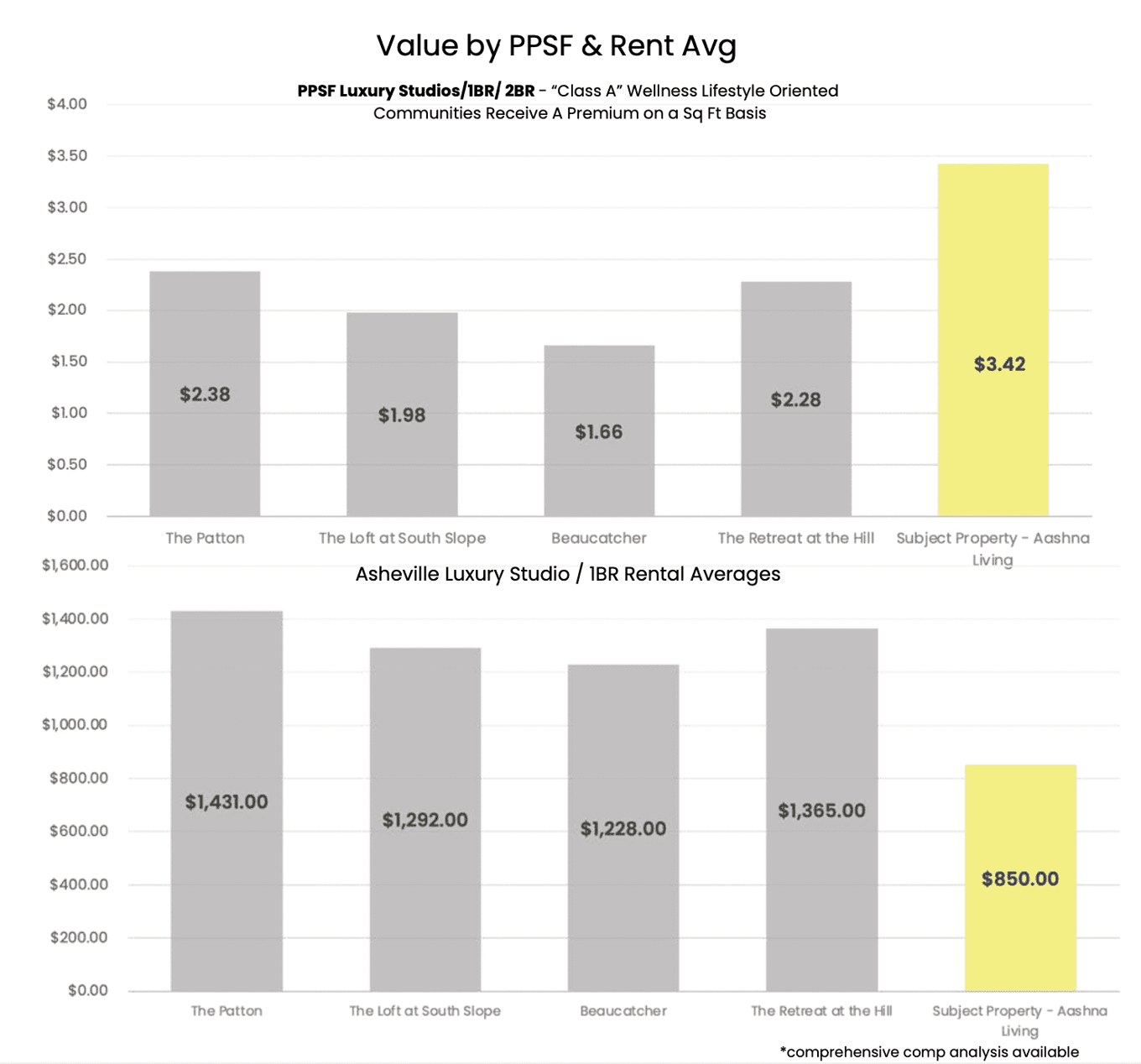 $8.6B obtainable
market share
Our market share projection of $8.6B is based on an analysis of Aashna's perceivable share of the intersecting market segments over the next 5–7 years. Direct sales to consumers make up the larger portion of our target market, including wellness-focused real estate, co-living, "rent-by-room" spaces, Airbnb, and eco-minded explorer/ travelers and remote workers.
Indirect sources of revenue include retreats, and holistic development and corporate housing—especially relevant in today's "work-from-anywhere" business environment.
A better fit for today's market
Current housing choices are not a good product fit for modern day residents' lifestyle preferences. Our direct competitors within wellness lifestyle real estate or shared housing models have one or more identifiable weaknesses: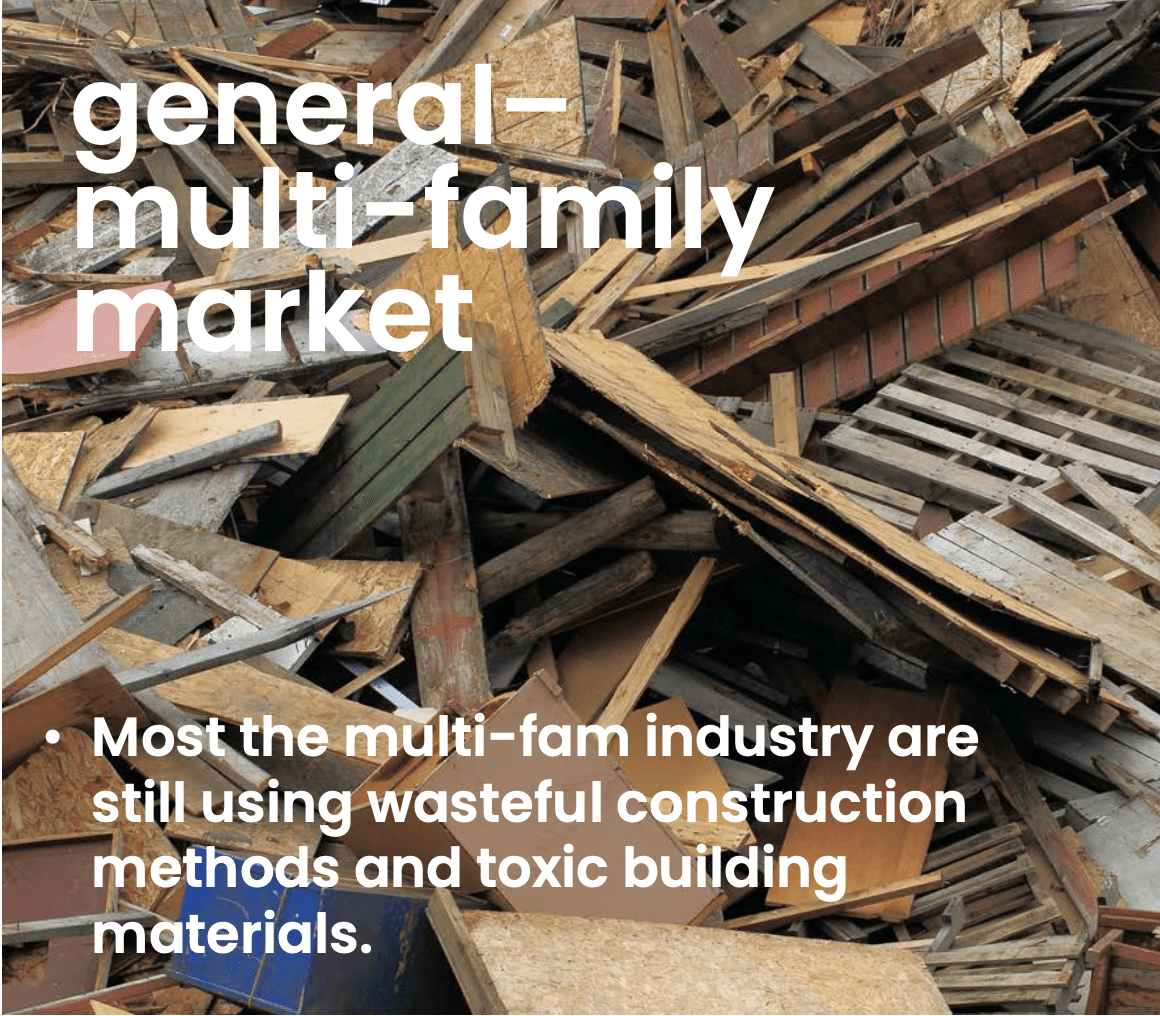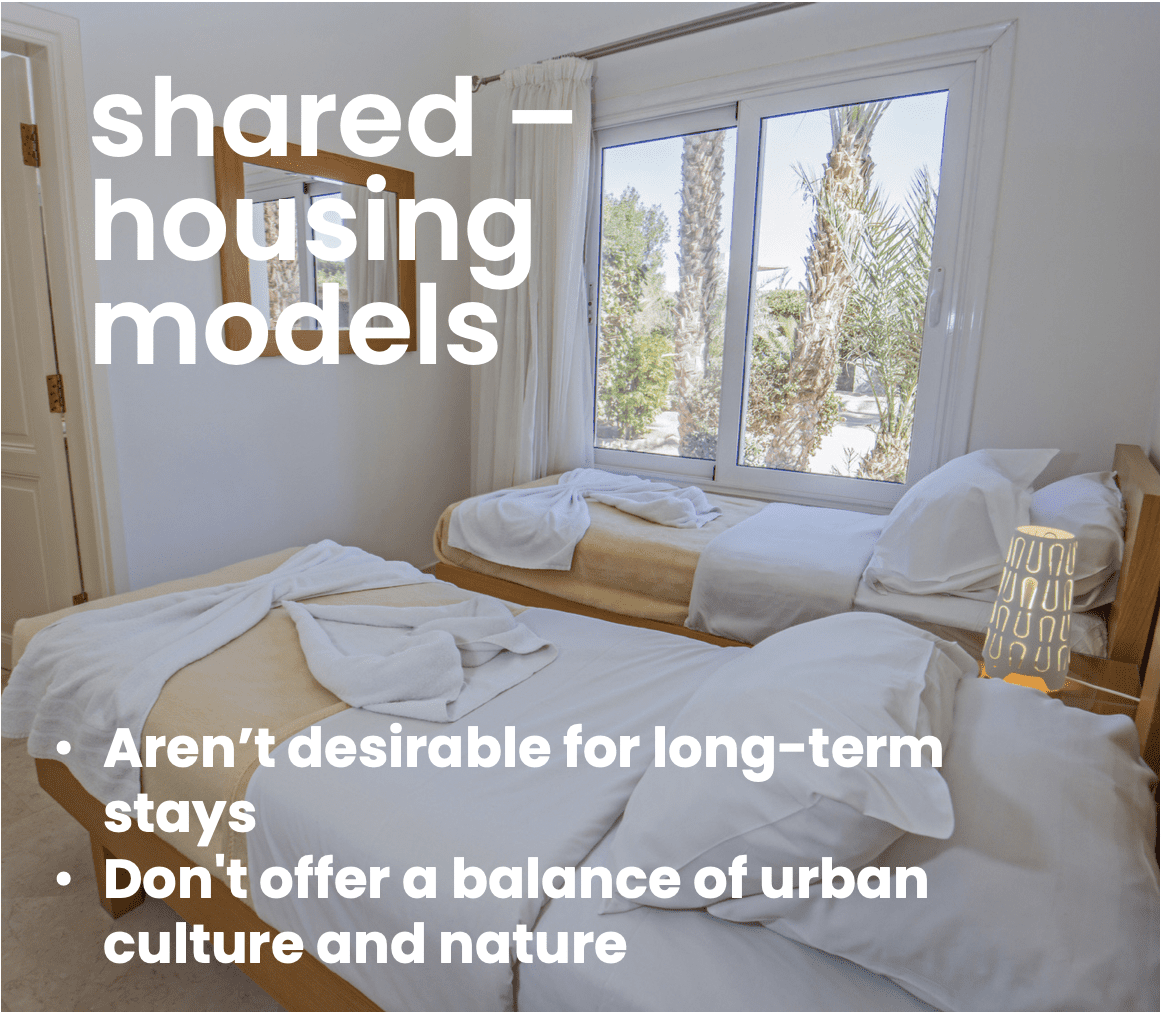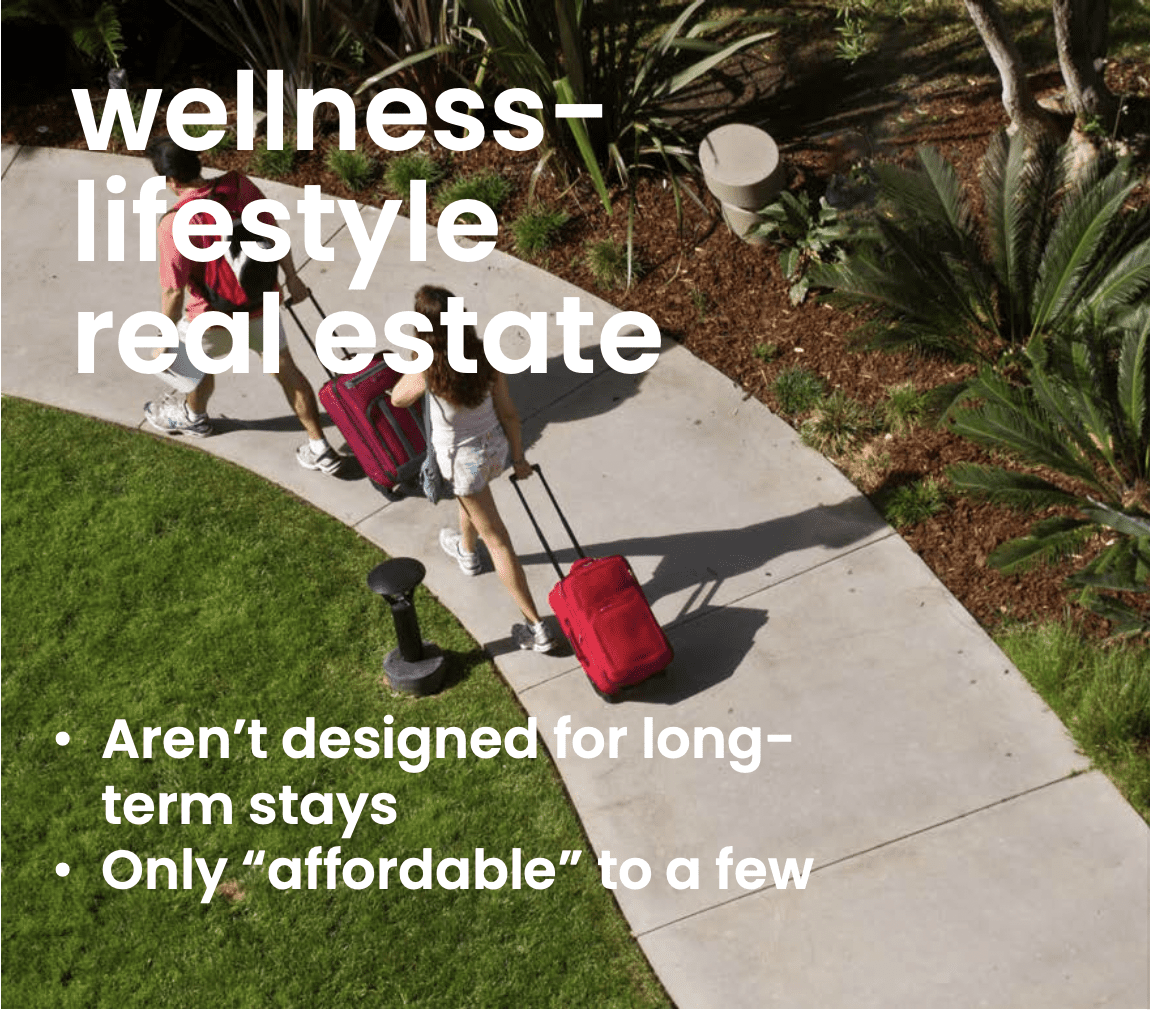 ---
Aashna addresses these shortcomings by using the latest in construction technology, utilizing sustainable design principles, eco-friendly materials, smart home technologies, along with a savvy finance tech system.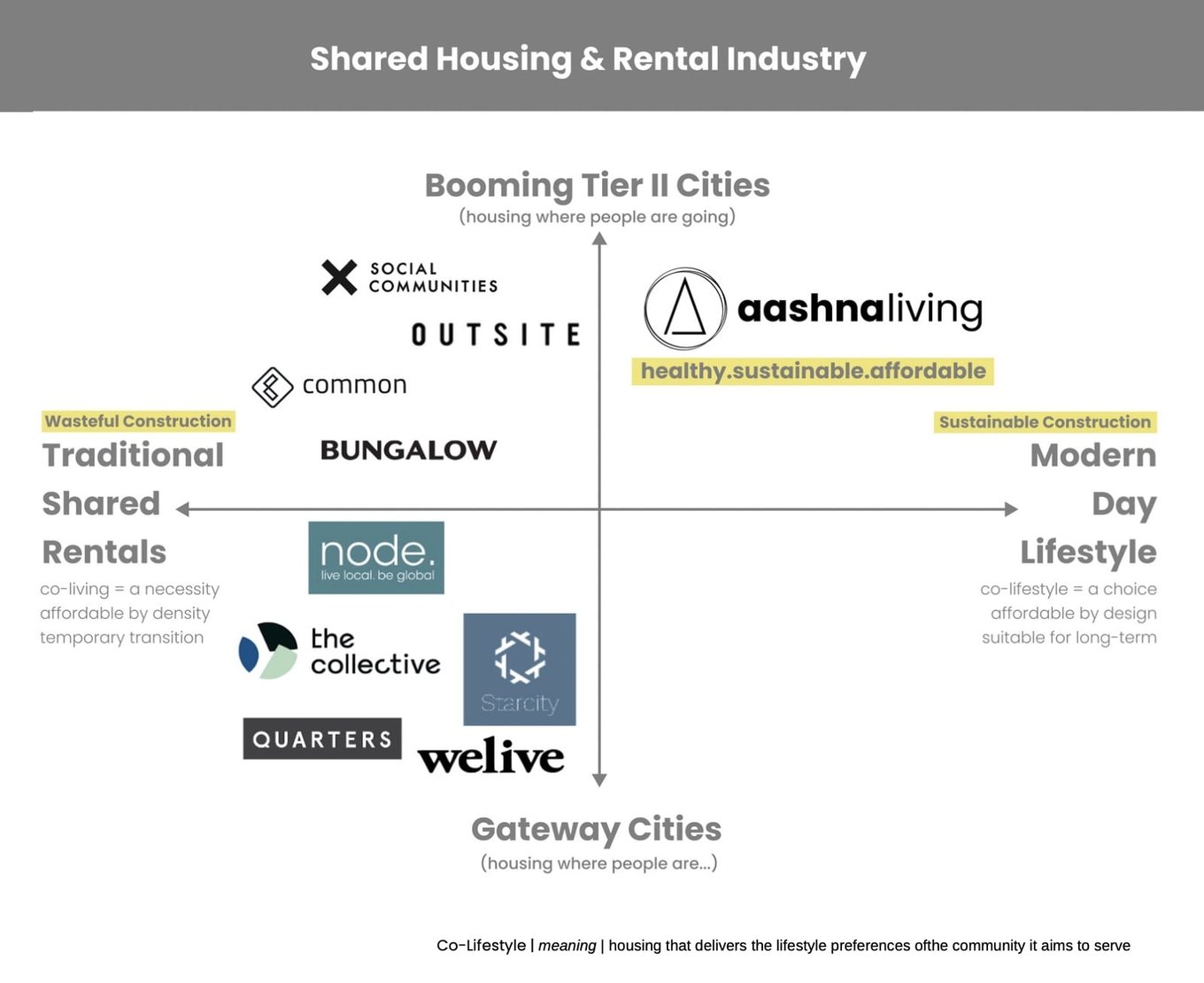 $85M operational revenue in 5 years
The initial capital will be used for operations, marketing, and publicity, and to secure a line of credit to begin sitework and construction in Asheville.
We aim to leverage our climate-smart construction tech and financial tech model to reduce operating expenses and quickly generate revenue from assets, memberships, licensing and high-level partnerships. Our bird's eye vision includes 35–50 communities over the next 3–5 years, in vibrant Tier II Cities throughout the country.
---
5- year financial projections
---
Projected operational revenue ($85M) over the next 5 years
MRR (135X) from year 1 to year 5
Plus millions in hard assets held by our subsidiary company



---
On our way!
---
The company currently has a runway of another 5-8 months. If the crowdfunding offering target is met, the company will have enough liquid assets for 12 months to execute with our heads down and 6 months to raise with some buffer. If our targeted crowdfunding, plus VC and private investor fundraising goal is met, we will be able to operate for 24 months.
Roadmap: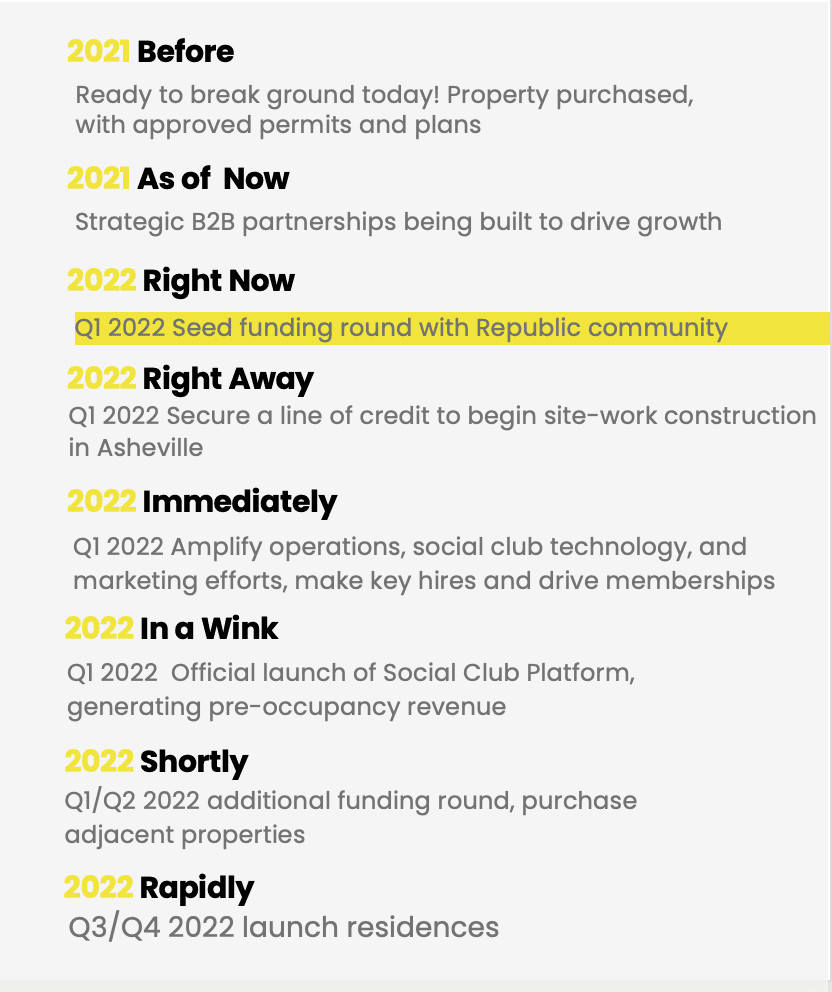 To our investors
Are you a potential partner who is curious about thriving together and becoming part of an iconic brand in the wellness lifestyle real estate and shared housing movement? We invite you to join us, and others on this journey.
With our climate-smart Contech/Fintech model, we will reduce operating expenses and generate revenue from assets, memberships, and high-level partnerships alike—creating the potential to make millions quickly. Turns out, doing good doesn't only feel good: it's good business too!
---
Investment & use of funds
---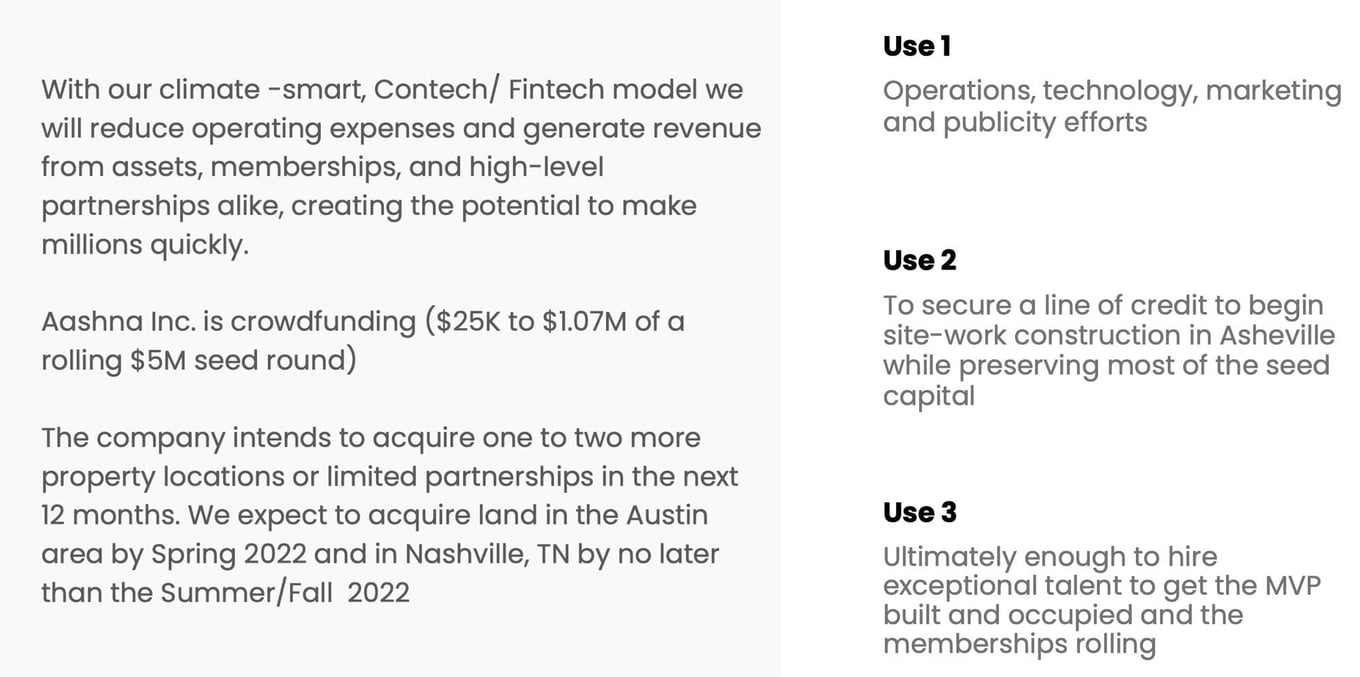 ---
Investment objectives
Aashna Inc. objectives are to create a nation-wide network of wellness focused eco-communities that are part social-club, part resort-like living. Starting with the initial development in Asheville, NC and expanding to additional markets in high-growth/demand Tier II cities over the next 2-3 years.
Investment strategy
Aashna Inc. will be able to produce profitability at a greater scale than traditional multi-family assets by:
Expedited construction timeline and rapid scaling via use of small-scale architecture: sustainable construction technologies with customized layouts that maximize use of space while minimizing square footage
Using of and innovative real estate financing model that further lends to rapid and stable scalability
Building purpose-built, "climate smart" housing assets that produce profit and improve lives
Supplying a housing choice to and underserved target market- based on economic, health, wellness and real estate market shifts
Strategic land planning via purchase of 'upzoned' acquisitions and taking advantage of land in code reform jurisdictions
Capital growth and attractive risk-adjusted returns
Create long-term value through execution and a hands-on asset management approach
Opportunities mis-priced or undetected by the current marketplace
Align interests between principals and investors through transparency and significant capital commitment
Real estate luminary with 25+ awards, $900M+ sales
Led by a Female Founder ranked in the top 1% of real estate experts nationwide
---
Featured in:
The New York Times
NBC
WSJ
New York Post
The Real Deal
Curbed
The Epoch Times
Mann Report
Haute Residence
---
Founder & CEO Stephanie O'Brien has proven success in driving markets, producing profit for investors and clients, and attracting and retaining high-level talent. She was ranked in the top 1% of real estate experts nationwide by the Wall Street Journal, has earned 25+ awards, and worked with industry legends like Clodagh, who added her wellness-by-design expertise to Aashna's shared spaces.
Aashna's leadership, founding & advisory team has 140+ years combined domain expertise in real estate, design & architecture, sustainability, entrepreneurship, and community engagement.