When we hear stories about the most impressive profits in angel investing, we often come across remarkable tales like that of Oren Michels and Mike Walsh, who turned a $5,000 investment in Uber's seed round into a staggering $25 million. Of course, 5,000x returns from a seed investment like Uber are pretty rare.
In fact, going for the highest reward also comes with the greatest risk. Take a look at the chart below. It shows the likelihood of a successful exit by investment round based on a study from DunRobin Ventures.
You can see that a Series A investment is nearly six times more likely to have a successful exit than a Seed round. A Series B is three times as likely as a Series A. Go to Series C or later and the probability of a successful exit goes north of 80%.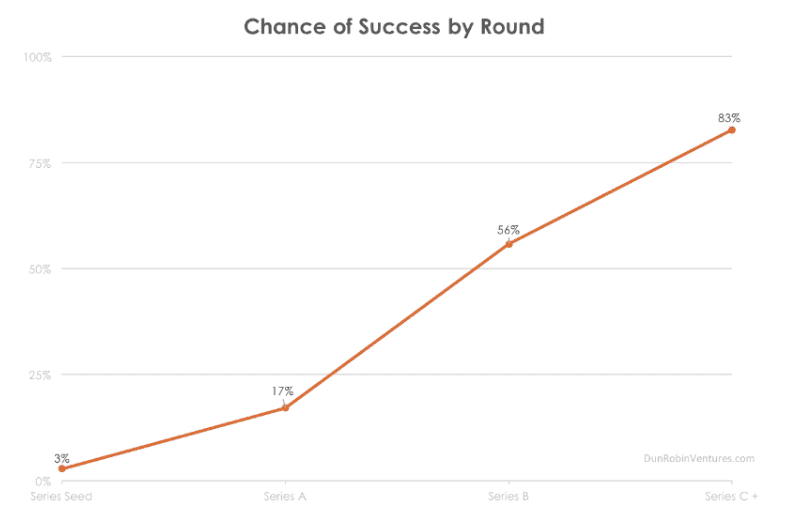 As you get into later rounds, the competition to invest gets even tougher. You'll often see big-name investors who backed the company in early rounds upping their stakes and you'll get new VCs taking a stake because they want to get in on the action.
So how do you solve the challenge of gaining access?
Republic Capital and Later Stage Deals
Within the Republic ecosystem, we have a special branch called Republic Capital. Their specialty is working with institutional investors, family offices, and high-net-worth individuals to raise funds. This approach has allowed our team to make significant investments in later stage markets alongside notable VCs like Andreessen Horowitz, Sequoia, Lightspeed, Kleiner Perkins, Tiger Global, and more.
Let's look at a few of Republic Capital's success stories:
Carta
Republic Capital's journey with Carta, a leader in financial tracking for startups, began in 2019. Since then, they've made multiple rounds of capital investments into the company with a total stake of $16.7 million. As of November 2022, Carta's valuation is well beyond Unicorn status at an impressive $8.5 billion.
Robinhood
Robinhood is best known as the platform that revolutionized stock trading for retail investors. Between 2020 and 2021, Republic Capital deployed approximately $37 million into pre-IPO primary and secondary offerings of Robinhood stock. By early 2022, Republic Capital liquidated its entire position, reaping significant gains.
Dapper Labs
Dapper Labs is revolutionizing the integration of play and blockchain technology. In 2020, Republic Capital invested $490,000 into Dapper Labs' FLOW token. After 31 months, Republic Capital liquidated its position, delivering a remarkable ~88X net return for investors.
Making Later Stage Investments Even More Accessible
While these deals have traditionally required substantial investments ranging from $100,000 to several hundred thousand dollars, Republic is about to introduce a unique opportunity for you to gain similar access with a much smaller stake.
Republic Deal Room provides access for investors in select deals with a minimum investment starting as low as $1,000, $2,000, $5,000, or $10,000. This approach allows you to participate in the growth of transformative companies without requiring huge capital commitments.
Highlights are derived, and based entirely upon the Issuer's representations. 
Prior results do not guarantee future success. Investments in private companies are particularly risky and may result in total loss of invested capital.
---
In addition to the carried interest Republic Deal Room Advisor LLC is entitled to for the syndicated investments it organizes, certain principals of Republic Deal Room Advisor LLC may have a personal interest in these investments, as disclosed below. When making an investment decision please review any applicable disclosures as they represent pre-existing financial interests held by those principals of Republic Deal Room Advisor LLC.
Except where otherwise indicated, the information contained in this presentation is based on matters as they exist as of the date of preparation of such material and not as of the date of distribution or any future date. This document does not constitute advice or a recommendation or offer to sell or a solicitation to deal in any security or financial product. It is provided for information purposes only and on the understanding that the recipient has sufficient knowledge and experience to be able to understand and make their own evaluation of the proposals and services described herein, any risks associated therewith and any related legal, tax, accounting or other material considerations. Recipients should not rely on this material in making any future investment decision. To the extent that the reader has any questions regarding the applicability of any specific issue discussed above to their specific portfolio or situation, prospective investors are encouraged to consult with the professional advisor of their choosing. Private investments are inherently illiquid and may result in a risk of total loss.
We do not represent that the information contained herein is accurate or complete, and it should not be relied upon as such. Opinions expressed herein are subject to change without notice. Certain information contained herein (including any forward-looking statements and economic and market information) has been obtained from and/or prepared by the Companies or other third-party sources and in certain cases has not been updated through the date hereof. While such sources are believed to be reliable, Republic Deal Room Advisor LLC does not assume any responsibility for the accuracy or completeness of such information. Republic Deal Room Advisor LLC does not undertake any obligation to update the information contained herein as of any future date.
This letter is being furnished on a confidential basis and is for the use of its intended recipient only. No portion of this presentation may be copied, reproduced, republished or distributed in any way without the express written consent of Republic Deal Room Advisor LLC.