The smart way to payroll
Problem: Global Payroll Complexity
Calculations are the crux of payroll compliance
Existing products fail to leverage technology to maximize compliance and speed
Hundreds of thousands of dollars are being wasted on ineffective payroll processes
Disparate payroll systems result in reduced insight into key metrics driving labor costs and planning - forget about data-driven decisions
This video shows our Founder, Brad Price, explaining the problem with a case study. We call it "Normative Chaos".
Solution: A singular cloud-based web platform where companies can calculate accurate payroll data across multiple countries
Automate calculations that are critical to compliance
Leverage technology that does the heavy lifting
Spend money on a process that actually works
Reliable access to consolidated data

Market validation: growing market & market drivers
Amid the COVID-19 crisis, the global market for payroll outsourcing was US $17.9B. It is projected to reach US $22.8B by 2027 with a CAGR of 3.5% from 2020 to 2027.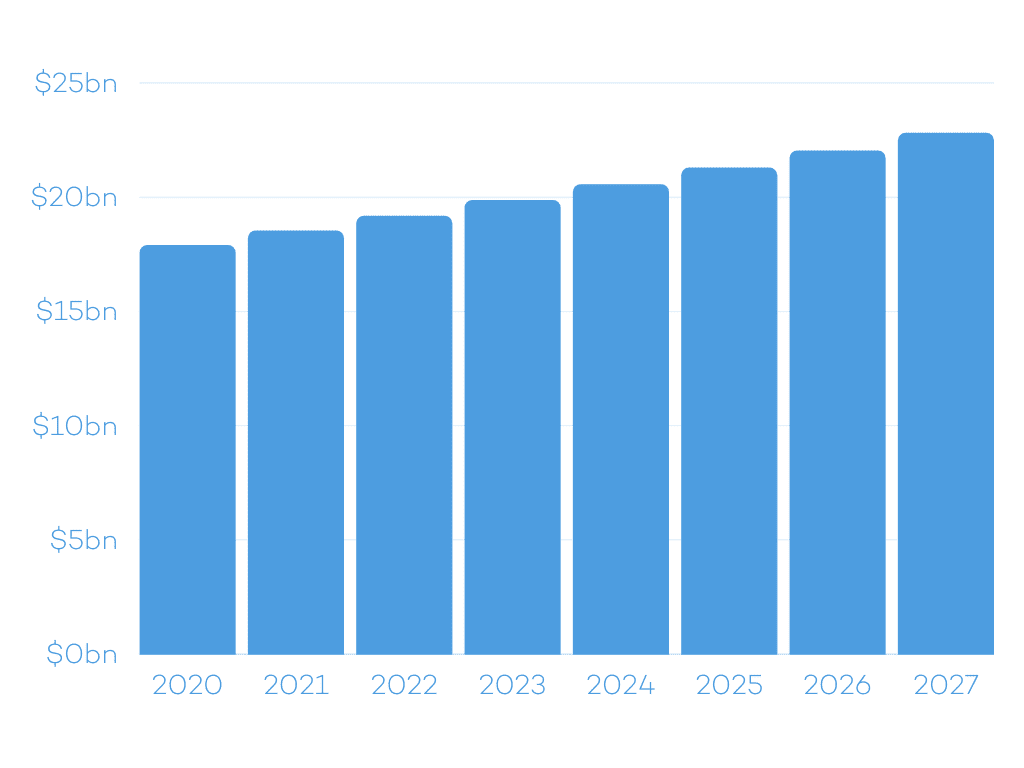 Other market trends also support the need for Karbon Pay's payroll software:
With the increasing demand for cost reduction and time efficiency by SMEs and MNCs, multi-country payroll outsourcing (MCPO) has emerged as a trend, growing at a rate of approximately 20%
Buyers' increasing interest in self-service platforms, which leads to easier access to employee data and thus better employee satisfaction, is driving the growth of technology adoption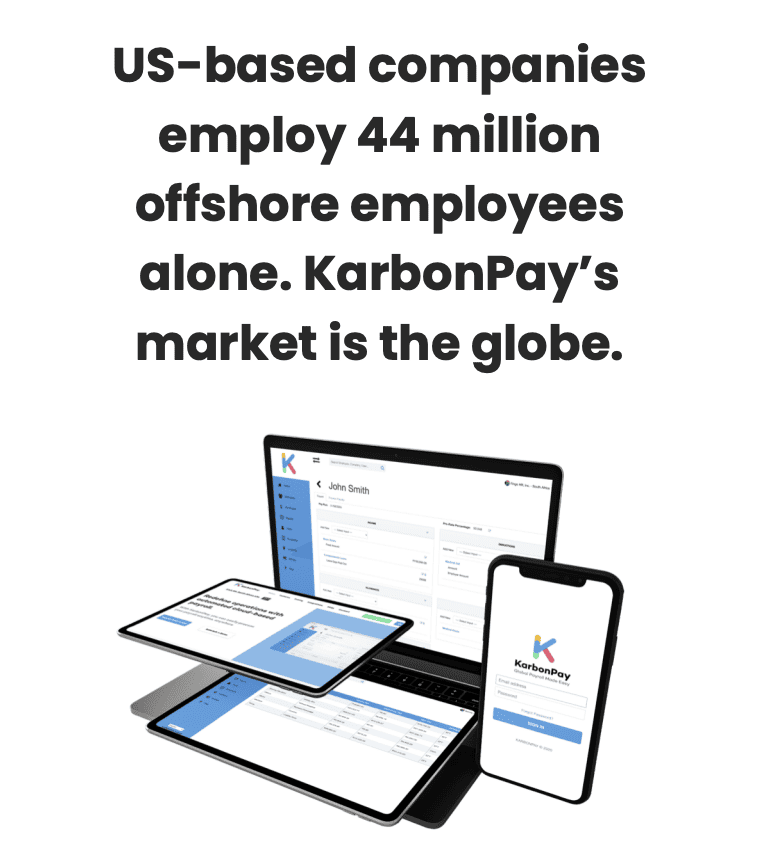 Latin America and APAC perceive the adoption of cloud-based services as a way to leap ahead of their competitors on technical grounds
Global payroll trends include MCPO, bundling payroll services, process automation, and adoption of cloud-based services
Outsourcing payroll can reduce expenses by about 20%
Companies offering payroll in-house due to the risk of compromising confidential data are being offered partial/hybrid payroll solutions by suppliers
Meet KarbonPay: your global payroll platform
Consolidating multicountry payroll using the latest technologies, KarbonPay provides customers with a global payroll strategy to mitigate risk, automate compliance, and optimize operational costs.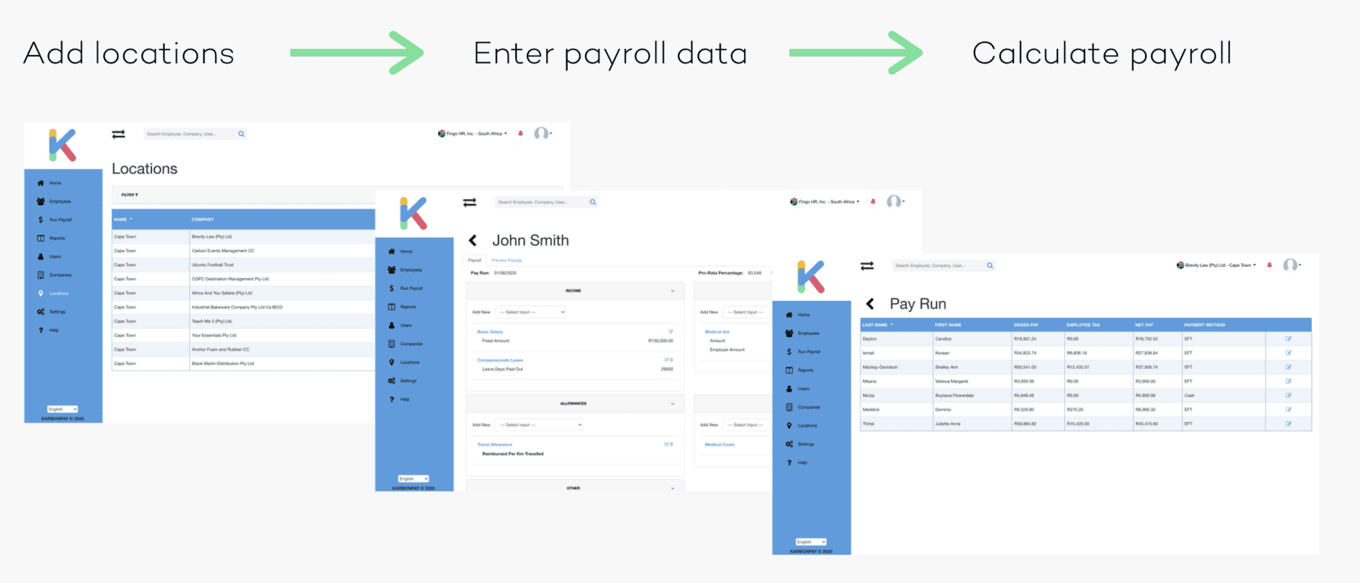 ---
Quick wins with KarbonPay
---

---
Features
---
Single Source of Truth Dashboard: KarbonPay's global dashboard provides you with a single source of truth where you can see all of your international payroll in your chosen currency, giving you insights you've never had and informing your next moves.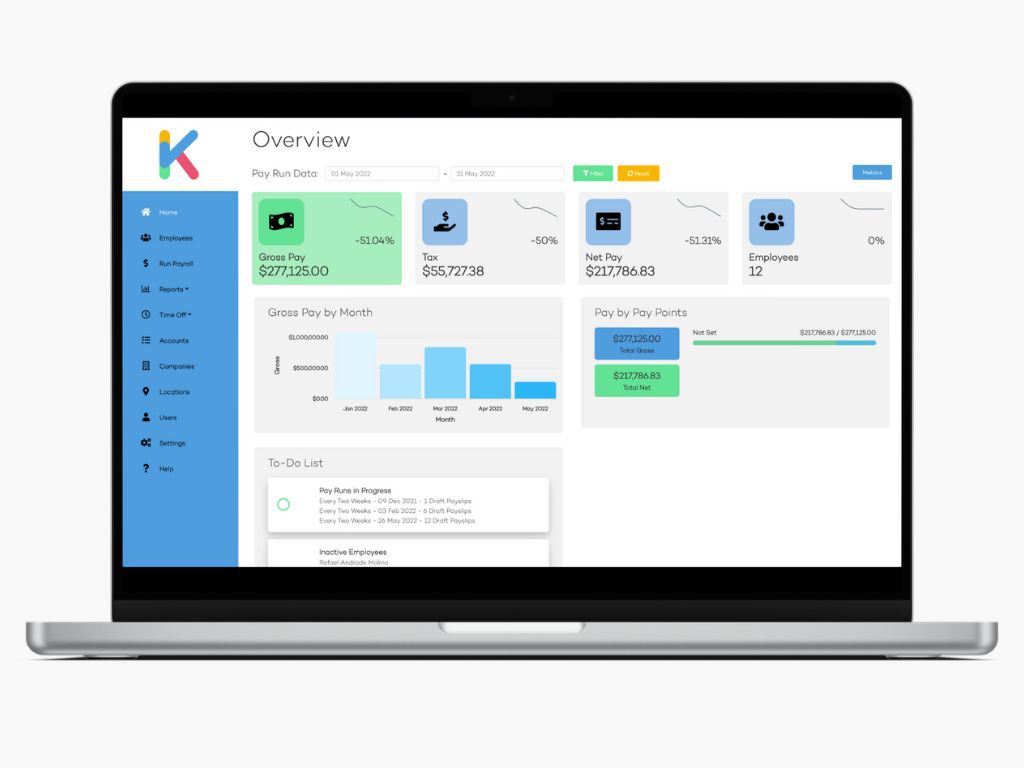 Reporting Your Way: Our customizable reporting capabilities allow you to pull reports that show only the data you want to see, across locations in a chosen currency. Save report templates that you want to see again, and even schedule certain reports to be emailed to you at your chosen cadence.
Built-in Compliance: Some rules are mandatory while some are customizable. So, we found a way to make it simple by building guardrails to protect you from non-compliance. As regulations change, so does KarbonPay.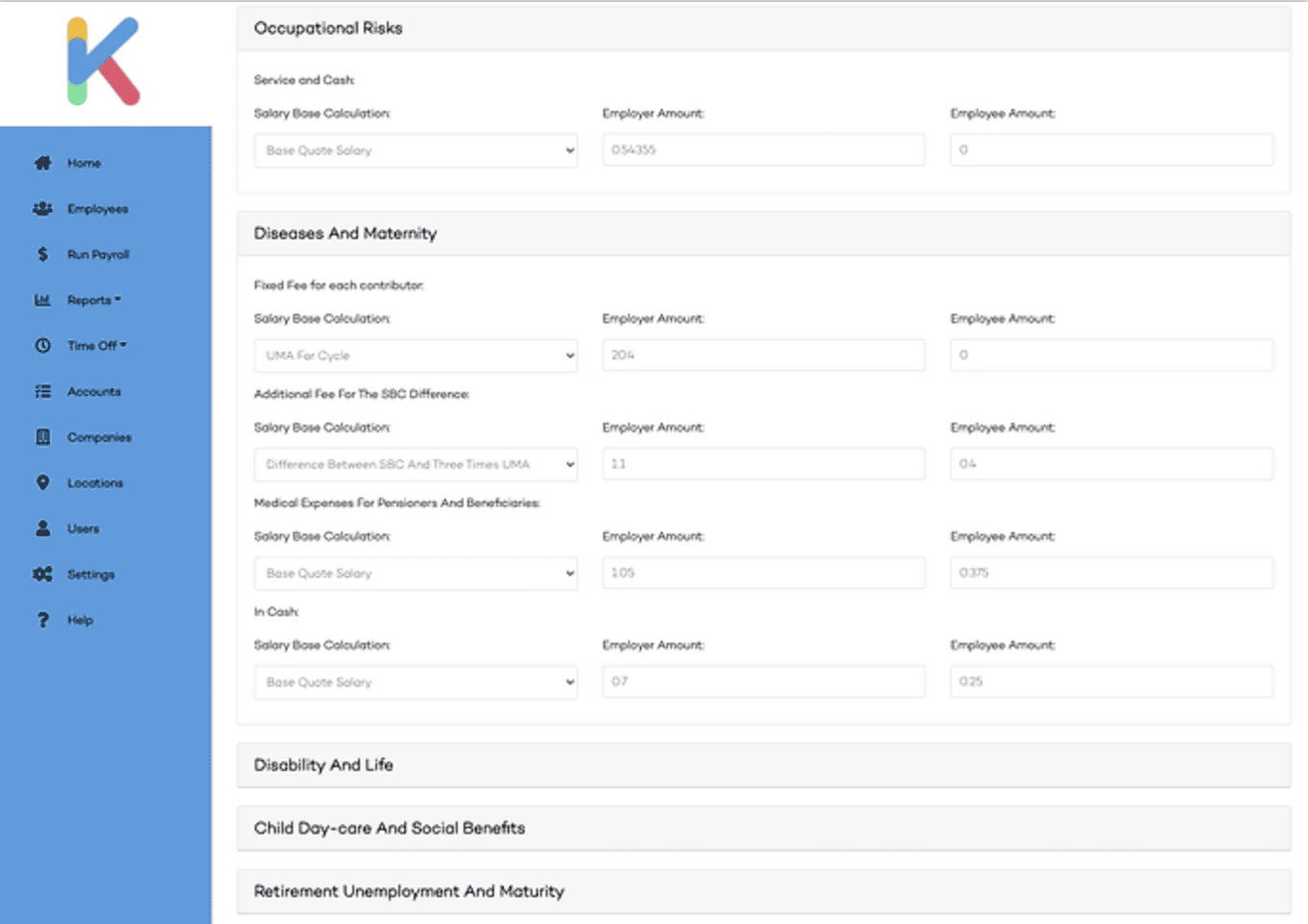 Time and Attendance: Let employees clock in and out from their mobile phones. XmartClock takes employee time and attendance in the field to a new level, with geolocation and facial recognition.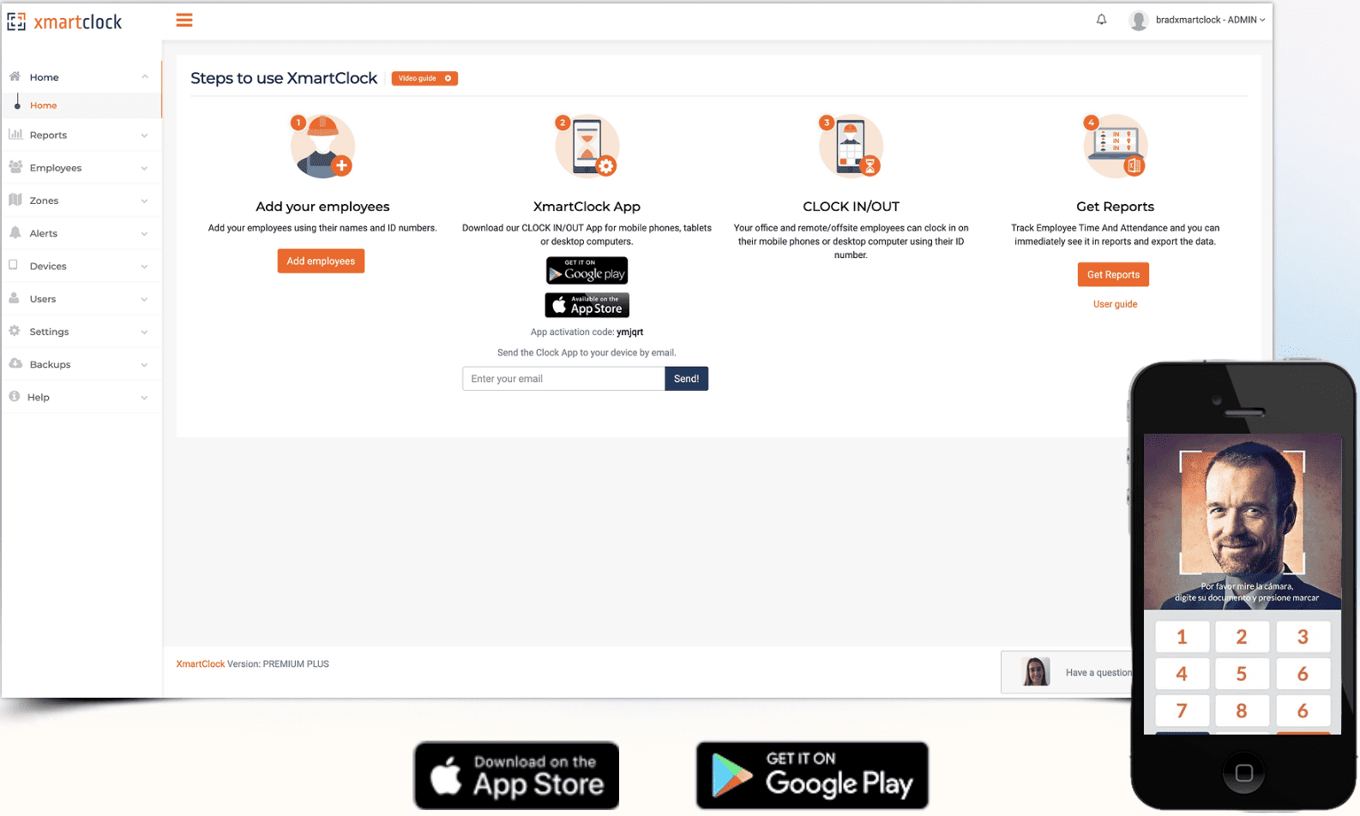 Choose Your Language: Your team is multilingual. Your payroll system needs to be, too. Run payroll, view reports, and download payslips in any language, chosen by each individual user or employee.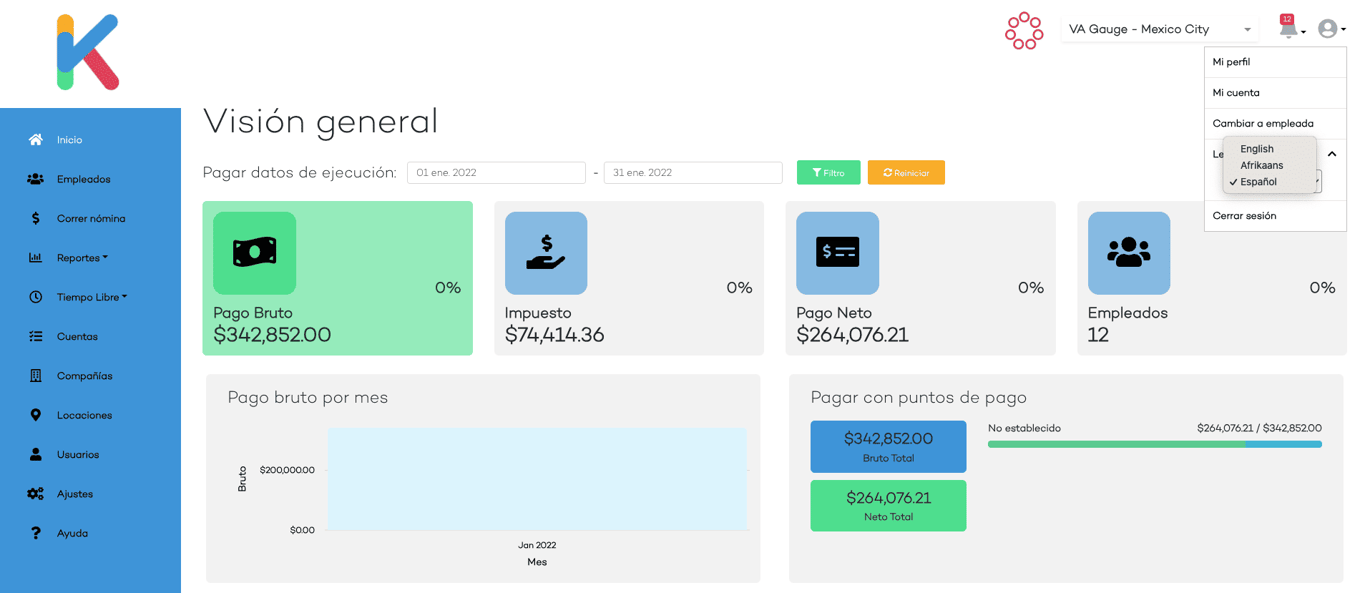 KarbonPay is taking off!
Quick stats:
Live customers: ~ 600 companies
~ 14,000 active daily users
~ $430,000 ARR
Press features:

Average Inbound Monthly Signups:
~ 220 companies
> 20,000 employees
KarbonPay operates on a transparent and flexible pricing model designed to suit the unique needs of our customers. We offer a combination of base fees and usage-based charges, ensuring affordability and scalability.
1. Base Fee (Varies by Location):
We charge a competitive base fee to access our platform, tailored to our customers' specific location(s). This fee grants them access to our suite of workforce management tools, including payroll, HR, time and attendance, and payments.
2. Cost Per Employee (Varies by Location):
To provide the best value, we've structured our pricing to adapt to our customers' workforce's size. They pay a cost per employee per month, with rates adjusted to their location, making KarbonPay accessible to companies of all sizes.
3. Payment Transactions:
For local transfers, we charge a nominal fee per transaction, ensuring cost-efficiency for our customers' day-to-day operations.
For international transfers, we employ a competitive percentage-based model on foreign exchange transactions. This model ensures transparent pricing while saving our customers money on global payments.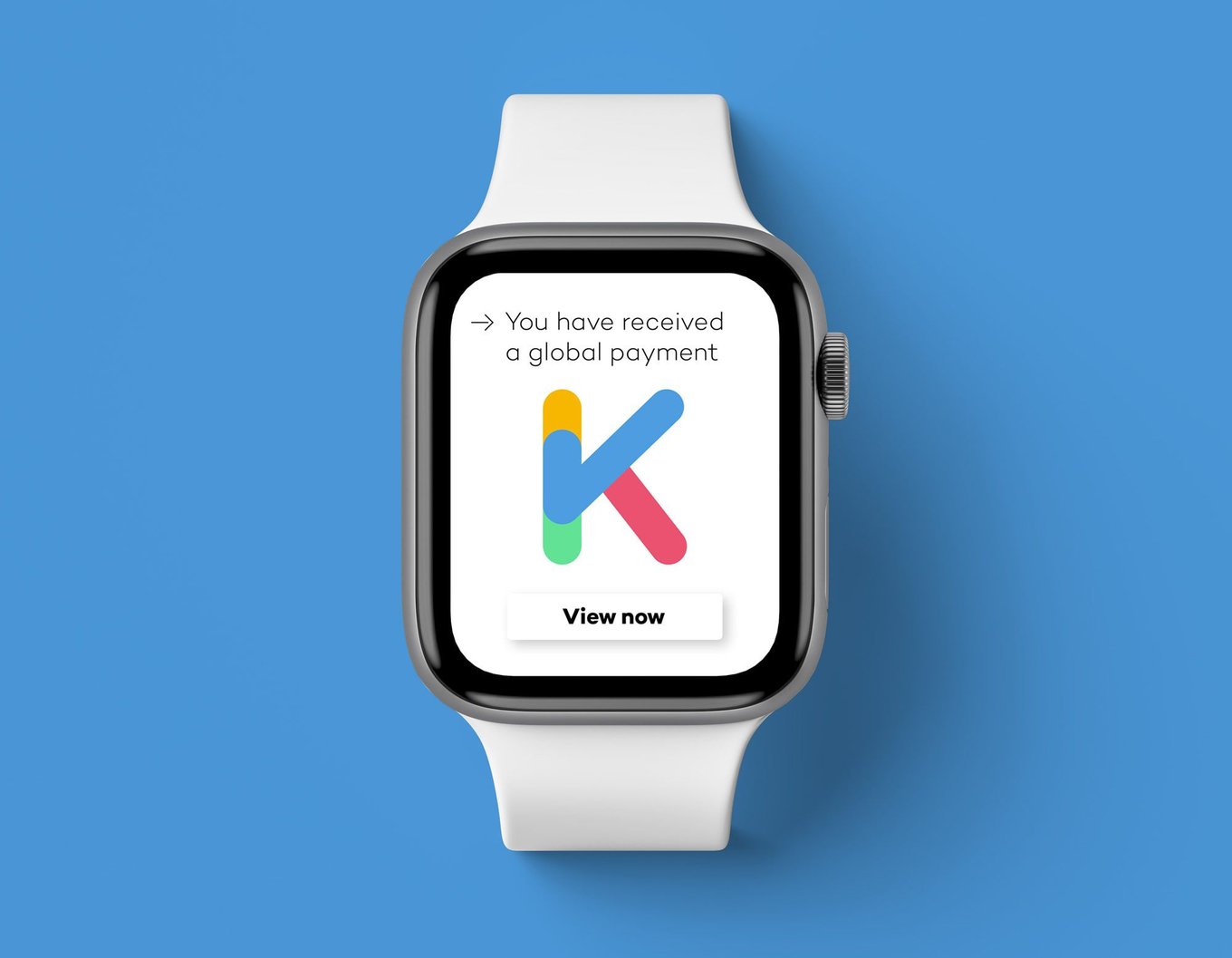 Our business model is designed to create a win-win situation for our clients and us:
Affordability: With our location-based pricing and per-employee fees, customers only pay for what they use, ensuring cost-effectiveness.
Flexibility: Our comprehensive suite of products allows customers to pick and choose the services that match their needs, customizing their KarbonPay experience.
Global Reach: KarbonPay simplifies global payroll and international payments, making expansion and global operations more accessible for our customers.
Transparency: We believe in transparent pricing, so customers always know what you're paying for.
The first multi-country, automated payroll software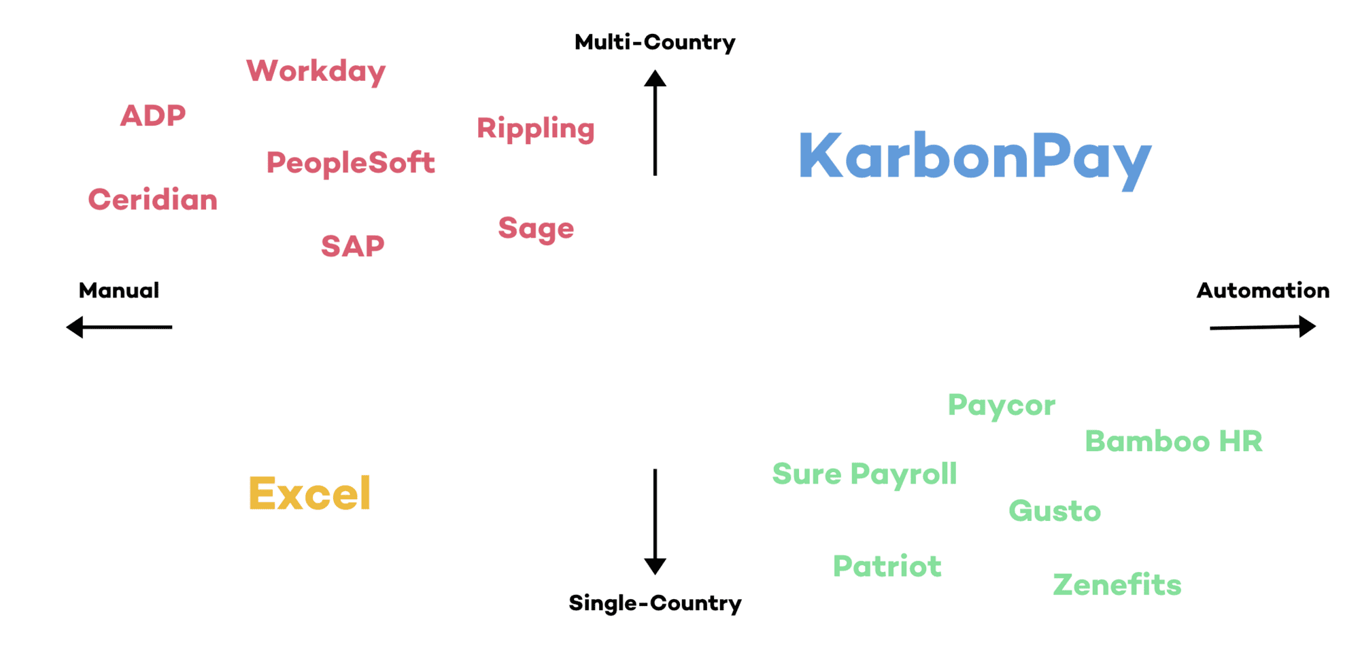 ---
Competitive advantages
---
Ease of use: KarbonPay is designed so that anyone can run a compliant, complex payroll
Technical complexity: Building automated payroll calculations is not for the faint of heart — this is not a fad business
Reseller incentive: Partnerships with accountants, PEOs, etc. will embed us into organizations' operational processes
Fresh technology: We're not bogged down by trying to make old legacy technology work
KarbonPay envisions an overdue transformation of the global payroll landscape. We are dedicated to equipping businesses with employees in different countries with a comprehensive suite of tools. Our mission is to enable them to seamlessly navigate the intricacies of managing payroll processes across borders while maintaining automated compliance.
Our market encompasses not only businesses with international operations but also those with employees in a single country. This dual approach opens up a vast and enduring market for us. We've strategically started by addressing regions where single-country payroll solutions are not particularly competitive, allowing us to establish a solid customer base and revenue stream.
Over the course of its existence, KarbonPay has undergone remarkable evolution. During the last 3.5 years, we have diligently operated as a development organization, dedicating our efforts to crafting a robust and sophisticated SaaS product. In just the past year we've seen a series of significant updates to our platform.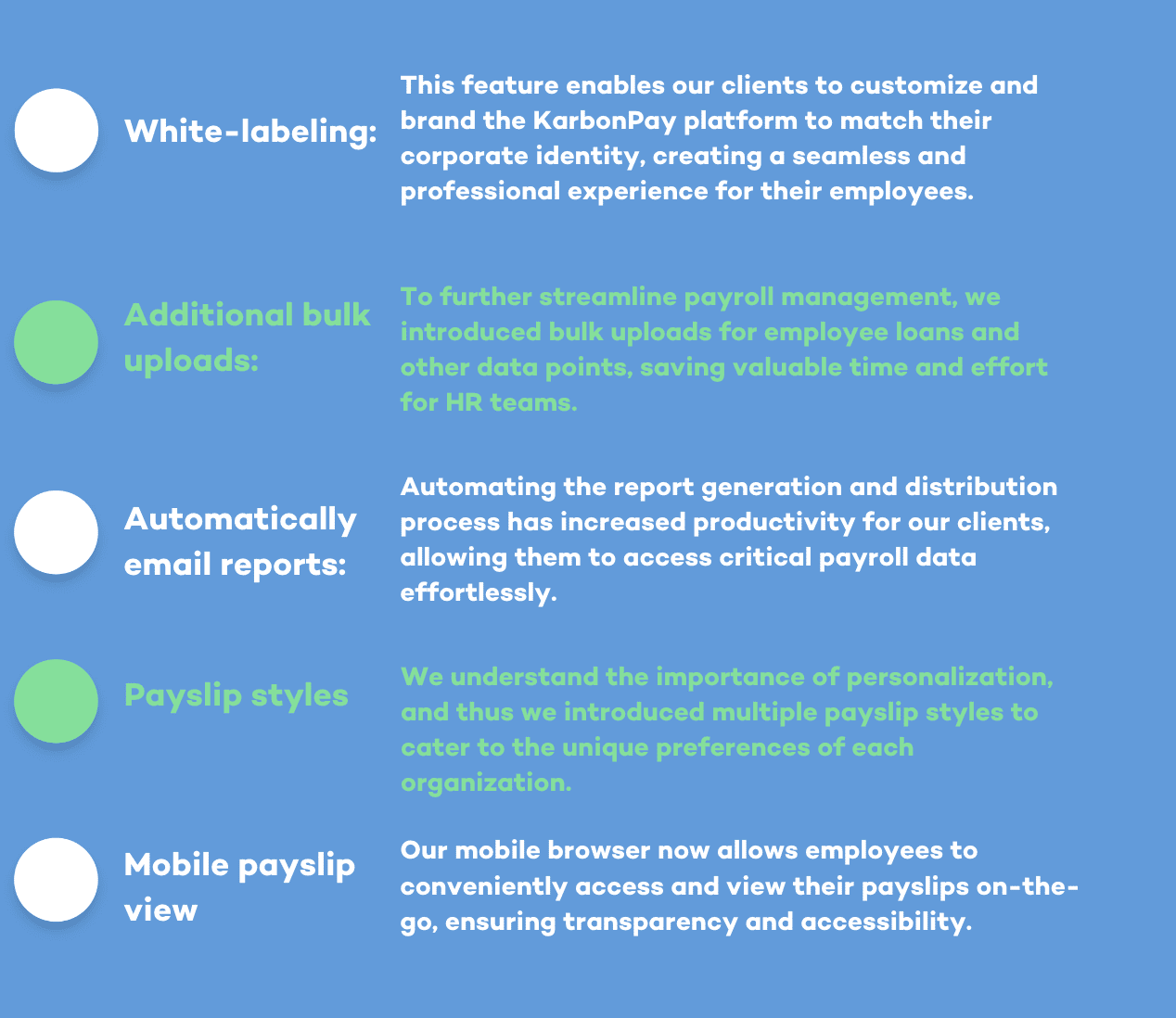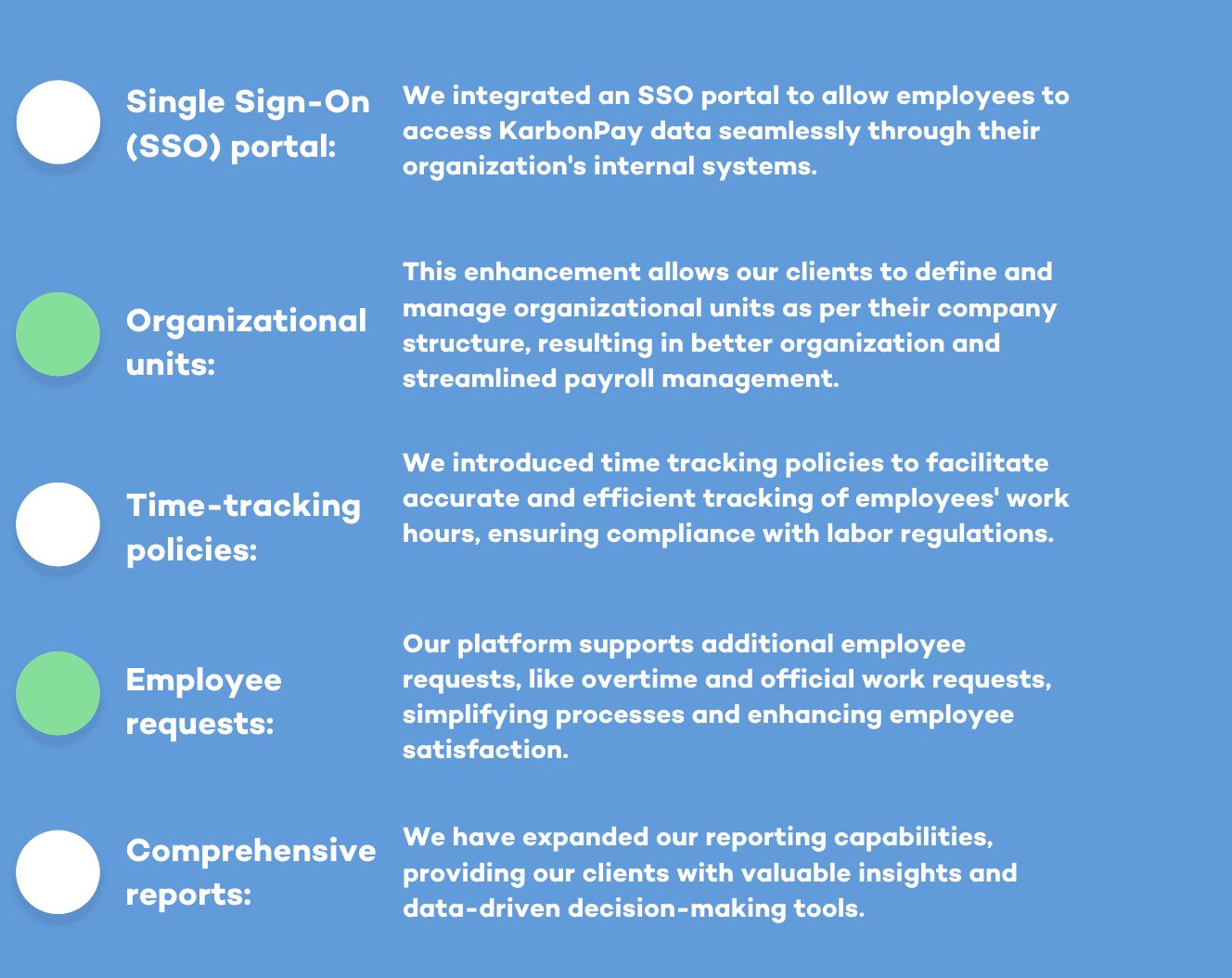 In the next phase, our primary focus will now center around implementing multi-pronged strategies to propel the sale of our products. This strategic transformation marks the next phase of KarbonPay's journey, and we are confident that it will unlock fresh avenues for unprecedented growth and expansion.

We are not only expanding our reach but also enhancing our product portfolio by introducing new HR features and performing a UI / UX upgrade (sneak peeks included). Our hub-and-spoke model empowers customers to tailor their experience by choosing the specific apps they require, paying only for what they use. This not only broadens our customer profile but also creates additional revenue streams.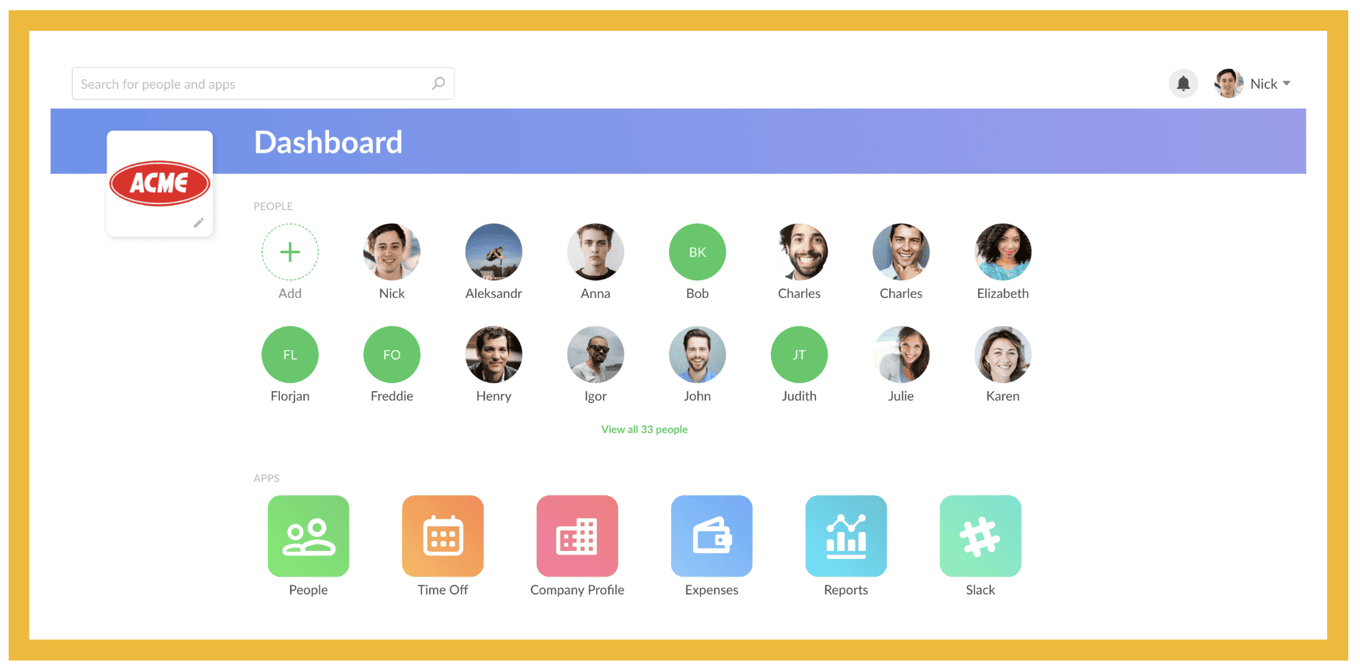 Through strategic acquisitions, we aim to expedite our global reach and bolster our capabilities. We plan to intensify our sales and marketing endeavors, leveraging the funding from this campaign to expand our customer base and strengthen our market presence. Furthermore, our commitment to innovation remains unwavering as we continually enhance our products. We are actively incorporating cutting-edge technologies like Robotic Process Automation (RPA) and Artificial Intelligence (AI) to keep our HR and payroll solutions at the forefront of the industry.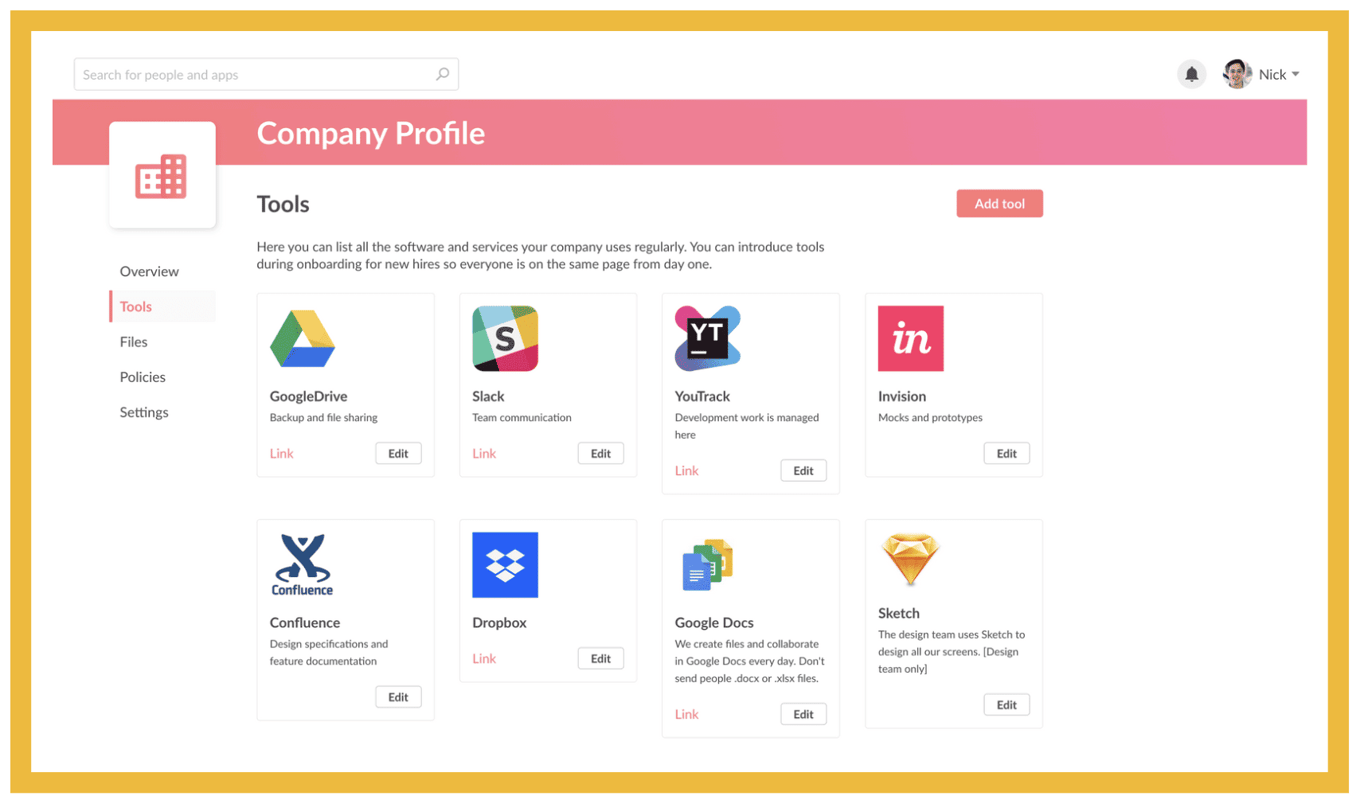 The primary purpose of this fundraising campaign is to accelerate our sales efforts. These funds will enable us to generate more revenue and consolidate our product into its most refined version yet, ensuring that KarbonPay remains a competitive choice for businesses seeking advanced payroll and HR solutions.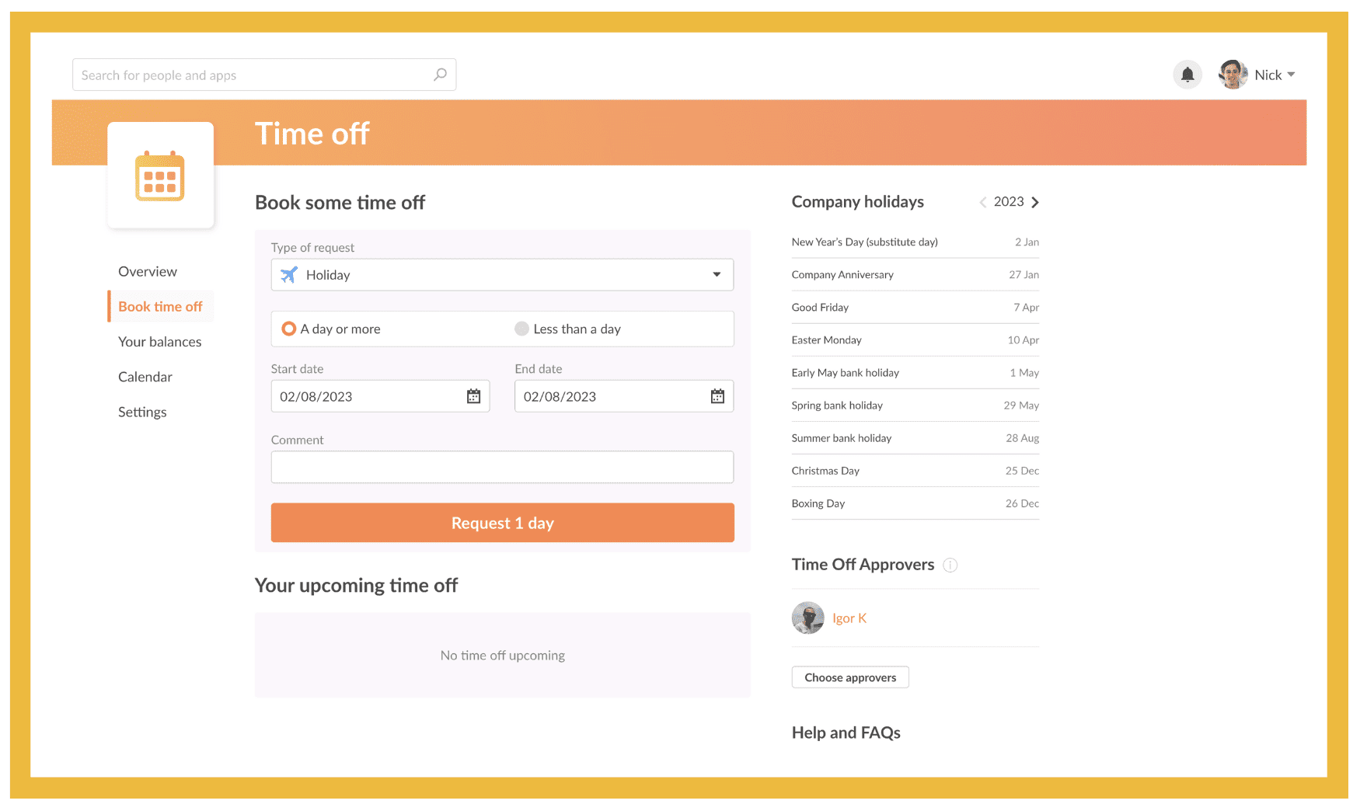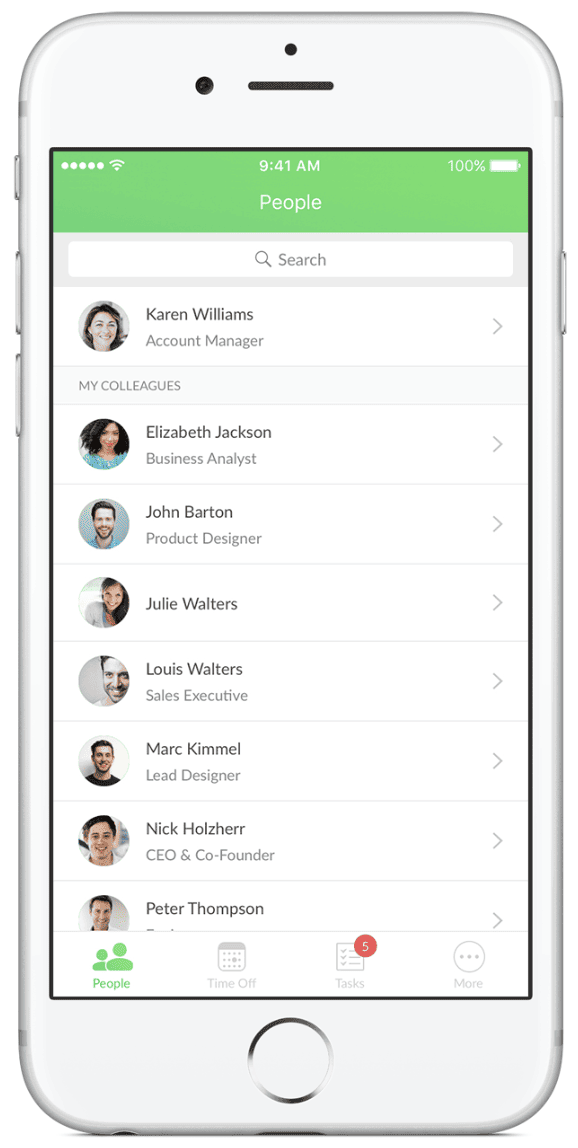 By investing in KarbonPay, you are not only supporting our vision but also joining us on an exciting journey of growth and innovation in the payroll industry. Together, we will continue our efforts to reshape the future of workforce management, making it simpler, more efficient, and more compliant for businesses worldwide.
Meet the KarbonPay team