What does every
business need?
Tim is a local business owner.
Tim's problem is generating new customers, and keeping existing ones loyal—but customers are bombarded with marketing messages daily and nothing seems to work. Most deal providers are not generating loyal customers, and sustainable marketing options are hard to find.
Automated Marketing
Get more free traffic
Increase conversion and retention
—
Referrizer provides an all-in-one communication platform that helps you get new customers, increase repeat purchases, and generate long-term sustainable results.
Referrizer's end-to-end marketing solution

Features:

—
Attract new clients with exclusive offers

—
Measure campaign-generated revenue
with exact dollar amount
—
Make your text messages stand out!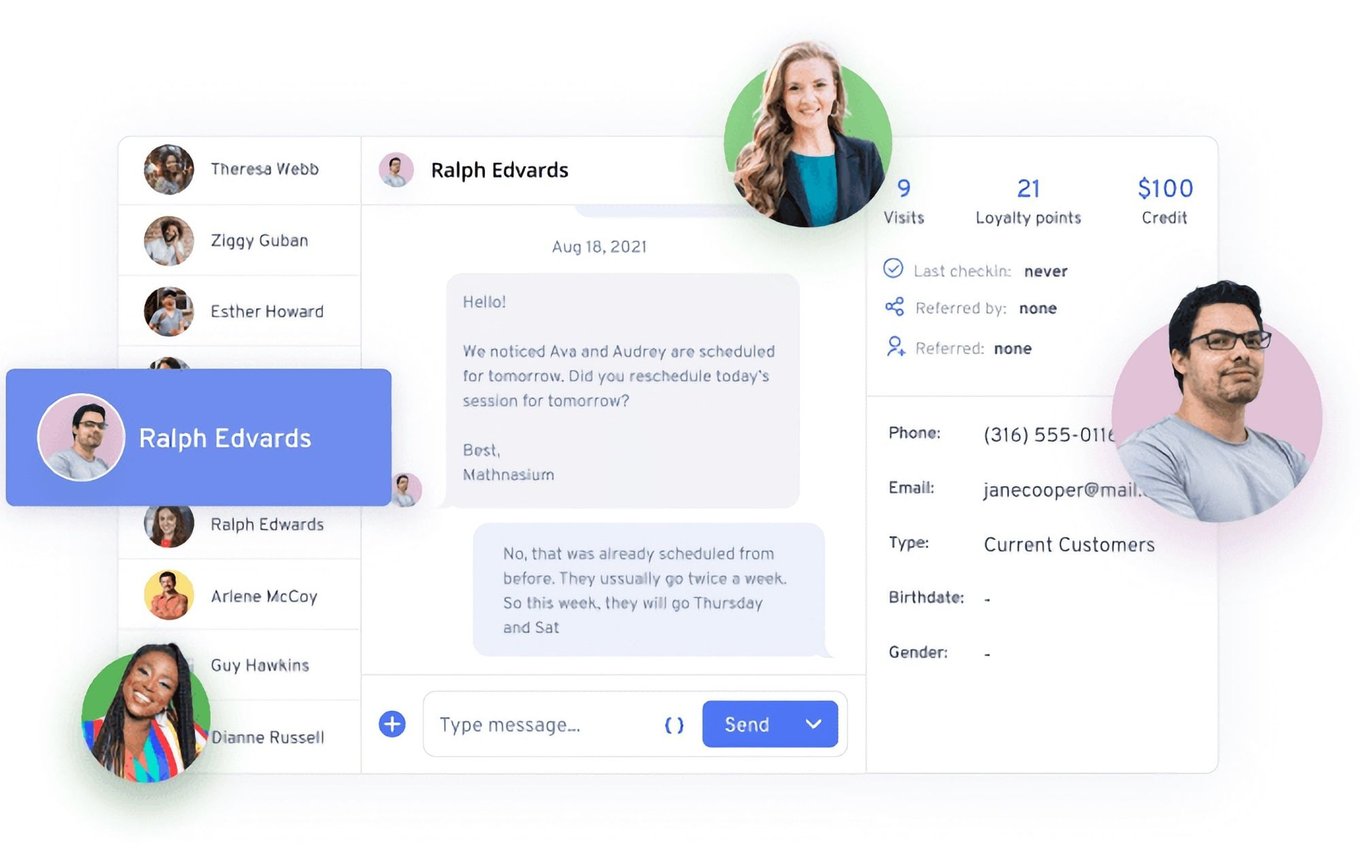 —
Build landing pages fast
Publish live landing pages with minimal effort. Use our simple page builder to create professional-looking pages, even if you don't have any coding knowledge.


—
All your customer data at your fingertips!
—
Flexible data integration
With simple integration, businesses sync connect real-time customer data into Referrizer

Financial highlights
Y-O-Y quarterly revenue growth of 50%
—
Annual revenue growth of 49% to $2,572,813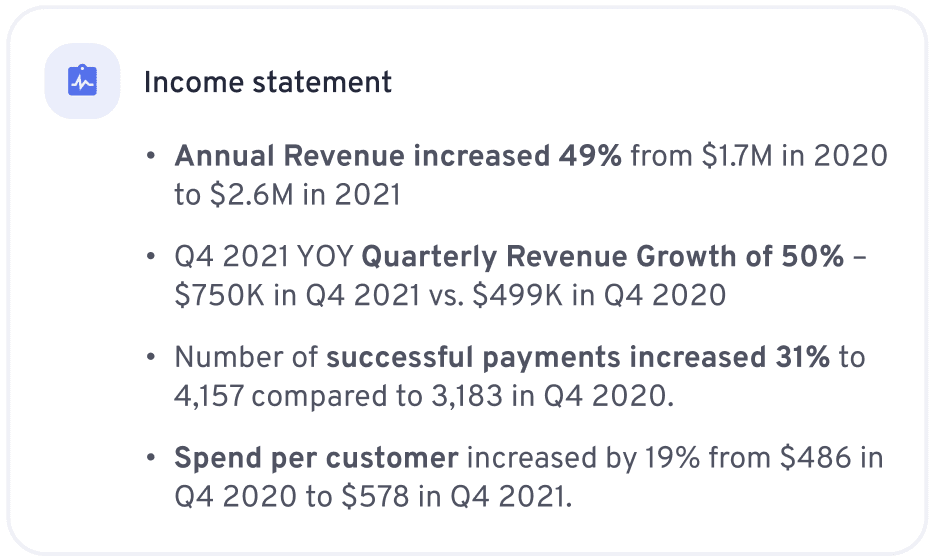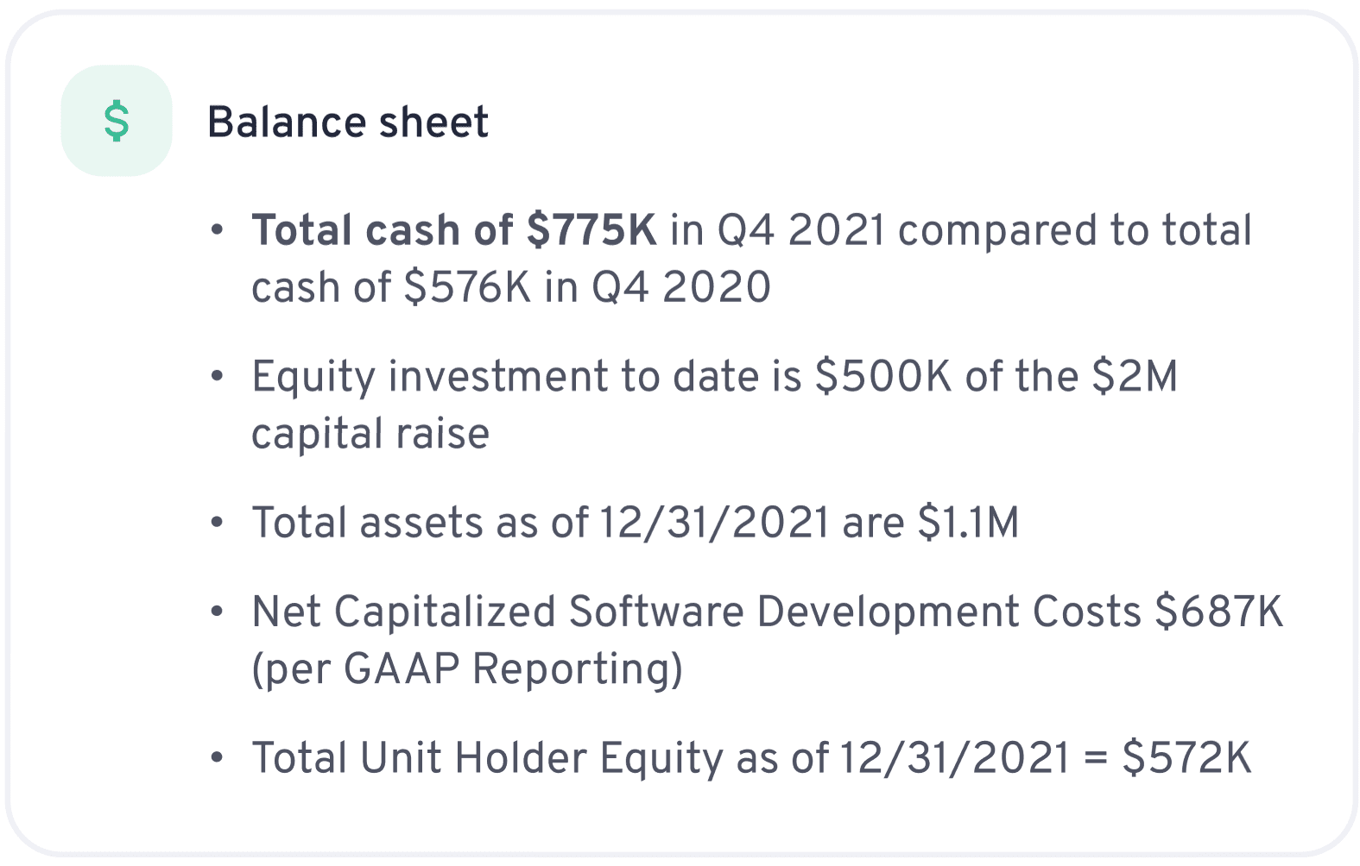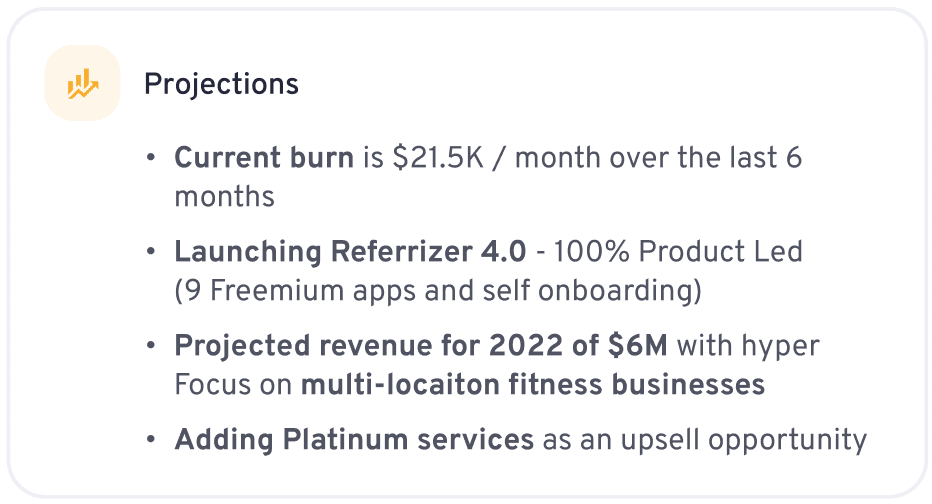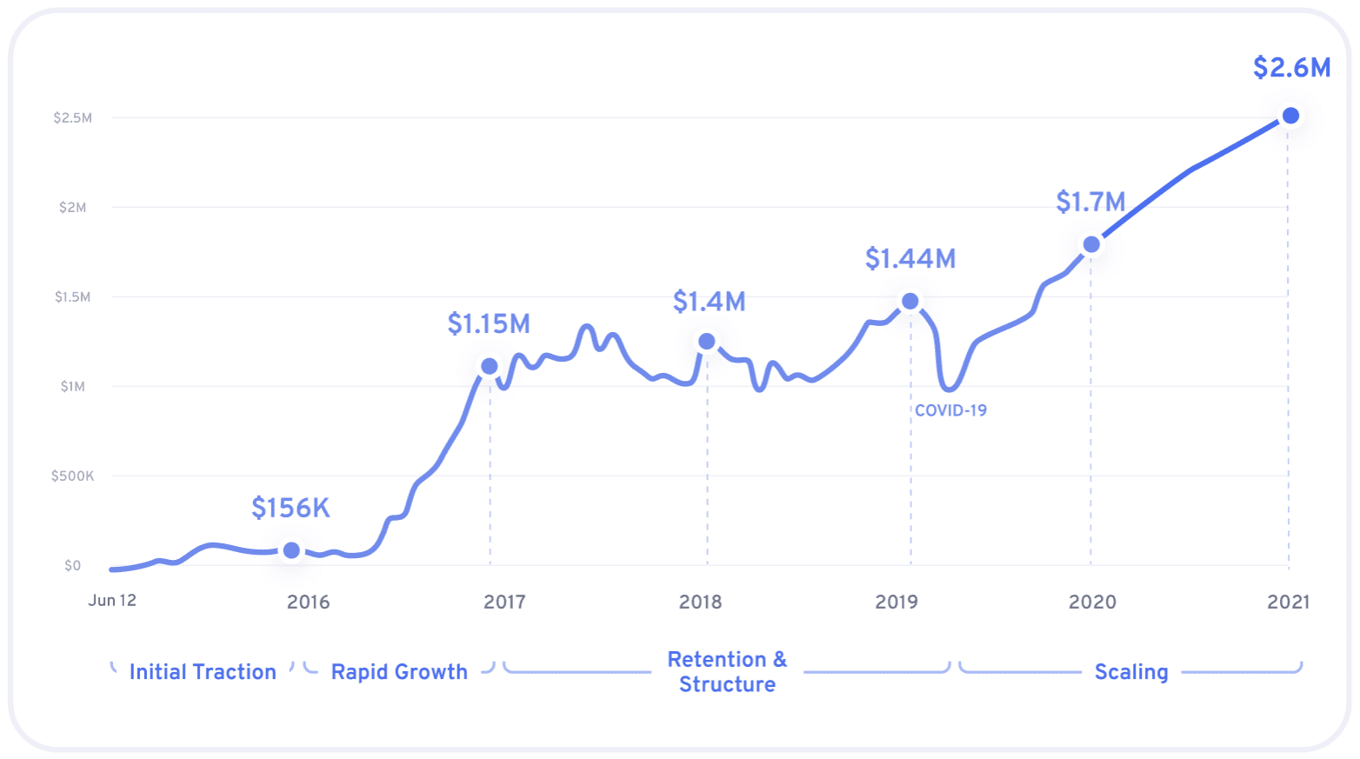 —
Diversified customer revenue with the largest customer representing only 10% of total revenue:
Chart present data as of 10/30/21
—
Company timeline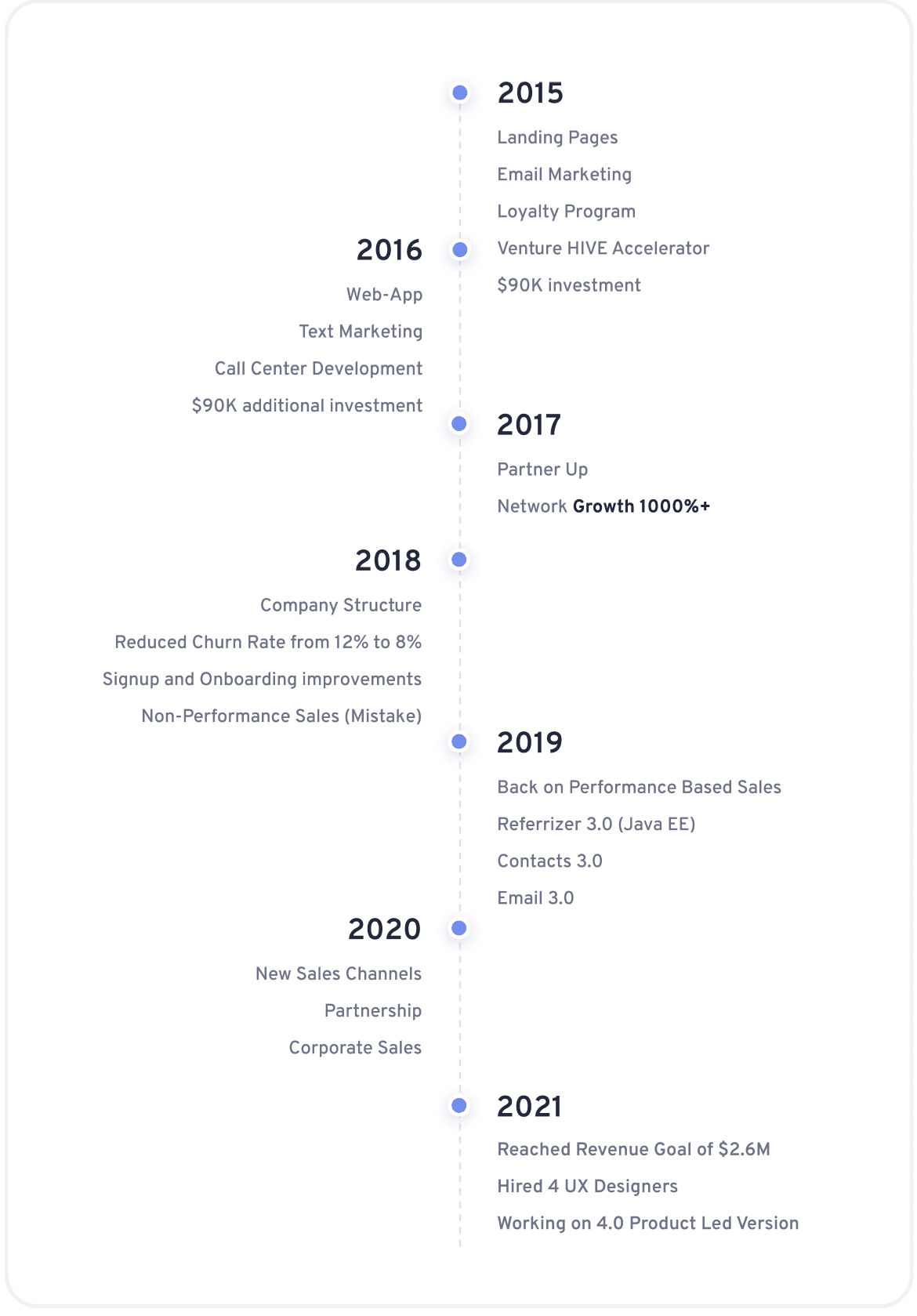 As of 12/31/21, Referrizer has
1200+ paying customers
Our customer lifetime value is $3,036, and we recover the costs to acquire each customer in the first month.
—
Price range vs. number of accounts
Over 2/3 of our clients are paying more than $150/m. Price is determined by two factors: How many features they use and what is the size of their database.
—
Testimonials

—
Over 400 five-star reviews are posted on G2 Crowd, Google, Captera, and Facebook


Pricing that's simple and straightforward
Whether you're just starting out or ready to take your marketing to the next level, we've got pricing plans that fit any budget. Upgrade to our premium package, which includes ultimate marketing automation and growth tools.
—
Business-side strengths
—

Opportunities in multiple markets
Our initial target market is within Fitness and Wellness segment (590,000 businesses represent $1.4B market opportunity).*
Then, we will extend our market size to include Dental, Restaurant, Auto, Service, Pet, and Healthcare industries. That includes 1.7 million businesses in the US with a total market potential of over $4.1B.*
The total addressable market is of all small local businesses counts 5.2 million with a market size of over $11.9B.*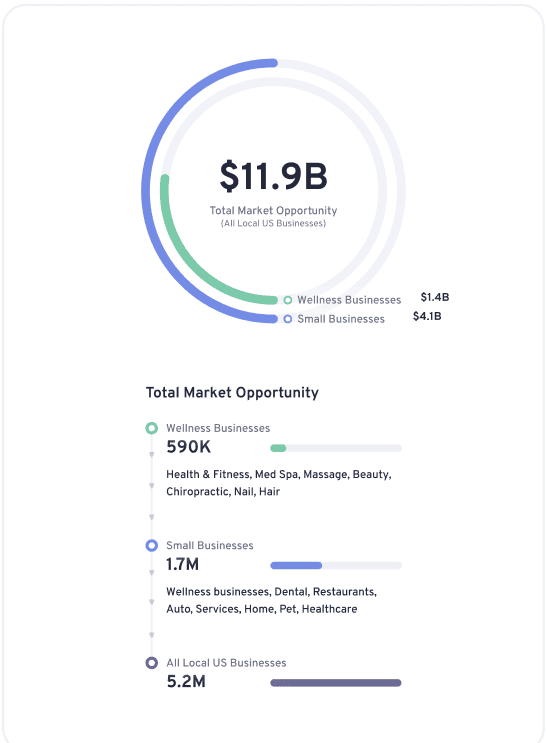 *Calculated based on internal information collected by the Company
Referrizer competitive advantage:
End-to-end solution



—
Referrizer vs. Peers' market capitalization -
Price/Sales (ttm)
As of 2/4/2022

A global force that empowers every business
Referrizer wants to empower local businesses with highly effective solutions that can help them grow through utilizing world-class software and hands-on support. We are taking local business marketing to a whole new level by bringing more tools, more solutions, and more results than our competitors.
With Referrizer 4.0 (coming in Q1 2022), Referrizer is bringing a simple but powerful user experience that makes interaction with our software a breeze. We love what we do, we are passionate about helping local businesses succeed, and we all focus to bring outstanding results to our clients.
—
5-year projection

—
Use of funds: $2M

—
Investor exit strategy

Our early investors
and their story:
Developing the first referral marketing automation for local businesses
Everything started in 2012, with a Google search for: "Referral Marketing Software." Andre, as the owner of a marketing agency, was looking for a software solution to help his local clients automate referral marketing. No affordable solution was available. It was one of those rare "A-HA" moments, where you search and no one was offering a solution. It was a message for us to create a Referral Program that will turn each and every customer into 24-7 salesforce. Similar to a Dropbox model—but for local businesses. That is where the name comes from; "Energizing Referrals": Refer-Rizer.

After a couple of iterations and many MVPs, we created not only Referral Marketing that works, but also a set of tools that help businesses become Referrable through Reputation Management. We help clients communicate easier using Email and Text Marketing. Clients needed to keep their customers longer (those that we generate) and we developed the Loyalty Program. For clients who are new businesses, that have no customers to ask for referrals, we created SEO optimized, high-converting Landing Pages and database-building features like Smart WIFI and Smart Line.
7 years later, we offer All-in-one Marketing Automation that includes 10 powerful applications within one backend.
My personal mission is to retire 100 people in our company. We are a people-first organization and each qualified employee is an equity holder. This way, we did not build an organization of followers, but an organization of leaders, decision-makers, people with an ownership mindset that cares. Culture that is strong and ready to grow.

Andre Cvijovic
CEO & Founder
Team composition
Executive team: 50 years of experience, 4 successful exits
Sales and marketing team: 8 people
Customer support: 12 incredible coaches
Agency Team: 12 People
Product and development team: 15 people
Performance-based call center: 20 people (outsourced)