The healthcare industry is destroying the environment,
and we don't have a sustainable option.
The healthcare and pharmaceutical industry has created an "Unsustainable Cycle of Healthcare." Today, consumers have no choice but to live with environmentally damaging products, low-quality medicines, and transactional care.

---
The problem in detail
---
Environmental Destruction: Approximately 194B plastic bottles are produced by the pharmaceutical industry annually, with only 9% recycled.
Plastic that is not recycled ends up in our oceans, landfills, or being incinerated. When plastic enters our oceans and landfills, they break down into microplastics that have a direct impact on our health. Plastics that are incinerated release toxins into the air we breathe.
Quality Infrastructure Erosion: Only 1% of medicine in the U.S. is tested and there are ~3 drug recalls a day.
The rapid growth of our healthcare needs are exceeding the quality infrastructure required to protect us. Not only are healthcare and medicine industries destroying the environment, but they cut corners in quality to do it.
Transactional Healthcare: 3B+ over-the-counter medicine purchases annually in the U.S., with no care.
When it comes to our personal healthcare and medicine needs, we're mostly on our own. Today, people are unable to tell the difference between COVID-19, allergies, colds, or the flu; and the vast majority of us have no one to ask for help. This is only a small example of how transactional care in health causes deep problems. There are 3B+ transactions of over-the-counter medicines a year and they're treated just like buying shampoo or razor blades. Consumers have no one to help guide them to plans or products that can address their health issues.
We should never have to compromise on our personal health or the health of our planet.
And yet, over the last 2 years, Covid has accelerated this unsustainable cycle: there are now more masks in the ocean than jellyfish, the FDA has been focused on the pandemic vs. improving medicine quality infrastructure, and we're making healthcare transactions while healthcare workers are stretched thin.
We need to act now to break this unsustainable cycle.
"194B plastic bottles" based on market research and internal industry knowledge
The Sustainable
Healthcare Company
Healthcare that is better for you and better for the planet.
---
Cabinet is a healthcare company that delivers innovative, sustainable packaging, higher quality medicine, and personalized care.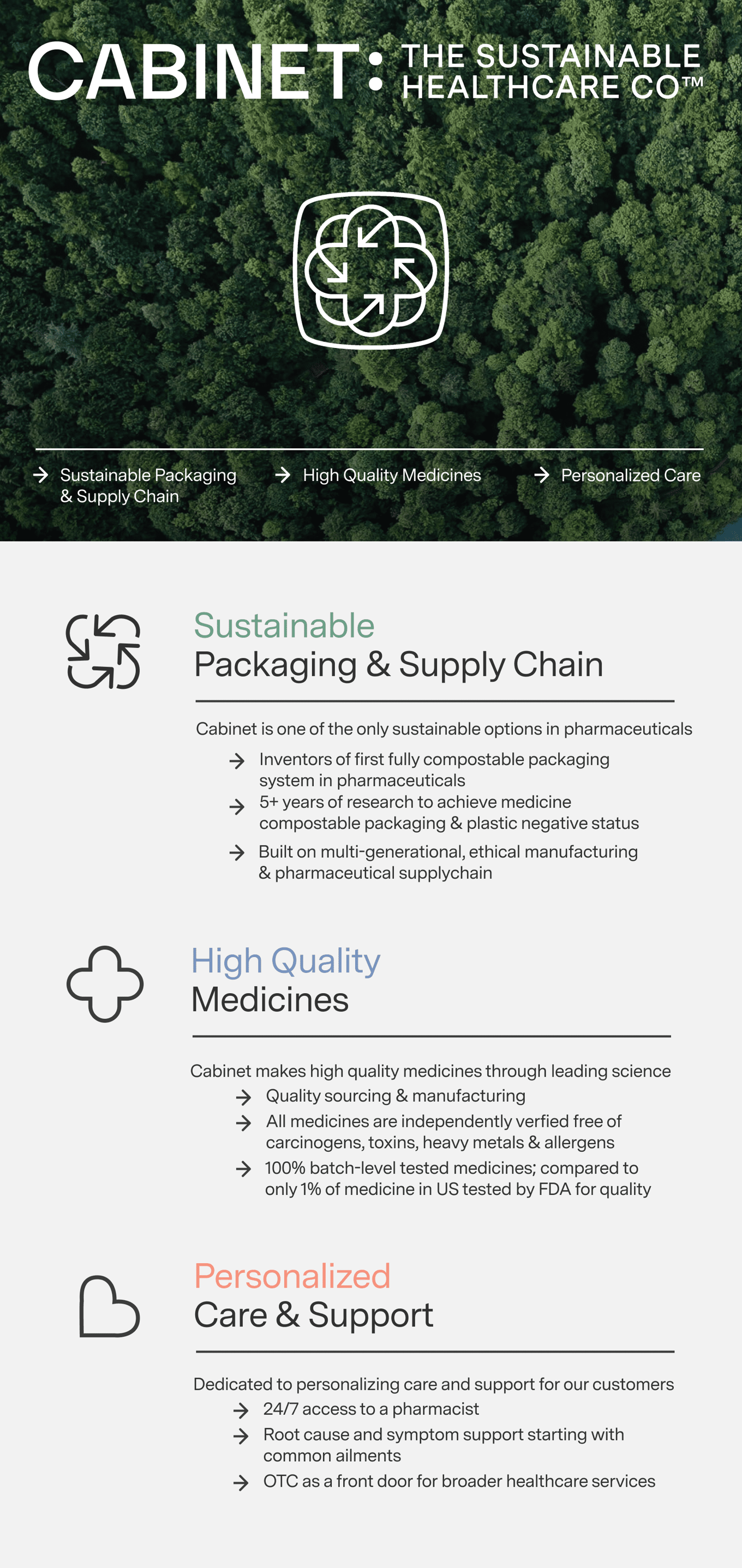 ✅ Smart, refillable medicine system with 13 patents filed
✅ Sustainable pharmaceutical packaging with IP on packaging performance by product
✅ 3rd party batch-level tested medicine
---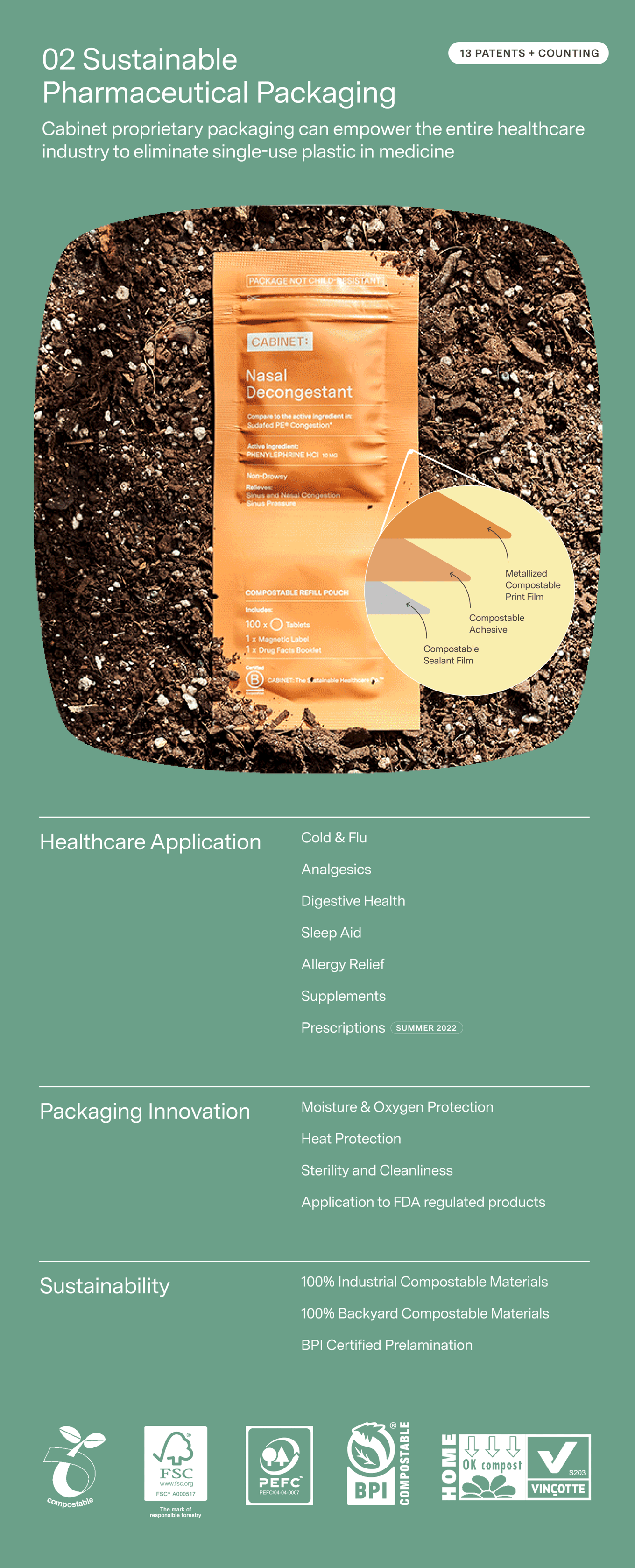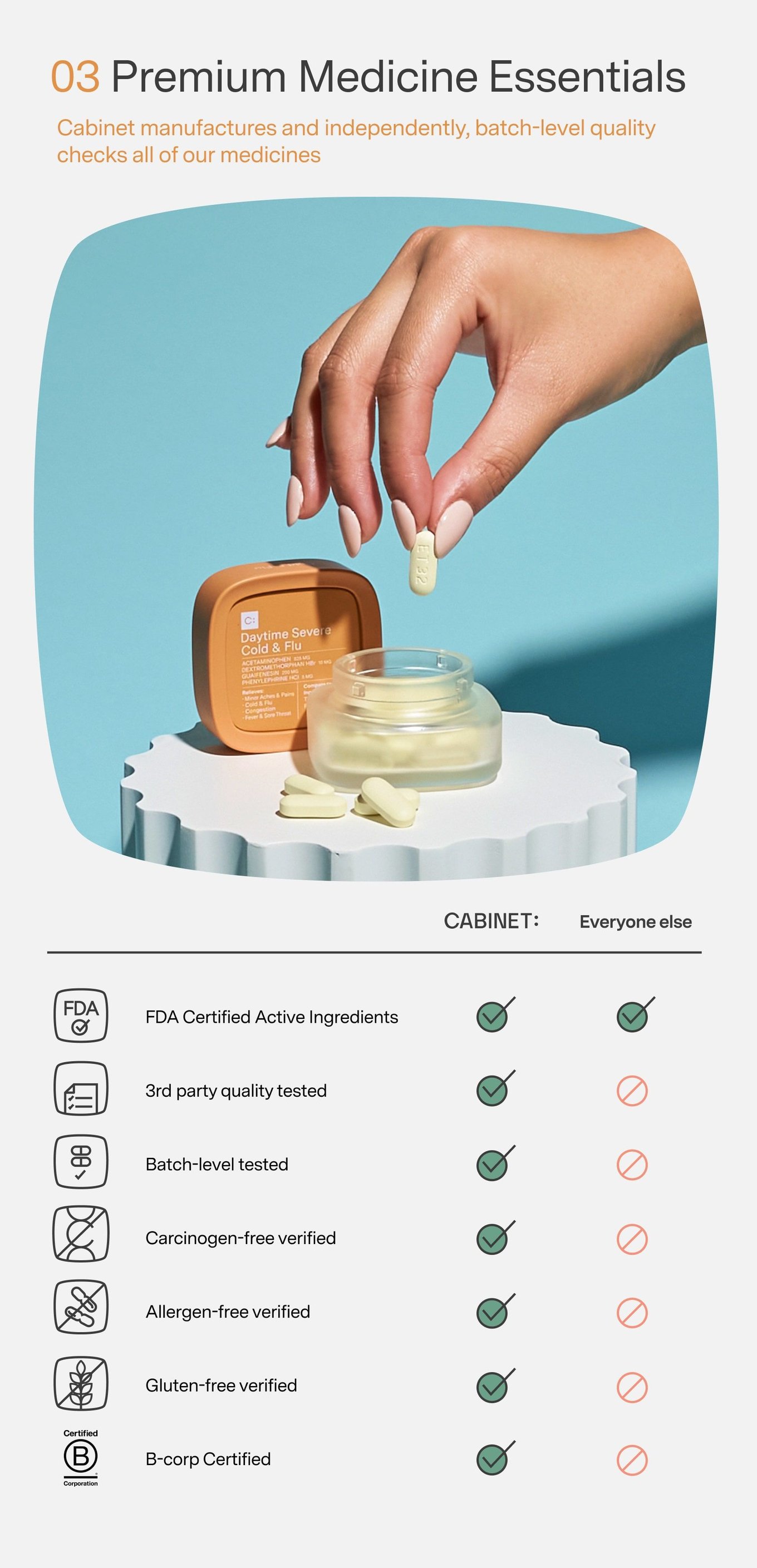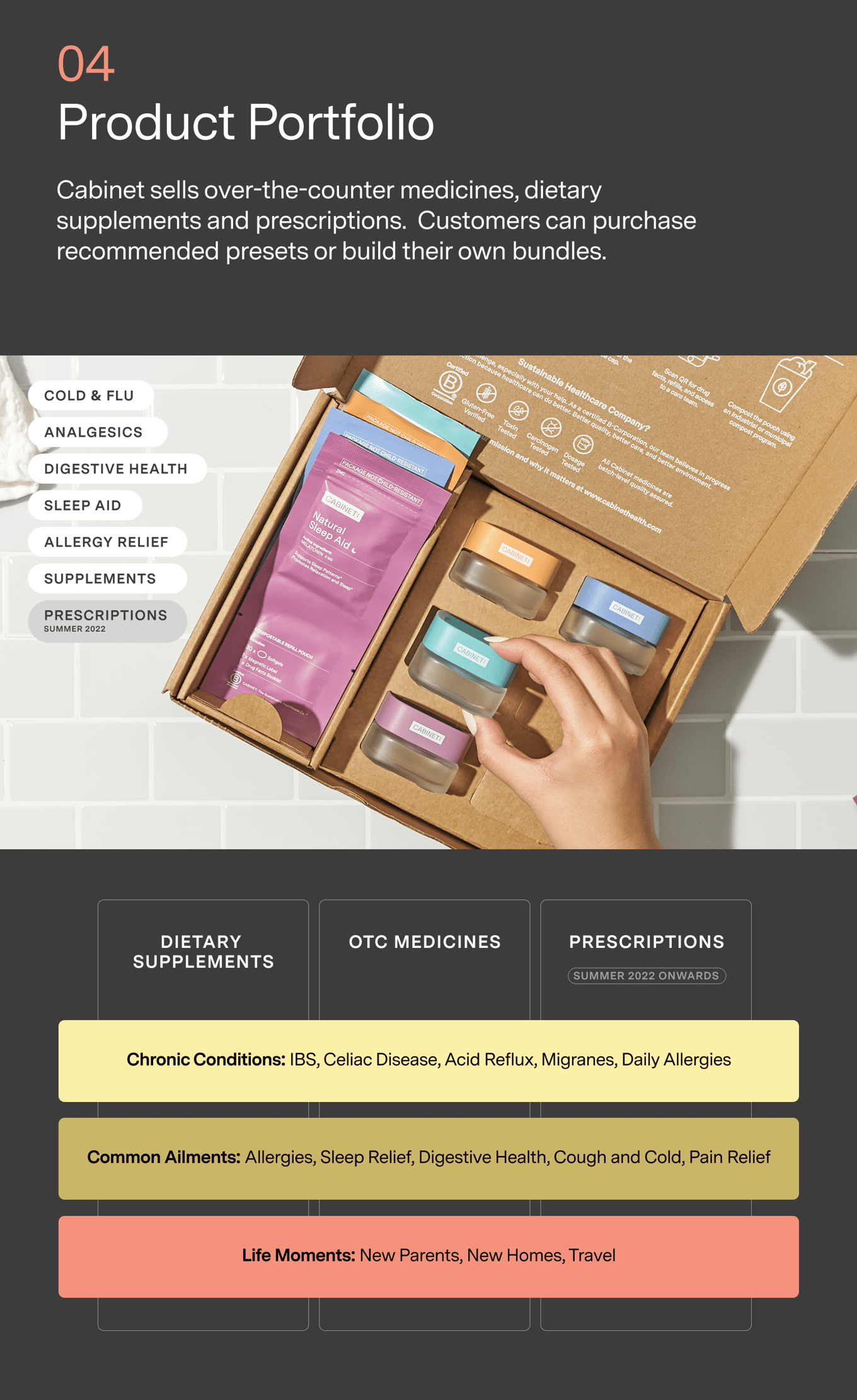 Generated $27.7M in cumulative revenue on our first $6.6M raised
We are just getting started on building towards the future of sustainable healthcare.
---
Cabinet has steadily grown since our founding in 2018. Our anticipated growth in 2022 continues with the launch of 3 additional enterprise contracts (2 Retail and 1 Sustainable Private Label), and product portfolio expansion in our e-commerce channel. By early 2023, we will launch nationally in retail.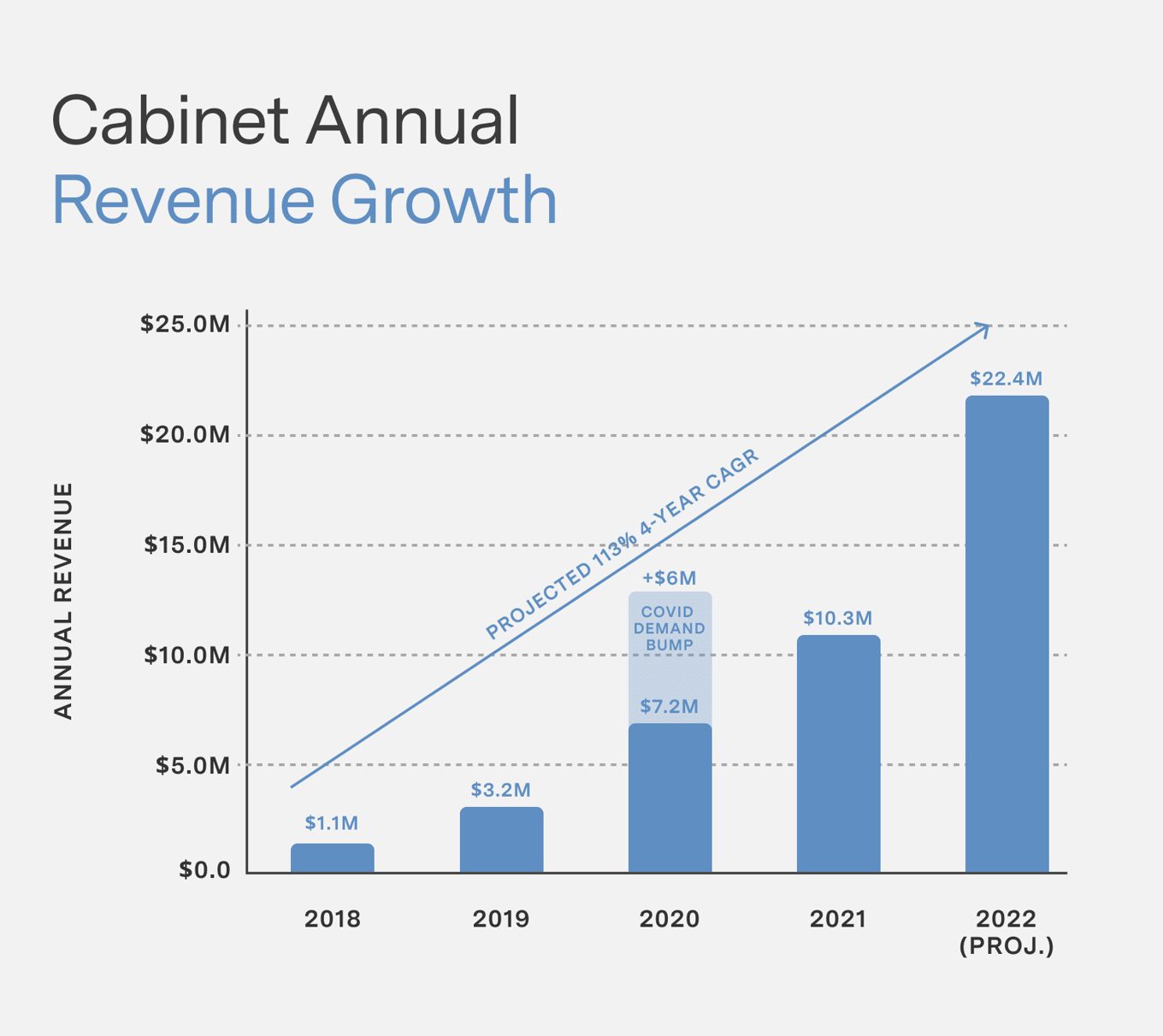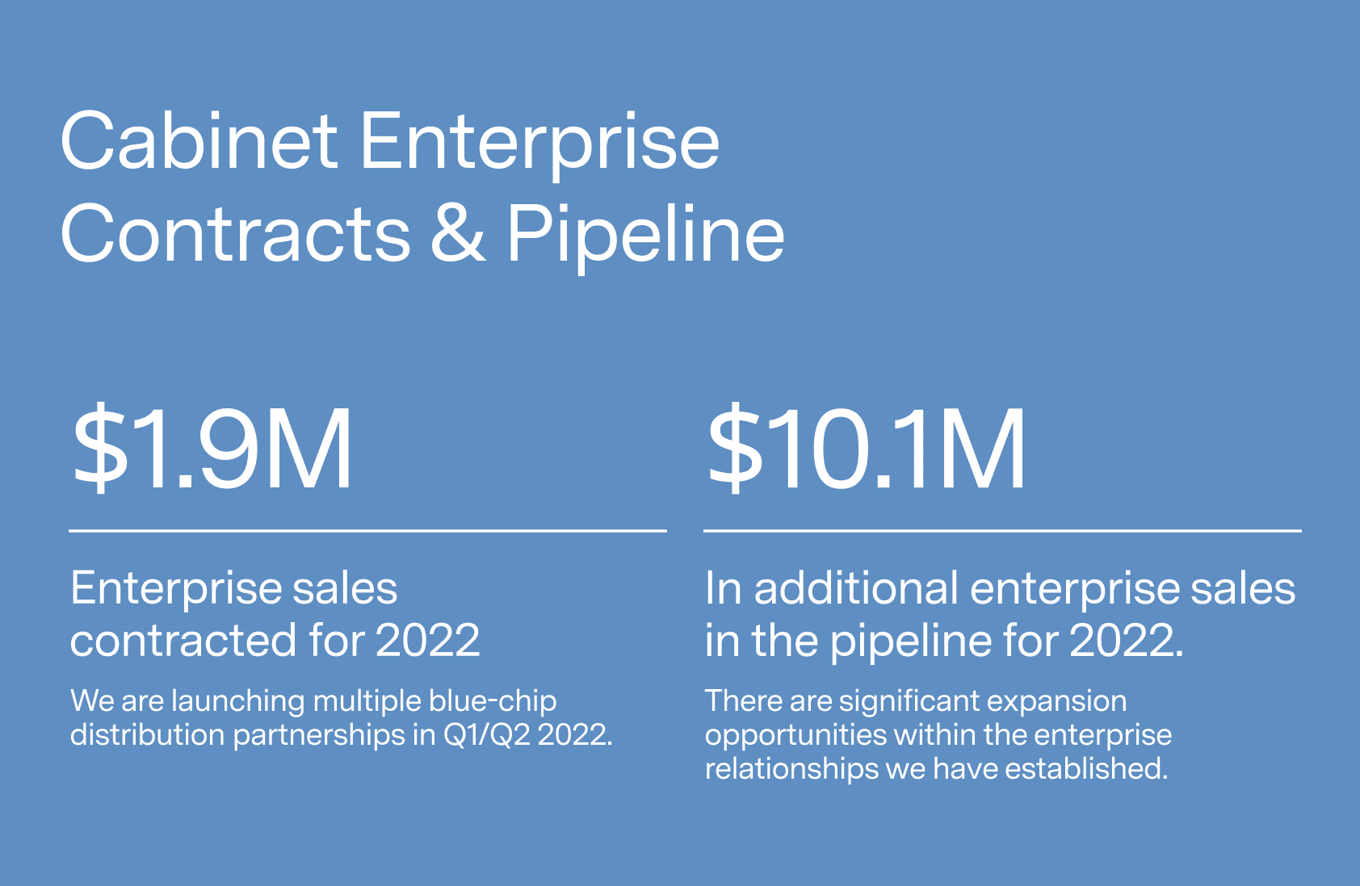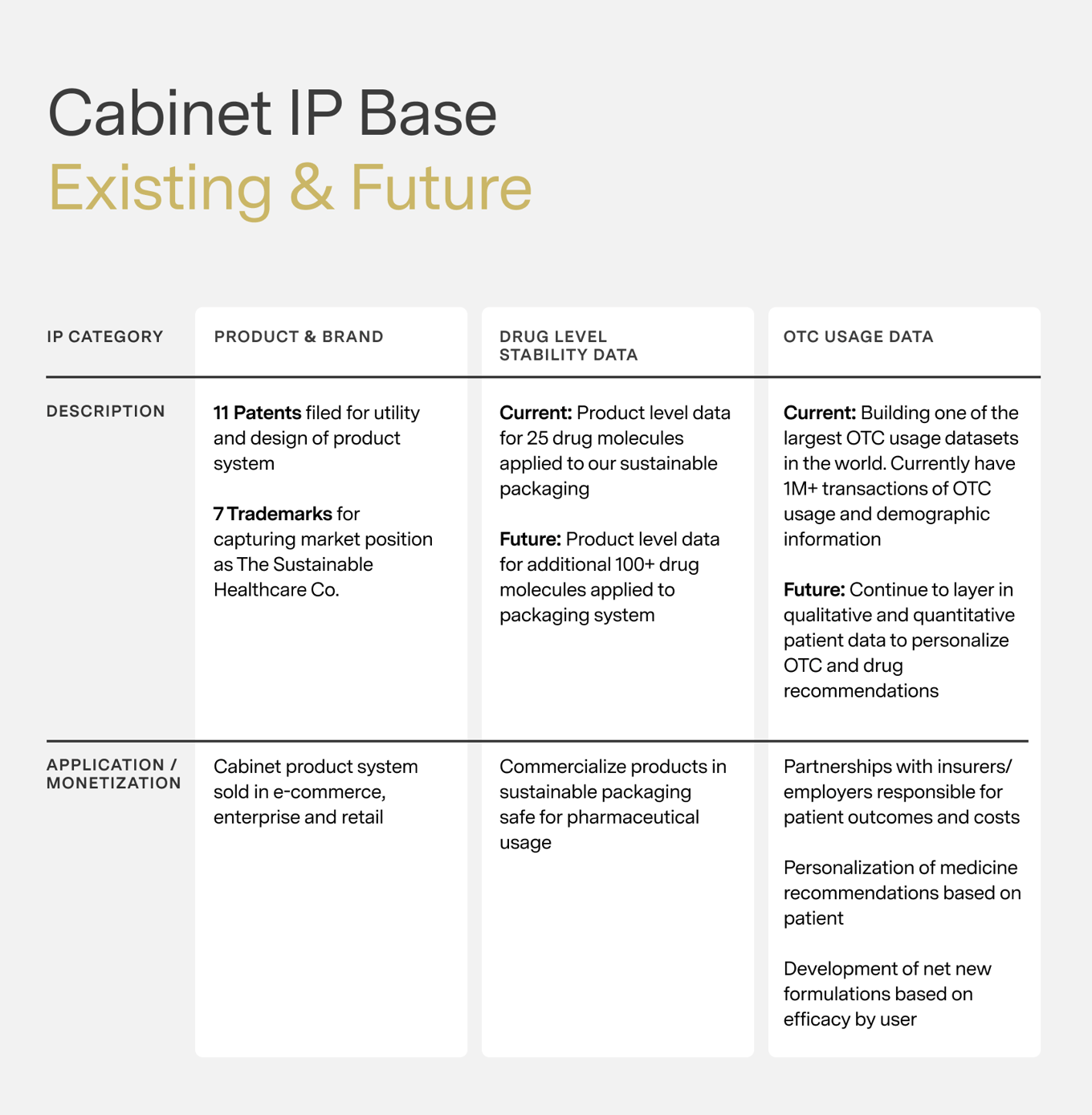 In 2020, Cabinet outperformed the revenue plan by $6M due to a rapid demand increase from the COVID-19 pandemic. The strength of our supply chain enabled us to serve customers during this time and drove a revenue bump for our business. Our foundation of revenue (aside from this Covid 'bump') has steadily grown year-over-year since 2018.
Alongside revenue growth, we have built a strong and growing IP base around our product system, brand, and drug-level R&D data (required to commercialize products in new packaging). While we have grown The Sustainable Healthcare Company, we have also built one of the largest OTC usage datasets in the U.S. Given our e-commerce focused distribution, we have a deep understanding of who purchases our products and why. This data has and will continue to inform product development and expansion in the future.
For our customers,
Cabinet is a no-brainer:
A more sustainable, better looking and higher quality option for their everyday medicine essentials.
---
Target customers for growth in 2022 and 2023: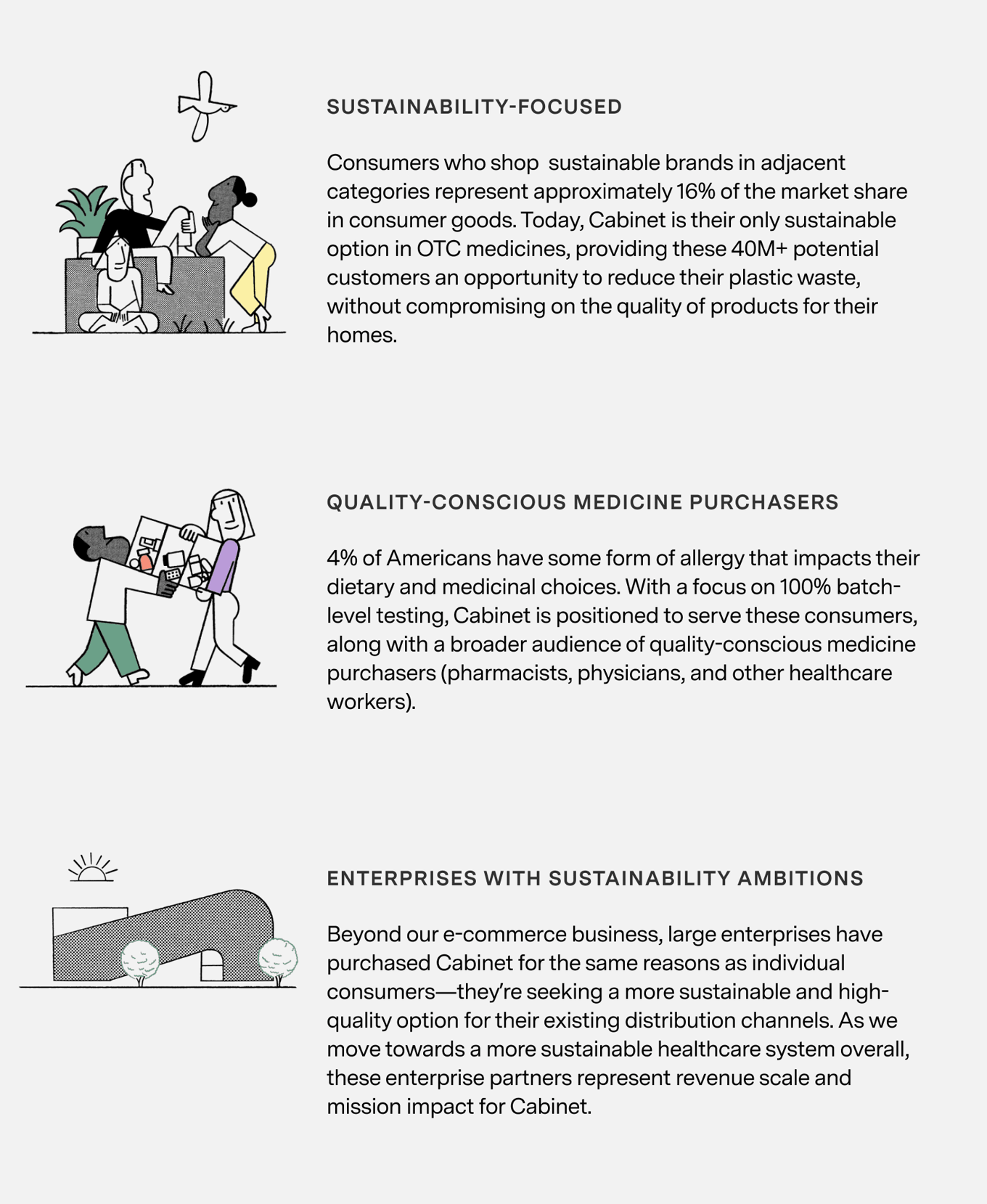 We sell our products across 3 sales channels,
with revenue streams that will diversify as we grow.
---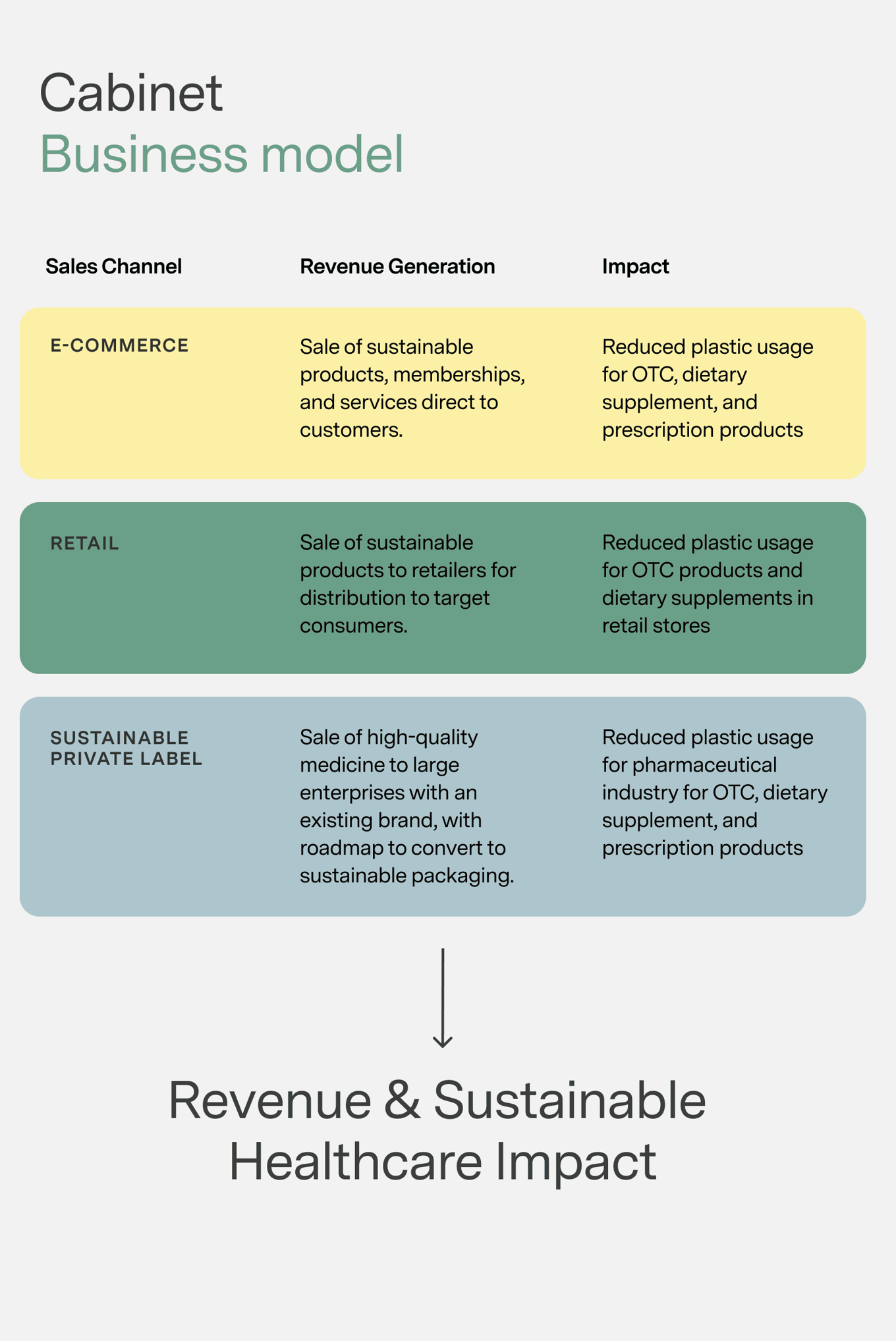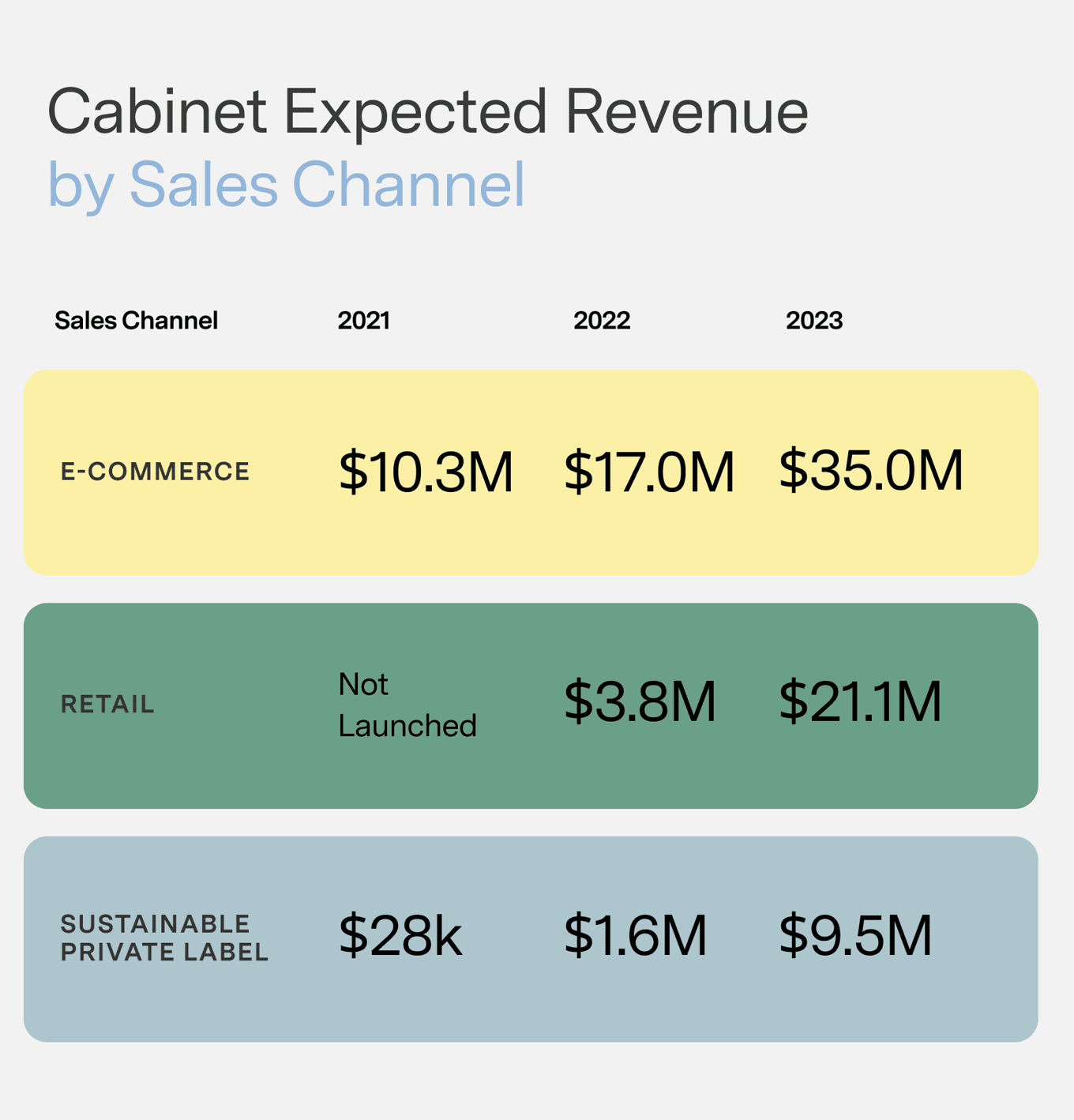 We sell 30+ products across 5 core categories of health: allergy relief, cough and cold, digestive health, sleep relief, and pain relief. These products are sold in 3 primary channels (E-Commerce, Retail, and Sustainable Private Label), which we'll continue to diversify in 2022 and beyond.
Our deep supply chain expertise combined with a first to market advantage on sustainability packaged OTC medicine has enabled us to secure retail and sustainable private label contracts in 2022, with plans to launch retail nationally in early 2023.
In 2024 and beyond, we anticipate retail growth to outpace our other sales channels as it achieves overall scale.
We are in a $378B
market that is growing
8.9% annually,
at the intersection of digital
healthcare and sustainability trends.
---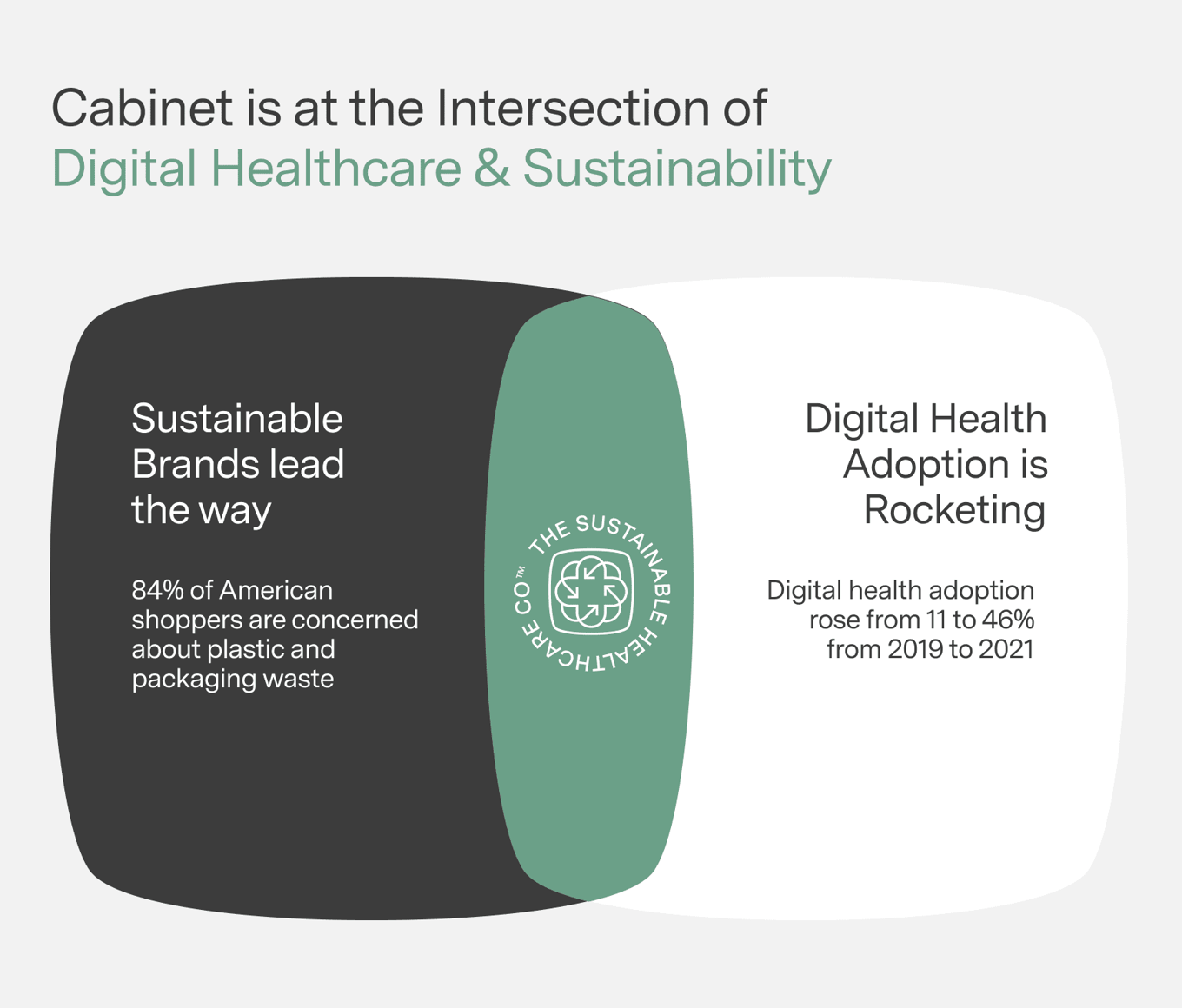 ---
Market Trends in Detail
---
Sustainable brands lead the way: Consumers are voting with their wallets to buy from brands that align with their values. Sustainable brands lead growth in consumer products. Over the last 5 years, 55% of market growth in consumer goods has come from sustainable brands, despite just representing 16% of market share.
Digital health adoption is rocketing: Consumer awareness of public health is at an all-time high, and consumers are willing to try new forms of care delivery at unprecedented rates. Adoption of telehealth increased from 11% to 46% from 2019 to 2021.
The medicine market is large and rapidly growing: The U.S. OTC and Prescription market are $378B, with no sustainable healthcare brands in the market. That represents a $60.9B market opportunity to serve sustainability and quality-focused consumers. Meanwhile, the global prescription market is growing at 8.9% annually.
One of the only healthcare companies competing on sustainability and quality
---

Cabinet capabilities in detail:
Supply chain built on 55 years of manufacturing expertise, which enables product innovation and built-in scale for retail launches and sustainable private label sales channels
Differentiated product system focused on sustainability, quality, and design
13 patents filed with extensive R&D to commercialize products in non-plastic packaging
A humanized brand - being care-centric is a core value of Cabinet, understanding the transactional nature of the OTC experience today, we have built a competitive advantage on treating our customers the way we treat our own families.
Exclusive distribution partnerships slated for 2022 and beyond, enabling Cabinet to reach a mass-market audience
Deep regulatory expertise in bringing different drug formats to market, including prescriptions in 2022
Digital healthcare platform built in-house by a team of healthcare and technology experts. This platform enables us to launch prescription and tele-health services through our website when desired
Aiming to build the world's most sustainable
healthcare company
---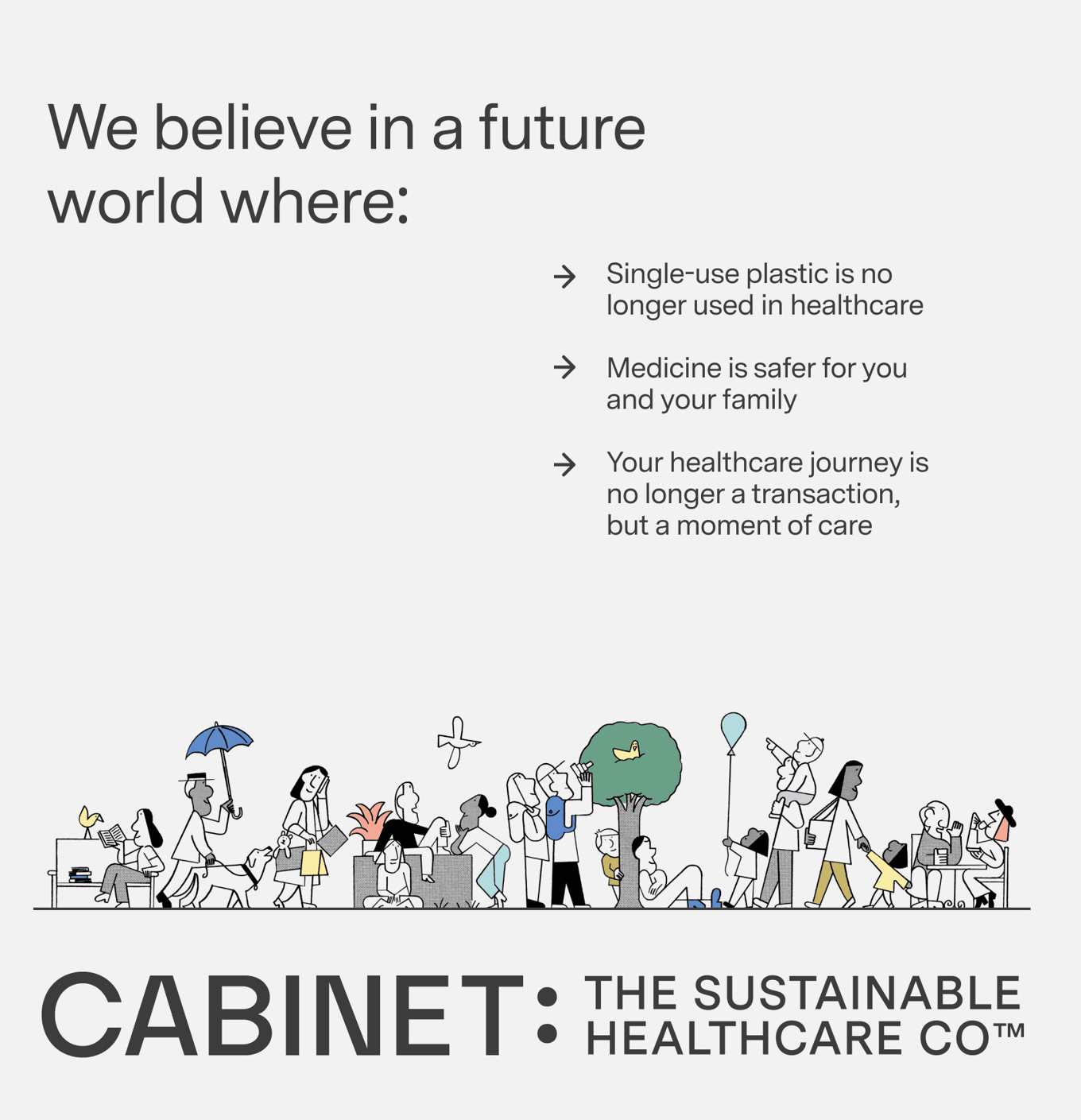 Backed by leading VC investors looking for market-leading returns
that also drive meaningful societal value.
---
Our investors consist of leading firms and an extensive network of CEO/Founders/Operators in Digital Healthcare and Consumer Goods.

The right team for the market opportunity
---
Our founding team represents expertise spanning medicine manufacturing, retail launch and scaling, mission-driven brand building, and digital healthcare.