People want to learn languages...
...and language instruction generally doesn't work:
No ear training
Wrong information
Wrong repetition rate
No personalization
A personalized & effective approach to learning languages
Based on a national bestseller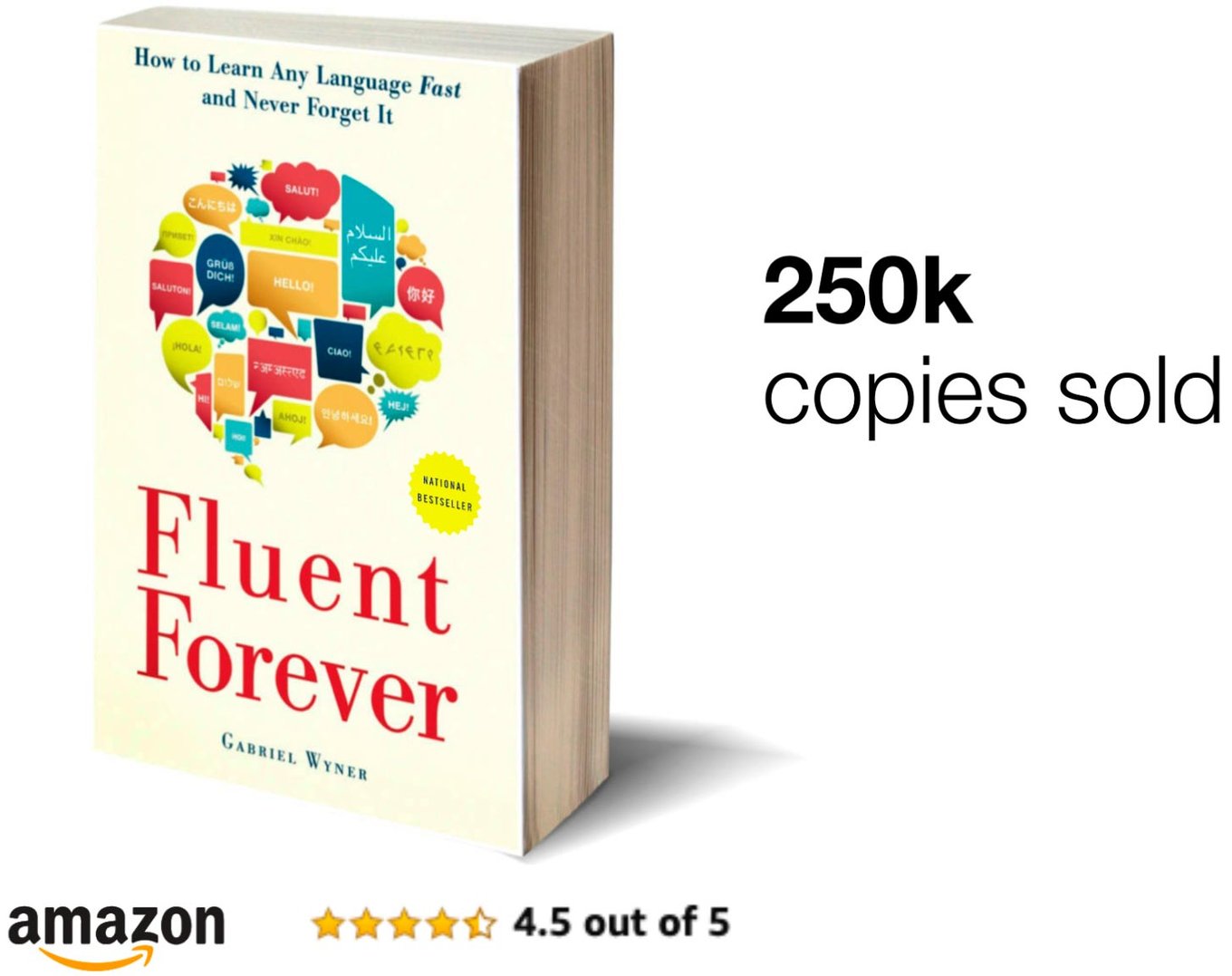 ---
Producing fluency is only possible with the right methodology
---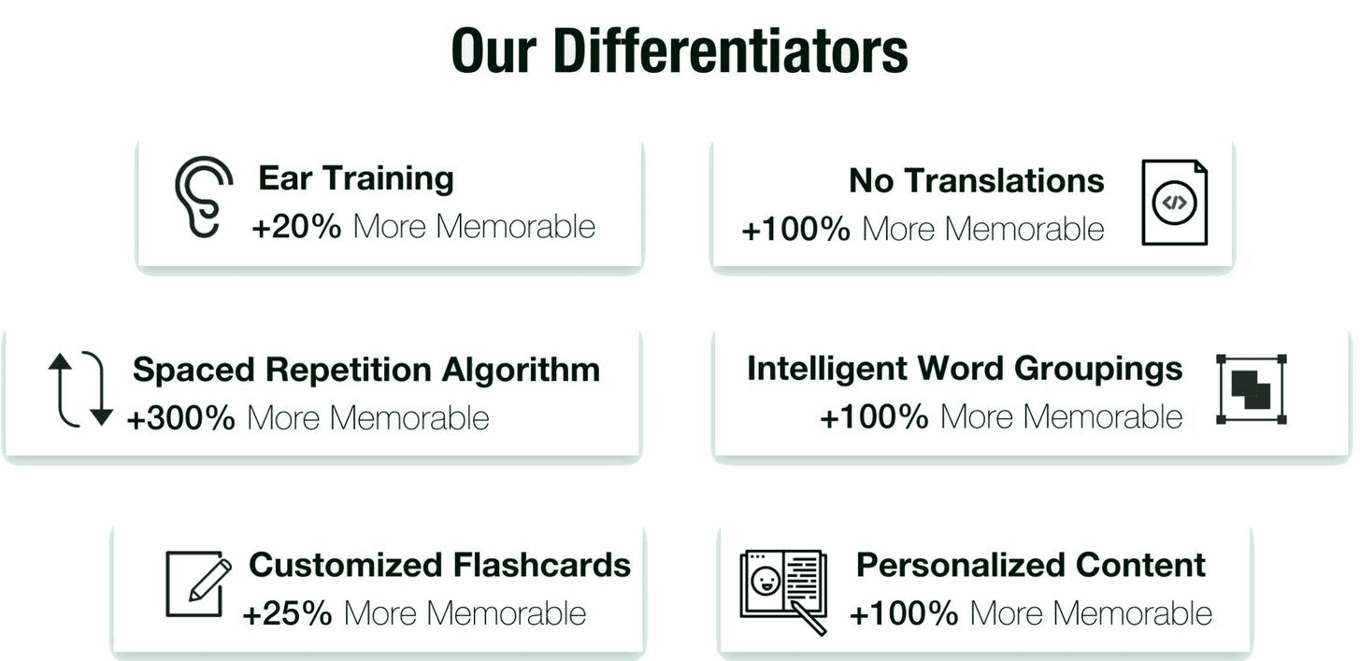 Huge gains in recall, compared to competitors that don't contain the same features.

—
Ear training
Starting with ear training improves retention by 20%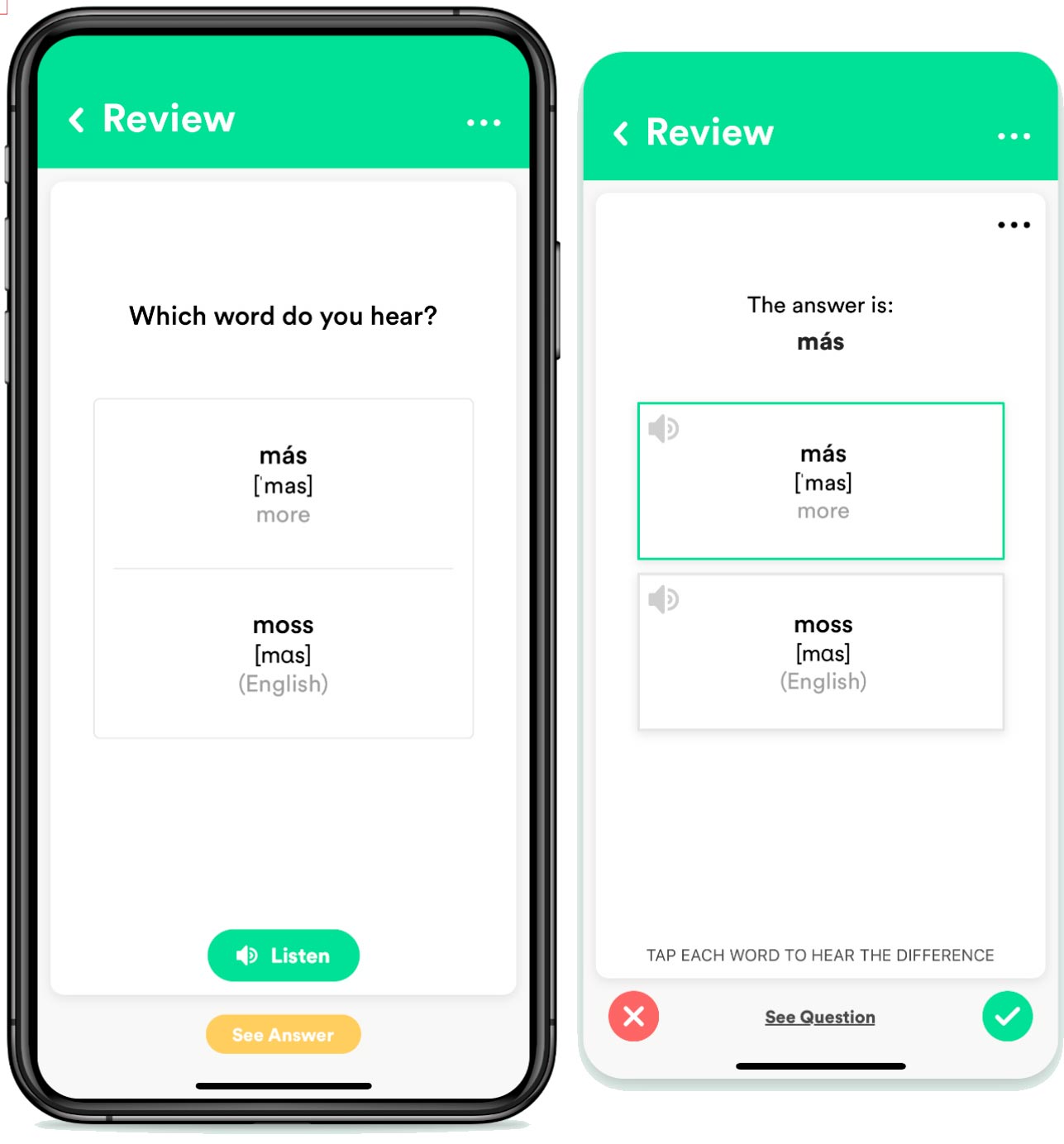 —
Learning vocabulary with images, not translations
Immersive approaches are the only ones that lead to fluency..
But they only work when users can customize their words, pictures and sentences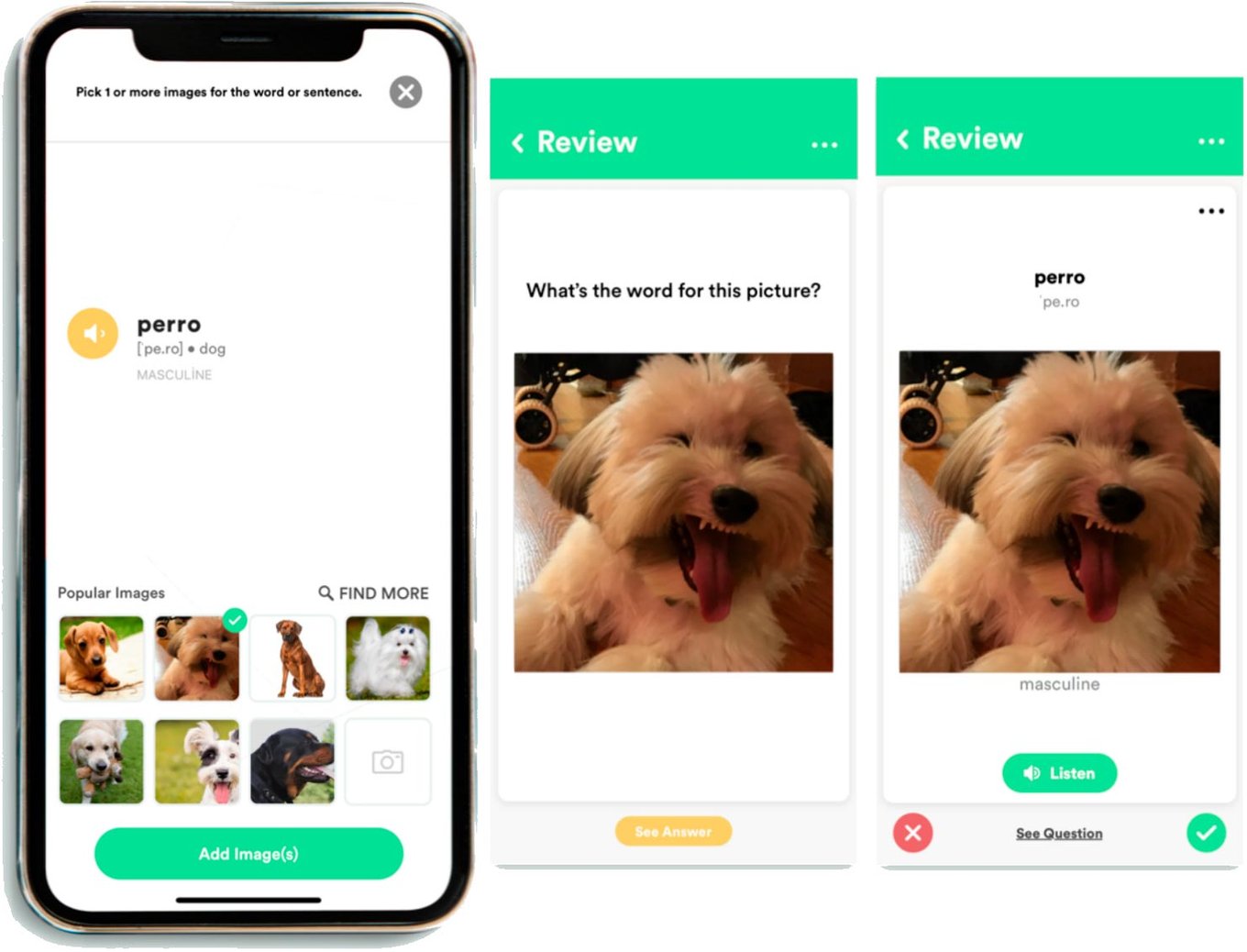 —
Spaced-repetition algorithm
We know when users will forget a word… and test them right beforehand.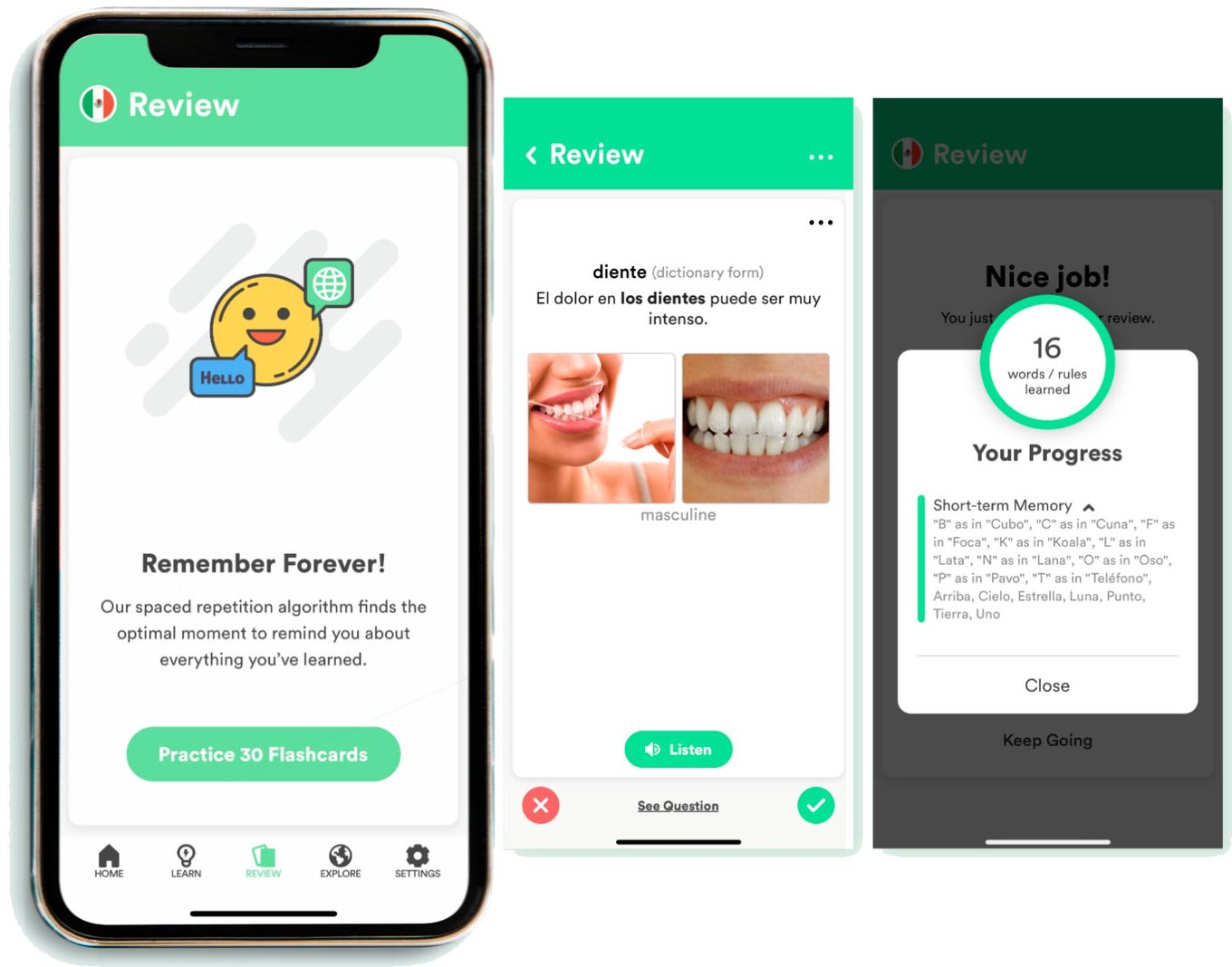 Fluent Forever's app and coaching products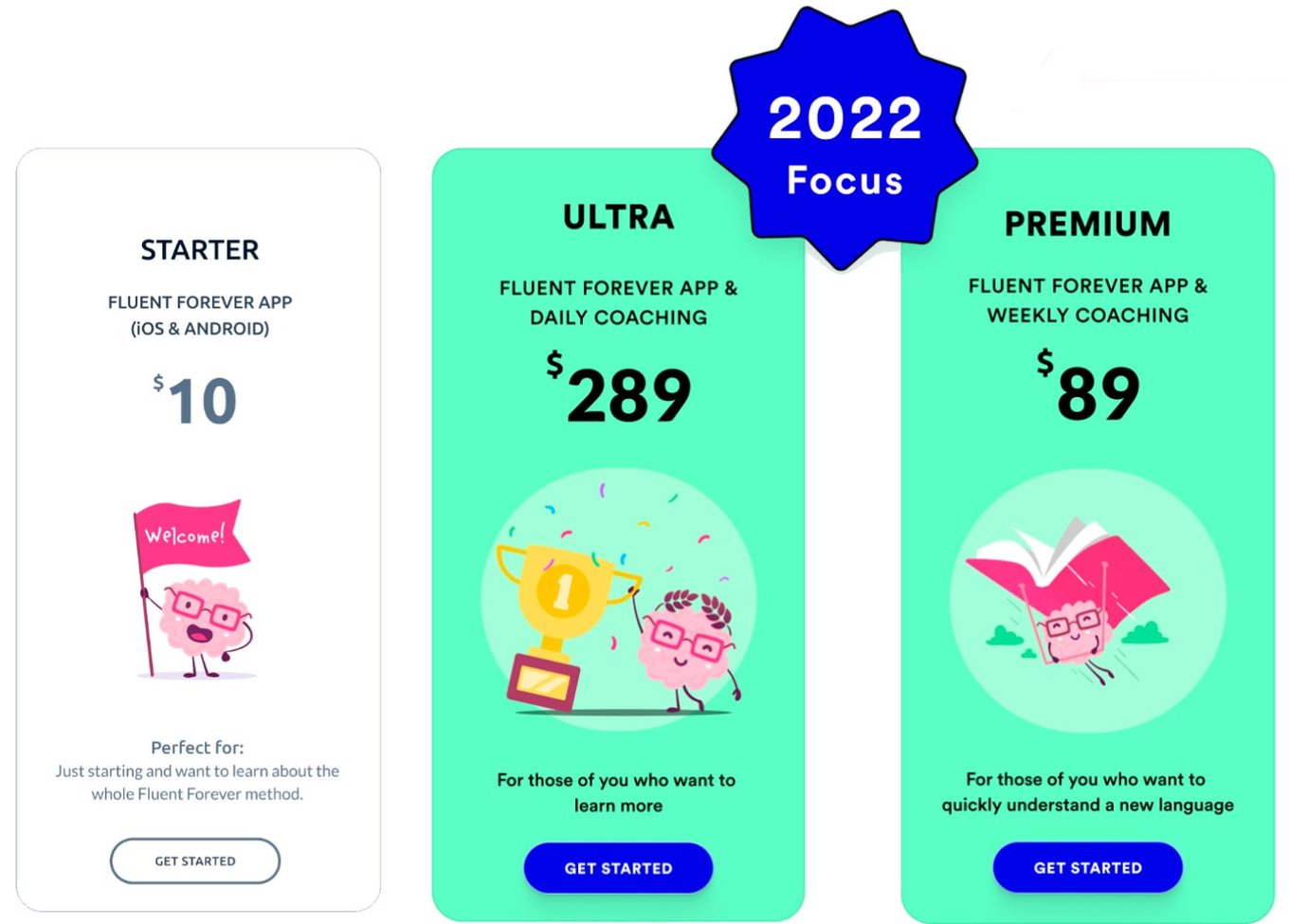 Our App:
Our app has been our core product since 2019. By taking users through ear training, then teaching them vocabulary, grammar, and sentences via pictures instead of translations, we've built one of the most effective language learning tools the world has ever seen.
—
App + Coaching products
What if you spoke with a tutor every day about your own life, and every evening, those same sentences popped up in your flashcards so you could remember everything you talked about?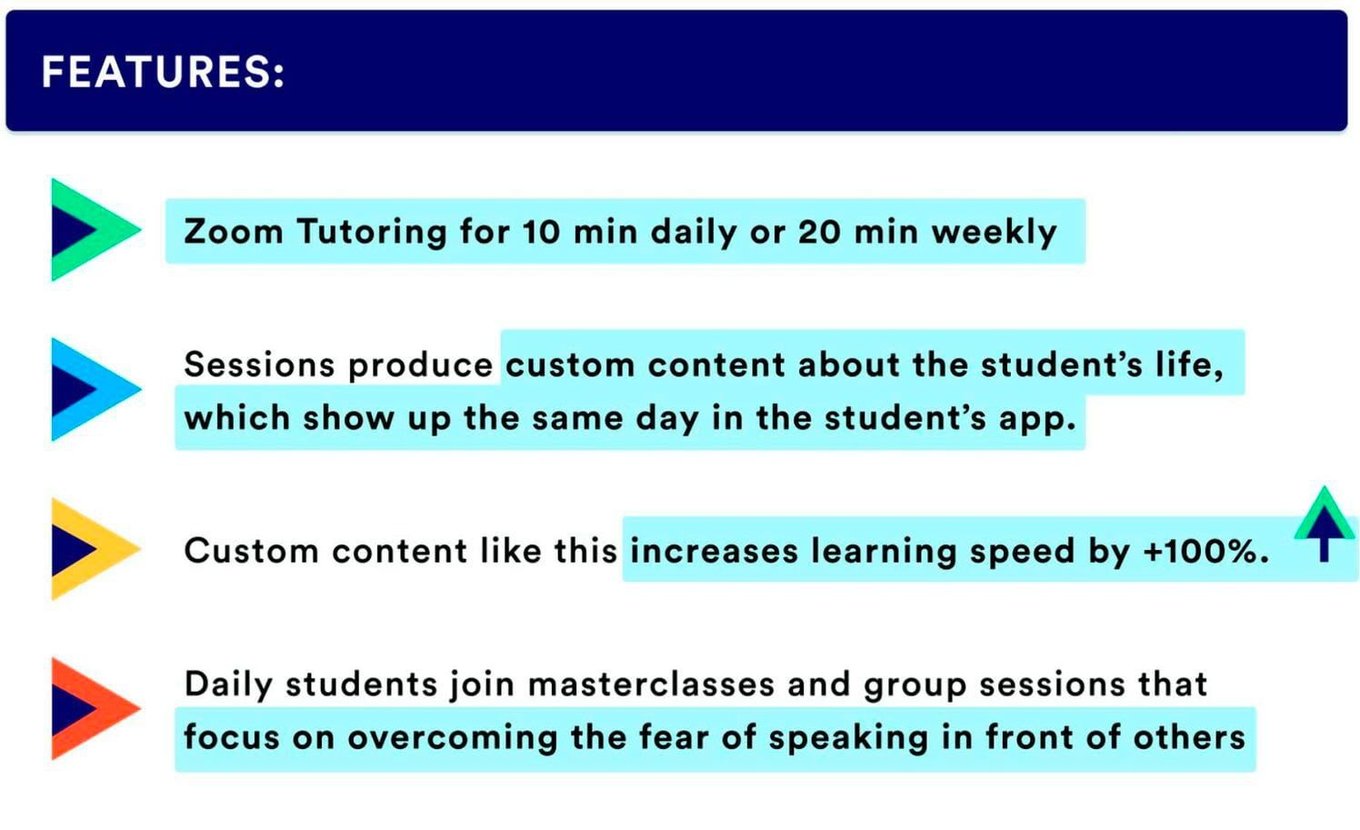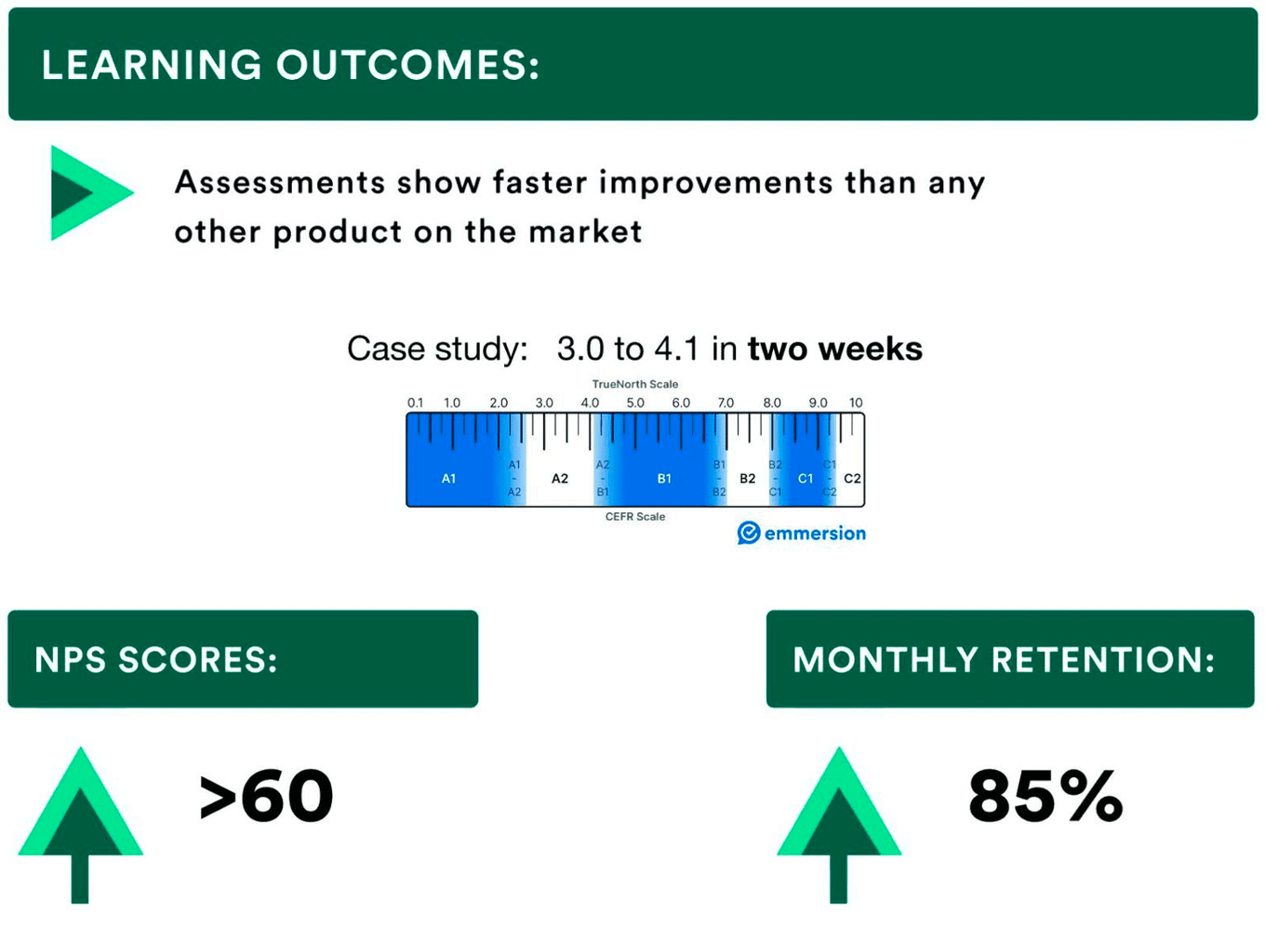 The metrics speak for themselves. We have achieved product-market fit on a $289/mo product, the likes of which the world has never seen.
The Pedagogy: Based on how memories are stored in the brain, you can double your learning speed and long term retention if you focus entirely on content that's about your own life. I.e., if you fully personalize every sentence you learn, you will reach fluency twice as fast.
We built a coaching platform that achieves exactly that. Every day, you chat for 10 minutes with a native speaker about your own life; and every evening, the sentences you learned will show up in your app so that you can retain them long-term.
---
Feb 15, 2022 - A Total Revamp of Our App:
---
Feb 15, 2022: Total revamp of trial experience, modeled after the book. Increased Trial Conversion Rate from 34% --> 45%
User experience:
16 comprehensive lessons about how to be a better language learner
Expectations:
Improvements in trial conversion
Improvements in app engagement, retention
Improvements in conversion to coaching products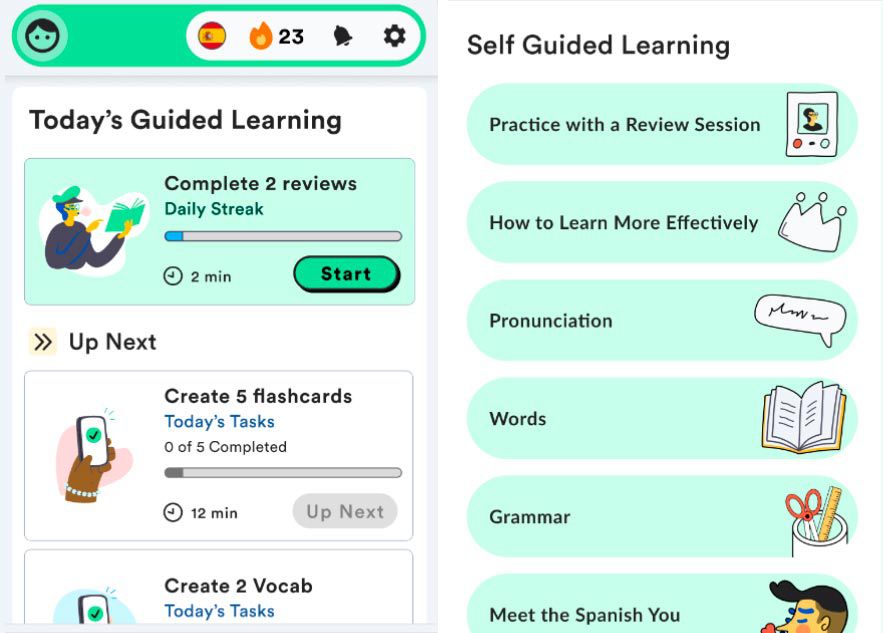 WHY NOW?
COVID has been driving people to online learning—and in particular language learning—at an unprecedented rate. People who couldn't travel to their dream vacations have been exploring the idea of learning a new language in order to check an item off of their bucket list that they've never had the time to achieve.
In addition, there is a new trend in the market—where companies like Noom and Superhuman are able to offer subscription services that are dramatically more expensive than the competition, in exchange for a much better experience for the user. High-touch, premium experiences in language learning simply don't exist right now, and are a key gap in the market we wish to fill.
$2M+ in ARR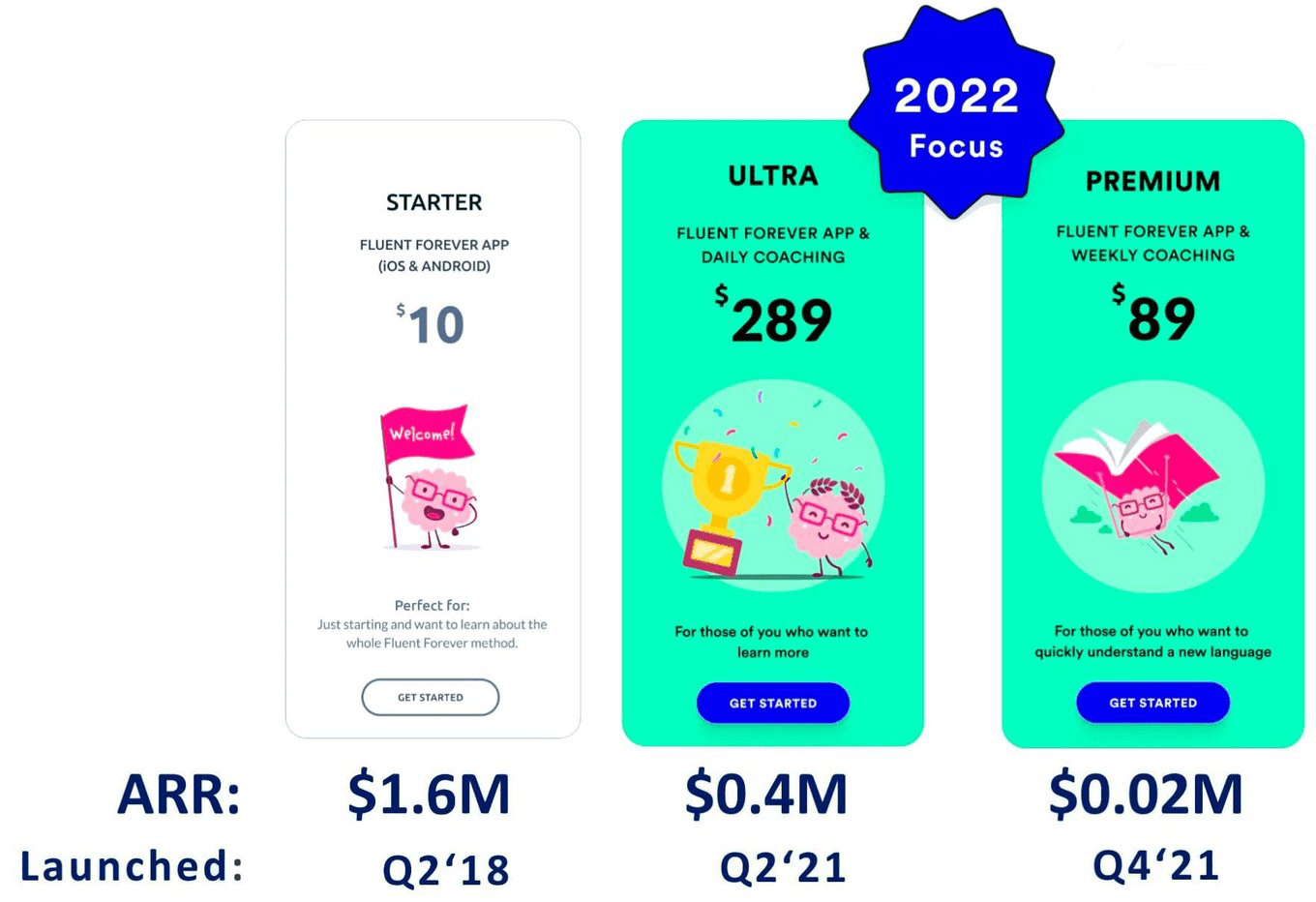 ---
App + daily coaching stats
---
Language release schedule
This product is already 17% of our net ARR—and that's been driven by only 18% of our userbase.
Releasing new languages will drive CAC down further, increase organic traffic, and increase upsells to app subscribers. Ending 2022 at $5–8M ARR seems quite achievable.

Click here for important information regarding Financial Projections which are not guaranteed.
Easiest users to target:
Churned Duolingo users
(>21M churned users accessible via Facebook )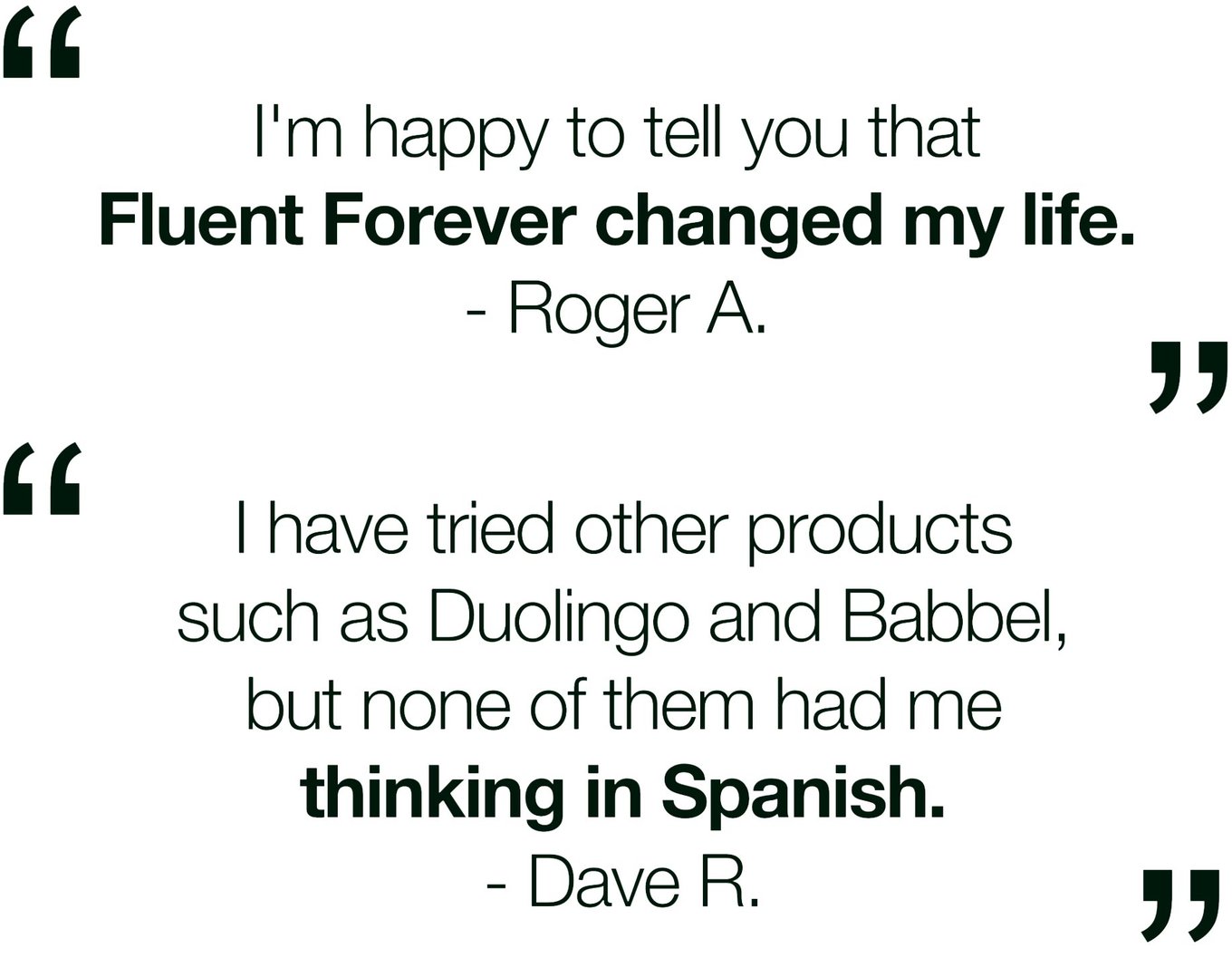 —
Check out this testimonial:
"Fluent Forever freed my psyche from what was holding me back" - Leah Lion
Clear paths to $100M:

Fluent Forever is a SAAS business.

On the app side, we currently charge:
$9.99 per month for a 1 month subscription

$8.99 per month for a 6 month subscription

$7.99 per month for a 12 month subscription

$6.99 per month for a 24 month subscription
Paid through the App Store, Google Play Store, or Fluent-Forever.com.
And on the App+Coaching Side, we currently charge:
$289 per month for daily coaching (10 minutes a day, 5 days a week)

$289 per month for biweekly coaching (30 minutes, twice a week)

$89 per month for weekly coaching (20 minutes a day, once a week)

(And we have a legacy 2-week-bootcamp product in French and Spanish for $150 per bootcamp)
An enormous
online language market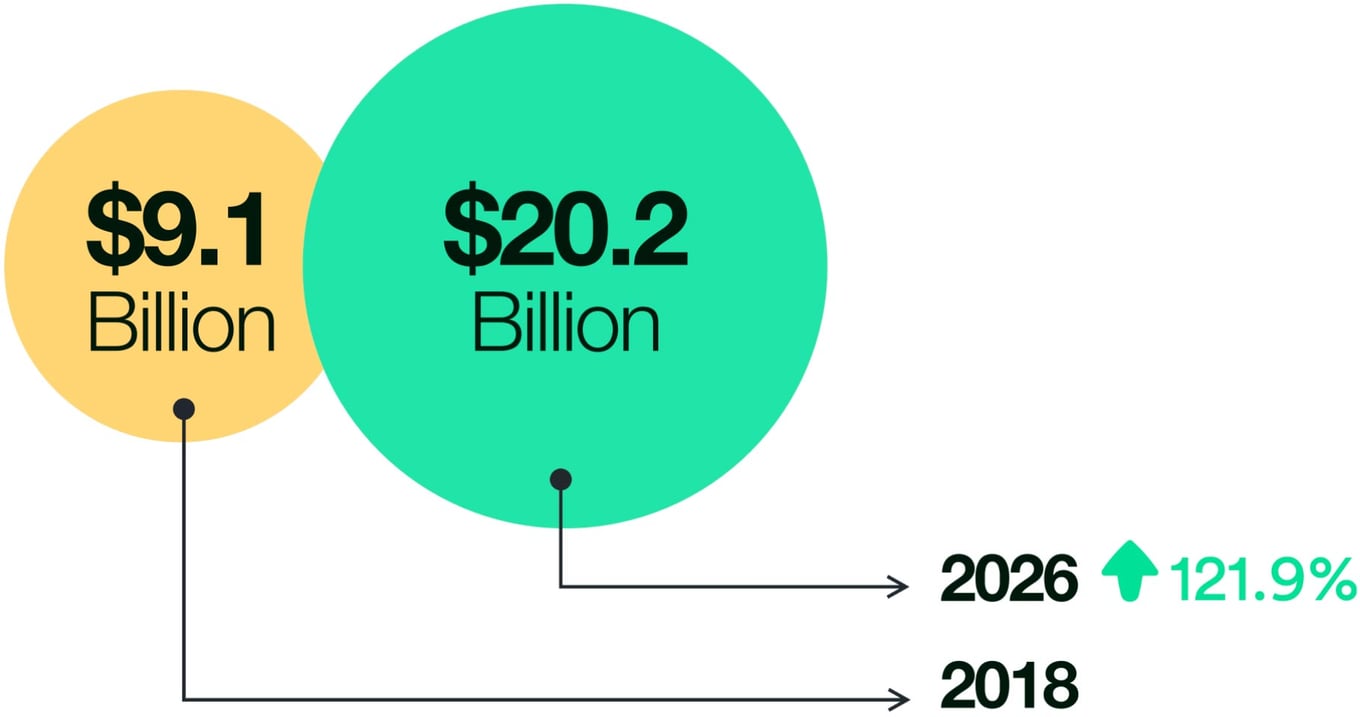 The language learning space is large and highly fragmented. COVID has accelerated the shift from in person to online studies. Fluent Forever is poised to ride this wave and gain significant market share by being the first app to actually teach users to hold comfortable conversations and think in a foreign language.
Of the $54.1B (2015) language learning market, $9.1B (2018) is online. By 2026, online language learning will grow to $20.2B.
Rosetta Stone was acquired for $792M in August of 2021 after 10 years of losses. Duolingo is valued at more than $3.5B despite no success teaching people to hold conversations. We believe that our current solution with great learning outcomes has the potential to be much bigger than either, and the premium coaching+app product will take us even further.
Defensibility factors
---
Patent
---
Our image search engine is the necessary, secret sauce behind our superior learning outcomes. It produces relevant results for abstract words, and improves itself with every user interaction.
Patent Issued from USPTO: March 29, 2022


---
Network effects
---
Content: Daily tutoring customers produce ~150 sentences per month. Every sentence improves the quality of all of our products.
Marketable Results: Testimonials and documented results from daily tutoring customers help to drop CAC across all of our products.
Q4 2022 targets
$2M ARR >> $5-8M ARR*
Series A Raise: $8M–12M of funding
$60M–95M valuation target
---
Use of funds
---
Expanding to 12 languages of daily/weekly tutoring.
Expanding our growth + marketing efforts
Finding distribution partners for English
Funding sufficient growth to reach a $8–10M Series A (i.e. growth capital for 9 months of 10–15% net MRR growth)
*Click here for important information regarding Financial Projections which are not guaranteed.
Most successful Kickstarter/Indiegogo campaign for an app in history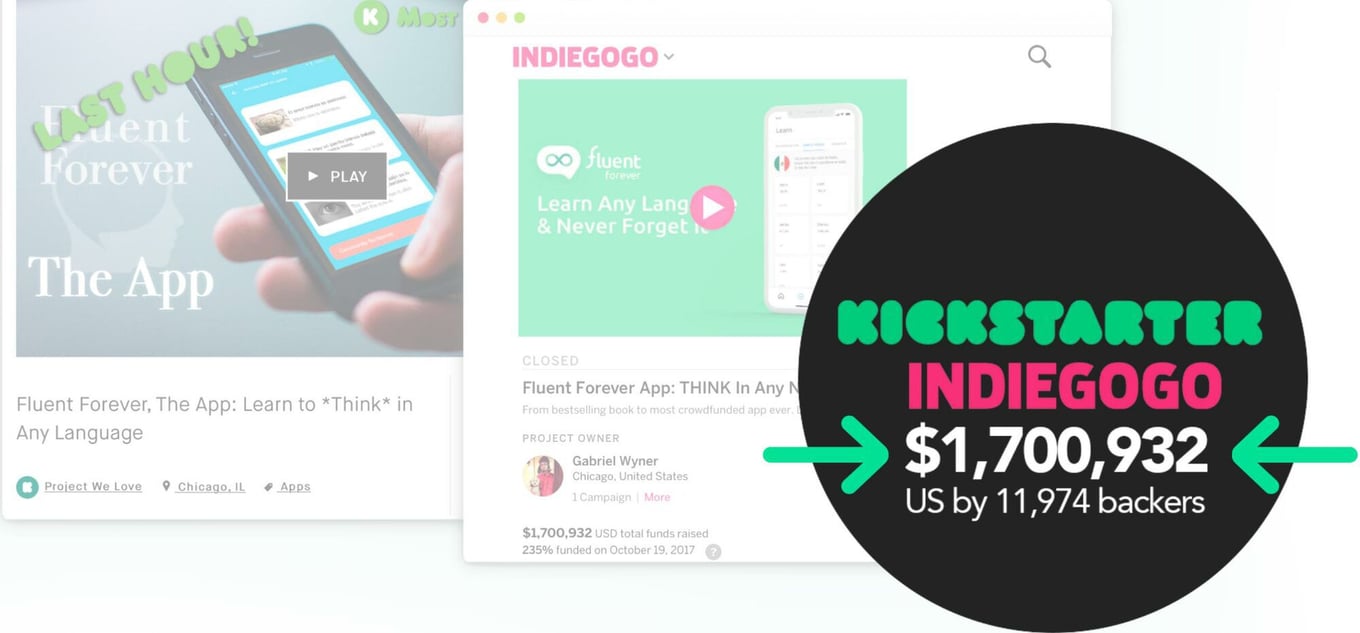 ---
Fundraising history
---
October 2020: $4.9M raised in Seed Round
$13.5M post-money valuation
June 2021: $1.1M raised from existing investors
$25M cap, 10% discount post-money SAFE

Current investors: Stout Street Capital, Firebrand Ventures, Cultivation Capital, LAUNCH/Jason Calacanis, Spero Ventures, Mana Ventures, Brighter Capital, Lofty Ventures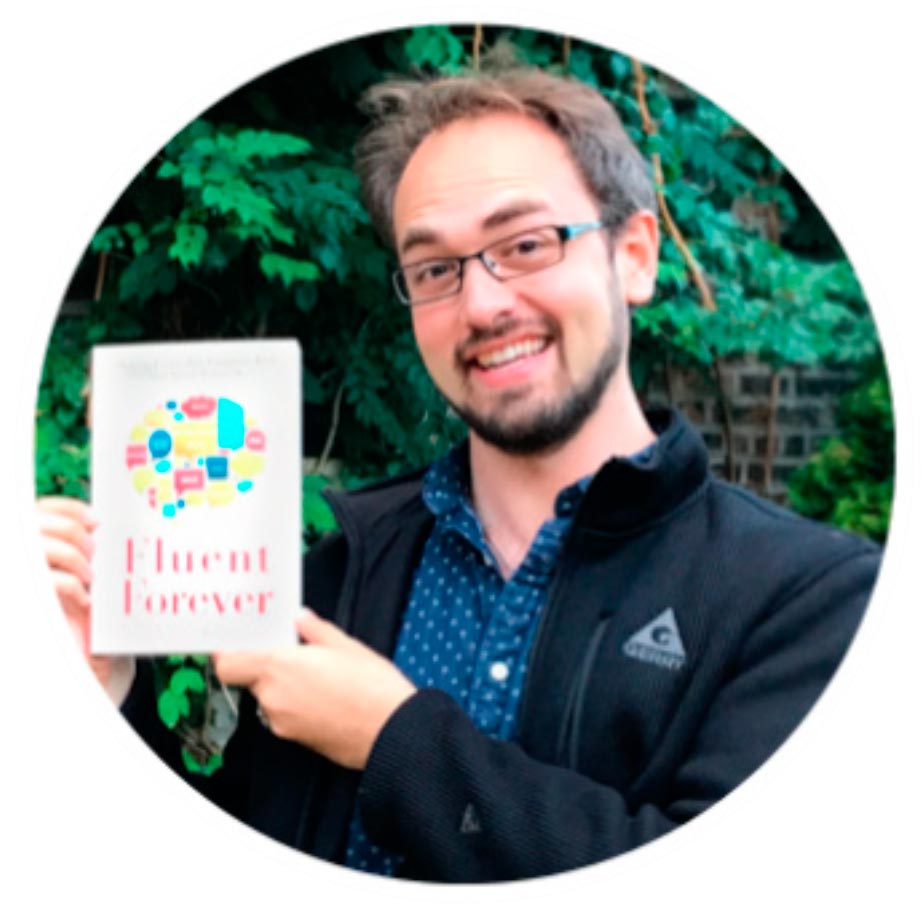 Gabriel Wyner
CEO, Founder, Polyglot &
Bestselling author
Founding Story:
In 2004 Gabe was a mechanical engineer with a passionate hobby for singing opera, requiring him to sing in German, French, Italian, and more. Wanting to further explore his passion, Wyner spent a summer in Vermont at the Middlebury Languages School in a German immersion program. After just five weeks, Wyner was singing in German and decided to pursue a professional opera career. He set out to become fluent in the languages demanded by the craft.
With Wyner's love for languages and fervor for fluency, he moved to Vienna, Austria, where he lived from 2007 to 2013 and attended the Music and Arts University of the City of Vienna. There he earned a master's degree in song and oratorio in 2012 with honors.
While living in Europe in 2008, Wyner spent two months in Perugia, Italy, where he learned Italian. Two years later, he completed a French immersion program over the summer at Middlebury Language Schools in Oakland; and in 2012, returned to Middlebury Languages School in Vermont for the third time for a Russian immersion program.
That same year, Wyner published a Lifehacker article that went viral about his groundbreaking formula to fluency and garnered a publishing offer within two hours. In August 2014, Wyner's first book "Fluent Forever: How to Learn Any Language Fast and Never Forget It" was published and has since sold more than 160,000 copies and just became a best seller in May 2018.
In September 2017, Wyner launched a Kickstarter campaign in support of developing the Fluent Forever app, which has gone on to be the most funded app in crowdfunding history, raising a total of $1.7 million. Wyner has various levels of fluency in Spanish, German, French, Russian, Italian, Hungarian and Japanese. He has a dog named Norbert, who has an impressive 19,000 followers on Instagram and serves as Fluent Forever's mascot.