Smaller companies face unique challenges when it comes to building their teams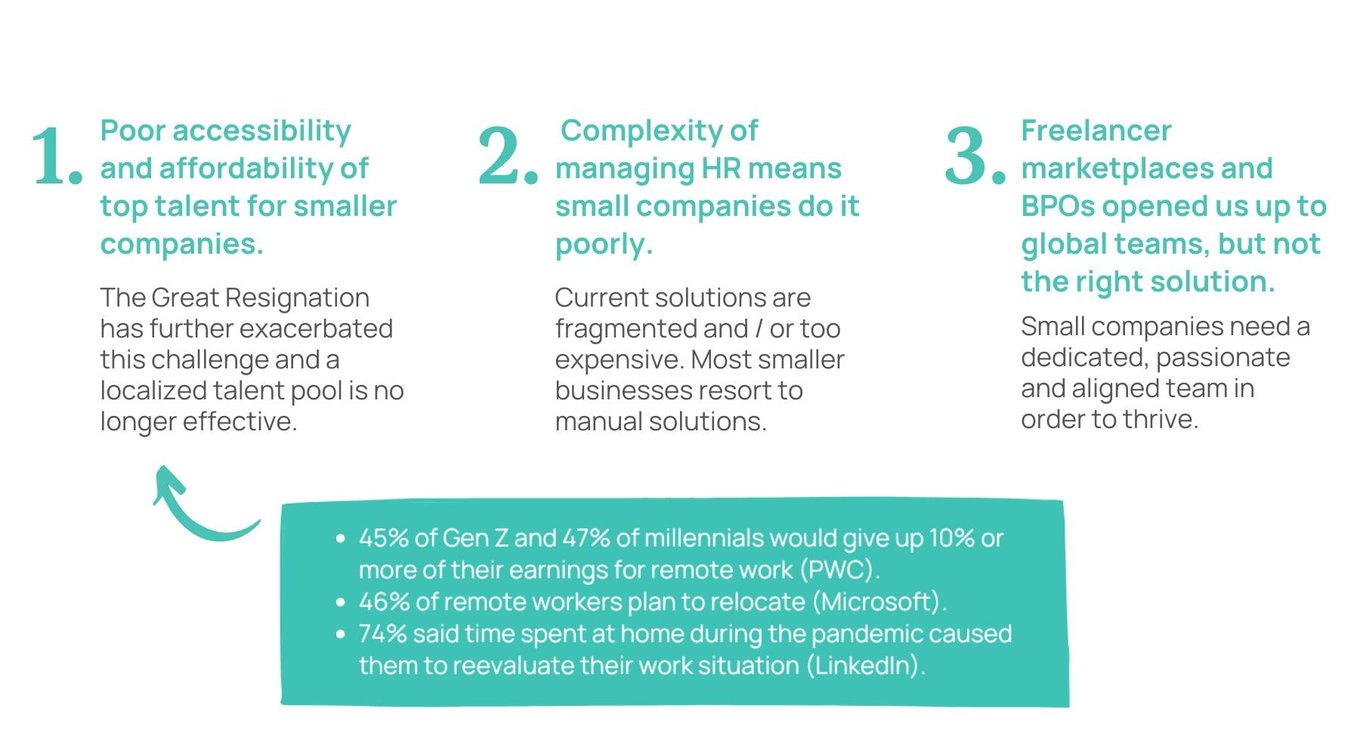 "Anywhere work", and the global talent pool, provides a huge opportunity for these companies.
A global tech-driven staffing company, redefining work for humanity
Work is taking on a new meaning, becoming decentralized and uncoupled from nation-state. It's time the agreements we make to join teams and work together on what's important for the future be sovereign and expansive.
Growmotely matches conscious companies with aligned talent from our global community, and then supports their ongoing growth and development.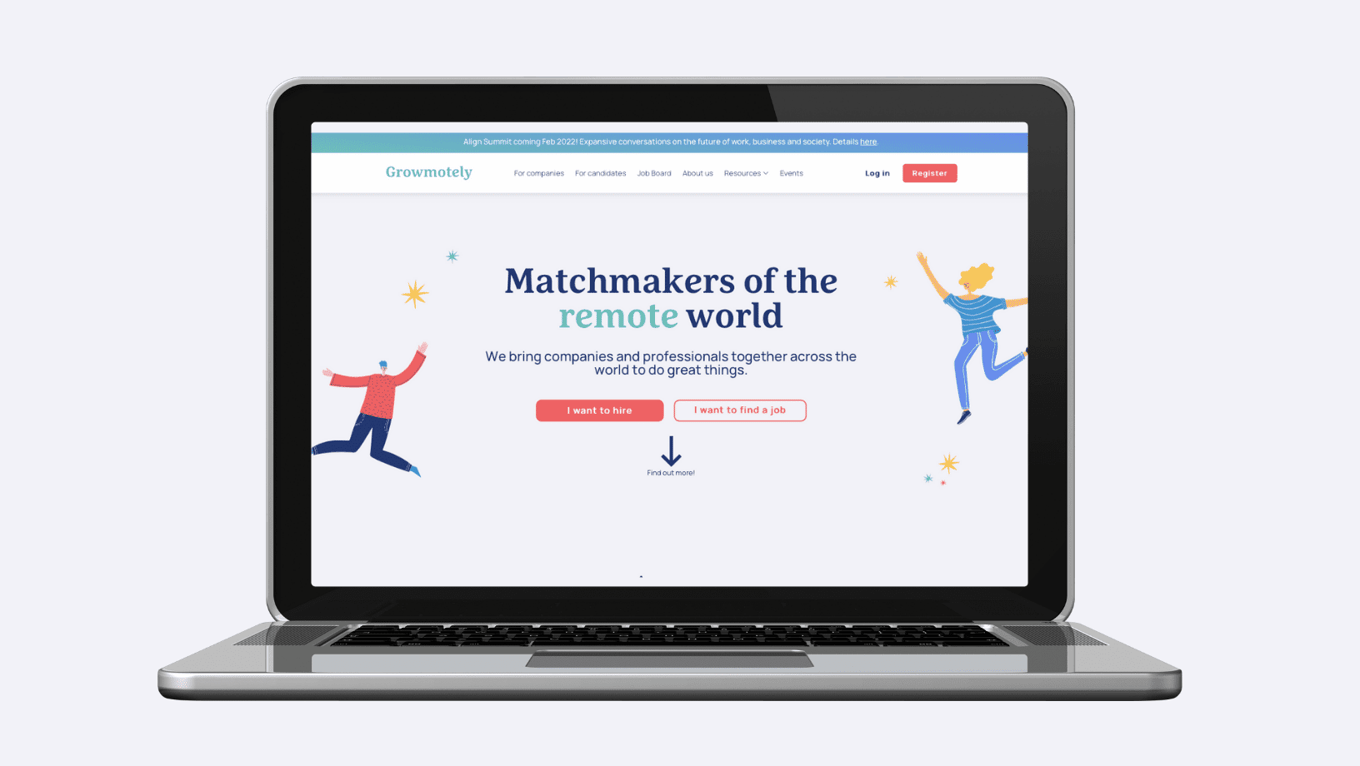 Job board + Recruitment pipeline + Culture-matching algorithm + Payroll & contracts + Benefits marketplace + Culture tools + Community + Events


---
Why? The bigger picture
---
1. Benefits that make sense
Choose-your-own benefits for global teams. Health insurance, therapy, coaching, education.
2. Diversity, inclusion, equality
Culturally diverse teams break down unconscious biases. Improved opportunities for women, close the gender pay gap.
3. Culture-matching
An algorithm that matches companies and professionals based on positive culture fit. Better work experience and outcomes for everyone.


---
Brand positioning
---

The world of work has now been blasted open, and we have myriad evidence of consciousness in business works. It's time to bring the power of anywhere work and consciousness to business globally.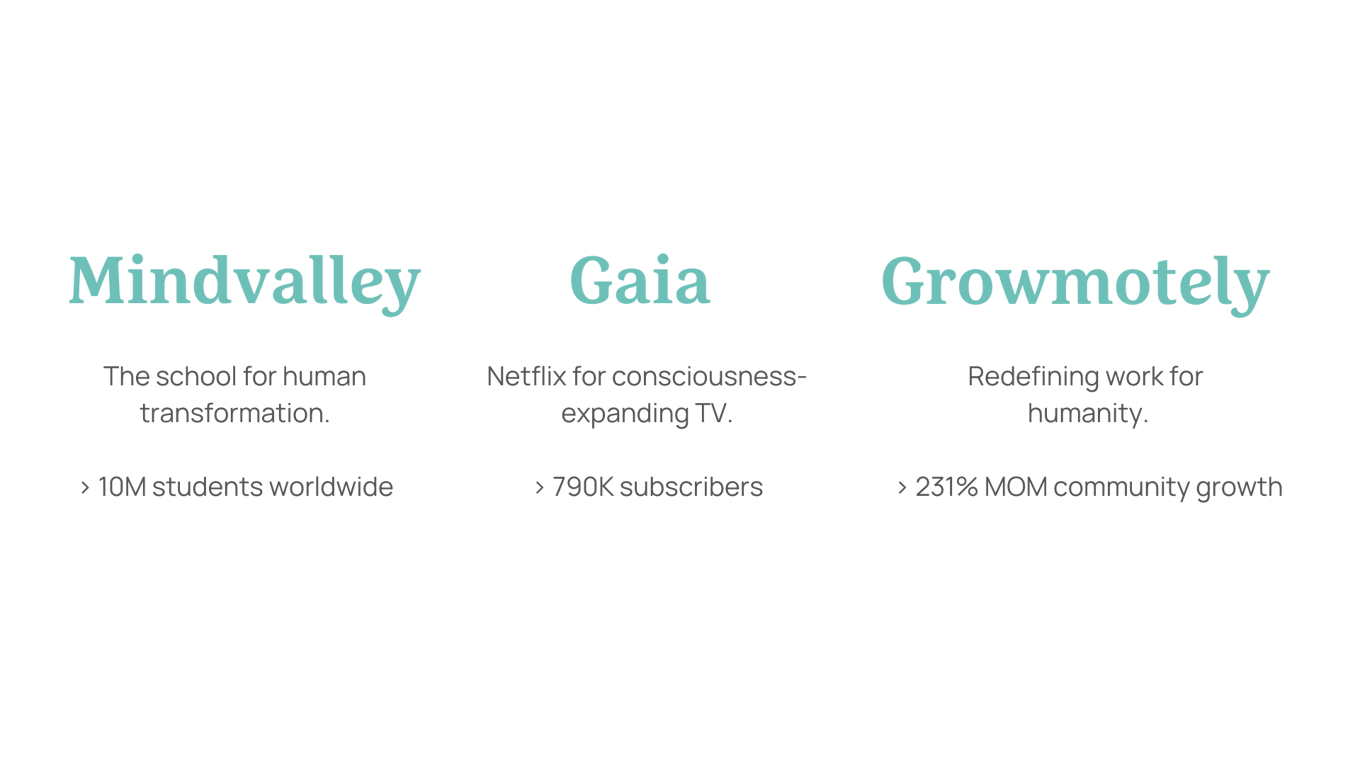 Growmotely features

—
Post jobs, find and funnel applicants

—
Engage team members, manage payroll and benefits

—
Understand and improve your company culture

—
A community for hired professionals, supported
by events and mastermind groups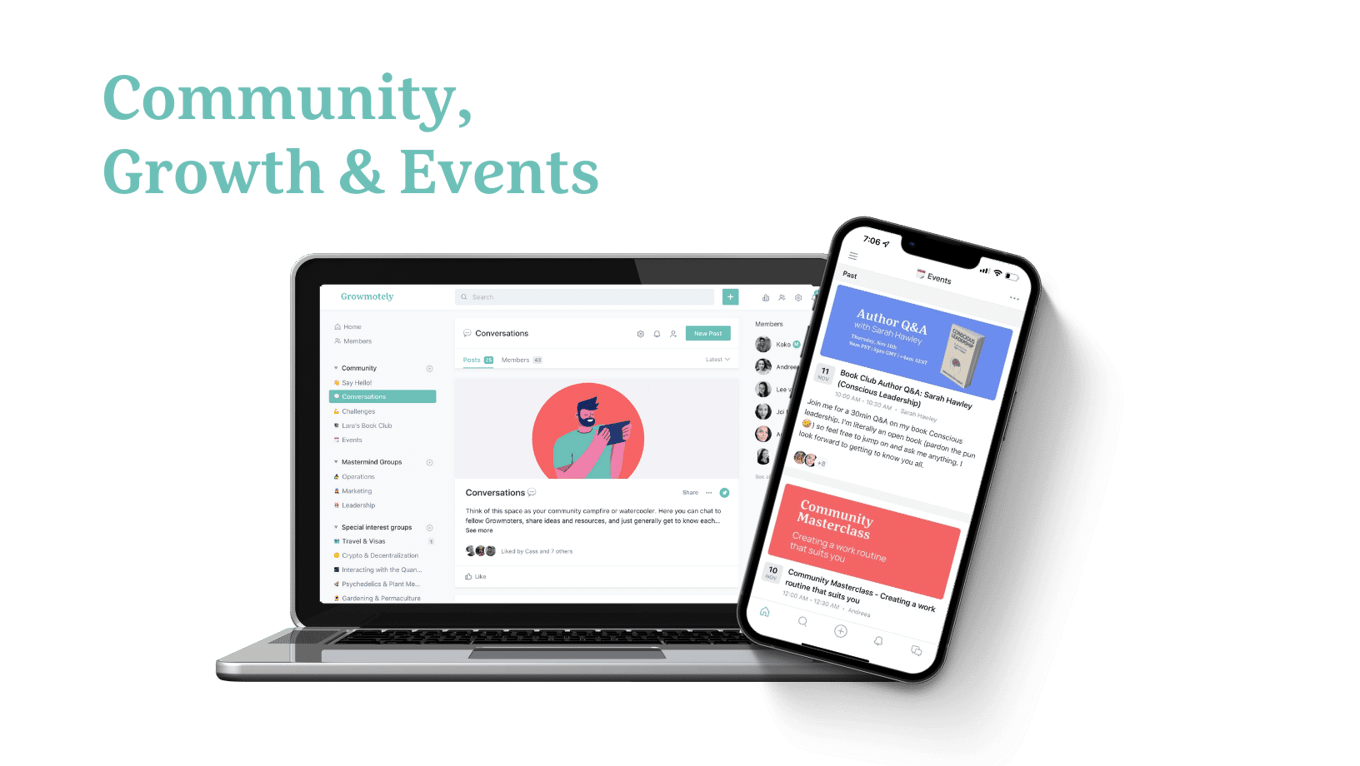 Until now, all of the above was overwhelming for small business owners, costly, and required multiple pieces of technology.
Key numbers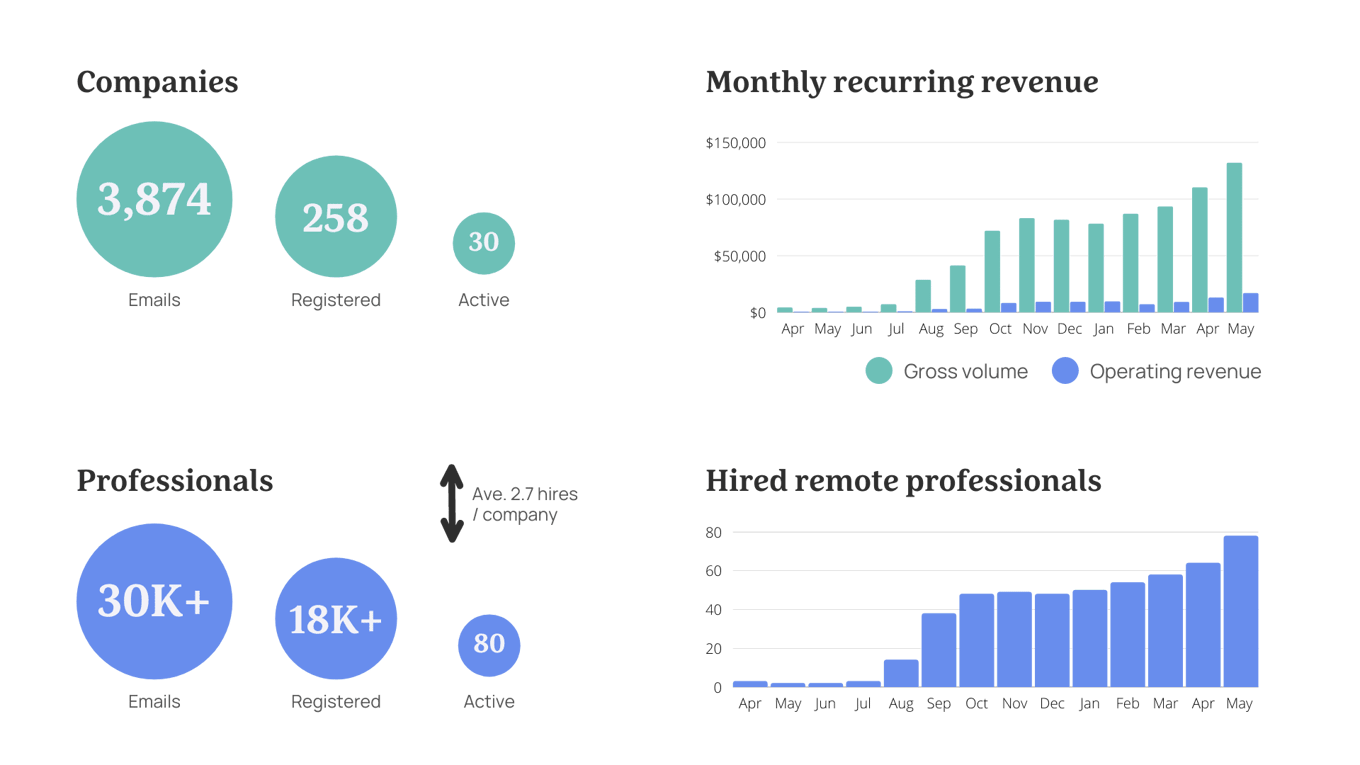 ---
Consistent growth
---
We've achieved significant and consistent traction since our launch in late April 2021.
20% average revenue growth (month over month)
40% average professional user growth (month over month)*
18% average company user growth (month over month)*
80 active hires, across 30 companies
5.5% churn for 2022
Well-resourced, internal team of 24 across 15 countries
*organic growth with no paid advertising since Nov 2021.
---
Our history
---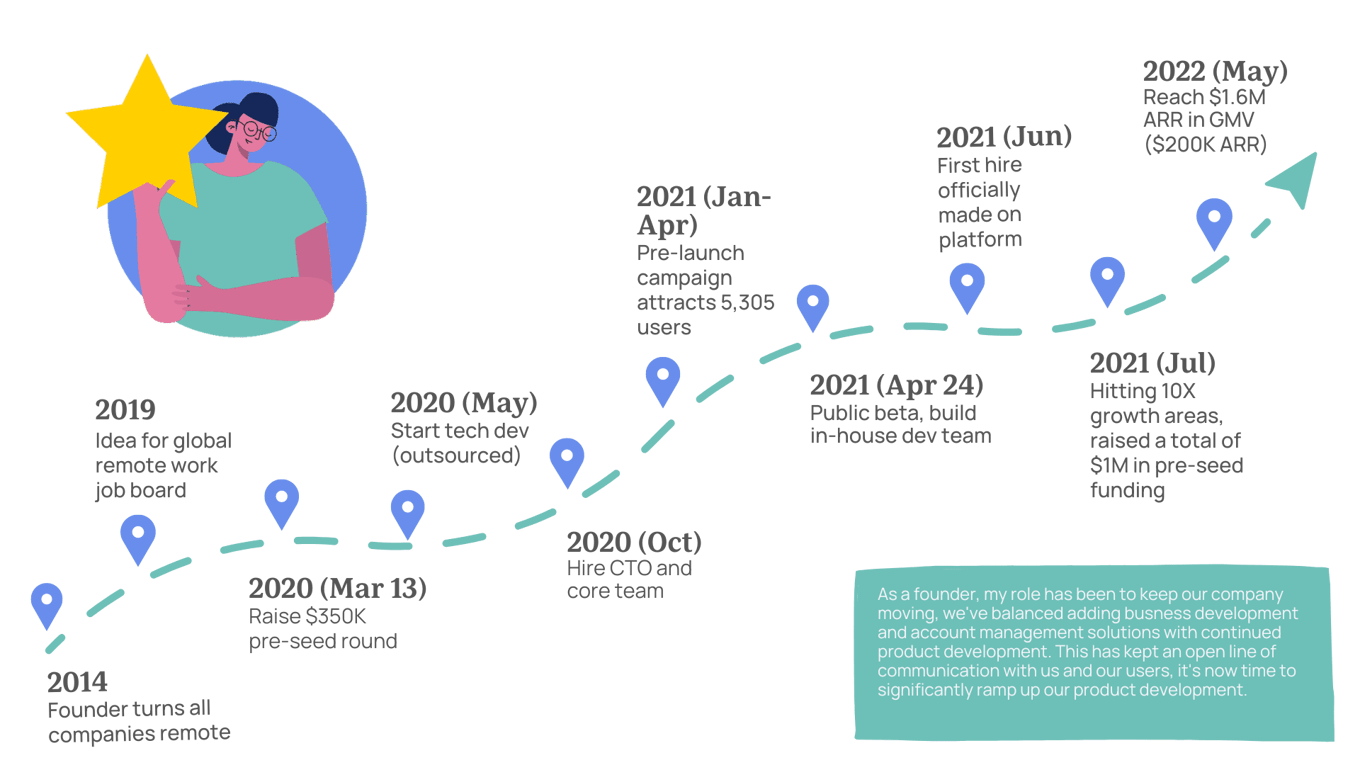 What our community says...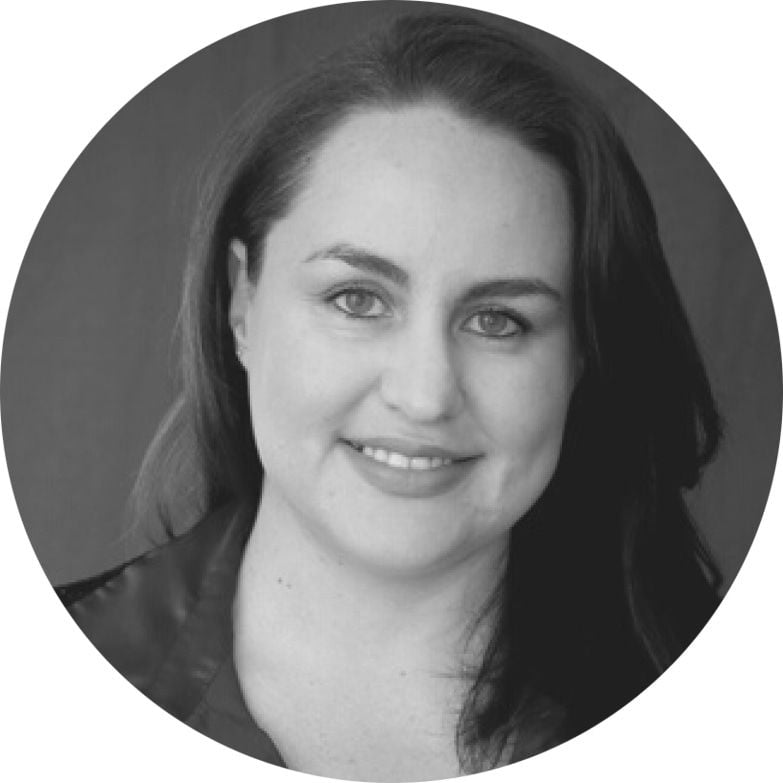 Michelle Nepgen
Operations Professional (South Africa)

"I'm extremely thankful for Growmotely. Not only did they match my skills up with a fantastic company, but they also supported me throughout the entire process. This is the future of work."
---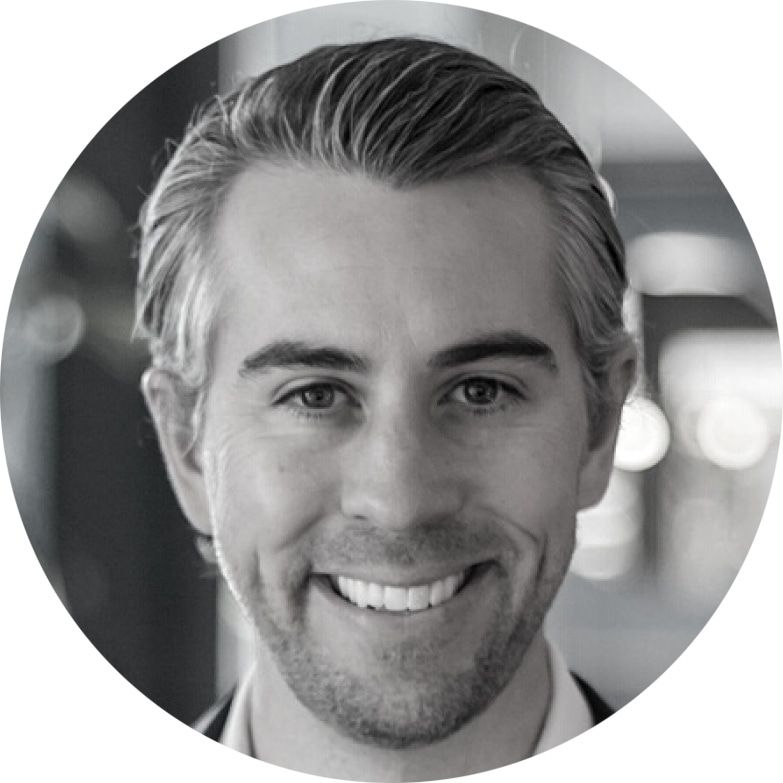 Seth Conger
COO Freedom Practice Coaching (USA)

"As a growing company, focused on creating a global workforce and client base, this is the best resource and platform I've ever used to find and vet great talent. The dashboard is intuitive, process is simple and compensating our team members could not be easier. We've already made a dream hire through this platform that would have taken months to find through LinkedIN or through a state-side recruiter. If you are curious about creating a remote workforce this is absolutely the place to start."
---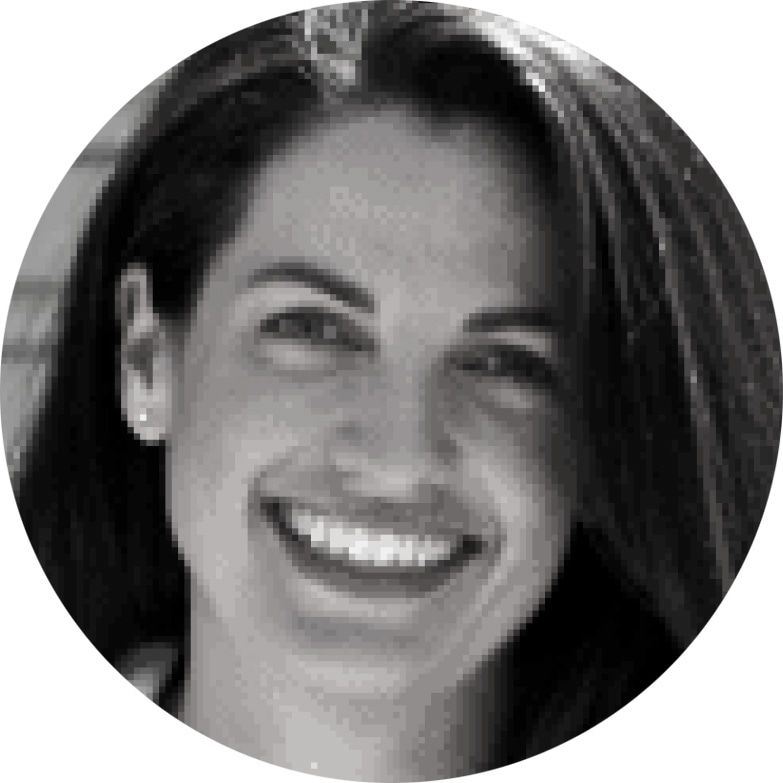 Meggie Palmer
CEO & Founder PepTalkHer (USA)

"Problem: I need to grow my remote team, I'm time poor and recruitment is not my strong suit. Solution: Growmotely. Couldn't be happier with their technology, support and the community element. This truly is an all in one solution, perfect for small growing companies."
---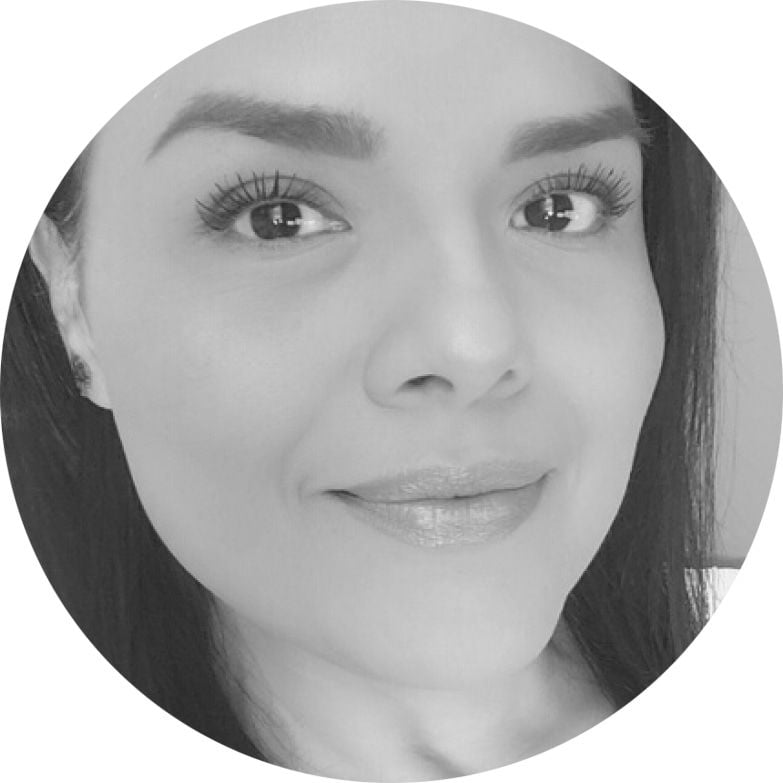 Adriana Mendoza
Operations / Business Manager (Mexico)


"Alignment and perfect timing, that is how Growmotely found me. When I made the conscious decision of living in happiness, I was immediately guided to this amazing community that showed me a new world of possibilities, every single interaction with the team has been delightful, they are always willing to help and open to cocreate. I can't wait to see their next steps!"
---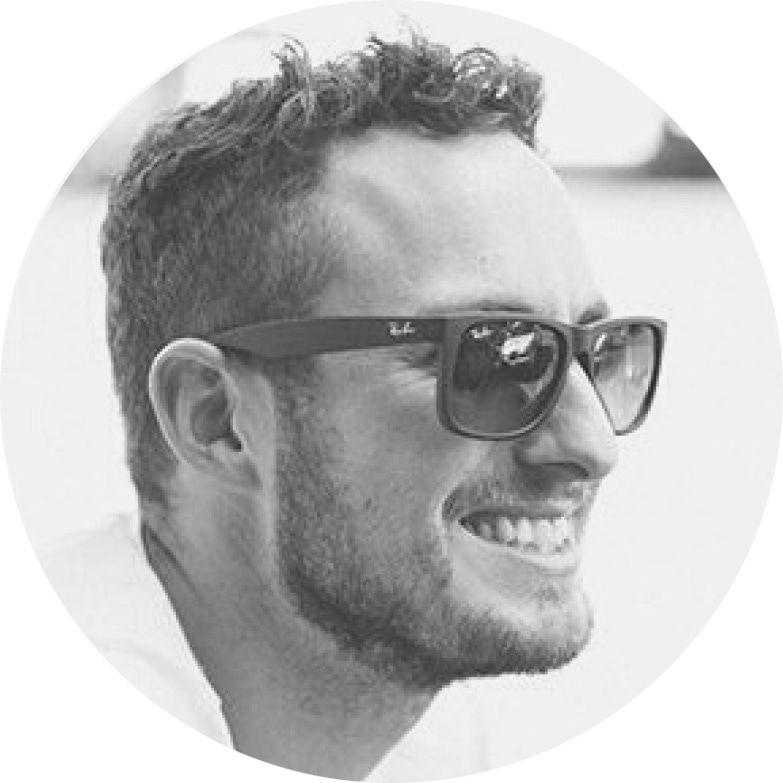 Ash Bent
CEO & Co-founder Sketch & Etch (Australia)

"As a fast-growing company that's constantly expanding into new markets, hiring great talent, quickly, is one of our biggest challenges. Growmotely helps solve this for us by giving us access to a huge pool of global talent on a platform that is extremely efficient and easy to use.
Great culture is at the core of our business. It is what allows us to rapidly grow whilst attracting and obtaining great people. Growmotely allows us to find more great people from all corners of the globe and offer them a range of benefits that the individual can then choose from.
Previously, I'd post an ad up on a job search website and wait for applicants that lived within an hour's commute of the office to apply. I was stuck on the idea of having people in the office as it was what I knew and was comfortable with. Since working with Growmotely, this opinion has completely changed. How wrong I was. We now have team members all over the globe and this access and retention of great, global talent is what has allowed to scale rapidly over the past 18 months. This is the new way of work and I'm so glad we're a part of it."
Monthly recurring revenue
We developed a captive and recurring SaaS business model, powered by a global marketplace.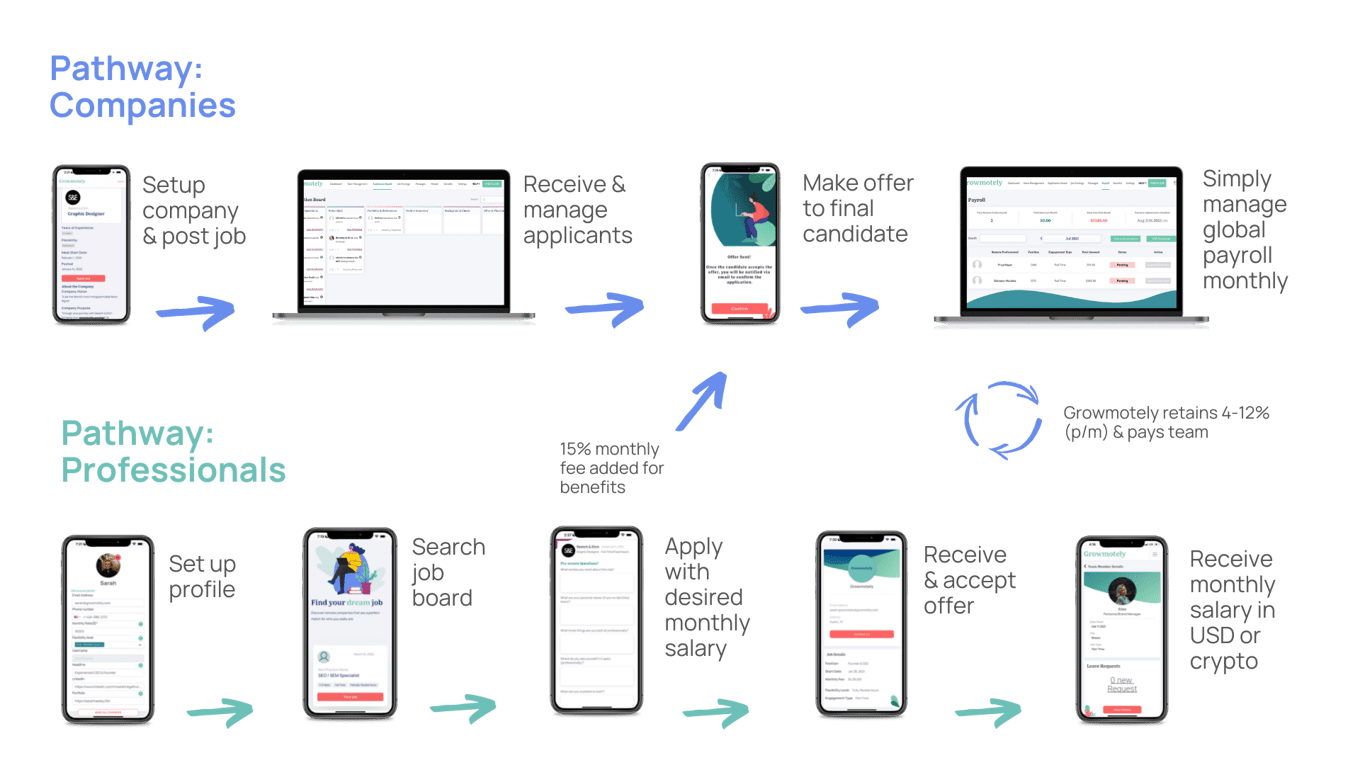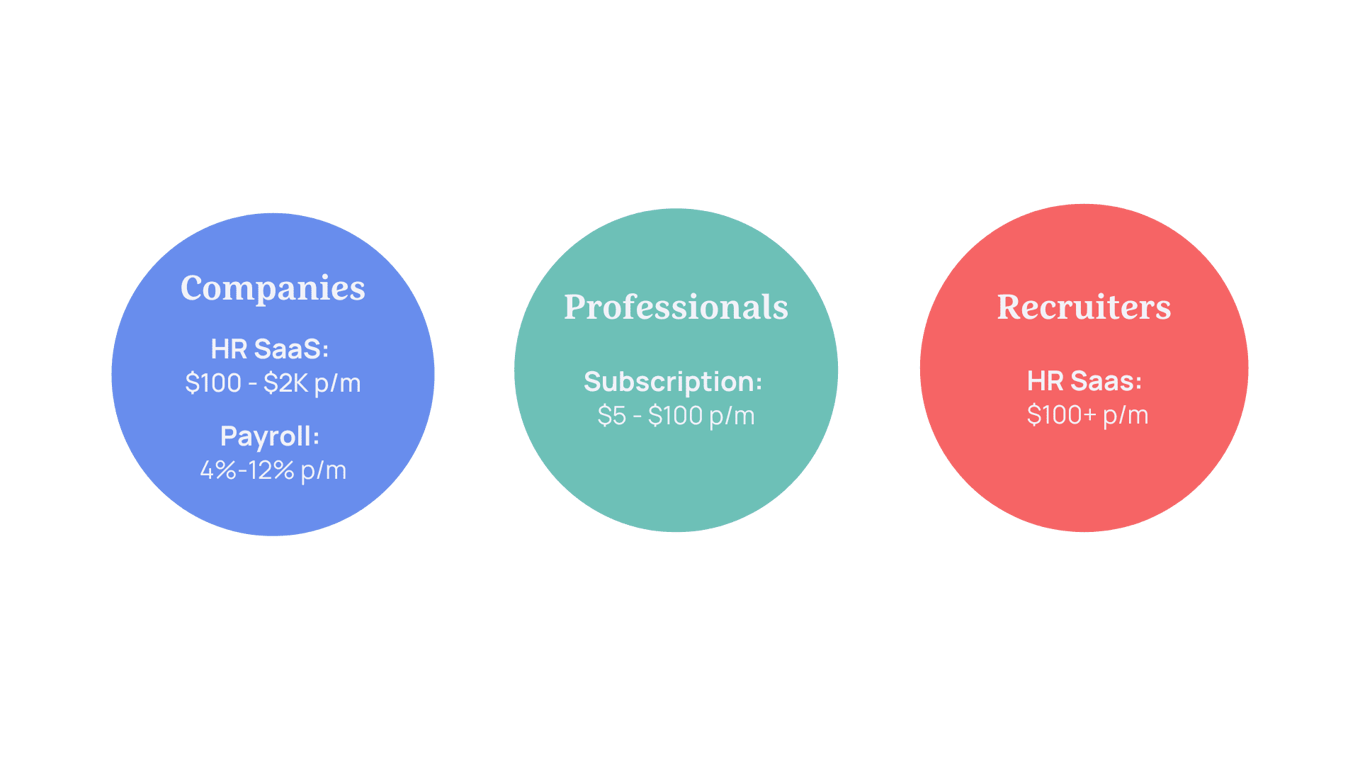 —
Financial forecast (thru 2024)*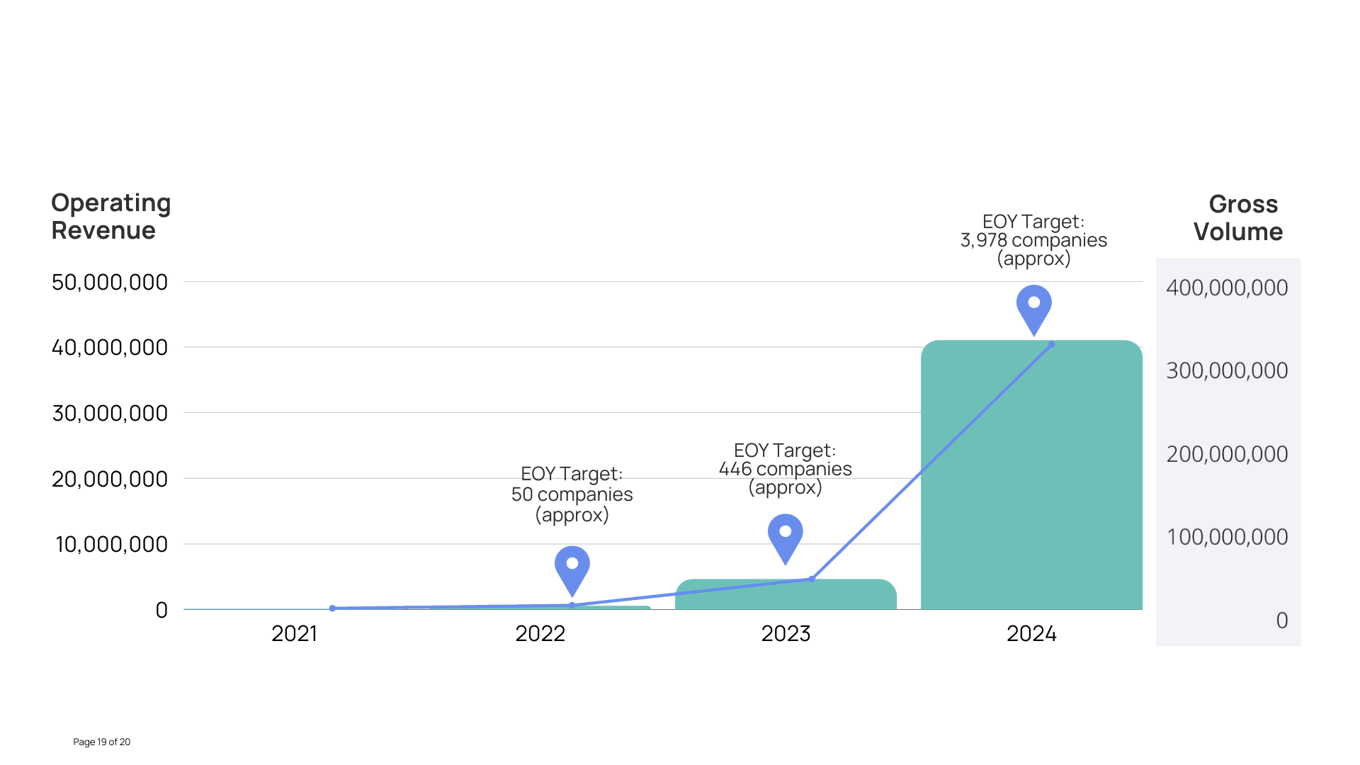 —
Pathway to $100M* in recurring net operating revenue:
Average Annual Payroll: $180K (Monthly: $15K)
Annual Growmotely Take: $21K
$1M: 48 companies
$10M: 481 companies
$50M: 2,407 companies
$100M: 4,815 companies
* Click here for important information regarding Financial Projections which are not guaranteed.
Global employment services market estimated to reach $1,677B by 2025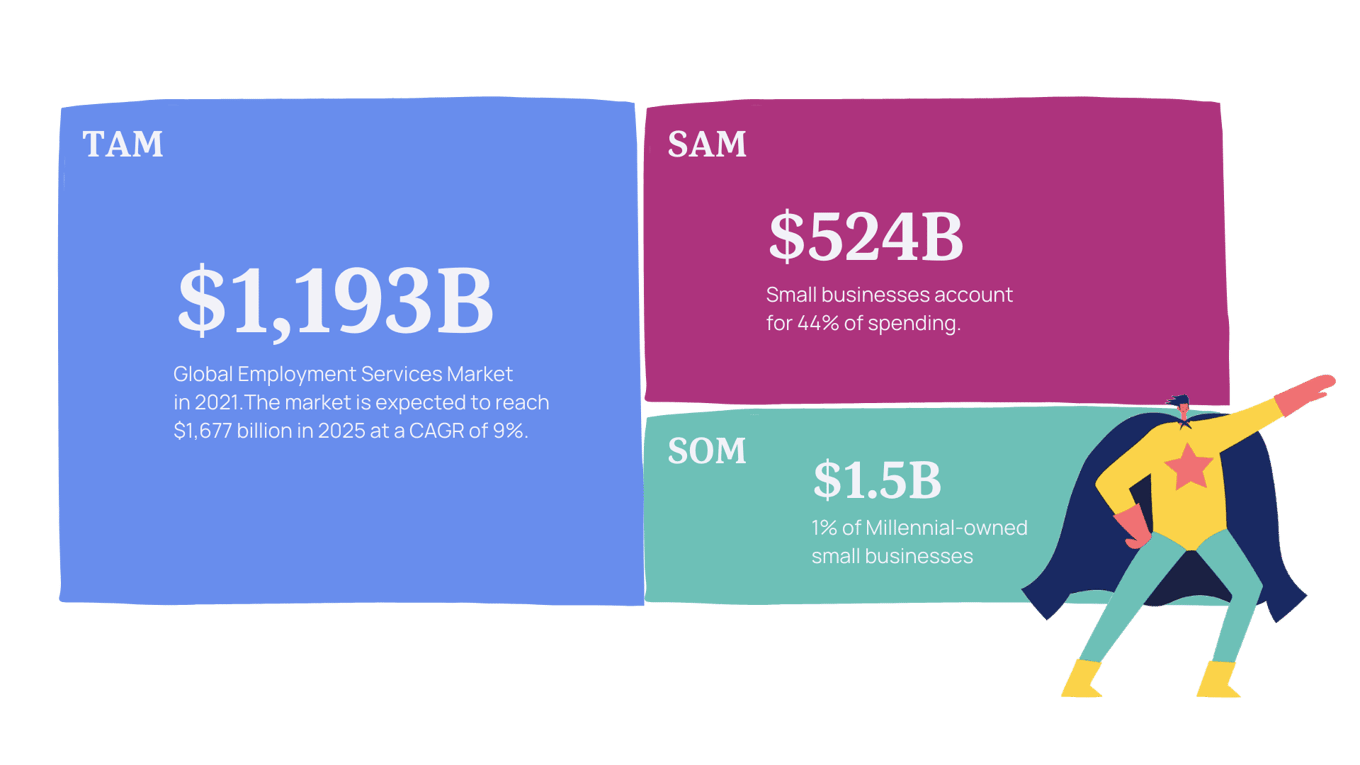 ---
Target market
---


We've built a comprehensive tech solution...
...for smaller companies to access the global talent pool and manage all their HR needs.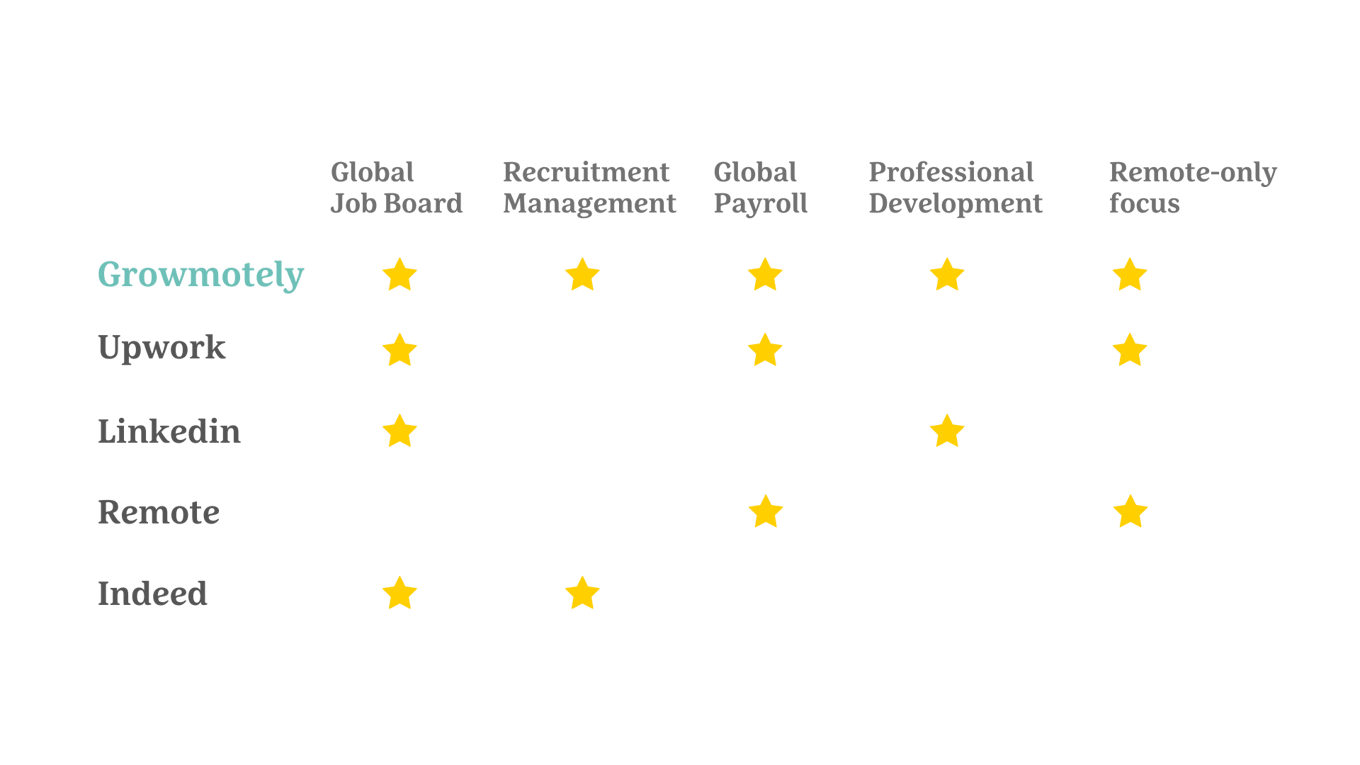 Our moonshot vision
and mission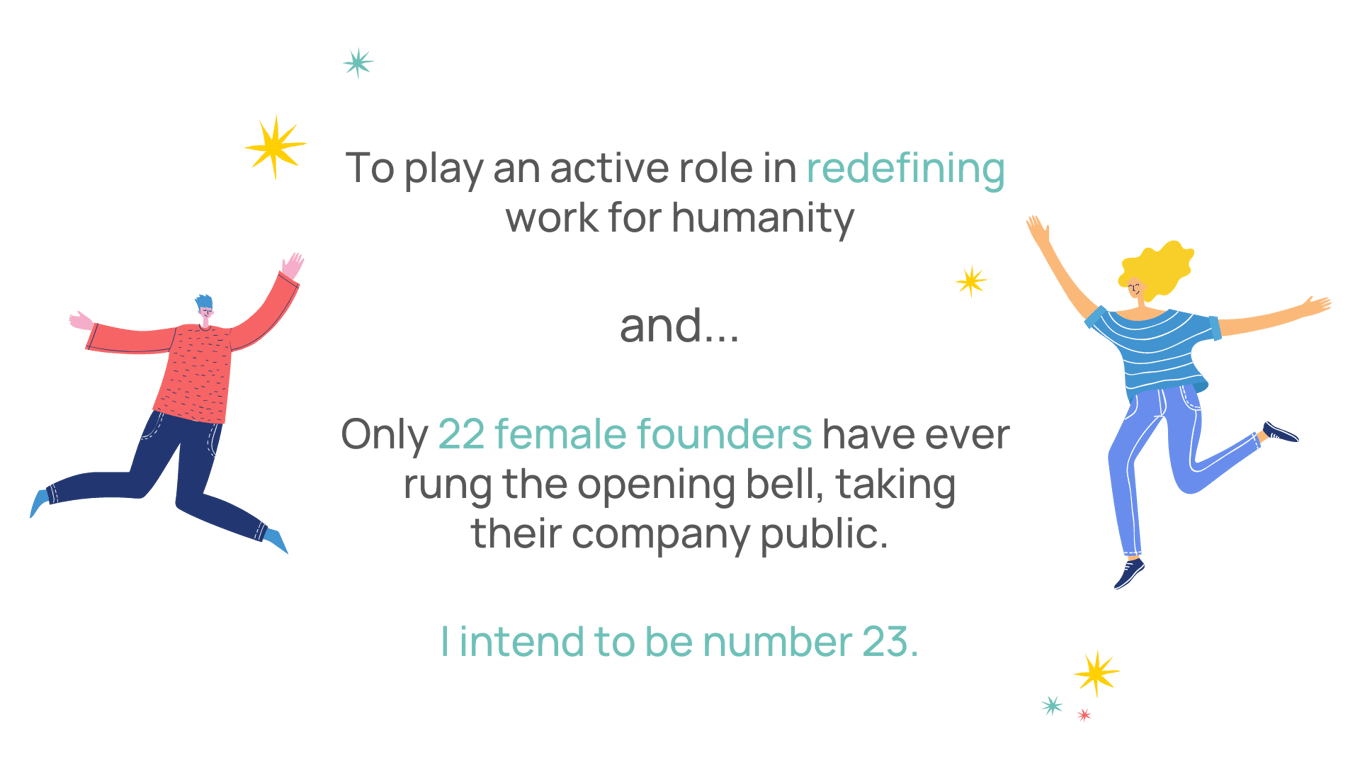 ---
Community-led growth
---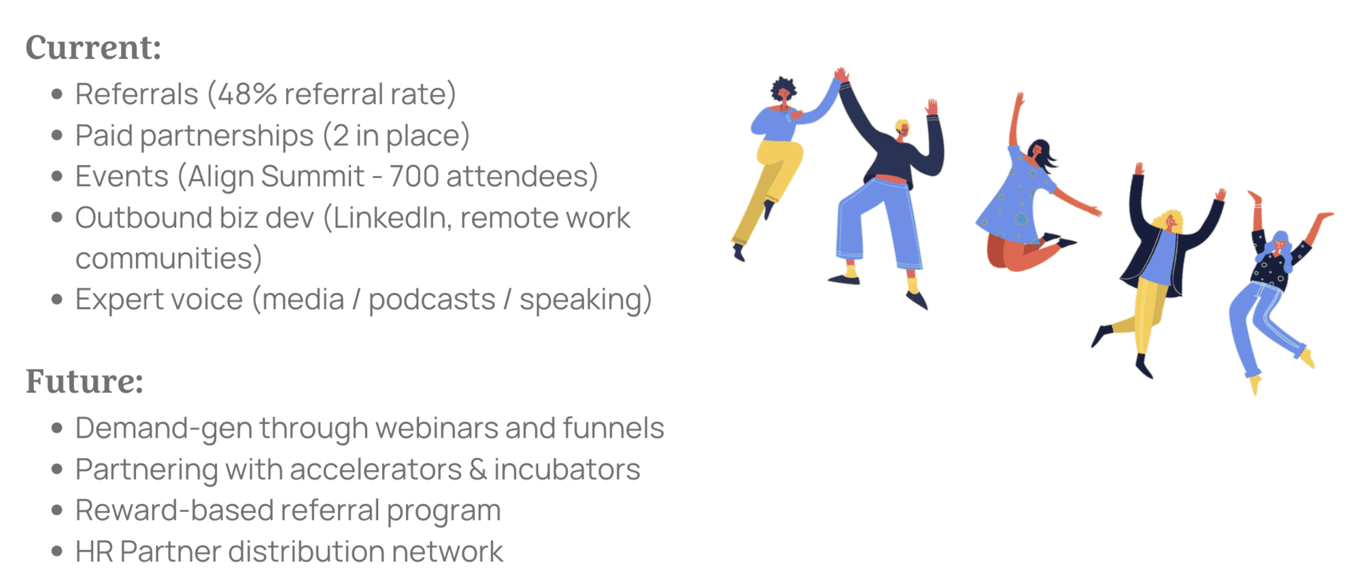 ---
Product roadmap
---