Networks are getting more complicated, leading to security and privacy concerns
Average of 25 connected devices per US household
74 billion connected devices projected by 2025
Most people don't know what devices are actually connected on their networks
---
Digital parenting is more challenging than ever
Kids spend more than 7 hours per day in front of screens
90% of kids age 8–16 have seen inappropriate content online
Screentime management is one of the toughest challenges faced by parents
---
More vulnerable devices lead to increased hacking
70% of connected devices in the home are vulnerable to hacking
330% increase in hacking during COVID19
Default network security in devices is inadequate
---
A solution is urgently needed
Fragmented market makes finding solutions difficult
Existing solutions are ineffective and difficult to use
COVID-19 driving surge in-home Internet usage and online threats
Intelligent firewall
made simple
Gryphon makes it easy to help protect you, your family, and every device in your home from digital threats online. No more worries about hackers, malware, or intrusions into your privacy. No more worries about your kids being exposed to inappropriate content or screen addiction.
Gryphon is a cloud-managed network protection service platform that's powerful yet simple. The platform combines an elegant high-performance mesh WiFi system, a simple to use App, and cloud-based machine learning that will continuously improve the protection over time and usage.
With the patent-pending Homebound™ app, Gryphon also provides on-the-go smartphone protection when your family is away from your home network.
Gryphon combines ultra-fast WiFi with a complete digital protection platform


WiFi options
Gryphon AX



Powered by the latest mesh WiFi 6 technology
40% boost in speed
40% increase in total WiFi capacity

Gryphon Tower



Up to 3,000 sqft of high-speed WiFi coverage




Gryphon Guardian



Up to 1,800 sqft of WiFi coverage
Can be used to expand the coverage of the Gryphon Tower



Enterprise-grade home network security
Every connected device in your network is automatically protected—no additional software installations are needed
Gryphon scans for vulnerabilities and infected devices that can be compromised by intruders to hack your network
24/7 filtering protects every device from being infected by dangerous malware and ransomware
VPN support and end-to-end data encryption provides personal data protection for every user in your home
Powerful parental controls
Set daily screen time limits to promote healthy screen time
Create daily internet schedules for homework and bedtime
Limit access to websites and distracting apps
Monitor website browsing history
View usage insights based on web categories
Protection everywhere with HomeBound™
Extend Gryphon's security and control to any network
HomeBound™ is a patent-pending extension app of the Gryphon home WiFi system to route all mobile traffic back to Gryphon before going out
Provides data encryption, privacy, and malware filtering for your family's smartphones when away from your network
Parental controls work for your child's smartphone as if they never left the home
Company traction and growth

Over 55k Gryphons sold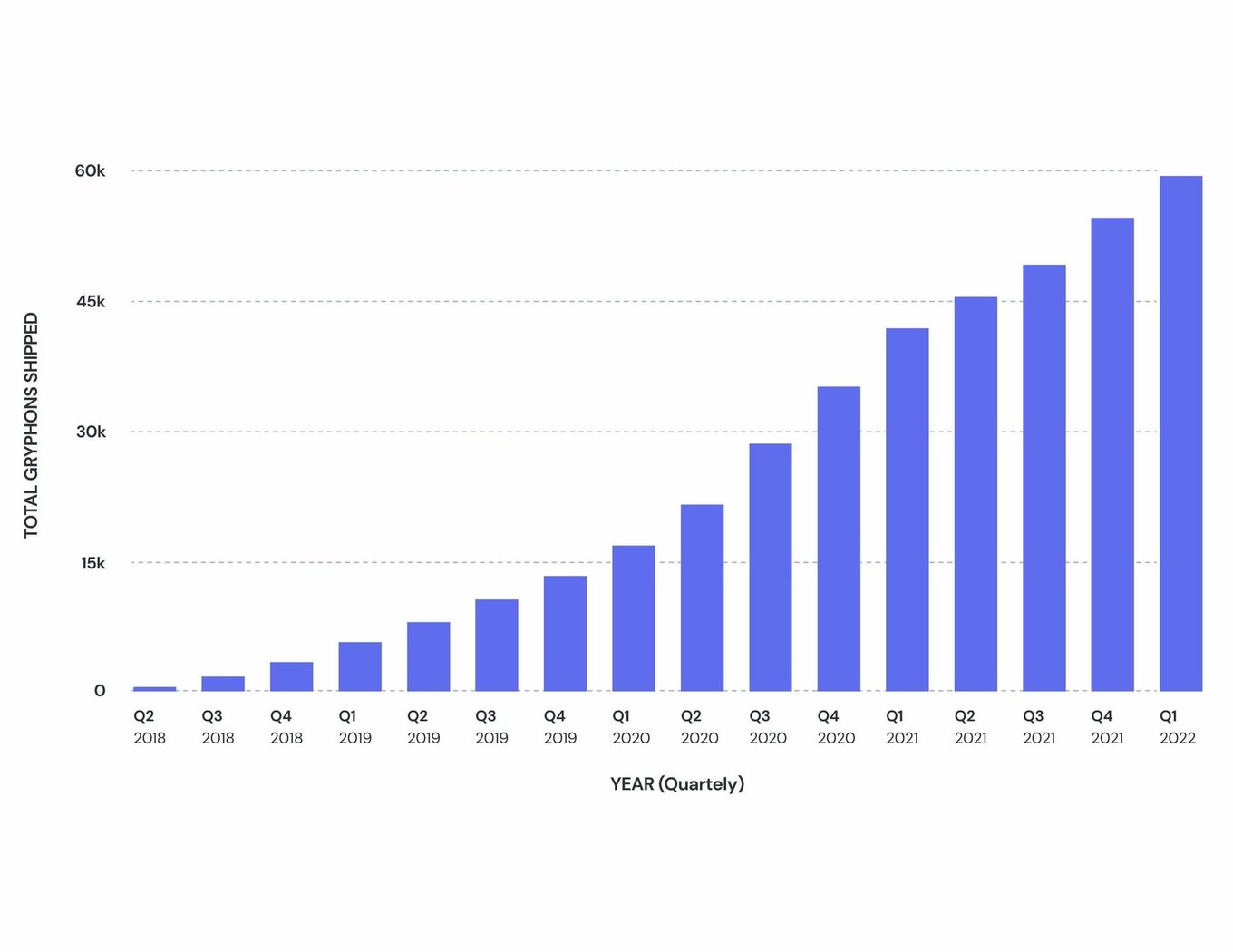 $9M total revenue
with $1.7M+ from software services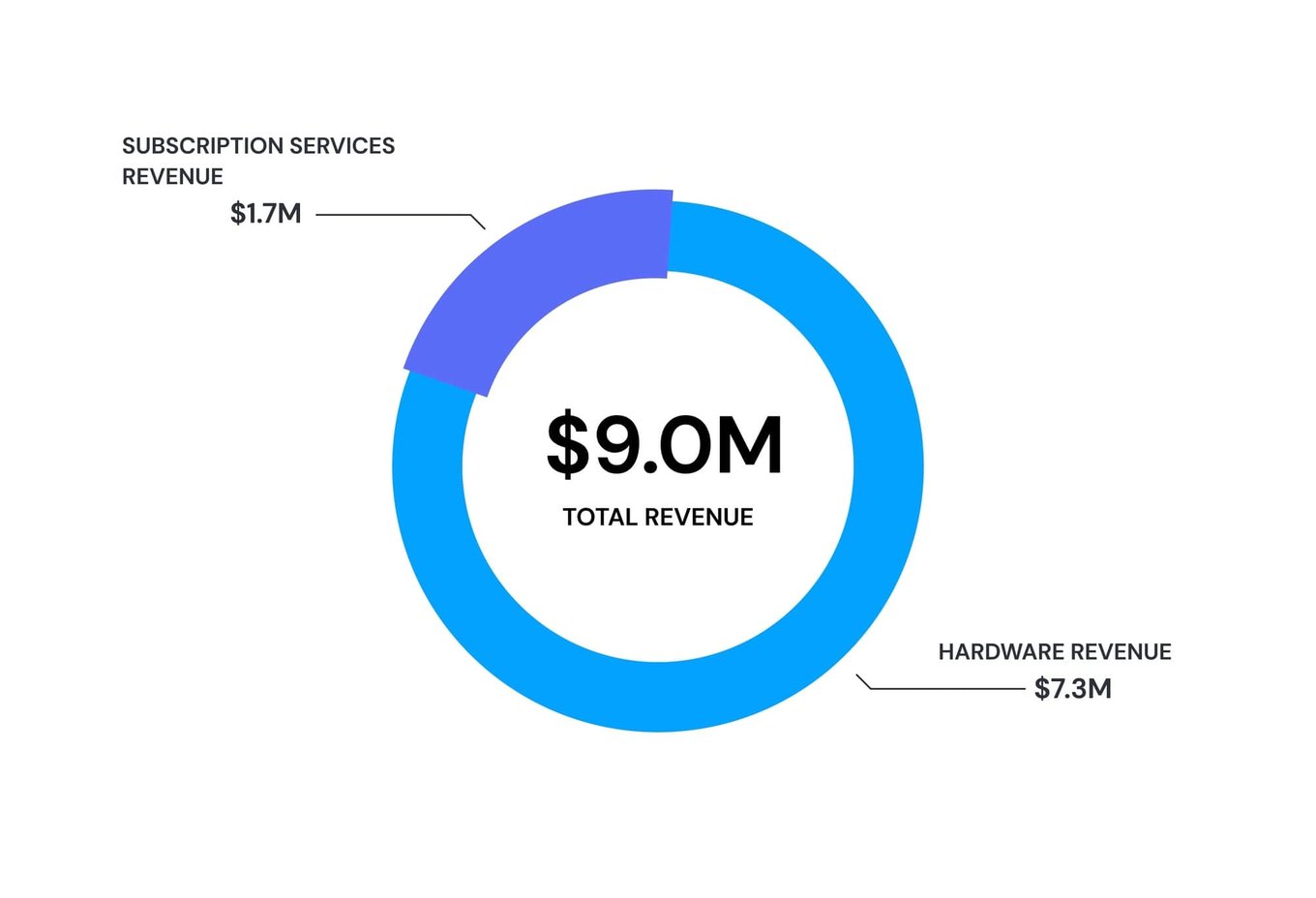 Expansion to Canada with BestBuy Canada and Amazon Canada in Oct 2021
Gryphon AX with WiFi 6 technology launched in Aug 2021
Recognized by Connect w/ San Diego Venture Group as one of Southern California's fastest-growing start-ups three consecutive years
Awards and industry recognition
Best Security-Focussed
Mesh Router

2019 Best WiFi Mesh Network
Systems · Top 10 List

"The Best Parental Control
Hardware Around"

Best of CES 2019 · Best Router
for Family Safety and Privacy


What press is saying
---
---
---
---
Multiple revenue channels
Direct to consumer sales channels
Gryphon website
Recurring software service revenue
Online marketplaces
| | | |
| --- | --- | --- |
| Amazon (US, Canada, and United Kingdom) | BestBuy.ca | Walmart.com |
| NewEgg.com | Wellbots.com | StackCommerce.com |
---
Growing service revenue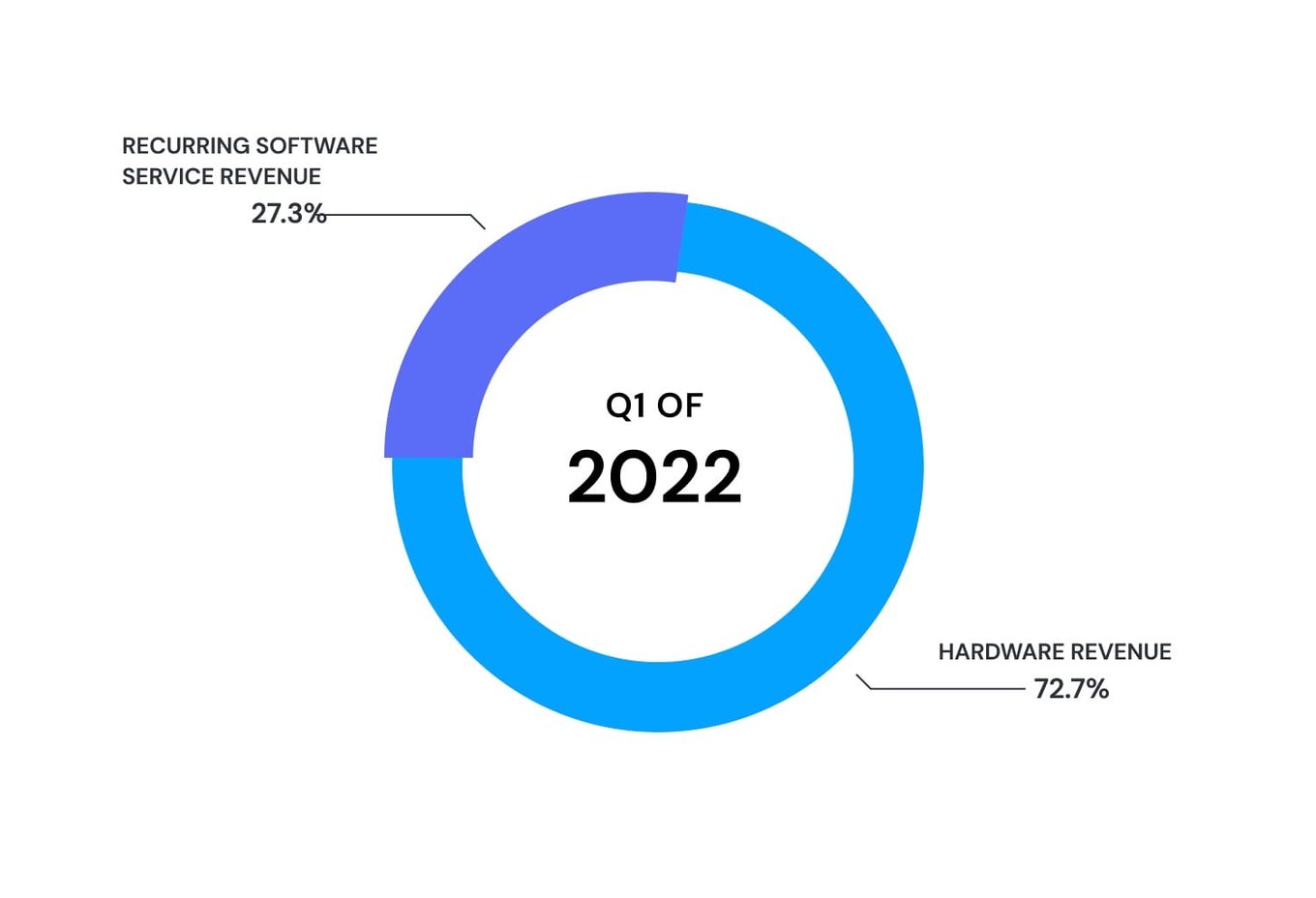 ---
License and service
Software license and term sheets
87% gross margin on service
---
Data intelligence
12+ managed devices per home (average)
330k+ internet-connected devices being protected
11M+ malware and intrusions blocked
Key trends driving growth
Complex home networks + WFH + distance learning = robust market opportunity
Growing number of connected "smart" devices in the home
Increasing awareness of privacy issues and screentime addiction
Work from home and remote learning
---
Smart Home Market growing at 23.6% CAGR
---
"Increasing trend of remote working practices to boost
demand for solutions."
-Fortune Business Insights
A leader in total
home network protection
End-to-end solution built from the ground up to help protect your home network and your privacy
6 patents issued
3 trademarks issued
Industry veterans with over 100 years of combined experience in wireless technology and product design
Gryphon was started due to an incident with John's daughter where she accidentally stumbled on some nasty content while searching for princesses on her iPad. This is a worry that all parents are facing today.
We founded Gryphon with the vision to make the internet a safer place for families and small businesses—by creating an affordable and easy-to-use platform that combines the latest in network protection, machine learning, and wireless connectivity.
Just like the personal computer revolution, we believe this is the beginning of a revolution in personal home network protection.
With the increase in home internet usage driven by the pandemic, our mission to protect our online activities is more important than ever!
Web without worry—that's our promise and our mission.
| | | |
| --- | --- | --- |
| Hyberabad Angels | Frontier Angels | ATI Investments |
| MayOne Ventures LLC | The Batchery | Mark Bowles |
John Wu
Co-Founder and CEO
MiFi Inventor, ex-Motorola
Executive with over 23 years of experience in wireless and IoT at global companies like Novatel Wireless and Motorola. Led high impact teams with over 120 professionals and successfully shipped multiple products with over 4 million units annually. One of the key inventors of MiFi mobile hotspot - selected by Time Magazine as one of the top gadgets of the century. John holds 25 patents with others pending.
---
Arup Bhattacharya
Co-Founder and CTO
Built the chip and SW that powered the Apple iPods
Seasoned software and multimedia executive with over 30 years of experience in technology innovation. Led MiFi software development at Novatel Wireless. An executive at PortalPlayer where he developed multiple generations of the media chip that powered the Apple iPods and helped lead the company to IPO and eventual acquisition by NVDIA.