There are three big beverage pain points:
Sugary soda and energy drinks are causing epidemic-level diabetes and obesity.

Plastic and glass bottles are a leading source of pollution.

Artificial ingredients are causing cancer and autoimmune disorders even in healthy people.
The consumers of today are looking for a healthier, sustainable, and environmentally-friendly alternative to the sodas of yesterday.

Real McCoy Tea Company, also known as Kombucha Town (KT), is a premier manufacturer and seller of fermented, ready-to-drink beverages. We are on a mission to replace soda with a healthy alternative. Brewed with a variety of fair-trade certified, non-GMO, and USDA Organic teas, sugar, and ingredients, our non-alcoholic kombucha blends are good for you and our planet. Our products are also sustainable, and actively give back to the community and environment. With each case of Kombucha Town purchased online, we plant a tree through the One Tree Planted Foundation.

KT produces 3 unique and differentiated product lines. All of our products are made with proprietary cultivation, harvesting, and processing methodology that includes only the strongest and most vibrant cultures from each batch into the final product. We are firm believers in quality of culture over quantity of culture to create the healthiest and most delicious products possible.
We also package exclusively in aluminum cans as they are by far the most environmentally-friendly option. They are also the most cost-effective and efficient to ship.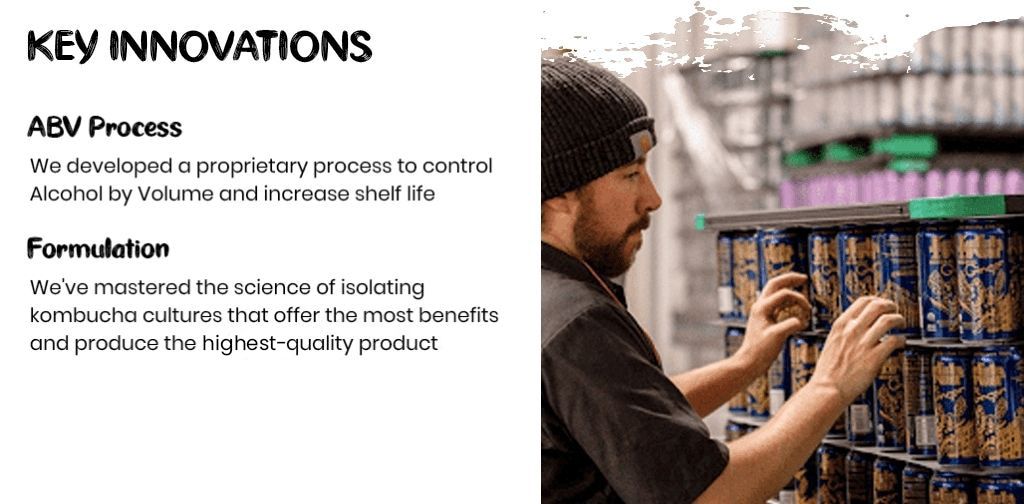 KT has grown from a small mom-and-pop farmer's market business in Bellingham, WA, to being sold overseas and in over 20 states in just a few years. In 2014, we were one of the first to release a live kombucha product in environmentally-friendly aluminum cans. Since then, we've continued to be an innovation leader in the category with proprietary formulas, novel methods, and a state-of-the-art brewery. We now retail with Whole Foods, Natural Grocers, Safeway, Sprouts, and Kroger, and are in progress with 7-Eleven, Costco and Walmart.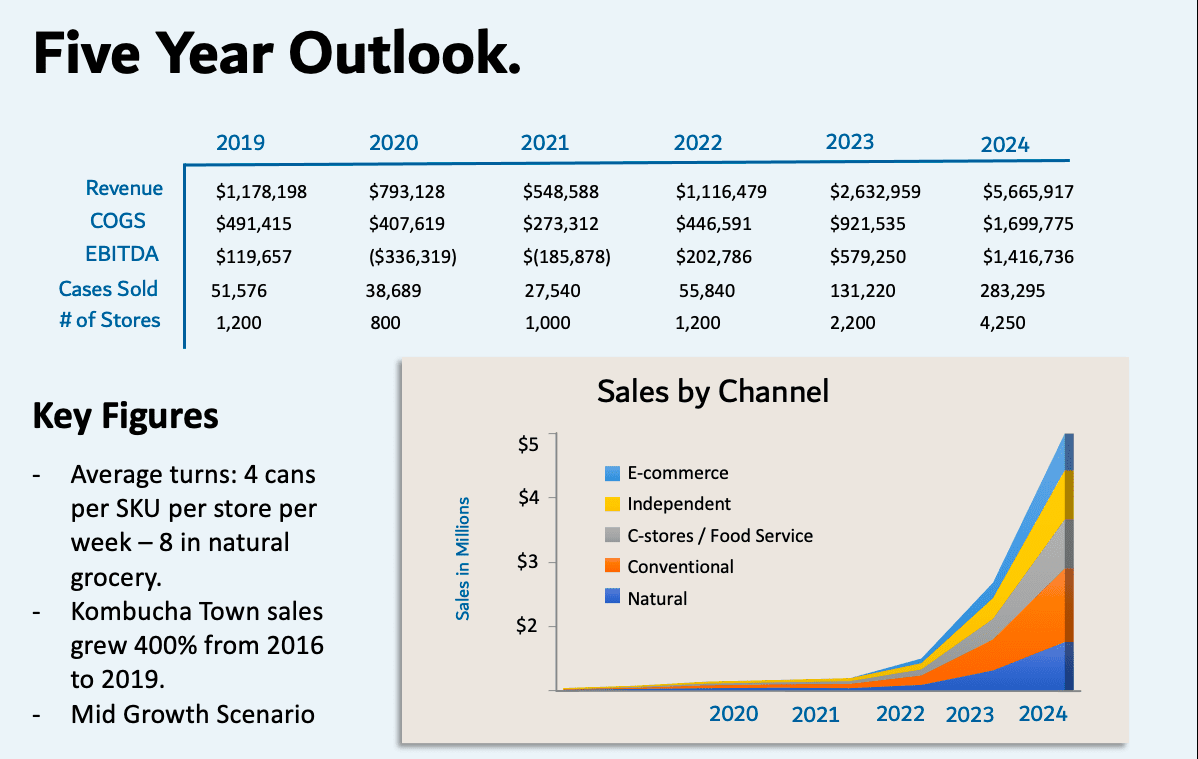 * Click here for important information regarding Financial Projections which are not guaranteed.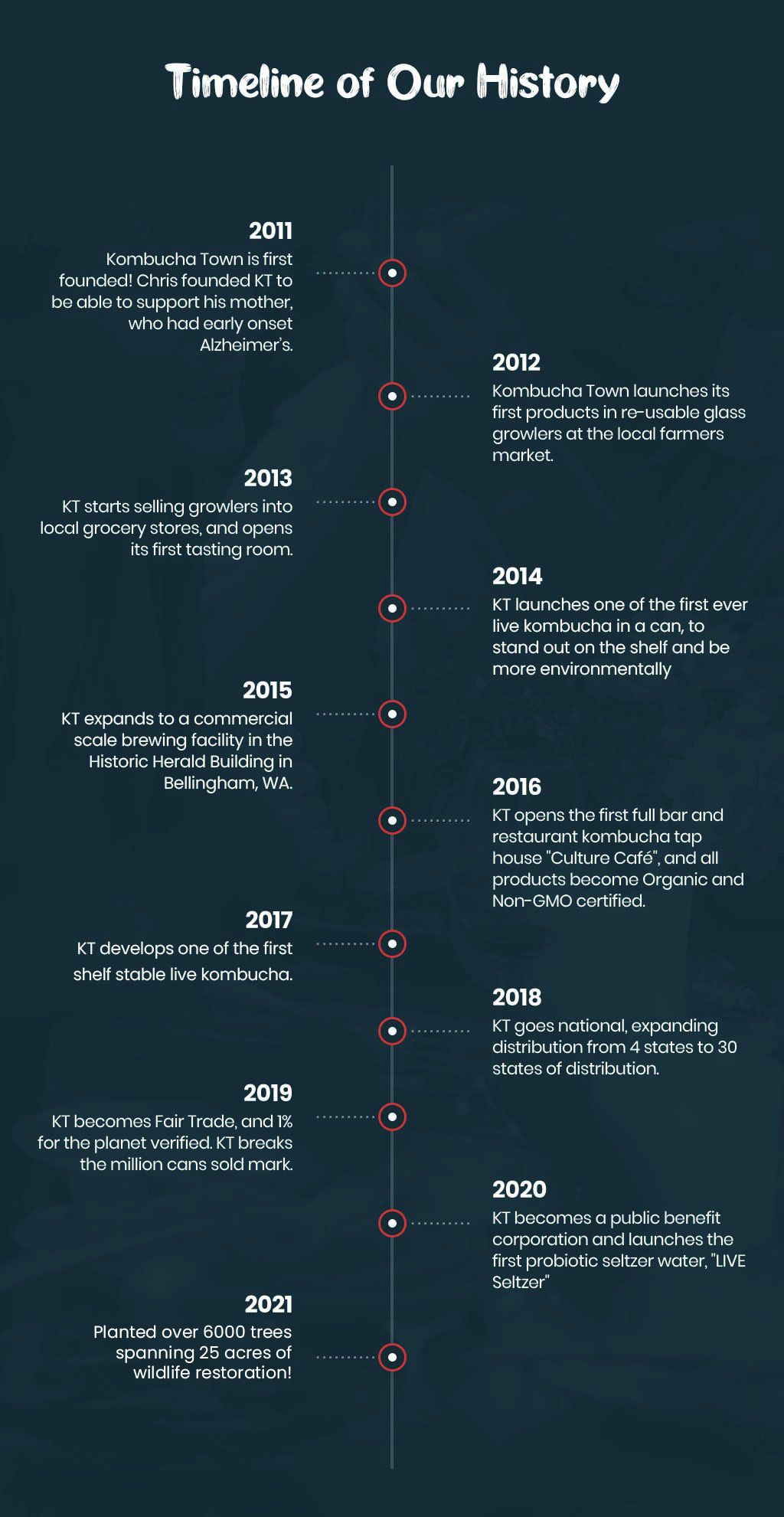 "Key figures – average turns" as of end the of July 2020

The primary demographic consuming kombucha is 65% female and 35% male, between 25-45 years old. As Gen Z comes of age and gains more buying power, they will become not only the largest generation of consumers in history, but also have grown up drinking kombucha and other functional beverages. This is an opportunity to cultivate a strong multigenerational customer base for leading beverage brands like KT over the next 10-20 years. Our customers today are conscious consumers who value mission-driven brands, specialty products, and an active lifestyle. They love us because we are built on environmentalism, which is a shared core value that will never fall out of fashion.

KT has a strong presence in natural and conventional retail across the US. We achieved $555K+ in sales in 2021, and are forecasted to return to pre-COVID numbers this year. We grew 400% in sales from 2016-2019, and reached $1.2M in sales in 2019. Year to date*, 2022 case sales are up 100% over 2021 case sales.
Exclusive packaging in cans also allows for strong compatibility with C-store and foodservice channels where bulky glass bottles don't work. Cans are also optimal for D2C fulfillment through our website and online retailers. In 2022, we will be updating our formulation to reduce sugar content by over 50%. We'll also update our branding across all our products.
*YTD Jan 2022

The kombucha market has been the shining star of functional beverage categories averaging 20-30% YoY growth for over a decade. The industry is also projected to continue to average 17% or more growth over the next five years and was a top trend in 2020. The current size of the global kombucha market is estimated at $1B with the United States making up 39.4% of sales. The global market is forecasted to grow to over $8B by 2027.

In recent years, the kombucha industry has seen many new entries, as well as the rise of several national brands. These are: GT Dave's, KeVita, Health-Ade, and Brew Dr. Kombucha.
Most of these brands are seeing growth in sales but a decline in velocity (-3%), as growth is in new distribution and not sell-through in stores. This is indicative of poor product quality and branding, which doesn't inspire or motivate consumers to repeat purchases.
Our velocity is over 13% growth, making it a faster-growing brand than many top national brands. Our shelf-stable products enable us to have a multi-channel growth strategy that maximizes our market depth and penetration.

KT is planning on scaling our growth through current retail partnerships and distribution at 2K+ stores across America*. We will continue to grow online sales through Amazon and our website at the same time. We are currently in negotiations with a strategic e-commerce growth partner that will help optimize and proliferate our online presence, driving online sales to 10-15% of our total revenue.
As part of our growth mission, we will continue to promote and bolster our environmental mission with the One Tree Planted Foundation. We will use the environmental appeal to sell into environmentally conscientious retailers to increase pull-through and brand loyalty from consumers.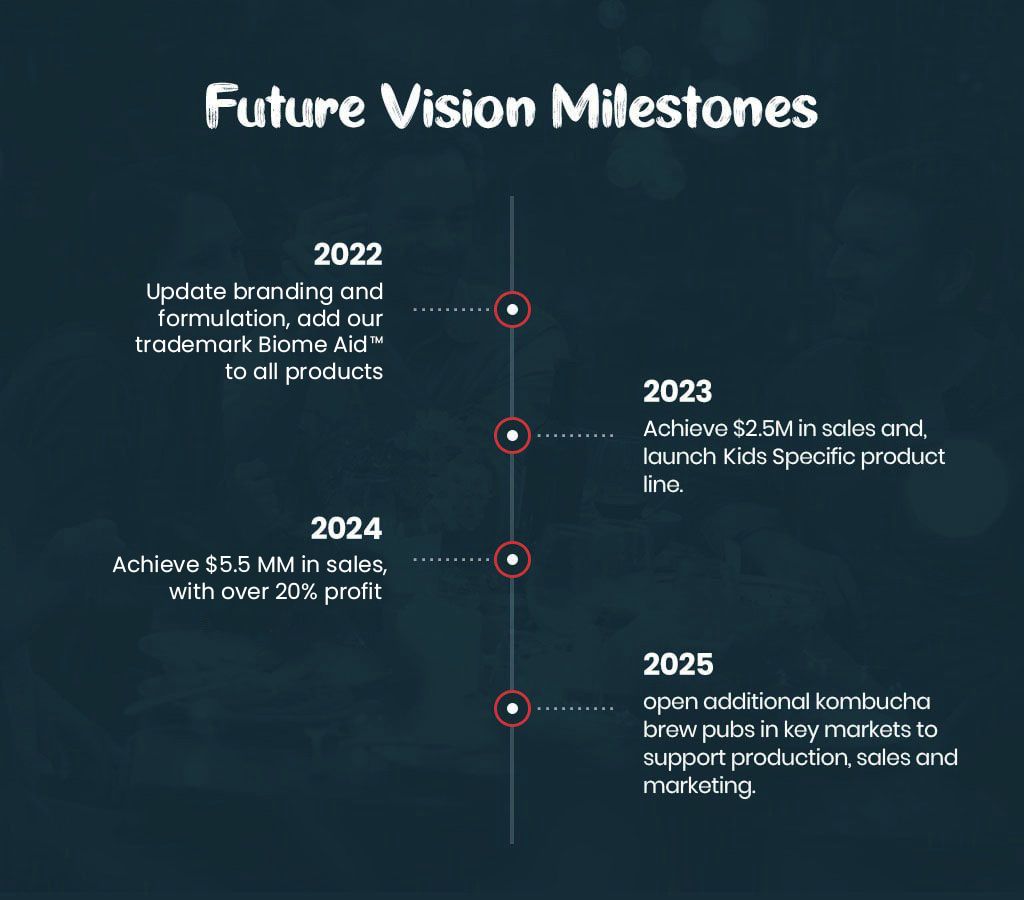 * Click here for important information regarding Financial Projections which are not guaranteed.

Kombucha Town has raised $1.5M to date, and is raising new funds to support our expansion. With your investment, we will be able to increase manufacturing capacity from 12K to over 20K cases per month.