No one's allergic to great taste
Food allergies in the United States have reached epidemic levels, affecting 32M Americans—including 5.6M children under 18. The average consumer is also becoming more health conscious, and seeking healthier and more sophisticated products to meet the needs of their busy lifestyle.
Despite the increase in demand for gluten-free and free-from products, the fragmented industry is still dominated by products that have a reputation for being free from everything, including taste.
We're ready for something better.
Amazing cookies. For everyone.
At Mighty Monkey, we believe that our customer's satisfaction is just as important as their health. Our handcrafted cookies are designed to both indulge and nourish the mind, body, and soul. Our mission is to create delicious, allergen-free treats that allow our customers to enjoy their favorite foods without sacrificing taste or texture.
The most common response we get when someone tries our cookies is, "wait, these are gluten-free?! They taste good!" which we take as the highest compliment. In fact, we didn't just aim to make the best gluten-free cookie on the market, but simply the best cookie on the market. A cookie that everyone can enjoy.
Life's complicated—cookies shouldn't be.
Clean ingredients, simply delicious cookies
At Mighty Monkey, our concept is pretty straightforward: we use the best ingredients. Cage-free eggs, pure maple syrup, pure cane sugar, real butter, sea salt, Dutch cocoa, whole coconut, and natural vanilla to create flavor, texture, and aroma. The same ingredients Grandma uses. But unlike Grandma, we use a proprietary gluten-free flour blend that tastes and behaves just like wheat flour. No aftertaste, and no gritty texture.
Proprietary Flour Blend
We spent 3 years working with top food scientists to develop a proprietary gluten-free flour blend that would produce the perfect neutral base for a cookie. The end result is a cookie that is comforting and delicious, but without the allergens.
In fact, all of our cookies are gluten-free, certified Kosher (KOF-K), hydrogenated oil-free, preservative-free, non-GMO, clean, and made with cage-free eggs.
We also offer flavors that are vegan, egg-free, and/or grain-free.
Vegan Options
In response to consumer demand for a delicious, plant-based alternative, we added 2 new vegan flavors to the line in 2020: Vegan Chocolate Chip and Oatmeal Coconut. To date, these two flavors are two of our three best-selling flavors. They are chewy, salty, sweet, and delicious.
Convenient, Earth-Friendly Packaging
Mighty Monkey cookies are pre-packaged in convenient grab-and-go two packs. We want our customers to be able to easily integrate Mighty Monkey cookies into any routine or daily lifestyle. Our cookies are kid and family friendly. The added benefit of this packaging method is we can eliminate the foil lining from our main pouch which reduces waste and environmental impact.
Zero-Waste
Our goal is to be a zero-waste company. This year, we will be launching packaging that is made from 30% post-consumer-recycled plastic.
$10.3M run rate over the next 36 months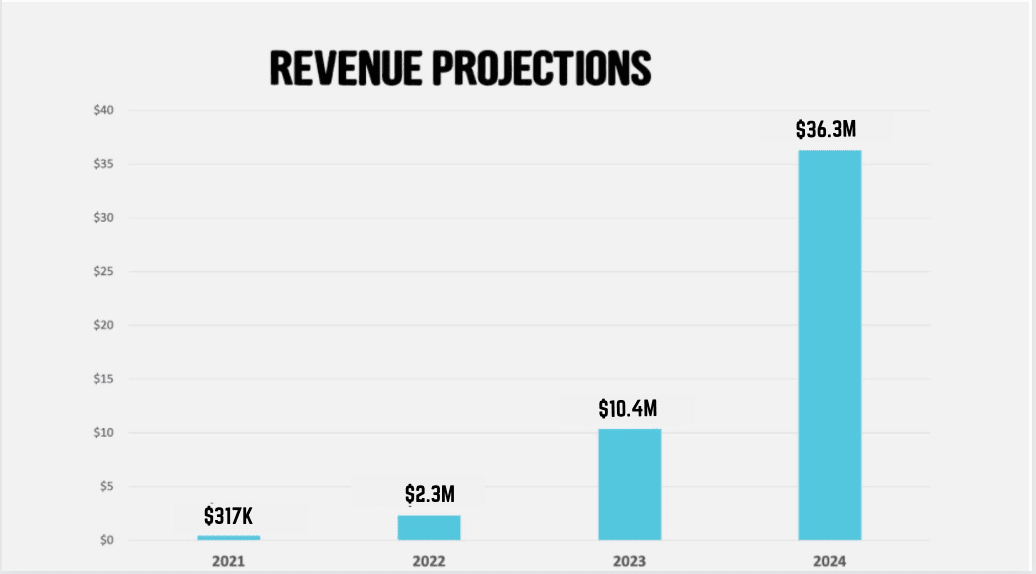 We are on track to post over $500K in annual wholesale revenue. In Q1 of 2021, we recorded a 514% increase in revenue over the same period last year. Our company is projecting $2.2M in revenue next year and, as of Jan 2021, a $10.3M run rate over the next 36 months.
This growth is fueled by our retail expansion last year in 6 new brick-and-mortar chains, as well as our partnership with e-grocery store brand, Misfits Market—our first national distributor. Our growth to date has been completely organic, with sales being driven by word-of-mouth.
Our products are on shelves in 121 retail stores, and we are in conversation with Walmart/Sam's Club, Meijer, and others to begin distribution this fall.
"Omigoodness, they are so delicious with a great texture. I'm not even gluten intolerant."
Initially, we focused our sales efforts on specialty grocery store chains and on the most health-conscious consumers with specific needs. As our brand has grown, Mighty Monkey Cookies have had broad appeal across demographics, including consumers who just want a simple, clean, delicious cookie that tastes good and makes them feel good.
To be a Mighty Monkey customer, you don't need to have a food allergy or specific lifestyle (though you can)—you just need to love great tasting cookies.
And our customers agree:
3000+ stores in 3 years
Mighty Monkey cookies are sold B2B through retail partners and Amazon, as well as DTC.
With the 2020 launch of our e-store, we're developing a new and vital sales channel to help us scale our business and brand. Scaling this channel is particularly critical, as a stronger e-commerce customer base gives us leverage to expand into new brick-and-mortar markets. Our goal is for Mighty Monkey to be in more than 3000 stores by 2024.
We're also building brand awareness through social media, with 1700+ followers to the Mighty Monkey Instagram page.
Gluten-free foods are an $8B market in the U.S., growing at a CAGR of 8.2%
The surge in demand for healthier food options isn't only about food allergies. An increasing number of Americans are shifting toward healthier snack alternatives due to the growing concerns over obesity, poor diet, digestive health, and other health-related issues. These consumers are looking for healthier snack options that also satisfy their cravings.
Immediate opportunity: US gluten-free market
Gluten-free foods are a nearly $8B market in the U.S. growing at a CAGR of 8.2%. This trend is being compounded by lifestyle demands and shifting consumer attitudes towards processed foods.
Cookies are also having a moment, with the segment showing 147% growth in 2020 in response to the global pandemic.
Larger Opportunity: Convenience Packaged Food & Cookies Market
Our competitive advantage and differentiator is our broad market appeal. As we scale, we plan to expand beyond the gluten- and allergen-free market to the overall $20B global cookie market. Our cookies are that good.
Filling the market gap
Mighty Monkey was created to fill a market gap: health-conscious cookies that are also delicious. We're building our success on three fundamentals:
Quality—handcrafted from premium ingredients

Taste—painstakingly researched recipes that set a new standard

Brand—our story resonates with consumers who have dietary restrictions
The competitive landscape is fragmented with plenty of room for new, better products. While several companies have invested in creating strong brands at several different price points, there is little differentiation between product taste, texture, and appearance.
Our closest competitors in the gluten free category are Tate's Gluten-Free Cookies, Aleia's Gluten-free, and Udi's gluten free.
Targeting an exit of $150M+ and 10-15x ROI
We've spent the past 3 years perfecting our recipes and creating the best tasting gluten-free cookies on the market. Our goal is $40M–$50M revenue in 5 years, with a successful exit for $150M or more. Our company is projecting $2.2M in revenue next year and a $10.3M run rate over the next 36 months.
The first phase of our strategy is focused on the gluten-free and vegan cookie market; after this, we will expand into a lifestyle brand with products in multiple CPG categories.
We are planning to launch several exciting new products in the immediate future, including our proprietary gluten free flour blend, seasonal cookie flavors, and ready-to-mix cookie dough and brownie batter.
Investing in branding, marketing, and scaling
This round of funding will be used to:
Invest in branding and marketing to expand our D2C channel, including platform, packaging, influencers, and paid-for partnerships

Hire key personnel to take our operations and sales to the next level

Grow our B2B sales channel by hiring national food brokers

Expand our operations and margins through capital investment and scaling
Meet the woman with a passion
Meet our talented advisory board