Growing companies need access to outstanding operations talent...
...and layoffs and resignations are contributing to high turnover across industries.
80+% of people resigning from their jobs are leaving due to burnout or boredom. Meanwhile, growing companies need access to outstanding operations talent as they scale.
Job matching and gig-working platforms are thriving, but existing platforms have some key shortcomings:
They create a vast marketplace, but aren't optimized for non-technical operations talent;
Workers aren't generally W-2 employees, leaving them without access to benefits;
Alignment of values and mission between company and workers isn't prioritized; this is a critical factor for culture fit, worker motivation, and potential burnout.
Connecting outstanding operations talent with the most inclusive companies
We help you add the people your team needs fractionally or temp to hire, when they're needed.
---
Why Runner
---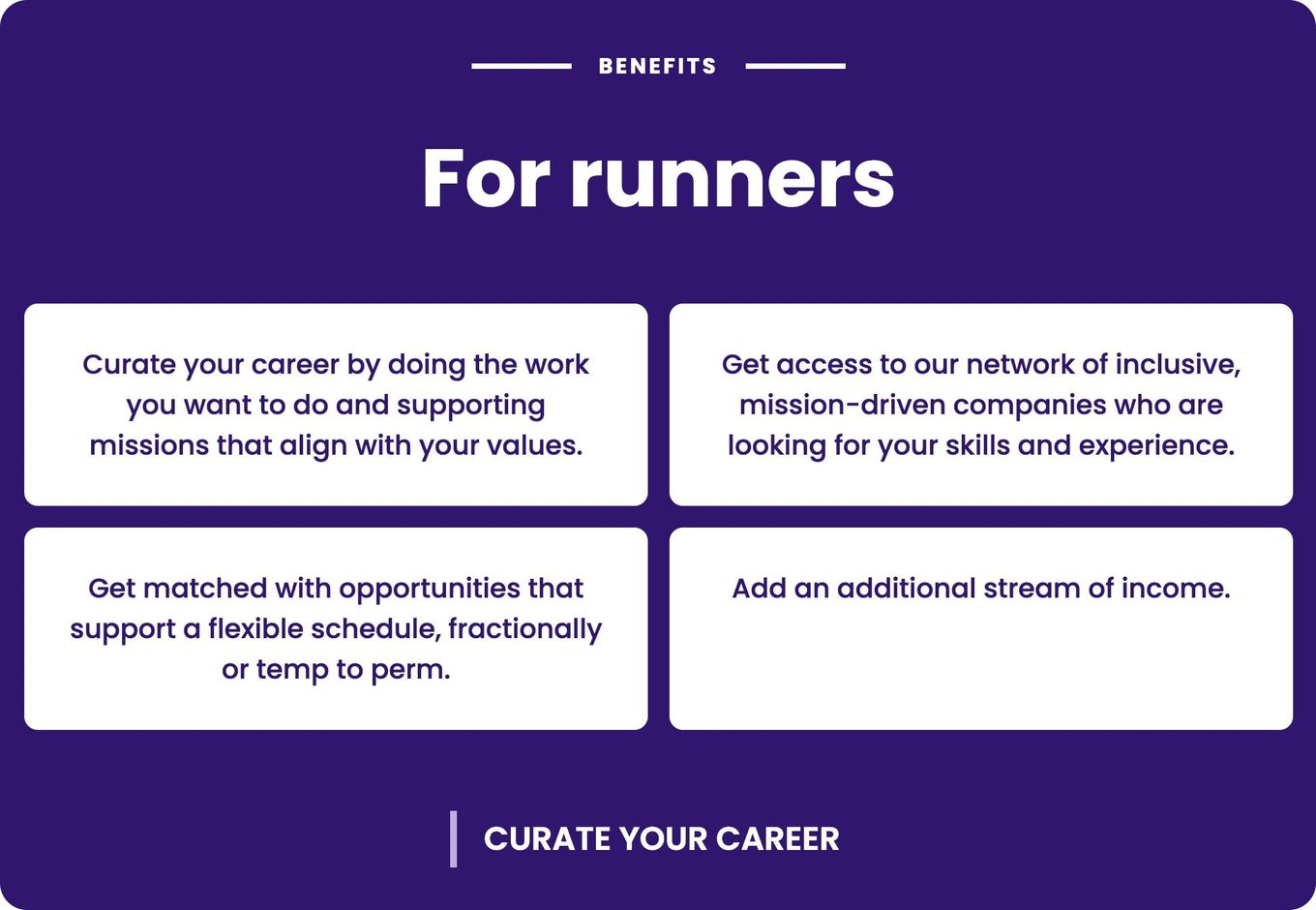 A CEO's best friend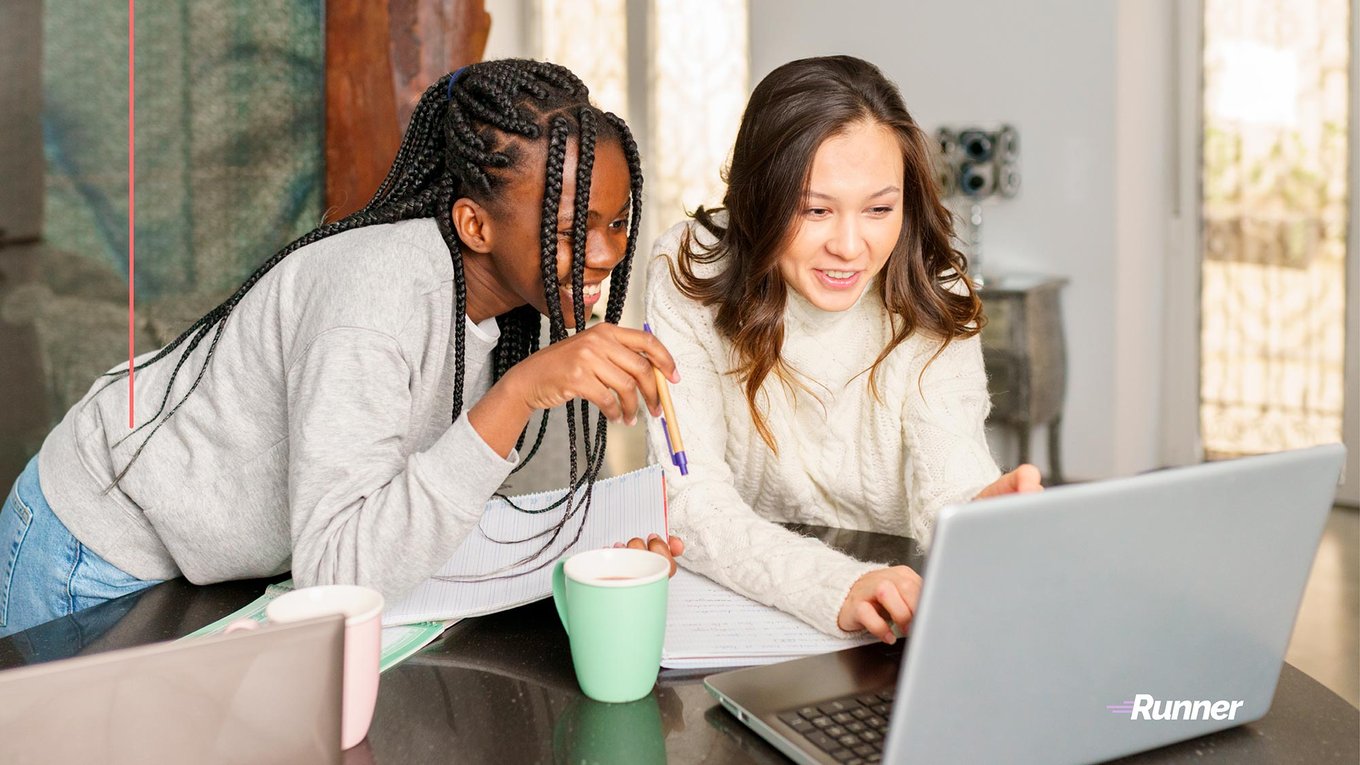 ---
How it works
---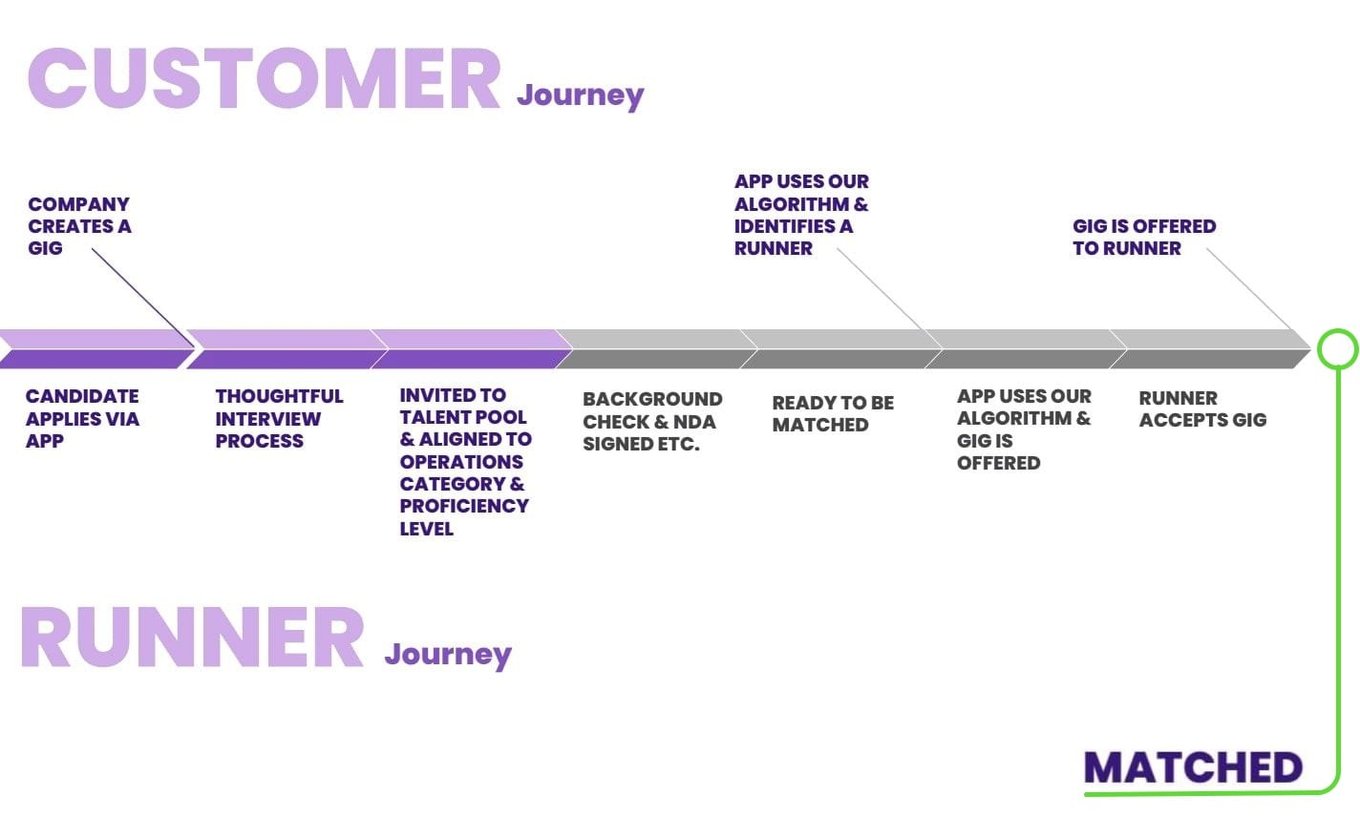 ---
Runner currently offers five
categories
of operational talent:
---
HUMAN RESOURCES
Our People leaders will support the shaping of your team's culture at each stage of your company's growth—recruiting, generalists, compliance, and everything in between.


OPERATIONS
Our Operations talent will run toward solving complex challenges. They make an impact through designing and managing efficient and effective operations.


CONSULTANT
For teams looking for a thought partner and subject matter expert, our consultants have the ability to design and execute risk management solutions and translate company leadership vision to scalable systems and processes.


EXECUTIVE ASSISTANT
Our team of administrative professionals provide broad-based support including scheduling, inbox management, research, and project management. They anticipate the needs of those they support and quickly become a trusted confidant to the team.


RUNNER
We love this category of talent as the sky is the limit! From specialists to generalists, they meet your evolving business needs when you need them, as you need them. Think event staff, extra administrative support, or whatever your business requires.
$1M GMV
Growing 57% month-over-month as of March 2022
Started just 8.5 months ago in September 2021
---
Shoutouts & early wins
---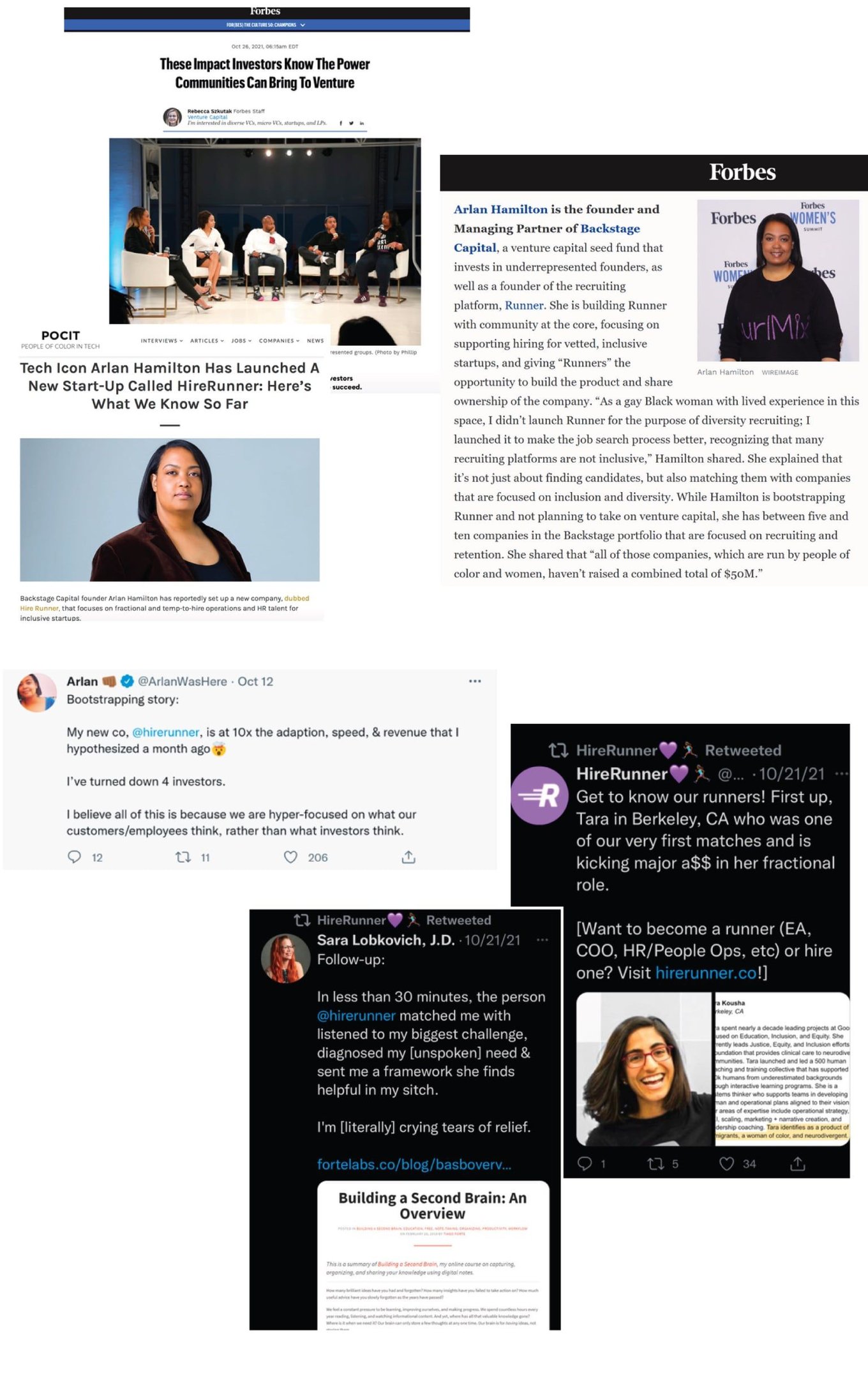 122+ current customers and 350+ waitlisted since December 2021
Customer Profile: Startups with less than 10 employees make up 78% of Runner's customer base. We also serve many of the Fortune 500 household names.
Customers benefit from stretching staffing budget by leveraging fractional senior operational support to scale while increasing productivity and profitability.
Customer feedback:

"Jordan is 100% an ideal match. She's providing above and beyond value for her rate and time – she's a literally perfect fit for the role I hired her into." - Sara Lobkovich, Red Currant, repeat customer, working with her 3rd Runner
"Morgan is incredible. She's got huge long-term potential in service delivery (coaching, consulting) and product ideation in the knowledge & information management space. She's providing excellent work for me while she learns and grows."
"Tsukuru has gone above and beyond in making sure things get done promptly - it's been wonderful working with him"- Gefen Skolnick, Couplet Coffee, has retained the same Runner for 6 months
Runner ecosystem




---
Pricing
---
Our model is simple. With Runner's 25% booking fee, you have access to unlimited matches within our inclusive operational talent pool.
Runner handles the interviewing, background checks, manages the entire payroll process and invoices the company for the matched talents time.
WITH RUNNER'S 25% BOOKING FEE:
No subscription fees
No recruitment fees for temp-to-hire roles* No hidden or additional fees
No hidden or additional fees
*Direct hire roles have an industry low 10% fee
People want to curate their careers, & are demanding more flexibility than ever
COVID accelerated an existing trend,
and Runner is positioned for success.
---
Layoff headlines
---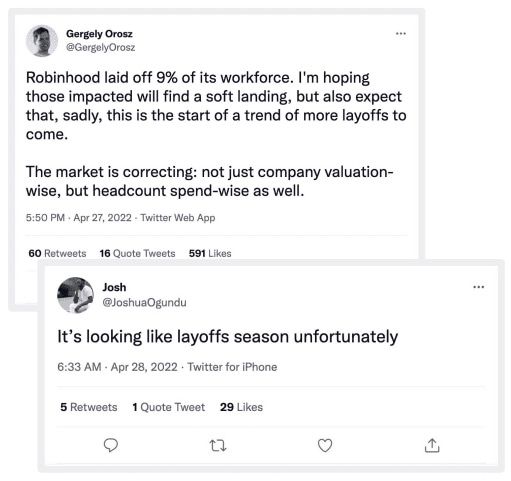 The number of companies laying off their workforce is an unfortunate trend that is not slowing down. Twitter is gearing up to lay off hundreds. Fast recently laid off 450, Peloton almost 3K, Hopin over 100, and Robinhood just laid off 9% of its workforce. Very recently, Cameo and OnDeck added to this growing list.
With mass layoffs, engineers and technical roles often have jobs lined up (whether via acquihire, or headhunted immediately) while operations talent often has a more difficult time. That operations talent will utilize Runner exponentially over the next 18 months.
Runner is a soft landing for countless operational talent who are often overlooked.
—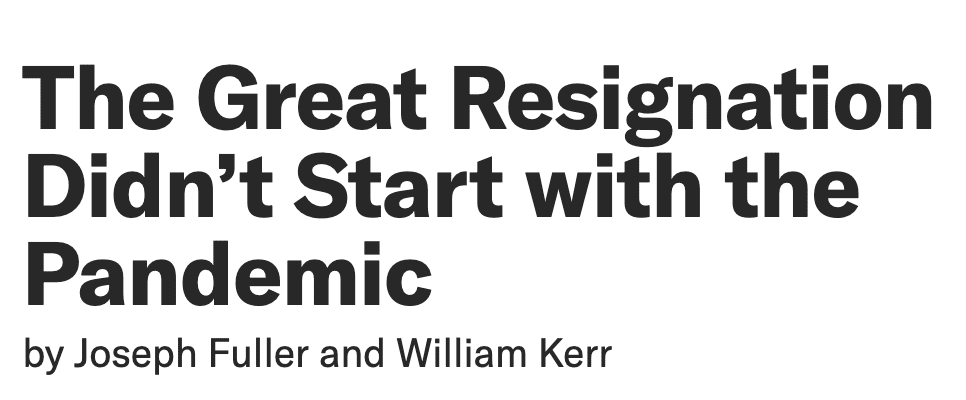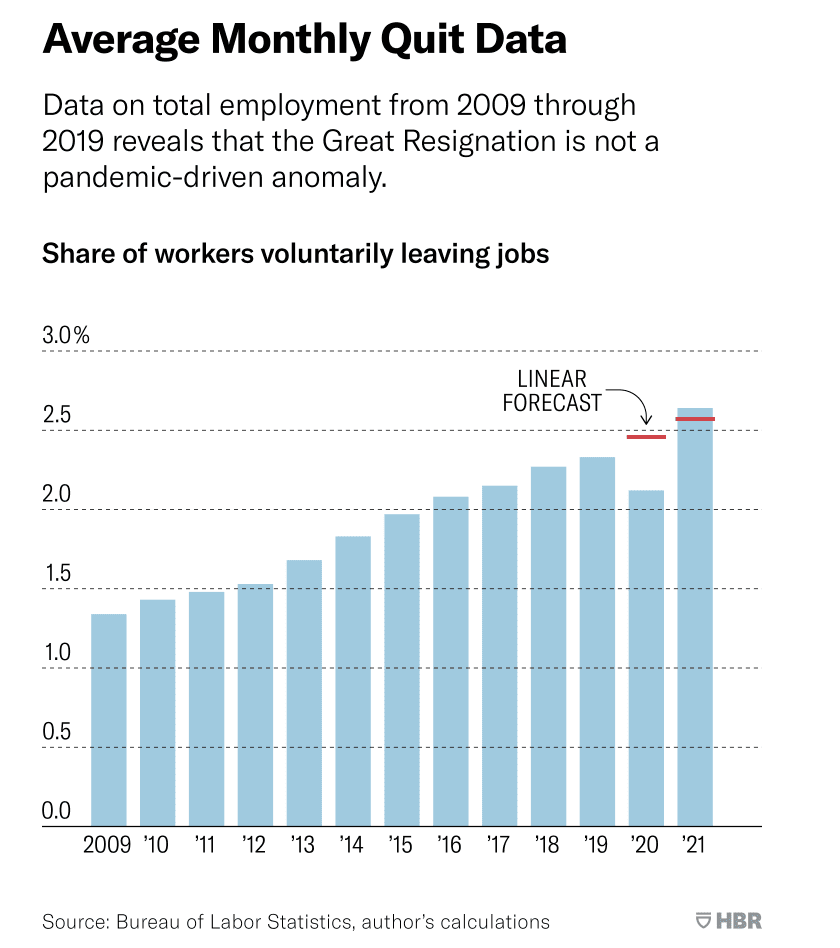 —
From Harvard Business Review:
"[Resignations are] now back in line with the pre-pandemic trend, which is one that American employers are likely to be contending with for years to come... companies that have the vision and resources to offer flexibility to their employees are the most likely to maintain a stable and competitive workforce. And the companies best able to attract and retain talent will be those offering benefits that address the changing needs of workers."
Runner stands apart from our competition with our inclusive approach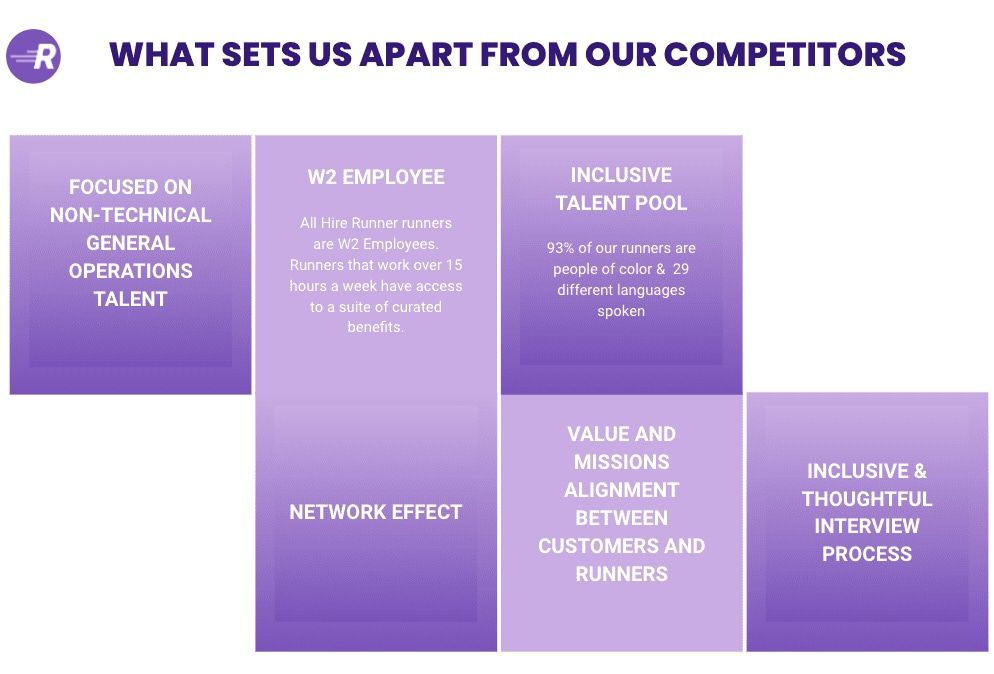 With the push
of a few buttons
and a short amount of time,
Runner makes it possible for any company to hire outstanding operational talent.
Runner:
Enables companies to get the support they need, when they need it
Enables individuals to curate their career; do the work they want to do when they want to do it
Provides opportunity for Value and Mission alignment between Customers and Runners
Is hyper focused and known for providing operations talent to inclusive companies
Provides a viable additional stream of income for operations talent
Backed by Backstage Capital, Precursor Ventures, Gaingels, and more, Runner has a diverse cap table of incredible investors supporting us as we grow.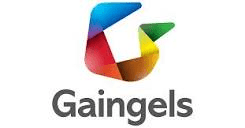 Arlan Hamilton
CEO & Founder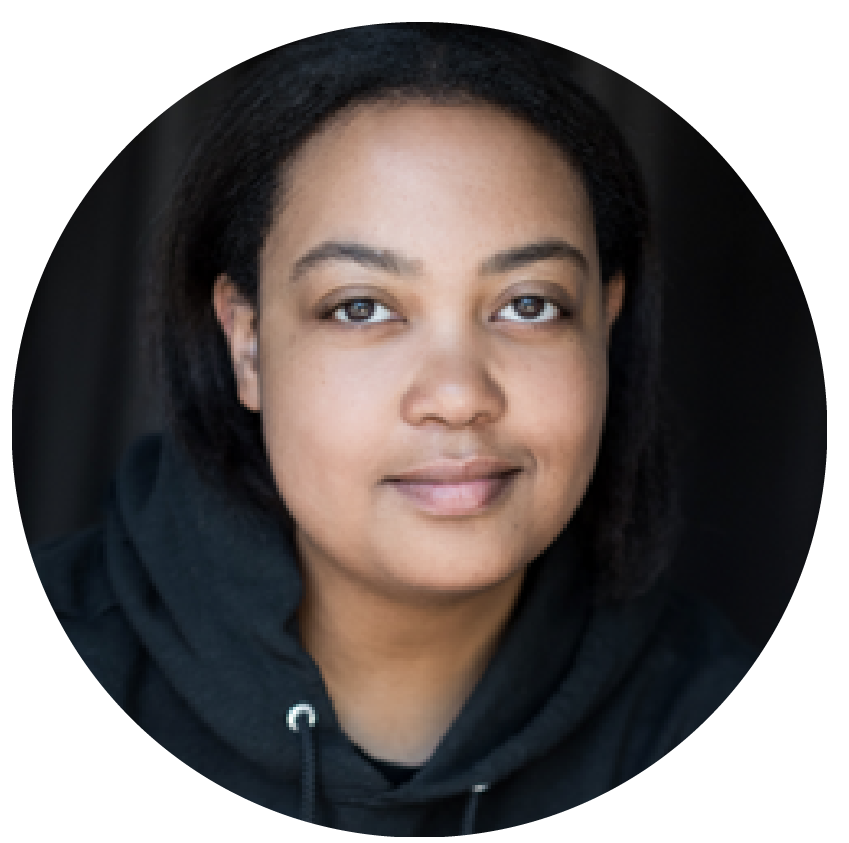 Arlan Hamilton is the Founder and Managing Partner of Backstage Capital, a venture capital firm dedicated to minimizing funding disparities in tech by investing in high-potential founders who are people of color, women, and/or LGBT. Started in 2015, Backstage has invested $12M+ into 160+ startups led by underestimated founders and has been featured in Fast Company, Forbes, Fortune, CNN Money, Inc., Entrepreneur, and Quartz.
In October 2018, Arlan was featured on the cover of Fast Company magazine, making her the first Black woman who is not an entertainer or athlete to grace the cover. Her first book, It's About Damn Time, was published by Penguin Random house in May 2020. Arlan also hosts Your First Million, a podcast featuring notable people who have reached their first million dollars, downloads, or customers.
Arlan entered the venture investing world from an unconventional path. Before launching Backstage Capital, she authored the groundbreaking blog "Your Daily Lesbian Moment", which she grew to a monthly readership of 50,000 fans worldwide. She has written for AOL, SuicideGirls, and Curve Magazine, and founded and published the internationally distributed indie magazine Interlude. Arlan is also a live music production professional, having served as a tour manager to numerous international artists including will.i.am, Toni Braxton, and Jason Derulo. Most recently, she worked with Atlantic Records recording artist Janine.
In 2018, Arlan co-founded, along with Investment Partner Christie Pitts, Backstage Studio, a new venture studio designed to build products, services, and initiatives that serve the mission of eliminating underrepresentation in tech by empowering founders and their teams to succeed. In April 2018, Arlan and Backstage Studio were the subject of Season 7 of the popular Gimlet Media podcast, StartUp. In October 2018, Backstage Studio announced four accelerator programs, in Los Angeles, Detroit, Philadelphia, and London, UK. In June 2020, Backstage announced its Crowd initiative, providing access to the best underrepresented deal flow to accredited and non-accredited investors. Arlan was recently named on Fortune magazine's 40 under 40 list, as well as Vanity Fair magazine's The 2018 New Establishment List.