For decades, Latinos have been underrepresented
in drug discoveries and clinical research
Lack of data in the medical industry is critical and life-threatening to the Latino population. Most drugs haven't been proved to be effective on Latinos. The reason is that <1.2% of genetic data available for research comes from these populations; and we only represent <1% in clinical trials. There have been zero drugs discovered through Latino genetic information.
This is a massive problem, not only because it will cost $50B each year in health disparities alone in the USA, but also because it disproportionately increases health risks for 650M+ Latinos/Hispanics/Native Americans across the world.


*National Human Genome Research Institute, 2020


SOMOS is building the largest decentralized Pan-American biobank
We are building the world's largest Pan-American biobank, called "Familia", through unique datasets and ancestral DNA sequencing. Just during phase 1 in México, our biobank will create a genetic repository 100x larger than what's currently available for research.
By aggregating data from underrepresented groups, we're providing and identifying unique genetic markers that can:
Improve clinical research in minorities
Improve prediction capacity for disease risk scores and stratification
Provide improved direct to consumer DNA services to Latinos
Save billions of dollars in drug development
---
Data aggregation strategy
---
Using genetic data, pharmaceutical companies can save up to
15% of their cost per drug by improving target identification. Genetic data can make drug development twice as successful during early stages of the process.
Thanks to data generated in transparent collaborations with Indigenous Nations, state-of-the-art algorithms, and predictive models, deep regional ancestry analysis is now possible for Latinos using SOMOS.
Indigenous participants + Latino customers + bioinformatics = state of the art genetic associations.
Deep Latino
ancestry DNA test
To crowdsource the GENOME of LATINOS, we aim to generate millions of datasets. To achieve this goal, we've developed the best-resolution ancestry service for Latinos to gain critical mass.
SOMOS provides specific high ethnic resolution to Latino/Hispanic/Native American customers, improving on commercially available services like 23&me and Ancestry. Users can identify their Mayan, Nahua, and Huichol ancestry, among other regions and ethnic groups. We use microarray technology to genotype millions of genetic markers—allowing us to give users a deeper insight into their genetic heritage, as well as an opportunity to participate in decentralized research.
We will personalize this technology with genetic markers identified within our biobank, creating an array for the Latino population—which translates into new and improved genetic services.


---
Developing new features for our subscription model
---
For our health scientific insights, we have entered a long-term partnership with Predictive Care (featured on Republic).
As we scale our research capacity and identify new genetic markers unique to the Native American/Latino ancestry composition, we will update our platform and reports with these new insights.
For end users, the product is similar to the experience of existing DNA ancestry service providers like 23andMe—except they are given rich, region-specific data about where their ancestors came from within Latin America.
We have two products currently in the market:
Raw data re-analysis service*
Full DNA test kit
*For users of 23andMe, AncestryDNA, My Heritage, LivingDNA, FamilyTreeDNA who want a re-analysis of their data with a specific focus on their Latin American ancestry.


---
Your DNA, your data = our people, our mission
---
We truly believe that data decentralization helps us maintain an honest and transparent relationship with SOMOS participants and users.
SOMOS has partnered with Genobank.io (featured on Republic) to implement the SOMOS DNA Wallet, which uses blockchain technology to allow full ownership and governance for each customer/participant over their genetic and health data.
4,700+ users
since soft launch
SOMOS soft-launched in the US in September 2020. We have seen unprecedented reach and conversion due to the importance of our project and community interest in mapping Latin American/Hispanic/Native American ancestry.
We now have 4,700+ paid users and revenue of $226K+

*Paid users and revenue stats as of Feb. 2022

—
Community & corporate partners
—
Medical & research partners
650M+ Latinos don't have safe, reliable access to medications
SOMOS' end goal is to develop and create new medications empowered through unique decentralized datasets and analytics generated from our customers' DNA ancestry tests.
There are +650M people who identify as Latino across the globe. Just within the US, Latinos represent up to 18.5% of the total population, or 62M+ people. Mexican Americans rank as the largest Hispanic subgroup in the US (62% of Hispanic population or 38M+). During phase 1, we will focus on participants with Mexican heritage to offer them a rapid, scalable, and improved platform by representing the 70 Indigenous Nations in Mexico through our Familia biobank.
—
Hundreds of REAL stories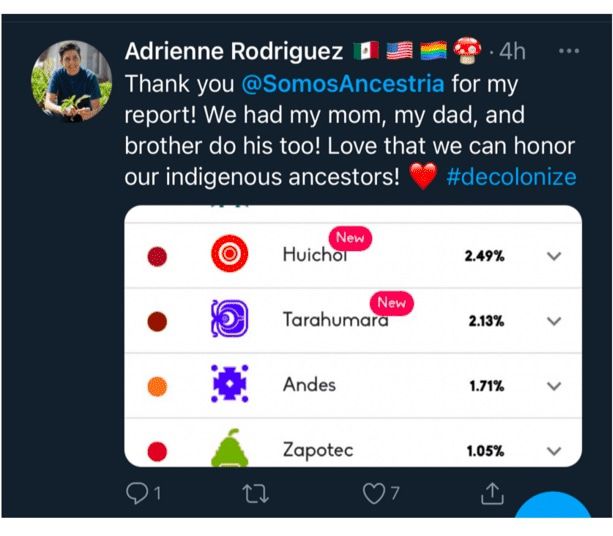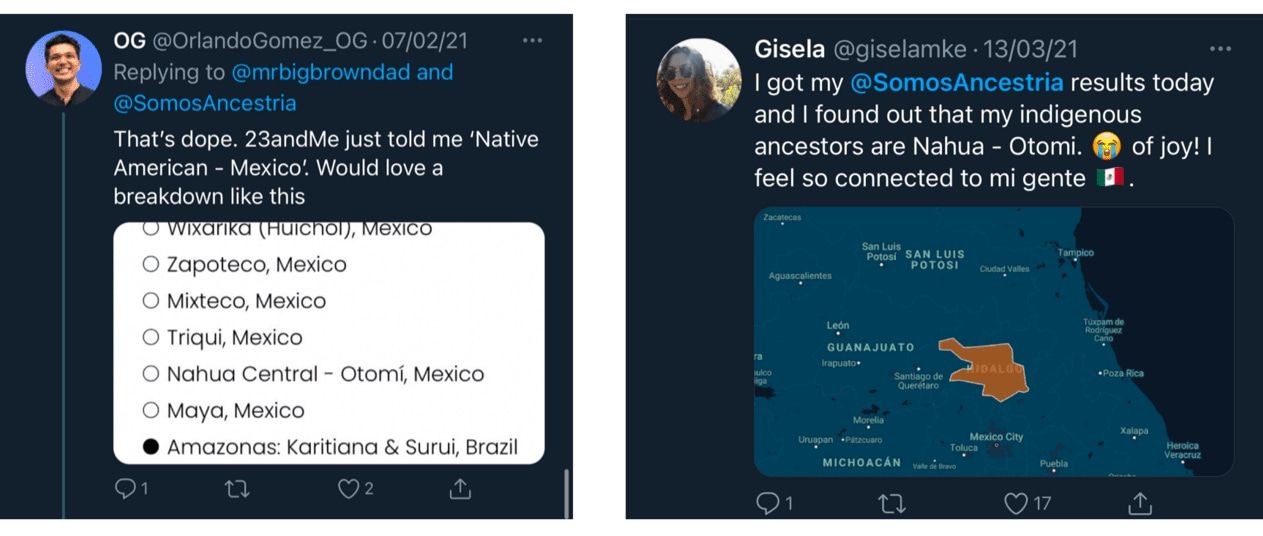 —
Real customer satisfaction
—
Influencers and opinion leaders


—
Reddit users compare SOMOS to 23&me

—
Reddit users compare SOMOS to ancestryDNA
3 distinct revenue streams to ensure market mobility
SOMOS has three early revenue streams:
Raw data re-analysis services ($39)
DNA test kits ($149-199)
Subscription for Premium features ($96)*
Our long-term plan is to enter into drug development by increasing our data analytics capacity through the decentralized genetic and health data we are generating.
*Subscription model under development



---
Drug discovery
---
Pharmaceutical companies need to integrate Latinos' genetic data insights to improve drug discovery process for these populations.
They also need to improve their targeted reach to Latino customers as well as insights for directed marketing strategies & clinical trial recruitment—and SOMOS will provide the insights and platform to do it.
1 drug alone is a $27B+ opportunity
SOMOS aims big. The total pharma market is $1.5T worldwide. Latinos represent 20% of the total US pharma sales, which contributes with more than $23bn. When we sequence genetic information for one disease alone (Non-alcoholic liver disease), SOMOS would still have a $27B+ market opportunity.
The ancestry market will be our initial revenue driver.

Placing the disease addressable market aside, Latinos represent the fastest growing economy in the US, and 8th worldwide.
Our product appeals to a $63B+ Total Pharma market in Latin America, which further ensures market stickiness.
According to MIT and the current Latino population just in the US, we could expect 18M Latinos taking a DNA ancestry test within the next 2 years. We plan to acquire 5% of this market.

Our initial goal: +500K Latinos on our platform by year 5, to accelerate research.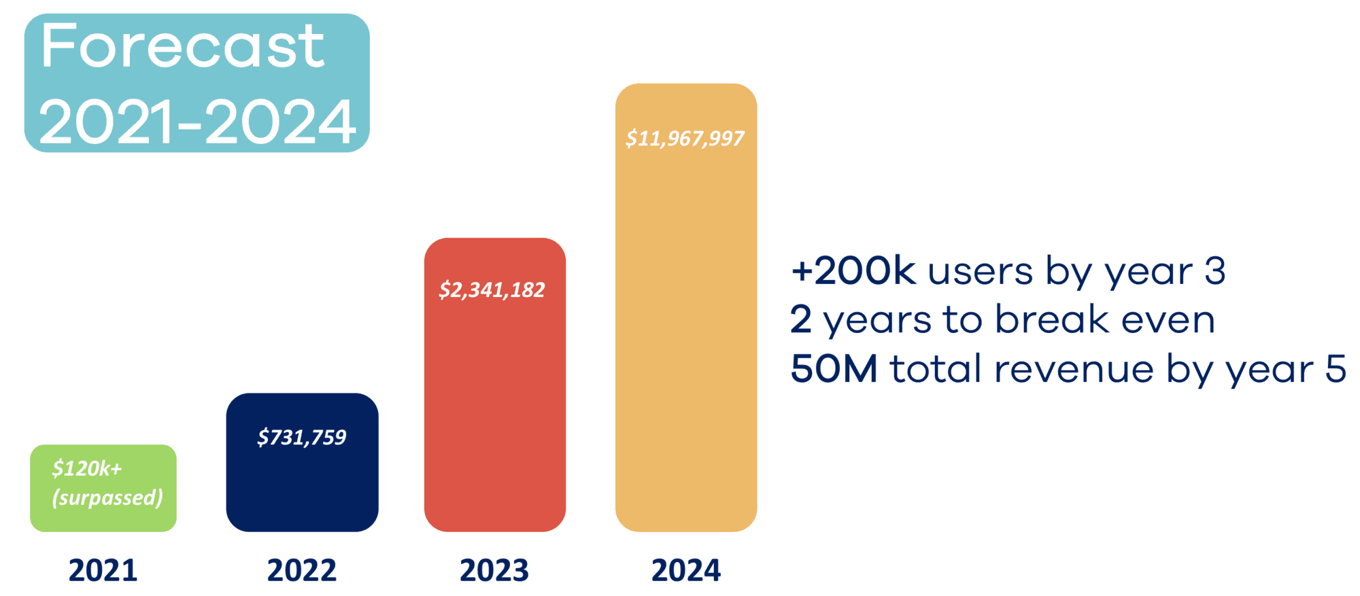 SOMOS, the genetic test that focuses on Latinos
SOMOS is the genetic test that provides information from populations throughout Latin America. Our partnerships with Indigenous Nations, combined with the growing number of samples in our biobank, allows us to provide a wealth of information that can be used for pharmaceutical discoveries— currently unmatched by any on the market.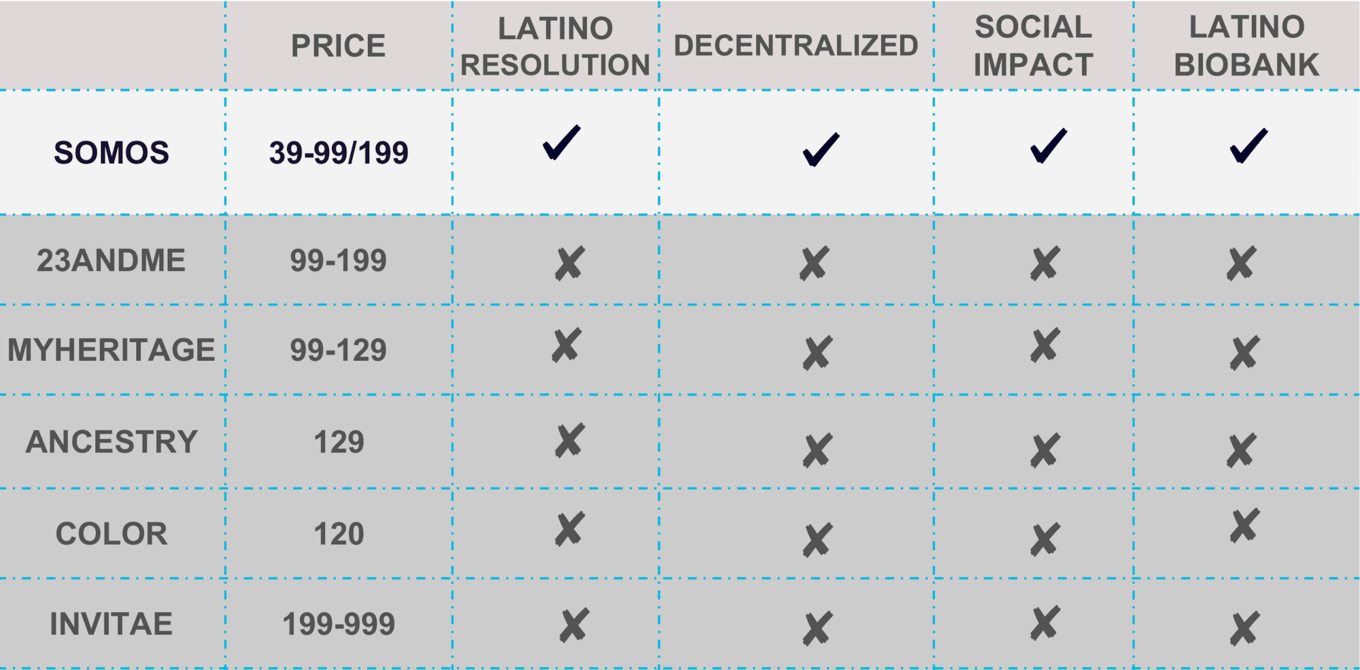 Aiming to develop tailored medicines and change the future of health
SOMOS has multiple areas of growth we are currently pursuing. As a new company, our most important focus is to satisfy our Latino community needs by scaling our revenue model and establishing our product's necessity.
We plan to become the largest decentralized Indigenous data biobank. We will use this advantage to develop tailored services and medicines for Latinos/Hispanics and Native Americans—while also making a positive impact on a community level.


---
We walk the walk
---
We source data by establishing deep partnerships with Indigenous communities, involving the collection of DNA and genetic data to populate the Latin American genome. We are modeling an incentive alignment strategy that includes short, medium, and long-term benefits according to the needs of each community = social impact.
SOMOS is building bridges. We will launch the first Indigenous NFT art gallery to help our communities participate in the digital economy.
—
CEO visiting Mixtec community in Mexico
—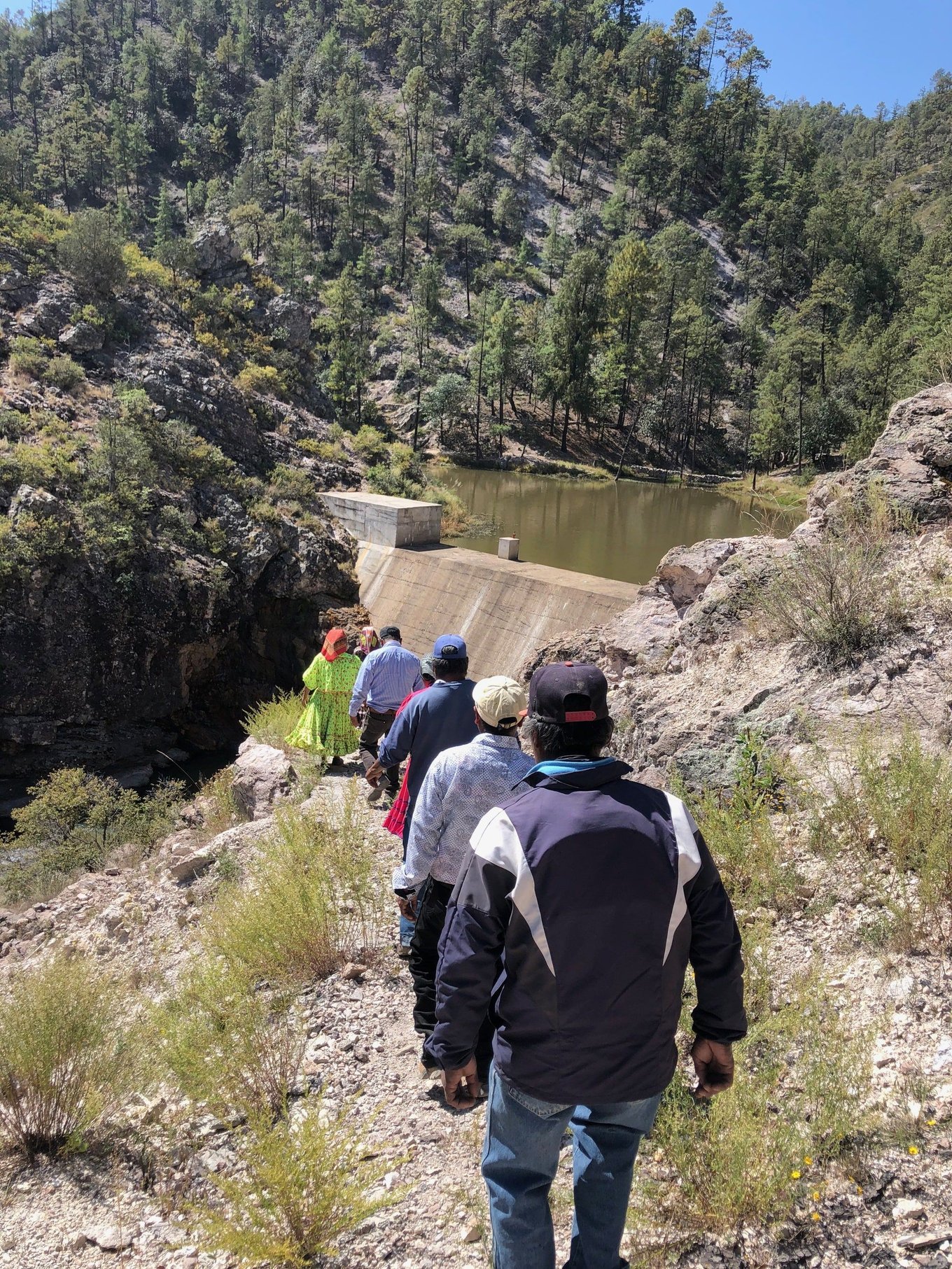 *Discussing water needs and incentive program with Raramuri governors, Chihuahua Mexico
Bootstrapped to date
We are now raising to support reaching $2.5M+ in revenue, 50K+ users, and 7K blood samples collected in our biobank.
This investment will prove crucial in SOMOS's ability to maneuver into larger and more competitive markets.

Prior to our Republic campaign, we received investments from Hockey Stick Investments and were the winners of LTX Fest Pitch Competition 2020.

—
Accelerators
MassChallenge & AccelHUB Bridge to Boston
2019 alumni and winners
Manos Accelerator by Google Launchpad
2020 alumni
Seasoned MDs that turned a 12-year friendship into a shared mission
Founders Christian and Federico share a vision: leveraging technology and socially responsible strategies to improve and impact the health sector in Latin America. They met in medical school in 2009, both having come from a family of physicians. They first collaborated on a previous startup, Mi ADN—a genetics DTC leader in México that certified +500 health professionals in LatAm to implement genetics into their clinical practice.
Together the team leans on their passion to see change in healthcare by creating the foundations for research via the SOMOS Familia Biobank. While our ancestry service provides insight and increases curiosity we seek to educate and mobilize the Latino community to join us on our mission to increase representation and eradicate health disparities by crowdsourcing the Latino Genome.


Federico von Son de Fernex, MD
Federico graduated with honors from top a 10 Med School in Mexico, +5 years DTC Genetics leader in Mexico, certified and trained 500+ healthcare professional for applying genetics in their clinical practice. Management of $5.4M+ in government grants and contracts for R&D and Healthcare services.
MassChallenge & AccelHUB Bridge to Boston Alumni 2019
Manos by Google Launchpad Accelerator Program 2020
Winner LTX fest 2020
Voces de la comunidad LTXQuest 2021
Featured on Latinx Business Success 2021
L´Attitude 2021panel and showcase

Christian Rodriguez, MD
Christian is a MD, Data Scientist (in training) and entrepreneur who loves to help, to learn, and to explore. He is passionate about technology as a powerful tool for helping and creating. For the last 5 years, he has worked on democratizing biobanking and precision medicine for Latin America with collaborative science.
Christian is Co-Founder & CTO at SOMOS, where he leads Tech Integration & Innovation, Business Intelligence, and Kaizen for Health and Growth Hacking.
2020 to date: CTO &Co Founder @SOMOS
2016–2019: CIO @ Mi ADN Mexico IT,Sales, Community, Product Dev, UX
2018–2019: [email protected] Co Founder @ KPMD (Smart Stethoscope with universal EHR)
2019: Winner at Bridge to Boston by MassChallenge and AccelHUB