STEEPED COFFEE® IS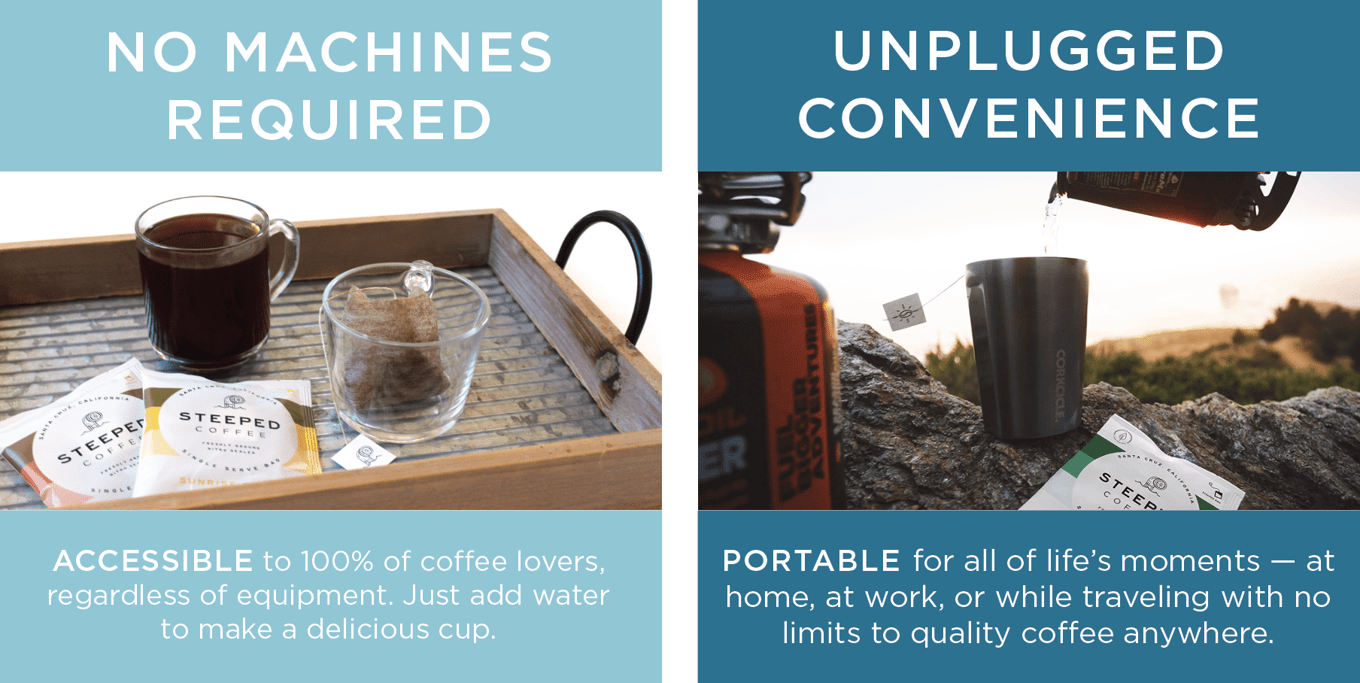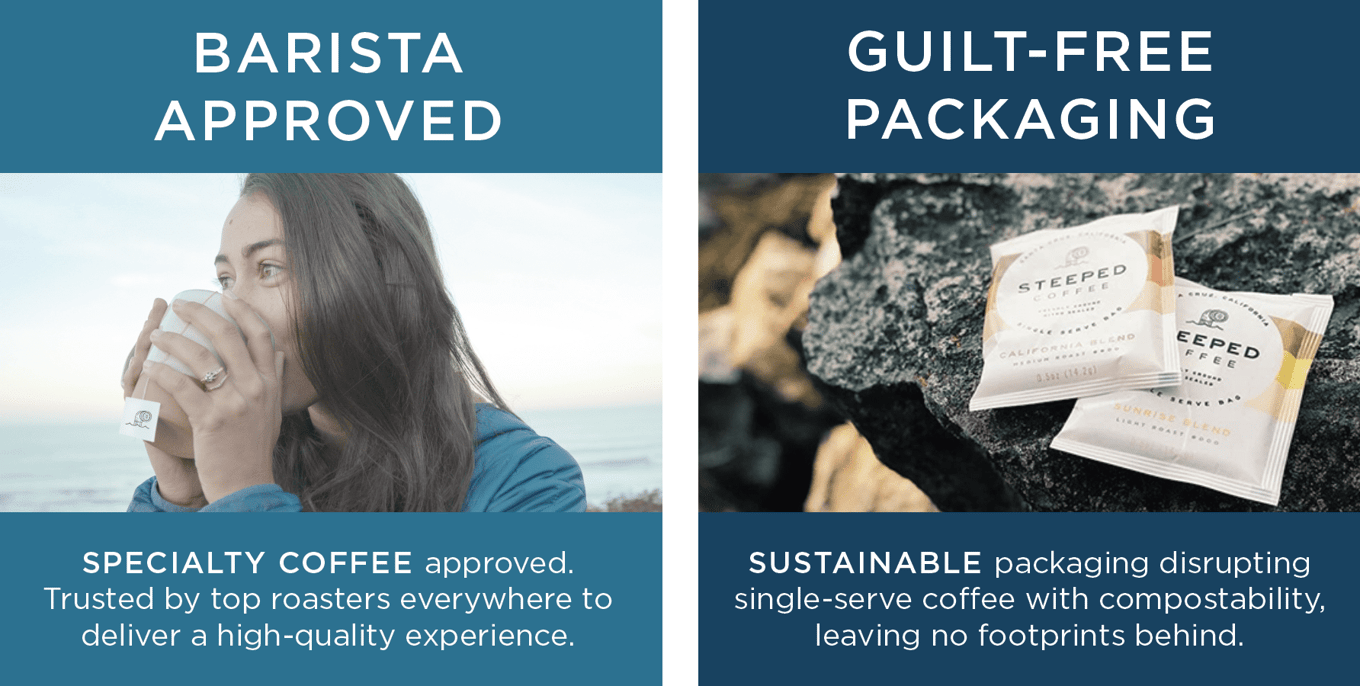 ---


---
WHY HASN'T STEEPED COFFEE® BEEN DONE YET?
---
Steeped is not coffee in a teabag. Instead, it's a new trusted brewing method that's backed by years of innovation while delivering the highest-quality taste.
Though created for simple convenience, simplicity is one of the most difficult things to achieve. Steeped has worked with top baristas to develop this disruptive single-serve brewing method that yields a craft specialty cup of coffee in the way that it was intended to be experienced.
With no machines required, the result is a game-changing brewing method that is as simple as brewing tea.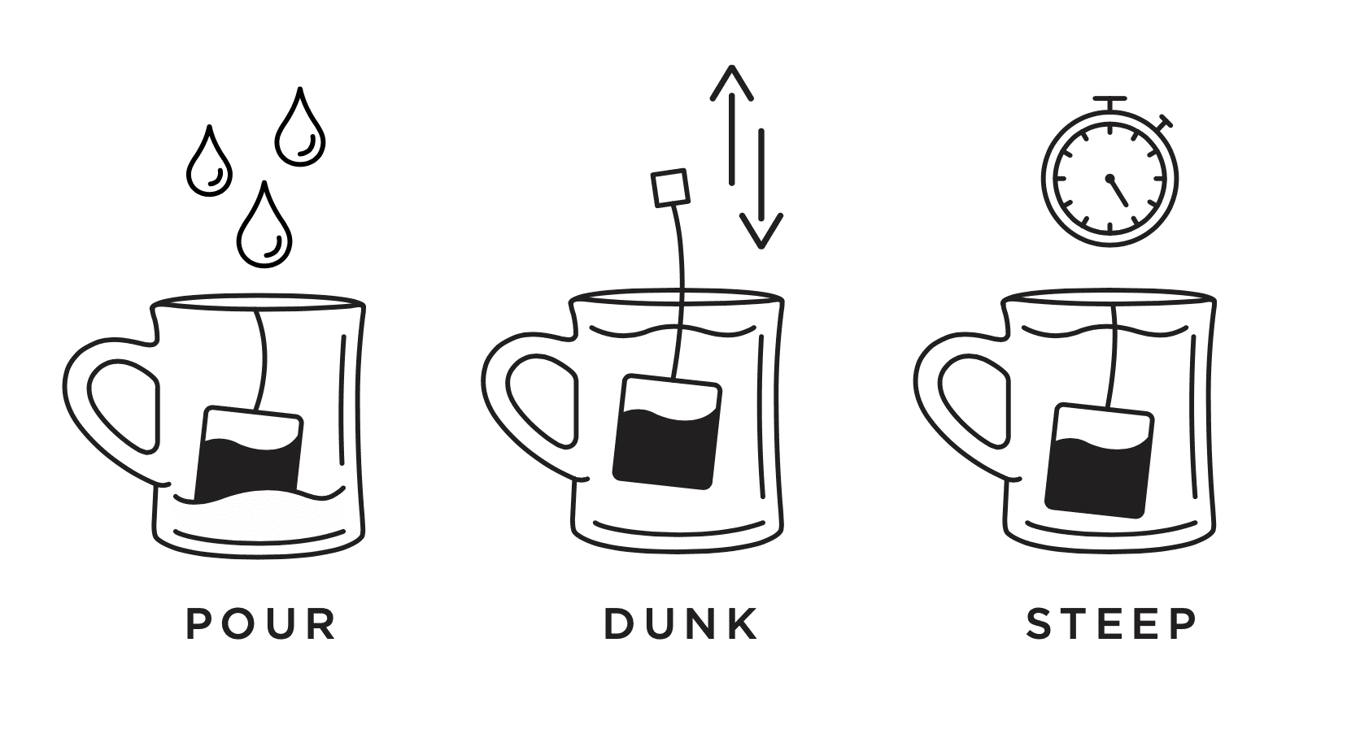 STEEPED COFFEE®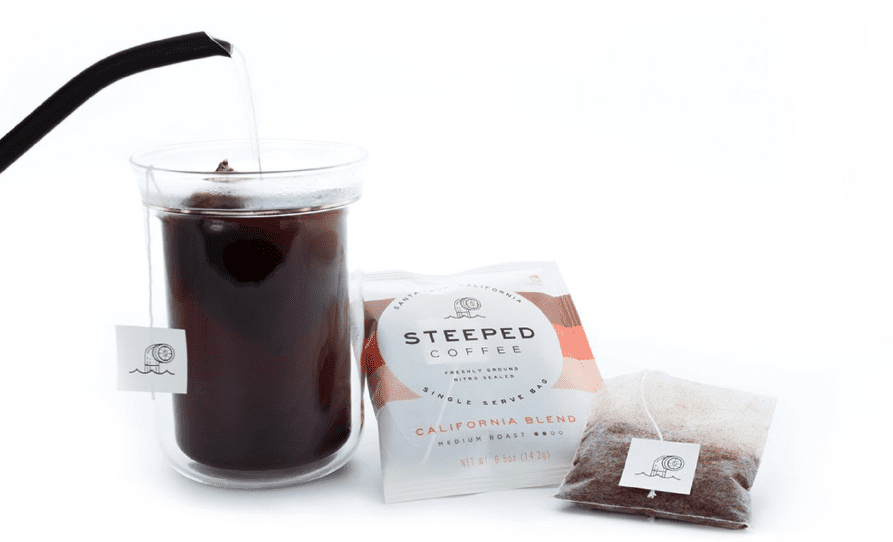 A Brewing Method & Category Creator
A simple, single-serve brewing method similar to the ritual of making tea, using full-immersion Steeped Bags®.


A Licensed Process & Technology
A proprietary technology licensed to top brands through custom branded Steeped Packs®.


A Coffee Brand
Steeped Coffee® is a fast-growing, purpose-driven brand that's trailblazing a new market and encouraging people to Take Your Moment™ — while at home, at work, or on the go.
—
Steeped Coffee is not just a single brand, but a proprietary brewing method supporting hundreds of brands.
—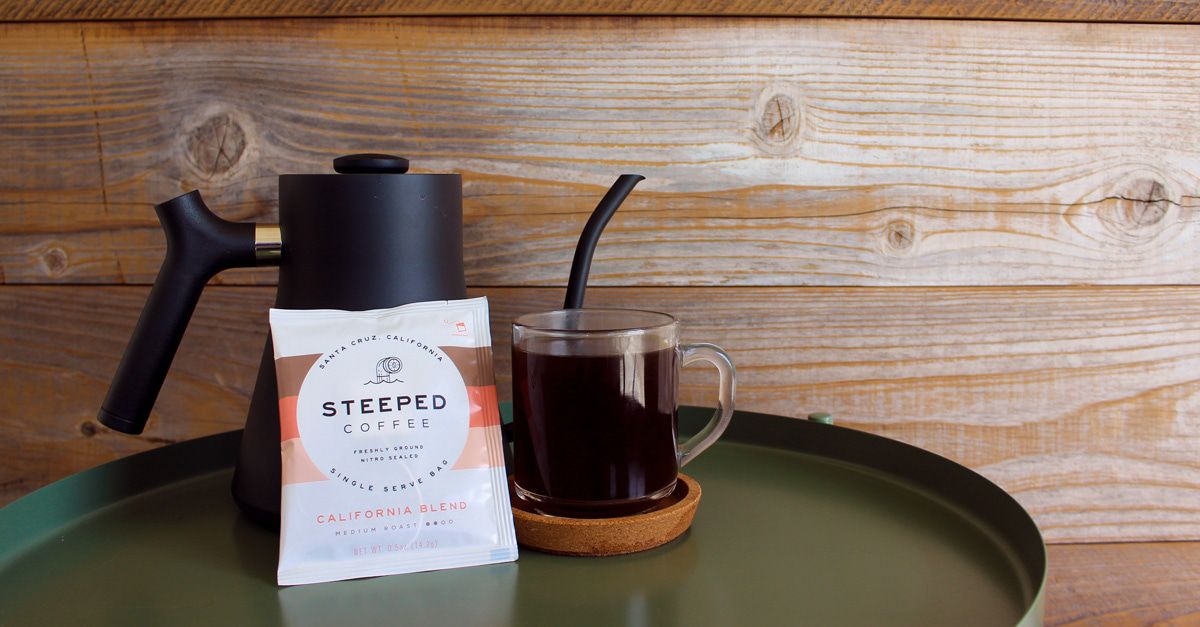 ---
STEEPED INNOVATION
FULL IMMERSION FILTER
---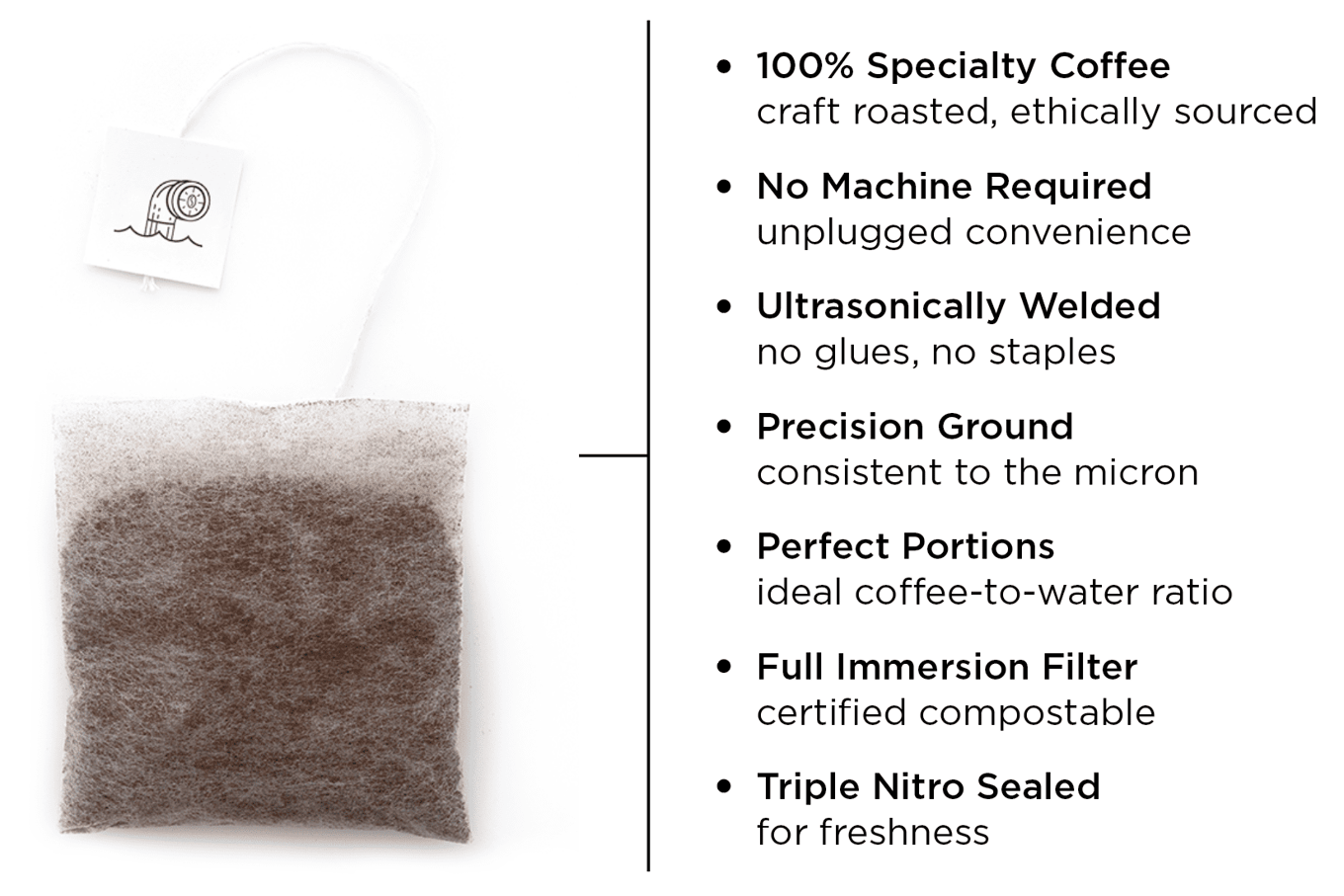 ---
GUILT-FREE
COMPOSTABLE PACKAGING
---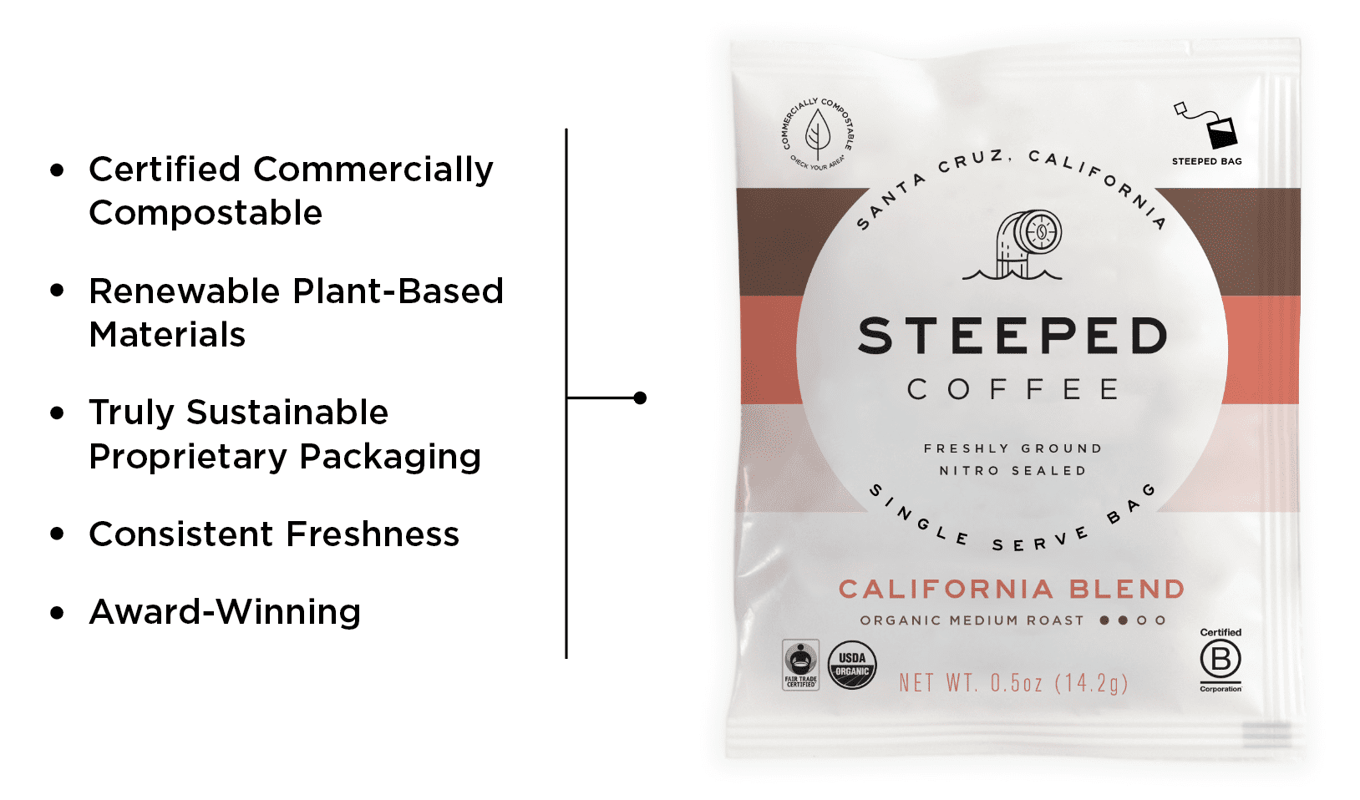 ---
PRODUCT CONFIGURATION
---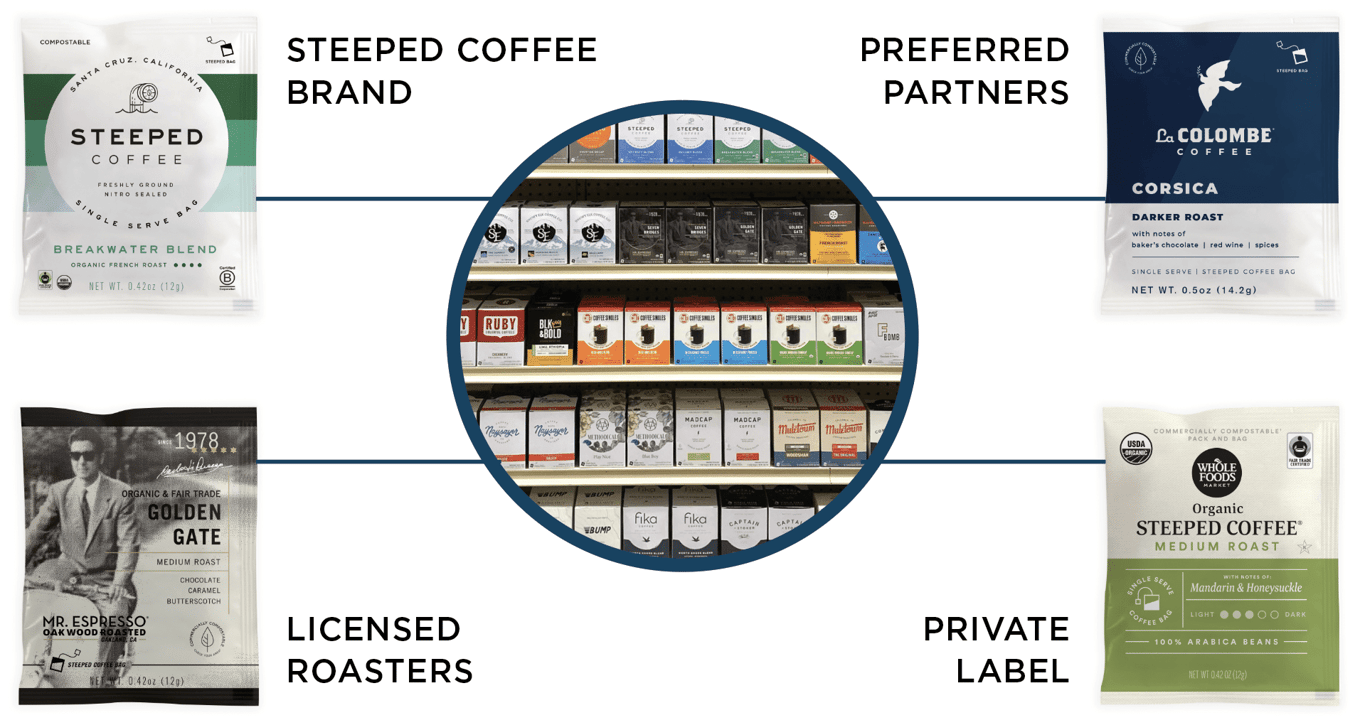 ---
STEEPED COFFEE BRAND
---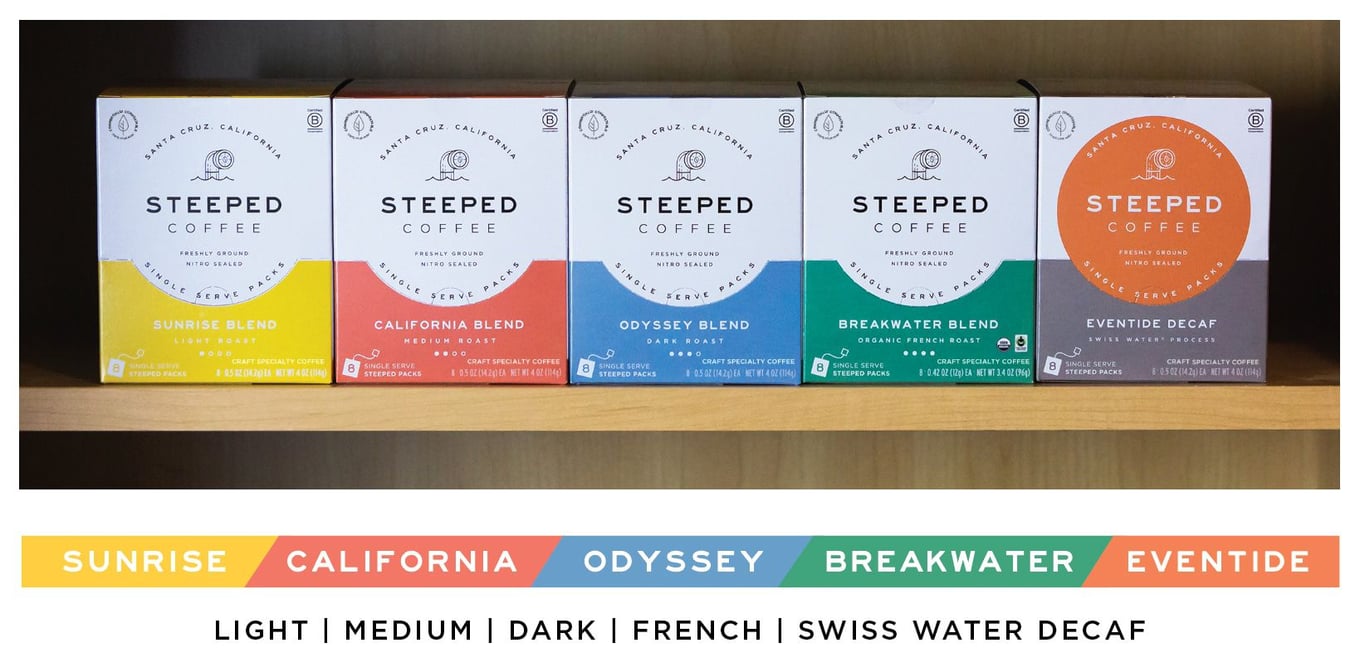 ---
LICENSED PARTNERS
CUSTOM BRANDED PACKS
---
Barista-Approved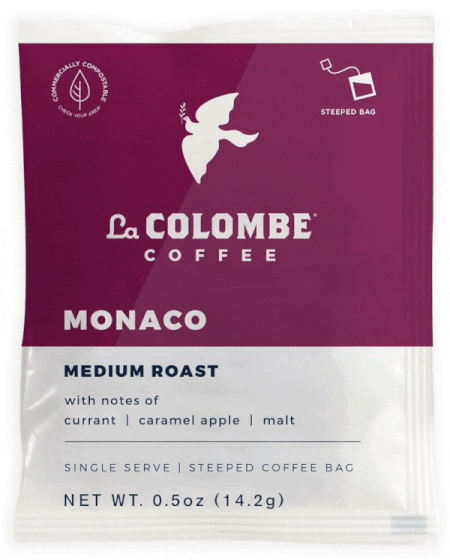 NATIONAL DISTRIBUTION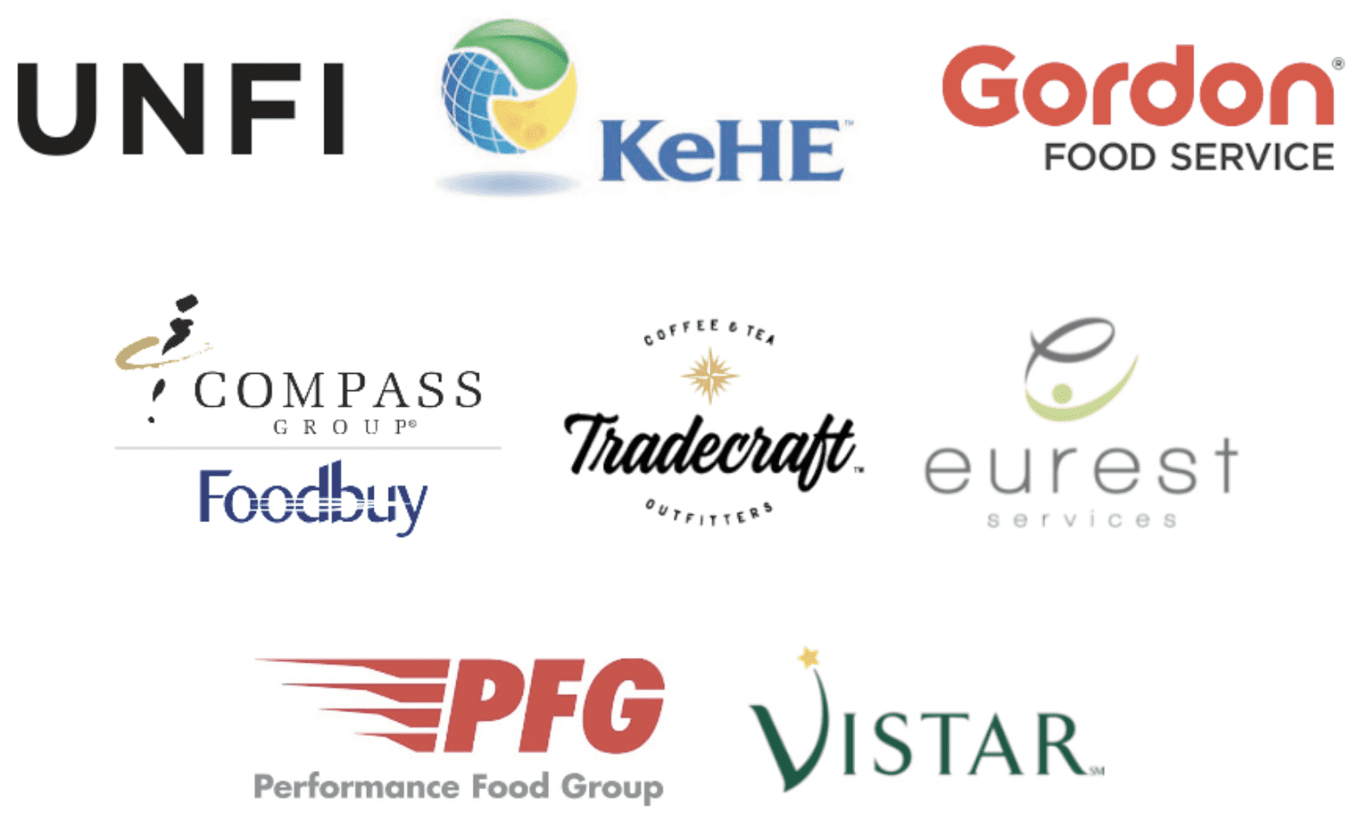 Steeped continues to grow its sales channels through national distribution across multiple industry verticals.
---
ACTIVE VERTICALS
---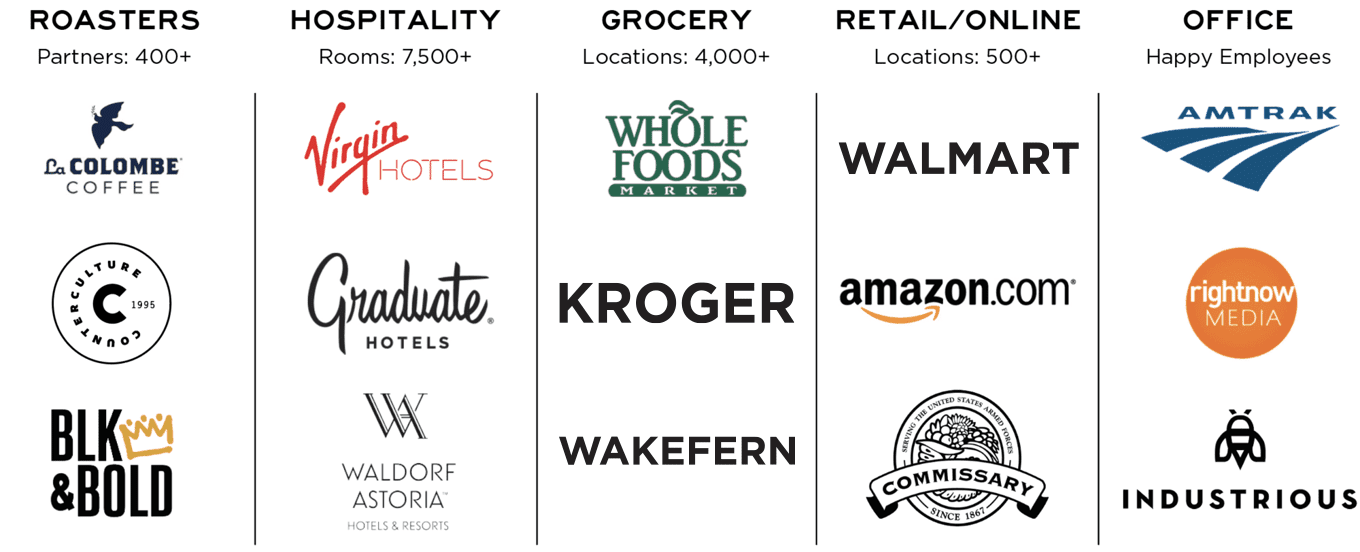 ---
LICENSED ROASTERS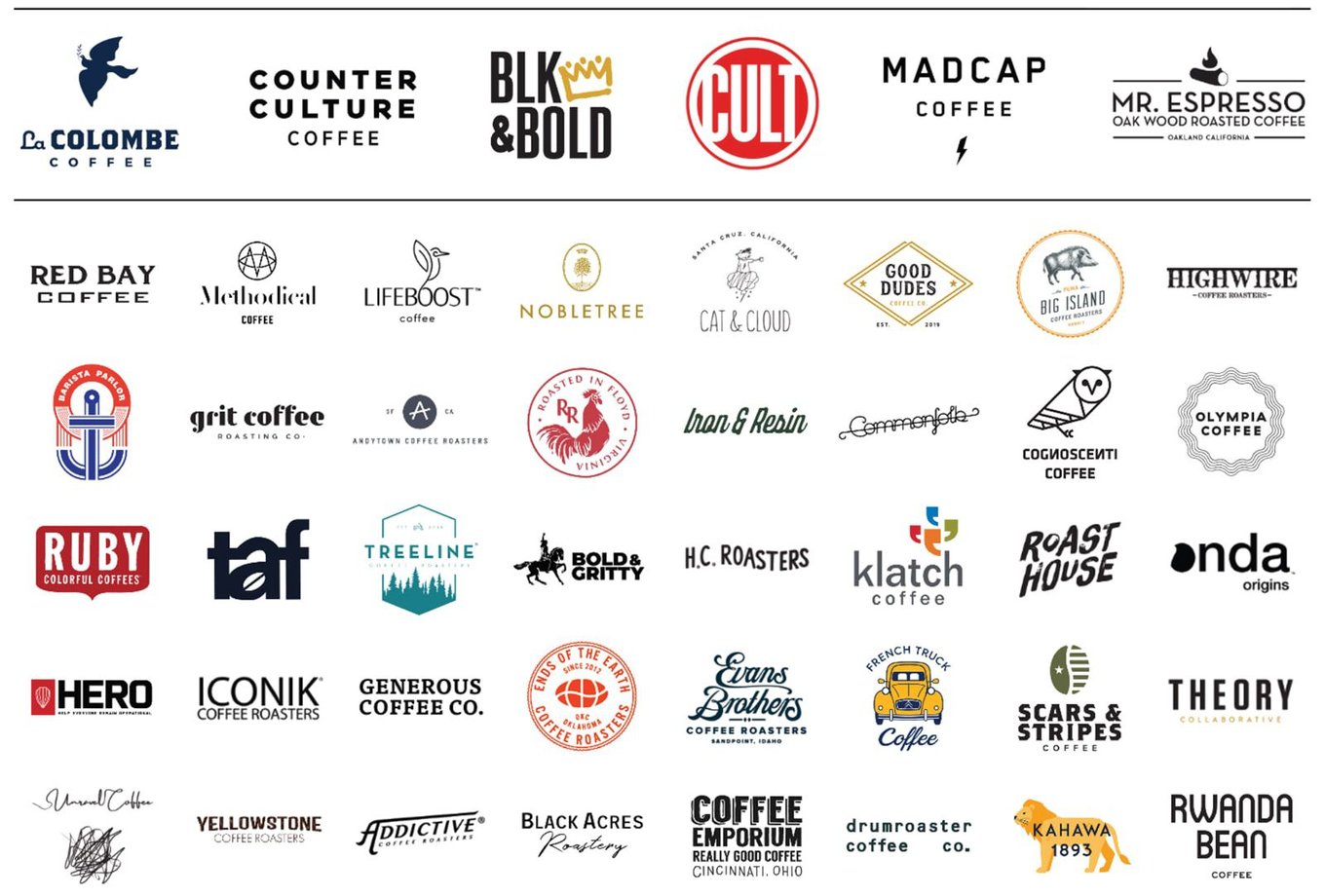 ---
HOSPITALITY
---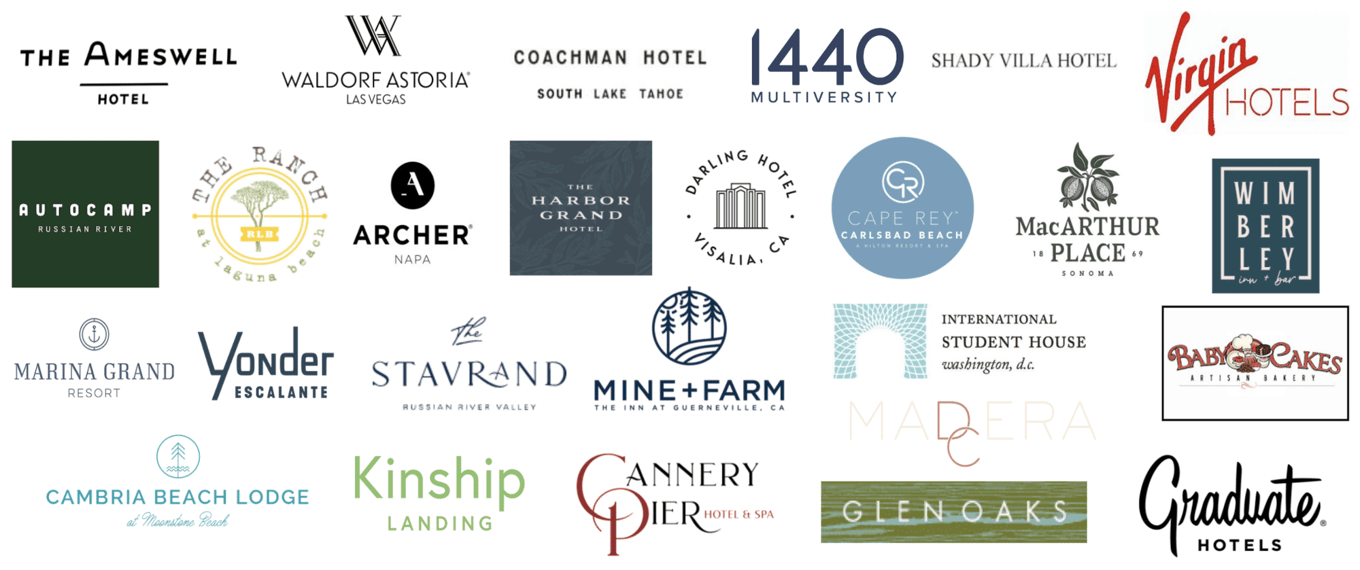 ---
GROCERY
---

---
AS SEEN ON
---

---
AWARD-WINNING
---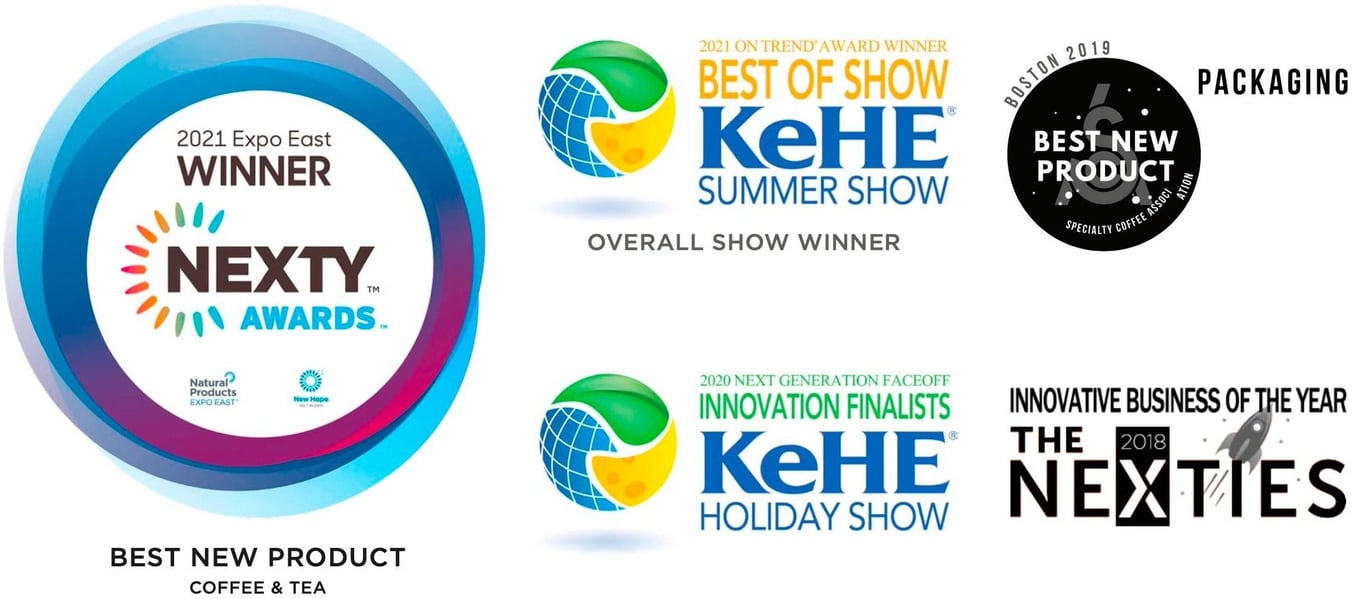 TAKE YOUR MOMENT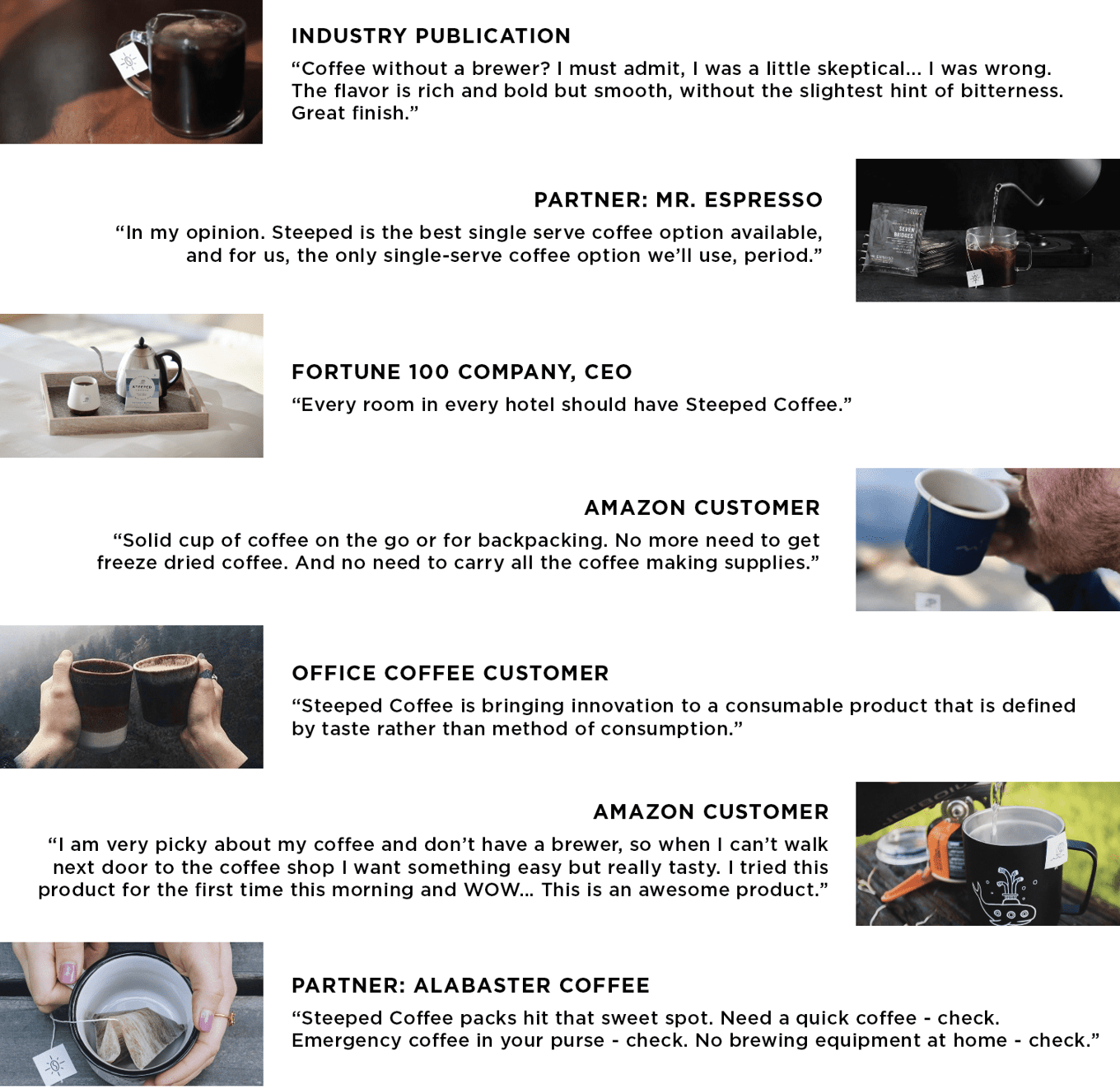 COFFEE REIMAGINED
As a Certified B Corp and Public Benefit Corporation, Steeped, Inc. operates in the specialty and single-serve coffee markets. Steeped has innovated to bring these two high-growth trends together for the first time in sustainable packaging. 
Steeped Coffee brings the universal tea-drinking experience to the entire coffee market, making craft specialty coffee accessible to everyone, anywhere.
Headquartered in Santa Cruz, California, Steeped provides proprietary, single-serve technology to the D2C and B2B distribution channels under its Steeped Coffee brand — as well as providing the Steeped Brewing Method and IP to hundreds of top coffee brands through licensed partnerships.
Welcome to Coffee Simplified™.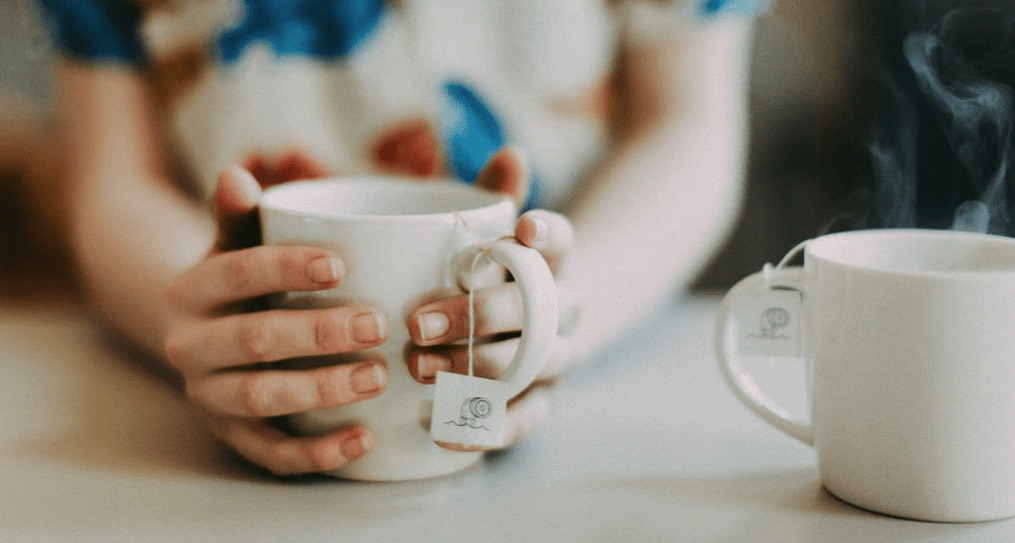 ---
IP STRATEGY
---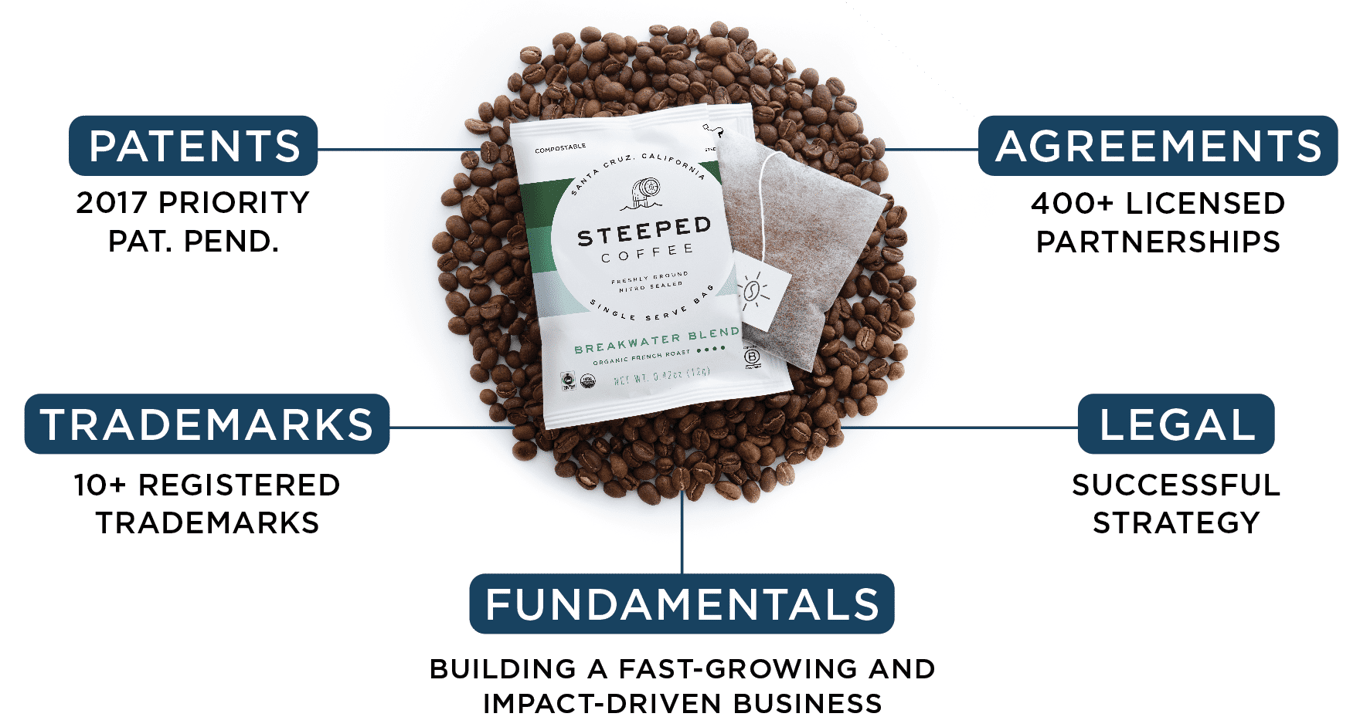 ---
STEEPED MANUFACTURING
---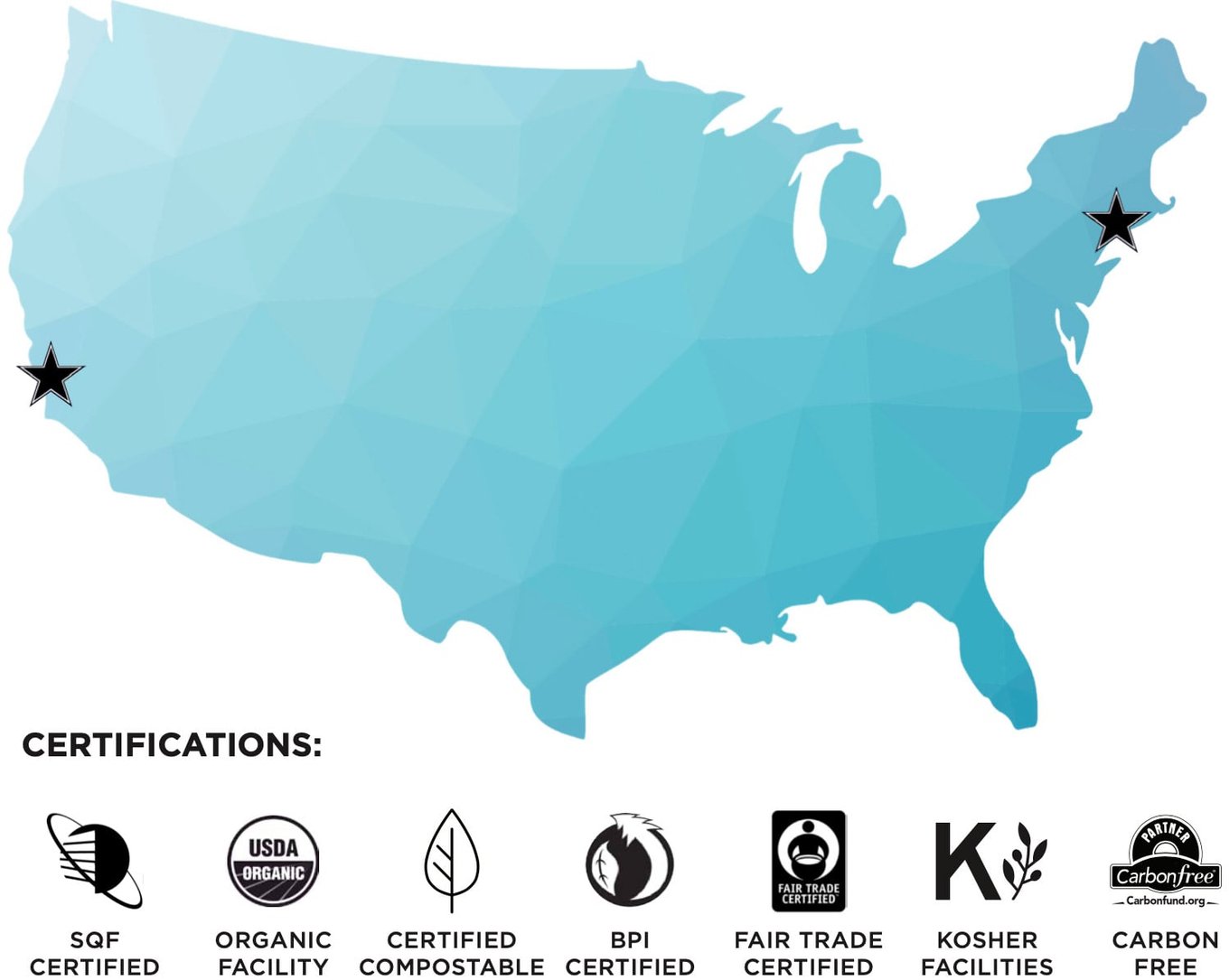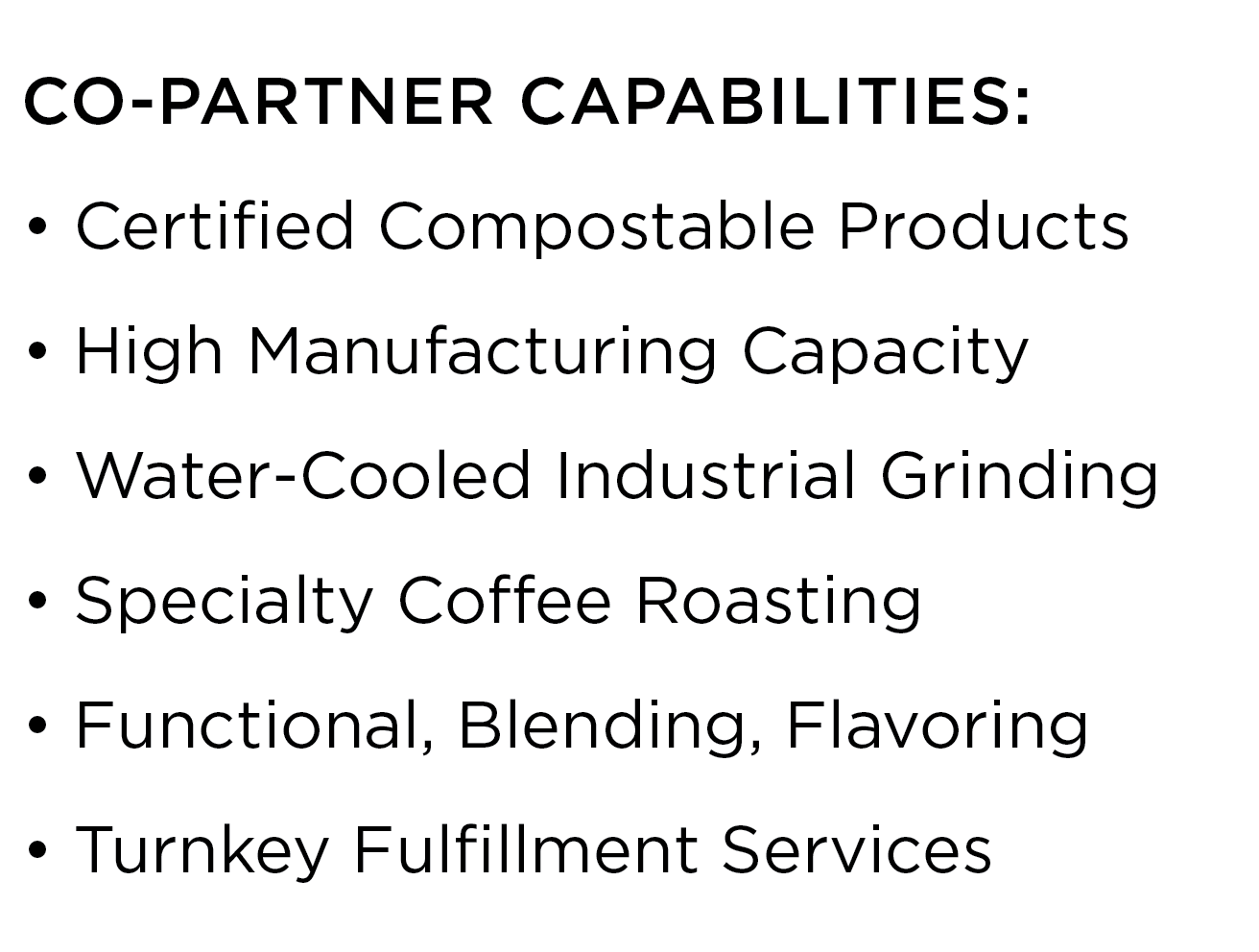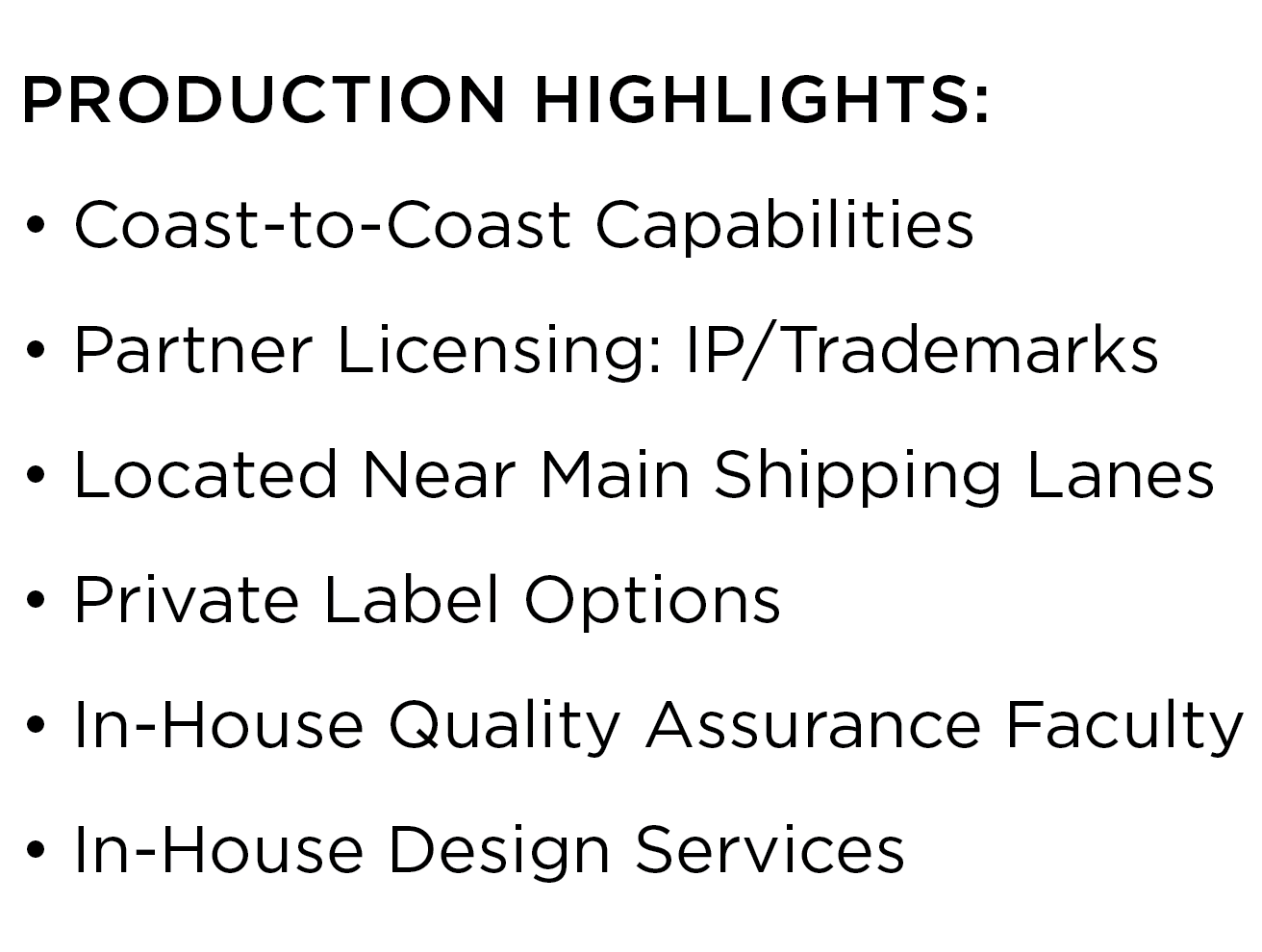 PEOPLE LOVE COFFEE
Coffee in the US alone generates $80B in annual sales with 80% of adults drinking coffee while consuming over 500 million cups every single day. Steeped has tapped into a huge gap in the high-growth single-serve and specialty coffee markets.

---
DO YOU DRINK COFFEE?

The way we drink coffee is changing, one cup at a time. Steeped Coffee is the simplest way to make great coffee wherever life takes you. Take Your Moment — while at home, at work, or on the go.
EXPANDING THE MARKET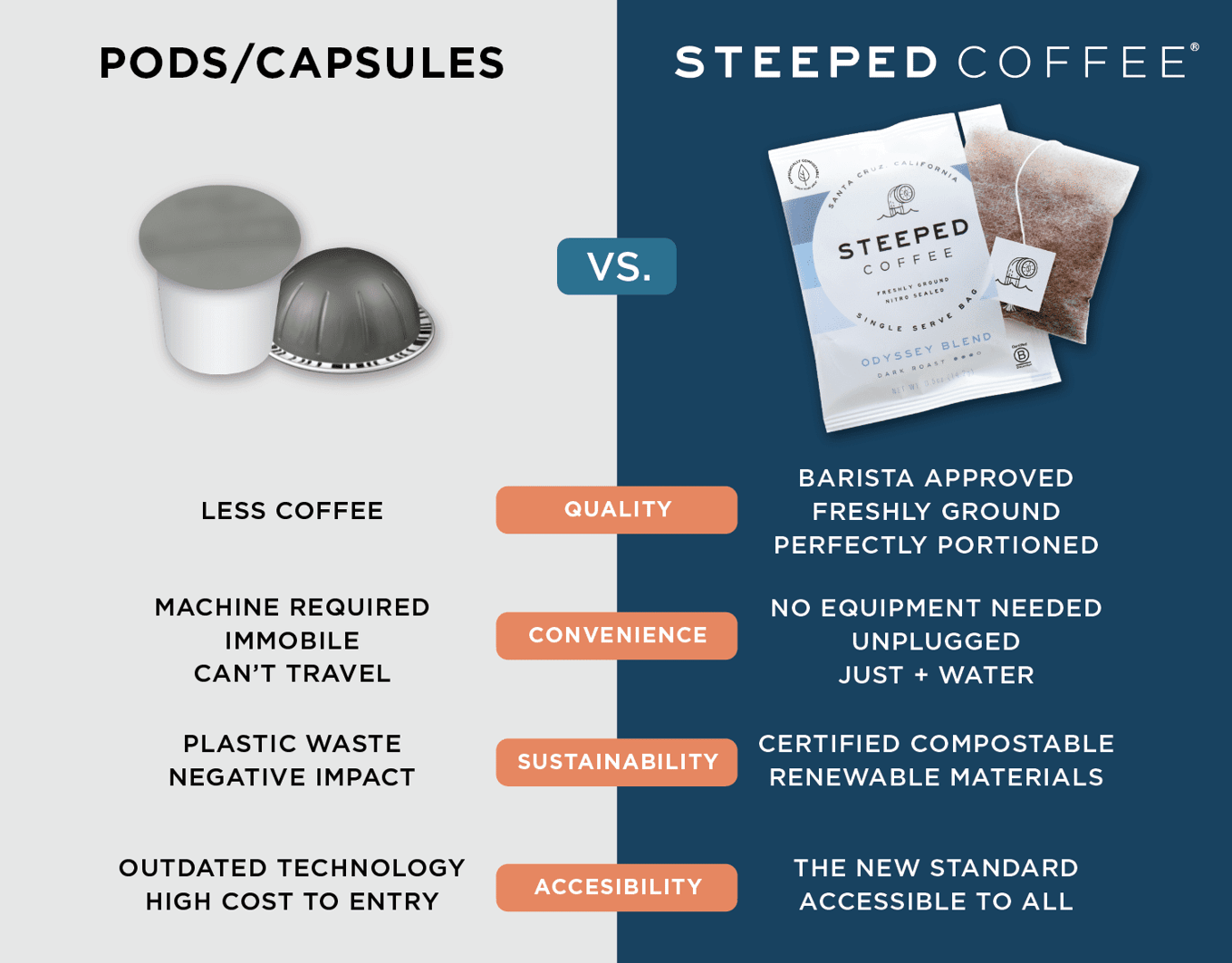 Steeped Coffee incorporates the best features from other brewing methods while eliminating the drawbacks of each.
---
COMPETITIVE ADVANTAGES
---



NEW STANDARD IN COFFEE

Steeped Coffee is not trying to fit within the current coffee market, but rather expand the limits of the entire coffee category by increasing customer accessibility — similar to how the single-serve bag transformed tea drinking and became the standard for convenience. Steeped is going a step further by bringing together unmatched convenience, quality, and sustainability to revolutionize coffee.
Steeped is disrupting the limited nature of the current coffee market. We're dedicated to amplifying the coffee shelf in every grocery store, home, office, or wherever life takes you.
COFFEE WITHOUT COMPROMISE
Steeped is pursuing Coffee Without Compromise, and is passionate about the amount of good we can do together.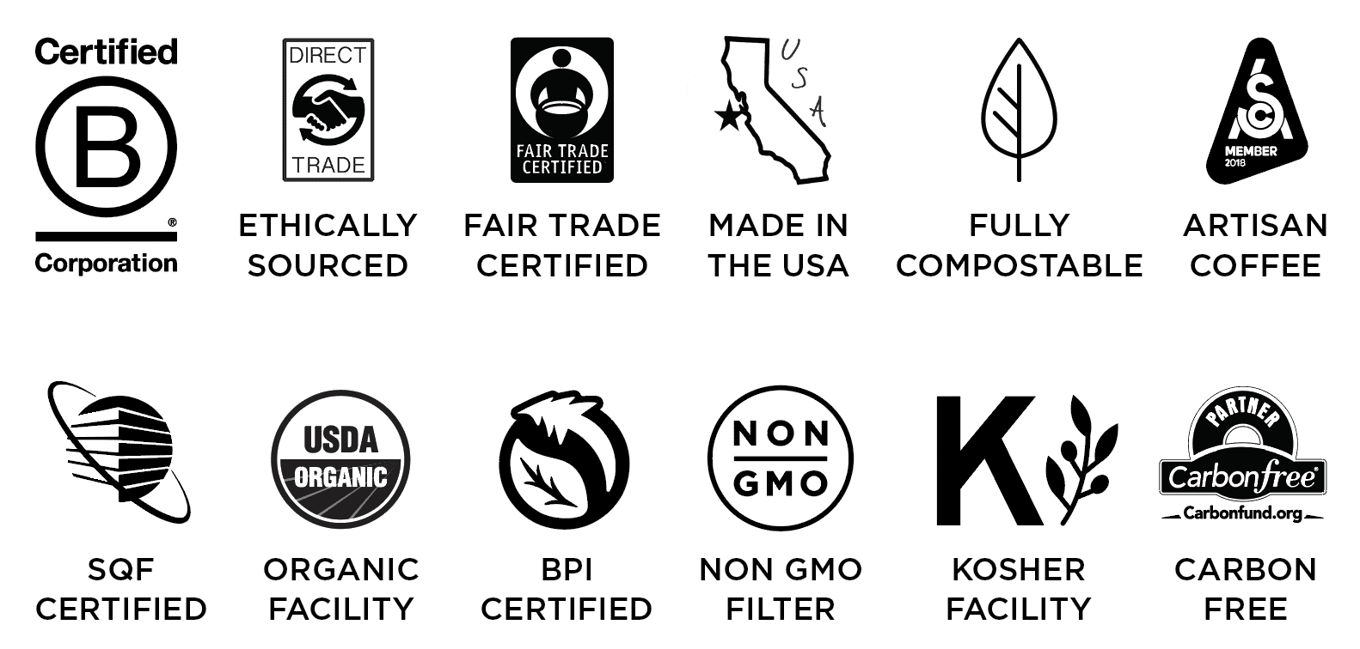 ---
MISSION
---
As both a Benefit Corporation and Certified B Corp, Steeped is focused on Purpose Beyond Profits. We strive to innovate and find new solutions to old problems, to be a light on a hill, to honor and value every relationship, and to set new standards of doing Business Without Compromise. We pay attention to every detail, to bring people the most convenient, high-quality, ethically sourced, and sustainably packaged products available. Our entire company ethos is focused on how we can be good stewards of the planet and to love people.

---
CORE VALUES
---
---
PURPOSE BEYOND PROFITS
---
As a Public Benefit Corporation (PBC), Steeped has enhanced our legal structure to match our values. We operate as a for-profit C Corp, but have updated our Articles of Incorporation with a statement of purpose. This subtle improvement allows Steeped to legally focus on Purpose Beyond Profits — expanding the measurement of success from a single to a double bottom line company.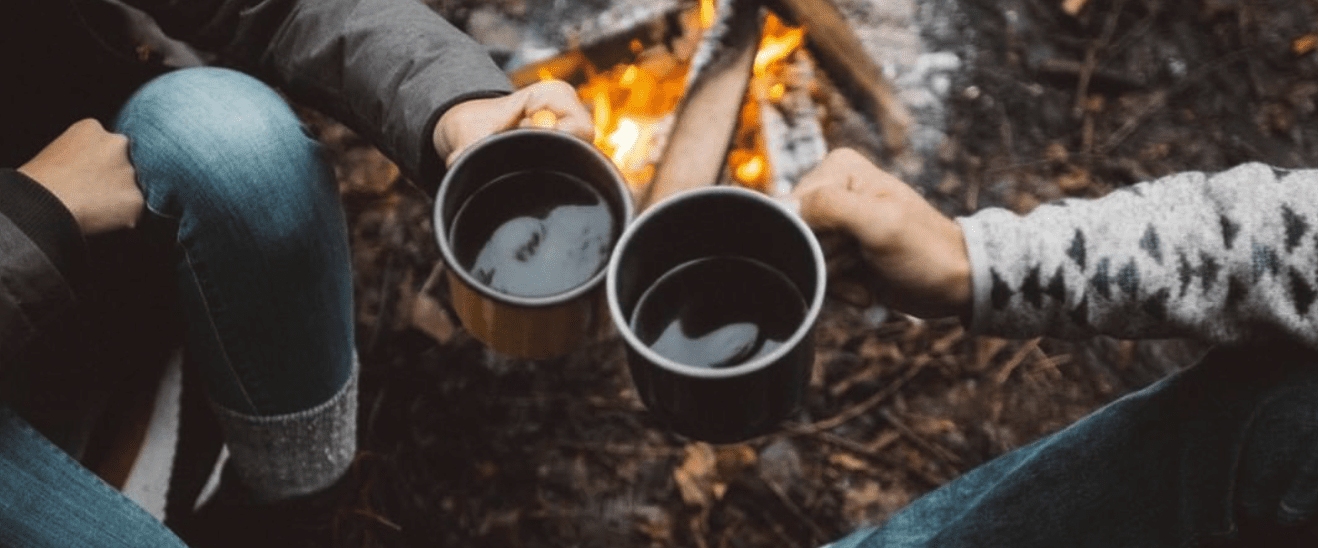 ---
CERTIFIED B CORP
---
Accountability and measuring impact are at the forefront of our activities. We are continuously tracking and reporting through our B Corp Certification, which is monitored by the third-party nonprofit, B Lab. Putting action beyond words, Steeped is proud to be part of a community of leaders driving a global movement of using the power of business to solve social and environmental problems.
Certified B Corporations are businesses that meet the highest standards of verified social and environmental performance, public transparency, legal accountability, and bold company policies, to balance profits and purpose.
---
SINGLE-SERVE SUSTAINABILITY
---
Single-serve coffee long had its roots deep in sustainability before it was tainted by its wide abuse of plastic waste. With so much time, energy, and passion that goes into each cup of specialty coffee (see journey below), single-serve is an ideal solution that keeps coffee from being dumped down the kitchen sink.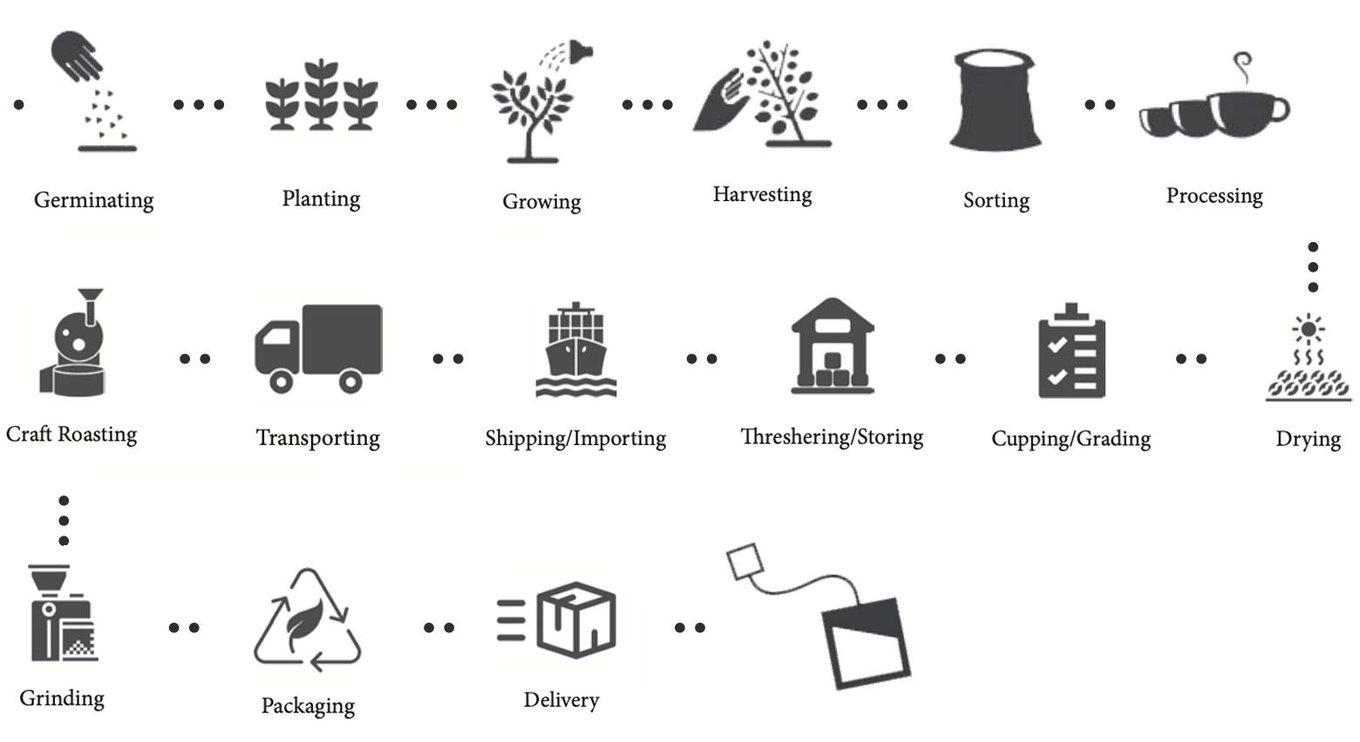 The Steeped method is pre-dosed, pre-ground, and provides the perfect water-to-coffee ratio — which maintains ultimate convenience and intrinsically helps conserve our cherished coffee commodity.
---
SUSTAINABILITY
---
Steeped has made sustainability a key focus to avoid negative environmental and ethical impacts from success.
Guilt-Free Packaging: Our award-winning, Guilt-Free Packaging is certified commercially compostable and made using renewable materials.
Ethically Sourced: Through direct trade practices and Fair Trade Certified coffees, Steeped Coffee ethically sources its beans to ensure farmers get a fair wage.
Steeped strives to make every component of our product responsible for both the planet we've been given to steward and the people on it. Steeped takes every possible step to ensure that our sacred coffee rituals go unnoticed by the next generation.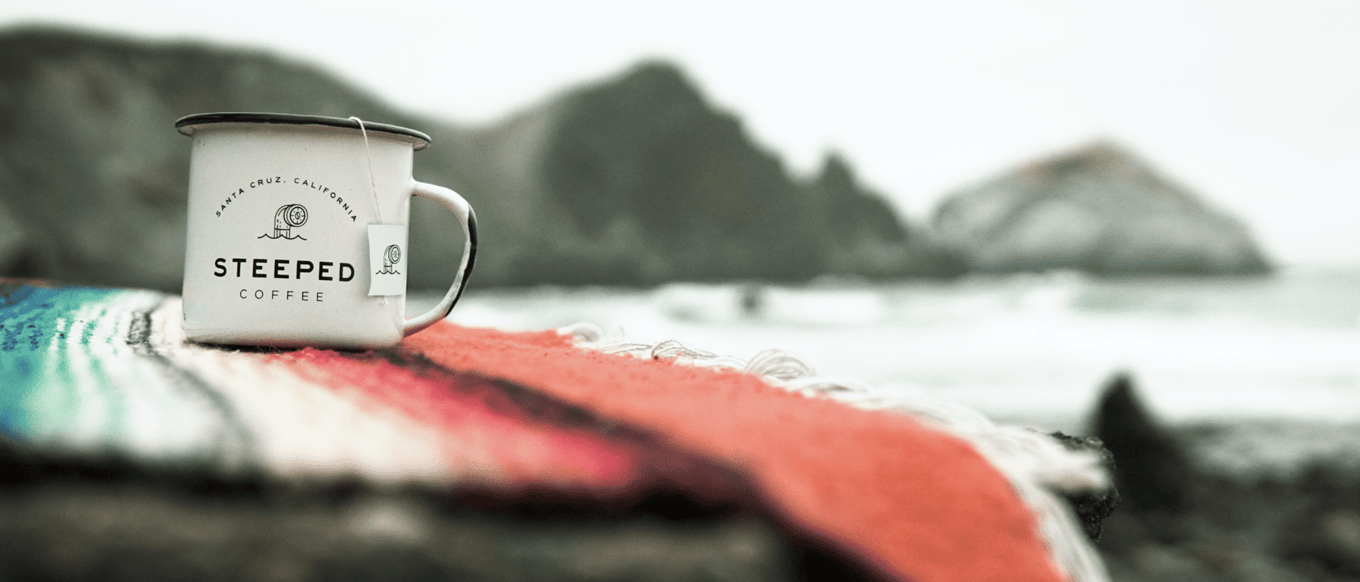 ---
STEEPED GIVING FUND
---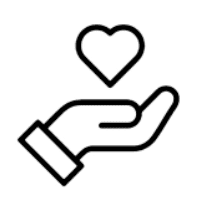 Drink Coffee. Make an Impact. Since day one, Steeped has been committed to giving a minimum of 1% of revenue, rather than just profits, to our Steeped Giving Fund — making our success not just what we get but what we get to give.
---
PACKS FOR IMPACT
---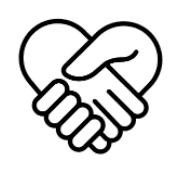 Steeped is excited to use Steeped Coffee Packs as a tool for elevating non-profits, churches, and purpose-driven companies through our discounted private label program — utilizing custom graphics to help passionate organizations spread their message through simply sharing a cup of coffee.
---
PACKS FOR GOOD
---
Packs For Good is a program built to support non-profits with branded landing pages on the Steeped Coffee website, where all sales generate a 20% top-line revenue donation back to that non-profit to support their mission.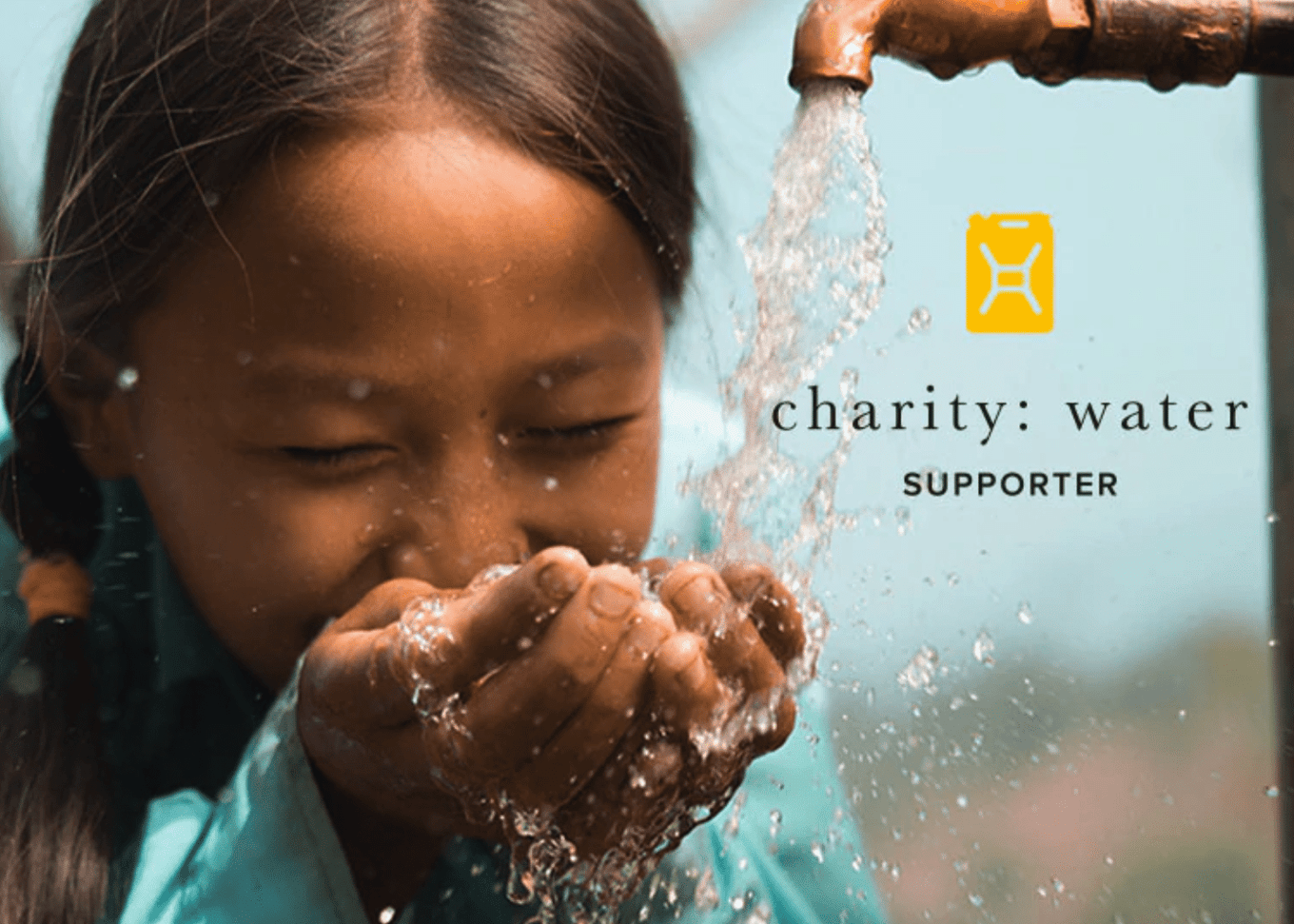 Among other inspiring organizations, Steeped is a proud partner of charity: water, on a mission to help bring clean and safe water to every person on the planet, where 100% of donations fund clean water.
INVESTOR COMMUNITY

Since 2017, fundraising has come through trusted referrals from the Steeped investor community — a growing purpose-driven network of over 100 individual investors and venture groups.

Steeped is now excited to welcome more investors who are passionate about the amount of good we can do together — while drinking great coffee. We hope you'll join our incredible Steeped Investor Community.
Josh Wilbur
Founder & CEO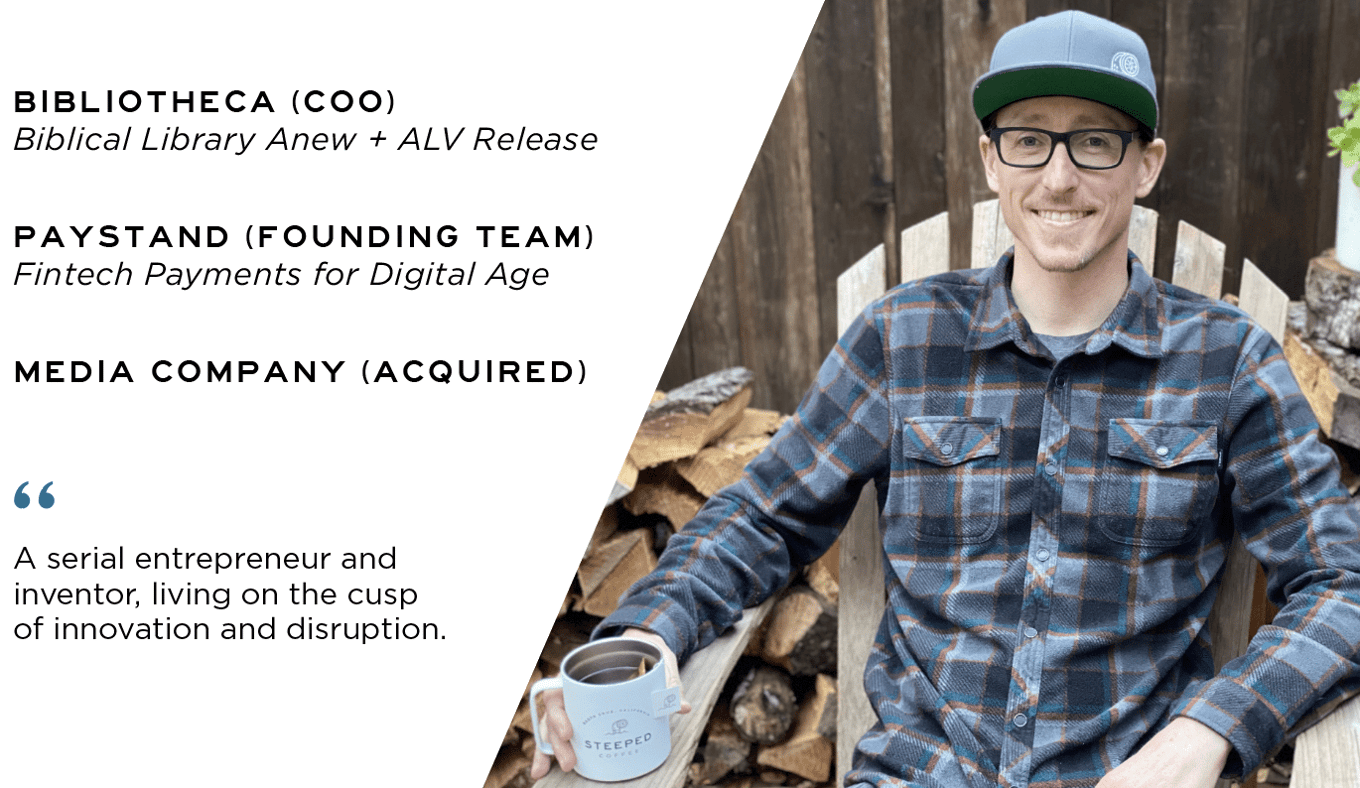 Quick Sip
Massive Market Size
Innovative & Disruptive Technology
Proprietary Competitive Advantages & IP
Diversified Market Verticals
Traction & Product Market Fit
National Distribution
Established Market Share
Scalable to Mass Adoption
Experienced Team & Partners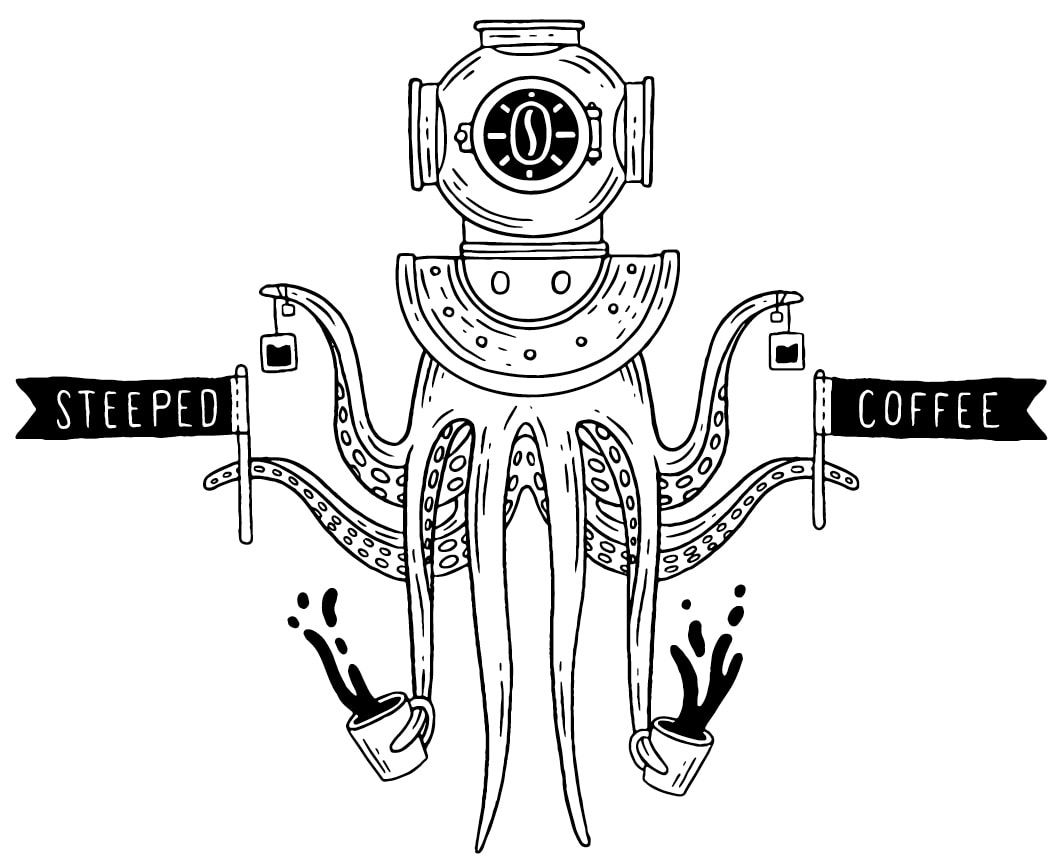 We hope you'll join us for all the exciting opportunities ahead!