Existing music software is way too complex for casual music-making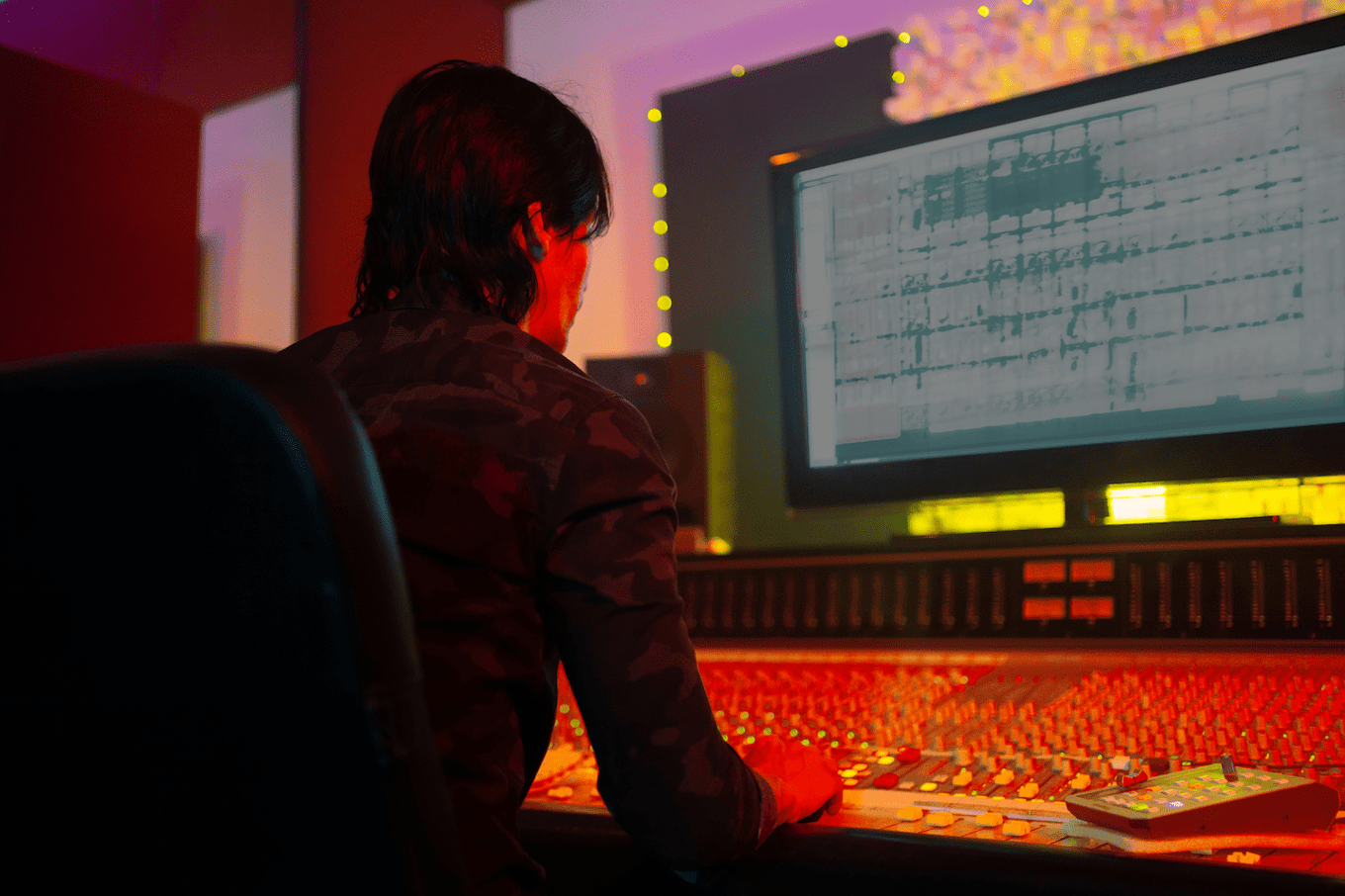 —
People are creating amazing content everywhere, whether it's videos on TikTok, photos on Instagram, games in Roblox, or even entire worlds in Minecraft. The creator generation has accessible platforms for almost every medium—but somehow, music-making still requires investing time and money into complicated software.
If pro-tools are no longer needed for photos, videos, games or worldbuilding, why are they necessary for digital music-making? Where is the music-making solution for casual creators?
Meet ToneStone:
Music-making, made easy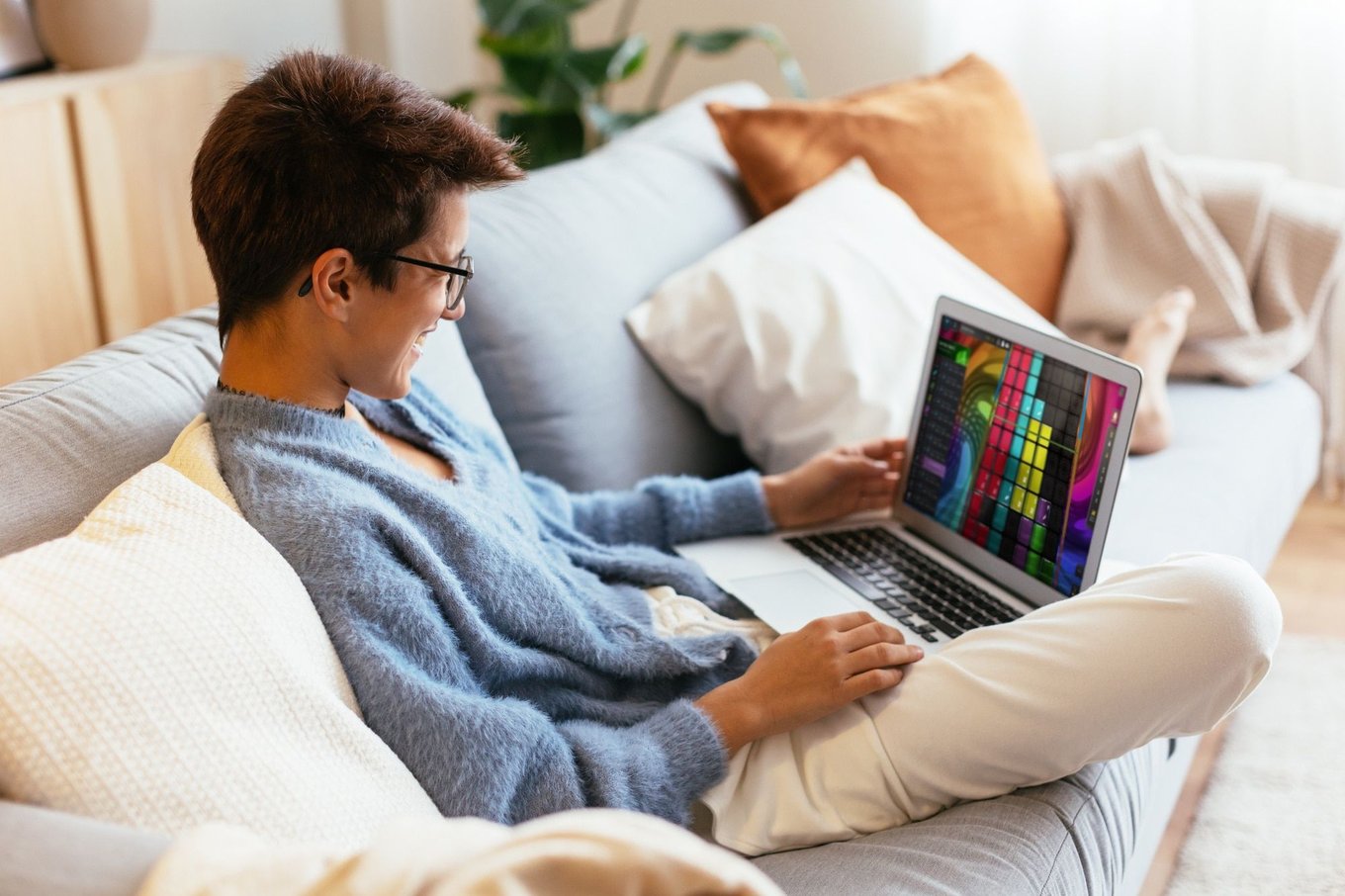 —
ToneStone is a musical creativity platform for casual music-making on a massive scale. Founded by the product lead behind Guitar Hero and Rock Band, ToneStone combines gameplay mechanics with easy-to-use creative tools to redefine the music-making experience.
A radical departure from existing music software—which is typically hard to learn, expensive, and not intended for casual creative behavior—ToneStone is easy and fun to use, free, and specifically designed for casual creation.
By transforming music production into an interactive entertainment experience, ToneStone opens up music-making to the entire creator generation.
A fun and interactive music creation experience
---
Overview
---
The ToneStone platform reinvents music making—we're igniting a paradigm shift from complex and intimidating pro-tools to highly-interactive, accessible and casual creative experiences. Much like building in Minecraft is fun, creating music in ToneStone is entertaining in and of itself.
Try the ToneStone beta out by going to www.tonestone.com.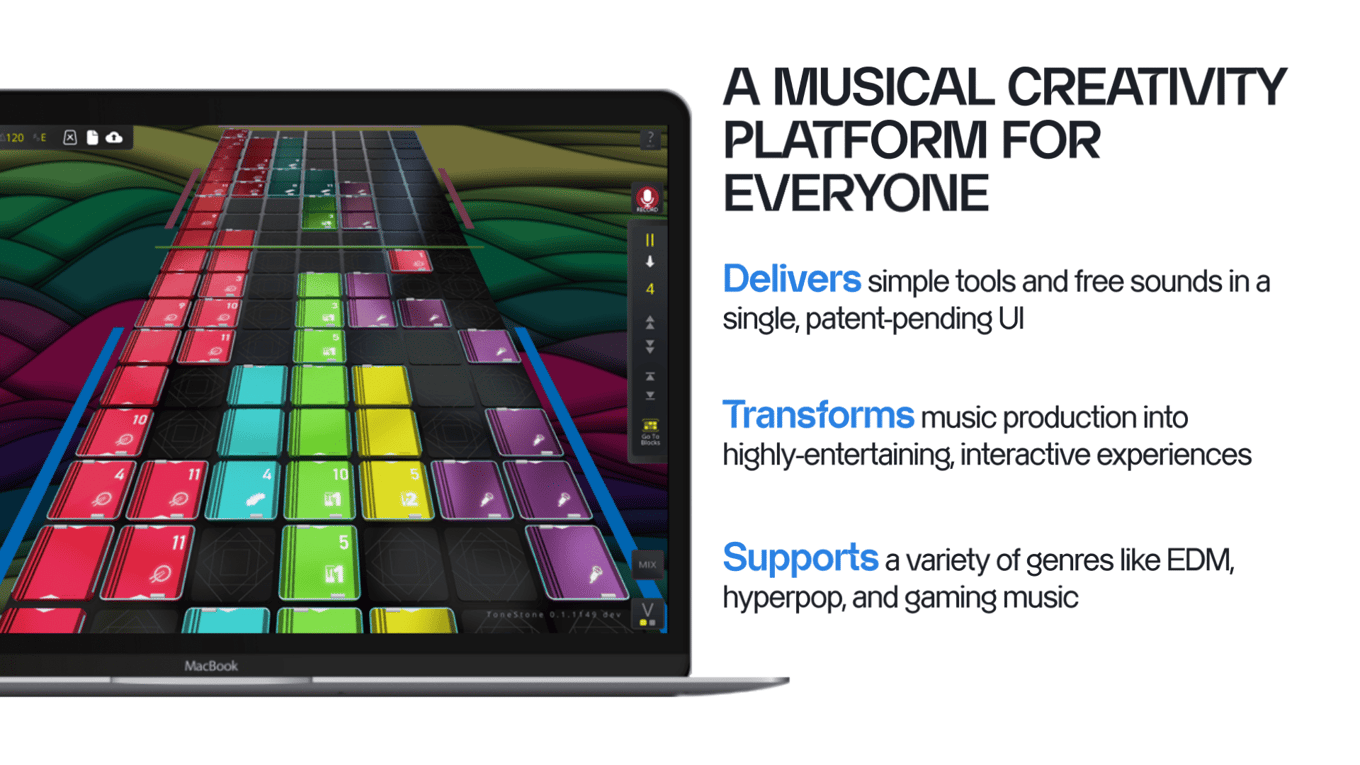 —
Creation through gameplay
ToneStone uses gameplay mechanics to drive music creation. Our team leverages game development expertise to design experiences that keep users entertained and engaged in ToneStone. Our gameplay mechanics spark users to start creating music instantly, while our planned progression-and-achievement system will motivate users to keep using ToneStone.
—
Simple tools, free sounds
ToneStone offers simple tools and free sounds that allow users to start creating music seamlessly. Our patent-pending user interface is optimized for casual creation—it allows users to quickly create and edit their music within a single screen.
—
Proprietary file format
ToneStone has developed a new multitrack file format that allows for content made in ToneStone to be shared, published, and remixed with all rights appropriately tracked. This format also makes it easy for us to partner with 3rd party gaming, media, and tech platforms that want to use music content made in ToneStone.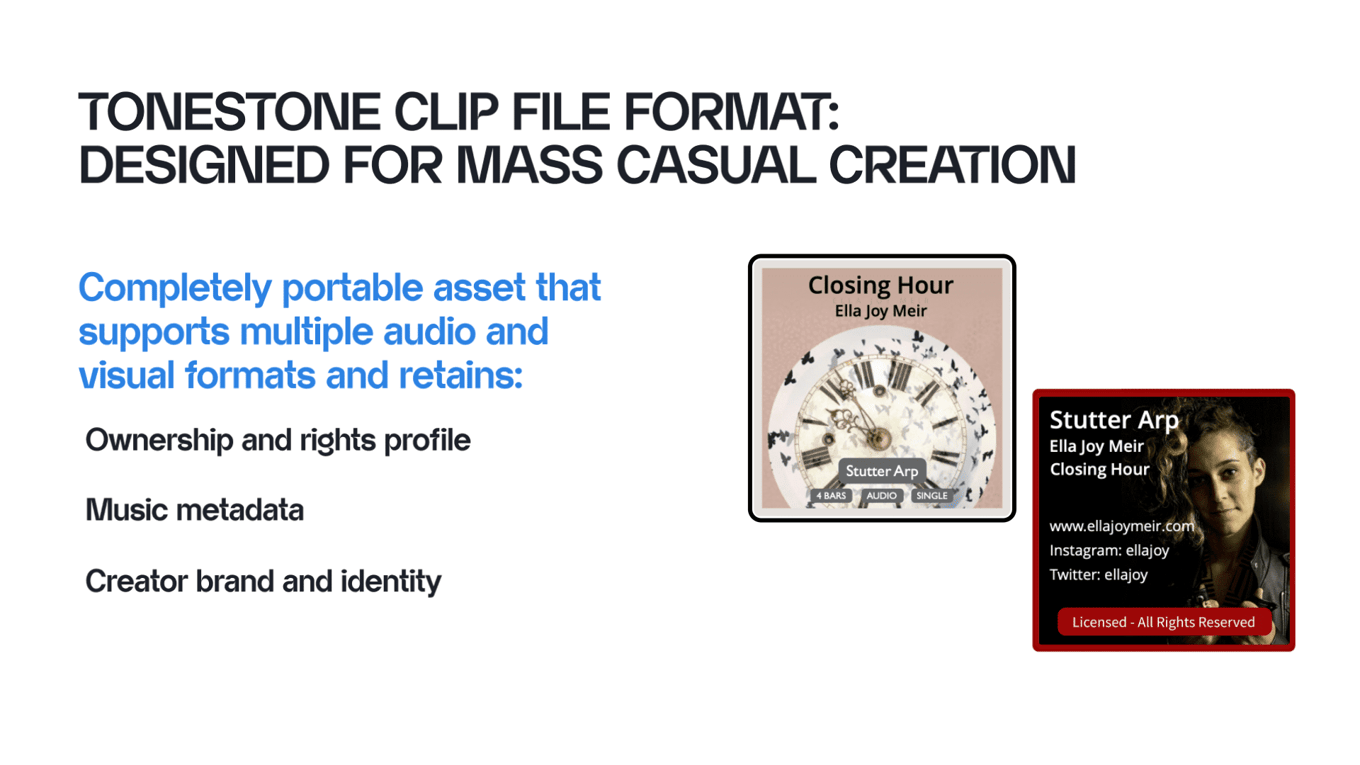 —
Rights Management
Music creation, collaboration and sharing can be difficult and complicated, due to the intricacies of music licensing and rights administration. ToneStone removes this complexity, and gives users simple, understandable control over the rights to their creations.
—
Ready for Web3 and NFTs
As new forms of blockchain-enabled music content and ownership come into being, ToneStone is ideally positioned to support them. ToneStone's ability to individually track all music assets in a composition enables sophisticated new form factors for next-gen NFTs.
—
Cross-platform
ToneStone is currently in beta for Mac and PC, with planned releases for VR and mobile later in 2022.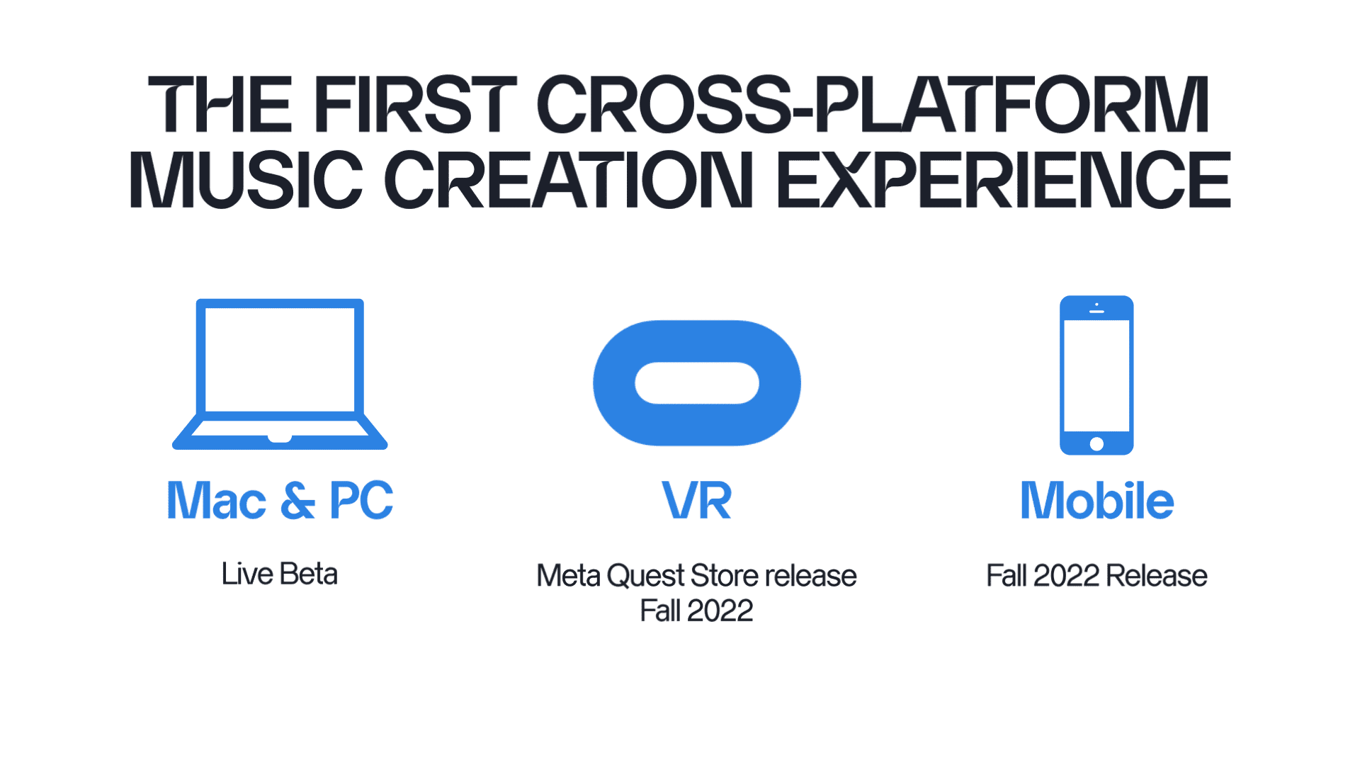 Users are raving about the ToneStone beta
—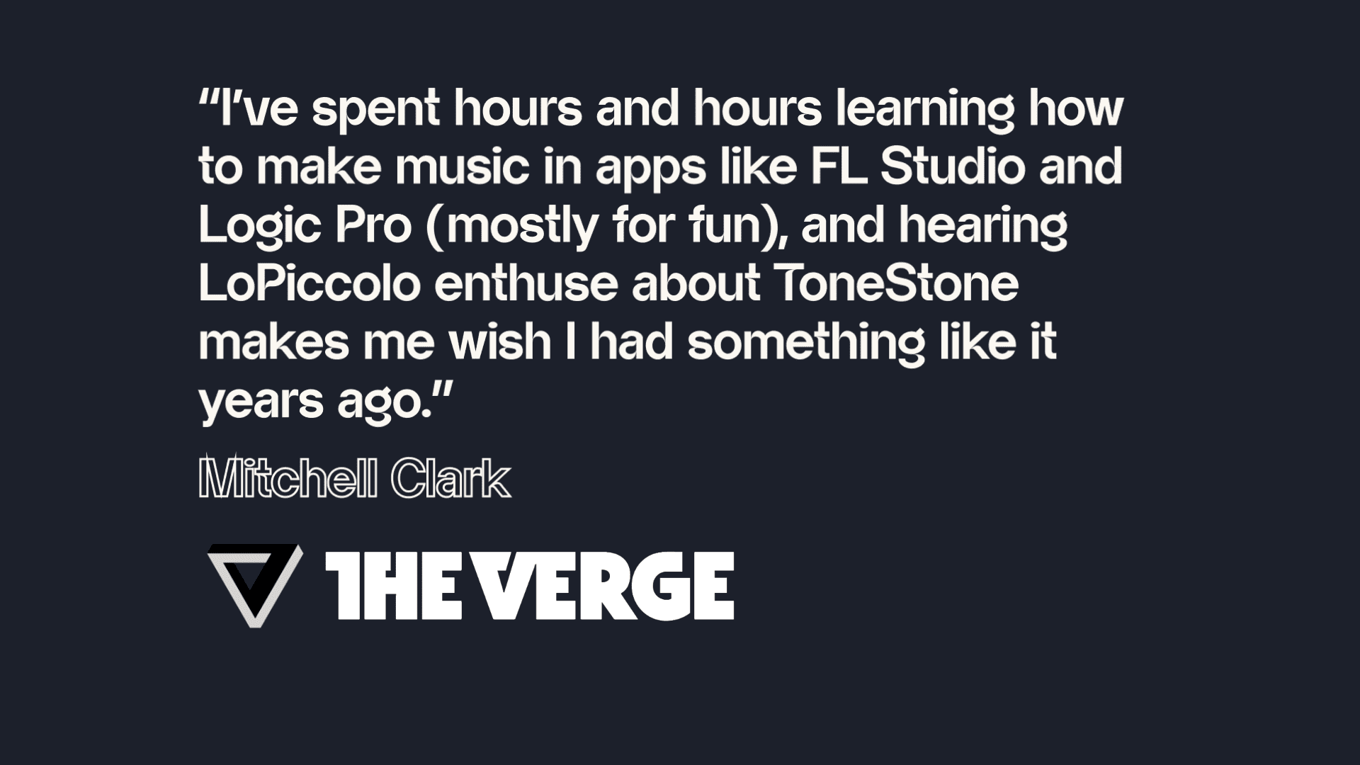 ToneStone officially launched our beta desktop app in August 2021. The beta was immediately met with enthusiasm, despite its early, prototype-like state. Within 4 days of announcing our beta, we had 1300 waitlist signups, and our Discord server community doubled.
—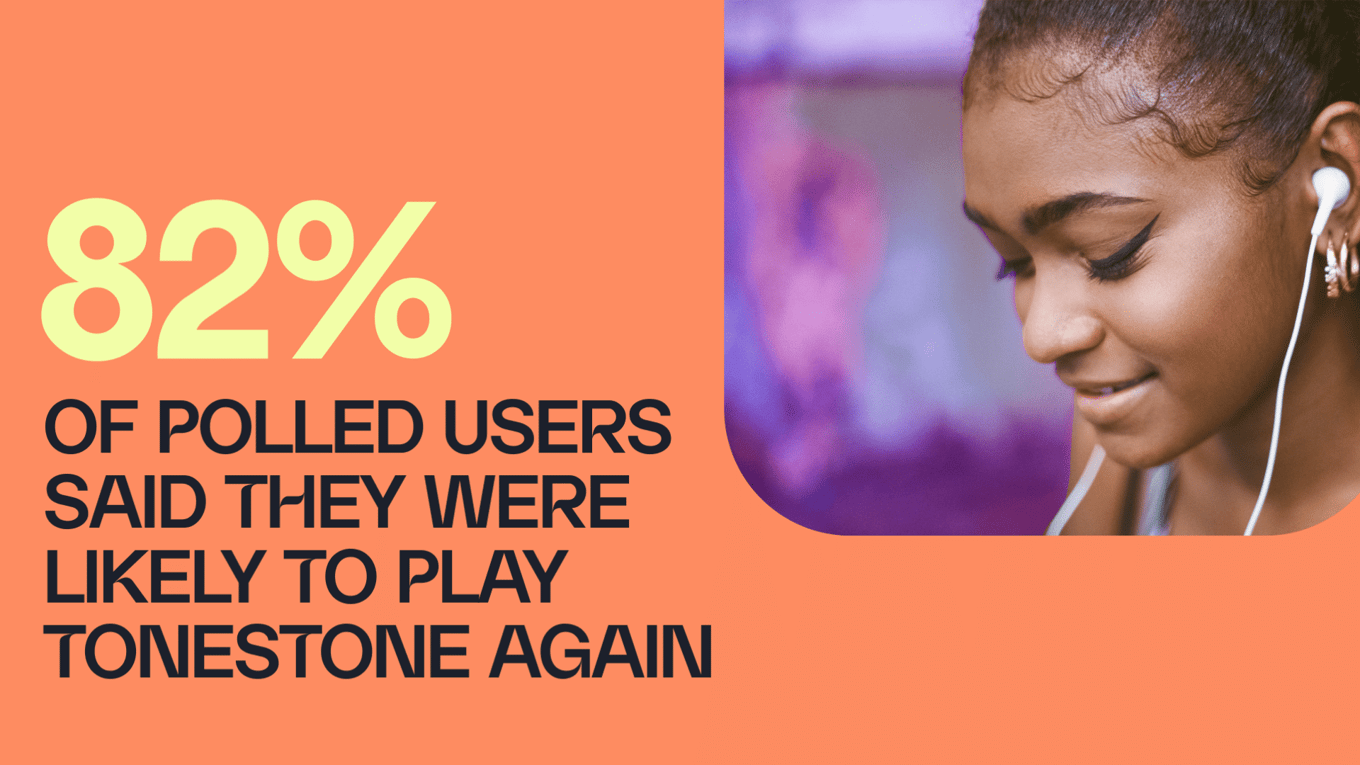 Feedback on our desktop beta has been positive, with many early users stating that ToneStone is exactly what they've been waiting for. Our early user community is highly engaged: users are making and sharing music creations regularly, and providing helpful feedback to ToneStone.
ToneStone has been so promising that we have an opportunity to develop a VR music creativity experience for the Meta Quest, which will debut in fall 2022.
—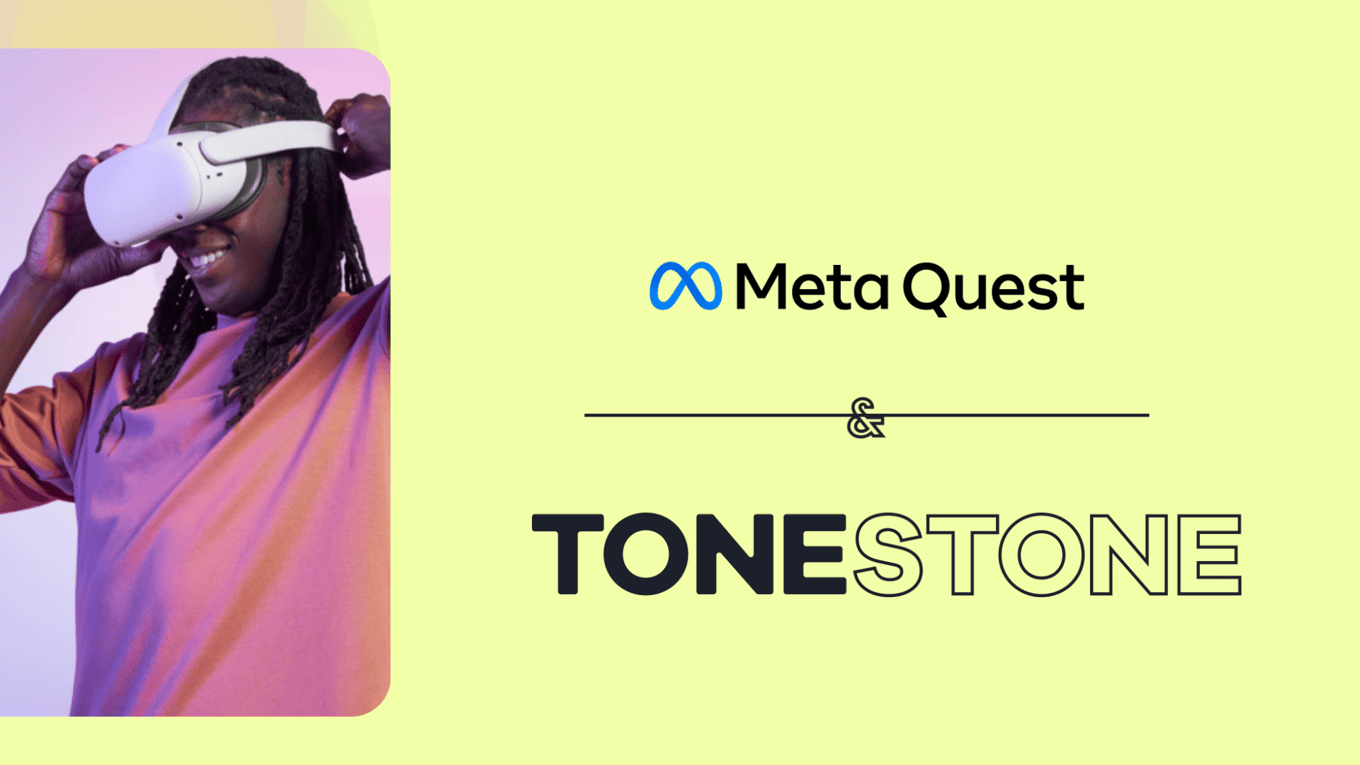 Young creators are ready for ToneStone
—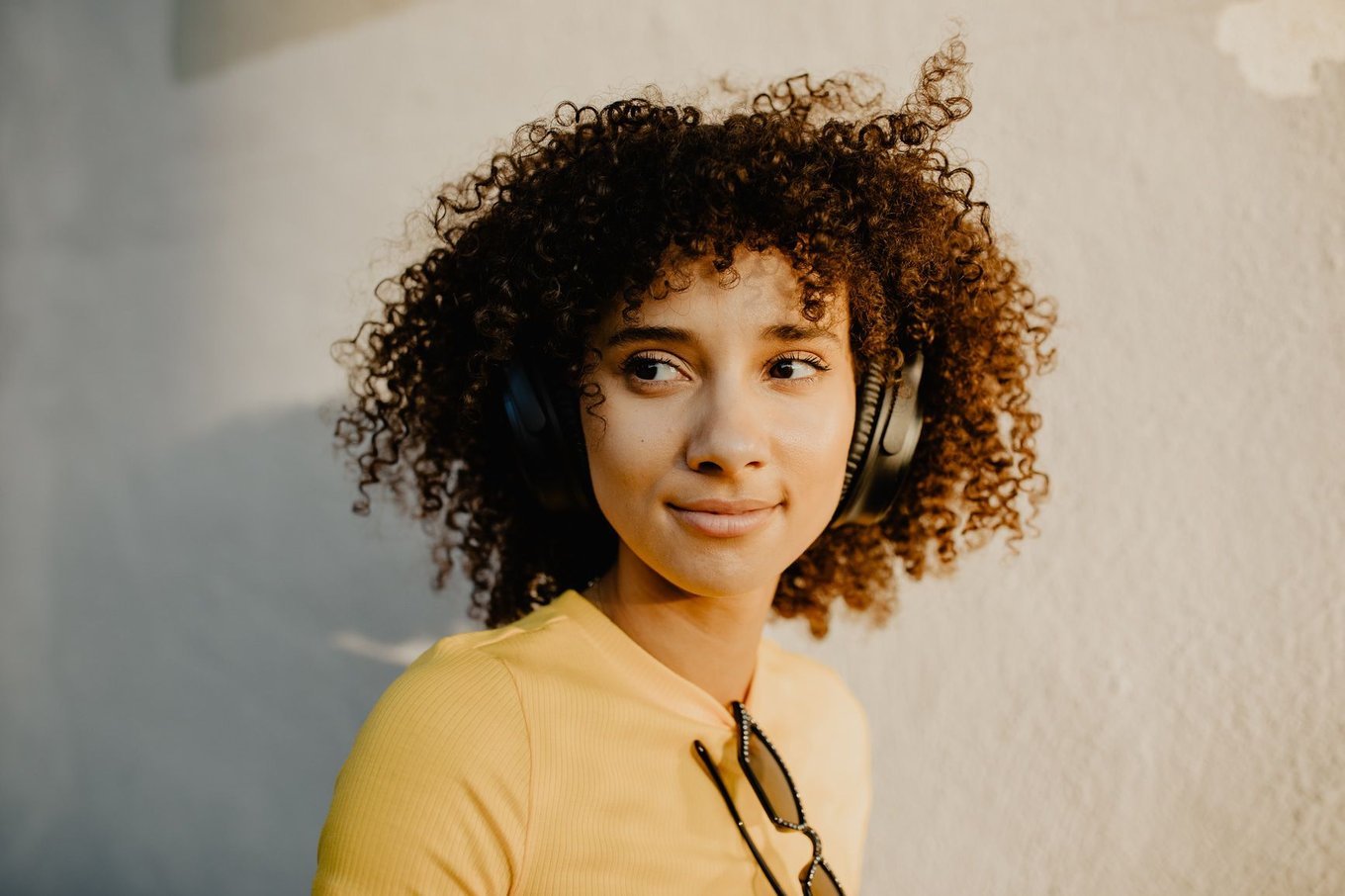 Our target users are Gen Z and millennials who are innate creators (TikTok, Instagram) and music lovers, but have yet to venture into music production. These users have no appetite for expensive, time-intensive music production pro-tools, and are instead looking for fun and engaging casual creation experiences.
Many of our early users have been wanting to make music and/or have been waiting for a new interactive music experience to enter the market.
—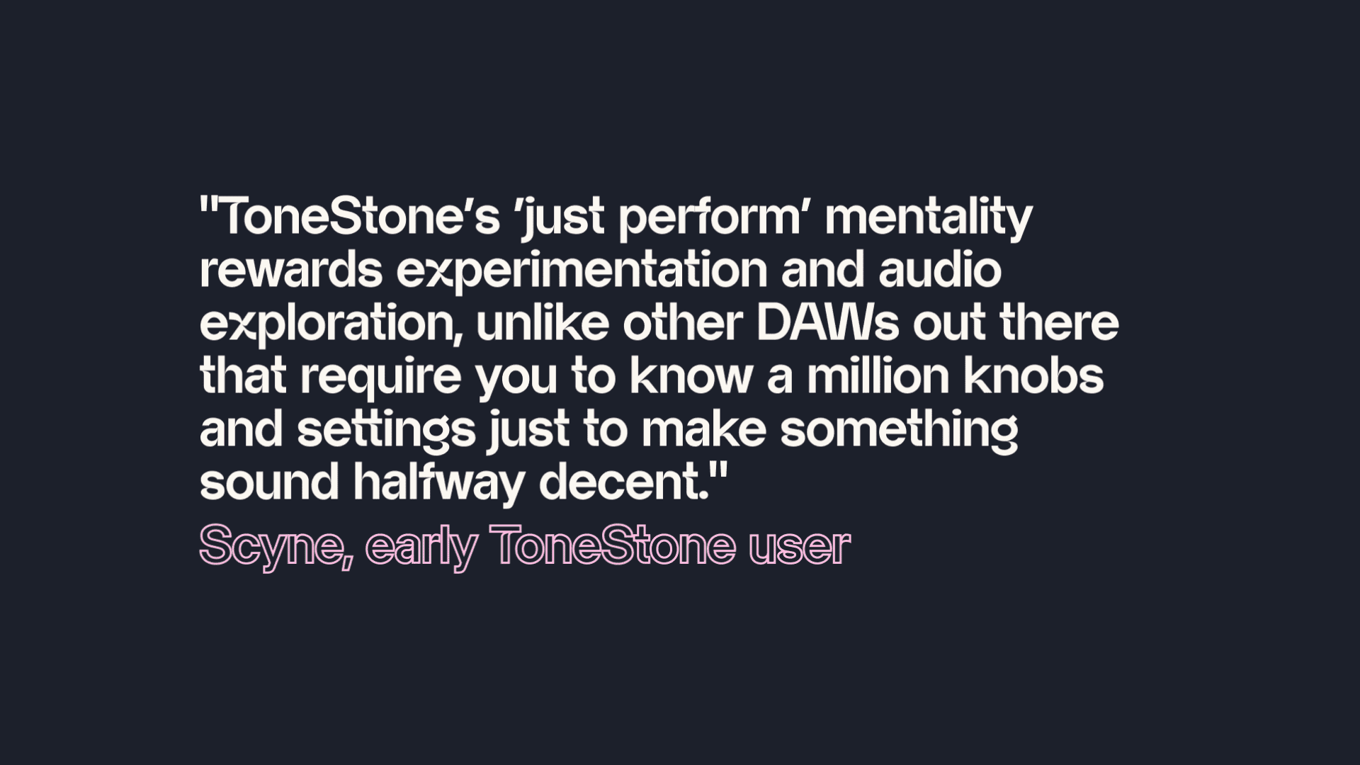 It's worth noting that currently, ~98% of people in the music production industry identify as male, and ToneStone seeks to empower underrepresented identities in music production via our accessible platform.
Rich commercialization opportunities
ToneStone is currently pre-revenue as we develop our platform and cultivate our early user community. We have 3 planned revenue streams, at least one of which we plan to implement by the end of 2022:
Subscriptions: Users can pay a low monthly or annual rate to access special features, advanced capabilities, and content discounts.
Direct App Sales: Users can download ToneStone for a one-time cost.
Content Marketplace: Users can buy new music content, visualizers, and other enhancements through our marketplace.
—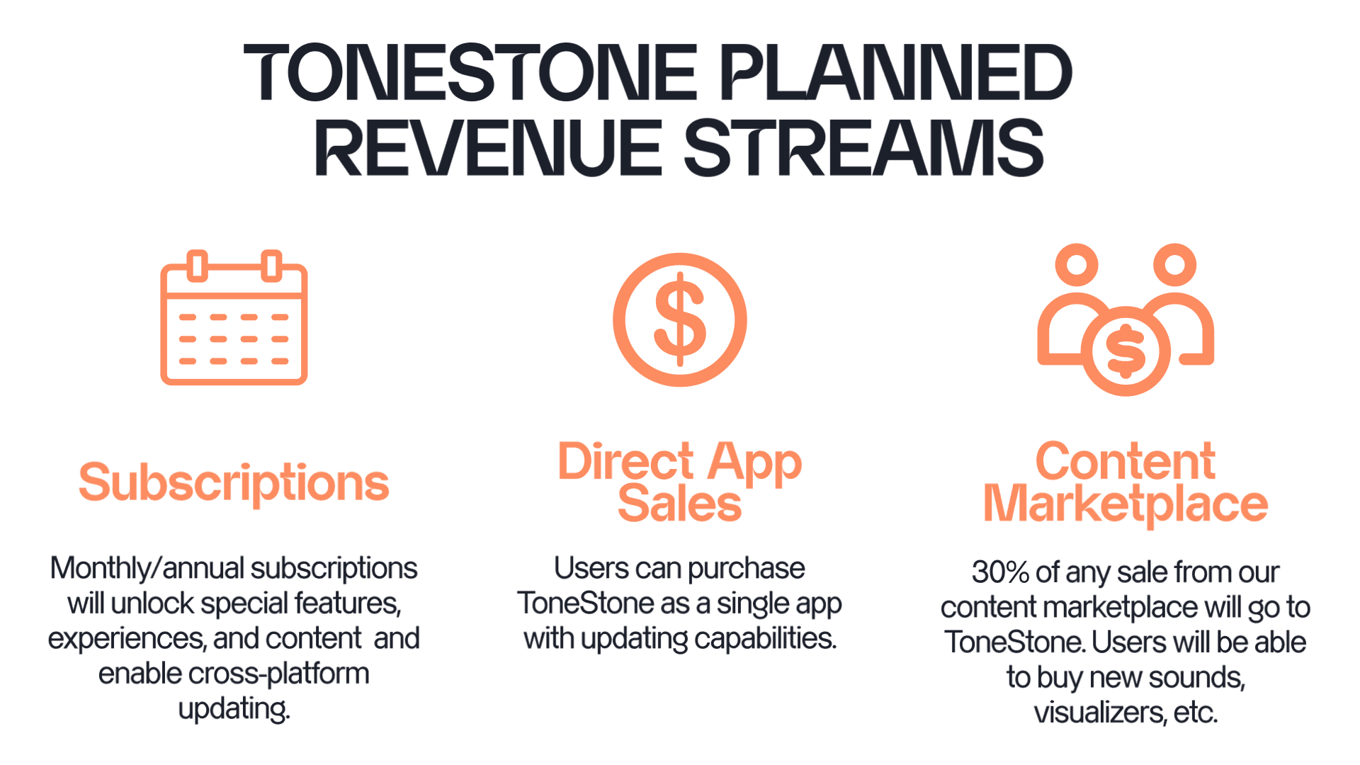 96M potential users in the U.S. alone
There has never been a better time to introduce a casual music creation platform. With our focus on Gen Z and millennials who are both music lovers and innate creators, we've observed a large market opportunity.
With approximately 67% of young adults listening to music daily and 71% of young adults using social media daily, we estimate our potential market size of Gen Z and Millennial users at anywhere from 68M to 96M.
We believe Gen Z is particularly ready for ToneStone—Gen Z's top two favorite activities are video games and listening to music. A platform that appeals to both these passions has powerful potential within this population.
As we've already seen ToneStone receive interest outside of the US, we anticipate that our total market opportunity will increase significantly with international expansion.
The desire to be musically creative is widespread. 30% of adults surveyed will create music in their lifetime; the behavior exists, we're just tapping into it.
This behavior is further proven by the strength of the global music production software market, which is expected to reach $12.1B by 2027.
There is also tremendous momentum in creation-as-entertainment experiences. As an example, Minecraft has 141M monthly active users and generated $415M in revenue in 2020.
Defining a new category in creation-as-entertainment
—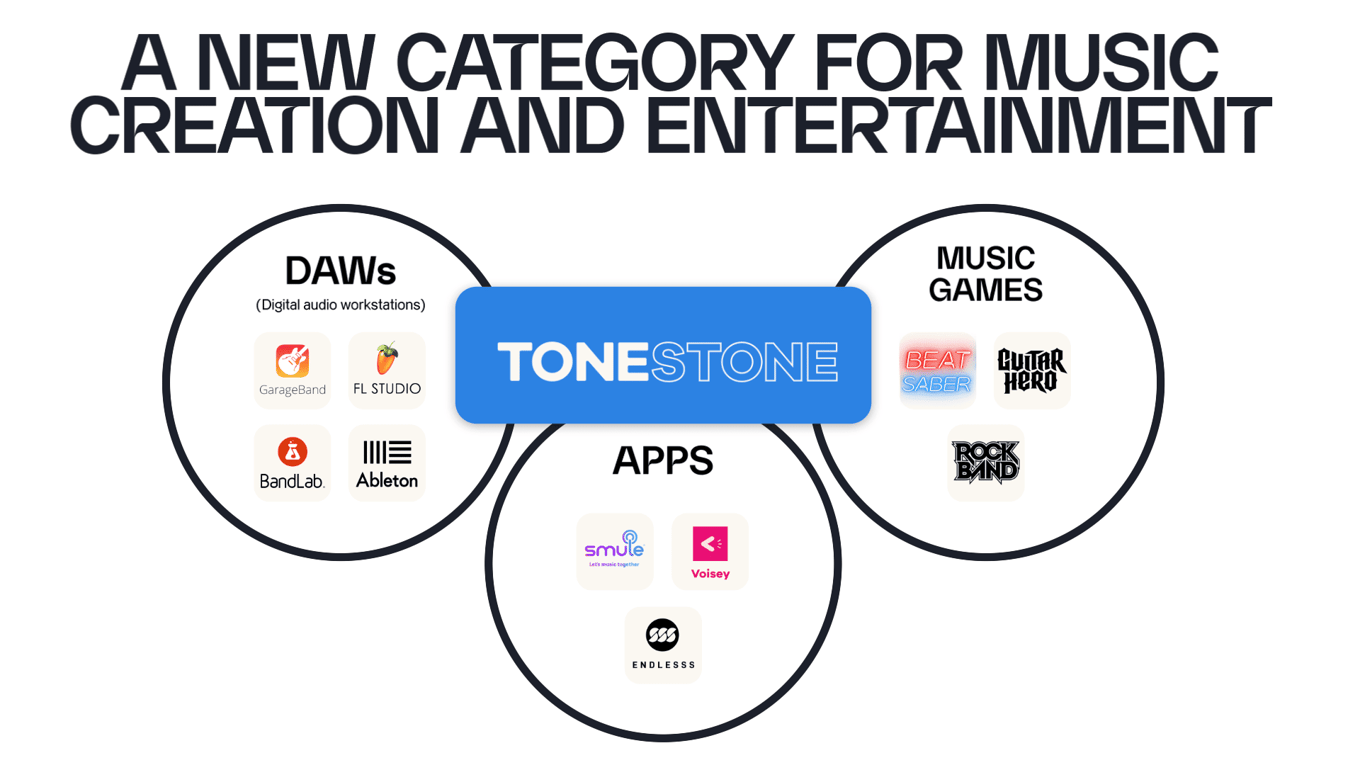 ToneStone is one of the first movers in building the music creation as entertainment category, which focuses on combining musical creativity with gameplay mechanics. We are not competing with traditional music creation tools—we're offering a net new category for casual creators that want to have fun and not learn a pro-tool.
The ToneStone platform combines the impressive musical capabilities found in traditional music pro-tools (commonly called digital audio workstations or DAWs), with the interactive entertainment experiences offered by beloved music video games like Rock Band and Beat Saber. When our mobile app debuts in fall 2022, we'll be able to connect with mobile-first creators and provide a holistic, cross-platform experience.
We're uniquely positioned to offer users a fun, immersive experience that allows users to create high-quality music they're proud to share. In an era of massive creative democratization, no one else is approaching casual music creation the way ToneStone is.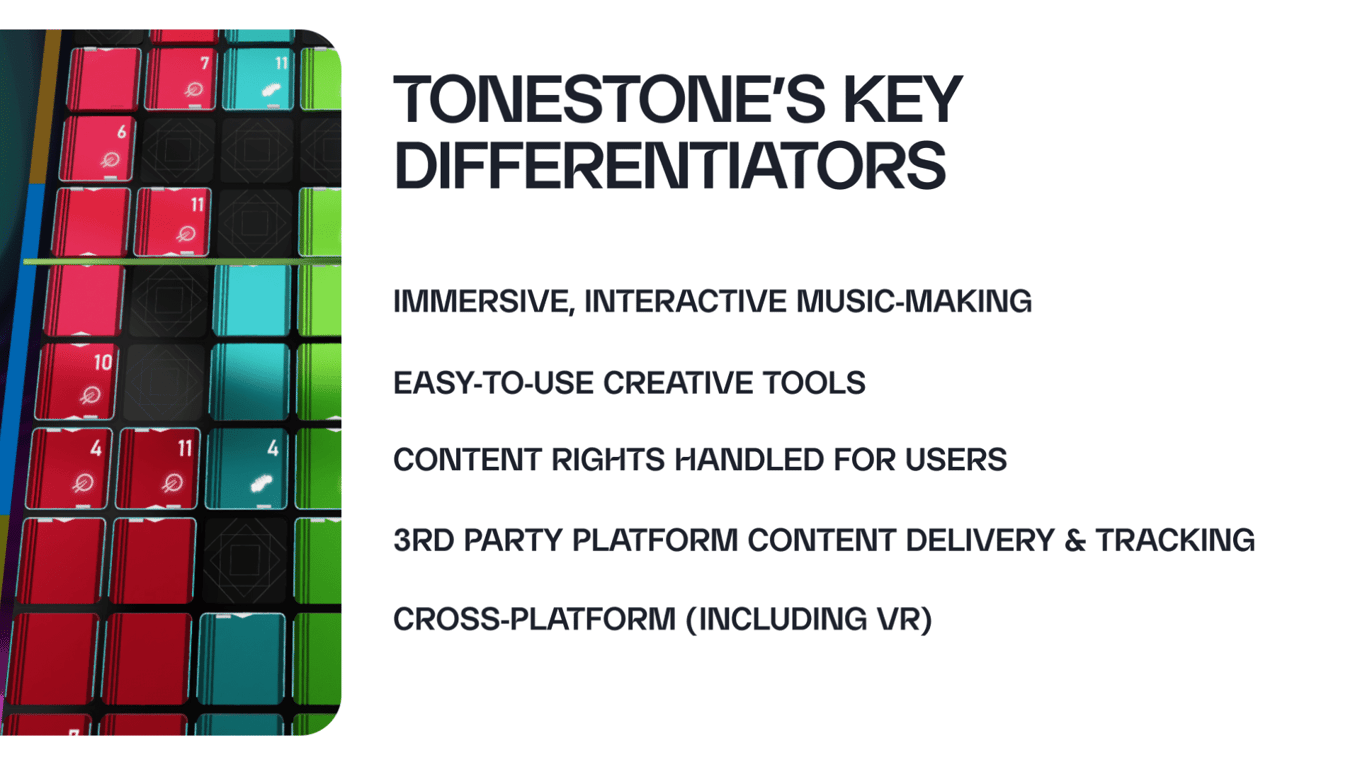 Casual music creation on a massive scale
We are transforming music creation into a fun and accessible experience for mass casual audiences, while establishing a major new market category in interactive entertainment.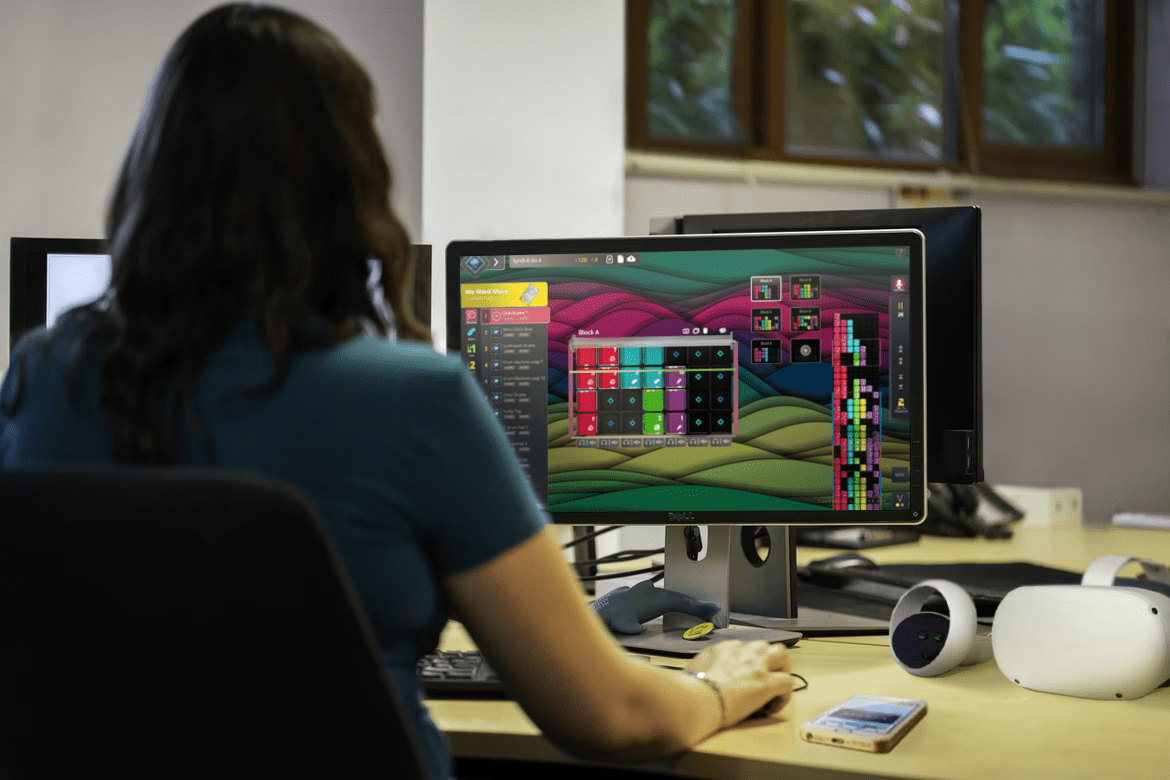 —
The Big Picture
At ToneStone, we believe that there is a deep affinity between music and play. We are creating a new form of musical experience that builds on this affinity to provide a path to musical expression for users who have a passion for music - but lack skills and knowledge. Using ToneStone, players can unlock their musical intuition and creativity to a degree they never thought possible. Beyond the commercial promise of ToneStone, we want to bring the joy and fulfillment of musical expression to anyone who wants to partake in it.
—
2022 Product Development
In 2022, our core focus is building out our cross-platform musical creativity experience. By the end of the year, we will evolve from a desktop beta to a fully-realized creative experience that can be accessed on desktop, mobile and VR. As we gain users and mature the ToneStone product, we'll begin to focus on monetization. By standing up a content marketplace and subscriptions, we can deliver even better experiences to our users.

—
Longer-Term Product Development
Later on in 2022 and well into 2023, we have plans to extend ToneStone's creative reach in some exciting new directions:
Multiplayer: Collaborate on songs with other ToneStone users—with shared authorship automatically built into the rights profile for each song.
Real-time instruments and live streaming: Develop skills in real-time performance with interactive melody and beat generators. Stream your performances live, locally or online.
Video creation: Add stills, GIFs and procedural image generators to your deck, and output videos that track the audio content of your song. Perform visuals live, or export music videos of your songs.
AI-driven assisted songwriting: Match and extend composing styles by finding ToneStone sounds, effects, and chord progressions to complement and extend your songs.
—
Web3, Crypto, and NFTs
We are watching for the crypto-media space to mature past its current focus on speculation and collectables, and toward more widespread and accessible tools for delivering secured content. As it does so, ToneStone is uniquely positioned to play a central role in the development of NFTs as an established next-gen creative form factor—driving engagement between artists and their fans.
ToneStone provides a secure, flexible file format and delivery system for innovative new forms of music: remixable songs, dynamic soundtracks, and interactive compositions. We expect to partner with one or more crypto music firms in 2022 to explore these opportunities.
—
Platform Partnerships
Another core focus for the next 1–2 years will be addressing the significant demand from large media, technology, and gaming platforms for rights cleared music content for their creators and developers. ToneStone can provide not only cleared content (created in ToneStone), but a trackable file format and content delivery pipelines.
Accordingly, in 2022 and beyond we expect ToneStone to start exploring potential partnerships—wherein content created in ToneStone can be integrated directly into other platforms. These partnerships will increase brand awareness of ToneStone and expand our user base.
—
The future looks bright
ToneStone is a big, ambitious, and dare we say, radical vision. Given the compelling market trends around other forms of casual creative expression, the appetite for immersive, interactive experiences, and Gen Z's dedication to music, we believe ToneStone is perfectly positioned to bring casual music creation to the masses, and define the music-creation-as-entertainment experience.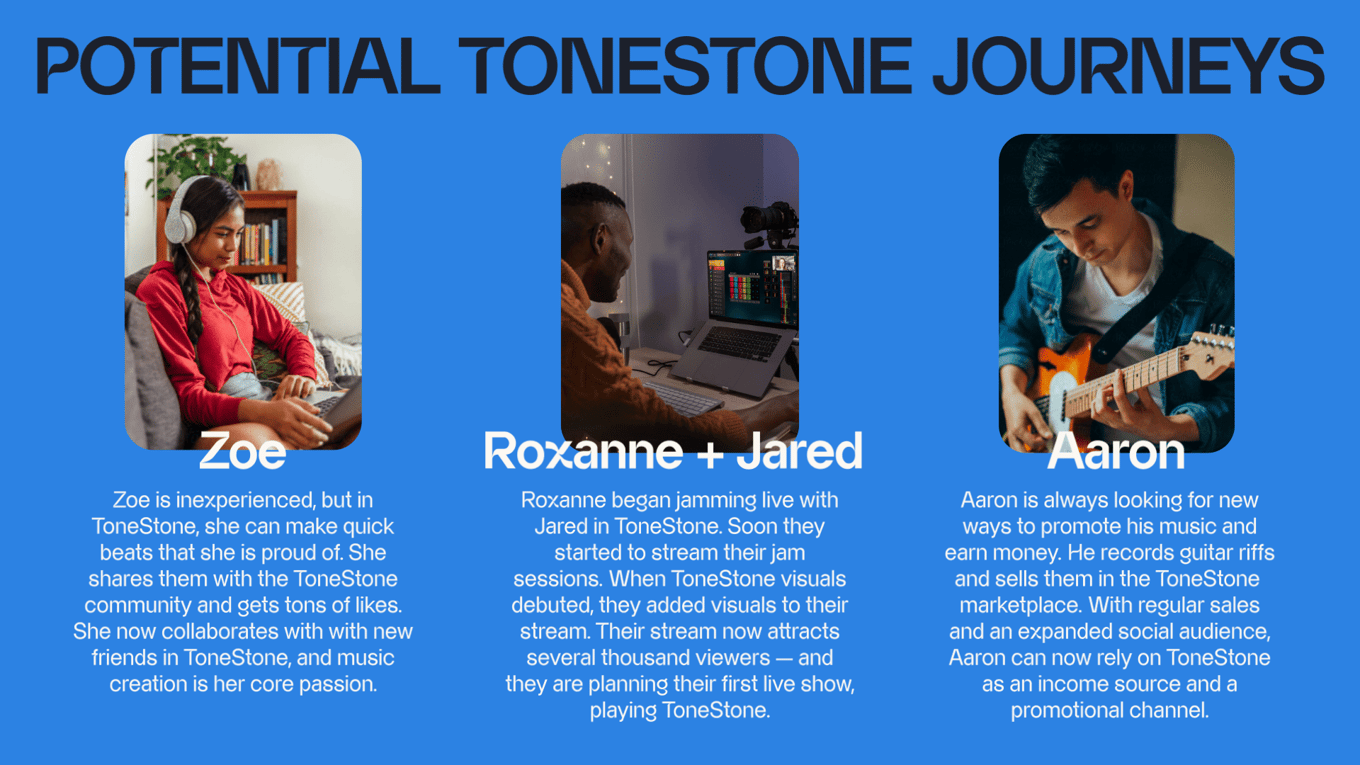 Backed by VCs and former leaders of top interactive brands
like Guitar Hero and Peloton
—
Prior to our Republic campaign, we raised $1.535M in seed funding from Velan Ventures and Tyr Partners, along with angel investors who have built or worked on top brands like Peloton, Geocaching and Guitar Hero.
We're raising capital on Republic to fund ToneStone's next stage of development. Funding will go to building out our cross-platform, gameplay-driven musical experiences, as well as to early go-to-market and growth initiatives. With a live desktop beta, we've already begun to demonstrate ToneStone's potential; and, additional funding will allow us to deliver more expansive music creation experiences across VR, mobile, and desktop.
As gaming and casual creation continue to dominate consumer behaviors, we know ToneStone's vision will resonate with the Republic investor community. We're excited to bring Republic investors on board to help us realize our vision of casual music creation on a massive scale.
A proven founder with $3B in past video game revenue
—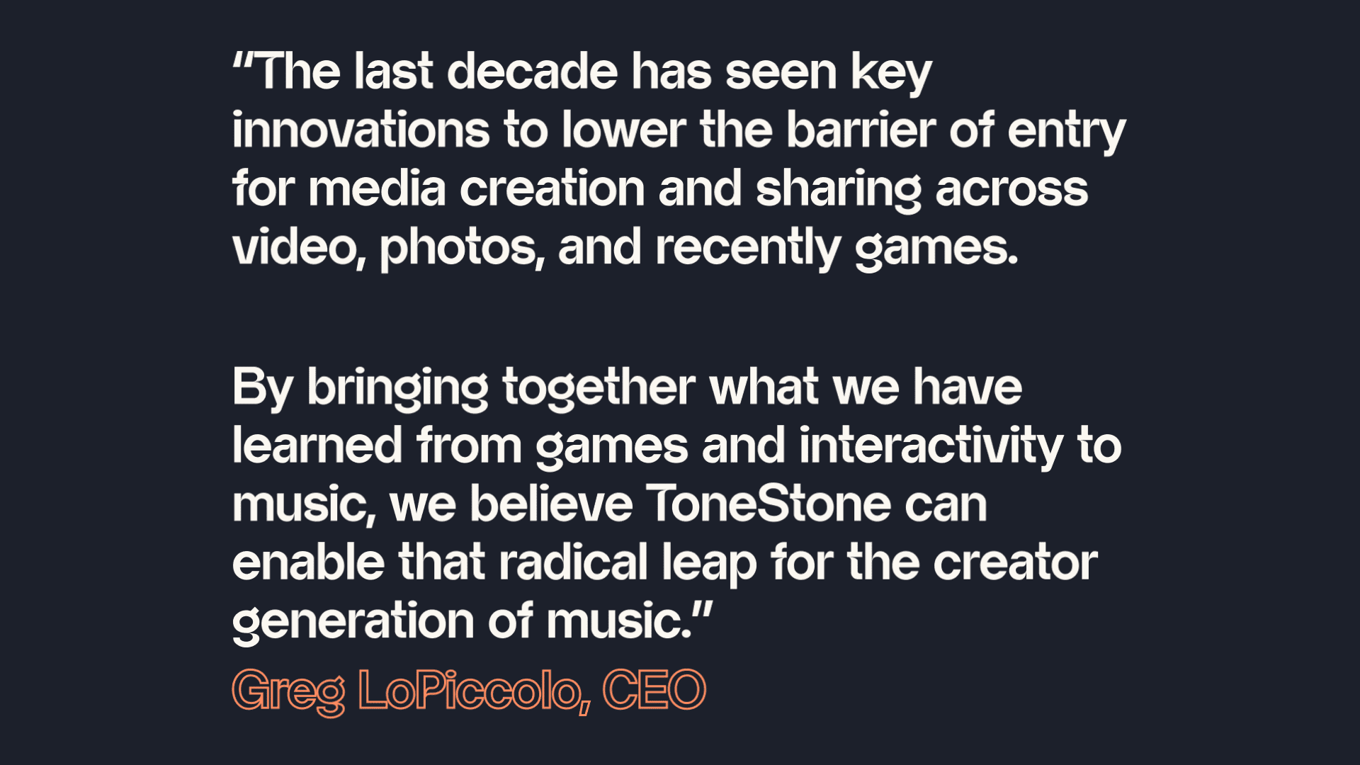 To our Republic investors,
My journey in interactive music experiences began at Harmonix, where I led product development and oversaw titles like Guitar Hero and Rock Band. Even though these games were hugely successful, I always believed there was even greater potential for music and gaming.
In 2019, I decided to build ToneStone based on the core belief that music and gaming could yield incredible creative outcomes. By combining music with gameplay, on the scale of a platform with endless UGC possibilities, ToneStone is designed to bring musical creativity to all of you who have music in you, and want a better way to express it.
By investing in ToneStone, you're investing in a founder whose past games exceeded $3B in revenue. I'm grateful for your support as ToneStone undertakes a huge challenge: unlocking casual musical creation at a massive scale.
Onwards,
Greg LoPiccolo, CEO
Greg LoPiccolo was previously VP of Product and Chief Creative Officer at Harmonix, a game development studio, where he oversaw the development of the landmark franchises Guitar Hero and Rock Band.
—
The ToneStone Team