No good means of transport in a world of r
ising water
From 2006–2015, the global average water level in the ocean rose by 2.5 times the average rate (climate.gov). Other studies show that by 2030, the population exposed to flooding will increase by over 25% of current rates.

Using boats for rescue and transportation in floods and shallow waters can be difficult and dangerous.
—
Hovercraft are a great option for transportation and rescue in a world of rising water.
But conventional hovercraft are:
Hard to Control
—
Noisy
—
Lack Modern Style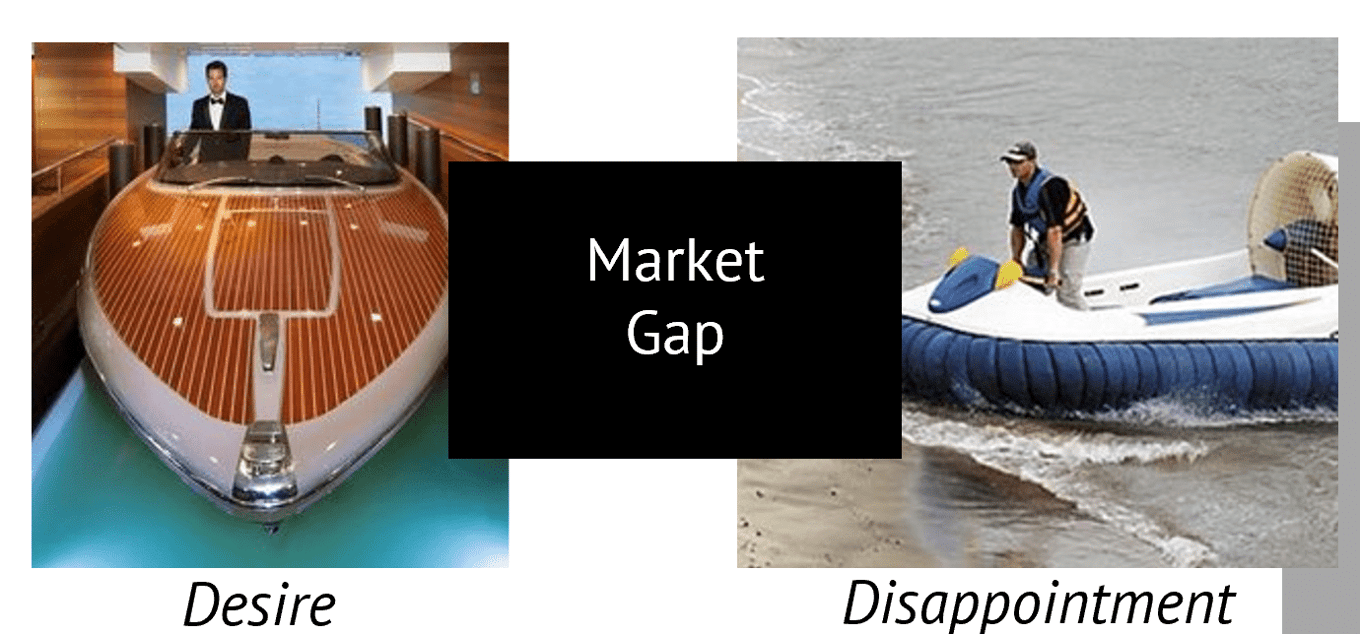 Using a cushion of air, hovercraft can travel in environments of shallow water and where water meets land. However, existing hovercraft are hard to control, noisy and lack a modern design.
The Arosa electric hovercraft
Arosa is a sports hovercraft for travel over land and water. It uses a new electric hovercraft technology platform that makes it quiet and easy to use.
As an amphibious EV, the Arosa helps reduce global emissions while adapting to a changing climate.


The Arosa is an EV like no other and is a thrilling and attractive ride from water to land!
Evolving out of a childhood dream and using existing air cushion hovering technology, VonMercier invented and patented a new directional control system for hovercraft and integrated an all-electric powertrain in the Arosa.
This new technology lays the foundation for hover vehicles to become quieter and easier to use.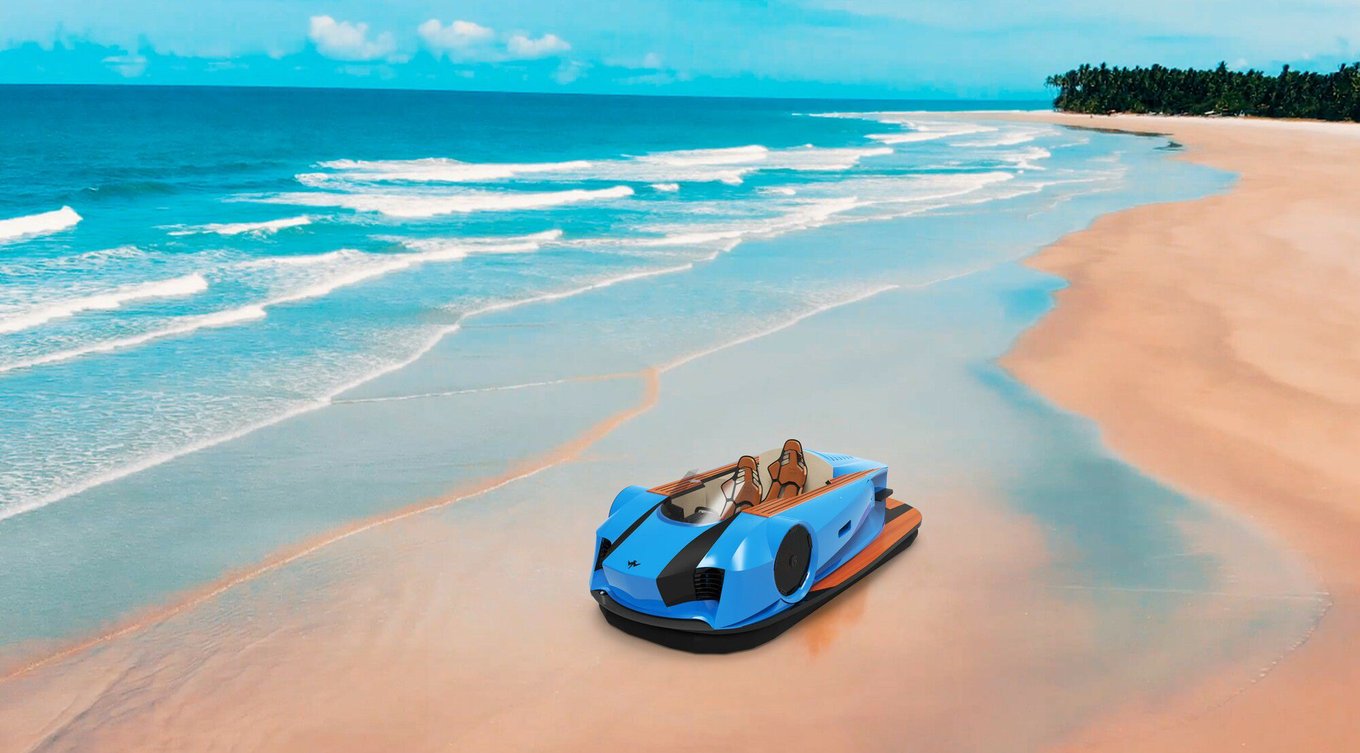 Sleek styling and intuitive control over land & water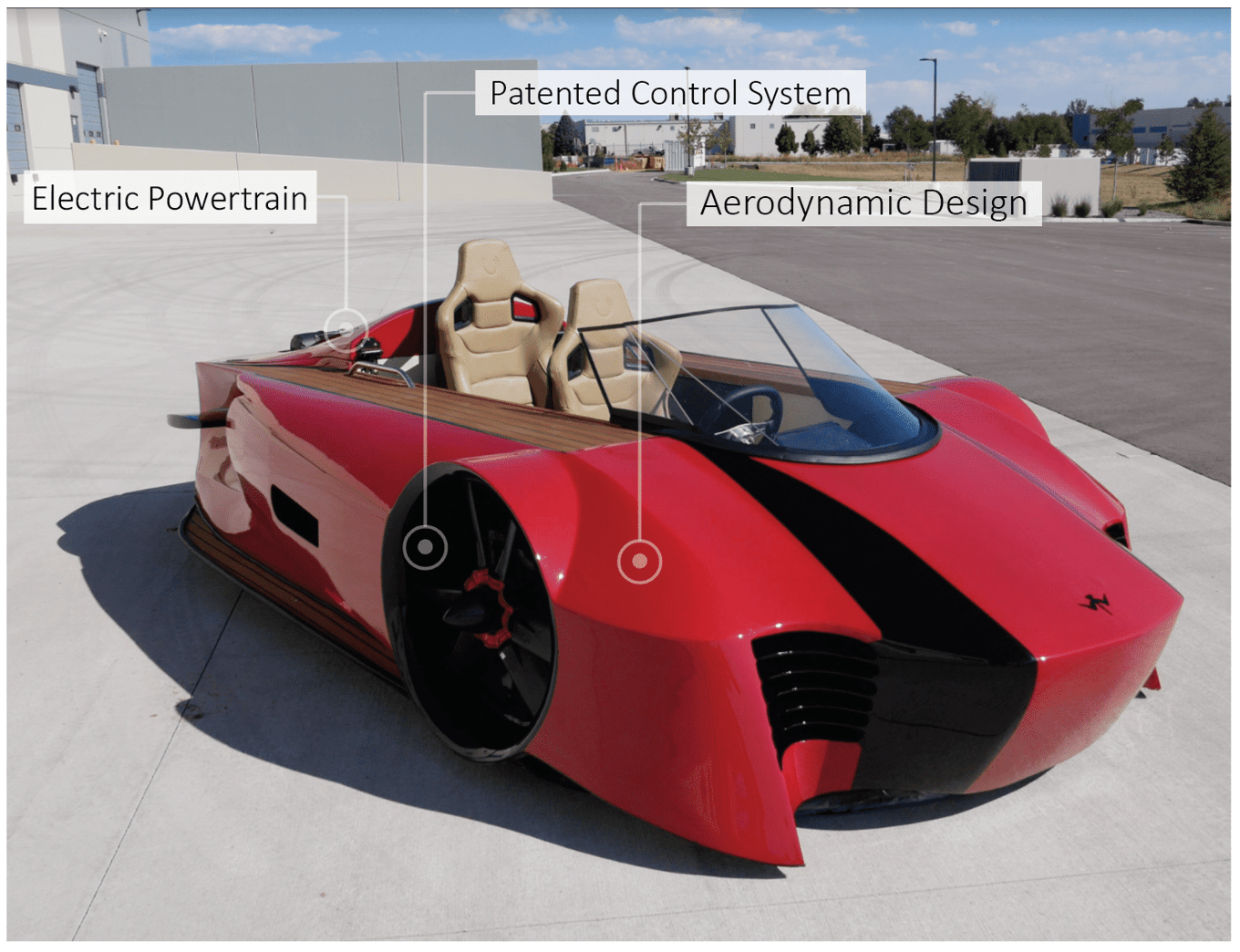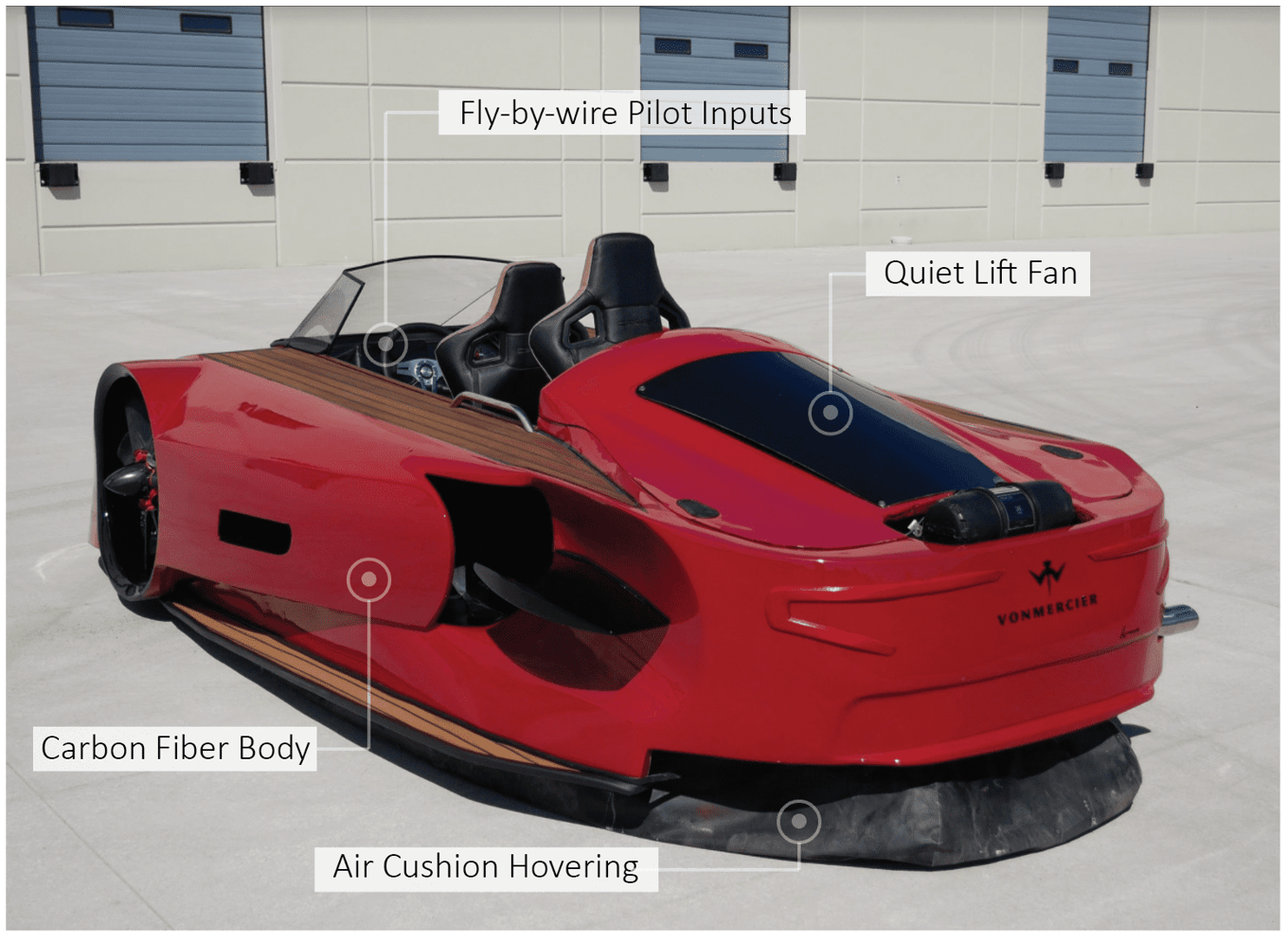 The Arosa EV Hovercraft is outfitted with new innovations that make it exciting and easy to use!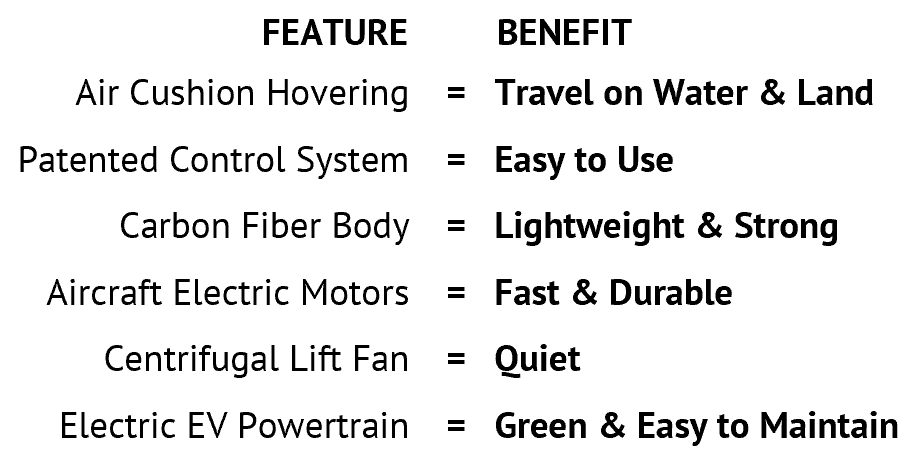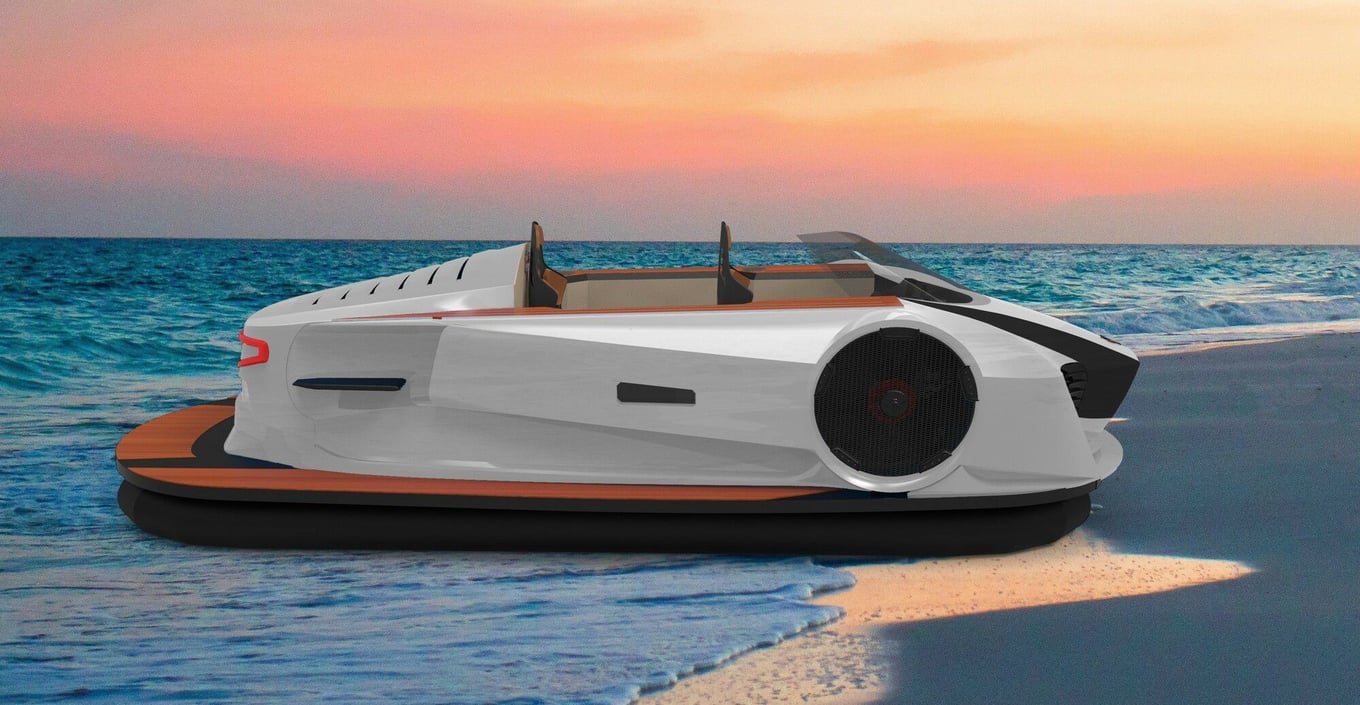 Use the Arosa along the beach and shoreline. Shallow waters, sands, and grasses are all fair game for this off-road EV to explore.
Use the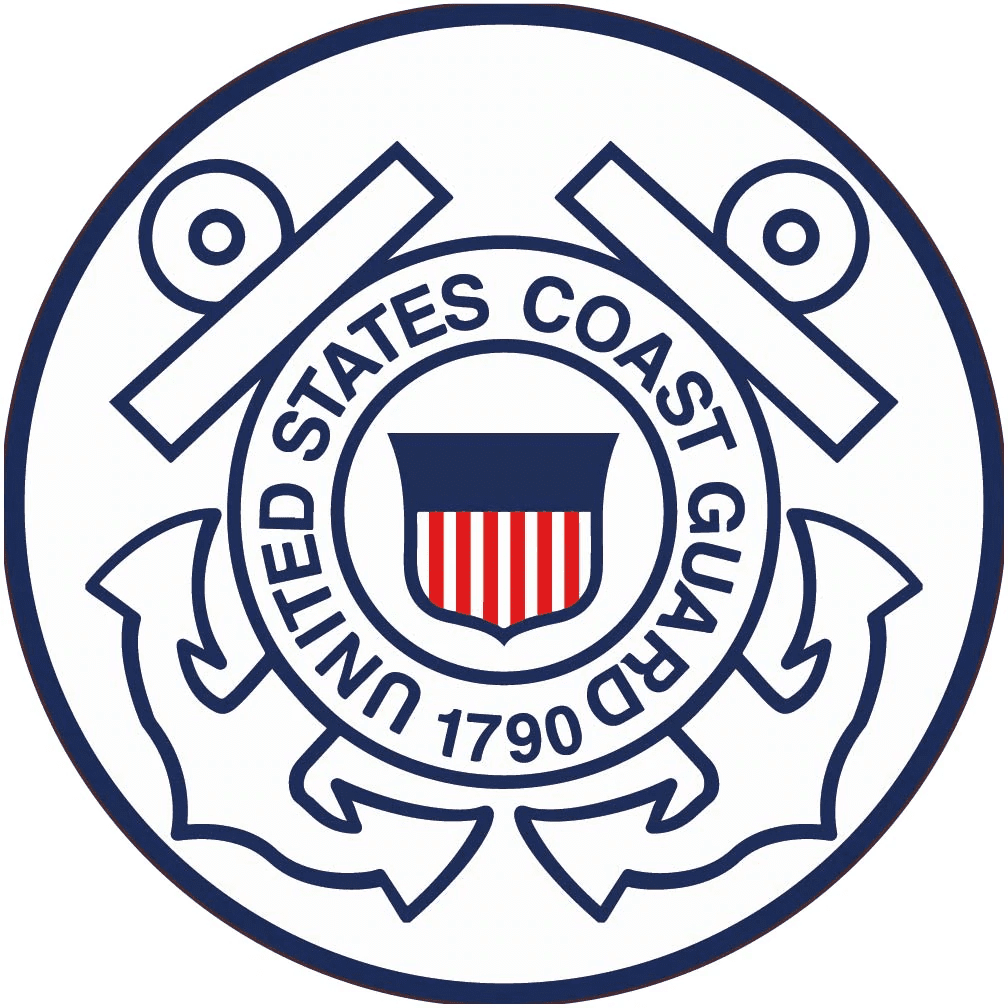 Arosa on waterways as a registered watercraft; when power is off, it floats like a boat. The construction is compliant to the guidelines of the United States Coast Guard (USCG).

An all-electric powertrain provides energy to three independent fans, one for lift and two for side-intake thrust.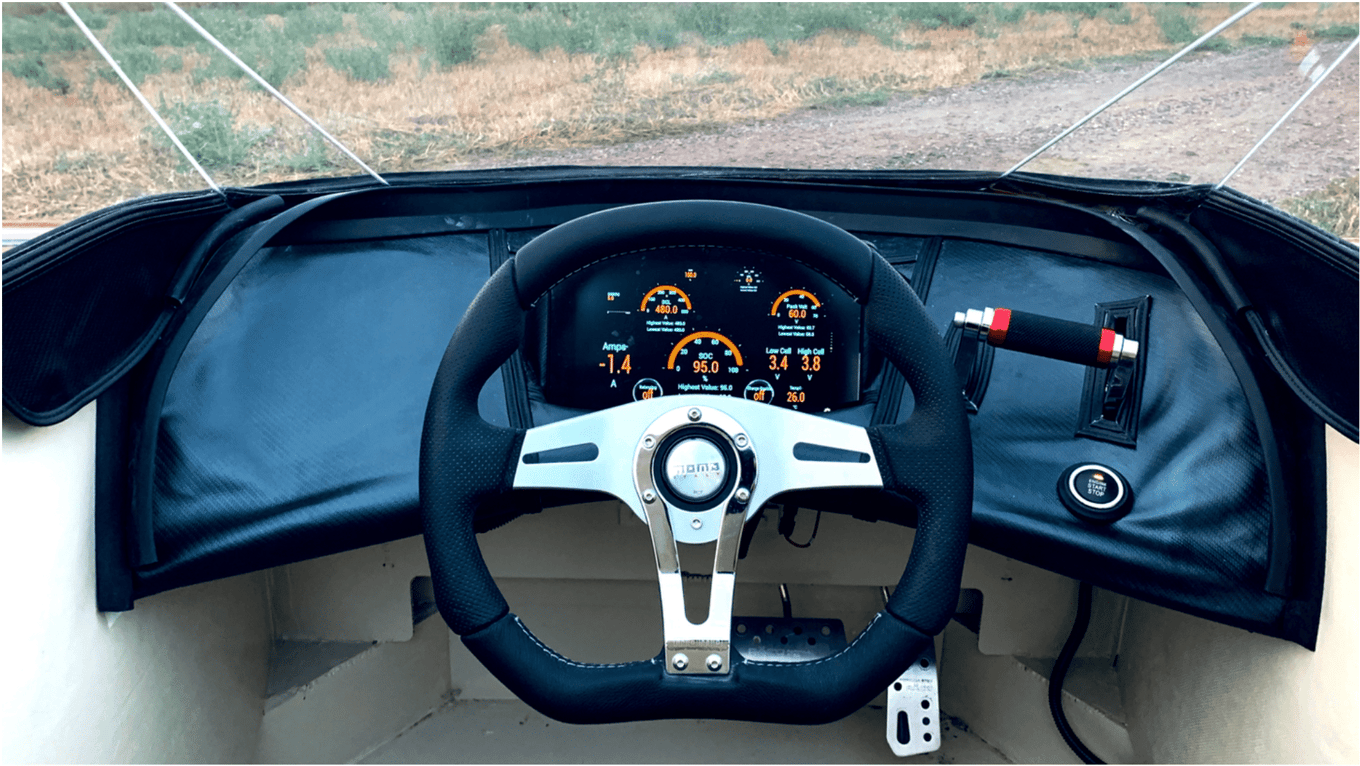 Steering and pedal actions from the pilot are managed by onboard computers. The pilot enjoys the ride while the vehicle takes care of the rest.
Global attention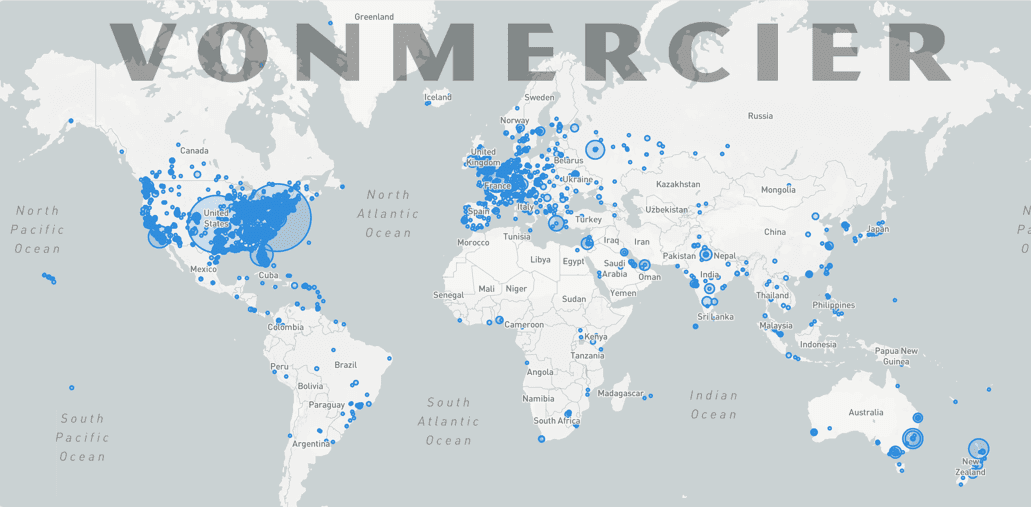 VonMercier and the Arosa receive website visitors and interest from all over the world!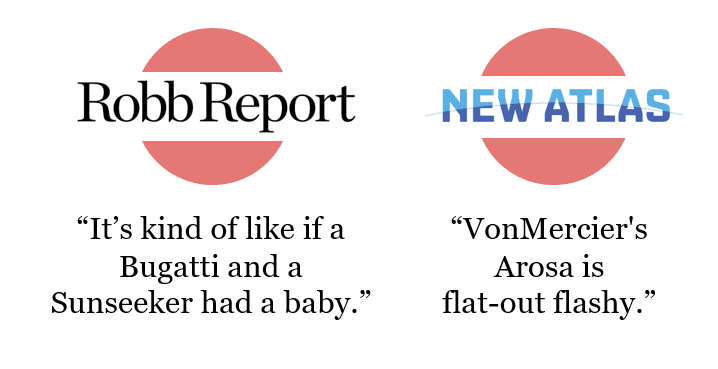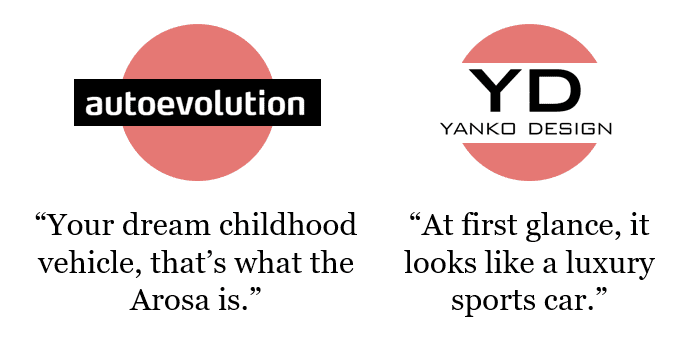 ---
Manufacturing progress
---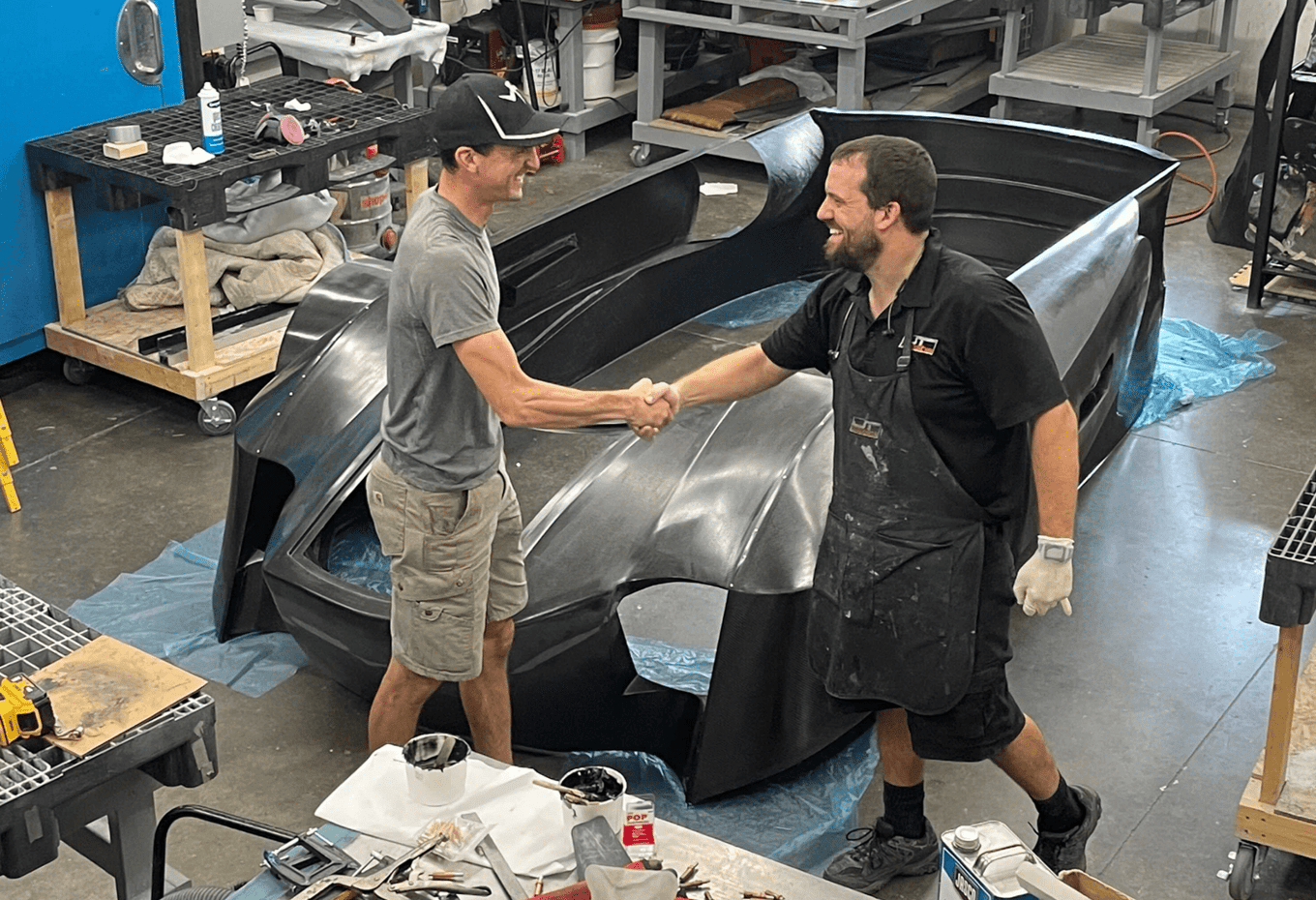 First shot of molded carbon body
In collaboration with JT Composites of Indianapolis, VonMercier has tooled and molded the first carbon fiber body of an Arosa in June 2021.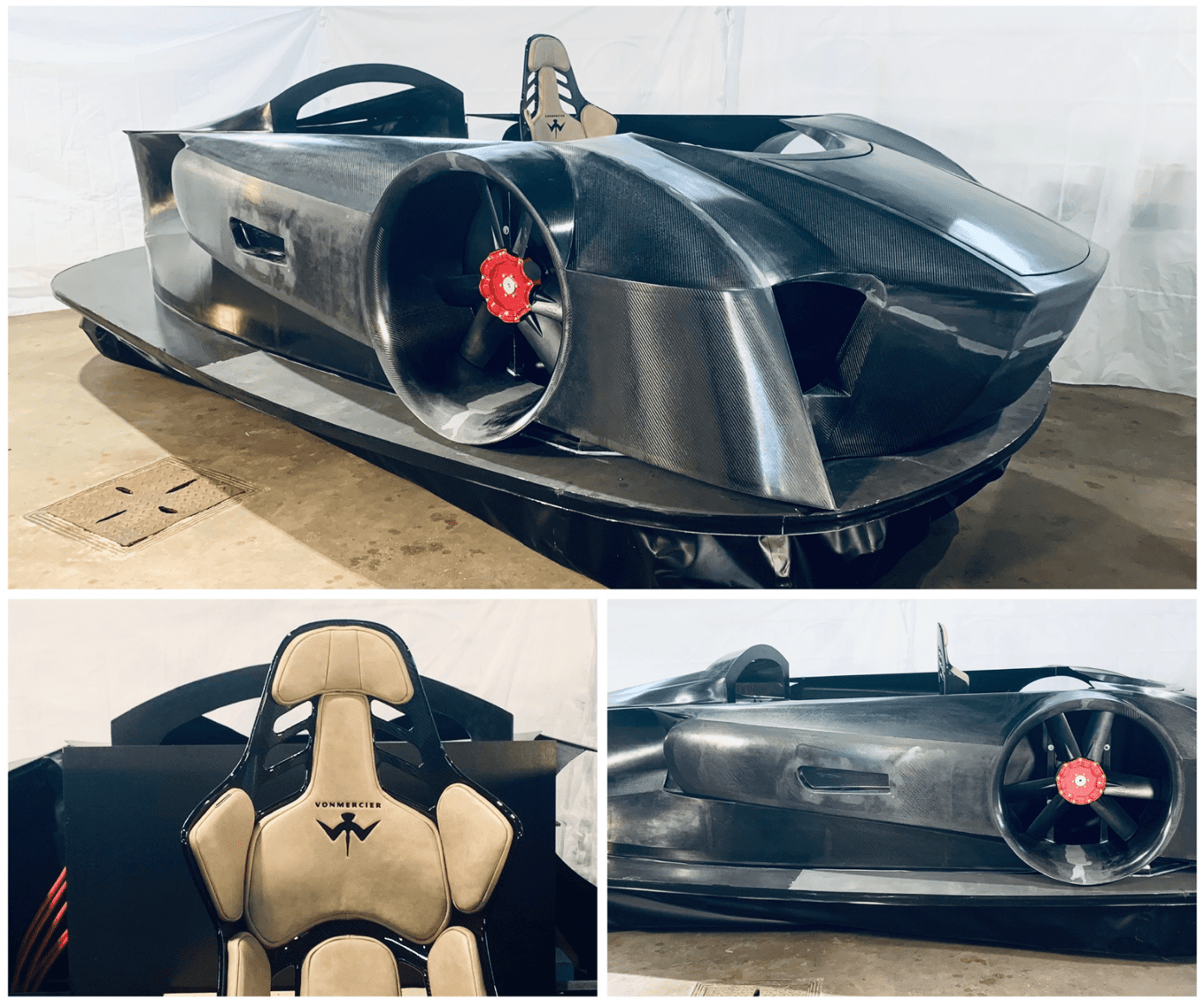 This body is being used right now in the beta production unit of the Arosa.
---
Waterfront headquarters
---
Maryland, USA

VonMercier is headquartered in Havre de Grace, Maryland with room for production assembly, a sales showroom and an R&D area. With direct access to the Chesapeake Bay, hover demonstrations and customer test flights are done on site.
Arosa target customers
---
Individuals
---

Target customers are discerning individuals who live on or have access to open water or land. These customers value beautiful design, bespoke manufacturing, cutting edge technology and unique products and experiences.


---
Businesses
---


VonMercier also plans to target businesses like beachside resorts, expedition companies, and boat rental companies. Sales to these types of customers will likely include multiple Arosa units per order.


---
Deposits
---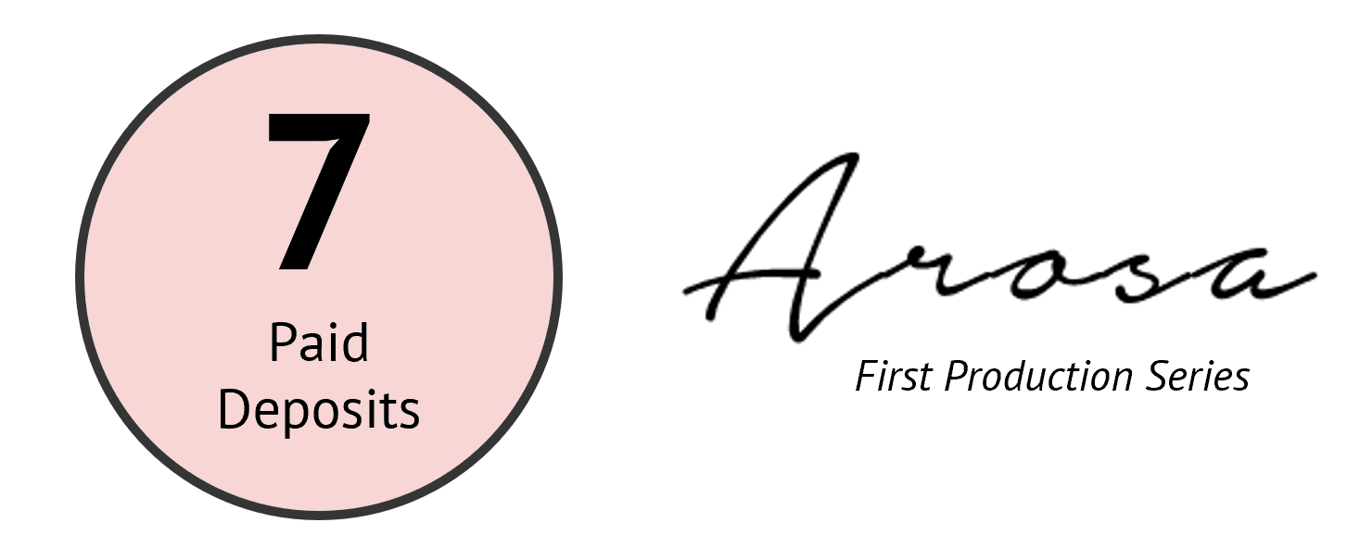 There are currently 7 paid customer deposits for a production Arosa sports hovercraft. Initial deposits originated from organic press. For 2022, VonMercier plans wider marketing to secure up to 50 deposits as part of the First Production Series.
Built-on-order = high margin at low volume

VonMercier designs, manufactures and assembles vehicles for sale using a built-on-order model. An initial deposit secures a customer's build position, and a 50% progress payment is received at least 3 months prior to delivery, then parts are ordered. Final payment is due before delivery.
—
$25M revenue & $6M EBITDA*
At a volume of 250 Arosa units in year 3 of production, VonMercier projects an EBITDA of 24% with at least $6,000,000 in earnings.
* Click here for important information regarding Financial Projections which are not guaranteed.


—
47% direct margin projection
VonMercier is manufacturing the Arosa at low volume and high margin. At a production scale of 50 units, the direct cost of each Arosa unit will be approximately $53,000. The margin dollars are used to run the business and re-investment in R&D and growth.


---
Options, accessories, add-ons and service packages
---
VonMercier expects additional revenues from options and customizations during the order process. Accessories and add-ons will also be made available including an enclosure kit (roof), software and sensor updates.
Service packages will be offered beyond the 1yr manufacture's warranty. VonMercier has begun talks with regional service providers for local options for customers.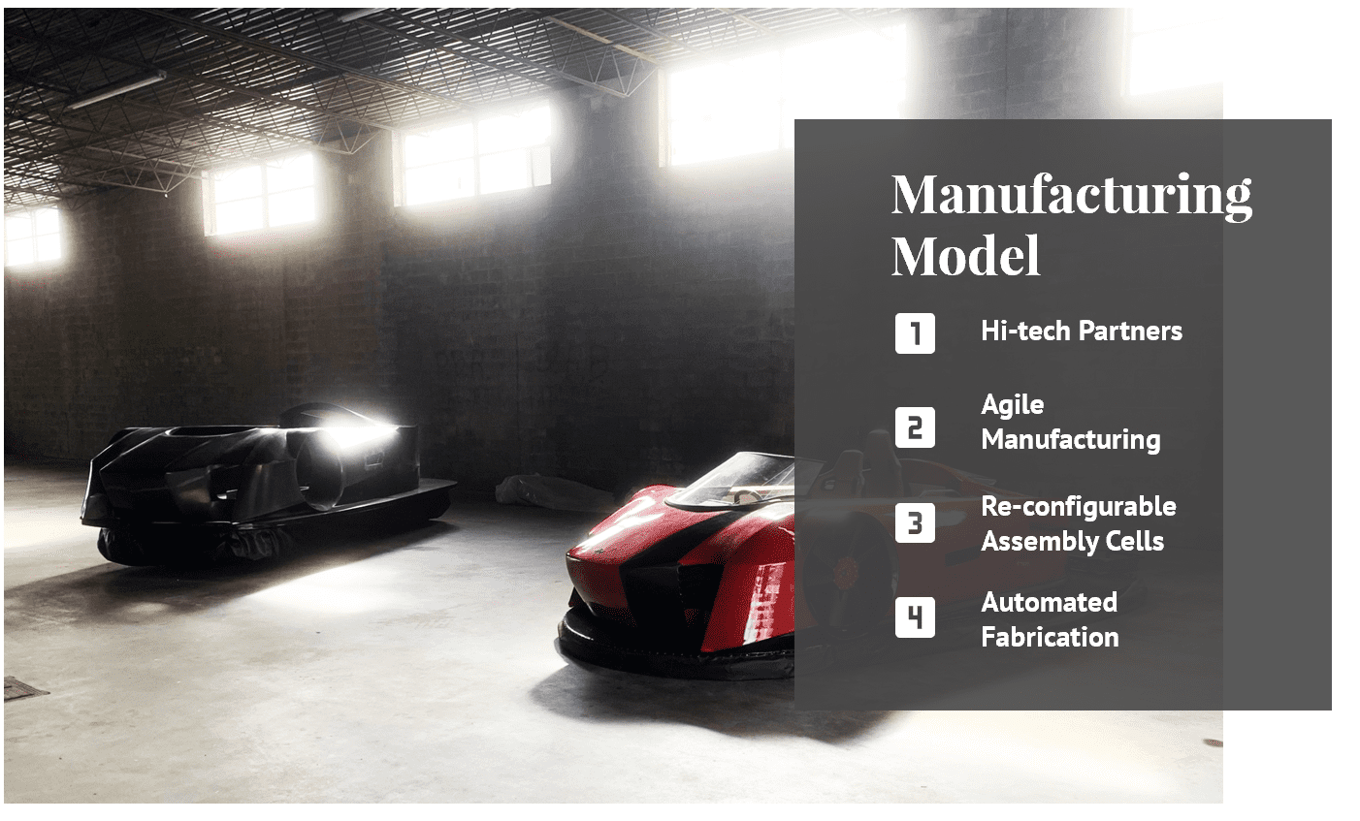 ---
Agile manufacturing
---
Manufacturing and engineering overhead is curtailed by strong relationships with key suppliers, also allowing for easier expansion and rapid new product development. These suppliers can supplement the core engineering team when needed, so development can happen more rapidly.
Assembly cells are re-configurable so the manufacturing efficiencies and design updates can be quickly applied to the assembly line.
Automation is used for repetitive steps in the manufacturing process such as in the lower hull construction.
Pioneering new markets & capitalizing in existing ones
—
Enter, then expand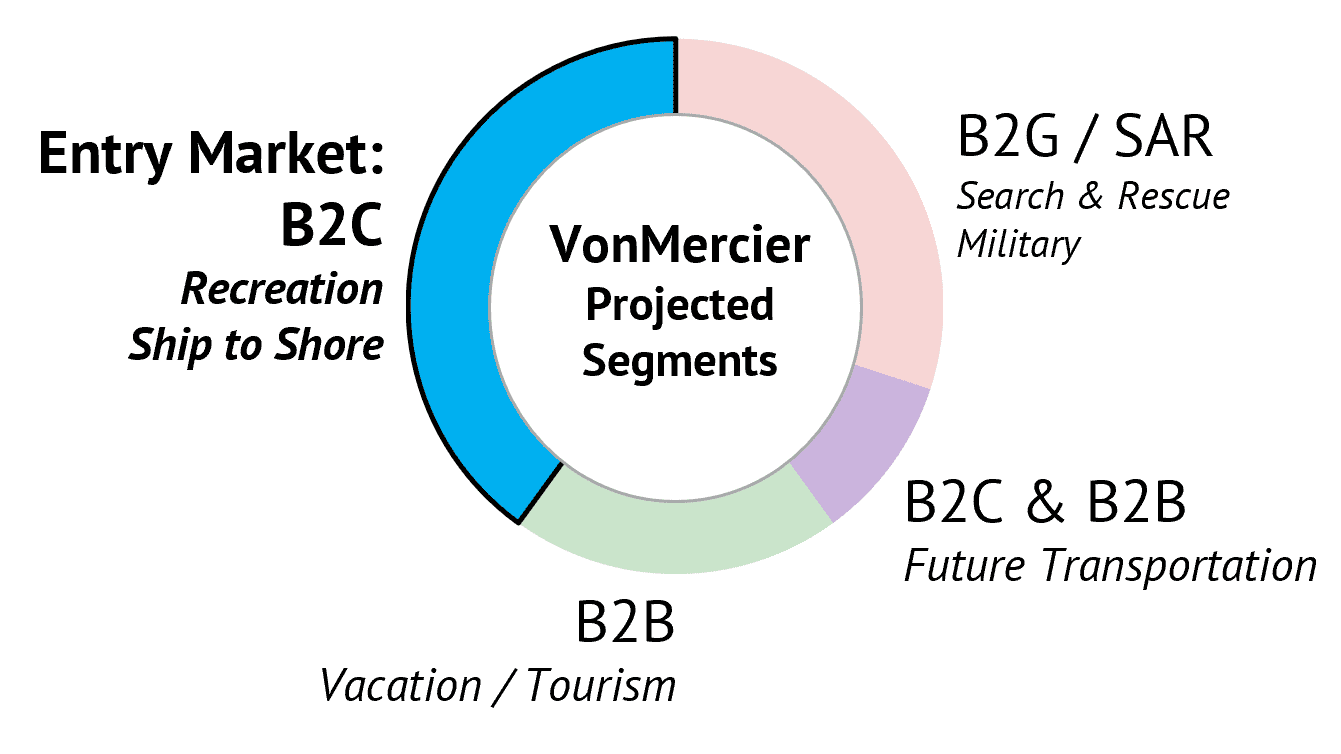 VonMercier is entering the global market by targeting the luxury end of the Recreation business-to-consumer (B2C) vehicle market with the Arosa. Vehicle models will be further developed to serve the Yacht Tender and Luxury business-to-business (B2B) markets. Ruggedization and utility elements will be added to models to target the business-to-government (B2G) and search and rescue (SAR) markets.


—
Forge new markets
New markets will be created as the Arosa introduces the world to easy to use and attractive electric hover vehicles.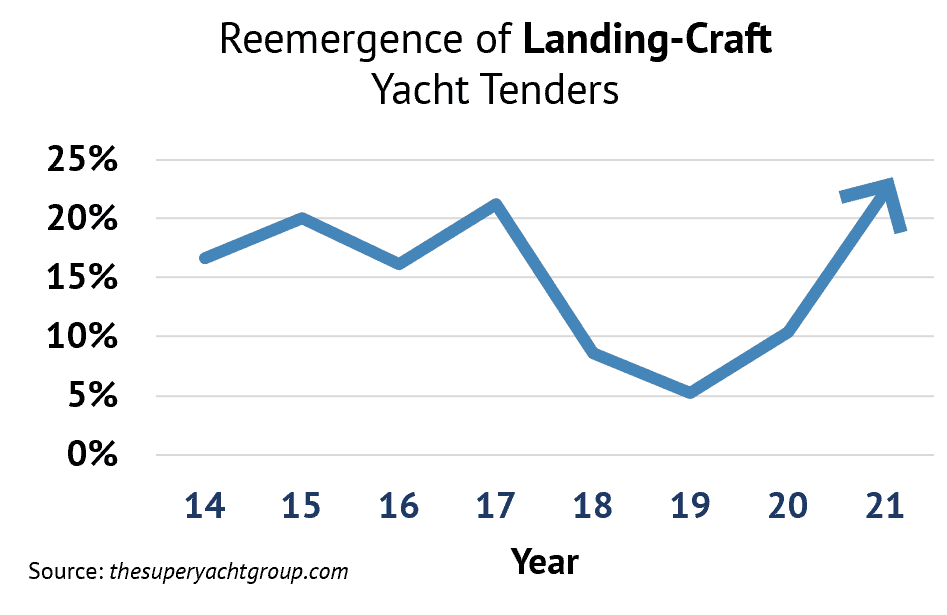 The specific segment of yacht tenders and "big kid toys" has seen a rise in popularity in shore-capable landing craft. The Arosa will stand out from the competition in this segment for both individual and resort customers.


—
Drive growth through innovation in the hovercraft market
"The limitations of hovercraft have prevented adoption on large scale. Lack of control, high noise, low efficiency, and lack of common comfort have prevented hovercraft from being used as a feasible means of mass transport. However, the commercial and military sectors have seen growth in hovercraft use, despite the shortcomings."
-Source: Mordor Intelligence 2021 market report


—
Capture share in commercial and military markets
$148M global market for commercial and military hovercraft
2.1% Rev Growth Projection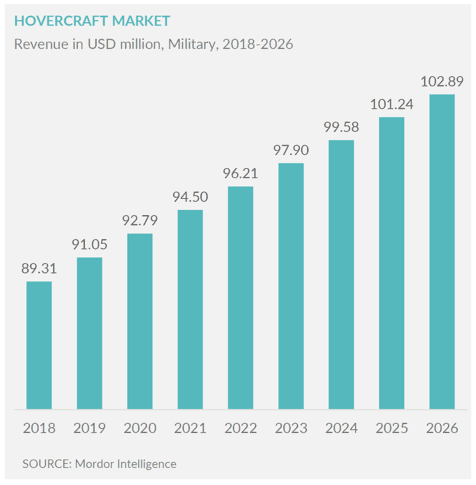 Military Hovercraft Market (Global)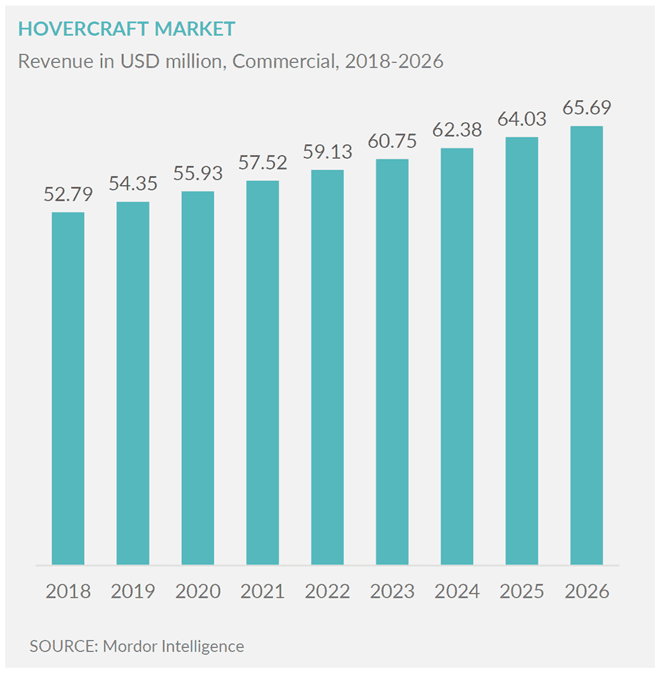 Commercial Hovercraft Market (Global)


—
Capture share in existing marine recreation markets
VonMercier technology innovation and product development will lead to market capture in existing boat and hovercraft markets.
$6.5 Billion boat building market in the United States
2.8% Rev Growth Projection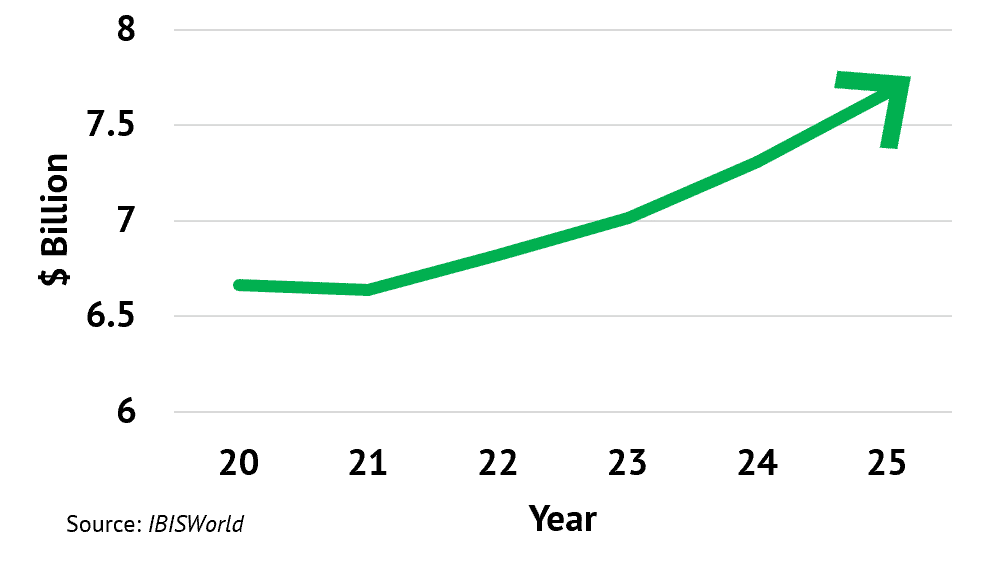 Easier to use than other hovercraft

Conventional personal hovercraft use a rear fan and pivoting fins for thrust. Steering with a rear fan is awkward/difficult because the hovercraft "fish-tails" while in motion.
The VonMercier Arosa uses patented side-thrust technology for an easy and intuitive ride.
—
Quieter hovering

A proprietary centrifugal fan is being developed for the Arosa. Tests of this fan show that it reduces noise and uses less energy than an axial fan.
—
More versatile than other vehicles
The Arosa has the ability to seamlessly transition from land to water while still being fast and exciting on both terrain.



When compared to a track car, speed boat, or small airplane, the Arosa EV Hovercraft is a fantastic choice for multi-terrain use.

Bring imagined
vehicles to life
Your investment will be used to employ team members, manufacture the Arosa, and deliver the first electric sports hovercraft to customers!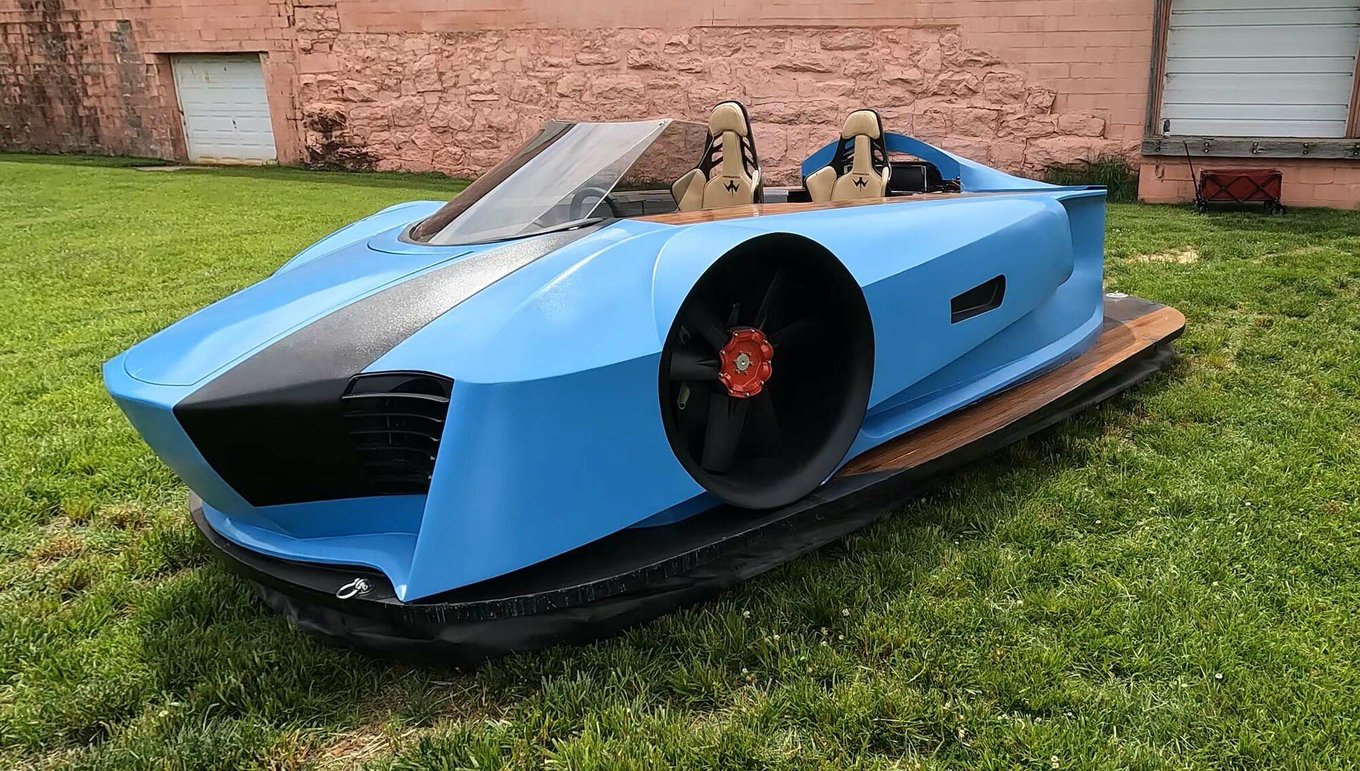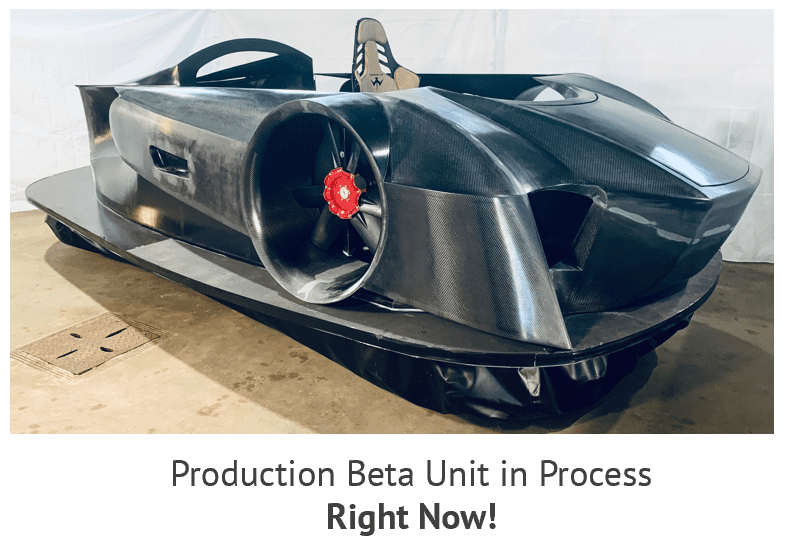 ---
Product roadmap
---
The Arosa 2-seater electric sports hovercraft will be the first vehicle in a long line of vehicles to be developed by VonMercier.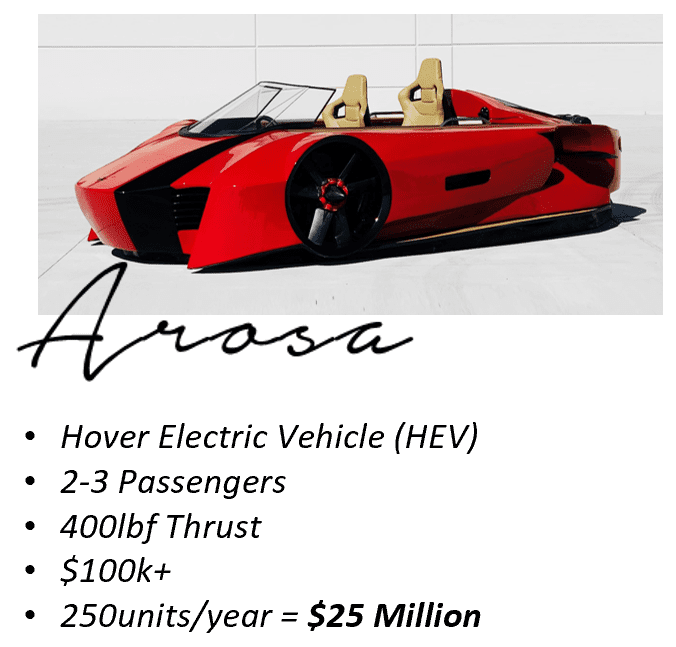 Arosa. A thrilling ride in style over water and land. Lightweight and fast with high-tech features and luxury finishes.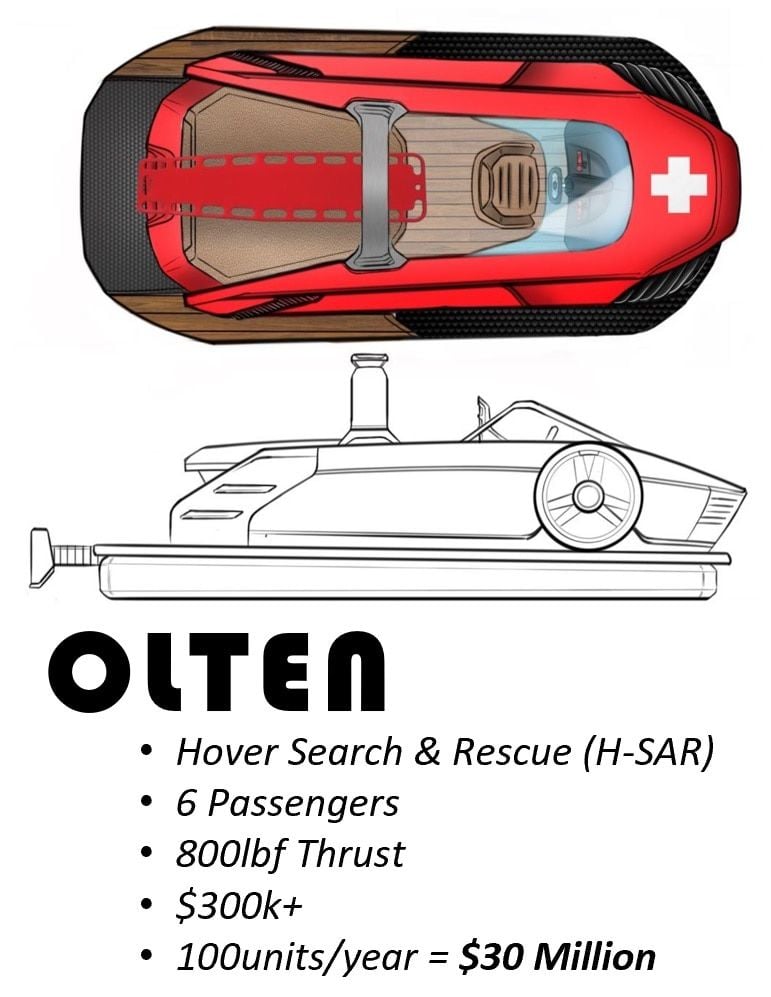 Olten. Search and rescue no matter the water level. Floods, rivers, muds, and grasses are no match for those that hover.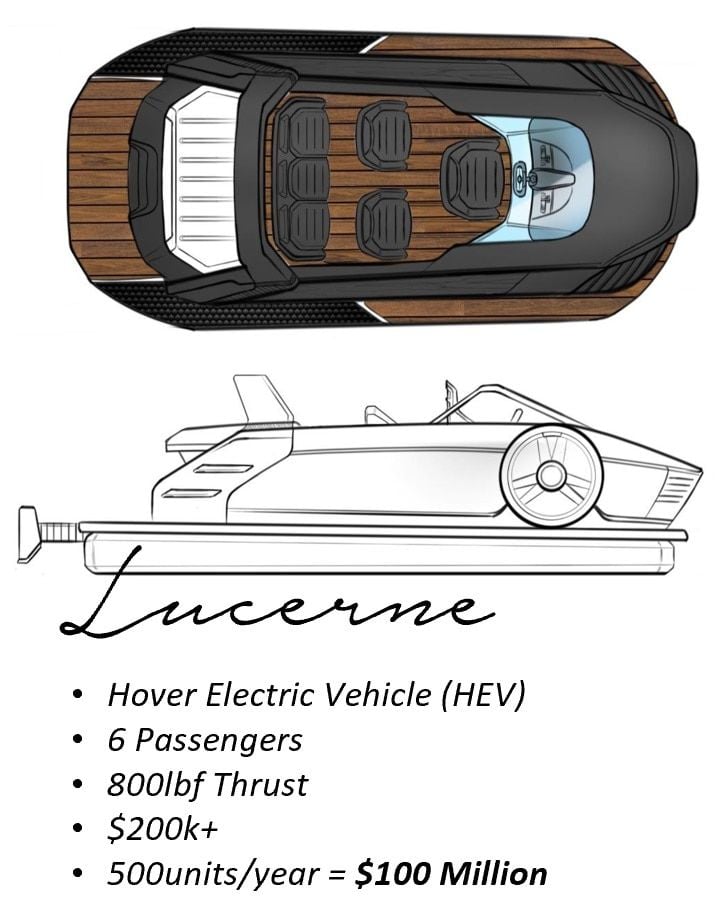 Lucerne. A ride for you and your friends to explore coast lines and beaches. Tender from yacht to shore in style! Side-by-side seating and room to lounge in luxury.
---
Projection to $300 million*
---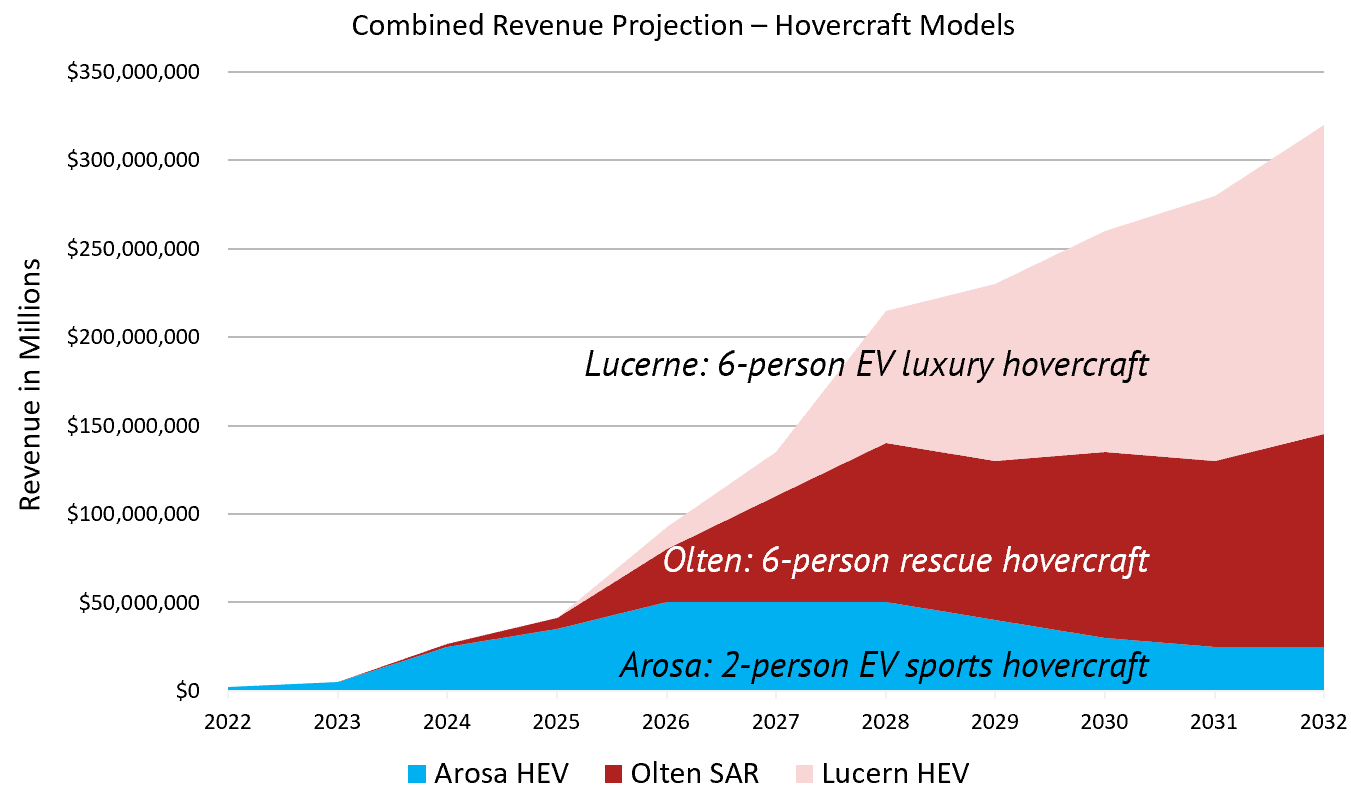 * Click here for important information regarding Financial Projections which are not guaranteed.
Much progress with less than $1million
VonMercier is proud of all we have accomplished with relatively little investment compared to other vehicle prototype budgets.
We know how to make a dollar go a long way.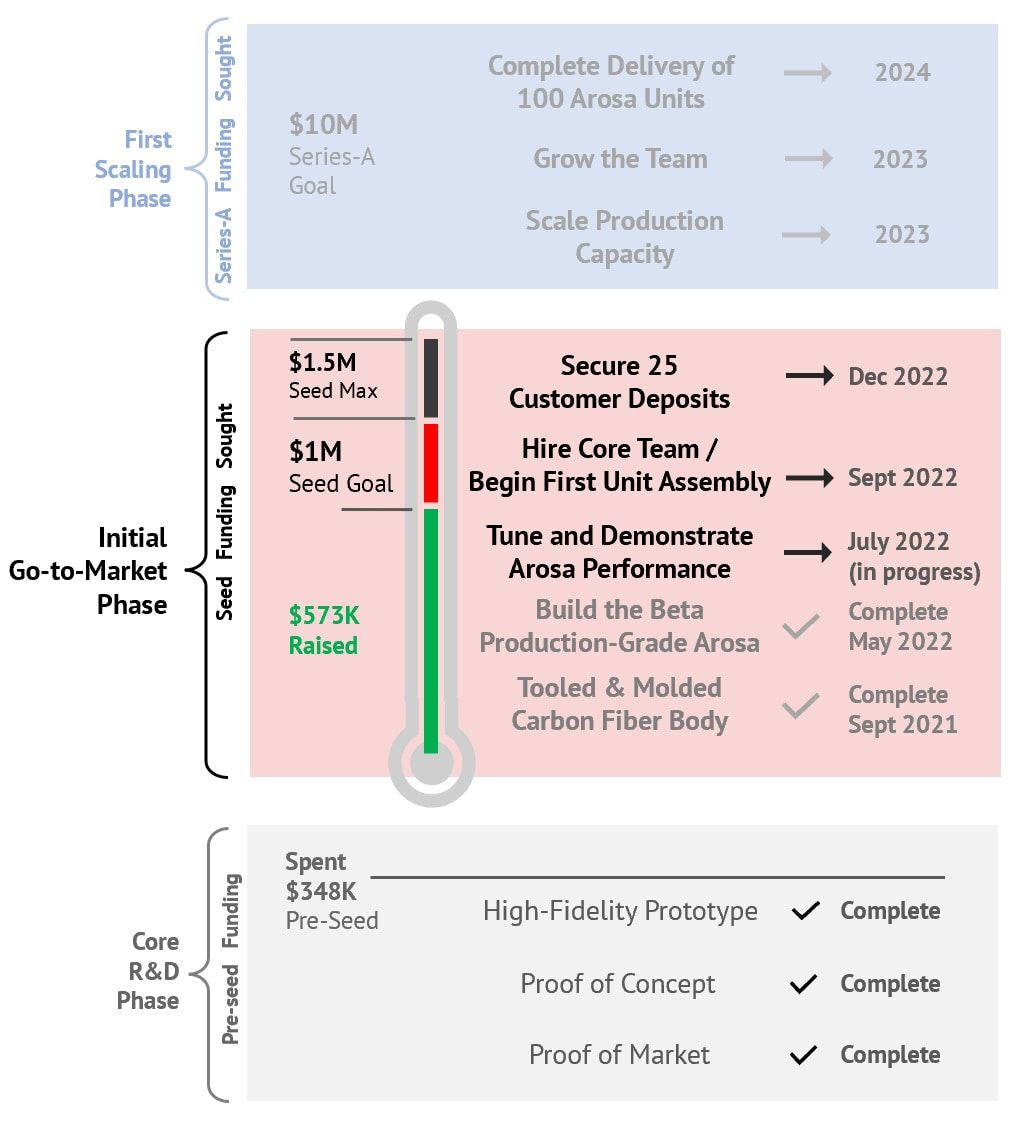 $348,000 in pre-seed funding built the first and second prototypes and iterations. These first stages of development were done with investment from friends & family, founder funding, support from vendors, and a key angel investor, Screw Cap Holdings, LLC.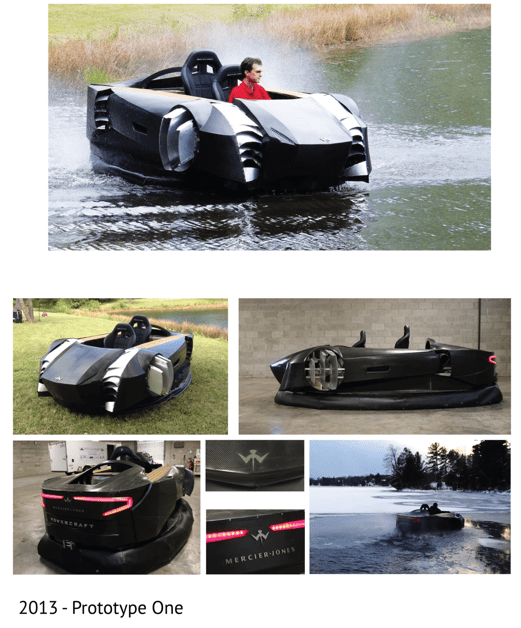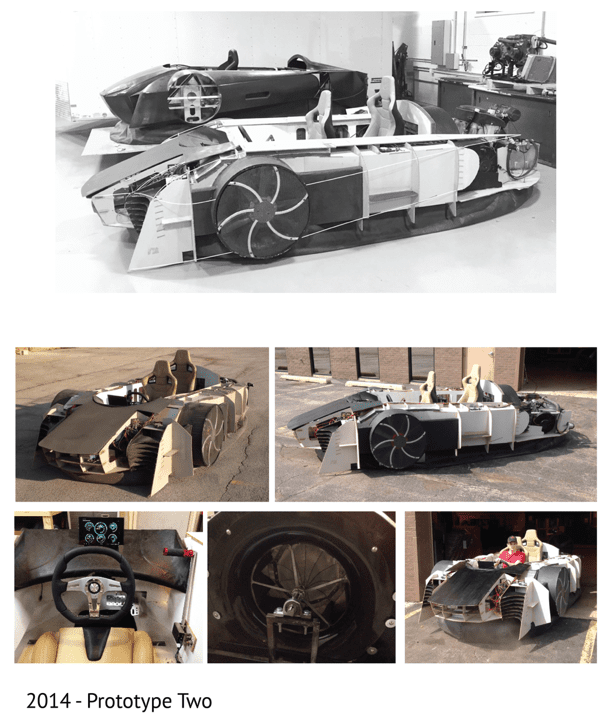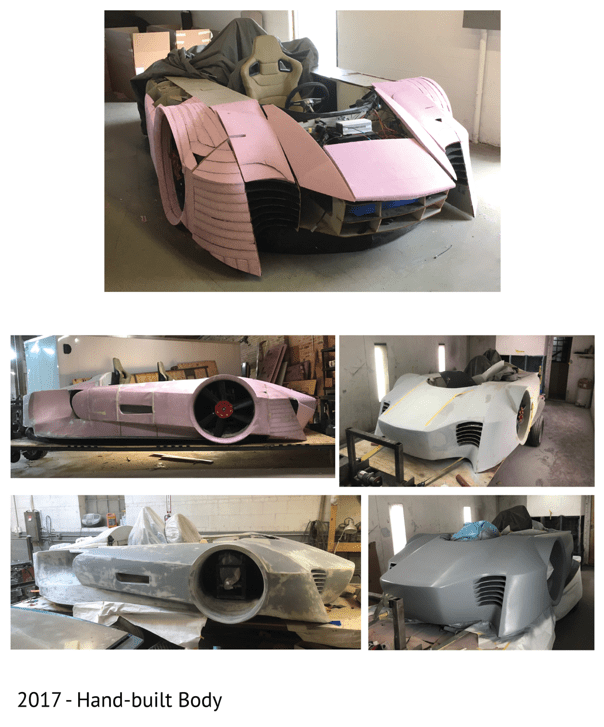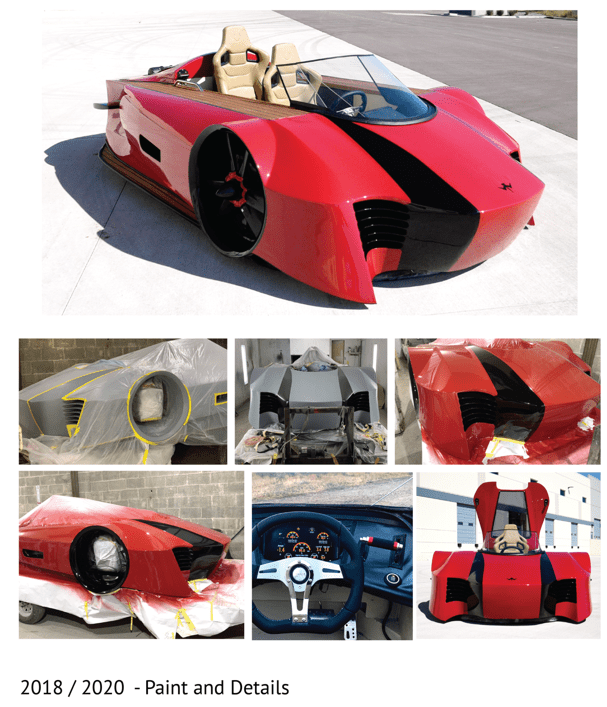 $573,000 in 2021 seed funding from Screwcap Holdings, LLC and another family investments have begun to bring the Arosa to market. Investment in molds for the carbon fiber body means we can make additional Arosa units.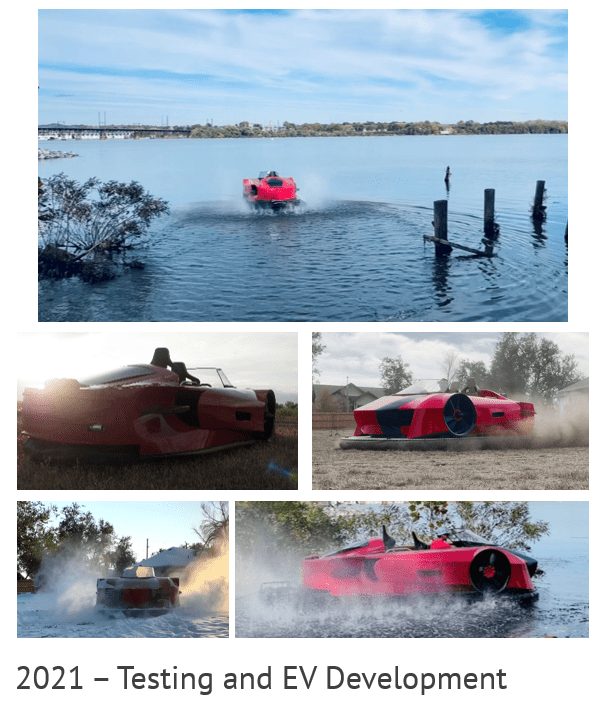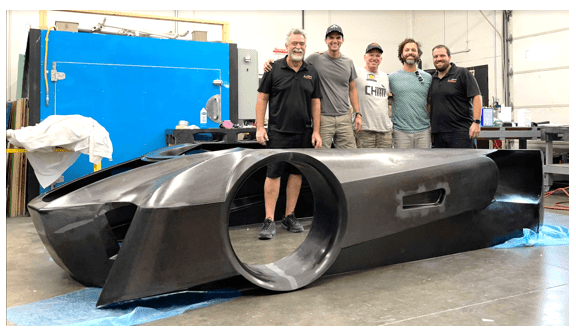 —
You are investing in the future of transportation!
—
Michael Mercier
Founder, CEO, Product Development

In his career in product development and mechanical engineering, Michael has launched products in industries spanning consumer goods to surveillance drones. He has personally brought ideas from concept to market as engineer, project manager, researcher, team leader, designer, maker, and NPD director. He holds 5 patents.

---
Following through on a childhood dream
---
At a young age, Michael fell in love with hovercraft technology. The ability to go seamlessly from land to water is amazing and useful, but Michael was not satisfied with how difficult hovercraft were to use and that they didn't look anything like his favorite cars.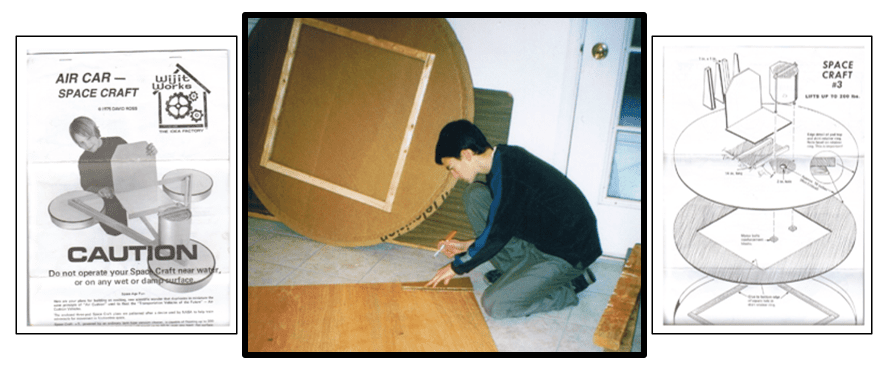 Michael built his first hovercraft using plans from a Boy's Life magazine.