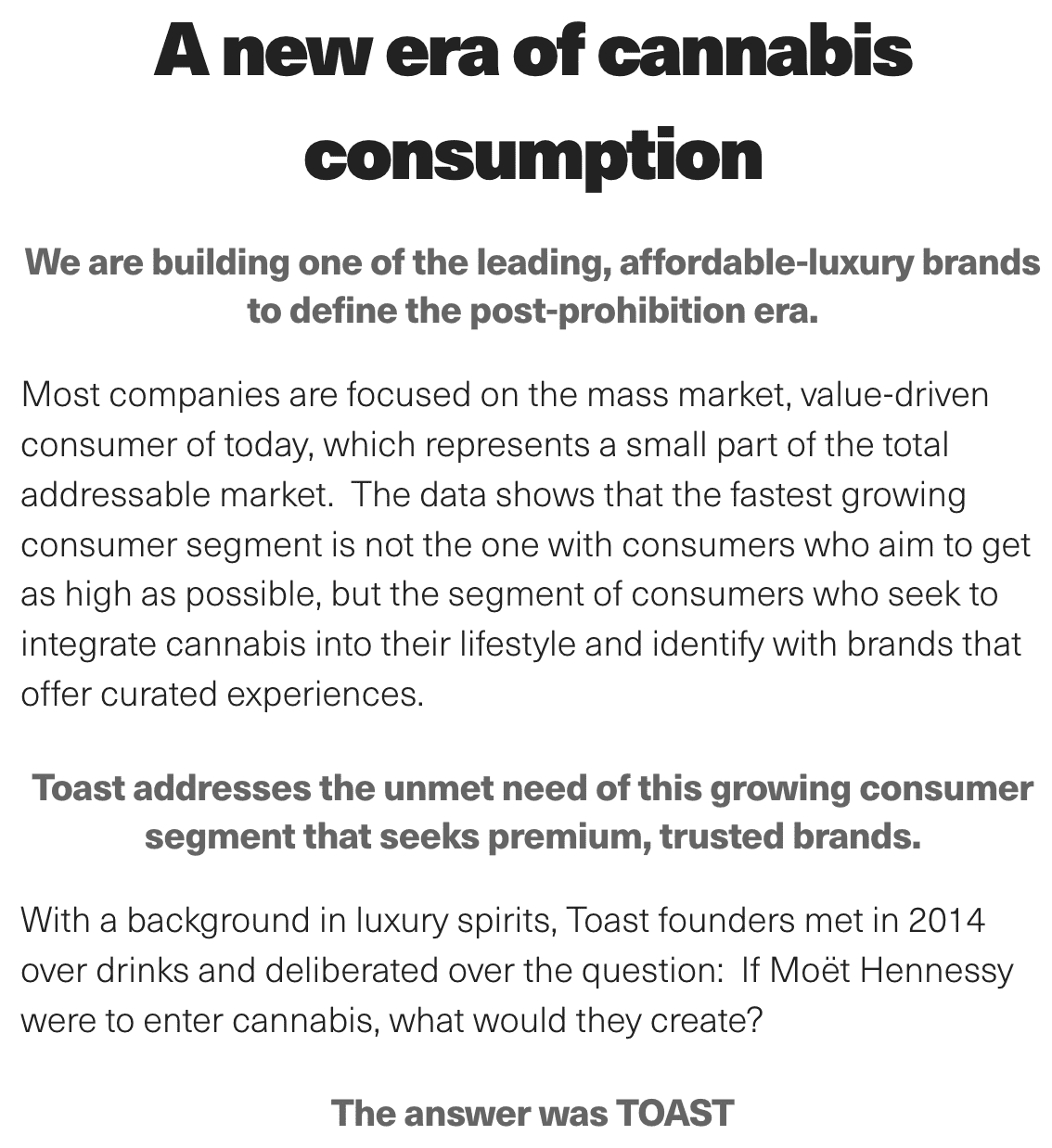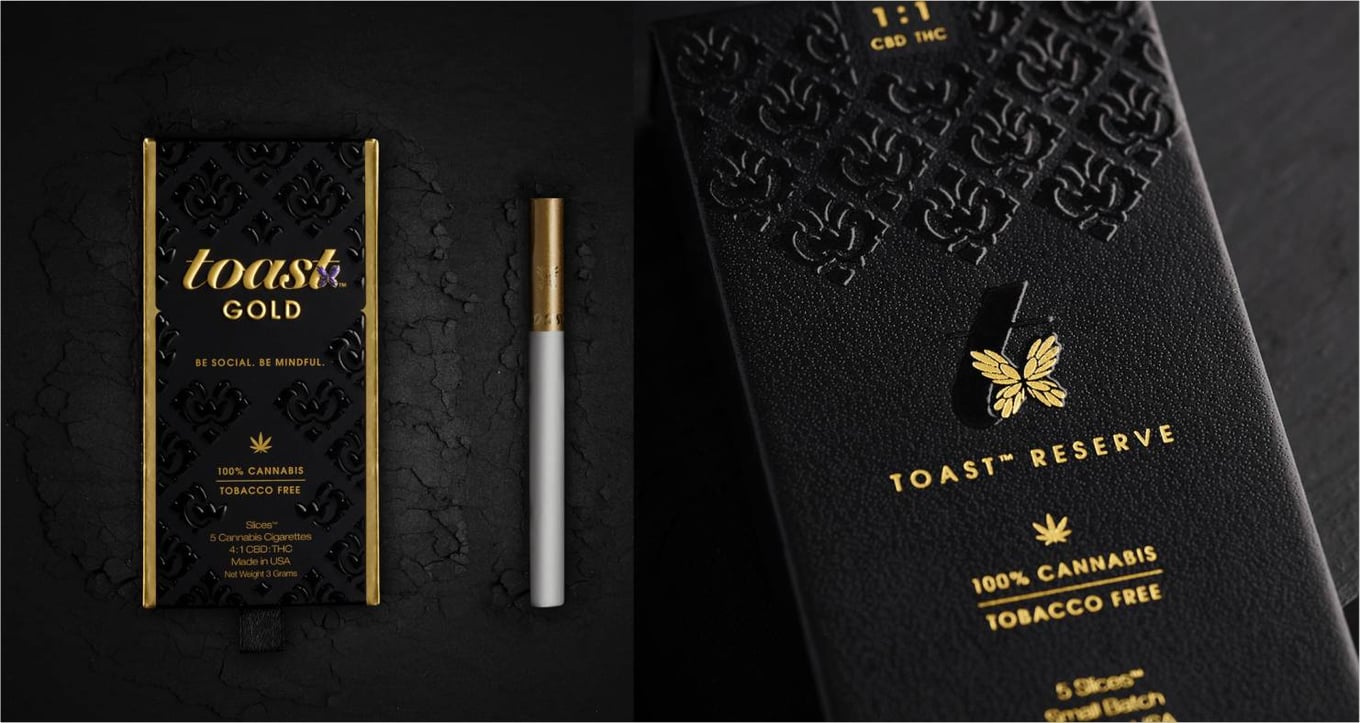 Toast was born in Aspen, CO. We're a brand centered around enhancing experiences and making celebratory moments powered by the cannabis plant. Cannabis is a 24/7 experience. From birthdays to anniversaries, and quiet moments in between – there's always a Toast for that

—
TO TOAST, IS TO CELEBRATE LIFE IN FULL SPECTRUM.
—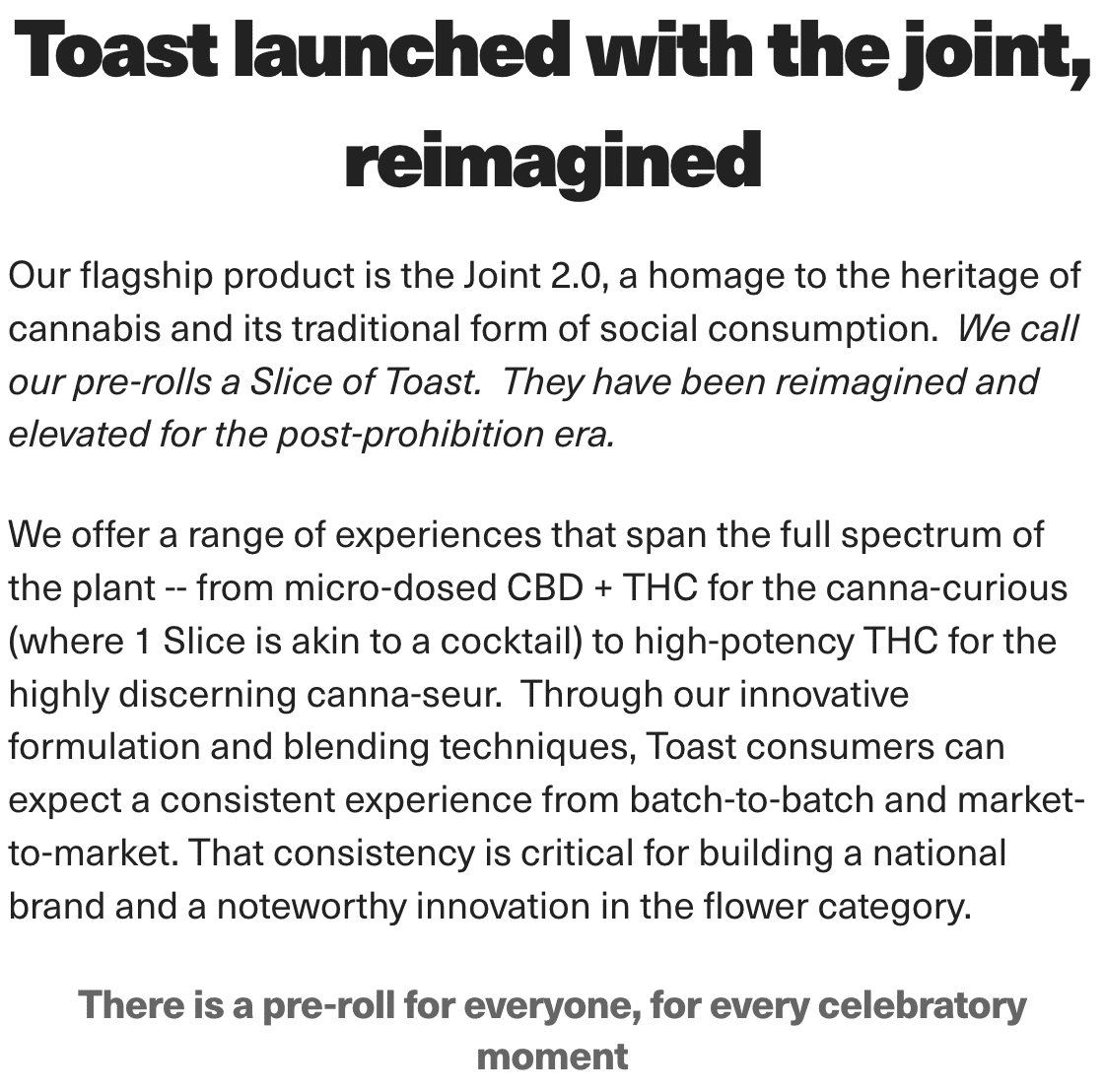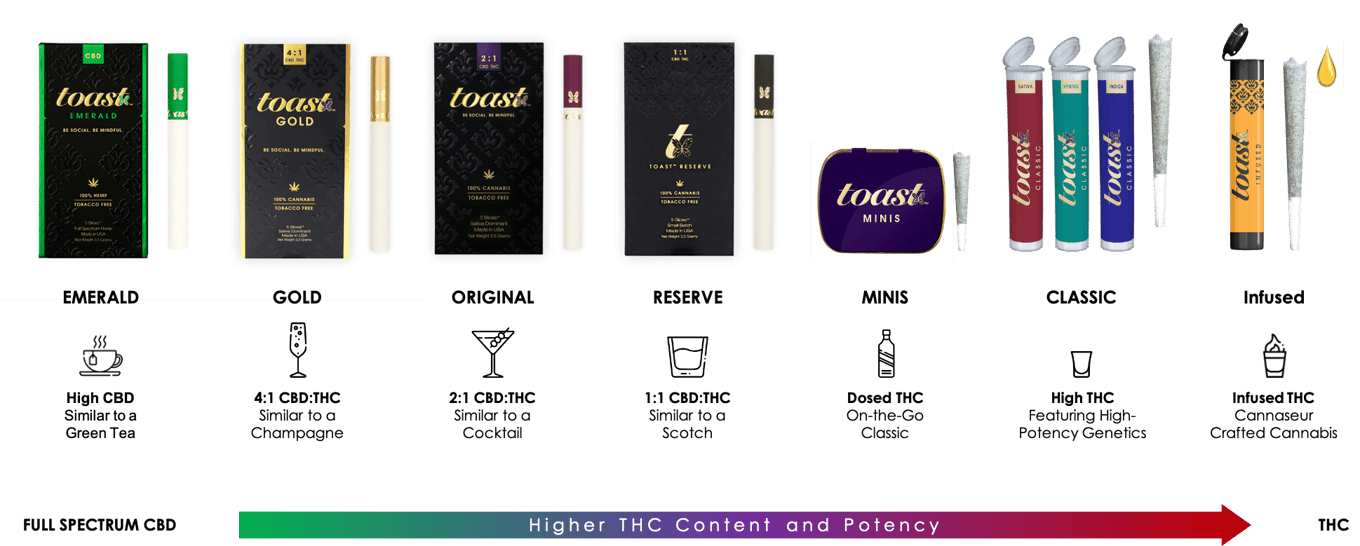 ...and we've selectively extended Toast into new categories (e.g. hemp CBD) with brand partners that bring significant distribution opportunities. These curated products grow our sales funnel and expand our brand beyond the dispensary.
Toast at 7,908 feet*
*Altitude of Aspen, CO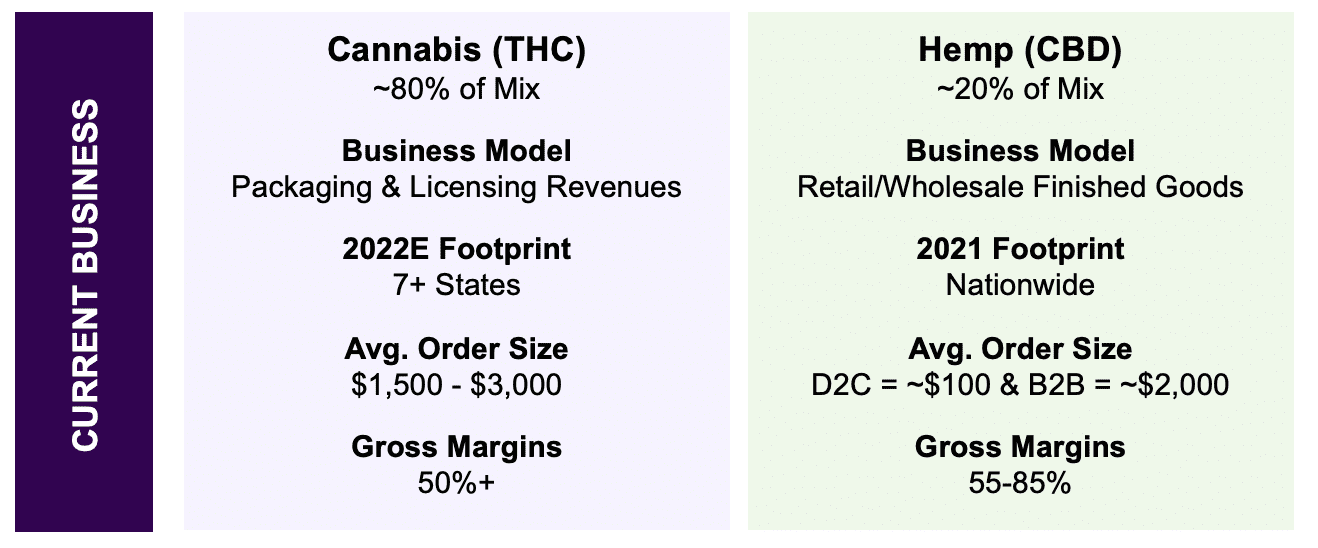 ---
Toast has highly profitable and capital efficient economics that scale.
---
We use a 'Rule of 40' (aka 'Golden 40') approach to maximize shareholder value; we target >50% sum of Growth (Revenue Y/Y %) + Profitability (EBITDA Margin %) as the company grows and the industry matures.
We have a major opportunity to expand our gross margin (by 20-30%) as we scale and procure inventory at higher quantities.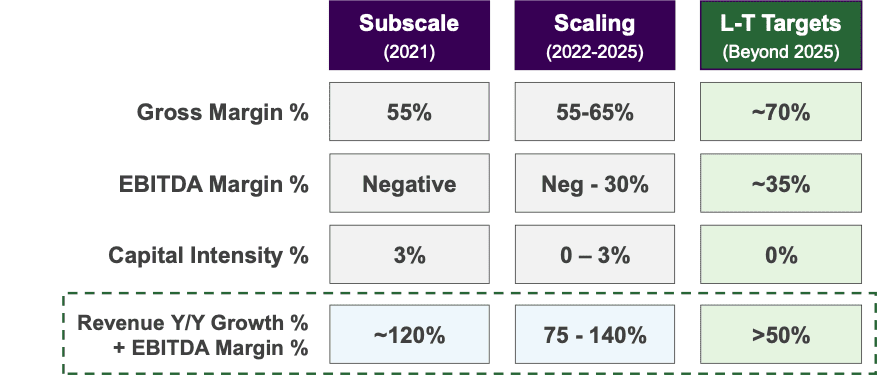 ---
Toast generates buzz worldwide
---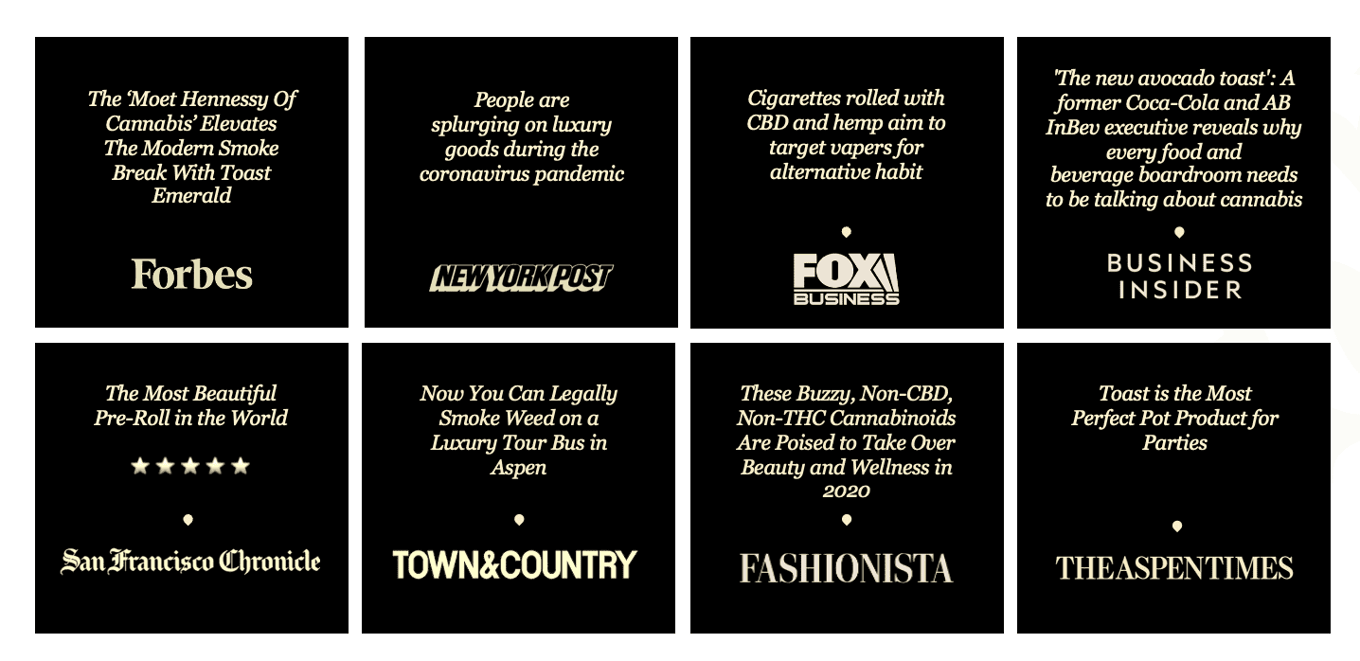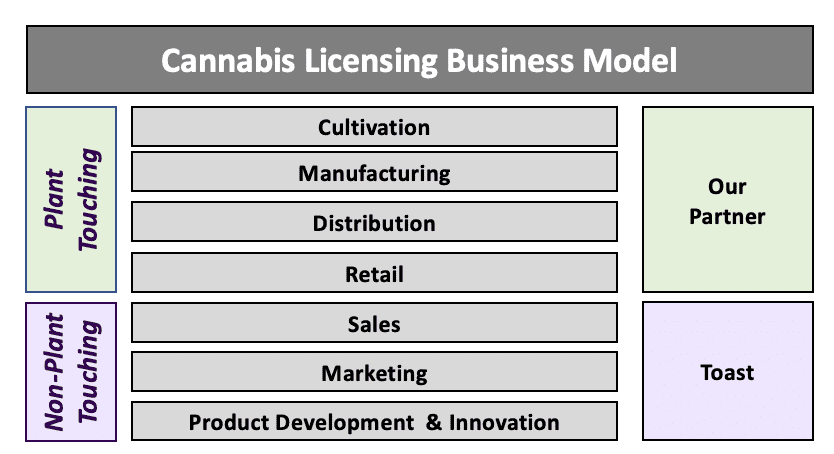 Toast has an award winning, in-house team that specializes in premiumization by significantly increasing the retail sales multiple when compared to commoditized raw material.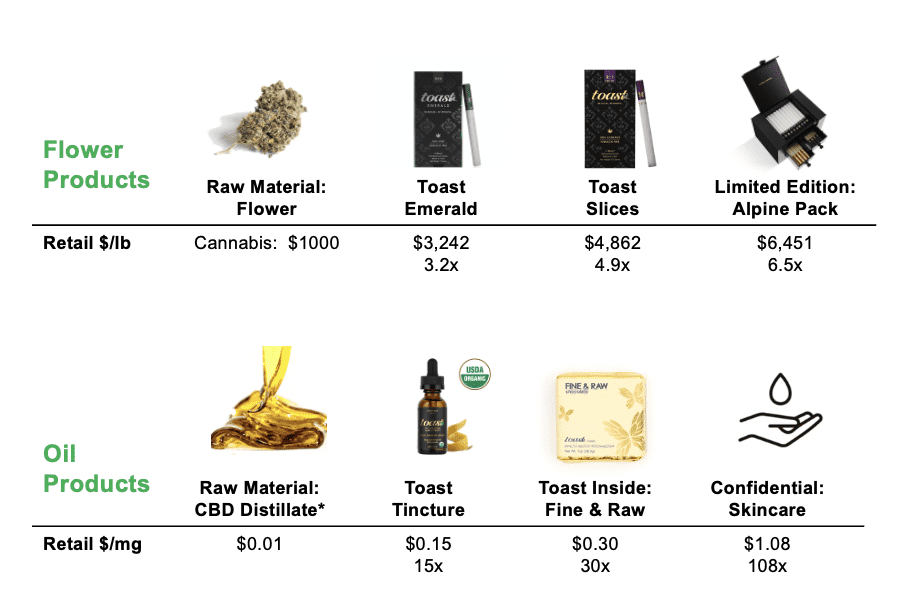 We developed our own in-house cannabis creative capability to build national campaigns that resonate with our audience while abiding by strict regulations.

The cannabis industry rivals some of the largest and oldest CPG categories, with industry leaders yet to be named. Cannabis is one of the most versatile of any CPG category.
Cannabis also appears to be stealing market share from alcohol which we view as a positive trend that will persist.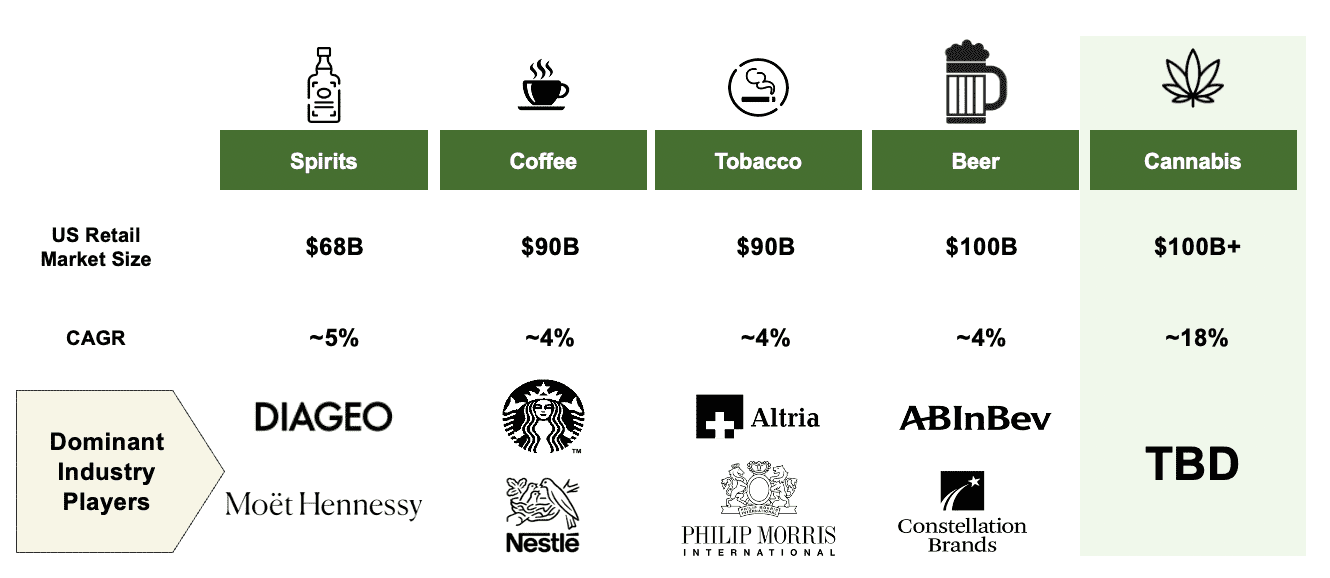 Cannabis is an investor-friendly industry with ideal market dynamics for a private brand like Toast to achieve outsized returns near-term.

Pre-Rolls are one of the fastest growing categories.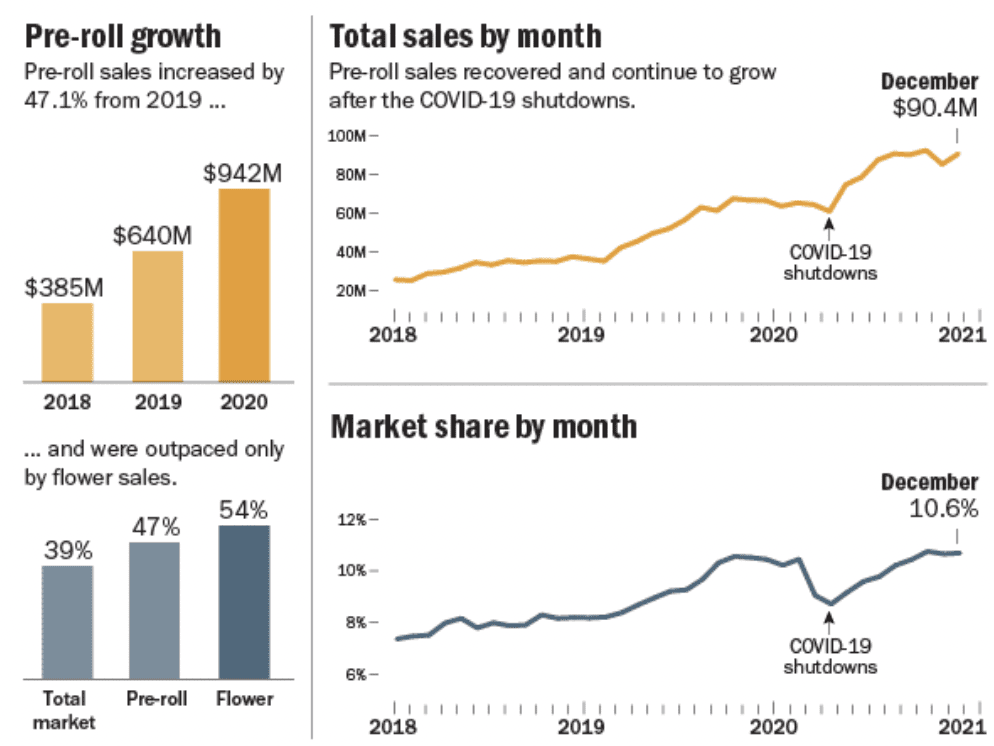 Toast cuts through the noise and is one of a handful of breakaway national brands
The bottom line is that there are no Cokes or Pepsis in cannabis – no 800-pound gorillas or category killers at a national or even regional level.
Toast is one of the only companies to achieve multi-state distribution, and is uniquely positioned to achieve outsized returns and market share.
It is not a zero-sum game for brands today
There is a small group of brands that has managed to build meaningful identity and a multi-state footprint presences in the US to date. Since there are only a few of us, we can all grow substantially and win – it is not a zero sum game today. In several cases, we collaborate. For example, Toast is sold in Cookies stores in Oklahoma.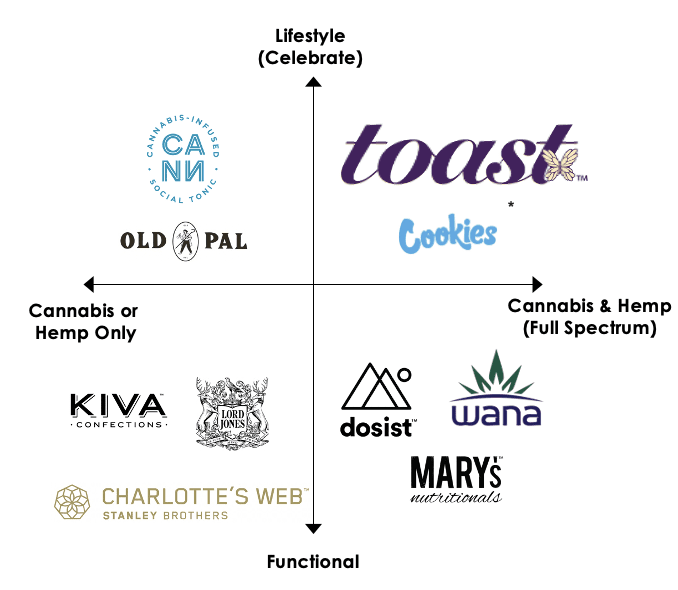 Toast is on track to become one of the first National Cannabis Brands
driven primarily by rapid expansion
and scaling of Cannabis (THC) markets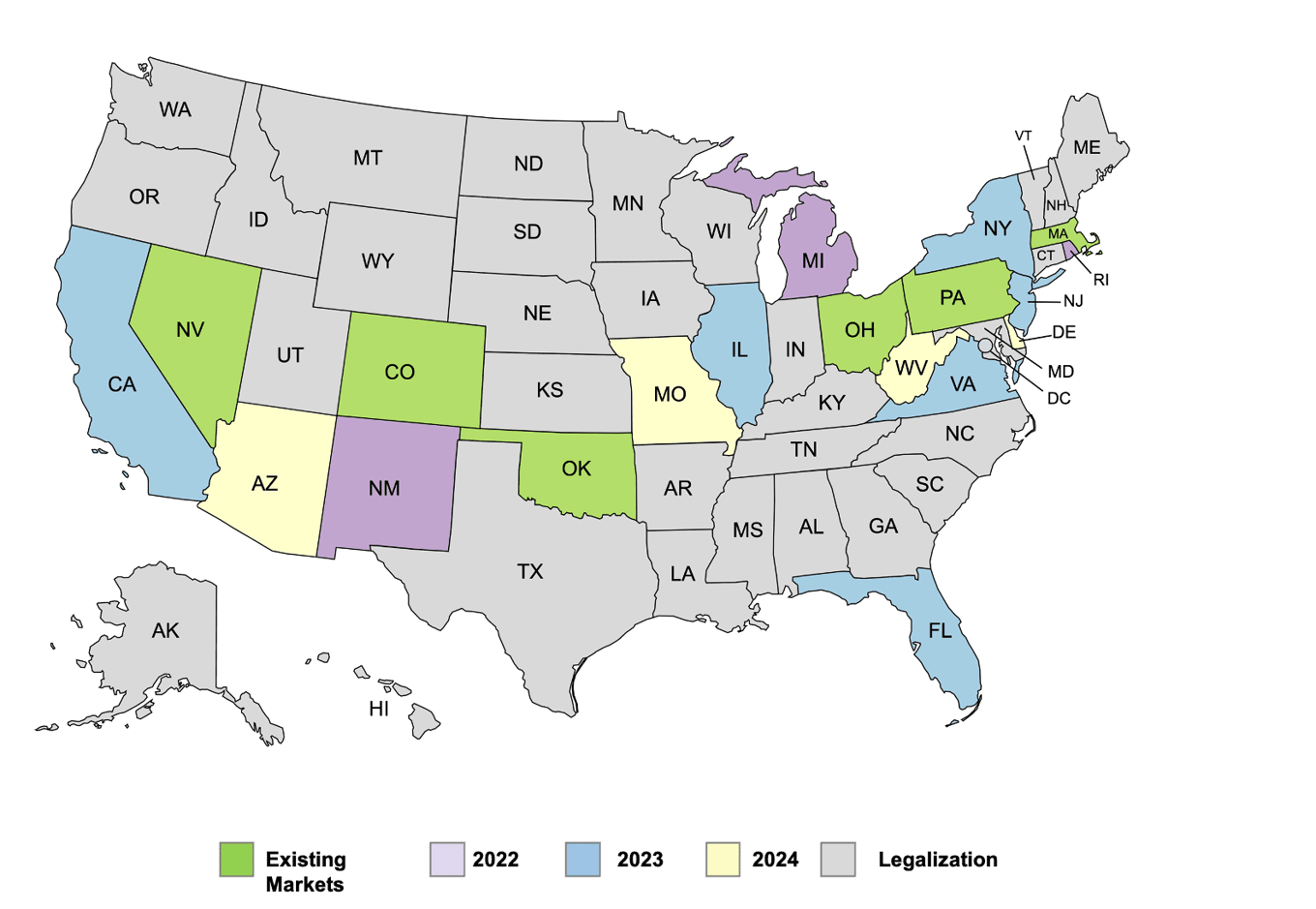 2-pronged growth strategy
Grow organically with a "land and expand model" in new markets (~15 markets in the next 24 months) by selecting a partner in each market, then earning a licensing fee by executing our go-to-market playbook for expansion.
Grow our sales funnel via selective and prestigious brand collaborations, which generate significant media, acquire new customers (many of who have never visited a dispensary), and distribute Toast products outside the regulated dispensary channel – thus growing brand awareness and equity.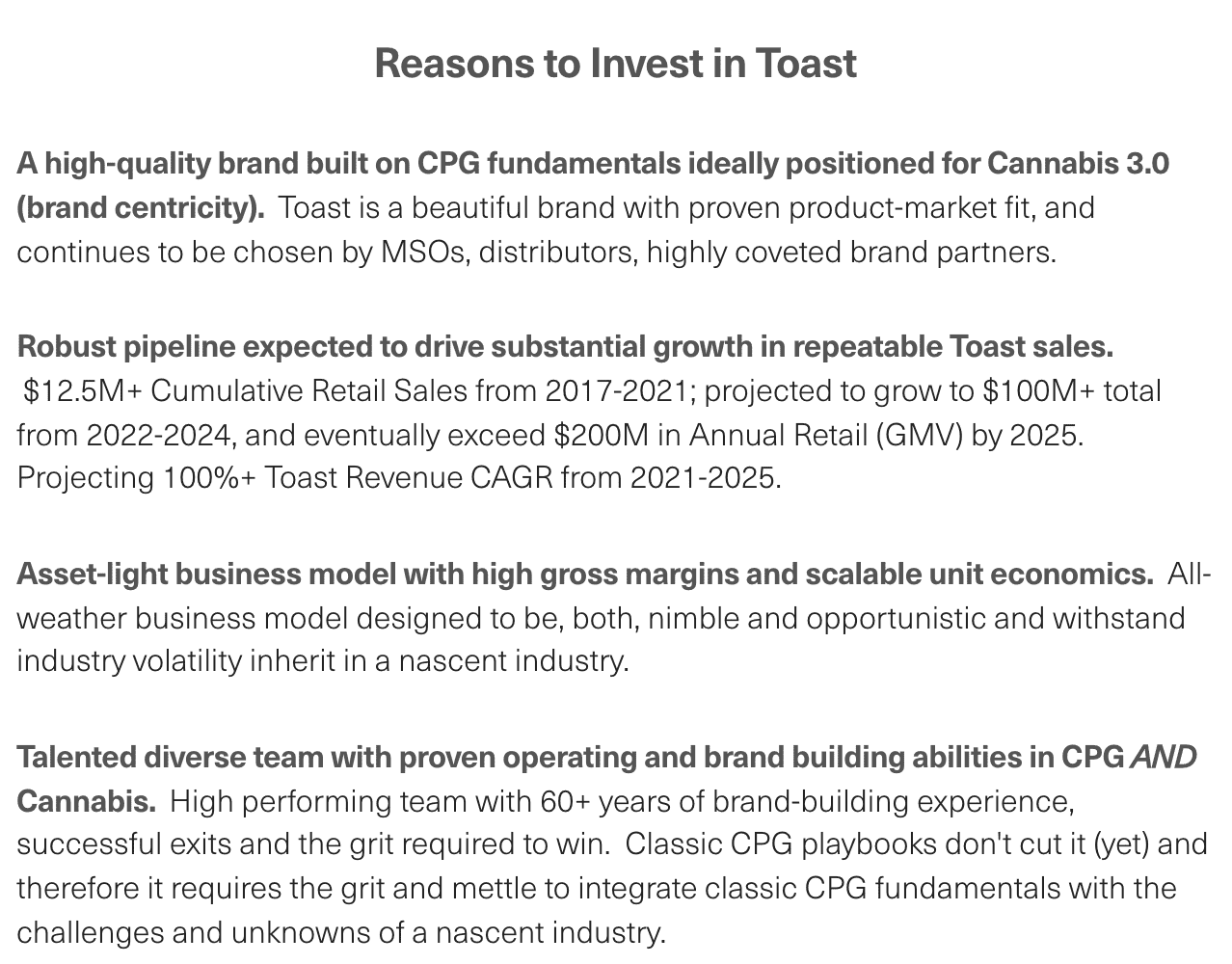 $10M+ in investment backed by family offices, VCs and angel investors including:
Yaax Capital, leading global, cannabis venture capital fund
Former COO of Citadel Group
Former Partners of Verlinvest Consumer Fund
Former Principal of Consumer VC firm VMG Partners
A leading real estate, consumer and cannabis fund
Former Global CMO of Anheuser-Busch InBev
Founder of WhistlePig Rye and Head of Consumer at Evercore
Senior Market Leader of Coca Cola EU

Many companies have already risen and fallen in the early years of the legal US cannabis industry. Our team is battle tested, having built a company that has not only survived, but thrived by navigating the early booms and busts of the industry and the volatility of the global pandemic. Our Toastmasters are best in class in the industry.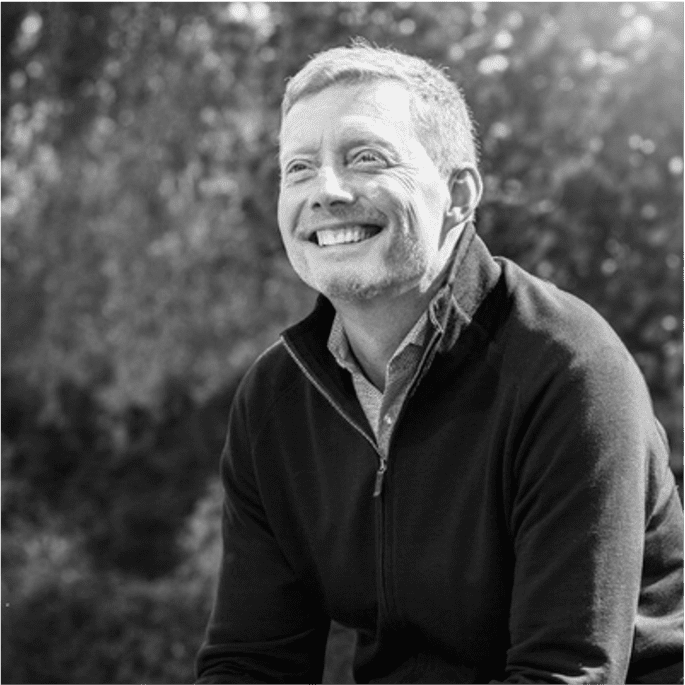 Executive Chairman Chris Burggraeve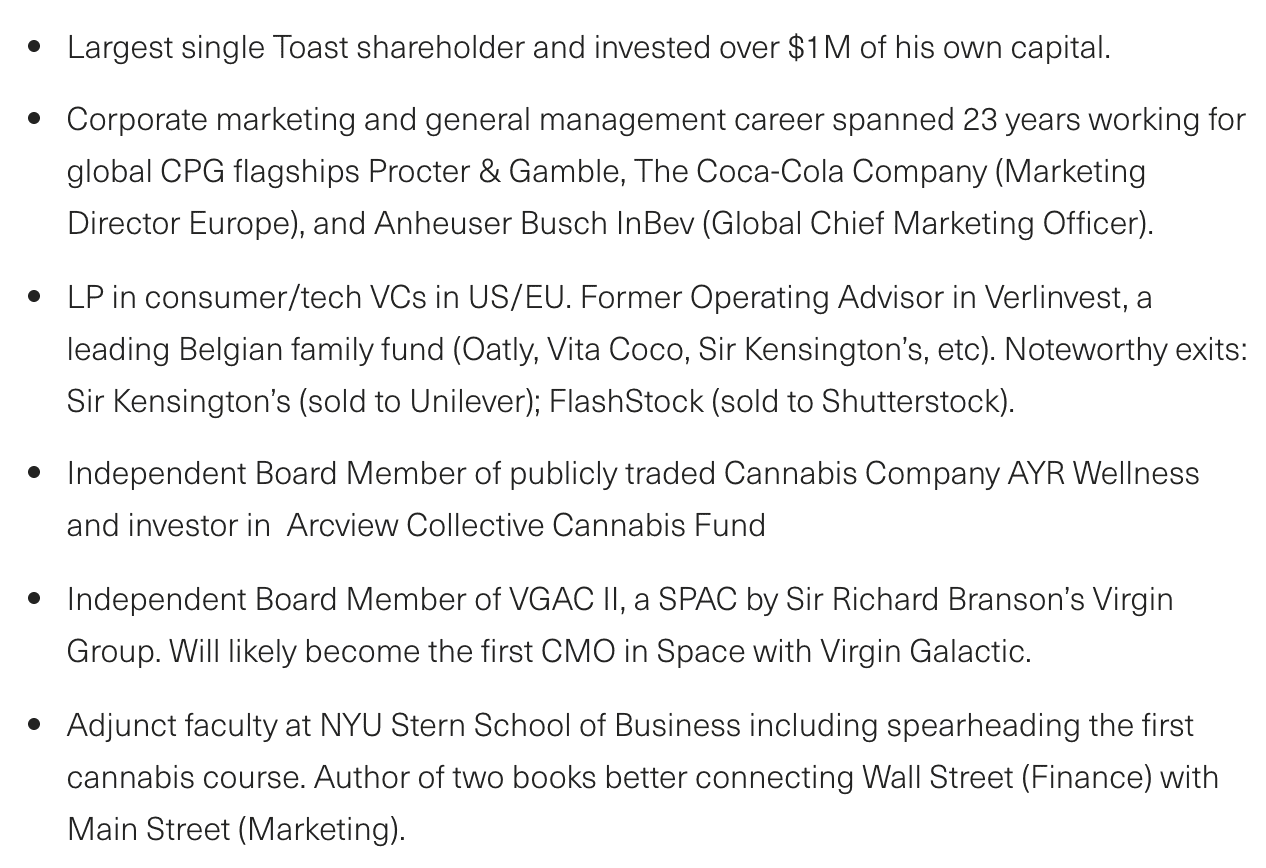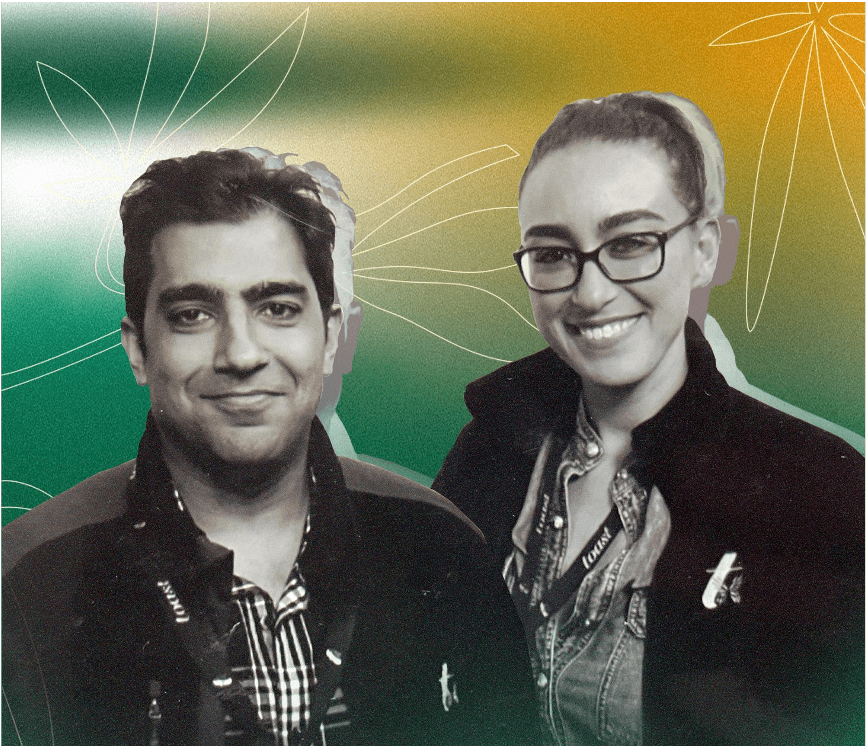 CEO Punit Seth and COO Shovahn Rincón