The current engagement model for brands and its consumers is broken
Digital advertising is broken. Every year, in an effort to keep customers and acquire new ones, brands spend over $500B in digital advertising and more than $215B for reward points and loyalty programs. This is because maintaining customer brand loyalty is absolutely critical not just for keeping the status quo, but also for growing market share.
The most effective way for brands to acquire new customers is through recommendations by existing customers, who promote brands to their friends and family. Social media posts by everyday people have 5x the engagement than those of paid influencers, and generate 2x the sales compared to paid advertising. This is because 92% of consumers trust recommendations from friends over all other sources.
Meanwhile, traditional loyalty and rewards programs don't work. A full $64B of reward points are never redeemed and exist perpetually as liabilities on a company's balance sheet. These traditional rewards points have low utility, only offer marginal discounts and are not exchangeable with other brands' reward points.
Cultos transforms
traditional rewards
programs with Web3
Cultos solves these problems with digital marketing and customer reward programs, in one elegant platform that converts passive consumers into an army of active nano-influencers.
For Brands, Cultos provides the tools to create their own brand token and set up the reward systems to drive consumer behavior. Brands can gamify their interactions with consumers, and provide further incentives—such as offering exclusive access to specific rewards depending on the amount of brand tokens a consumer owns. Brands can also enable their fans to "stake" their brand tokens and earn "interest" in a way that further strengthens the bonds between the brand and the user.
Cultos provides online fans a way to be fairly compensated for their role in growing an established brand, or building a community around an emerging brand—with the potential for the value of brand tokens to increase as community engagement grows over time. Brands can also integrate their community token with their e-commerce store and reward consumers with tokens for purchasing products.
Brand tokens on Cultos can also be exchanged for the tokens of other brands, adding an element of interoperability and utility for consumers not typically available with traditional rewards. With Cultos, brands gain rapid adoption from the bottom up—leading to greater efficiencies, better conversion rates, and increased sales, while leveraging highly-relevant NFT and token-based economies to incentivize users.
Why is this solvable now?
Bringing rewards programs and influencer marketing to Web3 provides the missing incentives consumers and brands need to work together and form highly engaged communities. Additionally, awareness and adoption of crypto has never been higher. 94% of individuals around the world with discretionary income know what crypto is, and over 20% of the world holds crypto—with that rate quickly increasing, especially among younger generations. In fact, a recent Visa survey found that over 57% of consumers would prefer crypto rewards from brands as opposed to traditional reward points.
The explosive performance of community-building Web3 technologies like NFTs and tokens have made brands more open to adoption than ever. In 2021, the digital collectibles market was over $37B with over $10B of NFTs sold in just the last week of Q3 alone. The token economy is set to reach $1T within 4 years, and is growing at a 900% CAGR. The success of NFT communities like Bored Ape Yacht Club, and the acquisition of RTFKT by Nike, shows the power of crypto to bootstrap loyal communities overnight—and that big brands have taken notice. Now, with Cultos, we're bringing Web3 rewards to all.
How it works
—
For consumers
—
Cultos provides a simple signup process which generates a custodian wallet, ensuring anyone can create an account. Consumers simply connect their social media accounts and can browse various brands to see what activities they can perform to earn brand tokens.
Consumers can use brand tokens they earn to purchase brand NFTs and other rewards as made available by each brand.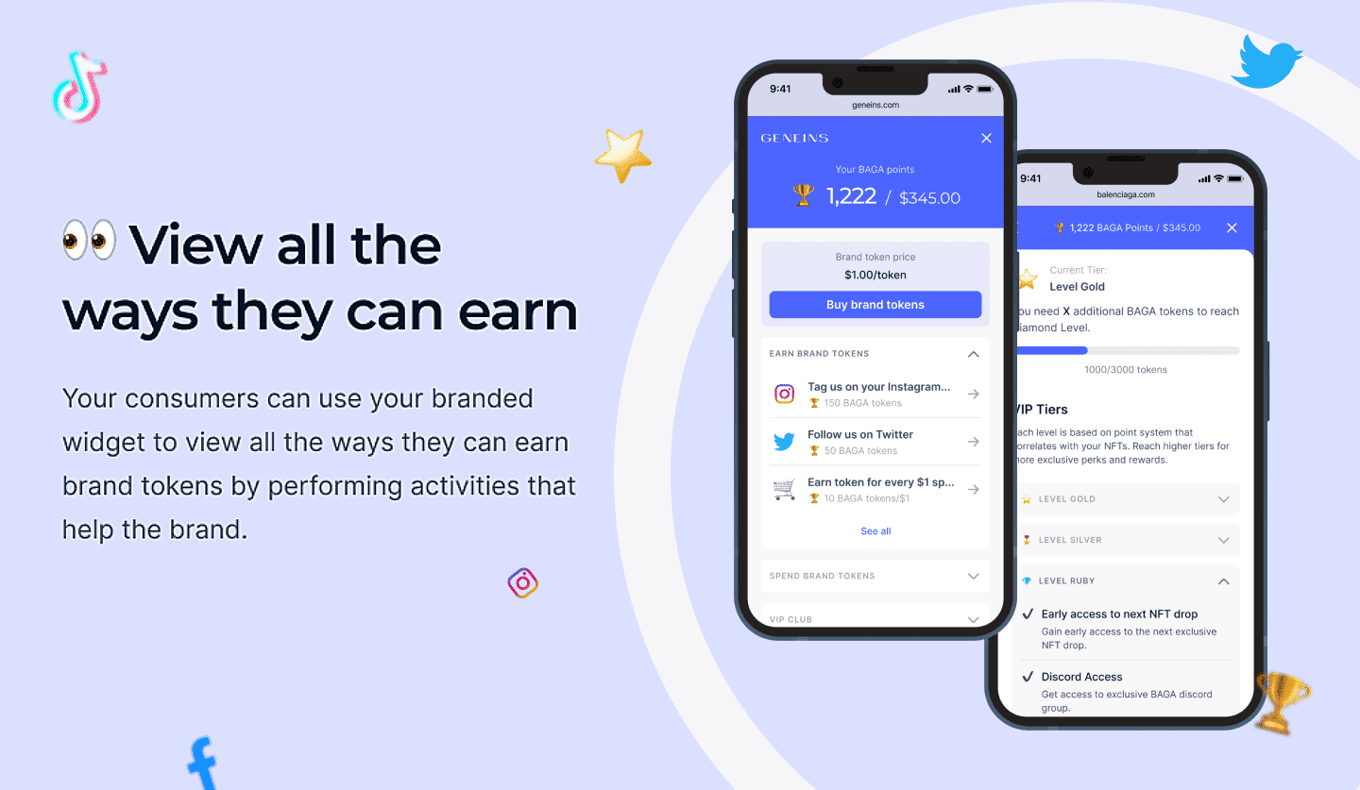 —
For brands
—
Cultos provides a turn-key solution for brands to create their own independent digital economies and communities. Brands can:
Create their own branded token and add initial liquidity with an existing automated market maker (AMM) and templates for optimal token bonding curves.
Configure their own reward systems to determine how consumers are rewarded in exchange for engaging with the brand online.
Create NFTs and other exclusive rewards as well as gamify rewards by configuring a VIP club which provides more exclusive rewards to their 'power consumers' with greater balances of brand tokens or NFTs.
Utilize administrative tools and can also collect first party analytics on their communities.
Integrate with their existing e-commerce and loyalty programs to extend their brand token utility to their traditional merchandise and rewards.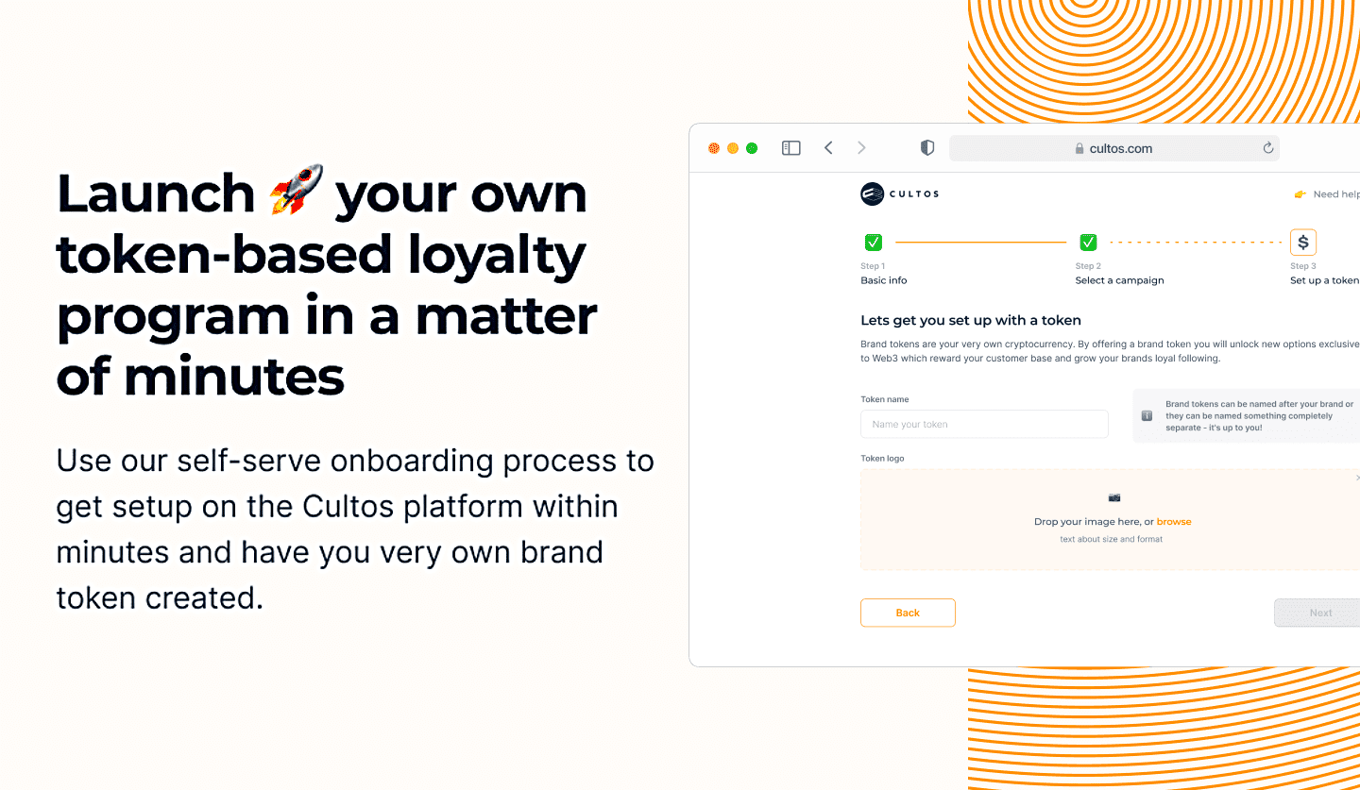 CULT is the cryptographic token that powers the Cultos ecosystem
Holders of the CULT token earn the transaction fees paid when purchasing or converting brand tokens on the Cultos platform. The CULT token can also be converted to any brand token at any time on the Cultos platform.
The CULT token also serves as our built-in customer acquisition incentive that can be used to reward consumers for promoting brands not yet on the platform. The Cultos business development team is alerted when target brands are heavily promoted—so they can inform the brand their consumer base is on Cultos ready to be engaged directly if they join.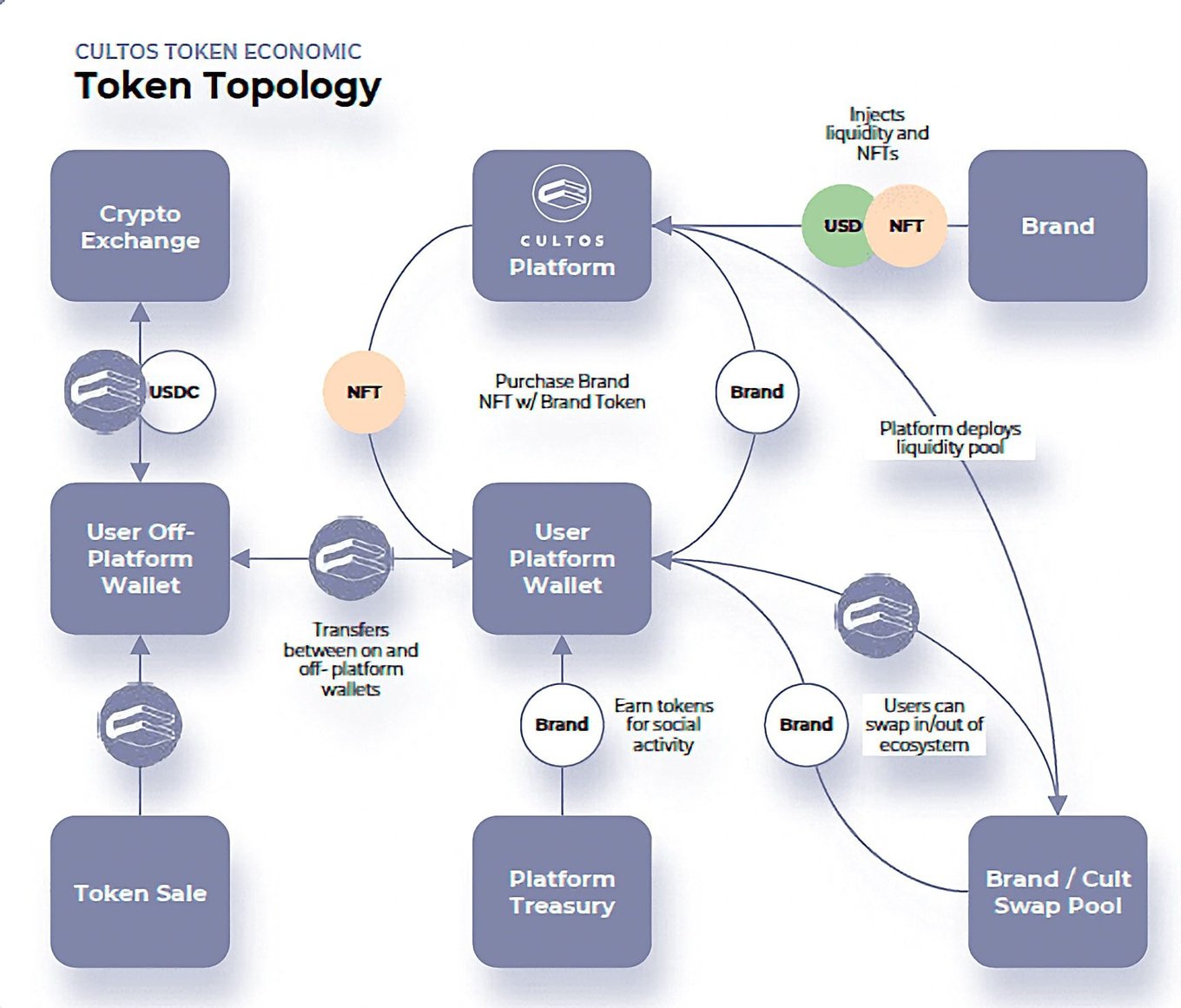 Target market
The collectibles market today is valued at $372B across consumer product verticals such as toys, clothing, music, artwork, sports, etc. Many of these brands have raving fans, due to celebrities directly or indirectly associated with the brand or based on nostalgia or cult followings. All of these brands rely on digital marketing and viral marketing to promote themselves with their target consumers. These brands have tremendous opportunities to leverage the Cultos Platform because their audiences are ideal for the token reward model and NFTs.
In addition, Cultos targets brands across verticals with large established rewards and loyalty programs—such as hospitality or retail—due to the $215B of liquidity they already inject into traditional rewards.
The global influencer marketing industry is also at $13.8B; but the majority of influencer marketing programs are ineffective and don't lead to results for brands. Cultos provides the solution.
Successful launch, buildout, & partnerships
We launched with our first brand, Prometheus Design Werx, in October. They saw a 26% engagement rate with consumer generated social media posts promoting their brand to earn their tokens. For comparison, the average influencer campaign is successful if it yields just a 5% engagement rate.
Since that first launch, we have continued to build out the Cultos product. We have also secured a major strategic investor and customer in MGA Entertainment—the parent company behind one of the most-loved toys today, with a massive built-in fan base for their soon-to-launch brand tokens. We have also launched with our first NBA team, the San Antonio Spurs, which is a major milestone. We're already working with many other brands to launch their own brand tokens in the coming year.
Competitive analysis
Socios, Rally, and other apps with similar community tokens for followers focus on narrower audiences than Cultos. Cultos has created an elegant Web3 platform for all nano-influencers to be rewarded for promoting brands; and consequently, it allows any brand to reward their consumers. Rally allows independent creators to develop fan tokens, while Socios is a platform for sports teams to sell tokens to fans.
Comps:
| | | | |
| --- | --- | --- | --- |
| Project | Focus | Launch | Market Cap |
| Flow | NFT Marketplace for Sports | January 2021 | $1.6B |
| Basic Attention Coin | Tokens for Consumer Attention Online | June 2017 | $1.2B |
| Chilliz | Social Tokens for Sports | July 2019 | $1B |
Aligning incentives across the brand & consumer ecosystem
The long-term vision of Cultos is to become the digital passport for rewards across brands, communities and consumers. Web3 enables incentives to be fairly aligned and democratized between brands and their fans, Cultos is leading the charge to give brands the tools to engage their community directly, and consumers an incentive to stay engaged.
Cultos was started by a talented team of entrepreneurs led by Andrew Yang. Yang is a Forbes 30 under 30 alumni, graduate of the University of Toronto and previously worked in technology sales for Toronto-based Joist and GE Ventures under the New Business Creation team as an EIR.
Leading product as CPO is Jeong Woo Park, another Forbes 30 under 30 alumni, graduate of the University of Toronto, previously worked on the product team for Toronto based Wattpad (acquired) and GE Ventures under the New Business Creation team as an EIR.
Heading engineering as CTO is Thanasi Karachtozitis, a Forbes 30 under 30 alumni, graduate of the University of Toronto, previously worked on the software engineering team for Amazon and GE Ventures under the New Business Creation team as an EIR.