Commitments received within the first $250,000 raised, will receive a conversion price of $1.25 per share at a $12.5M valuation
Any commitment thereafter will receive a conversion price of $1.50 per share at a $15M valuation.
Invest in a next-generation membership club
A combination hospitality & real estate concept, this investment opportunity has been structured to target startup-style returns.
Revenue
Unlike regular startups which generate revenue many years after their initial investment, ArkHAUS has already begun to generate revenue in the form of membership deposits in Year 0 (pre-launch).
Multiple
Investment banking analysts target a mid to high teens (EV/EBITDA) multiple for the hospitality sector. A detailed examination of analyst reports provides an average 16.4X multiple for a matured membership club business.
Exit
Targeting a 5 year exit to Private Equity or IPO, our goal is to maintain operational excellence while maximizing investor value.
Current vs. future investment rounds
This investment is into the ArkHAUS parent company and will benefit from all future ArkHAUS locations as well. Future rounds of investment will be made into, and benefit only from, individual ArkHAUS locations. In addition, investors in this round will be provided with first access to future investments.
A lifestyle club
for the world's disruptors
Positioned to redefine the members club of yesteryear, ArkHAUS connects 4 futuristic solar-electric houseboats to anchor an exciting new vision where community, innovation, and fun collide.
Members can meet, relax or entertain from the modular floating villa, complete with outdoor decks & rooftop lounges overlooking a protected pool in the center.

ArkHAUS is brought to you by the team behind CSTM HAUS.
A hub for the ever-merging world of work and play

Mornings - The day breaks
Start the days with guided yoga and meditation led by world-class instructors.
---
Work days - Limitless views inspire
Break away from the office to work with a view, or host a lunch meeting in style.

---
Play days - Indulge & let loose
The fun is just getting started as the week comes to an end. Featuring resident DJs and performances, join us on the weekends as we unwind and party on deck—with bookable cabanas, daybeds, rooftop jacuzzis, and food & bar service.

---
Evenings - The night caps
As the sun sets and the moon rises, mix & mingle with rooftop cocktails and great company.

—
Membership details
With only 360 memberships available, ArkHAUS has the luxury of staying true to its core culture. This means exclusivity and fun without the drama.
Food & beverage - The ArkHAUS wait staff will provide exceptional service to members and their guests enjoying their time aboard ArkHAUS. On-board dining will be offered through an adjacent on-land restaurant partner. Beverage service will be available on-board at the bar or through the wait staff.
Programming - Mix & mingle with fellow members and guests during weekly hosted events—from master mixologist cocktail hours to the latest in health & wellness activities.
Access - Every member will receive 30 hours of access to the club per month.
Guests - Members can choose to draw on their 30 hours of access or purchase guest passes.
Charters - Only members can charter individual ArkHAUS vessels for private experiences. Whether they keep the vessel connected for a private party or disconnect for a sunset sail, members are sure to offer their guests an unforgettable experience.
A recipe for launch success
Following a successful 6 month pop-up at the world renowned Faena Hotel's Bazaar rooftop, CSTM HAUS Miami served to assess, ideate, and develop the evolution of the membership club: ArkHAUS.

(T-9mo) Assets
Begin production of the vessels upon closing investment round, with a 30% deposit to fund USA-based manufacturing.
(T-7mo) Location
Narrow private discussions with preferred options to secure location and docking agreement
(T-6mo) Membership agreement
Finalize details in a uniquely crafted agreement which allows members and guests access to all four boats
(T-5mo) Memberships awarded
With the location and membership agreements finalized, we will begin to select and award memberships to applicants.
(T-4mo) Vendors & partners
Select entertainment, food & beverage, maintenance and other vendors from our curated roster.
(T-2mo) Staffing
Hire 16 staff members across management, captains, hosts, lifeguards, bartenders, servers, operations, facilities, and security.
(T-1mo) Training
Engage a rigorous hospitality and safety training program.
Membership applications
exceed expectations
The rate of presale memberships is outpacing projections, demonstrating the tremendous market demand for a new type of members club.
Word of mouth sold over half of Tier 1 Annual Memberships before the release of any primary marketing materials. Having now layered on a minimal marketing budget, we are witnessing a customer acquisition cost (CAC) that is already 58% lower than initial projections and continuing to decline.
---
Annual memberships
Prior to opening, interested members can file an application with a refundable deposit, available in 3 Tiers:
Tier 1 | 80 available | $5,000 [FILLED]
Tier 2 | 90 available | $6,250 [ACTIVE]
Tier 3 | 180 available | $7,500
ArkHAUS has already closed Tier 1 of memberships and is now accepting applications for Tier 2.
NFT forever memberships
The club of the future isn't complete without the membership type of the future. ArkHAUS is offering a very limited 10 "Forever Memberships" via NFT sales.
| | | | | |
| --- | --- | --- | --- | --- |
| NFT # of 10 | Date | Platform | Price (ETH) | USD Equiv |
| 1 | Jun 8, '21 | | 8 | $20,074 |
| 2 | Oct 5, '21 | | 8 | |
| 3 | Nov 2, '21 | | 8 | $36,752 |
| 4-10 | TBD | TBD | TBD | TBD |
You can learn more about the Forever Membership NFTs here.
---
Customer Acquisition Cost (CAC)
An initially budgeted $400k for marketing provided a CAC of $1,111 for 360 memberships. However, an early social media advertising test has demonstrated an actual CAC of $472, 58% lower than initial projections.
The growing market awareness, applicant excitement, and a larger and more refined advertising budget will combine to drive the CAC even further down.
Limited.
Exclusive.
Powerful.

With only 360 memberships made available for presale, access will be limited to members and their guests, drawing on 30 hrs per month.
---
Membership demographics
By design, our application process allows us to handpick a curated membership base. Every application is followed by a 1:1 conversation to assess the demographic mix, according to the following targets: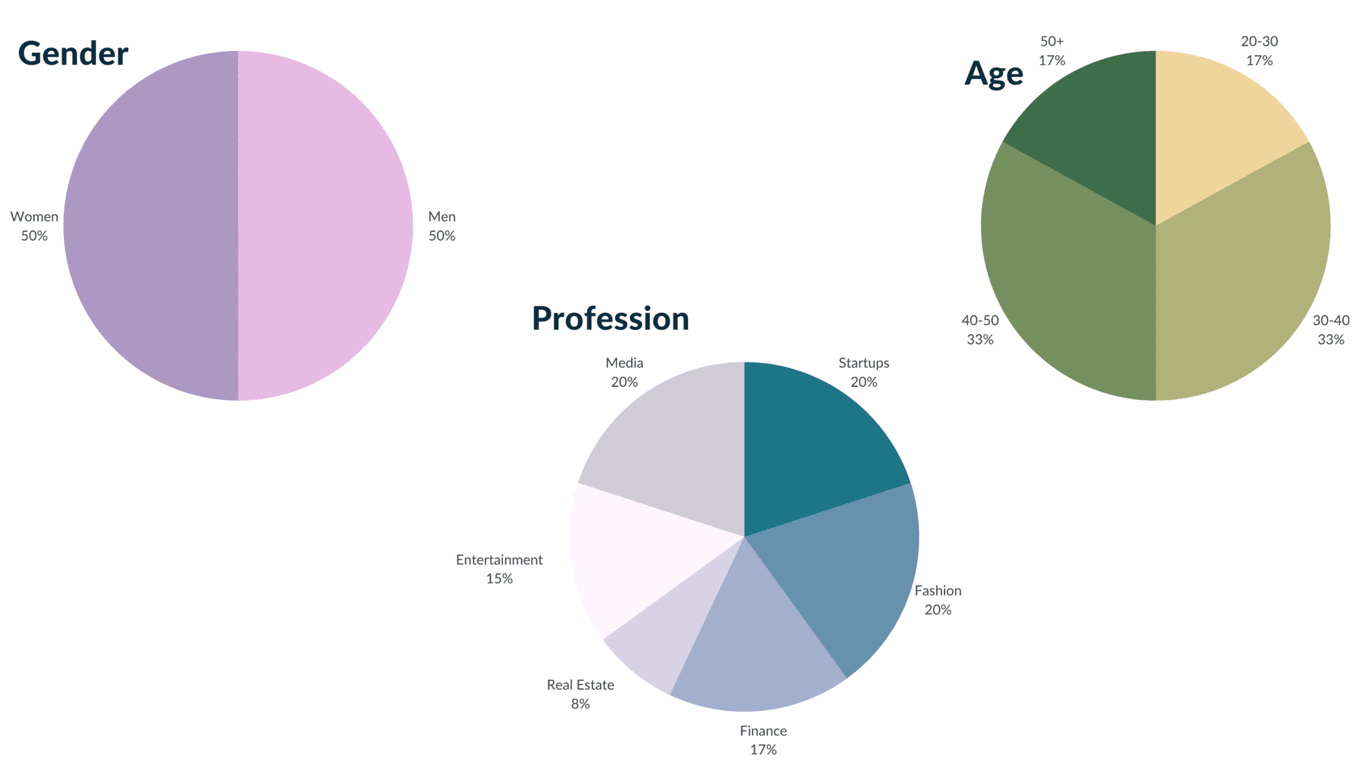 Explosive economics
with room to grow

With highly attractive economics at the single location level, this investment into the ArkHAUS Inc. parent captures all future locations, creating a multiplier effect.


Revenue is primarily driven by a combination of memberships and guest passes, followed by food & beverage sales.
With capacity limited by the US Coast Guard and safety regulations, ArkHAUS has a set number of "Use Hours" available for members and guests. Selling only a conservative 360 memberships and expecting an average of 2 guests per member, ArkHAUS anticipates operating at 50% Capacity usage in year 1.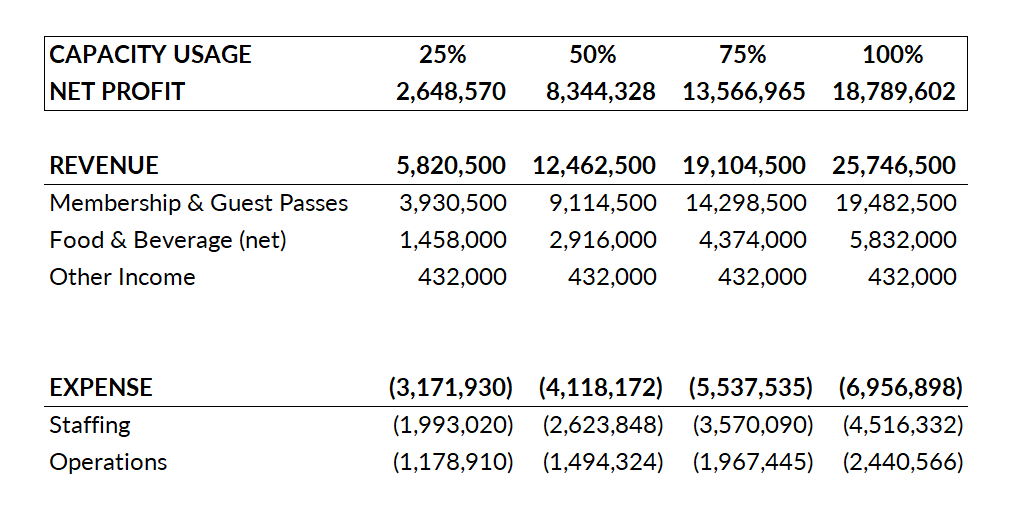 After monitoring safety and experience at 50%, as well as alternative revenue opportunities during year 1, the club can opt to sell a greater number of memberships or allow more guests in order to approach 75% or 100% Capacity Usage scenarios.
With food & beverage sales as the second source of revenue, Other Income will also be generated in the form of cabana rentals, event bookings, charters, and activity rentals.
Market clarity
from the market leader
While many competitors in the private members club market prove consumer demand, Soho House reigns supreme in the space. In July 2021, Soho House's parent company, Membership Collective Group (ticker: MCG) IPO'd, providing vast information to analyze ArkHAUS' market potential.
Analysis of 5 Investment Bank research reports (Bank of America, JP Morgan, Morgan Stanley, Loop Capital Markets, HSBC) results in an average EV/EBITDA multiple target of 16.4x for year-end 2023.
We then apply this multiple to ArkHAUS 2023 projected financials to obtain a projected valuation.

*All numbers in the above table are in millions.
* The average EV/EBITDA multiple for membership clubs across 5 IB research reports is 16.4x
* In projecting a future value for a single ArkHAUS club, we apply a very conservative 12.0x multiple
* In projecting a future value for 7 global ArkHAUS clubs, we apply the 16.4x multiple
* For the global 7 club future valuation, our EBITDA would likely be higher due to economies of scale, resulting in a higher Equity Value than shown here.
Note: Investment in this round is at a $15M valuation. The above analysis indicates a single Miami ArkHAUS location will be valued at $106M. With 6 additional locations opened, ArkHAUS will be valued at $1.023B.
The vast landscape of
Miami members' clubs demonstrates demand
None have evolved past the traditional land-based club
Miami Competitors
Soho Beach House | The Bath Club | Faena Rose | 1 Beach Club
Fisher Island Club | The Edition Club| The Standard Spa
While competitors such as Soho Beach House, Fisher Island Club, and Bath Club are all based on land, ArkHAUS is securing its market position as the next generation-floating members club.
Miami and many other cities with a tremendous boating and aquatic culture present a great opportunity for a differentiated marine-based club. However, as yachts and boats do not create a suitable environment for this, no other membership club has been able to expand into this space.
The new luxury: finding meaningful connections
in innovative places
In partnership with the designers and manufacturers of the vessels, ArkHAUS is redefining the concept of the membership club, both in terms of the venue as well as the experience.
Anchored in smart design
Outfitted with electric engines, solar rooftops, and spuds that elevate the entire platform out of water, the modular club is built on four Arkup 40' vessels; a state of the art mansion on water meets the next generation of Transformers.
What we stand for
We're building membership club that breaks the mold. A club for the world's disruptors, innovators and those who care about moving the world forward. In a nutshell, we're creating a community of good work by day, good people by night.


—
Miami location
—
Boasting open water views and positioned away from marine traffic, ArkHAUS will be permanently docked with one of these premium hospitality partners.
ArkHAUS at Paraiso in Miami
ArkHAUS at Maurice Ferre Park in Miami

—
Future cities
—
With the first location live and generating buzz in Miami, pre-sale memberships will be made available to future locations in New York City, Los Angeles, San Francisco, Paris, Istanbul, and Dubai.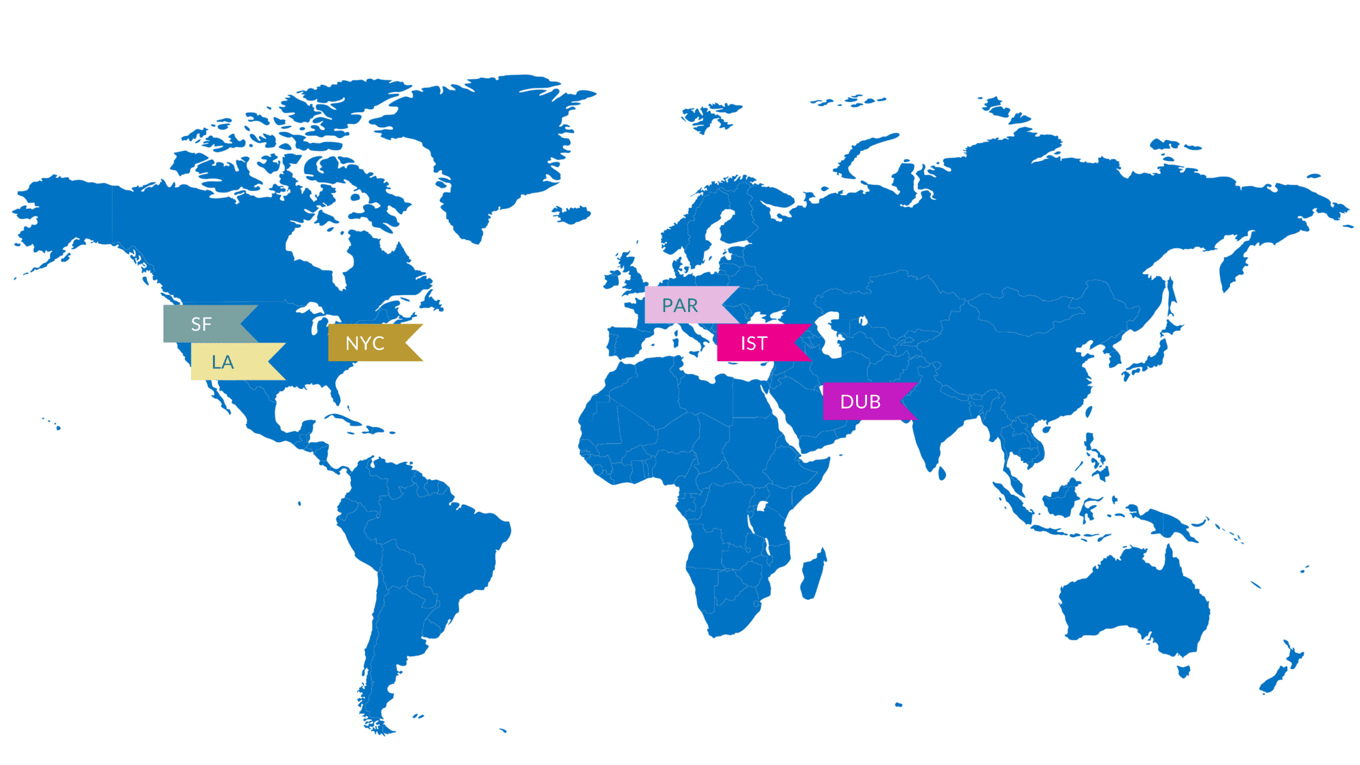 Use of funds

Vessel deposits (45%)
A deposit must be placed to secure financing and begin production of the 4 vessels. US-based production will take approximately 6 months.

Membership marketing (21%)
The Marketing budget will be allocated towards content creation, digital marketing, and member acquisition events. As membership presales have exceeded expectations for a favorable Customer Acquisition Cost, ArkHAUS will have flexibility to allocate this surplus towards further marketing or other operations.

Pre-launch operations (34%)
ArkHAUS must undertake a variety of operational activities including surveying, legal, agreements, club furnishings, payroll, and other ancillary expenses.
An execution-focused team for the lifestyle upgrade of our generation
—


Sam Payrovi
Co-Founder & CEO



Sam is a 14 year investment banker turned serial entrepreneur. Graduating from UCLA with dual degrees, in 2001 he joined Bear Stearns' market leading mortgage analytics F.A.ST. group. By 2006, he was running Royal Bank of Scotland's Asset Backed Securities Structuring team, before launching a Fin-Tech mortgage startup, ProtEquity Group. In 2012, a trip to SE Asia inspired an entrepreneurial journey that would span multiple companies under one corporation, now culminating in ArkHAUS.
—


Nathalie Paiva
Co-Founder & CXO

Drawing on marketing standards from years of in-house work with such global luxury leaders as LVMH, Nathalie has extensive experience developing strategy & communication plans for high-touch, service oriented brands. Her global perspective and penchant for partnership development provide invaluable insight and direction for the business.
How CSTM HAUS paved the way for ArkHAUS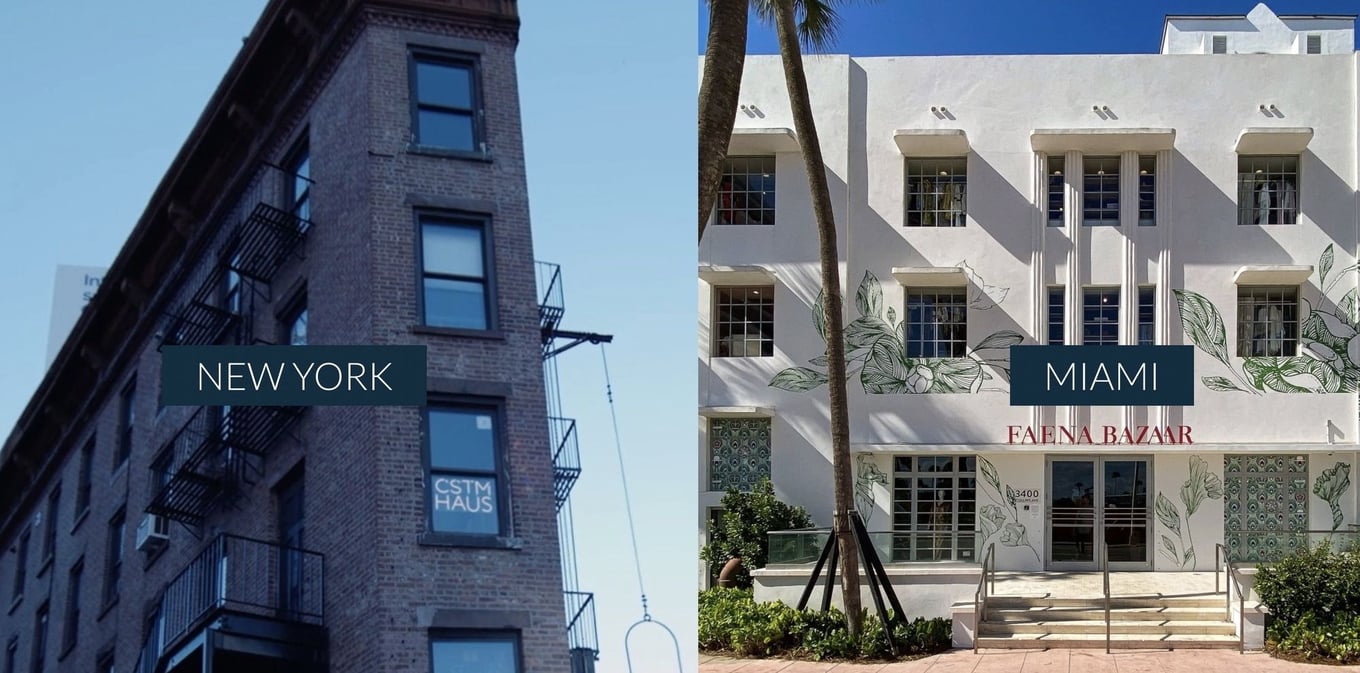 Founded in early 2020, CSTM HAUS is a multi­-faceted hospitality business offering a hybrid coworking & lifestyle membership as well as an event space from a single flexible venue.

Following the NYC location in the Meatpacking District's famed "Little Flatiron Building", CSTM HAUS set out to get its feet wet in Miami with a pop-up atop the Faena Hotel's Bazaar Rooftop. The breathtaking views soon became the backdrop for a new kind of membership club: a bright, inspiring space that cultivated a healthy blend of powerhouse networking by day with vibrant fun by night. Events such as the fast-growing #NFTuesdays series gained substantial notoriety, leading to sponsorship from Stella Artois and Diplomático Rum.


—
A resourceful team executes under pressure
—
When COVID hit, the team sprang into action. Within 2 weeks of shutting down normal startup operations, CSTM HAUS was on its way to becoming the largest maker of face shields for the City of New York and its hospital system.
---

---
Despite the largest supply chain disruption since WWII (and never having never made a single face shield before) the team built a global supply chain of materials in 2 weeks, and designed a best-practice product that would become the standard across the remaining NYC suppliers. Over the next 5 months, CSTM HAUS hired and employed 90 local workers, purchased enough elastic to wrap around the island of Manhattan 14 times, cut through 340 TONS of plastic, turned the Meatpacking District's sexiest corner into a shipping depot, and hand-manufactured 1.7 million face shields.
Upon completion, CSTM HAUS had fulfilled a total of 4 orders for the City of New York, representing 36% of all face shields supplied to NYC front-line responders. Our HAUS Pup Chili was featured in the New York Times. It was the most fulfilling thing we've done in our lifetime. And with ArkHAUS, we're going to do even more.