Investing in crypto successfully is challenging
There has been an explosion of crypto assets in the DeFi, Metaverse, and NFT space; but investing, managing, and understanding it well continues to be difficult.
Investors need to vet thousands of protocols, constantly follow an ever-changing technology landscape, and trade against sophisticated investors with access to proprietary research and trading tools.
Ember is leveling the playing field for retail investors by offering crypto indexes and hedging strategies previously only available to elite investors.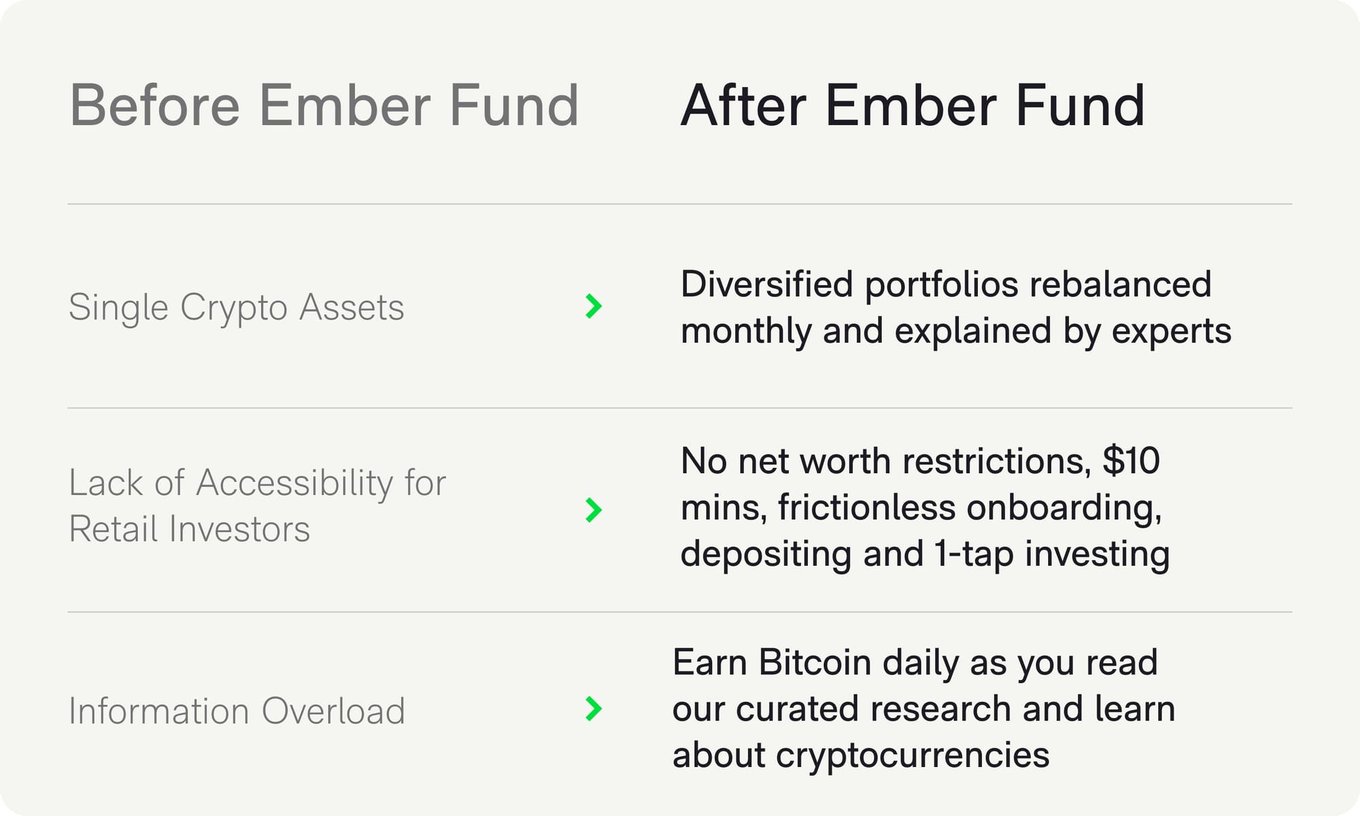 Ember Fund:
the smarter way to invest
Ember Fund is a leading, global mobile app that allows users to easily invest in crypto portfolios with just a few taps.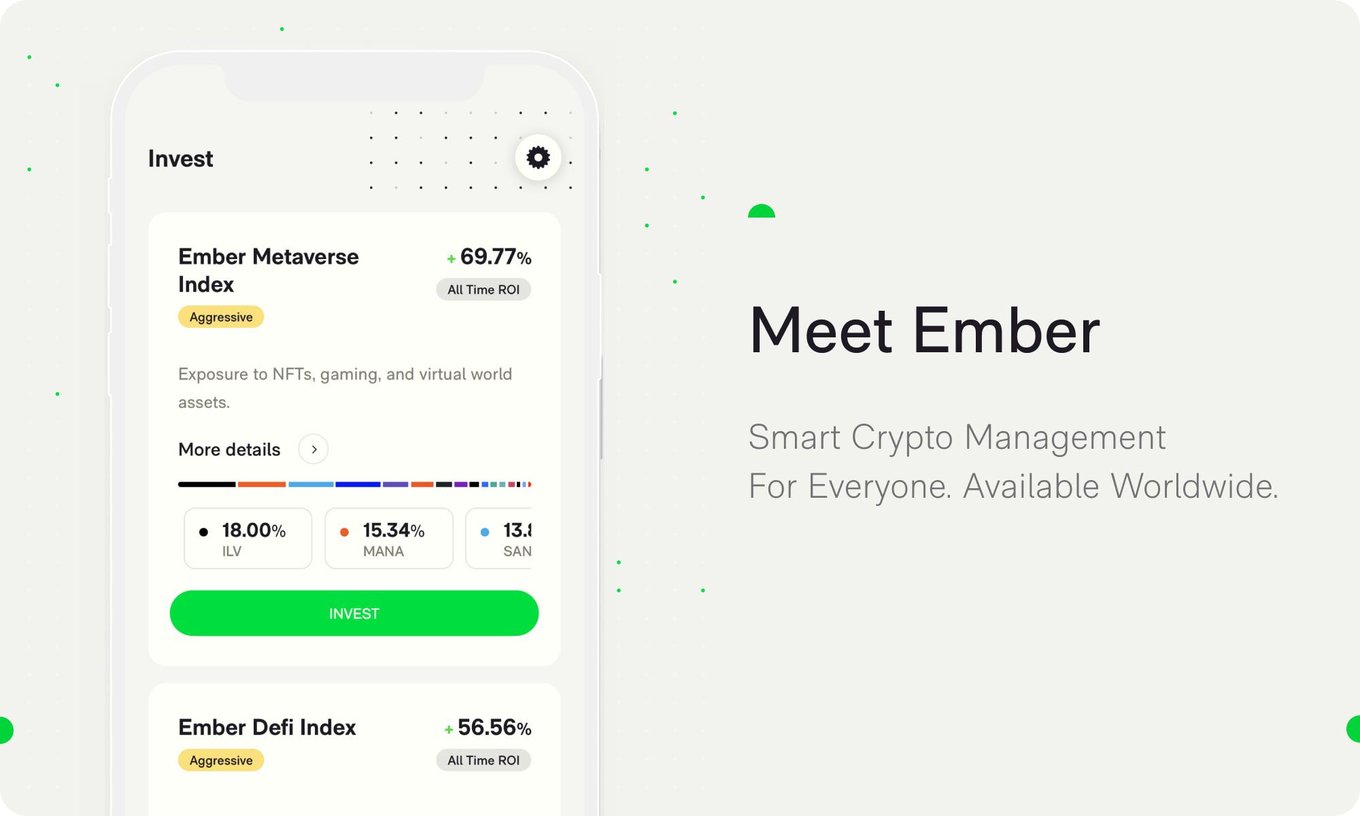 How it works
Crypto is hard. We make it easy.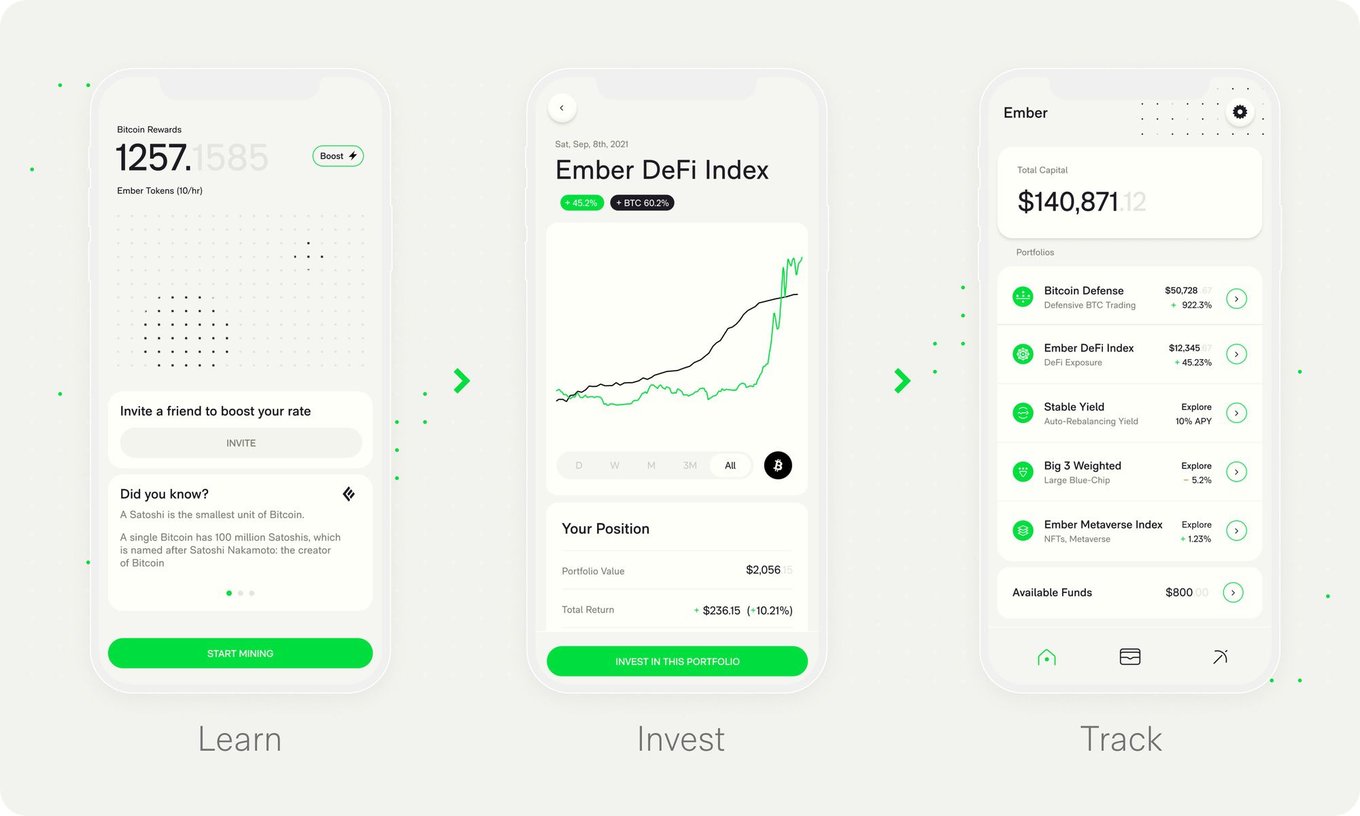 Designed with a focus on performance, security, and usability
High-performance portfolios
We've curated and constructed high-performance portfolios, including an algorithmic quantitative trading Bitcoin fund, a Metaverse Index, DeFi Index, Yield Farming on stablecoins, and an NFT portfolio launching in 2022. These portfolios are rebalanced monthly.
One-tap investing
Avoid buying coins on different exchanges and funding them through different wallets. Save time and money by investing in a portfolio of the top coins by sector in one tap. Ember supports connections with your bank account, credit card, Coinbase, external wallet, and Apple Pay.
Low minimums
Invest with as little as $10, add additional funds, and liquidate your portfolio at any time with just one tap. Automatic recurring deposit functionality is on the roadmap.
B2B2C channel
Wealth advisors and investment managers can easily create their own custom crypto strategies for their clients to invest in. Utilize Ember's in-app marketing tools to drive even more AUM and referrals. We've successfully piloted a number of asset managers on our B2B2C platform, and plan to scale into the hundreds of millions of AUM in the next year.
Artificial Intelligence
Ember has partnered with Mage.ai to build multiple machine learning models that personalize the Ember app experience for each investor.
Best-in-class technology
Cutting-edge smart contracts for cost-effective and seamless trade execution with deep liquidity. Access fully collateralized and tokenized crypto baskets without paying exorbitant gas fees.
Explosive new user growth
We recently launched a viral referral program, resulting in each user referring 4+ new users. We're acquiring thousands of new users a day and it's growing fast.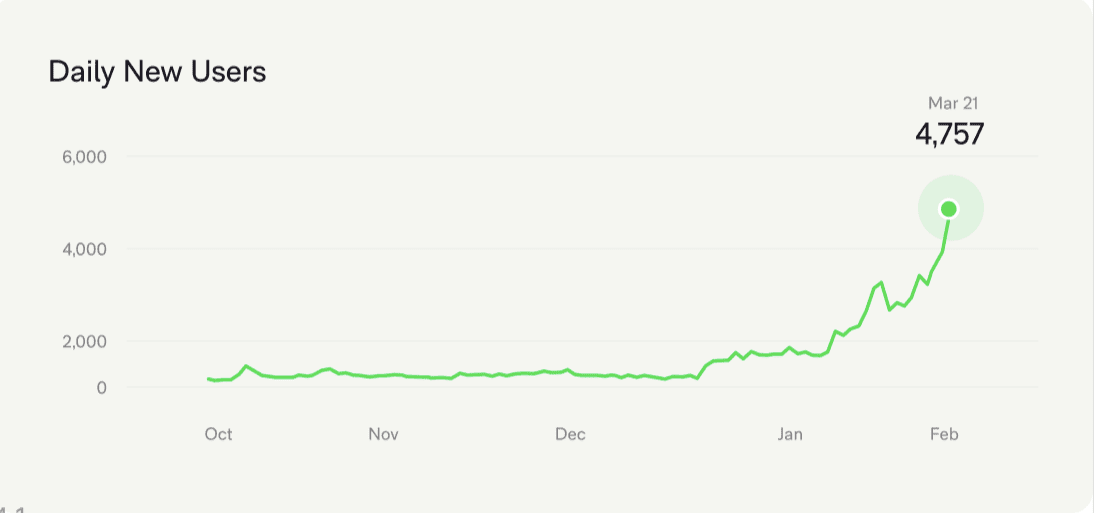 Most of these users are opening the app 6-7 times per week, catapulting our daily active user growth.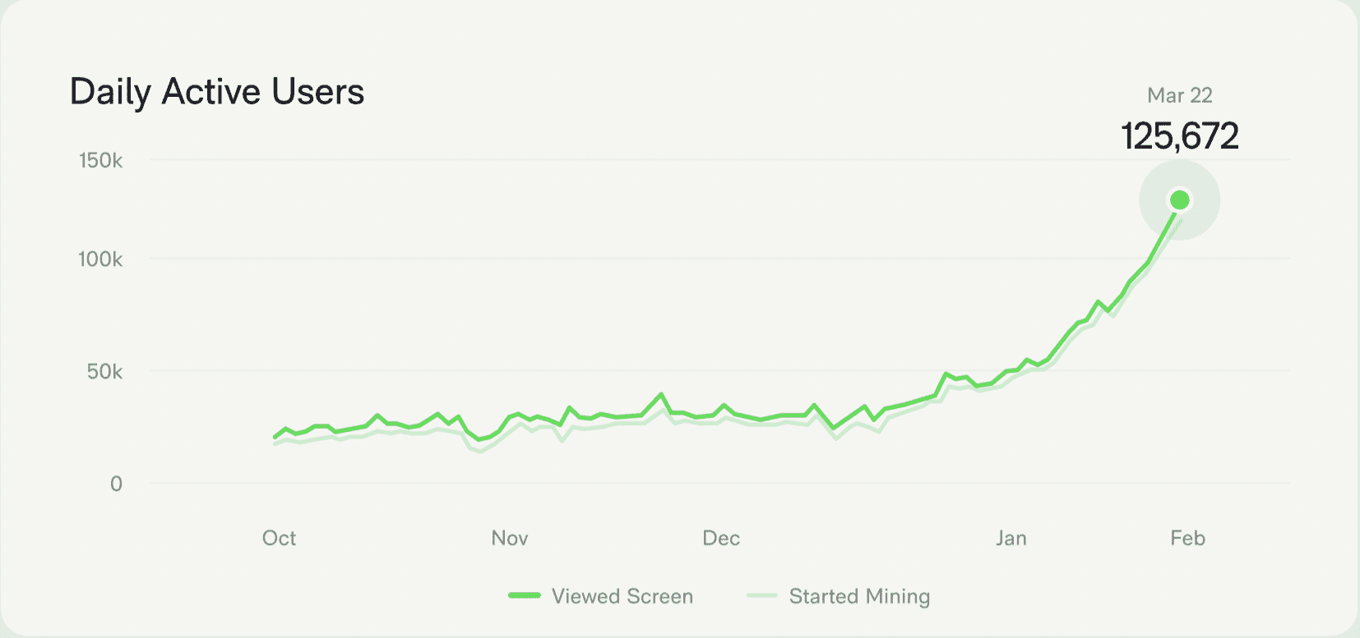 With our new lower minimum investment requirement, the number of investment purchases have grown by 5x. This metric will continue to grow as we layer on more portfolios, implement retention marketing strategies, and offer automatic recurring deposits to enable dollar-cost averaging.
The 3/6/12-month AUM retention rates were 121.9/124.8/228.2% for 2021. Invested user retention is over 80% after 12 months. This means people are investing, sticking around, and investing more.
—
Media
We've been covered by various publications:

User referral & open app rates as of March 2022; investment purchases growth & invested user retention as of Feb 2022.
Users love Ember Fund
4.5+ star rating on both Android and iOS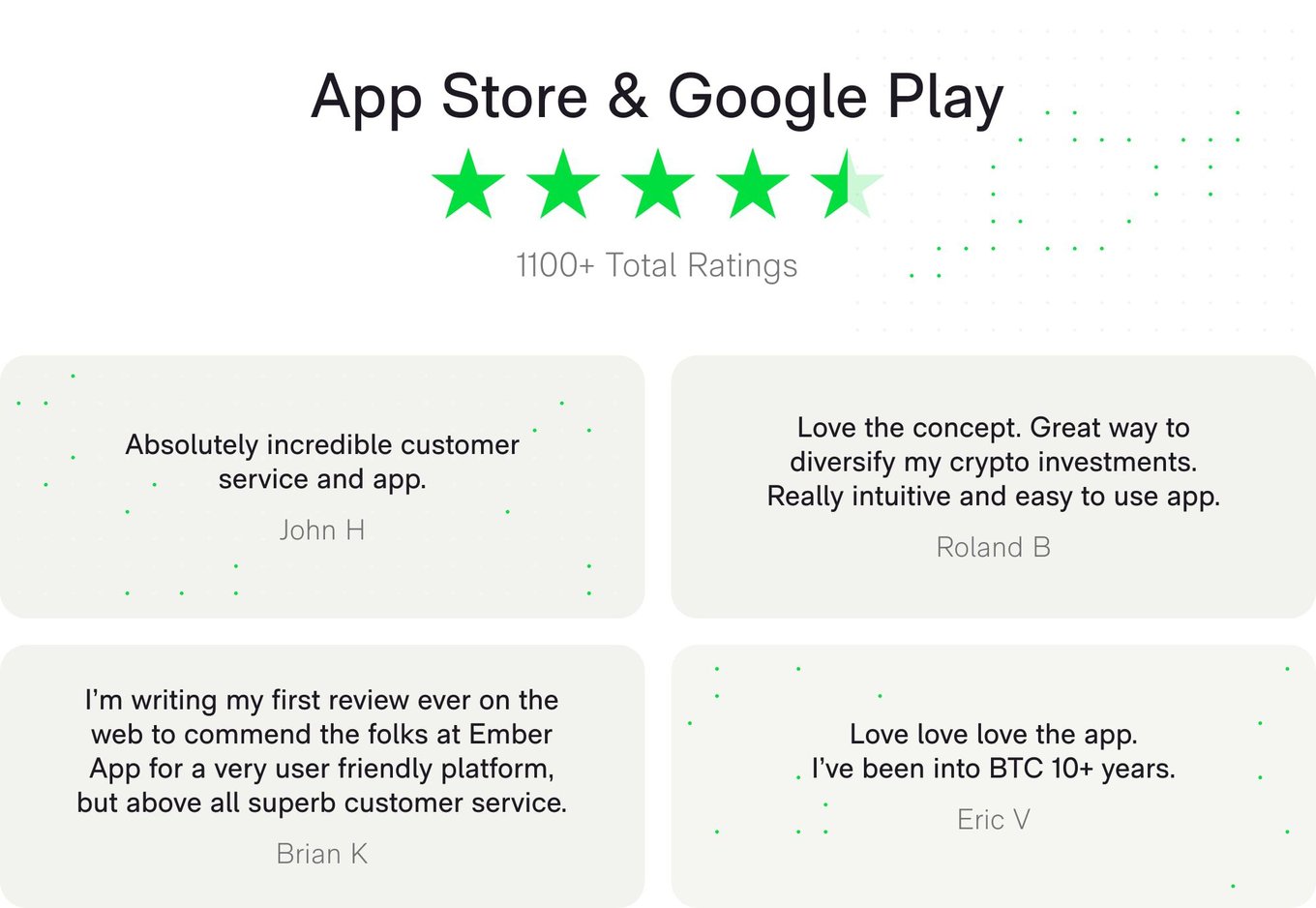 On our B2B side, we recently launched a partnership with Evite.com. 100M users can now gift an Ember portfolio to a loved one in just a few clicks. We've also filed a joint provisional patent with Evite.
3–4% on AUM
Our margins are over 90%. Most of the direct costs associated with our revenue are simply hosting costs, which are minimal.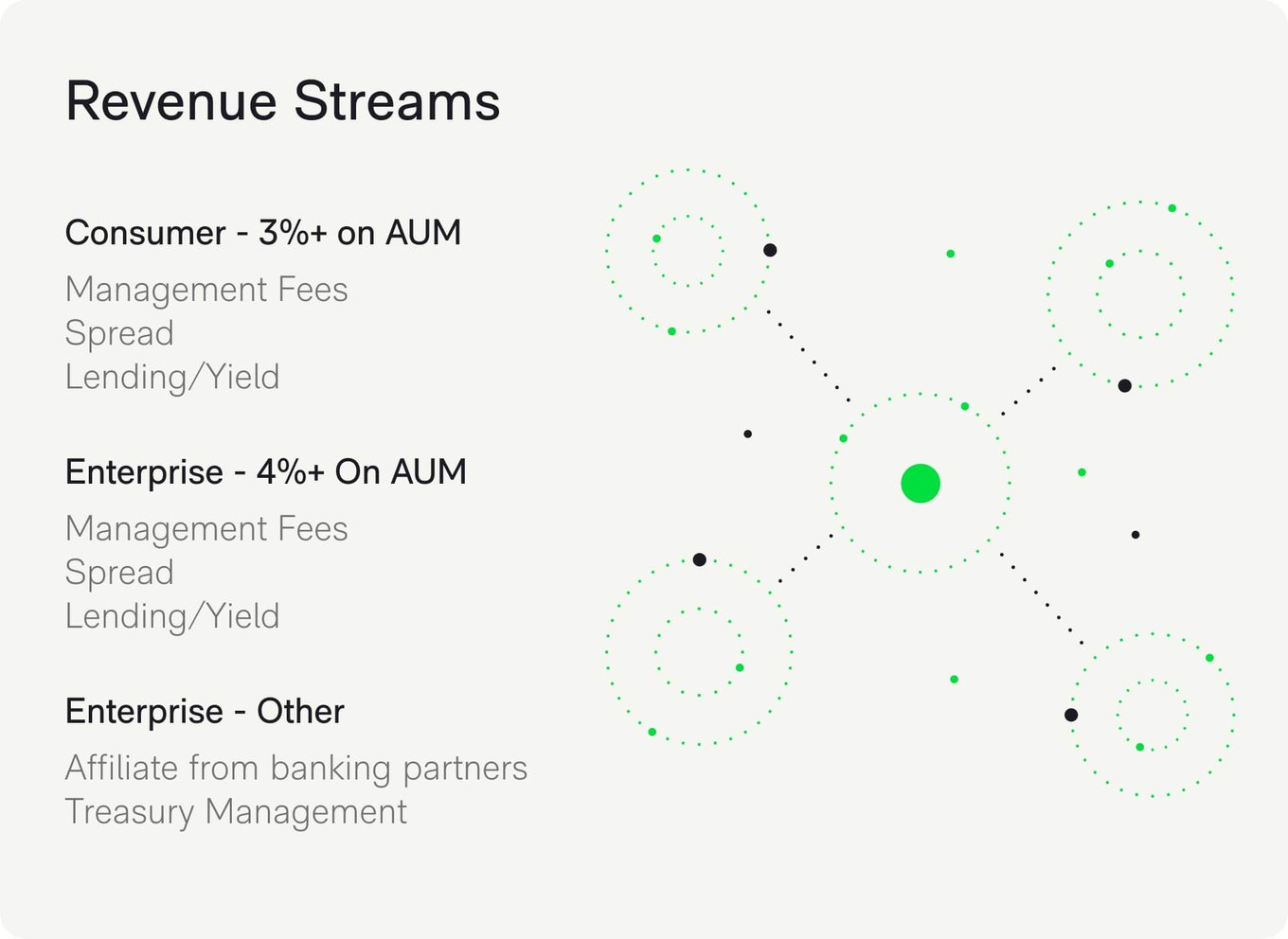 Margins as of March 2022
Rapidly growing $120B+ addressable market
The crypto market as a whole has increased significantly over the past years. The global crypto market cap grew from $100B in 2019 to $1.5T in 2021. Crypto fund, crypto venture capital investing, and index investing comprise almost 10% or $120B of the market, but is only currently available to institutional investors.
While exchanges like Coinbase and Gemini have introduced retail investors to single coin trading, we believe that diversified portfolios and indexes will dominate the crypto investing landscape, akin to the popularity of mutual funds and indexes in equities markets. 45.7% of Americans are invested in a mutual fund, while only 14% are invested in a single stock.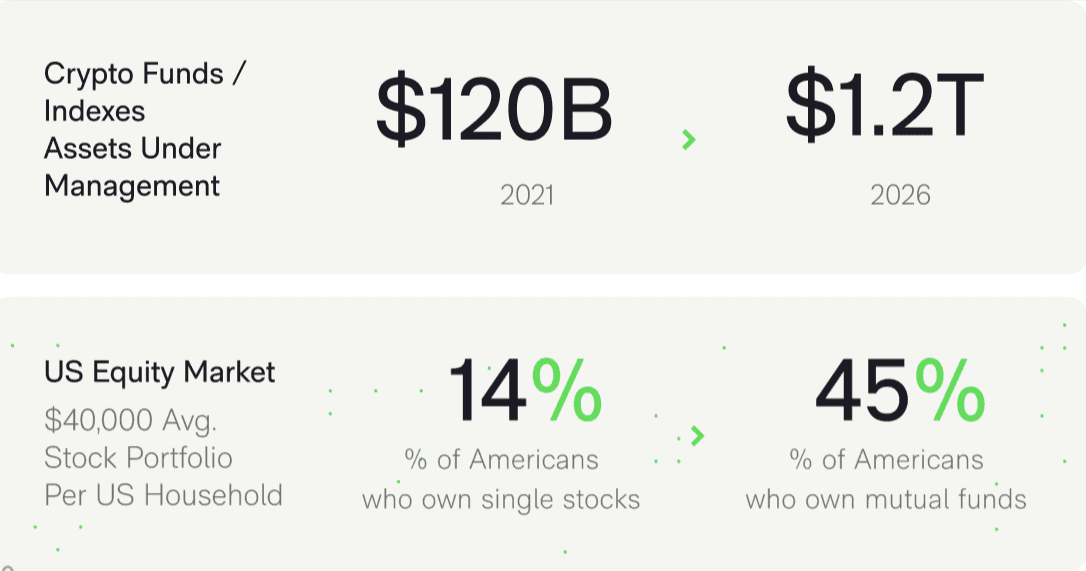 The number of people with a Bitcoin wallet is rapidly growing.

A paradigm shift is happening
Crypto as an asset class continues to be validated by skyrocketing market caps. Retail investors are moving to mobile investment platforms, while the explosion of new innovative crypto products remains inaccessible to the masses. Ember aims to scale its DeFi investment platform across millions of smart phones.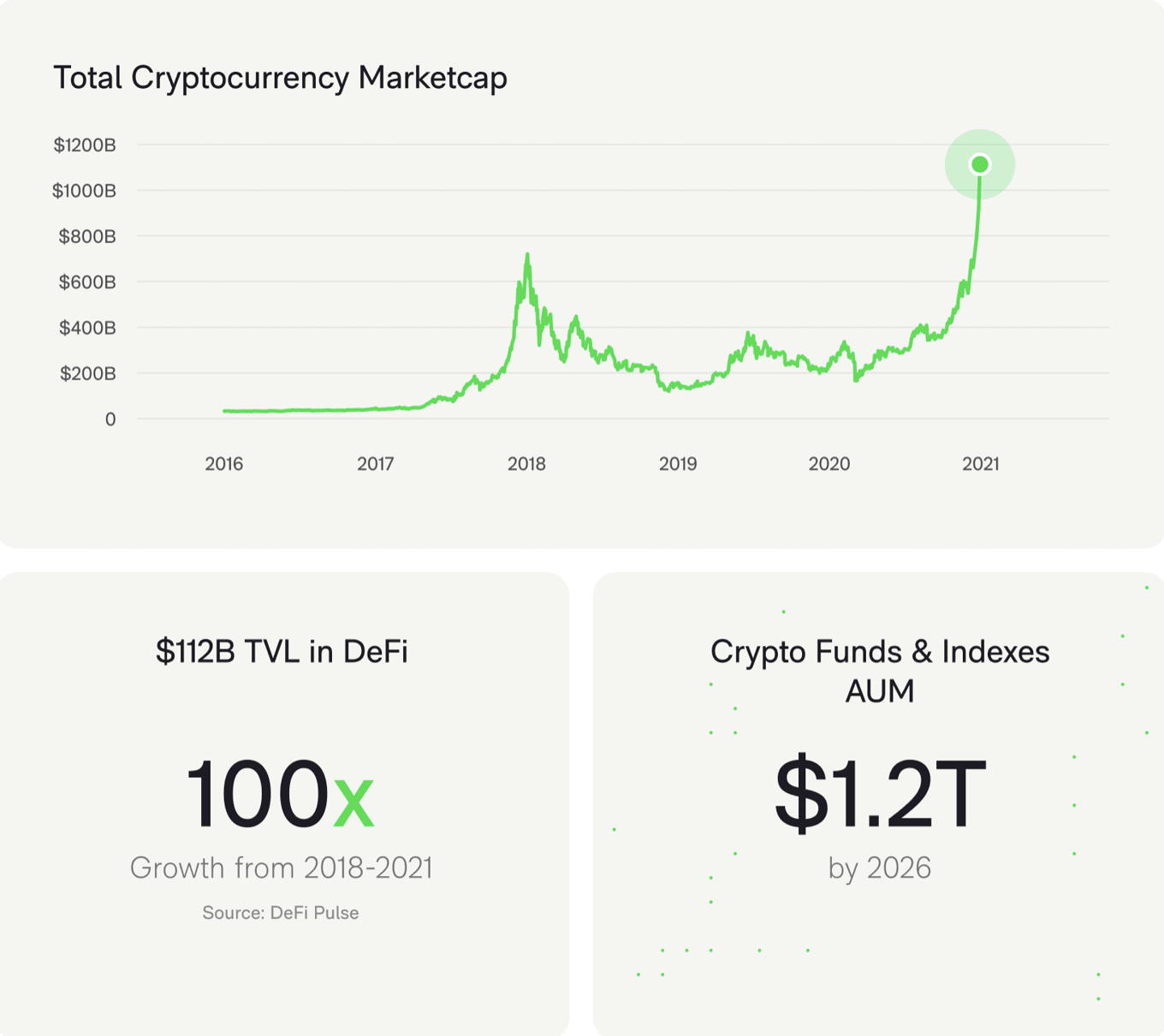 First to market
with a 3-year head start
We started building in 2018. Ember has a massive head start on building the technology, brand and community.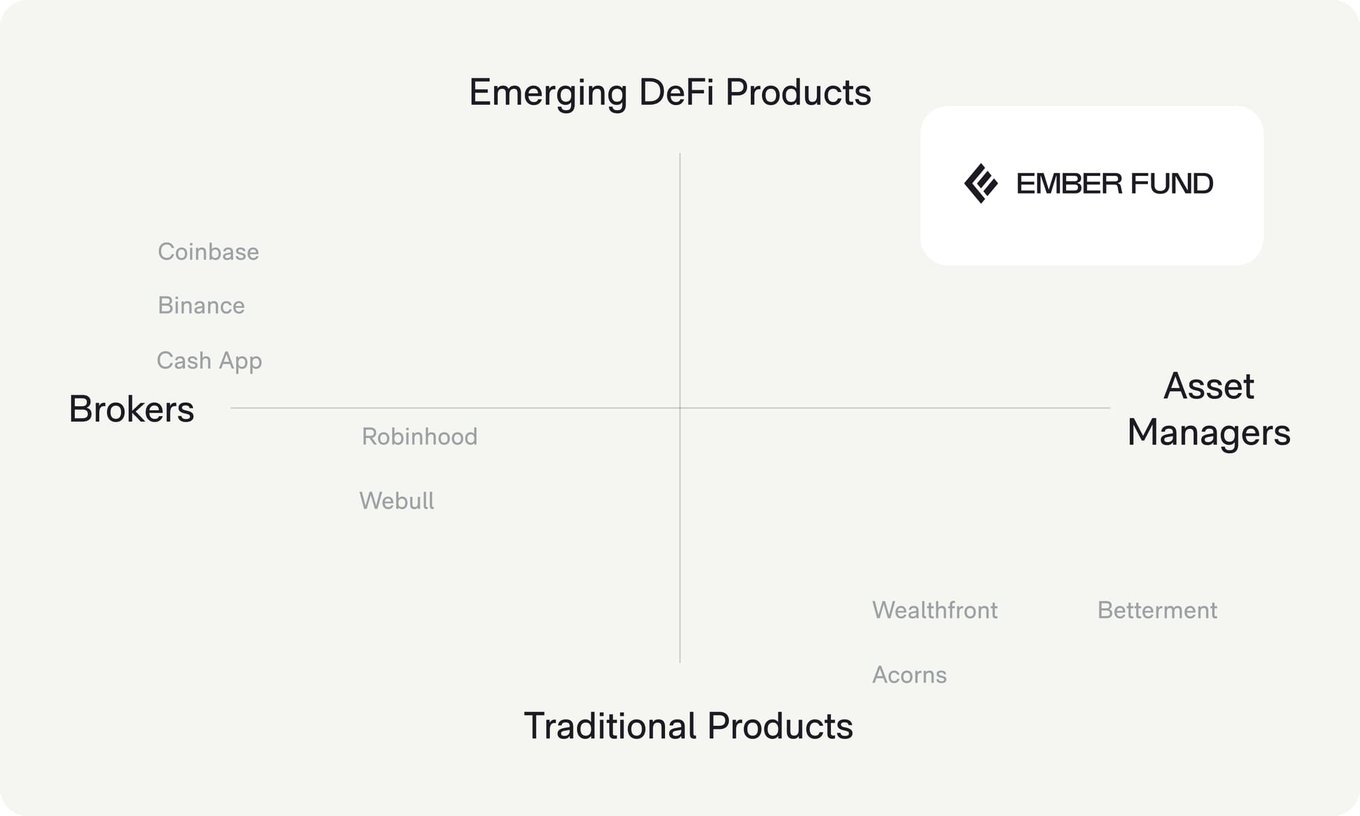 Build product & scale
Our vision is to be the investment platform for crypto.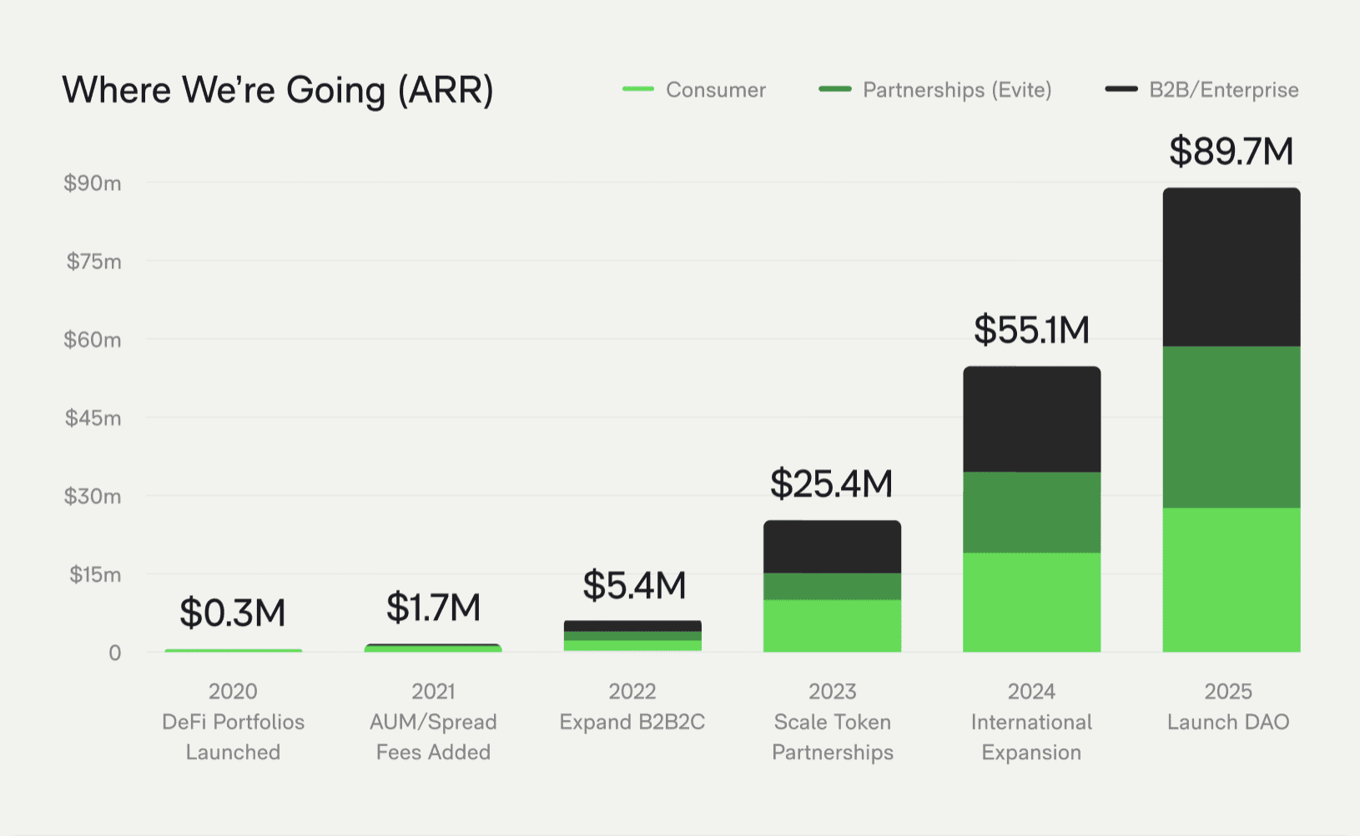 There is a massive paradigm shift happening. Inflation, record-low interest rates, and distrust in legacy financial institutions / governments is resulting in record outflows from assets like gold and fiat into crypto native assets.
Ember is in a strong position to become the dominant platform for retail investors globally to invest in cryptocurrencies and cutting-edge cryptocurrency assets.
Consumers around the world are beginning to demand diversified and hedged investment products that are user friendly and drive higher, risk-adjusted returns. Ember has spent 3 years building and delivering a product that meets this need. We've found product market fit and now it's time to aggressively scale.
We want to do this through two business units:
Direct to Consumer - Become the next generation global tech-enabled Vanguard for crypto. Unlike legacy fintechs, we'll be able to tap into the 50% of the population that is unbanked or underbanked, and allow access for billions of retail investors around the world to institutional-grade products.
B2B2C - Leverage the proprietary technology platform we've built to allow other elite investment managers to distribute their portfolio through an award-winning mobile experience. The end goal is to scale this to hundreds of managers, each with $50M to $100M in AUM.
We're a highly technical team with decades of combined experience in machine learning, data engineering, and smart contracts. We want to build a full-stack automated crypto investing experience that will allow users to earn, educate, and invest in the easiest way possible.
Backed by leading VC firms
Ember has raised over $6M from top VC firms in the consumer and crypto space. We also have individual investors like: Brian Dilley (ex-CTO of Blockfolio and Tiktok), Honey/Paypal executives, Ying Lee (ex-Kleiner Perkins), Richard Jun (BAM.VC), David Yeom (CEO of Evite.com) and a top 30 market cap blockchain.

Strong founding team with AI/ML & smart contract experience