The mortgage industry is stuck in the past
The home buying experience is fragmented for consumers, and they are often left more confused than when they started. The mortgage industry is one of the few industries where companies provide almost zero educational content to help consumers make an informed decision about their financial future.
Additionally, there is a large subset of consumers who are left behind due to low credit scores, derogatory credit events, significant student loan debt, or are unable to qualify for a target home purchase price for their respective market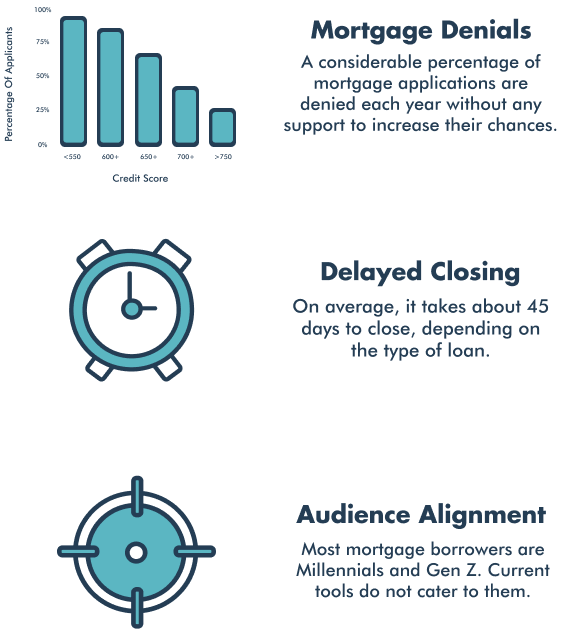 Rethinking the way we prepare and apply for mortgages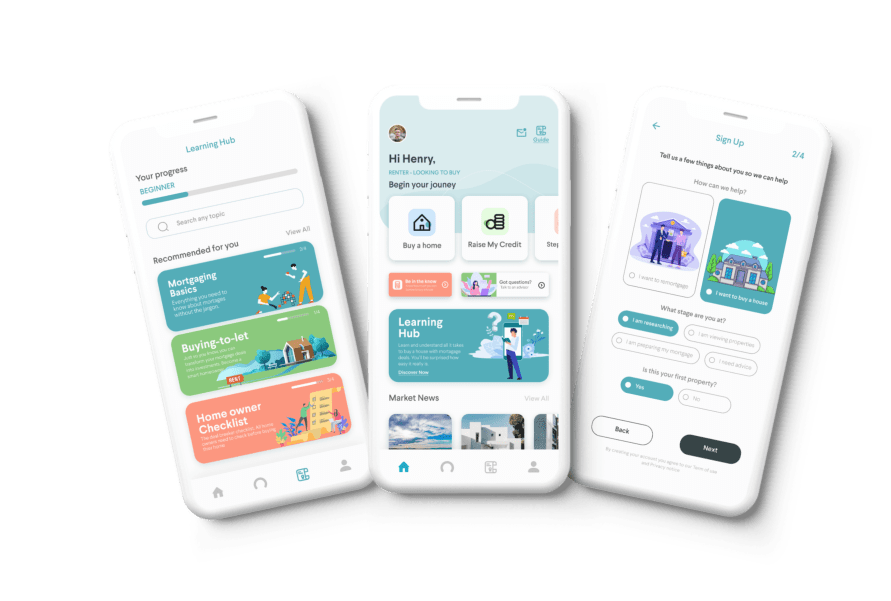 We are developing a mobile app where anyone who is looking to buy a home—whether in a few months or a few years—can be empowered with the knowledge of how a mortgage works, how to qualify for a mortgage, and even receive insights on how to increase your buying power.
In other words, all of the things you're reliant on a Loan Officer for today, you will now have in the palm of your hand. Some features will include:
Credit monitoring, which will provide insights on how to improve your credit, which debts you should focus on eliminating to improve your buying power, and even get connected with a trusted credit restoration company if you need a little extra help.
Connect with your bank account and payroll provider to create budgeting goals based on your take home pay and lifestyle.
Gamified educational content to empower you with knowledge to "be your own Loan Officer". There will also be rewards provided for "leveling up your knowledge".
—
Differentiators
Each Epoch subsidiary offers unique products related to real estate
Epoch Lending: consumer mortgages.
Epoch Property Transfer: title insurance & settlement services.
Epoch Insurance: property & casualty insurance.
EpochTech: innovative white-label solutions for brokers, banks, financial companies, and consumers.
Current Epoch Tech offerings:
LO Metrics Portal: commission calculation software we're releasing in waves to other brokers and banks on a subscription basis.
In development: educational platform for borrowers.
We funded 917 loans for $274M in 2021
Through Epoch Financial Group's wholly-owned subsidiary Epoch Lending, we're already a well-established mortgage brokerage providing expert knowledge to consumers throughout the United States looking to buy or a refinance a home.
—
Loans funded over 3 years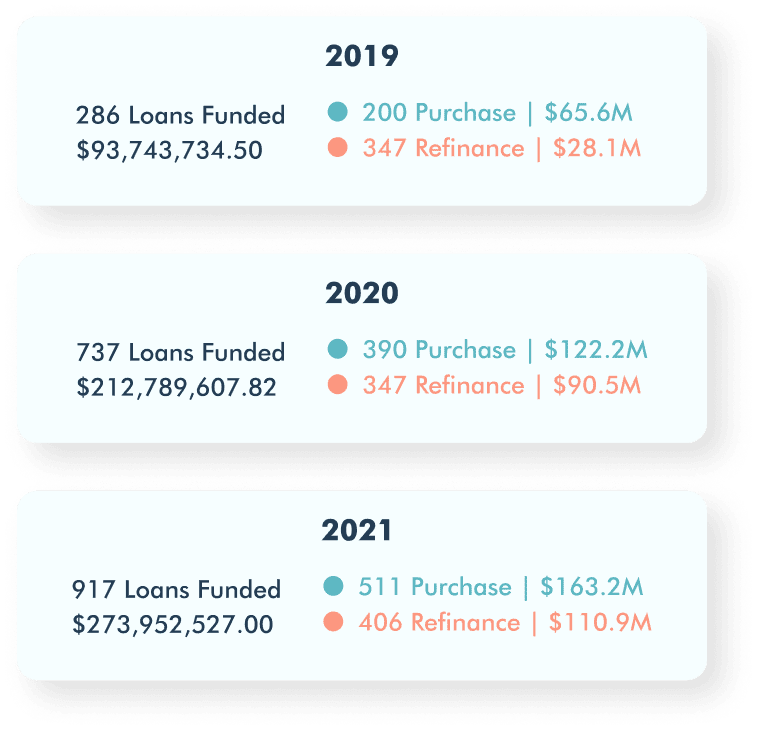 2019 to 2020
127% growth in dollars funded
158% growth in number of loans funded
2020 to 2021
Projecting 29% growth in dollars funded
Projecting 24% growth in number of loans funded
Empowering young homebuyers during a competitive housing market
Nationwide, 59.6% of home offers written by Redfin agents faced bidding wars in December 2021, the lowest share in 12 months
Millennials love our educational empowerment tools so that they can better compete in this highly competitive housing market
Millennials accounted for 67% of first-time home purchase mortgage applications in the first eight months of 2021, according to CoreLogic
Millennials being the first generation to grow up with smartphones are both tech-savvy and accounted for more than half of home purchases in 2020. This makes them the perfect adopters of our product.
Home purchases by young millennials, or those in their 20s and early 30s, represented the fastest-growing segment of buyers to power the pandemic housing market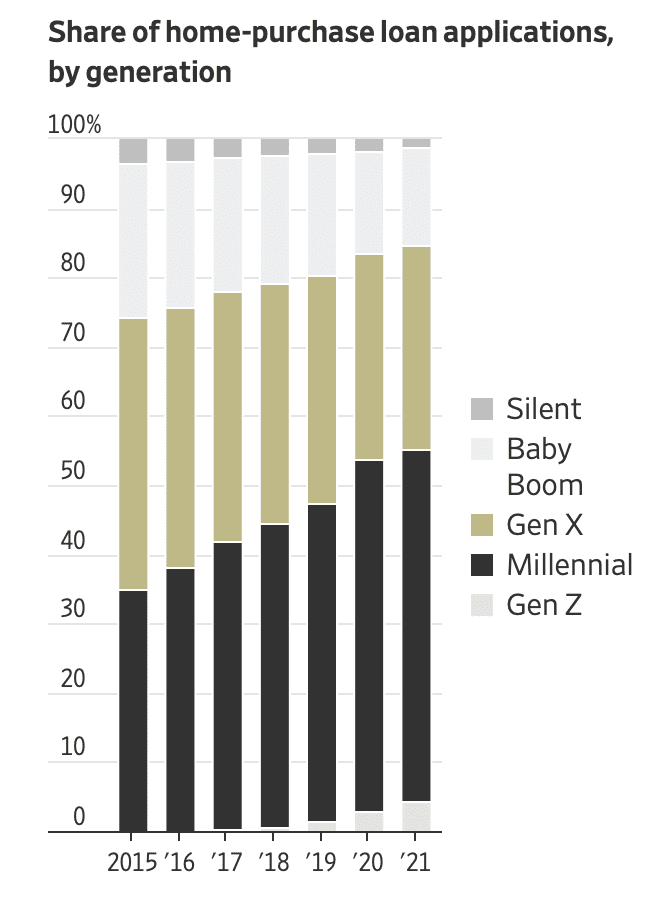 Initial go-to-market
Through Epoch Financial Group's various subsidiaries, we will provide a "one stop shop" for consumers once they are ready to purchase their home. Through this model, we will be able to provide a more seamless customer experience by understanding our customers better than our competitors.

Subsidiaries

US market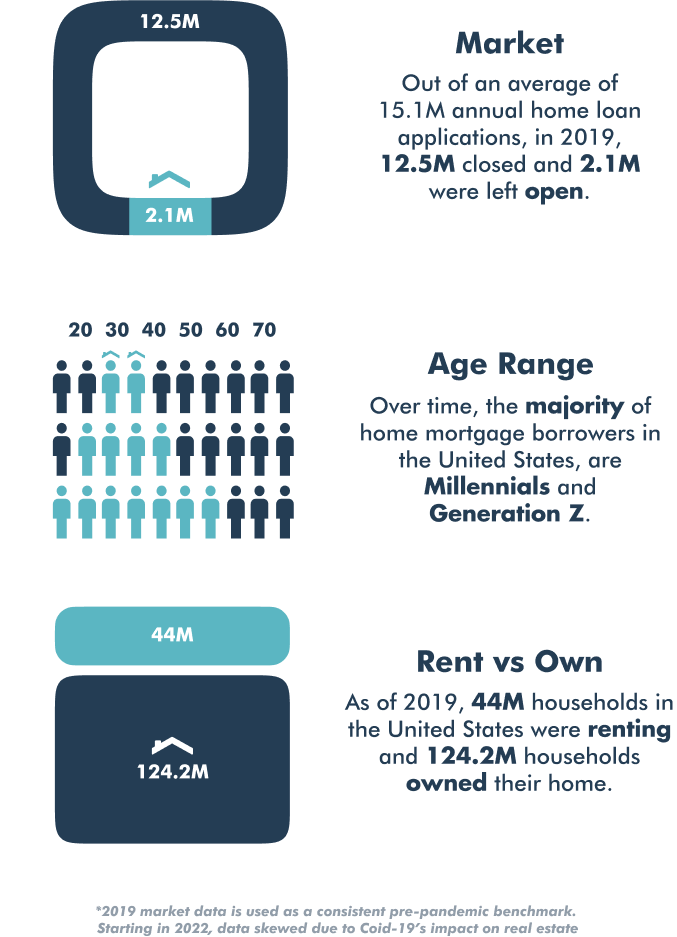 Industry-leading suite of features and services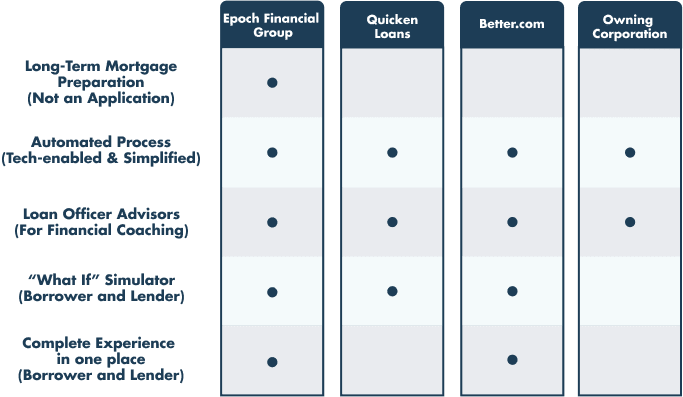 We're raising $2M
Focus: product development for tech platform
Investing in: tech operations, hiring, and launching additional revenue channels
Hire: CFO, 2 developers, financial analyst, Loan Officers, loan operations staff.
Timeline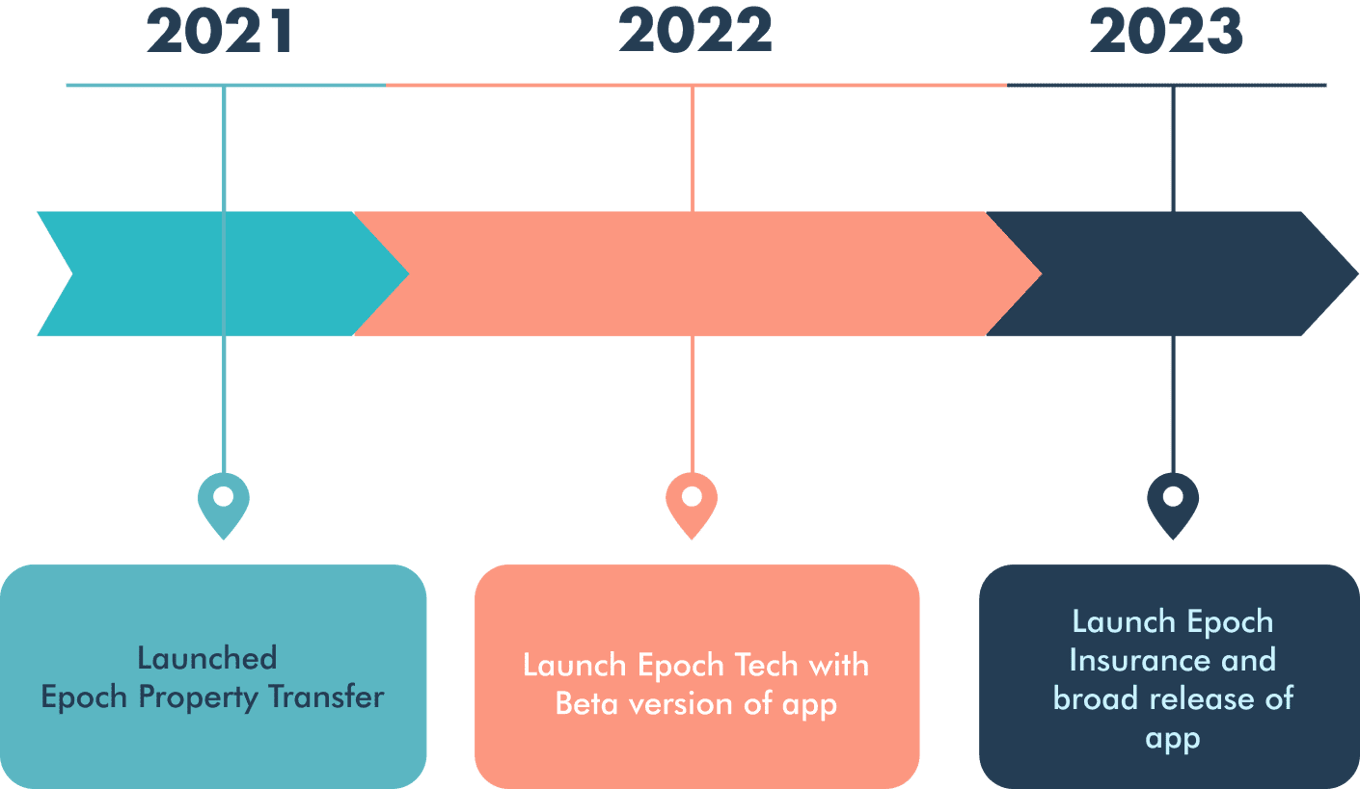 Meet our team