The problem: Growers are in desperate need of cost-effective technologies that increase productivity and reduce costs. Agriculture has lagged behind other industries in terms of automation. As a result, increasing worker shortages have led to squeezed margins. The UK alone was short of c.90,000 harvesters in 2020.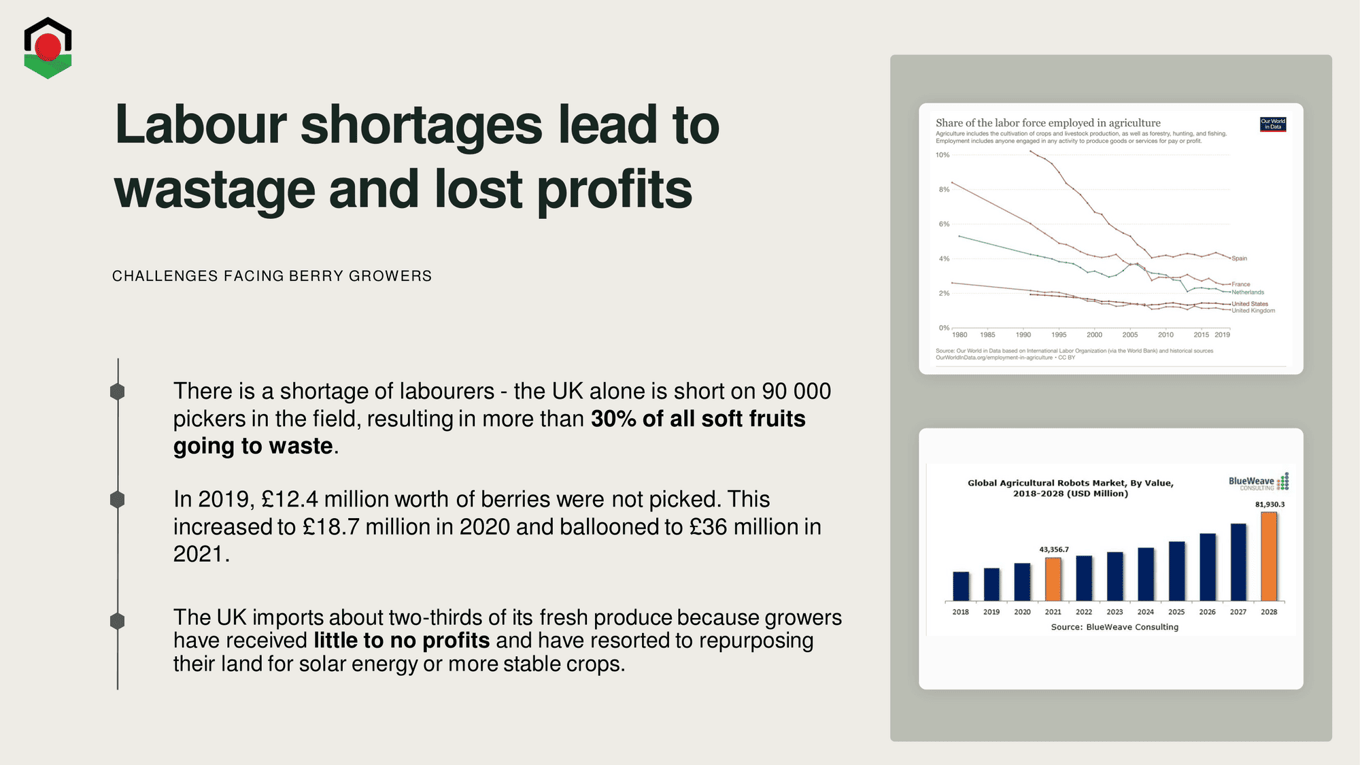 Selective and autonomous harvesting robots for raspberry and multi-crop applications
Fieldwork Robotics has developed both vertical and horizontal harvesting systems.
Vertical Harvesting
The harvesting height can be adjusted for a variety of picking circumstances, by adjusting the vertical position of the arm, the picking can be done no matter how tall or low the crops are.
These systems are being offered directly to farmers by subscription, and are facilitating Harvesting-as-a-Service solutions.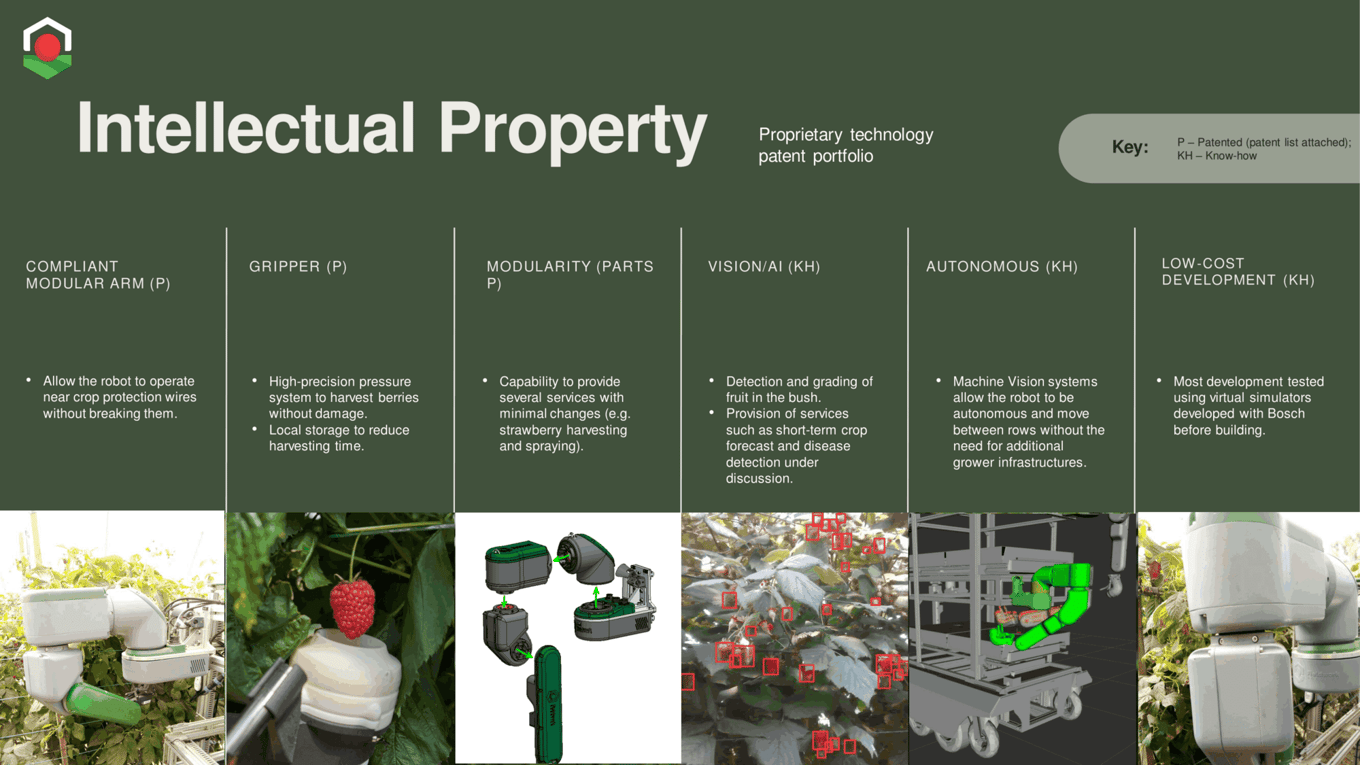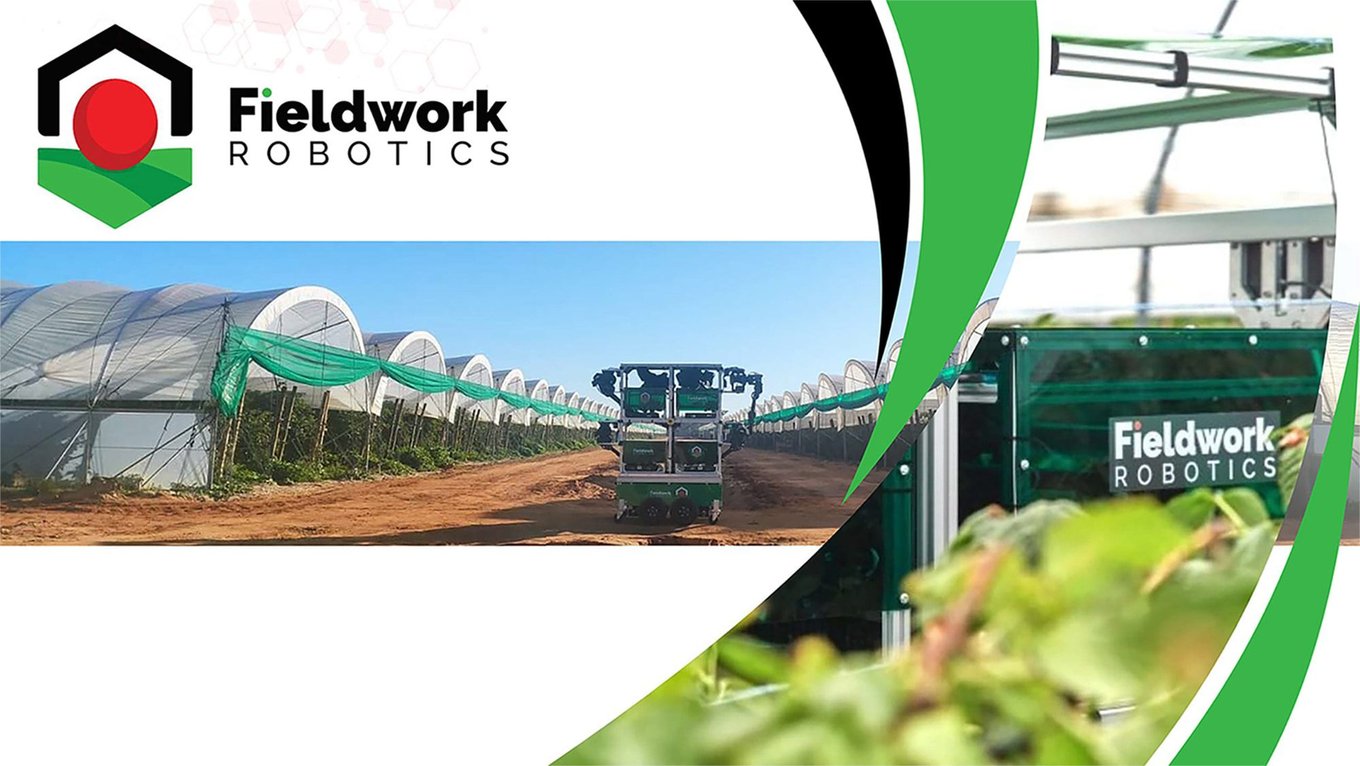 Commercial picking underway
Fieldwork's harvesting systems were deployed in January 2022 with Harvesting-as-a-Service.
First robot in field Jan 2022
First robot is in field generating real world harvesting information and picking commercially to customer specifications
Second robot in field March 2022
Improved design to deliver faster harvesting.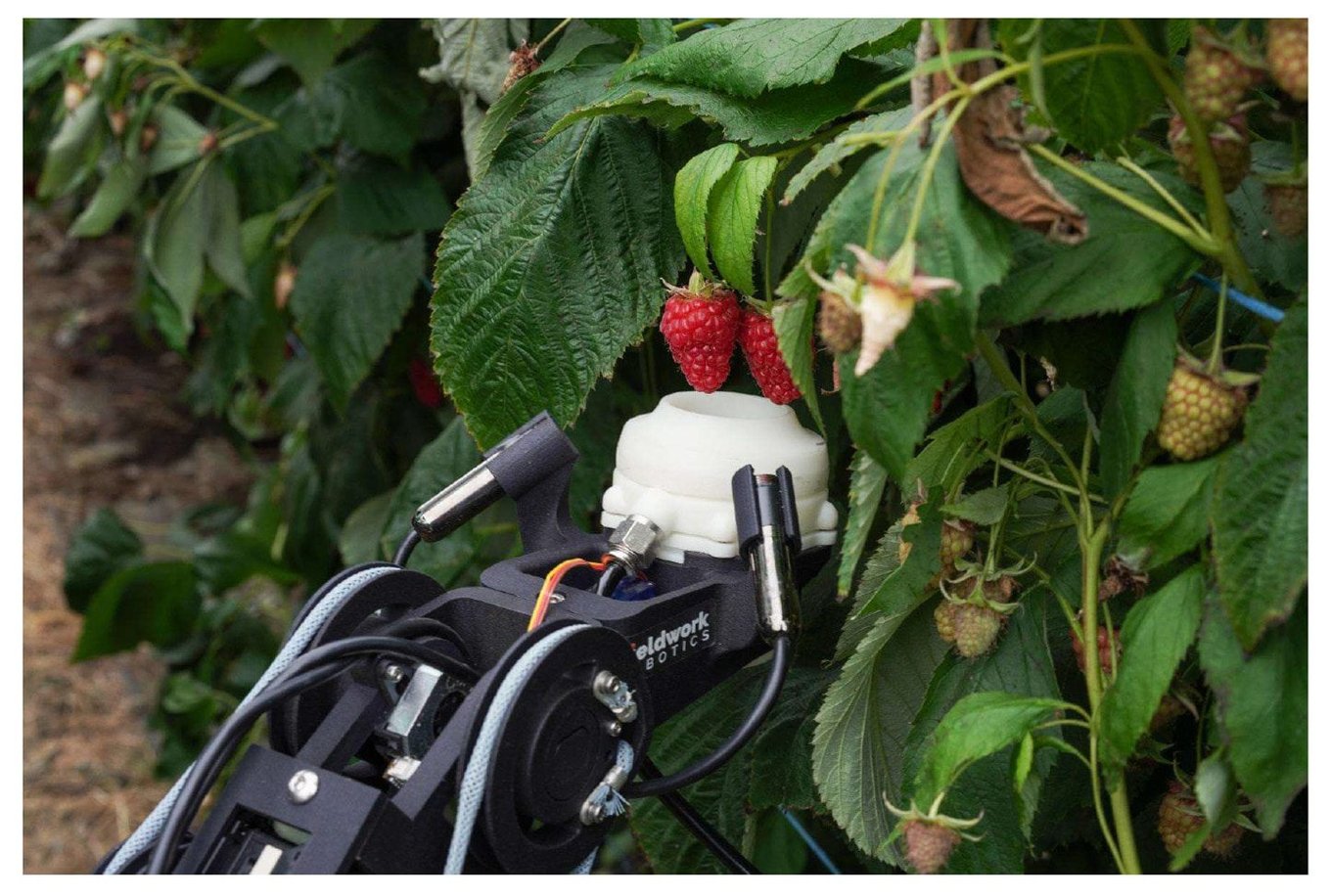 Robot carrying out Harvesting-as-a-Service in Portugal
Existing customer agreements in place for significant sales in the raspberry market
The Summer Berry Company

Lead raspberry partner, signed option agreement to buy first 100 robots. Single Portuguese facility requires 600 – 800 pickers.

Pipeline:

Agreements signed with Hall Hunter Partnership and ongoing discussions with other raspberry growers. In discussions with Driscoll's.
Monetization Strategy
Fieldwork Robotics plan to generate revenue through three core channels:
1. Harvesting-as-a-Service (HaaS)
Robot ownership will be retained by Fieldwork Robotics, the Robots will be provided to growers for a periodic charge based on the number of berries picked over that
period.The robots will require an operator provided by Fieldwork.
Presently 30% of the growers crop remains unharvested going to waste. The robot will initially pick at the same rate a typical picker can harvest, however operate on 3x shifts, providing 6 days a week harvesting capabilities.
2. Robot Sales + Maintenance
The customer gets the same product output as with the HaaS structure except the customer has ownership of the robot in this model, the benefit to both the customer; Fieldwork Robotics is long-term savings short-term cash injections respectively. Fieldwork Robotics will continue to earn recurring revenue in the form of robot maintenance.
3. Data Collection & Analysis
All Fieldwork Robotics units will continuously collect data from the crop, enabling customers to receive detailed reports on yield projections and crop maturity percentages.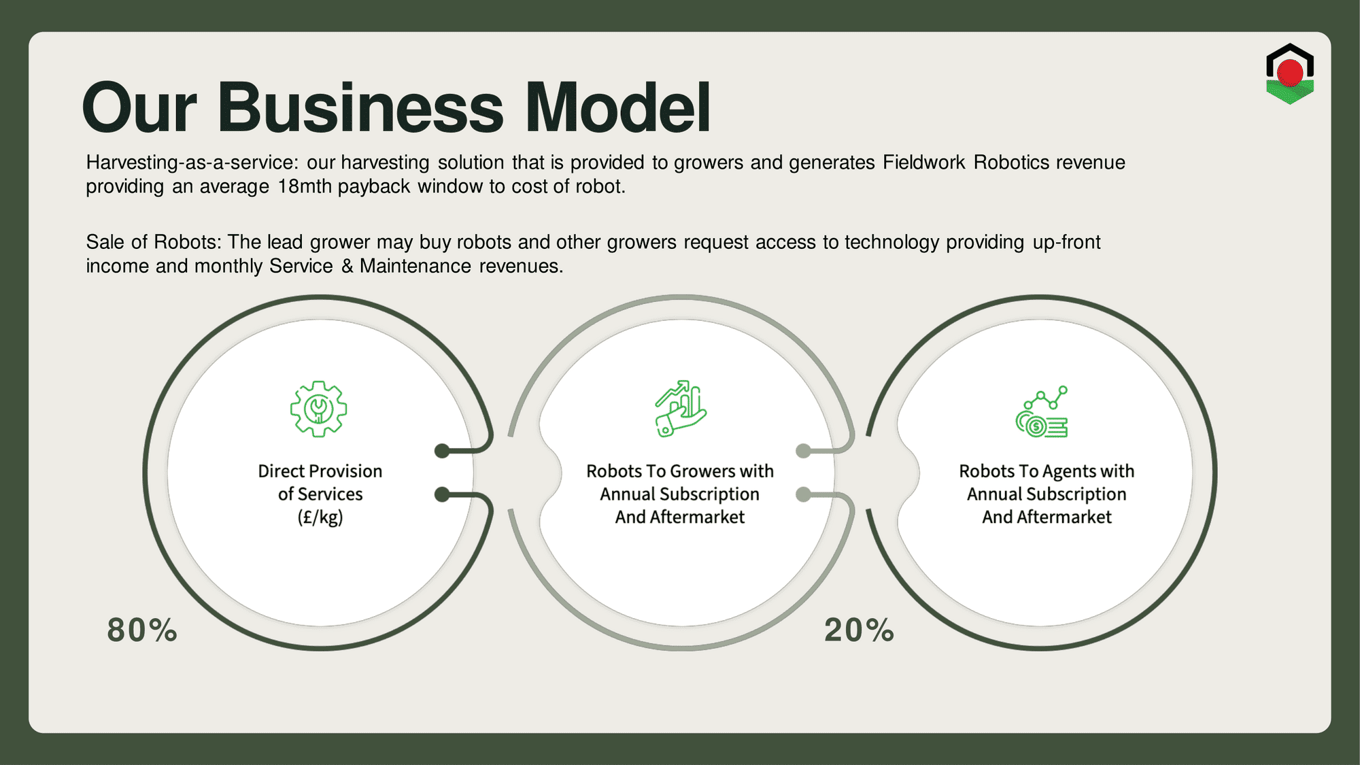 Multi-billion initial addressable market with significant further potential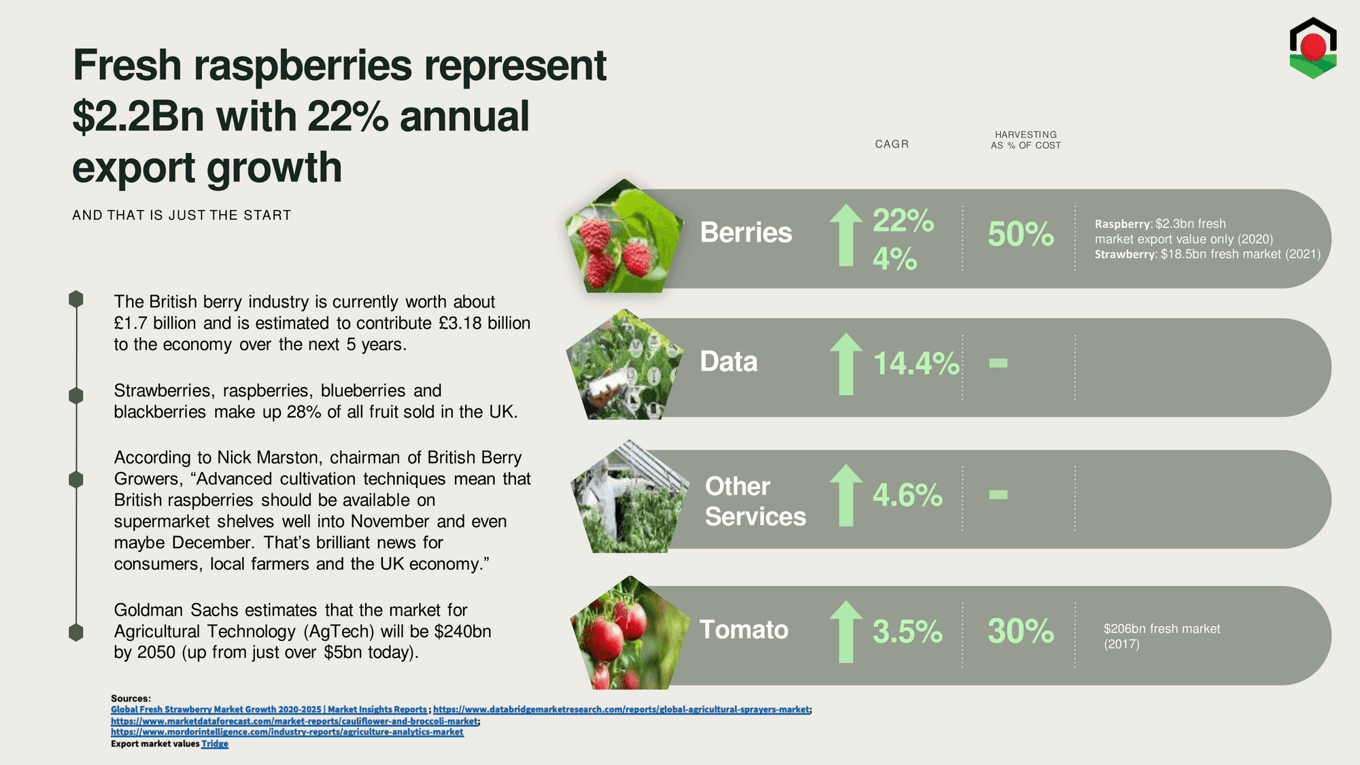 Focused on delivering cost-effective real-world solutions to grower challenges

Fieldwork is raising up to $2.4M to achieve development & team growth milestones
The company's stated use of funds includes:
Team Expansion:
Hire a part-time/fractional CFO
Increase engineering capability by hiring a team of engineers
Technology Development:
Expand Client Offering (incl. data collection and analysis)
Enhancement of existing technology
Business Development Costs/Travel Costs


Fieldwork considers a trade sale to be their most likely exit strategy, but are also planning for other contingencies.
Trade Sale to Automotive OEM
Players entering the agritech space
Denso acquisition of Certhon in April 2020 (undisclosed amount)
Trade Sale to Tractor Manufacturer
Several players active in the field
Kubota investment in apple harvesting companies Abundant Robotics (2020) and Tevel (2021)
John Deere acquisition of Blue River Technology for $305m (2017)
Listing
List on AIM or NASDAQ
Possible but less likely, no agritech robotics companies have listed to date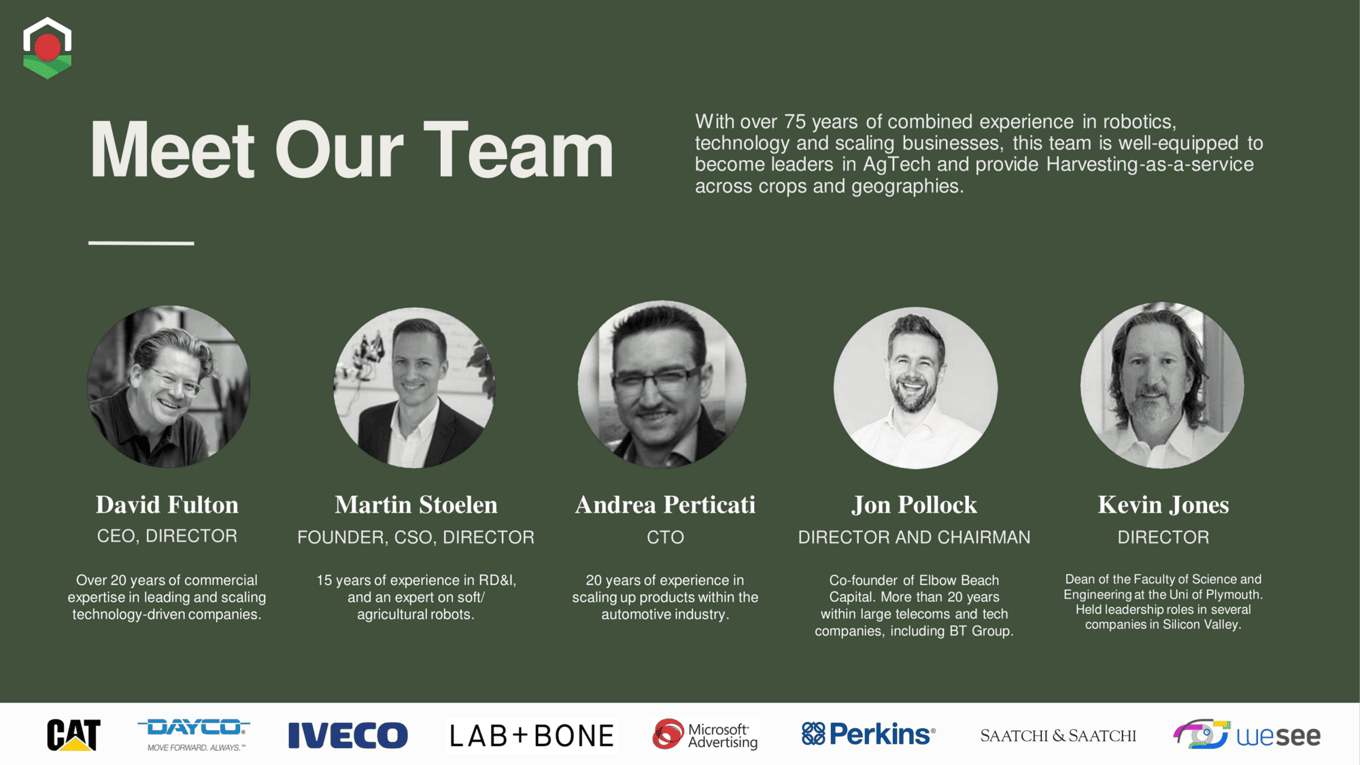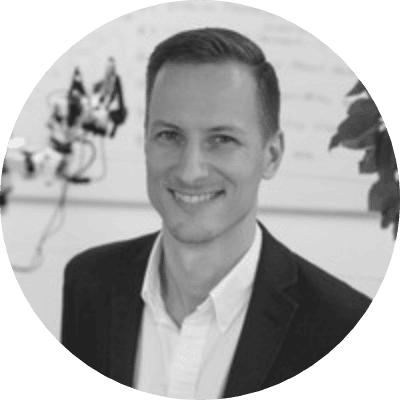 Martin Stoelen
Founder, Director and CSO
Dr. Martin Stoelen is the academic Founder and Chief Scientific Officer of Fieldwork Robotics Ltd. The company was setup in 2016 based on his research on robust and selective robotic systems for harvesting in horticulture. He has an academic position with the Western Norway University of Applied Sciences, which collaborates closely with the company, and where he helps lead an advanced robotics laboratory. He has extensive experience in RD&I from the US, Spain, UK and Norway, and has secured significant grant and private funding for his work. He has multiple engineering degrees across aerospace, electronics and robotics, and lectures at Bachelor, Master and PhD level robotics engineering. He is a former Fulbright Scholarship recipient, and a Marie Curie Fellow.
Why Invest?
Focused on initial launch in the raspberry market with $1bn of picking costs to address, grower-centric solution targeting lower costs than human picking
Significant commercial raspberry partner already engaged — sufficient scale to underpin activities for the next 3 years
Robot is already picking raspberries to commercial standards
Potential competitors are focused on less challenging crops
Multi-task robot aims to be able to provide other value-added services and expand into other crops at minimal cost/high ROIC
Potential to deliver significant revenues and compelling value creation
In addition to the carried interest Republic Deal Room Advisor LLC is entitled to for the syndicated investments it organizes, certain principals of Republic Deal Room Advisor LLC may have a personal interests in these investments, as disclosed below. When making an investment decision please review any applicable disclosures as they represent pre-existing financial interests held by those principals of Republic Deal Room Advisor LLC.
We do not represent that the information contained herein is accurate or complete, and it should not be relied upon as such. Opinions expressed herein are subject to change without notice. Certain information contained herein (including any forward-looking statements and economic and market information) has been obtained from and/or prepared by the Company or other third-party sources and in certain cases has not been updated through the date hereof. While such sources are believed to be reliable, Republic Deal Room Advisor LLC does not assume any responsibility for the accuracy or completeness of such information. Republic Deal Room Advisor LLC does not undertake any obligation to update the information contained herein as of any future date.