Video monetization is still a missed opportunity

Rich returns for video content


To unlock the dormant value that exists in every single video view to create new audience experiences, engagements, data, revenues, and opportunities for content owners. Transforming video from being a marketing cost into a rich source of revenue and ethical data insights.
Our shared purpose – we have widespread support from the music industry for our landmark go-to-market project to build FOMO - "The Great Music Video Project."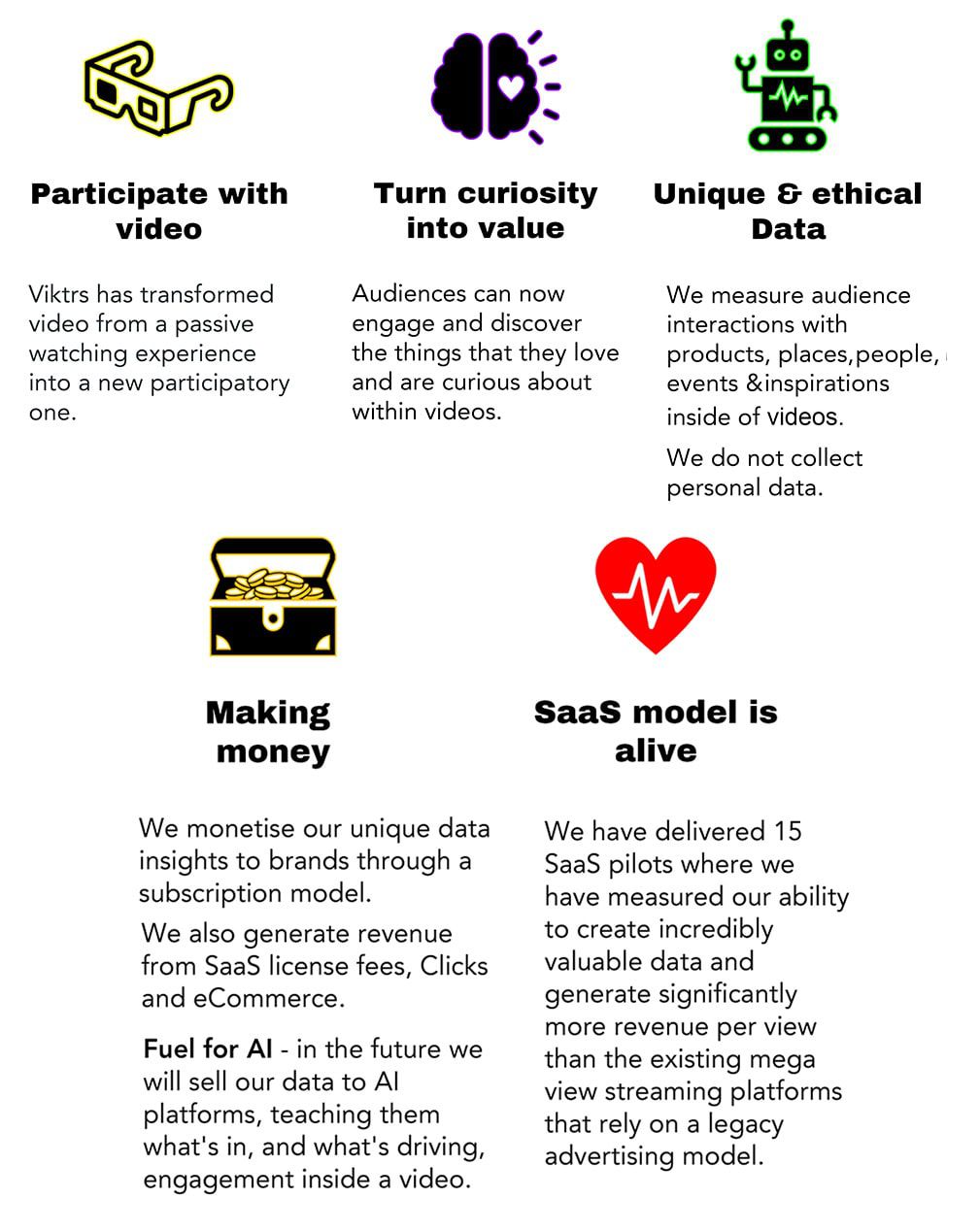 Quick video walkthrough and demo with CEO

We are LIVE and have delivered 15 live pilot projects to date.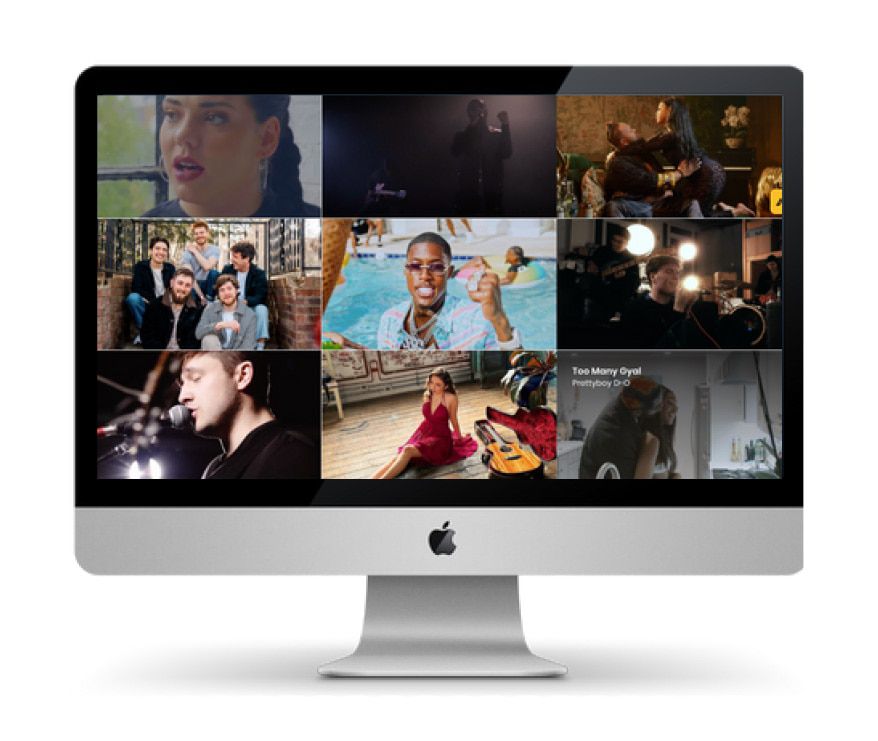 Check out all of our live pilot projects at www.viktrs.com

Check out the live Cassamigos video at www.bizkitbnb.com

We help artists make more money, create new fan experiences, and develop more rewarding brand partnerships.

Enabling fans to connect, discover and engage with:
Product
The brands, products, services and places they love
People
The people behind the music & video
Gigs & Music
The events, tickets, festivals & other content
Inspirations
The stories behind the artists/content, the charities and social impact they want to create, and the inspirations behind the art
Revenue and data from every video view
... and new experiences for audiences.
---
Data solution
---

Measuring brand ROI in video
We measure a dozen types of audience interactions with the products, brands, people, events, stories and inspirations inside a video. This unique and proprietary brand performance data is the foundation of Viktrs business.
Video engagement data is like gold dust

We are currently measuring an average of 13.7 unique interactions per view with products, brands, people, events, inspirations and charities inside a video.

Monetizing Viktrs data
This data is unique to Viktrs and our approach is to charge brands a monthly subscription to access their own dedicated brand dashboards.
Data 'fuel' for AI platforms
This engagement data can be sold to powerful AI platforms that are desperate for video engagement data to teach them what is in video and how much engagement is happening.
---
Creative solution
---
Viktrs' interactive interface allows users to browse anything they may be curious about across our 4 tabs. This enables us to effectively solve curiosity with anything inside a video.

Products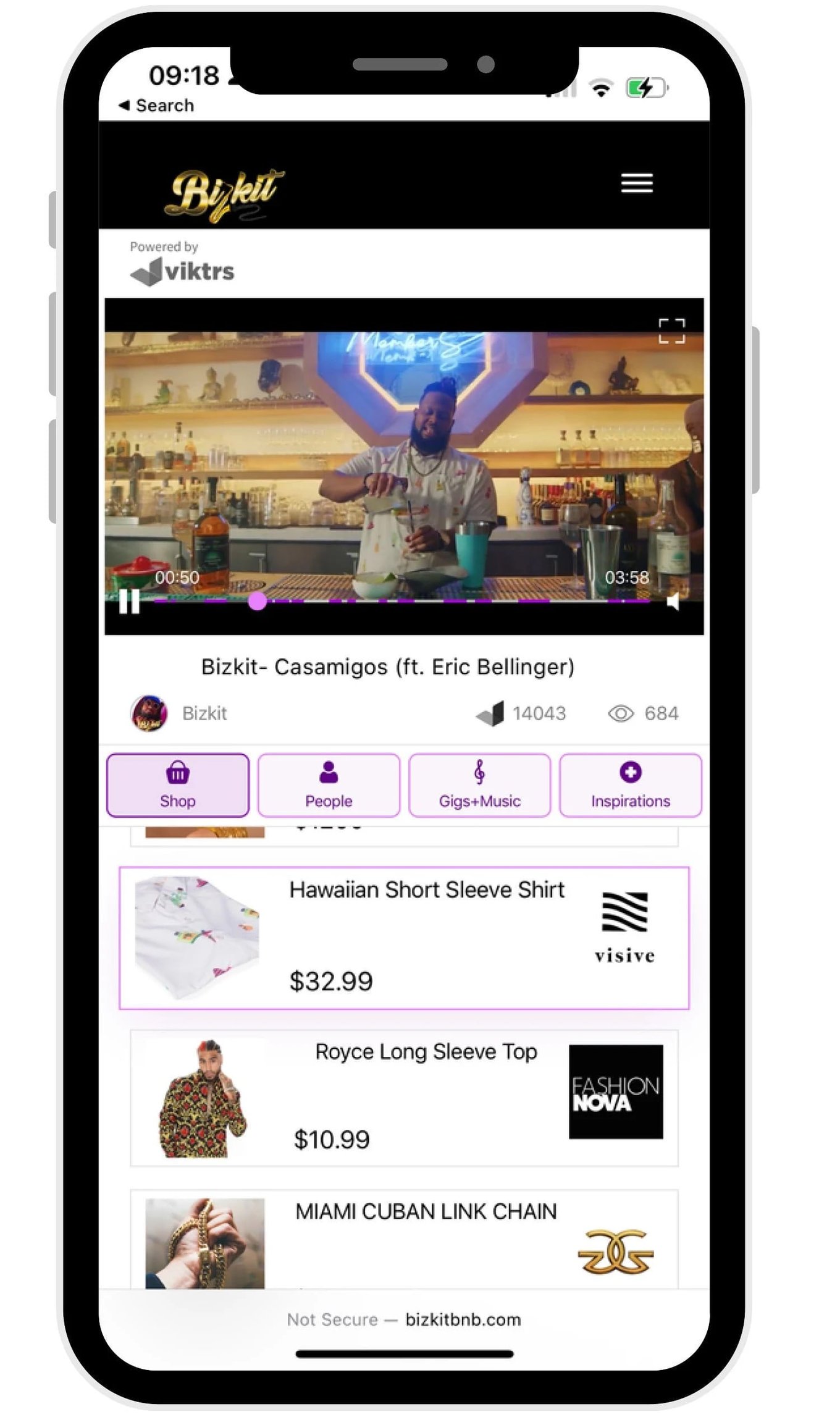 Authenticity is key – so creators identify the specific products, brands, merchandise and services they think their fans would be curious about within the video. This enables audiences to discover, share and shop them.

People
Giving 'credit where credit is due' to the entire creator and technical community, allowing fans to easily connect with and support the team behind the content.

Gigs & music
Connecting fans to live events and other creative content to build a closer and richer relationship between creators and their fans.

Inspirations
Drive social impact by sharing what excites and motivates creators, the charities and causes they support, and the backstory to their creativity.
—
Coming up next:
Any rich video content
—
Viktrs is now live with multiple music video projects, but Viktrs can apply our technology to any rich video content.
The potential is colossal.

180 million followers!
Ready to rock & roll for 2023 with LOI's in place with 63 artists with huge following and social reach

We have broad support from the music industry. These music partners have confirmed 'in principle' to help drive marketing and artist pipeline for our landmark go-to-market program, the Great Music Video Project (GMV) with independent artists.
The GMV's obiective is to demonstrate that videos can be a rich source of revenue and data for artists. It is designed to be delivered as a competition for independent artists (rights free) where the winners are awarded funds to make, release and promote their music videos.


In 2023, we have started to take enquiries from any content category to deliver our B2B SaaS offerings. We already have letters of intent / active projects with:
Music industry validation

"Viktrs is the perfect solution for artists to really connect with their fans. Through the data Viktrs provides, it educates and inspires the artist to get to know their fans on a more meaningful level. In a generation where DIY is of paramount importance to artists. Viktrs can be a real gamechanger!"
— Kieran Spooner, Dreamlife Records / Sony
"Tileyard is all about encouraging a fearless mindset that provokes positive disruption. Mark and the Viktrs team are certainly doing this with their ground-breaking music video model. We always support platforms where the 'artist comes first' so we are are advocates of the value that the Viktrs approach brings to the artist and the music industry as a whole."
— Nick Keyes, The Tileyard Music Community London
"Many artists never received the value of the cultural impact they created. By helping realize the true commercial value and impact of their creativity on society, culture and fashion, Viktrs enables artists & their communities to finally generate the rewards they deserve."
— Paul Pacifico, Association of Independent Musicians

Brand insights team from a major music label in the UK, Oct '22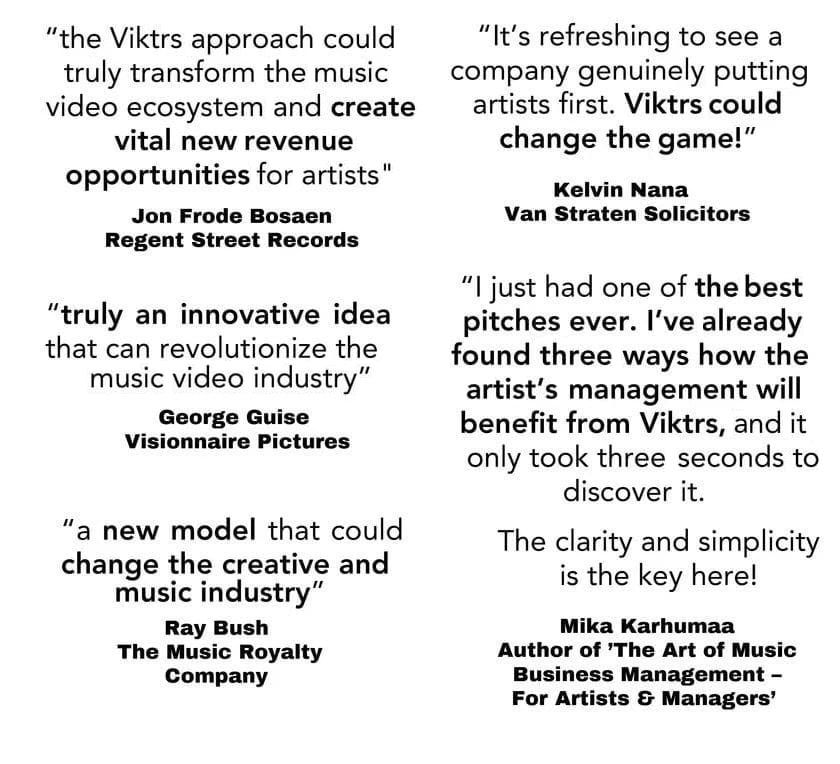 ---
Audience validation
---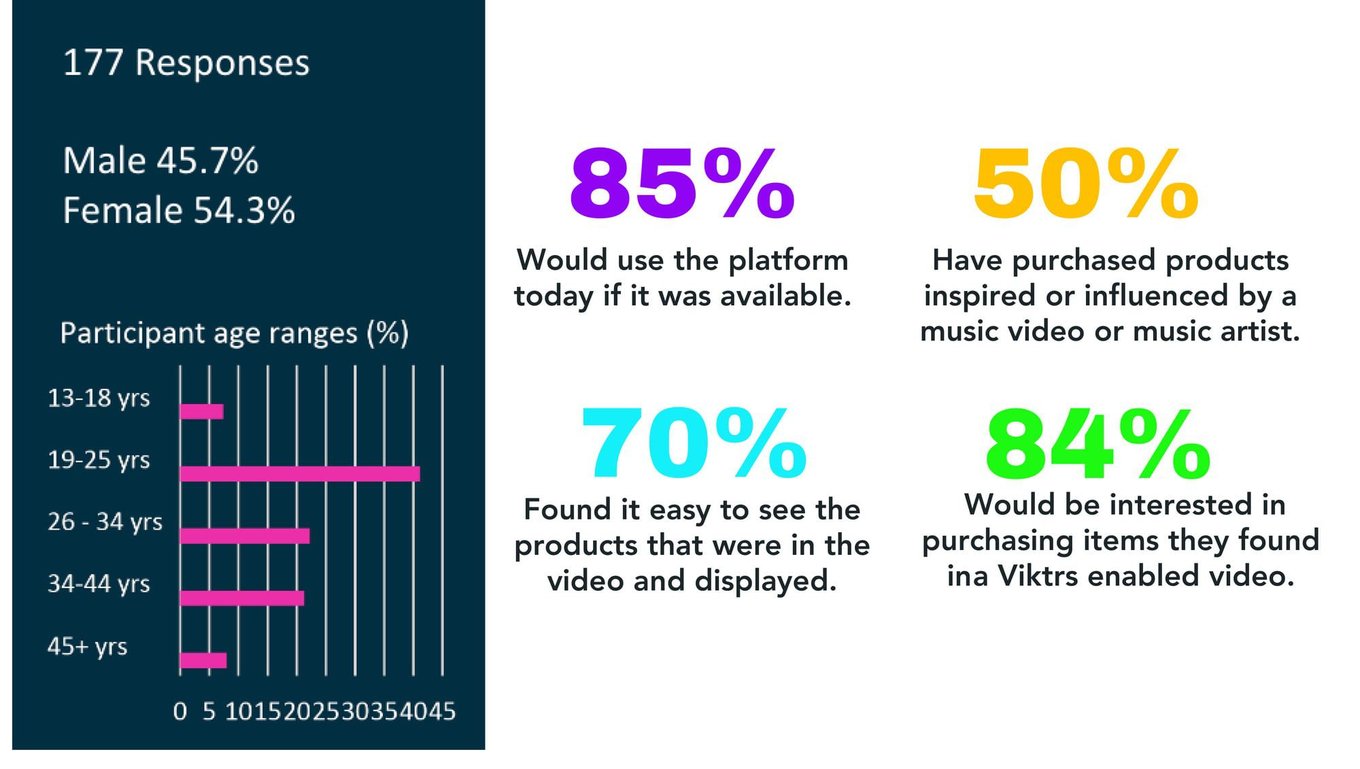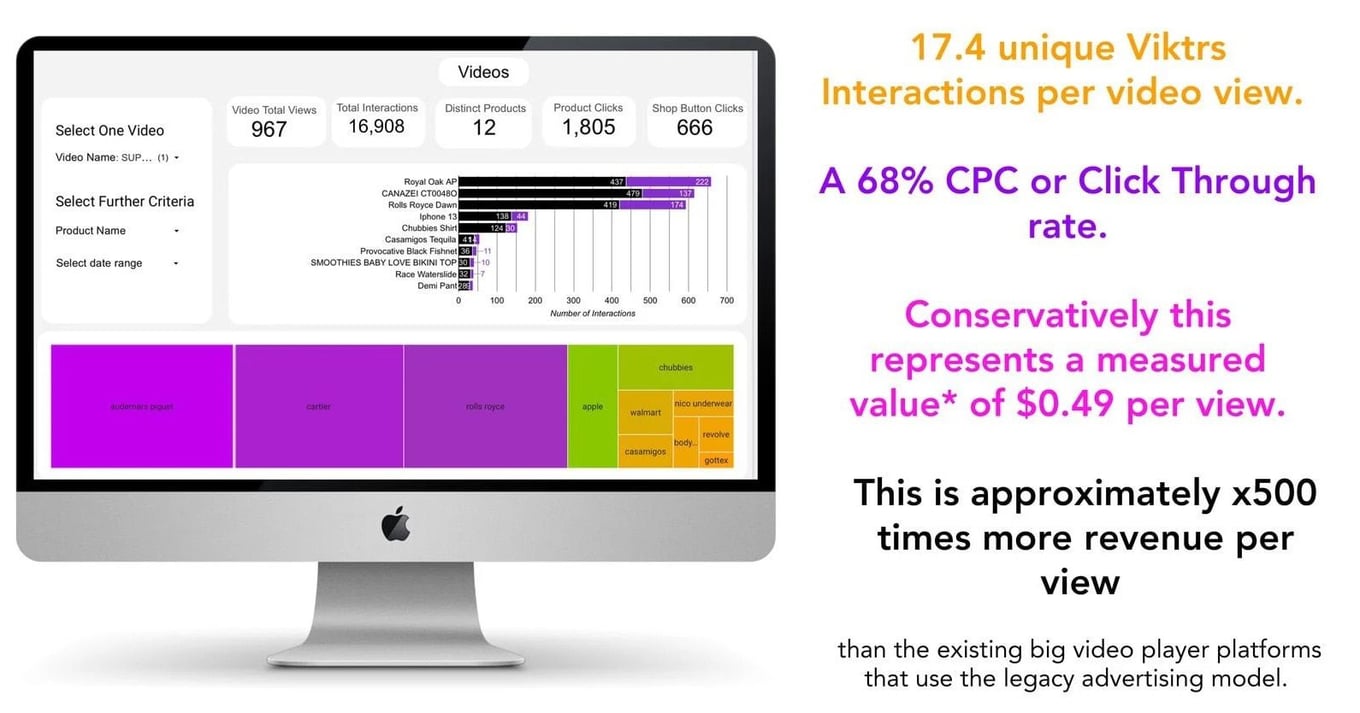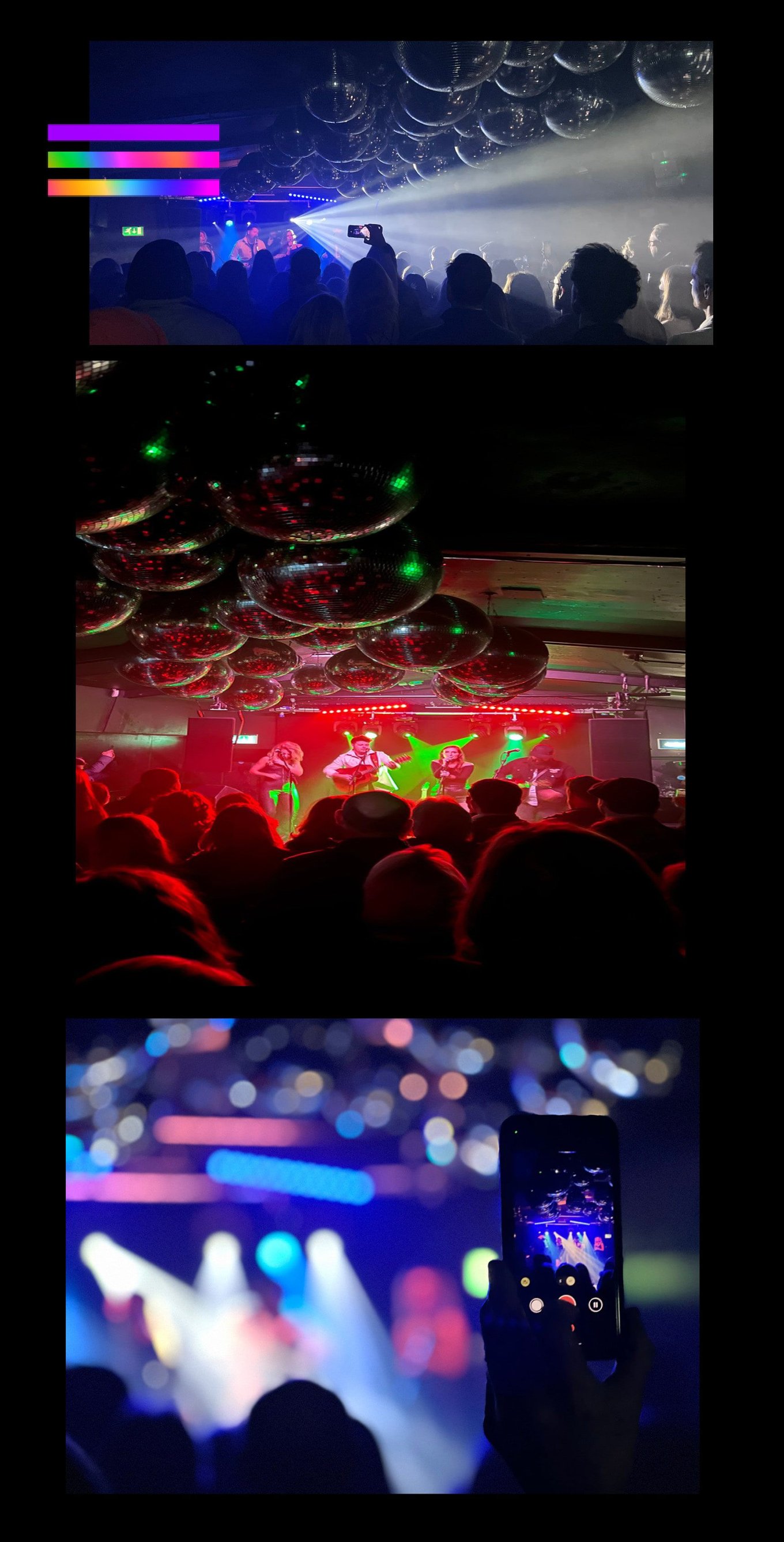 In our financial model, we have taken a conservative view of industry assumptions
Avg CPC on Facebook in the product categories relevant to Viktrs in 2022 was USD $1.01. In our financial models, we halved this to an avg price of only $0.50. Industry report: What is the price of a CPC?
We measured all purchases, and a Viktrs-enabled video had a CPA of 2.1%. We halved this and assumed a CPA of 1%
$2.3B by 2030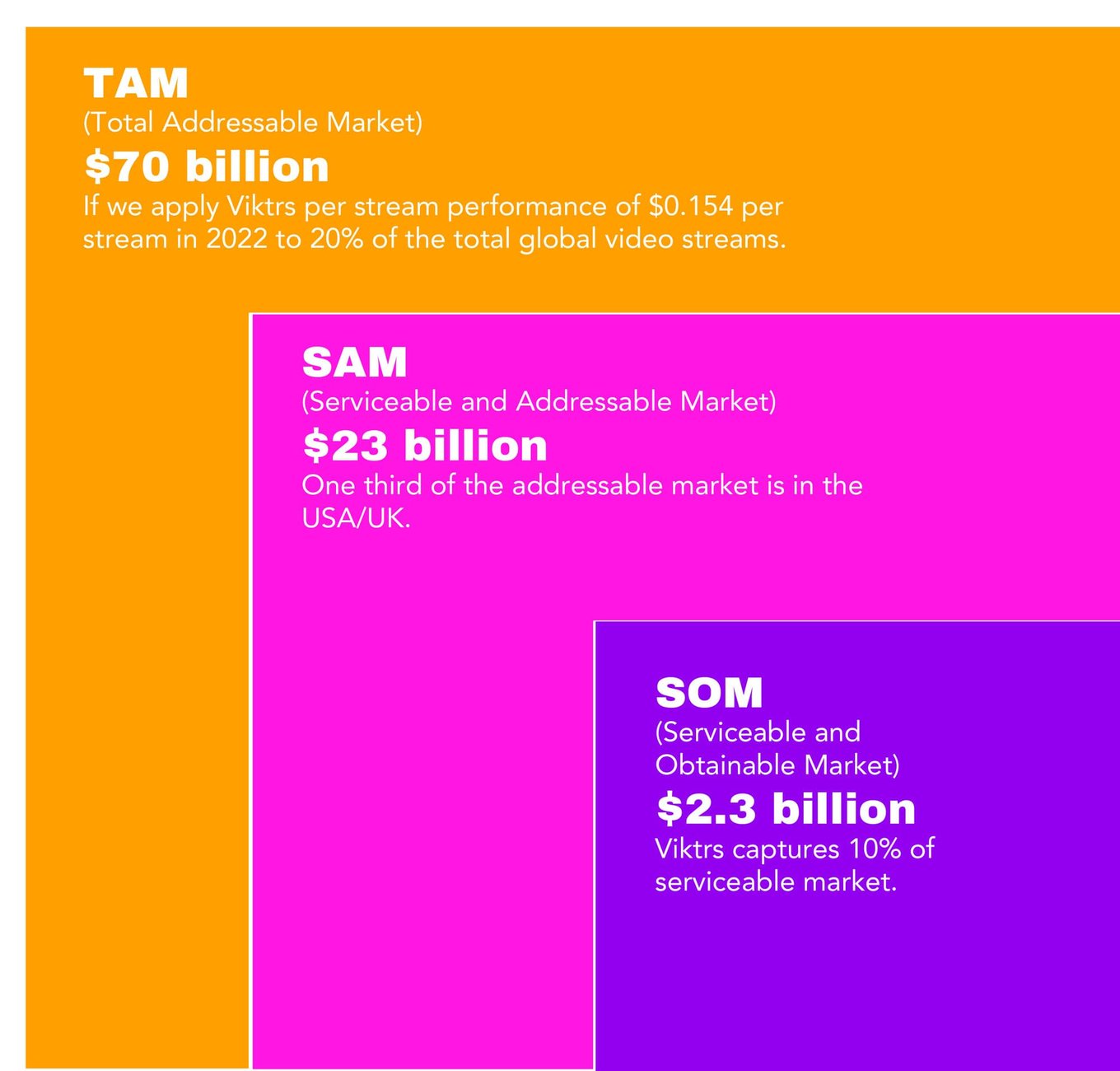 Assumptions
In 2019 there were 1.5 Trillion streams across the market.
We have assumed %14.7 CAG* since then, and assumed a total Global Video Streaming market of 2.3 Trillion streams in 2022.
*Music streaming market CAGR
What makes Viktrs unique?
Every click is monetized
No ads
120x more revenue per view to creators than existing video platforms
Engagement beats views: 12 different types of audience engagement measured within every single video view
Invaluable data insights to brands
50-50 split with creators
Better value proposition for creators to onboard with Viktrs than any competitor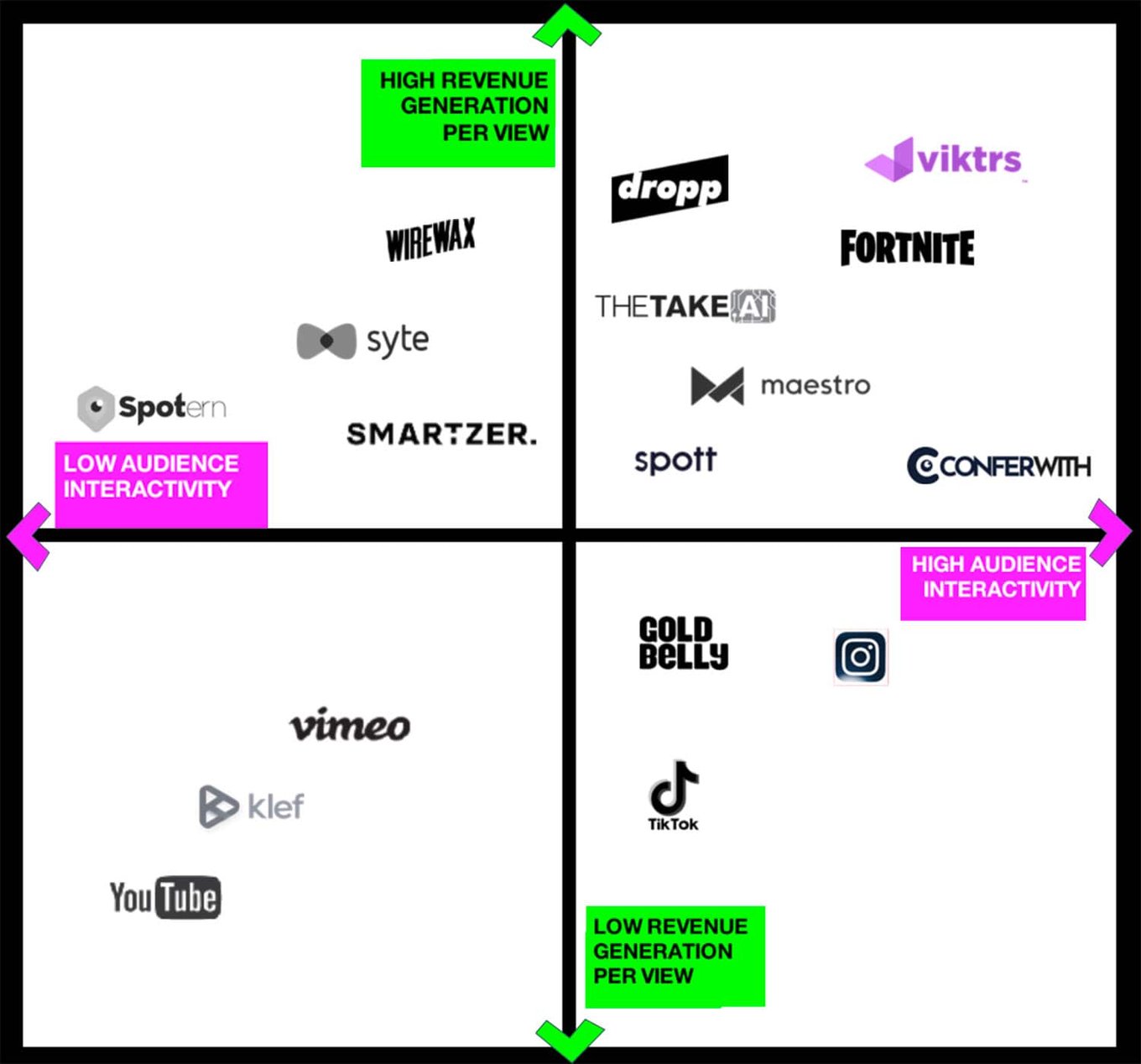 Mark Bamford
CEO & Founder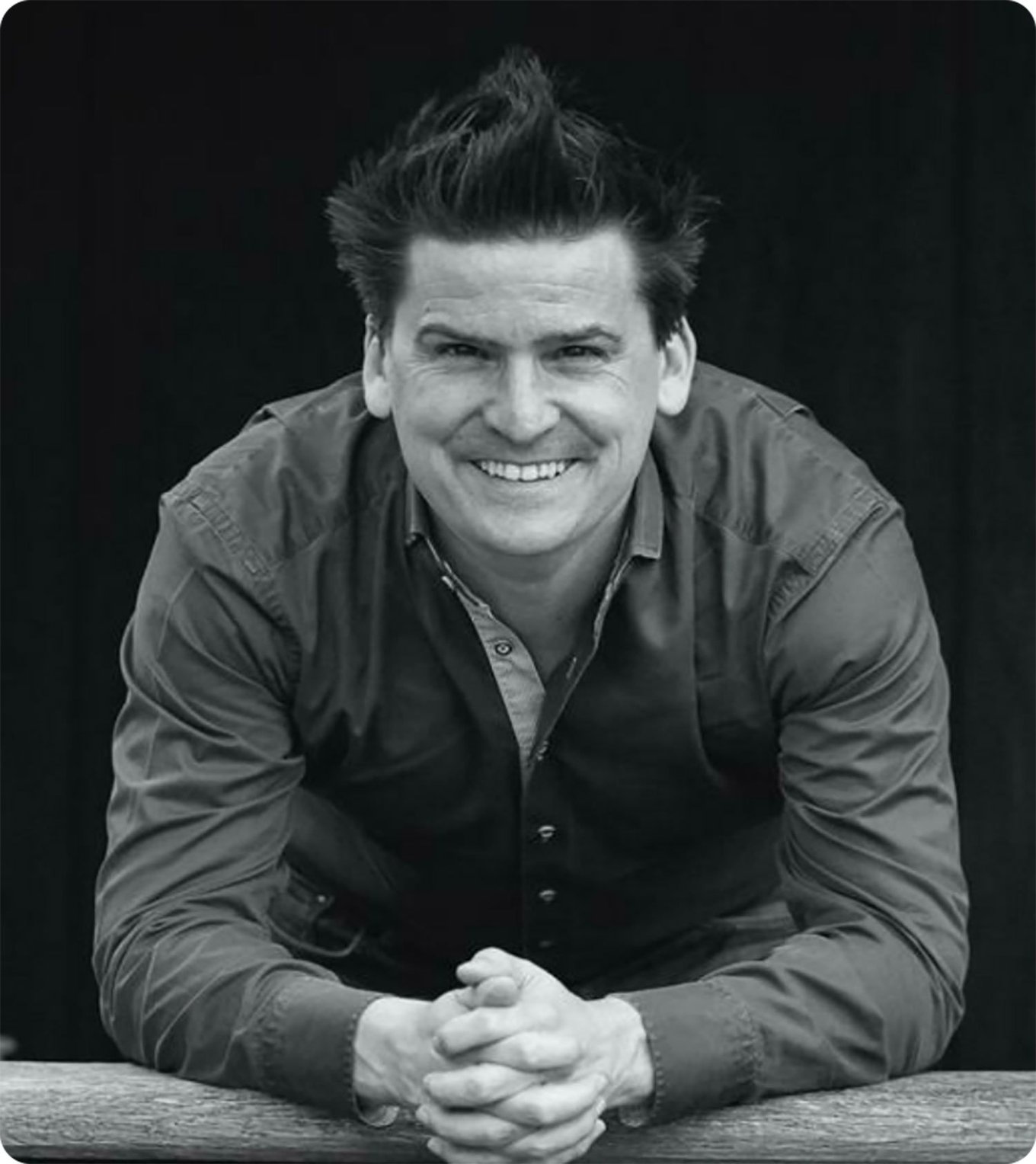 "We believe the current advertising-driven video marketplace model that requires high volume viewership is broken. Our approach can make the commercial cake bigger by making every single video view valuable.
Viktrs believes in a better, fairer, and more ethical future for audiences and creative communities, because without them — art, culture, entertainment and creativity die.
For the brave and bold amongst you... join us on our journey!"
Why Viktrs?
Status
Live BETA, pre-revenue — but already creating measurable value which we will now monetize.
Traction
Viktrs has data that shows the potential to deliver up to 120x more revenue per view than existing video platforms.
Business Model
1. B2B then B2B2C in 2023
2. Monetize data insights
3. eCommerce
4. PC's (advertising clicks)
Data Ownership
All measured engagement, audience interactions, and brand data we collect is 100% the proprietary property of Viktrs.
Video Market Opportunity by 2030
- $71B global market
- $24B addressable in US & UK
- $2.4B Viktrs market
Exit Scenarios
Year 3 or 4:
Exit to strategic media platform at a valuation of $570m.
Year 5:
Exit to large venture entity at a valuation of a minimum of $1.2b.
The above valuations are based on a 15-17x EBITDA that is also considered a fast growth company seeing 200-300% growth per year.