Video games are powerful communication tools,
but costly, complicated & time consuming to make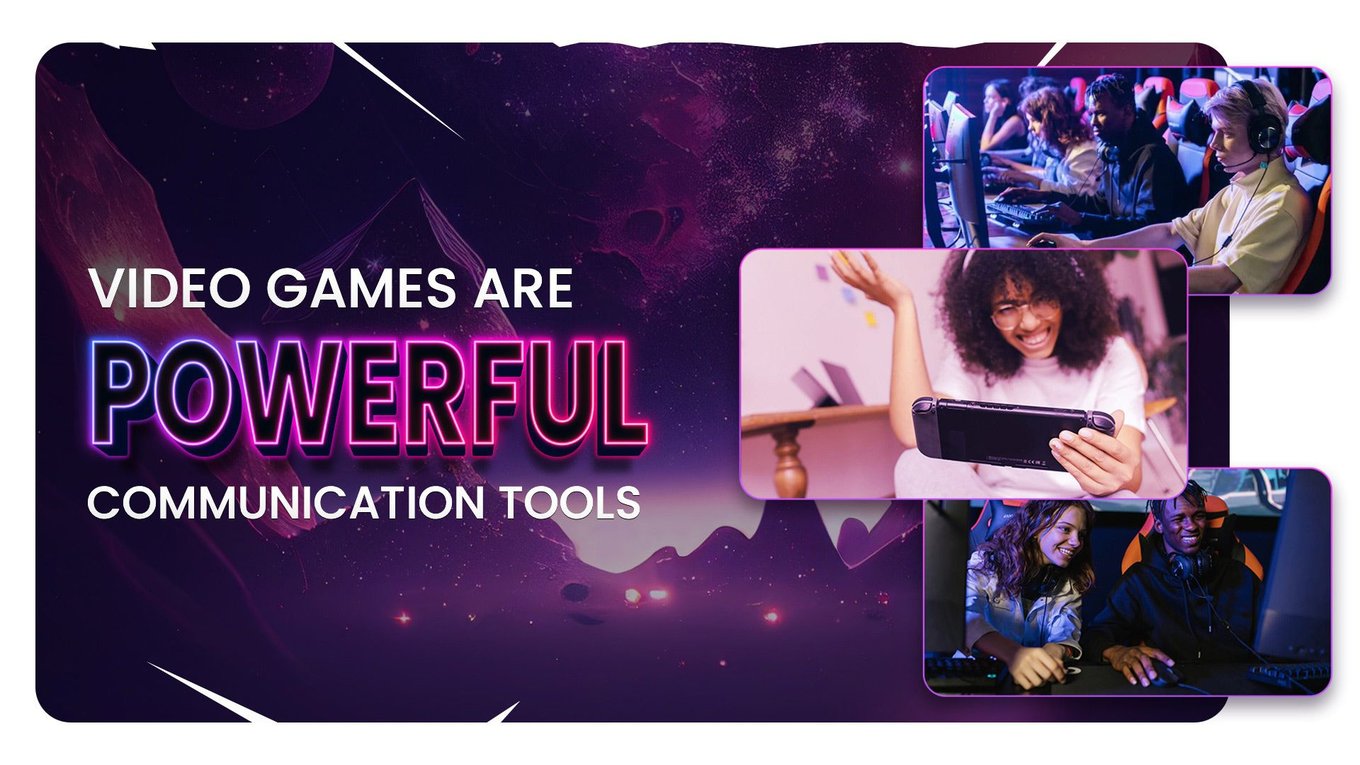 Video games are powerful communication tools. The impact they leave on our brains far transcends the virtual boundaries in which we play them.

Games have immense potential to transform industries beyond entertainment, including education, social impact, marketing, and training.

And yet, we do not see video games being mainstreamed for purposes beyond entertainment.
That's because making video games is costly, complicated, and time consuming.
At Breshna, we are breaking the time, skills and cost barriers of making games!
Creating video games with
no-code, zero-cost, & at lightning speed
Breshna.io is a no-code video game maker that empowers a non-tech, non-gamer audience to create, share & monetize their own video games with no code and at lightning speed. Everyone can create snackable games for entertainment, educational, marketing, and training purposes!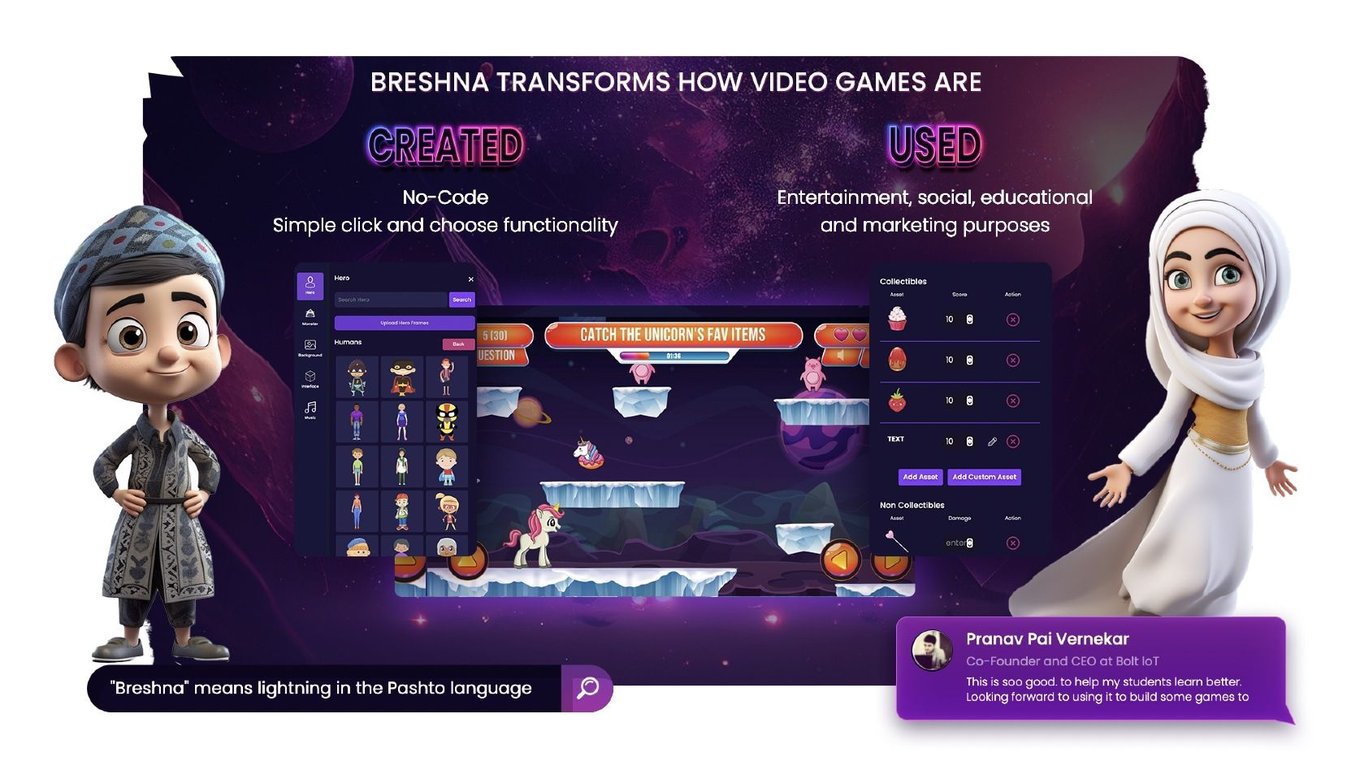 Think about a teacher who wants to make math learning fun. She can create a run & catch game, where students are catching even numbers and dodging odd numbers & having a blast.

Or a small business owner looking to better engage their community. With Breshna, they could effortlessly design a jigsaw puzzle revealing a new product or discount code!
With Breshna, everyone can engage their audience in a fun and impactful way! It's the Canva for video games.
Breshna's 3-tiered product stack revolutionizes the way video games are created, used and monetized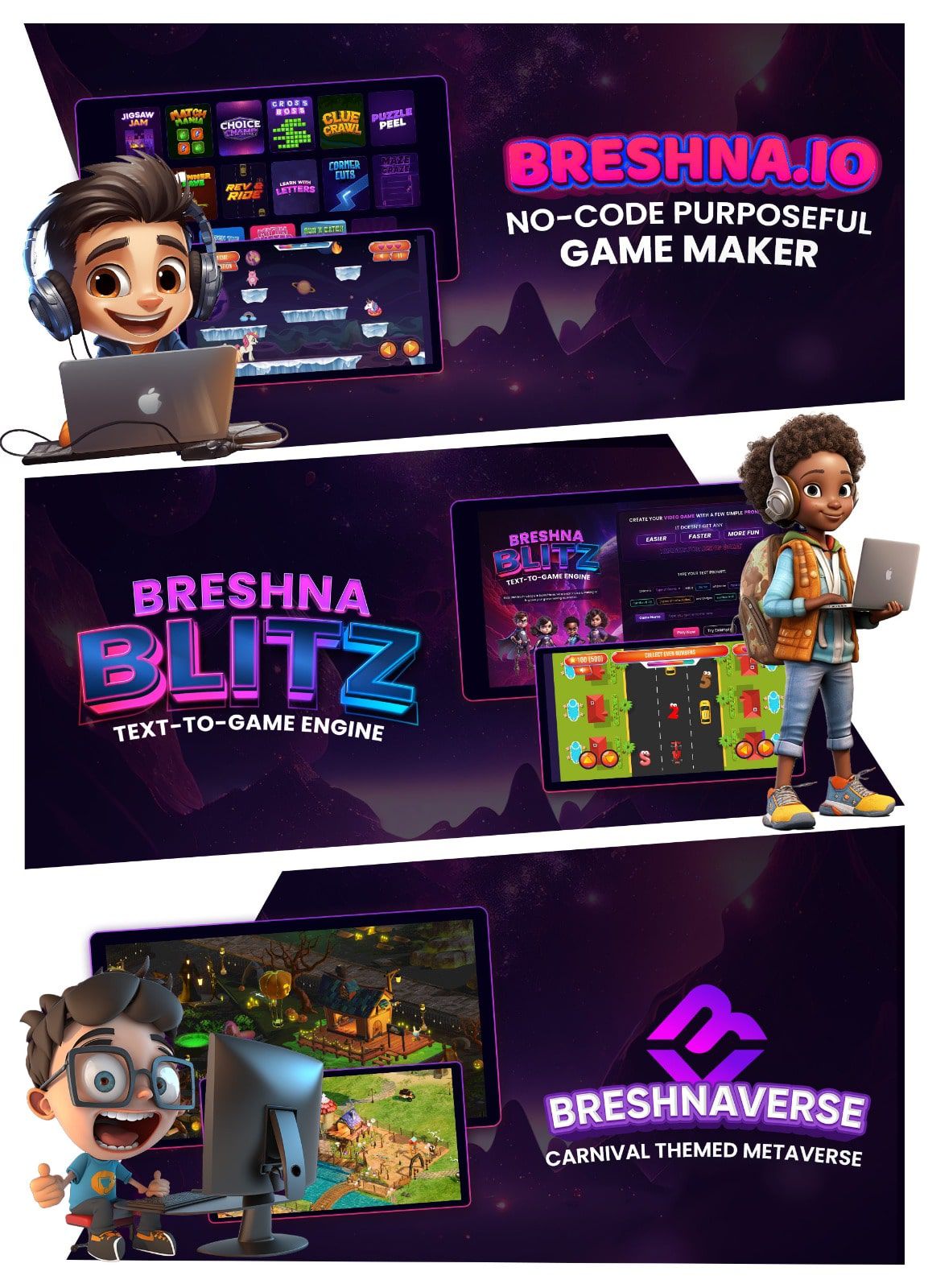 At Breshna, we are building a world where everyone can tell their stories with video games. We leverage a 3-tiered product stack:
Breshna.io: Our super simple, super fast game maker platform that empowers users to create their own video games:

Without any coding or design skills, in any language and at zero cost!
At lightning speed (in < 15 mins). Breshna means lightning in the Pashto language.

BreshnaBlitz: Our upcoming AI-powered text-to-game engine generates mini video games based on simple text prompts.
Breshnaverse: Our carnival-themed metaverse enables users to showcase and monetize their Breshna games at their own carnival stands!
170K makers,
150K games made,
& 4M game clicks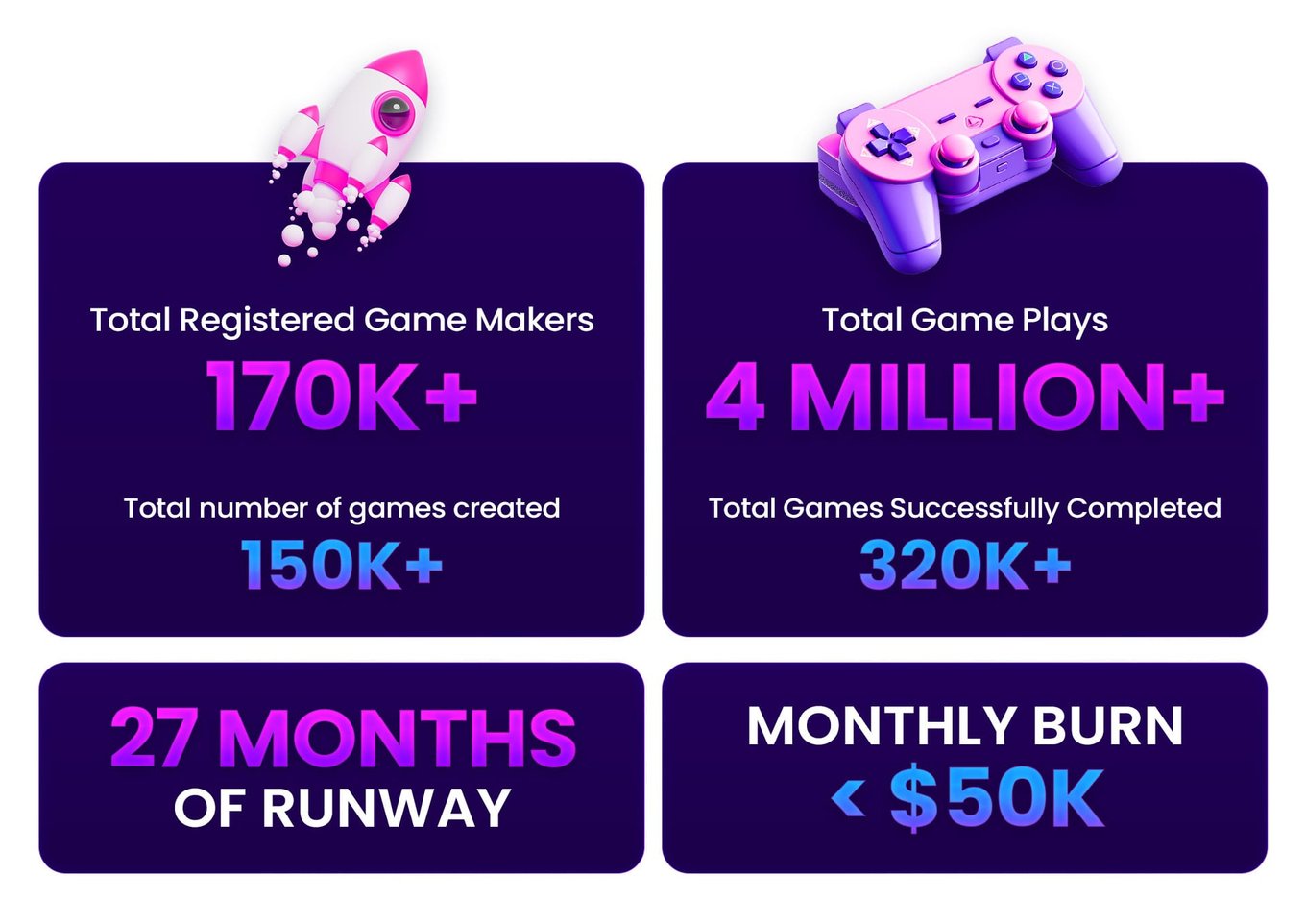 We've only been incorporated for a little over 2 years but we've made mad progress:
Breshna transforms ordinary people into powerful content creators
Video games are a universal language and Breshna empowers everyone to speak games!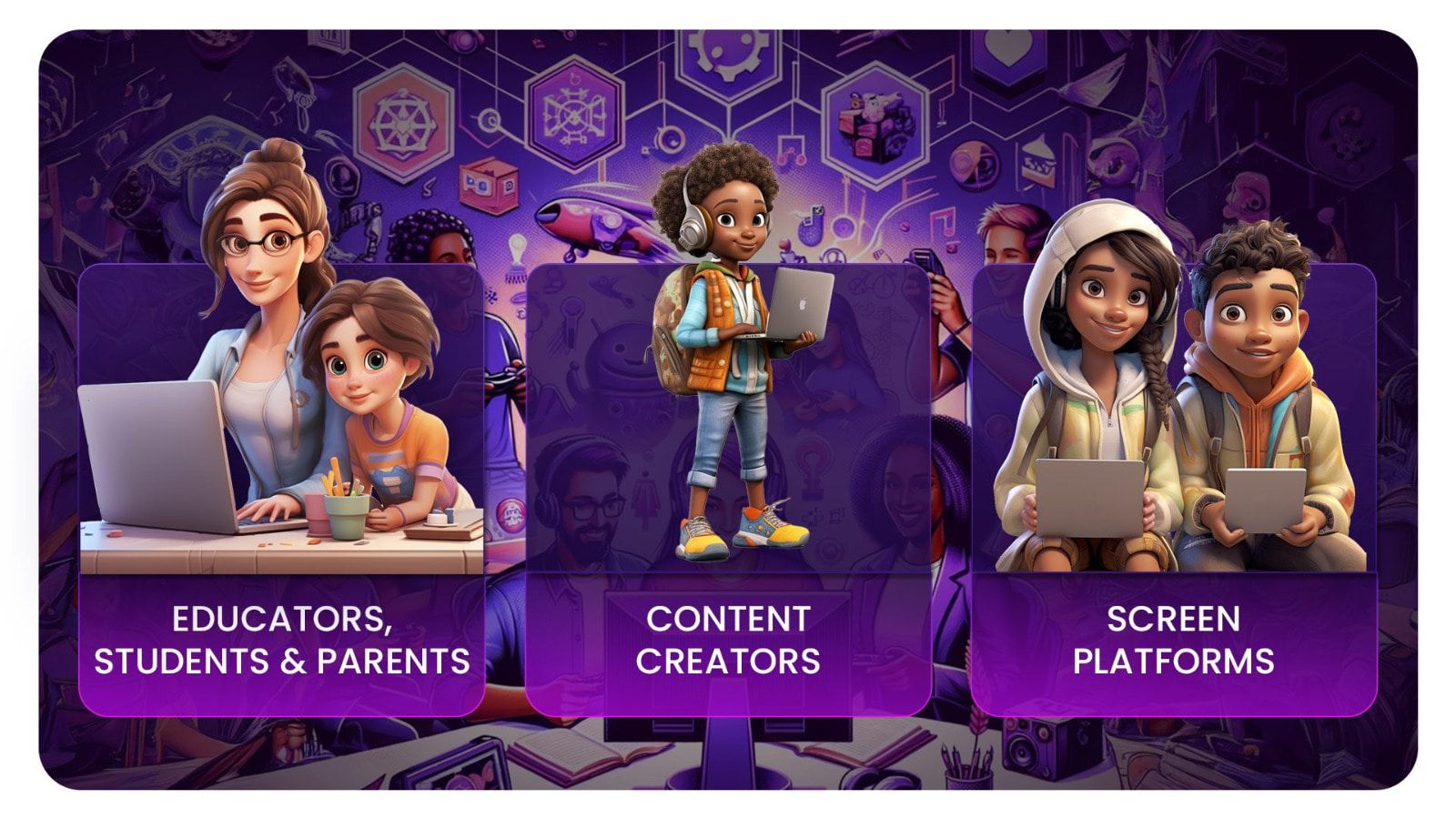 While we have seen a wide range of use cases for Breshna, our super users are:
Teachers and Students: Breshna is being used to create fun and interactive educational games. From teachers in Saudi making math games in Arabic to students in Pakistan co-creating science games as part of a class-room project, Breshna has been enthusiastically adopted by educators, parents and students across the globe.
Content Creators: The TikTokers of the world are leveraging Breshna to find new ways to tell their stories and engage their audience!
Screen Platforms: We are powering gaming hubs for major telcos and screen platforms that are hungry for a dynamic, fully customized, hyper engaging catalog of video games.
Teachers, parents, businesses, content creators & social impact leaders are eager to deploy interactive tools that can transform learning, storytelling, brand recognition, and awareness building.


Breshna's business model leverages 4 recurring revenue streams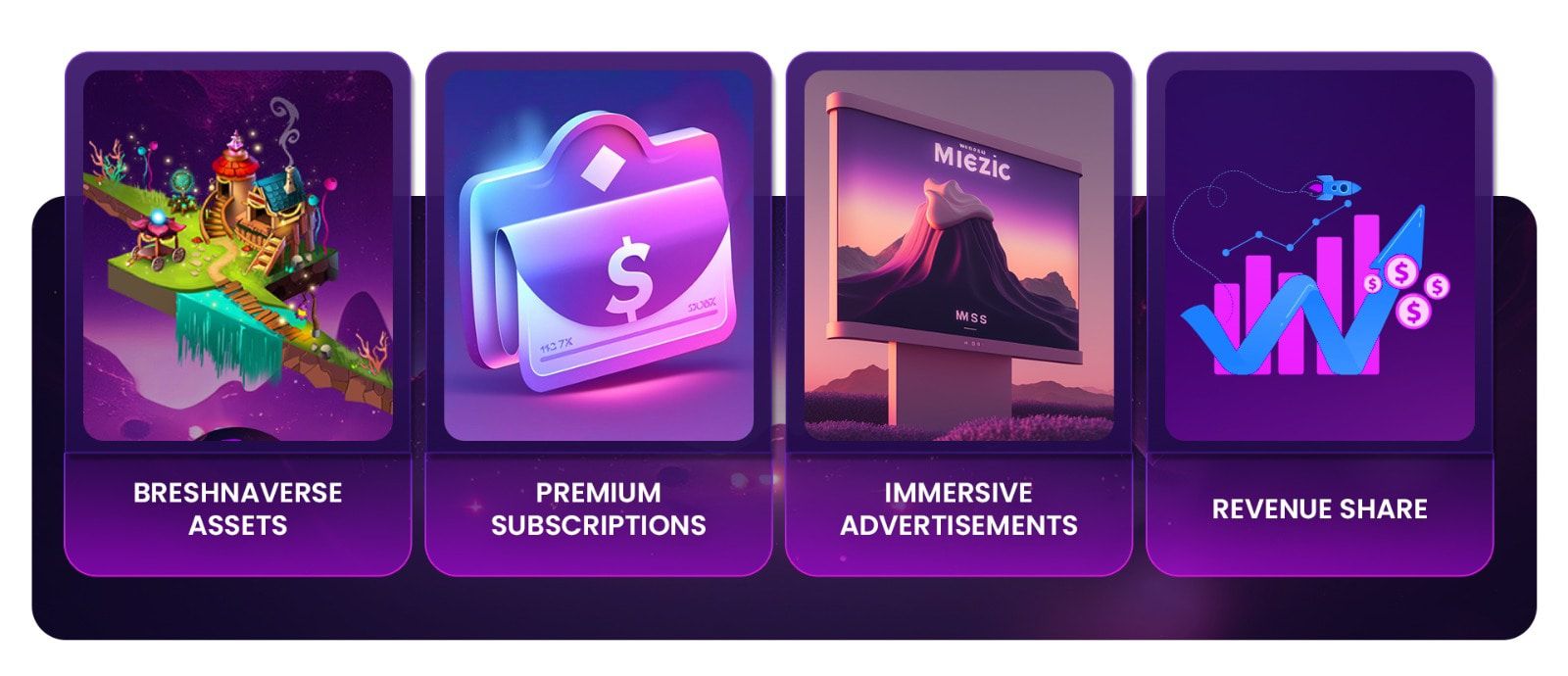 Based on an extensive analysis of our user profiles and unique value-add, we have narrowed down 4 revenue streams:
Premium Subscriptions: A monthly subscription model that unlocks premium game templates and game assets on Breshna, exclusive rewards in the Breshnaverse, as well as unlimited game creation quotas on our AI text-to-game engine BreshnaBlitz.
Breshnaverse Assets: The Breshnaverse carnival stands and customizable metaverse elements will be available for sale through our marketplace. Furthermore, we will introduce our in-game currency for all carnival transactions.
Revenue Share: When game makers monetize their games within the Breshnaverse, Breshna takes a 15% rev share.
Immersive Advertisements: Strategically placed advertisements will be available for purchase throughout the Breshnaverse and on loading screens for Breshna games.
Based on these 4 revenue channels, our projected ARR for 2024 is $814,110 which leads to profitability within the next 12 months.

Breshna operates at the intersection of 4 exploding tech trends:
No-code/AI, Short-form Content, Purposeful Gaming,
and Web3.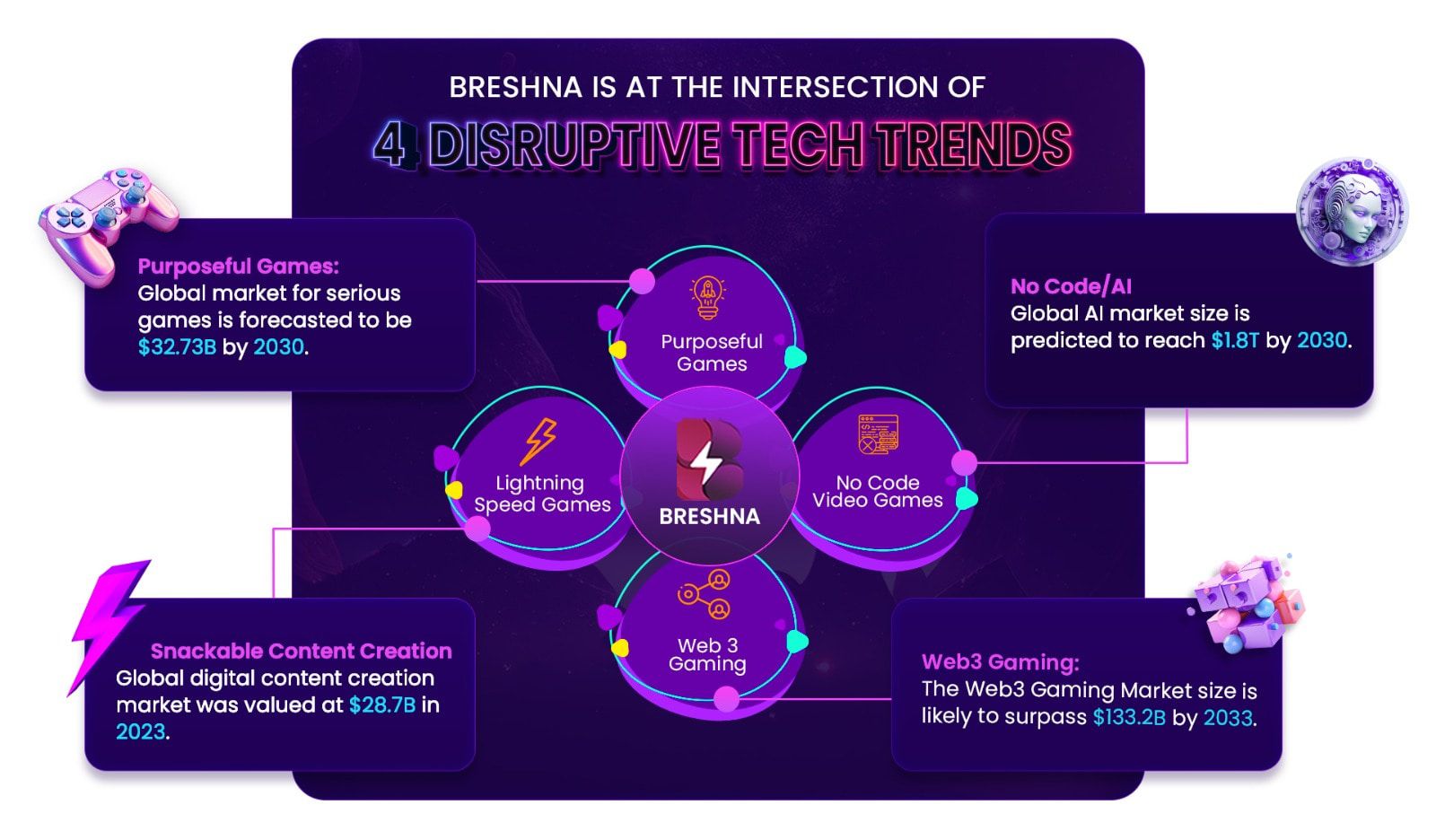 The time is now to democratize content creation with video games! We are specifically leveraging five windows of opportunity:
1. No-code and AI technologies have made content creation super simple and super fast. It is forecasted that the no-code, low-code platform market will grow to $12.3B in 2024. Meanwhile, the global AI market size is predicted to reach $1.8T by 2030.
2. The demand for short-form, snackable content is higher than ever, which is precisely what casual games provide. With games being a universal language, the stage is set for the next TikTok for video games. The global digital content creation market was valued at $28.7B in 2023.
3. Purposeful gaming is being increasingly utilized for purposes beyond entertainment. The value of the global market for serious games is forecasted to be $32.73B by 2030.
4. Web3 provides seamless and transparent ways for our users to own and monetize their own content. The Web3 Gaming Market size is likely to surpass $133.2B by 2033.

5. Women are an overlooked demographic in gaming. Women in their 30s are active gamers in the casual gaming space, yet are overlooked by traditional gaming creation tools. Within mobile gaming 63% of the market is female, 60% of them play daily, and they spend more than their male counterparts. Empowering women around the world to create their own casual video games is a huge untapped opportunity.
Breshna is uniquely positioned to democratize content creation with games!

The world of AI/no-code content creation, user-generated games and web3 is rapidly expanding and Breshna is uniquely positioned at the intersection of these emerging tech trends. Our most significant moats are:
Flat learning curve: The current market has several low-code game makers like Modd.io, Scratch, BuildBox that often have a significantly steep learning curve and mostly target game developers. Breshna is serving a truly non-gamer, non-tech audience by leveraging no-code and AI tech. It is simple, fast and free. Based on our customer analysis, simplicity and a flat learning curve are the most important aspects for our users in unleashing the power of video games. What Canva did for design, TikTok did for video, Clubhouse did for audio, we are doing for video games!
Diverse use-cases: Breshna games are being heavily leveraged for purposeful communication (education, social impact, marketing, training etc). While there are several players in the serious games space such as Games For Change or studios like Preloaded, Breshna moves away from the service-based model and empowers its users to create and monetize their own purposeful games.
Global appeal: While most game maker platforms are programmed in English, Breshna enables users to create a game in multiple languages including right-to-left scripts such as Arabic, Urdu and Hebrew. Furthermore, users are able to upload their own assets in their games, making the games truly customized and global.
Not just create but monetize: We are going beyond just game creation and have built the Breshnaverse and the Breshna library to empower our users to showcase and monetize their video games.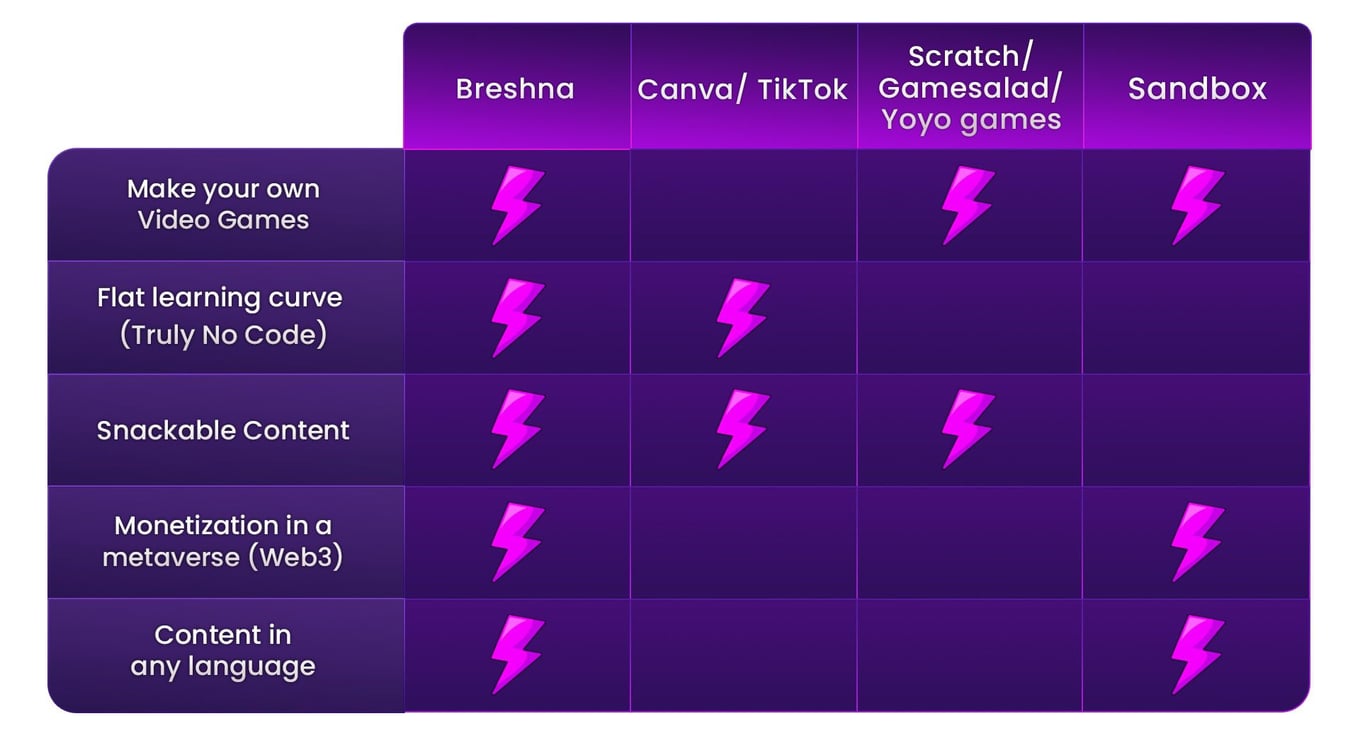 Empowering the next 100m people to tell their stories with video games
We're building a tomorrow where anyone, irrespective of budget, time and coding or design skills, is empowered to create their own video games to entertain, educate & engage people!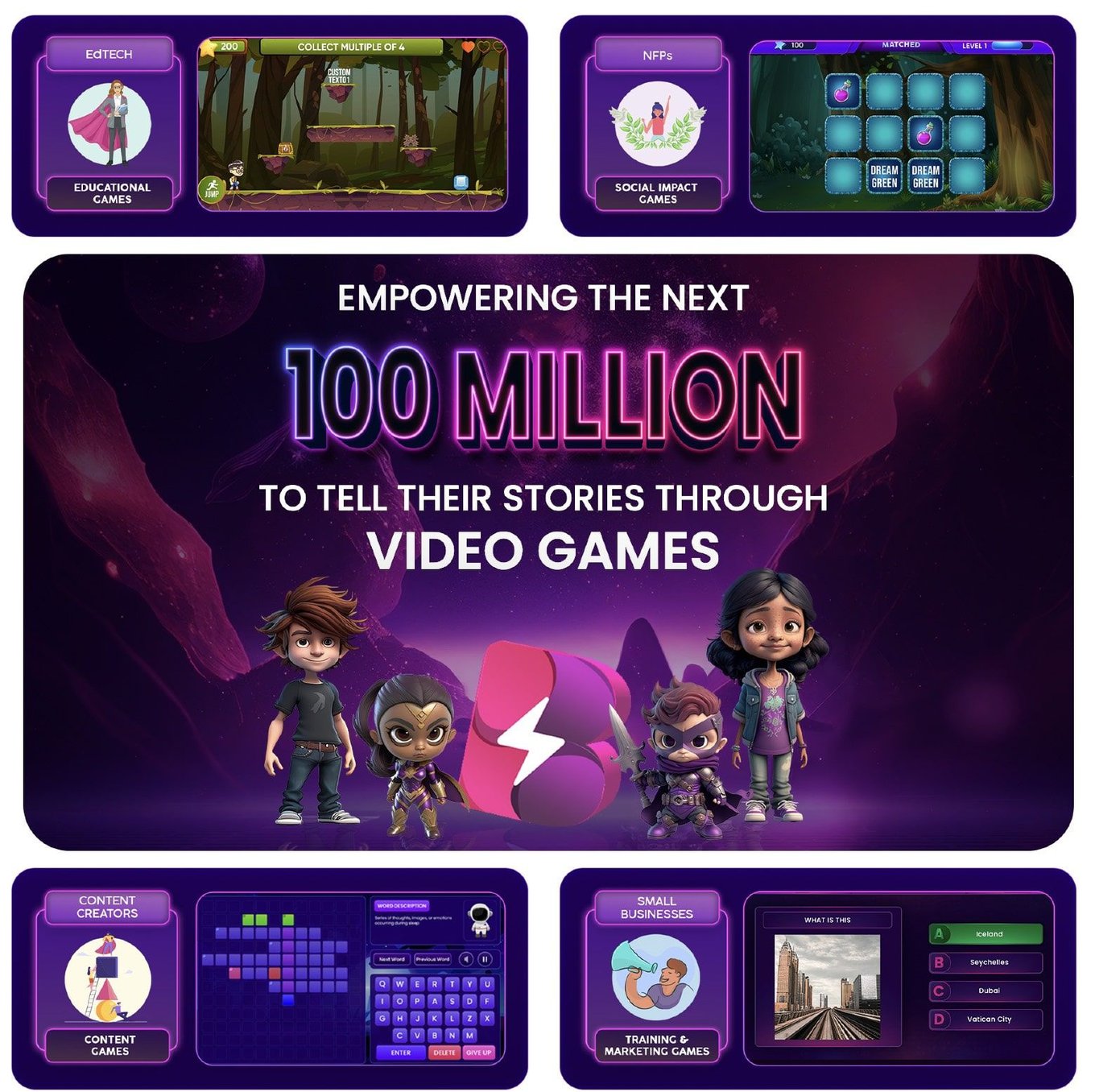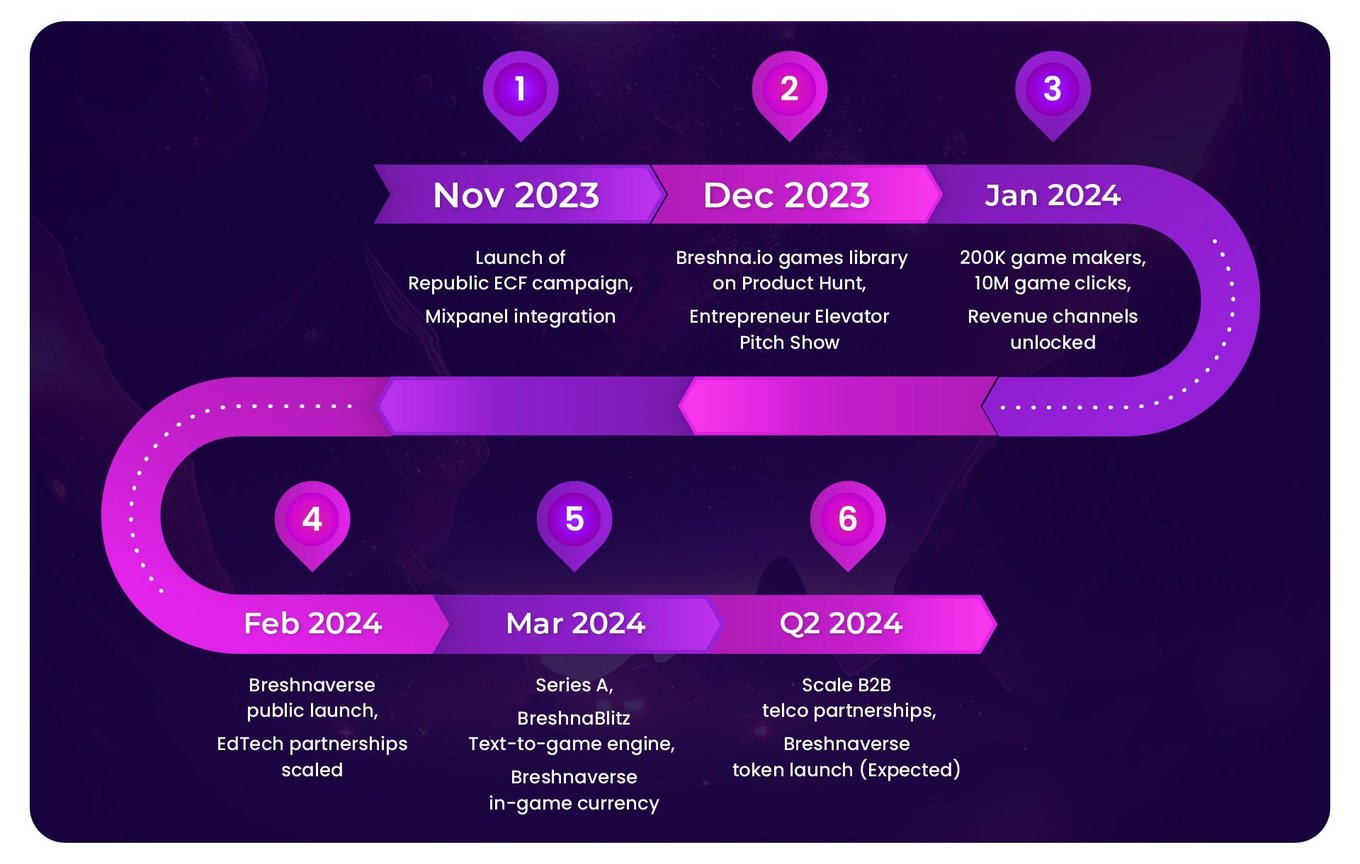 Unleashing the power of video games for positive change

Our founder, Mariam Nusrat, grew up playing games, but being a Pakistani muslim female felt there was limited representation in the video games industry. The first time she saw Arabic in a video game, it was in the context of a terrorist plot. When she saw women, they were often over-sexualized and objectified.
Thus, the realization that those who make video games decide on the narrative. We cannot expect the content to be inclusive unless we diversify the pool of people making video games.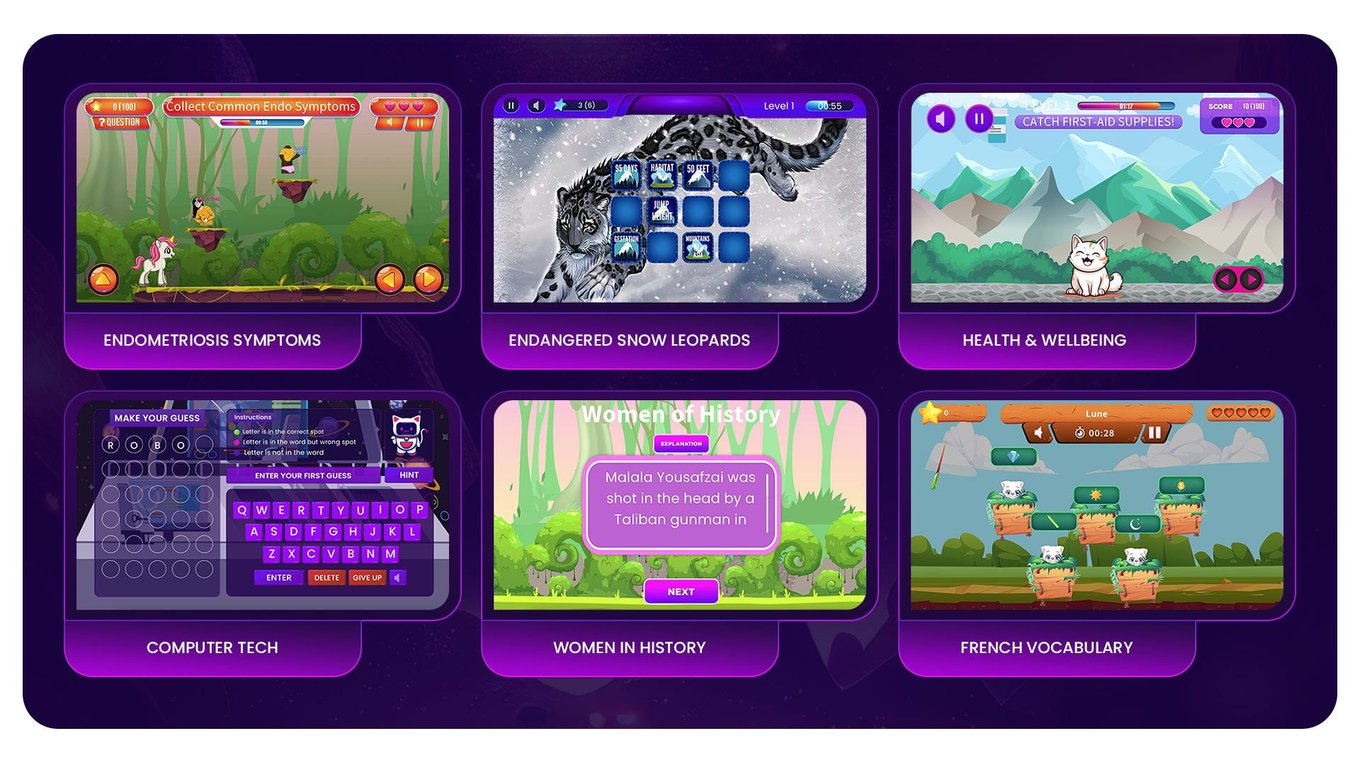 We're proud to have worked with non profits to create games for good and leave a lasting impact for change. We've worked to make games like:
We are on a mission to democratize video game creations for all!
$2.5m raised in seed funding from Industry Experts & Celebrity Investors Including Paris Hilton & Randi Zuckerberg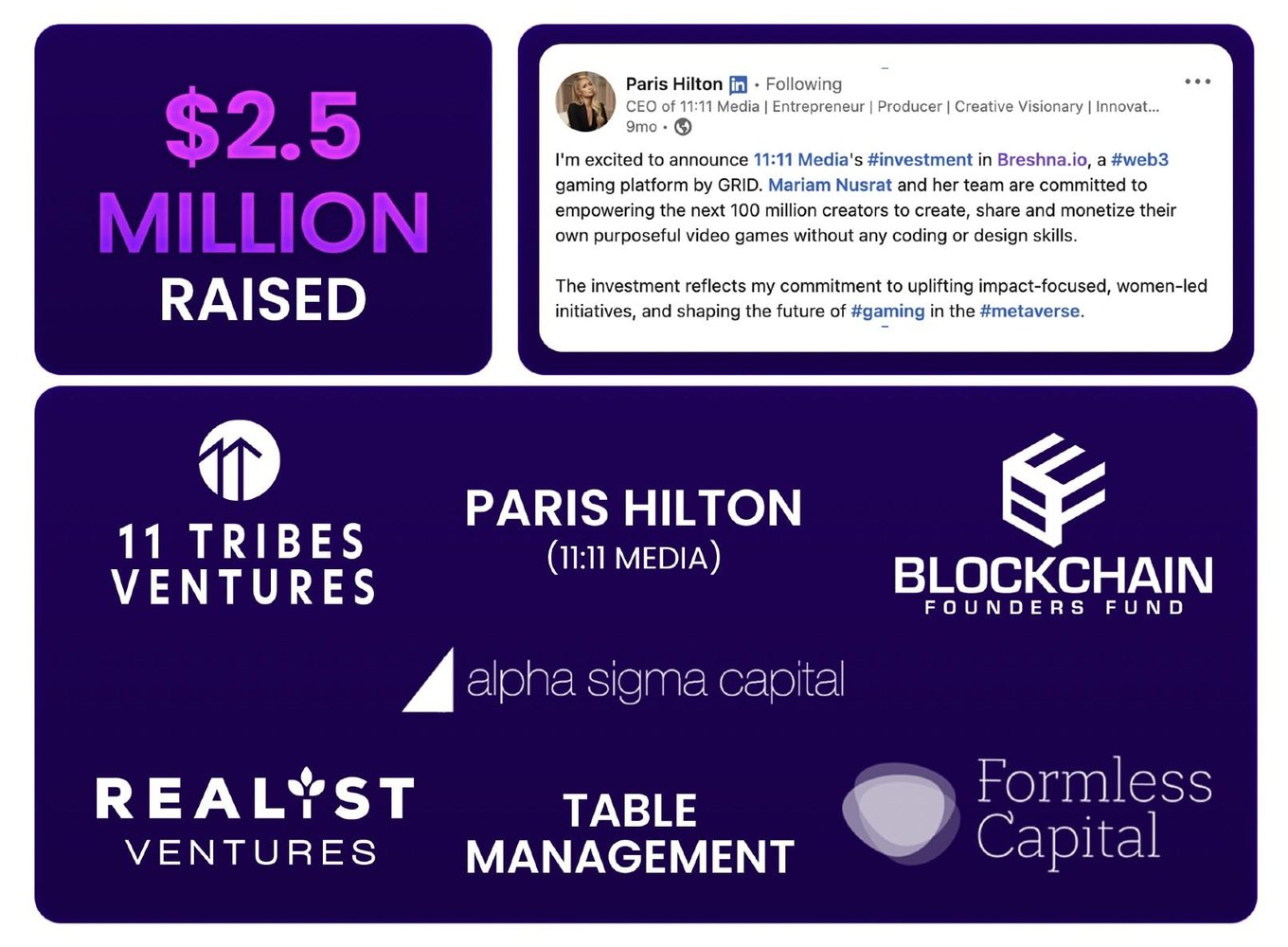 While we have runway for over 2 years, our community is rapidly growing and we have a lineup of high-impact events over the next 6 months, offering a unique opportunity to captivate our ever-expanding Bolt Squad. We have received persistent inquiries from our users regarding options to share in our upside. In response, we decided to launch this round of ECF.

The funds we raise through Republic will allow us to (i) double down on our scalable and cost-efficient GTM channels, and (ii) accelerate our product development towards more ambitious launches of the BreshnaBlitz and Breshnaverse and solidify our first mover advantage in the gaming space!
Award winning founding team with deep expertise in purposeful games
Our Founder & CEO, Mariam Nusrat, is a US-based Pakistani immigrant with 9 years in the purposeful video games sector and 13 years of experience in the Edtech space, working at the World Bank across 22 different countries. She is now on a mission to build the next Canva for video games.
Accomplishments include:
Mariam leads a team of 25 highly capital efficient and talented game developers who have worked together for over 11 years in the field of purposeful video games.
5 Reasons to invest in Breshna.io
Tech Trend Powerhouse: Breshna stands at the intersection of emerging tech, seamlessly merging no-code simplicity, cutting-edge AI, web3's value-add for content monetization, and the boundless impact of purposeful gaming.


Explosive Growth: 170K registered game makers, 150K+ video games created with 4M+ unique game clicks.

Strategic Investments: $2.5 million in seed funding from industry leaders and celebrity investors, including Paris Hilton's 11:11 Media, Randi Zuckerberg's BBV, Lisa Carmen's BBE & Table Management (Bill Ackman's family office).

Female-Led Capital Efficient Team: Headed by a seasoned education and purposeful games expert, our team of 25 game-changers brings diversity, capital efficiency, and unwavering motivation. Recognized on Forbes Next 1000 and Clinton Global Initiative Honor Roll, our Founder's expertise includes two Tedx talks and appearances on Entrepreneur Elevator Pitch and David Metlzer's 2 Min Pitch TV show.

Global Partnerships: Our extensive B2B collaborations, notably with global EdTech giants and leading Telcos like Jazz, the largest provider in Pakistan, position us as a key player in the global gaming landscape.