Our eating habits are broken
Only 1 in every 10 Americans eats the daily amount of fruits and vegetables required to maintain good health.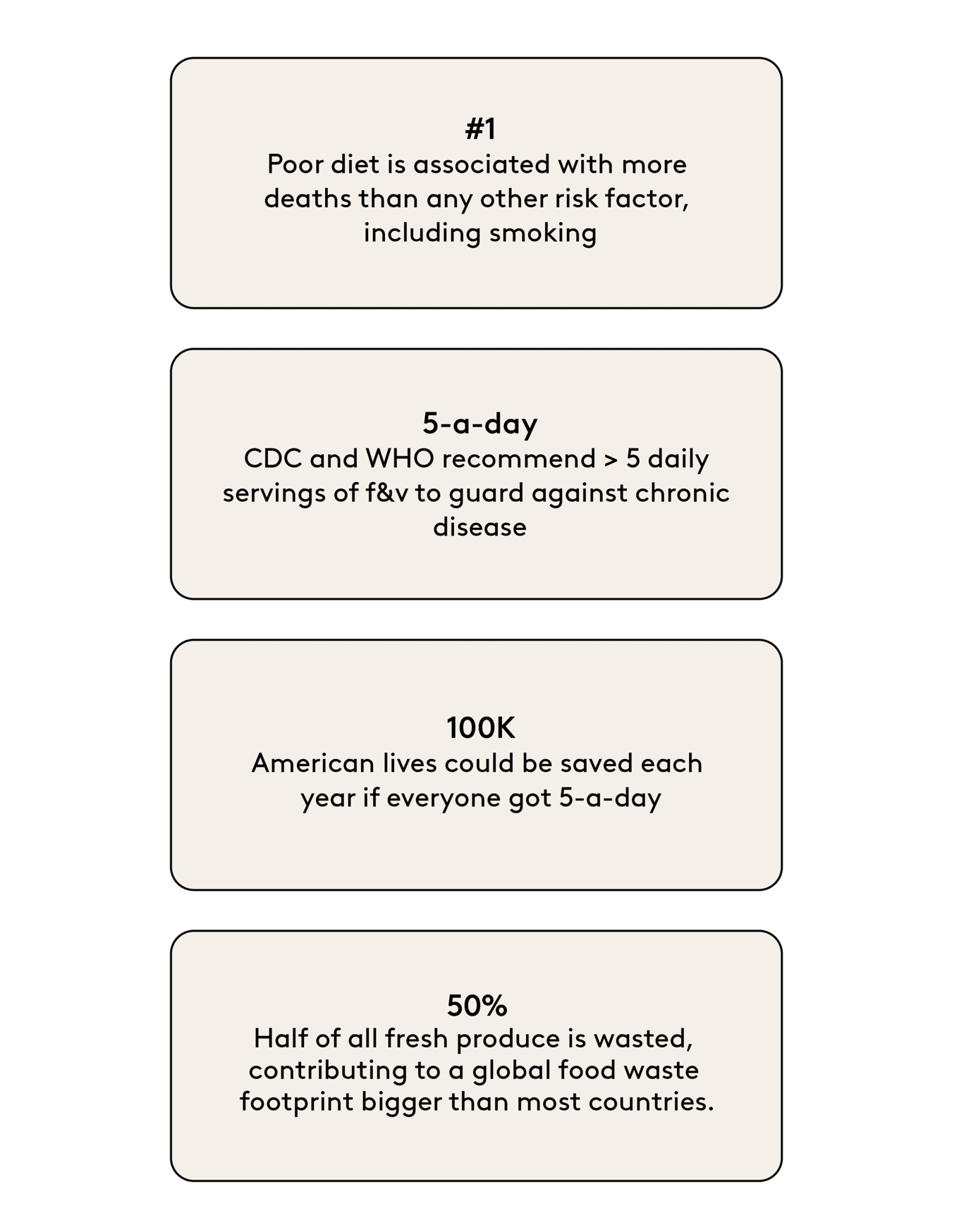 —
Despite our best intentions, we struggle to eat in ways that are healthy for us, or for the planet.
The food industry invests heavily in developing and marketing cheap, ultra-processed foods, which create mountains of plastic waste and make up on average 50% of our caloric intake.
We know that a plant-rich diet with 5+ daily servings of fruits and vegetables is what we need — but 9 in 10 of us don't get that.
Healthy options often seem expensive and time-consuming. And when we do opt for fresh fruits and veggies, we struggle to use them before they spoil: we toss 30% of the fresh produce we buy.
kencko makes it convenient, affordable and sustainable to get your 5-a-day
Using advanced food technology, we are creating a growing portfolio of on-the-go plant-based products designed for maximum nutrition, minimum waste. We make reaching for nutritious, real fruits and vegetables just as easy as opening a bag of potato chips or grabbing a soda from the vending machine.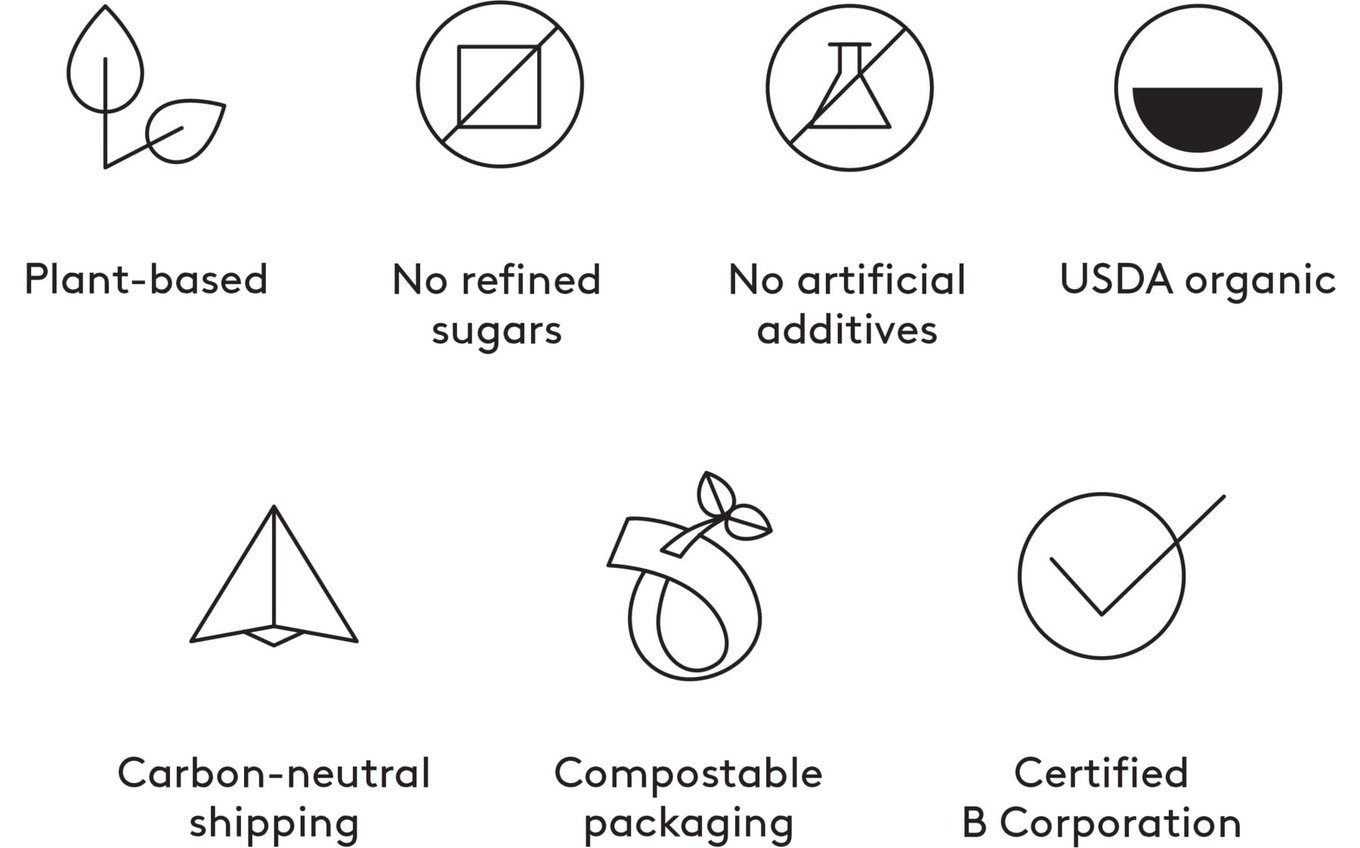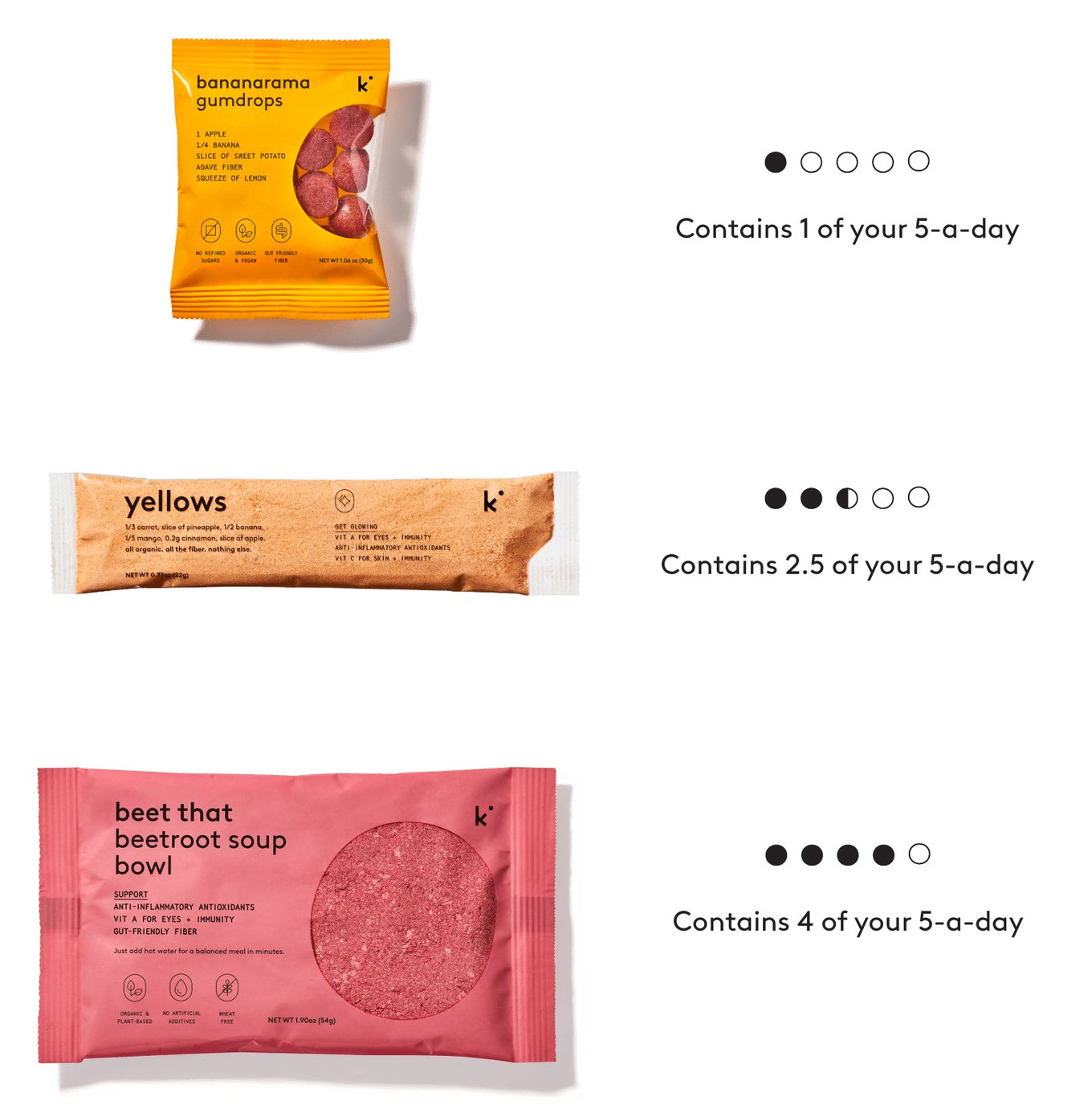 We also help people build healthier eating habits — based on nourishment, not restriction — through expert coaching, nutrition education and the support of a growing community.
A certified B-Corp with a strong sustainability mission, kencko is committed to fixing the food system in favor of individual and collective health.
Our product portfolio:
smoothies, gumdrops,
& bowls
---
Instant organic smoothies
---
Add 2.5 servings of real, organic produce to your breakfast routine in 30 seconds flat — no need to blend.
Over 50 different fruits and veggies in 20 different flavors; nothing added and nothing taken out except water. Simply rehydrate with water or your choice of milk to awaken all the nutrition, flavor and color of fresh produce.
---
Pure fruit & veggie gumdrops
---
Sometimes only a sweet treat will hit the spot. Kencko gumdrops taste like candy, if candy was your friend.
Six different flavors of pure fruit and vegetable joy, sweetened with fruit juice and fortified with prebiotic inulin fiber to give you a balanced energy boost — and a mouth-watering hit of flavor.
---
Hot meal bowls
---
Kencko's chef-designed, Registered Dietitian-approved range of hot bowls make speedy, healthy, plant-based lunches easy.
Choose from soups, risottos, pasta dishes and curries - plus our epic vegan chili. Prep takes seconds, and all you need is a kettle or microwave.
Initial R&D and soft launch phase complete. Currently working on range expansion.
Ramping up to a game-changing retail debut
Since launching as an e-commerce brand, kencko has sold over 20 million smoothies. We have signed up over 300K customers, and our repeat purchase rate is 61%.
Our website has racked up more than 3 million visitors in the last 12 months, and over 170K people follow us on social media.

Over four consecutive years of online growth, we have developed our brand, built a strong manufacturing base, and positioned kencko for the next big opportunity: a major bricks-and-mortar launch in the first half of 2023. As kencko evolves into a mass-market retail brand, we expect revenue growth to accelerate sharply over the next two years.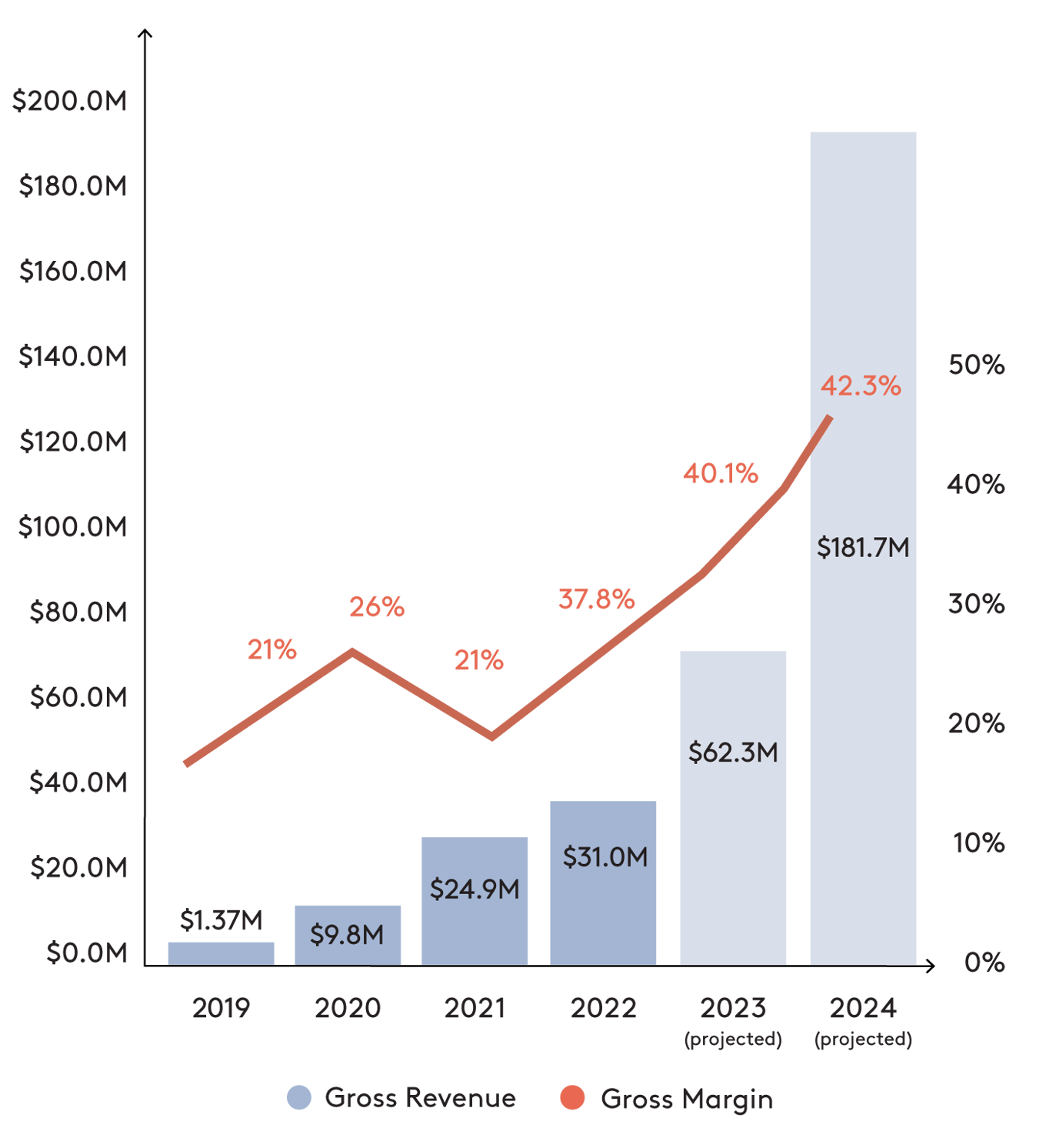 Between 2019 and 2022, kencko experienced exponential top-line net sales growth of 174.9%. During the same period, AOV (Average Order Value) increased YoY at a CAGR of 16.4%, 12 month ARPU (Average Revenue Per User) increased 19% CAGR and LTV/CAC (Lifetime Value/Customer Acquisition Cost) improved 24% CAGR.
As a result, our all-time cumulative gross revenue reached $67M at the end of 2022.
According to our models, we expect to maintain a strong top-line CAGR of nearly 91.6% between FY'23 and FY'25. In tandem, our operating expenses are improving with scale. Kencko plans to be net-income positive during 2023.
—
Customers are staying
with us longer, and spending more
In the e-commerce segment, 12-month average revenue per user topped $200 in 2021 and now stands at $233. Renewals are up by almost 20 percentage points since 2019, with an impressive 65% of sales in 2022 coming from repeat customers. This is a product of continuous customer engagement, elevated shopping experience & listening to customer feedback.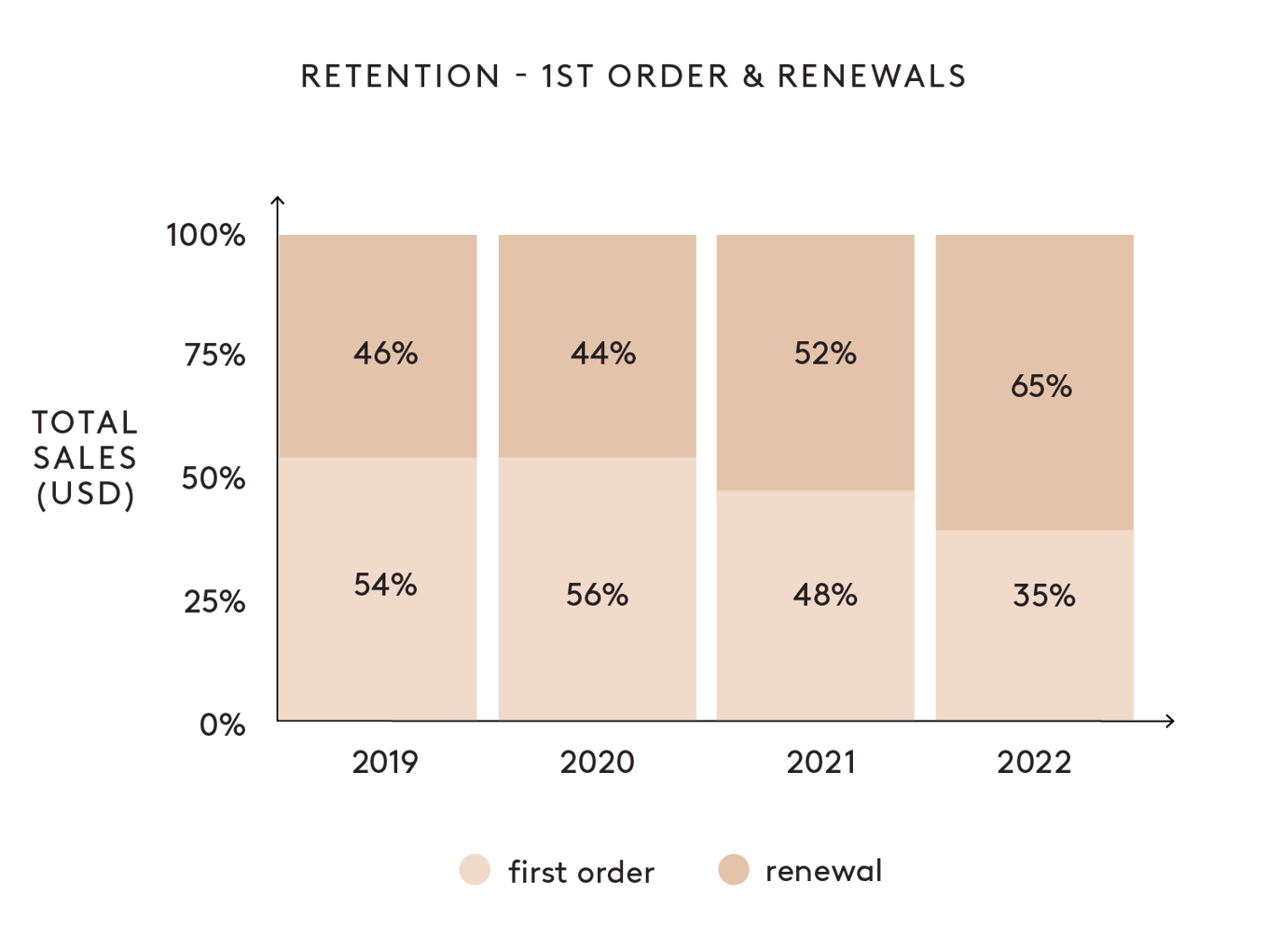 —
Strong interest from
wholesalers and retailers
With an average of 1.3 inbound inquiries every day during the past year from 30+ countries, we are seeing steady demand for kencko products from resellers. In addition to the deal already signed, which will see a range of kencko products on shelves in 1000+ US stores this year, we are actively pursuing future distribution opportunities, both domestic and international.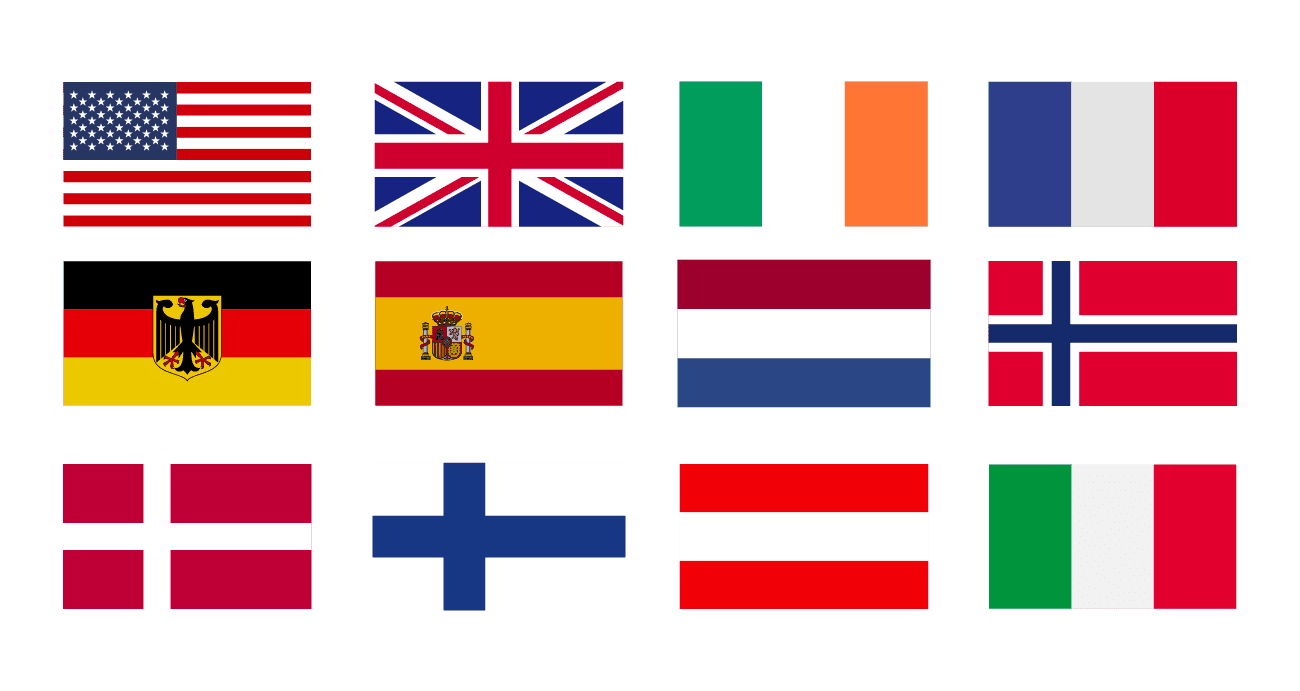 We are building a great brand that consumers love
Since launching, kencko has nurtured a dedicated following, with members in every US state and 29 other countries worldwide. We reach an impressively broad demographic and consistently deliver great customer satisfaction.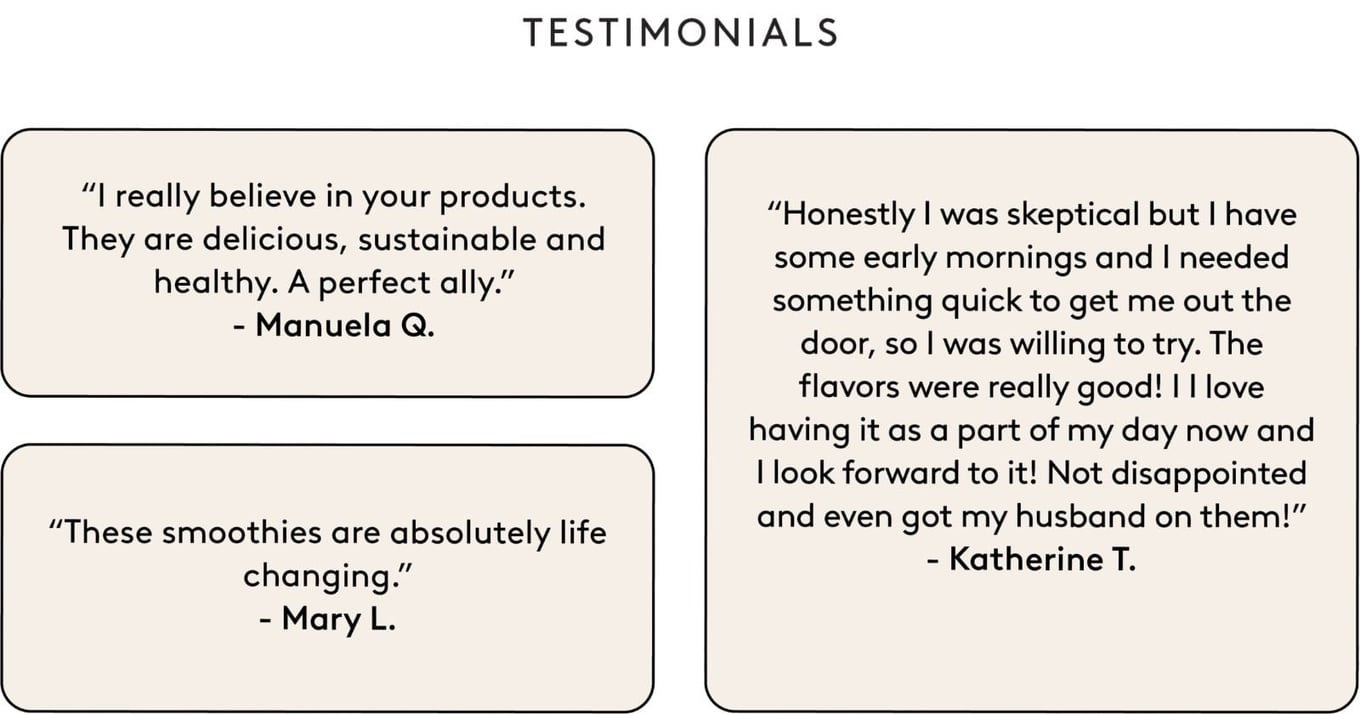 Our customers come to kencko for affordable, convenient products that are packed with fiber and nutrients. A recent survey of kencko's member base shows that:
Health and convenience are the two biggest motivators/benefits for kencko's customers

48% have kencko every day

40% have kencko 2-3 times a week.
---
kencko appeals to all ages
---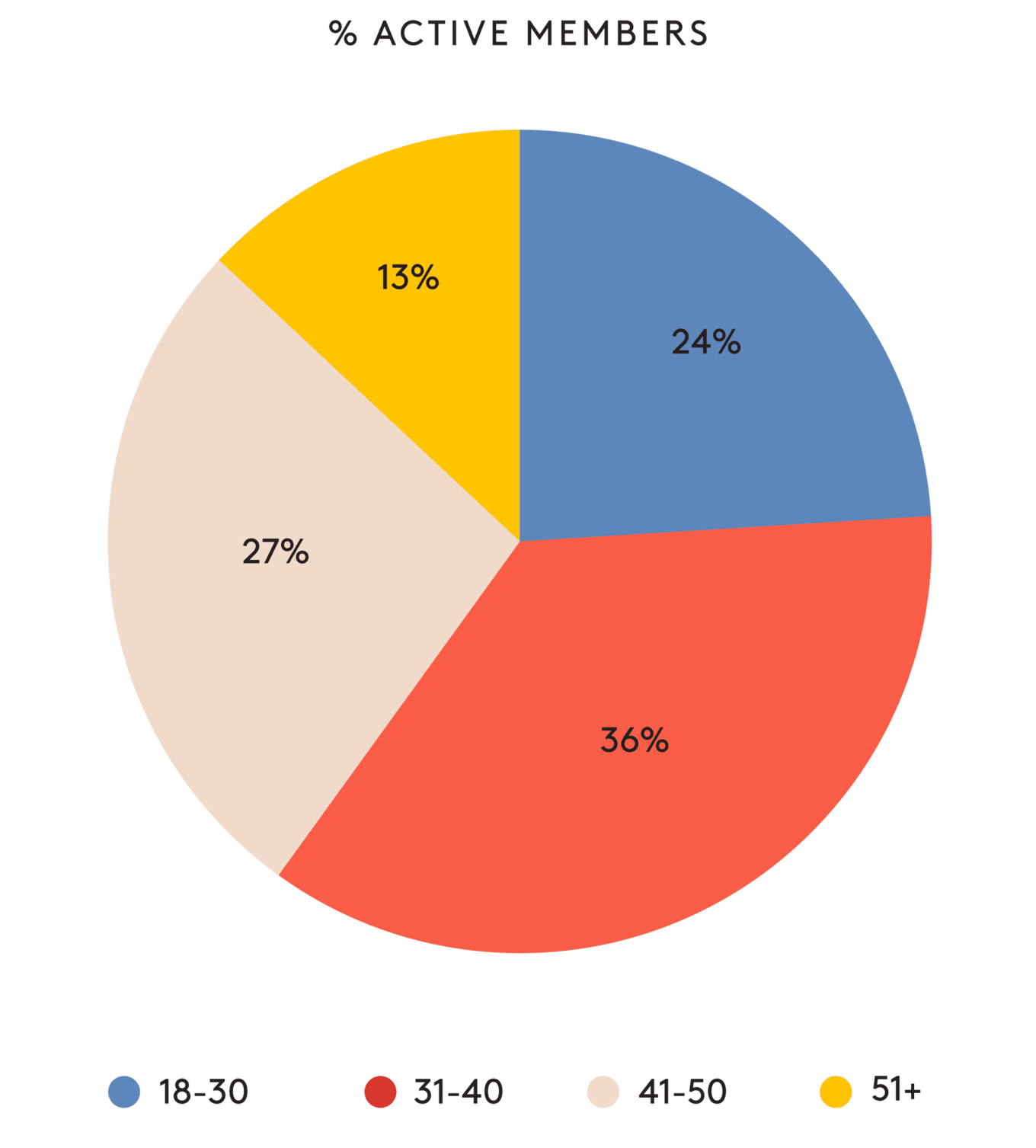 ---
Our approval rating is strong and rising
---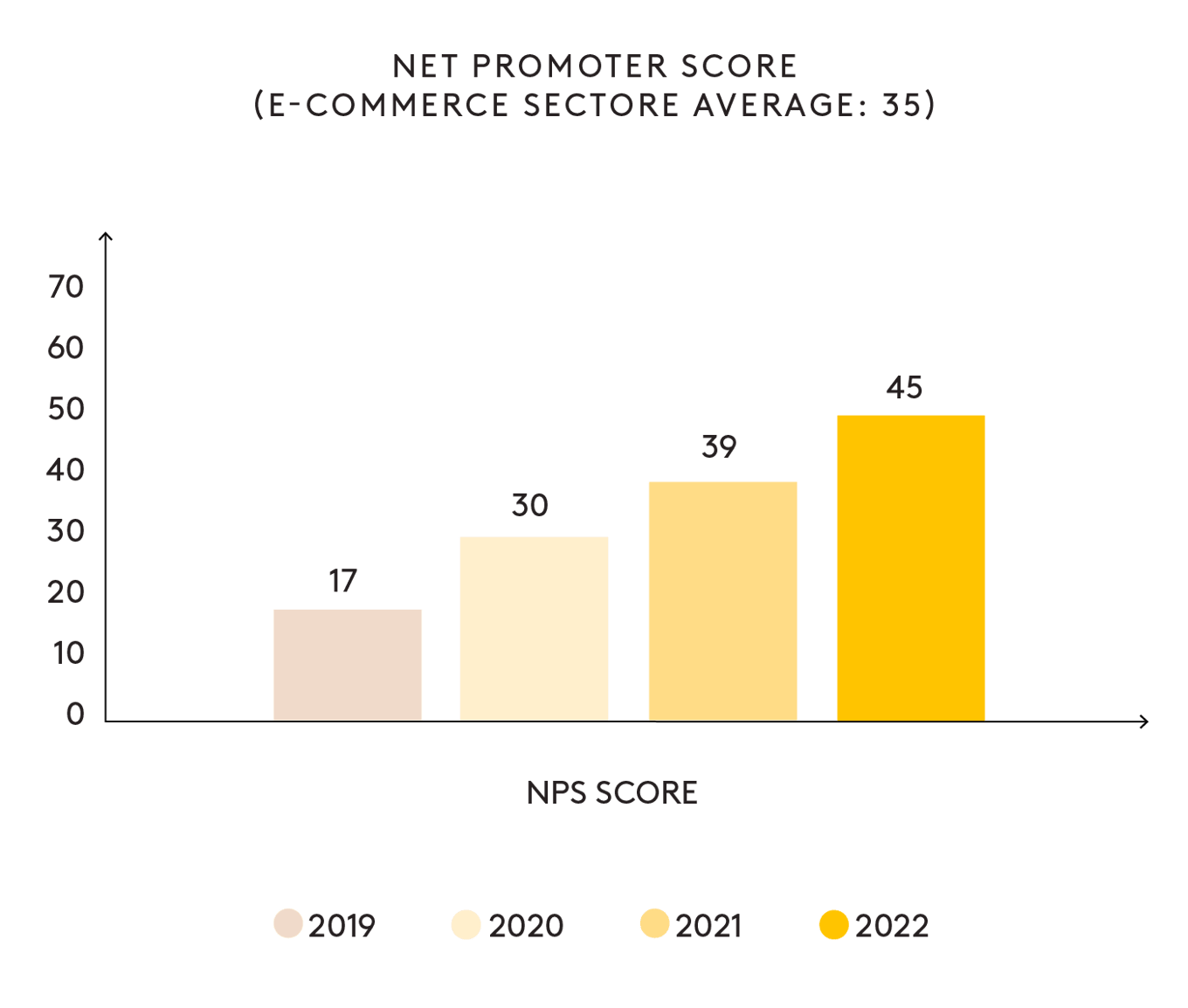 We are building a resilient, sustainable food company
We own our mixing, packing and fulfillment operations, giving us more control over stock levels and production. Our diverse supplier base provides built-in resilience to supply chain fluctuations.
Our gross margins are improving: we closed 2021 at ~ 21%, 2022 at ~ 38%, and aim to exceed 42% in 2024.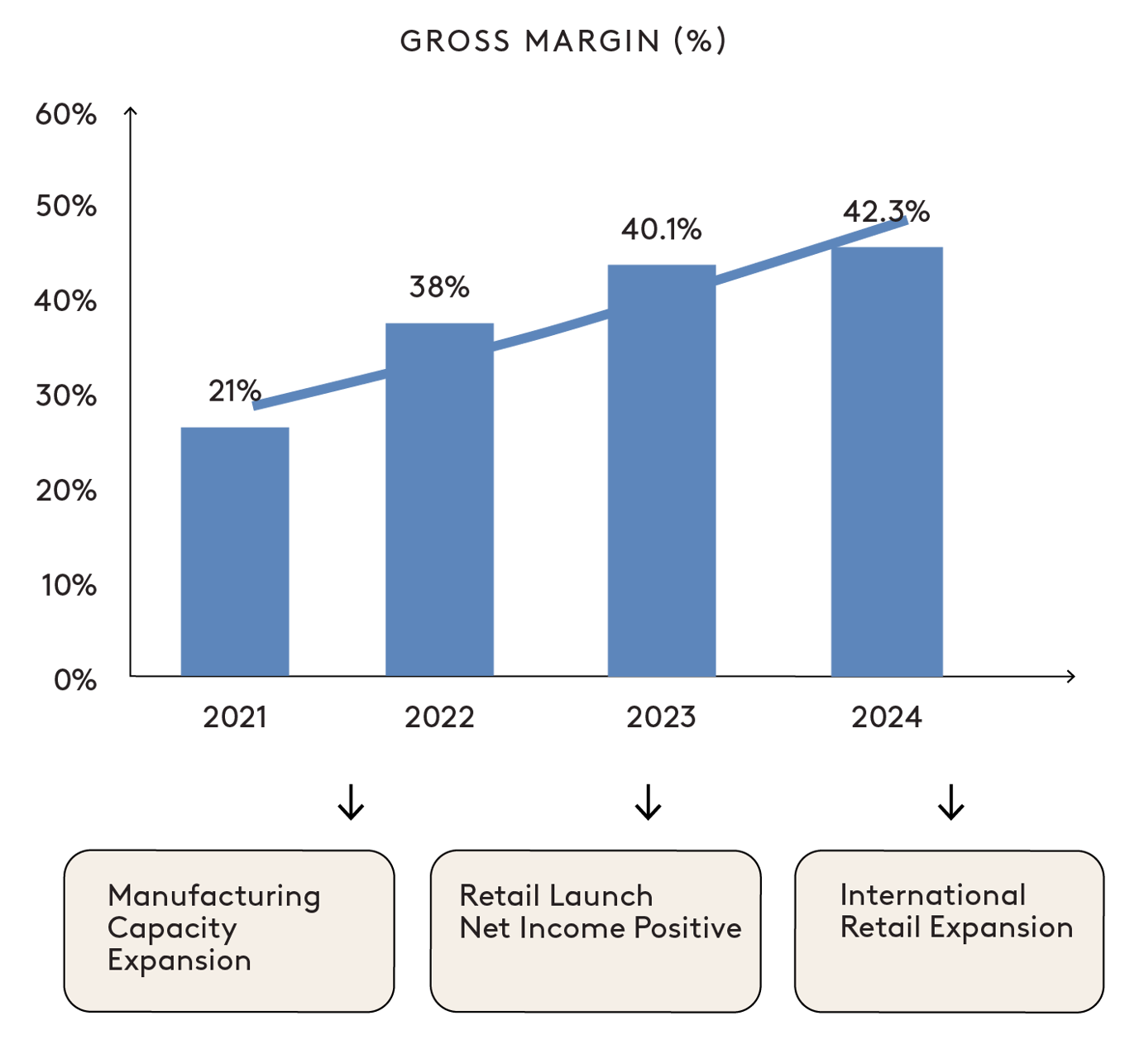 —
We keep making new products that people love
We have a history of successful innovation, driven by a strong understanding of our customers and their needs. As well as constantly refreshing our existing categories with exciting new flavors, we're expanding into new products and services to meet demand. For example, the single-serve protein we launched in 2021 has become a firm favorite. 17% of members now choose to "add-on" protein packs or gumdrops to their smoothie boxes.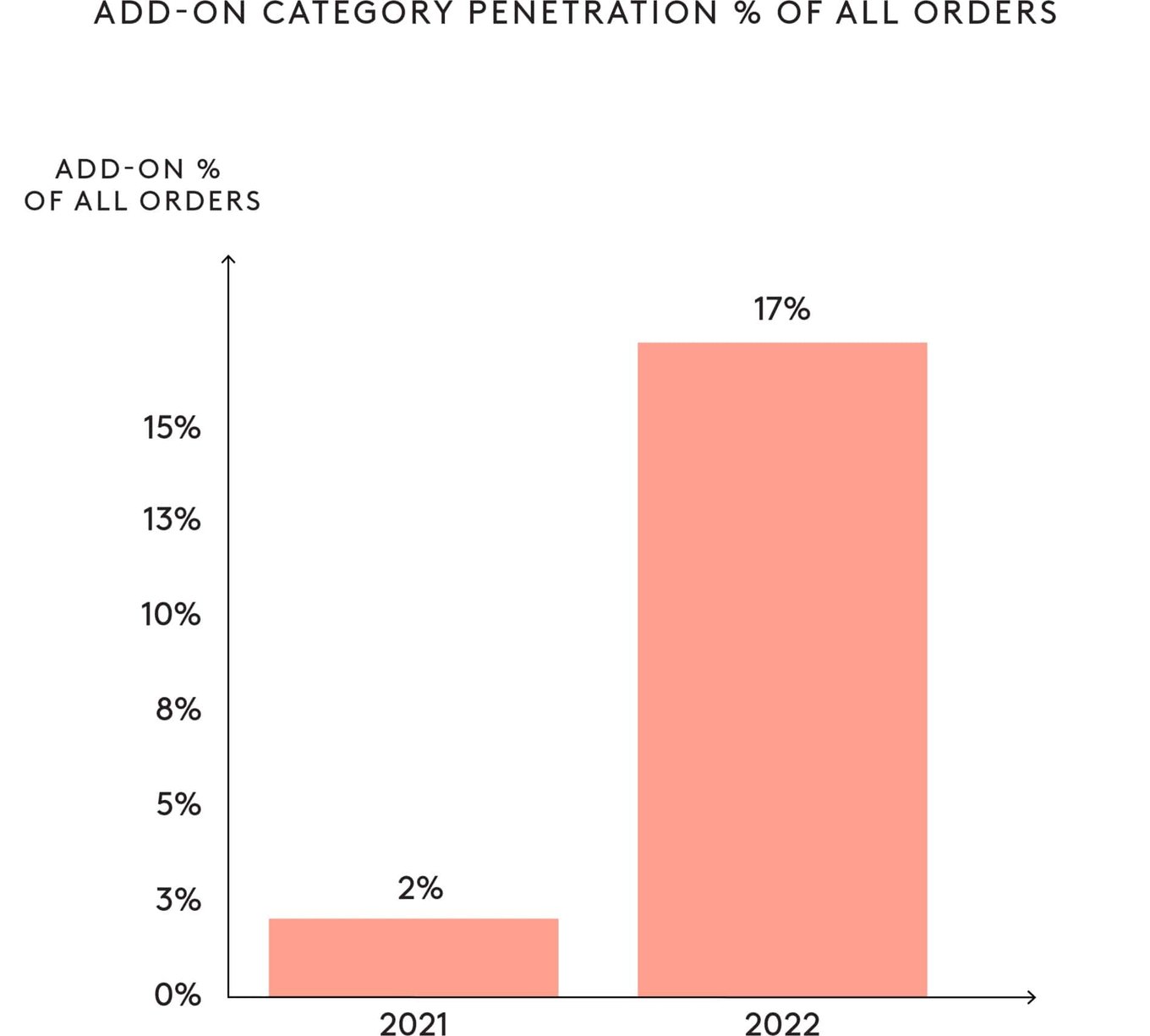 —
Our path to profitability is clear
As we continue to drive strong revenue growth and improve our operating efficiency as we scale, kencko is on track to be net-income positive during FY'23.

Exciting developments in retail and wholesale/B2B will allow us to diversify and greatly expand our sales channels through 2023. We are hard at work on our transition to an omnichannel brand; in 2022 we more than doubled our manufacturing capacity to meet demand.

'Better For You' is a fast-growing category
When it comes to healthy eating, consumers are desperate for clear guidance on what to eat, and nutritious, tasty, affordable foods they can trust to nourish them. At a time when grocery prices are fluctuating, Kencko is particularly well positioned to cater to the 80% of Americans who are trying make healthier food choices while also watching the household budget. One of our smoothies supplies 2.5 servings of fruits and vegetables — half the daily recommended minimum intake — from just $2.49.

As an additive-free, organic option, we meet the rising consumer demand for more natural, minimally processed foods. Sales of organic foods in the US have more than doubled since 2010, topping $50 billion in 2020 and projected to hit $63 billion by 2025.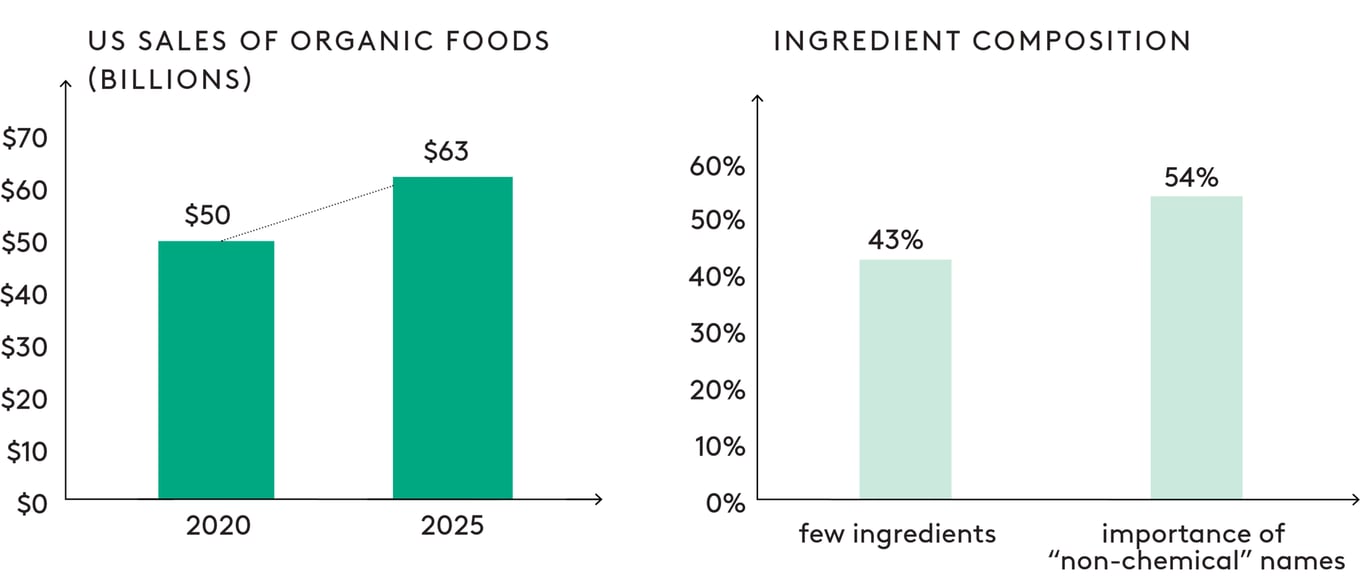 In a recent survey, 43% of US shoppers said they looked for foods with fewer ingredients, and over half said they preferred ingredients with no 'chemical names'.
kencko delivers:
- Maximum nutrition, value and convenience
- Minimum waste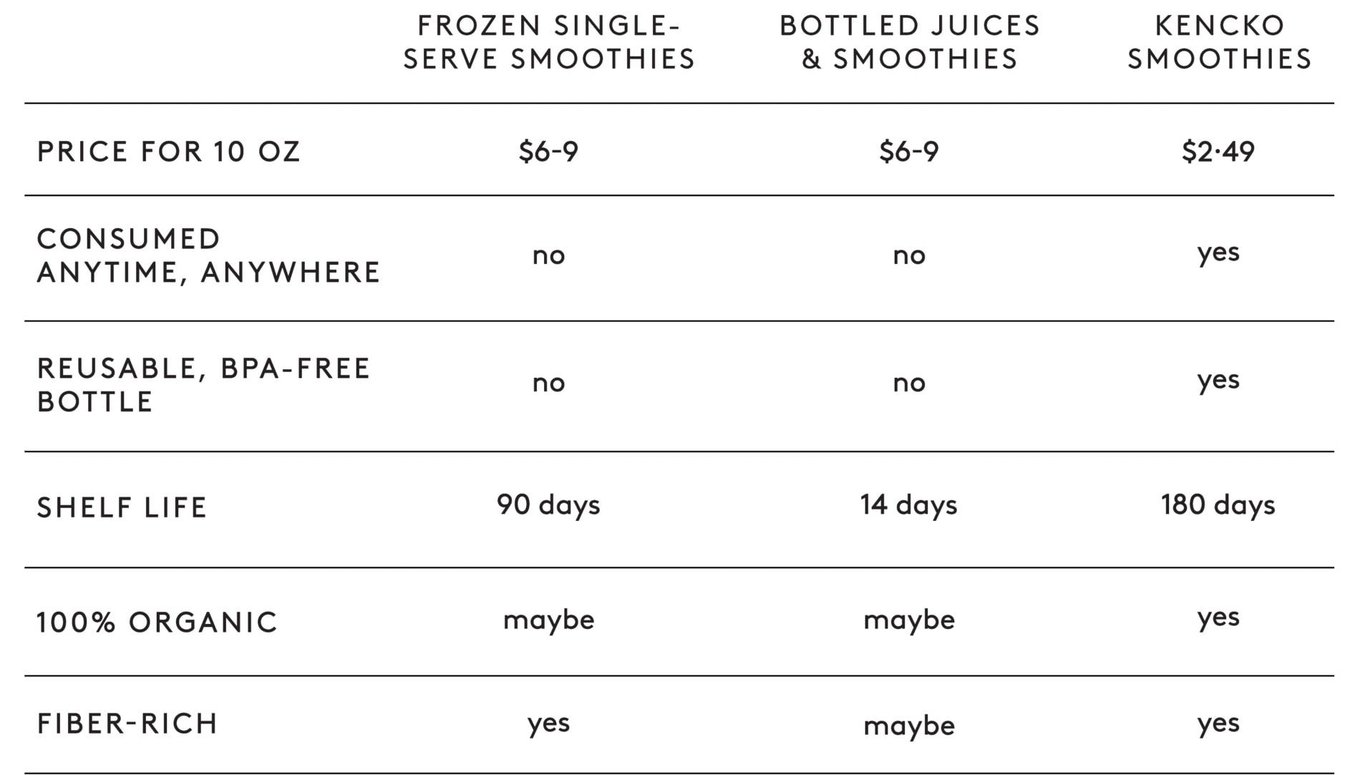 As the leading plant-based brand focused on freeze-dried fruits and vegetables, kencko has several key advantages:
Freeze-dry tech means shelf-stable products without artificial preservatives

Organic ingredients grown in season and freeze-dried at peak ripeness to lock in all the flavor and nutrients

Shelf-stable, light and easy to transport - less waste, a lower carbon footprint, and super convenient for consumers

Great value and extremely competitive with alternatives on the market - a kencko smoothie provides 2.5 servings (200g) of real organic fruits and veggies for as little as $2.49

Certified B-Corp(™) and on track to be a carbon neutral enterprise in 2023

Expert in-house nutrition team of Registered Dietitians, whose science-backed, 'health at every size' approach attracts customers who are sick of unproven wellness products and fad diets.

Online subscription option delivers maximum convenience, helps members to build healthy habits, and creates a loyal repeat customer base

In the near future, widespread availability in retail stores will massively expand kencko's audience and brand recognition
Funding our next stage of profitable growth
We're successfully scaling up, building a global consumer brand 100% focused on convenient, plant-based nutrition. This funding round will allow us to fully capitalize on the significant growth opportunities in front of us. Your investment will help us to:
Reach millions more customers with convenient organic fruits and vegetables, and unlock our next phase of rapid growth, by expanding into brick-and-mortar stores across the US and beyond

Continue to develop exciting new products that meet our customer's nutrition needs, from breakfast to bedtime

Speed up our progress towards making kencko a carbon-neutral enterprise


Over $25 million in venture capital investment already secured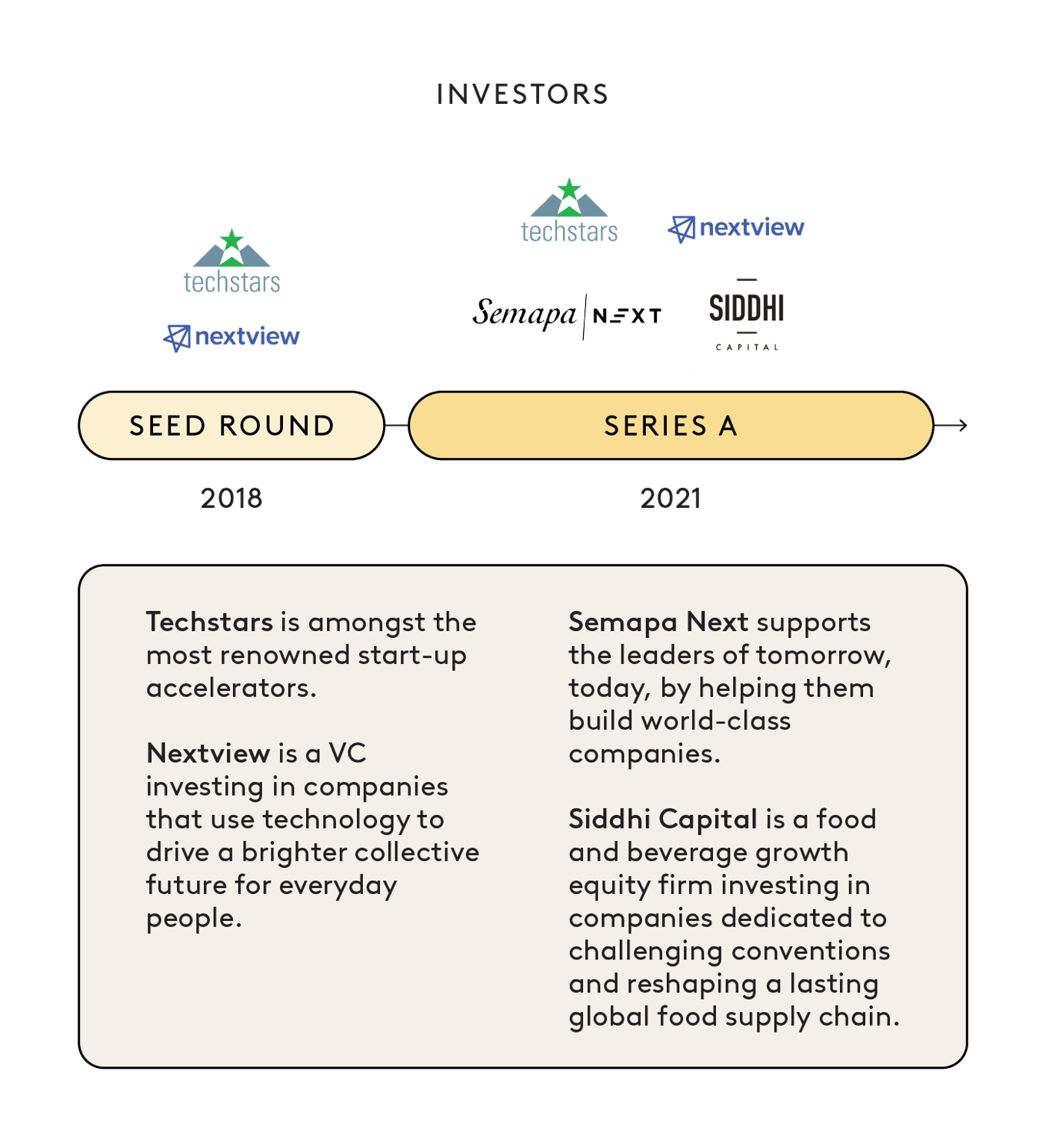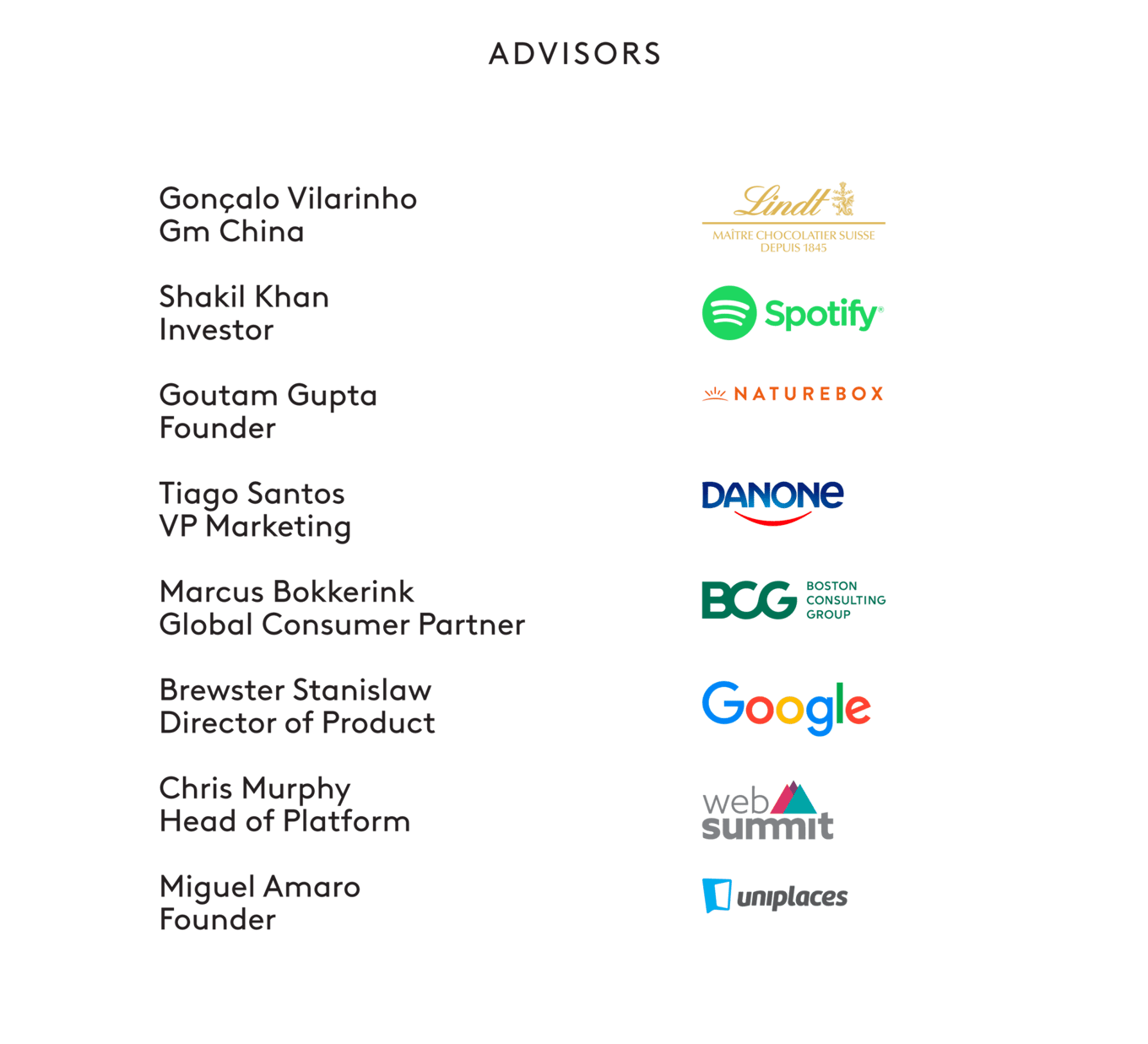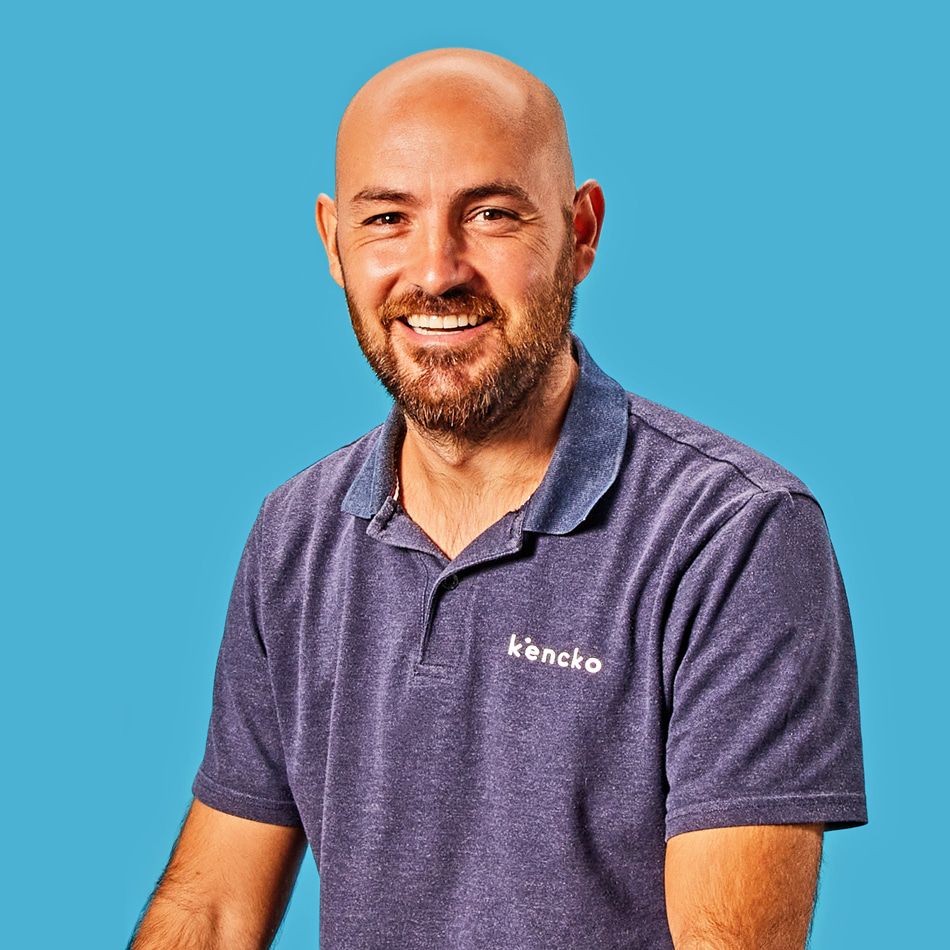 Tomás Froes
Founder & CEO
Tomás Froes knew he was onto something when his switch to a plant-based diet reversed the symptoms of his acute gastritis, allowing him to ditch the regime of pills his doctor told him he would need for the rest of his life. But this busy food-tech entrepreneur solved one problem, only to encounter a bigger one: why is it so hard to get your recommended five daily servings of fruits and vegetables?
Tomás had previously started companies in the food space, both in Europe and China, and his last CPG food company in China was acquired by Dr. Oetker. So with sustainability and social responsibility in mind, he founded kencko to solve this fruit-and-vegetable availability problem for everyone.
Four years and more than 20 million freeze-dried smoothies later, Tomás and the kencko team are building a nutrition-led, smart food company that helps people eat well and live well. A Certified B-Corp(™) with a remit to innovate for the good of both people and planet, kencko is cutting food waste and putting better nutrition in people's hands.
---
Meet the team
---
We've built a team of 100+ people based in the US and Europe, and our team left these companies to come build the first giant, 100% fruit and veg-focused foodtech company.
Target, Nestle, Siemens, P&G, Landing.Jobs, Accenture, Allplants, FOSSIL Group, Corporate Health Partners, Skyscanner, JSI, KPMG, Michaels.