We can't afford to be financially unhealthy
It's costing the next gen thousands
---
Zillennials lose an average of $20,000 a year due to one (or all) of these three things.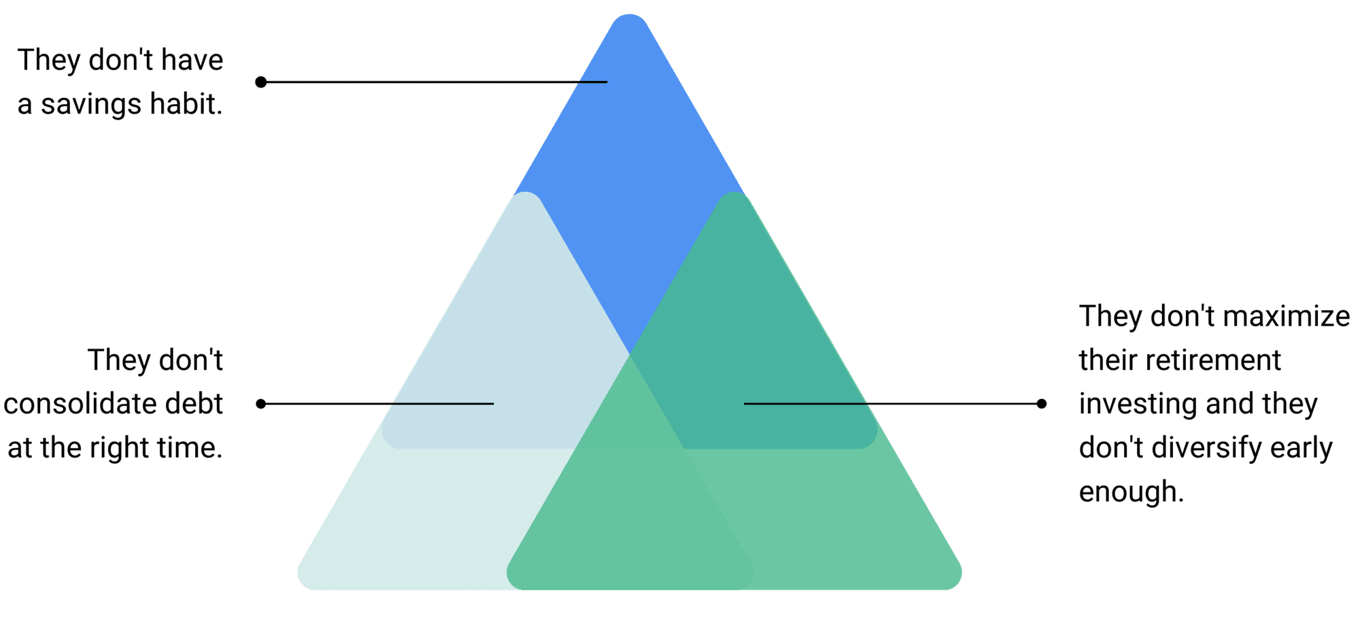 This is a potential loss of over $10 trillion in wealth over the course of the Zillennial lifetime.
---
There's never been more access to growing wealth ... or so much to navigate. Consumers are forced to find unconventional ways to 'hack' their financial lives. Add in a lack of personalized resources, rising student loan debt, and COVID-19, and our seemingly stable financial system starts to feel a lot less secure. Financial insecurity leads to financial stress, which negatively impacts emotional and physical health. It's a costly cycle.
Nav.it:
the financial health app
Measure and correlate individual behavior and banking trend data to mitigate financial stress, improve creditworthiness, and build better behavioral outcomes
---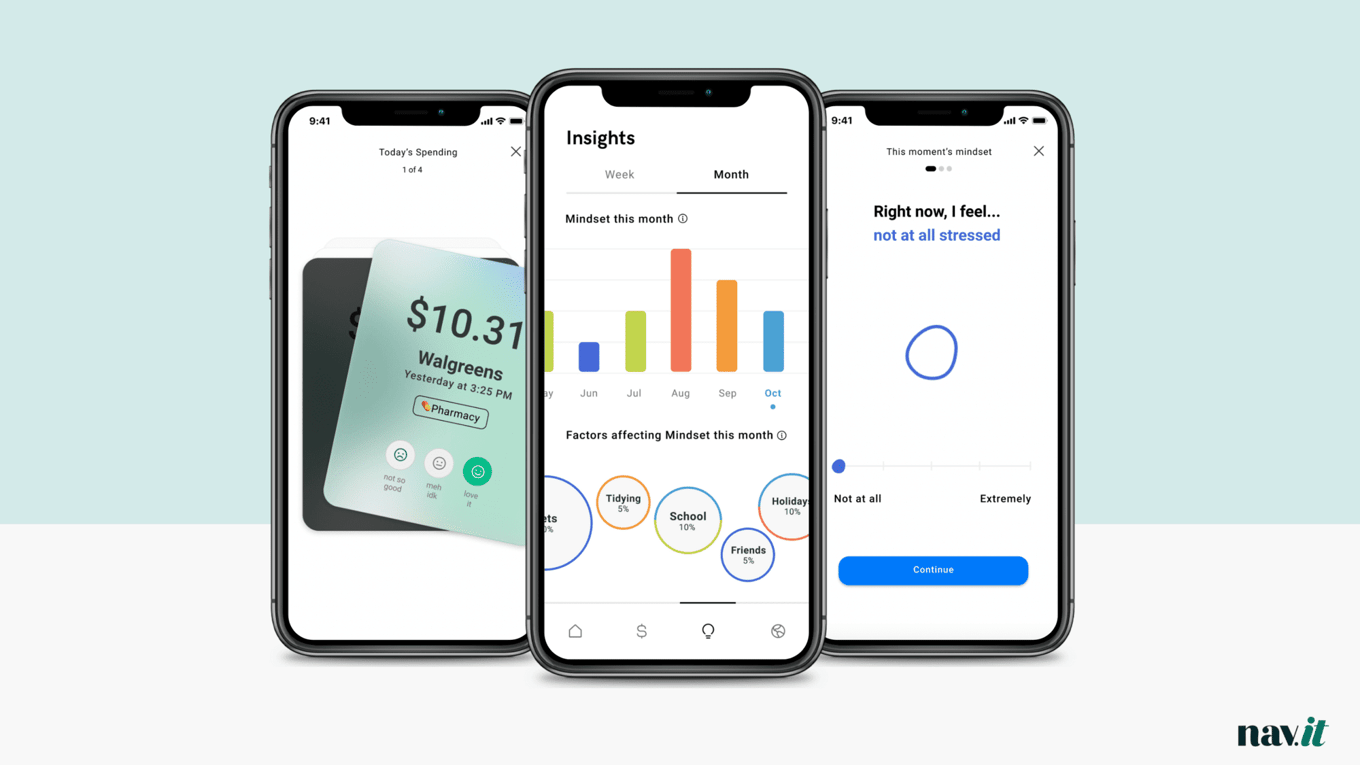 Daily habits
Build personalized habits to reduce financial stress and increase financial confidence. Your data informs your behavior change.
Personalized action
Use proprietary behavioral data to define your own roadmap and automate your way to financial freedom. Automate savings, spending, debt, and eventually investing and defi.
Social+
Leverage community and a sense of belonging to build generational wealth. You're not alone and this generation is changing the world.
Where wealth meets health
We're more than just a money app
Nav.it focuses on your habits and stress levels to improve behavior alongside a community of peers striving for financial wellness.
Step 1. Define your goals.
Navigators "get to know themselves" through a proprietary personality test that helps them identify their values, spending personas, and big picture goals.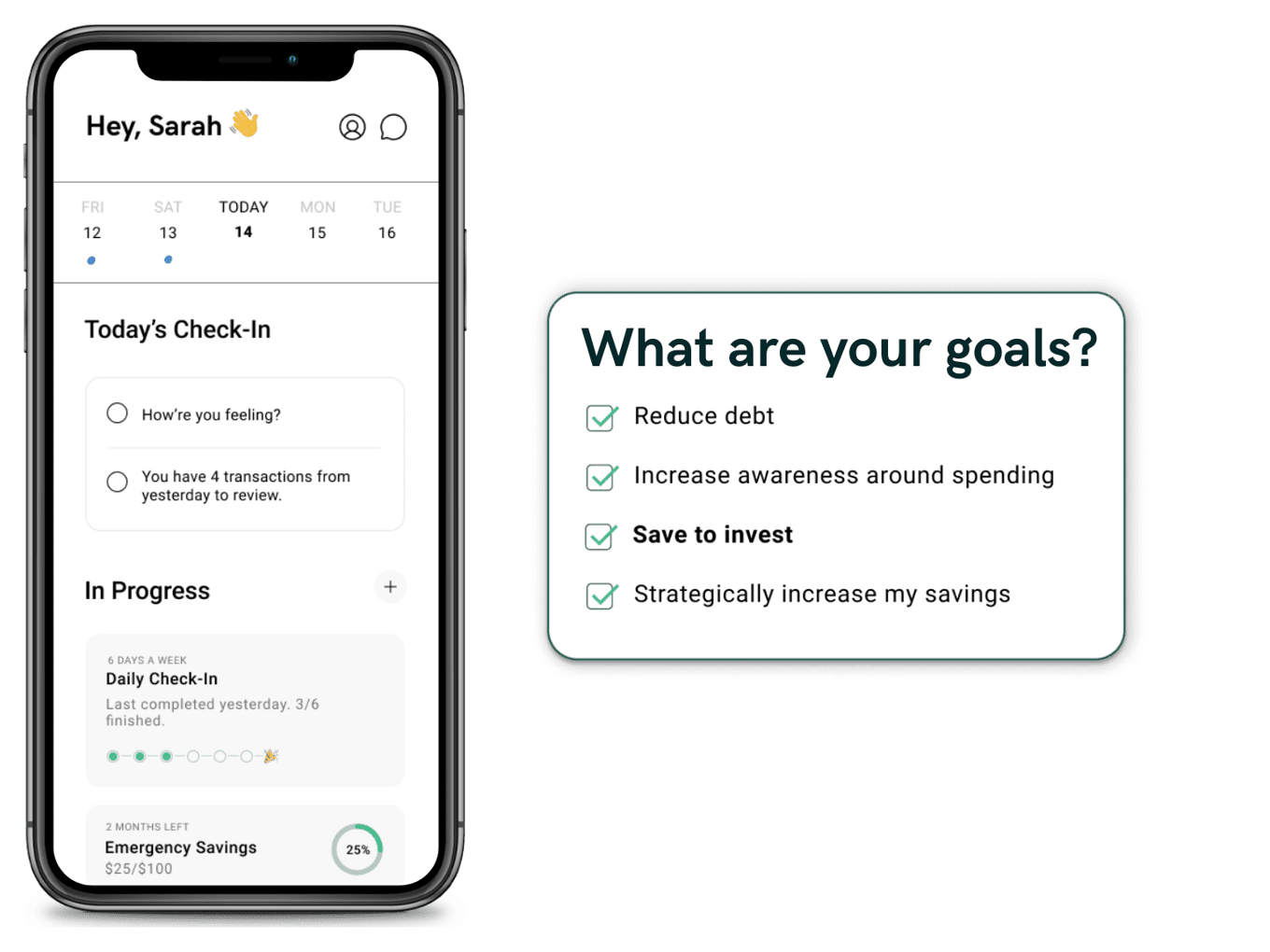 Step 2. Identify existing behaviors.
Navigators track their money habits by logging their moods and 'swiping left or right' on their expenses daily. We then surface unique insights to correlate behavioral and financial trends over time.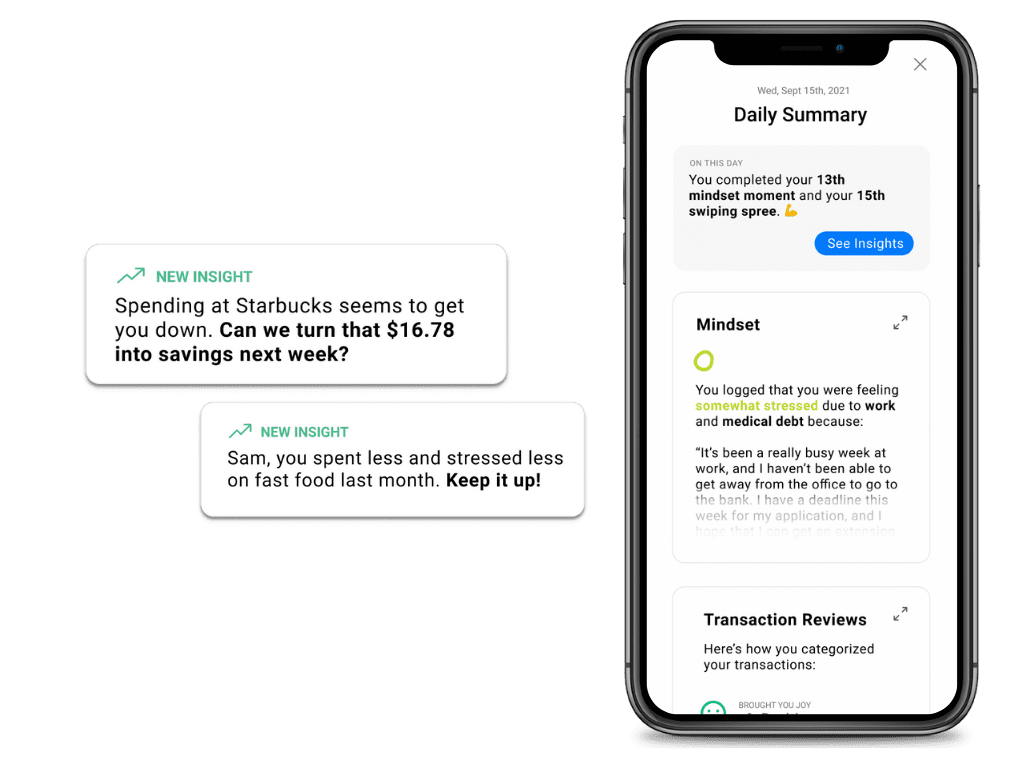 Step 3. Build a financial roadmap.
Insights help Navigators set up micro spending and savings goals. They can engage with others on their journey and even choose one-on-one coaching for extra support.

We are currently designing a tailored, modular roadmap based on incremental financial habit changes that result in long-term gains over time.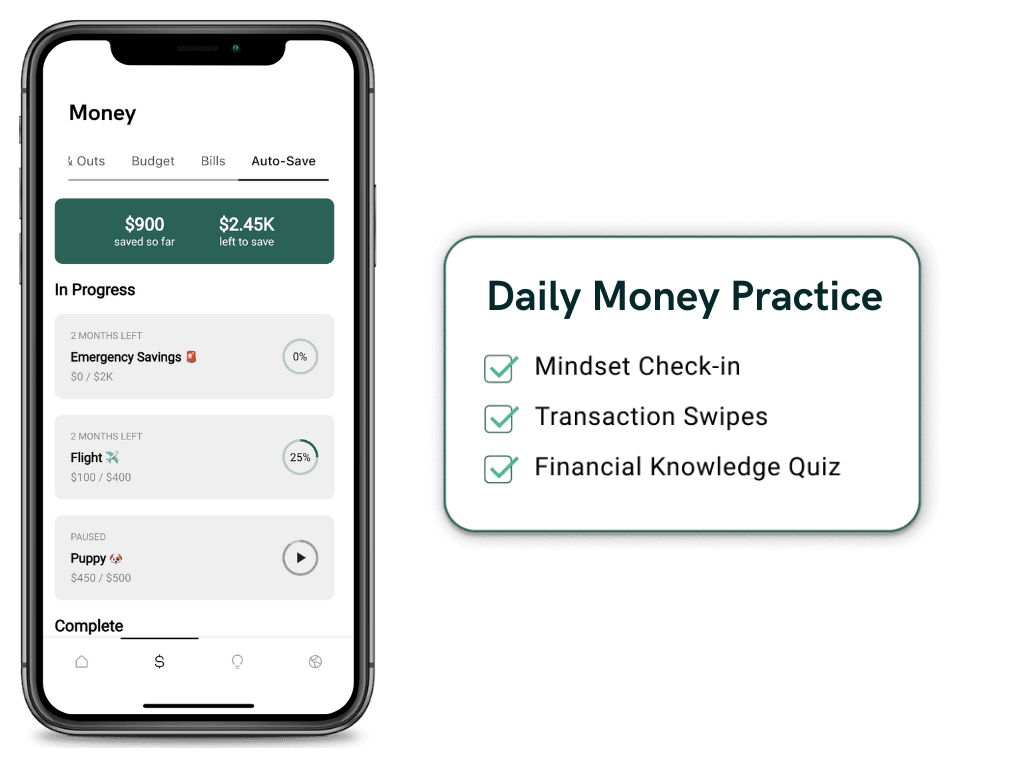 Step 4. It's okay to talk about money.
A sense of belonging increases confidence. We're building a financial social network that encourages positive behavior and rejects the reinforced superficiality of other social networks.
We'll foster open conversations about money, support healthy small group interactions, and help Navigators connect to others.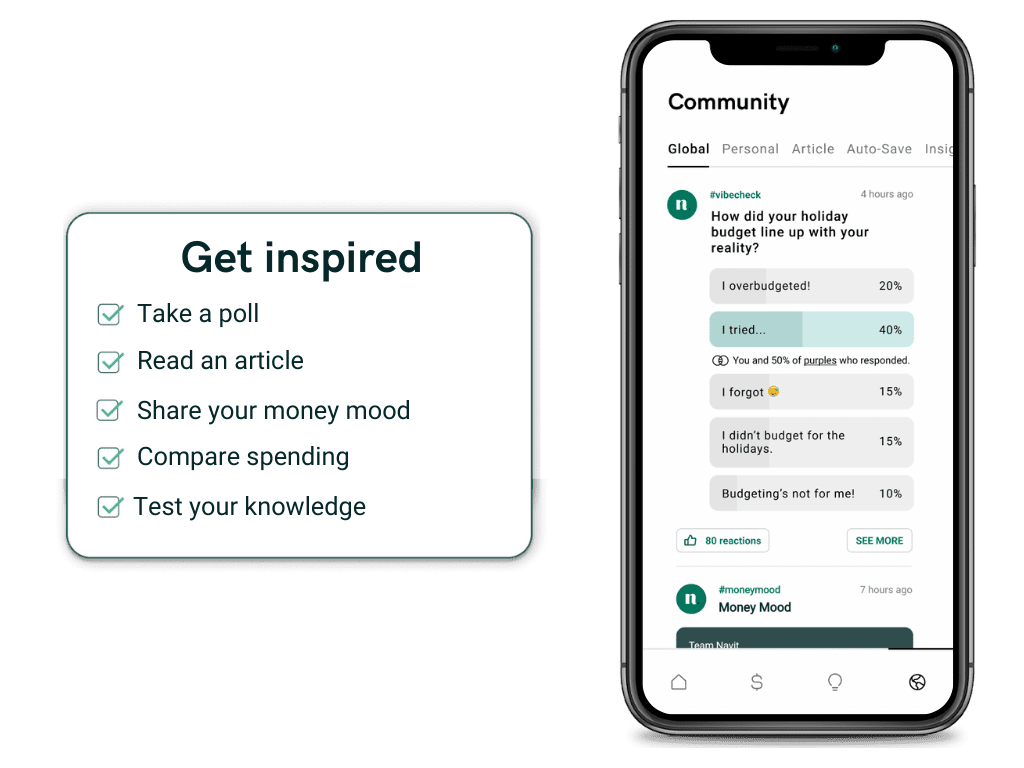 Traction to date
Changing financial behaviors, one day at a time.

---
Early adopters pave the way for savings at scale
500 Navigator cohort, 12-month study duration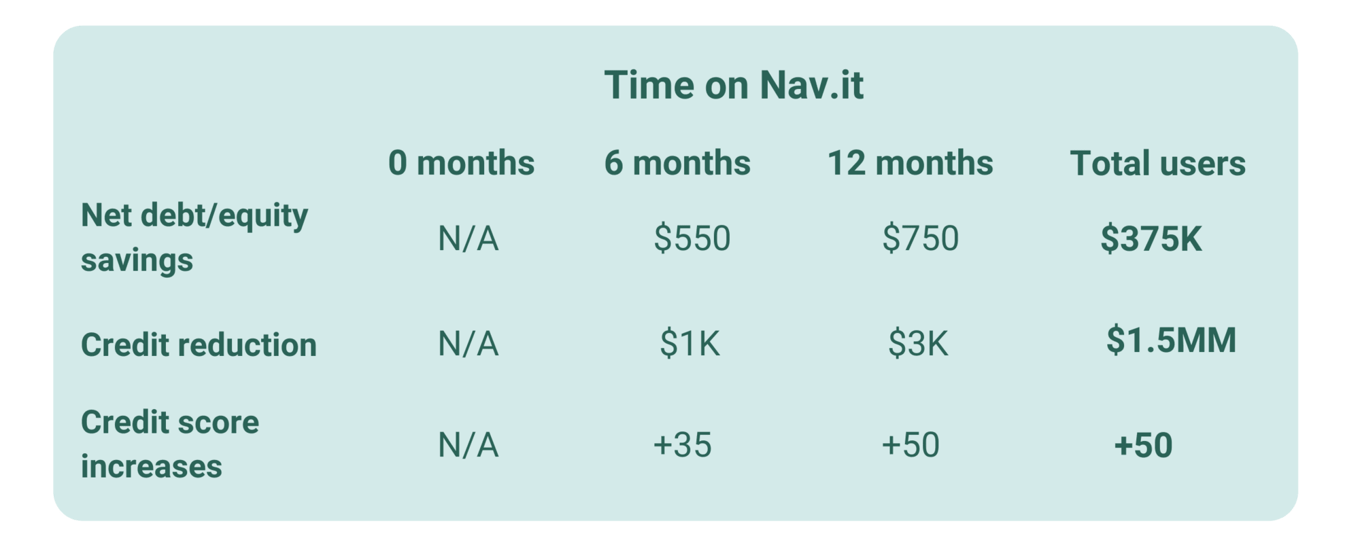 ---
Our team has focused on converting high-quality users interested in connecting their emotional motivations with their financial outcomes.

Market adoption
The social+finance app that helps young earners chart the course for intergenerational wealth

"Young Earner"
We've built a brand, and feature set, for the Young Earner.
Young Earners are:
Financially motivated
Newly on-their-own
Not on Wall Street or at one of the big 5 tech campuses
Changemakers, independent thinkers, and financial hackers

Young Earners are keen to grow wealth, but know they need a solid financial foundation in order to do safely and confidently.
---
User testimonials
Personal finance is personal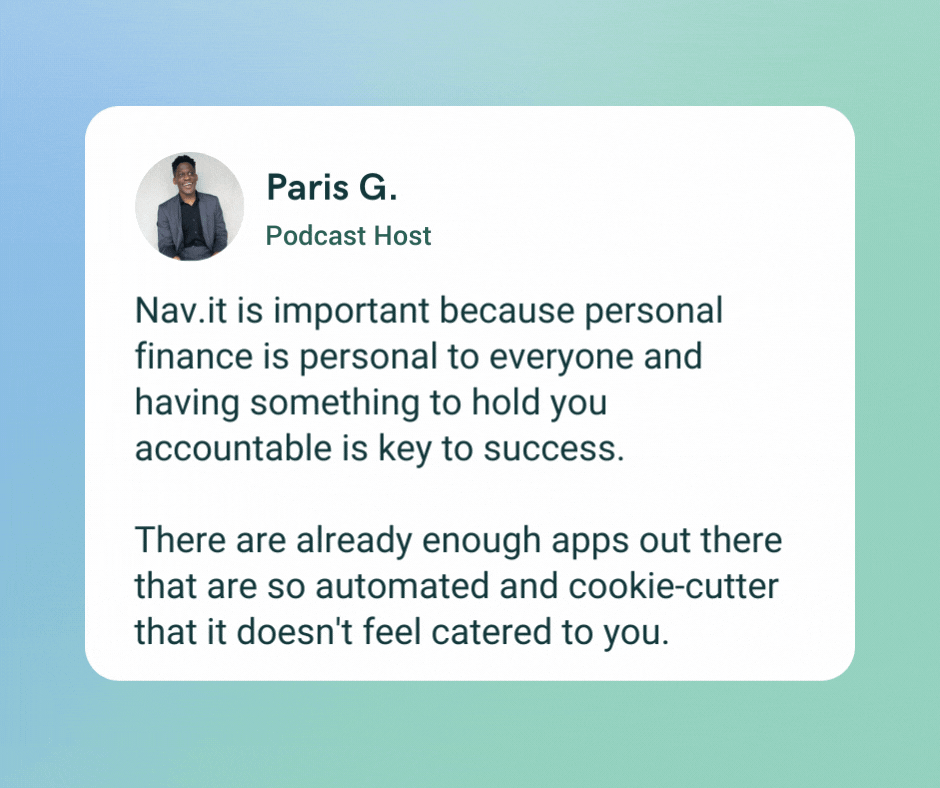 ---
Partnerships
Affiliate & strategic expand reach
We've already begun partnering with names across the financial health community to expand our reach and tune in growth.
Young Alfred
Trust & Will
Bright Ventures
NBKC Bank
Juno
Bestow
Public
Market validation
People are having more meaningful financial conversations that go beyond trendy meme stocks.
There's never been a better time to build a money management app that can understand the root causes of financial behavior, provide quality coaching at an accessible price, and connect the millions of young people desperate for financial direction.

Market size
This is a $3B market with 4M new Young Earners graduating every year. The mobile money management market is expanding as more and more people turn to digital banking solutions.

The ability to transact
is not enough
Fintechs are great at functionality: streamlining age-old inefficiencies to bring more clarity to net worth and monthly balances. However, the existing competition fails to identify and solve the personal pain points of consumers.

---
It's time we take the learnings from recent fintech+social apps (like Venmo and Public) and apply them to personal financial management.
---
Competitive advantages
We make money simple by giving users clear steps to grow wealth
Nav.it's financial coaching model, driven by predictive analytics, serves as a one-stop product where Navigators automate their behavior and financial health.

Vision
To be the pioneering behavioral health platform that compels society to accept that financial health is a foundation for safety, security, self-confidence, and a future of wealth.
---
Use of Funds

---
Future Ecosystem of Nav.it Products
Banking with your financial wellness in mind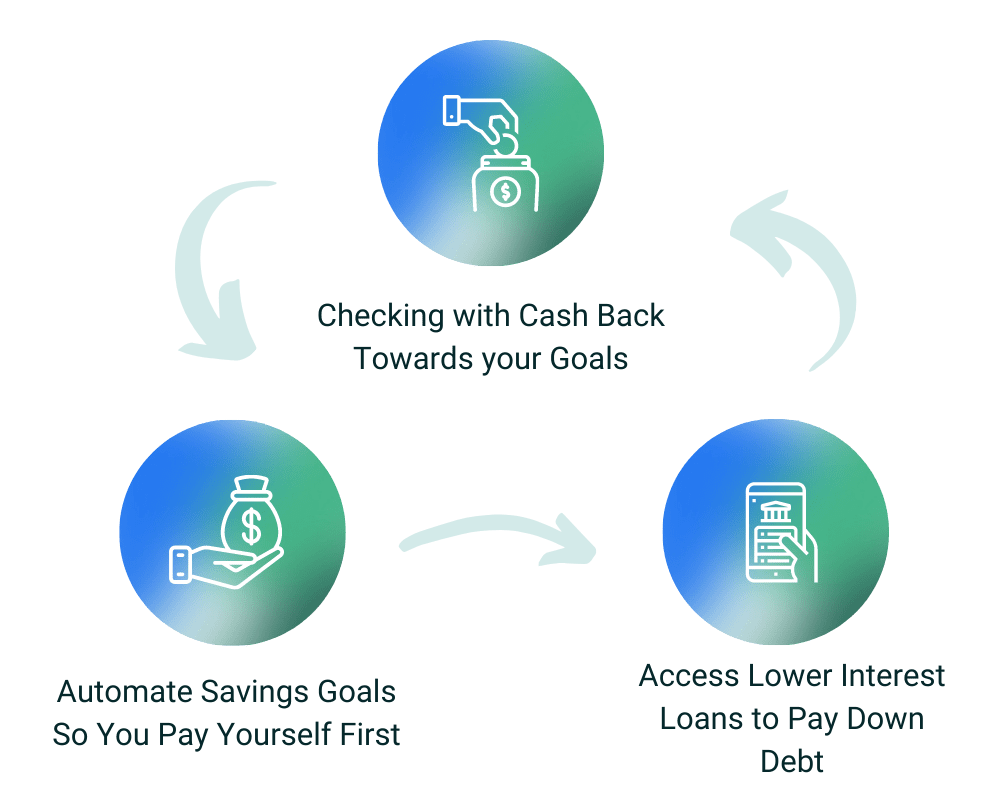 ---
Employers
As an essential health benefit, employers can pay for Nav.it
Loss of productivity combined with absenteeism from financial stress costs employers more than an estimated $2,100 per year, per employee.
68% of employees would prioritize financial wellness benefits above an extra week of vacation. Employees expect their health care to be comped; employers are willing to pay for a healthy workforce.
We'll seek to emulate the success of health tech brands (like Talkspace, Calm, Headspace, and Noom) that penetrated the B2B2C channel through a bottom-up approach.
Primary investors
A successful over-subscription of our Seed round, and beyond
Silicon Valley fintech venture firm, ThirdStream Partners
NY-based Copper Wire Ventures
San Francisco-based Gravity Capital
the Co-founder of Petal
an influential group of angel investors



Invest in a financially healthy future for all with Nav.it.
Erin Papworth
Founder & CEO
2x Entrepreneur, Behavioral Scientist, MPH, Int'l Economics and Management
---
Maia Monell
Co-founder & CGO
Growth Marketing, Business Development Expert, MS in Marketing Strategy & Innovation
---
---
C- Suite Bios
---
Erin Papworth
Erin is the CEO and co-founder of Nav.it. A two-time entrepreneur, she spent over a decade living and working overseas, managing multi-million dollar programs and working for organizations like Johns Hopkins University, Doctors without Borders, the United Nations, and the United States Government. During her tenure, Erin established the West Africa Regional Office for JHU. She led the development and actualization of implementation science programs. These programs increased access to health services for over 100,000 people and directly facilitated positive behavior change among highly vulnerable populations. In 2015, Erin successfully built Avery Franklin Consulting, LLC, a consulting firm with significant expertise in epidemiological field research, behavior change assessments and programming, data science, and policy analysis, especially in countries experiencing trauma. Upon return to the States, Erin became passionate about increasing access to financial resources for financially coping populations in order to help them take advantage of the American financial system and grow intergenerational wealth.
---
Maia Monell
Before co-founding Nav.it in 2019, Maia was a founding team member of BridgeAthletic, the elite performance technology leveraging prescriptive AI to change the game of coaching, training delivery and reporting. While at Bridge, Maia built the B2B2C offering, scaling 250+% ARR. Having seen the detrimental effects poor financial and mental health have on performance, Maia teamed up with Erin Papworth to bring a prescriptive, behavioral approach to finance. Maia leads the growth team at Nav.it. Under her leadership, the brand has grown over 150% in the last year and has launched two new distribution channels: Nav.it at Work and Nav.it on Campus, to meet the growing burden of financial stress at work and on campus. Outside of Nav.it, Maia's the founding partner of MoDa Partners, a group investing in the economic and educational empowerment of women. She's also a board member of her family's two foundations. Maia has a MS in Marketing Strategy & Innovation from Bayes Business School (formerly Cass Business School) and a BA in English from Wake Forest University.
---
Naozer Dadachanji
Naozer Dadachanji is the COO of Nav.it, a pioneer in coaching people through behavior change to improve their financial wellness. Naozer Dadachanji was a member of the senior management team at Barclays Global Investors (BGI), the industry leader in the field of systematic, quantitative investing until its sale to BlackRock in 2009. Working with the CEO and other C-Suite members, he was instrumental in developing and executing on a business plan that increased the company's valuation from $430mm in 1996 to $13.5B in 2009. During a 12-year tenure, he held positions that included Chief Operating Officer for the Active Businesses (revenues of $2.5B), Global Co-Head of Active Equities (AUM $100B+), Global Head of Product, Investment, and Capital Markets for iShares. Since leaving BGI/BlackRock in 2012, Naozer has been an investor in, and advisor to early-stage companies, actively engaging with leadership teams, inside and outside the boardroom.