Mainstream workstations debilitate our minds & bodies
Sitting is the new smoking, and sedentary work increases the risk of both chronic illnesses and premature death—reducing worker wellbeing and productivity, and increasing healthcare spending.
The future of work has changed indefinitely, with 45% of the US workforce working remotely. These professionals are seeking new ways to stay healthy, connected, and productive at home, creating a surge in need for ergonomic solutions that promote movement, wellness, and human connection.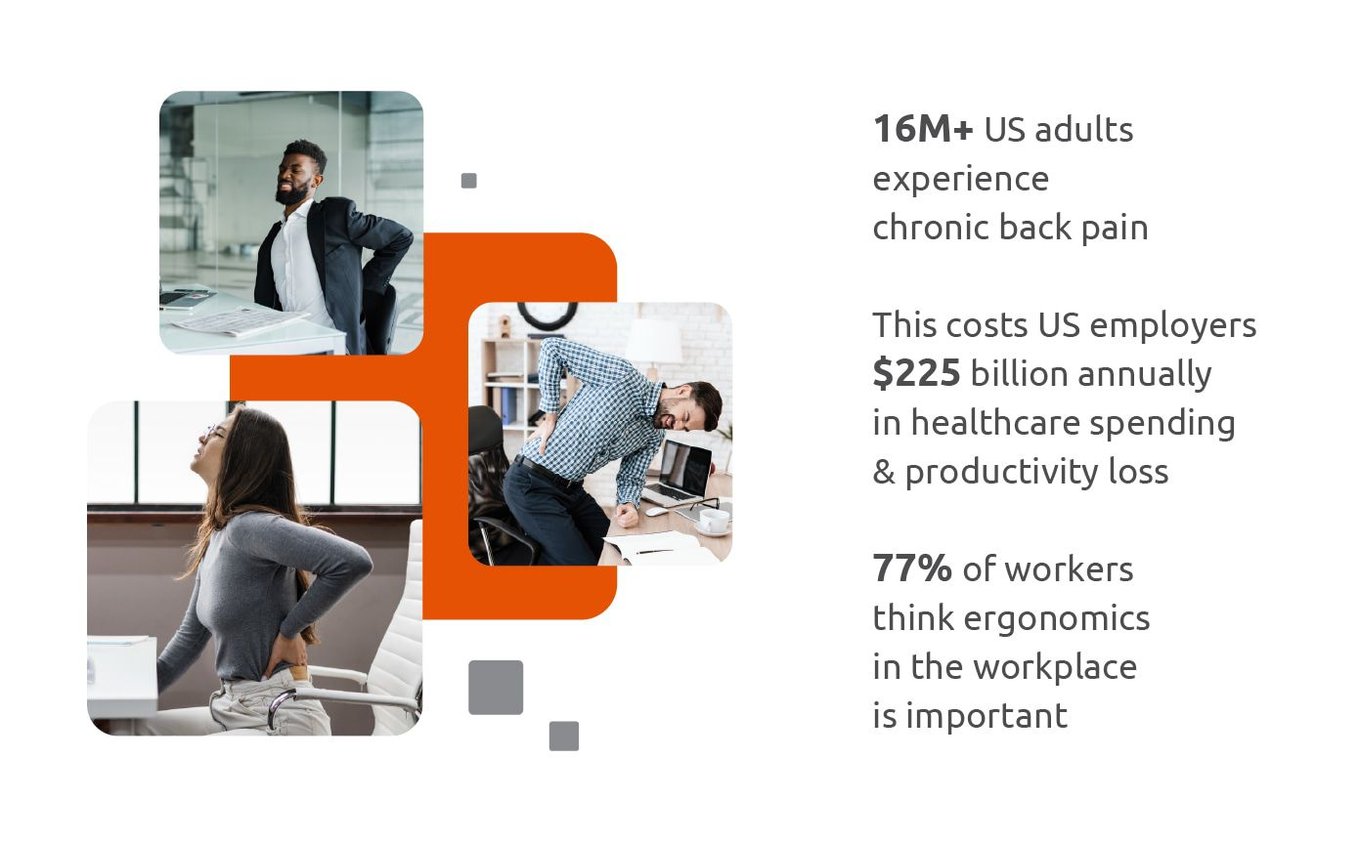 Solving a critical need for ergonomic workspaces
Did you know the average career consists of approximately 80,000 hours spent working?

Well, we spent 80,000 hours engineering and designing an artful, sleek workstation that puts humans where they should be—at the center of their computing experience.
Altwork's Signature Series was designed around you—your comfort, your experience, your productivity. Now you can do world-changing work without breaking your body in the process.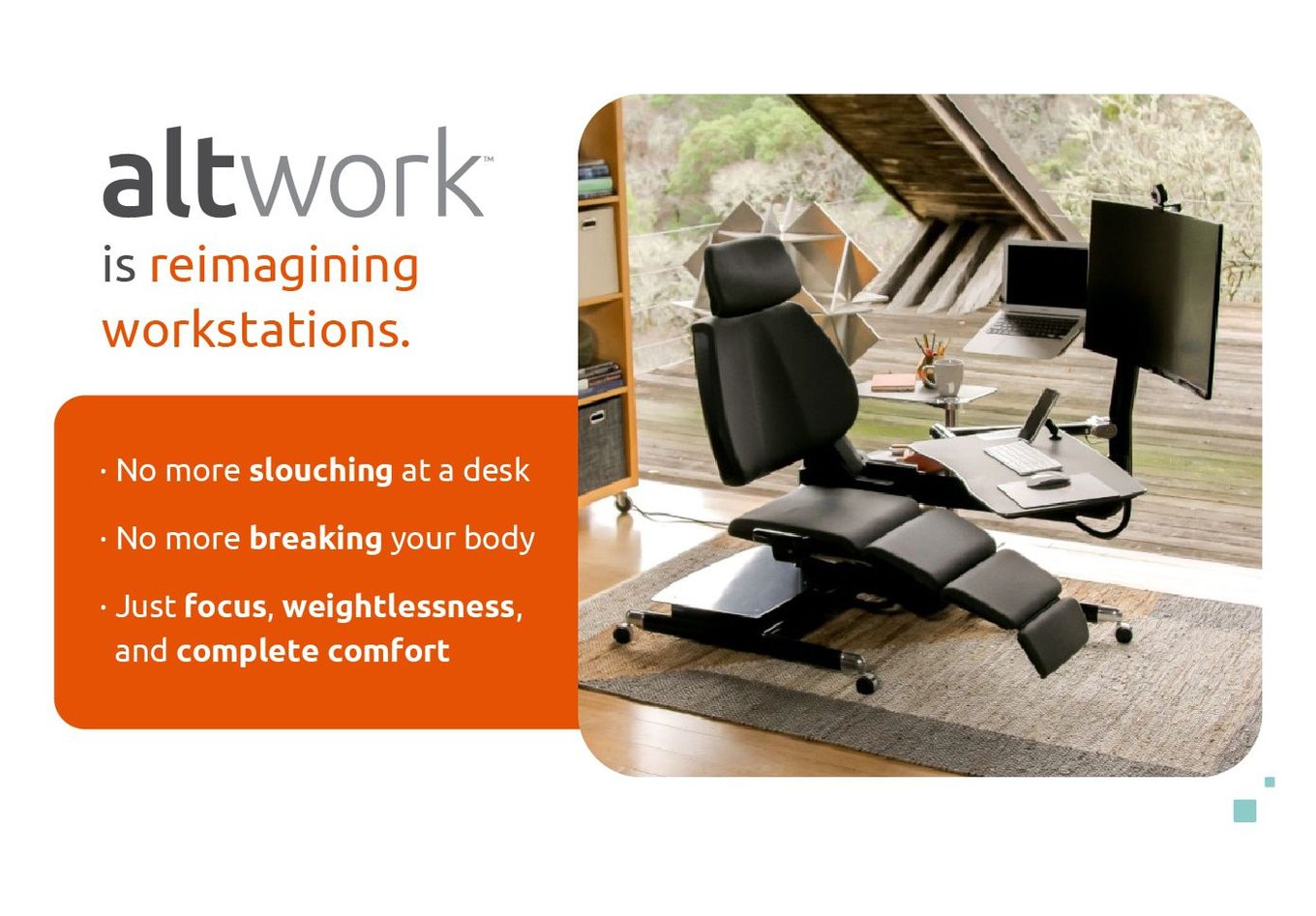 Gravity-defying workstation prioritizes movement & connection
Our aerospace-engineered, all-in-one office solution contours to your body with your screen and desk moving seamlessly around you. Magnetic mousepad, monitors, and other accessories stay attached and usable even as the desk moves from standing to sitting to fully reclined.

Long gone are distracting discomforts brought on by hours of sitting or standing. Immersed in a relaxing sensation of weightlessness, your brain can finally do the work it was meant to do.

—
TruVue video conference station
enables real human connection
With TrueVue™, we're redefining the video conference experience and narrowing the gap between our physical and digital selves—for an instant, genuine, in-the-same-room connection.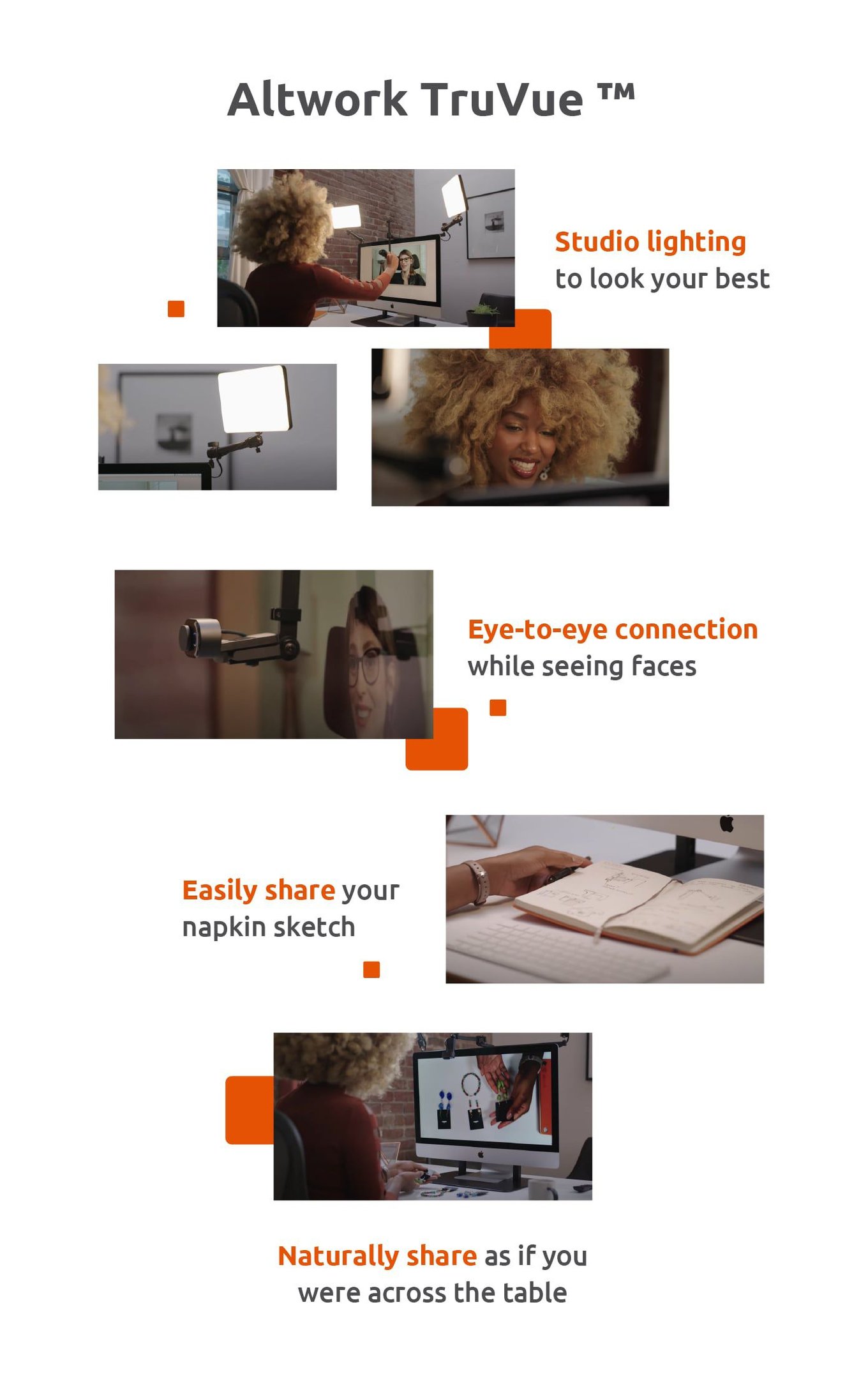 $9M+ in lifetime revenue with 50-80% margin per unit
Remote professionals are beyond ready for a workstation that prioritizes their comfort and wellbeing. This puts Altwork squarely at the center of a rapidly growing market encompassing an ultra-profitable segment of individuals needing high-end office furniture that empowers comfort.
---
1200+ Altwork stations in use
---
$9M+ in Lifetime Revenue
---
Last company investors made 77% IRR
---
Multiple patents in the US, EU, and Japan
---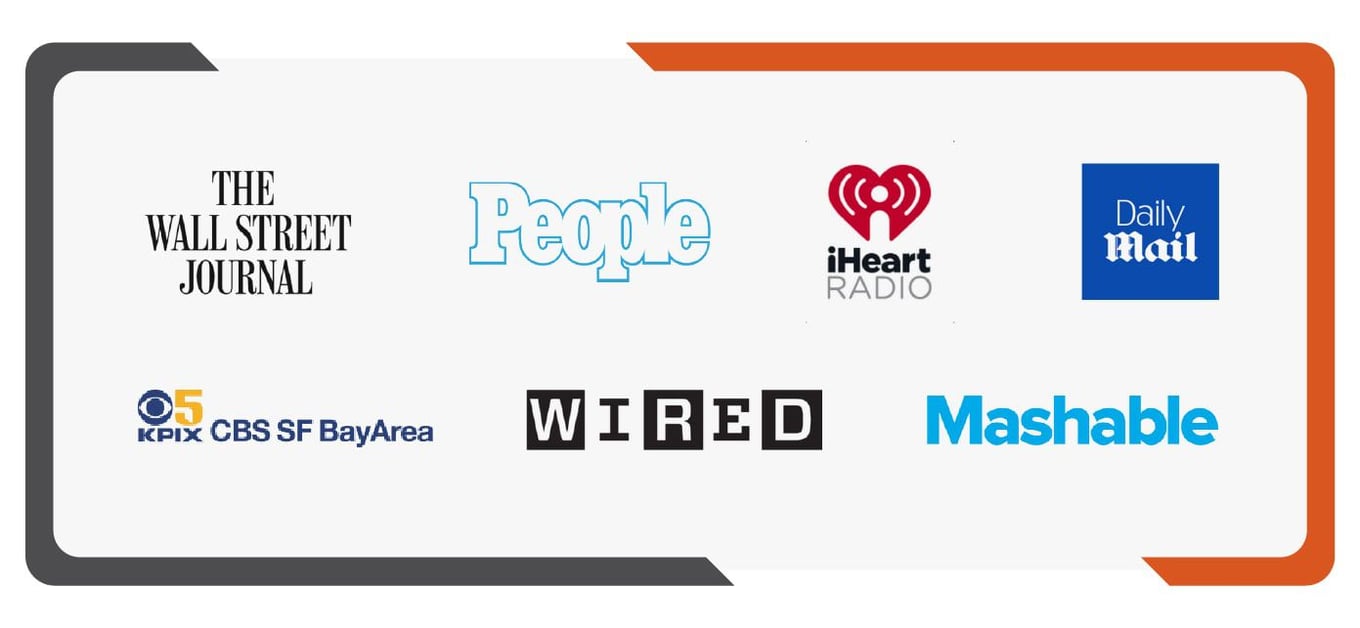 For the focus, achievement, & wellness of professionals
Our bodies hurt from years of sitting at our desks, and for many of us, it's hard to stay motivated and focused working from home. In addition to chronic back pain and fatigue from prolonged sitting, it's easy to feel isolated and unwell when even our human interactions take place on our screen.
More so than ever, the world is ready to move beyond obsolete work setups that constrain our creativity and diminish our health. Altwork is a better way to work, and we have the testimonials to prove it.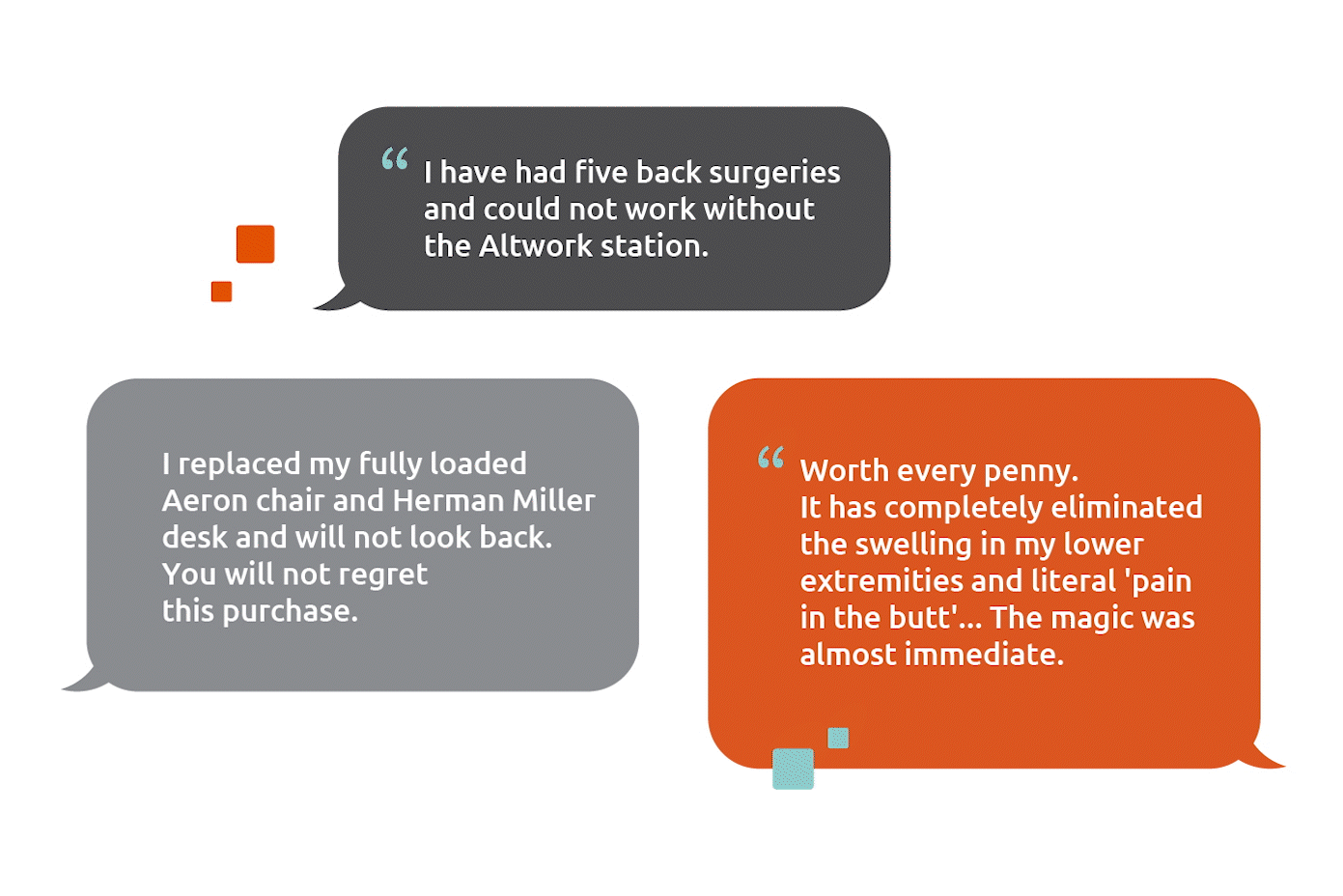 A simple, flexible
& profitable D2C model
We're proud to have been called the "Tesla of desks." Altwork products are seen as so much more than just a table and chairs—our customers are obsessed with how the ergonomic setup empowers them to have a long and healthy career. For some Altworkers, our products are the only way they can work a full day without pain.
Our obsessively customer-focused model is already profitable. We have a proven capacity to sustainably develop, sell, ship, and support our products. We use customer feedback to improve our products and expand our offering to meet their changing needs, further increasing revenue and brand loyalty to Altwork.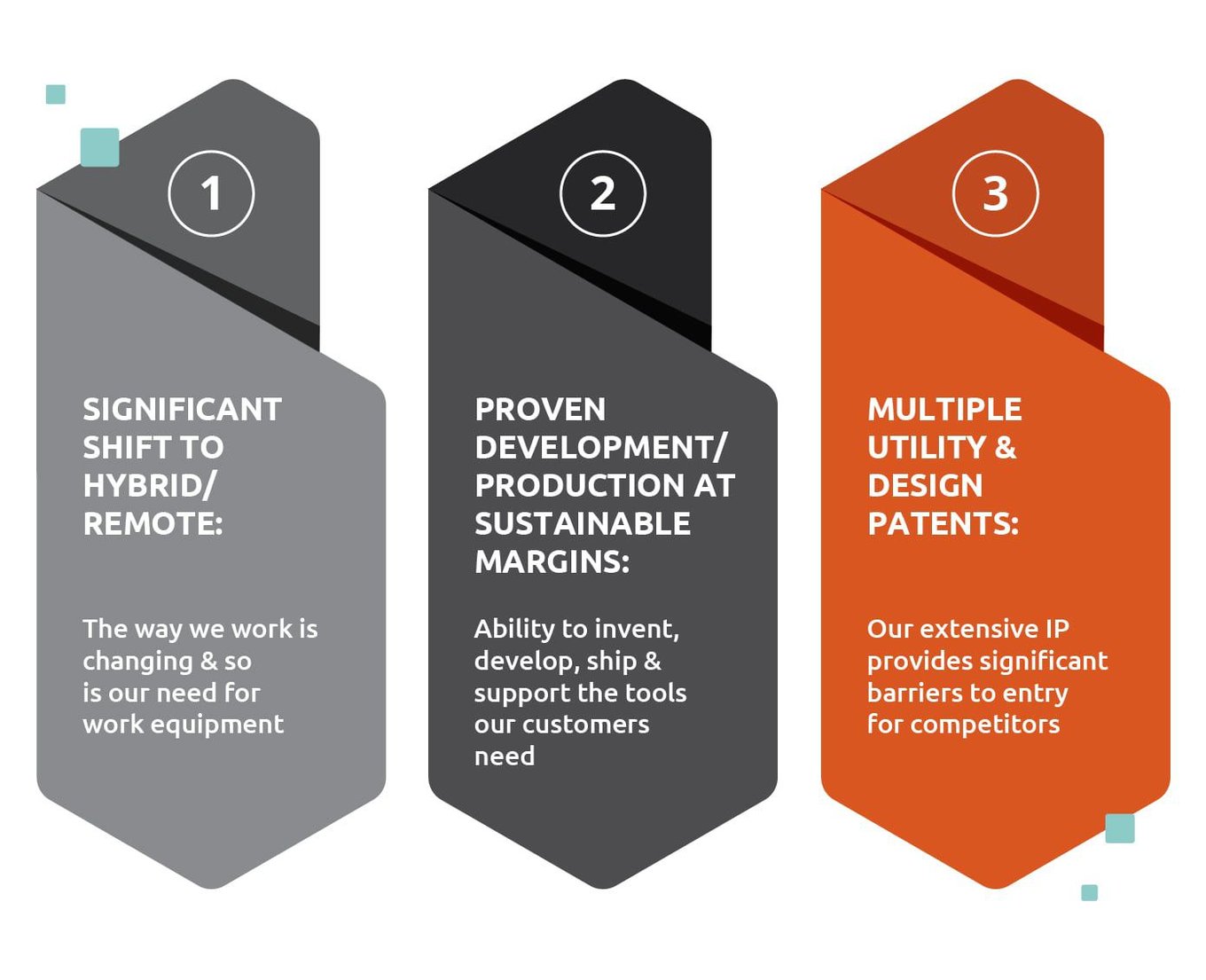 We're supporting the seismic shift to hybrid work
With pre-pandemic work structures likely to become a relic of the past, hybrid work—spending time both working at the office and from home—is growing for digital workers, and this is just the beginning of a massive shift in how we work.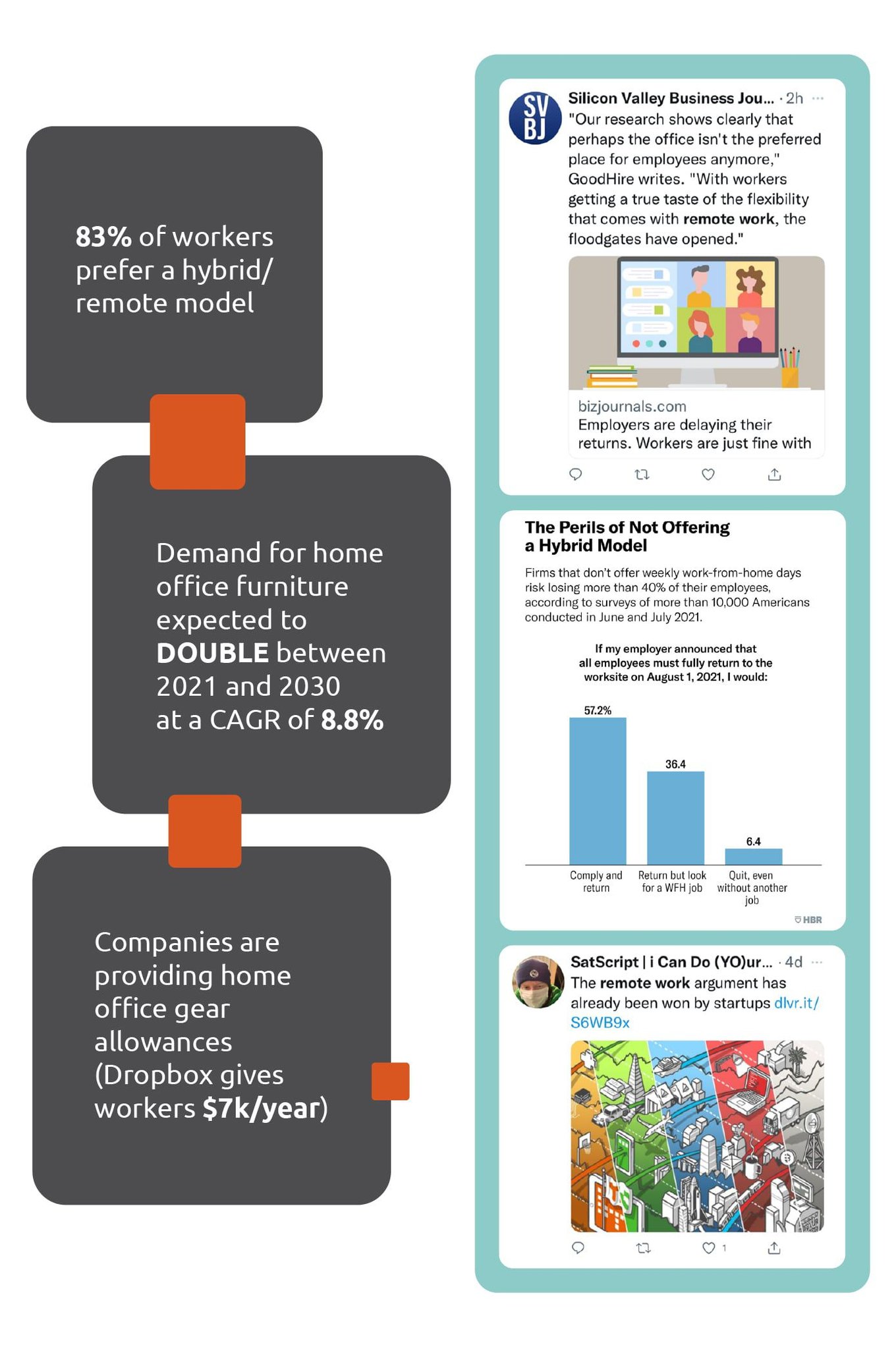 Unique, patented innovation nurtures industry leadership
Other high-tech workstations on the market offer a fraction of the Altwork Station's capabilities at up to triple the price.
But our main competition isn't other high-tech workstations—they don't even compare. No, it's this damaging, all-pervading work ethic: if you ain't hurting, you ain't working. After centuries of believing the measure of success is how much our backs ache, the Altwork level of comfort seems almost illegal.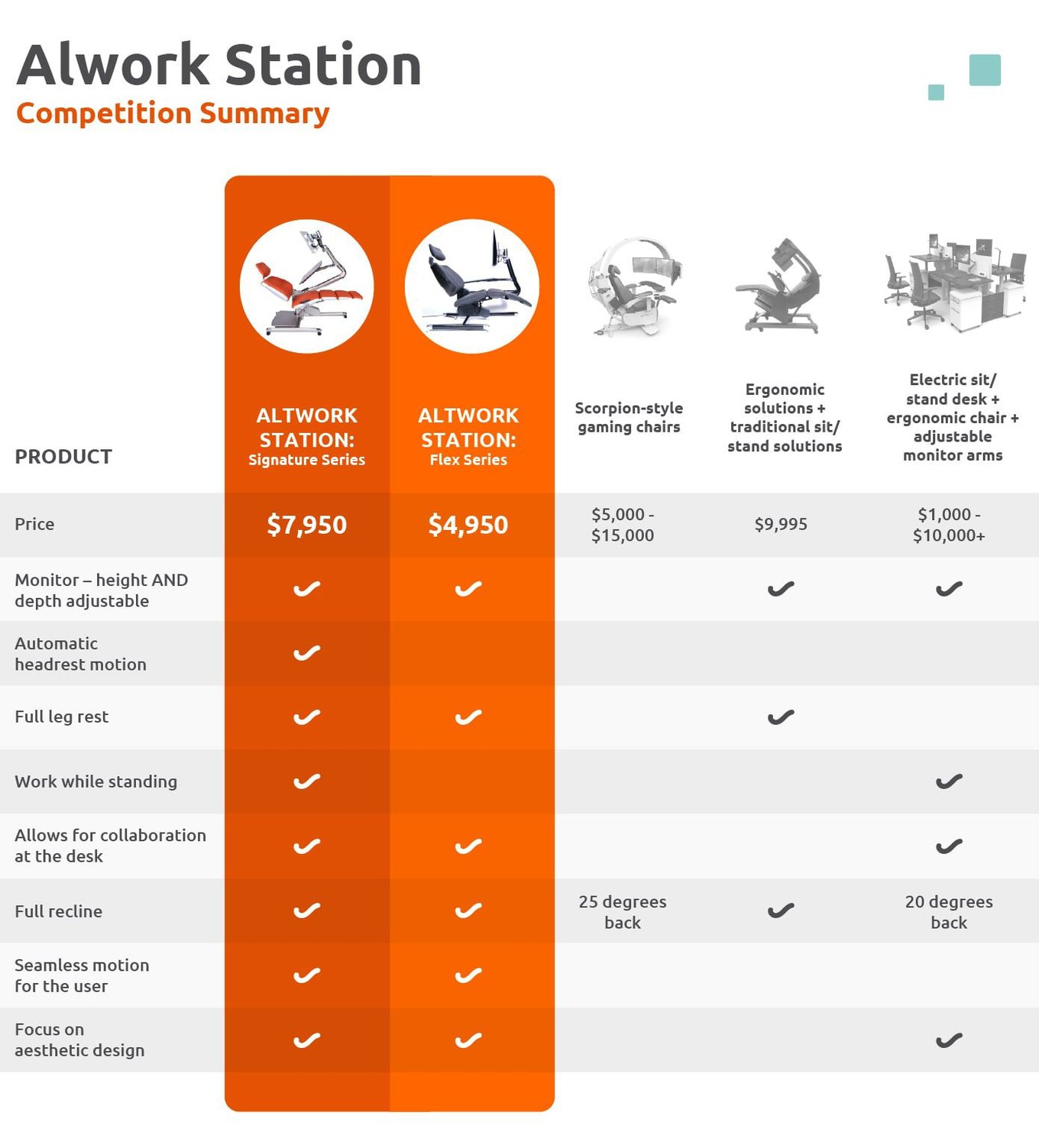 Putting comfort & wellness at the forefront
We believe that better work comes from finding better ways to work. With our line of workstations, we're fulfilling our commitment to provide workers with the freedom and movement necessary to stay healthy, focused, and productive—at a time when the world needs it most.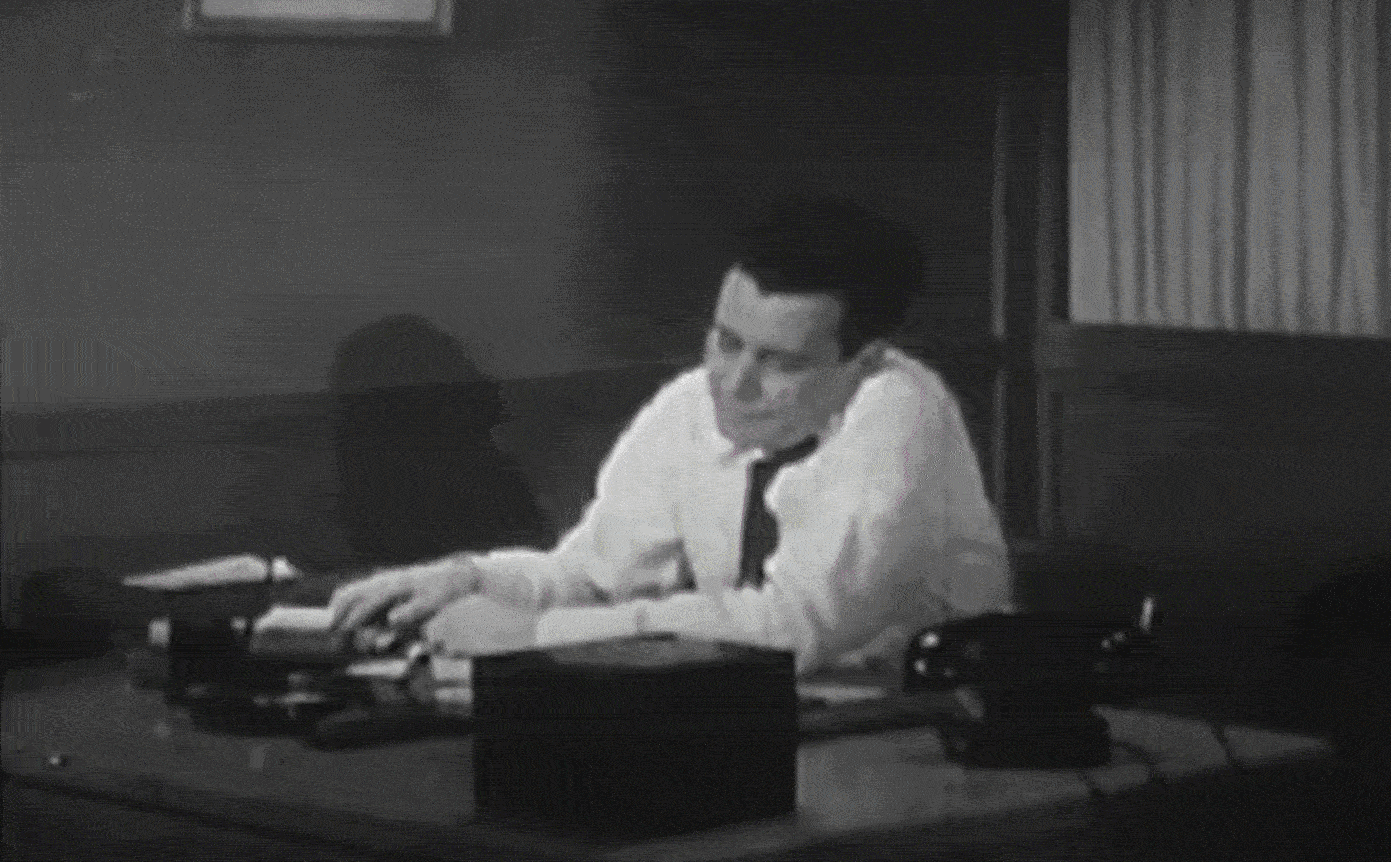 $5.6M already raised from angel investors
Investors include transformational VC firms Black Diamond Ventures and North Bay Angels, along with our customers-turned-investors: Chris Larsen, co-founder of blockchain company Ripple and lending marketplace Prosper, and Stefan Thomas, founder and CEO of web monetization tech Coil, and co-creator of open-source payment suite InterLedger.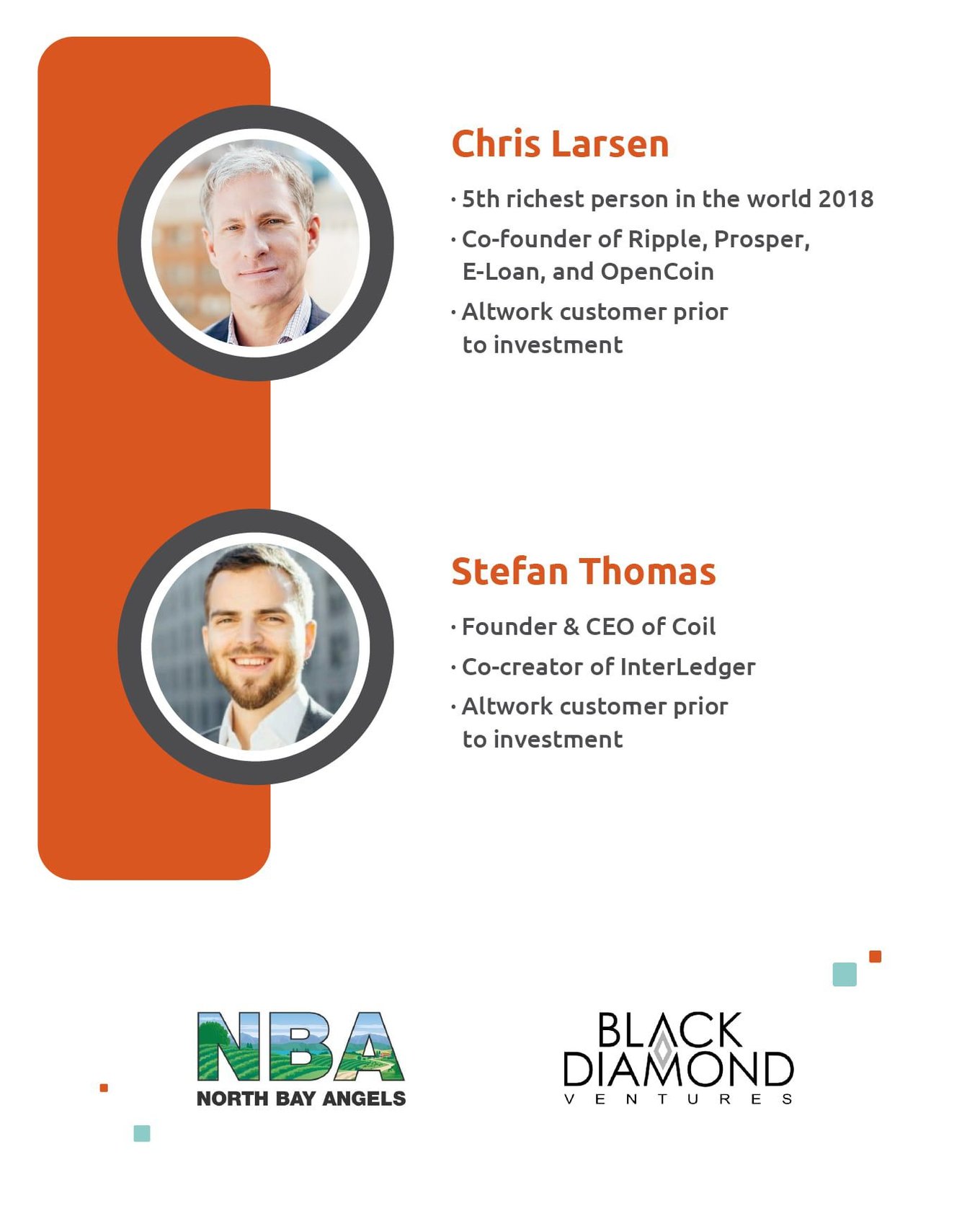 Expert team
with multiple exits