Over 42 million Americans struggle with hunger
76% of Americans believe that solving the hunger crisis is a top priority
Customers are seeking purpose-driven brands that not only make delicious better-for-you products but also make a difference.
87% of Americans purchase products because of the mission
78% believe companies should positively impact society
The ultimate mission-driven cookie company
Every cookie we've baked has changed a life for the better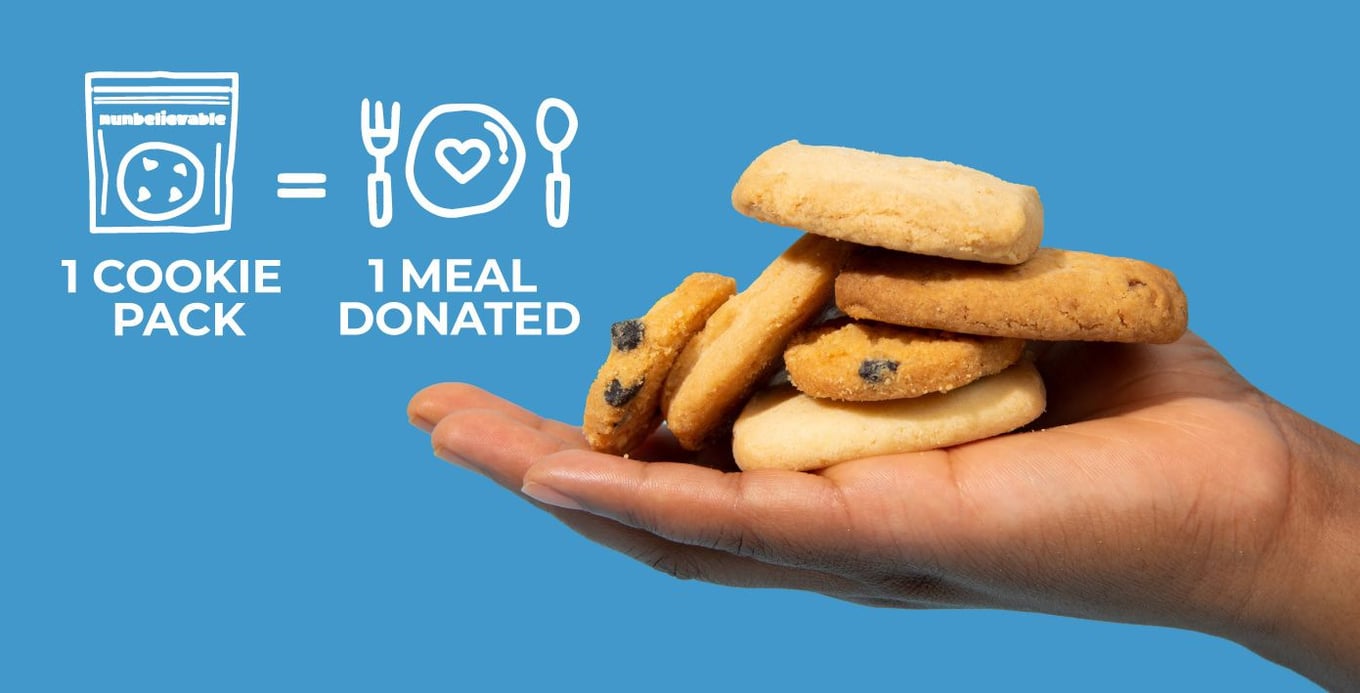 At Nunbelievable, our customers enjoy delicious, better-for-you cookies while feeding those in need. We're on a mission to stop hunger in America; one cookie at a time!
Delicious, better-for-you cookies making a real impact
Better-for-you & delicious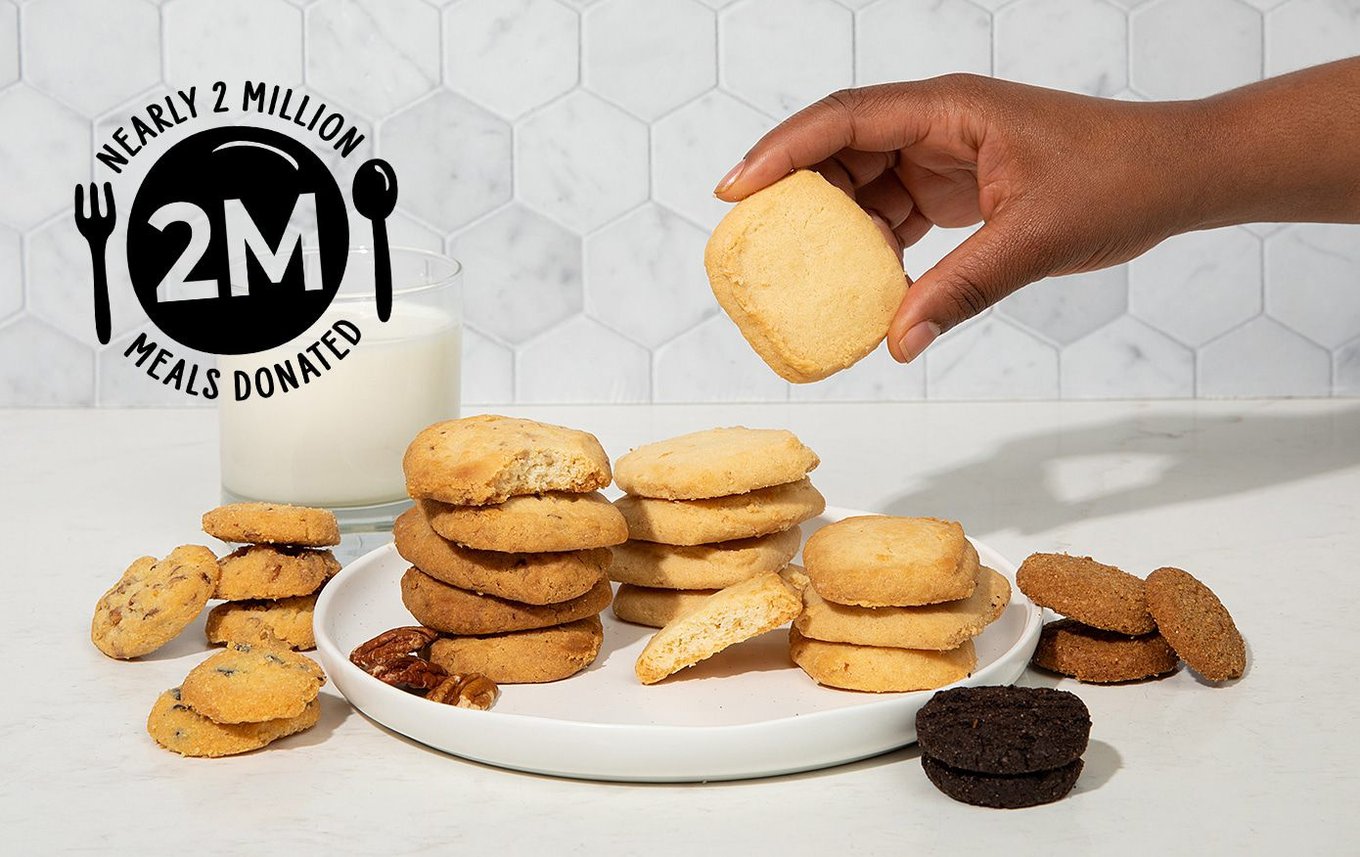 At Nunbelievable, we believe that everyone deserves a treat tailored to their preferences, and our three distinct product lines deliver just that. Indulge in our low-carb options, savor our artisanal cookies, or relish the goodness of our shortbread cookies — all while making a meaningful impact with each purchase.
Low Carb Cookies (Gluten-free, grain-free, no sugar added)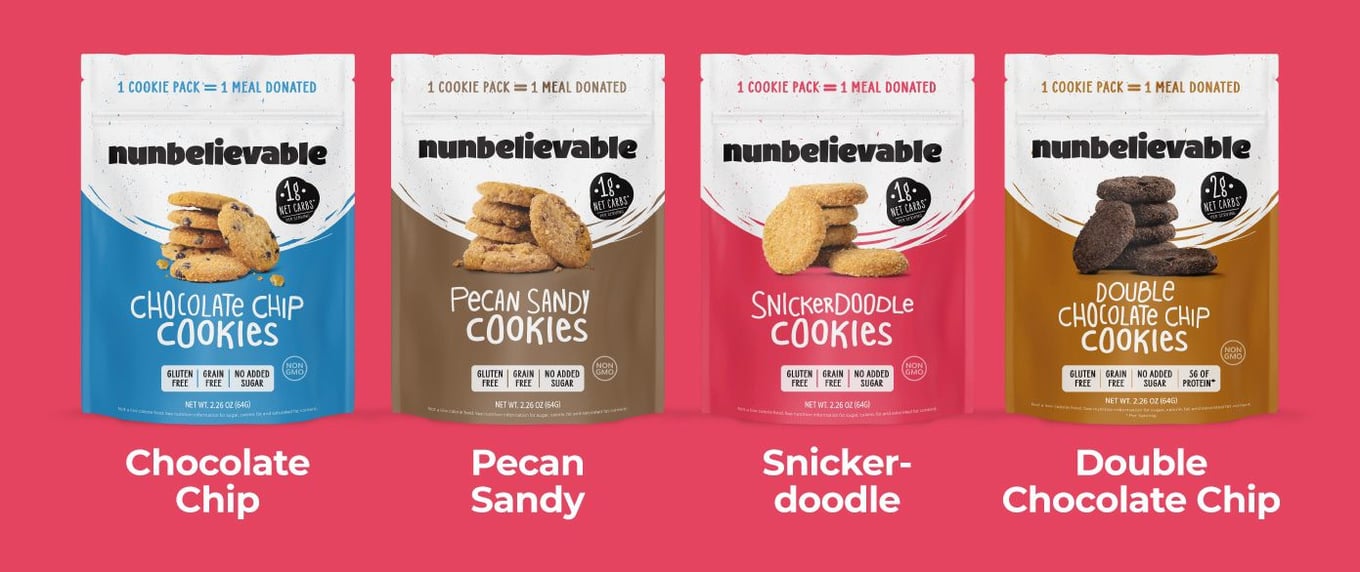 Our low carb cookies are perfect for guilt-free indulgence. With just 1-2g net carbs per serving, these delectable treats come in flavors like Pecan Sandy, Chocolate Chip, Snickerdoodle, and Double Chocolate. For every low carb cookie pack purchased, we donate a meal.
Artisanal Cookies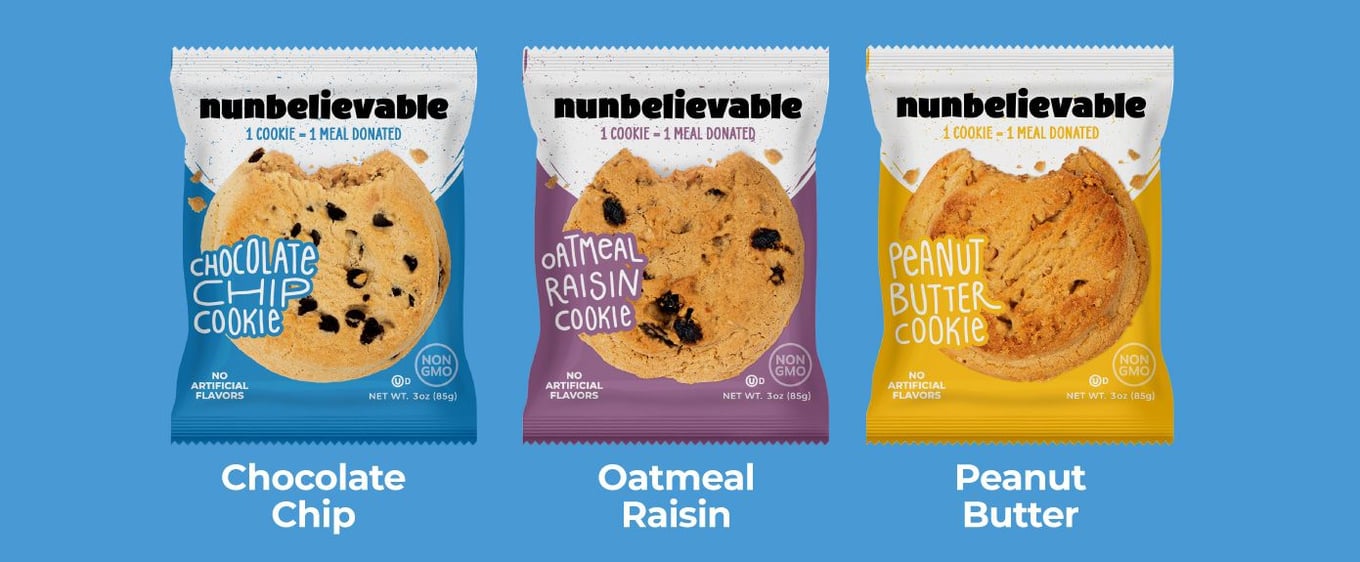 Our artisanal cookies are crafted with utmost care using the finest ingredients. Individually wrapped, these 3oz soft-baked cookies are a delight to savor. For every artisanal cookie purchased, we donate a meal to those in need, ensuring that every bite counts.
Shortbread Cookies
If you're looking for a classic favorite, our shortbread cookies are a delightful choice. Made with non-GMO ingredients, these soft butter cookies are free from artificial flavors and preservatives. With only 90 calories per cookie, they offer guilt-free enjoyment. Like our other products, purchasing a pack of these cookies ensures that a meal is donated to someone in need.
Growing our footprint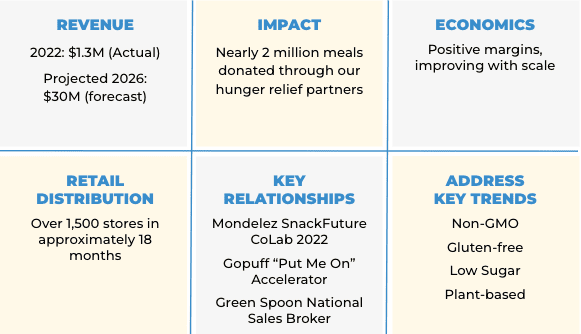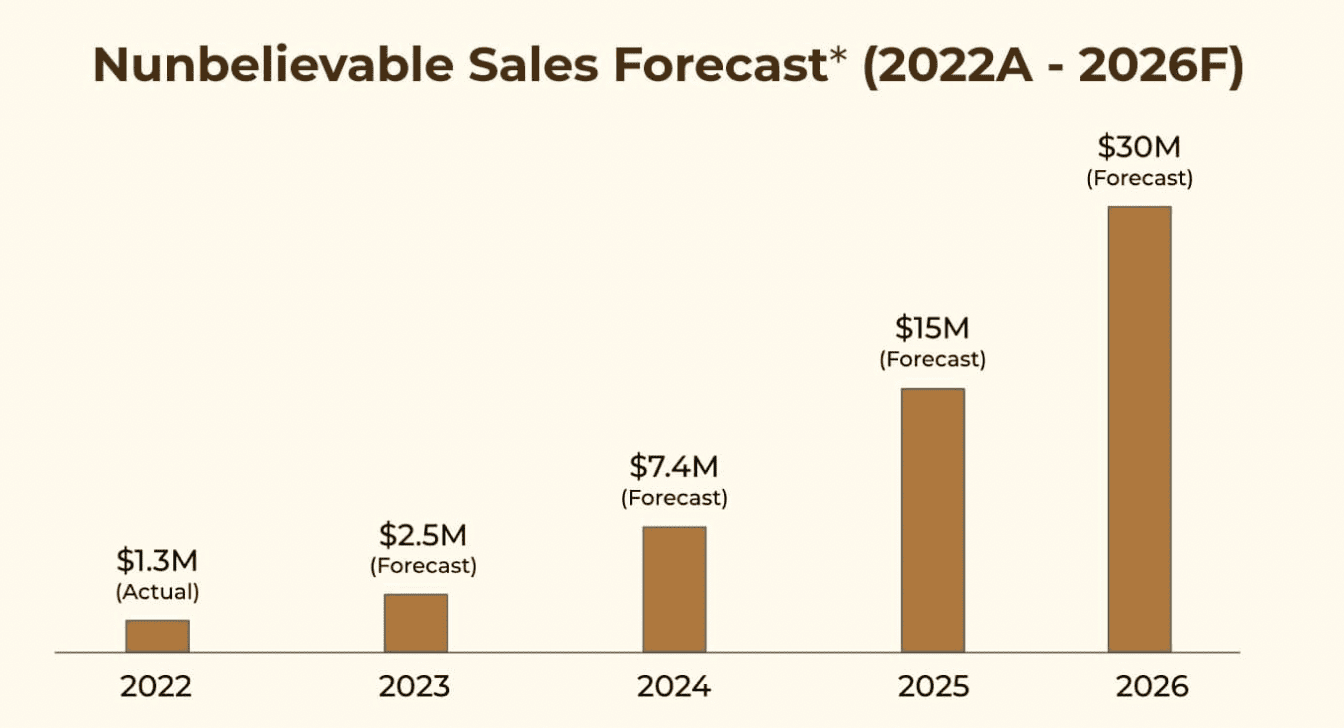 Our desire is to reach consumers through as many channels as possible. So although we started as a digitally native brand, we've expanded our distribution by shifting to an omnichannel strategy.
Wholesale
Over the past year, we've seen tremendous growth in the wholesale channel. Nunbelievable cookies are now sold in over 1,500 retail locations across the country.

Online
Nunbelievable's e-commerce presence continues to thrive by attracting new customers and retaining current customers. Our products are available online via our online store, Amazon® and other online platforms. Last year, our Amazon business grew by over 300% YoY.

In the press
The Nunbelievable brand attracts significant earned media coverage. Here are some our favorite features:
Good Morning America Feature:
Tony Robbins interview on Extra:
FOX 5 New York Feature:
The View Feature:
Our cookies have won the hearts of thousands of customers nationwide...
"I really enjoy these cookies, so much so that I have them on auto subscription so I don't run out!" - Amazon 5-star Review
Our customers love our cookies. With a 4.9 star rating from nearly 4,000 reviews on our website, Nunbelievable is becoming a beloved and trusted brand.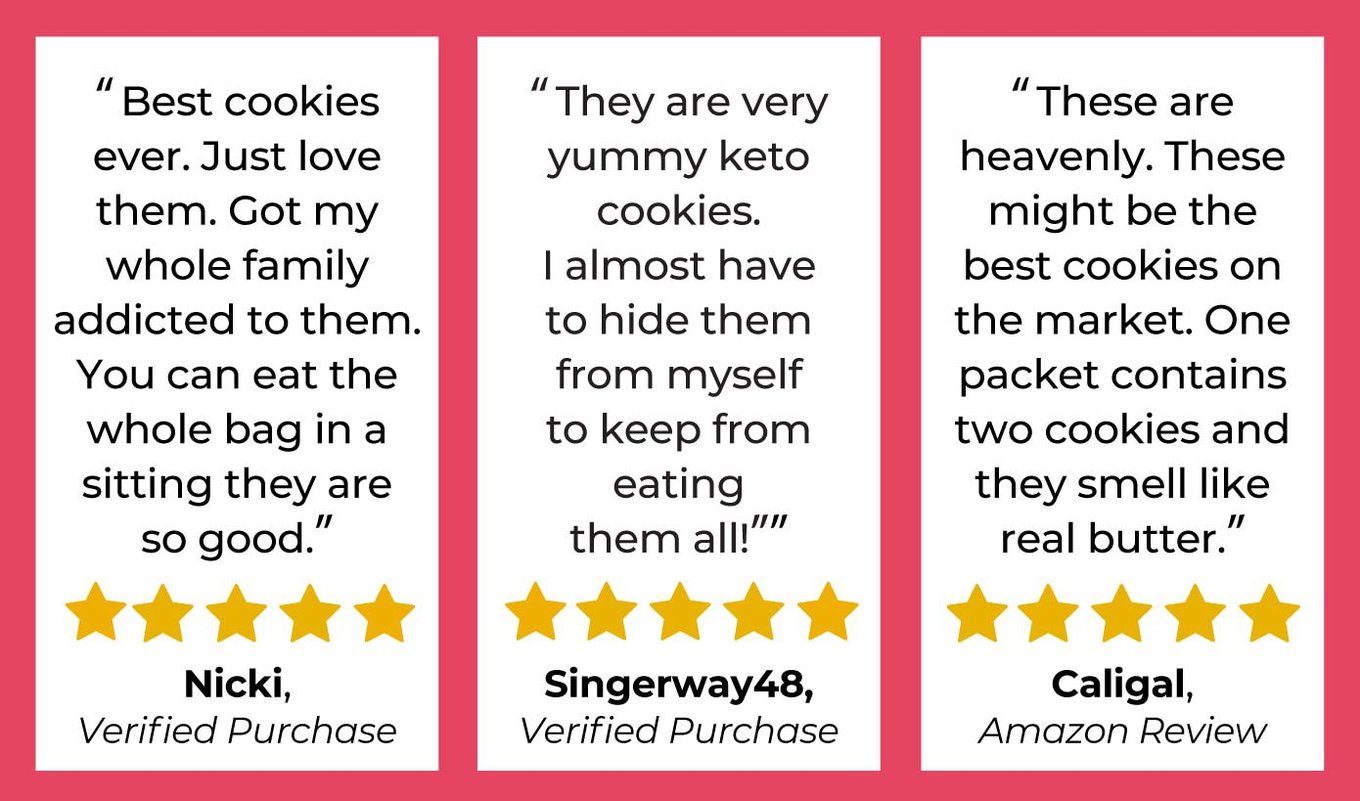 Our customers are not just drawn to our delicious cookies; they are also attracted to the strong sense of community we foster. They love delicious treats but they are also passionate about making a positive impact on society.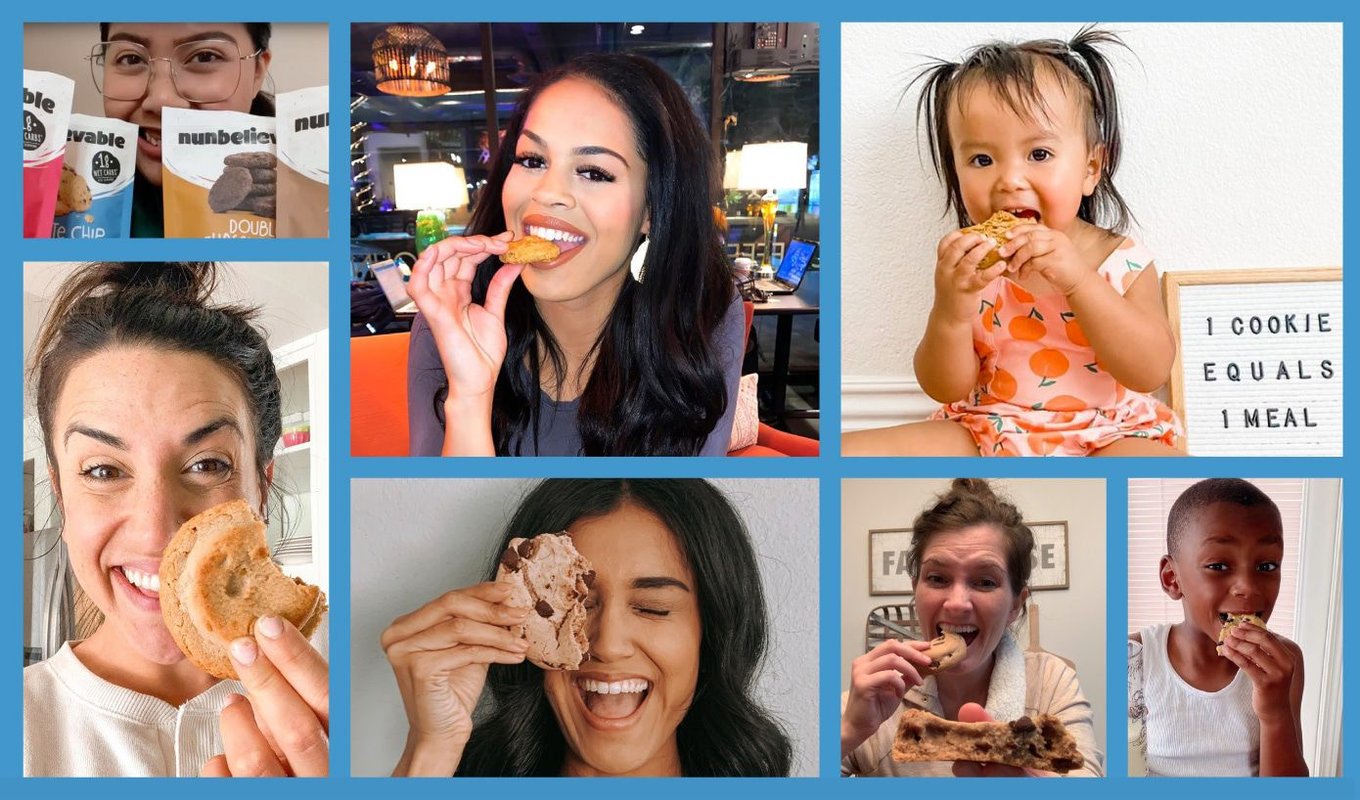 We delight in witnessing our customers' creativity as they invent imaginative recipes using our cookies.

Driving sales growth through an omnichannel approach
Our diversified business model is essential in driving growth and expanding our market share. Nunbelievable's omni-channel approach generates revenue from three main channels:
1. Wholesale & Retail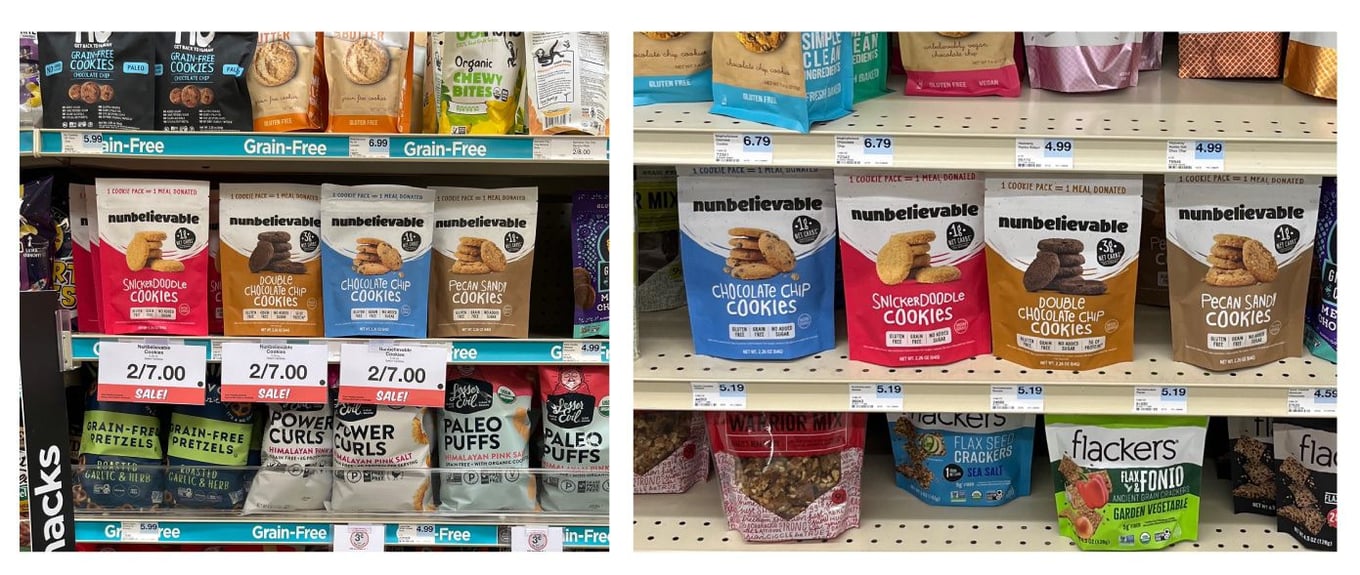 We expect to grow our retail footprint to over 5,000 doors by the end of 2024. We also plan to expand our growth into food service distributors with such partners as Compass & Canteen, as we tap into offices, cafeterias, and college campuses.
2. E-Commerce

We expect to see continued growth with our e-commerce business, particularly Amazon, which has been growing since we launched the business.
3. Corporate Gifting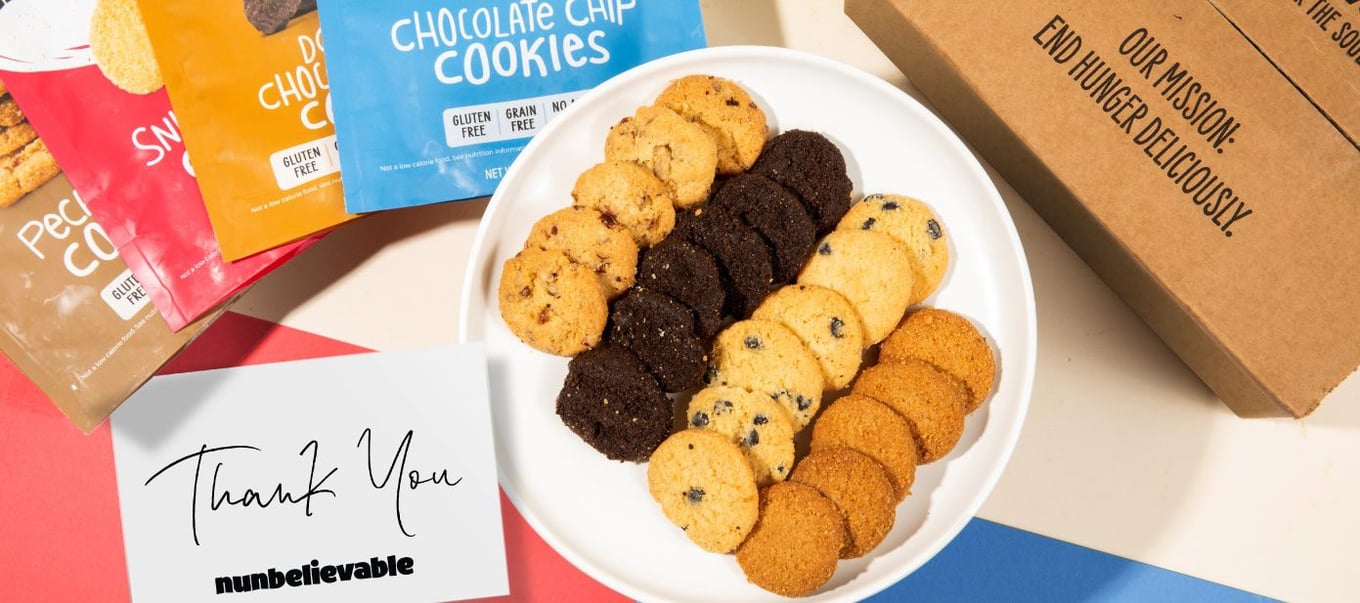 There is tremendous growth opportunity in the corporate gifting market, which is projected to grow to $312 billion by 2025. We aim to be a player in this category in a major. Currently, we see a spike in corporate gifting orders in the 4th quarter and we intend to put more focus in driving sales in this channel year-round.
The market opportunity is huge.
We're in the sweet spot. Both the healthy snacking and the cookies categories are projecting significant growth.
The healthy snacking marketing is project to grow to $152B by 2030
The $36B cookie category projected to grow to $55B by 2029
Growing demand for mission-based products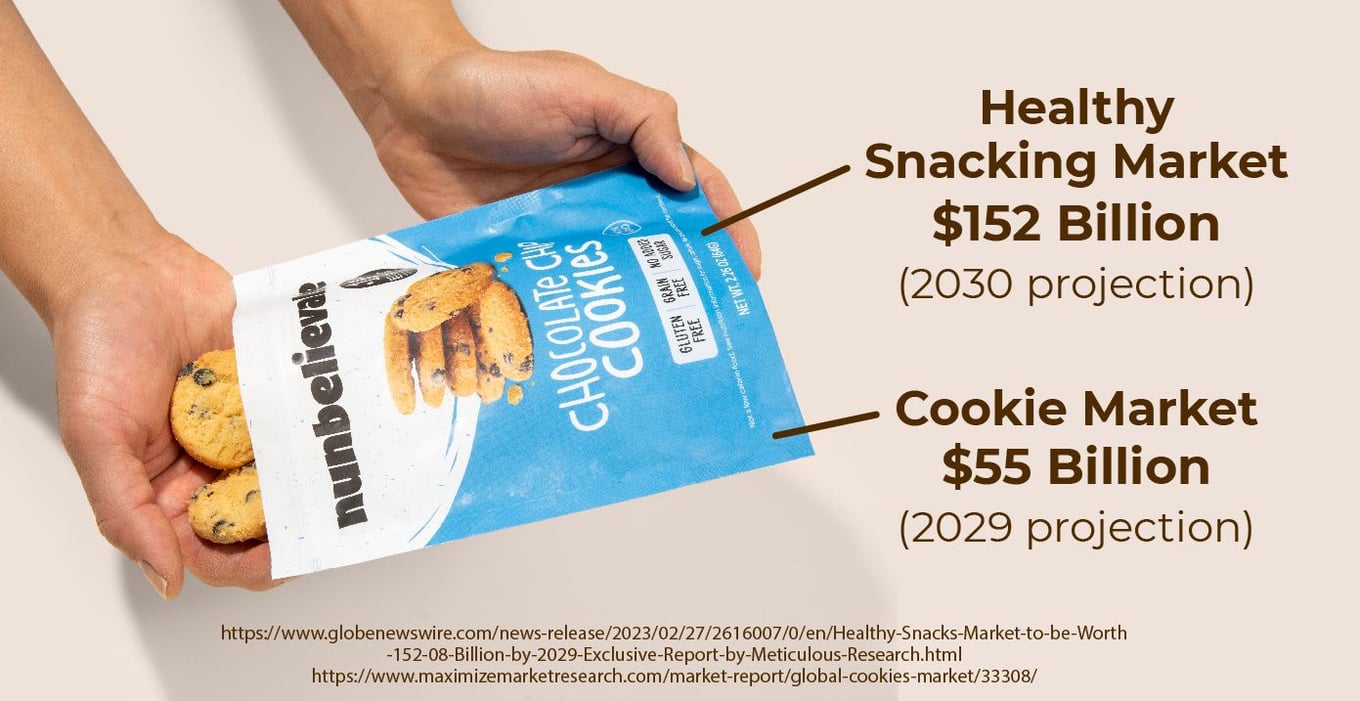 Uniquely positioned at the intersection of healthy and mission-driven
---
Consumers care about better-for-you, great taste, and mission
---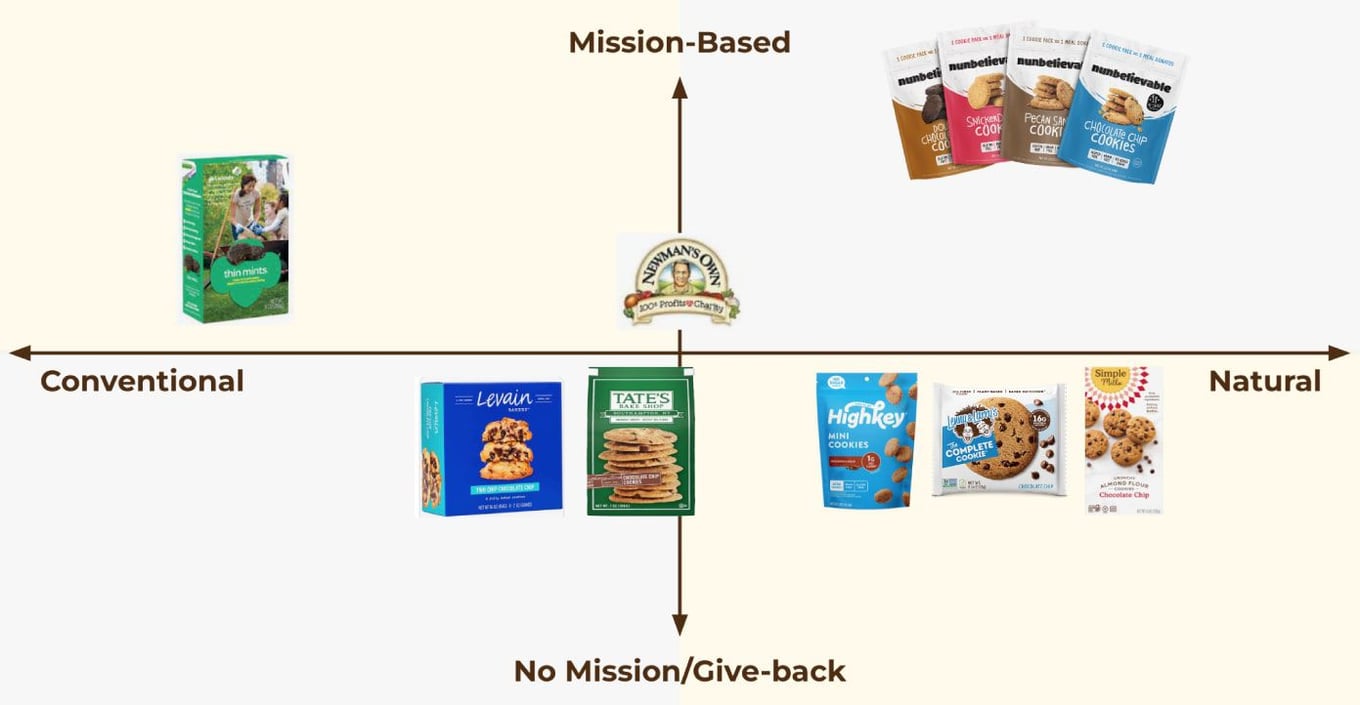 We're in a position to scale our business.

Nearly 2 million meals donated (and counting)
We're on a mission to combat hunger in America; one cookie at a time!
At the heart of Nunbelievable is our mission to give back. That is why we partner with hunger relief organizations to provide meals for those in need.
Fueling growth to accelerate our expansion
So far, we've been able to garner the support of several notable investors:
---
Backed by

---
We have successfully validated our product in the market and are now pursuing growth opportunities. To support our expansion plans, we are actively seeking capital infusion. The funds raised will be allocated towards the following key areas:
Expanding retail distribution
Developing new products

Making key strategic hires
We hope you join us on our journey in creating the leading purpose-driven cookie company.

Bryan is a social venture entrepreneur with a proven track record and mindset of purpose & service. After graduating from NYU's Stern School of Business, Bryan's first startup success was co-founding the pioneering on-demand meal delivery service, NuKitchen, paving the way for what is now a multi-billion dollar industry. He's helped thousands of customers live healthier lives. Bryan later sold the business to Nutrisystem.
As Nunbelievable CEO, Bryan brings delicious products and purpose to the center of the business model. Leveraging his insights as an Advisory Board member for Sparks & Honey, the tech-led consumer trends agency, he's able to make innovation a key pillar for Nunbelievable's long-term growth.

A serial entrepreneur from an early age, Kuda started his first company at just 9 years old. An accomplished author and speaker, Kuda relocated to the U.S. with only $40 in his pocket to study at Lynn University. Upon graduation, Kuda spent over a decade in various innovation and e-commerce roles at Newell Brands (NYSE: NWL), a Fortune 500 firm, which was home to iconic brands like: Yankee Candle, Crock-Pot, Graco and Sharpie.
With a firsthand experience of the catastrophic consequences of hunger that shaped him into the social entrepreneur he is today, Kuda is passionate about building an impactful sustainable brand.
We're ready to scale and be the mission-based baked goods leader!
Better-for-you & delicious

Premium products that address growing consumer trends

Impact-driven

We've donated close to 2 million meals to those in need
76% of Americans believe that solving the hunger crisis is a top priority
We have a strategic partnership with impact partners focused on hunger

Taste

With over 3,000 5-star reviews on our website, our customers love the taste of our cookies