We have an opportunity to enable global access and monetization of AI tools
Problem:
---
The AI Tool Landscape Needs Revolution
Professionals have no way to develop and monetize AI tools due to time, cost, and technical barriers. Meanwhile, companies find it difficult to discover and access the AI solutions they need. Currently, there's no unified platform to solve these challenges for both parties.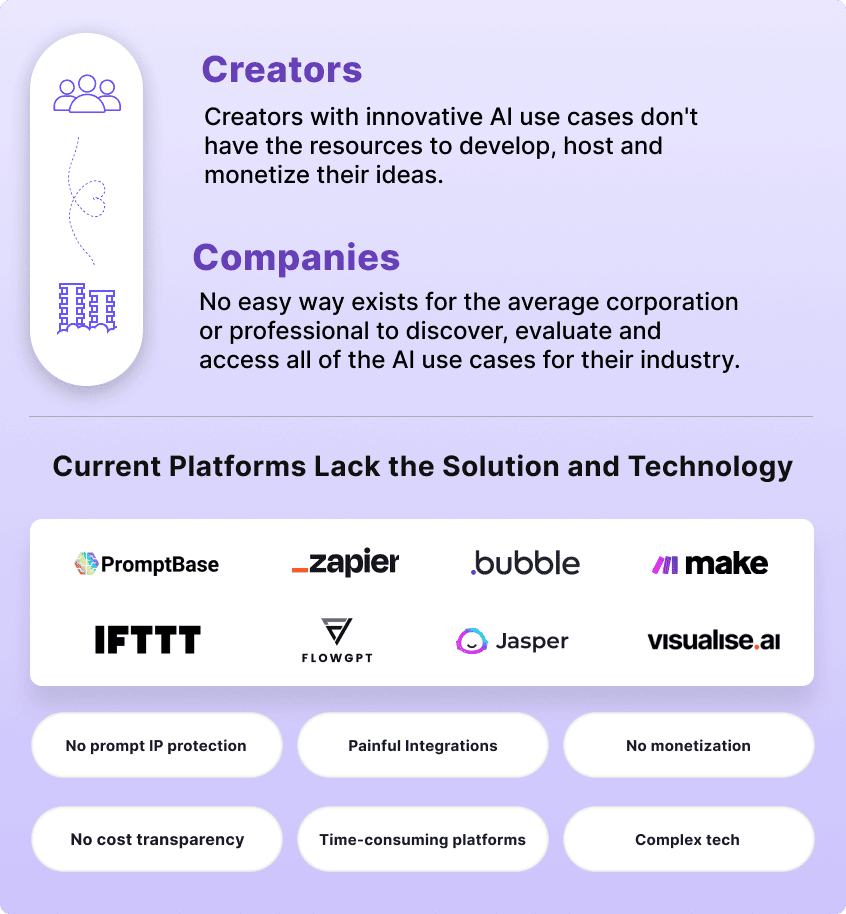 Solution:
---
AI Tools Done Right. Finally!
AI Box provides creators with a powerful AI app building platform, allowing them to link multiple AI models together, enabling creativity, and monetization.

At the same time corporations and business professionals can discover, and harness industry specific AI apps on the AI Box Marketplace.


Market:
No Code AI App Builder + Marketplace
Today the complexities of creating and discovering AI tools continue to intimidate both creators and end-users, causing unnecessary complications and limiting adoption. So far, no single platform has been robust enough to make AI accessible and straightforward for all.
That's where AI Box comes in! We aim to disrupt the status quo by building the first AI app builder and marketplace to offer a seamless, transparent, and secure AI experience.


AI App Builder:
Link together multiple AIs or in the future even different types of software, customizing the whole experience right down to your Box's look and feel.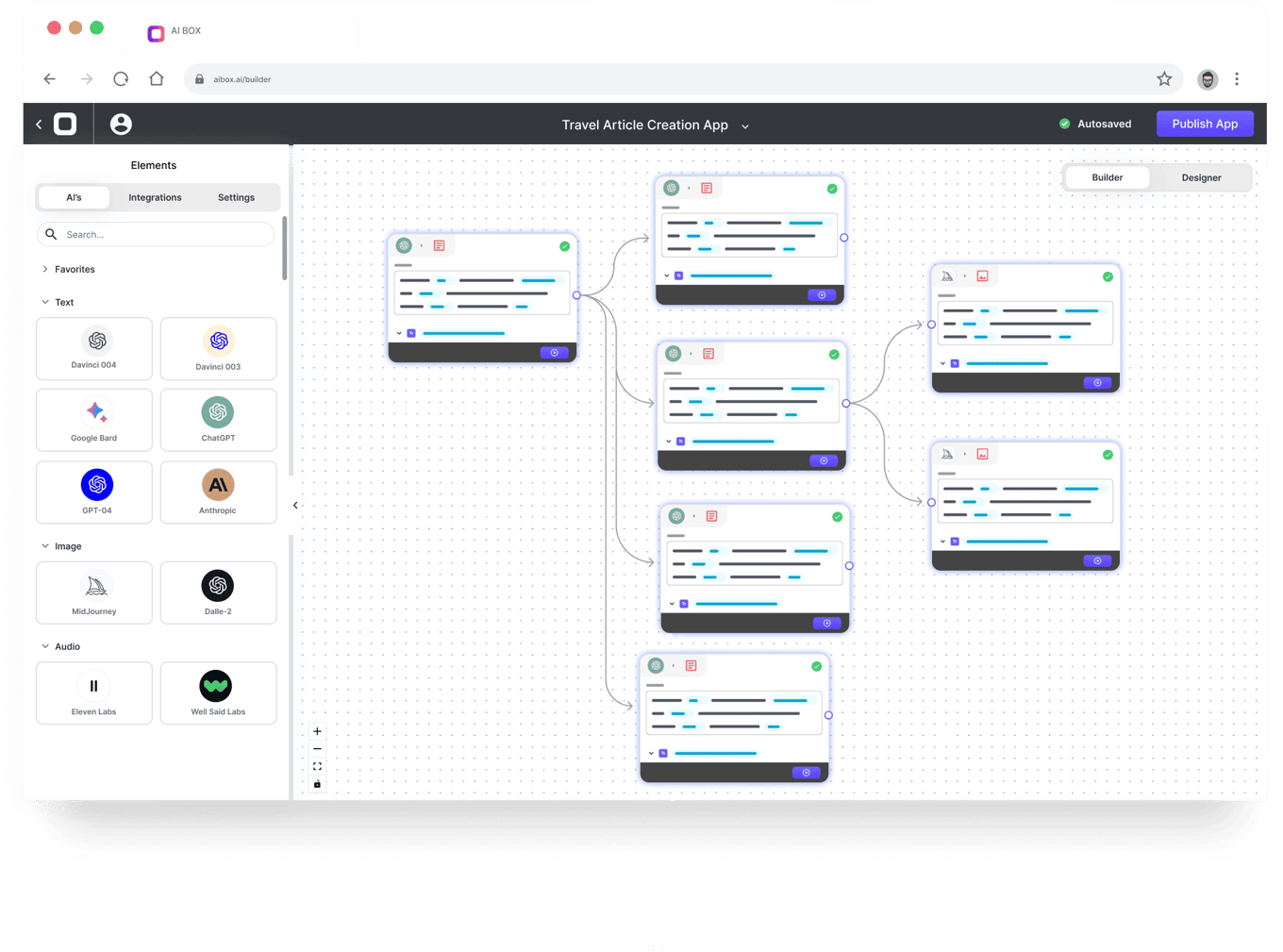 AI App Marketplace:
Once your AI Box is ready, publish it on our marketplace or keep it private—the choice is entirely yours. Now, creators have the freedom and flexibility to share their tools and innovations with the world, while also monetizing their hard work.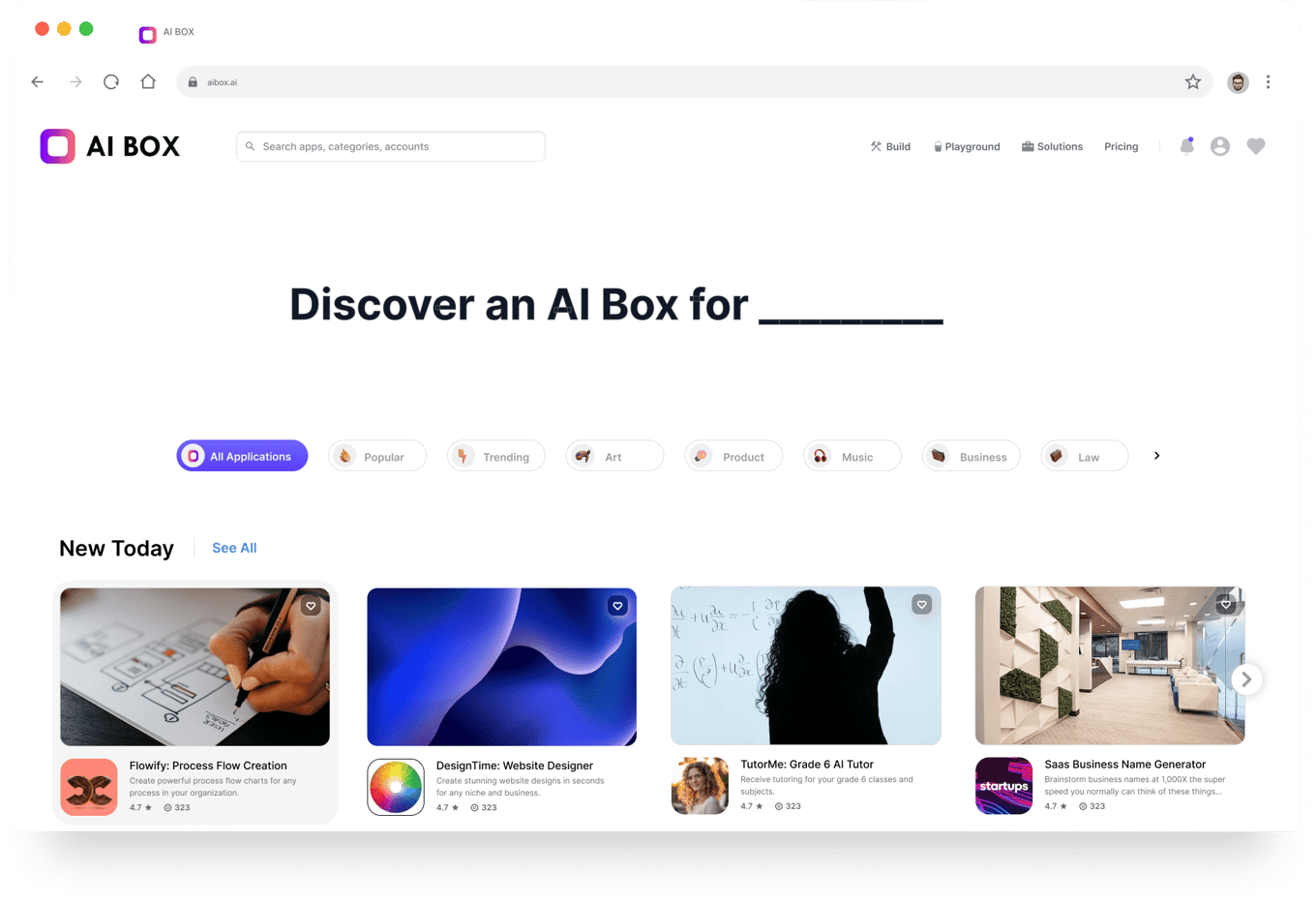 Marketplace Flow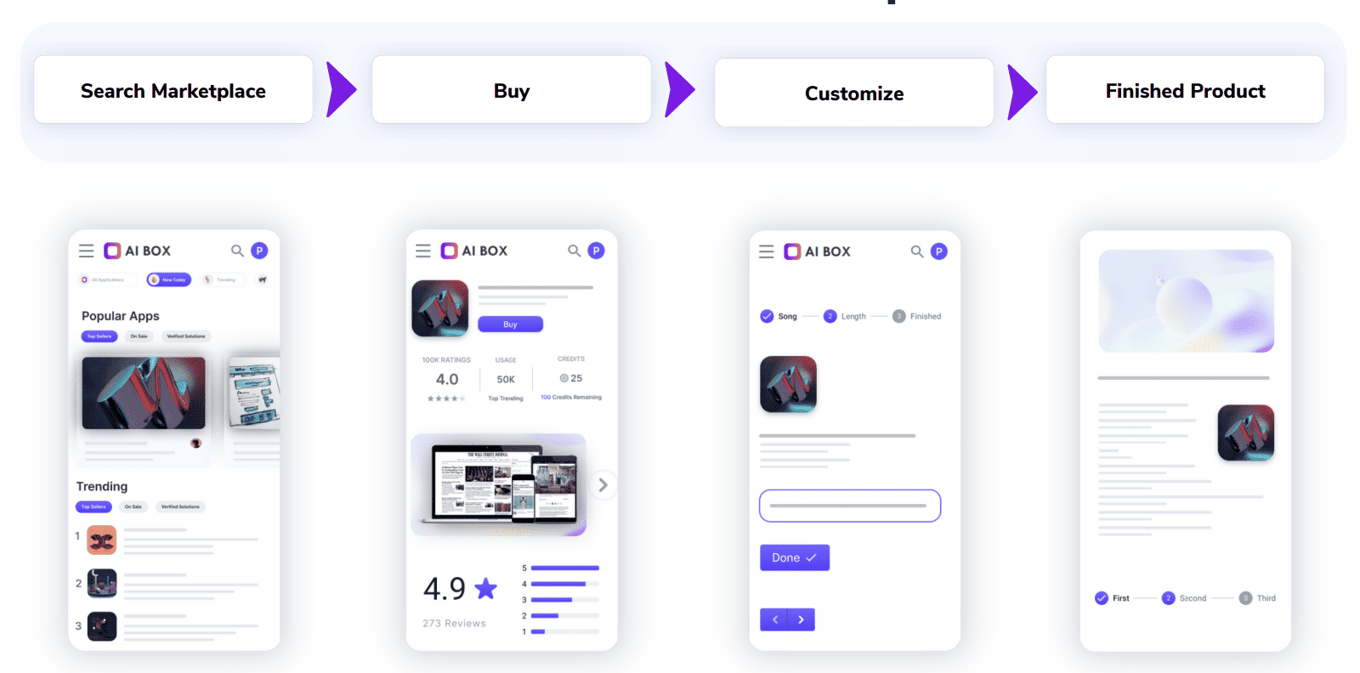 A Significant Footprint
The podcast, hosted by our CEO, ranks among the top 10 Business News podcasts, while the AI Box waitlist and social groups collectively engage thousands of corporations, professionals, and enthusiasts in the AI field.
High-Profile Reach: Our CEO hosts the AI Chat podcast, with 1M+ listens and 100,000 monthly listeners. The podcast is ranked among the top 10 Business News podcasts interviewing AI industry leaders, CEOs, CTOs, and investors.
Solid Interest: The AI Box waitlist already includes 2.5K corporations and professionals, including individuals from organizations like Ally Bank, KPMG, FedEx, Google, and University of Notre Dame.
Strong Community: Our "AI Box Creators" Facebook and Discord groups have attracted over 3.5K members.
Diverse Subscriber Base: Our newsletter is read by the most influential minds in AI including subscribers from Microsoft, Amazon, Salesforce, Cisco, Macy's, Merck, PwC, TSMC, Ford, Deloitte, and McKinsey.
A Subscription Revenue Model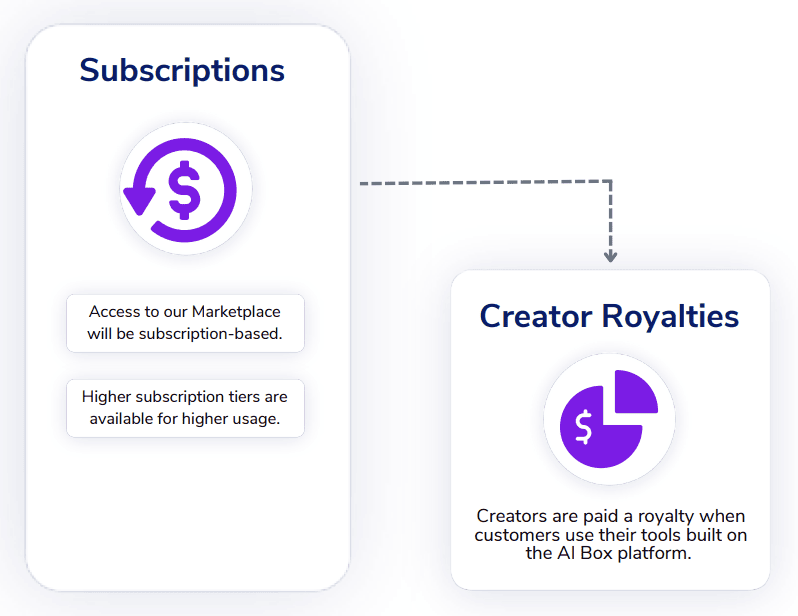 Innovative AI-Powered Solutions for Creators and Users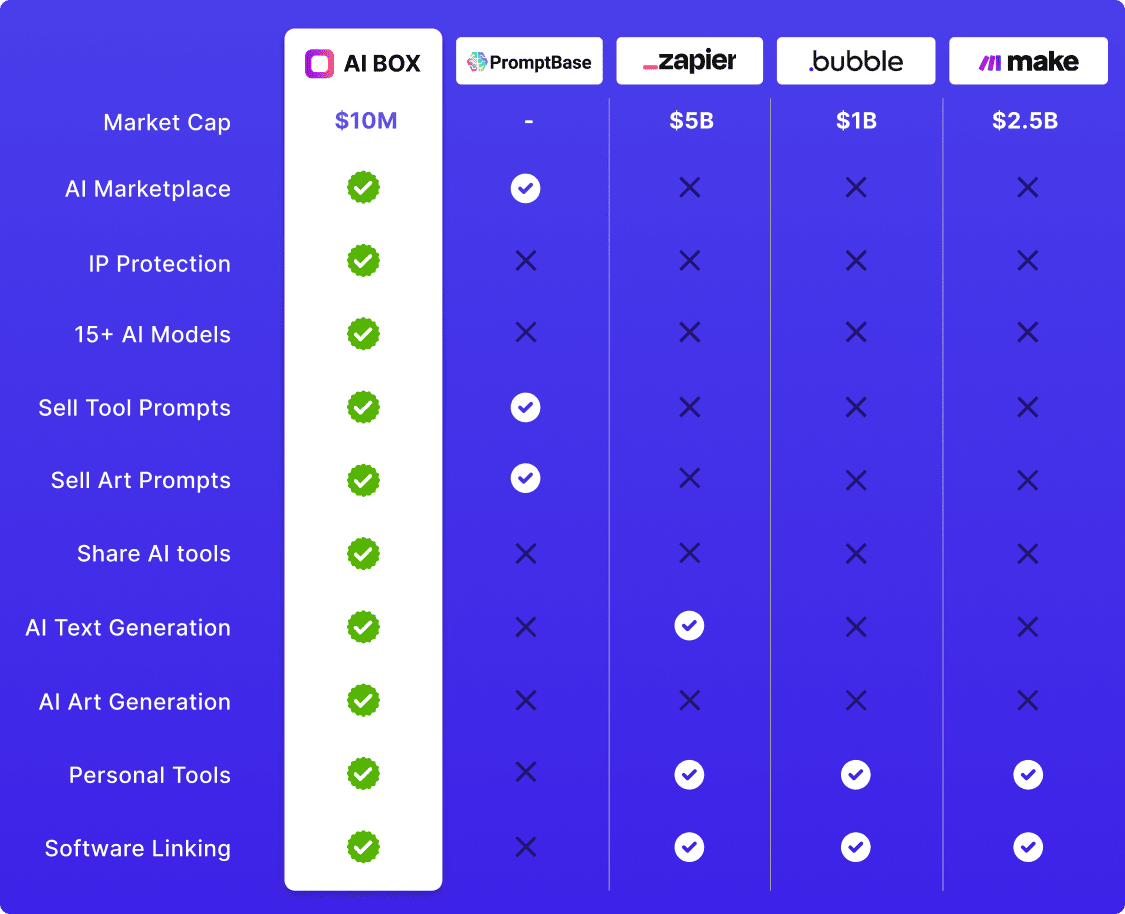 A Clear Roadmap to Launching and Steady Growth
Forecasted revenue: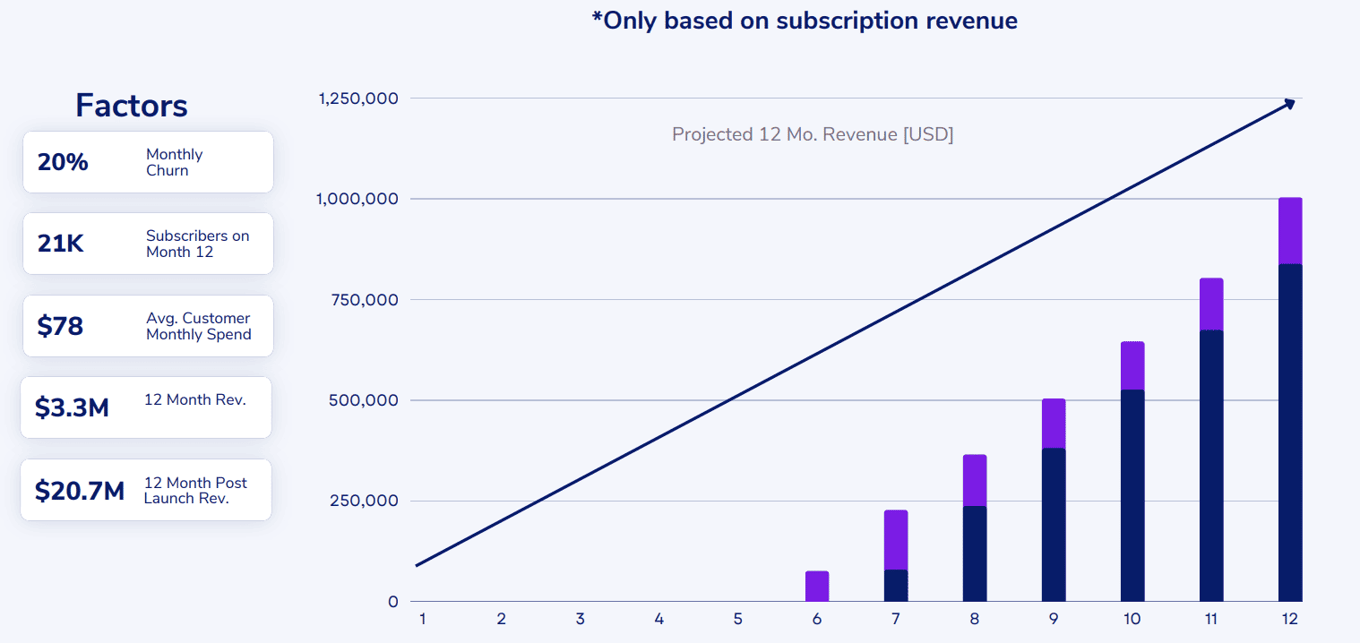 Our Vision
Our vision is to establish AI Box as the App Store for AI tools, providing a centralized platform where creators can easily develop and monetize their innovations.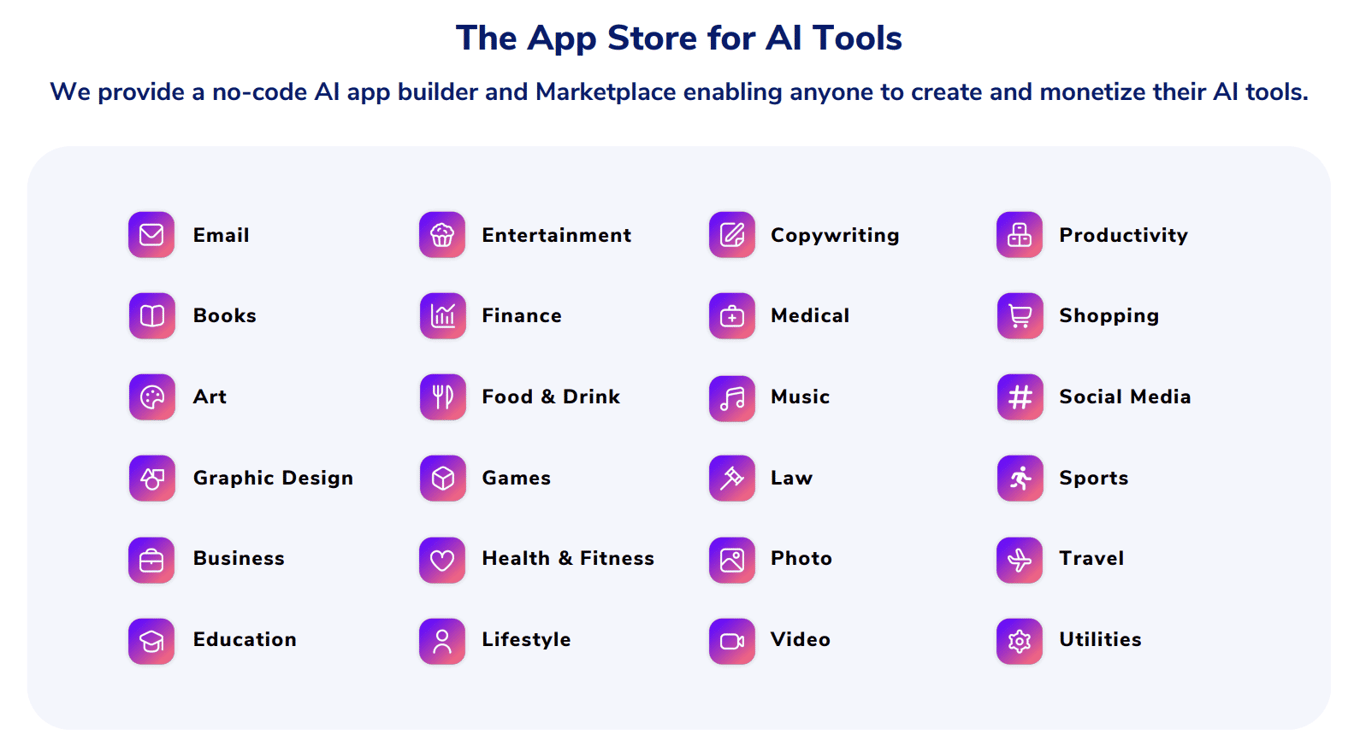 Centralized app stores are growing rapidly. Apple's App Store processed $1.1 Trillion in 2022 alone.


$100K of $1.2M Raised to Date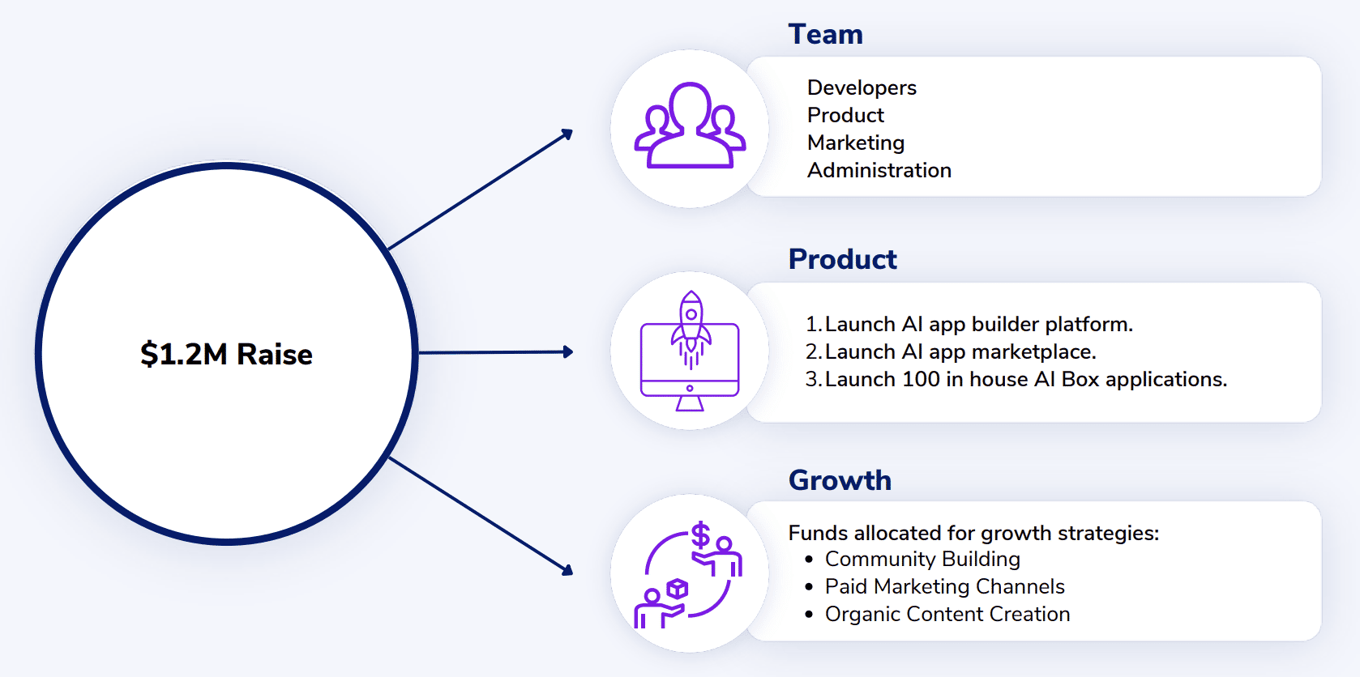 Progress and Future Initiatives
With our current funding, we've successfully developed a fully functional demo of our no-code AI App Builder.
Looking forward, we intend to allocate future funding toward:
Backend Integration: Building a robust and secure backend to ensure that the platform can handle the high volume of users we anticipate. This will enhance the user experience by ensuring data security, speed, and reliability.
Marketplace Development: Building and launching the AI Box Marketplace. This addition is designed to enable tool monetization for AI app creators while simplifying the discovery of specialized AI applications for corporations.
The subsequent investment will accelerate these developments, bringing us closer to our mission of democratizing access to AI tools for everyone.