Disrupting the Booming Plant-Based Market with Incredible Flavors One Bite at a Time
---
Dairy-Free, Plant-Based, and Healthy Living
---
We are passionate about creating amazing flavors and applying them to interesting categories of plant-based, a market that's surging. We've sold over $3.34m in product to date, focusing on the thesis that vegan foods have historically underperformed on flavor, even though there's fast-growing demand for plant-based, healthier foods.
The plant-based foods market segment is the fastest growing in CPG, estimated to grow from $8bn in 2022 to $37bn in 2030. 3% of the US population follows a vegan diet free from animal products. In addition, there are 50 million Americans with lactose intolerance and seeking healthier dairy-free diets.
Americans are seeking ways to enjoy food that is not only delicious but also nutritious, clean, and guilt-free.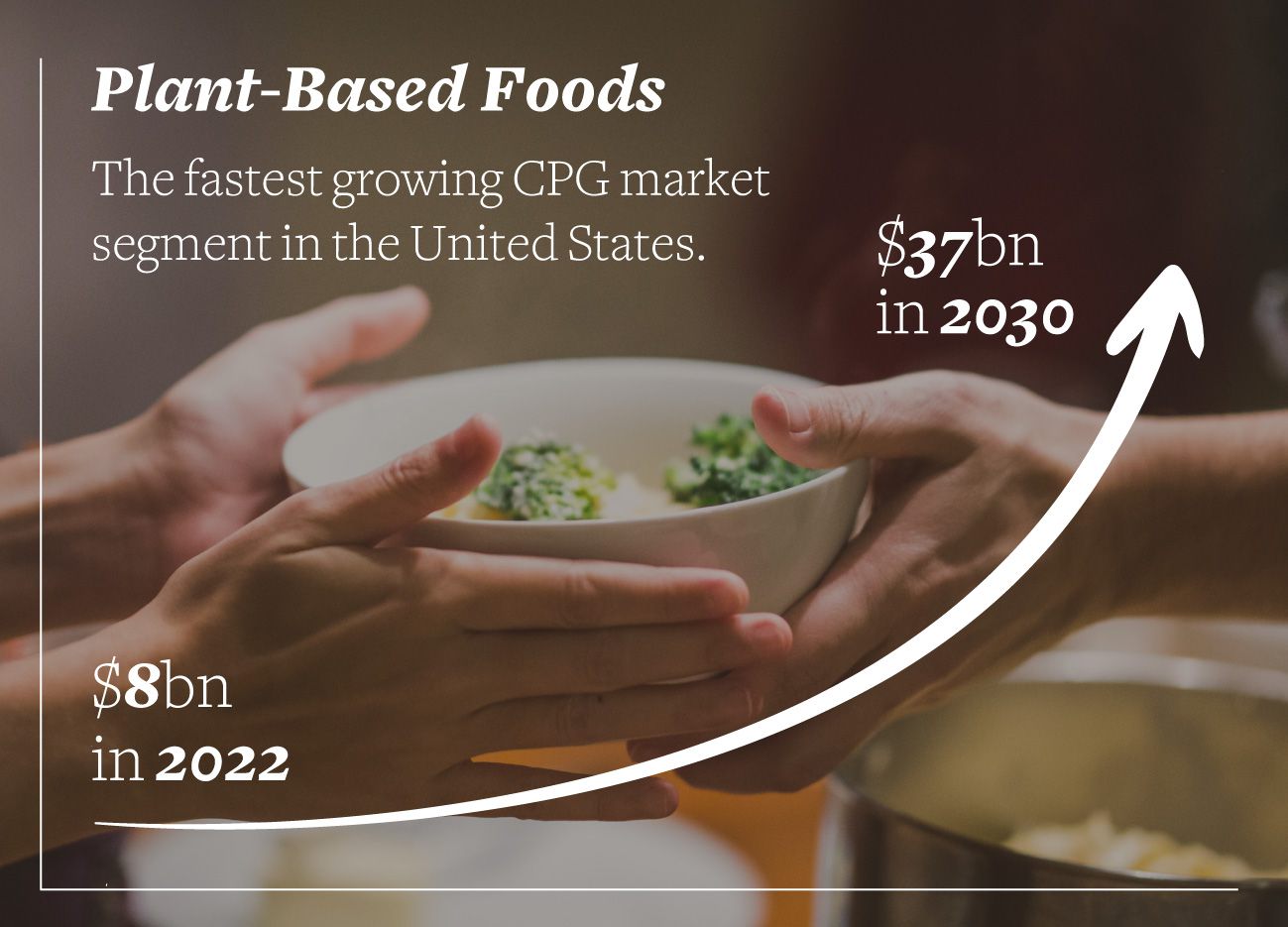 ---
Classic Favorites That Are Delicious and Plant-Based
Since 1937, Kraft Mac and Cheese has been the leader in this category we call 'Mac and Cheese'. More and more consumers are realizing that this classic they created has ingredients that are not so good for you, including phthalates and sodium phosphate.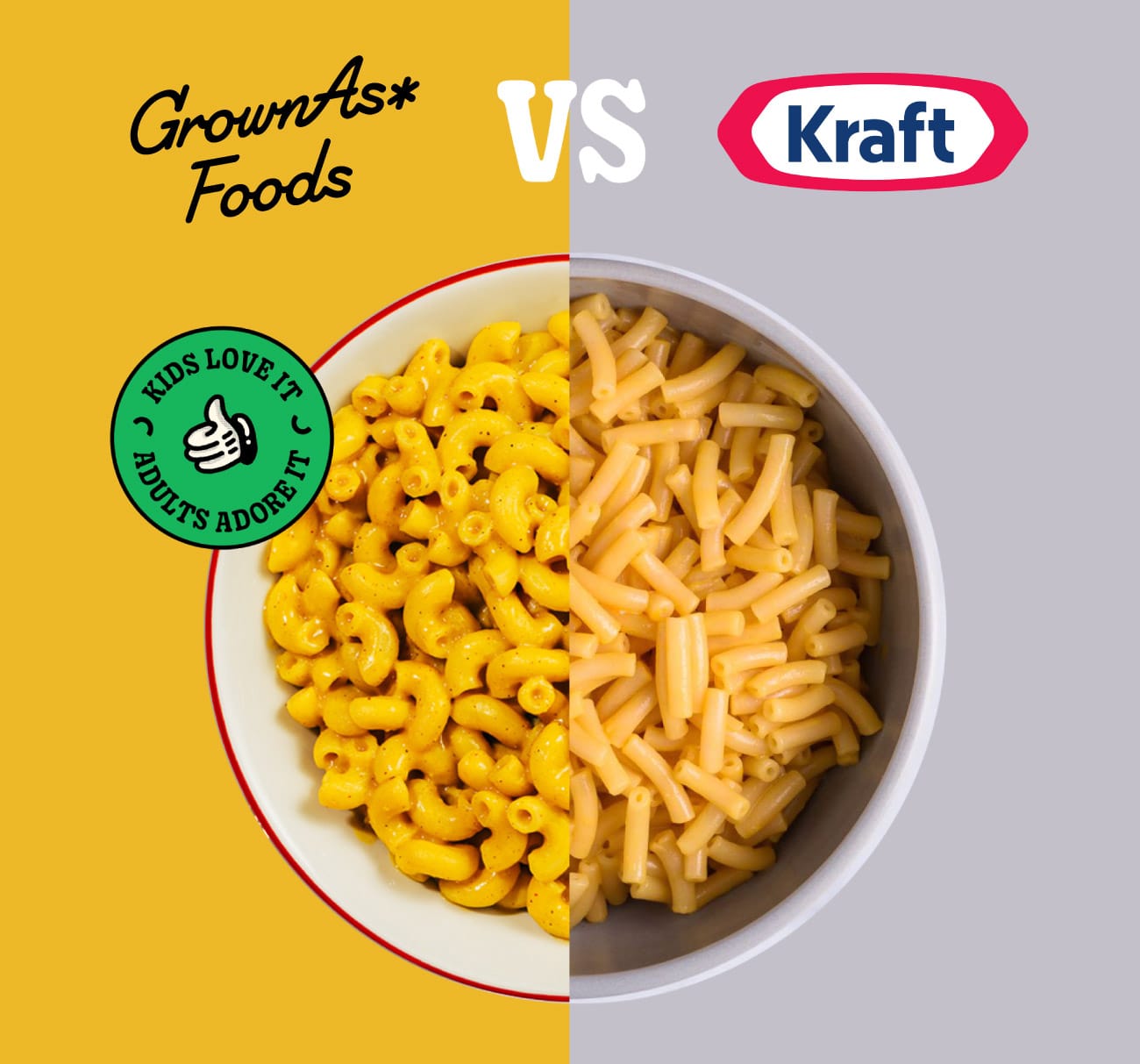 In large numbers, consumers are moving away from Kraft and looking for healthier options that can provide functional nutrition including better ingredients and added value like clean protein.
There are a few other options for Mac and Cheese on the market, and we set out to create the best one, both in taste and nutrition.
This journey into making a better Mac and Cheese led to launching GrownAs* Foods during the Covid-19 pandemic. We took unique flavors and ingredients and formulated them into our founder's children's favorite food - mac & cheese.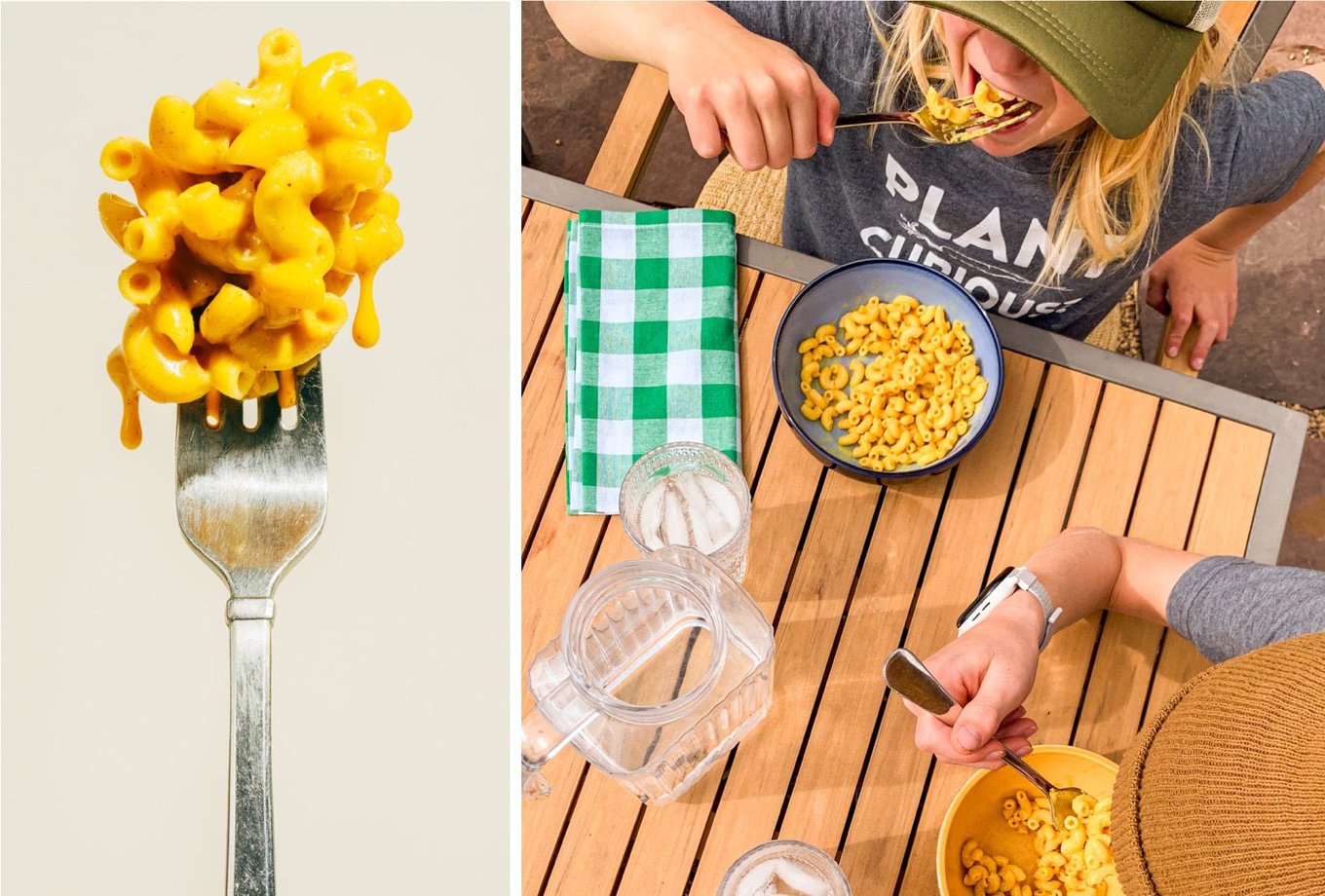 Imagine the mac you loved as a kid, but with zero cholesterol, high in plant-based protein, and most importantly, forking delicious. GrownAs* Mac is a delicious, modern take on a childhood favorite now available in nearly 1,000 stores!
We want everyone to feed their inner child or their actual child, so we launched Classic and Truffle flavors. Classic is just like the blue box you see everywhere, only better with cleaner, simpler ingredients. Truffle is loaded with real black truffles to inspire your everyday gourmet.

Taste is King, but on the way to Flavortown we also use nutritious, clean ingredients. The results are clear: 10g of protein per serving, lower sodium, B vitamins, and zero trans fats or cholesterol. No more compromising on flavor and adding peas to make your mac healthier.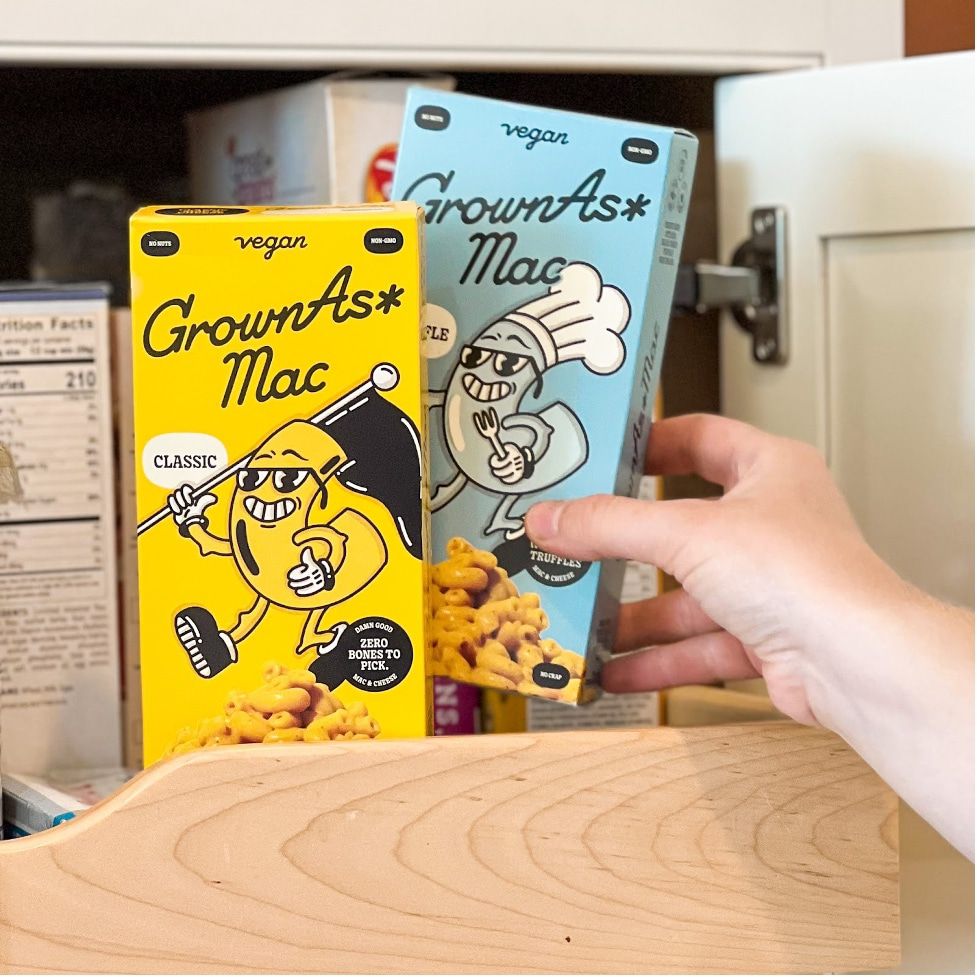 Before the Mac & Cheese came on the scene, in 2017 we started with a pop-up tent and began selling Seed Ranch Flavor Co. sauces at farmer's market. We didn't find the flavors we wanted at the grocery store, so we created them...and our customers loved them!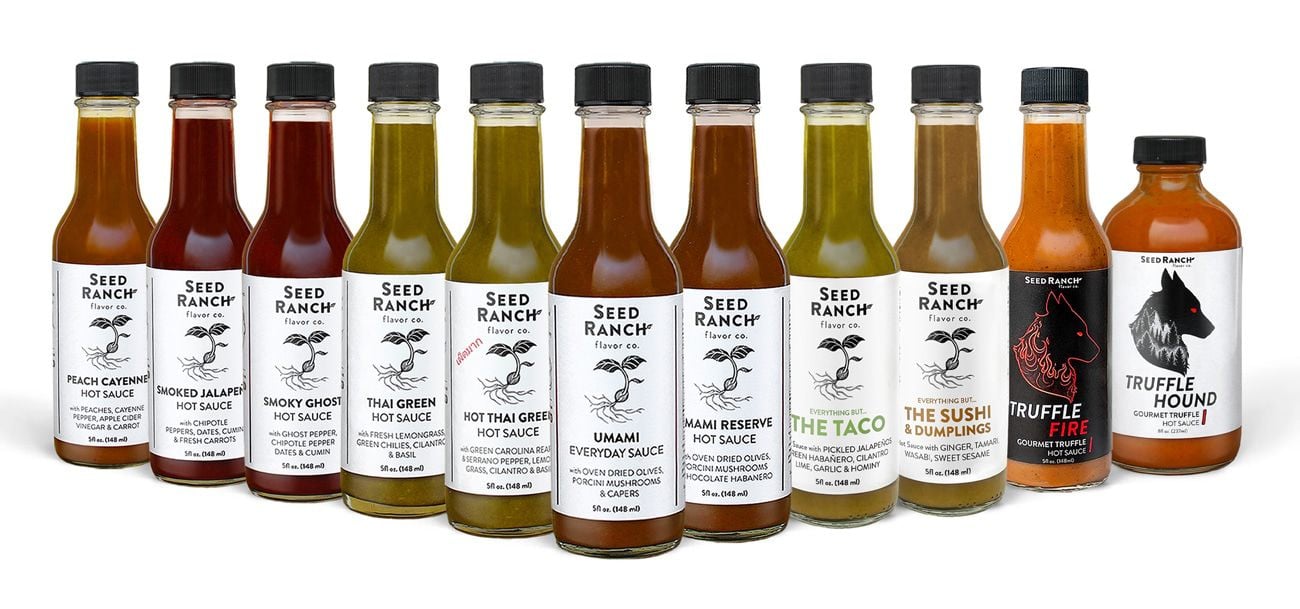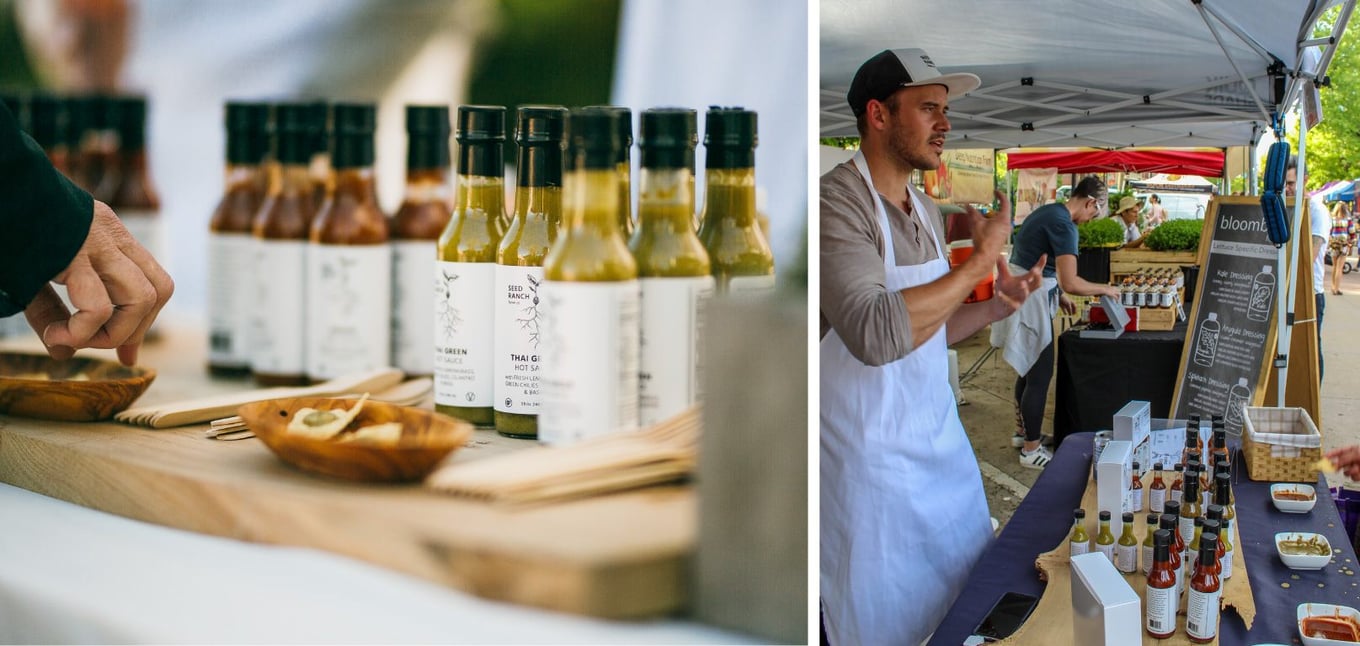 ---
A Vision For More Delicious Cheese and Dairy Items
Mac & Cheese is only the beginning. Our vision is to expand 1-to-1 plant-based, cheese and dairy alternatives across grocery aisles, from snacks to sauces and beyond.
Starting in 2024, we are innovating a new product line in the savory snack category - targeting a different classic favorite - to continue scaling our company.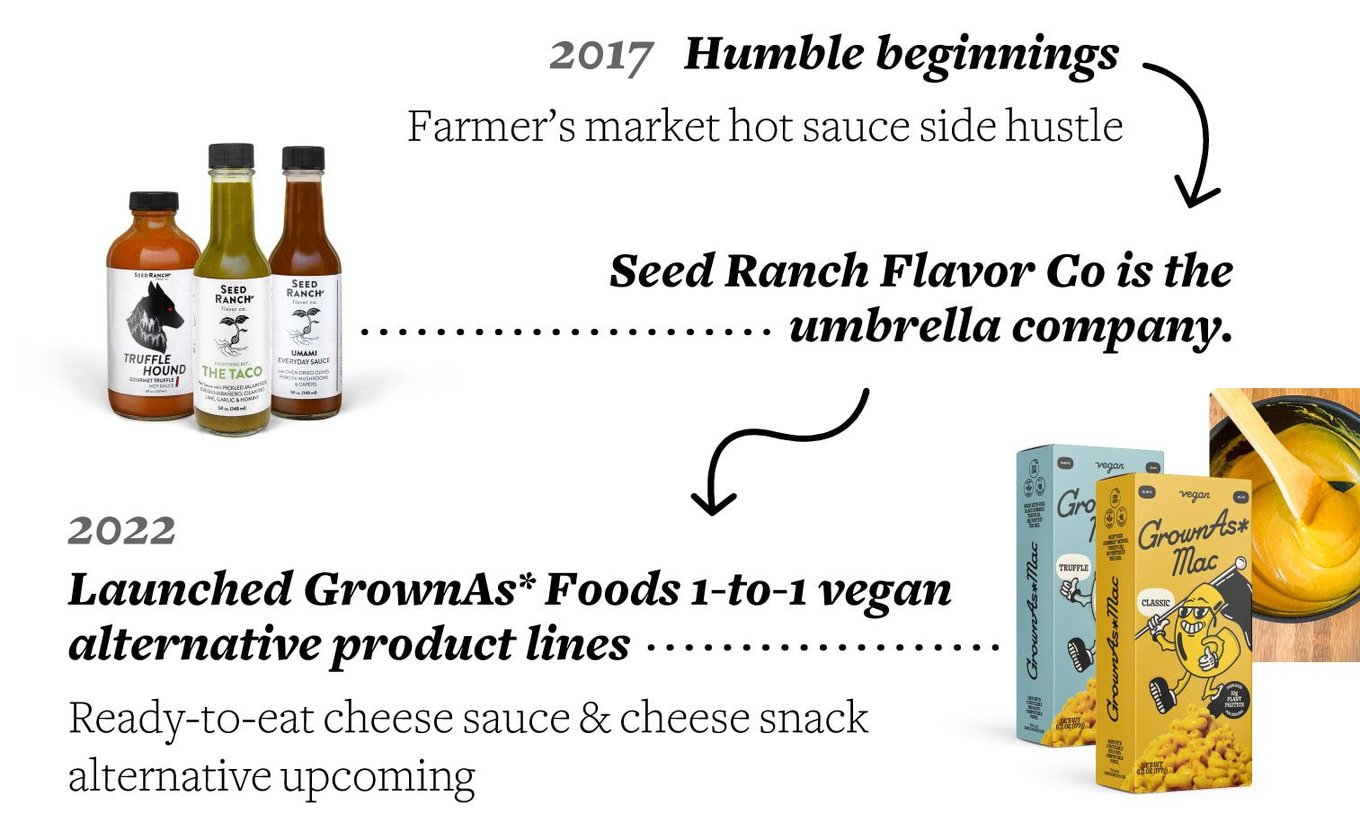 Traction with the Mac
Seed Ranch Flavor sauces took 6 years to get placement in 600 doors following a local and regional first strategy. GrownAs* Mac & Cheese launched from 0-900+ doors in under 12 months, bolstered by our seed round closed in May 2022. We see the Mac and Cheese as the main scale driver for our business.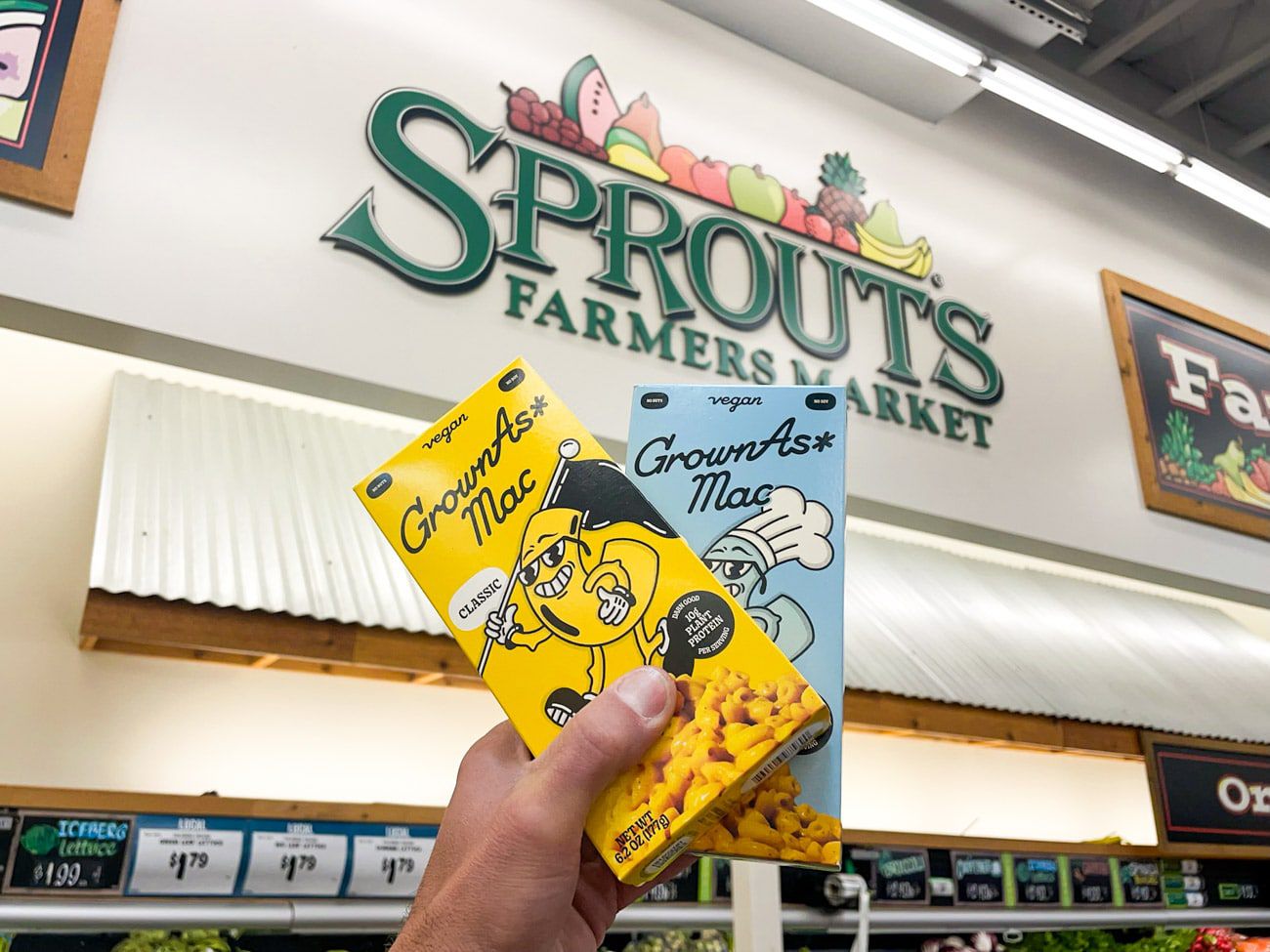 Nationwide Launch with Sprouts in 2023 in all 400 Stores
In March GrownAs* Foods was featured in Sprout's competitive Innovation Set. We flew off shelves selling 5,412 from March 1 - April 30th. As one of the top performing brands we were accepted to the mac & cheese set starting July 2023. From July 1 - August 31 we shipped Sprouts 10,750 units and are continuing strong.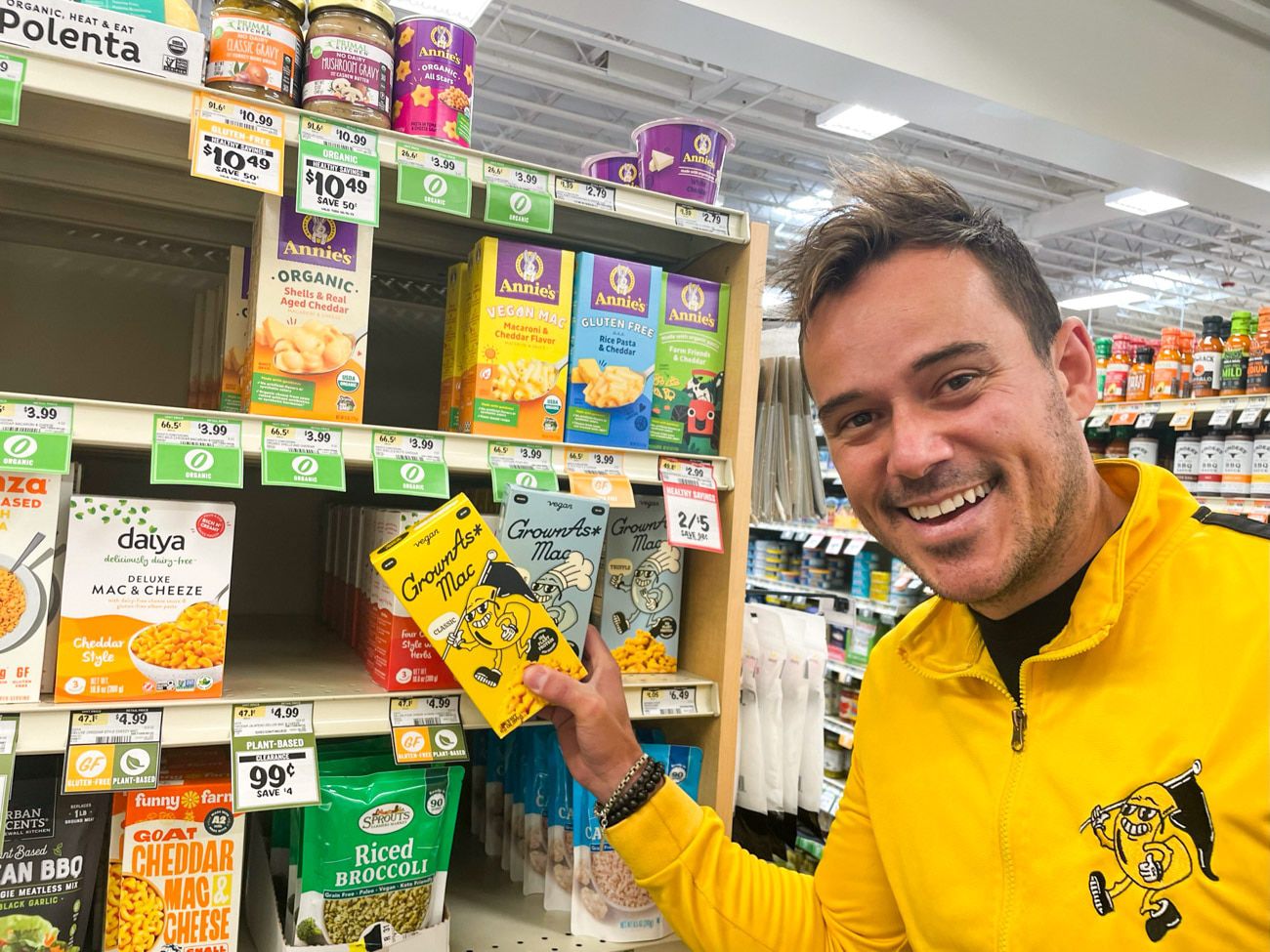 And our velocities continue growing with other retailers. Harmons grocery chain weekly sales increased 435% from March - July 2023. Across the country, our Seed Ranch Flavor and GrownAs* Foods brands continue to grow and make stomachs happy and bites tasting great!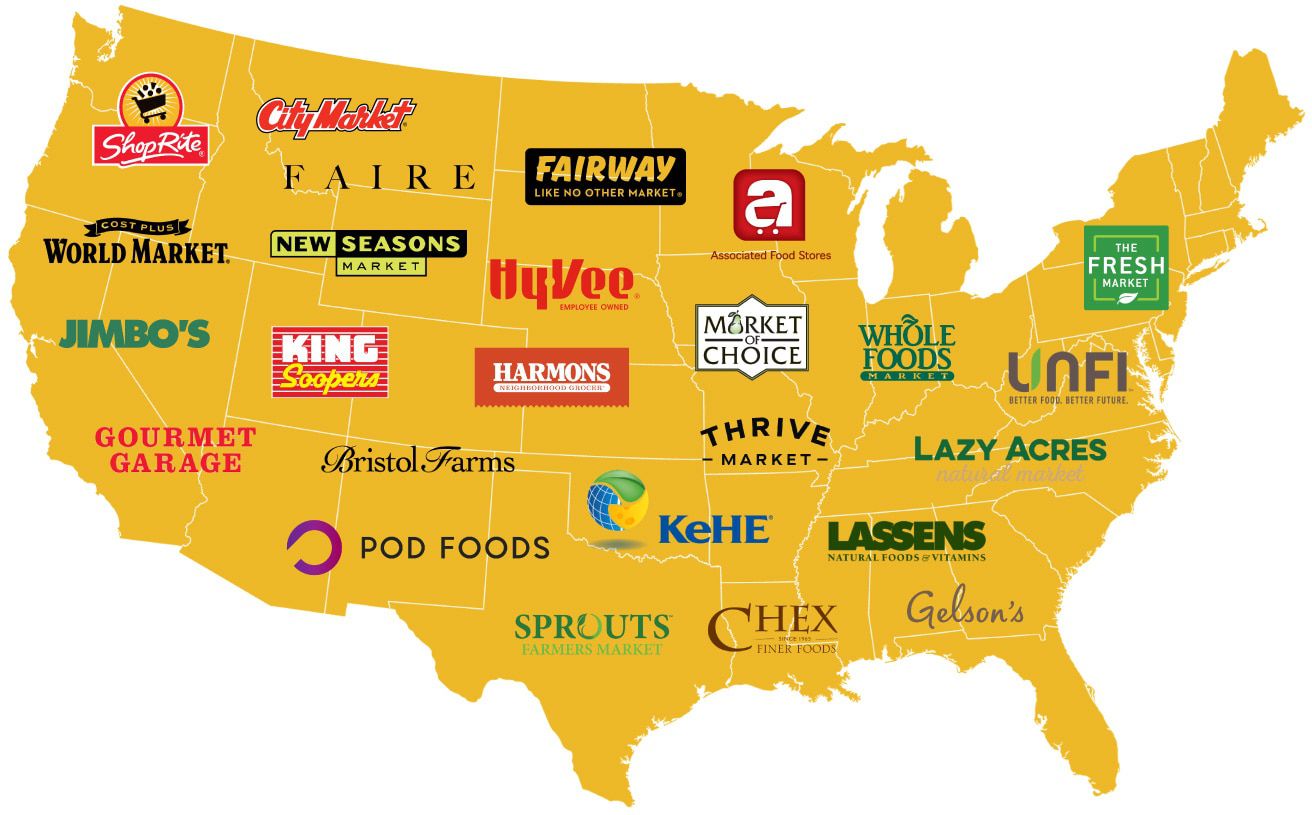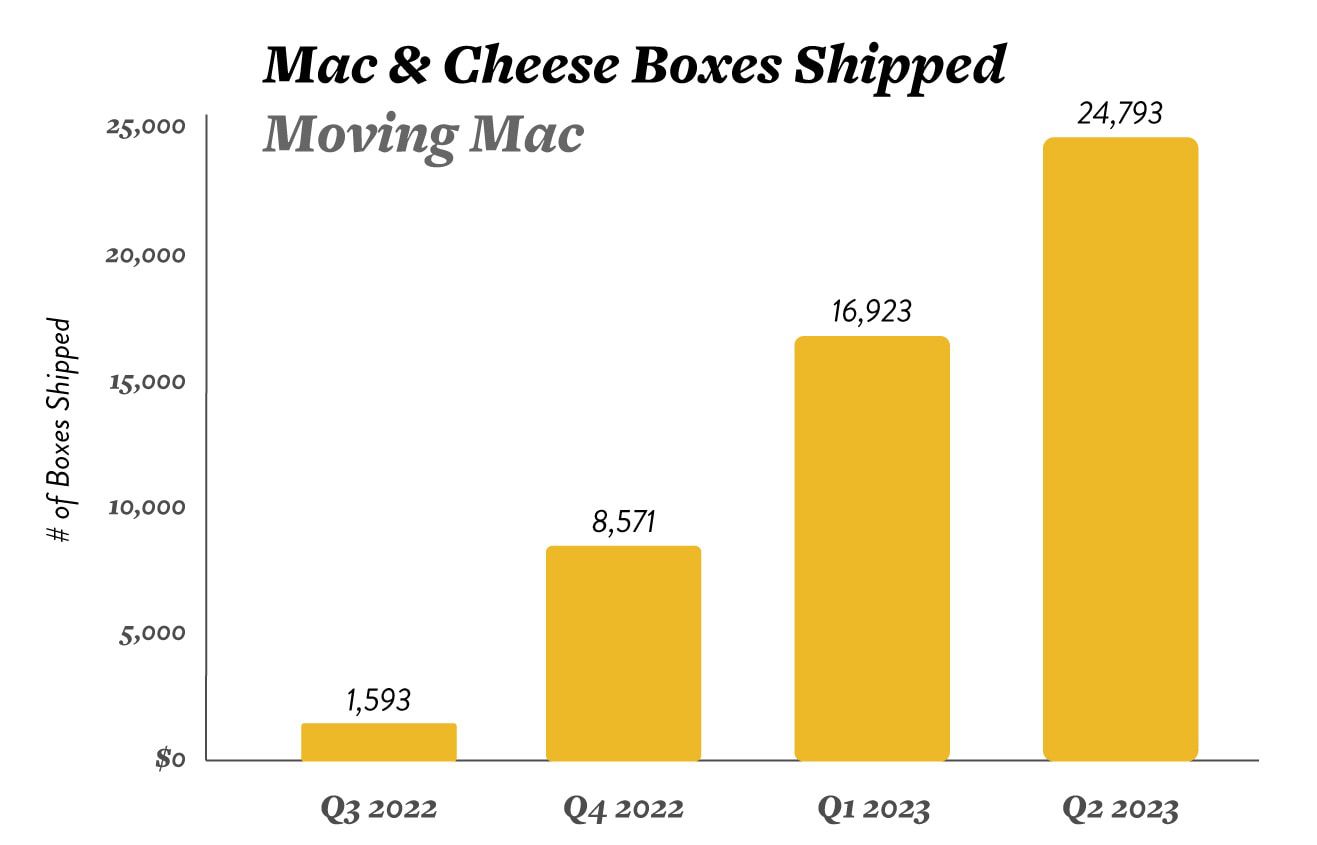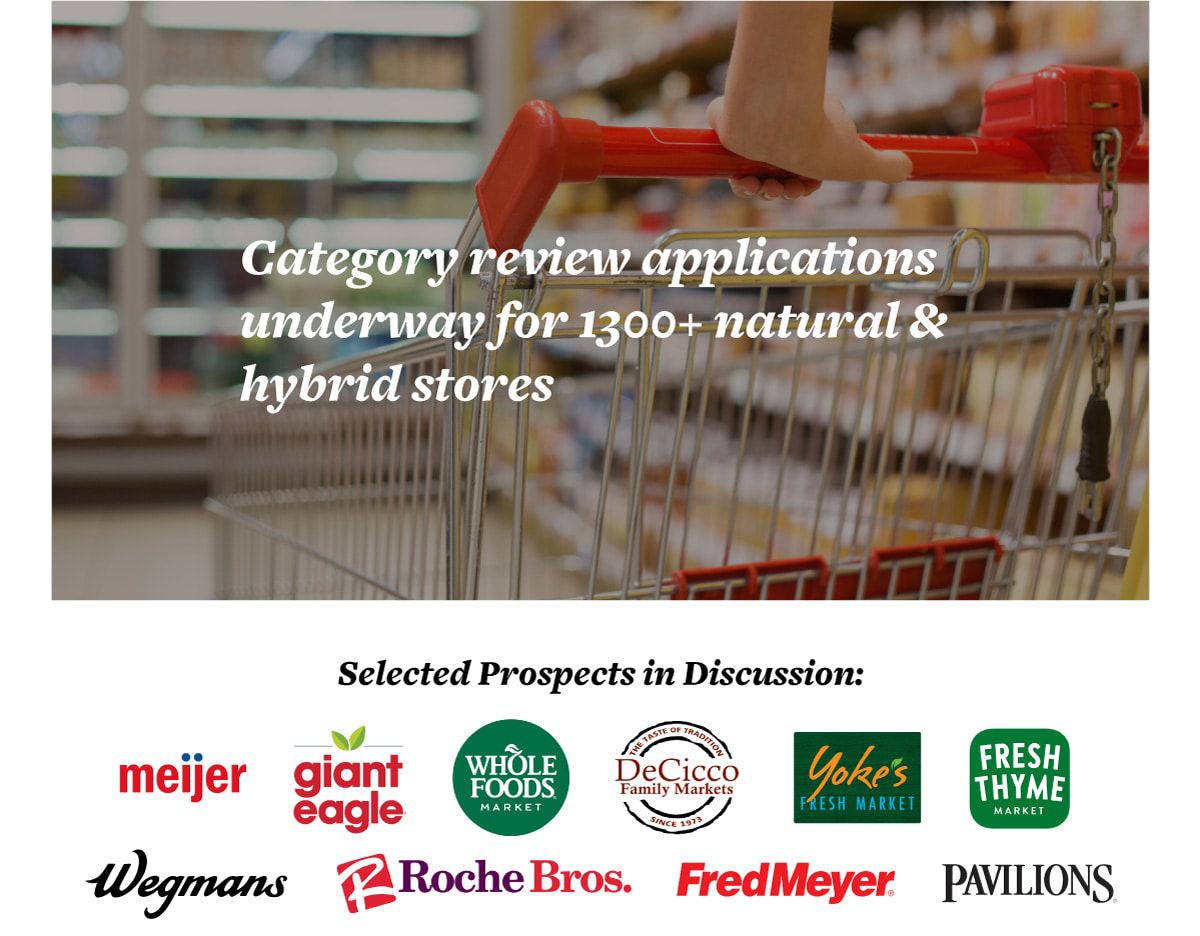 ---
Fans Big and Small Love our Flavors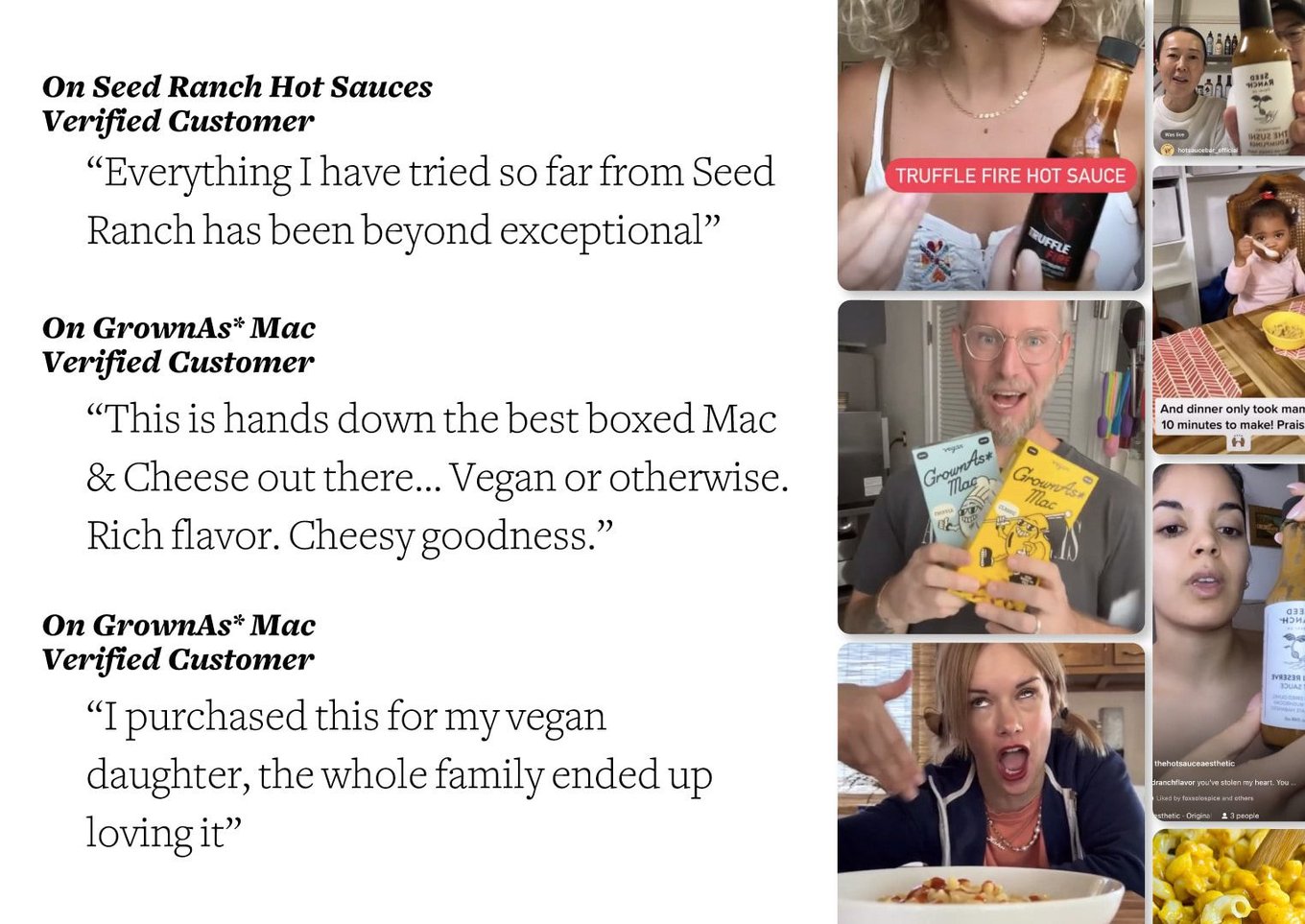 IMPROVED MACENOMICS WITH INVENTORY SCALE
---
Scaling manufacturing
With sales improvements we have captured manufacturing efficiencies, decreasing our COGS and improving gross margin from 30% (2017) to 45% (2022). In the coming 24 months we have already identified production improvements which will yield up to a 20% reduction in our costs.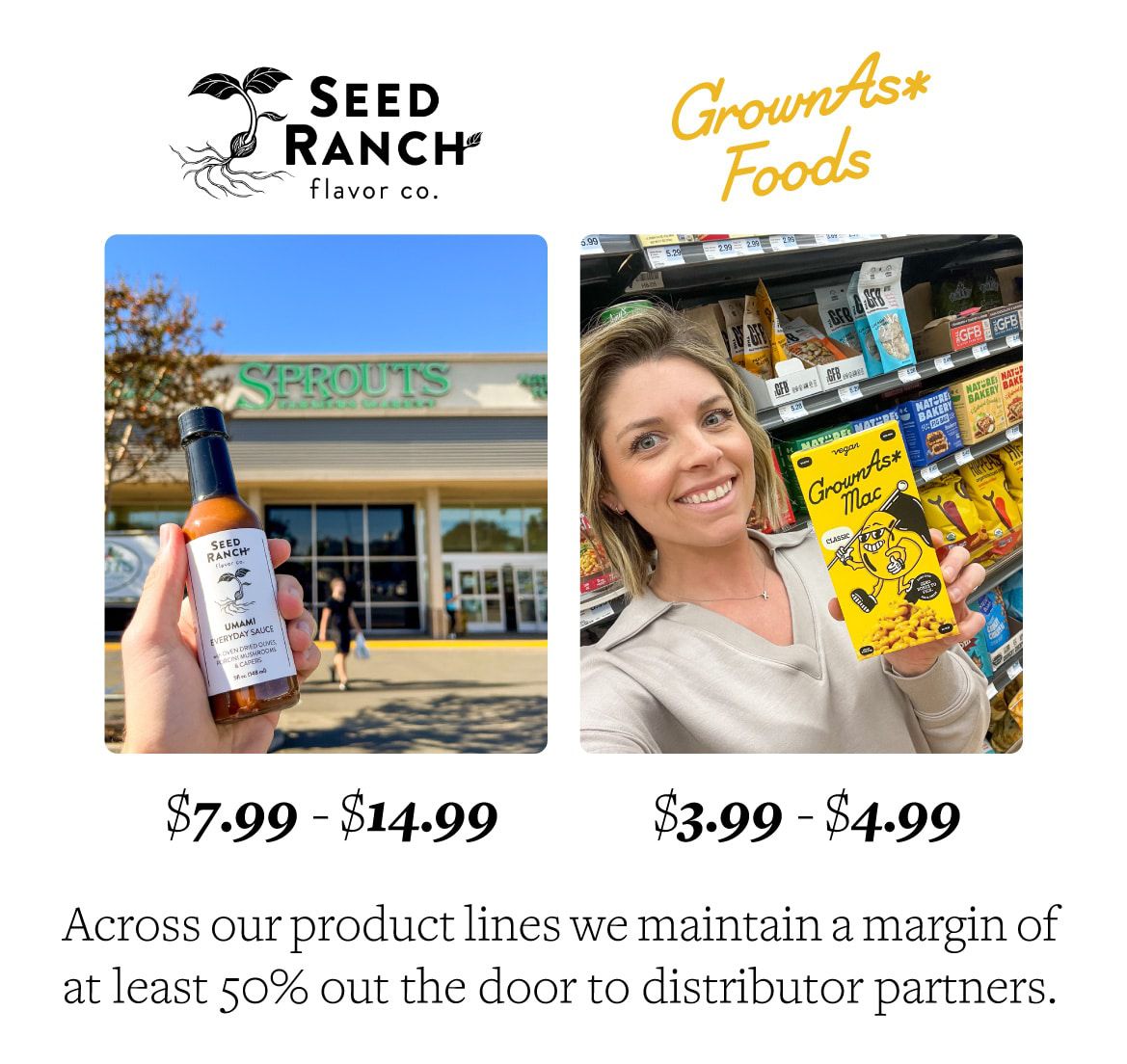 Our direct to consumer and Amazon business also continue to perform. Average yearly value for returning customers on Amazon is $56.50 and our D2C average order value is $44.66. Through manufacturing and supply chain operations we keep improving e-commerce margins, which in turn supports our grocery operations and brand equity.
---
Lean Operations and Efficiency
As a lean team, bootstrapped team from 2017-2022 we know how to make a little go a long way. With a full-time team of only 3 employees we leverage AI, just-in-time manufacturing, fast R&D, and trend spotting in order to remain nimble versus larger competitors.
How We Stack Up
GrownAs* Foods is kid approved and adult adored with healthier, more nutritious, clean label mac & cheese that doesn't sacrifice on flavor! No more goopy packets and ingredients you can't pronounce. Customers have been surveyed across different retailers and our product wins on taste and also nutrition.
We are the only Mac & Cheese to be Soy Free, Nut Free, and offer high protein benefits.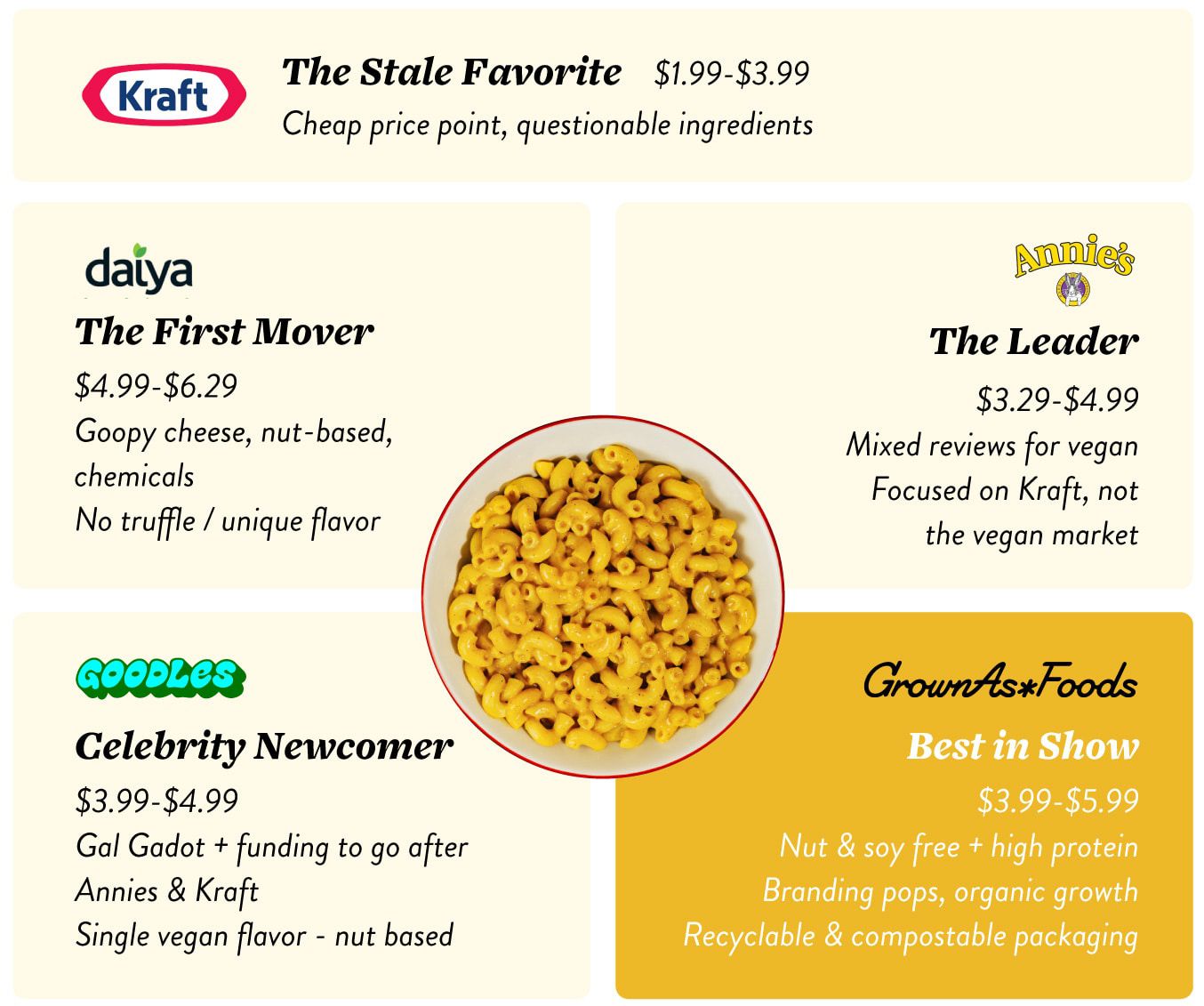 Seed Ranch Flavor sauces also stand out from the crowd with unique flavors and ingredients. Our best-selling Truffle Hound, Everything but the Sushi & Dumplings, and our classic Umami line of sauces all make everyday meals taste incredible. We were even featured on the hit show Hot Ones where we took Margot Robbie's breath away and made Justin Timberlake cry us a river.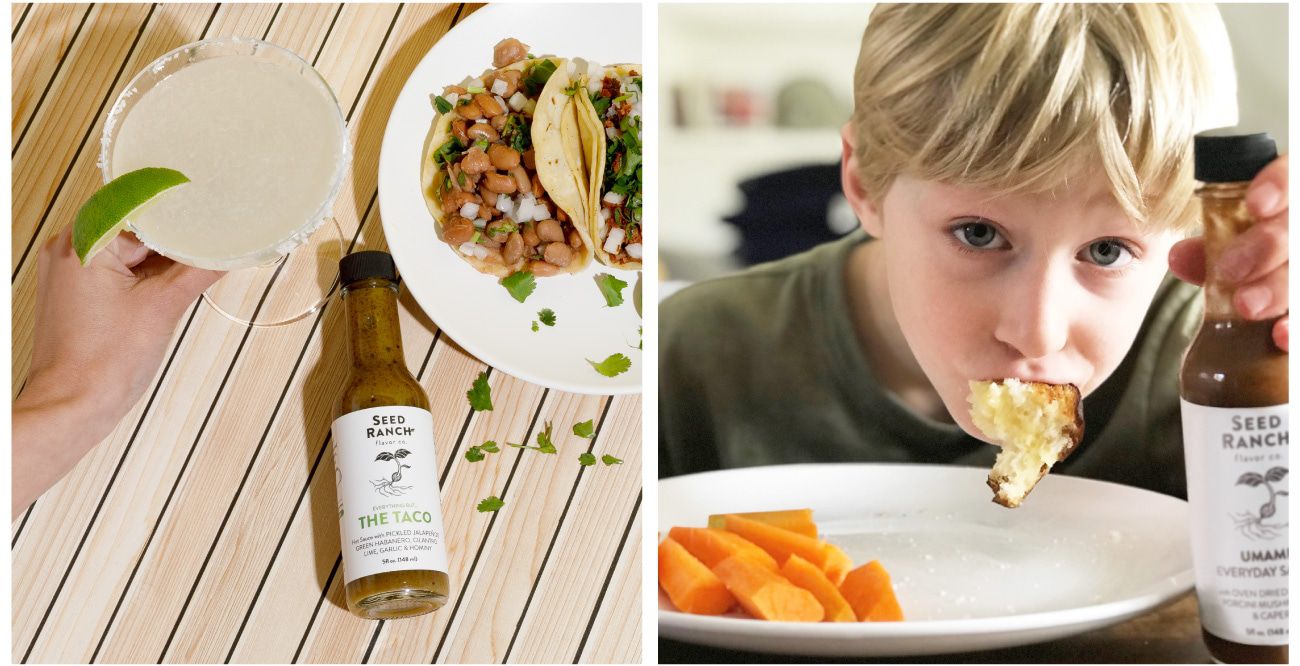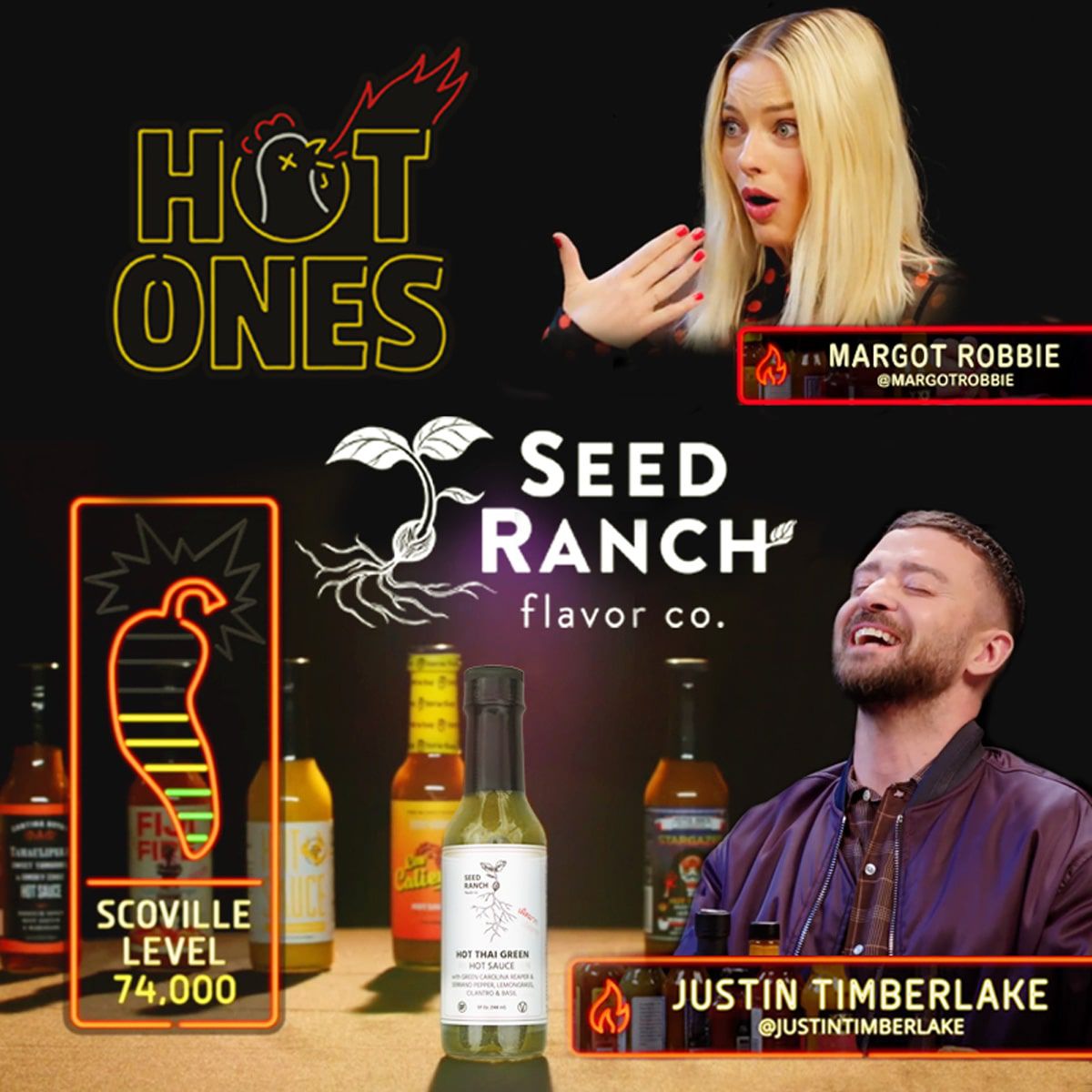 Breaking $1m Annually with Awesome Flavor
YTD Sales & Projections
Q4 is Seed Ranch Flavor's strongest with the direct consumers, independents, and retail chains stocking up for the holidays. What's better than a gift you can eat? With holiday orders, confirmed, new private label business, and increasing retail velocities we anticipate 2023 sales of $1.2m. Lifetime sales through August 2023 were $3.34m.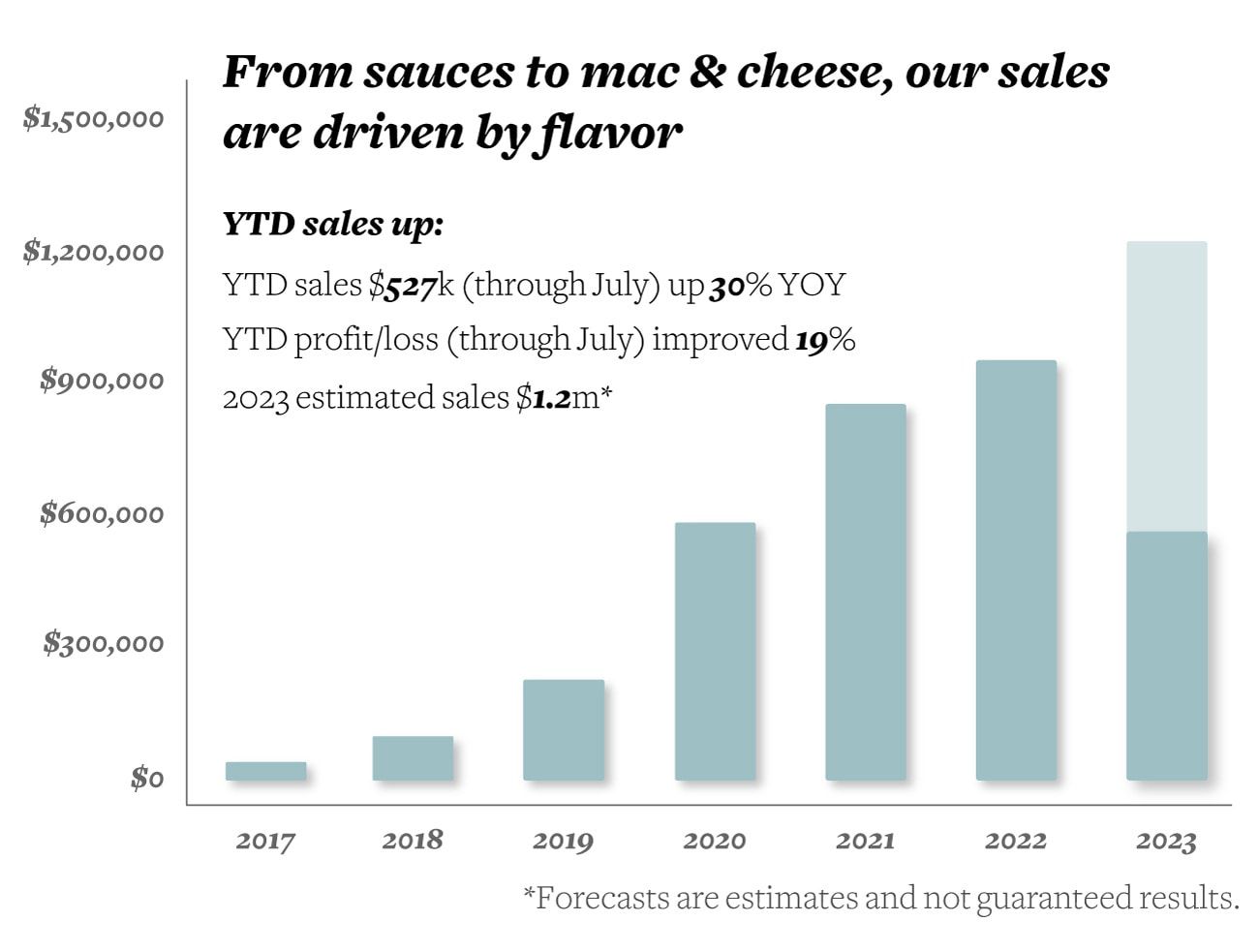 ---
Multiple Sales Channels: Grocery, Specialty, Amazon, D2C, Foodservice and Export
Our reach however, goes far beyond grocery shelves at your local super. We make 18-36 month shelf-stable, plant-based products which help us distribute across multiple sales channels including grocery, Amazon, D2C, private label, foodservice, and export while minimizing shipping, logistics, and spoils costs.
In 2022 70% of sales were from grocery and wholesale accounts and 30% were from vs Amazon & D2C. Post Covid-19 we have continued to see a strong new baseline for Amazon and e-commerce sales.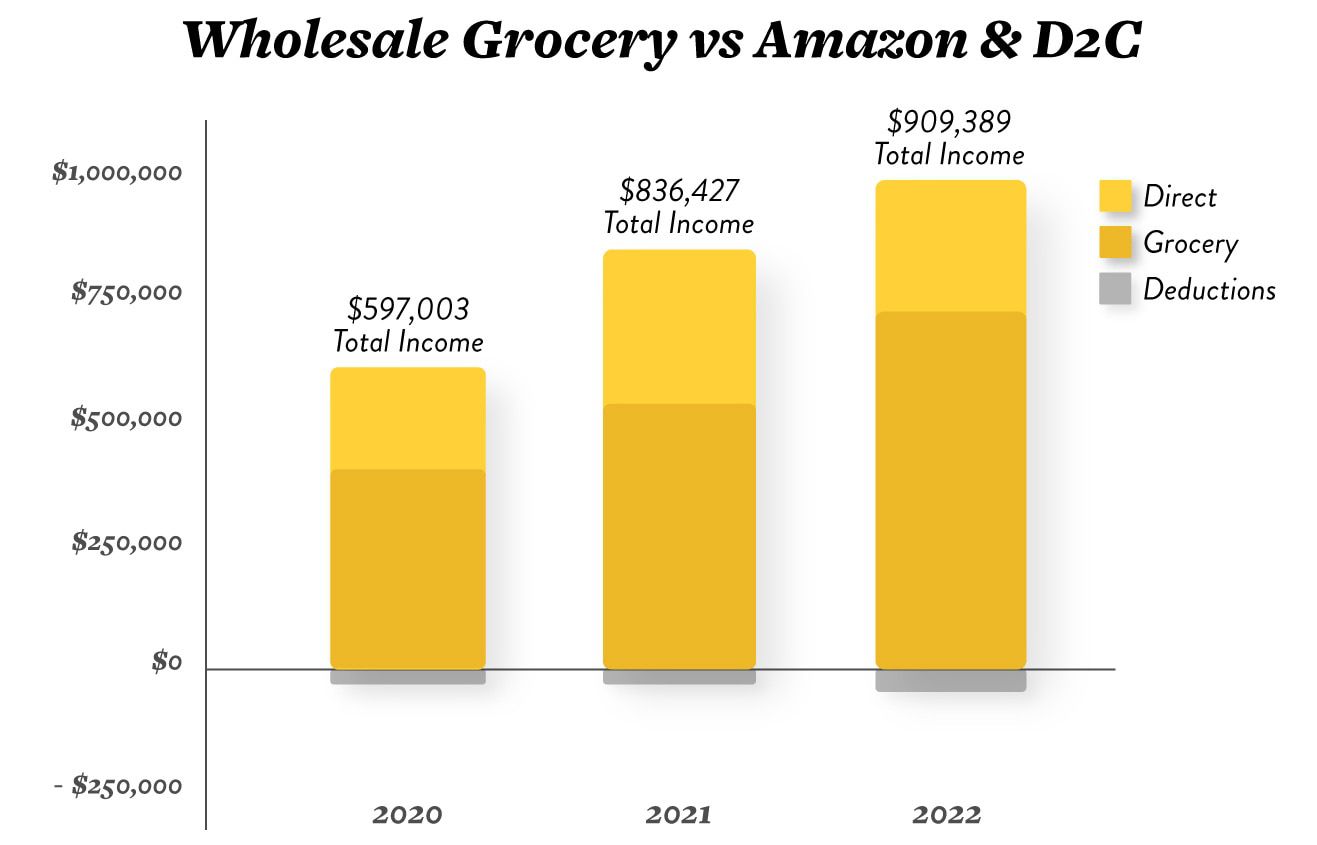 In Q4 2023 and 2024 we are partnering with Sysco and other foodservice distributors to launch ready-to-serve, plant-based Cheese Sauce and Queso products. These are delicious, Top 9 allergen-free, clean-label, easy dairy alternatives - perfect for College & University, Healthcare, and Military applications.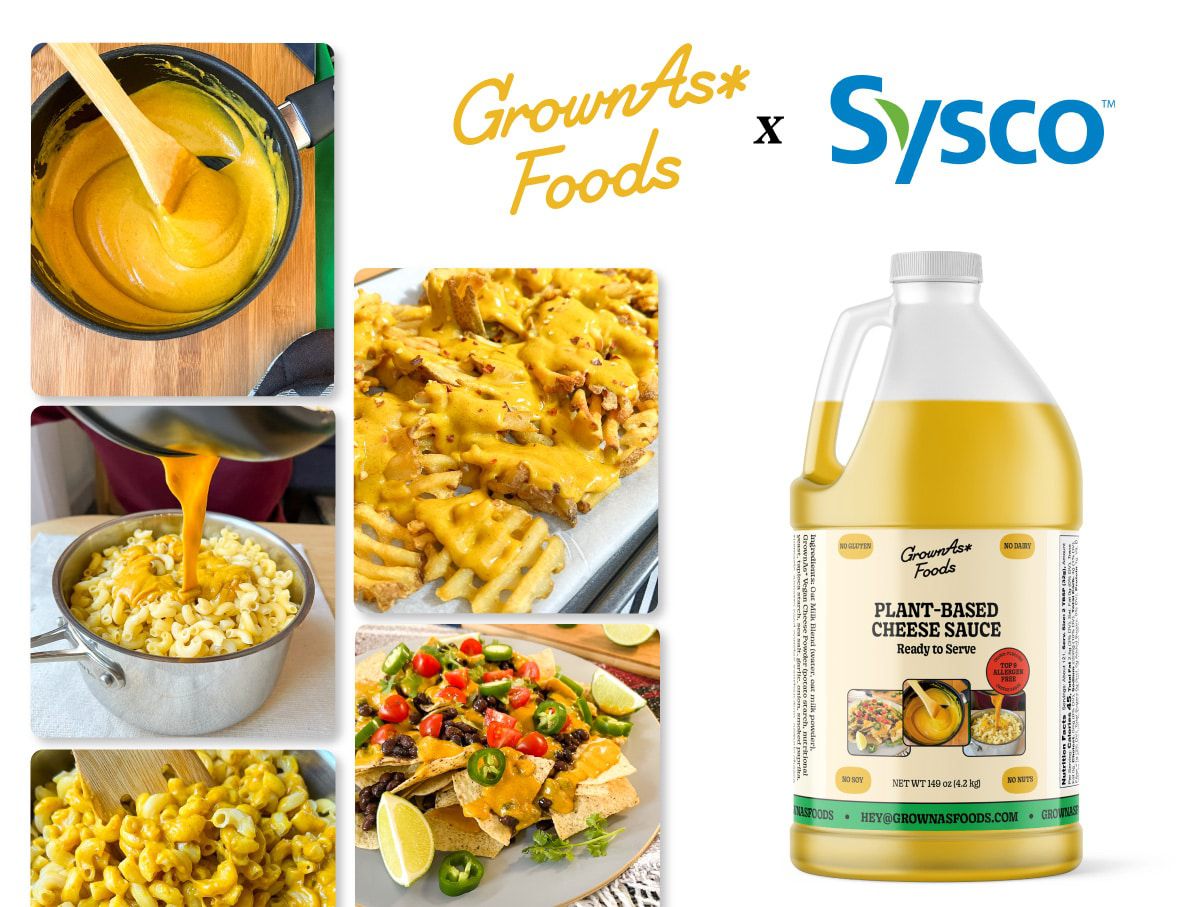 Plus we are adding export deals for the Middle East, Europe, and Costa Rica with more in the pipeline. These provide valuable cash flow, production capacity, and brand awareness, worth an additional $100k+ in future annual revenue.
Return of the Mac
---
The rise of GrownAs* Mac & Cheese
Seed Ranch Flavor sauces took 6 years to get placement in 600 doors following a local and regional first strategy. GrownAs* Mac & Cheese launched from 0-900+ doors in under 12 months, bolstered by our seed round closed in May 2022.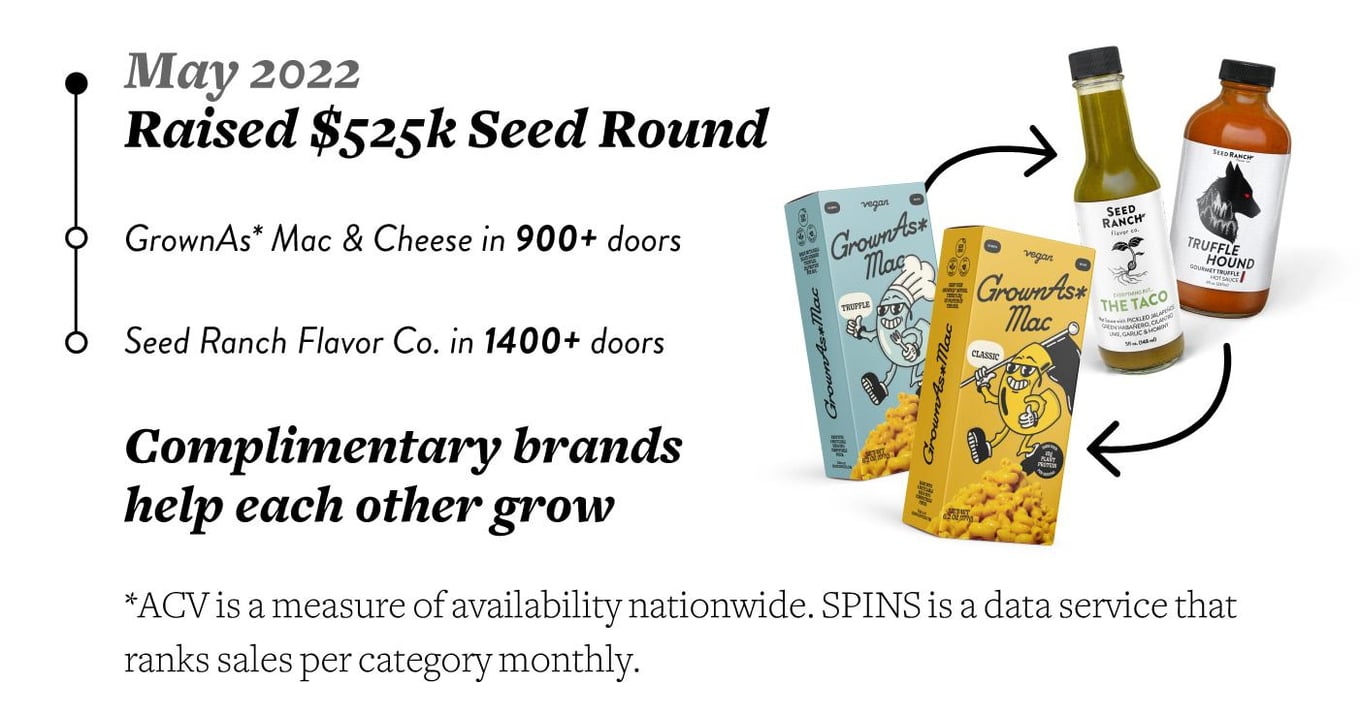 In turn, the GrownAs* success has drawn buyer attention to Seed Ranch Flavor sauces. For 24 weeks ended 8/13/23 Seed Ranch Flavor was the #20 ranked hot sauce brand in the natural channel with max ACV* of 25.4%, compared with ACV of under 5% the same period in 2022.
---
3 Year Forecast: Capital Needed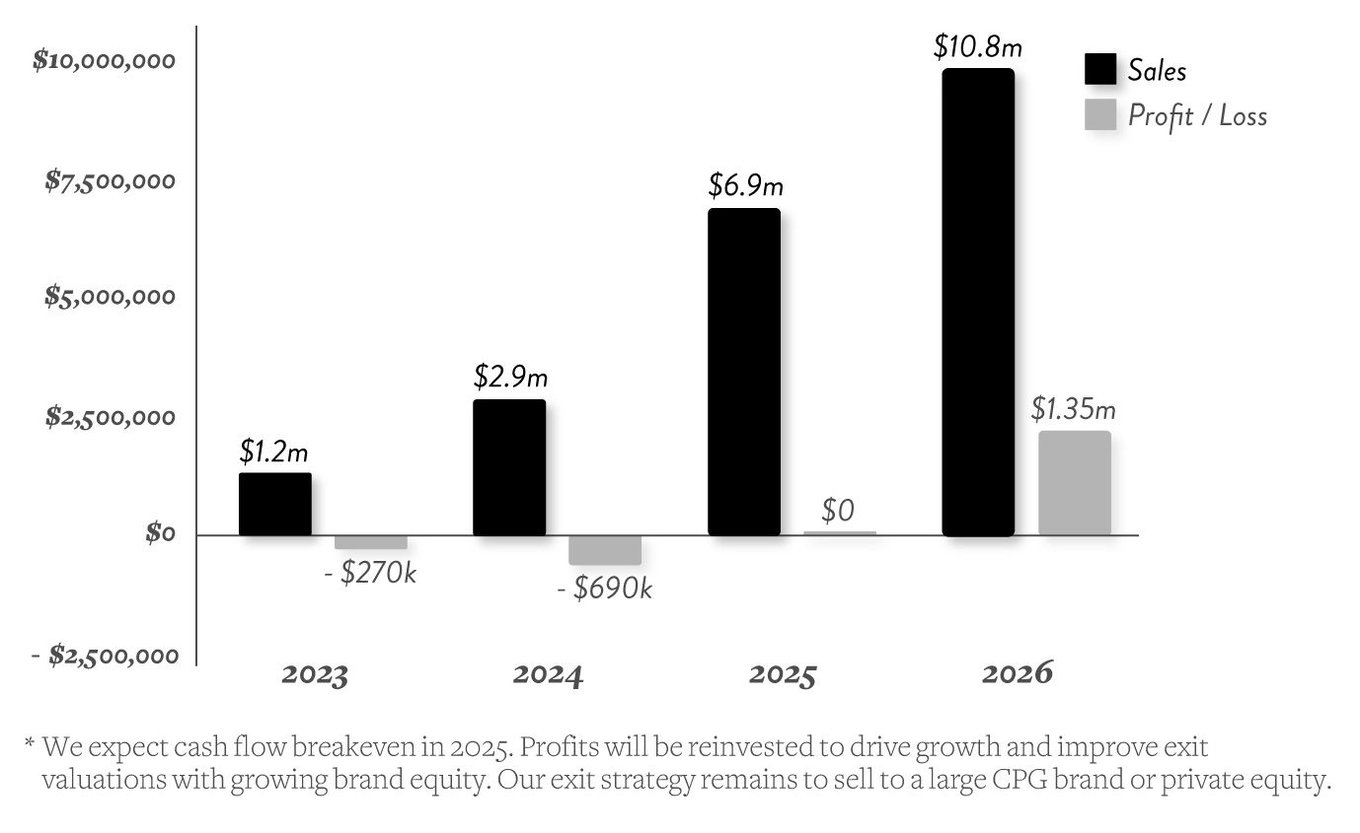 ---
Uses of Capital from Republic Crowdfund Raise
We expect funds from this Republic crowdfund raise will give us 12-18 months of runway. Uses of these fund are projected to be put to use as follows: 40% for production of inventory to supply purchase orders. 30% for sales and marketing - the lifeblood of growing our omnichannel sales approach for brick & mortar grocery and e-commerce. 13% for working capital to maintain payroll, warehousing, service providers, and other operational expenses. 10% short term debt servicing to give us access to inventory financing and additional capital to keep growing sales without incurring hefty interest rate loans. 7% to cover Republic's fees for the crowdfunded round
Meet your Chief of Flavor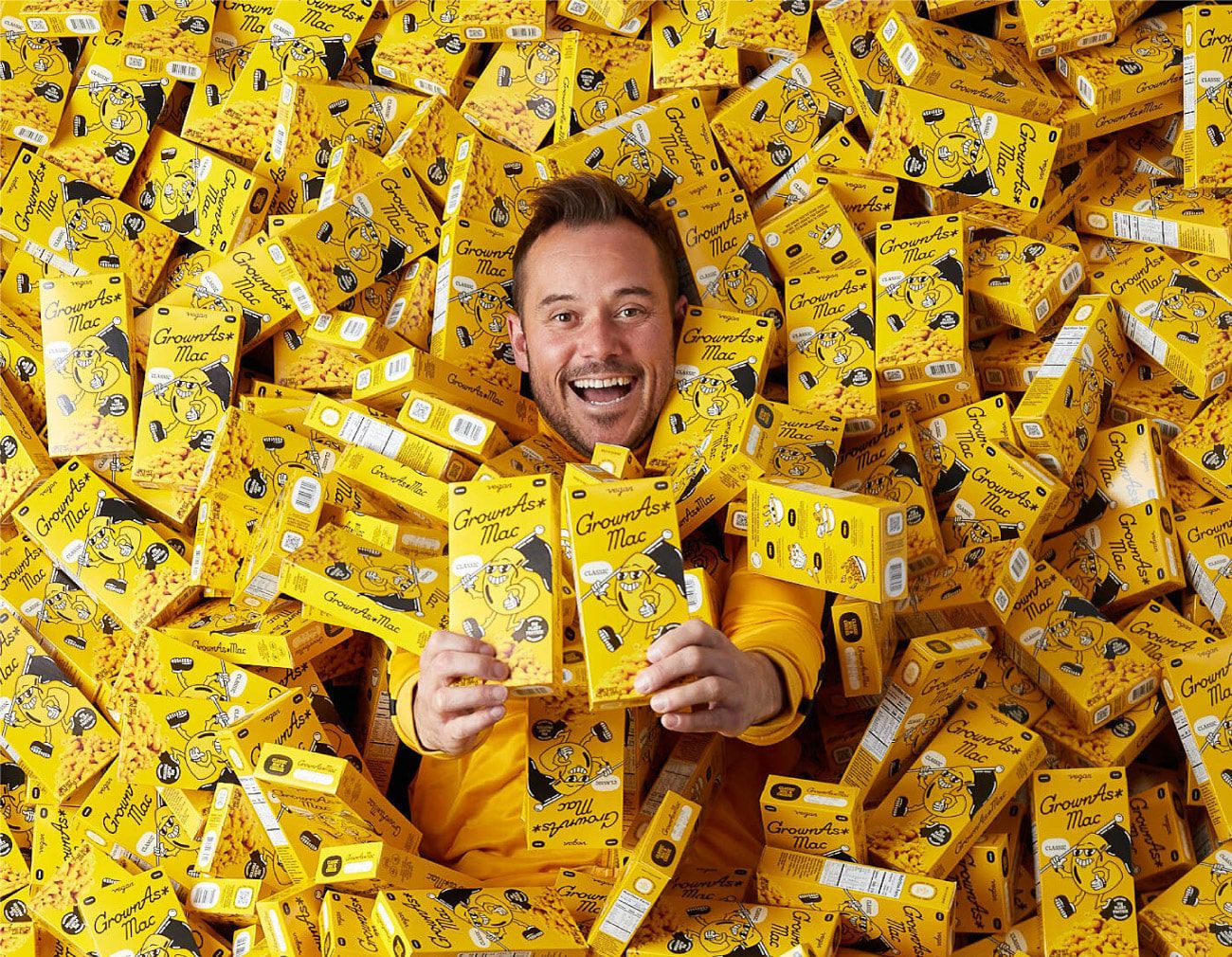 As Founder and Chief of Flavor, David is tasked with making your taste buds sing and spirits fly. Every recipe starts in David's kitchen, because if it's not tasty/clean/fun enough to pass the test with friends and family, there's no way it will end up on your grocery shelf. He's a father of two boys, health & fitness nut, and 7-year plant-based eater on a mission to show the world delicious, healthy, and vegan can all live under the same umbrella.
Prior to founding Seed Ranch Flavor and GrownAs* Foods, David was a successful entrepreneur in the sustainability space, analyst, sales executive, and briefly an elementary school P.E. teacher.
---
Invest in Us - Invest in the Future of Flavor
So, why invest with us in the Seed Ranch Flavor | Grown As* Foods journey? We are confident that with over $1.05M in trailing 12 month sales (through August), we are poised to continue scaling nationally with retail partners like Sprouts, direct to consumer sales through Amazon and our website, and launching our upcoming foodservice with Sysco.
The introduction late last year of our Mac and Cheese product is selling off the charts, with 189% growth from 4Q22 through 2Q22 with more boxes flying off the shelves than ever before. Not to mention excellent growth with Seed Ranch Flavor sauces moving from 5% to 25% national availability in the natural channel. And that's just the beginning.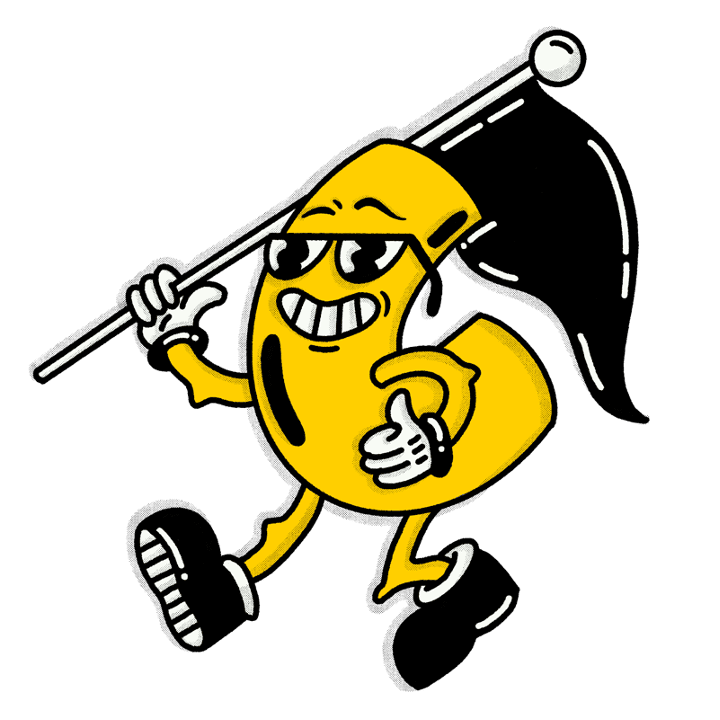 We are making an impact by introducing ridiculously flavorful, better-for-you, plant-based favorites to the market that are not only delicious, but also nutritious and functional.
Let's shape the future of flavor together!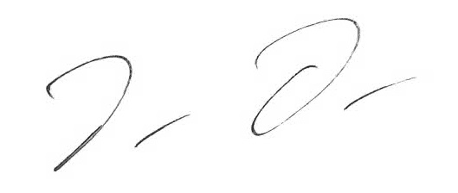 David Delcourt - Chief of Flavor