Democratized, modern, secure store & compliant sharing
i2Chain's patent pending tech is file-type,
storage-type and transport-type agnostic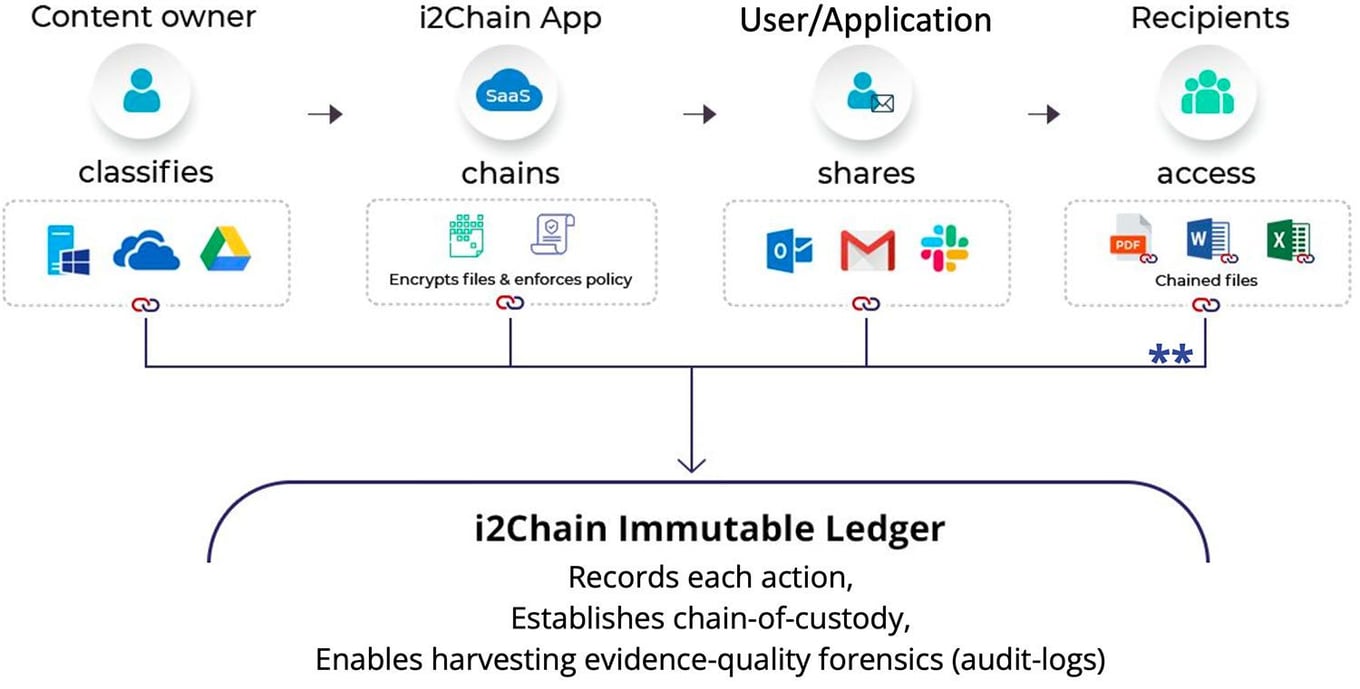 Encrypted, permissioned, & traceable digital documents & information artifacts
APIs to encrypt forever, store anywhere, and share compliantly by any means

Plugins for Outlook and Gmail

Compliant collaboration via email, text, Slack, or Teams
---
A Top 15 USA Bank use case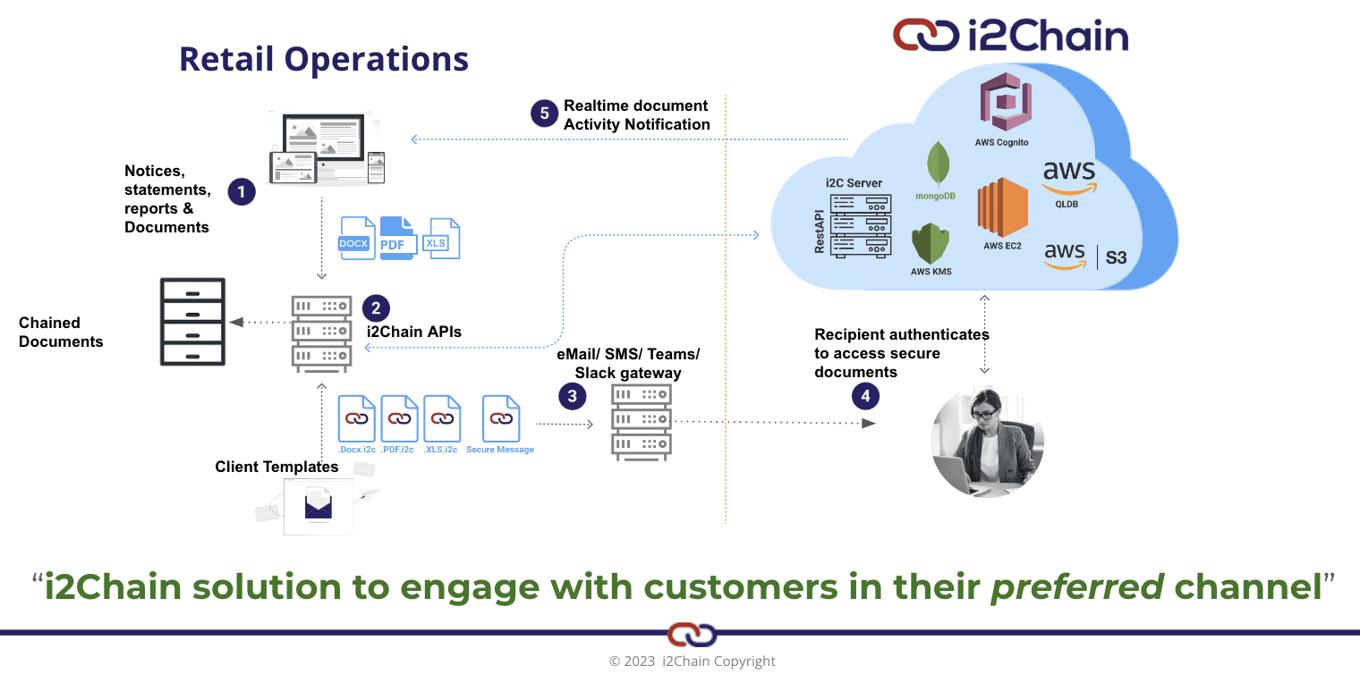 A large entity use case
---

Targeting $1M+
ARR in a year*
i2Chain general release in Feb 2023
Strategic partnerships with Tech Mahindra, Infosys, Tao Digital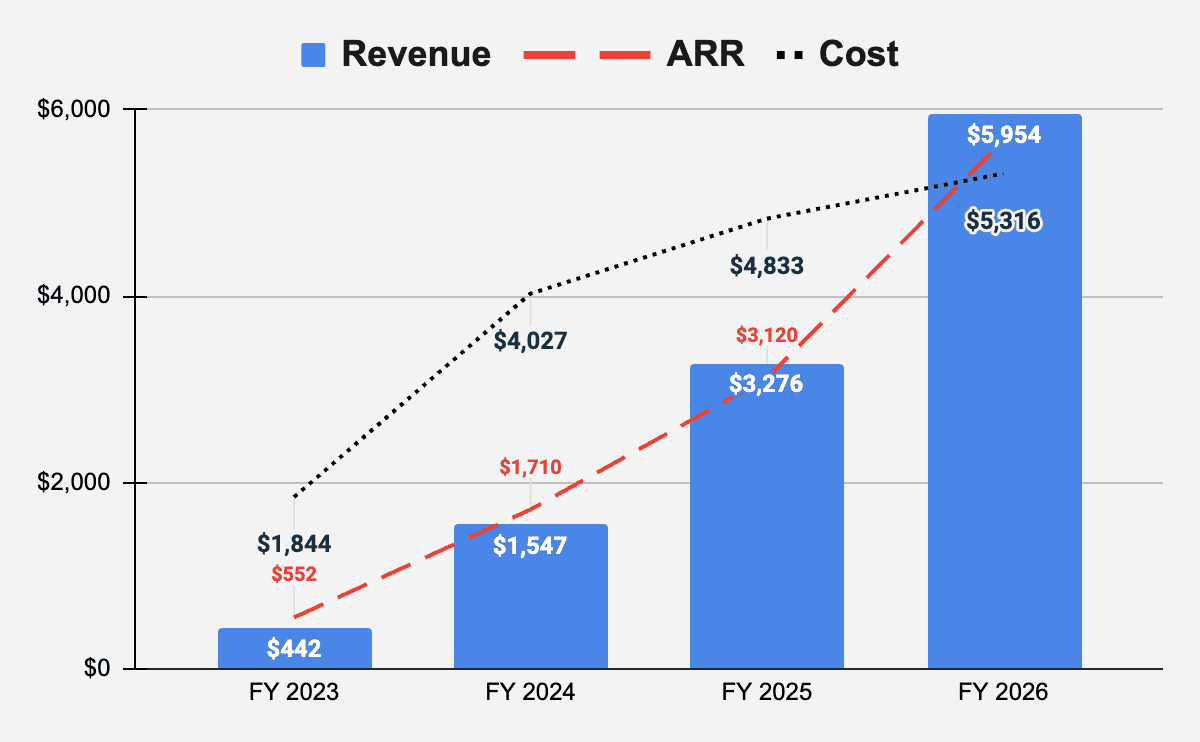 Note: ARR is arrived at by multiplying the exit month's recurring revenue projection by twelve.
Disclaimer: This document was prepared to facilitate discussions between i2Chain, Inc. ("the Company") and parties interested in making a potential investment in the Company. It contains forecasts, projections and other predictive statements (the "Forecast") that represent assumptions and expectations in light of currently available information and have been included solely for illustrative purposes. ALTHOUGH REASONABLE EFFORT WAS MADE TO BE ACCURATE, THE FORECAST WAS NOT PREPARED WITH A VIEW TOWARD COMPLIANCE WITH THE GUIDELINES ESTABLISHED BY THE AMERICAN INSTITUTE OF CERTIFIED PUBLIC ACCOUNTANTS, THE FINANCIAL ACCOUNTING STANDARDS BOARD, OR THE RULES AND REGULATIONS OF THE SECURITIES AND EXCHANGE COMMISSION REGARDING PROJECTIONS. FURTHERMORE, THE FORECAST HAS NOT BEEN REVIEWED BY THE COMPANY'S INDEPENDENT EXTERNAL CERTIFIED PUBLIC ACCOUNTANTS. WHILE PRESENTED WITH NUMERICAL SPECIFICITY, THE FORECAST IS BASED UPON A VARIETY OF ASSUMPTIONS, WHICH MAY NOT BE REALIZED, AND ARE SUBJECT TO SIGNIFICANT BUSINESS, ECONOMIC, AND COMPETITIVE UNCERTAINTIES AND CONTIGENCIES, WHICH IN SOME CASES ARE BEYOND THE CONTROL OF THE COMPANY. NO REPRESENTATION OR WARRANTY IS MADE OR IS AUTHORIZED TO BE MADE BY ANY PERSON AS TO THE ACCURACY OF THE FORECAST OR OTHER SUCH STATEMENTS AND ESTIMATES WITH RESPECT TO ANY OTHER MATERIALS CONTAINED HEREIN. ACTUAL RESULTS MAY VARY MATERIALLY FROM THOSE PRESENTED IN THE FORECAST. RECIPIENTS OF THIS MEMORANDUM MUST MAKE THEIR OWN DETERMINATIONS AS TO THE REASONABLENESS OF SUCH ASSUMPTIONS AND THE RELIABILITY OF THE FORECAST.

Per-user SaaS: User-based, required plug-in. Users intuitively classify & secure artifacts attached to the email.
Per document SaaS: Zero-click API-based microservice for embedding in the digital process. The output is a secure web link for secure storage (at rest) and compliant sharing (in motion).
Drivers:
a) Numerous encryption & data protection directives, including the White House May 2021 directive to make all information encrypted, permissioned, and traceable.
b) A 600% increase in emails & sensitive file hacks. Fast-growing users of Texts, emails, and other channels.
c) The desire of highly regulated financial, healthcare, and entertainment industries to leverage varied communication ways securely with their clients and partners.
Massive $202B TAM

i2Chain: Uniquely
private and secure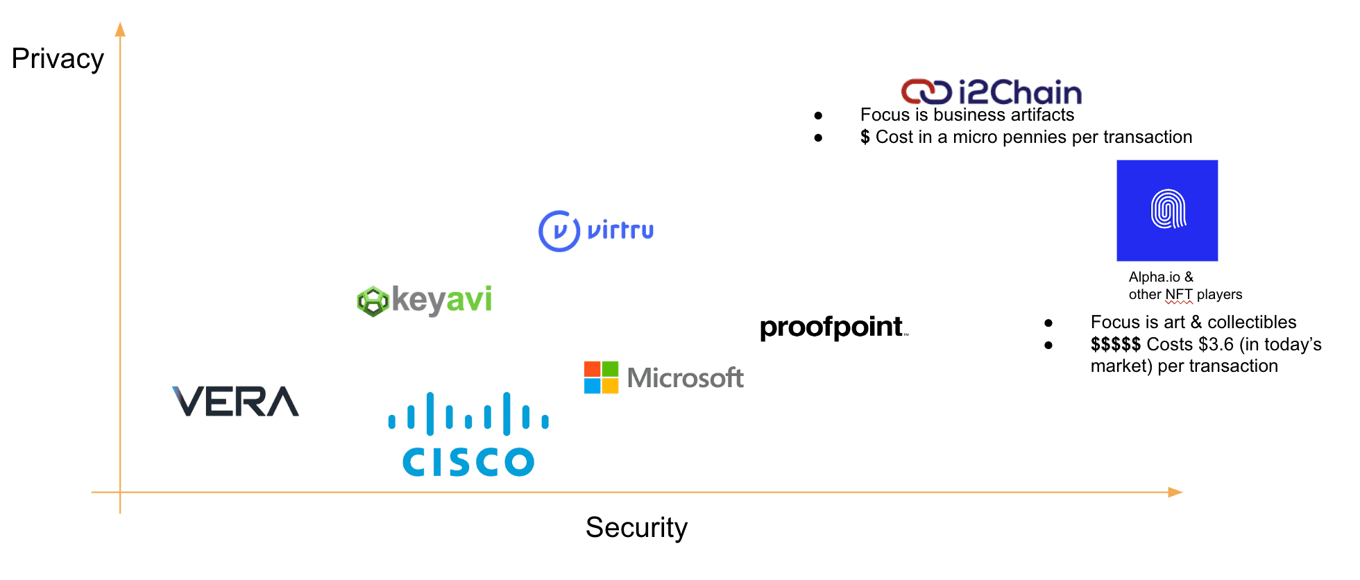 Legacy players like IBM, Symantec, and McAfee provide hard-to-implement, highly intrusive solutions.
Our direct competition is startups like Virtru and older companies like Proofpoint. Unlike competitors, i2Chain tech secures information artifacts at rest and in motion non-intrusively, based on zero trust architecture, enabling our clients to harvest evidence quality forensics and establish chain-of-custody.
Startups for creating NFTs are focused on consumer and art & collectibles markets. Unlike NFT players, we do not tokenize the content, reducing the cost of business transactions to pennies contrasting with gas fees that run in several $'s for tokenization.
Our focus is entirely on business messages, documents, and artifacts - make them non-fungible, & traceable through life-cycle across untrusted networks.
Individuals, governments, and corporations struggle with the damaging consequences of data breaches, information asset leakage, and the inability to control the integrity and access to their data when it leaves their protected environments. In addition, ineffective lifecycle management and regulatory compliance of confidential information may create significant complexity, business process inefficiency, and inflated costs.
i2Chain SaaS provider for secure information sharing with advanced rights management. We supply this service with immutable cryptographically verifiable transactions as a part of our advanced information lifecycle management.
Information's rights, restrictions, and security travels with the or secured information artifacts even across untrusted domains, geographies (via Geofencing), clouds, and repositories, making them self-defending regardless of edge protections.
Individual users can use i2Chain's services through simple methods, including a convenient email add-in and a Web Portal.
Corporations and advanced users can take advantage of additional features, including:
Single Sign-on SAML2.0 federated authentication with their existing and "step-up" identify management systems (Microsoft-AD, GoogleApps, Okta)
A comprehensive portfolio of APIs with easy-to-use SDKs to simplify their direct application integration.
i2Chain's rich portfolio of services aims to enable security for all customers, from individuals to large corporations.
By FY 2026, we forecast 100B chained artifacts saving the world an estimated 100B print-outs, ink chemicals, and 100B pages.
A standard 45 ft pine tree with a diameter of 8" produces 10,000 sheets of paper.
In 4 years, we will save the planet from an estimated 12-15 million trees cut to generate paper and reduce chemicals in our rivers due to inks.
$2.8M raised to date
2020
Raised $300K pre-seed MVP
Ajay Jotwani:
https://www.linkedin.com/in/ajayj/
Ajay is the Co-Founder, & CEO. Ajay is responsible for Business development & product management. Before i2Chain, Ajay was the Vice President of Product Management at IBM, during which he also led the business segment of Digital Workplace Services globally. Before IBM, Ajay held leadership positions in sales & business at Wipro, Mphasis, and others.
Ajay has a B.S. in electronics & communications from S J College of Engineering, Mysore University, 1992, and has an MBA in Technology Management from IIT Delhi, 2000.
Mainak Trivedi: Mainak is the Co-founder & VP of Engineering. Mainak is responsible for Product development, Technology vision, operations, and adoption. Mainak has 20+ years of experience as a programmer, lead, and technologist. Before i2Chain, Mainak led global teams to design, develop and implement an onboarding and servicing Banking App – BaaS at a leading regional bank in California.
Mainak has an M.S. in Computer Applications from M.S. University, 1999.