Falls cause 90% of hip and wrist fractures and 60% of head injuries in older adults – and are the leading cause of death from trauma. Early detection and intervention is vital.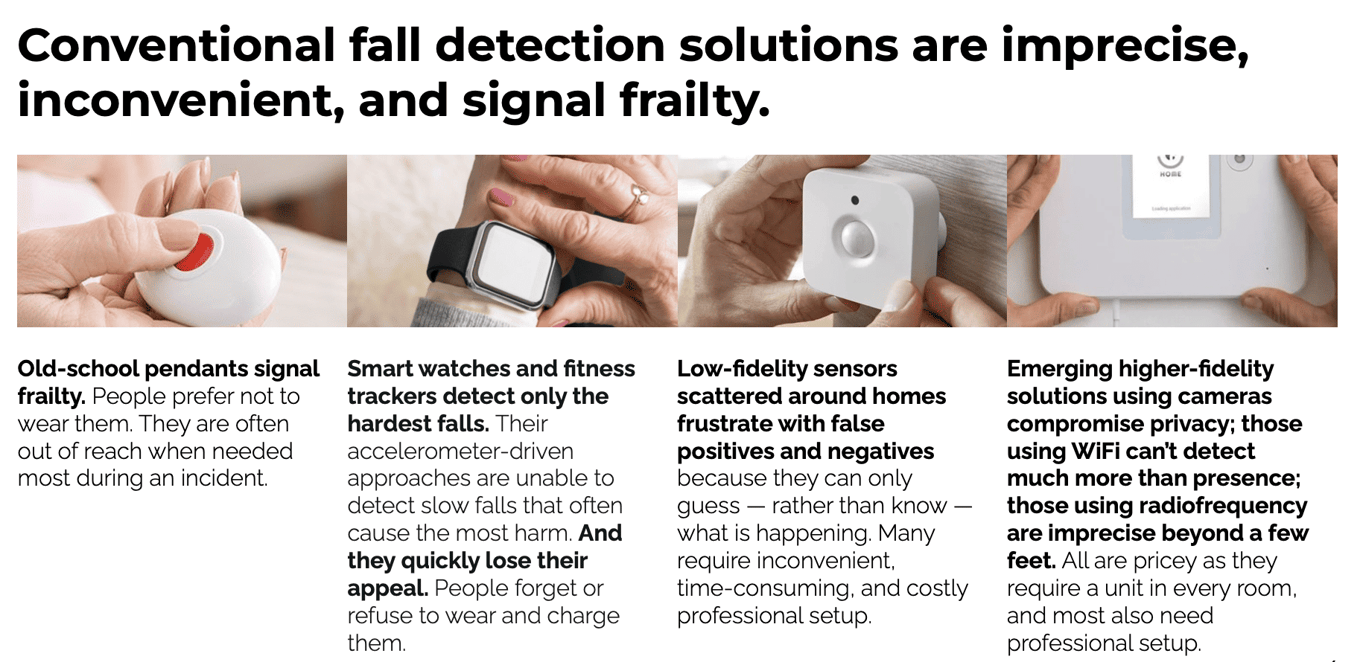 The Problem with Existing Fall Detection Solutions:
IMPRECISE: Many home sensors give frustrating false positives and false negatives.

DIFFICULT TO ENSURE COMPLIANCE: Wearable trackers mean that users have to remember to wear them and charge them, which many people forget or refuse to do.

SIGNAL FRAILTY: Most seniors prefer not to wear old-school pendants because they signal frailty.

COSTLY: Both low-fidelity and high-fidelity sensors require costly set-up by professionals and have proven unreliable.

COMPROMISE PRIVACY: Some high-fidelity sensors utilize cameras, which compromises the privacy of users.
This industry is ripe for a disruptive solution that addresses these problems.
Cherish builds AI-powered advanced radar sensor platforms to revolutionize safety, well-being, and health monitoring by identifying risks and emergencies – and getting people the help they need. The technology works ambiently – 'through the air' – meaning that users don't have to wear special gadgets, remember to wear trackers, change their habits, or feel that their privacy is being compromised.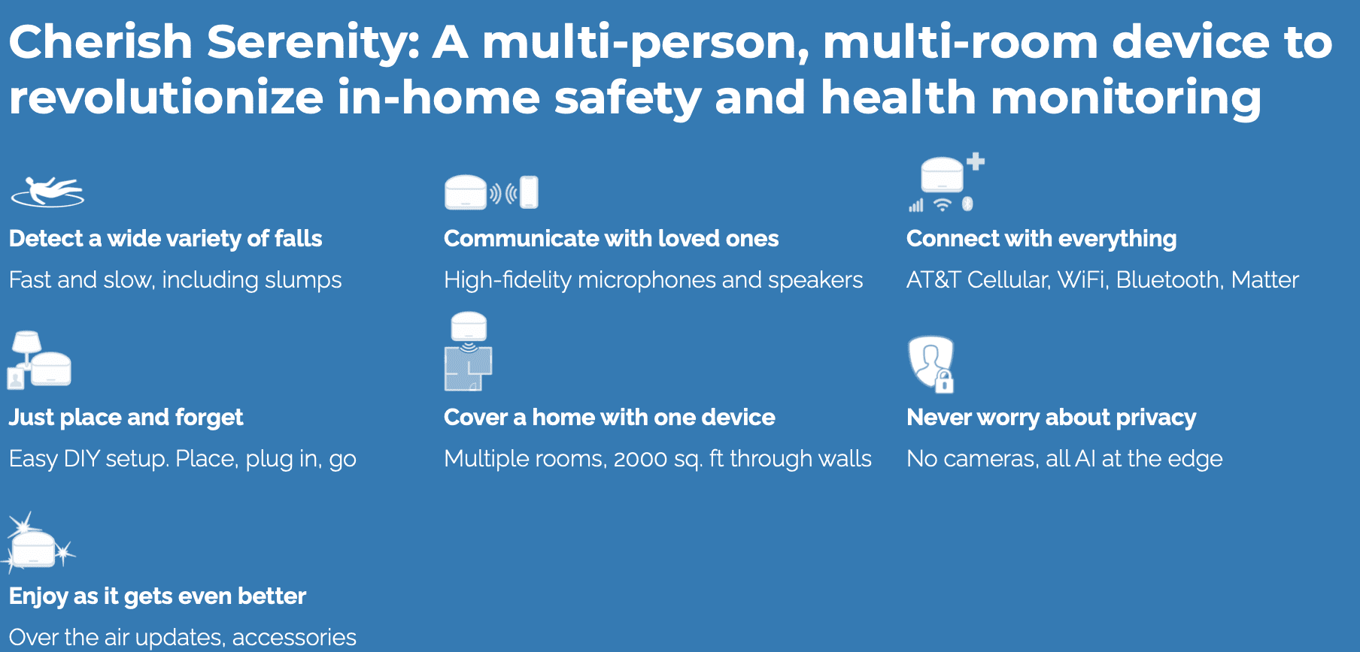 Cherish's goal is to revolutionize the entire home healthcare market, using the same technology that powers Cherish Serenity to provide predictive, proactive intervention for other use cases such as heart failure detection, stroke detection, orthopedic rehabilitation, pediatric asthma, and more.
An Example: Heart Failure Detection
Cherish is able to detect signs of heart failure, a condition affecting 18.2M patients in the United States.
Cherish detects the following signs:
Mismatch between baseline walking and vital signs

Difference in angle of incline when asleep

Walking step, duration, distance, and gait cadence

Activity limitations
What does this mean for Patients and Payors?
Patient receives earlier intervention and treatment for heart failure and/or heart attack

Payors avoid heart failure decompensation and costly ER/hospital/ICU admissions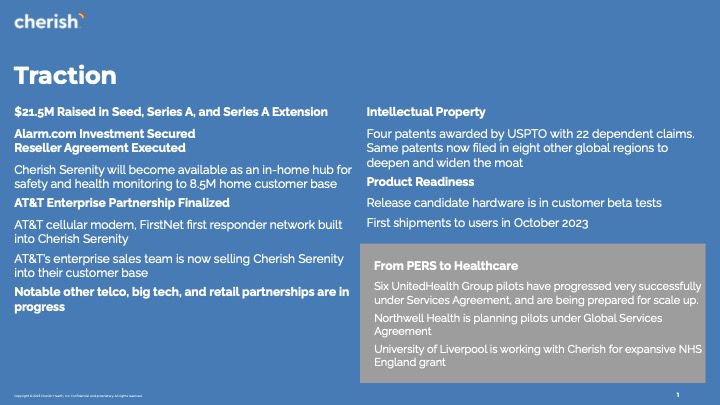 Traction includes foundational patents issued that establish a formidable moat; technology proven; manufacturing lines in operation; distribution agreements with exceptional recurring revenue economics with tech and telco companies; 21.5 million secured in Seed, Series A and Series A+ rounds; and product launch on track for Q4 2023, all in a market segment that is experiencing accelerating growth and that is grossly underserved. Cherish believes they are uniquely positioned to be a unicorn.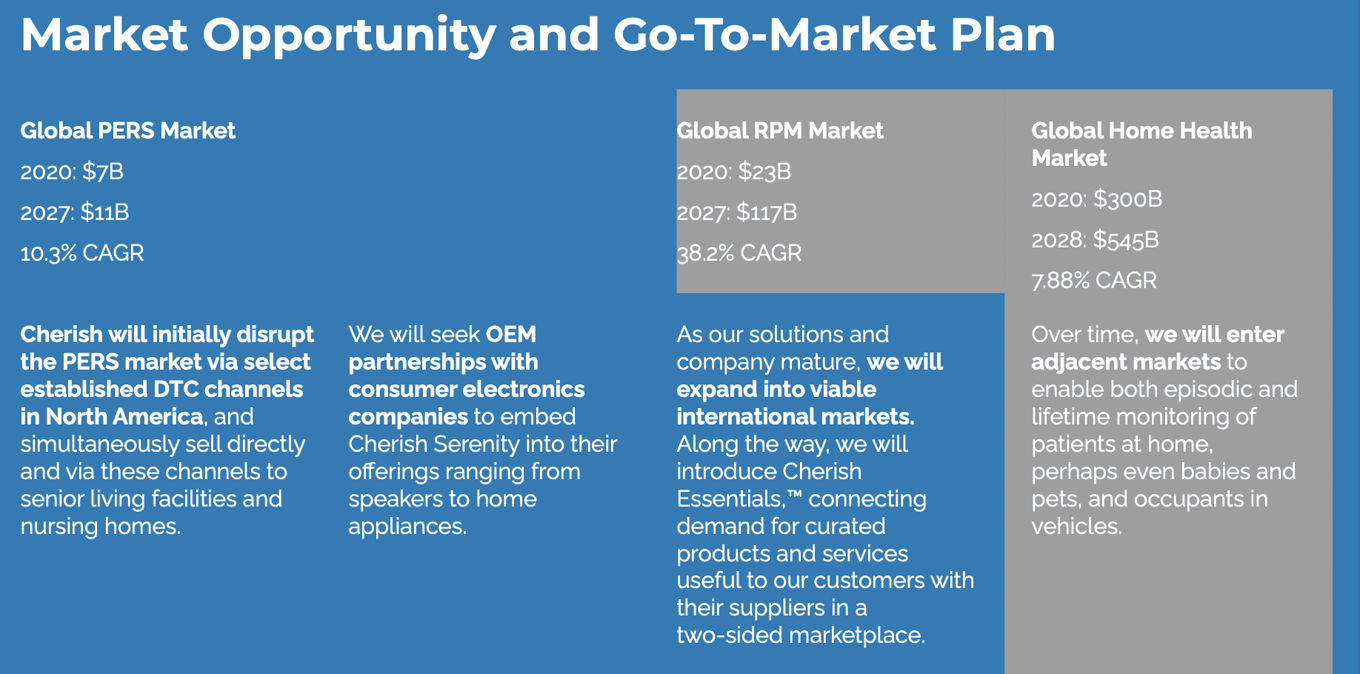 Cherish is disrupting the $10B+ Global Personal Emergency Response Systems (PERS) market with advanced radar-based sensor platforms and artificial intelligence, through select Direct-to-Consumer (D2C) channels. Cherish launches in North America in Q4, 2023, and in the UK and Japan by mid 2024.
With partnerships with some of the world's leading payors and providers, Cherish then intends to expand into the $300B Global Home Health Market.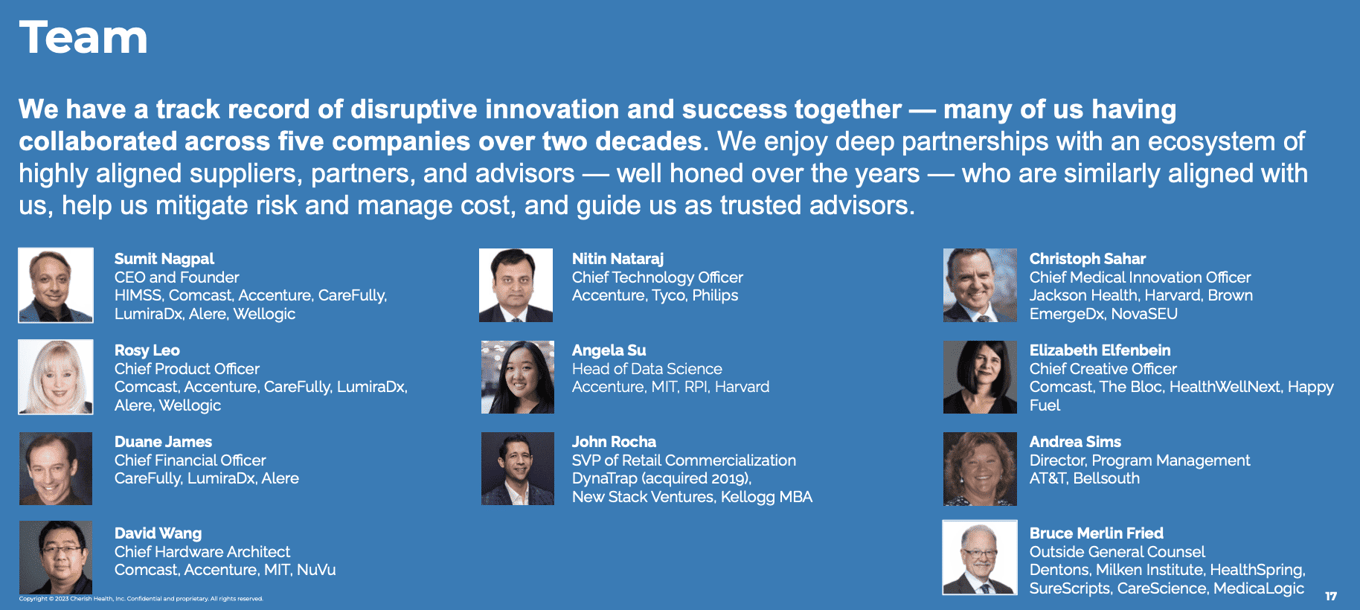 Many of Cherish's team have worked together across three or more companies over the past 20 years. And the company has an ecosystem of highly aligned suppliers, partners, and advisors who provide scale, experience, efficiency, and agility.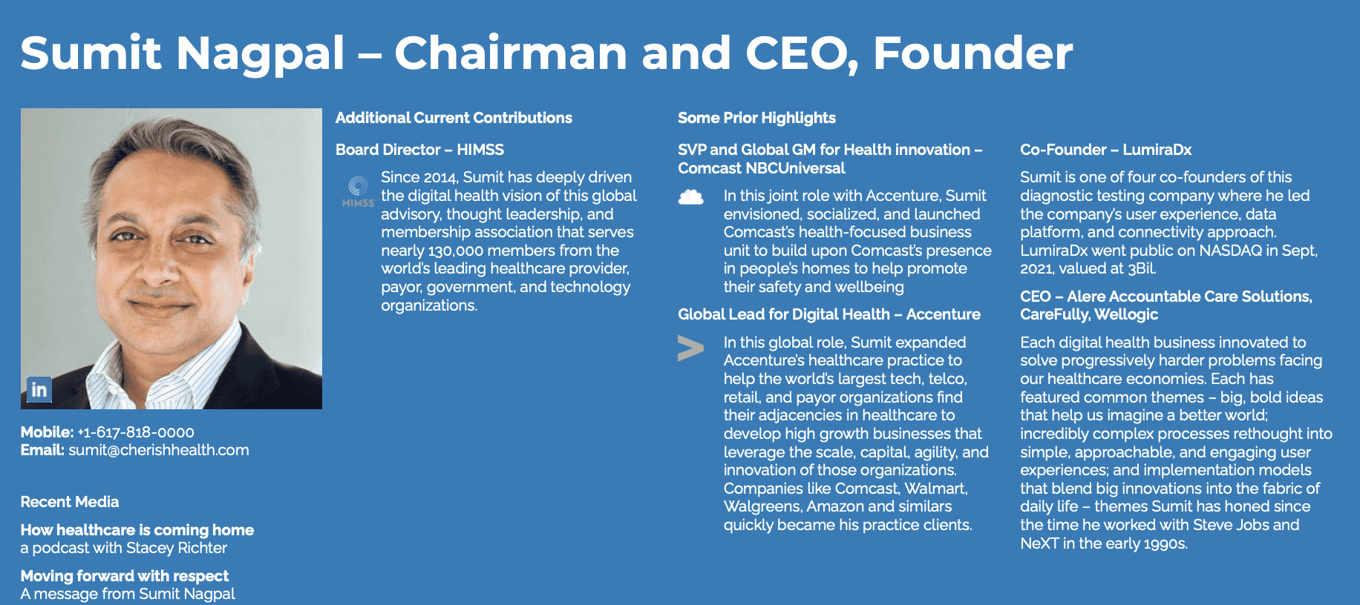 Cherish's CEO and Founder is a serial entrepreneur with a proven track record, having built and scaled four digital health companies over the past 30 years. Cherish is his fifth, and this experience, especially with a team that has chosen to come together over and over again, is clearly exhibited in Cherish's performance.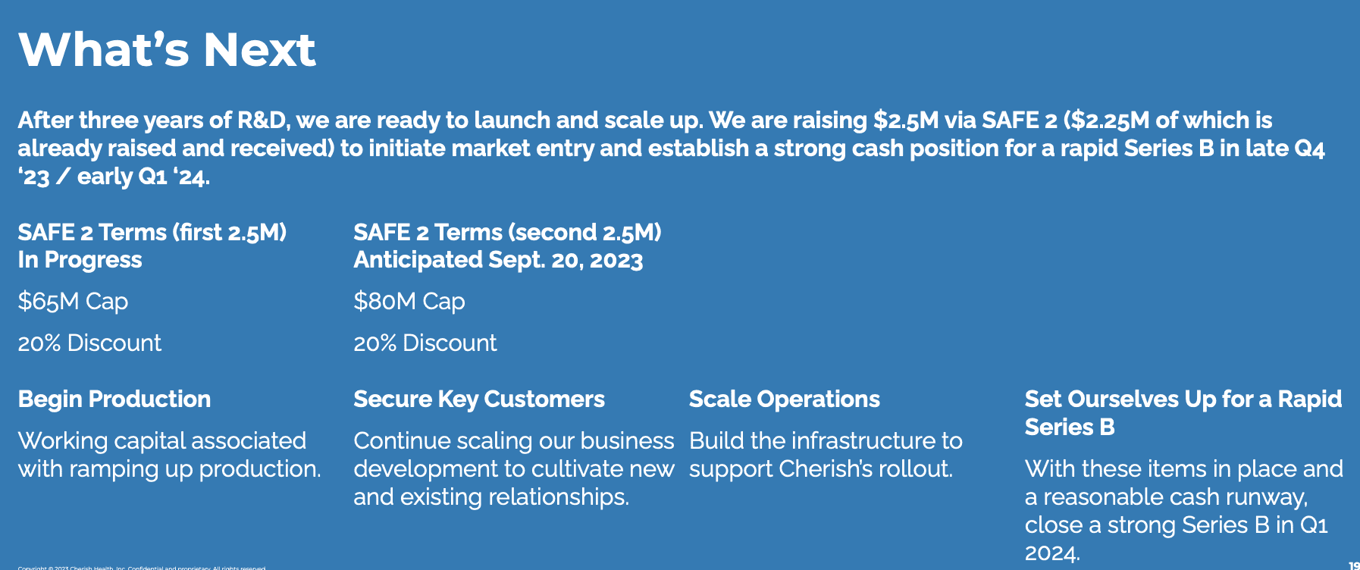 Cherish has raised $19.1 million in prior Seed and Series A rounds. Part 1 of the Series A+ round is now complete with $2.5M raised in September 15, 2023. Part 2 of this round is now open for another $2.5M. All SAFEs in the Series A+ round will convert to preferred shares in the Series B round anticipated in Q1 2024.
In addition to the carried interest Republic Deal Room Advisor LLC is entitled to for the syndicated investments it organizes, certain principals of Republic Deal Room Advisor LLC may have a personal interests in these investments, as disclosed below. When making an investment decision please review any applicable disclosures as they represent pre-existing financial interests held by those principals of Republic Deal Room Advisor LLC.
We do not represent that the information contained herein is accurate or complete, and it should not be relied upon as such. Opinions expressed herein are subject to change without notice. Certain information contained herein (including any forward-looking statements and economic and market information) has been obtained from and/or prepared by the Company or other third-party sources and in certain cases has not been updated through the date hereof. While such sources are believed to be reliable, Republic Deal Room Advisor LLC does not assume any responsibility for the accuracy or completeness of such information. Republic Deal Room Advisor LLC does not undertake any obligation to update the information contained herein as of any future date.