Blockchain technology is changing the way real-world asset shares are bought & sold
---
The archaic infrastructure of private markets destroys value
Today, buying and selling shares in private shares (such as real estate) is a slow, complex, and inefficient process with intermediaries
There is no infrastructure to trade easily, so minimum investment requirements are high and investors are generally locked into their positions for years. This is called "illiquidity."
Therefore, retail investors have low exposure. Institutions also limit their investments because of the risk that not being able to trade entails where institutions, such as pension funds and insurers, have cash obligations they must meet
Illiquid assets trade at approximately a 20% lower valuation than identical liquid assets, meaning trillions of dollars of value are destroyed in the real estate market and beyond, simply because there is no adequate trading infrastructure!
---
The automations enabled by blockchain & smart contracts are the key to bringing liquidity and value to real-world assets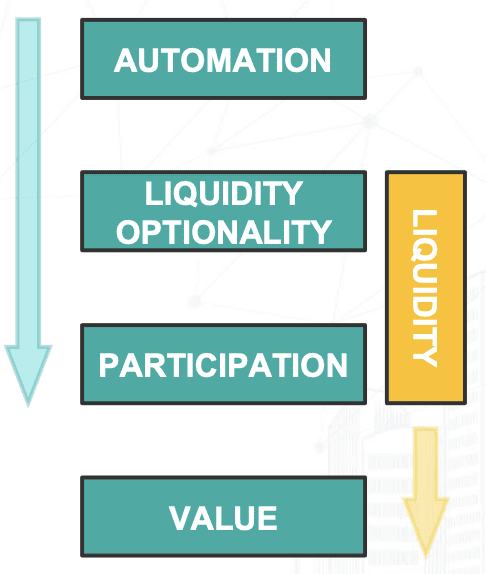 Smart contracts enable private entity shares (in the form of security tokens) are to be bought and sold without the need for most intermediaries
Investors from around the world can easily trade on blockchain-based exchanges, in a compliant way
Retail investors can access a market from which they were previously excluded; institutional investors can increase their allocation to real estate assets as their risk is reduced
Trillions of dollars in value can be created!
---
The current market opportunity is massive
BlackRock CEO Larry Fink said that, "the next generation for markets will be tokenization of securities."
Citi & BCG project respectively $4T & $16T in assets tokenized by 2030.
Real estate is the world's largest asset class at $326T in value, and is one of the most illiquid markets in the world. It has been our focus for the past few years, alongside many clients tokenizing other types of real-world assets.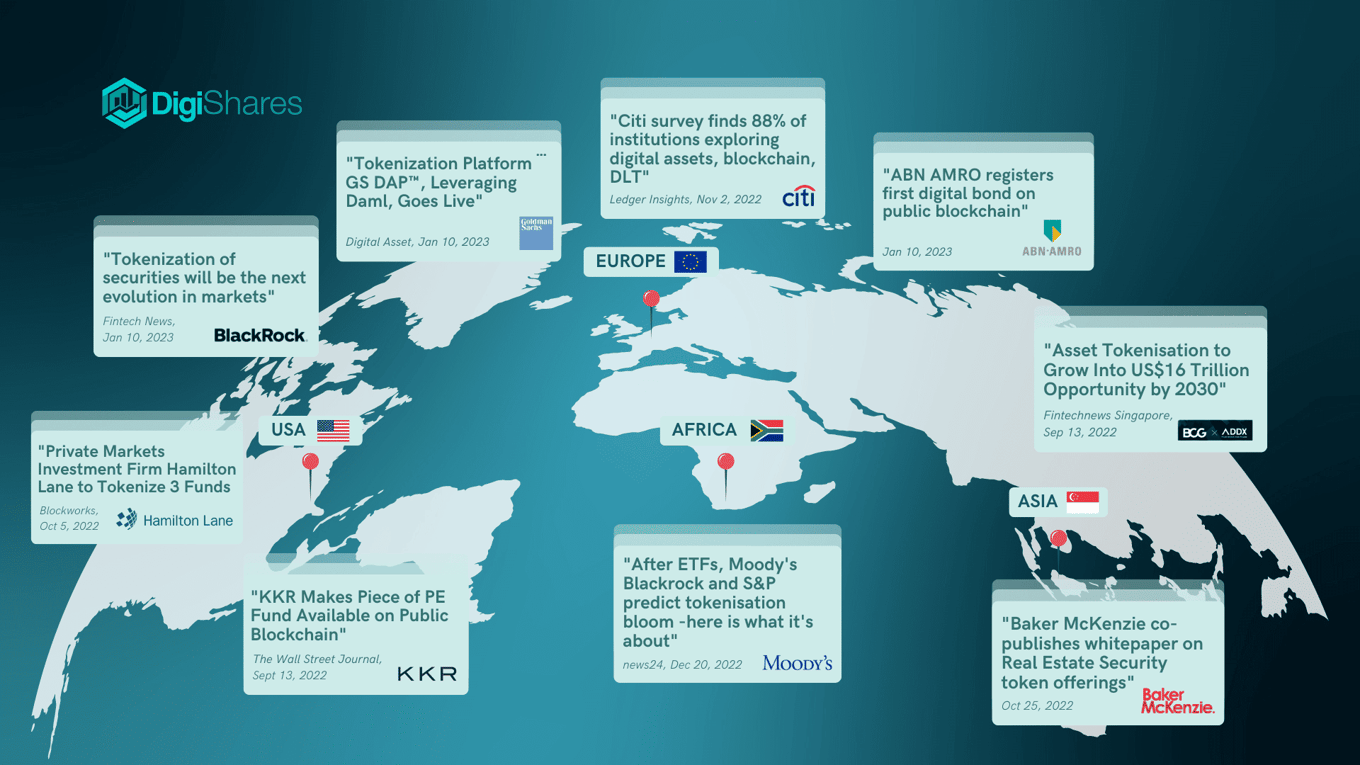 ---
Just as Shopify is the go-to platform for businesses wanting to sell products on the internet, DigiShares aims to become the go-to platform for businesses wanting to sell shares on the internet.
With RealEstate.Exchange, we also aim to build the go-to exchange for real estate shares.
A white-label solution for real-world asset developers, funds, marketplaces & consultants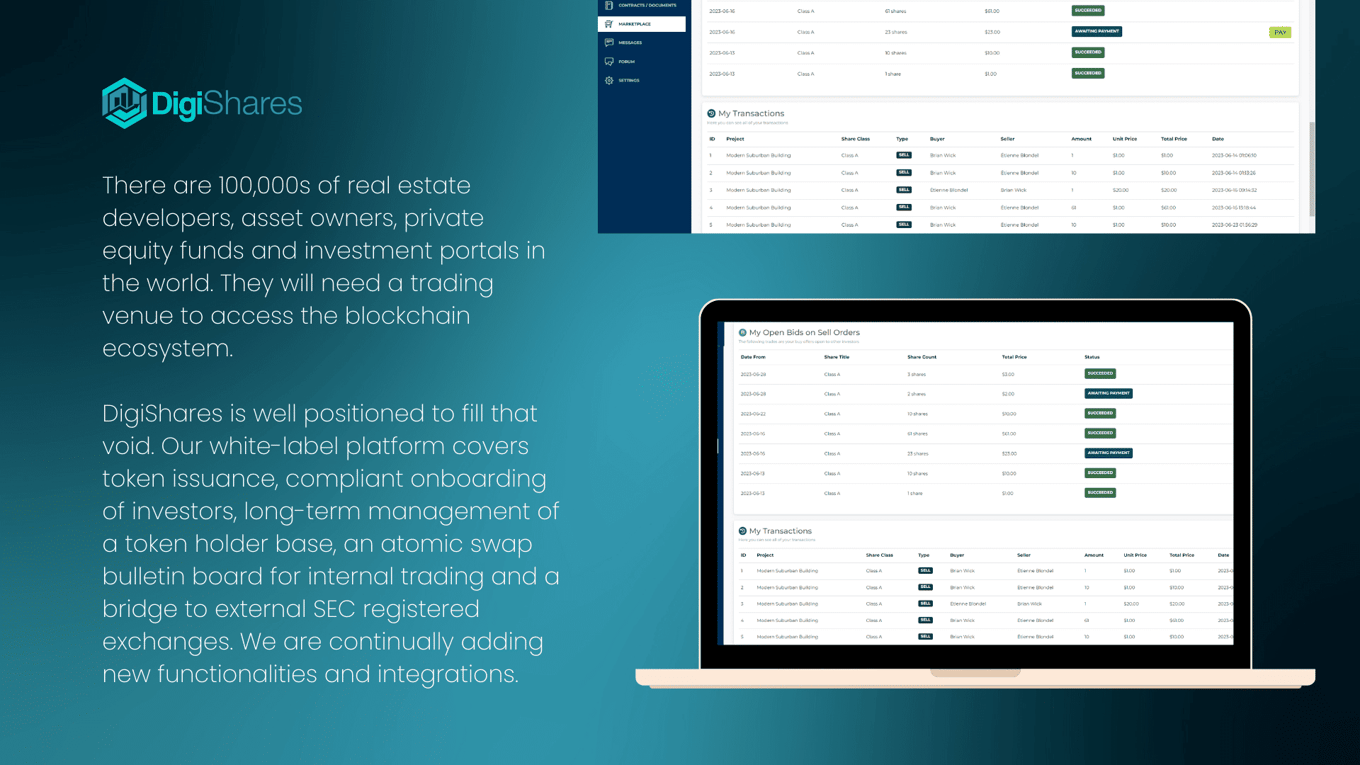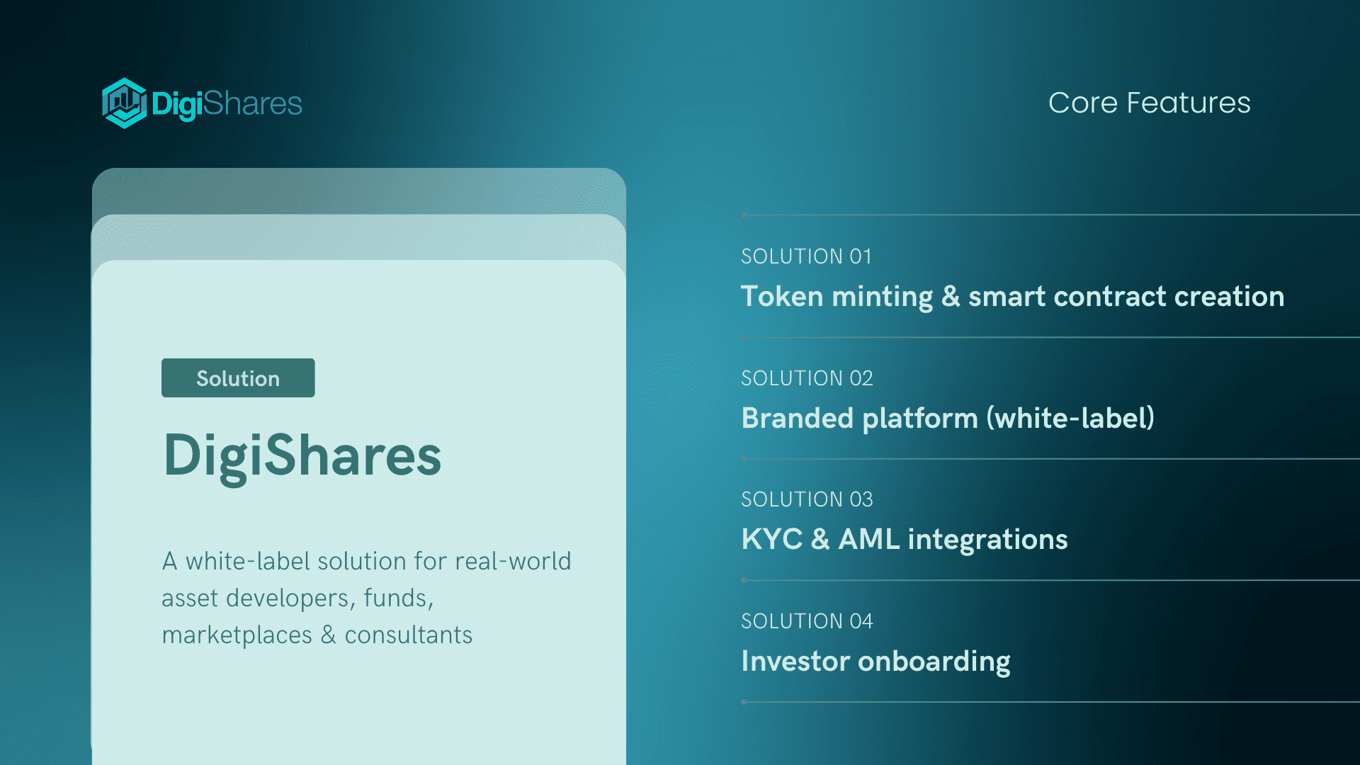 —
RealEstate.Exchange
—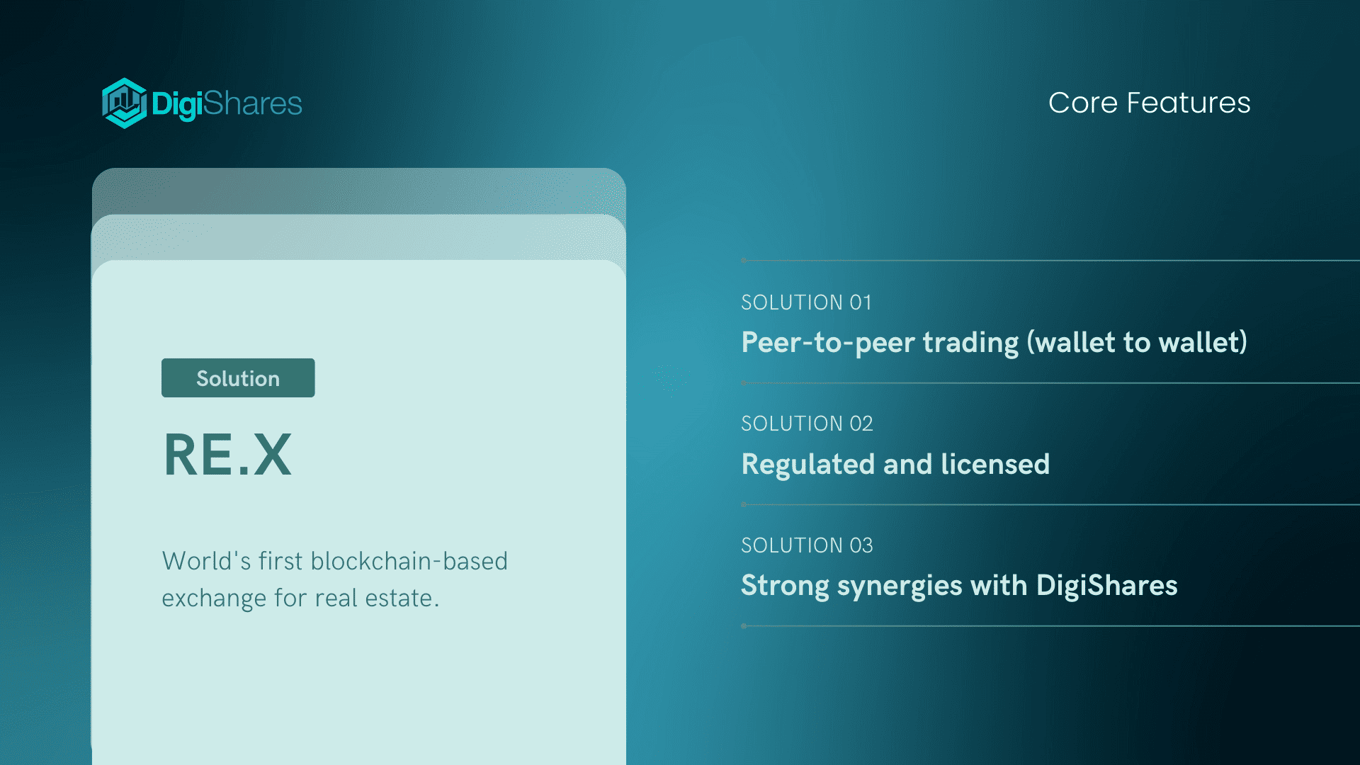 Licenses

Phases of the Exchange

Launch in partnership with a BD ATS in the US (Q4 2023)
Securities Dealer License in the EU (Q2 2024)

Bulletin board with order-book and swap (Completed)
AMM with Balancer Managed Pools (2024)
App chain on Cosmos, like dYdX
Asset Pipeline

Synergies with DigiShares

Initial dialogue: 39
Shortlisted: 20
MOUs signed: 2
Beta-testing on Goerli testnet: 2

We cover end-to-end: primary and secondary
Providing liquidity for DigiShares white-label clients
RE.X increases demand for DigiShares
Correlated marketing channels and efforts
—
DeFi Solution
—
Decentralized Exchange (DEX)

DeFi Lending

Launch of a RE-focused DEX

Global exchange
Based on Ethereum and Balancer-AMM
Able to update share-cap tables




Forge partnerships with Aave and other collateralization platforms
Segregate permissioned market where all participants are KYC'ed with Decentralized ID (DID)
—
Benefits
—
Real-World Asset Developers

Individual Investors

Onboard investors much more efficiently
Digitize and automate processes
Provide additional liquidity to investors

Enjoy increased liquidity
Access previously inaccessible investments
Trade assets quickly and efficiently
DigiShares is a global market leader
Existing clients: 150+ with 40 in the US
Pipeline: 5-10 new clients monthly
Licenses: In process to become the first FINRA-registered Funding Portal for Security Token Offerings. Registered as a Transfer Agent in the US.
Exchange: First to launch a global retail-oriented blockchain-based real estate exchange. DigiShares has partnered with Texture Capital, a FINRA-registered Broker-Dealer & Alternative Trading System to launch RE.X in the US compliantly. DigiShares will apply for a securities dealer license in the EU to run RE.X outside the US.
—
Selected clients:
—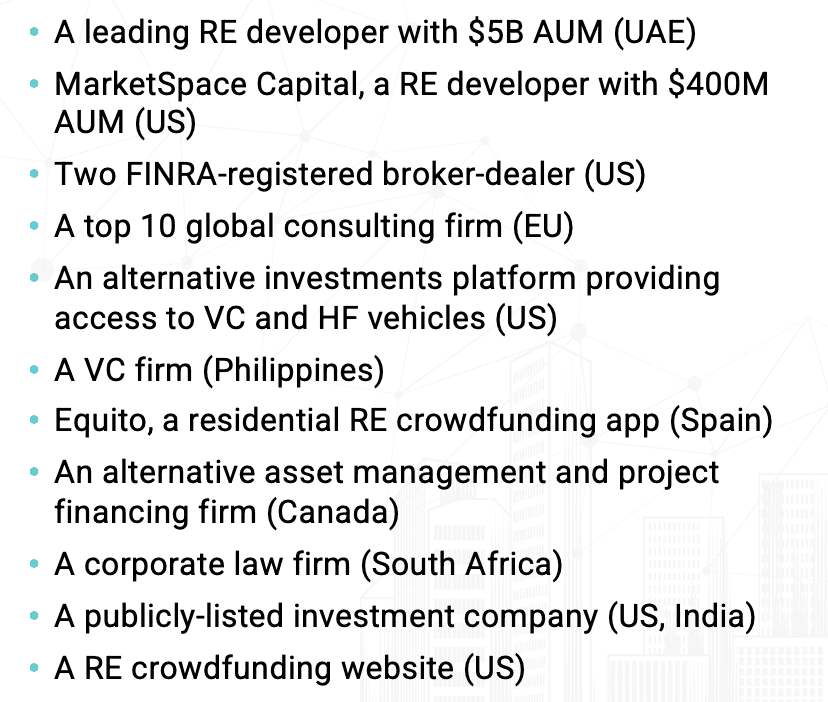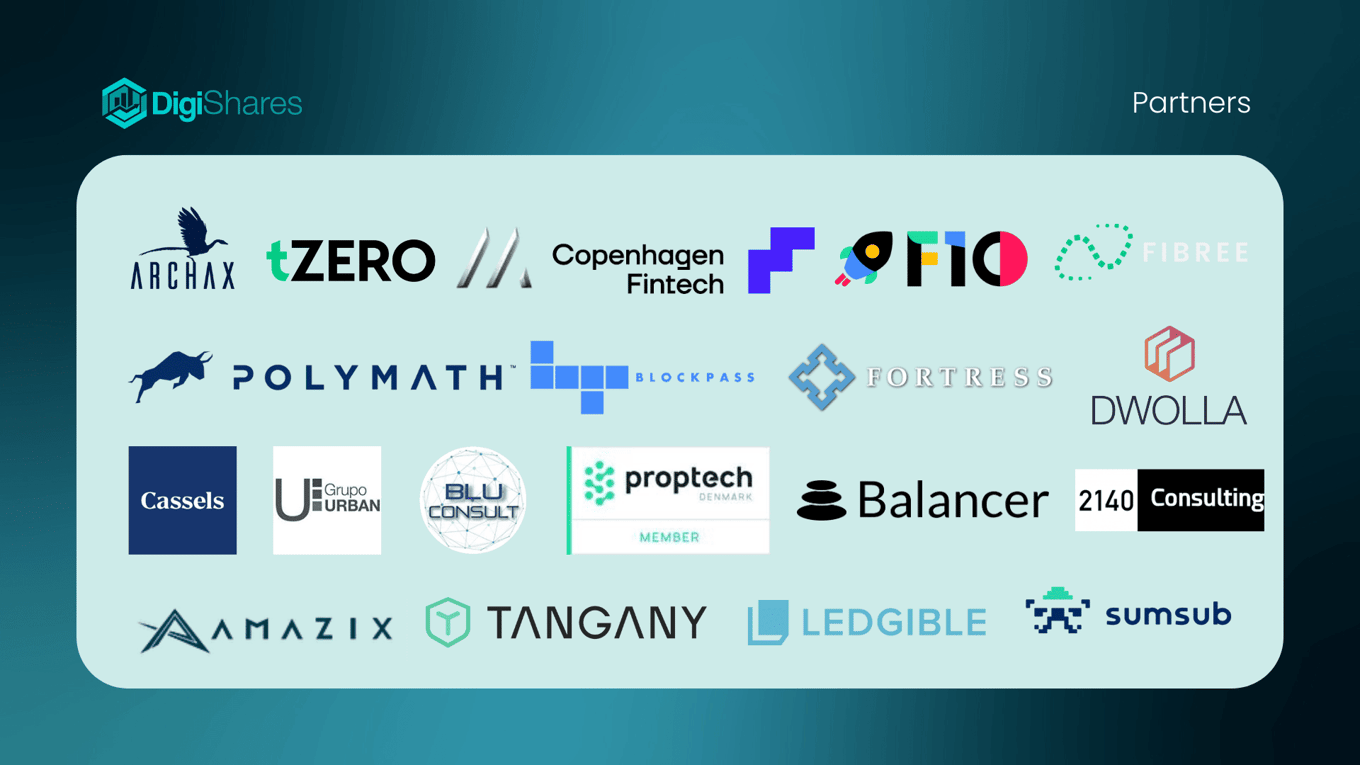 Three main revenue sources


---
Through an integrated marketing strategy...
---
Digital Tactics

Offline Tactics

Online

Have created a significant presence on LinkedIn and other SoMe
Keep growing our presence through frequent blog posts, white papers, and articles promoting services and education

Sales & Account Management

Recruited sales team to target real estate developers and consultants
Trained account managers to ensure high quality of service to new and existing clients




Paid Search & SEO

Identify highest converting keywords that potential real estate investors and developers are searching for on Google
Optimize website for SEO with proper keyword density and backlinks to increase organic Google ranking

Events and Conferences

Conduct own webinars (8 per year)
Conduct own masterclasses (5-6 per year): Miami, Vegas, NYC, Vienna, Hong Kong, London
Sponsor networking events and keynotes to increase brand recognition
---
...and a timeline for product development ramp-up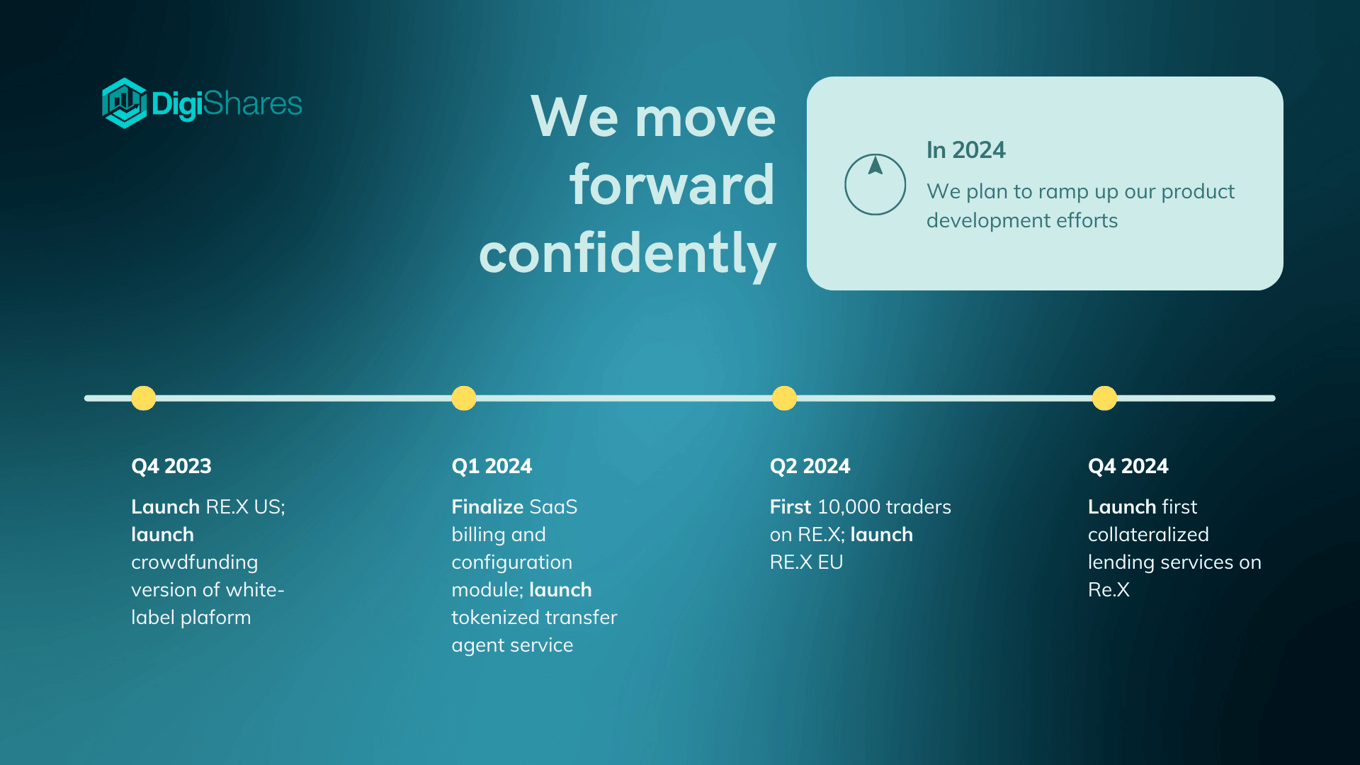 $2M raised to date

A team of diversified & highly experienced professionals